In 1971, John and Lem Amero were making their latest film 'Bacchanale', an ambitious, surreal fanstasy that was unlike any sexploitation film ever seen before. But before they finished it, they realized they had a problem; the market for the soft core films they had pioneered in the 1960s was quickly changing. New explicit films were emerging on the west coast, and unless they could adapt to compete, the Amero brother's films would become obsolete.

In this Rialto Report, John Amero tells the story of the making of 'Bacchanale' and shares previously unpublished photos from his collection.
John's autobiography, 'From Porn to Primetime – My Thirty Year Search for a Happy Ending', will be published shortly. It tells the story of his upbringing in Gloucester, MA, his close friendship with Michael Findlay, the pioneering films he made with his brother Lem, the Francis Ellie gay series, the big hits 'Every Inch A Lady' (1975) and 'Blonde Ambition' (1981), and how he ended up directing a mainstream TV special.
_______________________________________________________________________________________________
The 1970s started with a bang – literally. On New Year's Eve 1969, my partner Chuck and I were out partying with our close friends and fellow filmmakers Mike and Roberta Findlay in lower Manhattan. As the festivities wound down we all piled into Mike's car, the same one featured in his film 'A Thousand Pleasures'. Mike clearly had too much to drink but insisted on driving, and foolishly we let him. He ended up crashing the car into the 6th Police Precinct on 10th street. The car was totaled and we all ended up in the emergency room – in my case having glass removed from my head. But luckily we all survived and amazingly Mike never faced any legal or criminal repercussions.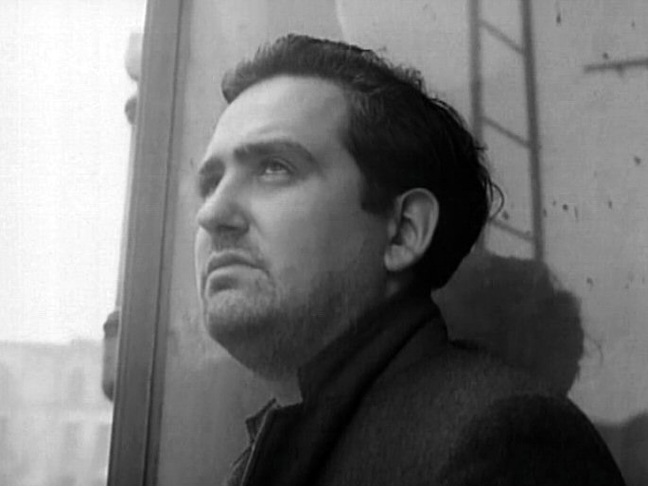 Michael Findlay
Apart from this bit of unwanted excitement, everything was going well as the 1970s dawned. I was feeling good about life. The sexploitation industry had taught my brother and collaborator Lem and I every aspect of filmmaking and enabled us to make a string of movies that pulled in much more money than we expected. This income allowed us to live reasonably well and invest in our studio on 22nd street, which was now fully equipped and ready for our next picture. My personal life was happy too, though our various film projects meant I didn't get to spend nearly as much time with Chuck as I would have liked.
*
Unlike in the early days , film work was now abundantly available to Lem and I. The extensive network of people we knew in the industry meant we were always being asked to help out on sets or in cinemas.
Our friend and fellow filmmaker Jack Bravman decided to make a horror sexploitation movie about a psychotic teen girl murdering her way across the country. We'd worked with him on numerous occasions before and his films were notoriously cheap but this time he was willing to spend a little more money than he had in the past. For a start he paid James Foley – an author who was friends with Mike and Roberta – to write the script. He then enlisted Mike, Roberta and myself to help with the production, which he titled 'Janie'.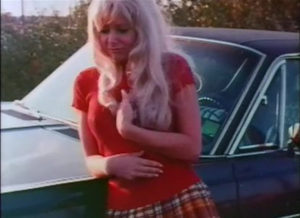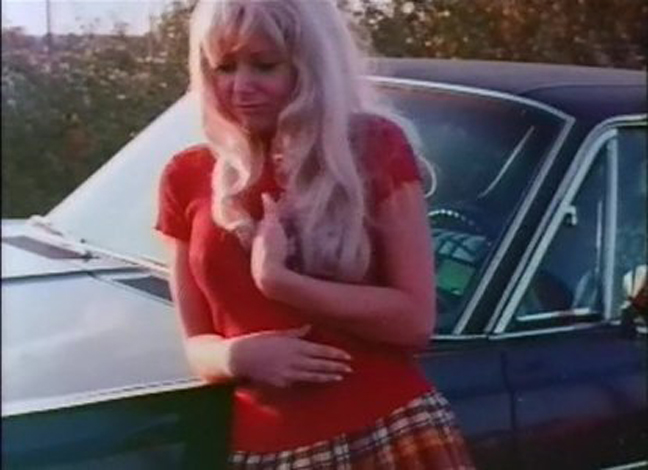 Jack wanted to cast his then girlfriend Linda as the lead, even though she had no acting experience. Linda was a dark, attractive Italian woman who had done some nude photo spreads for local men's magazines, and Jack had completely fallen for her. She agreed to do the movie but wanted to conceal her identity so Jack christened her Mary Jane Carpenter. To further disguise Linda's true identity we filmed her in a number of wigs for the first few scenes of the film but none of them did her any favors. Eventually we decided she should dye her hair blonde, but Linda refused to go to just any old salon. Jack was so enamored of Linda he agreed to pay for her to see George Masters, stylist to the likes of Marilyn Monroe and Ann-Margret. But while Jack was willing to shell out the money for a famous hairdresser, he was not willing to re-do the initial scenes we'd already shot with a wigged Linda. To make matters worse Linda was keen to use her own extensive wardrobe, sometimes insisting on using different costumes in the same scene  Needless to say continuity was one of our big challenges.
Linda wasn't the worst actress in the world and the film had a decent budget, but it was still a typical Jack Bravman shoot. By this I mean that it was plagued by a complete lack of organization. For example Jack started out as the director but soon handed over his responsibilities to Mike after we got going. Roberta was the cinematographer and I was production manager but we both struggled as Jack made up so much of the story along the way. Jack also asked Mike and Roberta to take acting roles in the film on top of their other production duties. But despite the usual Bravman set chaos, I didn't mind terribly as it was always fun to work with Mike and Roberta and we got to shoot at Enrico Caruso's summer home in East Hampton. I never asked Jack how he arranged that rental because quite frankly with Jack's somewhat questionable connections, I wasn't sure I wanted to know.
When we finished production Jack struck on the idea of having Linda appear on the then-popular Joe Franklin television show. We scoffed at the suggestion as television coverage of sexploitation films was unheard of, but to our amazement Jack made it happen. While I never saw the show, or the film for that matter, Linda's appearance on television earned 'Janie' enormous publicity and a decent box office showing.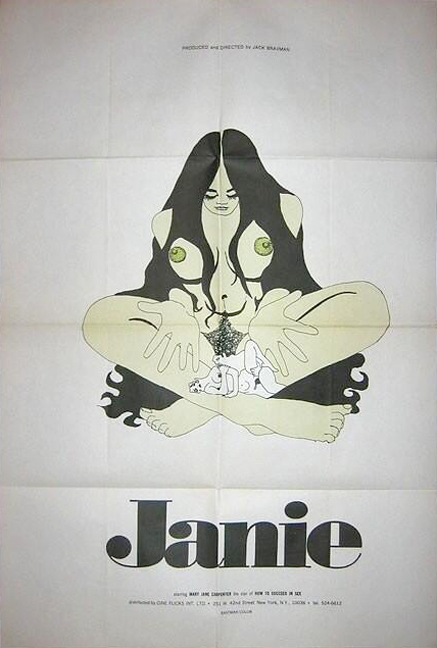 *
The start of the 70s also saw our actor friend Bobby Sumner take the plunge and direct his first film. He was spurred on by a couple of childhood buddies, two brothers named Tom and Allan Lee Altizer. Seeing a chance to make some money and get involved in making a racy film, they latched onto Bobby. They came up with a script titled 'Sidewalk Cowboy' – a blatant rip off of the box office hit 'Midnight Cowboy' – and hired veteran sexploitation actress Linda Boyce as the female lead. I wasn't keen on the Altizers – they seemed sleazy and a bit underhanded and I felt they were a bad influence on Bobby.
Making the film eventually put Bobby in contact with Sam Lake, one of the major distributors at the time. Sam was always elegantly dressed in a suit and tie but nothing could disguise the fact that he had a reputation for being the biggest shyster in town. He was socially awkward, rude, crude and lacked any sense of humor. He would always interrupt whomever he was talking to and then drone on interminably about his latest film project. He would take credit for anything he was remotely connected with. And he was dishonest if he felt it benefited him to be so.
Looking for a distribution deal, Bobby showed Sam his completed film. Sam liked 'Sidewalk Cowboy' enough to buy it outright. This deal was the start of Bobby's fascination with Sam's distribution business, and his interest would have a significant impact on the adult film industry in the years to come when he later teamed up with Sam.
*
Helping friends out on their productions paid the bills and could be fun, but my real desire was to make more Amero Brothers movies. And while it would have been easy for Lem and I to churn out standard sexploitation fare, we were keen to make a more ambitious statement with our next project. But to make this statement, I knew we'd need a bigger budget. Enter Bill Perry. I'd met Bill a few years earlier when he was an assistant manager at the Rivoli Theater in Times Square across the street from the Trans-Lux West where I worked at the time. Bill would come by and share stories of his upbringing in the Deep South. Bill was proud of the fact that he was born in a log cabin in the Ozarks and spent the first 15 years of his life without a pair of shoes. The combination of his southern drawl, his warmth and his cornball sense of humor reminded me of Andy Griffith and endeared him to me.
Even though Bill never made it past the 7th grade, he had a good head for business. And being gay like me, Bill saw first-hand the growth of the same-sex movement taking place in New York and was convinced there was money to be made from it. He was confident that a gay cinema was a gold mine waiting to be exploited, and lobbied me to pursue the idea with him.
Bill was acquainted with two men who became interested in opening an X-Rated theater in Times Square when they witnessed the booming business of sexploitation cinemas. Bernie Rose and Lenny Clark seemed to work well together but could not have been more different. Bernie was a short Floridian with a dark complexion and thinning hair; Lenny was a tall, fair, good-looking New Yorker. Bernie's disposition was as relaxed as Lenny was severe. Bernie was happily married, whereas Lenny kept his family in upstate New York so he could house his mistress – a delightful Las Vegas showgirl named June Valentine – in Manhattan. What they did have in common was that they were both serious businessmen: Bernie owned a successful string of theaters in Miami; Lenny made his money producing printer paper for early computers.
Bernie and Lenny took a long lease at a considerable cost on a former jewelry store between 49th and 50th on the east side of Broadway. Their plan was to convert the space into an adult theater and they approached Bill to manage the transformation. Bill saw working with Bernie and Lenny as practice for when he could open a gay cinema of his own and so agreed. He then asked for my help and since it sounded like a good way to raise additional money for the next Amero Brother's production, I jumped at the opportunity.
Bernie and Lenny were open to our ideas but they had three requests that were set in stone. They wanted to call the theater 'Circus Cinema', they wanted a huge marquee, and they wanted to open as soon as possible. So Bill and I quickly began converting the jewelry store into a clean, well-lit 35mm projection theater that could seat 200. It was difficult, round-the-clock work and we were on ladders with staple guns just hours before the theater was due to open. I was convinced that we would fail the building inspector's checks  as we used every trick in the book to make the theater appear more ready than it actually was – a dangerous deception as the fire escapes and emergency doors didn't actually work. But remarkably we passed the inspection, the theater opened on schedule, and we had a hugely successful first night. To express their gratitude – and probably more to reduce future film exhibition costs – Bernie and Lenny promised to show any adult films I made moving forward.
Even though Circus Cinema was in its infancy, the money started rolling in straight away. Bill and I stayed on for a time to hire the staff and stabilize operations. It was an interesting and well-paying job and being part of creating a new theater was exciting. I could see that Bill loved it and that his involvement only increased his appetite to open a gay cinema. The idea still seemed far-fetched to me, but seeing how quickly Circus Cinema had found its footing, maybe Bill was on to something.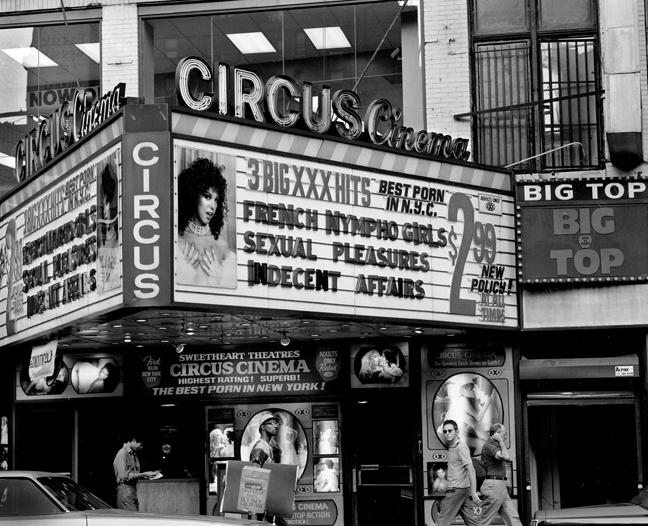 *
With the additional earnings in our bank account and a small loan from our actor friend Ron Scardera –Lem and I turned our attention to the next Amero Brother's production. As we began conceptualizing our project, we thought of the foreign films that showed at the Apollo Theater on 42nd street a few years earlier. For two dollars we saw pictures ranging from the early Peter Sellers and Ealing Studio's films through to the work of Italian directors such as Antonioni and De Sica. We loved all of these movies but gravitated most towards films by Fellini such as 'Variety Lights', 'I Vitelloni', and 'Nights of Cabiria'. I first became aware of Fellini when I was manager of the Trans-Lux West. Sitting in my office was an un-retrieved New York Film Critics Circle Award that Fellini's 'La Strada' had received for Best Foreign Language Film in 1956. Fellini's movies showed tremendous imagination and were absolutely unique. We also admired the way Fellini worked, refusing to accept any funding unless he had complete control over every creative aspect of his productions.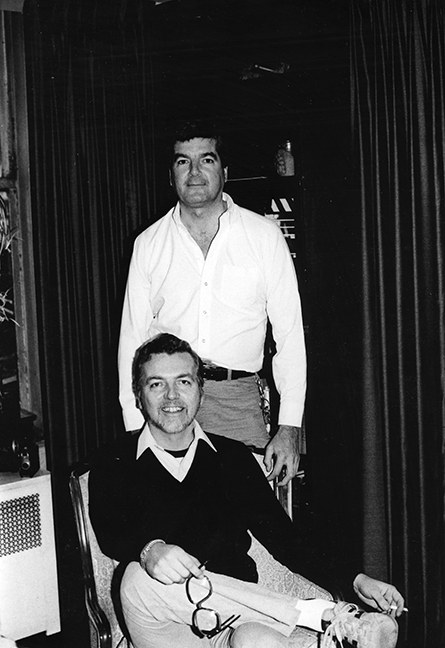 John Amero (standing) and Lem Amero
Lem was heavily influenced by Fellini's 1965 work 'Juliet of the Spirits', and inspired by that work he set about writing a script. While 'Juliet' wasn't the best of Fellini's works, its impressionistic approach to female sexuality impressed Lem. To this day I don't really understand the story that Lem came up with but it centered on a woman who leaves her body and floats through a series of strange circumstances around New York. People often ask if the story was drug-inspired but while we sometimes smoked a little marijuana, the answer is no. We wound up calling the film 'Bacchanale', for no better reason than we liked the sound of it.
The film stared the actress 'Ute Erickson' – our dear friend Artie Giannini whom we met through Mike and Roberta and had worked with previously. Artie convinced her friend Linda Boyce to join us for a few days of filming as well.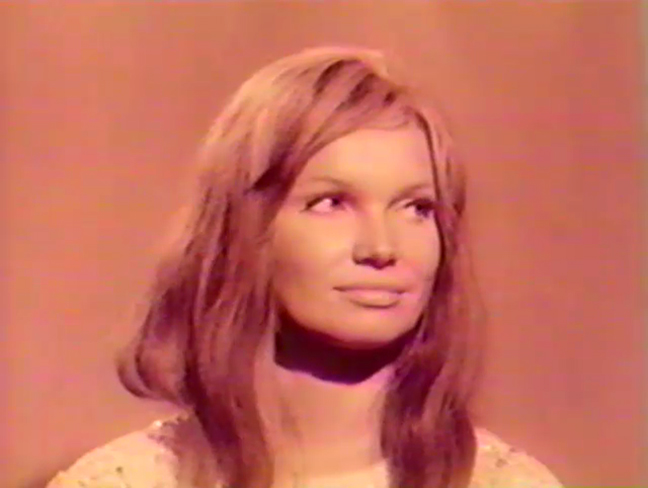 Ute Erickson
And as usual we leaned on our regulars. The talented Darcy Brown – a regular Broadway song and dance performer – took on two roles, this time as a fashion model and an announcer, and kept the acting name 'Phoebe Dinsmore' as a tribute to 'Singin' in the Rain'. Blousy singer and theater actress Michael Burns played a crazed pianist. Ron's wife Ronnie Scardera and Steve Gould – another Trans-Lux Theater manager – both had small acting parts. We convinced Lem's friend and Broadway dancer Jack Benson to help with costumes as well as take on some light acting duties, just as he had done in 'Diary of a Swinger'. And of course Mike and Roberta were in the film, both with small acting parts.
'Bacchanale' featured some newcomers as well. A friend of mine from high school had moved to New York and shared an apartment with an up-and-coming East Village artist named Neil Jenney. My friend mentioned that Neil was short of cash, looking for a fast way to make money and just crazy enough to consider a sexploitation film. We met to discuss the idea with Neil and straight away thought he would be great thanks to his striking looks and sharp sense of humor. He wound up in a "pillar and fog" fantasy sequence with Artie and did a wonderful job, especially considering Artie insisted that Neil tape back his genitals for fear of the unwanted erection. While to my knowledge he never made another film after 'Bacchanale', we'd run across his name now and again in Page 6 of the New York Post when he had a gallery showing of some sort.
'Bacchanale' was also the first film for a young stage actor named Stanley Kamel.  Stanley went on to a successful television career after 'Bacchanale', first as a soap opera regular then with recurring appearances on shows such as 'Cagney & Lacey', 'Melrose Place', 'L.A. Law' and 'Monk'. 'Bacchanale' also marked the introduction of LaRue Watts and Fabian Stuart to our happy film family. LaRue and Fabian were a couple we'd met at our go-to watering hole The Big Spender. They wound up designing the sets and renting the props for 'Bacchanale'. We even convinced LaRue to make a brief appearance in the film as a deranged harpy, dancing with Darcy. In one of those strange twists of fate it turned out that Fabian had danced with Darcy as well many years ago when they were both in the chorus line of a Broadway production.
While we wanted to make 'Bacchanale' our first color production we could not afford to spend a lot on color film. So we used a small amount of Eastman color stock for the more straight-forward scenes and color tinted black and white film for the dream and nightmare sequences. Tinting the stock was exacting, time-consuming work, but we viewed it as an economical labor of love.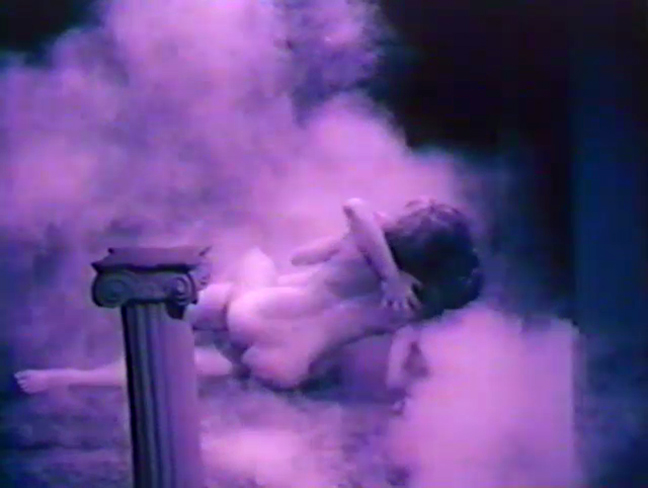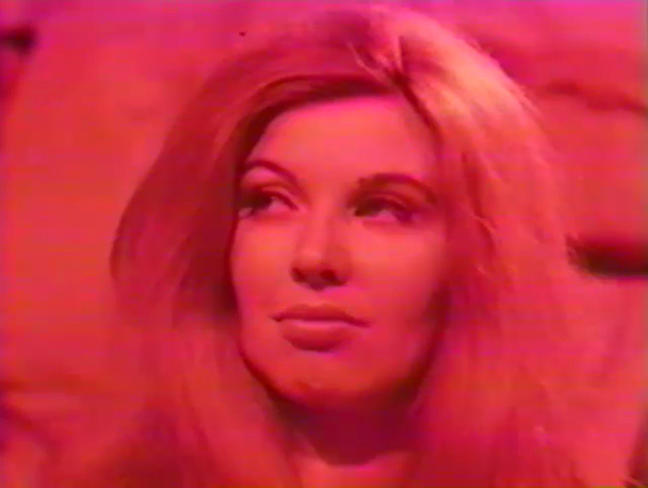 Linda Boyce
Film tinting wasn't the only creative workaround we employed to manage costs. We tried to re-use as many of the props as we could from our previous film 'The Corporate Queen'. And Lem and I shot almost every scene in our studio and built most of the sets designed by LaRue and Fabian ourselves.
The opening scene of the film is a perfect example of the "do-it-ourselves" approach we followed. The story opens with Artie leaving her body. To avoid having to pay for an optical special effect, we wrapped Artie in black cloth and filmed her sleeping. We then rewound the film in the camera and used the same stock to film Artie waking up. It wasn't a very sophisticated approach but it worked well and served its purpose.
For another scene we wanted to shoot in a cemetery without actually shooting in a cemetery. So we set to work in the studio building grass mounds and tombstones and rented a casket, our most expensive prop of the production. In addition, we used fog machines that we'd hired for scenes throughout the film. The machines were impossible to control and seemed to spew loads of fog whenever we wanted a subtle effect and then barely cough out a puff when we wanted something more significant. The cemetery set took ages to build and demanded patience from all those around us as we worked. When we finally finished construction and were ready to film, we asked Mike and Roberta to hold umbrellas as we sprayed water down to approximate rain. As the chilly water poured over them I could hear Roberta muttering under her breath, "Yeah, these are exploitation films.  And we're certainly being exploited."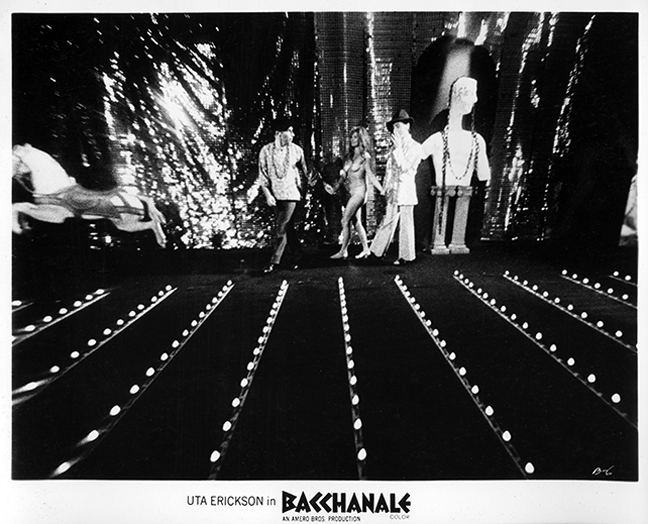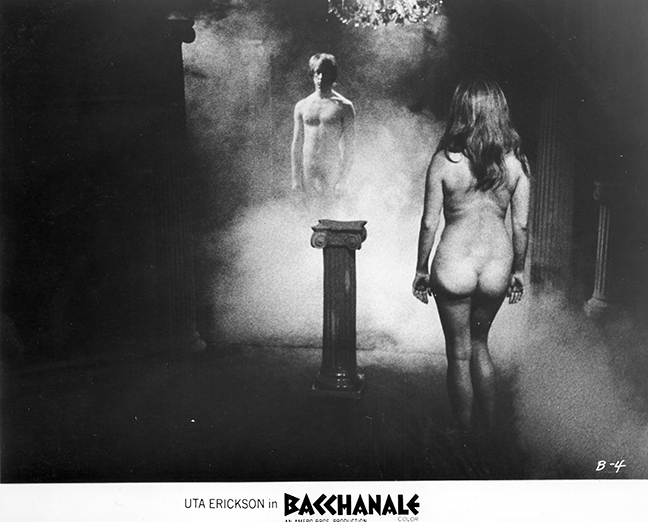 We did get to shoot several scenes outside of the studio.  Influenced by Hitchcock's stair scene in 'Vertigo', we filmed one passage in the stairwell of our studio building. And it wouldn't be an Amero Brother's production without a scene at the Trans Lux cinema, complete with Ronnie Scardera in a sexy brassiere. We also shot some externals at the Morton Street Pier on the west side of Manhattan.
We wanted the closing scene of the movie to take place in a cave. So we took a bunch of two-by-fours, newspaper and paste and created an elaborate paper maché set of stalactites and stalagmites. We thought it came out great, but unfortunately so did the mice. Attracted to the sweetness of the glue, they seemed to eat the set as fast as we could build it so it was a constant battle to hold the line. For some reason I thought that laying some kitty litter down around the set would help dissuade the mice so we brought in 40 pounds of it. But the mice found it a comfortable place to leave their droppings so the litter took on a life – and odor – of its own. When it was finally time to break down the set and dispose of it, I decided to have a few drinks and do it myself. As I started working my way down from the top, I noticed that I was basically creating a giant ball of sticky, smelly paper. By the time I got to the bottom of the set the ball was about 8 feet in diameter and too big to fit in the elevator. So I rolled it down the steps, out onto 22nd street and left it leaning against the front window of a fancy shop nearby. The next day when I walked by, the ball had been covered by bright orange Sanitation Department violation stickers. Some people apparently thought an artist had created a conceptual piece. Goodness knows what kind of fine I cost the store owner.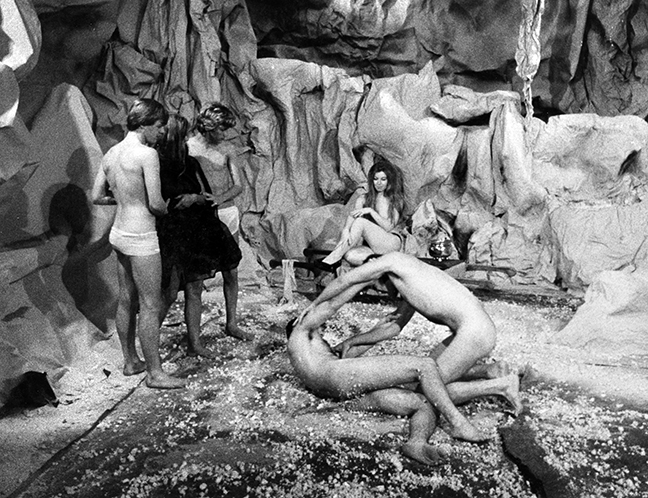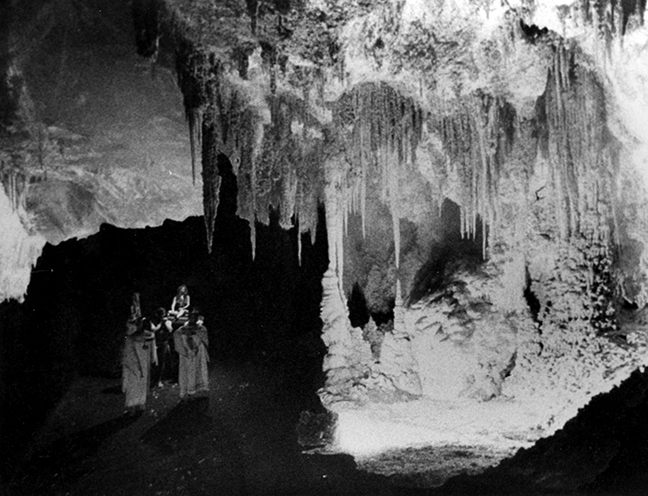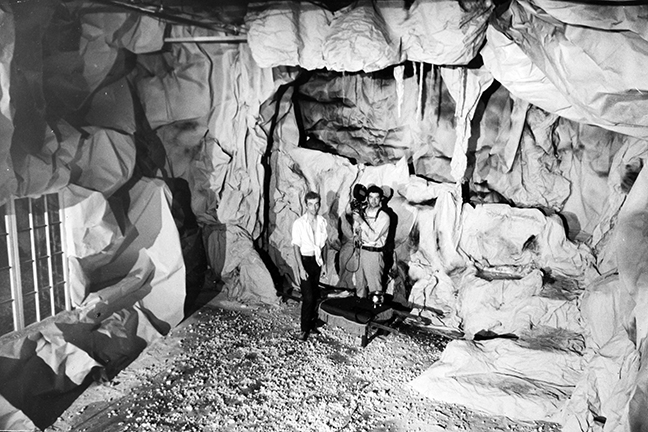 Back on set, the film was so surreal the actors often didn't understand what they were meant to be doing and, since I didn't have a strong grasp on Lem's script, neither did I. Fortunately we were largely shooting MOS – without sound – so we could provide instruction as we filmed. Lem would try to tease out the emotion driving the scenes with questions such as "Was she in love with her brother, or was she not?" and "Was this terribly perverse?" I tried to go along with it, telling the actors they didn't understand because they weren't privy to all the scenes. But I couldn't tell what Lem was trying to get at and frankly I didn't care. I was just the happy cameraman shooting all this, thinking to myself, "Lem's going to have to edit this together so it's kind of his problem."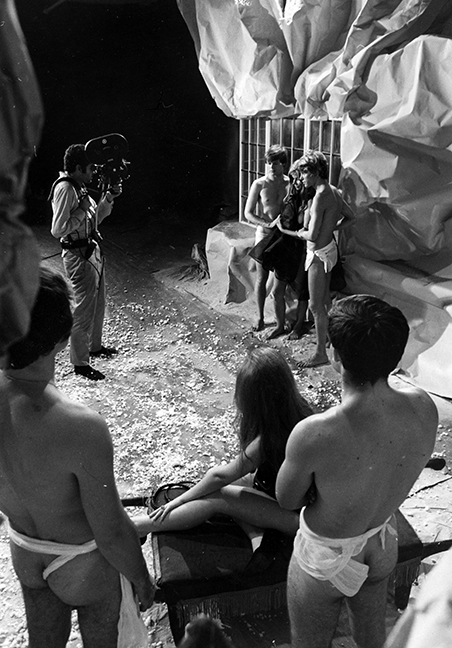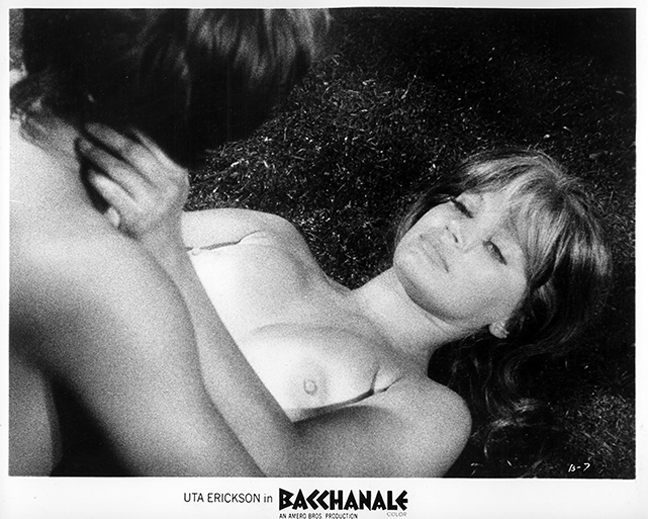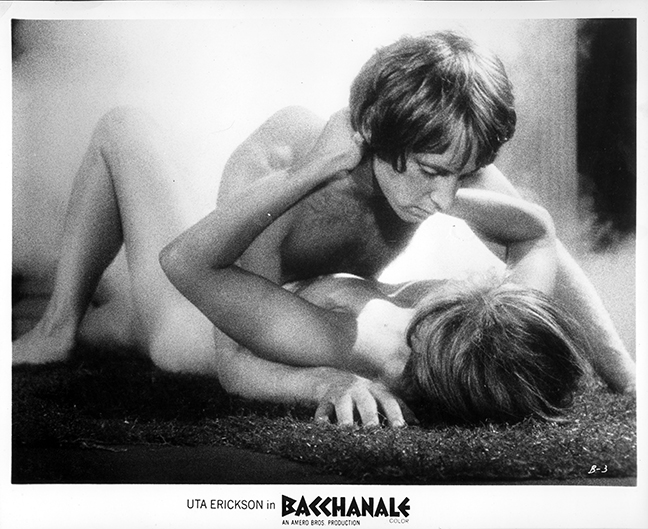 *
We shot 'Bacchanale' with relatively little sexual content compared to other exploitation films of the time. That said, since standards had become more relaxed at this stage, full frontal nudity for both women and men was plentiful in the film. And of course we included a signature Amero Brothers simulated male-on-male scene.
Then one fateful day in January 1971 while we were wrapping up filming on 'Bacchanale', I received a call from my friend JJ Coyle. He said, "John you'd better get to the Tivoli Theater in Times Square – they're showing something you won't believe." I dropped everything and headed over to join JJ for a film called 'Mona' directed by Howard Ziehm. I bought my ticket and walked in just in time to see a woman giving a man head on the big screen. This wasn't a case of clever angles and backs of heads that hint at fellatio without ever actually showing it. This was a full on blowjob with no punches pulled.
I couldn't believe my eyes. Gay and proud of it, JJ leaned over and jokingly said "This is bad. If they start teaching women how to do this, we're all in big trouble." But I wasn't in a joking mood. While we had been making sex movies for years, I never expected the political and cultural establishments to allow hard-core sex out in the open in this way. As I watched, I thought the police would burst into the theater any minute and arrest us all for even witnessing such a thing.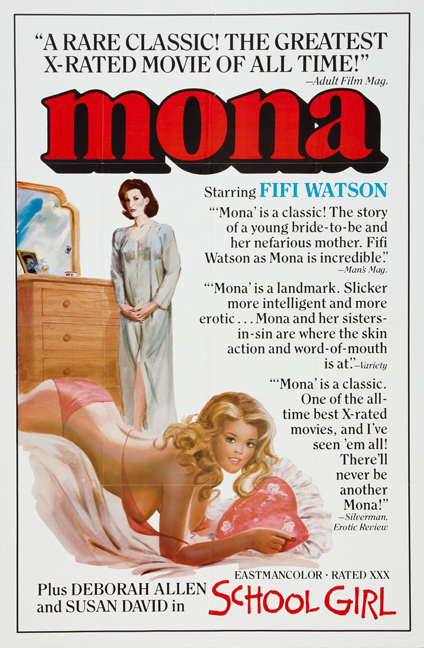 The writing was on the wall. I immediately knew that if hard-core sex was going to be the new norm moving forward, nobody would want to pay for imitation any more. So I rushed back to the studio to find Lem and tell him that from this day forward, simulation would not be enough. In fact to avoid losing our shirts we would have to add hard-core sex to 'Bacchanale'.
We approached our lead actress, Artie, to see if there was any way she might consider shooting hard-core scenes to insert in the film. Artie told us that while the industry may be moving to hard core, she was not willing to. So we asked her how she'd feel about us shooting someone else as a stand-in for her during sex scenes. Even though it wasn't specified in her contract, Artie was a good sport and had no qualms about hardcore inserts being added to scenes she was in. She was fine for people to think that she was having sex, just as long as she didn't actually have to do it.
We approached several other actors in the film but almost all shared Artie's point of view so we had to find another way. Artie's friend Linda Boyce had become an agent for adult acting talent so we asked for her help. Her first suggestion was a married couple named Tina and Jason Russell who had made a bunch of explicit loops for peep show machines and under-the-counter sales. They agreed to appear and next put us in touch with Herb Streicher, a handsome theater actor who would gain notoriety the following year as Harry Reems in the groundbreaking film 'Deep Throat'.
Now that we had found our hard-core performers, it was time to set up the shoots. As the cinematographer I was basically on my own for these scenes and I did not find the work easy. I had to identify points in the movie where it would make sense to insert hard-core sex and then set up the shoots to provide as much continuity as possible with those previously filmed sequences. This was one time where Lem's fantasy story actually served us well as I could use methods like fog and film-tinting to obscure the fact that those having sex were not the same as the original actors.
I shot the first hardcore sequence with Tina and Jason. I found Jason humorless and not particularly good-looking, but Tina was dark, beautiful and easy-going, almost making up for Jason's dour disposition. I wasn't nervous to shoot my first hardcore scene but I wasn't confident either, so I shot the sex close up and clinically. I also had to stop and start a good deal to make sure I was getting what I needed – an approach that caused Jason some distinct performance challenges.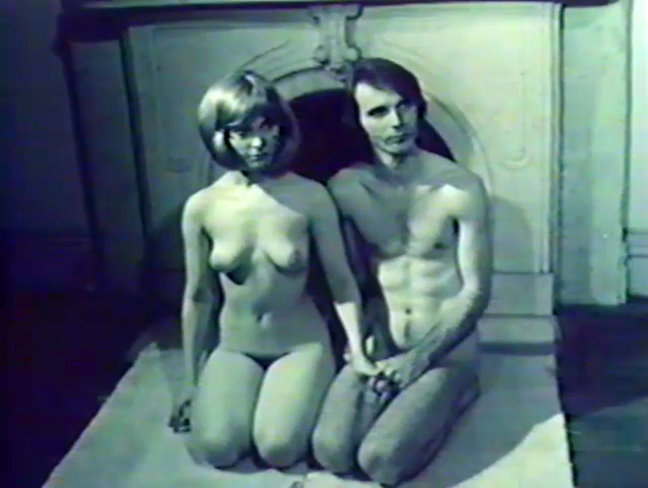 Tina and Jason Russell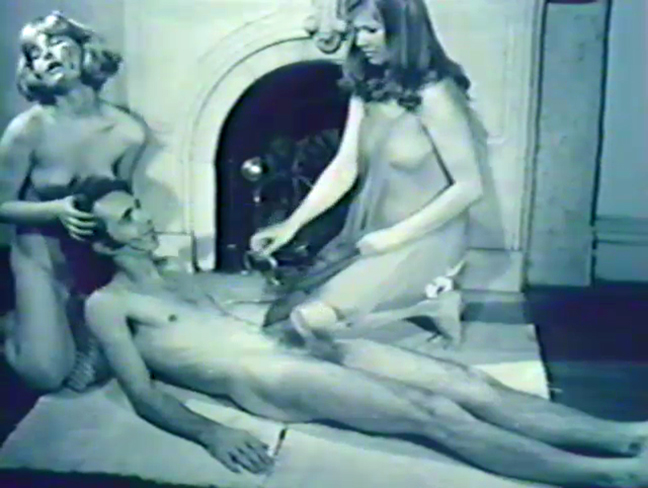 Tina and Jason Russell, Ute Erickson
When I finally got the needed shots with Tina and Jason, I replaced Jason with Herb Streicher to film some inserts that could be added to the scene with Artie and Neil. Again most of the shots were in extreme close up to avoid actor comparisons but years later re-watching 'Bacchanale' I noticed you can see Harry and Tina's faces for a split second.
To complete the hard-core transformation, we decided we still needed one more explicit insert so we chose a scene with Artie and an actor named Ron Babin. We wanted to place Ron's body in a coffin, have him play dead and have Artie give him a hand job. But like Artie, Ron wasn't willing to perform explicit sex acts on film. Since all we needed was a close up of a female hand and a male member, Darcy and LaRue stepped up to the plate and helped us out.
When we finally finished shooting the inserts, I edited them them into the movie. We had to cut out some other scenes so as not to increase the film's total running time but overall we were relatively successful. We completed the sound dubbing with extra help from Roberta as well as LaRue who used his best campy voice. And we added music, which was "borrowed" as usual. This time we used a score by Bernard Herman that was in Psycho; it is amazing we weren't sued.
And that was it. From that day forward, we were no longer just sexploitation filmmakers. It was strange to be doing something I never thought we would. It was fun making exploitation movies – seeing what you could get away with but never crossing the line. Now that there was no line to cross, things seemed like they'd be less exciting. But the market had changed – seemingly overnight – and we needed to change as well if we wanted to make films and make money. We were now Lem and John Amero, pornographers.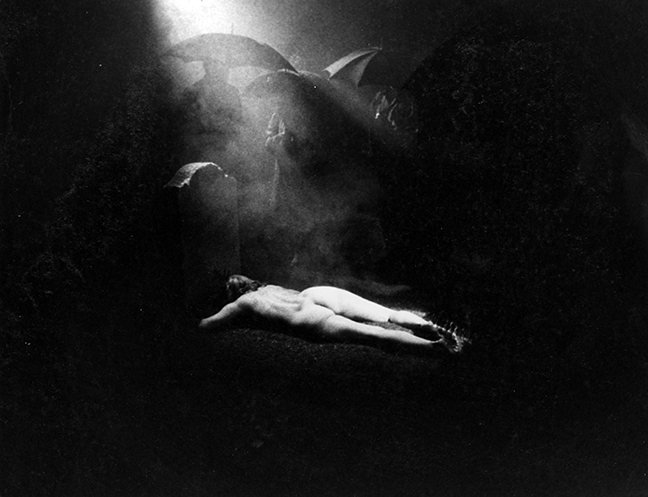 *
After a couple of months of off-and-on shooting we finally had a rough cut of 'Bacchanale' to screen, and we needed to find someone who would put up some finishing funds. I decided we required some promotional materials to bring along with the screener. I wanted to try something different than the standard sleazy sexploitation ads so I chose a photo of Artie I loved and made it the feature of our large posters, plain and simple. Everyone tried to discourage me saying it was the wrong style for the crowd we were trying to reach but I stood firm and went ahead with it.
We took the rough cut and the poster to Lenny and Bernie first to see if they meant what they said about playing any movie of ours at Circus Cinema. Lenny watched it and liked it so much he said he would be happy to put up the remaining funding in exchange for exclusive distribution rights. We feared that Lenny didn't have the right contacts to be able to effectively distribute the film but we needed the money so we sold the rights to him and finished the film. Luckily we only signed an agreement for seven years so eventually ownership of the movie returned to us after that.
Lenny and Bernie decided that 'Bacchanale' should open at Circus Cinema of course. The second thing they decided was that the poster I created wasn't racy enough. So Lenny hired an artist to sketch an image of flames coming through a woman's legs. I hated the design but thought better of fighting it as I wanted Lenny and Bernie to be motivated to actively promote our film. Promote it they did and to great success. On July 22, 1971 'Bacchanale' had a tremendous opening night at the Circus, accompanied by a lavish premiere and a review in Variety magazine. The reviewer Eric Spilker wrote "Bacchanale gives equal time to all the basic human sexual possibilities". We didn't understand what he meant but since the quote was from a Variety review we printed it on all subsequent promotional materials, including an enormous banner we hung in front of the theater.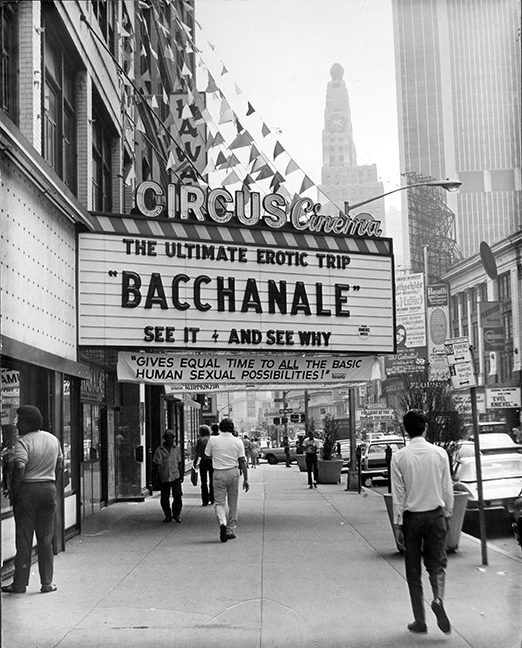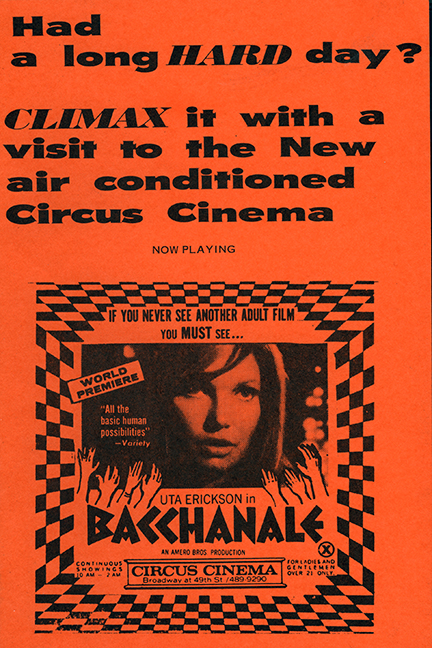 As the money rolled into Circus Cinema, Lenny and Bernie began to look for a distribution partner for 'Bacchanale' and came across a company called Distribpix. Arthur Morowitz and Howie Farber – two young friends – used their bar mitzvah money to start Distribpix in 1965. They quickly found success distributing sexploitation films and like us, saw the writing on the wall as hardcore sex crept into films. But while Lem and I found the idea of hardcore to be a necessary evil, Arthur and Howie appeared to view it as a great opportunity and were ready to jump in feet first. Their approach was to emphasize quantity rather than quality, so they released a tremendous volume of cheap films as soft-core transitioned to hardcore, many of which were complete schlock. But they seemed to appreciate the quality of 'Bacchanale' and they did very well with  as evidenced by the regular pay statements we received.
'Bacchanale' had a long run at the Circus, but it seemed that the quality of the film might not have been the primary reason. Now that hardcore was available people were lining up in droves to see it and the theaters couldn't get enough new product. New theaters were popping up to capitalize on the transition, including the World Theater, which would become famous in 1972 for premiering the film 'Deep Throat'.
But whatever the reason for its huge success, 'Bacchanale' was  soon earning us back our original investment and a good deal more. Lem and I got the message loud and clear – hardcore pornography pays, and it was here to stay.
*