What connects one of the highest budget adult films of the 1970s with a mysterious illustrated book of poetry?
Apart from the fact that it's probably a film you've never seen, and a book of poetry that you've never read.
The answer is a Harlem nightclub owned by basketball legend, Wilt Chamberlain, a major drug network, mountains of cash, award winning filmmakers – including the editor of the Oscar-winning Midnight Cowboy, and the cream of the early New York adult film industry.
Twenty years ago, The Rialto Report's Ashley West became obsessed with the film Not Just Another Woman, and set out to contact every living person associated with the movie. The story that emerged was stranger than expected.
All interviews, unless noted, were conducted by The Rialto Report.
With thanks to Grant Harper Reid for his permission to reprint from his autobiography, Harlem Bible – In The Beginning.
______________________________________________________________________________________
At what point is a movie first conceived?
If it is when a film first premieres, then Not Just Another Woman was born at 7pm on January 23rd, 1974 at the Lincoln Art Theatre on 57th St in Manhattan.
If a movie is born the day that film production starts, then 'Not Just Another Woman' started a full year earlier in the winter of 1973, in a warehouse studio in New York's Chinatown.
But if ground zero for a film is the original series of events that inextricably leads to its eventual release, then perhaps the story of 'Not Just Another Woman' actually starts back in the early 1960s, when a legendary Harlem nightclub was sold to a basketball great.
Smalls' Paradise, at Seventh Avenue and 135th St, first opened in the mid‐1920s, but unlike many of its competitors, its celebrity-heavy clientele (which included Tallulah Bankhead, George Raft, Joe Louis, and Walter Winchell) consisted of whites and blacks alike. It positioned itself as a jazz club, and counted a young Malcolm X as one of its waiters. Howard Hughes was spotted there as well with his squeeze, Ava Gardner.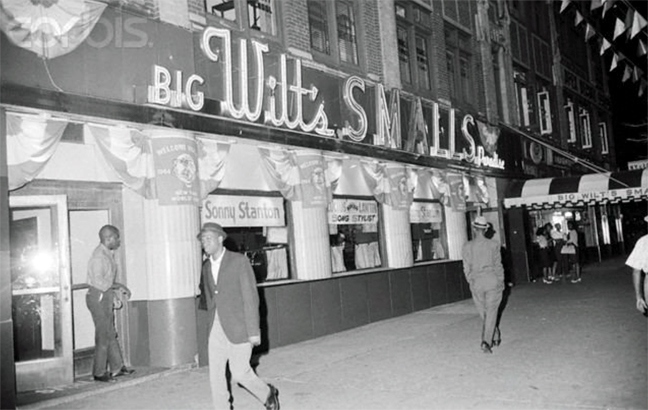 But by the late 1950s, Smalls wasn't such a Paradise: it was considered passé by the hip crowd, losing substantial business, and in need of a new owner. Step up basketball legend Wilt Chamberlain: 7 ft 1 in, twice NBA champion, four-time MVP, and on his way to 20,000 sexual conquests. Wilt the Stilt had always wanted to own a nightclub, so he paired up with a business partner, Pete McDougal, and made it happen.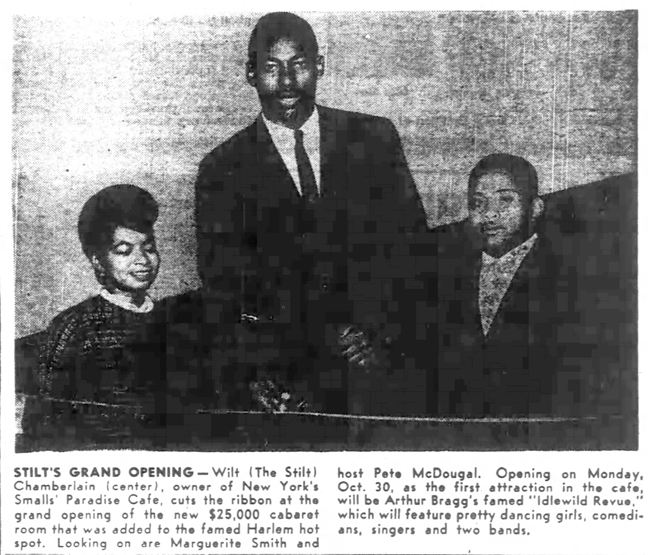 Wilt and Pete (right) re-launch Small's Paradise
Wilt became the celebrity host, spending up to 18 hours a day welcoming guests, while Pete McDougal was the money man and legal owner in the background. To the outside world, Pete was the successful proprietor of one of New York City's biggest excavation and demolition companies. To his inner circle, he was also an established numbers runner in Harlem, netting substantial tax-free profits from illegal betting schemes.
Together they renamed the venue Big Wilt's Smalls Paradise, and good times returned to the club. The reasons for any nightclub's success can be difficult to pinpoint, but Small's Paradise owed part of its upswing to a number of changes that Wilt and Pete made: they switched the style of music from jazz to rhythm and blues (Ray Charles was one of their first performers), they booked African-American comedians such as Redd Foxx, and made sure the club quickly became the go-to place for sportsmen, especially basketball players.
And there was the Twist. Tuesday nights had always been slow at Smalls Paradise, so starting in December 1961, they came up with Twist dance contests on Tuesday evenings. The phenomenon exploded: Big Wilt's Smalls Paradise saw over 250,000 guests the following year, with hundreds turned away. TV crews visited to document the dance craze, United Nations delegates were regulars, King Curtis was the house band, and Wilt was invariably on hand, greeting royalty, show business and political figures by the dozen.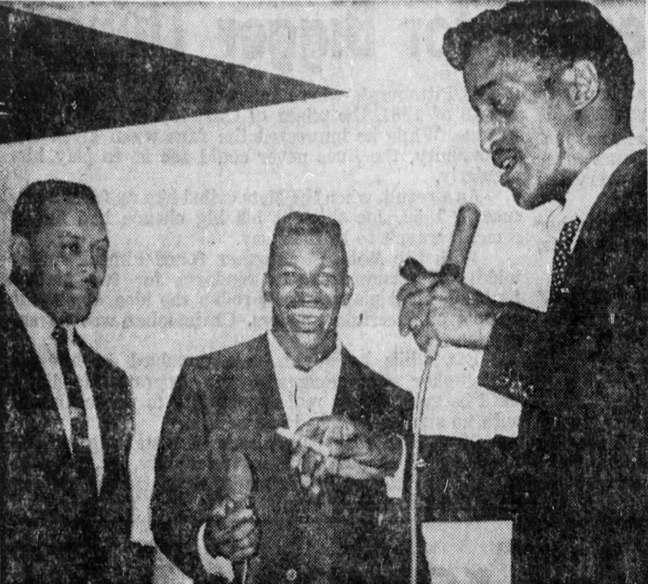 Pete McDougal (left) with Lloyd Price (center) and Sammy Davis Jr (right)
But there was another feature that made Big Wilt's Smalls Paradise popular – very popular. And that was drugs. Plenty of them. And by the early 1970s, most of the drugs that hit Harlem came from one man's operation: Frank Lucas, one of Pete McDougal's closest friends and associates.
*
Frank Lucas, whose life was depicted in the feature film American Gangster (2007) (he was played by Denzel Washington), loved Big Wilt's Smalls Paradise. It was where he had business meetings, set up drug deals, sweet-talked the girls, and watched the dancers until the 4am closing time. Lucas and Pete were perfect compadres: both had come from poverty, had known tough times, and both wanted to get rich. Quickly.
Lucas had fled his home in North Carolina as a teenager after getting in trouble with the law, and ended up in New York City where he fell into the orbit of a drug-dealing gangster named Bumpy Johnson. Crime in Harlem had changed in the 1960s, with the so-called black mafia forcing out the Italian families who once held tight control over drugs and numbers. A new generation of young African Americans emerged and begun to encroach ruthlessly on the older generation. The old rules no longer applied, and blood stained the streets.
After Johnson's death in 1968, Lucas became the undisputed king of the Harlem drug trade. He wasn't inheriting the mantle: he was a different kind of dealer and he sold a different kind of drug. 'Blue Magic' was a white heroin – or 'horse' on the street – imported from the Golden Triangle of Thailand, Burma, and Laos. To break the Italian Mafia monopoly, Lucas had cut out the middleman by traveling to South East Asia himself to build up a network of suppliers. (Lucas boasted that he smuggled the heroin out in the coffins of dead American servicemen, though this claimed has been disputed.)
Big risks led to big rewards, and it was soon estimated that Lucas' worth was north of $50 million – most of it expertly layered in Cayman Islands banks. The substantial profit margins allowed him to buy property around the country, including office buildings in Detroit, apartments in Los Angeles and Miami, and a ranch of several thousand acres in North Carolina on which he ranged 300 head of Black Angus cattle, including a breeding bull worth $125,000.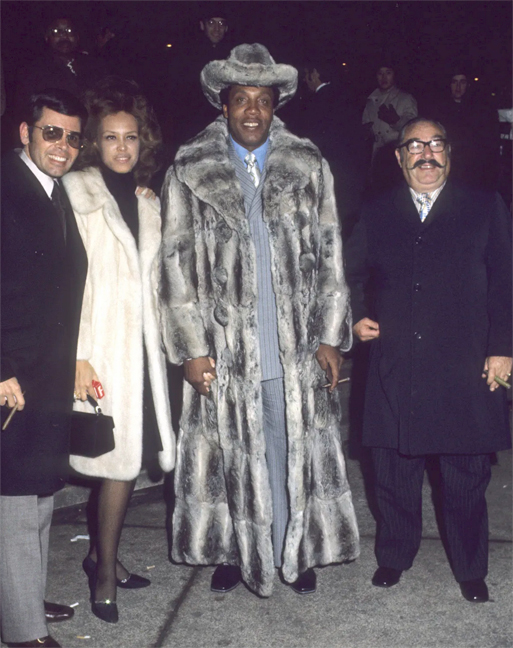 Frank Lucas, plus fur
Pete McDougal straddled the worlds of respectable business and criminal underworld. He saw the changing landscape of Harlem's criminal element, the gangsters, the deals, and the money – all converge under his nose at Big Wilt's Smalls Paradise. Most of the time, it was fruitful, but sometimes it was too real, like when drugs starting to be sold openly on the premises. So in 1971, Pete made a public display of clamping down on drug consumption at Smalls. It was largely just for show: he didn't want to the club to lose its reputation or its license, but he sure didn't want to lose its extravagantly criminal clientele either.
On the contrary, he wanted in.
*
Julian Ross was also a regular at Big Wilt's Smalls Paradise. Better known by his nickname 'Toby', he was drawn to the music, the characters, and the drug scene – just not in that order.
An imposing and strong physique suggested he was an offensive lineman or at least a burly doorman. He was neither. He was a businessman, a self-described "African American entrepreneur", which he took pleasure in pronouncing 'entreprenuuuuure'. Translation: he was always hustling for a money-making opportunity or, failing that, to score some drugs. At Smalls, he found both in abundance.
Toby became good friends with Pete McDougal and Frank Lucas at Big Wilt's Smalls Paradise, and soon he was part of their inner circle. That was a big deal: Lucas rarely trusted anyone outside of close relatives and friends from his rural North Carolina origins to handle his heroin operations, on the basis that they were the only ones who wouldn't steal from him or be wide-eyed by the corrupting vices of the big city. Toby was from Kingston, Georgia: close enough to win an exception, and so Lucas and Pete started to cut Toby in on some of their drug distribution deals.
Toby was ostensibly a filmmaker, with a staff and production office in Suite 512 at 8 West 40th St. (This Toby Ross is an entirely different person to the director of gay adult films.) His company produced industrials, commercials and the occasional documentary, but Toby took his work seriously, harboring aspirations to move into feature films once he had made the right contacts to raise enough finance.
Grant Harper Reid was still a teenager when he went to work for Toby as an office junior:
"My new job was to study filmmaking with a black man who owned a successful film production company in midtown Manhattan. His office was an administrative operation, and all of the employees dressed in strict business attire. My regular duties consisted of me sitting in the outer-office area with the film editing equipment, looking confused all day long. The rest of the employees ignored me. The receptionist or another workers would disingenuously ask me how I was doing, even though they didn't care."
Grant remembers hearing about the company's recent films from Toby himself:
"On my very first day during my introduction period, (Toby) my new boss bragged to me. He told me about their previous contract to film a documentary profiling the head of Kentucky Fried Chicken.
"After working there for only a week, a few other employees quietly informed me that the boss fucked up the Kentucky Fried Chicken promotional documentary. He was supposed to film Governor John Brown and his wife, the First Lady of Kentucky, former Miss America, and T.V. sportscaster Phyllis George. It was Governor John Brown who'd bought the Kentucky Fried Chicken company from Colonel Sanders in 1964. Once Governor Brown acquired the company, he turned it into the multi-million-dollar restaurant franchise chain.
"The problem was (Toby) was supposed to shoot Governor Brown and his glamorous wife. Instead, he had the film crew following old man Colonel Sanders. Colonel Sanders was now just a fried chicken brand ambassador, and the only thing he knew about the company was to eat the chicken in front of the cameras."
By the early 1970s, Toby was leading a dual life: by day, he was managing his film company, and by night he was up at Big Wilt's Smalls Paradise in Harlem consuming industrial quantities of horse, and making drug deals that brought him bagfuls of cash. Toby was a generous man admired for his largesse, as Grant remembers:
"The boss was tremendously open-handed with his tips and gratuities towards me, just like he was with everyone else in the office. The gigantic tips always exceeded my salary, sometimes four times as much.
"(After) a few years, I still worked at the downtown office during my college summer breaks and holidays because of the enormous tips."
*
Large sums of illegally acquired cash, held in an assortment of bank notes of different denominations, present a number of problems – not least where to store it, and how to launder it back into legal circulation. In order to enjoy mountains of his drug monies, Toby needed a cash-based sure-fire legit-business idea that he could sink the money into. And preferably, one that was guaranteed to at least break even.
Toby had an answer: he would make a film. Not just any film, but a big budget pornographic motion picture the likes of which the world had never seen. Everyone told him you couldn't lose money on a skin flick, the profits were high, and the payback could be measured in mere weeks. Besides, financing movies in New York at the time attracted tax breaks for investors, so he could screw the government over too.
The idea was simple: he'd use his experience as a filmmaker to make a XXX film with a real plot, actors who could really act, car chases and stunt men, a soundtrack recorded by a big name musician, and he'd sell it with a marketing campaign that would put Hollywood movies to shame.
So Toby started to write a script called Not Just Another Woman.
Ed Rothkowitz, who'd been the assistant editor on the Oscar-winning Midnight Cowboy (1969), had also worked on a number of commercials for Toby's company. Toby called Ed to discuss his idea, and offered him the job of production manager and editor on the film.
"Toby was essentially a businessman who worked in the film industry. I liked the guy; he was a real character, very flamboyant and flashy. He acted like he was a black Cecil B. DeMille, which was ironic given that he essentially made commercials. But unlike most movie producers I ran into, Toby had no money issues whatsoever. On the contrary, he seemed to have an endless supply of cash. It was a mystery to me.
"He'd just finished working on a PBS commercial for sickle cell anemia which I edited for him. He decided to retain the film crew and make 'Not Just Another Woman'. It was a high budget film – I don't know the total cost, but if I had to guess, I'd say Toby spent well over $100,000 on it. I remember he wanted to blow up a car for the shoot, and things like that… you never saw in a porn movie back then."
Werner Hlinka, a filmmaker from the Czech Republic who'd settled in New York, was another collaborator, and sometimes competitor, of Toby:
"I had a production company, Werner Hlinka Productions, with offices at 140 East 39th St. We worked mainly on commercials, and did pretty well. We won a few industry awards.
"My first contact with this new, explicit sex film industry was in 1971 when I shot a porn film for a couple of friends of mine, a husband-and-wife team, who I worked with in the ad business. They made a movie called Dark Dreams. I think I was the only one who used my own name on that!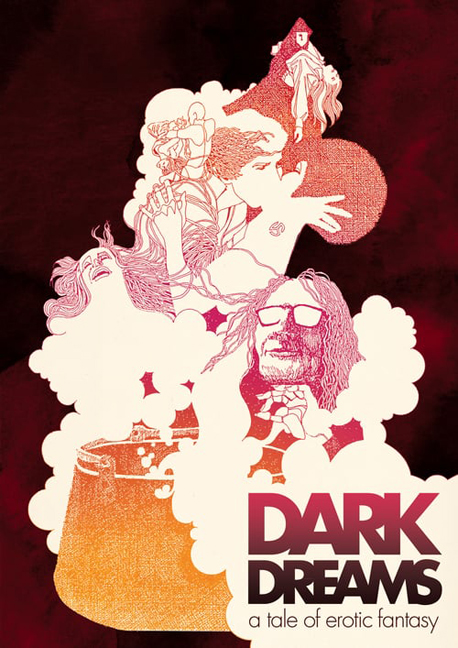 "I had a brief relationship with the star, Tina Russell, while we made that film. I have fond memories of the experience. She was a beautiful woman.
"A couple of years after that, Toby called me up and asked me to be the production manager on his X-rated film. When he told me what he wanted to do – and how much he wanted to spend! – I didn't believe him. It just didn't make sense. No one had that amount of money. But I agreed to it, because Toby was so entertaining… and persuasive.
"Toby's attitude was: yes, this is a pornographic film, but we're nothing to do with the porn industry, so let's make this the best porn film that's ever been made."
Adult film actor Fred Lincoln was another to get a call from Toby:
"I knew Toby from the nightclub scene. We did drugs together back in the early days. Toby was a big social user, and always had the best stuff.
"Did I meet him at Big Wilt's Smalls Paradise? It's possible. I went there with my brother in the 1960s before I ever did porno movies. It was a great place."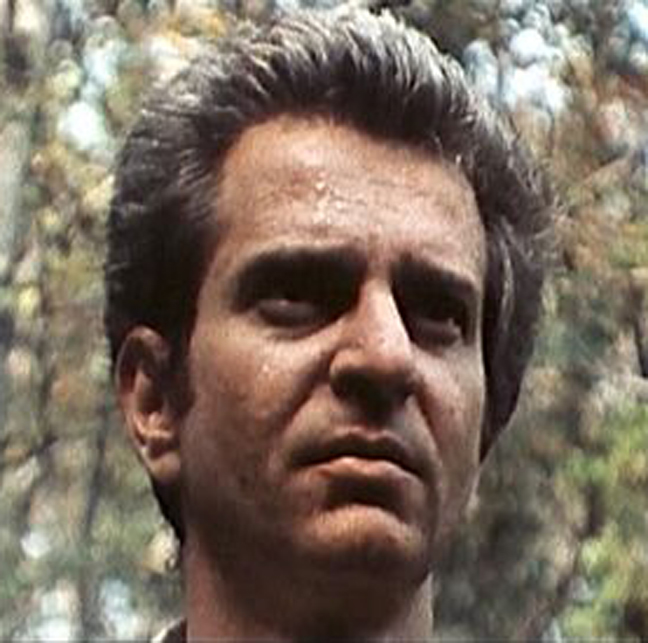 Fred Lincoln
Fred often shared drugs with Toby, but knew nothing about Toby's lucrative drug-dealing side business:
"I went to Toby's office a lot. I remember he was doing a film for Don King when I first met him. Boy, did Toby get screwed on that one.
"I was there when Don King came in and said, "You got to make this documentary about Muhammad Ali for me. We've got to get all the brothers together to make a great film about The Greatest." So Toby went to work, but Don King never paid him. He got nothing for the work he did."
Fred remembered Toby first telling him about getting inspiration idea for the movie.
"When I partied with Toby, everything stopped when this song 'She's Not Just Another Woman' was played. It was this crazy funky song, and everyone got up and danced.
"One day, when we were probably high, Toby said, "I'm gonna make a mooooveee, and I'm gonna call it 'Not Just Another Woman'! And you're gonna be in it!"
Fred wasn't interested in an X-rated performing role in Toby's new movie as he was trying to distance himself from sex films in favor of getting parts in more mainstream movies. Fred did however agree to be the stuntman in 'Not Just Another Woman'. He already had a history of stunt work:
"When I first did movies, it was really difficult to get (acting) parts because what would happen is we'd go and audition and audition… and then (the producers) would hire somebody from California. (That) went on and on and on.
"At the time, I was working as an extra on the ABC TV show 'N.Y.P.D.' (1967-1969), which starred Jack Warden. One day, one of the stunt men didn't show up, so the stunt coordinator came over to me and said, "You think you could do this?" It wasn't anything difficult – it was cops grabbing some gang kids and throwing them against the car.
"I said, "Yeah, I can do that". It was fun and he liked what I did, so he said, "Can you drive? I've got some driving stuff."
"So (that's how) I became a stunt man: I did 'The French Connection' (1971), 'Such Good Friends' (1971) for Otto Preminger, and 'The Anderson Tapes' for Sidney Lumet. In fact, I still get money today, $20 when they play on television. It was fun to do, another incredible way to make a living while driving cars at 100 MPH and flipping 'em over.
"Toby was still working on the script for 'Not Just Another Woman' when he called me, but he already knew that he wanted a big car chase, so we agreed that I'd organize all the stunts."
Fred recalled that Toby was an avid student of karate, and wanted fight scenes in the movie as well:
"He trained with Ron Van Clief, who was a martial arts legend from Brooklyn. Ron was called the Black Dragon or something like that, and he starred in karate films."
Grant H. Reid:
"I remember that (Toby) used to show me pictures of himself training with the black belt on… He was proud of that."
Fred sent Toby to Sandi Foxx, an adult film actress and sometime porn agent, who procured the talent for the movie.
"Toby Ross was a large, robust black man, about 50 years old when I met him. He had a reputation being involved in the drug world but I didn't stay around him long enough to find out if that was true. He certainly had the vibe of someone caught up in that scene.
"I always thought it was mysterious, that you won't find a picture of him anywhere…"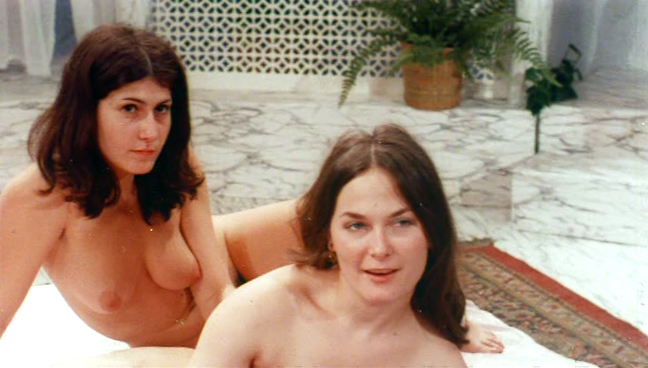 Sandi Foxx (left) and Tina Russell
In 1974, Marc Stevens asked Toby about his reticence to have his photo taken, and Toby was quick to offer an explanation:
"Some (people) are so prejudiced that they'd refuse to go to see a film made by a black man, never mind the sex. Sex shakes up people's prejudices so much… why should my face add to the upset?"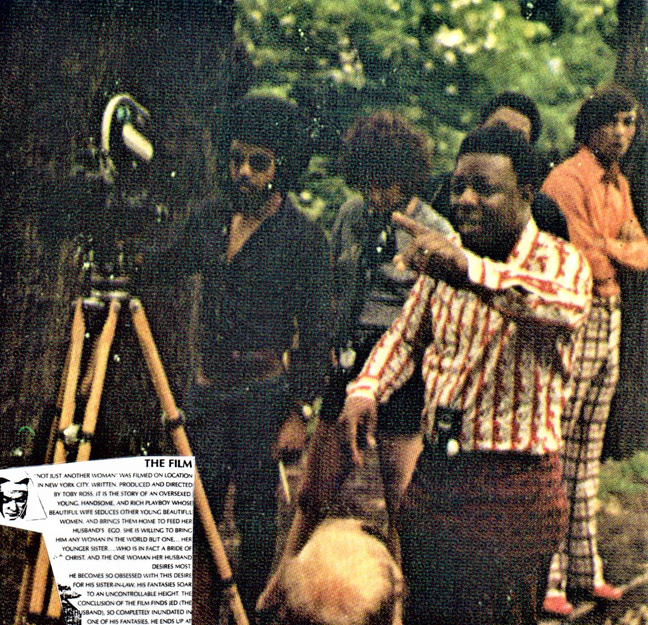 Rare photo of Toby Ross (directing, right) on set
Sandi Foxx:
"Toby had an office near the 42nd St library in a small building. When I saw him, he had a lovely young white gal named Kathy sitting on his lap. She was slender with dark hair down to her waist. She may have done a few films, and I think she also worked at Show World in a live show. It was always a puzzle to me what she was doing with Toby. Perhaps it was drugs.
"Money wasn't an issue for him, which was almost unheard of at the time, so I set him up with people I knew from the scene: Darby Lloyd Rains, Don Allen, Eric Edwards and his girlfriend Kathy, Tina Russell and her husband Jason, Andrea True and Marc Stevens. They all went down to Toby's office and met him, and he hired them all."
For the jaded porn performers, Toby – and his established film company, not to mention his cash – were an unexpected, but welcome surprise.
Marc Stevens (from his book 'Mr 10 ½'):
"Toby came from 112th Street in Harlem, but he's the closest thing to Hollywood I've ever met. He took fabulous care of us, which is very rare in this business. After years of dealing with assholes who go around posturing as directors, or twisted sickies who get behind a camera for their own personal perversions, Toby was sheer joy."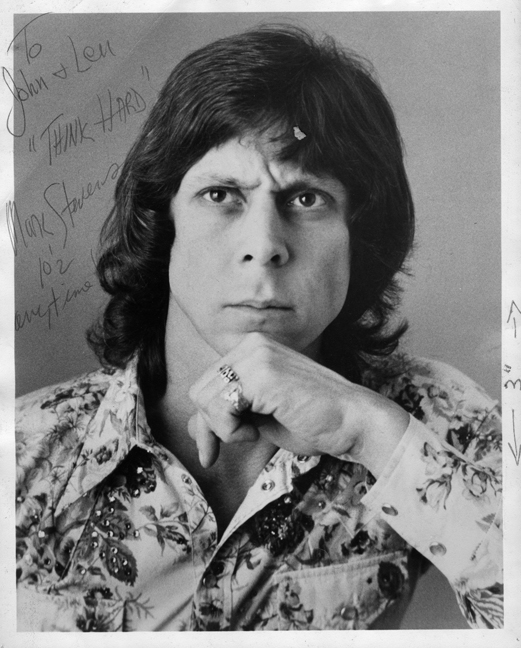 Darby Lloyd Rains:
"Toby was a sweetheart. He was genuine and kind, and kept assuring me that he wanted to make sure that I was comfortable at all times."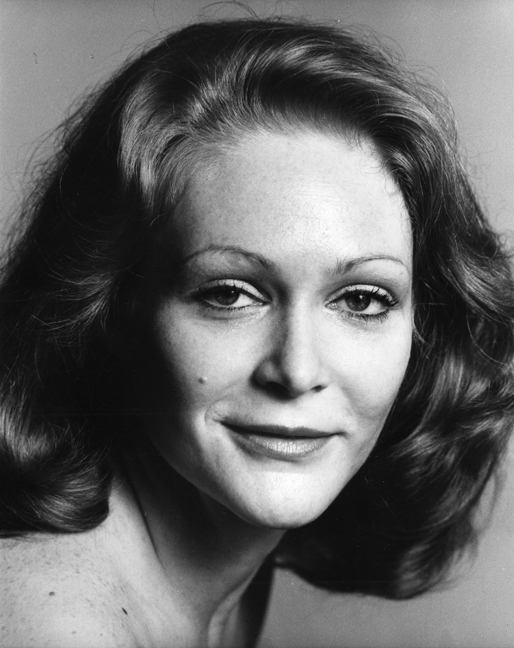 Darby Lloyd Rains
Helen Madigan:
"I loved Toby Ross. It was his first X-rated film, but nothing he could do could ever be in bad taste. He was a gentleman. Full of class. I trusted him."
Toby was quick to pay respects to the porno talent in his 1974 interview with Marc Stevens:
"I have a real respect for your talent… you should be rich by now, and you're not. Marlon Brando can't do this shit. 'Last Tango In Paris' – it was phony! The way you do it with some of the other kids is the real thing. I'm sick of the way actors are treated in this industry.
"You can be used – we're all used, in one way or another – but not misused."
One other trait of Toby stood out to the actors: he loved to party.
Jason Russell:
"Toby was a crazy cat. He invited Tina and I up to this famous nightclub in Harlem: Big Wilt's Smalls Paradise. He knew everyone there. Basketball players, show business stars, diplomats and politicians. They all came up to say hello to Toby."
Did you get the impression that drugs were a big part of Toby's life?
Jason Russell:
"For sure. Somehow Toby always had all the best drugs. Whatever we wanted, he got. We hung out with him a lot, and he was always very generous."
John Minzter (Tina Russell's brother):
"Toby was from Harlem, and he seemed to know every single person there. I came into town from time to time to see my sister, and we'd head straight up to Harlem to score drugs from Toby.
"He was great – friendly, successful, and entertaining."
The male lead for 'Not Just Another Woman' was originally meant to be the ubiquitous bisexual adult film star, Marc 'Mr 10 ½' Stevens, but Toby changed his mind and decided to cast a more physical and threatening type. He opted for heavily-tattooed, bit-part actor Don Allen in the lead role.
Don Allen was a semi-reluctant performer, using the films to pay for his education.
Toby Ross (interviewed by Marc Stevens in 1974):
"Don Allen came into my office… I had refused him at the cast call because of those overwhelming tattoos – he's got them to his hairline!
"Then I started thinking, hey, that's kind of a challenge. I took about twenty candids of him, head of Christ on his back, the devils and snakes and birds and scrolls, and showed them to a lot of women I know. A good eighty per cent of them said, yeah, he really turned them on. The men whose opinion I asked said, why would he do a thing like that to his body?"
Don Allen:
"It started when I was 11 or 12. I used to go to Coney Island, and I was fascinated by the tattooed man – but I couldn't do it myself until I was 17 and on my own.
In the 1960s, New York City's Health Department had banned tattoo parlors, though you could still get tattooed nearby, on Long Island, in upstate New York, and in New Jersey.
Don joined the Marines, and when he broke his leg in Australia, he wound up in a naval hospital being attended to by a civilian nurse who was tattooed.
"She'd been looking for someone willing to work on. She started with flowers and wild geese down my right arm, and then she inked a peacock up my left arm. The big one was on my back where she drew Christ with a crown of thorns. When I got back to North Carolina, I had an American eagle drawn across my chest."
Toby Ross:
"(I thought) he's tall and handsome and knows judo, so we re-wrote the script around him."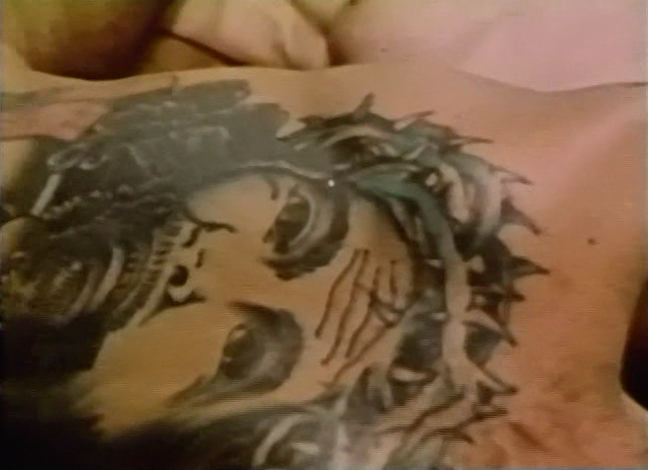 Don Allen's torso
*
Grant Harper Reid (from his autobiography 'Harlem Bible – In The Beginning'):
"One evening (Toby) walked into the office with two lovely female associate film producers on each arm. All three of them were smiling and in jolly moods. The boss grabbed his balls and shouted to me: "Hey boy, I just formed a new film company called Extravagant Films, and we're making a fabulous fuck film in Chinatown. It's the highest budgeted and most ambitious erotic fuck film ever made. I want you to report to a furniture warehouse in Chinatown tomorrow morning instead of this office."
"I was thrilled that I was finally let into the boss's inner circle. I didn't have to watch the pigeons shitting on the roof across the street anymore."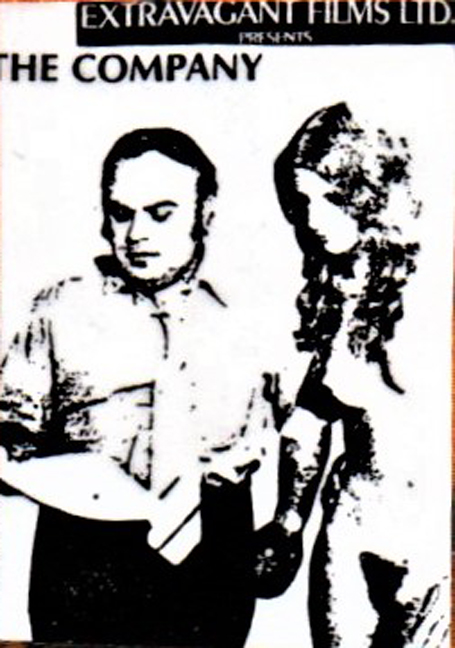 Fred Lincoln:
"Have you seen 'Not Just Another Woman'? How magnificent is that movie?!
Marc Stevens:
"The best film I ever made was a lush and glorious extravaganza called 'Not Just Another Woman'. Without question, it was the most luxurious erotic adventure ever shot.
Grant Harper Reid:
"The next morning when I got off the elevator onto the Chinese warehouse's top storeroom floor, I was sweating like a monsoon rainstorm and shaking like a leaf. Ten nude male actors were lying on the floor, sexually stimulating themselves. A few of them raised their eyebrows while playfully winking and teasing me as if I came to join them in the sex movie. As the actors laughed at my edginess, I picked up my pace. I immediately sat on an empty couch, assuming that the area was hidden and safely away from everybody so I could disappear.
"An attractive French nude X-rated star with a sexy mannish butch crew-haircut strolled in my direction with an inviting and troublemaking smirk. When she sat down next to me on the couch, I snuck a few glances at her sexy hairdo, and I'd be lying if I said I didn't dig it.
"In a broad French accent, she introduced herself and said that her name was Any. I asked her what her name was twice because I mistakenly thought she said Anus. This sexy actress immediately detected how bashful and timid I was to be in the company of hardcore X-rated film thespians. While on the couch, she coquettishly began to spread open her naked legs. placed her inner thighs in my lap, and then she rubbed them up and down on me.
"I got up off the couch and ran to get her some snacks, whether she wanted to eat them or not. I couldn't let anyone on the film set know how uneasy I felt, especially the boss.
"(After that) I was the best soda, cigarette, and coffee getting boy on the job. I did anything and everything to keep myself from looking at what the porn actresses and actors were doing with their private erogenous zones. I didn't want any of the cast coming around and messing with me at my expense.
"Once the film shooting commenced, I became immune to anything that the porn actors and actresses did around me. While eating a ham sandwich, they could sexually stimulate themselves right in front of my face, and I wouldn't bat an eye."
Fred Lincoln:
"Tina was magnificent, she was never finer than in that movie… Tina – she was gorgeous. Oh God, she was beautiful."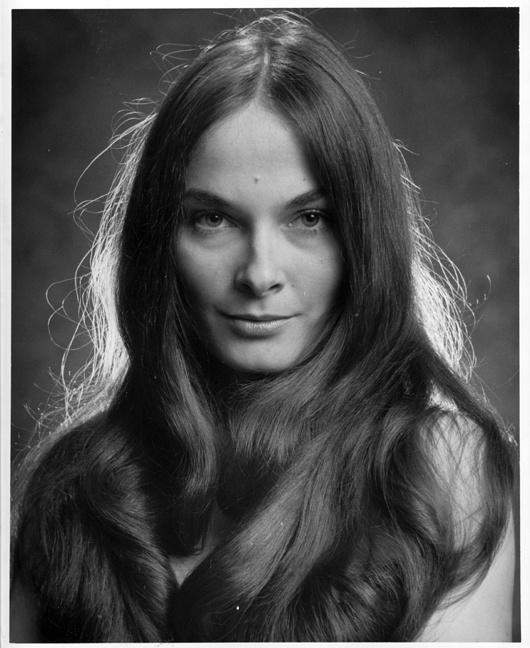 Tina Russell
Werner Hlinka:
"I hadn't seen Tina for a couple of years since our affair on 'Dark Dreams'. She was still stunning, but something had changed in her life. It was clear that she and Jason (her husband) weren't getting along as well as they used to. They always had an open relationship, but at this point Tina seemed sad and a little lonely.
"But she was great in the movie. She took it all seriously, and was obviously hoping that it would be a breakthrough of sorts for her. I think she saw this as her last real chance to become somebody.
"I was always happy to see her. She was a genuine and good person."
Grant Harper Reid:
"The X-rated movie's premise was so sacrilegiously ridiculous that God and Satan would have both given it a two-thumbs down rotten-apple review. The film is the story of an oversexed young, handsome, and rich playboy (Don Allen) whose beautiful wife (Darby Lloyd Rains) seduces other young beautiful women."
Marc Stevens:
"Tina had her most unbelievable role, namely a nun named Sister Conception. She takes a small vacation from the convent and pays a visit to her swinging sister (Darby Lloyd Rains), whose favorite pastime is searching for kicks… even on the sidewalk, where she picks up hookers to amuse her husband (Don Allen). But her husband, glutted and satiated with fun sex, falls hard for this bride of Christ, although it doesn't inhibit his natural horniness at party time."
Grant Harper Reid:
"The wife then brings the other girls home to feed her husband's ego and sexual needs. But the nun is the one woman her husband desires most but can't have. He is obsessed with his unrequited yearnings for his sister-in-law."
Toby Ross (interviewed by Marc Stevens in 1974):
"Tina Russell got so heavy into the role – she had spent three weeks meditating to get into the right spiritual space – that we thought we'd never swing her into the sex scenes."
Fred Lincoln:
"Toby was basically saying: "How dare you have fantasies about a nun?!" He plotted this whole thing. It was remarkable."
Grant Harper Reid:
"After we completed the shooting of interior sex scenes in the Chinatown warehouse, we moved on to film our outer location segments all over Manhattan. Wherever the film location moved to when we shot the exterior scenes, he rented nearby hotel suites stocked with liquor and cold cuts. The hotel suites were for the porn actresses to go up to the rooms to perform sexual services with the boss's numerous male friends and financial associates."
Darby Lloyd Rains:
"I was working as a dominatrix in a downtown basement at the time, which was pretty sleazy. I'd take the subway up to some fancy address for Toby's film… and I couldn't believe how much money he was spending!"
Fred Lincoln:
"You know that film 'Brewster's Millions' That was what it was like! It was as if Toby had to spend hundreds of thousands of dollars in a short period of time, so that he could inherit a fortune.
"I mean… from what I knew, he had a moderately successful film company. So where did this all this money come from?!"
Marc Stevens:
"Toby Ross spent a good $350,000 on penthouse apartments full of mirrored walls and satin bedspreads. Then there was the yacht, the helicopter and the burgundy Mercedes-Benz.
"Toby was such a sweet pussycat that he sprang for lobster lunches for the cast and a variety of other morale-boosters that defy description.
"We had limousines to drive us to locations and he made sure the party atmosphere pervaded everything we did. God, we had some fun times… and at the end, we all got paid. I had no idea they could make films this way."
Grant Harper Reid:
"Vast sums of money were floating all around the film production. One morning we had a hibachi breakfast at Benihanas. The chef presented us with savory shrimp, steak, pork, beef dishes."
Toby Ross (interviewed by Marc Stevens in 1974):
"I was happy to spend a fortune on this production. I've made it as truthful as I can, as believable, and hired the best people to perform. There's no cut corners and no cop-outs.
"Let's hope it was all worth it."
Fred Lincoln:
"Toby wanted to shoot exteriors. Most other XXX movies were shot in apartments where there was less risk of getting busted.
"So he went out and bought a 50 ft fuckin' yacht for us to be on. And there was a scene in Central Park with a big white horse. 'Not Just Another Woman' was like if Hollywood made a porn movie."
Grant Harper Reid:
"(Toby) had so many more contacts and connections up the yin-yang that I could have ever have imagined.
"Whenever we completed filming for the days and nights, my job was to load the film equipment and drop it off at the lab, office, or to various high-class hookers' luxury apartments. The expensive escort's addresses were usually conveniently right in the same locality where we had just wrapped up filming. The boss would always call the ladies first to let them know that I was coming."
Fred Lincoln:
"Toby and I had a few conversations about making sure the film wasn't going to be illegal. I mean this was the era where every XXX film had to have socially redeeming value…"
Toby Ross (interviewed by Marc Stevens in 1974):
"We went through a lot of changes. We were going to have Sister Conception (played by Tina Russell) caught in an incestuous relationship with her married sister (Darby Lloyd Rains). Don was to come home and catch them in the act after he's been lusting after his sister-in-law the whole film.
"But none (of this) had any socially redeeming value.
"Finally, it came to us that we couldn't have this nun violated at all. His possession of her must be only a fantasy, his own obsessive sex dream. And that's how it ended up.
"His guilt so torments him that he takes the car right over the cliff. That's where the moral of the story comes through."
Fred Lincoln:
"For the end of the movie, Toby scripted a spectacular finish. He had a Mercedes convertible, and he paid the Staten Island people so we could use the Verrazano Bridge. We drove through the barrier in the Verrazano Bridge, over a ramp, and the car goes down a big cliff and explodes, tossing out the man's body.
"Toby had eight cameras all stuck all over the place, and one of the cameras zooms down to this burning wreckage – remember this is a porno movie! – and the body is there with his arms out like a crucifix and the last image you see in the movie is the face of Christ on his body.
"Toby said to me, "How can we do this? How can we get this car off this cliff? Do I have to blow up my Mercedes?"
"I said, "No, we can buy a Datsun, and I'll put cardboard fenders on the front", which is what I did. So we used the Mercedes for the traffic and all the bridge stuff, but then just before it went over the cliff, we switched it with the Datsun. Same color, but we just put the Mercedes symbol on the front. Nobody had the faintest idea."
Marc Stevens:
"When we'd stage our orgy scenes – which, weirdly enough, grew naturally out of the plot line – (Toby) wouldn't trouble us with outside directions or his own hang-ups. We gave him the very best we had in us, days and days of sheer raunch.
"Toby watched over every inch of his footage and no detail escaped him."
Excerpt from a conversation between Marc Stevens and Toby Ross (1974):
Marc Stevens:
"You supported us so beautifully… and don't think we didn't appreciate it, especially in the orgy scenes. You just said, pick your partner and do your thing. Three cameras going and they got it all. You leave us alone so we use our own imaginations and turn in dynamite performances."
Toby Ross:
"Who exactly am I to tell you what to do in a sex scene? Sex is so natural, so spontaneous and everybody makes love differently. With all the films I've seen – I don't think I make love exactly like a single person there. So I can't say to an actor, "You, grab that girl and do what I like to do with mine."
"He won't get real fulfillment because it's not his thing… and it'll show in the footage."
Fred Lincoln:
"This wasn't one of the shitty one-day wonders or even three-day wonders where we'd start Friday and end on Monday. This went on and off for months, and we all got really tight. There was cocaine wherever you wanted it, there was booze, we would go into the Four Seasons, the whole cast and crew would eat.
"I really liked Toby. See, I worked for Toby but Toby also was my friend. We went out and we did things together. We went to clubs together. I liked the fact that he was making this monster of a movie film, and that I did all the stunts for him. We'd sit and plan these things for hours. It was different from any other film I made. I remember I had a friend who'd been Mark Spitz' training partner, and we filmed him jumping 50 feet out of a helicopter into the Long Island Sound.
"Toby was the most incredible, wonderful fuckin' man I ever worked for.
"I never did find out where all his money came from though…" (laughs)
Grant Harper Reid:
"They even had the funds to record the movie's theme song with jazz saxophonist Harold 'Uncle Funky' Ousley."
Harold Lomax Ousley was an American jazz tenor saxophonist with an illustrious career: he'd accompanied Billie Holiday, recorded with Dinah Washington, and played with Lionel Hampton and Count Basie.
Harold Ousley:
"I couldn't turn down a request from my man, Toby Ross. He asked me for some songs for the soundtrack, and I'll admit I was surprised that it was for a… er… film of a sexual nature.
"But he took me to Smalls in Harlem, we partied, and let me tell you, that brother was persuasive!
"And he paid me handsomely too." (laughs)
Grant Harper Reid:
"Everybody knew that nobody would want to buy the records. They promoted me from potato-chip-and-soda-getting boy to record boy. I was put in charge of the impossible task of selling the recordings. I couldn't even give those records away for free because of the film's X-rated subject.
"My personal favorite was the record's B-side titled, L.O.V.E. Love, Is What We Came Here For Baby, which I used to sing to myself."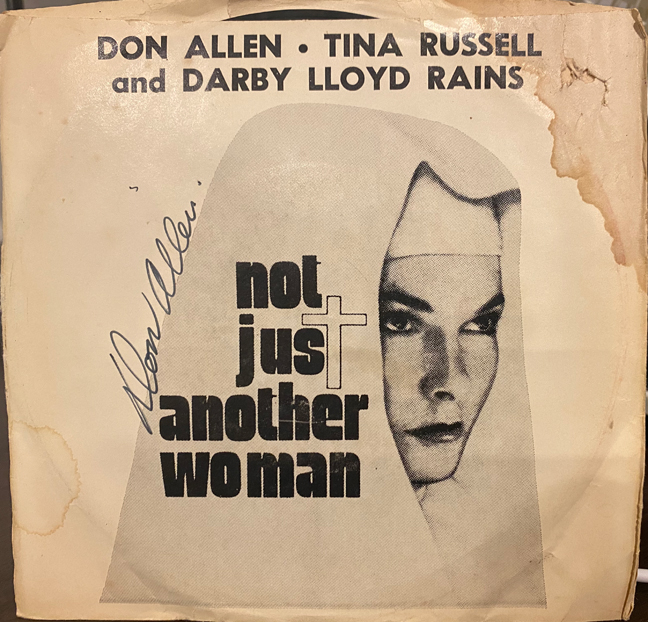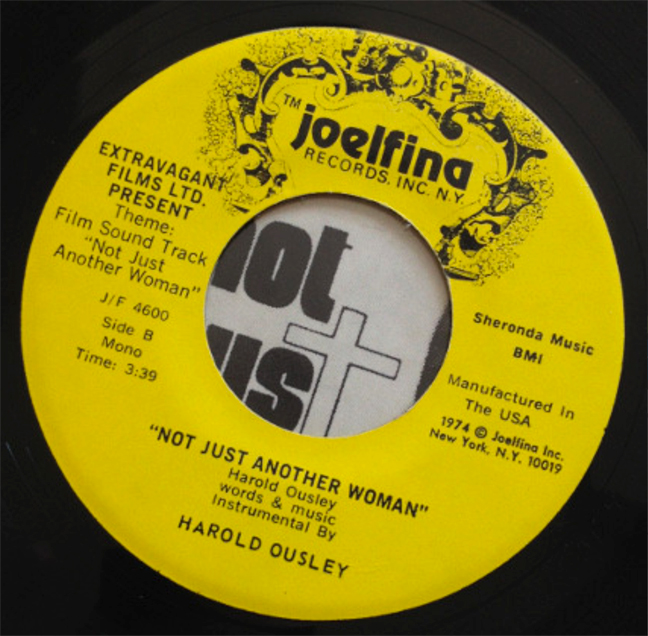 Jason Russell:
"When the film was released, I remember the premiere. A few of the adult films had premieres – but nothing like this one. This was Extravagant. Capital 'E'."
Ed Rothkowitz:
"The premiere was at the Lincoln Art Theater in January of 1974, and Toby invited the mainstream press to come along, and party, and review and write about the film.
"Well, they all came along. And they all partied. But I'm not sure if many of them actually wrote about the film…"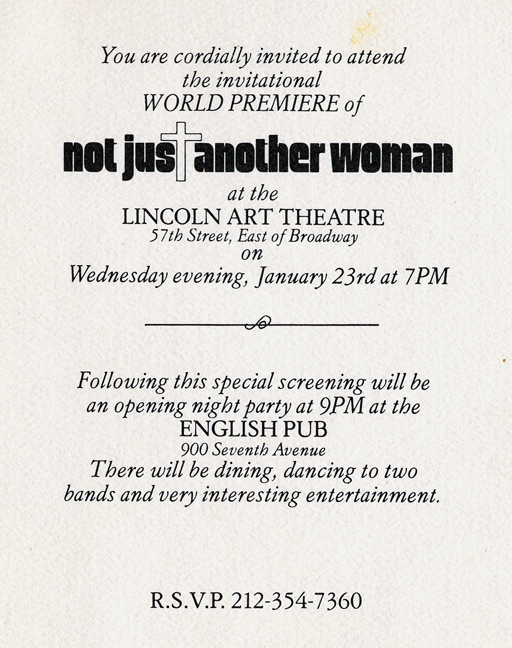 Jason Russell:
"There was an after party at an English pub in Times Square after the screening.
"It was wild. Really wild."
Helen Madigan:
"Oh boy, we partied hard that night. I've done some drugs in my life… but that night… oh man."
Fred Lincoln:
"When the film came out, Toby had billboards on Broadway and on Sunset Boulevard with Tina's picture on them. I've seen pictures of the billboards in Times Square! Here and on Sunset Strip.
"I was involved in the two adult movies that made billboards; the other movie was Defiance. 'Defiance' had a billboard on Broadway and it had my head with Jean Jennings standing there. And it said "There's no Aphrodisiac as potent as… The Defiance of Good!"
"I was involved in both of those movies which made me feel really good."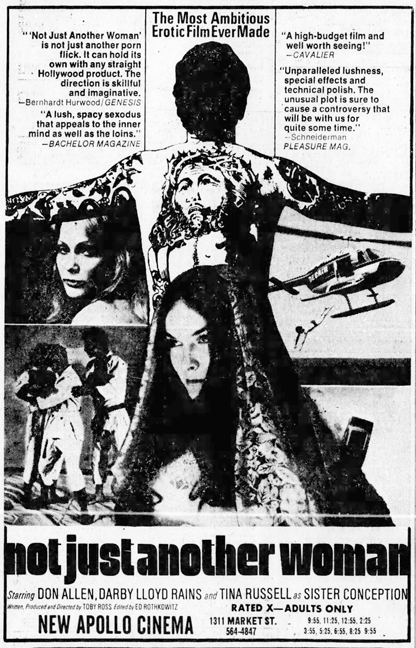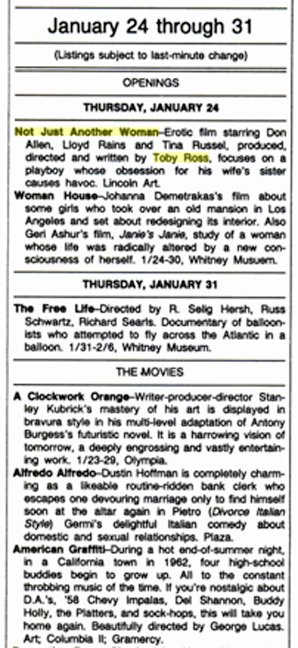 Bernhardt Hurwood, Genesis magazine:
"'Not Just Another Woman' is not just another porn flick. It can hold its own with any straight Hollywood product. The direction is skillful and imaginative."
Ed Rothkowitz:
"Toby marketed the film as if was a big Hollywood film. He took out big ads in all the newspapers, and the one-sheet was amazing – one of the best I ever saw – and it was everywhere.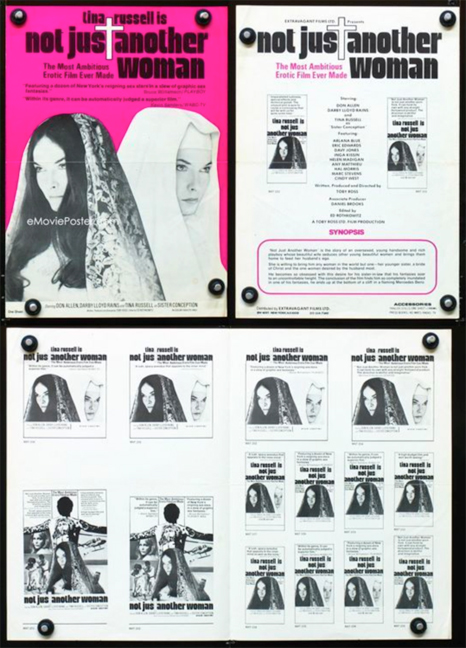 Press materials
"The movie played all over the place for a while.
"He even had these buttons made to promote the movie. I still have a set. I'll dig them out and send them to you."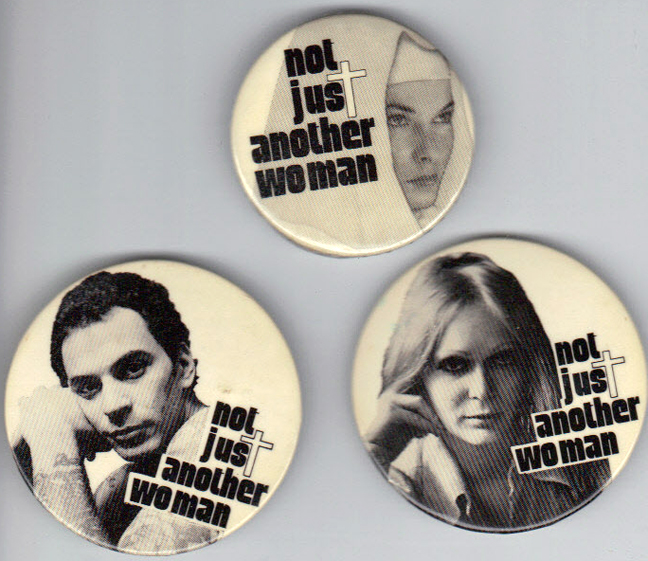 Fred Lincoln:
"After the movie came out, I still saw Toby. We still partied, often up at Big Wilt's Smalls Paradise. God, I miss that place.
"What can I say? I loved that guy."
Jason Russell:
"Tina and I were working on a few other projects at the time. We had a book out ('Porno Star') and we had an offer for Tina to record an album of comic quips. This film got a lot of publicity, but nothing really materialized from it. It was disappointing.
"Tina and I split soon after that."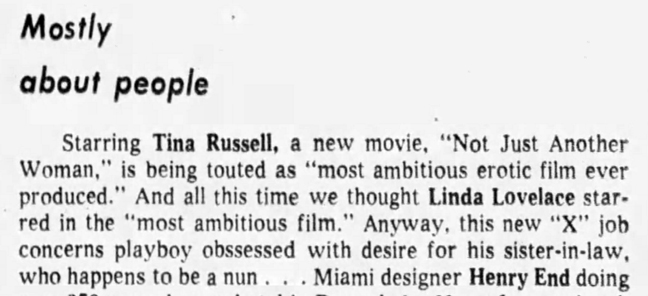 Darby Lloyd Rains:
"I made movies for a few more years after 'Not Just Another Woman' but looking back, I have to say that this was one of the best ones. Directors like Radley Metzger and John Amero were great. Some of the guys that made a film over a weekend were pigs. I'm not even going to mention names.
"But Toby had a dream, he was ambitious, and he had lots of money: that's rare… in fact, that's unheard of."
Grant Harper Reid:
"One night I was at the Roseland Ballroom, and Don Allen was there.
"In the film, Don starred as Jeff, the husband who obsessively falls in love with and wants to bed his wife's sister, the nun. Don introduced me to Margo Saint James, the President of the Prostitutes Union. While shaking my hand, Ms. St. James said, "Hello, darling, you must attend our next Hookers Ball extravaganza in San Francisco."
"I had never been west of New Jersey, so I told her that I don't get out to San Francisco very often."
It is doubtful whether Toby Ross ever recouped his investment in 'Not Just Another Woman': estimates of the film's budget vary between $100,000 and $350,000, but even the lower end would be a sizeable amount to recover on the grindhouse theater circuit. The movie had worked in money-laundering terms, and Toby banked the proceeds and moved onto new film and book projects.
Life had surprises around the corner however, and in the years that followed, Toby had to deal with weightier issues.
Next week in Part 2: The cops close in on the drug network involving Toby Ross, Pete McDougal, and Frank Lucas. And Toby sinks money into one of the finest books of photos of 1970s adult film stars.
*