'The Defiance of Good' was one of the more notable adult films made in New York in the 1970s.
It has been called one of the first and best S&M themed pictures – but questions have long circulated about who was actually behind it. Was it financed and distributed by the mob? And was the lead actress Jean Jennings really underage?
Over the last 15 years, The Rialto Report has spoken to a number of people – from Fred Lincoln to Jean Jennings, Jason Russell, Len Camp and more – who remember how it came to be made.

The back-story of 'Defiance' is revealed here.
_______________________________________________________________________________________________
Fred Lincoln (actor, director, producer):
Every story has to have a bad guy. Well, this story has two real bad dudes.
If you want to learn the story behind 'Defiance', you need to start down in Florida.
And you need to start with Lenny Camp.
He was bad, bad, bad.
Len Camp (photographer, agent):
Fred Lincoln is full of shit. I never liked him. Always pretending to be a nice guy. He's a stupid sonofabitch.
You can tell him I said that.
Fred Lincoln:
Gerry Damiano told me about Lenny first. He'd been the production manager for 'Deep Throat' (1972) down in Fort Lauderdale.
Len Camp:
I'm not going to talk about Deep Throat. It's a piece of shit made by the mob.
You wanted to talk to me about my life. That's what I'll tell you about.
Fred Lincoln:
Lenny's real 'talent' was that he always had access to models in the South Florida area. Many of them were keen to get into movies.
Unfortunately many of them were also underage.
Like I said: A bad guy.
Len Camp was born Leonard Joseph Campagno in Rochester, New York in 1921.
He dropped out of high school at 15 and trained as a motorman. When he was 21 he enlisted in the cavalry.
Len Camp:
I learned about photography when I was in the cavalry in 1943. When I got out, I tried sales. My parents had a successful Mercedes dealership in Rochester. My brother went into the family business and I tried it for a while, but I wanted to be a photographer.
I'd learned the basics so I set up my own business in 1950. I took pictures of everything I could. Portraits, weddings, real estate, local theater shows.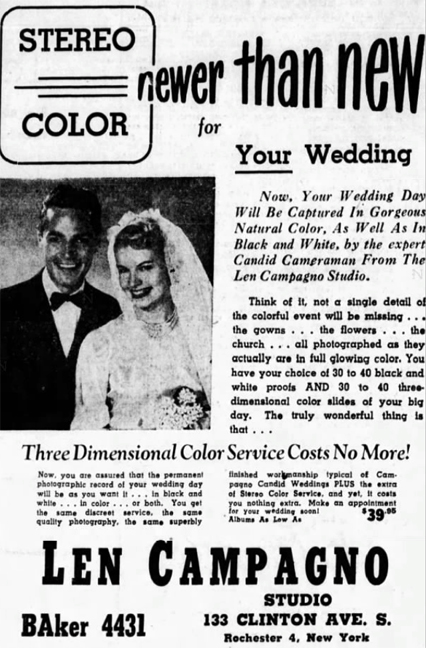 Len Camp acquired a good reputation as a portrait photographer, and took many pictures of notable figures and events for national publications.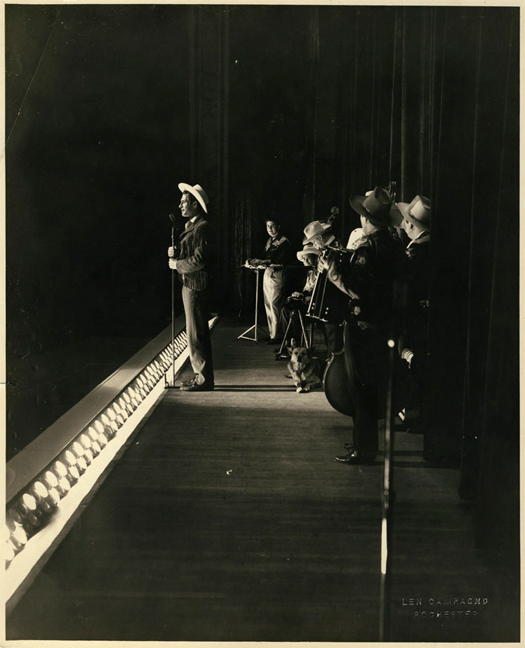 Len Camp picture (early 1950s)
Len Camp:
I was a real good photographer but I got bored of it quickly. You don't have to be a genius to know that men like taking pictures of girls. So I started organizing weekend trips away to teach men how to take pictures of models.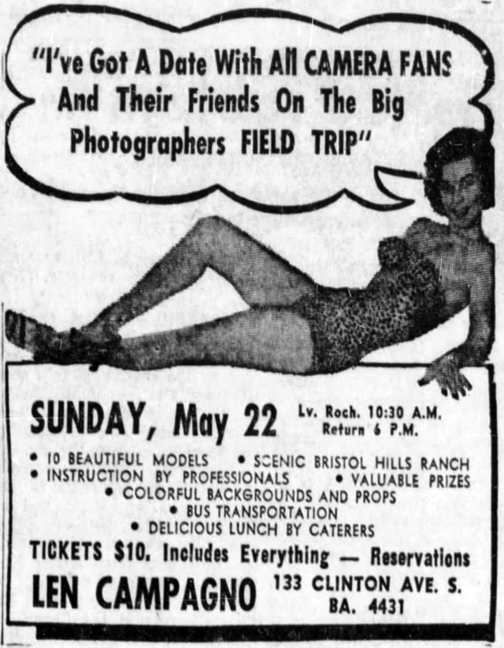 In 1955, Len was arrested in Rochester for taking a picture of a bare-breasted woman.
Len Camp:
It was bullshit.  Nude paintings have existed for centuries. I'd been taking nude pictures since I first started in the 1940s. They just made me a scapegoat.
But it was good for me. I paid a $100 fine and got the hell out of there. I went to Miami.
I got a place on Miami Beach and took photos of people on the beach, in restaurants, and in nightclubs. I shot a lot of celebrities. I hung out in the bar at the Fontainebleau Hotel and met movie stars there. They all loved to have their pictures taken. They paid me well too for the pictures.
And I shot a lot of girlie pictures. Topless shots, nudes. I had a little studio and it was easy to find girls willing to pose. I sold them to magazines. First to nudist magazines like American Sunbather, then men's magazines. I must have shot 10,000 girls. I was the top photographer in Miami.
One model who Len photographed nude was the teenager, Victoria Principal. Principal posed for Len Camp in 1968 when she was a student at South Dade Senior High School. Camp took her to a room at the Four Ambassadors Hotel in Miami.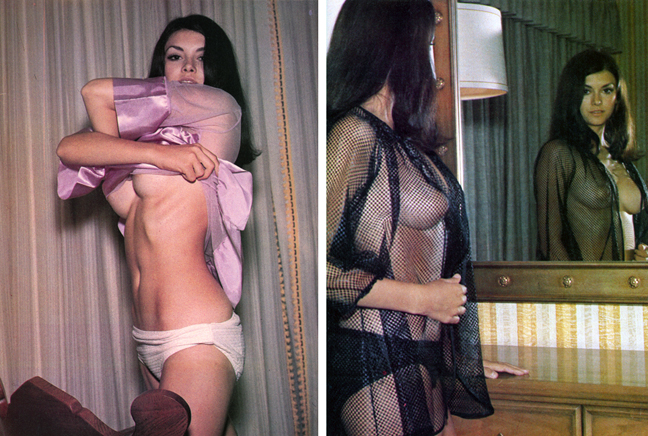 Victoria Principal, photographed by Len Camp
Len Camp:
I met her on the beach. She wanted to be a beauty pageant queen and an actress. I told her I could help with her portfolio.
I gave her advice on how to pose and I took a lot of photos – nude and in underwear. She was enthusiastic and eager.
Next year she won the Miss Miami beauty queen contest.
Ten years after Victoria Principal posed for Camp, she was offered a lead role on the TV soap opera 'Dallas'. The show was a huge hit. Camp saw an opportunity; in 1981 he sold his 1968 photographs of Principal to Velvet magazine.
Len Camp:
Of course I did. The pictures were valuable! I didn't do anything illegal – I just took advantage of the situation. Everyone wanted to see them anyway.
Victoria Principal sought a temporary injunction to prevent their publication. She claimed Camp had slipped a drug into her drink in order to get her to take off her clothes.
Furthermore she alleged that she was underage when Camp took the pictures.
Len Camp:
More bullshit! She was born in January 1950. Look it up. I took the pictures in 1968. How does that make her underage? She was trying to protect her Hollywood image so she made up lies about me. She's trash.
Velvet magazine was distributed by Larry Flynt at the time – and the publisher made it clear they would fight the restraining order vigorously.
Victoria Principal backed down.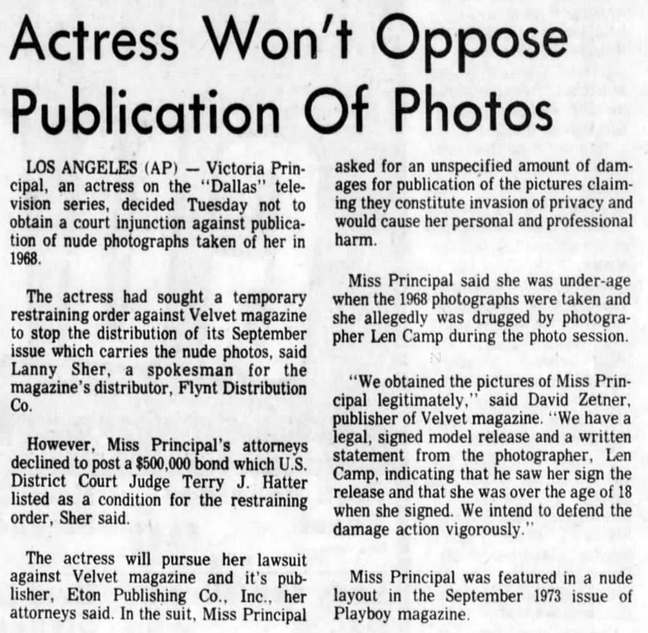 Velvet doubled the publicity on the issue – giving away free buttons announcing the spread. It was one of the best selling issues of the magazine.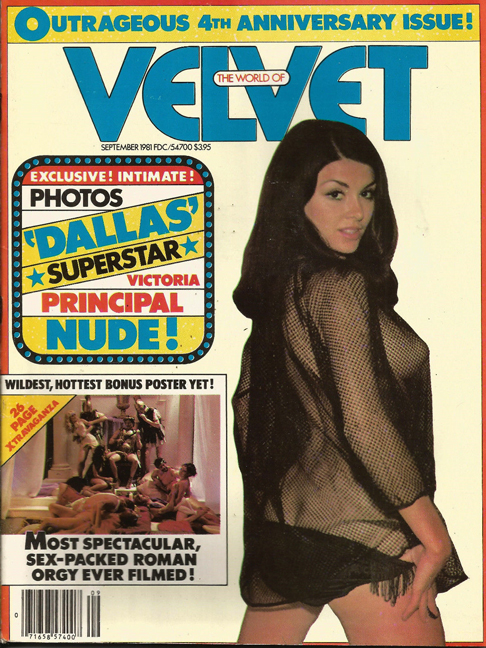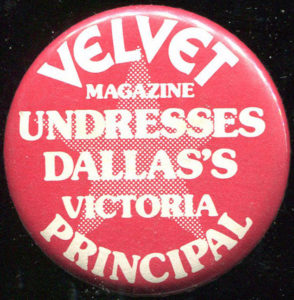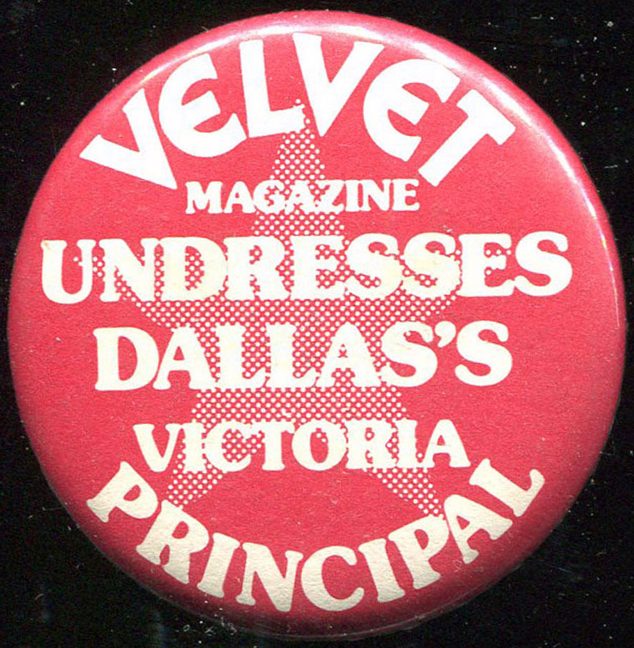 Lenny Camp:
She failed with the injunction because she lied about me. What else do you want to know?
How about I was the first person to take pictures of Linda Lovelace. Long before 'Deep Throat.'
'Ordeal' (1980), by Linda Lovelace:
Early in August (1971), Chuck drove me to a private home in South Miami. The door was answered by a fat man with oiled black hair, maybe fifty-five years old. The fat man – his name was Leonard Campagno, also known as Lenny Camp – lived in incredible squalor. His living room was filled with boxes and crates. Newspapers were a carpet over the floor and cats were everywhere. Dishes with food still on them were spread over the table and piled in the sink. I could see cat hairs in the sugar bowl.
Lenny Camp:
Chuck Traynor was Linda's boyfriend or husband or agent or pimp or whatever. He wasn't very smart. But he was way smarter than Linda that's for sure.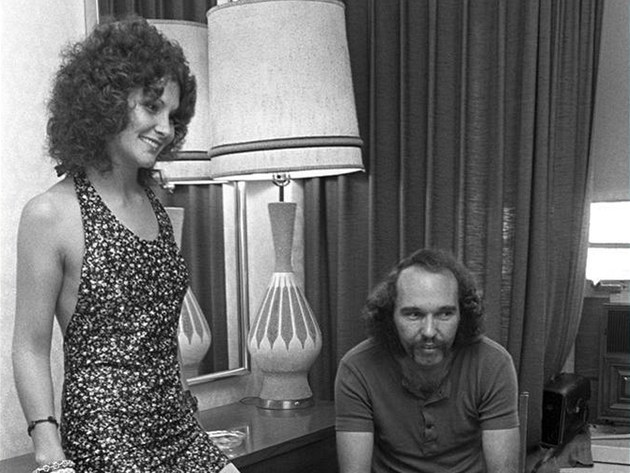 Linda Lovelace, Chuck Traynor
'Ordeal' (1980), by Linda Lovelace:
Lenny led us through this litter to a bedroom in the back. It was not quite as sleazy as the rest of the house. At least there were clean sheets on the bed. Floodlights had been set up around the bed and were pointing down at it.
"Get her undressed now," Lenny said to Chuck. "Tell her to take off all her things."
People seemed to be doing that more and more often, speaking around me as if I weren't in the room. Sometimes I felt invisible.
"Okay, Useless," Chuck said. "Get undressed. We're going to do some pictures here."
"What kind of pictures?"
"Picture-pictures," he said. "You'll see."
"Chuck, what kind of pictures?"
"The kind of pictures where you got to take your clothes off first, okay? Now move it."
[Lenny had another female model come into the room.]
"Okay, girls," Lenny said. Why don't we start off with a few little kisserinos?"
Lenny Camp:
Linda wasn't very pretty. I have no idea how she became a star. I got rid of the pictures a long time ago.
In 1971, Linda Lovelace and Chuck Traynor moved to New York but in January 1972 they returned to Miami with Gerard Damiano to make 'Deep Throat.'
Ron Wertheim (production manager on 'Deep Throat'):
Chuck Traynor convinced Gerry Damiano to hire Len Camp to work on the Florida end of the 'Deep Throat' production. Chuck and Len used to know each other when Chuck lived in South Florida.
Len was supposed to be this 'fixer' in Miami for the sex business. He supposedly knew everyone and could arrange anything. But it was a disaster. The locations he arranged for the movie fell through and the talent didn't show up. Harry Reems wasn't even supposed to act in the film but luckily he stepped in at the last minute.
It was a miracle that we got everything done more or less on schedule.
Florida wasn't a frequent destination for New York sexploitation filmmakers, but in 1973 Sean Cunningham, future director of 'Friday the 13th' (1980), assembled a cast and crew in Miami to shoot a low budget romp called 'Case of the Full Moon Murders' (aka 'The Case of the Smiling Stiffs').
Once again Len Camp was identified as the man who could help them find actors locally.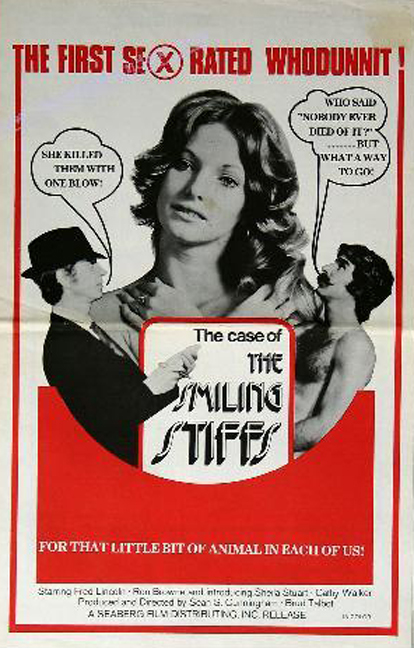 Fred Lincoln:
I first met Lenny Camp when I was doing a movie for Sean Cunningham down in Miami that turned out to be called 'Full Moon Murders'. It was a soft-core film that I acted in with Harry Reems. Lenny was hired to do the casting.
I knew we were in trouble straight away when I saw Harry's reaction. Harry had seen Lenny in action on 'Deep Throat' and groaned when he found out that Lenny was working on this film as well.
Len Camp:
I knew hundreds of models so I was always hired to provide them to films, magazine shoots, trade shows and things like that. It was easy for me. I knew everyone.
Fred Lincoln:
You could see right away that Lenny was the worse kind of pimp, manager, agent that you could imagine because he gave these young kids any kind of drug that they wanted just so he could keep hold of them. It was incredible…
One day Lenny turned up with Cindy Jean Jackson, and my God, was she beautiful… Sean found a part for her in the movie – with the name Jean Jennings.
Of course, he didn't know that she was underage.
Cynthia Jackson was born in Fort Lauderdale, FL in 1957. She was 16 years old when she made 'Case of the Full Moon Murders' (aka 'The Case of the Smiling Stiffs').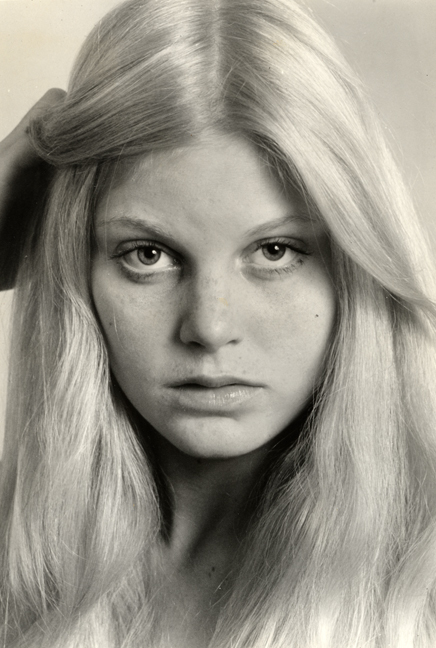 Cynthia Jackson / Jean Jennings
Fred Lincoln:
Let me tell you something, I had no idea Cindy was 16 at the time either. No idea. Lenny Camp must have known, but he wasn't saying anything to anyone.
Len Camp:
Of course I knew that she was 16. But they weren't making a hardcore sex film so it didn't matter anyway.
The truth is that I saved her from being a prostitute. She has me to thank for that.
Cindy Jackson had a troubled upbringing and ran away from home several times as a teenager. She met Len Camp when she answered one of his ads in a Miami newspaper.
Cindy Jackson (aka Jean Jennings) (actress):
I didn't even remember the agent's name until you mentioned it but I remember he was irritating. So many people making those films were strange, you know like… criminal-types, that I guess he didn't stand out from the others.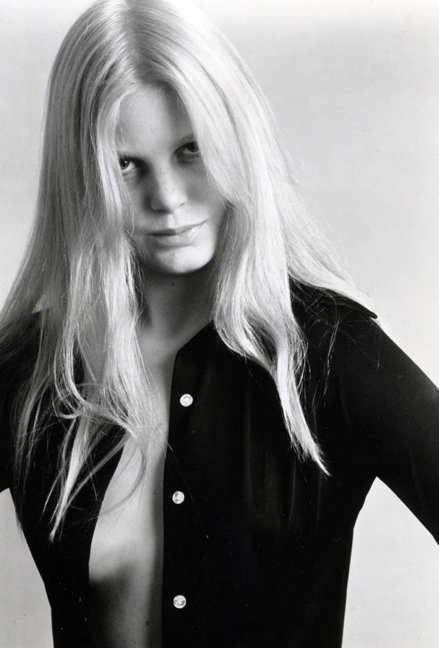 Jean Jennings
Fred Lincoln:
Apart from Lenny, 'Full Moon Murders' was fun. I mean… we were in Florida, running around making a movie with a bunch of pretty girls, so I was in heaven. Those were the days. No cares in the world.
Cindy didn't have a big part but she enjoyed acting. She said that she'd done lots of productions at school.
When the producers asked me what name I wanted to use, I panicked and gave them my mother's maiden name: Jean Denovan Jennings. I didn't want 'Cynthia Jackson' printed on posters! I didn't think about how shocked my mom would be though if she saw her name.
I liked being in front of the camera. Growing up I'd done a few plays and musicals in Fort Lauderdale so it was no big deal.
I only had a small part in the movie and I've never seen it so I can hardly remember it.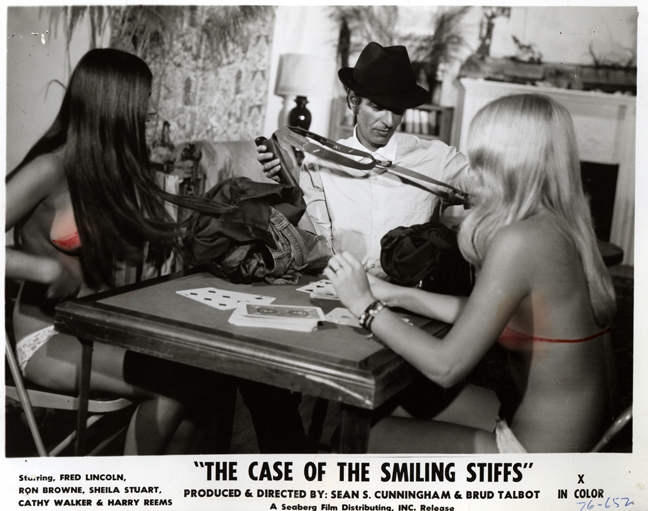 Fred Lincoln and Jean Jennings (right)
Fred Lincoln:
Lenny says he saved her?! I actually saved her. Let me tell you what happened.
I had scenes with her, so I was talking to her and being friendly. I wasn't really even hitting on her. But then Lenny Camp went to Sean Cunningham and said, "If Fred keeps talking to her, I'm gonna take all my girls off the movie." And he had like six girls in the movie… so Sean came to me and said, "Please… lay off Cindy a little. If not, we're gonna have a real problem."
I said "Hey, fine, I'm not gonna say another word to her." But I said, "Let me tell you something; when I leave Florida that girl is coming with me." He laughed and shook his head, but I tell you, I was a… I know it sounds like an ego but its not… I was a magnet in those days.
And I was true to my word. I not only took Cindy, but I took this other girl Sheila (Stuart) too. I took both of them home to New York with me.
Len Camp:
Who do you think introduced Jean Jennings to sex films? It wasn't me. When the film wrapped, she disappeared up to New York with Fred Lincoln and became this big time porno queen. So who's the bad guy?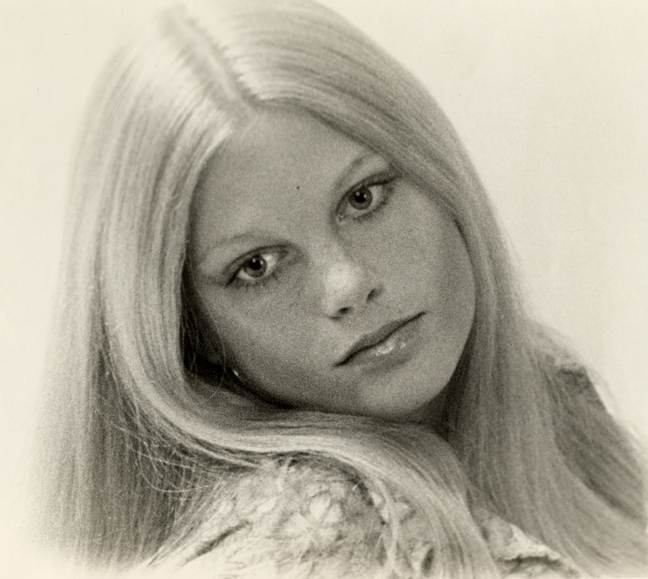 Jean Jennings
Jean Jennings:
Fred, I remember as being a nice guy. I felt safe with him. I stayed with him for a while. I partied like crazy.
Fred Lincoln:
Cindy was living with me and she didn't want to work at that time. I said, "You don't have to work, I don't care if you work, I just like ya." She was just wonderful to me. She was so delightful. She was like a flower child. I would tell you other things but you really don't want to know them…
Jean Jennings:
I got some modeling jobs in New York, and I got a part in a film called, 'There is No 13' (1974). It was a straight film about a Vietnam soldier who remembers his past girlfriends.
I was one of the girlfriends, and I had a scene where I walked down Wall St with no clothes on. We shot it at dawn when it was real quiet.
That scene was used on the Italian movie poster.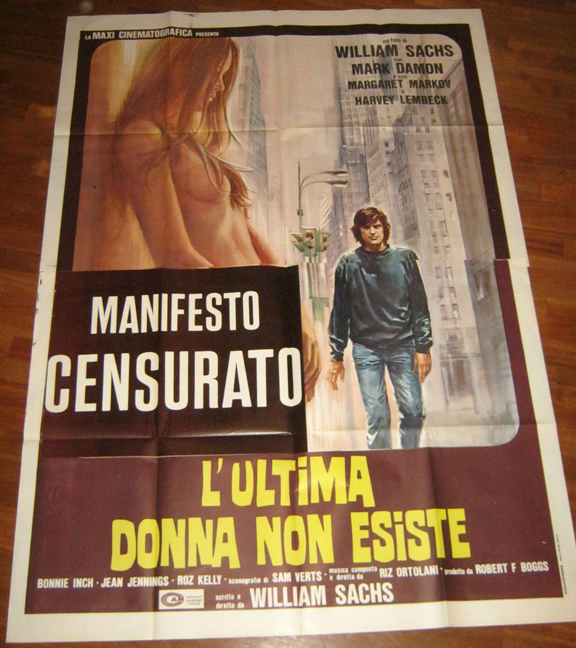 Jean Jennings on the Italian poster for 'There Is No 13' (1974)
Fred Lincoln:
If Cindy wanted to do something, she did it, and if she didn't, there was nothing that you could do to entice her to do it. You know, there's some women you can say, "Oh I'll give you a car." Cindy would just laugh at you. She was carefree and crazy.
Jean Jennings:
It was fun with Fred, but he would sleep with a different girl every night. Then I met John Sanderson (aka Jason Russell) and he was interested in just me.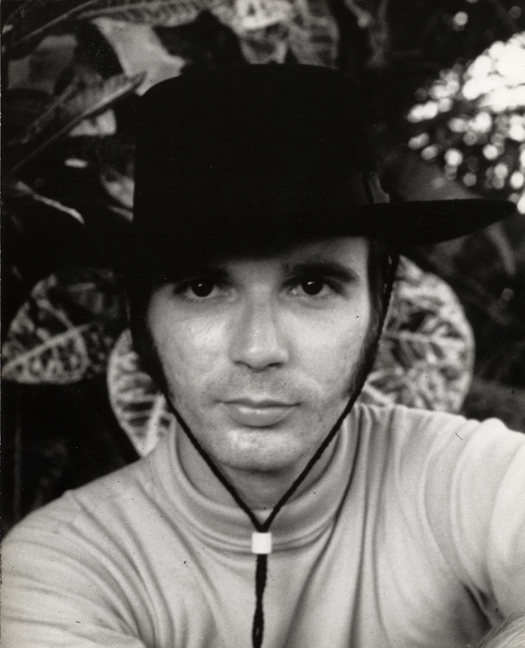 John Sanderson, aka Jason Russell
Fred Lincoln:
While she was living with me, she met John and he was going to Italy and she came home one day and she said to me, "I'm going to Italy with John."
I was like "What?" and she said, "Yeah, he invited me, so I'm gonna go."
I said, "Ok, fine" because I've never had that jealous thing, you know.
I said, "Ok, go."
But I mean… I really missed her after she left.
Jason Russell (aka John Sanderson) (actor, director, producer):
I was putting together this movie called 'Defiance' and I was thinking of casting Tina as the lead.
Jason was married to Tina Russell, and they'd been the first couple of the New York porn industry since the early days of silent sex loops.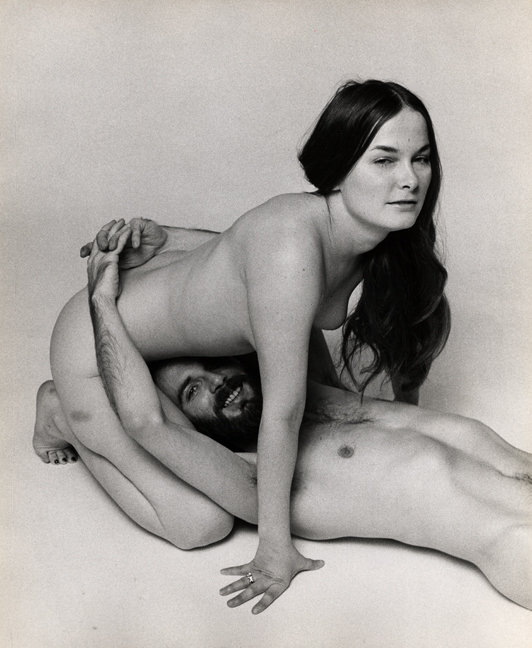 Tina and Jason Russell
Jason Russell:
Jean and Fred Lincoln were friends. Fred brought her to me for the film. And the second I met her I said this girl's perfect for this movie. I said, "You're going to be my lead lady in the film."
And I hired her friend Sheila as well to be my assistant.
Fred Lincoln:
Sheila was smart. Sheila was actually the brains of Jason's outfit. She was the one who did all his bookkeeping and stuff, but she had nothing to do with Jason's infatuation with Jean.
Jason Russell:
The first movie that I actually produced was 'Whatever Happened to Miss September' (1973). Jerry Denby was the writer and director of that. We made it for Jack Gominick. He was very strange old man. It was the first time I stopped being an actor and moved behind the camera. To be honest I ended up being more of a production manager than a producer.
Because of the money that was earned from that film, Jack gave me the money to shoot 'A Touch of Genie' (1974). This time I really produced the whole thing. Jack just gave me the money said, "Go make me a nice movie." So I did.
Fred Lincoln:
Jason and I had been friends since the beginning of time. We'd made loops together when there were only… like, five porn actors in New York.
He hired me to work with him on 'A Touch of Genie' which was great.
But then he got involved with Norm C. Big mistake.
He's the second bad guy in this story. If Lenny Camp was a pervert, Norm was a total thief.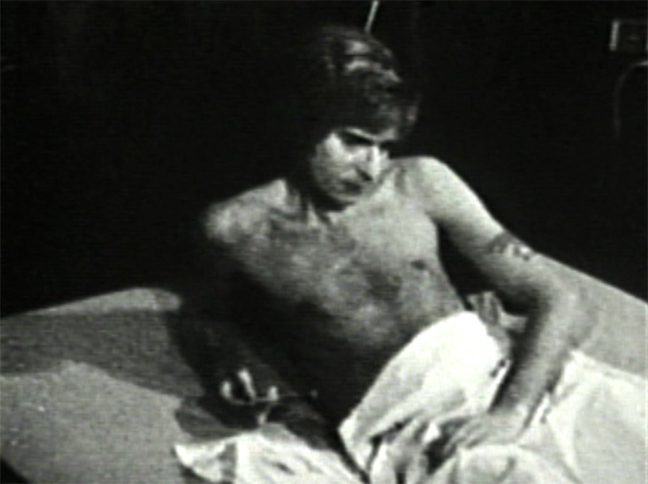 Fred Lincoln in an early 8mm loop
Jason Russell:
I made a huge mistake. I signed a management agreement with a bunch of goddamn pirates. I thought it was going to be very beneficial to me. They had been managers in the music business. They were managers of rock and roll people. Alice Cooper was one of their clients. They said they'd really help me build my career.
The main guy was Norm C.
Norm C. had been involved in the record industry for a few years on the West Coast as a music promoter. Returning to New York in the early 1970s, he acquired the U.S. rights for 'Xaveria!' – an LP recorded by Xaveria Hollander, who had published the best-selling memoir, 'The Happy Hooker' in 1971. This introduced Norm to contacts in the adult film industry.
Fred Lincoln:
Norm gave me my first start as a director. You know why? He was in love with Tina Russell and he knew I was a good friend of hers. A deviant bastard he was. Jesus, he's still a deviant bastard.
Jason Russell:
When Norm got to know Tina, she signed a management contract with him. He got an advance for Tina to write a second book. She wrote the book but he kept all the money.
Fred Lincoln:
Norm was just interested in ripping people off. What he did was he would get $40,000 to make a movie and then give me $18,000 to make it without me knowing – so he was making $22,000 off the top! He did that to everybody.
Oh, he's a bad person.
Jason Russell:
Norm saw the large sums of money being made in porn films back then and he wanted his share. He would rip off anyone. His big thing was raising money from gullible people and keeping most for himself.
Unfortunately I worked with him on 'Defiance'.
Fred Lincoln:
I never made any money because every time Norm got a backer, he would fuck 'em cause he would steal the money up front. I never even knew.
Norm would get some of his money from Art Weisberg in Detroit. One day I got introduced to Art and they say, "This is Fred Lincoln. He made all those movies for you"
Art said, "Well, they're not bad for $40,000" and I said, "What? What did you say?"
He said, "They aren't bad for $40,000 movies."
I said "$40,000 dollar movies? Are you crazy? I made three of 'em for $40,000."
That's when I found out Norm was stealing from me.
Jason Russell:
Norm stole me blind. Absolutely stole me blind. The first film I did for him was 'Defiance'. He raised the money. The movie made a ton of money but I saw very little of it. They stole me absolutely blind off of that.
Fred Lincoln:
He financed 'Defiance' with ten dentists. They each put in $15,000. We got a $150,000 advance for 'Defiance'. He never gave the dentists back a nickel. We used to fight about it all the time.
I had a friend who I knew from my days as a stuntman. He was named Turk Turpin. He was a heavy, scary dude. He'd been Harry Belafonte's stunt double on 'The Angel Levine' (1970). He went over to Norm and put the fear of God into him.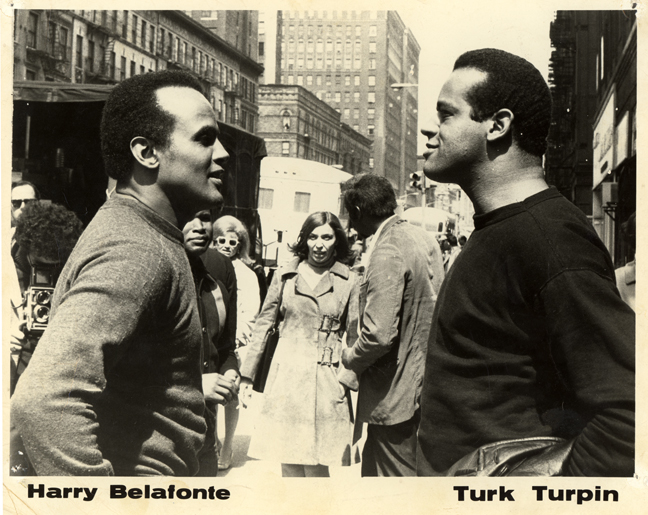 The Rialto Report contacted Norm C. to get his side of the story. The phone call was short and not sweet.
Rialto Report: "We're researching the background to the film 'Defiance' and wondered if you could tell us about any memories you have."
Norm C: "I know everything about the film. It was my film. I put it all together."
Rialto Report: "Great. Let's start at the beginning. How did you first meet Jason Russell and Fred Lincoln?"
Norm C: "Give me your full name. And phone number. And business address."
The Rialto Report provides our details.
Norm C: "I'll be passing these details to the police. I'll be filing a report for harassment."
Norm C. hangs up.
Jean Jennings:
I remember the producer. Not Jason, but another guy. I can't remember his name. He was boasting about being in the music industry. He was like a sleazy mob guy. I tried to stay away from him.
Jason Russell:
I hired Armand Weston to be my director on 'Defiance'. He was a talented artist who did mainly book covers and movie posters and things like that. He'd made a few films and now he wanted to work with a real budget, which we had.
I came up with the idea and wrote the script with Armand. We got on well.
Fred Lincoln:
'Defiance' was an incredible movie. I mean let's take the hardcore sex out of 'Defiance'; it could've been a major motion picture.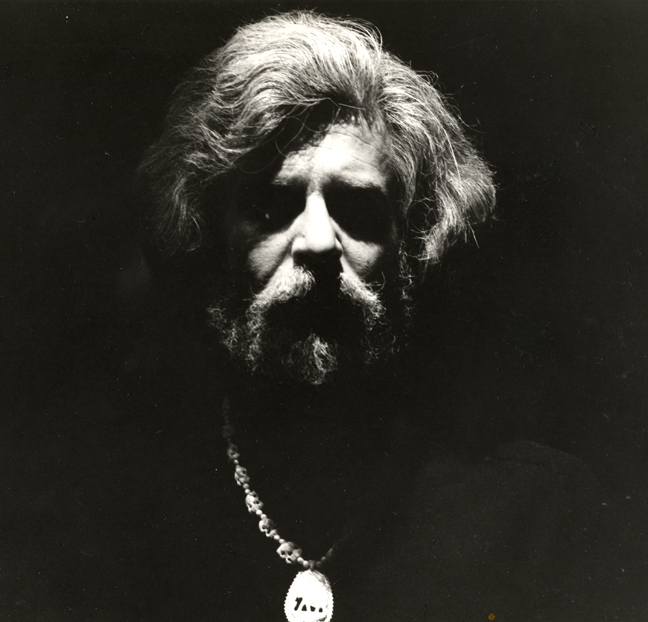 Fred Lincoln, in 'Defiance'
Jason Russell:
I got a real good cast together. All the early stars were there. Jamie Gillis, Marc Stevens, Sonny Landham, Sandi Foxx, and of course Fred was pretty good as the doctor.
Fred had contacts in regular films so he got some actors in other roles who'd appeared in mainstream movies, like his friend Turk Turpin.
Alex Mann (actor):
I was in 'Defiance'. Did you know that? I can't remember if I was a mental patient or a rapist in that one. Same thing, I guess. It must be my face.
Jean Jennings was cast in the lead role in 'Defiance'.
Jean Jennings:
I guess I was excited to be the star, even if it was in a strange film like 'Defiance'. I liked acting, and the attention. The part needed me to be a crazy which was fun.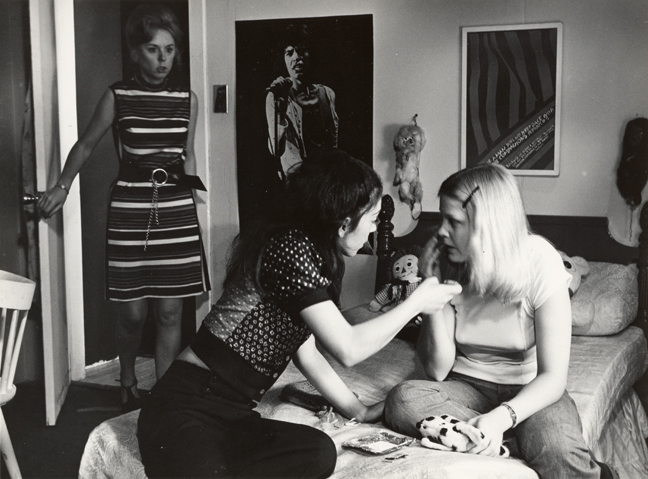 (from left to right) Carole Holland, Day Jason, Jean Jennings in 'Defiance'
Fred Lincoln:
The way the movie opens is… two young girls are talking and the little girl takes out some cocaine in a silver packet and the mother catches them and freaks out thinking her daughter is going to become a drug addict. The mother takes her daughter to a Doctor, the Doctor tests her and says, "Well there's nothing there" and the mother and the father are adamant, you know, "We don't want our daughter to become a junkie". The Doctor says, "Okay, if you want we can put her some place for psychiatric evaluation". So they actually put this kid in a nuthouse and she's a young, vulnerable, beautiful kid. The orderly takes advantage of her and the inmates rape her and then she meets the kindly old Doctor which is me, and I take her out and make her a sex slave.
This was during the drug days when the older generation didn't know about drugs. When I was a kid the only people that did drugs were black people. White people didn't do drugs. I remember when Robert Mitchum got busted for marijuana, we thought he was a junkie. White people didn't do drugs, white people drank. That's what we did. And we still do.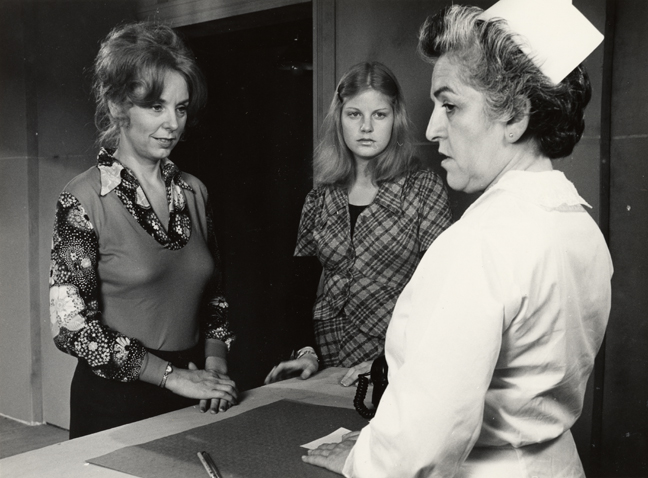 (from left to right) Carole Holland, Jean Jennings, Dulce Mann in 'Defiance'
Jason Russell:
It was a violent film because it was based on a true story. I couldn't fictionalize it completely and take the violence out. But there were some sensitive love scenes too.
Even though Defiance was primarily an S&M film, it was a situation where the girl fell in love with what was happening to her. So it wasn't really violent in that way.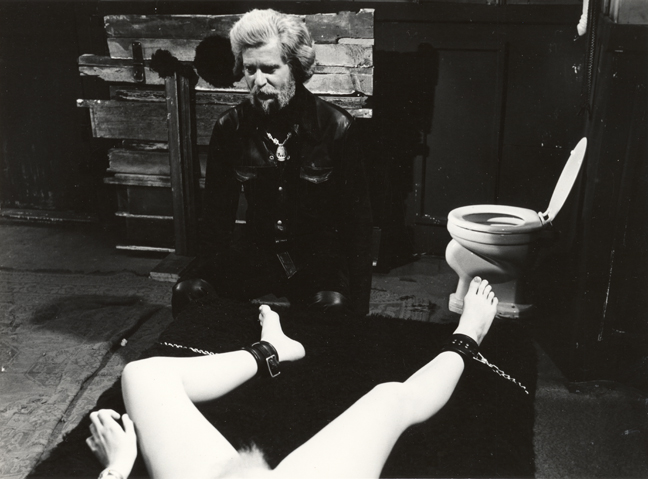 Fred Lincoln, Jean Jennings in 'Defiance'
Jason Russell:
The real life event that inspired me was the story of a girl who lived with this old doctor who had taken her out of a hospital, and she lived with him. The girl lived with him for about 5 or 6 years until he died and then she left. She fell in love with what was happening with her in reality. So I don't consider that violence.
The only violence in that film to me is the rape scene in the hospital. And that actually happened to her in the hospital. So I was just reflecting that.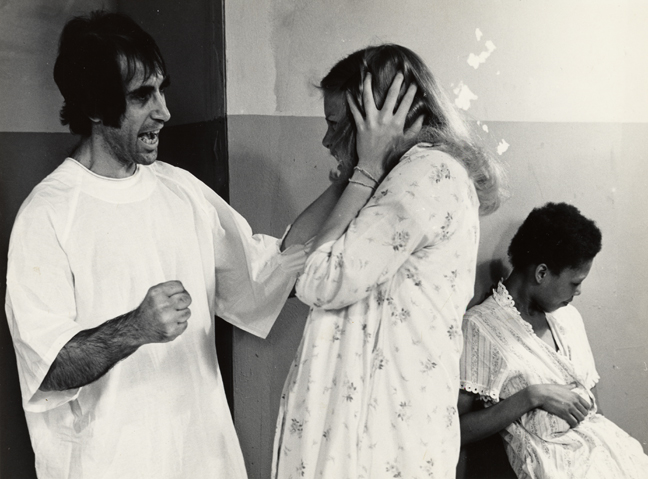 Jean Jennings in 'Defiance'
Fred Lincoln:
You know what's amusing about this whole thing? There's one part of 'Defiance' that was censored. Do you know what it was? You saw the patients raping the girl. Was that not an incredible, violent, horrible scene? Well… they didn't take that out.
What they took out was the black orderly fuckin' her. That they found was offensive…That sequence caused us such a problem.
This is why all my life I have been fighting censorship. It is completely stupid.
Turk Turpin, Jean Jennings in 'Defiance'
Over the course of the filming, Jason started a relationship with Jean, and his marriage to his wife Tina started to unravel.
Jason Russell:
Tina and I just kind of grew different ways. I got more into production and she got more into writing. And we just kind of grew apart from each other. We had totally different interests in what we were doing in our careers and lives. And so it was… it was more a matter of convenience for both of us.
We still loved each other. As a matter of fact we used to tell friends of ours we would never get divorced. We would never get divorced until they'd allow us to adopt each other as brother and sister. Then we'd get divorced. We were still best friends. I always loved her.
Fred Lincoln:
Tina and Jason were the perfect couple. What actually happened to them, if you wanna know the truth about the breakup, is they were together too long. It's really not natural for human beings to stay together for years and years and years, especially if you start when you're a kid. It's not natural because sooner or later you are so comfortable with that person, it is no longer…do you know what I mean? It's not stimulating.
And what happened was he met Jean Jennings, and he fell madly in love with her.
Jason Russell:
While we were filming Jean and I really hit it off together. And immediately after we got finished doing the film she moved in with me. She just kind of moved in with me – I didn't even ask her to. That was kind of the way she was. She was a very, very strong-headed young lady. She'd do anything she wanted to do. She decided she's moving in with me – and that was it. I didn't say no, you can't do it. I said OK. And then we became real friends and lovers after she moved in with me.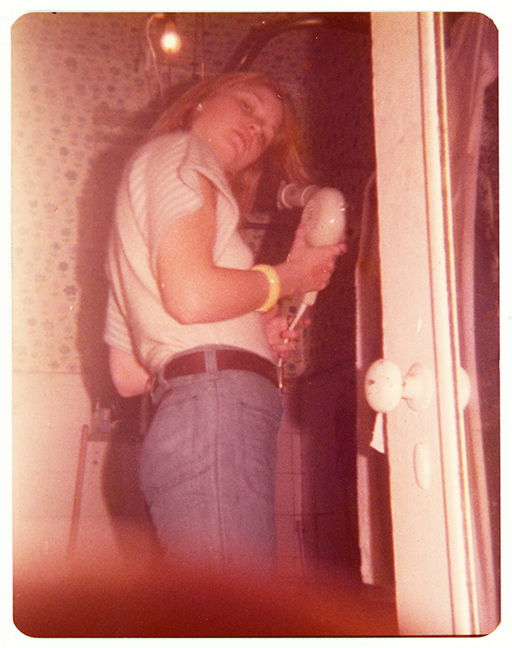 Jean Jennings, 1974
Fred Lincoln:
See Jason didn't leave Tina. What he did was he made Tina Jean's makeup girl. It was like he was saying to Tina, "You can't do this stuff no more" and Tina was still a beautiful, beautiful kid.
Jason also filmed sex loops of Tina Russell with Jean Jennings – something that fellow actor Jamie Gillis felt was a step too far.
Here you have Tina who's already feeling rejected by Jason who's just chosen a younger, newer model. And then he puts her in a sex film with her rival… that's gotta sting, you know?
When it came to 'Defiance' he even put Tina in charge of 'commissary'. Isn't that the person who buys the food? That seemed cruel.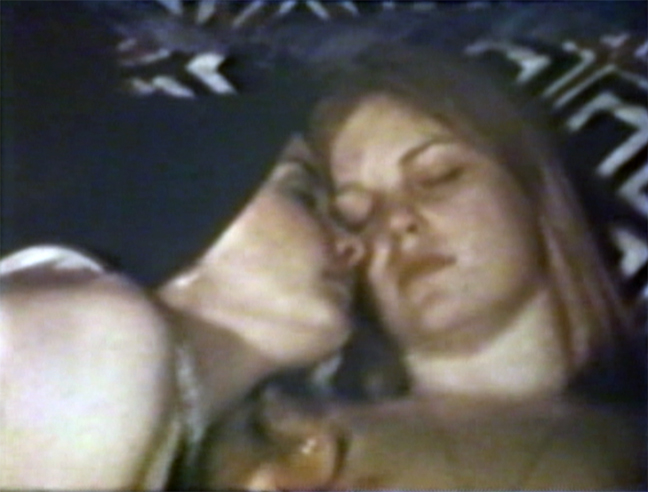 Tina Russell, Jean Jennings in a loop shot by Jason Russell (c. 1975)
Jason Russell:
Tina started dating Armand Weston casually during the time we were making 'Defiance'. That made Norm crazy. He was hanging around the set all the time, getting in everyone's way, and threatening Armand if he saw anything that made him jealous. There were a number of fights, I can tell you.
Jean Jennings:
It was crazy time and I was messed up. I don't remember a lot of what happened. I was drinking and doing some drugs. I was young too…
Fred Lincoln:
By this time we'd found out that Jean was underage. Jason was in his thirties and Jean was 17.
Jason Russell:
Well she had ID saying she was 21 years old but she was actually only 17. But in New York at that time the law was that the age limit was 16. So she really wasn't underage. By today's standards she would be underage but not when I shot the film.
As a matter of fact we actually used that as a promotional gimmick in the publicity for the film. We got an article in the New York Post. The lead headline in that article was, "She's 17, beautiful and…"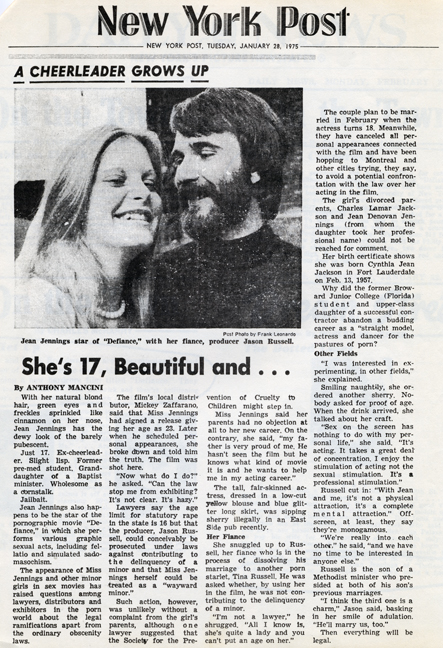 Jean Jennings:
Yes, I was underage. Everyone knew that. Even the newspapers. It wasn't a big deal. I mean I was an old 17.
Fred Lincoln:
Another problem for Jason was that the distributor for 'Defiance' was Mickey Zaffarano. I liked Mickey, but your hands were tied with him. You didn't want to mess with Mickey if you wanted to stay alive.. And you didn't ask any questions either. He was connected.
Zaffarano handled porn theaters and national porn film distribution for the Bonanno crime family in New York. He owned several pornographic movie theaters in Times Square in Manhattan and around the country. Zaffarano's office was in Times Square on the upper floor of The Pussycat Theatre located at 1600 Broadway and 49th St.
Jason Russell:
Armand Weston was an artist, so I said, "Why don't you design something for the one-sheet?"
What he came up with was just ridiculous. He made it look like it was a horror film instead of an X-rated film. In fact he always talked about making a horror film to me. I think that's where his interest was.
I thought this will not work. Mickey agreed with me and he told Armand. Armand was upset, so I just sat down and drew him a… I can draw hardly at all… but I had an idea of what I wanted. I drew a little sketch which is exactly what the one-sheet turned out to be. It was Jean Jennings straddling the word Defiance, and a picture of Fred Lincoln looking up at her from behind.
When I sketched this out for Armand, he liked the idea. He took it from there and did a beautiful job on the artwork.
'Defiance' opened on January 7th, 1975 at the Cine Lido and the Lido East in New York.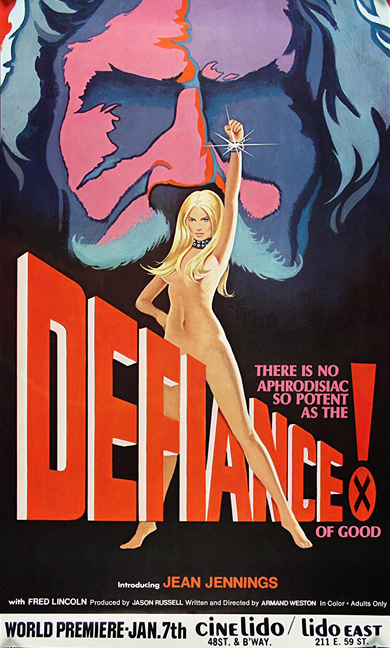 Fred Lincoln:
Jason had a premiere for everyone involved in the making of the film, and he organized an advance showing for the press. It got really great reviews.
'Defiance' review, Screw magazine, Al Goldstein:
'Defiance' is not unlike 'The Story of O'… high caliber scripting, fine lensing, and torrid tantrums. Big league technical treatment in this film indicates the new direction porn films are taking. Good acting and fine turn-on footage.
Jason Russell:
When we first opened the film, it only played in two theaters – but it was making seriously good money in those two theaters. So then we had it in 13 theaters. That's just in New York City before we took it nationwide.
I kept all the Variety box office magazines showing it in the top fifty films in the country for weeks. I set several records with that film. If you look in Variety, it shows the amount of ticket sales versus the number of seats in the theater. 'Defiance' was the best performer. Our gross average per theater at this point was better than all the other films. Our average gross per theater was higher than 'Godfather Part Two' (1974), 'Earthquake' (1974), all of them. I beat all of these films.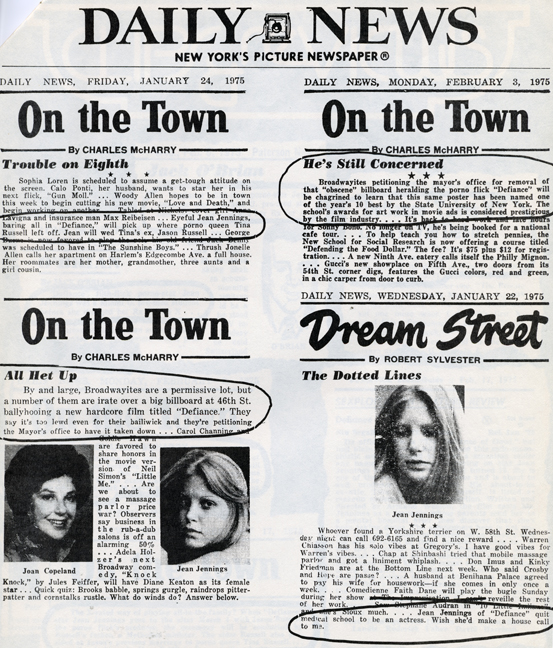 Fred Lincoln:
There was this great old guy in New York named Stanley Borden who had been producing sex films since the early 1960s. His wife, Lorraine, had a promotion and marketing company called Great Scott. They did a great job in getting 'Defiance' into the public eye.
Jason Russell:
'Defiance' was successful mainly because of the way I promoted it. I was pretty good at doing PR and publicity.
I came up with the idea of the billboard in Times Square. That was a very expensive proposition. We rented that billboard for months.
Fred Lincoln:
There were only two adult movies that were advertised on huge billboards. One was 'Not Just Another Woman' (1974) and the other was 'Defiance'. 'Defiance' had a billboard on Broadway with my head and Jean Jennings standing there. And it said "There's no Aphrodisiac as potent as… the Defiance of Good".
I was involved in both of those movies which made me feel really good.
Jason Russell:
The one-sheet won an award as being one of the top-rated one-sheets. The billboard we had in Times Square won the New York Outdoor Advertisers Association award of the year as the top billboard. I was pretty proud.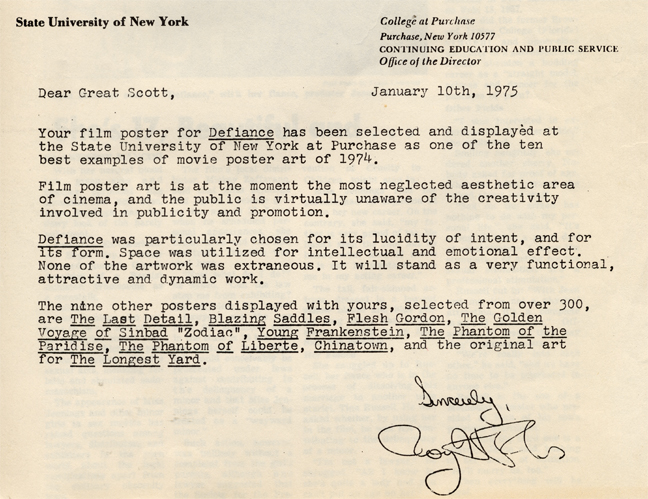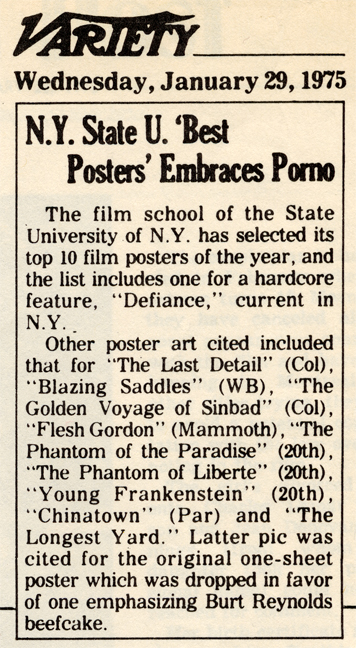 Fred Lincoln:
None of us made any money from 'Defiance'. Someone made a lot of money because it was a big hit, but it wasn't any of us.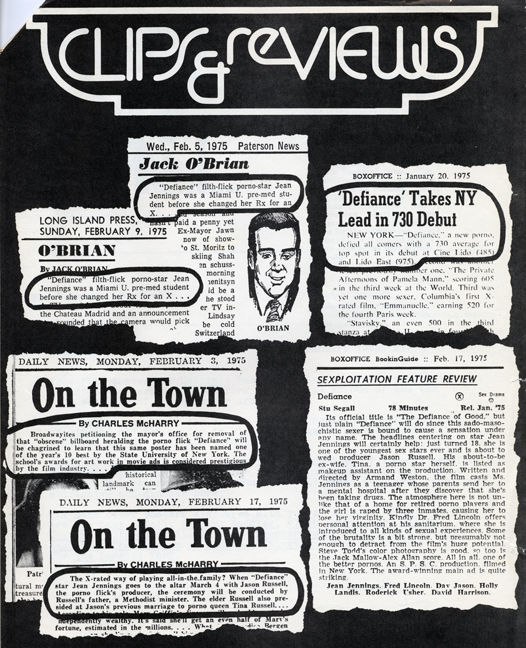 Jason Russell:
I took the small amount of money I made from 'Defiance' and put it towards another film, 'The Taking of Christina' with Armand. Norm was the producer of that as well. Don't even ask me why I continued working with him… I have no idea.
To tell you the truth it wasn't as successful as 'Defiance'. At the same time that the distributor picked up my film, he also picked up Ingmar Bergman's 'The Magic Flute' (1975). And he had to spend all of his time and endeavor promoting the 'The Magic Flute'. So it really hurt 'The Taking of Christina'. I'm sure he made money with it. I didn't see any of it.
Jean Jennings:
I wanted to keep acting but I wanted to get out of the sex films. Jason wanted to keep producing porn movies so I moved out.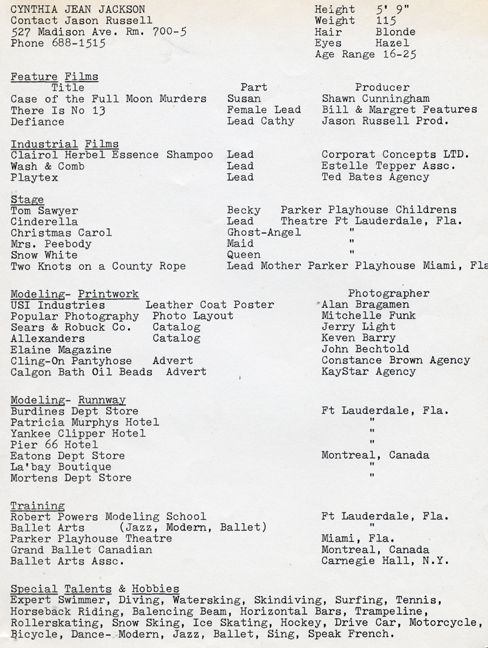 Jean Jennings resume', 1975
Jason Russell:
Jean and I were together for a couple of years. We parted in 1976 and she hooked up with Joe Spinell who was a character actor in New York. They even got married, I heard.
I moved out to California after that and made films out in Los Angeles.
I missed Jean after we split. I liked her a lot. But most of all I missed Tina. Right up till the day she died. And when she did die, it broke me up for years.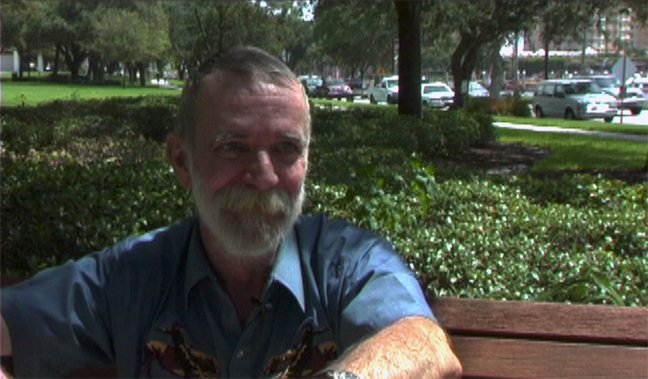 Jason Russell interviewed by The Rialto Report
Jason Russell passed away in October 2005 at the age of 62.
*
In 1975, Len Camp was arrested for conspiracy to promote an obscene matter or performance.
He had been contacted by film maker, Leonard Kirtman, to supply actors and actresses for a film to be shot aboard a boat in Florida called the 'Seahorse'.
According to court records, Camp supplied three actors and three actresses who "acted out scenes depicting sex acts such as sexual intercourse, cunnilingus, fellatio and homosexuality. In addition to supplying the actresses and actors for the filming, defendant took still photographs of the performers and throughout the filming gave advice to them and the cameramen."
Camp lost the case and served over a year in jail.
In 1978, Camp took three women to a friend's house and photographed them as they bathed nude. Among the three was a 17 year old girl. Camp was arrested again and convicted of photographing the girl in a "sexually explicit" situation.
The judge sentenced him to 15 years in prison saying, "Mr Camp just did something that requires a public statement that is not going to be permitted. Which is what 15 years is."
The sentence was reduced on appeal.
In 2005, he was contacted by the team making the documentary film 'Inside Deep Throat'.
Len Camp:
The documentary guys lied to me and promised to pay my expenses. I should never have agreed to be interviewed by them.
After 'Inside Deep Throat' came out, my children stopped talking to me. They didn't like to hear about my past.
It was a mistake to agree to the interview.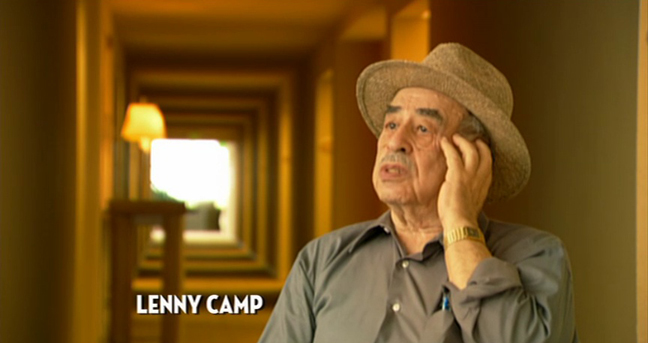 Lenny Camp in 'Inside Deep Throat'
Len Camp passed away in February 2013 at the age of 92.
*
Fred Lincoln:
It feels like I am the last of the original dinosaurs of the sex film industry. Jamie Gillis is dead. Harry Reems is dead. John Leslie, Linda Lovelace, and Chuck Traynor are gone too.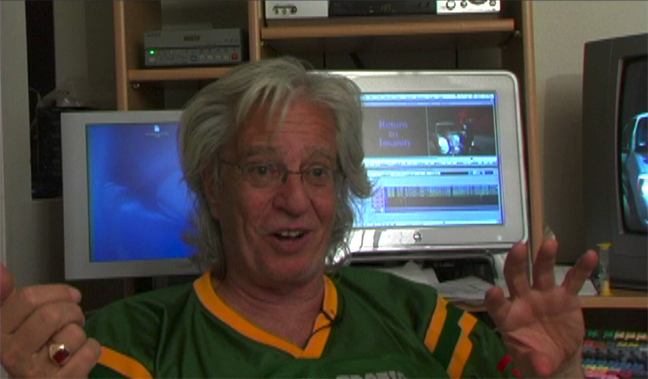 Fred Lincoln interviewed by The Rialto Report
Fred Lincoln passed away in January 2013 at the age of 76.
*
Jean Jennings:
It was a strange time of my life. It seems a long time ago. I stayed in New York after I got divorced from Joe, and did some modeling and had my own business, Alexandra's Body Massage.
I moved back to Florida in the late 1980s and became a nurse.
I've had health issues for years now, which have been difficult for me.
Jean Jennings passed away in September 2011 at the age of 54.
*
Turk Turpin passed away in March 1988 at the age of 54.

*
Norman C. is still alive. He moved to California, where he became 'Vinnie Rossi' – a name chosen on account of his love of red wine. He made a series of sex films and videos between 1982 to 1996, and still lives there.
*
Jason Russell:
I'm very proud of 'Defiance'. It's considered an all-time classic. It's still selling today and it probably always will.
In 2015, Gaspar Noe's 3D film 'Love' premiered at the Cannes Film Festival. Its portrayal of rough sex can be traced back to 'Defiance'.
The film takes place in a bedroom – where the original poster for 'Defiance' is clearly visible on the wall.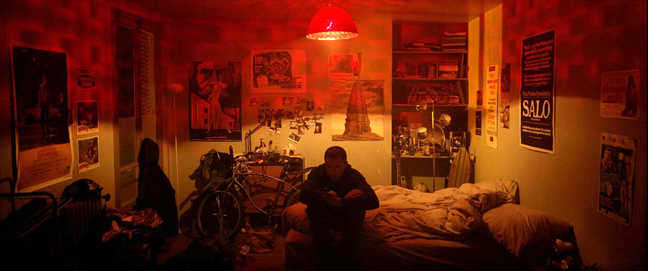 *
Save
Save