In 1978, High Society magazine published a single nude picture of Three's Company actress Suzanne Somers, and the result was immediate: record sales and a template for future success.
And so Celebrity Skin magazine was started, first appearing in 1979, to capitalize on the success of nude pictures of famous women – actresses, singers, royalty, even politician's wives.

But not everyone was happy: the success of the magazine quickly resulted in a series of high profile court cases brought by some of the women who featured in the photo spreads – such as Barbra Streisand and Ann-Margret.
Ten years ago, The Rialto Report filmed an interview with Gloria Leonard, publisher of High Society and the public face of Celebrity Skin, to ask her what happened.

Fully digitized copies of the first five issues of Celebrity Skin magazine from 1979 to 1981 can be found below. You can find The Rialto Report's growing collection of digitized resources by choosing Library in our site menu. 
Click on the covers below to access the full magazines. Due to the fact that the magazines are scanned in high definition, allow time for each page to load. If you are viewing on a phone, view in landscape orientation.
Magazines are fully searchable; use the icon displayed in each magazine to search by keyword.
Publications are being shared here purely for the purpose of research. They should not to be used or reproduced for any commercial gain.
______________________________________________________________________________________
The Origin of 'Celebrity Skin'
How did the 'Celebrity Skin' phenomenon start?
Gloria Leonard: After I started working at High Society, I noticed that readers loved any salacious coverage that involved celebrities. The combination of celebrities and nudity and sex was unheard of then, it was totally new, and people love it.
How did you figure that out?
Well, for a start the sales and circulation numbers for High Society were higher. And then we always got more correspondence from readers wanting to see celebrities in the buff.
Did any celebrities stand out as being particularly popular?
The Kennedy women were always in demand: both Jackie and Caroline. Jackie Bisset was huge at the time. Anyone in the news or in the movies and television shows of the time.
Do you remember who the first celebrity that you featured was?
I remember we did a feature on a 1950s sex loop that supposedly featured Marilyn Monroe. (RR: This was the April 1978 issue of High Society.) The loop had been around for years, and nobody really believed that it was Marilyn but we featured some stills anyway, and… the readers loved it. We got a lot of publicity from that.
But the big breakthrough came later (RR: in the July 1978 issue) when we put a topless Suzanne Somers on the front cover. Suzanne was a big star because of the success of Three's Company at the time.  That particular issue was the biggest seller we'd had to that point.

And yet you only had one topless picture of Suzanne in that issue!
That's all we needed!
How did you get hold of the picture?
We found that she'd done a topless promotional shot for a sporting goods shop before she was famous. I think the name of the store was 'Right-On' – and so she had the company logo painted across her chest. When she became famous, someone sent us a copy of the picture… and we went to town with it!
We made into a centerfold.
And you got so much coverage in the mainstream media…
It was covered everywhere! To start with, we leaked news of the Suzanne Somers pictures to newspapers in advance, so that built anticipation, but we didn't give them the full details. We didn't tell them it was an old picture, or that we only had one shot…
We sold the sizzle, not the steak!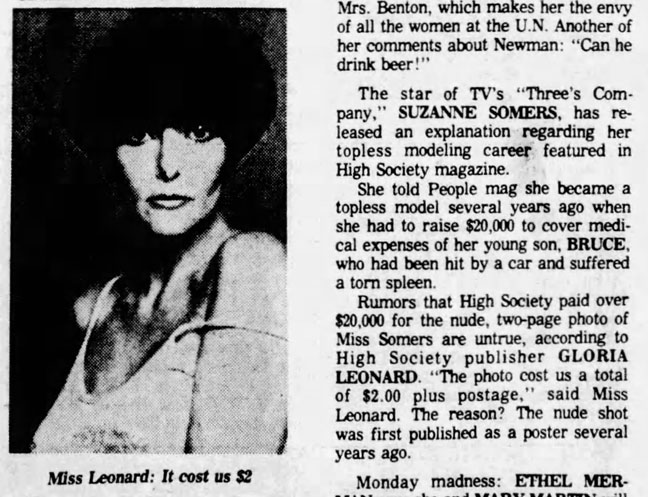 What sort of increase in sales figures are we talking about?
We were typically selling around 400,000 copies each month. This one sold double that. Easily.
What was Suzanne Somers' reaction?
She was good about it – unlike some of the other stars we went on to feature in later issues. She made a statement saying that she'd been poor and hungry and so had accepted the topless photo work, but she was fine.
Some of the newspapers attacked us for being exploitative, but it was all good publicity for High Society.
What were the consequences of this success?
I wanted to continue to feature more nude celebrities!
Your next big nude celebrity issue featured Cheryl Tiegs (RR: in October 1978).
That was just the same as the Suzanne Somers issue. Cheryl Tiegs was the most famous model in America at the time, so we leaked information to the newspapers again, and printed a topless photo of her as a centerfold.
It sold equally well.
And then the celebrities came thick and fast… Jacqueline Bisset, Farrah Fawcett, Lynda Carter, Angie Dickinson, the bionic woman Lindsay Wagner, Princess Caroline of Monaco, Connie Stevens… even Margaret Trudeau, the wife of the Canadian Prime Minister. It seemed like almost every issue had a different star in nude photos.
And we were the first to do that. In those days, people weren't used to seeing famous people in the nude. Perhaps there was a short nude scene in a movie, but home video hadn't been invented and so you saw it briefly and then it was gone.
We were giving people the chance to have a proper look…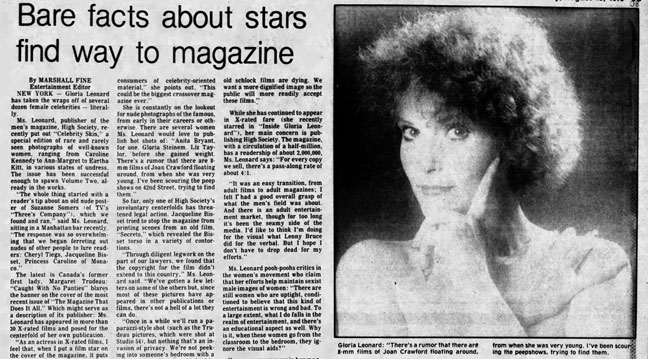 And you were featuring some big stars.
Jackie Bisset was one that I really wanted. She had class, and men loved her. I knew that if we got her, then we'd sell a lot of issues. We found an early film that she'd done many years before (RR: 'Secrets' (1971)) in which she had a lengthy sex scene. So we took some stills from the movie and published them, and the readers loved it.
Jacqueline's agent issued a statement stating that she'd used a body double in the movie, and so the pictures weren't of Jackie… but that didn't stop people wanting to see them.
You have to understand: if you had a star on the cover of a sex magazine on the newsstand, people found it irresistible.
So you launched a new title: Celebrity Skin.
Yes. That first issue of Celebrity Skin featured the photos we'd already published in High Society, plus some new photos of people like Catherine Deneuve and Susan Sarandon.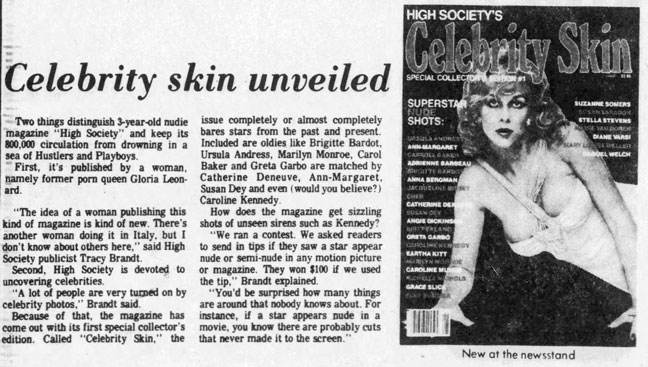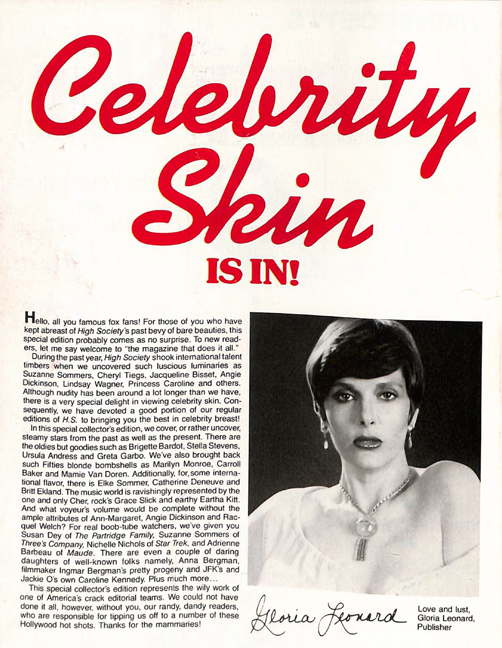 One of the people who didn't appreciate your efforts was Barbra Streisand.
I think she was the first to sue us. The first of many…
We found some outtakes from her film 'The Owl and The Pussycat' (1970) in which she took her clothes off, and we put them in the magazine. I think we put them in both High Society and Celebrity Skin magazines.
Babs clutched her pearls – and sued us for $5 million.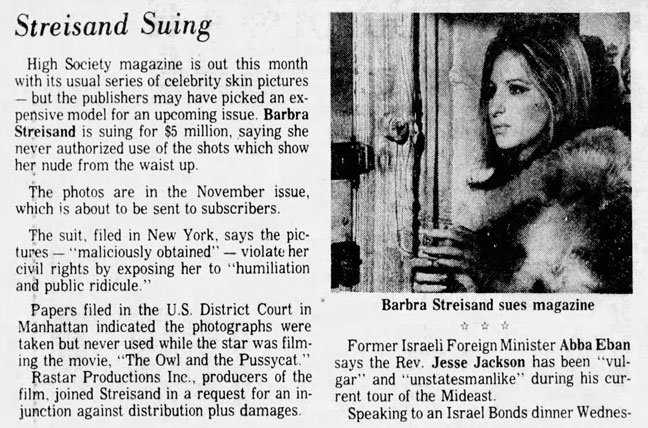 Didn't this all take place before the photos were even published?
Yes, she tried to block the publication, and she tried to get awarded damages.
On what grounds?
Two reasons: one, that we obtained the pictures illegally, and two, they violated her civil rights.
Her civil rights? How were they being infringed?

Her right to privacy. She alleged that we'd ridiculed and humiliated her.
It was stupid.
U.S. District Court filing by attorneys acting for Barbra Streisand:
"Throughout her career, Streisand has vigorously protected her reputation and privacy by refusing to consent to release of any film or publication in which she was not fully clothed."
How was the Streisand case resolved?
We'd already printed up all the magazines and sent them out to distributors – which included the pictures of Barbra.
In the end, our attorneys negotiated a settlement whereby we agreed to contact our wholesalers to tell them to tear out the photos of Streisand, and to tape over the word 'nude' on the cover – next to her name.
That sounds impractical.
It was completely impractical! So everyone ignored it.
Can you imagine the wholesalers doing that to every magazine? Especially when it would reduce the value of the magazine on the newsstand?
Anyway Babs went away. I think she realized that they'd made a miscalculation. All the publicity only benefited us.
And the issue broke circulation records again.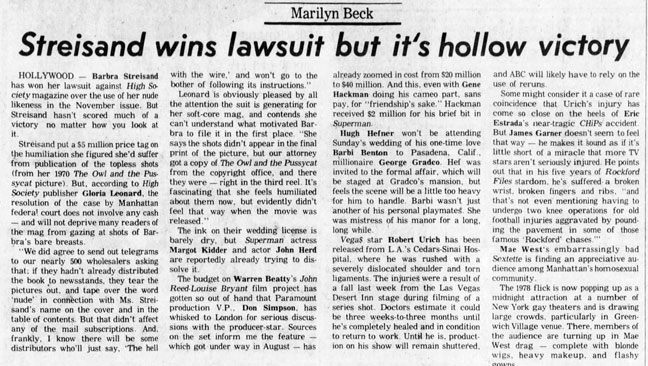 Then the model Patti Hansen sued you. How was that different?
Patti claimed that being a model didn't mean that she was a public figure, so we had no right to publish photographs of her.
The irony was that she was already internationally famous, and she was dating, and soon to be married to, Keith Richards of the Rolling Stones. So she was hardly a private, unknown person…
At first a judge agree with her, and issued an injunction, but we took it to the New York Supreme, and won the case there.
'Skin magazine wins', UPI news source, January 1980:
The New York Supreme Court says High Society's Celebrity Skin magazine can publish nude pictures of fashion model Patti Hansen. She branded the pictures "unauthorized" and sued to keep them out of print, but the court says she didn't prove they would do her "irreparable harm". It's another victory for High Society publisher Gloria Leonard who specializes in catching stars and celebrities in the buff.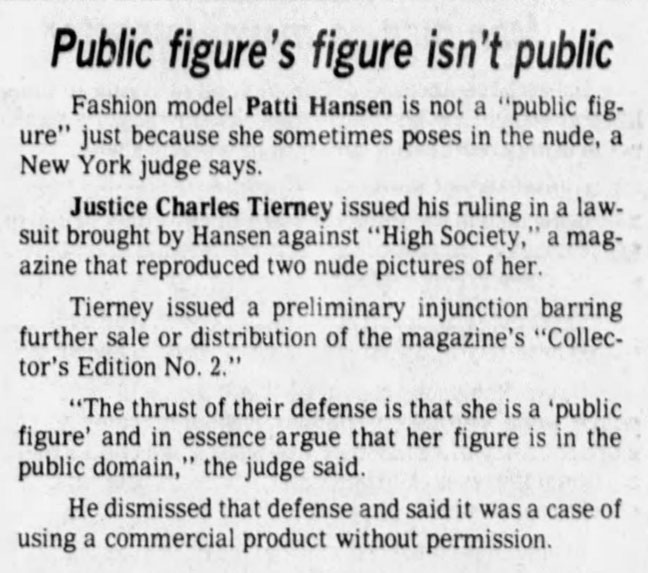 One of the biggest court cases you fought was when Ann-Margret sued you.
I liked Ann-Margret. I always did. She was a strong, beautiful woman who should have been a bigger star. But she was wrong to take us on.
I still remember the judge's name: Gerard Goettel. He was completely in love with Ann-Margret, and you can see that all over his written opinion. His judgement started by saying something like… "Ann-Margret is a beautiful, talented, amazing star, and she has such good taste because she hates 'High Society' magazine."
It was a ridiculous example of judicial bias.
Extract from: Ann-Margret, Plaintiff, v. High Society Magazine, Inc. and Dorjam Publications, Inc., Defendants, United States District Court, S. D. New York, August 27, 1980.
"The actress Ann-Margret is a woman of beauty, talent, and courage. It would appear, from her reaction to her inclusion in the defendants' magazine, that she is also a woman of taste."
And you won this case too.
Yes. Even the judge had to admit that her case was without merit.
Basically we'd just printed a still from a movie she made (RR: Magic (1978)) – a topless photo – and so she tried to sue us.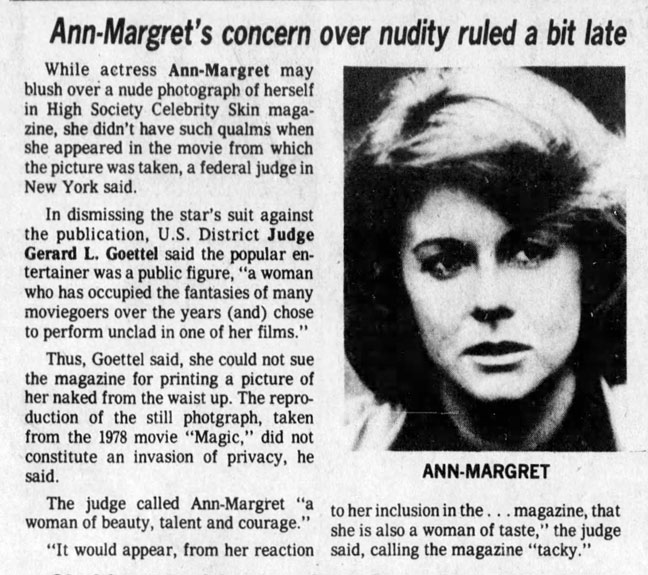 Extract from: Ann-Margret, Plaintiff, v. High Society Magazine, Inc. and Dorjam Publications, Inc., Defendants, United States District Court, S. D. New York, August 27, 1980.
Starting on page twenty-five of the magazine, there are five pages devoted exclusively to the plaintiff, four of which are completely photographic, while the fifth is made up of about half a page of rambling text and one photograph.
The picture by which the plaintiff is particularly offended, taken from the movie 'Magic,' is on page twenty-nine. In this photograph, one of her breasts is quite visible. Not having consented to the use of her photographs by the defendants, and, in fact, violently objecting to their inclusion in such a format, the plaintiff has now brought suit, claiming violation of her right of privacy and "right of publicity."
How was the case resolved?
Once again it came down to the fact that she was a public figure too. Fair game.

Extract from: Ann-Margret, Plaintiff, v. High Society Magazine, Inc. and Dorjam Publications, Inc., Defendants, United States District Court, S. D. New York, August 27, 1980.
"The fact that the plaintiff, a woman who has occupied the fantasies of many moviegoers over the years, chose to perform unclad in one of her films is a matter of great interest to many people. And while such an event may not appear overly important, the scope of what constitutes a newsworthy event has been afforded a broad definition and held to include even matters of "entertainment and amusement, concerning interesting phases of human activity in general."
Didn't the judge describe High Society as "tacky"?
Yes! He said we weren't "hard-core pornography", merely tacky!
What was the lasting impact of all these court cases?
We had asserted our right to print these photos in a court of law. That was important for everybody.
And that led to the decision to make Celebrity Skin a more regular publication. Which made a lot of money.
Apart from actual magazine sales, advertisers were desperate to buy ad space in the publication, so we ramped up the rates – and did very well.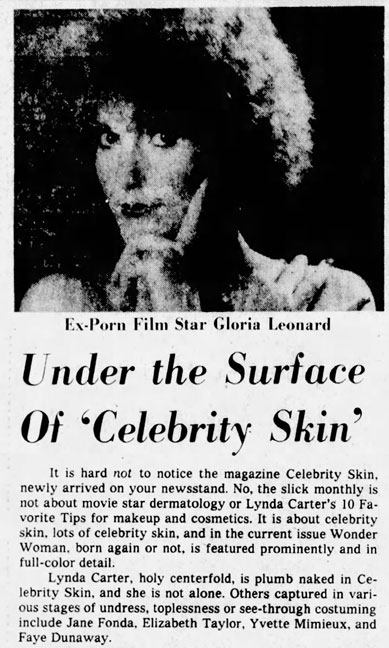 Were there any celebrities that you were particularly pleased to have featured?
God, we had hundreds in the first few magazines. I remember we featured nudes of Greta Garbo – which was a first. Everyone was excited about that. The only problem that she was in her mid 70s at the time of the photos!
What was the impact of this success on yourself?
On a personal level, I got a lot of press coverage which made me more well known, and led to various appearances on NPR, on TV shows, and in magazines. I was the grande dame of the business for a moment! (laughs)
With hindsight, what did you personally think of the 'celebrity skin' controversy?
In America, there's always been this attitude of: "If a woman appears nude, will it hurt her career?" I thought this was an anti-woman idea. And I think it still exists today. I wanted to see women make whatever choices they wanted – without sexist and negative consequences.
*
Celebrity Skin (1979-1981)
Click on the covers below to access the full magazines.
____________________________________________________________
Issue No.1 (1979)

Contents:
____________________________________________________________
Issue No.2 (1979)
Contents:
____________________________________________________________
Issue No.3 (1980)
Contents:
____________________________________________________________
Issue No.4 (1981)
Contents:
____________________________________________________________
Issue No.5 (1981)
Contents:
*