Gloria Leonard was appointed High Society's 'publisher' in 1977 – and by the following year the magazine was in full swing. Her avowed vision for the magazine was to take the culture from Playboy, the counter-cultural, free speech ideals from Hustler, the sleaze from Screw, and create a smart, edgy, sexy offering.

But High Society wasn't a one-woman operation. So who worked behind the scenes – editing, writing, reviewing films, and providing photographic features?
When The Rialto Report interviewed Gloria prior to her passing in 2014, she spoke proudly of the ever-changing rag-tag group of intellectuals, artists, writers, and political activists that made up her team. She described them as her "motley crew… a weird combination of talented wannabes and old, wise has-beens". They all had one feature in common: a willingness to work towards Gloria's vision "to shake-up the sex magazine world."
In this Rialto Report, we look back at the people who worked on the early years of High Society, and we re-publish the issues from 1978.

These include articles and photo spreads with Nancy Suiter, Kelly Nichols and Suzanne Somers, and features on film such as Maraschino Cherry and Take Off, and much more.
You can read about the previous two years of High Society here – 1976 and 1977.
Fully digitized copies of each 1978 magazine can be found below the article below. You can find The Rialto Report's growing collection of digitized resources by choosing Library in our site menu. 
Click on the covers below to access the full magazines. Due to the fact that the magazines are scanned in high definition, allow time for each page to load. If you are viewing on a phone, view in landscape orientation.
Magazines are fully searchable; use the icon displayed in each magazine to search by keyword.
Publications are being shared here purely for the purpose of research. They should not to be used or reproduced for any commercial gain.
_______________________________________________________________________________________________
High Society in 1978 – The Motley Crew in Their Own Words
In 1977, Carl Ruderman, owner of High Society magazine, hired adult film actress Gloria Leonard to become the titular 'Publisher' of the publication.
Gloria Leonard (High Society publisher):
I did not take prisoners, and it has never really impeded my ability to accomplish anything. I think that's why they chose to hire somebody a little older and smarter like me.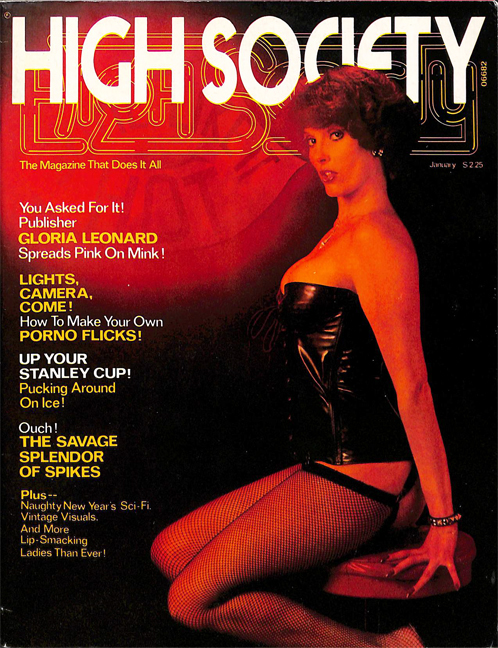 Gloria, on the cover of High Society
Gloria came to the world of adult entertainment later in life than most. She was 36 when she made her first appearance in an X-rated movie.
Gloria Leonard:
Deep Throat (1972) was the first X-rated film that I ever went to see. I loved it because…I loved the humor. The sex to me was almost secondary. But yes, it was definitely a pioneering moment in cinematic history and it made me realize that… wow, there's going to be more of these.
I loved the sleazy side of the city. Times Square was always a dicey kind of a place. Even as a kid going down there with my mom and coming out of the subway into Times Square there was always a little element of danger and funkiness about the place.
The people who were in the XXX business at that given time in New York City did this as an adjunct to other creative pursuits that they were involved in. For example, R. Bolla was an actor with quite a few credits to his name, a real genuine actor, and he was smart and he was funny. Jamie Gillis had been a Shakespearean actor – and I found that almost without exception, everybody that I knew at that time in this business was either an actor or a dancer or an artist of one sort or another. It was a very intelligent group of people, especially given the stereotype that is perpetuated about people in this industry. We were a pretty damn smart bunch of guys and girls.
I think a lot of it had to do with the fact that we didn't take ourselves very seriously.
Gloria was a different spokesperson for pornography: she was irreverent, crass, whip smart – and female.
Gloria Leonard:
People used to say, "In this industry, you don't have to fuck to get hired because you're hired to fuck". I preferred to think of it differently: "There's no casting couch because the budgets are so low we only have a casting chair."
But the quote that sort of immortalized me is when I said, "The difference between erotica and pornography is the lighting". I wasn't being flippant: in my opinion, that's really what it is.
If Carl Ruderman's intention was to hire a nominal porn star as a marketing gimmick for High Society, that's not what he got. Gloria had other ideas.
Gloria Leonard:
I followed up being a performer with being the 'face of the industry'. High Society gave me the platform to be taken more seriously, and I was able to espouse my opinions on any number of topics, not just the adult business. And I always had a lot of opinions…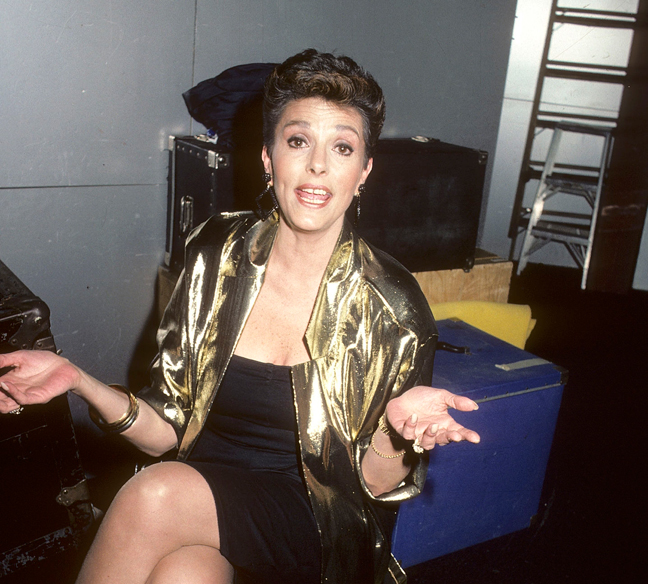 If Gloria was the figurehead for High Society, Richard Barraclough was initially the operational head. He was Gloria's right-hand man, the editorial director, responsible for day-to-day magazine operations. And when it came to creative input, Carl Ruderman was hands-off, Gloria was often out of the office, so it was left to Richard to decide the content.

Gloria Leonard:
I took advantage of my title as Publisher to run around and make public appearances on behalf of the magazine. I was able to do that because Richard held things together in the office. He was a hard-working guy with a keen sense of what people would like.
While Richard was in charge, he hired many of the team that worked for us. For example, I wanted to have a section where adult films were reviewed. He hired a friend to do that.
Brandon Judell (film reviewer):

I was a freelance film reviewer for a variety of publications in the 1970s and 1980s. Then Richard asked me to contribute reviews to High Society. It was a bit strange because I'm gay and here I was reviewing these straight porn films. I was used to writing for gay publications like Blueboy, Gaysweek and The Advocate. Actually I also did a few columns for Screw too.
It was the 1970s – it was the hippie era and I was in my mid 20s. I wasn't thinking about the future. I was living day-to-day, and writing these features for the various magazines was barely enough to eke out even the most basic living.
I didn't know Gloria Leonard very well but she was always very sweet to me. I always thought she was a figurehead at the magazine but I didn't know for sure. I remember at one point around 1978, I had to review All About Gloria Leonard: let's just say I had to put aside my ethical standards and gave the film a high rating. I also acted as a judge for the Erotica awards one year – that was fun.
I eventually got fired from High Society. I went to a screening put on by Candida Royalle – she was promoting her Femme films. At some point during the movie, I was laughing so much. Candida was offended that I wasn't taking her films seriously. She complained to Gloria – and Gloria had a quiet word in my ear. That was the end of that.
Since his time working for High Society, Brandon Judell has been a lecturer at City College in New York where he's been awarded the 'Outstanding Teacher Award'. He's been a journalist for over 30 years, published in The Forward, The Village Voice, The New York Daily News, and indieWire.com. He's also been a judge at the Berlin Film Festival.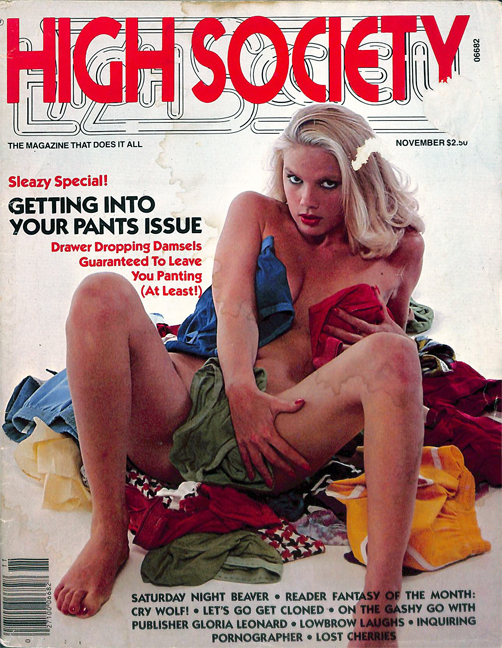 Nancy Suiter, on the cover of High Society
Gloria Leonard:
It was important for High Society to look good, and so we hired good art directors. I was always proud of how the magazine looked on the news shelf.
Kurt Vargo was High Society's associate art director in 1978. He'd graduated from The School of Visual Arts, New York City, NY, earning his Bachelor of Fine Arts Degree in painting, printmaking and communication arts.

Kurt Vargo (associate art director):
I was a struggling illustrator, I needed a job, and this was a freelance thing to do. I saw an ad that said, "Wanted: paste-ups and mechanicals for interested artist" and it was for Swank magazine. I didn't even know what paste-ups and mechanicals were but I went in and said I did and I got the job.
On my first day, Lester Goodman – who was at Swank as the assistant art director working for Bruce Cohen, who was the art director – found out I didn't know how to do any of the work. Lester said, "I thought you said you knew how to do this?" and I answered, "I lied." He sort of chuckled and said he'd teach me.
I worked at Swank for about a year and at that point I'd had it with girlie magazines. I was in my mid-20s and I saw these 18 and 19 year old girls coming in looking for an opportunity and thinking this was one. I considered myself a feminist, and I thought that what we were doing was degrading to women. I'd talk to some of the girls, and they were so sweet, and I'd think to myself, "What are you doing…?
I wound up getting fired from Swank – I cried all night when that happened. But Lester went over to High Society and needed paste-up and mechanical help so I went over with him.
I liked Gloria a lot – she was friendly and funny. I pretty much liked everyone who worked there. Some of them were a bit strange or temperamental but we were all there for a reason – mostly to get some sort of career going. For me it was money coming in while I was building up my career as an illustrator. And it served me well. I went on to have a successful mainstream art career.
Today Kurt Vargo is an acclaimed artist, and since 2005, has been a Professor of the Applied Arts at The Savannah College of Art and Design, Savannah, GA, where he earned his Master of Fine Arts Degree. A partial client list and commissions include The Chicago Museum, Harvard University Press, The Korean Foundation, Time Inc., actor Ben Kingsley, musician Ravi Shankar, and conceptual artist Yoko Ono.
Another of High Society's associate art directors was Ron Scarselli. Ron went on to become a popular and Grammy Award nominated album cover artist, having a long working relationship with R.E.M. as well as The Cramps (on their album 'Bad Music For Bad People'), Fine Young Cannibals ('Suspicious Minds'), Timbuk 3 ('Easy') and many more. Ron Scarselli died in 1990.
Gloria Leonard:
We had a revolving door of people providing content. Most would come in and work for us for only a few months, but some stood out as real eccentrics. Like Richard Merkin.
Richard Merkin was a legendary painter and illustrator in New York, whose fascination with the 1920s and 1930s defined his art and shaped his identity as a professional dandy. As an artist, Merkin created brightly colored, cartoonish portraits and narrative scenes of film stars, jazz musicians, sports heroes and writers. His illustrations appeared in The New Yorker, Vanity Fair and Harper's, but he was at least as well known for his outré fashion sense. He favored custom-made double-breasted suits of his own design, bowler hats and homburgs, and boutonnières. He described his sartorial aspirations as lying somewhere between the Duke of Windsor and the Duke of Ellington, and would stroll the boulevards of Manhattan sporting a cane.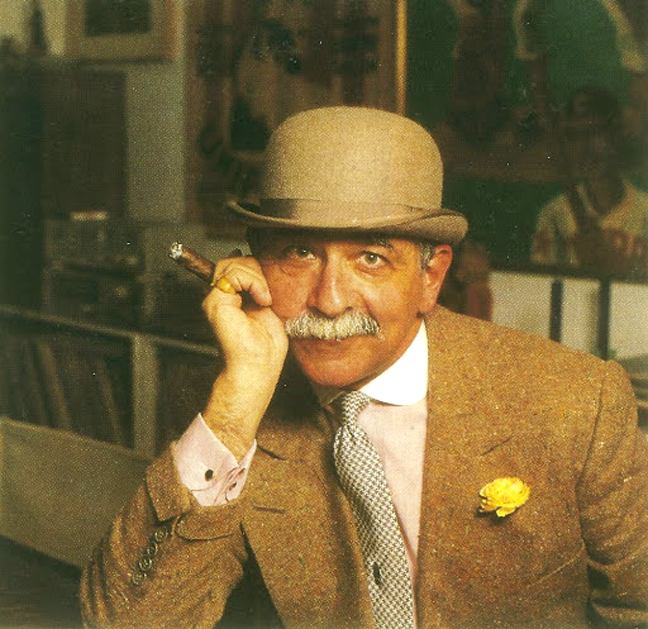 Richard Merkin
Tom Wolfe (writer, not for High Society..)
Richard was the greatest of that breed, the Artist Dandy, since Sargent, Whistler and Dali. And like Dali, he had one of the few remaining Great Mustaches in the art world.
Among other offbeat claims to fame, Merkin appeared on the cover of the Beatles' 'Sgt. Pepper's Lonely Hearts Club Band,' in the top row between Fred Astaire and a Vargas girl.

Gloria Leonard
Richard was completely incongruous, but the reason he was in the world of High Society was that he loved pornography. He was obsessed by it – and very learned too.
Richard's interest was shared in two books, 'Velvet Eden' (1979), written with Bruce McCall, which showcased his collection of early amateur pornography, and 'Tijuana Bibles' (1997), written with the photojournalist Bob Adelman, in which he paid tribute to the sexually explicit comics that Americans bought across the Mexican border from the 1930s to the 1950s.
Gloria Leonard
Richard wrote some articles for us about vintage pornography – and this was in a time when no one was doing that. He used his own collection of rare pictures to illustrate the pieces. What's more, he was always around the offices looking for things that interested him.
Merkin went to write the column "Merkin on Style" for GQ from 1988 to 1991, holding forth on a subject he knew more about than practically anybody else. He died in 2009, and was given a fulsome obituary in the New York Times. No mention was made of his stint with High Society.
Gloria Leonard:
My editor Richard Barraclough left in 1978. High Society had been his training: after he moved on, he became an influential editor for many other magazines.
In the 1980s, Richard Barraclough edited a number of celebrity-focused magazines, including Super Teen, Superstar Special, and HipHop!
Richard died in 1990. He left a collection of papers from his journalistic career to the New York Public Library. His archive contains film, music, and television promotional materials.

Gloria Leonard:
When Richard Barraclough left, we got Pat Reshen in. She was a hard-drinking broad – loud, brassy, and bawdy.
Richard had been good for the magazine, but Pat was great. Full of energy, straight talk, and ideas. She was married to one of the legendary music figures from the time too.
Pat Reshen joined High Society from Gallery magazine. She was married to Neil Reshen, a legend of the 1970s music scene. He started as a business manager at the rock magazine Creem, and handled the careers of jazz legend Miles Davis and rock iconoclast Frank Zappa, before going on to manage country music icons Waylon Jennings and Willie Nelson.
Eve Ziegler (associate editor):
Pat had dyed blond hair, big boobs and great legs – she sort of looked like Loni Anderson. She was flamboyant and really a force of nature. Imagine a white Tina Turner.
Pat Reshen (editor):

Women can do this job better than men because we spend more time listening to males talk about themselves. We've been entertaining men since Adam and Eve. Men tell us what they like in food, fantasies, and sex, whereas with other men they talk business and play the buddy-buddy game.
Eve Zieglier:
High Society was my first porn job.
I was working a straight publishing job where I wrote flap copy. I was terrible at it but they really liked me and kept putting up with how bad I was at my job. Then I saw an ad somewhere buried in the back of the Village Voice that said, "Can you write erotic fiction?" and it listed a P.O. Box to send samples. I didn't know what I was applying for – there was no publication title or anything. I wrote a story and mailed it in with my contact information. I took inspiration from the Penthouse and Playboy magazines my stepbrother had and I used to sneak looks at when I was a kid. And this was pre-computers and everything so I wrote it on a manual typewriter.
A few days later I got a phone call from a woman named Pat Reshen inviting me to come into her office at High Society, so I went in, somewhere on 3rd Ave in the 30s. I remember that there was silver wallpaper in the waiting room. It was like being inside a toaster oven.
I was led into Pat's office that she shared with Gloria Leonard. There were posters from Gloria's movies hanging on the wall, but aside from that it was like any other office.
Gloria was friendly from the get-go, but Pat barely said anything to me the first 15 minutes I was there. I just sat in the office and waited while Pat ignored me. Finally Pat talked to me. She said, "I'm going to buy your story and I'm going to pay you well for it" – which she did. She gave me $300 which was a lot of money. That was a week's salary at my straight job.
Then she said she'd like to offer me a full-time job as associate editor. I asked what the job entailed. Pat said I'd have to write a fiction piece every month under a different name so it looks like a separate person. And I'd also have to write up the ideas that the stringers brought in. There were about six stringers and they would each bring in a pitch every month, and I'd have to sit with them and write up their ideas.
She asked when I could start. I said in a week.
She handed me a couple of back issues of High Society as homework – that was the first time I realized who had just hired me…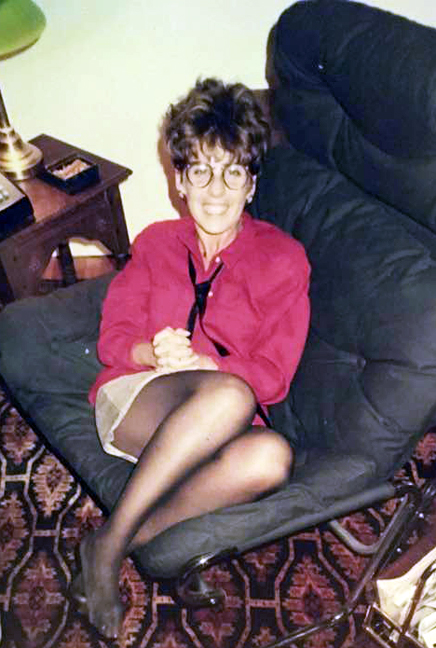 Eve Zieglier
Gloria Leonard:
The atmosphere in the office was very professional. If you dropped by, you wouldn't know we were producing a pornographic men's magazine.
Eve Ziegler:
Once I got settled there, it was a fun place to work. But it wasn't what you'd think of as a 'porn office.' All the women who worked there wore skirts or dresses and the men wore suits and ties – something I later found out was required by Carl Ruderman. He was very keen on keeping up appearances in the office.
Working for Pat Rashen was good and bad. She worked all the time and really hard, and she often worked from home. From her bed to be specific. I'd have to run things over to her from the office and there she'd be in bed, like a queen.
High Society treated its people very differently according to their status: full-time employees were paid well, whereas casual workers often struggled to get paid at all.
Brandon Judell (freelance):
Every time I was supposed to get paid for work, I had to beg. That was pretty much the only time I was in the High Society offices – to beg for the payment I was owed or when I was dropping off a piece for publication.
Carl Ruderman was a real bastard, just an awful person. He had no feelings for the writers.
Eve Ziegler (full-time):
A big part of what Pat had me do was run interference with the freelancers. She wanted me to deflect and lie about why they weren't getting their money which I was really uncomfortable with. Carl basically saw them all as dreck so if he could hold on to the money, he would.
One of the freelancers – a woman from PONY (Prostitutes of NY) would get so angry that she'd bring her ferret to the office cause she knew the CFO was terrified of it. She'd tell him she'd let the ferret lose in his office if he didn't write her a check immediately.
The only freelancers who seemed to get paid without trouble were Bobby Astyr and Samantha Fox. I'd sit with them every month and coax a story out of them. I got to know them very well. They always complained that they weren't getting paid enough and wanted to know how much I was getting paid.
There are some days I'd walk home from the office just to decompress from being bossed around by Pat.
Carl Ruderman was a constant presence – though not engaged in managing the magazine directly.
Eve Ziegler:
Carl and I had a semi-formal relationship. I call it semi-formal because we always addressed each other by our last names – he was Mr. Ruderman and I was Ms. Ziegler.
But Carl was dating like a madman – and part of my job was keeping a log of his dates for him. For example, I had to track what gift he gave each woman – because he always gave each one a small gift – or where they went to dinner so he didn't take them to the same place twice… and what he wore so he didn't repeat an outfit. That was it – nothing prurient, but I really resented having to do it.
He was really vain too. He had his hair blown out every morning.
Gloria Leonard:
Carl was a businessman. He took over an old venerable publishing company – Drake Publishers – which had focused on textbooks for decades. He turned it into a publishing empire with hundreds of titles.
High Society was a problem for him: he looked down his nose at it, but it was a cash cow.
Eve Ziegler:
Pat Reshen taught me a bunch of good things. Like how to do a quick but good interview, even when I was dealing with incomprehensible drug addicts.
She taught me how to interview porn people too. I was part of the decision with Pat and Gloria as to whether we were going to take a chance on this girl who called herself Seka. Seka had shown up with her creepy husband, and they demanded a cover and a centerfold. Ultimately we said yes.
I remember Seka's skin was so thin it took us forever and cost a fortune to retouch her veins which showed through. Pat was an expert at dealing with the re-touchers. She was a production miracle.
Eventually Pat Reshen left High Society and went on to edit many adult magazines over the next two decades. She died in 2012.
Eve Ziegler left High Society after a year.
Eve Ziegler:
I quit not to take another porn job but because my boyfriend at the time started a produce business and needed my help. I remember the heads at High Society were kind of mean about me leaving. They were great while I was working there but mean when I left. But I'm very grateful to them. They paid me to write at High Society and I learned so much there. I learned skills that I used forever, like later on when I wrote all the copy for the first issue of Celebrity Skin.
When I went on to other magazines, I saw that High Society was run better than a lot of places. I remember once when I was reviewing boards with Chip Goodman over at Swank magazine – where I went by the name of E.Z. Virtue –  a small chunk of cocaine literally fell out of his nose. We both looked at it and paused until I said to him, "Don't worry – do it if you want to."
So he grabbed it and put it in his mouth.
So how much was Gloria involved in the day to day running of High Society? Opinions differ.
V.K. McCarty (associate editor):

She was our much-beloved office celebrity, but we never actually saw her.
Kurt Vargo (art director):
Carl Ruderman was really the brains behind the whole thing. But I used to see Gloria Leonard at the office all the time. In fact I walked into Gloria's office one day and she was giving Carl Ruderman a blowjob.
Eve Ziegler (associate editor):
Gloria's role was to land the advertisers and she did a good job of it. She wasn't involved in any editorial decisions for the magazine but she brought in the ad money.
She was really glam and presented herself so well. She also projected a feminism that made it seem like we couldn't possibly be exploiting women with her at the helm. She represented the uber-liberated woman and she was not kidding about free speech. She was political and active and just a fantastic figurehead for the magazine.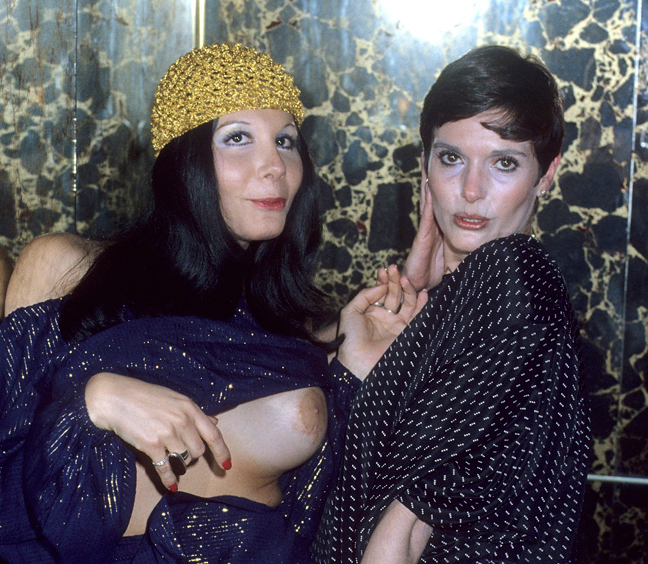 Gloria with Jill Monroe at the premiere of "All About Gloria Leonard" at East World Theatre in New York City on December 14, 1978
Gloria Leonard:
I was out on the road often doing media. I spent a lot of time defending a lot of thankless motherfuckers on various talk shows.
My philosophy was that no matter what you do in life, there's pluses and minuses. No matter where you live, there's pluses and minuses. And that's how I perceive my experience in the porn industry: there were pluses and there were minuses.
The many, many, many, college appearances that I made often were framed in a debate format with the more strident kind of humorless sort of feminists. I always explained to the audience that my definition of a feminist is somebody who can do what she wants to do with the least amount of interference, and that's exactly what I'm doing. I told them that frankly they should be cheering me on.
Their argument lost a lot of weight down the line when lesbians started producing their own magazines and their own films which were every bit as hardcore as what men were producing. So that argument could no longer be made by a lot of women. I will tell you that in all my experience of speaking on college and university campuses, it was invariably positive. I would inevitably have one or more women come up to me at the end of it and say, "You have so changed my perception of this business" and they would be thankful.
Verbally I was generally more masterful than my opponents were, and I would incorporate witticisms and jokes about the business, and people's perception of it, and the audience enjoyed the fact that it was a more lighthearted approach. One feminist that I debated would show slides, such as the famous one of the Hustler cover of a women being fed into a meat grinder. That was Hustler making fun of itself, because everybody was accusing them of treating women like meat. And if you didn't take it as a joke, there was definitely something wrong with you. I mean it would immodest of me to say that I invariably came out the winner in a debate situation – but I did.
Gloria remained on High Society's mast head for several years, ably supported by her motley crew.
Gloria Leonard
High Society was a breeding ground for a group of people who would never have come together in any other circumstances. It was a fleeting moment in time: they learned skills, they provided us with articles or photographs or expertise… and then they went and did something else. Sometimes something completely different. And from time to time, I'd see their name in the news, and I remembered how they got their professional start in life.
For an example of someone's life that took a different turn after High Society, look no further that Associate Editor V.K. McCarty: after a career in theater and then publishing, she became a hospital chaplain, and served as sub-deacon and master of ceremonies for St. Ignatius of Antioch Church, a preacher for several New Jersey parishes, and as Director of Christian Formation for St. Paul's, Chatham.
A contrasting example is Carl Ruderman: after going on to own Playgirl magazine, Ruderman became the CEO of 1 Global Capital LLC. Early in 2020, the Securities and Exchange Commission stated that he used company funds to pay for a personal chef, vacations in Greece, and a six-figure salary for his wife. Civil actions initiated by the SEC have required him to pay over $32 million of personal wealth as ill-gotten gains.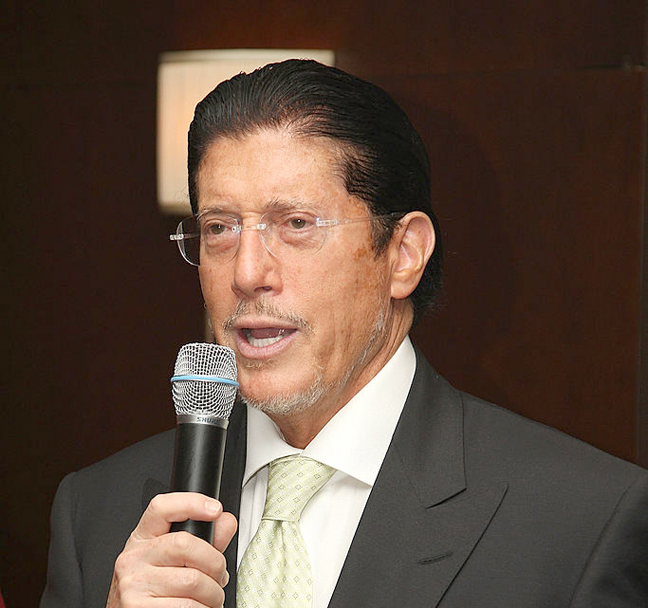 Carl Ruderman
*
High Society: The Complete 1978 Issues
____________________________________________________________
January 1978 (Vol 2, No. 9)

Contents:
–Gloria Leonard answers readers letters and pictorial
-High Society party pictures
-Cathy Cuthbert pictorial
-Profile of Times Square, New Years Eve 1978
-High heels pictorial
-Survey of adult magazines
-How to make your own fuck films
-Voyeurism: the hottest spectator sport
-Reader fantasy of the month: Fort Dick
-Assorted nude model pictorials
____________________________________________________________
March 1978 (Vol 2, No. 10)

Contents:
-Gloria Leonard answers readers letters
-Autofuck! pictorial
-UFO: alien sex fiction
-Looking for Mr. Sandbar pictorial
-T&A contest
-The presidents' hooker: interview with Fannie Robinson
-Reader fantasy of the month: Geisha Gash
-Ah, Shit! the latest kink
-Assorted nude model pictorials
____________________________________________________________
April 1978 (Vol 2, No. 11)

Contents:
-Gloria Leonard answers readers letters
-An exclusive look at Maraschino Cherry
-How to orchestrate an orgy
-Housewives on the prowl
-Marilyn Monroe and the lusty loop
-An introduction to infantilism
-Sinderella pictorial
-Fetish fantasia
-Reader fantasy of the month: Jailhouse Rock
-Assorted nude model pictorials
____________________________________________________________
May 1978 (Vol 2, No. 12)

Contents:
-Gloria Leonard answers readers letters and pictorial
-Chicken of the sea pictorial
-Art porno: prudent or prurient
-Dracula's daughter pictorial
-Scenario sex: doing it by the book
-Arabian nights pictorial
-Reader fantasy of the month: The Iceman Cummeth
-Assorted nude model pictorials
____________________________________________________________
June 1978 (Vol 3, No. 1)

Contents:
-Gloria Leonard answers readers letters and pictorial
-Dude ranch pictorial
-Cocktail party turned ballathon
-Every night fever pictorial
-Reader fantasy of the month: All Strung Out
-The farmer's daughters
-Women at war pictorial
____________________________________________________________
July 1978 (Vol 3, No. 2)

Contents:
-Gloria Leonard answers readers letters
-Snow job pictorial
-Start spangled snatch pictorial
-The swinging fun house
-Suzanne Somers profile
-Sexual science fiction
-Reader fantasy of the month: Route 69
-Lonely Loretta pictorial
-Manfred the Magnificent
-Assorted nude model pictorials
____________________________________________________________
August 1978 (Vol 3, No. 3)

Contents:
-Gloria Leonard answers readers letters
-1950s cheesecake magazines
-Nan au natural pictorial
-Hot rod pictorial
-The ins and outs of gang-banging
-Elvis fever pictorial
-Reader fantasy of the month: Humping Iron
-Assorted nude model pictorials
____________________________________________________________
September 1978 (Vol 3, No. 4)

Contents:
-Gloria Leonard answers readers letters
-T&A contest entries
-Getting off with Take Off
-Going down to give up smoking
-Gambling for gash pictorial
-An investigative look at the Ford Pinto
–Kelly Nichols pictorial
-Midget and muff madness pictorial
-Enema eros
-Assorted nude model pictorials
____________________________________________________________
October 1978 (Vol 3, No. 5)

Contents:
____________________________________________________________
November 1978 (Vol 3, No. 6)

Contents:
-Gloria Leonard answers readers letters
-On the go with Gloria Leonard from Vegas to Times Square
-T&A contest entries
–

Nancy Suiter

pictorial
-Reader fantasy of the month: Cry Wolf
-The lowdown on cloning
-Assorted nude model pictorials
____________________________________________________________
December 1978 (Vol 3, No. 7)

Contents:
-Gloria Leonard answers readers letters
–Mick Jagger interview about sex
-T&A contest entries
–Jacqueline Bisset profile & topless photos
-Vintage pin ups
-Sex at the United Nations
-Reader fantasy of the month: Petal Pusher
-Assorted nude model pictorials
*