By the mid 1980s, few stars in the adult industry shone as brightly as Ginger Lynn.
She was appearing in countless videos, adorned with glossy expensive box covers, and feted as one of the most exciting new performers that the business had seen in years.
But Ginger was more than just the star of adult films: she was a brand in her own right, marketed independently of her latest film.
What's more, Ginger took it a step further: she was one the first adult film stars to incorporate herself, as Ginger Pix Inc., to fully exploit her name.
The Rialto Report asked Ginger about this watershed step in her career: where the idea come from, how she set the company up, and how she used Ginger Pix Inc.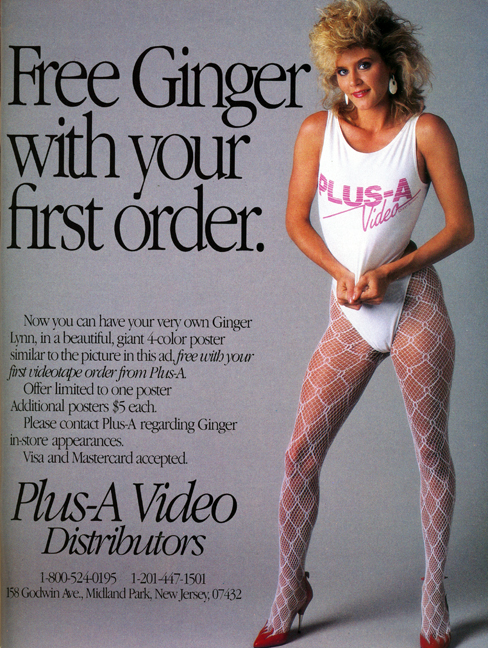 You can listen to The Rialto Report's podcast interview with Ginger Lynn here.
_______________________________________________________________________________________________
The early 1980s were pivotal for the porn industry. Upscale adults were buying into the VCR craze, which for porn meant adult movies were no longer limited to "the raincoat crowd" found in adult bookstores and theaters.
Ginger Lynn grew up in Rockford, Ill., a blue-collar town 80 miles northwest of Chicago. Allen's parents separated when she was 6, then divorced when she was 11. After graduating from Rockford West High in 1980, Allen followed her grandparents to San Bernardino to help care for her dying grandfather. She worked as a Musicland store manager, but money was tight. So in 1983, with a boyfriend's encouragement, she answered an ad promising $150 for figure models. The ad was run by porn talent agent Jim South in Van Nuys. After that first meeting, things began happening very fast.
In September of that year, Ginger posed for nude photographs, and soon she was featured in various porn publications, including Penthouse. Next came videos – which meant sex on camera. As she would later explain in a magazine article: "The money keeps coming and you get pulled into it a little more. Things you thought were bad at the beginning seem a little less bad." In November 1983, for $800 Ginger agreed to appear in four 8-millimeter loops–short subjects for peep-show booths in adult bookstores.
Her first adult feature, Surrender in Paradise, was filmed in Maui. She turned 21 on location, got paid $5,150, and began learning truths about being a porn star. "I was making more money in two weeks than I did in two years, and I was having great sex."
Ginger became a sensation. In 1984, at the porn industry's first X-Rated Critics Organization awards, she wore a yellow dress with black polka dots from Sears, and won the Triple Crown: 'Best Female Performer,' 'Video Vixen' and 'Starlet of the Year.'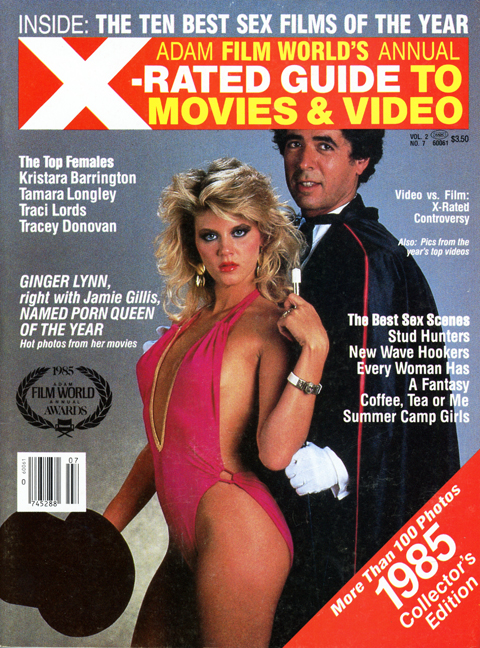 As an overnight porn sensation, Allen knew she could earn lots of cash for a few years before being replaced by the next wave of fresh faces. She dreamed of jumping to Hollywood before she was pushed out.
It was at that point that Ginger made the decision to incorporate. In Ginger's words:
"It's absolutely because of Suze Randall.
I'd told my parents I posed for Penthouse and they were not over the moon over about it, but they were fine with it. What I didn't tell them was that I was making adult movies. My father was a regular guy, and one day he went down to an adult bookstore, put one of those coins in the slot and there I was on the screen: with Ron Jeremy of all people… So my father tried to buy all the copies of the video from the store owner – who refused. My father beat him up. The police came, and threw my father in jail. My father had to call my grandmother to bail him out.
Early the following morning when he told my grandmother what he'd seen, she didn't believe it. He had to take her back to the store to prove it to her. He made her watch. And this was at six in the morning…
I got a phone call from my answering service saying, "You need to call, there's a family emergency."
I called my dad, and the first words out of his mouth were, "What the fuck are you doing?"
So I thought: Oh, now they know.
I was disowned by my family. I was told not to come home for Christmas. Don't talk to your brothers and sisters.
It was too much. I had a meltdown, and I went on a cocaine binge and I wasn't doing well. And then (adult film photographer) Suze Randall came to my house.
She heard that I wasn't doing well. She brought me a joint, sat me down and told me, "Get your shit together or get out. You need to incorporate, you need to be a business. You need to stop thinking of yourself as just an actress, and be a business woman. If you're going to keep going and blow all your money, you're an idiot: just leave now because you're not going to make it."
Suze is goofy and off the wall and exuberant and full of life and energy. But Suze is also my role model: I watched her get married and have children and still shoot adult photos and be responsible. When I had cancer, she came to my house out of the blue and brought me a bag of homeopathic foods and things that I should eat and vitamins that I should take.
And if it weren't for her, I wouldn't have incorporated. I probably would have continued down a bad path.
Not that I followed her advice immediately: after Suze came over, I went out and bought more coke: I bought an 8 ball, and I sat down and I wrote my dad an eight page letter telling him that I was the same girl that I would be if I worked at McDonald's. And I was the same girl if I was the President of the United States. I just made this choice. I told him that he'd always impressed on me the need to to believe in myself, that I should never do anything that I didn't feel comfortable with, that I should be a good person. I told him I was doing all of these things.
My father called me crying. I cried. Then my father became the man that was my bodyguard for all intents and purposes: he would come to my shows and stand next to me.
Then in 1984 I hired an attorney, Stanley Handman. Stan was an entertainment lawyer who handled some of the Rat Pack. He was a big figure in Hollywood. He was part of Fleischer Studios, which owned brands like Betty Boop. Stan was my attorney up until about five years ago when he turned 90. I still go over to his place and we have lunch. 
Through Stan I became incorporated. I can't think of anybody else who was incorporating themselves at that time.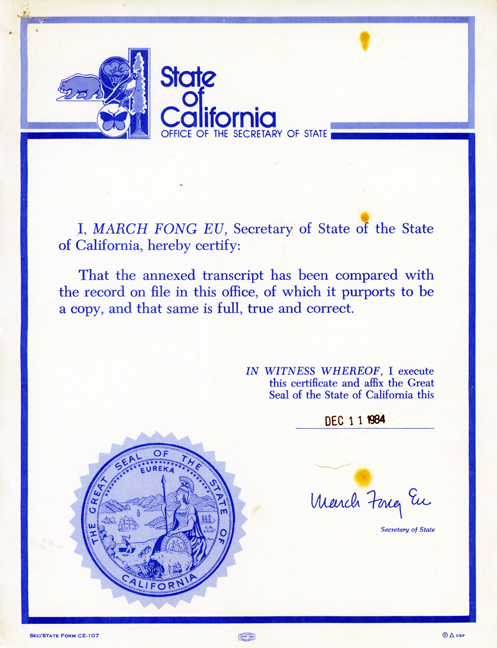 When I incorporated, I produced a line of products. I had everything, like Ginger Linens where the sheets were my body and my face was on the pillow.
I had koozies and coffee mugs and lighters and pens and key chains. You name it, I made it. Hats and t-shirts and mugs… even license plates!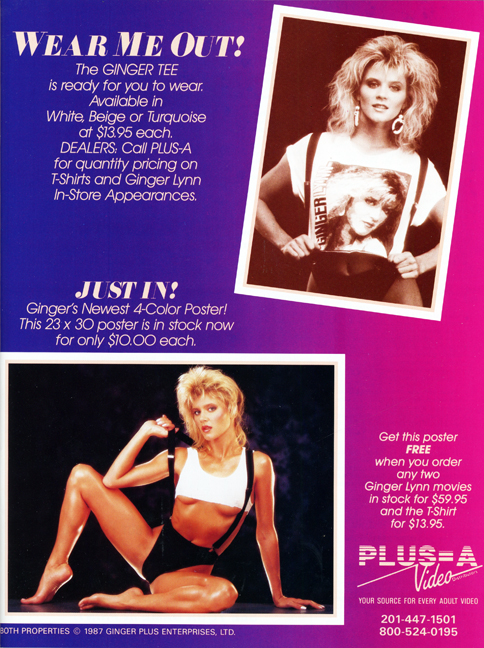 But it all started that day with Suze: she was the person who inspired me to make myself the commodity. To make myself the business. To make Ginger a name. I was lucky to have people around me that cared and loved me.
When I moved in recent years, I found the letter that I'd sent my father. He's passed away and before he died he gave me all these bins of items. And I found the letter. I have it here in the house with me."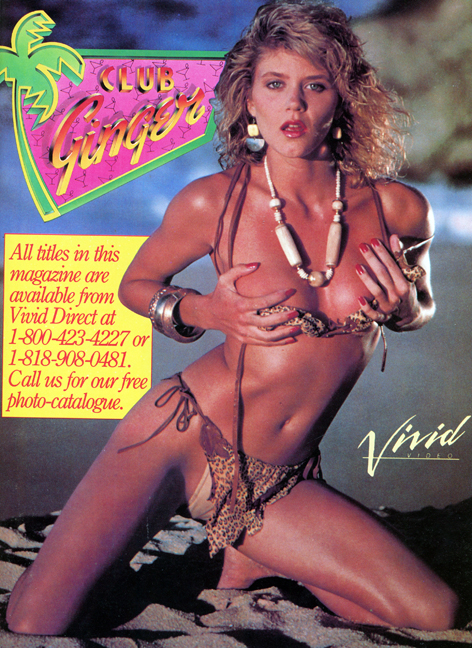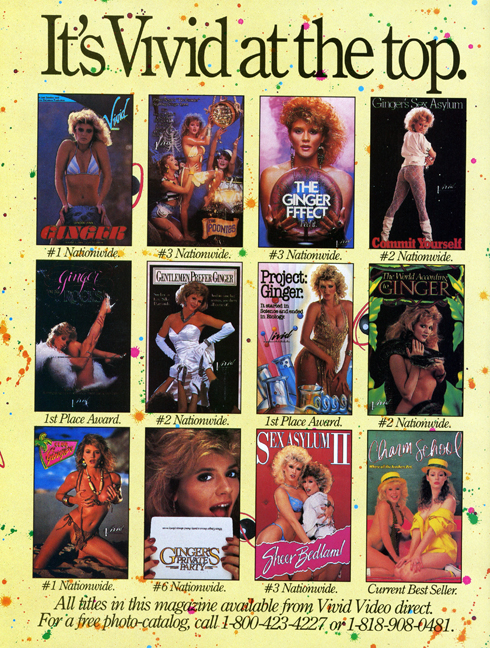 *