One of the pleasures of producing The Rialto Report is hearing from people who have started similar documentary endeavors in the past.
So we were pleased to recently hear from Maurice Cain, an artist and writer, who tried to publish a book about adult film stars in the mid 1980s. The book would showcase photos of porn star greats – together with a collection of interviews.
Sadly the book project never got off the ground, but Maurice has agreed to let us share the surviving pictures of stars including Aunt Peg, Kay Parker, Jamie Gillis, and Georgina Spelvin.
In the years since then, Maurice continued to take photos and write stories: further details can be found on his website.
With special thanks to Maurice Cain. All photographs are © and owned by Maurice Cain. 
————————————————————————————————————————————
Maurice Cain writes:
It was early 1985, and TV Guide had just published an issue with a cover story about porn movies becoming almost mainstream.
I'd been interested in adult films since Deep Throat (1972) first come out. I was twenty-two years old. I had never seen a porn movie before, nor any printed stuff harder than Playboy, and desperately wanted to. The publicity around 'Deep Throat' led me to believe this might be my chance.
I asked my wife if she wanted to go see it. "No," she said, in a tone that let me know she didn't think I ought to go either.
I went anyway.
I honestly had no idea what to expect. It was puzzling to me that ads for the cinema showing the movie didn't give showtimes. Wasn't it important to know when a movie started so you could plan your trip accordingly? Oh well. Lots of other things were changing too.
I bought a ticket and walked in. I went through the doors separating the lobby from the seats, and there, on the big screen, before I even sat down, was what I had longed to see for so long: people having sex.
I thought the movie itself was pretty dumb. But to finally see it, real people getting it on – that was wonderful. I had definitely gotten my money's worth.
When I got home my wife didn't ask me about the movie and a chill in the air told me it would be unwise to bring it up. On going to bed that night she stayed as far over on her side as she could without falling off, then brusquely turned facing away from me to emphasize her point. I turned facing the other way and furtively worked out with Mrs. Fist and her five daughters.
Things never did get better between my wife and I and we split up soon after. Confronting the world on my own now, I realized I didn't have to remain the hypocritical prude I'd struggled to be. Life had a dimension to it that I was eager to explore, and it seemed as if that was not only possible but would probably even be fun. So life began anew.
Such was the liberating effect of seeing at last what, if I was honest, was the only thing I had really wanted to see any time I'd ever watched a movie: people having sex. It changed my life.
By the mid 1980s, I'd already been nursing the idea of doing a book combining interviews and photos of the people in porn, so the TV Guide article was confirmation that my timing was good. How to get started?
I was a big fan of photography by people like Richard Avedon, Irving Penn, David Bailey, and Diane Arbus, and went through a lot of photo supplies imitating them, but never had a job doing that kind of thing and the only photographic experience I had was doing an extended art project.
One night, I was at City Lights Books in San Francisco looking at magazines. Done reading, I looked up and was surprised to see Jamie Gillis and Serena were also at the magazine rack. Jamie had on a tall, brown leather top hat, and Serena wore a light, summery dress with nothing on under it. I was sorely tempted to approach them and make appreciative fan noises, but decided against it, figuring they'd just as soon prefer to be left alone.
When I began working on the book project, I settled on a draft title of 'Continuous Showing', with the subtitle 'The People in Adult Cinema Speak for Themselves'. The main title came from the newspaper ads for adult cinemas. The subtitle was what I truly hoped to achieve. I thought it was important and still feel that way.
The first letter I sent was to Jamie. I told him about seeing him and Serena at City Lights, explained the book idea, and asked if he'd be willing to be my first subject. Yes, he said, he was game. Not long after, I wrote to Juliet Anderson, and she too agreed. I was thrilled. In short order I also got the cooperation of Georgina Spelvin, Harry Reems, Kay Parker, Candida Royalle, and John Holmes. Not a bad beginning.
The original idea was to do one shot clothed and one nude for each subject. Interestingly, the women had no problem with that, but the men were very averse to doing nudes. Holmes outright refused, Jamie hemmed and hawed until I just let it drop, and Harry hit on the idea of doing a parody of a classic cheesecake pose that would avoid exposing his genitals. I found it curious to see the contrast in their inhibitions compared to the women.
Everyone was very kind to me and incredibly patient. It makes me cringe to think how little I really knew about them, and how naive my inquiries were. I believe, though, that we all thought maybe something was happening and things might just work out after all.
All the interviews were recorded on an inexpensive portable cassette machine. I tried to keep the conversations to one hour but they often ran longer. My questions tended to be pretty superficial, along the lines of the usual, "How did you first get into porn? Any personal favorites among the movies you've done? What advice would you give someone who wanted to get into the business today?" I think my expectation was that as conversations got going, more interesting stuff would be revealed and then we'd get some real depth. I believe sometimes meatier stuff did come up but I was too immature to recognize and pursue it.
Quickly it became clear there were two significant problems. One was that there was no interest from any potential publisher. I held that to be something that could be overcome once I'd made more contacts, but the second problem was a showstopper: I was a terrible interviewer and an uninspiring photographer. This awareness, combined with other problems that were piling up on me, brought the project to a fairly abrupt end.
Today, all I retain from the effort are a few of the portraits I shot and the signed releases of the subjects.
*
I photographed Juliet Anderson at our apartment in the San Francisco East Bay. She even came over a second time when I told her I didn't think the first shots were that good. When I say these folks were kind and patient with me, it's Juliet especially I have in mind. I deeply regret that her generosity in this case got her nothing more than a print that likely didn't mean much to her.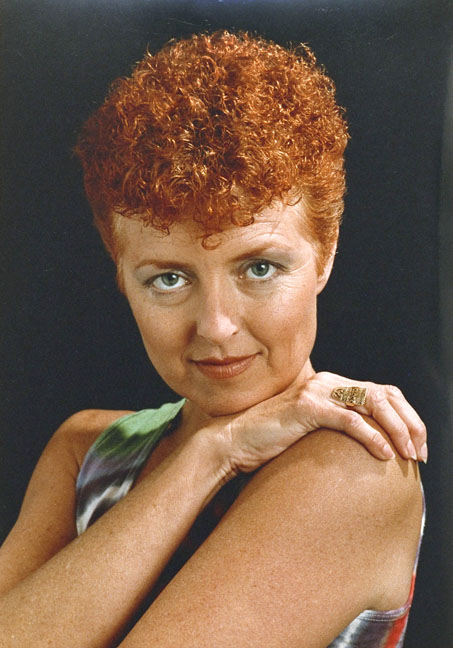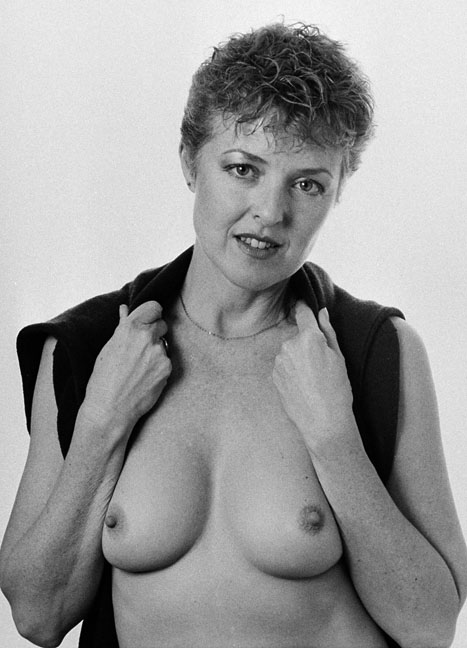 *
Jamie's photos were done in a small room at a motel on the edge of the Tenderloin in San Francisco. He was up briefly from L.A. and had time to kill one afternoon. It was funny to me to see that a Hitachi Magic Wand, lying on one of the beds in the room, was apparently an ordinary piece of travel gear for him. When, after a while, there came a knock at the door, I saw perhaps why he carried that item. He got up and answered the door to a gorgeous young woman who came in and made herself comfortable. I took this as my cue that it was time for me to wrap up. I envied Mr. Gillis the evening ahead of him.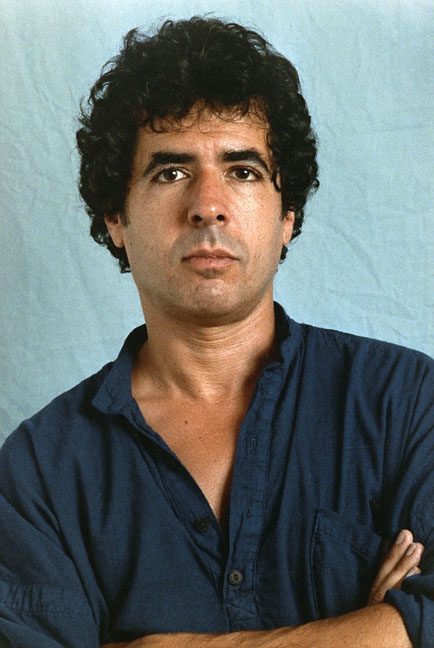 *
When I knocked on the door of Kay Parker's apartment in Santa Monica, I didn't recognize the pleasant young woman who answered.
"Hi. Is Kay here?" I asked.
She laughed. "I'm Kay. You're Maurice? Come in."
She looked completely different without her makeup. For the pictures, she did herself up the way she looked in her movies and there, indeed, was the woman I had expected at the door. Remarkable, how much makeup can sometimes alter one's appearance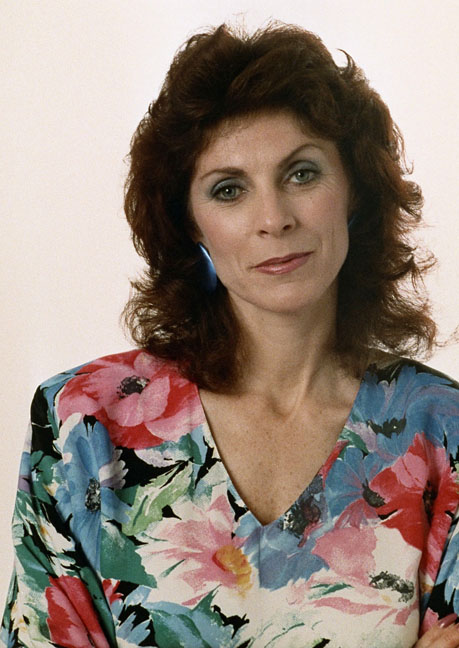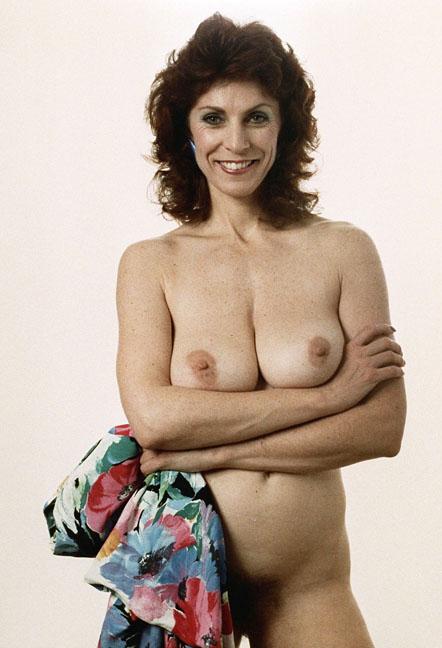 *
Harry Reems was living in a place in Malibu right on the beach, and that was where we shot. He was a real live wire and easy to photograph. Where ordinarily I'd shoot practically as much film as a subject had the patience for, with Harry I knew we had it before I'd even finished the first roll. It almost made me believe I'd developed a knack for this kind of thing.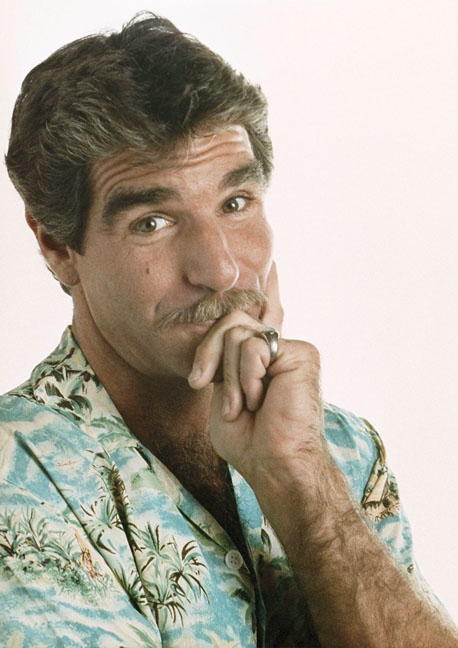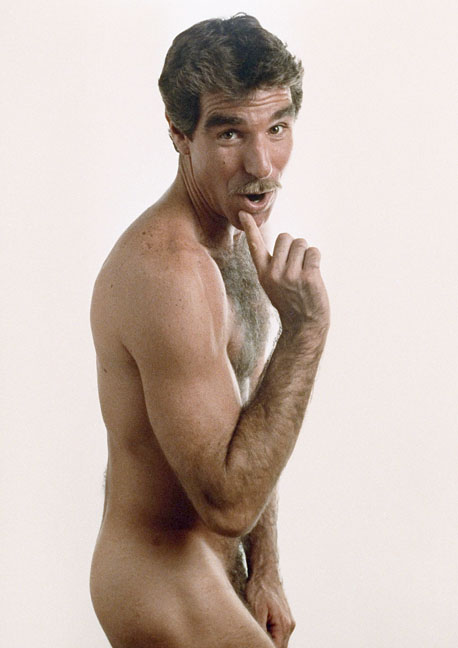 *
I photographed Candida Royalle on the same trip as the one that included Harry Reems. I was staying at a motel in North Hollywood and that was where Candida and I met. The session with her was a breeze. She looked good and maintained a calm in front of the camera I admired. No strain at all.
As she was getting dressed following the nude shots, she told me she was self-conscious about doing nudes; that she feared her body was no longer quite what it once was. I was flattered that she was still willing to do the shots for me and tried to reassure her that her fears were misplaced.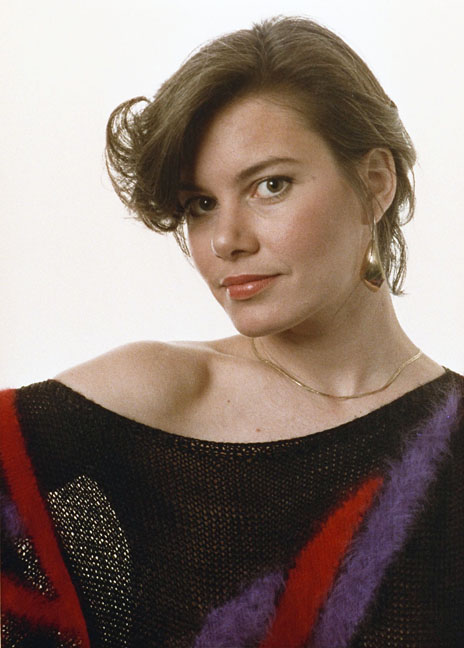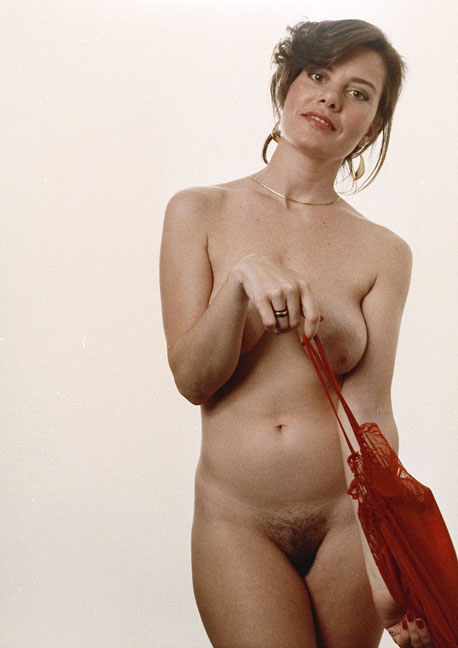 *
I took Georgina Spelvin's photos at a small house in L.A. She greeted me at the door and showed me into the living room where she said we could work. She then excused herself to go and get ready. I got busy setting up my stuff, and to make the kind of space I needed began moving the furniture around. When she returned to the living room and saw what I'd done, I could tell immediately that my welcome had pretty much run out. To her credit she said nothing, and despite a lingering smidgen of tension we managed a respectable result.
For the nude shot she struck a graceful pose that was a nod to her abiding interest in dance. I had the impression that the dreamy look in her eyes wasn't feigned; that she really was for a moment transported. I hoped so anyway.
I packed my stuff, put her living room back together as best I could, and left.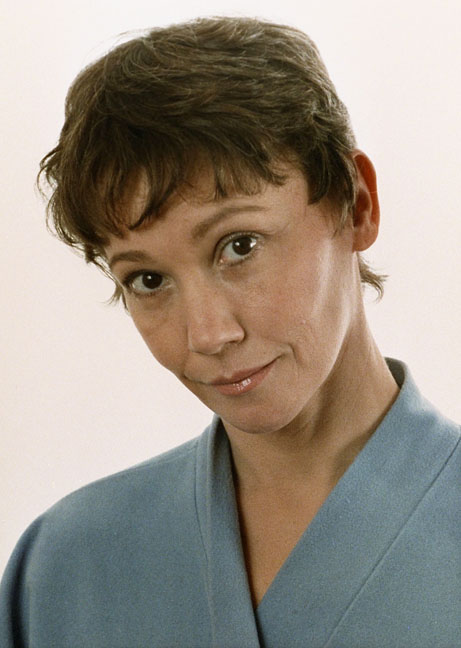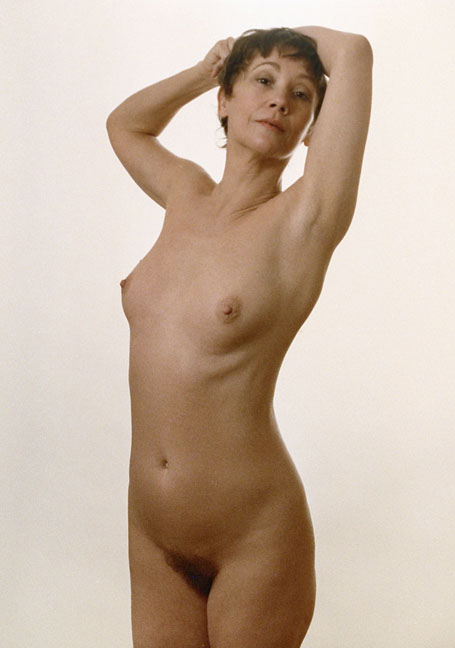 *
John Holmes was working with a guy named Bill Amerson and it was at their office in the L.A. area that we did the photos. Before we'd shot anything at all John made clear he wasn't going to do any nude shots, and said it with an edge that left me feeling a bit awkward. Still, when we got to work he genuinely made an effort to see if we could get something special. The shot of him with his ring, the cigarette, the smoke curling; that was Holmes as Johnny Wadd.
All I had to do was snap the shutter.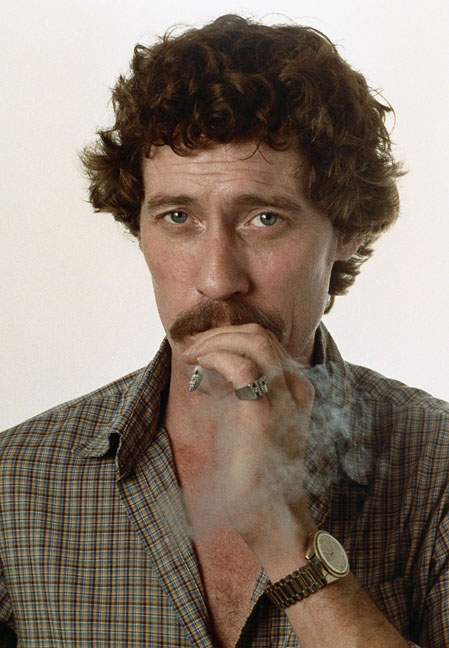 *
Once I'd abandoned the project I was so embarrassed by how shallow my side of it was. I threw away all the tapes and burned the transcripts.
Postscript: I bumped into Gillis in San Francisco years after our interview/photo encounter and had a beer with him at Vesuvios. After I whined to him about how badly I'd failed at the project, he replied, "Well, in a way, now would be a better time to do it — we know what happened to everyone."
Today, sadly, his point holds with a finality it didn't then, making it all the more enjoyable to see what you've done in The Rialto Report to bring their stories to life. My hat's off to you. You've done that better than anything else I've run across. I've enjoyed it.
I despaired of the photos ever finding a wider audience, but perhaps people who follow The Rialto Report might be interested in them.
So here they are.
*