Podcast: Play in new window | Download
Subscribe: RSS
This is Season 2 of Svengali – 'The Chuck Traynor Story: Part 4, The Making of Deep Throat… What Really Happened?'

Previously on Season 1 of Svengali:
Chuck Traynor was born in Connecticut in 1937 to a single mother. Raised by his grandparents, he relocated to Florida when he was young, joining the marines when he finished high school. After leaving the service, Chuck married and divorced three times while working on the fringes of the sexploitation film business. In his late 20s, Chuck bought a biker bar in Miami that was a front for prostitution. If that wasn't enough excitement, he was busted for importing marijuana into Florida from the Caribbean.
In 1970, Chuck met Linda Boreman – who would later become Linda Lovelace. After a year of turbulent incidents together, they set off for New York looking for opportunities to make money in the city's burgeoning sex industry. At first, Chuck sold nude photos of Linda, and then pimped her out privately after she was turned down by the high-end madam Xaviera Hollander.
Chuck then found work for them both appearing in explicit sex loops. The first loops were standard fare, but they soon escalated and in one loop, Linda was filmed having sex with a dog, an experience she was to later claim was the lowest point of her life.
Then, a turning point of sorts: Linda was working on a loop shoot which was cut short when the filmmaker, a relatively inexperienced director named Gerard Damiano, witnessed Linda's unique fellatio skills. Gerard decided to create a full-length film around Linda's party trick. Linda was unsure about the idea, but Chuck was all too happy for the couple to graduate from sex loops to hardcore features.
When Gerard Damiano wrote the script for 'Deep Throat', he originally called it 'The Doctor Makes a House Call'. He had no clue his film would go on to become a cultural milestone and one of the most profitable movies ever made. With a handful of sex films already to his name, Gerard thought 'Deep Throat' would be just another step to becoming the director he wanted to be in a world where he saw adult and mainstream movie-making converging.
Chuck and Linda also had no inkling what lay ahead when they agreed to Linda's starring role. All they knew was that they were going to make $1,200 for Linda's participation, a sum that could cover rent for a year in 1972, and that Linda referred to as a "great train robbery."
You can read or listen to the previous episodes here.
This episode running time is 50 minutes.
——————————————————————————————————————-
1. Deep Throat: Pre-Production
Before we dive into the production and release of 'Deep Throat' (1972), it's helpful to recap the plot of the film. Don't worry, it won't take long – I could write it on the back of a napkin.
Linda Lovelace, played by Linda Boreman/Traynor, confides to a friend that she's sexually unsatisfied. Her friend sends Linda to a doctor who identifies the root of Linda's problem when he finds her clitoris at the bottom of her throat. The doctor hires Linda to take care of men in need of sexual treatment as a therapeutic twofer. One of those patients falls in love with Linda and proposes marriage, giving the film a happy Hollywood-style ending.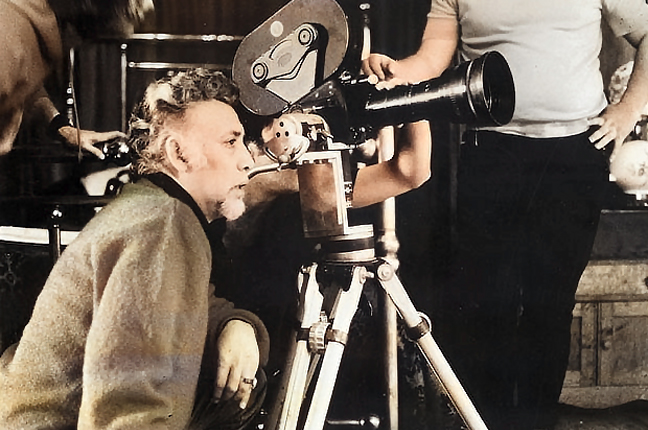 Gerard Damiano on set
When Gerard Damiano went home to write the script that winter weekend in 1971, he knew he wanted to make a light-hearted, fun film that put women's sexuality at its center:
"When I shot Deep Throat, men didn't even know what a clitoris was, no less where it was. So the fact that I put it in her throat says, yeah maybe it's in the throat or maybe it's under your armpit, but wherever it is you better look for it."
"'Deep Throat' was from Linda Lovelace's point of view. Most of the films that I made that I was most proud of were films that I consider shot from a female point of view."
All very laudable, even if Gerard seemed to see no contradiction in the fact that the only way for Linda to achieve satisfaction was by performing an act reliant on men, for the pleasure of men.
But the script makes its points in a playful manner. It's filled with one-liners, and the humor that was later recognized as a key element to Deep Throat's success. As Gerard remembered:
"I knew in order to do this, you know, with a little bit of sugar helps the medicine go down, that I had to keep it light, airy, and funny and not make it like, she was doing something that she didn't like."
So Gerard had a script and a female lead: now he just needed money to make the movie. He turned to mobster Lou 'Butchie' Peraino who had already helped fund one of Gerard's earlier films. You may remember from the last episode, Chuck had already met Butchie at the Film Center building when he and Linda first arrived in New York. Butchie was the son of mobster Anthony Peraino, a member of the Colombo Crime Family, one of the notorious 'Five Families' of New York. Butchie wasn't the brightest tool in the box, but he already saw the potential for big profits in the adult industry, and was bankrolled by his father to exploit the opportunity.
The good news was that Butchie agreed to an initial budget of $18,000 to make Deep Throat – higher than most other sex films at the time. The bad news was that he was hesitant about casting Linda. Was she pretty enough, could she act, and what about the scars on her body – the result of Linda's car smash a couple years before? Gerard shared Butchie's doubts with Chuck and Linda. Chuck – ever the svengali – came up with a typical Chuck solution to convince the mobster. As Linda later recalled in her book 'Ordeal', Chuck said: "'We can get Lou to change his mind if you'd just go in there and give him a blow job.'" Linda complied, and her oral skills did the trick, turning Butchie's 'meh' into a 'hell yeah.'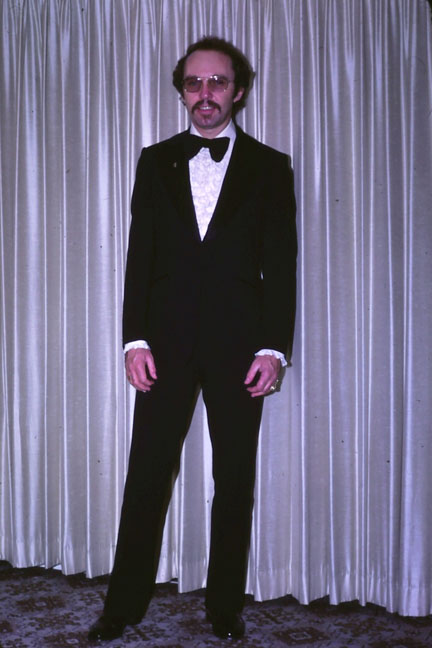 Chuck Traynor
But what about Linda's ability to act? Yes, she'd performed in a few loops, but they were all short movies, without dialogue, and with barely any story lines. 'Deep Throat' would be a full-length feature film and, while the plot was admittedly thin, there was enough dialogue to put Linda's thespian skills to the test.
Gerard recognized that, and so arranged informal acting rehearsals with Linda off and on for three weeks before production began. This was unprecedented for an adult film at the time. It still is. But it seemed to kinda, sorta, almost work. At least Linda was committed. Gerard later praised Linda for her dedication, saying:
"She was serious enough to retain what I tried to teach her. It's not very often that you get people willing to learn."
While Gerard rehearsed with Linda, production plans for 'Deep Throat' were being ironed out. Butchie Peraino suggested that they shoot the film in Florida. As Gerard remembers it:
"My partners were in the loops business and they used to shoot loops in Florida, so they said 'You're going to go to Florida and there's a man there that's got actors, he's got actresses, he's got everything, he's got locations.' Getting out of New York in the winter and going to Florida was a wonderful thing."
Gerard was happy to leave the cold wintry conditions of New York behind, but there was an added bonus to shooting in Florida for him: the fourth annual Adult Film Association of America (AFAA) convention was taking place at the same time at the Deauville hotel in Miami. Dave Friedman, sexploitation filmmaker and president of the AFAA, was at the event's helm and over 300 delegates were due to fill the Baccarat conference room. This event was a big deal: after all, America's 700 adult movie theaters were pulling in $15 million a week at this point – and lots of people wanted in on the action.
Ironically, as 'Deep Throat' was about to be shot nearby, Dave Friedman was actually railing against the new generation of hardcore filmmakers, saying:
"They can't shock the customer anymore. It's all been said. They violated one of the most important tenets of show business. They gave away the last act before the curtain went up. All we can do now is make bigger and better movies that eventually will make the general release theaters."
As it is, Gerard never did get time to attend the convention – he was too busy shooting what was to become the biggest adult film of them all.
Before heading south from New York, Gerard needed to secure a few key cast and crew for his film. It's worth pausing at this point, and looking at the other members of this unusual bunch of characters responsible for making 'Deep Throat.'
Let's start with Harry Reems: Harry had met Gerard a year before when Gerard had hired him for a part in his first hardcore film, Sex U.S.A. Here's how Harry described Gerard in his 1975 book 'Here Comes Harry Reems!':
"Damiano has been called the Mike Nichols and Ingmar Bergman of porno films. From my own experience I call him an honest filmmaker who cares about the art of film.
"He's a grown-up Wizard of Oz, a short jolly jelly bean. He has a gray goatee and a funny little toupee. With his Guccis and portfolio-size wallet and Caddy, he's sort of the stereotype of the second-string Hollywood director."
Harry had already been introduced to Linda because it had actually been Harry on the receiving end of Linda's oral performance the day Gerard was meant to shoot a loop but stopped short when he saw what Linda could do. Bits of that loop footage eventually made their way into Deep Throat. Waste not want not.
Harry pitched himself to Gerard for 'Deep Throat', wanting to act the part of the doctor, but Gerry turned him down, saying it would be too expensive to take Harry to Florida. Harry was eager to learn about the craft of film making from behind the camera so he offered himself up as a $25-a-day unit manager. He also offered to drive Gerry's beloved blue and white Cadillac down to Florida from New York – the same car Linda drives during the opening of the film. Gerard relented; Harry was in as unit manager.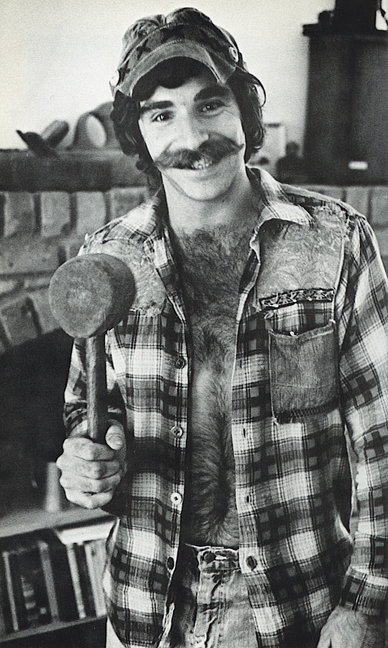 Harry Reems
Then there was Ron Wertheim. Ron had been on the New York sexploitation scene as an actor and crew member since the mid 1960s. Gerard first met Ron when he began exploring the world of adult film and cast Ron in a small part in his 1970 softcore movie Teenie Tulip.
An adult film director who went by the name Duddy Kane described Ron Wertheim as follows:
"He was originally an actor. He was one of those people that went to Hollywood on a contract and was in some movies. Then somehow he got sidetracked. He was just another guy who always dreamed about making movies and was in that whole group of filmmakers, beatniks, who made up that scene. He was always pursuing some project, some screenplay or other. He was a very interesting guy, extremely knowledgeable, but clearly mentally unstable."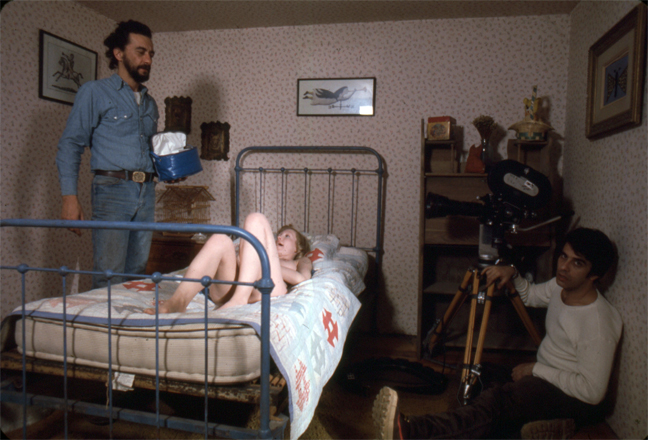 Ron Wertheim (left)
Gerard was also looking for someone to play Helen, Linda's friend in the movie, who recommends medical treatment for Linda's sexual dissatisfaction. He came across veteran actress, Dolly Sharp.
When I asked Gerard how he came to cast Dolly, he said he had no idea where she came from. But Dolly was likely introduced to Gerard by Ron Wertheim who had written the screenplay for an adult film she'd performed in the previous year.
Gerard was immediately impressed with Dolly:
"She was wonderful. I really don't know where she came from or where she ended up because I've never seen her again since, which was a shame because I certainly would have used her."
It's no surprise Gerard was so struck by Dolly. While she may have only been on the adult scene for a year or so, Dolly had had a long and successful entertainment career under the name Helen Wood.
Helen had been an acclaimed dancer on Broadway. A contract girl for Twentieth Century Fox who starred in a major studio picture with Debbie Reynolds and Bob Fosse. A showgirl on the Las Vegas Strip, working with notable performers like Liberace, Sammy Davis Jr, and Louis Prima.
Unlike Linda and Harry who were in their early 20s when they made Deep Throat, Dolly was in her late 30s. This is adult film agent Tallie Cochrane describing Dolly:
"Dolly Sharp came in my office one afternoon dressed in a trench coat, high heel shoes, and put her rain coat down and her umbrella and she says 'I'm Dolly Sharp' and I said, 'Well, I'm glad to meet you, Dolly Sharp.'
And I said 'Tell me what you've done.' She said. 'I've only done a couple of things, but this is what I've been doing most of my life' which had been dancing, and you could tell, I mean, she could take her leg and lift it above her head – straight up like this –  unbelievable. They, well, trust me, they used that everywhere she went. She was a contortionist.
"Everybody loved working with her and she was punctual. She was like a secretary, I mean, she'd show up and get her costumes on and her makeup and she'd just sit there and read her book until it was time for her to go on. Dolly was a great girl."
As Harry noted in his book, Dolly told Gerard she'd only perform in 'Deep Throat' if there was a part for her then boyfriend Billy. Gerard was keen on Dolly for the role of Helen so he agreed to the demand.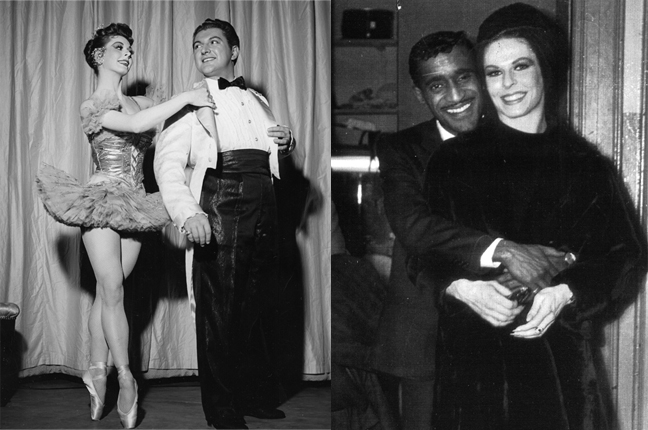 Helen Wood/Dolly Sharp – with Liberace and Sammy Davis Jr
Last but not least among Gerard's New York recruits was Joao Fernandes. Here's Joao describing how he wound up in New York making adult films:
"I was born and raised in Rio, Brazil. And I actually grew up watching American movies. And really basically learning about American life. And obviously, you know, I began to wonder, I wonder if I can take part in this.
"I decided to come to New York when I was about 21… 1963 maybe. I registered at New York University to learn film. I made a short movie with Ron Wertheim. We met a guy in New York called Sam Lake. And in those days, it was not porno yet. I started with nudies.
"At the time I wasn't shooting yet – I was an assistant. There was an idea underneath it all – that was our way in to make movies. And eventually obviously we'll do really serious work. That was the plan."
Joao's relationship with Ron Wertheim paid off in the form of a job as cinematographer on 'Deep Throat.'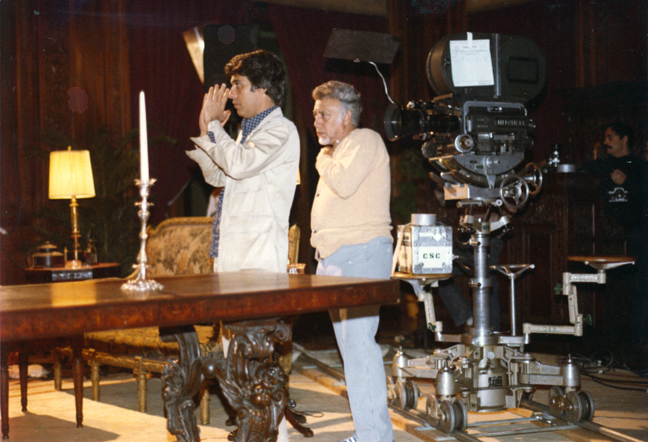 Joao Fernandes on set with Gerard Damiano
All the other cast and crew were secured by Butchie Peraino's local guy down in Florida. And that guy was Lenny Camp – the same Lenny Camp Chuck and Linda knew from their Miami days when Lenny took pin-up shots of Linda at Chuck's request. The same Lenny who claimed that it was him who introduced the concept of deep throating to Chuck and Linda when he told them about his then girlfriend Vicki's special talent.
*
2. A 'Deep Throat' Road Trip to the South
The ragtag New York crew headed down to Florida to shoot right after new year's. It was early January 1972, and New York was coming off one of its biggest snowfall dumps of the winter season.
Everyone made their own way south: Gerard flew down a few days early to ensure everything was ready. He also paid for Dolly and her boyfriend to fly down to Florida, a stipulation Dolly had made when negotiating her participation in the film.
Harry Reems picked up Gerard's beloved Cadillac and a film crew member on Tuesday morning of January 11th – and they began the 20 hour drive to Miami.
Cinematographer Joao Fernandes drove down in a van with a couple of other members of the small production crew, bringing their film making equipment with them.
As for Chuck and Linda, they drove down with Butchie's father Anthony Peraino. Chuck was in awe of the mobster, and so, to keep their benefactor happy, Chuck directed Linda to offer Anthony her special 'deep throat' treatment during their overnight stop. But the offer had the reverse effect: rather than please Anthony, it offended his sensibilities. He lectured Chuck, telling him Italians don't let their wives cheat. Linda remembered Chuck was uncharacteristically chastened, sulking for the remainder of the ride down. As Linda later wrote in her book 'Ordeal':
"Old Tony reminded me that not everyone in the world was like Chuck. I always had difficulty turning to other people for help; I imagined they'd all turn out like Chuck. Even now, several years after the fact, I get the feeling that there is something of Chuck Traynor in everyone."
The cast and crew all converged at the Voyager Congress Inn in North Miami. The motel had opened 15 years earlier, and was advertised as follows:
"Whether you want to relax in the restful gardens, sunbathe on the observation deck, or take an invigorating dip in the pool, the Voyager offers a vacation that is keyed to your mood. You are located in the midst of everything your heart desires."
But even in its early days, the hotel had a seamier side. In 1959, state officials suspended the hotel's liquor license for allowing a bellboy and manager to act as pimps, providing encounters-for-pay to the Voyager Congress' hornier guests.
As for why the Voyager motel was chosen out of all possible locations, it came down to Lenny Camp again, who was a grumpy operator at the best of times:
"I knew the owner. I told the manager to expect many people – but the producers were cheap sons of bitches and made everyone share rooms to lower the cost."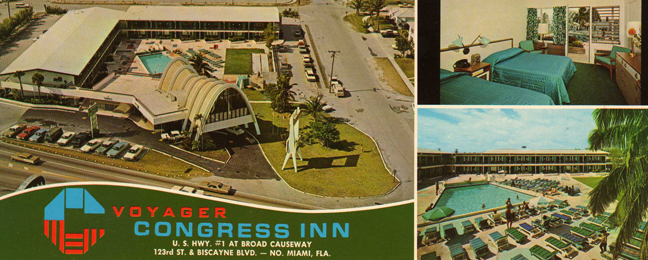 Harry Reems recalled arriving at the Voyager hotel in his book.
"I found Gerry lolling poolside. 'Hiya, Harry,' he greeted me. 'Have a drink. Have a swim'. Damiano had a seasoned taste – and tolerance – for Jack Daniels. So did I. Many the night we found a bottle of Jack Daniels good to the last drop. And fought for it."
When Chuck, Linda, and Anthony Peraino arrived, Linda was happy to see Harry. They had met when they almost made a loop together, and Linda liked him. She appreciated his warm personality and what she described as his "good sense of humor." Linda was also pleased because she sensed that Chuck was jealous of Harry, a resentment she ginned up by flirting with Harry. She later recalled:
"​​Harry's strongest appeal to me was the fact that Chuck didn't like him at all. Chuck constantly referred to Harry Reems as "that asshole," and Harry pretended Chuck didn't exist."
Once they arrived at the motel, Chuck made Linda swim long laps in the pool, stating "These people don't want flabby people in their movie." Linda later recalled in 'Ordeal':
"Every day Chuck had me out in the swimming pool doing laps for hours at a time. After our training sessions, Chuck would try to impress upon me the importance of Deep Throat to our lives. 'This is the biggest thing I've ever pulled off. Think about it. Where would you be without me? Without me, you'd never have learned a fucking thing. I'm the one who taught you everything. I'm responsible for all this.'"
In the days leading up to the start of the shoot, Lenny Camp was supposedly lining up the rest of the crew and the locations. But, as the crew found out, Lenny's efforts weren't always successful.
The first problem Gerard faced was a big one: he needed an actor for the role of Dr. Young, the physician that diagnoses Linda's sexual ailment. Lenny was supposed to find someone local – but either couldn't or didn't. Gerard claimed he had to step in, make some calls, but also ended up empty handed.
Harry Reems remembered it in a different way:
"'You'll have to play the doctor,' Gerry told me. 'I've decided you'd be better than anyone else I've seen down here.'
"He implied that he had looked everywhere and couldn't find anyone in my league. I surmised that he hadn't gotten away from the pool or the relaxing charms of Jack Daniels."
*
Deep Throat: Day 1
If there was one consistent theme that ran throughout the duration of the Deep Throat shoot – it was winging it. On the first planned day of production, the cast and crew made their way to an apartment complex Lenny Camp claimed to have secured for the majority of the shoot – but it didn't end well. In fact, it didn't even start well. This is how Gerard remembered it:
"When we showed up with a truckload of equipment and started to unload at the location, the manager came running out and said 'What the hell are you doing?' and I said 'Well we're going to shoot a little thing in here with so and so Lenny Camp…' and he says 'Lenny Camp? You get off my property or I'll call the cops.'
"Well, you say 'Cops' and three minutes later we were gone, and so everything that we were going to do went out the window the first day.
"I said 'Now what are we gonna do?' I said 'Well we're at the Voyager motel, let's go back to the motel and we can use one of the motel rooms to shoot this scene, then we could do the pool scene.' And meanwhile Lenny Camp was working with the production manager going around to find different locations. We went by the seat of our pants."
Gerard spent the rest of that first day negotiating with the manager of the Voyager Inn, seeking permission to shoot by the pool. Luckily, the motel wasn't busy at the time and they worked out a deal for the following day. Nevertheless the first day's shoot was canceled.
And while all this was going on, what was Chuck up to? Well, most people involved in the production remembered him starting off the day in a good mood. But as the hours passed, his mood darkened and his abusive side surfaced again. Linda later said it was because she was getting a lot of attention – and Chuck felt his usual rigid hold over her slipping away.
The attention emboldened Linda, and that first night, Linda pushed back on Chuck while the rest of the cast and crew were enjoying drinks and music. Linda knew that mouthing off to Chuck wasn't the best idea, and sure enough, when they got back to their room that night, Chuck exploded. Linda described the events later in her autobiography:
"Chuck was yelling at me now, and I realized that the party sounds from the next room had stopped. Suddenly I was screaming back at him, angry, too. Even the anger felt good and I let it out. The presence of other people diminished him and diluted my fear of him. It gave me courage.
"But talking back to Chuck was a major offense. The first punch sent me crashing over backwards onto the bed. He went berserk. He picked me up off the bed and threw me against the wall separating us from the crew. He tore my bathrobe off in two pieces. By this time, I had learned that the best way to handle a beating was to roll myself up into a tight ball on the floor – protecting my breasts and my stomach from his boots."
At this stage, we need to pause and recognize that conflicting narratives emerged from the set of Deep Throat. On the one hand, you have Linda's version – as told in her autobiographies and to interviewers over the next years. Then you have the various versions told by other people on set – Gerard Damiano, Harry Reems, Ron Wertheim, Joao Fernandes, and others.
That first night, Linda claimed she cried out, loud enough that she had no doubt the crew in the adjoining rooms could hear her:
"'Help!' I called out. 'Oh God, please! Someone, help me!'
"I figured out of 20 people, there might be one human being that would do something to help me and I was screaming for help, I was being beaten, I was being kicked around again and again, bounced off of walls. And all of a sudden, the room next door became very quiet. Nobody, not one person came to help me."
*
Deep Throat: Day 2
The next morning, Gerard and the crew set up to film by the Voyager Inn pool. They wanted to get an early start as the forecast predicted the weather would reach the mid 80s by lunchtime – perfect for sunbathing, but less ideal for a production crew hauling heavy equipment in the Florida heat.
Linda arrived poolside with Chuck, understandably more withdrawn than she'd been the day before. When Chuck stepped away, Linda said a crew member approached her and quietly asked if he could help her. But Linda turned him down, not trusting anyone associated with the production since they'd done nothing to step in the night before. According to Linda, everyone else acted as if they were unaware of what she claimed occurred between her and Chuck the previous evening.
But one detail from the poolside scene they filmed that day is indisputable. As Linda sits poolside with Dolly Sharp, the black-and-blue marks on her legs that Gerard noticed – bruises on the outside of her left thigh – are clearly in evidence. Today they are often cited as proof of Linda's abuse. Linda herself mentioned them later when questioned about her claims of mistreatment, saying:
"So many people say that, in 'Deep Throat', I have a smile on my face, and I look as though I am really enjoying myself. No one ever asked me how those bruises got on my body."
But in every conversation I ever had with Gerard, he said no one on the set, including him, knew Linda was being abused during the 'Deep Throat' shoot. In contrast, Gerard remembered a great start to that first actual day of shooting. He said:
"We began with the pool sequence – with Linda Lovelace and Dolly Sharp – where Linda confesses that she's never felt firecrackers exploding when she made love. It was terrific."
To be fair, Linda also recalled a positive first day of filming once she had put the events of the previous evening behind her. As she wrote in 'Ordeal':
"We laughed a lot that first day of shooting while we were doing the poolside shots, the walking-down-the-street shots and the knocking-on-the-door shots."
So from the vantage of the film production, the day ended successfully. Gerard captured all the poolside shots he wanted and was pleased with what he got. That evening started a daily tradition that would last the remainder of the shoot: Chuck and Linda drove the day's footage to the Miami airport so it could be shipped back in New York for processing.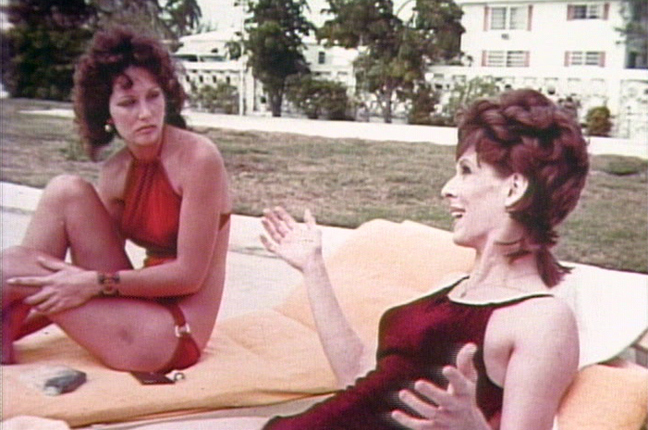 Linda and Dolly by the pool
*
Deep Throat: Days 3-4 – Fort Lauderdale
For the next two days, the production headed half an hour up the coast, north of Miami, to Fort Lauderdale. After having screwed up the original location, Lenny Camp had managed to secure an alternative.
Linda remembered the Fort Lauderdale house and its owner:
"We shot at a nice home in Fort Lauderdale. It belonged to a young guy whose only interest was getting into chicks. He tried every device to make us. He brought cute chicks, handsome guys, and before we finished that two-day shooting schedule, he was practically begging us to stay on after our day's work. We didn't and left him practically in tears."
This second day of filming was actually the first time Linda was going to be filmed having sex for 'Deep Throat'. More specifically, it was the first time Linda was going perform the act the entire movie was conceptualized around: deep throat. But as Gerard later recalled, it nearly didn't happen. He remembered:
"The morning we shot the deep throat scene, she came was almost crying. She says, 'I won't be able to do it good.'
"I said, 'What's the matter?' She says, 'Chuck is so jealous. So, if I really get into the scene, he's going to be mad at me.'
"So I had the production manager send him into Miami. I said, 'We're running out of film, we need more film.' So, Chuck went into Miami to buy film. And we shot the so-called 'deep throat' scene, and she was wonderful."
Sending Chuck on errands became a tactic Gerard regularly employed over the following days to keep him off set and away from Linda while they shot. It was a maneuver Linda later claimed Chuck complained about to her in private:
"'You see the way they're treating me?' she said. 'They don't seem to realize that I'm the man who trained the star. If it wasn't for me, they wouldn't have a fucking star, and they wouldn't have this fucking movie.'"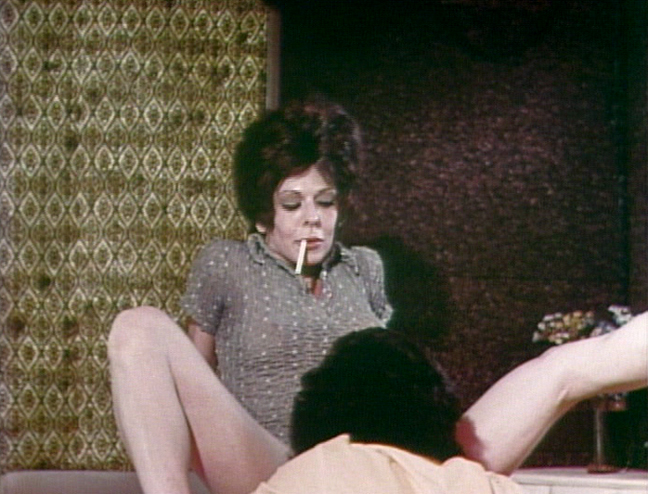 Dolly Sharp in the Fort Lauderdale house
*
Deep Throat: Day 5 – Superbowl Sunday
The fifth day of the shoot was a Sunday. Superbowl Sunday to be exact, and it so happened that the Miami Dolphins, formed only a handful of years before in 1966, were playing the Dallas Cowboys.
While the game was played in New Orleans, the Miami streets were dead quiet. Everyone was either in their home or at the bar, glued to a TV. For Gerard, the event offered the perfect opportunity to film on the streets in an unimpeded way.
"I'll never forget it was during the Superbowl when the Dolphins were playing for the national championship. We said we'll take time that they're playing football, the streets will be empty, everybody will be inside watching television and we shot all the outside scenes. We had no trouble at all just flowing around in my Cadillac and Linda she was afraid to drive but she did wonderful."
The Miami Dolphins eventually lost to the Cowboys 24-3 – after a halftime tribute show to Louis Armstrong who had died just a few months earlier – but that day's Deep Throat shoot was a definitive win, even if the perennially annoyed Lenny Camp found something to complain about, recalling:
"They didn't know where to go to shoot the driving scenes so I sent them out to Collins Ave, and they spent the whole day shooting Linda driving up and down. They were crazy to spend so much time doing that. What did they think this was? 'Gone With The Wind?'"
In addition to capturing the film's iconic opening footage that day, serendipity struck when the crew bumped into an acquaintance of Lenny's named Sepy Dobronyi. Sepy was famous in Miami, where he was known as the Hugh Hefner of the city. He certainly had an eclectic life, describing himself as 'a Hungarian-born sculptor and aristocrat, art collector, world traveler, movie maker, pilot, wine collector, sportsman, playboy, and bon vivant.' His family had been the crown jewelers to the Royal House of Hungary dating back as far as the 15th century, and were bestowed with the title, 'Baron', by the King in 1540. By 1972, Sepy had turned his attention from Hungarian to Hollywood royalty, counting talents such as Frank Sinatra, Bjorn Borg and George Hamilton as his friends, regularly hosting them at his elaborate house in Coconut Grove, Miami.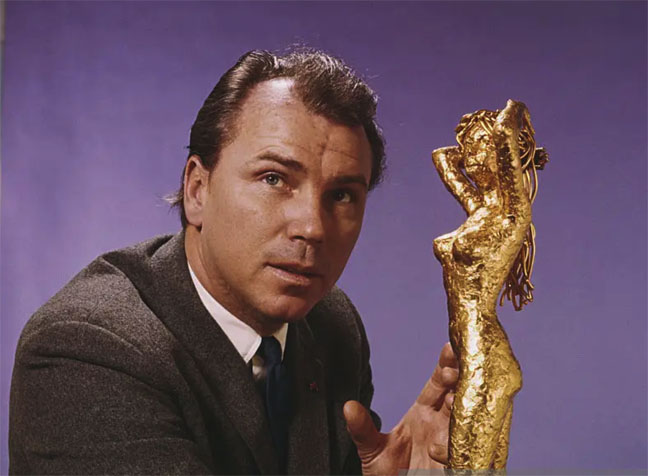 Sepy Dobronyi
When Lenny and Gerard explained that their next location had fallen through, and they were looking for a place for their final days of shooting, Sepy immediately offered up his home. Gerard remembered Sepy's proposal as follows:
"'I've got this great place,' he told us, 'and some good dope, so we'll party and we'll smoke and we'll all have a great time.'"
In truth Sepy's home was the perfect location. It had been designed in 1961 by Otto F. Seeler, a professor of architecture at the University of Notre Dame, and was encased by walls of glass and coral rock. It featured a large circular fireplace rung by a royal blue couch. Because Sepy's star sign was Taurus, the roof was shaped like a bull's head complete with two copper horns extending over the canopy.
While the main house was extravagant, a guest house on the property was what caught Gerard's attention. The more modest location would serve perfectly as the doctor's office. Gerard negotiated a reasonable rental fee with Sepy and the two men shook hands – everything was now set for the final days of production.
*
Deep Throat: Days 7 – 9
On the seventh day of shooting, a young woman named Carol Connors arrived on set. Lenny Camp had seen Carol several weeks before production of 'Deep Throat' began and, as Carol recalled, approached her:
"I was romping on the beach one day and a photographer came up and gave me his card. He took some pictures of me and the next week he called to tell me a friend was coming down from New York to make a movie and that he might have a role for me. The photographer didn't tell me it was for an X-rated movie, but if he had, I wouldn't have known what he meant. I was incredibly naïve then."
But when Carol read lines for Gerard, he made it clear to her that 'Deep Throat' was going to be a hardcore film and that she'd be expected to perform explicit sex on camera. When Carol asked some friends their thoughts on taking the part, they told her lots of famous actresses got started this way. So as Carol later remembered:
"Here was my chance. I had been a cashier in a movie theater and this was like a dream come true."
There was even a role for her boyfriend, and soon-to-be husband, Jack Birch.
Carol Connors would go on to make several adult films and years later, she and Jack would be parents to Hollywood actress Thora Birch. But that January day in 1972 marked Carol's first time in front of the movie camera.
Her sex scene took place with Dr. Young, aka Harry Reems, who donned a white coat hastily purchased from a barber supply shop early that morning. Carol played Harry's nurse and sexual partner who chronicles Linda's wellness journey.
In his book, Harry remembered shooting at Sepy's house in his usual colorful way:
"As a crew member, I was rigging up the lighting. As an improviser of the script, I was feeding lines to Linda. As an actor who was about to connect with Linda, I was popping my zipper – and I spent five hours that day in the nurse's mouth and two in her cunt."
Harry also recalled Sepy well, referring to him as 'Handsome Harry' in his book, saying:
"He was a bachelor, maybe 28 or 29 years old, a nice gent who lived solo in his ranch-style house with a swimming pool. Most of his waking thoughts turned lightly to love in any season… and swings and orgies. Our crew – and our project – could not have been more welcome.
"He was all decked out in his snakeskin pants and leather shirts and medallions and rarin' to party. But we were all exhausted from pursuing our Muse all day long and turned down his invitation. 'Jesus Christ,' he said, 'what a bunch of dead dicks you all turned out to be!'
"'Handsome Harry' never could figure out why after a long hard day in front of the cameras we weren't all chomping at the bit to swing into a wild orgy."
Gerard remembered Sepy's libido getting in the way as well, saying:
"Sepy was there, watching, carrying on, trying to make out with everybody in sight. He'd had a lot of stuff shot there, and he figured that if he just played his cards right, at the end there would be a big party and everyone would carry on. Now that's a pervert!"
As for Linda, she later told a journalist in the Miami News that she had become intimate with Sepy between takes. The reporter wrote:
"As Linda tells it she had a brief, but somewhat ecstatic encounter with Sepy in his bedroom, which contains a bed shaped like a Viking ship."
Whatever actually happened on Sepy's Viking bed, Sepy reacted in mock horror to Linda's claims:
"She used my name and she described the thing itself, but not me. She made it sound crude, but I'm much more refined. I just don't like this low-class way of talking about sex. It destroys the whole illusion; whether it's a secretary or a duchess, there must be illusion. If I don't get that, then there's nothing."
Sepy claimed he instructed his lawyer to take legal action against Linda.
On the last day of filming at the house, Gerard moved the crew to Sepy's wine cellar. He had concocted a scene where Linda visits a patient with a Coca-Cola obsession. She comes bearing a unique cure: a glass dildo with a hole down the middle to serve as a straw.
Harry remembered the scene vividly in his book:
"Gerry had someone make a glass dildo for 'Deep Throat'. The guy who made it guaranteed it wouldn't break. When the scene was over, everybody was happy and laughing. Laughing made Linda contract the muscles of her vagina. The dildo came flying out of her. It landed on the floor and shattered into a million splinters of glass. So much for the guarantee of glass dildoes. Ralph Nader, are you listening?"
But while Harry was worried about the dildo, cinematographer Joao Fernandes had something else on his mind. He recalled:
"I was surprised that Sepy let us into the cellar with all the expensive bottles of wine. I asked him why he trusted us. He just said that he had added a few bottles of poison amongst the expensive wine so he would know immediately if anyone stole his wine."
Needless to say, nobody drank the wine.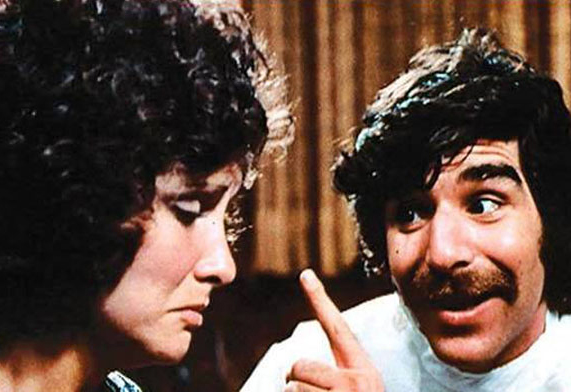 Linda visits the doctor – in Sepy's wine cellar
*
Deep Throat: End of Production
The 'Deep Throat' shoot had been hectic: but despite location issues, last minute casting, and horny house owners, the crew that shot the film remember those days positively. Even Linda later recalled a camaraderie and sense of fun on set, with everyone involved in the production frequently joking and teasing each other.
But despite this, several years later, Linda famously went on to denounce the film and anybody who sees it. She claimed that the film shows her being raped. And that assertion has framed discussion of the movie ever since, a conversation largely reduced to the question of whether Linda was telling the truth or lying.
This question is unnecessarily reductive and simplistic. What's more, it betrays a degree of sexism that verges on misogyny and victim blaming. That's not to say we can't question Linda's version – especially because most everyone on set that I've spoken to recalls Linda as a happy and willing participant in the film, not to mention a wife often fawning over her husband Chuck.
So what is the truth? And given that 'Deep Throat' is one of the most successful films of all time, shouldn't there be a more informed debate about Linda's allegations? Let's break things down to better understand what actually occurred on the set of 'Deep Throat' and how Linda came to view it.
Let's start with the violence that Linda claims Chuck inflicted on her during the making of the film. Actually there is no controversy there. Chuck himself later confirmed it occurred. He said:
"Did I beat her up? Well, yeah. With Linda, if she and I got into a hassle, it wouldn't be beneath me to backhand her or bend her over my knee and beat her ass.
"Yeah, (on the set of 'Deep Throat') we did have a disagreement, a pretty strong disagreement. She was telling me she didn't wanna do scenes that day, that she had a headache or a backache or an ass-ache or somethin'."
So the next question is, how aware were the other cast and crew members that Chuck beat Linda while the film was being shot?
When Harry Reems was later questioned about this, he flatly rejected having any knowledge of violence.
"My only frame reference of knowledge with Linda Lovelace and her relationship with Chuck Traynor, was those eight days and there was no sign of any brutality. She was not forced to do anything at gunpoint. She was not beaten. There was no makeup to cover her bruises. There was no makeup man. We had an $18,000 budget. We were lucky to have costumes, for God's sake. [chuckle] And you want need only to look at the film to see that the girl is having a terrific time.
Her stories and her arguments are totally… they're not credible, they're just not credible."
But when Gerard was later confronted with Linda's claims, he gave a more conflicted response. Have a listen to this exchange, and see how by the end of it, Gerard is admitting that Chuck beat Linda up – precisely as a result of 'Deep Throat'.
Interviewer: "She now claims that she was beaten and forced to do that movie. Is it true?"
Gerard: "I don't believe it. I really don't believe it. I don't even think she believes it. She claims that somebody forced her to do the movie but has she ever said who it was?"
Interviewer: "Chuck Traynor."
Gerard: "Well. Chuck happened to be her husband. I mean if she's talking about a bad marriage there's forty million bad marriages in the United States today."
Interviewer: "More than that. She says she was beaten during the movie and that the marks from these beatings are clearly visible in the movie. You were perhaps close as anybody. Did you see these marks?"
Gerard: "She had an argument again with her husband and she was a little banged up. But um the reason for it was she was enjoying the film too much. He got jealous that she was really enjoying Harry Reems – although he didn't mind her doing the film, she wasn't supposed to enjoy it that much."
In another interview, Gerard went further:
"I've often tried to pinpoint the psychology of Linda. She seemed to have a distinct sadomasochistic relationship with Chuck, to the point where he constantly dominated her. They were never anywhere where she wasn't holding him or touching him. There was this strange need all the time. And she was never out of Chuck's sight. They were always a little apart from the group.
"But as close as they were in the daytime, I knew Chuck would bang Linda off the wall at night. The next day she'd appear on set black-and-blue."
In another interview, Gerard again recognized that Linda had been in an abusive relationship – but this time claimed that it was precisely 'Deep Throat' that eventually enabled her to break free.
"(Linda) had some kind of a bad life with her husband. But due to the popularity of 'Deep Throat', she was able to break away from him. So it probably saved her life."
So the evidence is clear: Chuck admitted to beating up Linda, and Gerard admitted he was aware of it. The mitigation that Gerard offered over the rest of his life was that it couldn't have been that bad because Linda had been happy on set.
"She had the best time of her life during that film. Watch it. See it. And see if there's anything in her eyes. See if the smiles aren't there."
In one of his last interviews, Gerard re-iterated this:
"When it was all over she really came to me and cried that the film was over because she was never so happy as when she was making that film."
But claims like these inflamed Linda later on:
Interviewer: "When people think about you, they say things like 'Well, she seemed to enjoy it. She wanted to be there.' Does that make you really angry?"
Linda: "That one makes me especially angry. They talk about the smile on my face but nobody ever mentions the bruises on my body."
So we return to the question: was Linda coerced into making 'Deep Throat' or was she there by choice?
Let's consider the coercion angle: We know Linda had been in an abusive relationship with Chuck for over a year before 'Deep Throat' was filmed. We know there was a pattern to their dynamic: Chuck would push Linda to do things that would ultimately benefit him, like prostitute herself, pose nude for photos, and make hardcore loops. Yes, we've seen that Linda was at times a casual sexual explorer and a hippy, but that she would also on occasion push back against Chuck's suggestions. And when she did, things would get violent. So Linda learned it was often easier to go along with what Chuck wanted – and Chuck wanted Linda to make 'Deep Throat'.
But did Linda enjoy herself on the set? The answer seems to be yes – and that is confirmed by Linda in her book 'Ordeal' even when she is sharing harrowing stories of Chuck's dominance. Is there a contradiction to this? Not necessarily: after a year of Chuck playing the commanding figure in their relationship, all of a sudden Linda was the star – and she was treated like one. The cast and crew were kind to her, deferential even, and invested in making sure conditions were right for her to give her best performance. It must have been a relief after months of ups and downs with Chuck.
So it shouldn't be difficult to hold these two thoughts at the same time: that Linda was being abused during that week in Florida, but that she did also find elements of the Deep Throat film set to be reassuring.
Which leads us to the central allegation that Linda made: when we watch Deep Throat, are we watching somebody being raped?
If we're looking for signs of a woman kicking and screaming, clearly and repeatedly saying no during the act itself, we're not going to find them.
But if we think of rape as unwanted sex performed under threat of violence then yes – we are witnessing Linda being raped. Linda would not have been there, doing what she did, if not for Chuck's threats.
So where does this leave us with 'Deep Throat', 50 years after it was released? What do we do with any art that becomes problematic if we become more enlightened about it? 'Gone With The Wind' has been removed from a number of streaming services until a discussion of its historical context regarding racism can precede it. 'Last Tango in Paris' has become difficult to watch since Maria Schneider spoke of her feelings of sexual humiliation on set. These questions are important to ask about 'Deep Throat' too.
And what about the people who made 'Deep Throat': were they complicit in her rape?
I don't believe Gerard or Harry or anyone else on the set of 'Deep Throat' would have made the movie with Linda if they knew she was there against her will. At worst, they saw evidence of a wife domestically abused by her husband – an issue often treated as a private family matter in the early 1970s. At best, they witnessed a woman enjoying herself and the attention she was receiving. It's easy to imagine them interpreting Linda's relief at being there – and having a break from Chuck – as happiness and pleasure.
Later on, adult film star Gloria Leonard famously said that Linda "was a woman who never took responsibility for her own choices made, but instead blamed everything that happened to her life on porn."
Good quote, except that it's not true, and it's not fair. Later in life Linda would be co-opted by the feminist movement who placed the blame for Linda's abuse on the adult film business. But Linda didn't blame porn at this point – Linda blamed Chuck. Her husband. Her pimp. And the manager of a new persona, Linda Lovelace – a star about to skyrocket into the stratosphere.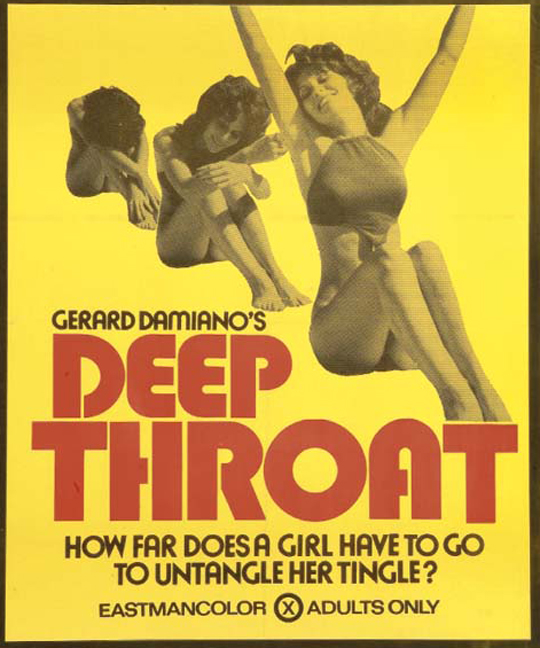 *
On the next episode of Svengali – The Chuck Traynor Story… the explosion of Deep Throat and the impact on Linda and Chuck.
*