Podcast: Play in new window | Download
Subscribe: RSS
In 1970, Chuck Traynor – former Marine, sexploitation dabbler, successful Miami bar owner and less successful drug smuggler, met Linda Boreman – a hippie drifter who'd recently had her newborn taken from her and was recovering from a harrowing car accident. They were both looking for something new, a fresh start – Chuck wanted financial opportunities that would prove his macho worth; Linda wanted direction and acceptance.
The way they tell it, they met and fell in love. They lived together, partied together, worked together. Then Chuck lost his bar. This led to money troubles that led to sex work and the start of domestic violence. This violence followed a well-established pattern of conflict building to physical outburst, followed by a reconciliation period of intimacy and re-connection. Linda's allegations were sometimes inconsistent, but were never disputed by Chuck. He said it was just part and parcel of his background and their lifestyle at the time.
In summer 1971, Chuck and Linda got married. A month later, Chuck won his court case for drug smuggling and was a free man. No longer legally tied to Florida, Chuck persuaded Linda to go with him to New York to see if they could claim a stake in the city's burgeoning adult film business. Chuck was excited about the money they could make; Linda was hopeful the change would break the cycle of abuse.
Within a year they would be internationally famous, their lives turned upside down, and the figureheads of the new 'porno chic' movement.
This is Part Three of the untold story of Chuck Traynor – with contributions from Linda Lovelace, Eric Edwards, Gerard Damiano, Eric Edwards, Harry Reems, Larry Revene, Tallie Cochrane… and Chuck Traynor himself – all talking about the notorious loops Chuck and Linda made in 1971.

This podcast is 40 minutes long.
Listen to, or read, Part One and Part Two here.
——————————————————————————————
Advisory
A quick word before this particular episode. You know this is a podcast about the early adult film industry. And that means that we tackle topics that often aren't, let's say, acceptable dinner table conversation in polite society.
Even allowing for that however, this podcast episode is a little different. The themes and story lines are highly problematic and we recognize that this installment may not be for everyone. Having said that, we've tried to present the events in an accurate way with the views of all key participants.
This is an additional trigger warning for particularly sensitive X-rated subject matter.
*
In the previous episode of 'Svengali – The Chuck Traynor Story':
Chuck was born in Connecticut in 1937 to a single mother. He was raised by his grandparents amid rumors of his mother's escorting and involvement with mobsters. Eventually the whole family moved down to Florida. Chuck served in the marines, before working on the fringes of the sexploitation business through his romantic involvement with the pin-up photographer Bunny Yeager. He married three times, but Chuck always wanted more, and in the late 1960s, he owned a biker bar that was a front for prostitution, and then masterminded a smuggling operation, importing marijuana into Florida from the Caribbean. And then in 1970, he was busted for smuggling drugs, and met Linda Boreman – who would later become Linda Lovelace. After a year of turbulent times together, they set off for New York to look at opportunities within the new sex industry there.
*
1. Chuck Traynor and Linda arrive in New York
When Chuck and Linda Traynor hitched a ride with a friend from Florida to New York City in 1971, they were heading towards a metropolis at an inflection point.
The growth the city had experienced in the 1960s was fast being replaced by economic free fall. New York was shedding over a hundred thousand jobs a year and no industry was safe. Violent crime rates – including homicide – had more than doubled since 1965. Conditions were so bad that year that 85% of the city's police officers went on strike for over a week.
But one part of New York was booming in 1971 – and that was the adult industry. Men's magazines stuffed Times Square bookstore racks. Short sex films looped endlessly in peep show machines. And just a few months before Chuck and Linda's arrival, the breakthrough hardcore feature Mona the Virgin Nymph had opened at the Tivoli theater on 50th and 8th. The sex business in New York was so pervasive that even though the city faced record crime and financial devastation, Mayor John Lindsay still carved out a portion of the police force to fight prostitution and pornography in Times Square.
New York's stage was set for a hustler from Florida and his new wife looking to take part in the nascent sex scene.
Think of Chuck and Linda arriving in Times Square in 1971, and it has echoes of the film Midnight Cowboy. That was the only X-rated movie ever to win the best picture Oscar, and it was set in the same area around the same time.
In that film, a Texas hustler, Joe Buck, travels to New York City, convinced of his appeal to women and excited by the prospects of sex work. He thinks he'll latch onto some rich scheme when he arrives, but finds the city to be less hospitable than he imagined.
Joe Buck is almost a combination of parts of Chuck and Linda. Like Joe Buck, Chuck is cocksure and brimming with macho bravado, always on the lookout for sexual and financial opportunities. But unlike Joe, Chuck has a cynical, violent and manipulative edge too. He's lived on his wits for years, and now it's time for payback. And rather than performing the sex work himself like Joe Buck, Chuck has Linda. Why do the work himself, he reasons, when he has a more marketable commodity that he can use?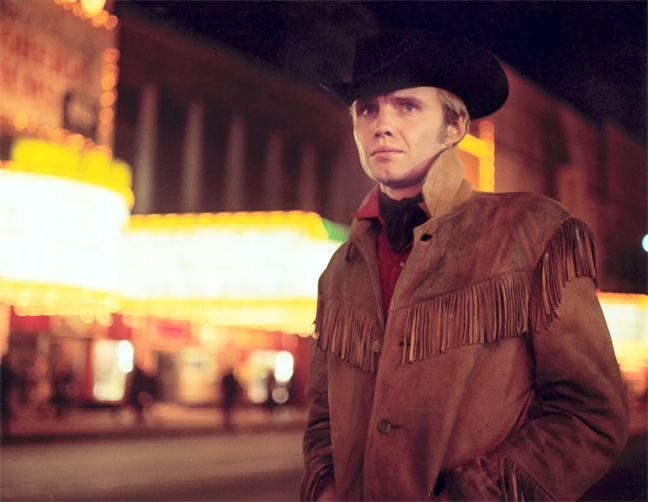 Jon Voigt as Joe Buck in 'Midnight Cowboy' (1969)
Chuck found a small apartment for him and Linda in Jersey City – just a stone's throw across the river from Manhattan. After paying the security deposit and first month's rent, the couple had only a few dollars left between them. Chuck needed to find work – and fast. Chuck hopped the train and headed straight to Times Square. As he later recalled, finding adult work was easy: "I went down to Forty-Second Street and immediately met a black guy who wanted to shoot crotch shots of chicks. I said, "I got a chick for ya."
Linda confirmed how effortless it was to pick up work in the porn industry when they arrived. She recalled: "There were hundreds of people who made their livings peddling sex in New York. What was amazing to me was how quickly we got to know them all. They were all links on the same chain; you met one person, and he passed you along to the others. The still photographers knew the club owners who knew the madams who knew the eight-millimeter loop directors who knew the peep-show kingpins who knew the adult book store owners and so on.
"My life was a succession of job interviews. And one of those first interviews was with Xaviera Hollander."
Xaviera Hollander was one of the most famous sexual figures of the 1970s, best known today for her best-selling memoir The Happy Hooker. Xaviera had been raised in Indonesia, spending the first years of her life in a Japanese-run internment camp. In her early 20s, she moved to New York City where she worked as a secretary in the Dutch consulate in Manhattan. In 1968, she became a call girl in the city making $1,000 a night before opening her own brothel, called the Vertical Whorehouse. Within a year. she was New York City's leading madam.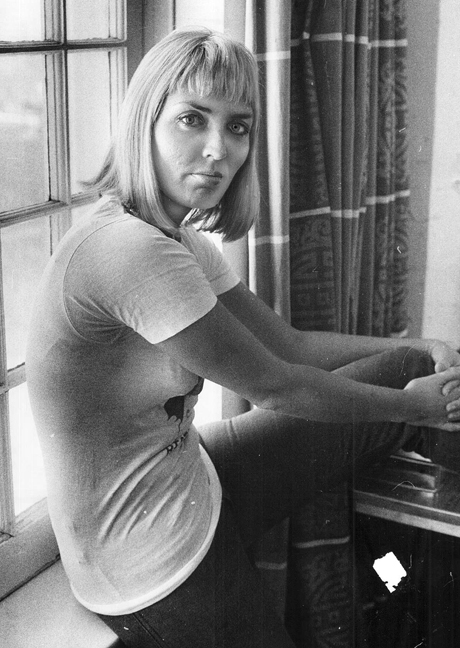 Xaviera Hollander
When Linda auditioned for Xaviera's business, the madam was not yet famous as "the happy hooker," and Linda was not impressed: "My first reaction to her," Linda said, "was that New York City must be pretty hard up if someone who looked like her could become a successful madam. She was fat. Her hair was dirty, all caked with grease. She had piled the makeup on a face that needed more than mere makeup."
It turned out that Xaviera was equally unimpressed with Linda – turning her down immediately, saying she was looking for a higher caliber of girls for her escort service. Xaviera later recalled: "I said to her: 'You look too shabby. I'm sorry, you do. You have no class.' She had buck teeth from all the blow-jobs she'd given."
Linda was successful however in finding prostitution gigs at another escort service in the city.
After just a few weeks in New York, there was an addition to Chuck and Linda's apartment: Brandy, a friend who'd worked at The Vegas Inn, the bar that Chuck had owned in Miami, showed up at their door. She wound up crashing with Chuck and Linda for a few weeks. Seeing an opportunity to capitalize on the situation, Chuck took some shots of the girls simulating sex and in suggestive S&M poses. He sold the pictures, earning a few dollars.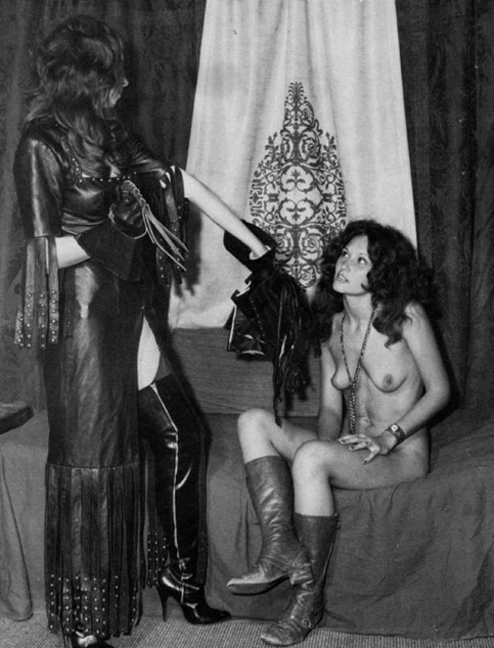 Linda and Brandy, in Chuck's S&M photos
But ad-hoc photo sales weren't going to cut it. Chuck was looking for bigger money and had an idea how they could make it. Loops, the lifeblood of the peep show machines drawing customers to Times Square, were in high demand. And he was confident he could convince Linda and Brandy to perform in some of these hardcore sex shorts. Linda had serious doubts. Shooting nude pictures for Chuck and Bunny Yeager was one thing. Appearing in loops felt like a more significant step, as she described in her book Ordeal: "From still photographs it was a short distance to the world of movies. Just across the street, as a matter of fact, to a studio where they shot eight-millimeter movies for the peep-show trade. The thought of making a movie really bothered me. And I had no idea how I was going to fake it long enough for them to shoot a movie."
How much Linda made her feelings clear to Chuck is unknown. We know Linda said it was often easier to go along with Chuck than to risk a blowup.
So Chuck set out to discover who was shooting loops in New York. Turns out he didn't have any trouble. In fact, it seemed like the city was lousy with these filmmakers.
*
2. Linda's Loops
The reason loops were being churned out wasn't a mystery: for movie makers, they were cheap to produce and could be cranked out fast. For distributors, they were an easy and steady stream of income. As for customers, they had a seemingly endless demand in the ever-growing number of adult bookstores starting up around the country.
So who was performing in these short sex films, and why? There was a range of motivations, but most of the time it came down to money. Starving artists, cash-poor students, free-wheeling hippies – any of them could do a sex scene or two and easily cover rent and food for a month.
Tallie Cochrane was a rarity in 1971. An actual agent for adult film talent who found performers for people making loops. She recalls: "A lot of people knew me, back then, as 'Chick.' I was a glorified, pimping, pandering agent. Everybody was shootin' loops… everybody. It was quick and easy money… I think that the majority of them were doing something that they would never normally have done, but their circumstances put them there. Some of them were just desperate for an income. Some of them had done nothing but theater all their lives, but they were starving. Some of them were just taking a chance and still had their job down the street. Everybody's circumstances were different. But, I think the common was that everybody was getting excited by what they were doing, and the more they did it, the more excited they got, the more they realized they liked it."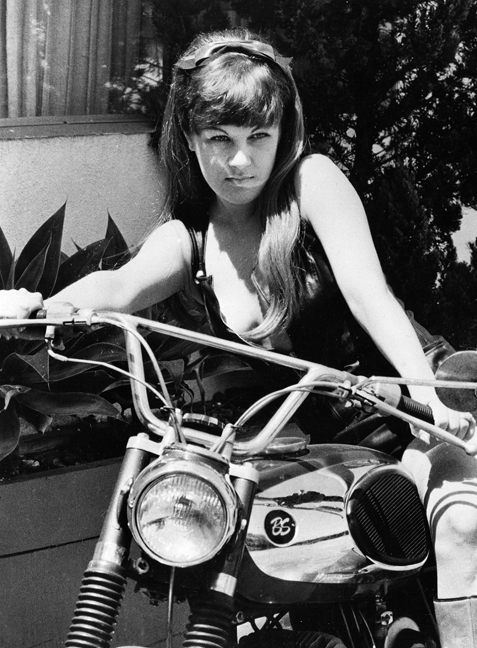 Tallie Cochrane
Harry Reems, who would go on to star with Linda in Deep Throat, was one of those early loop actors. He remembers getting into loops: "When I was in High School, I didn't get laid! (Laughs) I didn't have sex until my senior year of High School – about a month or two before graduation. I just thought of myself always as this skinny little kid with a big nose and a lot of pimples. It's probably one of the main reasons why I got into the loop industry.
"I was doing Theater. I got contracted to be a part of the National Shakespeare Company's Experimental Lab. And I needed to supplement my income. All of us needed to supplement our income. So this one guy said, 'I know where you can pick up $100 in an hour's work.'
"I said '$100 bucks? That's fabulous! What's it about?'
"And he said, 'Well, you gotta do this sex thing.'"
With Linda and Brandy, Chuck had two performers. All he needed was a filmmaker with connections in the adult movie business. He came across a loop producer named Teddy Snyder. Teddy was from Brooklyn in his late 20s, and looking to become the next Louis B. Mayer meets Al Capone. Teddy may have been Jewish but he desperately wanted to be Italian. He adopted a goombah patter, wore big gold jewelry and even bigger belt buckles, and liked to live large.
At that time, Teddy was just starting out in the porn business, but he'd already figured out the quickest way to make money was by connecting with local mobsters who could fund and distribute his adult movies. It was to prove to be a financial arrangement that worked out well for him for the next couple of decades. As a fellow producer plainly put it: "Teddy made a shit-ton of money with the mob in the 70s and 80s."
As an aside, Teddy took his final dirt nap when was shot dead in front of his house in 1989. Everyone thought the mob was behind the hit. Turned out it was his wife, Sharon. She'd hired their coke dealer to pull the trigger and paid the killer by giving him a rare $10,000 bill. Teddy had displayed the bill for years over their mantelpiece. The murder wasn't difficult to solve when the bill turned up in the possession of the hit man. But that's another story for another time.
Back in 1971, when Teddy was still alive and kicking, Chuck bonded with him over their mutual love of flying small aircraft – and drugs. Chuck told Teddy about Linda and their friend Brandy and said the three of them would be happy to be filmed while getting it on – if the price was right. Teddy said he might be interested, but because he shot multiple loops on the same day, he needed the girls to be willing to have sex with other guys as well. Chuck said that wouldn't be a problem.
When it came to shooting these loops, Chuck typically like to play down what went on: "It was usually two girls sitting on a couch, started fooling around with each other, and then a guy came in and they all three got in a pile. That was pretty generally what they all were about."
So Chuck and Teddy made a date, and a few days later, Chuck, Linda, and Brandy showed up at Teddy's studio on 42nd Street. Actually, calling it a studio may be overstating it. Linda later described it like this: "The bathroom sink was filthy, the floors had never been mopped, and your feet turned black just walking on them. These people who made filthy movies seemed to live in filth."
In addition to Teddy, they were met by a handsome young kid named Rob Everett who had aspirations to be a mainstream actor. Rob would go on to become Eric Edwards, one of the most prolific adult film actors across several decades. But on that day, he was just Rob, fresh-faced and curious, and not quite sure what he was getting himself into for the first time: "So I left the little town in Texas that I came from, with five suitcases.  And uh, went to the academy in New York, and that changed my life entirely. After the academy, I did several commercials, a few bit parts in movies, a lot of touring shows, a lot of summer stock.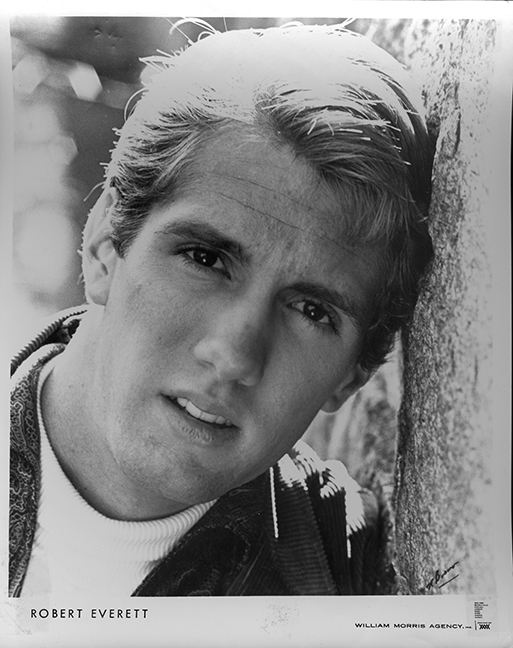 "I got into those loops by submitting my photo to, I think, Screw Magazine. And six months later I got a call for my first loop job with Linda. In fact, she was my first. Basically, all it was, was one cameraman, Linda, another girl, and her husband at the time."
Linda was impressed with Rob, as she recalled: "The first time I met Rob, I wondered how this could be. Here's this real doll – he was adorable! – tall and blond and cute. How could a guy who looked like that do what he did for a living?"
The first loop that day was meant to feature Chuck, Linda, and Brandy in a straight-forward threesome. Watching these loops over 50 years later is a sobering experience. Sure, they're flickering and grainy pieces of film, soundless, virtually colorless, and with no artistic pretensions, but they also seem to go out of their way to be unerotic. They are more like primitive fly-on-the-wall documentaries on the mating habits of homo sapiens than anything intended to arouse.
This first loop unfolds as follows: after minimal setup, Linda undoes Chuck's belt buckle, pulls down his zipper, and begins fellating his marginally erect penis. Linda works diligently to get Chuck fully hard, but he never quite gets there, even when Brandy steps in to help. So Teddy Snyder throws Rob into the mix – who's quick to rise to the occasion. Rob goes on to have sex with Linda, and then Brandy has sex with Linda. In fact, when Linda is with Rob and Brandy, she finally seems to become more aroused and engaged. As the loop draws to a close, Chuck is finally able to achieve orgasm with Brandy's help. The film ends with a playful look across Chuck's face, seemingly untroubled by his earlier performance challenges.
Of that day, Rob later remembered: "We did our scene, it took about an hour or so… and it worked out fine. I got forty bucks, she got fifty.  Never could understand why the girls got more because I had to do most of the work!  But I didn't care, it was fun."
As the performers got dressed and prepared to leave, Chuck suggested they trade phone numbers with Rob so they could share leads on film work. Rob was grateful for this, appreciating Chuck's help.
Asked later if he was ever jealous of Rob or other men Linda had sex with, Chuck answered: "Jealousy is an inferiority complex. What are you jealous of? I mean balling to me is business. Whispering in her ear, holding her hand or giving her flowers I may shoot you for. But if you're balling her in a film, that's fine."
The day after filming with Teddy, Chuck called Bob Wolfe.
*
3. Bob Wolfe
Bob Wolfe is the OG of adult movies in New York. He shot some of the city's first hardcore sex loops, and his basement studio on 14th Street in Manhattan was like Ground Zero for the industry.
And while it may have been where many of the famed New York adult performers, such as Jamie Gillis, Tina Russell, Darby Lloyd Raines and Helen Madigan, got their start, Bob's former assistant Larry Revene remembers that the space wasn't exactly like the studio lot at Paramount: "14th St. is where I worked with Bob to start with. Bob, bless his heart, was not Martha Stewart. And when you stepped into his studio, there would be kind of a crunching sound under your feet.  And it would be a bouquet of say old banana, that somebody hadn't finished somewhere. Since it was in a basement, it was underground (and had) a lot of cockroaches, a lot of old sets and props, and stuff that had been around and used before. So it had an aura and an odor. When you turned on all those lights and it got really hot, the odor would really take over, and you'd start to look for some fresh air."
Bob Wolfe is one of the most mysterious and fascinating figures from the dawn of porn. Over the years I've talked to many people who knew him and all of them describe him the same way. Bob was an older hippie – in his late 30s back in 1971. He was happily married with a young son. He kept his long, stringy salt and pepper hair in a ponytail and wore blue jean overalls most days. He was friendly and gentle and always sensitive to the performers he hired.
Larry Revene remembers: "Bob is a very sweet guy, he really is. You wouldn't meet a nicer guy in the world than Bob and he had such compassion for the people and so forth that I liked that. He was good at getting the talent; he was good on the set with the people.
"He had his system very well established. He had an ad he ran every week in the Village Voice for talent and they would call, they would come in for an interview. You'd talk to the people and you'd say, "Okay, would you take your clothes off,"  and you'd take a Polaroid of them, and then the Polaroid would go into the file, and you'd write their number on the back, their name and number on the back and then…Bob would discern whether or not he wanted to use the person or not."
Larry recalls there was a strict process to shooting the loops: "We would do six of those loops a day. That's the only way you could make any money, because you got a flat amount for the six loops, and you would save by doing whatever things you could in order to cut back. It wouldn't be profitable, for instance, to do one film because if you're only making $250 for the film and you gotta play the actors, plus the props  and the wardrobe and all that stuff, especially props…you needed a prop, you know." [laughs]
Always looking for fresh talent, Bob was happy to film Chuck and Linda. But as with Teddy, Bob needed extra performers so he could shoot the requisite 6 loops in a day. Without missing a beat, Linda suggested they call Rob Everett, who remembers: "(Linda) would call me up and say, "Do you wanna do another job?" and I would say, "Okay fine, it helps pay the rent". Being a starving actor at the time that I was."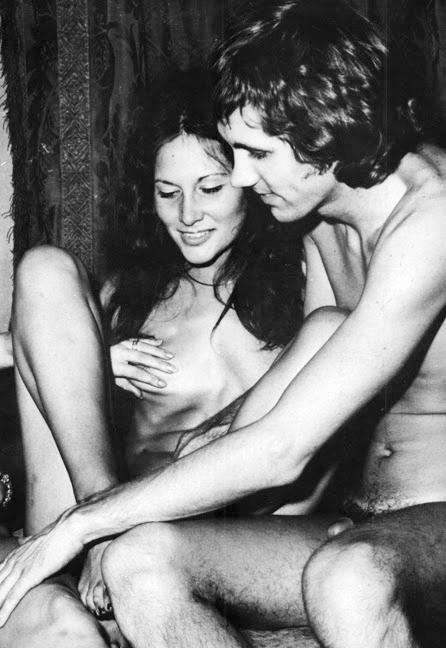 Linda and Rob Everett
This time Rob asked if it was ok to bring his then wife Kathie with him to get in on the action. Linda said she was fine with that. The more people, the more normal it somehow felt.
The first loop they shot with Bob Wolfe that day is standard – pretty tame even by the conventions of 1971. It consists of footage of Chuck and Linda in a makeshift bedroom. They come across like two stoned hippies lazily pawing at each other. The loop isn't even hardcore – Chuck and Linda, naked, simply rub up against each other, feigning excitement that neither of them seem to genuinely feel.
In the second loop of the day, Linda performs with Rob and his wife Kathie. In this loop, the action is more animated, and this piece of film would poetically go on to be called 'Piss Orgy.'
Years later, Linda would go on to describe the surprising turn of events in the following way. She recalled:
"The movie began with what I suppose is a fairly standard porn opening: the old boy-meets-girl-meets-girl formula. The three of us were in bed and after we'd done everything that three people could do to each other sexually, the director decided that the movie would come to a socko ending with all the actors urinating on each other."
"It was really disgusting. When it came my turn to be urinated on by Kathie, I couldn't do it."
Faced with Linda's refusal to comply with this, Bob Wolfe offered Linda the option to urinate on Kathie instead, and things went better. As Linda said: "All of a sudden it became easier. I was standing there, still aware of the sheer insanity of it all, but doing it nonetheless. I guess I would rather piss on than be pissed on.
"This kind of stuff didn't bother Rob and Kathie too much. They had made so many eight-millimeter movies, both with each other and with other people, that life held no surprises for them."
Rob disputes this version, insisting that he had only actually made a handful of loops at this point, mostly with Linda. He remembers that day as follows: "I don't recall exactly how the pissing part got into it. I may have just said something like, 'I have to pee' and Bob said, 'Let's get it on film."
If the Piss Orgy loop was outside the norm, the next session with Bob Wolfe was off the charts.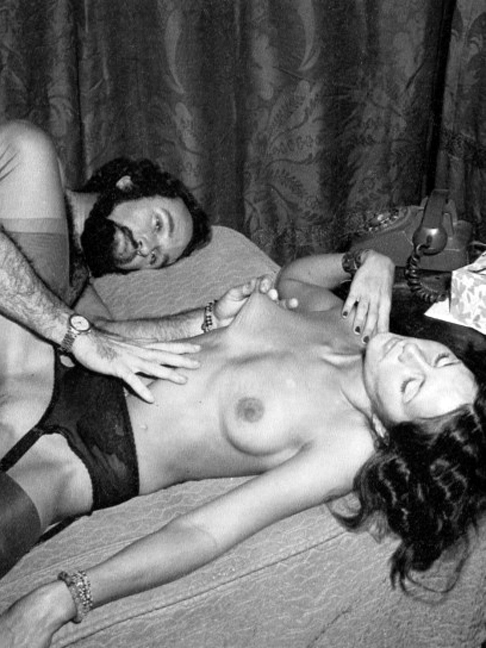 Chuck and Linda
*
4. Dogarama
The next two shorts are among the most notorious sex films ever produced. To set the stage, one loop is titled 'Dog 1' and the second is referred to as 'Dog Fucker' or 'Dogarama'.
Thousands of loops were being shot in New York in the early 1970s. And as Chuck explained earlier, most of it was pretty standard stuff. As Rob Everett remembers: "The scenarios of the loops back then were basically anything to get into the sack.  Milkman comes to the door, pizza man comes to the door, girl is horny, blah blah blah. I mean, they were extremely simple little plots. Um, that's about all I can say about it, it was before scripts. They would say, 'Okay, here's the deal', they would explain it, knock knock knock, 'Hi, here's your pizza,' [laughs] and then 'Oh you're sexy!' you know, and then things would just start snowballing from there."
But sometimes filmmakers would receive orders for specialty content. The attraction to them was that these loops would typically earn producers more money. As Bob's assistant Larry remembers: "The person that was ordering the films would say, 'Okay, I want an orgy,' or 'I want an interracial,' or 'I want bondage. The bondage films are hot now, do some bondage films.' (I thought) 'Great, okay.  I never did that before.'
But while kinks like urination and bondage are still alive and well today, one niche that seems more particular to the 1970s was bestiality – particularly sex between women and dogs. These films were far from widespread, but they also weren't one-offs. Adult talent agent Tallie Cochrane remembered: "One person had called me and said that they needed a girl that would get it on with a dog – and she had to bring her own dog. So I called this one person, and she said, "Oh sure!"
I said, "You have to bring your own dog."
I hung up the phone and thought, "My god, what an order…"
Bob Wolfe's assistant Larry Revene also remembers receiving an order to film a dog loop: "Eddie D. walked in and says, 'Larry, you gotta make me a dog film. It's gotta be a Great Dane. Don't worry about it.' It had to be a Great Dane.
"It was one of those things where I say, 'Ok, well I'm a filmmaker. I'm here and doing this as my job. (But) I didn't understand it. I could only understand from saying, there's this big, big audience out there that this is some sort of novelty that everybody wants to see. You know, the stag party. So they wanted these dog films, which were very difficult to do because… how do you talk to a dog. If the dog's not interested, what are you going to do?"
The first of the two dog loops opens with Rob and Linda performing oral sex on each other, followed by anal sex. It seemingly leaves Linda's dissatisfied and when Rob dresses and turns to leave, Linda playfully gives him the middle finger. After Rob exits, a large hound enters. The dog has sex with Linda. The second dog loop does away with the pretense of an initial human coupling, and just features Linda and the dog in a repeat performance.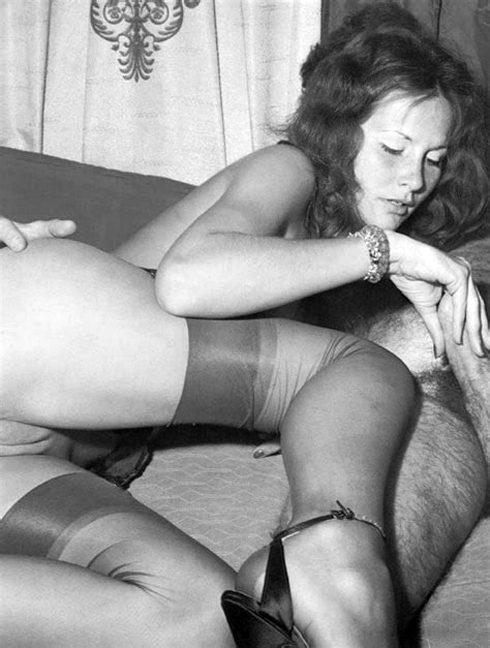 For such a highly-charged and controversial moment in Chuck and Linda's lives, it's worth dwelling on how these loops came to be that day. And understandably, the story is hotly disputed.
According to Chuck, he had no idea of Bob Wolfe's intentions. He later said: "Linda and I were sitting there, and Bob just asked her. He asked, "Lady, would you ball a dog?" And Linda said, "Sure." It wasn't my film. Bob Wolfe came up with the idea. I wasn't even on the set when it was shot."
Chuck's version is supported by Rob Everett who confirmed that Chuck wasn't present in Bob's studio when the dog loops were filmed.
As for Linda, in her 1980 book Ordeal, she too states that it was Bob Wolfe who suggested the idea to her, saying: "Bob Wolf put the question to me. 'We've been thinking of making a dog movie,' he said. 'Would that interest you?'
But Linda claims that she immediately rejected the suggestion. And then she says Bob threatened her, placing a gun on the table between them, saying: "I'd advise you to think that over pretty carefully. Now are you sure you don't want to make this movie?"
Linda's reluctance to do this is more than understandable, though having spoken to many people who knew Bob, it's difficult to imagine him threatening Linda in this way. All descriptions of him are of a caring, peaceful hippie who avoided conflict wherever possible.
And as easy as I find it to imagine that Linda was disturbed by the suggestion, it's also true that Linda did change her story in her next book, 'Out of Bondage', which was published six years after 'Ordeal.' This time Linda stated that Chuck was in fact on the set when the subject of a dog loop was raised, and this time she said it was him, not Bob Wolfe, who instigated the threat of violence. Linda writes: "The gun. A revolver. Sitting on a small table. Surrounded by three men. And Chuck threatening me: 'This is direct disobedience to a fucking order. You know the only choice you got? You make this movie or you're going to die. That's your big choice…take off your clothes, cunt.' The men giving the dog a biscuit, petting him. Chuck staring at me, studying, measuring. He knew… he knew this was the worst moment of my life and he would use it against me forever."
Some people have used Linda's inconsistent narration as a way to discredit her experience, but there are other witnesses to the events. Rob Everett was on set that day: "Bob Wolfe was the one that shot that… and actually I was quite flabbergasted. I think my jaw probably dropped to the floor when I saw it happen. I was basically the boyfriend who does Linda and then I leave, but actually I was sitting off camera and I witnessed the scene. There were no guns or anything like that to force her into this, I think she actually kind of had a good time and I couldn't quite understand that. It was beyond my realm at that particular time… She loved sex. She loved what she did."
Despite Rob's memories, what is also true is that people who talked with Linda later in her life, insisted that Linda's evident distress at the memory of this incident was striking, real, and profound. This is Mike McGrady, co-author of Linda's two books detailing her life: "That was the lowest part of her life. In all her life, she could never say the word dog because of what had been done to her with a dog in these 8mm films. She would say D-O-G. There is a D-O-G over there. To me, it was extremely believable because her fear and her trembling was so real. There was just no way to fake that. As everyone has pointed out, she is not an actress, and she was not a good actress, and you would have had had been a great actress to fake her reactions."
Eric Danville, author of the 2013 book The Complete Linda Lovelace, remembers: "I've never seen a person more affected by something that they've done. I've never seen someone cry the way that she cried when we discussed it."
We will never know the full, accurate version of what happened that day. Was Bob Wolfe a friendly hippie or a threatening producer? Was Chuck absent from the set, or was he the main instigator of the threats. How much was Linda willing to go along with the filming, or did she experience revulsion and fear and only complied to save her life?
What is clear is that the long-term emotional toll on Linda was real. And that isn't difficult to understand.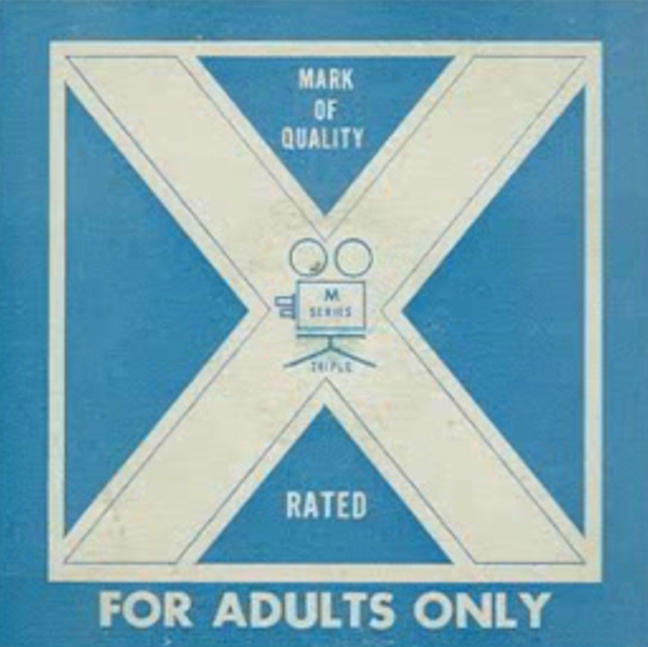 *
5. The Origin of 'Deep Throat'
There was another short film scene that Linda shot. It took place in 1971 after these loops, and it would change her and Chuck's lives forever.
Chuck later remembered how it came about: "When we first came to New York, someone said, "Go to the Film Center Building on 9th Avenue. There's a lotta stuff goin' on over there." So I go in, and I met Lou Perry, who was really Lou Peraino. They all called him Butchie. I just walked in and asked if they were hiring anybody."
Lou Peraino was a few years younger than Chuck, and a member of the Colombo Crime Family, one of the notorious Five Families of organized crime in New York. The Perainos had come from Sicily in the 1910s and by the 1930s, Lou's father Anthony was already running areas of Brooklyn, earning money through extortion and gambling. By the time the 1970s came around, Lou saw an opportunity for significant profits in the new adult industry and asked his father Anthony to bankroll him. Lou was just starting out in the business when he first met Chuck in 1971.
Another person who met Lou around this time was an aspiring local director named Gerard Damiano who had previously made a small number of sex features. Gerard was far from being a stereotypical pornographer – or even a stereotypical filmmaker: "I was born in the Bronx, grew up in Brooklyn and later on moved to Queens. On my 17th birthday, I quit school and joined the Navy because I wanted to be part of something. At 21 I came out and under the GI bill, I had schooling coming to me. One of my best friends was in the Korean war and he come out, he was going to go to school, and he said 'Well I'm, either going to be a mortician or a beautician.' I said 'Well why don't you become a beautician that sounds like fun and I'll go with you" so I went back to school and became a beautician.' Sometimes you just follow a path and one path leads to another. Because I was a hairdresser, my accountant was working as an accountant for an independent filmmaker, and he said 'You know it was wonderful, he's making a movie and it was so much fun to be on the set, he was shooting in his own house.' I said 'Jeeze, I'd love to go.' He said 'You wanna go? They're looking for volunteers?' so I said 'I'll be there tomorrow.'"
"For 3 years, every time they worked, I worked. I never received a dime, but I learned how to make film."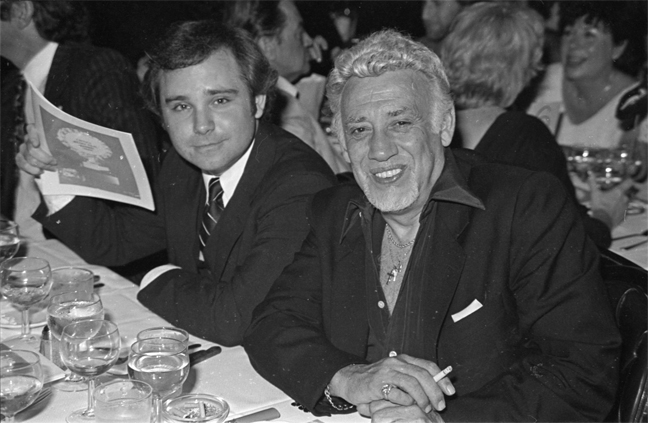 Gerard Damiano (right)
The Perainos and Gerard Damiano were a good match. Lou Peraino was an aspiring producer with access to cash. Damiano was an aspiring filmmaker looking for backers.
And enter Chuck: husband-slash-manager-slash-performer-slash-pimp. He knew the Perainos could be worth knowing so he began helping out around their Film Center office, performing menial admin tasks in the hope that they would lead somewhere more lucrative.
And it's at the Peraino's office that Chuck first met Gerard. As Gerard remembered it: "I didn't find Linda Lovelace and Chuck Traynor, they found me. Chuck had come to my office. I needed a scene for another film. He said, 'Linda can do something…' There was no name for it. She gives head very well. I said, 'Well, that's wonderful.'"
Chuck told Linda to demonstrate her skill for Gerard. And as soon as Gerard saw it, an idea dawned. "When I saw her on camera, when she did that thing that she could do, I said 'Wait a minute we're not going to waste this on an 8mm loop, this is a feature film.' Linda, for me, from the moment I saw her, I had a beginning, middle and end to a film. She wrote the film, mentally, just watching her."
"I said, 'You all go where your gonna go, come back in the office on Monday in two days and we'll talk about doing a feature.'
"So I went home in a weekend and wrote the story Deep Throat."
*
This is the last episode of the first season of the Chuck Traynor story, but Season 2 will be along soon.