Who was the actor who played the matador in a memorable sex scene with Constance Money in Radley Metzger's Maraschino Cherry (1977) – and why did Radley think he was an opera singer who sung with Luciano Pavarotti at the Metropolitan Opera?
Ashley West looked for the truth behind the mysterious performer.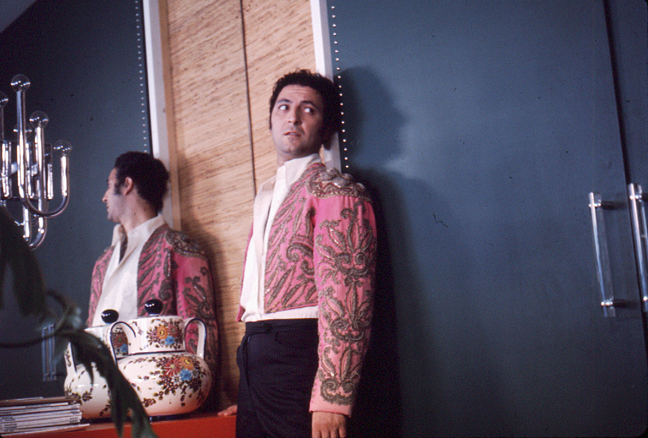 Previously unseen still of Marc Valentine, 'Maraschino Cherry'
———————————————————————————————–
In the last few years of Radley Metzger's life, my regular lunches with him followed a familiar routine. He would slip into the diner booth opposite me every week, armed only with a tiny notebook, pen, and Ziploc bag of pills, and his first words to me never changed.
"Who's died?" he'd ask.
I'd mention the names of anyone who'd worked in his feature films that had recently passed away. Perhaps Jamie Gillis, Gloria Leonard, or others. Radley would raise an eyebrow and shrug sadly at the mention of each person. Only when I had finished would he speak again.
"And who's very ill?" he'd ask.
I would proceed to list the names of anyone who'd endured recent surgery, suffered a bad accident, or had been diagnosed with a terminal illness. With each mention, Radley's eyebrow raised again as he shrugged. And then he'd ask a final question.
"Who's just looking terrible." Pause. "And do you have any photos of them?"
He smiled and winked at me. And with that, our lunch could begin. He was an inveterate affectionate, nosy voyeur to the end.
Perhaps our lunches didn't dwell exclusively on his past career as a director of sexploitation films. It just seemed that way. At this point, Radley was in his 80s, so it was natural that he looked back on his legacy and the people that he had immortalized on film. More than anything, he was fascinated to know what happened to particular people who had disappeared into the mists of time. Ute Levka, the statuesque German who embodied, Carmen, baby. Silvana Venturelli, the ethereal blonde who lit up Lickerish Quartet. C.J. Laing, the mischievous minx who seduced Barbara Broadcast. Many others too.
More often though, Radley would remember a minor player, a background scene-stealer, who had crossed his later-life mind. And one day a new question occurred to him.
"Whatever happened to the matador?" he asked. "The matador who appeared in 'Maraschino Cherry'. That man must have had an interesting story."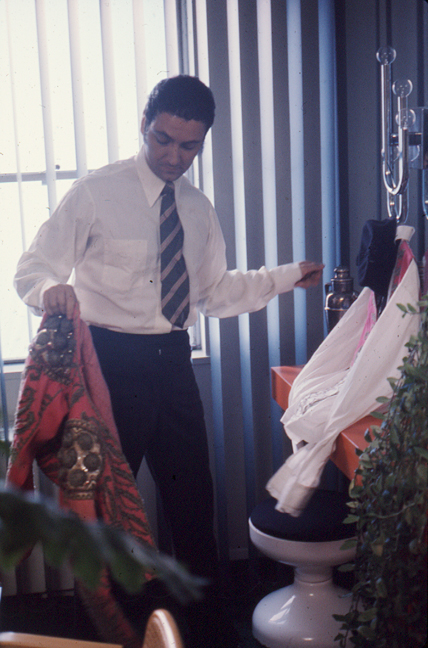 Marc Valentine, 'Maraschino Cherry'
I remembered a Spanish-looking character dressed in a toreador outfit who engaged in a sex scene with Constance Money. The same actor had played a handful of small roles in adult films in the late 1970s, with a rare lead in The Night Bird (1977) as a John Travolta night club character in an unintentionally hilarious 'Saturday Night Fever' rip-off. He was a swarthy, older, good-looking character who alternated between the Italianate noms-de-porn Marc Valentine and Marc Anthony.
Radley told me he had hired him for a single day shoot forty years ago. Though Radley only had few memories of Marc, he remembered him for a unique reason: Radley was sure he'd seen the same actor on stage a few months later. Not just any stage, but the Met. And not just appearing, but singing an aria. With famed tenor Luciano Pavarotti nonetheless.
Radley crossed paths with many interesting people in his career, but this stretched credulity. Surely he had confused the porn actor with a similarly swarthy Italian opera singer. After all, how would a small-time porn actor who acted in twenty or so adult films (mostly in uncredited roles, though also credited as playing 'Gynecologist', 'Fifth Guy in Orgy,' and 'Anal Enthusiast') also appear on one of opera's most illustrious stages with the world's most famous opera singer?
Radley had come prepared. He'd brought the signed actor release that showed 'Marc's' real name. Radley remembered that Gloria Leonard had introduced Marc to him, and that it was Marc's very first appearance in an adult film. The release showed that the scene was shot on Wednesday October 8, 1975. The matador scene had originally been part of the script for The Opening of Misty Beethoven and it was one of the first scenes shot for that film. In the end however, it proved superfluous to the storyline so it was dropped. Radley liked the sequence so much that used it in his final hardcore opus, 'Maraschino Cherry', which was released a couple of years later. Marc had written on the release that he wanted to use the name 'Tony Baciami' – Italian for 'Kiss Me, Tony' – though Radley ended up leaving him off the film's credits.
I asked Radley what he remembered about the Marc Valentine lookalike who had appeared onstage at the Met. Radley remembered it had been the opening night of 'La Boheme' or 'La Traviata'. Tickets were hard to obtain and the New York glitterati had turned out in droves in their tuxes and gowns. Hallway through the opera, when the audience were spellbound by a Pavarotti aria, Marc suddenly appeared on stage. Radley was adamant that this was the same man. The opera singer was the sexy matador, he said.
My curiosity equaled my skepticism, so I took the clues away and offered to look into the mystery.
Marc Valentine, 'Maraschino Cherry'
*
In truth, it wasn't a difficult mystery to solve.
The adult film actor's real name was as Italian as it was unique – and I found a single record related to a similarly-aged man living in New Jersey. I called his number and within minutes was talking to Tony Baciami, aka Marc Valentine.
Understandably Marc was a little taken aback by my inquiry, but he readily admitted that he was indeed 'Marc Valentine.' (He had no recollection of 'Tony Baciami' but found the name amusing.) He said that I'd caught him on an afternoon off from his job at the local barber shop so he had some time to answer any questions. He had only one request: he didn't want his real name to be referenced.
Marc was born in Newark, NJ in the early 1940s, the oldest of four brothers. He was named after his father, a first-generation immigrant from Italy. Marc showed an early talent for signing and playing the piano. In high school, he was the automatic choice for the lead role in every musical, and his natural ability attracted the attention of a talent agent for MGM, who offered him a lucrative contract. Only a teenager at the time, Marc was signed up and shipped off to Venezuela to star in a movie for the Latin American market. The movie was a hit, but no others major roles came his way via MGM, and his contract wasn't renewed.
Undeterred, and back in New Jersey, Marc threw himself into musical theater, and in the late 1960s and early 1970s, he was one of the most prolific and successful stage actors in the tri-state area. He won excellent reviews for his lead roles in Carousel, West Side Story, Camelot, Brigadoon, Gigi, and Jesus Christ Superstar to name a few. He also formed his own band, using the name 'Marc Loren' ("it sounded like a combination of Marcello Mastroianni and Sofia Loren, two favorites of mine," he said) where he sung his favorite songs by likes of Elvis and Tom Jones. The band was a hit on the Jersey dinner circuit, and Marc admitted to playing up the playboy, rock star lifestyle.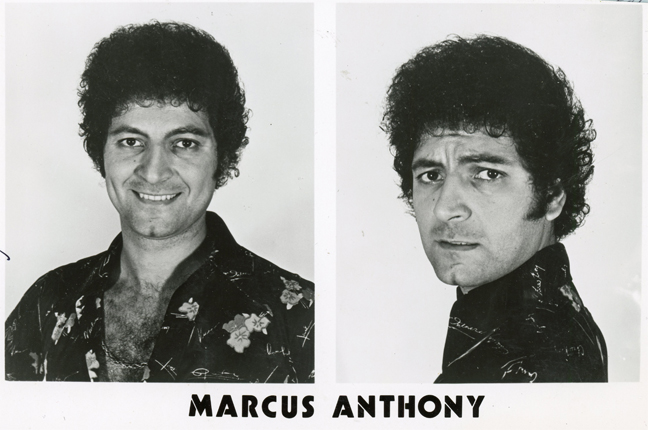 Marc remembered: "For a time, I hoped that we'd get signed to a major label because we were doing so well and were popular. But we weren't writing our own material and that was a problem. By the 1970s, the music scene was changing and new styles were emerging. We started sounding old-fashioned. When I turned 30, in the early 1970s, I realized I was too old to be the next Engelbert Humperdinck…"
When Marc got married, he figured he needed a more steady and consistent income so he got a job as a lab technician at Roche, the healthcare company, and enrolled at Montclair State University where he graduated cum laude with a bachelors in Communications. Not that he ever gave up on a life in show business, getting the occasional bit part in movies shot in New York, such as 'The Godfather' (1972), and later 'Goodfellas' (1990) and 'Carlito's Way' (1993). Meanwhile his rock band continued to draw crowds in Jersey.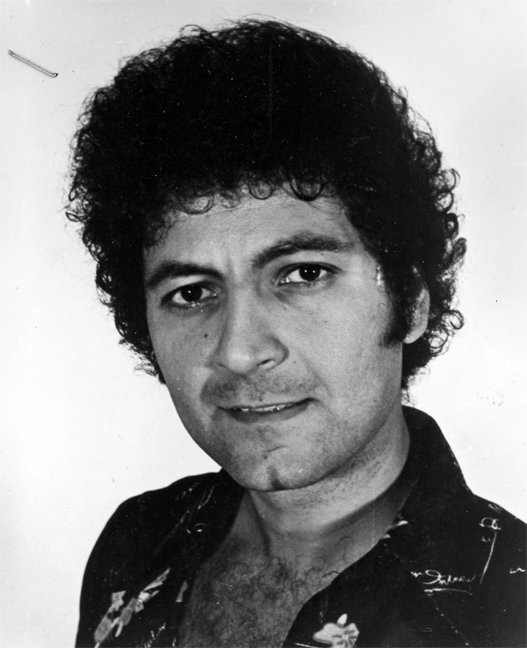 Marc Valentine – publicity shot
1975 was a pivotal year for Marc: he auditioned for the Metropolitan Opera and got into the chorus. Marc remembered this as being the pinnacle of his singing career: "I was raised by Italian parents who played opera day and night. The idea that I would ever appear on the stage at the Met was a dream I never dared to hope for. I sang tenor for the Met for ten years, and appeared with all the great opera stars – like Jose Carreras, Placido Domingo, and of course, Luciano Pavarotti. I sung in all the great operas, from Aida to Tosca, Madam Butterfly, La Traviata, La Boheme and others. It was incredible."
If Marc was proud of his work at the Met, he was more bemused by his experience in adult films. He couldn't remember how he met Gloria Leonard, perhaps a party or in the offices of ubiquitous New York acting agent Dorothy Palmer, but he remembered they were both in their mid 30s. This was a little older than normal to start in adult films, but Marc was curious and Gloria gave him Radley's number and encouraged him.
Despite the fact that his Maraschino Cherry scene was shot in single day, Marc still remembered the professionalism and competence: "Metzger was kind though serious. He knew exactly what he wanted. I felt strange doing what he asked because it was sexually explicit – and in front of a room full of people. I hadn't done that before but I was a confident guy so I just did it."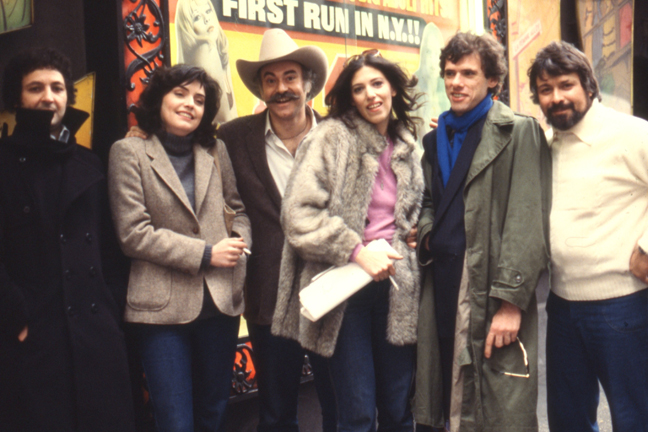 Marc Valentine (far left) with Colette Connor, Richard Milner, Lisa Cintrice, Roy Stuart, Mike Filene
Marc's period making adult films coincided with his period singing at the Met – a combination of activities that he admits could be a little jarring: "The films were fun, nothing serious, and they brought a little extra money in. I got to be friends with people like Marlene Willoughby and Vanessa del Rio who were big names at the time. My favorite was a girl named Merle Michaels. We made quite a few films together. I didn't think much about the films – I'd just get a call from one of the people who I'd met and they'd tell me about an upcoming movie. The next thing you know, I'd be in front of the camera doing what I needed to do. I probably made three movies a year for about ten years. It seems strange to think about it now, but it was fun at the time."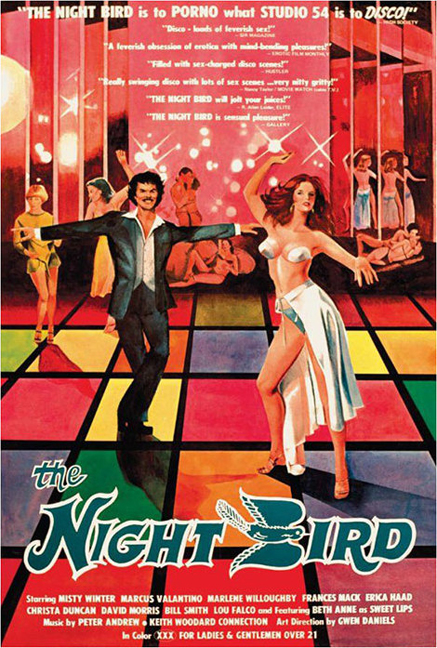 Marc Valentine, on the poster for 'The Night Bird'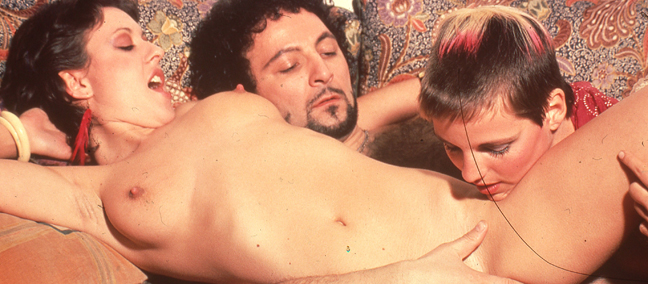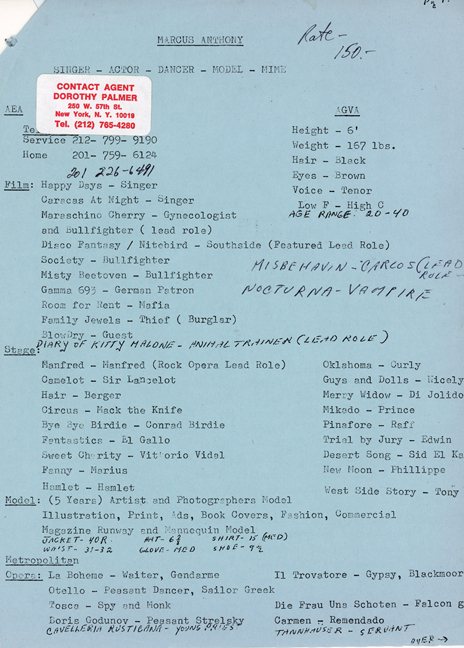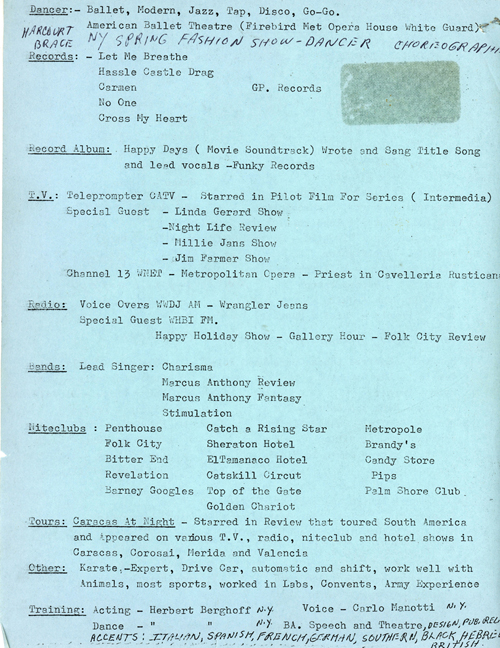 Marc's performing resume'
I asked Marc how and why he stopped: "I eventually aged out of it. I had been married since the late 1960s and I had two daughters in the mid 1980s. Plus I was living in Jersey so the trips back and forth into the city were tiring."
I asked Marc about how his relationship with his wife was affected by his adult films: "It was a private thing," he said briefly, before changing the subject.
After his acting and singing career ended, Marc became a hair stylist in his home town in New Jersey. A religious man, he continued to sing in the local church choir where he also painted the church murals. His art work often featured in local auctions and art shows. He was living a happy retirement, he said.
*
Radley listened intently to the life story of Marc Valentine, raising his eyebrow and shrugging even more than usual.
"Interesting life for a matador," Radley said. "Who would have guessed? These were times when you never knew who you were working with. I miss that."
Radley passed away a few years later in March 2017. It proved to be eight months before his matador passed away in November.
Marc Valentine, opera singer, rock n' roll band leader, painter, bit part actor in 'The Godfather', pianist, barber, chemist, and adult film star, was 74.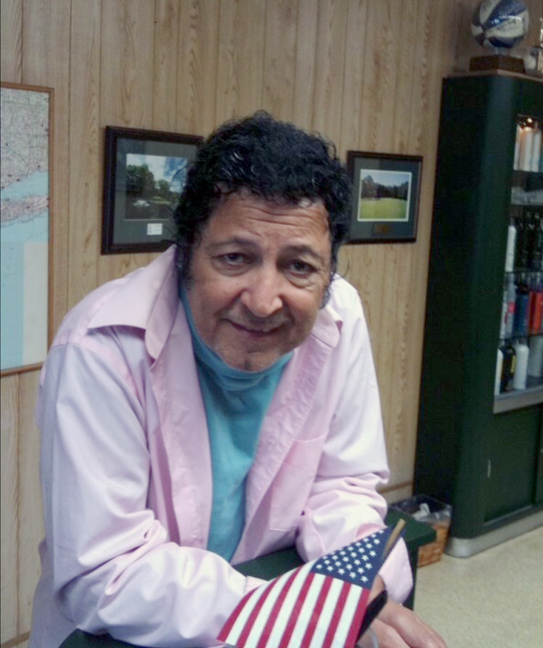 Marc Valentine, retired
*