What links Donald Trump's attorney, an Academy Award-winning producer, and a pornographic film?
Add to the mix: a drug rehab center, a French S&M literary classic written by a mysterious woman, the Silva Thins cigarette man, and an off-Broadway production about a man who falls in love with his pig.
Plus, how do you make a sex film when all of the actors insist they never actually had sex?
The Rialto Report has interviewed those involved, and the strange, true story of Radley Metzger's cult film The Image can finally be told.
___________________________________________________________________________________
It was only supposed to be a minor news story. One that would normally be quickly forgotten. Except this minor story featured a major name.
It started in early 1974 when Encounter, Inc. moved its facilities from Brooklyn to a ramshackle building located on East 68th St in Manhattan. Encounter was a small, nine-year-old organization that provided residential and ambulatory services for drug dependent people. It was well-regarded and serious, and chartered by the New York State Drug Abuse Control Commission. Incidents of drug-related crimes had risen dramatically in the city, and this was the type of forward-thinking initiative that New York desperately needed. You'd expect its work to be applauded by all right-minded citizens, right?
Not so fast.
The problem was one specific resident of East 68th St by the name of Roy Cohn. In a hissy fit display of not-in-my-back-yard-ery, Cohn raged against his new neighbor. And the problem for Encounter was that Cohn was not a person you wanted to anger.
Roy Marcus Cohn was a lawyer with a notorious past and an equally controversial future. He'd risen to prominence as a U.S. Department of Justice prosecutor at the famed espionage trial of Julius and Ethel Rosenberg. Did both the accused provide state secrets to the Russians? Opinion varies even today, but Cohn successfully prosecuted the case and won the Rosenberg's contentious executions in 1953. Then he was Senator Joseph McCarthy's chief counsel during the Army-McCarthy hearings in 1954, when he assisted McCarthy's investigations of suspected communists. Modern historians view Cohn's approach during those hearings as dependent on demagogic, reckless, and untruthful accusations against his political opponents. (Fast forward to 2016 through 2020: does that ring any bells?)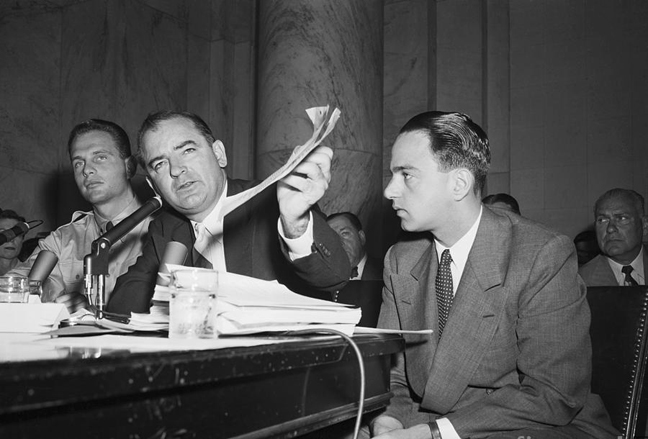 Roy Cohn (right), with Sen. Joseph McCarthy
After leaving McCarthy, Cohn moved back to New York City where he became the city's most prominent political fixer. In November 1967, he purchased a townhouse at 39th East 68th St for $325,000 in cash. Cohn lived on the upper floors and moved his law offices, Saxe, Bacon & Bolan, into the house. It was a historic and beautiful building but desperately in need of some TLC: Cohn gave it none. The elevator rarely worked, and in the winter, the lawyers stuffed towels around the windows to keep out the cold. Roy was known to traipse downstairs in his bathrobe well after the workday had begun, and take clients upstairs to a small sun porch.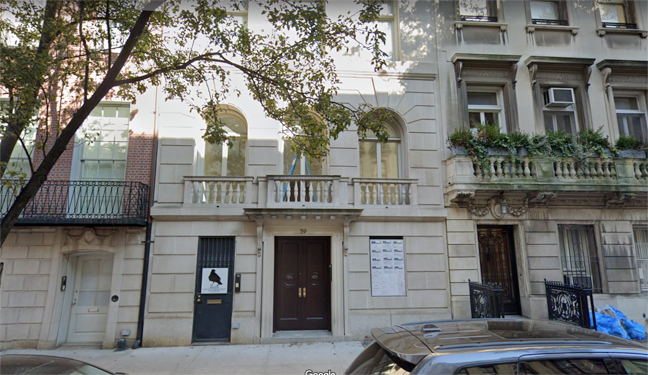 Roy Cohn's townhouse at 39th East 68th St.
But what a client roster he had: it included Donald Trump, Mafia figures like Tony Salerno, Carmine Galante, and John Gotti, Studio 54 owners Steve Rubell and Ian Schrager, Aristotle Onassis, and the Roman Catholic Archdiocese of New York. If his clients were impressively diverse, so were Roy's methods: Cohn was regularly accused of dishonesty, theft, obstruction, extortion, tax evasion, bribery, blackmail, fraud, perjury, and witness tampering.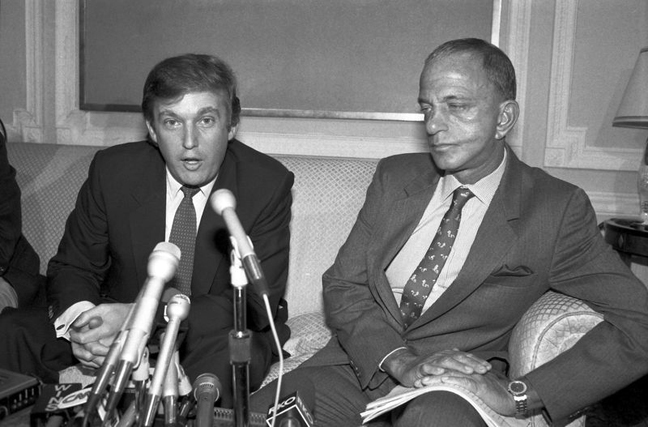 Roy Cohn, and client
When Encounter moved onto the same street, Roy was apoplectic and he snapped into action. His goal was simple: Cohn wanted a permanent injunction preventing Encounter from remaining in the leased premises. To do this, he needed the support of his neighbors, so he launched a charm offensive that was notably light on the charm. He used every trick in the book to get people onboard. He held public meetings, planted false media stories, and swamped local businesses with outraged flyers all telling the same story: strung-out junkies and criminal degenerates were living on their doorstep, and their house prices were spiraling downwards as a result.
After all, he was a respected, wholesome figure, he argued: how dare this left-wing social program bring depraved people onto his squeaky-clean street?
And then it emerged that Roy Cohn had recently rented out his entire house to a kinky, BDSM, hard-core pornographic film production.
Cohn was nothing if not a two-faced, sleazy, self-interested hypocrite. And those were just the words of the porn director to whom he'd rented his house.
*
Film director Radley Metzger had a simple phrase for film projects that he liked. They were 'Audubon-suitable,' he'd say.
Radley had formed Audubon Films in the early 1960s to produce and distribute his own films, while also serving as U.S. distributor to a number of European films that he felt matched the Audubon brand.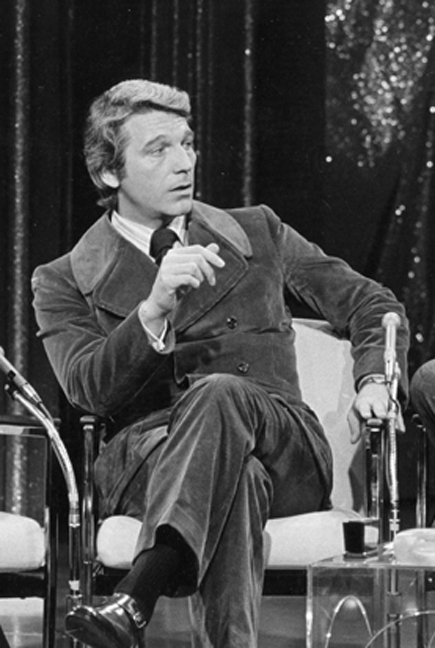 Radley Metzger, 1971
I pressed him on what made a movie 'Audubon-suitable.' He smiled as if he was reluctantly revealing part of his soul.
"It could be something inspired by a literary source. It needs an erotic element, though the sexual content must be presented in a way that is playful, elegant. It should be escapist too, taking the viewer away from everyday life, and set in a distant location. It needs an element of kink too. And of course… the film should look like it cost a million dollars to make."
"But it would actually be cheap to make?" I queried.
Radley recoiled in disappointment. "Inexpensive maybe. But cheap? Never."
The Image (1975) (also known as 'The Punishment of Anne') perfectly fit the Audubon Films criteria. It was based on 'L'Image', a novel published in 1956 by the prestigious Éditions de Minuit. It was set in Paris, and the plot centered on a triangular sadomasochistic sexual relationship between the male narrator, Jean, and two women, Anne and Claire. Radley said that the decision to make it into a film was one of the easiest he ever made.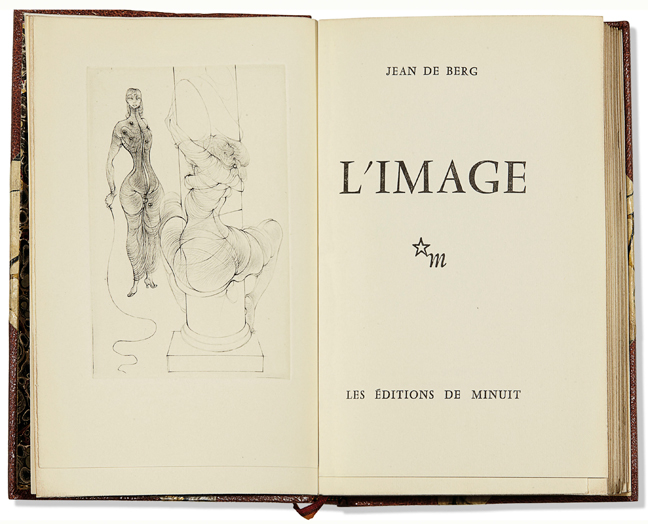 The book was written by the mysterious Jean de Berg, later to be revealed as the pseudonym of Catherine Robbe-Grillet, a mysterious French writer, photographer, and actress of Armenian descent, who was also married to the French writer and filmmaker Alain Robbe-Grillet. Radley reached out to the author, but found her elusive. Eventually he managed to negotiate the film rights through a series of attorneys.
Despite his "inexpensive, but not cheap" mantra, the fact that 'The Image' was set in Paris was not a deterrent to Radley. Almost every year for the previous decade, he had decamped to a different European city where he'd hired a local crew to shoot his latest movie. He was creative in keeping costs low and production values high. Sometimes he'd take a few actors from New York with him, but most times he'd find local talent and just overdub English dialogue when he got back to New York.
In the case of 'The Image', Radley already had his female lead. It was his girlfriend, Mary Mendum.
*
When I first met Mary Mendum in Fort Lauderdale, Florida, in 2005, she was living in a small apartment behind a Home Depot in a run-down, depressed neighborhood. Unemployed day laborers stood by, while transients sat on the curb.
Mary's area was at odds with her refined persona. She served tea in china cups, and delicate finger food on a petite, silver hostess trolley. She said that she had once worked in the kitchens of the Waldorf Astoria, many years ago, before her acting career had taken off. She spoke carefully in a soft voice and her politeness bordered on the formal. Mary was still beautiful – older for sure, but barely different from the person I recognized from her films three decades before. Despite her appearance however, her health was poor – she had hip and back problems – but kept fit by walking, slowly and with pain, along the local canals.
"Fort Lauderdale has more canals than Venice," she claimed, as if trying to convince herself that she'd landed in the perfect spot.
Mary was happy to talk about her life. Her upbringing. Her acting career. Theater, films, and modeling. Everything that is, except for Radley Metzger.
"I've always been taught that if you have nothing positive to say about someone, you shouldn't say anything at all," she shared, though her prickly tone suggested that she'd be returning to the topic at some point.
Mary had converted to Judaism, which she said gave her strength. Before that she'd converted to Islam, which she said gave her perspective. ("That was when I got married to a man of the Muslim faith," she explained.) And before that, long before that, Mary had been brought up in a Christian family in Chicago where, as a teen, she first showed an interest in theater.
"I acted in every play I could. I took every part that I was offered. I just loved the theater," she beamed.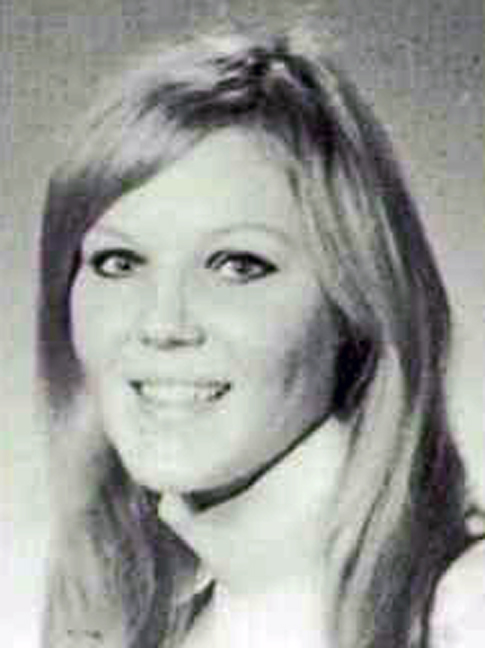 Mary Mendum, high school yearbook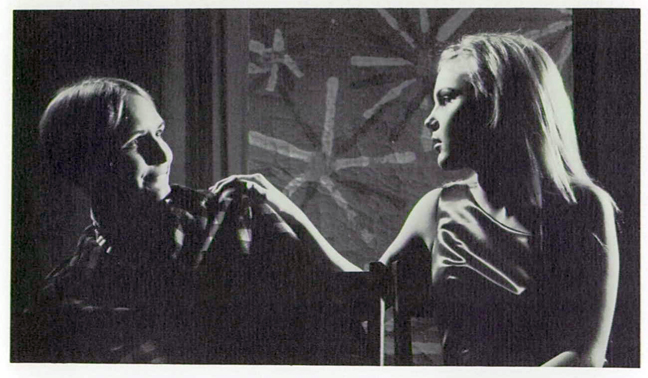 Mary (right), onstage in 'Love Rides The Rails'
Theater didn't pay much though and so she worked at the local Playboy Club to save enough money to move to New York in the 1960s. There she met and started a romantic relationship with Michael Butler. Butler was showbiz royalty: he was the godson of Tyrone Power, close friends with JFK, and he'd dated Candice Bergen and Audrey Hepburn. He was also a rising star as a theatre producer, dubbed by the press as "the hippie millionaire", and was to gain fame in 1968 for bringing the hit rock musical 'Hair' to Broadway.
Mary and Michael Butler were close, and Michael's theater connections were particularly useful to Mary: "Michael was from Chicago like me, but he was at least 20 years older. He was helpful in getting me established in New York when I arrived. It was through him that I got a part in his productions, such as the original staging of 'Hair', and in the Lenny Bruce play, 'Lenny.' We had a good time together."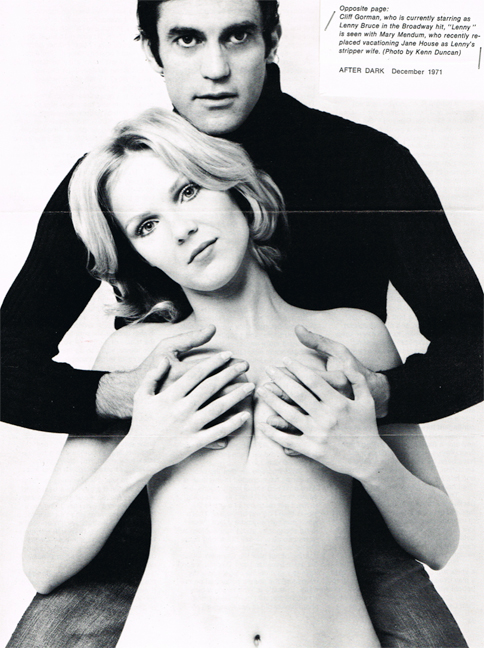 Mary Mendum, with Cliff Gorman, from the stage version of 'Lenny'
For a while, Mary was in demand. Her roles were mentioned in the gossip pages of the New York tabloids, and her interviews graced the pages of coffee table magazines. A 'Star of Tomorrow' dinner was held in her honor. She was a regular at the city's swankiest showbiz parties. But then Mary split up with Michael Butler: "It was just one of those things. Michael and I were working hard, building careers, and we gradually saw less of each other. We'd been together for years, so it was sad when it came to an end."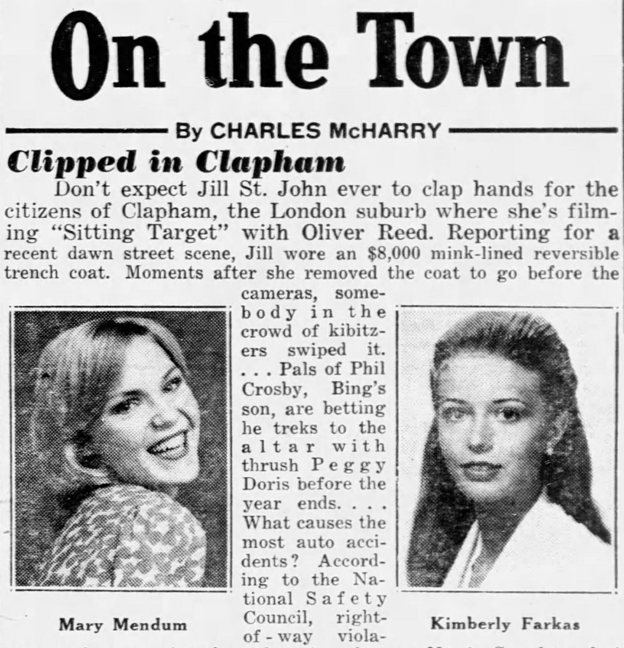 Overnight her theater work dried up. So she took on modeling gigs, from true crime magazine covers to photo spreads in risqué men's publications such as Gallery and Cheri. She tried auditioning for films but movie roles were difficult to snag – especially ones with substantial acting parts – and so when Mary made her film debut in 1973, it was in a cheap softcore film Grace's Place, directed by Chuck Vincent.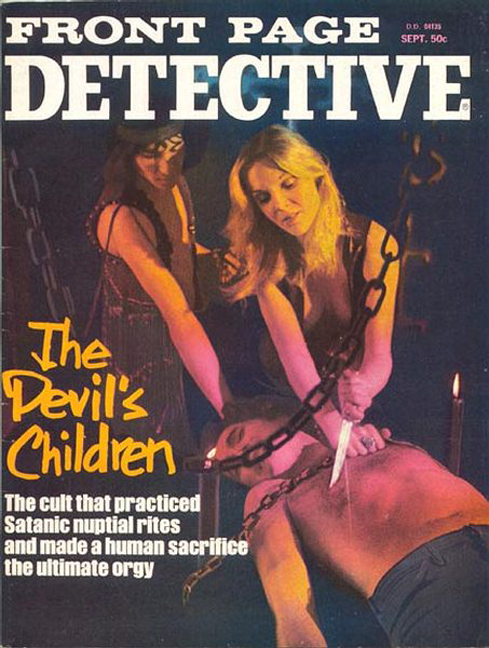 Mary, on the cover of 'Front Page Detective'
The same year, she met Radley Metzger at a party, and they moved in together shortly afterwards.
"What can I tell you about him?" Mary offered, rolling her eyes with feigned indifference.
*
I asked Radley if the fact that his films were "inexpensive" meant that he typically funded them himself. He laughed.
"You never spend your own money, unless there is no alternative," he said. "And even then, you make sure you spend someone else's."
He showed me the share certificates for each film that he made. Certificates of ownership that his attorneys had drawn up with various financiers over the years. Radley and Audubon were usually minority shareholders, meaning they participated in any revenue stream that a film would generate. But the majority shareholders were the people that provided the upfront money to fund each film – typically businessmen, doctors, dentists, or attorneys. It was their money that Radley spent, and they were entitled to the lion share of the profits. In most cases, these figures stayed firmly in the shadows, their names never revealed, and no reference was made to them in the film credits.
For 'The Image' however, Radley had met a relative newcomer to the movie business, who was different from the usual backer. For a start, Marty Richards was open about being involved in the entertainment business. More than that, he already had a colorful, though modest, track record.
Marty Richards had started in show business as a singer and made his Broadway debut aged 12 in the musical 'Mexican Hayride'. He moved on to performing in nightclubs in New York like the Copa. In a later interview, he said, "I appeared on the Ed Sullivan show. I was really doing well until Elvis Presley came along and changed everything. Then I was the understudy in 'West Side Story' – for eight months, but I never went on."
So Marty became a casting agent, and in 1971, moved into film production, making Some of My Best Friends Are…, an independent drama about the lives of a group of gays who meet in a New York City bar on Christmas Eve. (The film also featured Casey Donovan and Rita Bennett, two actors well known on the adult film circuit.)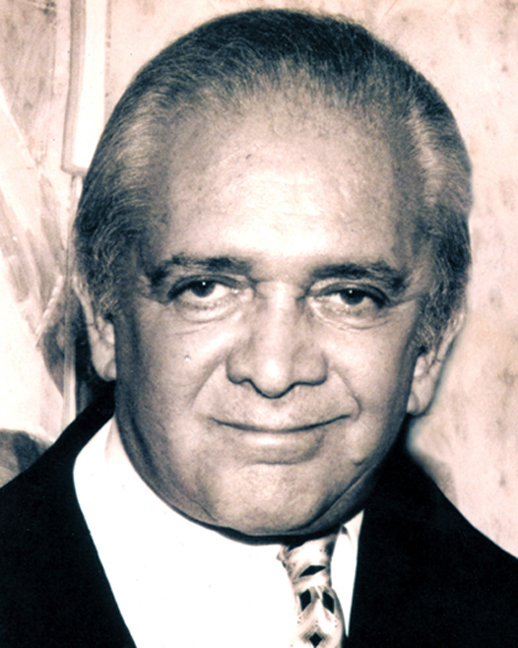 Martin Richards
Marty may have been a jack of trades, but he was a born show biz impresario. A pugnacious spark plug of a man, his flashy smile, white teeth, and larger-than-life laugh conveyed instant and persuasive bonhomie. Radley laughed when I asked him about Marty, and provided a brief character sketch: "He was a kook! From the Bronx like me, though a couple of years younger. His real name was Morty Klein, but miraculously he turned himself into 'Marty Richards' and never looked back. Nice guy, social, and very well-connected: I don't think there was anyone in show business that he didn't get to know."
When Radley met Marty, he remembered Marty having an overriding preoccupation: Marty was raising money for the first Broadway production of a musical called 'Chicago.' It consumed him, and Radley found it amusing, especially compared to his own, more interesting, efforts on 'The Image'.
"He could charm anyone," said Radley. "But, at the same time… I still thought he was a kook."
*
Marty Richards agreed with Radley that the 'The Image' should be filmed in Paris, so Radley planned his shooting trip for the summer of 1973.
In addition to Mary Mendum, he decided to take two additional New York-based actors with him, Carl Parker and Marilyn Roberts. Radley preferred to use new faces in each film: "I don't want people to be distracted by people they recognize from movies," he'd say.
Carl Parker was born to be a Radley Metzger lead. Tall, urbane, strikingly handsome, and a man's man. He looked like a bricklayer and a cruel patrician at the same time. He had a lantern jaw, an intellectual coiffure, and a dimple in his chin you could park your bike in.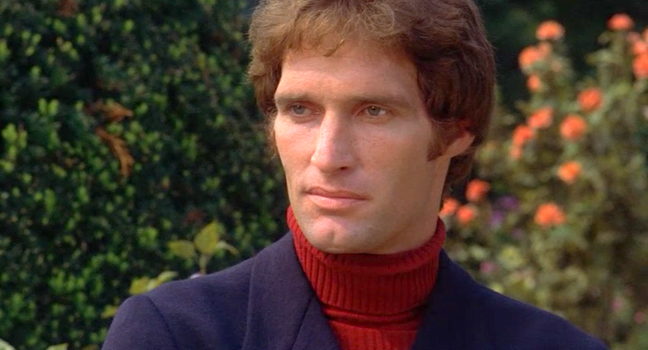 Carl Parker, in 'The Image'
He'd had limited film experience – a walk-on role as a tennis player in an early Dustin Hoffman film featuring Mia Farrow, John and Mary (1969), and a starring role in the spaghetti-war film Uccidete Rommel (aka Kill Rommel!). Carl's performance in the war epic can be viewed in two ways: his acting was wooden and stilted, but he looked sensational, and in exploitation films that went a long way.
But Carl's real claim to fame was as the Silva Thins cigarette man: a turtleneck-wearing, wraparound shade-adorned, James Bond-clone who smoked his way through a series of print and TV commercials. He would rarely speak, but he looked stunning. Mostly the ad campaign was misogynistic. He portrayed a cold-hearted and calculating male, ignoring the women who fawned over him, and refusing to let them have one of cigarettes: "Cigarettes are like women. The best ones are thin and rich."
The feminist backlash was immediate. Editorials railed against the overt sexism. The National Organization of Women demanded a boycott of the brand. No dice. Sales increased, and Parker's contract was renewed. He made a fortune.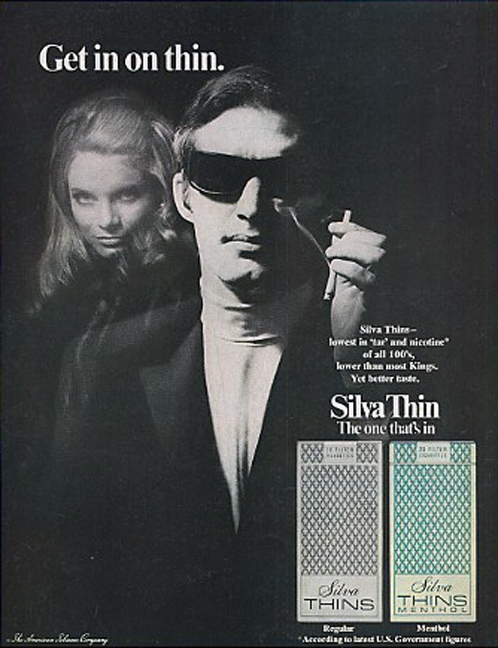 I tracked Carl Parker down to a rural area of upstate New York a few years ago. He was eager to talk, but said his memory of working on 'The Image' was vague. He admitted to never having seen it.
Carl spoke about how he had bounced around Europe in the mid 1960s, ending up in Greenwich Village: "Man, that was really a wild time. The birth control pill had come out, and women were out hunting…  They didn't want to know anything about you. They certainly didn't want to know your last name. They just wanted to fuck you. Simple as that. There were great orgies too."
"Somehow I fell into the modeling business. I was in the right place at the right time. People wanted to see more rugged men. They were tired of the pretty boys who were considered bland. So I came along… unkempt, uneven teeth, and dressed very differently. They started me off at $40 an hour – which was a huge amount of money then – and it just kept increasing. I had so much money that I started a real estate business in Brooklyn.
"I enjoyed the modeling but I wasn't under any illusions. I looked at it as high-end organized crime, because they were just selling shit. That was my socialist background coming out. I hadn't had much experience acting before doing the ads. I had a speech impediment that I was conscious of, but I guess the ads were entertaining and people found them amusing. I was highly sought after, but I didn't give a fuck about it because I knew it was all fraudulent. I knew it was just a form of drug selling. I knew that selling the cigarettes was like prostitution."
After spending some time in Rome enjoying la dolce vita and looking for film roles, Carl moved to Hollywood to seek acting fame. Neither move proved successful.
"It wasn't a big problem because I had a lot of commercials running, and so I was getting residuals from them. I made a great amount of money in those days. I didn't want to work much either so it was a good time."
When Radley held auditions for the leading male role in 'The Image', he immediately recognized Carl as the Silva Thins cigarette man: "He was great in those ads. I knew straight away that he didn't have a lot of acting talent, but most of the script was told from his perspective in a voiceover. So I just hired someone else to do the reading, and Carl just had to look good."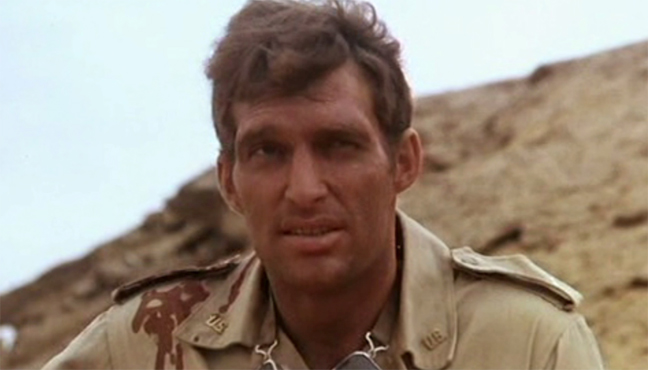 *
Radley chose Marilyn Roberts to play the second female lead in 'The Image'.
I visited Marilyn in New York just before the Covid lockdown in early 2020. Radley had given me her business card years earlier, and I finally gave her a call in 2019. She lived in an apartment in the Westbeth Artists Housing community in the Village. (Brief aside: When I visited her, I noticed that Marilyn's apartment was coincidentally in the same building, and on the same corridor, as the location used extensively in the 1974 adult film Wet Rainbow).
Marilyn was small, frail and intense. She told me she rarely went out, and was glued to the wall-to-wall television coverage of the U.S. primary elections. She welcomed the chance to talk about her acting career, but wanted to start with her time as the 1956 World Roller-Skating Champion. In addition, she was a three-time North American Roller-Skating Champion and was inducted into The Roller-Skating Hall of Fame in 1983.
Acting was her main passion though, and in 1957, she left her hometown of San Diego to take drama at San Francisco State University, before moving to New York to study acting with Lee Strasberg. In 1961, she formed the influential La MaMa Experimental Theatre group with her friend Tom O'Horgan. She continued working in productions with O'Horgan, who was named Theatrical Director of the Year in 1968 for his work on hits 'Hair' and 'Tom Paine.' She also starred in 'Mert and Phil' at The Lincoln Center, directed by Joe Papp. Just like Mary, Marilyn was mentioned frequently in the tabloids.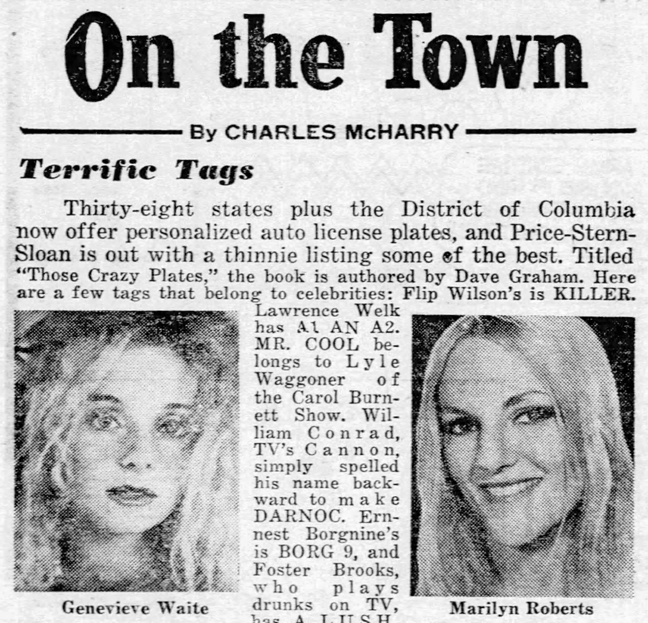 Marilyn chose her acting projects carefully, and was drawn to the more avant-garde and adventurous: "I'd acted in my fair share of strange and unusual plays by the time I made 'The Image.' Nudity was commonplace in La MaMa productions as we were interested in exploring sexual hypocrisy, so I became fearless on stage. Take Futz for example. It was a sexual satire about a young farmer who gets married to his pig when all his relationships with women fail. I was in both the stage and film productions of it. And that was stranger than any BDSM drama for Radley…!"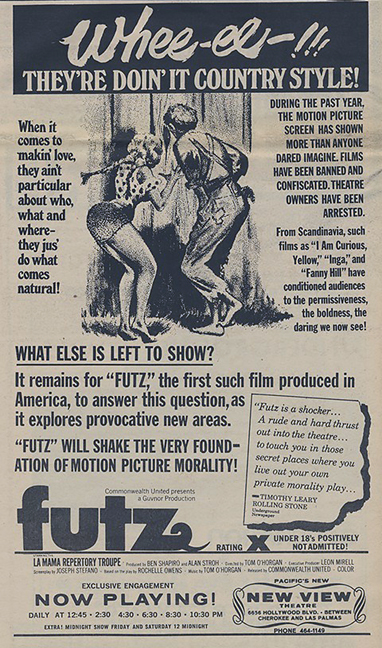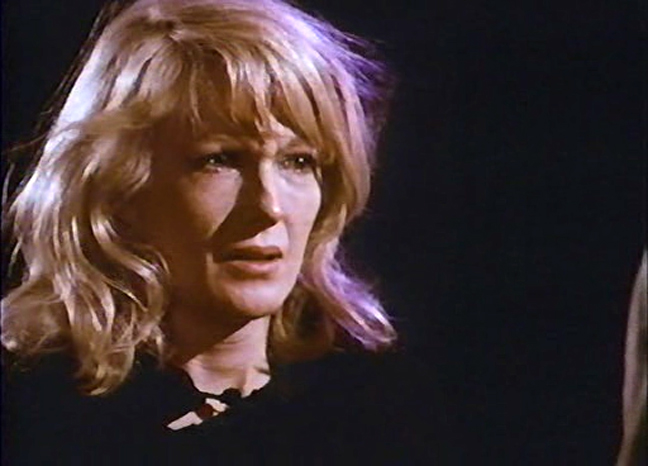 Marilyn Roberts in the film version of 'Futz' (1969)
It was in the stage version 'Futz' where Radley first spotted Marilyn: "I saw it when it first opened. For a brief moment, the play was a big deal, a counter-cultural moment that everyone wanted to experience. It was a surreal play, and somewhat emblematic of the strange theater that was being staged in the late 1960s.
"I was looking for a unique type. She had to be an older version of Mary Mendum, because I wanted them to be mirror images of each other – one submissive, one dominant. I wanted them both to be icy blondes, somewhat Hitchcockian. But whereas the younger version had to be an ingenue, I wanted the older actress to be cruel and manipulative. Marilyn was perfect for that – and she could act too. She had plenty of experience, in fact she was in The Mary Tyler Moore Show around the time our film was released."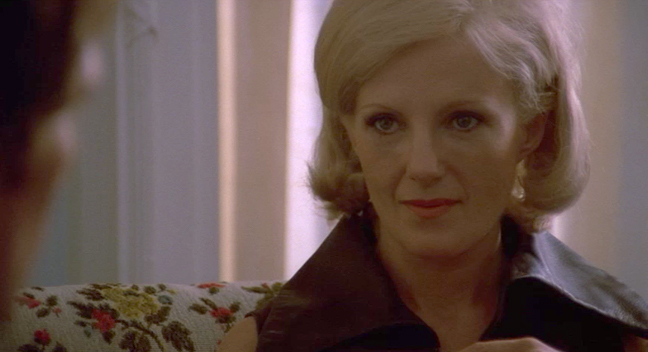 Marilyn Roberts, in 'The Image'
Marilyn was intrigued by the opportunity to work with Radley: "He was well known to me as a director of erotica. I had seen his film Therese and Isabelle (1968) – which I quite liked, so when he offered me the chance to travel to Paris, and star in a film that would be controversial, it appealed to my sense of adventure."
I told Marilyn that Radley saw a cruelty in her that he wanted for the part of Claire. Marilyn turned sharply towards me, eyebrows arched and mouth twisted like a minor league Cruella de Vil. She fixed me with a glare. Then she laughed. "That's not difficult for me to do," she said.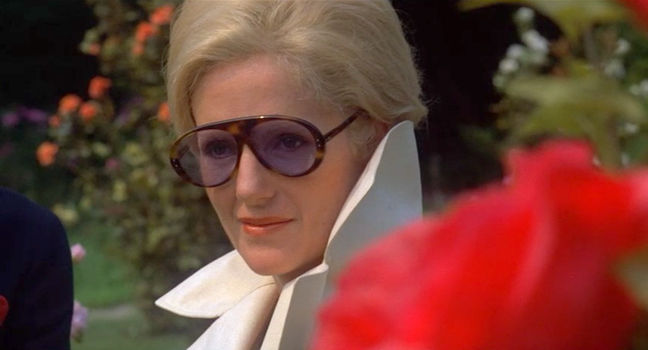 Marilyn Roberts, in 'The Image'
*
In 1973, Radley flew to Paris for the week's shoot with his three leads, Mary Mendum, Carl Parker, and Marilyn Roberts. They were accompanied by Radley's Audubon Film's partner, Ava Leighton, and his Afghan Hound Lady Sultana (aka L. Sultana). Lady Sultana was also given a walk on role.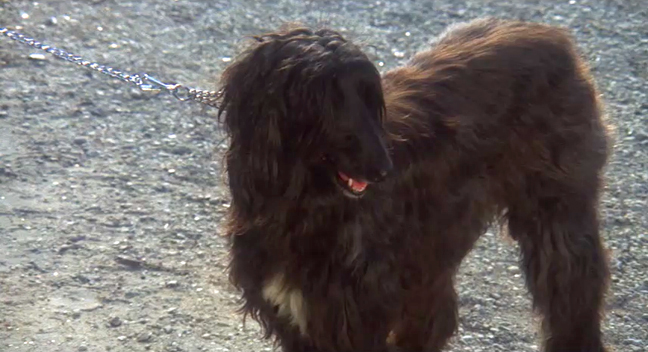 Lady Sultana
Radley also hired a local crew, including a cameraman, costume and makeup assistants, and a location manager. No soundman was necessary as he would record the dialogue back in New York.
Exteriors were not a problem. Radley knew Paris well, and had already selected a series of locations that showed some the city's most famous sites, such as the Eiffel Tower, Place Vendôme, Jardins du Trocadéro, and Place de la Concorde.
(For a view of the exteriors used in 'The Image', click here.)
Interiors presented a more difficult challenge however. In particular, there was the opulent house that hosts an elegant soirée where the opening scene of the film takes place. Radley wanted to use a showpiece location: he liked the idea of using mansion that overlooked an iconic location, as it would root the narrative in Paris, and provide an appropriate sense of elegance and grandeur. Ideally, it would be a residence with a large balcony where the party guests could mix overlooking Paris.
His preferred location for the scene was the Hôtel de la Marine, a historic building that dated back to 1757 and was being used for senior members of the French Navy. It had a large function room that opened out onto an elegant terrace giving impressive views of the Place de la Concorde below.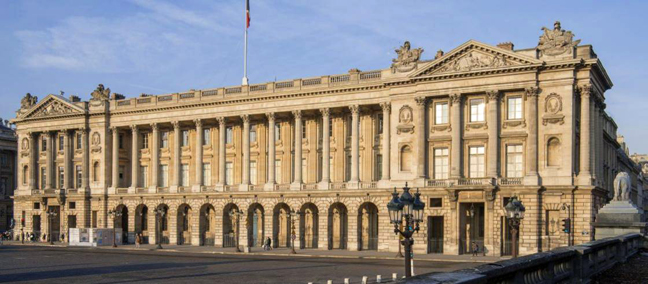 Hôtel de la Marine
There were two problems with this idea. Firstly, it would be expensive, not to mention difficult to hire out. Whatever funds Marty Richards had raised, it probably wouldn't stretch to a ceremonial French government building.
Secondly, Radley had to populate the party scene with over 30 local extras, all dressed elegantly, mingling with each other and wandering on to the terrace. It would be problematic to gain access to the Navy-owned palace for such a large group.
Ever resourceful, Radley came up with a unique and ingenious solution. He decided to film the interior party scenes at a still-to-be-determined location back in New York which he could rent out for much less money than the Hôtel de la Marine. In order to create the illusion that the New York location was actually Paris, he just needed to find a balcony overlooking the Place de la Concorde. And Radley had the perfect balcony in mind.
Actually, it wasn't really a balcony – and he didn't need to rent out a building either. He found an adjacent park that was surrounded by a low wall. By lining up the extras next to the wall, and matching the scenes to what he'd shoot in New York, he could create the impression that people were wandering out of the (New York) party and onto the (Parisian) balcony. And he wouldn't have to pay anything for the French location.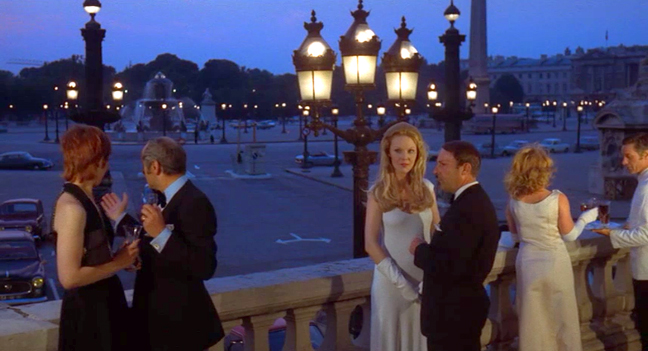 The 'balcony' scene from 'The Image'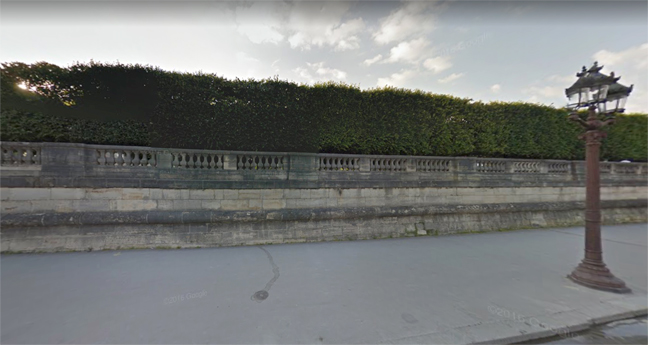 The 'balcony' used by Radley, now with a hedge where the actors stood. The same lamp post can be seen in both pictures.
With the approach devised, Radley just had to find a suitable mansion in New York to film the interior party scenes.
*
In the end, Radley found a New York house location that served as the interior for more than just the Parisian party scenes overlooking the Place de la Concorde.
It also served as the woman's lingerie boutique. It doubled as a chic red-walled brasserie. It was Claire's elegant town house where she entertains Jean and Anne. And it was a dungeon where the three leads' sadomasochistic games play out. Altogether, the production crew would spend five days in the New York house.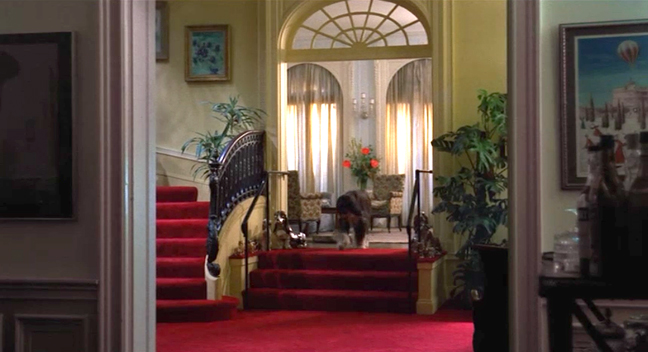 "The building belonged to the notorious attorney, Roy Cohn," Radley explained. "It was at 39th East 68th St. I believe it was Marty Richards who secured it for us. He'd probably crossed paths with Roy at some point. They were both gay men – although both were keen to hide that fact to differing degrees."
"The place was perfect for us. I only lived a few streets away, and we had free run of the house, which was strange given that there were some attorneys who worked there."
What was the house like?
"It was beautiful; we didn't need to change anything. One detail stuck with me though. Cohn had a lot of impressive artwork by famous artists hanging on the walls. It was like a gallery. But he seemed more attached to the hundreds of stuffed and ceramic animals that he kept in his bedroom. I included a few of them in the footage we shot."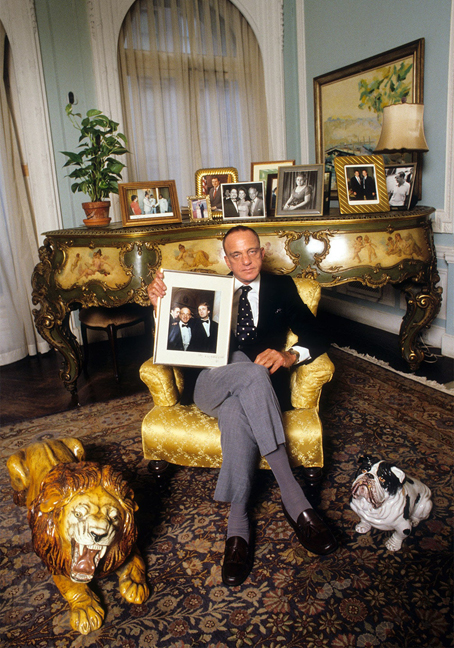 Roy Cohn, next to his ornately decorated piano, and ceramic bulldog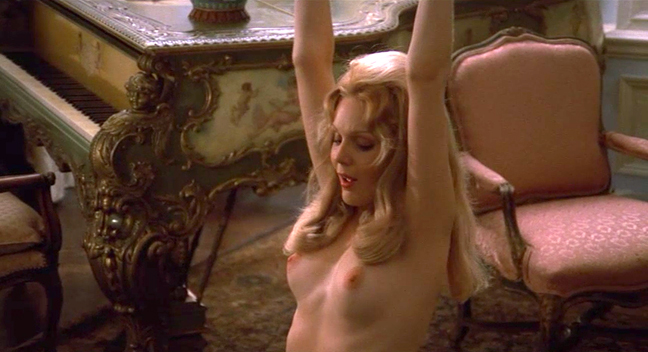 Mary Mendum, next to Roy's piano, in 'The Image'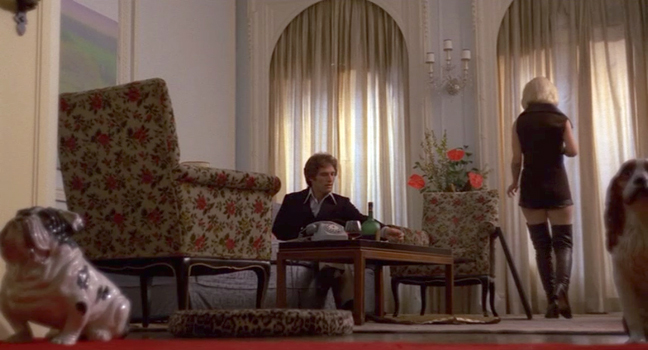 Cameo appearance from Roy Cohn's ceramic bulldog in 'The Image' (left)
Did you run into Roy Cohn at all during the shoot?
"Once or twice. I tried to avoid him. I knew enough about him and his terrible reputation to know that I wanted to stay as far away from him as possible. He was a criminal with ties to the mob, so I didn't want to cross him. But then someone in the media found out that we were filming in his house…"
The story gained traction in the press largely because of Roy Cohn's recent rabble-rousing against Encounter.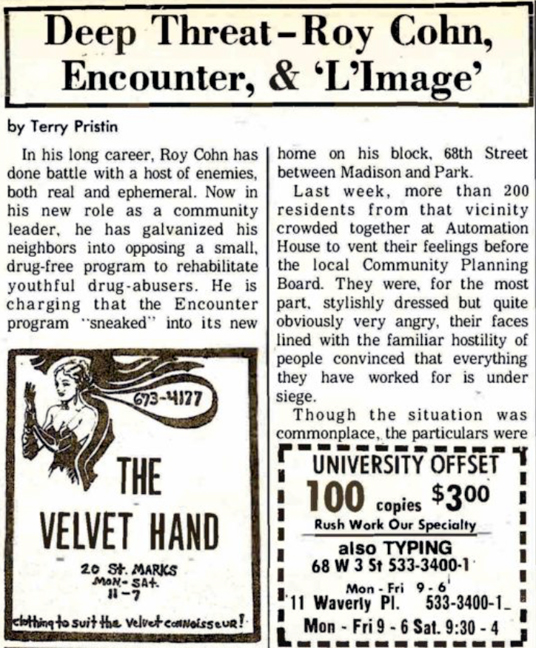 'Roy Cohn, Encounter, and L'Image' – Village Voice, March 28th, 1974:
"(It was alleged) that Encounter teenagers use obscene language, but if obscenities truly bother Encounter's new neighbors, one wonders how they will react to the news that last summer Audubon Films shot part of an erotic movie at 39 East 68th Street, the building in which Cohn lives and works."
Were you worried when the story broke?
"We were all worried. I knew Roy would be angry that this would affect him, and I was concerned that Roy would react against us. That was how he operated. He would destroy everything in sight using scorched earth tactics. I feared he would shut my film down and prevent its release just to minimize the attention to him. I also had fears that he would come after me and my company."
How did you react to the story?
"I had a publicist company on retainer called Solter, Sabinson, and Roskin. They were a big deal, representing people like Frank Sinatra, Barbra Streisand, and Mae West… and Audubon Films. This time however they messed up. Sheldon Roskin was one of the partners, and he ignored the fact that we were dealing with Roy Cohn. Sheldon thought all publicity was good publicity, so he immediately came out and confirmed the story to the press.
"What happened next was a comedy of denials: Roy Cohn issued a statement saying that he didn't own the building. He said it was owned by an unconnected company called '39 East 68th Street Corporation', and that he and his law firm were just tenants. Not even shareholders in the Corporation. Roy said that they knew nothing of the film that we were making there. And of course, he threatened anyone who suggested otherwise."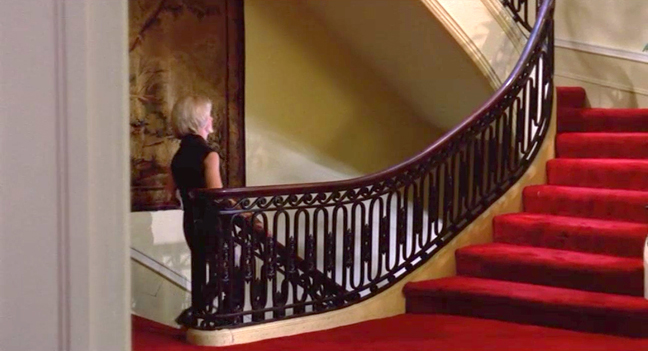 Were your fears about Roy Cohn justified?
"We received a few phone calls threatening us with dire consequences if we released the film."
From Roy Cohn himself?
"Oh no. Nothing that could be linked back to him. Mob-type threats. Accusing us of being the scum of the earth. But it was clear that it was related to us shooting in Roy's house."
What did you do?
"I got Sheldon to issue another statement denying that we were involved."
How did that work when he'd already issued a statement confirming you used Roy's house?
"He just said he was mistaken. Actually, I think he tried to deny he'd ever made the previous statement…"
Did you get assistance from your producer?
"I remember Marty Richards had disappeared and was no assistance. It seemed as if everyone was afraid of being associated with the story. Partly because it involved Roy Cohn, and partly because of the stigma of a sex film. But then we had another problem: some of the film crew I hired gave statements to the Village Voice confirming the story."
'Roy Cohn, Encounter, and L'Image' – Village Voice, March 28th, 1974:
"Further corroboration was provided by three crew members — lightning man Joe Rivers described the film as a "hoopy-scoop," or very low-budget operation, and he and production manager Don Newman said that a small room at the rear of the ground floor was transformed into a dressing cubicle of a lingerie shop as a setting for a lesbian sex scene. Both maintained that more shooting, which they did not witness, was going on elsewhere in the house."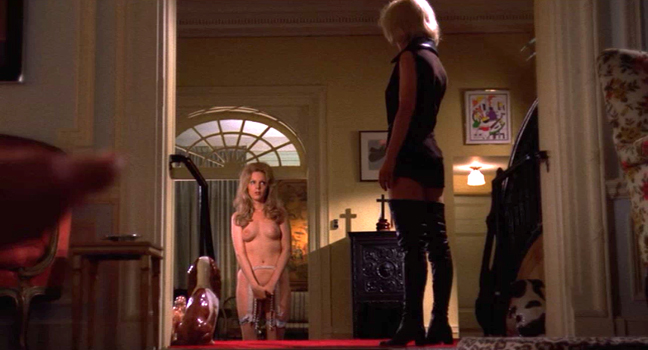 Eventually the storm passed, but however many denials were issued, Roy Cohn – and his case against Encounter – were tarnished by the news of the hardcore sex shoot at his home. Two of the plaintiffs withdrew their names from the case. "I'm getting close to these kids," explained one of them. "I can't have them in my room, play records, and watch tv with them while my name is on an injunction. That's very hypocritical."
*
If sex was the problem, how hardcore was 'The Image'?
Talk to anyone involved in the production of the film, and the subject of its sexual content comes up quickly. More precisely, whether it was actually explicit or not. That might seem strange when all the evidence is on the screen, so perhaps this says more about the era when it was made.
'The Image' was shot in the summer of 1973, just twelve months after the release of the ground-breaking Deep Throat (1972) which spawned a 'porno chic' period, the short-lived time when pornographic films experienced positive attention from mainstream cinemas, movie critics, and the general public.
Radley was in no doubt that he wanted 'The Image' to contain un-simulated sexual scenes. It would be the first time that he had filmed explicit sex after a decade-plus career of making softcore films. It would also be the first time that any of the three actors had been involved in such scenes.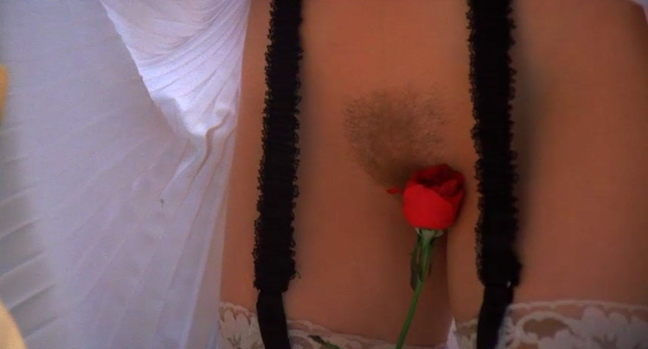 But talk to the principal actors, and an unexpected pattern emerges.
Take Mary Mendum. Throughout my conversations with her, she maintained that she had never had sex on camera. There had been sexual scenes, nudity, and plenty of "love scenes" she said, but nothing that could be described as actually having sex. She declined my offer to show her scenes from any of her movies, and expressed a preference for me not to send her copies.
Carl Parker, on the other hand, was definitely interested in the two films he made for Radley, and said that if I sent him copies, he'd be happy to view them and see what memories they triggered. A couple of months later, I had the chance to visit him in upstate New York. I asked him about 'The Image'. Had it reignited any memories? Any long-forgotten moments?
Carl leant over conspiratorially. "That wasn't me in the sex scenes," he said firmly. "It just wasn't me."
"I remember auditioning for The Image in New York. I remember shooting the interiors in Roy Cohn's town house. And I remember the female lead (Mary Mendum). Blonde, attractive. Everyone was a Barbie doll, selling themselves in their own way.
"But the S&M scenes, the bondage and whipping, and the sex… that wasn't me. He cut my head off and put it on another body. I never heard that he was going to do that. This is the first time I've seen it. I looked at the films you sent me in disbelief. It was amazing to see these situations that I never did. It's unbelievable…"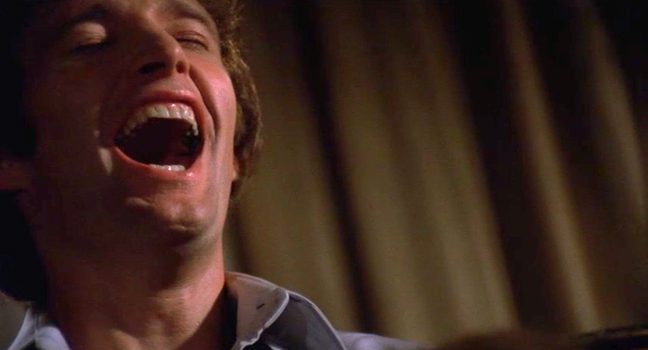 I expressed a degree of skepticism at the idea.
Carl said: "I know. I've been thinking about it every day since you sent me the films. These things happen, I guess. But it wasn't me. No way."
He was reluctant to continue talking about the films, so I dropped the subject.
And then there was Marilyn Roberts.
She described the decision to appear in 'The Image': "I was older than Mary by 15 years or more. I think I was in my mid 30s when I auditioned for the part. Of course, I knew that the film was of a sexual nature, but I made it clear that I wouldn't take part in any actual sex scenes. And I didn't."
I offered to bring Marilyn a copy of 'The Image' so that we could watch it together, and she agreed readily. Sadly, the pandemic lockdown occurred shortly afterwards, and we didn't get the chance.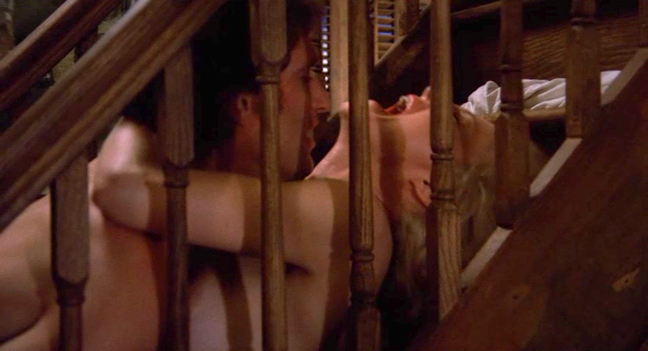 Speaking to each of the lead actors in person and hearing their denials was strange. Re-watching 'The Image', it's clear that the memories of each of the leads are inaccurate. Inserts have long been part of adult films to create the impression that someone is actually having sex when in fact someone else's body parts are being shown. But in this case, it is clear that each of them are taking part. Radley confirmed this: "I had to persuade each of the three leads to perform sexual acts. Unsimulated. This was still unusual at the time."
And yet, there was little defensiveness in the actors' denials. They believed in what they were saying to me. In Carl Parker's case, confronted with images of his younger self from over 40 years ago, he had no explanation for what he saw on the screen. He had no memory of it. He belonged to a generation that had not grown up with explicit films. His only option is to assume it wasn't him.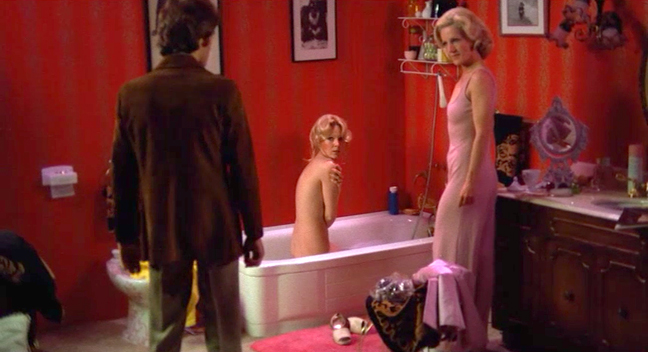 *
'The Image' may have been shot in 1973, but it wasn't released until 1975.
Radley remembers: "In the middle of shooting, the Supreme Court came down saying that you couldn't shoot erotic movies. We were nervous because this was a film that was dealing with subject matter far more controversial than the typical erotic film. Nothing came from the decision, but we were held up. It took a little longer than the other films. In the meantime, we shot The Private Afternoons of Pamela Mann. We had to come back and finish The Image."
The delay to the film meant that the money invested by Marty Richards was tied up for several years with no return. This created tensions between the filmmaker and his producer, heightened by Marty's single-minded focus to raise funds for the musical 'Chicago.'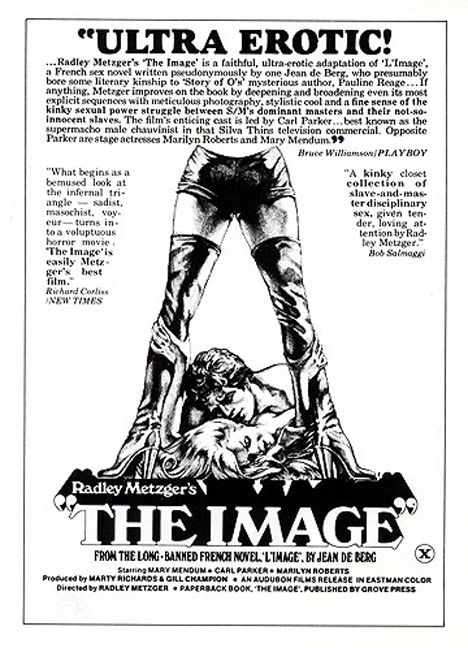 Once released, 'The Image' was a commercial success, though it received a mixed reception, with many reviewers admiring the production values but finding the sadomasochistic subject matter too strong for their tastes. A typical comment ran: "The Image has received a classy production, but its material is decidedly rough – too rough for many tastes, including mine."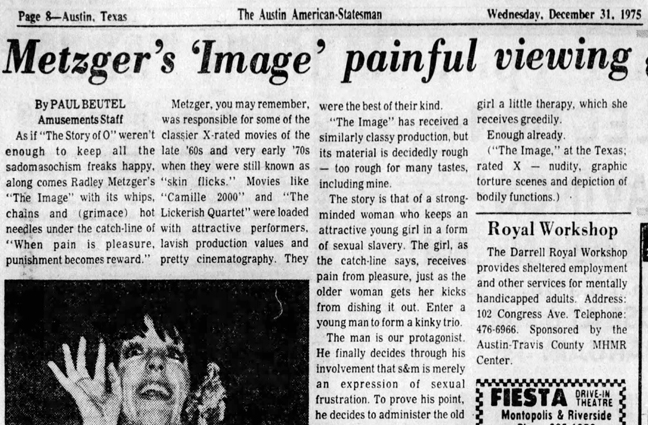 The timing of the release of 'The Image' suffered for another reason, as Radley Metzger remembered: "Between our acquisition of the book rights and the making of the film, The Story of O (1975) was released. It was very successful at the box office. It was good, had similar themes, but it was a softer, more genteel story – maybe more palatable to a mainstream audience. I preferred our film, but it suffered from being released at the same time.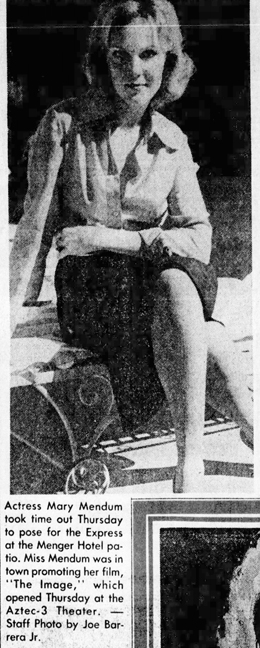 "But the success of 'The Story of O' had another consequence. Alain Robbe-Grillet, the husband of Jean de Berg, sensed he could make some money. He had a big reputation as a novelist and director so he was able to halt the film version from being released in France. We contacted him, and he asked us for more money. We had a robust contract.
"I really didn't appreciate the pressure, so I said, 'Fuck You.'"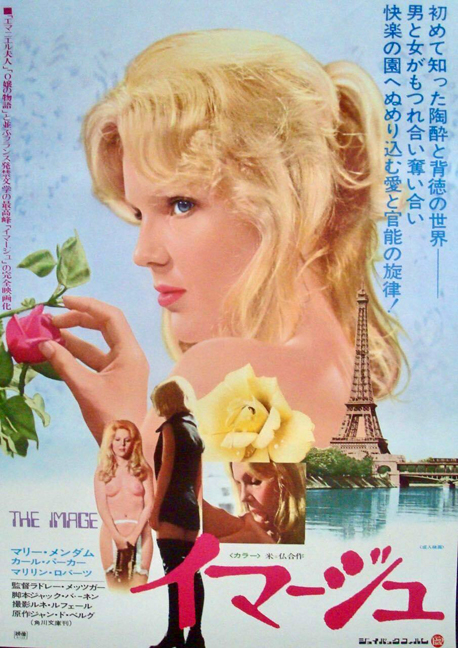 *
The experience of making 'The Image' affected Radley Metzger for the rest of his career.
It had taken several years to make, and had tied up the investor's money for too long. It had brought him into conflicts with Roy Cohn, Alain Robbe-Grillet, his producers – even his lead actress and then girlfriend, Mary Mendum.
The problem with Mary started when Radley became involved with a French production assistant during a trip to Paris. He'd known her for years, but this time their relationship became more serious. She became pregnant, and Radley felt compelled to marry her. When he returned to New York, Mary had cleaned out their apartment of both their belongings, and had left.
Mary remembered the end of the affair differently, citing abusive and manipulative behavior, and stories of serial sexual infidelity. Whatever the truth, her memories remained painful and the bitterness still sharp. Whatever the truth, they never saw each other again.
Chastened by the experience of 'The Image', Radley changed his name to 'Henry Paris' for the purpose of the next five adult films he made, before removing his name completely from three more hardcore films he made in the 1980s.
As for Mary, her acting career petered out by 1977. By then, she'd appeared in a handful more sex films – many of them using the pseudonym 'Rebecca Brooke' – several for director Joe Sarno, including Confessions of a Young American Housewife (1974), Abigail Lesley is Back in Town (1975), and Laura's Toys (1975). But the promise of more theater roles or more mainstream movies failed to materialize. Whether it was the stigma of being involved in sex films, or just a surplus of younger talent in New York, she had to admit her dreams of stardom were over.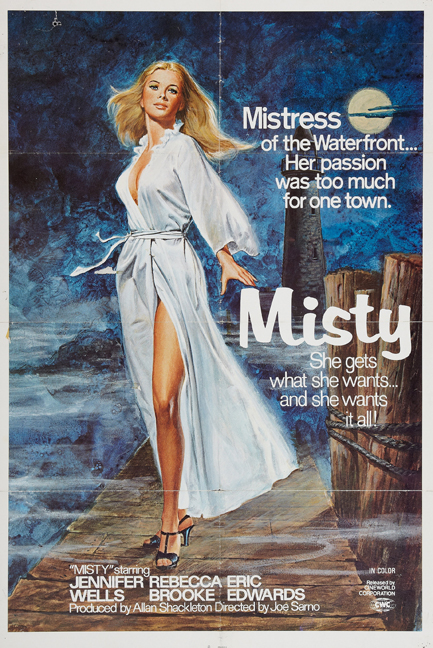 Mary, as 'Rebecca Brooke', in Joe Sarno's Misty (1976)
"I was sad in some ways," she said, "because I enjoyed the acting. I didn't care about being a star, but I loved the theater and would have liked to have continued doing that for many years."
Mary reserved special praise for Joe Sarno and his wife Peggy, with whom she socialized regularly back in the 1970s. She regretted having lost touch with them, and was excited about the prospect of me connecting them again.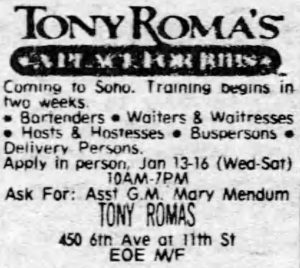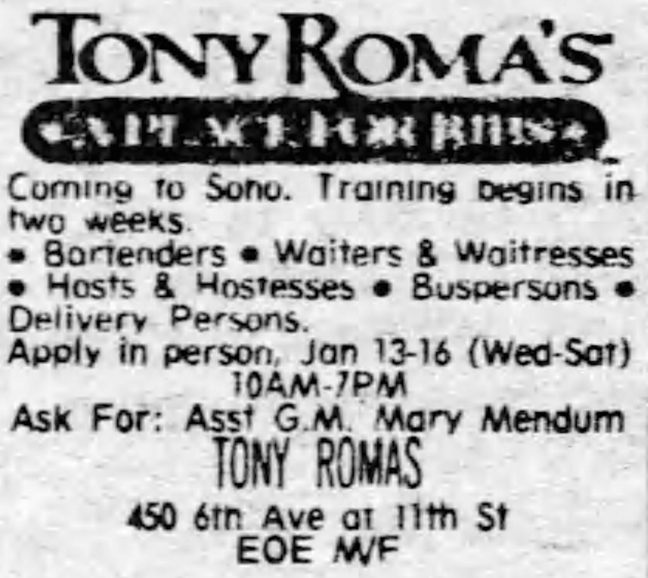 After acting in the 1970s, Mary's life, in her own words, "drifted and floated." She got married, owned and ran a restaurant in Memphis, Tennessee, got divorced, and worked in a series of jobs in the service industry. By the late 1980s, she was an assistant General Manager at the steak house chain, Tony Roma's, in Manhattan. The same newspapers that had once speculated about her romantic entanglements, now carried her ads for bartenders and waiters. She then moved to Georgia and Missouri, before settling in south Florida. Her final job before retiring ended when she was accused of theft at the beach resort where she worked.
Mary died of an accidental drowning due to a fall on July 17, 2012 in Boca Raton, Florida.
*
Mary never crossed paths with her co-stars in 'The Image' after the filming ended.
Marilyn Roberts passed in January 2021. Because of the Covid lockdown, I never got the chance to watch 'The Image' with her. Her generosity and stories of her life in the counter-cultural heyday of New York theater will be missed.
Carl Parker still lives in upstate New York, an entertaining firebrand, a piss and vinegar socialist, and cheery eccentric.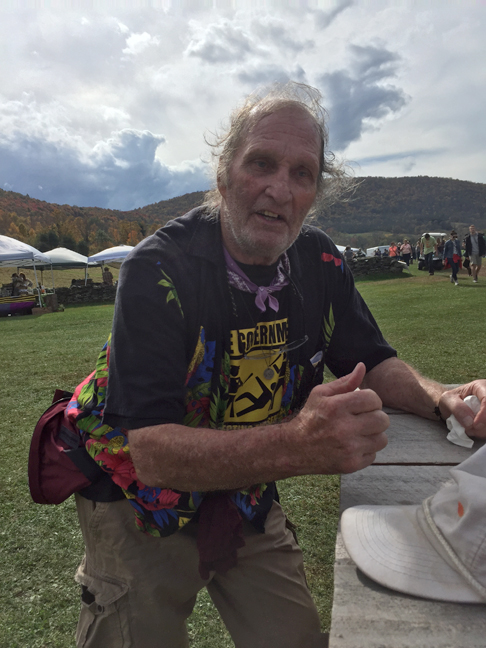 Carl Parker, 2017
*
Roy Cohn and Marty Richards' lives after 'The Image' were both colorful, though in different ways.
Cohn continued his fight against Encounter for several years, but in truth he had bigger fish to fry. Over the next decade, Cohn cultivated his eclectic group of clients, but two stood out head-and-shoulders above the rest: Donald Trump and Rupert Murdoch. Indeed, Cohn is credited with introducing the two, and cementing their alliance that would shape the U.S., and the rest of the world, for many years to come.
It was Cohn who defended Trump on charges that he'd racially discriminated against African Americans for apartments that Trump's corporation managed. (Cohn's response: he filed a countersuit against the government for $100 million, asserting that the charges were "irresponsible and baseless.") It was Cohn who allegedly assisted the construction of Trump Tower by involving the mob. (Cohn's response: he had nothing to do with the property and would sue anyone who suggested otherwise.) And it was Cohn who repeatedly pressured President Ronald Reagan to further Murdoch's interests in developing a more politicized and expansive media empire.
All this game-changing business was conducted in the same rooms where 'The Image' was filmed. "That townhouse was a workhorse," recalled Trump.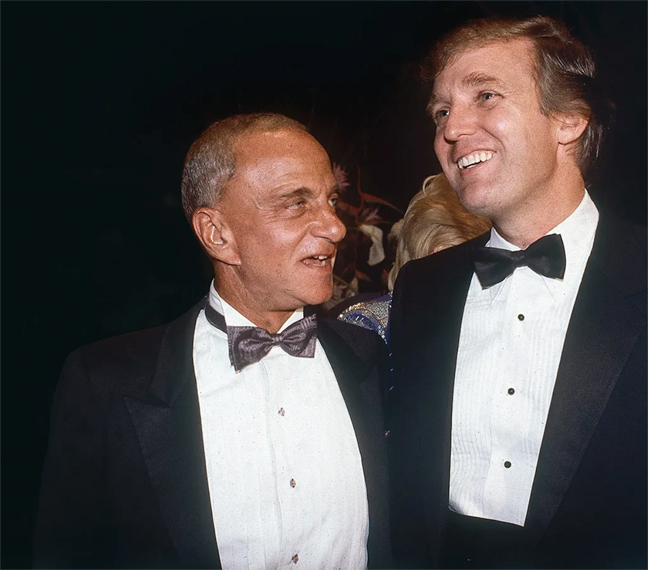 Roy Cohn, with a con man from Queens
The property also became the location for many parties, with celebrities like Andy Warhol and Estée Lauder regularly crowding in and spilling out. Cohn was the master of ceremonies at a Trump birthday party at Studio 54; years later, Trump returned the favor with a birthday toast of his own at a party in the atrium of Trump Tower, joking that Mr. Cohn was more bark than bite. "I made Trump successful," Cohn would occasionally boast.
But by the 1980s, Cohn was living on borrowed time. He had AIDS – something he denied, even under interrogation by Mike Wallace on '60 Minutes', insisting instead that he had liver cancer. All the time, he was receiving priority experimental AIDS drug treatment, participating in clinical trials of AZT, a drug initially synthesized to treat cancer but later developed as the first anti-HIV agent. Cohn still insisted that he wasn't gay.
Roy Cohn died in August 1986, a few months after he'd been disbarred for "unethical," "unprofessional" and "particularly reprehensible" conduct. A memorial service was held in the town house on East 68th Street where he had continued to live and work until the end. His partner inherited the property, but the Internal Revenue Service, collecting on Cohn's tax debts, confiscated it shortly afterwards.
Upon his death, Cohn was remembered in different ways: one gay publication described him as 'The Most Evil, Self-Loathing Closet Case In History.' Donald Trump on the other hand kept Cohn's photograph in his desk, ostensibly to intimidate potential litigants with Cohn's well-earned reputation for trying to destroy opponents by any means necessary.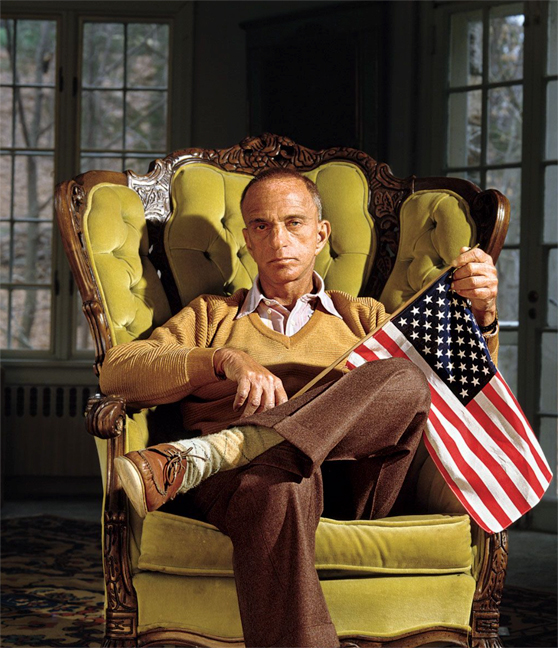 Roy Cohn, reminiscing about the golden age of adult film
Marty Richards' had a more uplifting life. All the hard work he engaged in to produce Chicago on Broadway while producing 'The Image' paid off when the musical opened in the same year as Radley's film. The show went on to be nominated for ten Tony Awards.
As a successful Broadway producer, Richards' subsequent productions of 'Sweeney Todd', 'La Cage aux Folles' and 'The Will Rogers Follies' went on to win Tonys for Best Musical, and in total, his shows won more than 40 Tony Awards. He also had a short but stellar post-'The Image' film producing career which included 'The Boys From Brazil (1978), 'The Shining (1980), and Fort Apache the Bronx (1981). In 2003, he took home the 2003 Academy Award for Best Picture for the film adaptation of Chicago.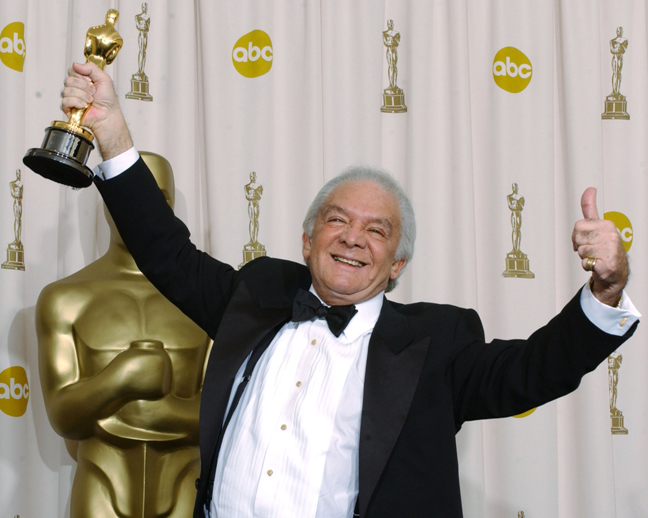 Despite Marty being gay, he married the Johnson & Johnson heiress and producer Mary Lea Johnson. Johnson predeceased him, in 1990, leaving Richards a $50 million fortune. Before she passed, her family had waged a 12-year court battle seeking to render Richard's ineligible for a share of the Johnson & Johnson fortune. No luck: the court ruled in favor of Marty.
Marty died from liver cancer at his home in Manhattan on November 26, 2012, at age 80. The marquees of Broadway theatres were dimmed in his memory the following night.
Unsurprisingly, there was no mention of 'The Image' in any obituary of Marty, and even today, most records do not link Marty Richards to the film.
*
Radley remained proud of 'The Image'.
"'The Image' did well for us," he said. "It wasn't the biggest success of my career, but it made good money for Audubon and the producers. With hindsight, I think I probably made it too soon: the U.S. in particular wasn't ready for a film tackling this subject in such a direct way.
"But over the years, it's one of my films that seems to have grown in reputation rather than fade away. For many years, it was unavailable, and didn't get wide distribution on video. Then I noticed it started to re-emerge and be re-appraised. I received more people contacting me wanting to talk about it.
"Perhaps it's just a tale that appeals to modern audiences. I sometimes wonder how it would have been received if I had made it today."
In 2015, two years before Radley passed, he finally met 'Jean de Berg' in New York. Catherine Robbe-Grillet flew to the U.S. where she made a rare speaking appearance in New York, in an event held by the French Institute Alliance Française (FIAF).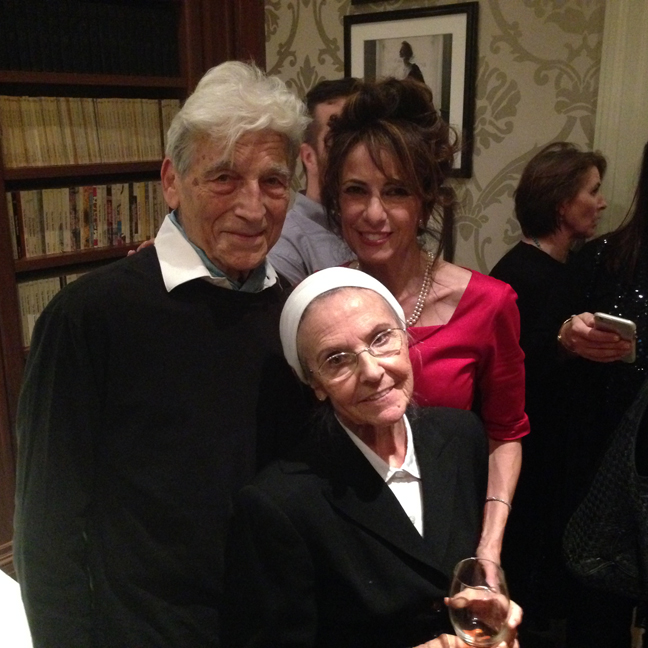 Radley Metzger and Jean de Berg, with writer Toni Bentley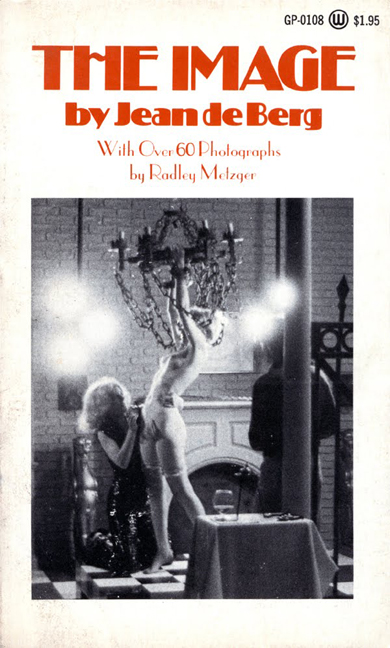 'The Image': written by Jean de Berg, photographed by Radley Metzger
After her husband Alain died in 2008, Robbe-Grillet had gained a second reputation as 'France's most famous dominatrix' – and a documentary had been made about her that was being shown as part of the Alliance's 'Art of Sex And Seduction' series.
I took Radley along to the after-party where he was introduced to the authoress. At first, they were shy in each other's presence. But later in the evening, I found them huddled quietly in the corner, whispering dark secrets into the night.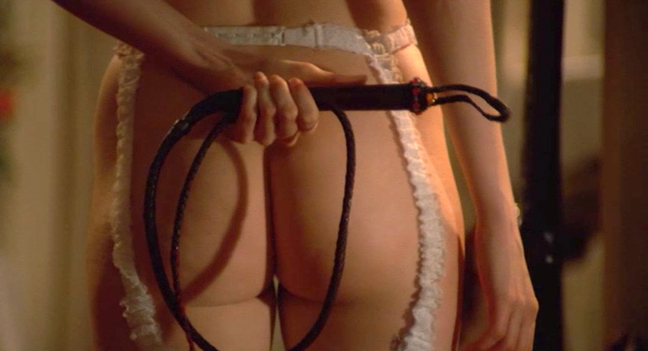 *