Crossover success: The ability to go from porn stardom and achieve acclaim in the mainstream world.
This was the mythical desire of countless golden age adult film performers. But the stigma of having appeared in front of the camera in a sex film production invariably meant that such aspirations were doomed from the outset. Rather than bolster their prospects, participation in a sex film ruined any chance they might have had to make it in the regular film industry. The exceptions are rare – with perhaps Andrea True's brief success as a disco diva in the 1970s the most notable example.
But what about Claire Wilbur? Just a few years after Claire appeared nude on stage in two theatrical productions, and barely a year after she starred in Radley Metzger's sexploitation film Score – a movie brimming with nudity and sexual content – Claire Wilbur was on stage in Los Angeles receiving an Oscar at the Academy Awards.
How did she succeed where so many other adult industry participants had failed? What led her to appear in sex films to begin with, and what did she do after winning the highest honor in film?
This is Claire Wilbur's story.
Many thanks to John Janetatos, Jerry Douglas, Radley Metzger, Robin Lehman, and Victor Desjardins for their memories of Claire.
_______________________________________________________________________________________________
In 1974, Radley Metzger traveled to western Croatia to shoot the film Score. Based on the off-Broadway stage play written by Jerry Douglas, 'Score' told the story of a bisexual married couple – Jack and Elvira – who seduce and sexually liberate young newlyweds, Eddie and Betsy.
As always, Radley preferred to cast performers he hadn't worked with before. Gerald Grant, an actor with bit parts in films like In Harm's Way (1965), Love Story (1970), and Bananas (1971), starred as Jack. There was Cal Culver in the role of Eddie, who'd appeared in the seminal gay film Boys in the Sand (1971) under the name Casey Donovan. Lynn Lowry, an actress and model who'd worked as a Playboy Bunny, played Betsy.
And then there was Claire Wilbur as Elvira, a role she'd played off-Broadway in Jerry Douglas' stage production of 'Score' in 1970. Claire seemed perfectly cast in the part. The character of Elvira is confident, composed – at times haughty, but always elegant. Claire carried the role with ease, as if born for it. But when asked about Claire and what she brought to the role, Radley was tight-lipped – even more so than normal for a man who could be parsimonious with details.
Since the, information about Claire has been in short supply. Her only other film role was in Teenage Hitchhikers (1974), a sexploitation film in which she again played a predatory older woman with a penchant for young ladies.
And then in 1976, she won the Oscar for Best Short Documentary, achieving the mainstream success many adult industry performers longed for but found elusive.
So what brought Claire Wilbur to the stage and screen? And what happened to her once she put the world of entertainment behind her?
*
Beginnings
Claire Wilbur was born Claire June Janetatos in Moosup, Connecticut on June 8, 1933. The Moosup that Claire was born into was a small town dealing with the aftermath of the Great Depression and the prospect of a world war. The textile mills the area had long depended on for their prosperity began to close down. What had once been a booming industrial zone that drew immigrants with promises of work and a better life was now an area in crisis.
Claire's father Peter Janetatos – born in the coastal town of Kalamata, Greece – had been one of the first generation of immigrants drawn to the area. Peter met Claire's mother – Estelle Grocki, from Western Massachusetts – and the two worked together in the food industry, eventually setting up a business together, Highway Restaurant Inc., soon after Claire's birth. Money was in short supply so it was an impoverished upbringing for Claire, one that included time spent in foster care when her parents divorced in the early 1940s.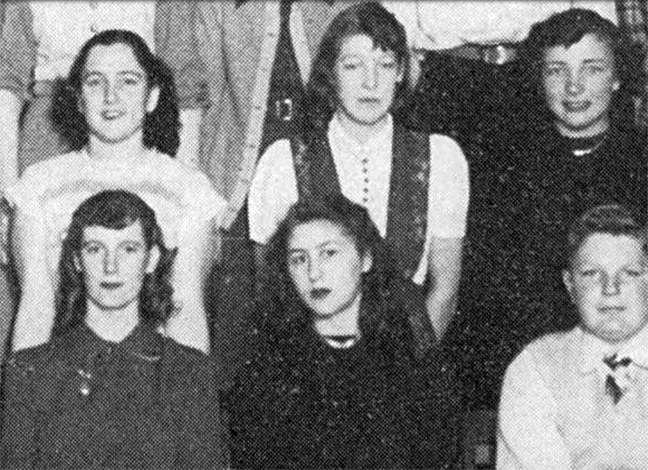 Claire Wilbur, née Janetatos, bottom middle, age 16
But Claire was determined to make the best of it, taking an active part in school life at Plainfield High School. She was on the student council, and she was president of the Future Homemakers of America, attending the association's national leadership conference in 1950. She was assistant editor of the Hermiad, Plainfield High School's yearbook. And she was an active member of the Dramatic Club, featuring in school productions of 'A Date with Judy,' 'The Christmas Carol,' and 'He Couldn't Marry Five.'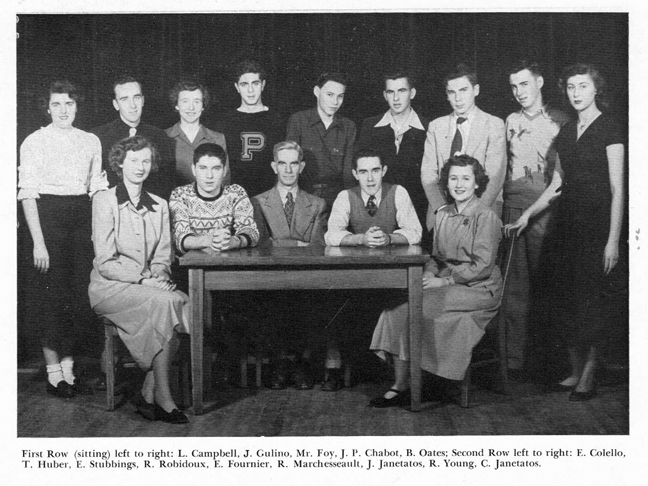 Claire Wilbur, née Janetatos, top right, with the Plainfield High School student council of 1950
Victor Desjardins, a classmate at Plainfield High School, remembers Claire well – not because they were close friends, but because of Claire's striking good looks and the way she always seemed to hold herself apart from others. While most students at Plainfield would cluster in the halls, where groups of boys and girls would playfully tease each other, Claire would walk alone with her shoulders back and her head high, a posture that made it seem as if she was acting a part. Victor describes Claire as always "well put together" – and that's saying something for a time when all the girls were trying to look their best and the fact that Claire's family did not have money to spend on fancy clothes and shoes. When Victor acted with Claire in a school play, she continued to keep to herself, avoiding the camaraderie of the student theater crowd. And she kept herself apart from others in her own neighborhood as well.
When Claire's mother remarried, she and her new husband moved the family to the same Union Street in Moosup where Victor lived. Victor describes it as a poor but lively neighborhood, filled with small houses in close proximity that had been built decades earlier for the mill workers. While other kids stayed out on the street, playing and socializing, Claire and her brother never hung out with the locals. Victor wasn't sure what was happening in Claire's household – he just knew that her family was different.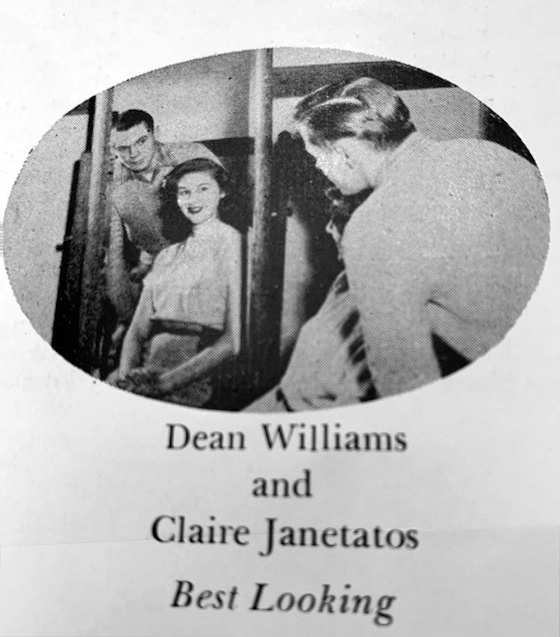 Claire Wilbur, née Janetatos, in the Plainfield High School 1951 yearbook
Upon graduating from high school, Claire left for New York City with a steely sense of independence and dreams of Broadway. She took an office job with the Vicks Corporation to pay the bills before returning home to study at the University of Connecticut. Later in life, Claire would claim that she worked her way through college running a pool hall and an answering service for bookmakers.
After college, Claire was back in New York to continue her acting education with programs at the Stella Adler Theatre Studio, Charles Kebbe Workshop (for television commercial technique), Bob Seed Studio (for movement and gymnastics), and with Elizabeth Parish (for Shakespeare).
As Claire honed her craft in the classroom, she regularly auditioned for parts that would expand her acting experience. She had a good degree of success with a number of small companies, and her stock and dinner theater appearances included 'Blithe Spirit,' 'Hedda Gabler,' 'Accent on Youth,' 'Flowers in the Garden,' 'Who's Afraid of Virginia Woolf,' 'The Trojan Women,' and 'Barefoot in the Park.' She was also in off-off Broadway productions of 'Reunion of Sorts,' 'Island Surrounded by Sketches,' 'Four on the Couch,' and 'No Exit.'
But the theater scene in New York was changing dramatically in the late 1960s, reflecting the hippie counterculture and sexual revolution of the times. Plays like Hair!, which debuted in 1967, and Oh! Calcutta!, which opened in 1969, now contained profanity, illegal drugs, irreverent humor – and nudity. Lots of it. Suddenly Claire was auditioning for plays that were far removed than anything she'd learned about in acting school.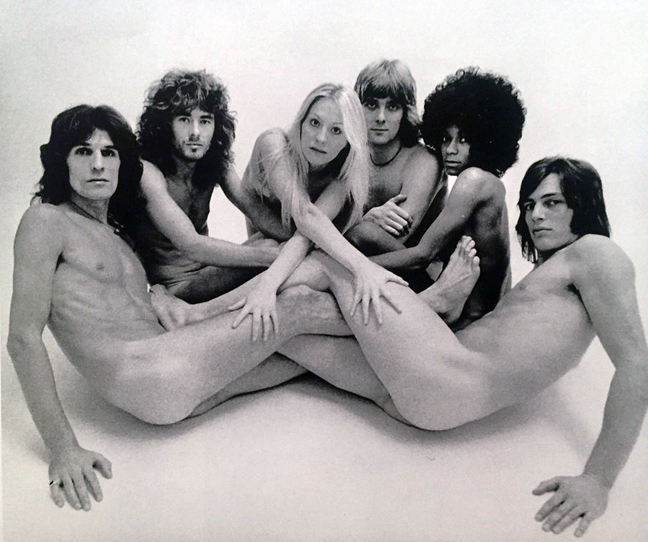 The cast of Oh! Calcutta!
Claire knew that she'd have more opportunities if she shed her inhibitions, and so in 1969/70, she made her off-Broadway debut in a production of 'Dark of the Moon'. The drama-fantasy described as a story about "mountain witchcraft," first staged on Broadway in 1945, was being revived with what The New York Times called "an omnipresent cluster of male and female witches, who wear nothing at all." Among the nude thespians was Claire Wilbur in the role of the Fair Witch.
Her acting efforts earned Claire entree into the SAG-AFTRA and AEA actors unions. This in turn led her to a contract with the Stephen Draper Agency, a reputable firm that represented notable actors such as Geraldine Page and Richard Kiley. She also taught a course in theater appreciation at New York Nassau's Community College.
As the 1970s dawned and she was approaching her 40th birthday, Claire was still finding her way as an actor in the theater capital of the world.
*
Score – The Play

Writer and director Jerry Douglas clearly remembers the first time he met Claire Wilbur. He was casting for his play 'Score', the story of a swinging couple keeping score of their sexual conquests.
Claire answered an ad placed in a local industry paper by Jerry's stage manager. It was a cold call, meaning Jerry had never seen Claire or her work before that day. Claire walked into the audition, exuding elegance and a confidence that edged on haughtiness. She was there to read for the role of Elvira, an arrogant married swinger who prides herself on her sexual prowess and appeal.
After that reading, Jerry knew he had found his Elvira. He credits her striking physicality and beauty, her sophisticated manner of dress, and her deep and seductive voice with winning her the part. He was also struck by the way she treated people at the audition – as if they were somehow below her, rather than equals. While that was Claire, it was also integral to the role of Elvira.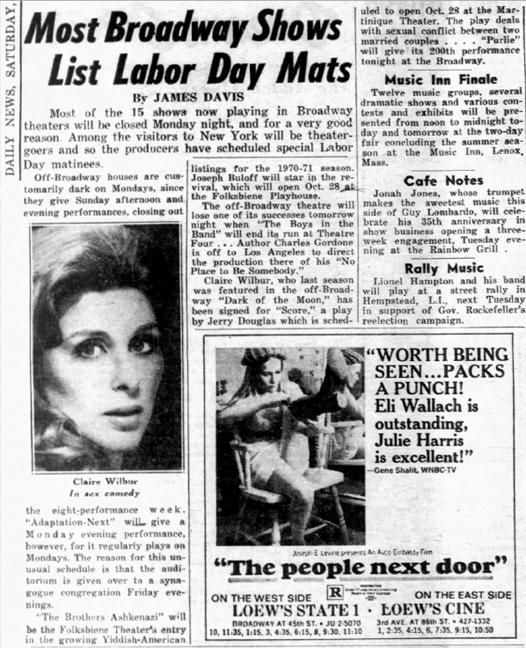 Claire's participation in Jerry Douglas' play 'Score' is announced
Another of the lead roles in 'Score' was given to an unsuccessful, jobbing film actor, credited as Sylvester E. Stallone. Stallone's acting resume' at the time consisted of a non-speaking background role in the Robert Redford sports drama, Downhill Racer (1969), and a starring role in the softcore pornography feature film The Party at Kitty and Stud's (1970). He'd only made the sex film because he was desperate for work ever since he'd become homeless after being evicted from his apartment. In his words, "it was either do that movie or rob someone, because I was at the end – the very end – of my rope". When Stallone was offered the part in 'Score', it was the chance to prove his acting ability in a new, edgy play that would attract plenty of media interest.
Once rehearsals began it quickly become clear to Jerry that Claire was a hard worker. She was also intelligent and had plenty of ideas, though Jerry admits she wasn't perhaps as clever as she thought she was. Oh, and she was argumentative: she wasn't shy in sharing her thoughts on what Jerry should change to improve the production. Their debates were heated but Jerry says that, for the most part, they were also healthy. Jerry was used to working with a lot of divas and Claire was far from the worst.
Claire was certainly self-protective and not afraid of advocating for herself. Most of 'Score''s second act was performed barefoot, and Claire was displeased with the way her dirty soles made her look. She insisted that the stage manager put towels down at every stage entrance so she could wipe down her feet before every scene. It was clear that Claire took her own image very seriously.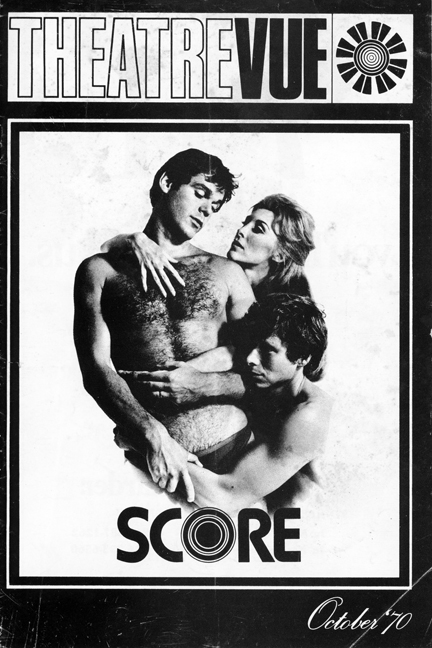 Playbill for Jerry Douglas' stage production of 'Score' at New York's Martinique Theater
The staging of 'Score' received scorching reviews from mainstream critics, most of whom focused on the nudity in the play. One Rockland Journal reporter called the show an "unsavory mess" with "some of the most inept dialogue since silent movies." New York magazine said it wished the play would have continued in previews and left critics to perform other chores.
Nearly all of the reviews focused on the nudity: when a reporter from the Daily News asked Claire why she took a part requiring her to be undressed, she responded, "None of us has achieved star status yet. Where else would we get to play a leading part?"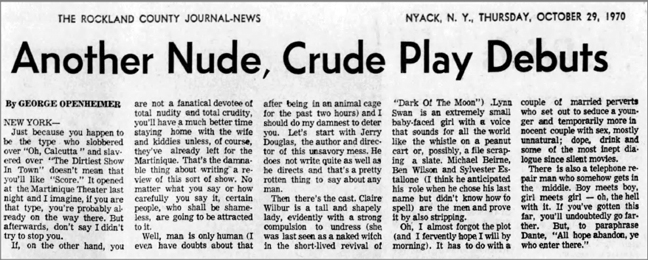 Review of Jerry Douglas' stage production of his play 'Score' (1970)
Claire's performance itself received mixed reviews. A critic in the Chronicle was impressed, writing "On the performance side, Claire Wilbur is astonishing to watch as Elvira, captivating the audience with a curious air of self-esteem." Another at radio station WRVR said, "Claire Wilbur as the wife Elvira moves around in an artificially languid manner wearing a deadpan expression much of the time." New York magazine stated that with better material Claire might be able to show some acting ability – but as for the current performance, all the reviewer could say was that she had the most beautiful breasts he'd seen in a long time.
The only actor to receive consistently positive reviews was Stallone. Variety wrote "The best performance is given by Sylvester E. Stallone as the comically lecherous, lower-middleclass repairman."
Score ran for 23 performances at the Martinique Theatre from October 28 to November 15, 1971.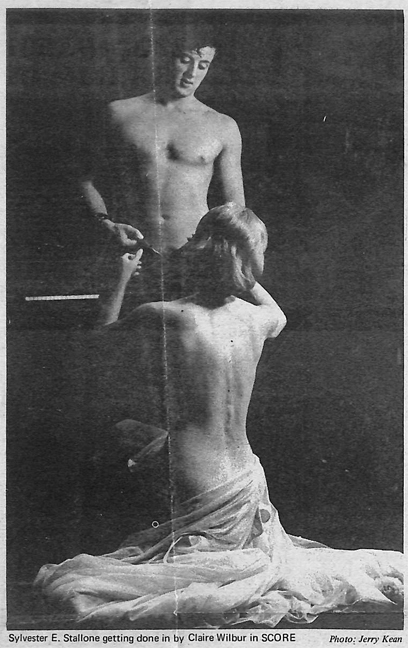 Claire Wilbur performs with future superstar Sly Stallone in the stage version of 'Score'
*
Score – The Movie
While not everyone loved Jerry Douglas' play, one person who was intrigued by the production was the film director, Radley Metzger. After reading a review in the New York Times, Radley went to see the show and immediately thought that it fit the profile of his production company, Audubon Films: namely it had a small cast in a single location and dealt with intersecting sexual relationships. The only thing that did not fit was the location: Radley planned to change the play's Queens, NY setting to a mythical country that would be represented by the Dalmatian Coast in Yugoslavia – an affordable way to capture the feel of the French Riviera.
Radley acquired the rights to Jerry's play and brought him on to write the screenplay. As part of the agreement, Jerry – who wanted to try his hand at making films – was invited to travel with the cast and crew to Yugoslavia and observe the process of filmmaking first-hand.
Radley also hired Claire Wilbur to revive her role as Elvira. Radley had been impressed with her stage performance and felt that the production would benefit from having a cast member already familiar with the work. When Radley met Claire for the first time, in addition to providing him with her acting resume, Claire took time to share some of her non-work interests with the director.
She was an ardent student of astrology, she said, claiming that her teacher was among her heroes. She studied graphology, the analysis of handwriting to identify a writer's personality characteristics, and parapsychology, the world of psychic phenomena and other paranormal claims. She was a practicing vegetarian and Buddhist. And she was a devoted fan of Eleonora Duse, the renowned Italian stage actress considered by some to be the greatest performer of her day.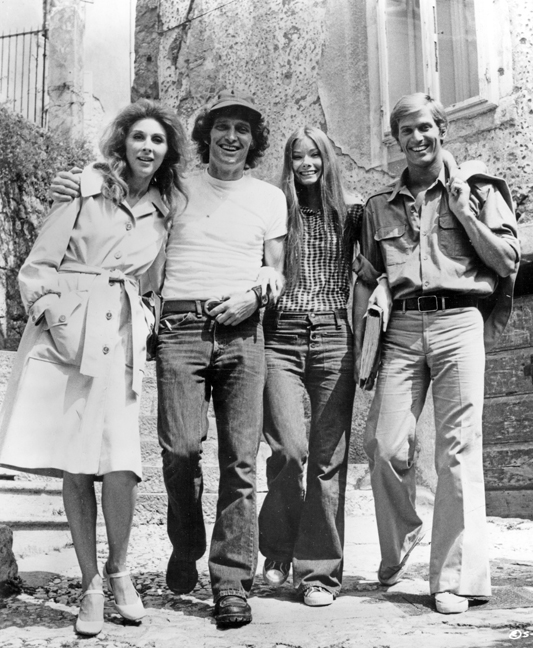 Claire (left) and cast on location in Yugoslavia to film Radley Meztger's film adaptation of 'Score'
As Radley started the film's pre-production, Claire's familiarity with the material and the role of Elvira seemed like it would benefit the production. But soon, he and the rest of the cast began to witness the defensive behaviors that Jerry had observed during his stage production several years earlieir. It started on the flight over to Europe when fellow actress Lynn Lowry off-handedly shared how much she was making for her participation in the film, assuming everyone was making more or less the same. It turned out Lynn was making substantially more than the others – and that turned Claire against her:
There was a huge conflict between us. Claire Wilbur basically hated me. She made my life pretty much a living hell when I had to do those love scenes with her. She didn't want me to touch her. She wanted to keep herself covered. I mean, it was just very, very difficult.
At one point, Radley Metzger gave me some amyl nitrate on set, which I had never had in my life but there's this scene where she cracks one of those open and Radley says, "You know? Why don't you just go ahead and try it." And I thought, 'Well, what could it be?" So I took a sniff, and of course, it makes you really, you know, pretty high and I think I got really into the scene for a minute and I like, messed Claire's hair all up.
Oh she just was furious with me. I mean, if she didn't hate me already, messing her hair up was like… 'That's it!' It was really a shame. She was concerned about the fact that she wasn't getting close ups. That was true but she was wonderful in the film, and she's gorgeous and she's very funny. It was sad that that had to happen. I think it would have been a lot of fun if we had all gotten along.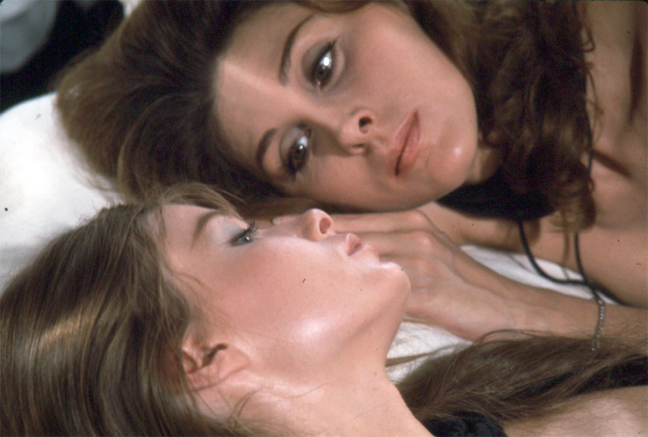 Claire (top) shooting 'Score' with Lynn Lowry
Claire and her male co-stars under the set lights

Jerry Douglas saw first-hand the difficulty wrought by Claire's conflict with Lynn when Radley was filming a scene in which Lynn was meant to look like she was performing oral sex on Claire. As Radley prepared the shot, Claire insisted that she cover her pubic area with a cloth whenever Lynn got near her. No matter what Radley did to obscure the covering as he filmed, it kept edging into the shots causing endless retakes.
Regardless of the obstacles, Radley finished the film and released it with a fanfare. Back in the States, there were premieres on both coasts attended by cast and crew.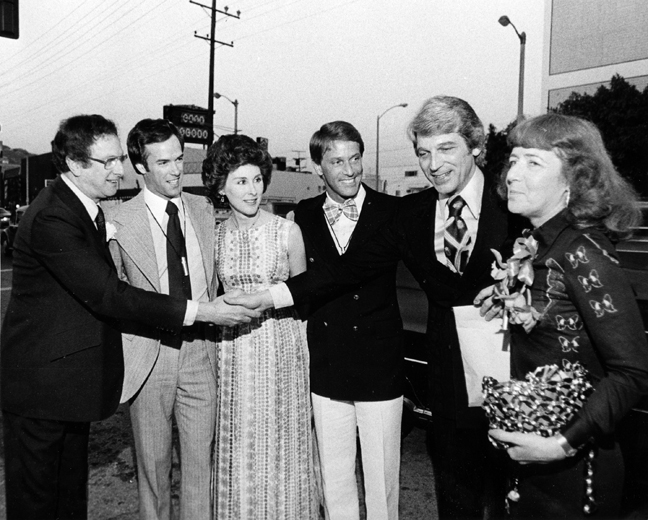 Claire at a premiere for 'Score' with director Radley Metzger (second from right) and his producing partner Ava Leighton (right)
Once again, 'Score' was received with mixed feedback. The Boston Phoenix called it a "passable fuck film" which by any other standards is "a laughable mess." Variety wrote, "In short, 'Score' doesn't as film comedy but does as something of a sexploitation milestone."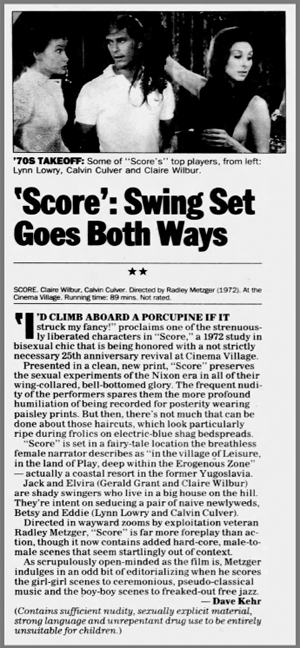 A review warns 'Score' is entirely unsuitable for children – and possibly for adults
As for Claire's performance, the Dilettante publication claimed she brought "precisely the right bitchy brio and glib glamour." The Advocate magazine wrote "Claire Wilbur is fantastic… She is breathtakingly attractive, has the gift of timing and nuance that actresses with twice her experience have yet to master. She holds the whole plot together with commanding presence and exquisite delivery of Jerry Douglas' archly acerbic dialog. There are many, many funny lines in the picture, and Wilbur does justice to every one of them."
Directly after 'Score', Claire appeared in 'Teenage Hitchhikers' (1974), another sexploitation film. It was a smaller but similar role: an older woman sexually targeting younger prey, this time exclusively young women. Cameraman Bill La Mond joked that "Claire Wilbur certainly didn't seem to mind doing the lesbian scenes."
A largely generic 70s sex romp, the movie did little to advance Claire's acting career.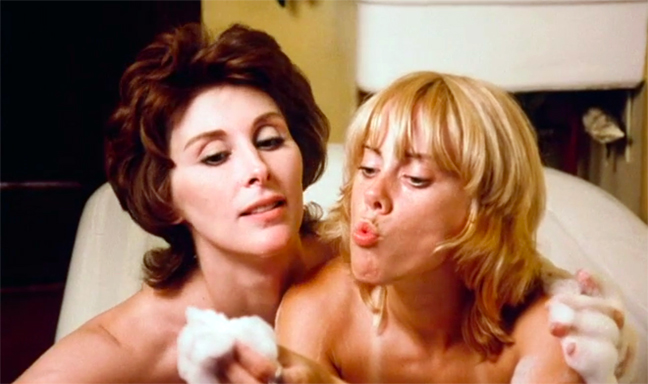 Claire Wilbur as a predatory lesbian in the sexploitation film 'Teenage Hitchhikers'
*
Oscar!
Shortly before Claire began working with Radley Metzger, she met Robin Lehman. Robin is the son of Robert Lehman, longtime head of the now defunct Lehman Brothers investment bank. Rather than follow his father, grandfather and great-grandfather into the world of financial services, Robin became a filmmaker, working as a producer, director, screenwriter, and cinematographer.
They met in the office of a fellow filmmaker, and Robin was immediately taken with Claire's beauty and poise. He asked her to join him for a drink and shortly after that, they wound up in bed together. It was the start of a relationship that would last several years.
Jerry Douglas remembers the first time Claire told him about Robin. They were in a bathroom in Yugoslavia, and Jerry was keeping Claire company as she shaved her legs in preparation for filming the following day. Jerry remembers that Claire was drawn to Robin in part because he owned the apartment that had belonged to the author Dashiell Hammett – and she told Jerry that she loved sleeping in the bed that Hammett had shared with playwright Lillian Hellman. It was clear to Jerry that Claire had learned early on in her life that she could use sex as a way to survive and get what she wanted.
Claire made it clear to Robin that she wanted to make feature films. Robin hadn't seen her act on stage, so he took himself off to see the film version of 'Score'. He wasn't overly impressed with Claire's performance in the movie but was so seduced by what was going on between them in the bedroom that he decided to try working together.
What happened next depends on who you talk to: what is clear is that Claire became co-producer on two documentary shorts that were written and directed by Robin. The films were Nightlife, a study of creatures found in the Irish sea, and The End of the Game, a film about African wildlife. Robin claims that while he put Claire's name on the films, her involvement was not significant and that she did next-to-nothing. Claire's nephew, John Janetatos says his aunt told him that she did almost everything on the films, from on-site production management to editing them on her living room floor. Jerry Douglas believes the truth lies somewhere in between.
When the films were released in 1976, both were well received, with particular praise given to 'The End of the Game', which the Daily News described as "one of the most haunting and strikingly photographed nature films we've seen." 'The End of the Game' was so well regarded it was nominated for the Academy Award for Documentary, Short Subject. Dressed to the nines, both Claire and Robin were in attendance at the ceremony. When their film won the award, their joint acceptance speech was warm and respectful.
The media was slightly less respectful in its coverage of Claire's achievement. Headlines like "Former X-Rated Starlet Oscared," "Something Better," and "X-Rated Starlet is now a Realist" focused on Claire's sexploitation past more than her documentary win. Almost all articles contained the same quote from Claire: "I used to think I had to face society, take off my clothes, be free. But then I felt there was really something else I wanted to say and this wasn't it. The dewy-eyed idealist had to wake up and become the realist. I covered my beautiful breasts and decided I had to do something better. "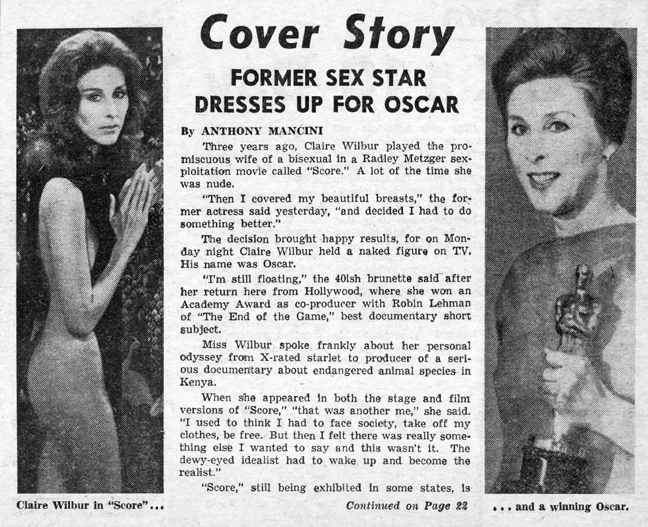 After their Oscar win, Robin and Claire embarked on the production of a feature film. Robin remembers it was a disastrous endeavor that never made it to the editing stage.
He claims they fought constantly on and off set and that, thanks to Claire, everyone left the production: "She was absolutely impossible to work with. Lot of disagreement; lots of arguing and screaming. To make a long story short, everybody to do with this film quit. The actors quit acting, the camera person quit camera work, I quit doing documentaries, and I quit her as a girlfriend. I threw all the footage out. It was a nightmare. We severed all ties."
Many years later, Robin got in touch with Claire and asked her to dinner for old times' sake. He thought it would be good to say hello after many years and laugh at their past disagreements. But things didn't go well: as they sat down to dinner, Claire pulled out a cigarette and started smoking. When Robin asked her if she could wait until after dinner, she stared at him and declined. Robin stood up, walked out of the restaurant, and never saw Claire again.
Robin wasn't the only person who fell out with Claire. Jerry Douglas had grown close to Claire in the years since he first cast her in the stage production of 'Score.' After the play, they got together every few weeks and grew even closer when they traveled to Yugoslavia for the film version of the story. They grew so close that when Claire opened a film production office funded by Robin's money, Jerry went to work for her. But a few months into the arrangement, Claire blew up at Jerry, claiming he overstepped his role in some way. While another person might have given their employee a stern warning, Claire chose to sue Jerry. The matter wound up in court and Jerry remembers the day as an ugly one. He didn't talked to Claire after that.
Without access to Robin's finances and Jerry's creative support, Claire decided to leave the worlds of film and theater in the late 1970s.
*
Life After Acting
When John Janetatos moved to New York in 1985, one of the first people he looked up was his aunt Claire. Without any children of her own and limited contact with her family, she welcomed John warmly and the two became close.
When John reconnected with his aunt, he couldn't have been more impressed with her. Claire may have been in her early 50s at that point, but John said she looked 15 years younger, still turning heads wherever she went. And John was blown away by her intelligence: her brain was always juggling multiple ideas at the same time, analyzing them, and coming to conclusions before anyone else even got off the mark. He found her to be the smartest person he ever met.
When it came to Claire's spiky personality, John admits that his aunt was an unusual mix. She was kind, compassionate and joyful, quick to smile and help someone in need. But she could also be ruthless. Even when she was laughing you could see the steel behind the veneer, a seriousness that could become menacing.
But John cuts Claire a lot of slack for her defensiveness. He cites Claire's difficult upbringing – in what he describes as "the hellhole where she was raised" – and her drive to survive when she showed up a young woman alone in New York in the early 1950s.
Much of what John learned about Claire was through other family members, or from snippets of information that she shared with him. She didn't like to talk about her past; she was one to look forward and focus on what was ahead. But over the years he learned more and more. For example, John found that Claire was married in her early years, taking the name Wilbur from her husband, though he doesn't know anything about the union. It's unclear if Claire was separated, divorced or widowed – there are no official documents of the marriage and its dissolution. John broached the subject with Claire once but she wouldn't talk about it.
John doesn't believe that Claire avoided her past because she was embarrassed by it. When he asked about the sexploitation films she made, and the fact that her Oscar win resulted in media bringing up her sex film past, Claire laughed. While she wasn't necessarily proud of the film work she'd done as an actress, she'd say that there were ways of filming that make it look as if you were doing things that you really weren't, and she certainly wasn't ashamed of anything she'd done. She'd done what she wanted and didn't care what anyone else thought, not even her family – a statement somewhat hard to believe considering the care she took to cultivate her refined image.
When John asked Claire why she hadn't parlayed her Oscar win into something bigger, she told him she'd become tired of the world of performing. She said she'd come to the conclusion that it was just a game, and once she figured that out, she just didn't find it interesting any more. She lost respect for the acting business and she was bored with it. And she had no desire to pursue fame.
When her acting career was over, Claire needed to find new sources of income and wound up trying different things. At one point, Radley Metzger heard a rumor that Claire was driving a New York City taxi cab, but quickly laughed it off. It turned out Claire did in fact get her hack license as a way to make money. She thought it would be something of an adventure. But the truth was that she only wound up driving the cab for a single day. The reason was simple: one of the people she picked up lived in her building, and she found that driving someone around who she knew socially to be humiliating. She quit immediately, and so had little for her efforts except a good cocktail party story.
She started writing and became prolific. She mostly wrote short stories, though she turned her hand to plays as well. It is not known whether she sold or published any of her work. One poem which did make it out into the world was an ode to the Japanese porcelain feline, Mankei Neko. Claire was fond of the figurines and had several in her Upper East Side apartment.
Excerpt
Maneki Neko: The Japanese Legend of the Beckoning Cat
Rendered in Verse by Claire Wilbur
So much of life is a mystery,
Just a heartbeat away from tragedy;
But then, we find a good luck charm,
That seems to keep us safe from harm.
Who can explain? Oh, who can tell why?
Who can affirm or who can deny
The power of the talisman
That works again . . . again . . . again.
Was there a moment back in time,
A magic instant — rare, sublime —
When from that void, that great unknown,
Sprang an enchanted force full-blown?
If such a moment could exist,
When the plight of man by fate was kissed,
Then there was one in that shadowed yore
Of history, legend, apocryphal lore,
When a sweet small cat faced uncertain fate,
When all hope seemed to evaporate;
The temple where this poor cat dwelled,
By poverty had been sorely felled.
Another source of income were parties Claire hosted at her apartment. Her nephew, John, went to a couple of these gatherings and remembers crowded rooms of laughing guests. Some were Claire's friends, including the actor Cleavon Little who starred as the black sheriff in the Mel Brooks' film Blazing Saddles (1974). Jerry Douglas says these types of parties were common occurrences for many unemployed actors: they had a party, invited actor friends, then charged non-actors an entrance fee for the pleasure of celebrity company.
In the 1980s, Claire, now calling herself 'Catt' Wilbur, pursued a unknown business opportunity that involved travel to Europe and Africa. She put together a detailed plan and began actively looking for investors. While she wasn't a household name, her entertainment profile could still open doors. She aggressively pitched her business but, in the end, it didn't work out. When John asked Claire why she'd been unsuccessful, she told him "the boys wouldn't let the girls play." As a self-described feminist with a firm belief in equal rights, the rejection clearly stung.
In addition to embracing feminism, Claire was a strong supporter of civil rights. Her awareness began when she first moved to Manhattan and was turned away from a restaurant because her dinner party included several black friends. John says she talked about the injustices inflicted on people of color a lot and advocated for equality.
But while Claire was always a proponent of justice, her beliefs didn't preclude her from befriending people who operated outside of of the law. According to John, Claire had some dangerous allies who were attracted by her charisma, though he stresses that she was never involved in any crime. Jerry Douglas is a bit more skeptical about Claire's supposed ties to the underworld. He said Claire told him she was involved with members of the Mafia, but he was of the opinion that she just wanted to shock him. Jerry says Claire was always trying to impress everyone with how beautiful, smart, wealthy and connected she was, only some of which was true. Rumors of her links to the underworld persist however.
One element that everyone agrees on is that Claire was beautiful. John remembers that even when Claire was in her late 60s, she couldn't walk down the street without people turning their heads and looking at her.
In 2003, Claire's lifetime smoking habit caught up with her. She was diagnosed with lung cancer and died a year later at the age of 70.
Before she passed, Claire made arrangements for her body to be donated to science for medical school use. This enabled a team of medical students to study the human body in detail. As part of the donation contract, the medical school agreed to dispose of Claire's body in a dignified manner. While John wasn't aware of the specifics, there's a record of Claire's internment on New York's Hart Island under her 'Catt Wilbur' name.
Hart Island contains New York City's 131-acre potter's field, or public cemetery. It has variously been described as the largest tax-funded cemetery in the United States, and one of the largest mass graves in the United States. It is the final resting place of the poor and disenfranchised, stillborn children, and veterans dating back to the Civil War.
In 2014, the Hart Island 'Traveling Cloud Museum' was started. It invites people to contribute stories, photos, or epitaphs about the buried to prevent them from remaining anonymous in eternity. A 'clock of anonymity' records the length of time each person has been anonymous so far. Before the date of this story, Claire's clock read almost 13 years.
Today, Claire's story is shared.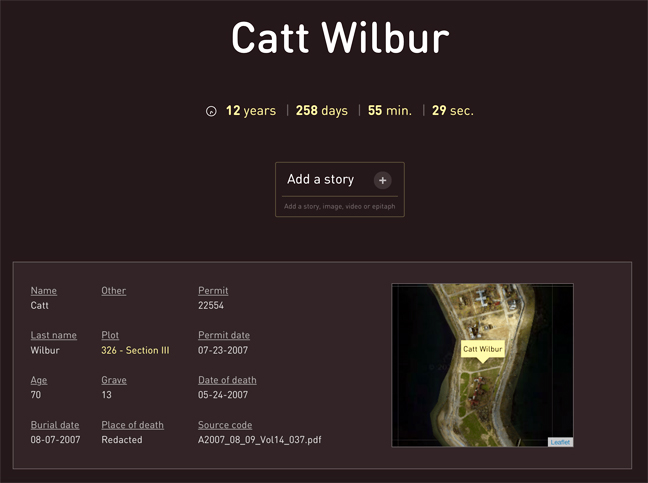 *