Adult films. Magazines about adult films.
The relationship between the two has always been symbiotic: sexually explicit movies needed the oxygen of publicity provided by newsstand publications… and magazines have always relied on pornographic films to give them salacious stories and images that guaranteed high circulation figures.
So when did this first start? What were the first magazines specifically dedicated to covering sex films?
Was it Adult Video News, the industry juggernaut that still continues today, that also produces the annual porn Oscars? Hardly. That only started in 1983.
What about Adam Film World, which dates back to the sexploitation days, and ran for 32 years until it was shuttered in 1998? Not even. It started early in 1966, but was still not the first.
The honor of being the first magazines dedicated to adult films may go to a group of titles that started with Wildest Films, and quickly expanded to a portfolio that included Daring Films, Torrid Films, Cinema Keyhole, and more. These publications began in 1965 at the dawn of sex films, before the magazines had ads and featured known porn stars of the day. They contained plot summaries, movie credits, and most importantly, titillating still photos from the films themselves.
Remarkably this portfolio of magazines all came from one man who single-handedly created the template for a business that lasted for the next 50 years.
That pioneer was Marv Lincoln. He has never spoken in detail about his critical role in the development of the industry. Until now.
This is his story – one that includes Lee Frost, Marsha Jordan, Dave Friedman, Bob Cresse, Fetish Times… and the hippy religious commune featured in the recent hit TV series Wild Wild Country.
_______________________________________________________________________________________________
Marv Lincoln: Magazines
Where are you from?
I was born and raised in Ralston, Nebraska – a tiny town of maybe 1000 people near Omaha. My parents had three boys – I'm the oldest.
My father owned a little local market called The Ralston Supermarket. He wanted us sons to take over the business but that was never my goal. It was too much hard work, and Ralston was a very bigoted small town. We were the only Jews, and sometimes anti-Semitic things would be scrawled on the windows of my father's store.
Was magazine work something you wanted to do from the start?
Well – I was a writer from my teenage years. When I was 16, I was a sports reporter – a baseball reporter – for The Ralston Recorder, the local newspaper. Then I started writing other stuff for the paper – stories about things going on around town.
After high school I went to Missouri University because they had one of the best journalism schools in the country.
How did you get on there?
Basically I flunked out. Even though I was a pretty clever boy, I had terrible grades and after the first year my father refused to pay for my education anymore. I was more interested in the fraternity life than the scholastic life.
So I transferred to Omaha University and became a reporter for the local paper. My writing was really sharp at that time – I did a series of articles on all the businesses in town, reviewed movies and theater, and wrote a gossip column about local teenagers. The articles were substantial and well-researched: I think I kind of surprised myself at how good I was at the work.
During this time, I met my future first wife and got married at a very young age, about 21 or 22. We quickly had a daughter, and so I needed to find full-time work. I went to work for her family business in a son-in-law job that had nothing to do with writing or newspapers.
But I really wanted to write so I started crafting short stories and selling them to so-called men's magazines.
Why men's magazines?
I did some research in the market and found out that they're easy to write for because they would take just about anything. And they all paid promptly too.
How did you know who to contact?
I think I just went to a newsstand, looked inside the covers, took down some addresses for these companies and wrote them to ask about submitting stories. I can't remember exactly though – this was 1962 so it was a long time ago.
I'd write these erotic short stories that just came out of my imagination. It was around that time, I discovered that I wrote better when I was half drunk, so I got into drinking. Drinking and writing, it's an old tradition.
Did you do all this in Nebraska?
At first, yes. Then one of my brothers decided to move to Los Angeles and I decided to follow him. I moved my family out there but I couldn't find work as a writer, so I worked in the advertising departments of the big Los Angeles papers. I also became known as a sort of typist because I could type 100 words a minute.
How did you get back to magazines?
Eventually I met a guy named Lou Kimzey. He'd started these car magazines and he asked me to work for him. Lou's real love was biking – he rode those big Harleys. Eventually he went on to publish magazines like Iron Horse and Easyriders – very popular biker magazines – starting in the 1970s.
But when I met him in the early 1960s, he was publishing car magazines like Modern Rod and Drag Racing. He also had a teenage magazine called Teen Set. I wrote for him for a while, and eventually became the managing editor for his titles.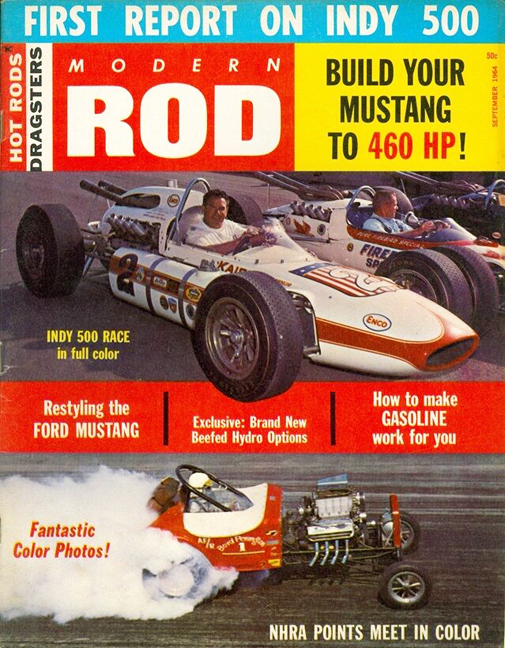 Lou Kimzey's Modern Rod magazine
What brought you into the world of softcore film magazines?
Lou's business was going downhill – the company wasn't doing well. So, he started putting out these so-called girlie magazines featuring pictures of nude women. Well really it wasn't nude, just topless. My job was to write fake stories about the models. I gave them a personality and a life that was far from true.
Where did the pictures of the girls come from?
The girlie pictures were coming from a guy named Bill New, a pretty good photographer. I got to know Bill and found out that he was the stills photographer for some nudie movies – that's what we called them in those days. We're talking, like, 1963, 1964.
Did the girlie magazines turn Lou's business around?
Not really. The girlie magazines made more money but not enough to save Lou's business so he told us we should start looking for other jobs. Bill New approached me and suggested we do something together, on our own. Bill had access to all these sexploitation movie stills and there weren't really any film-specific magazines out there so I thought: why don't we produce a magazine solely devoted to sexploitation movies?
We formed a company; I think we called it New Link – New for Bill New, Link for Marv Lincoln. We got a mail drop location – 6311 Yucca Street in Hollywood right by the Capital Records Building – and we came up with our first copy of Wildest Films and sold it to a distributor. By the way, 6311 Yucca was well known in the porn trade. A lot of the adult-related companies and individuals had their mail delivered to that business that ran that mail drop.
Logistically, how did you run New Link publications?
In those days you'd make what we called packages. A package means you put together the magazine by taking photos, writing copy, pasting it all together – and then selling the whole thing to a distributor who'd buy it outright from you.
When Lou Kimzey had made his girlie magazines , he used a distribution company called GSN – Golden State News – one of the biggies in the girlie field. So, I went to GSN with a sample magazine and made my pitch.
Golden State News (GSN) was a popular and prolific California-based distributor of adult-themed books and magazines that operated out of 2211-2219 S. Union Avenue in Los Angeles. The company incorporated in April 1964 and was owned by Joel Warner whose son Lee Warner also worked in the family business. Joel was born in Poland in 1898, and emigrated to the United States in 1947.
GSN was one of five major adult magazine distributors in California in the 1960s. The others were Parliament News, Columbia News, All American and Buy-Rite. According to a 1967 report to the California Legislature on obscenity, these five companies accounted for 90% of the 170 mens magazine titles published in California in the mid 1960s, with 30-40 of these titles appearing in any given month. GSN distributed books and magazines for a number of publishers including Orbit, Utopia, Spectrum, and Cine-Art. The business also briefly employed low budget and sexploitation director Ed Wood.
Who did you deal with at GSN?
I met and eventually got somewhat friendly with GSN's owner, Joel Warner. He had a thick accent, and he was a funny guy with a great sense of humor. And he was always after me to get him girls – almost like a pimp! – even though he was married with kids and grandkids. He'd have parties at his nice house, and my wife and I would go sometimes. Everyone there knew what Joel did and what I did. It was all very friendly.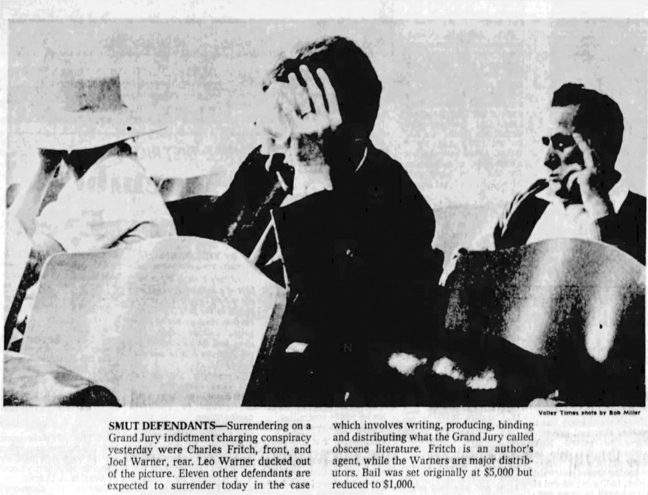 Joel Warner (right) facing arraignment in 1964 for obscenity
But in terms with our dealing with Golden State, we worked pretty much exclusively through GSN's attorney, Frank Laven. He was the one I made the original pitch to, and he was the one who said OK, make a magazine for us and we'll buy it from you.
Your first title for GSN was Wildest Films?
Yes, we started with Wildest Films. To create the magazines, we used film set photos that Bill New already had in his files, and I wrote reviews of the movies to accompany them. I would get hold of the little press sheets that had the synopses of the plots, and I wrote the reviews using those.
We put the name Gold Line Publications on our first magazine. New Link was our business organization but we started by operating as Gold Line. Later on, GSN put other names on the cover of our magazines, like Cougar Publications and Classic Publications, but that had nothing to do with us.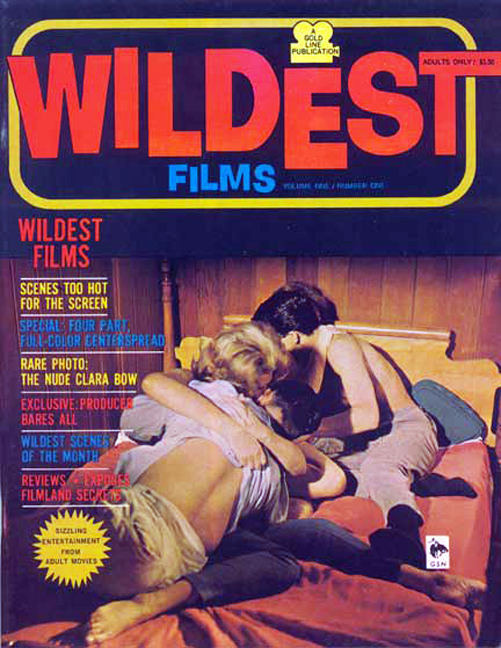 Cover of Wildest Film's first issue, 1965
Are you saying that you didn't actually see the films – yet still wrote the reviews about them in the magazine?
That's right – I never saw the films. I didn't need to. The press sheets were enough. And some of the stuff, I just plain made up out of the blue. I'd do fake features on the actresses too. It was all fantasy – I had a really good fantasy mind. I don't know if I was horny, or just a sexy guy, but it just came out of me.
Did GSN provide you with guidelines as to what was permissible and what wasn't?
Nothing formal but we had conversations. At a high level, they laid out examples of what we could and couldn't do. And they shared what they generally expected – number of pages, color versus black and white, any layout requirements. For example, there had to be eight pages in color and they were certain page numbers. The center spread was always in color. It was like an industry standard, probably because the printing companies were printing a lot of titles and it was cheaper to keep them consistent. That said, I think GSN had their own printing presses.
There was just a common understanding of what was expected. The magazine community was a small fraternity; we all sort of knew each other. We spoke to each other about developments around standards. Over time I understood the rules in part by looking at other magazines in the field – like those put out by Parliament News. And because I was focused on movies, I knew that if a movie could show something, then we could show it too.
But in terms of sexual content, it was the attorney's responsibility to make sure we weren't breaking any obscenity or other laws when we put the publications together. And Frank Laven, the GSN attorney, was a very conservative guy.
On occasion GSN did come back to us and ask us to change something in a package – like, "this sexy picture is too large to get away with, go away and make it smaller." But the standards were changing so fast that if something wasn't allowed in one package, you know it was just a matter of time, and it might be allowed in the next. For example, when I started you couldn't show even a single pubic hair. But we – along with everyone else – were pushing the envelope, trying to be more daring all the time.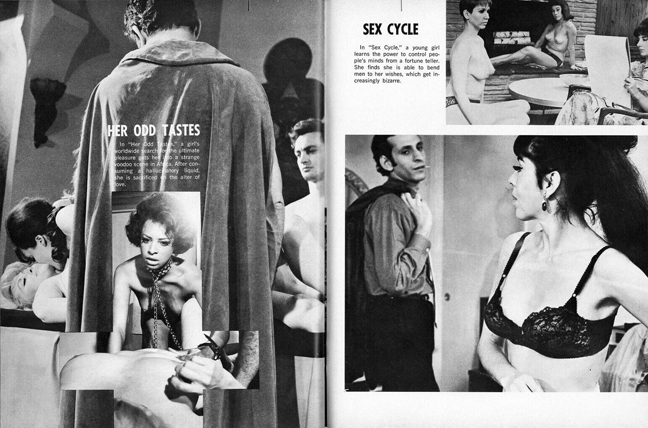 Marv Lincoln's Wildest Films magazine
Did you ever get in trouble with the law?
Never. My company…we were pretty conservative. Even when we were pushing a bit, we still stayed within bounds because our titles sold well like that. There was no reason to take risks if there was already high demand for what we were selling.
And GSN did extra things to protect themselves and by extension us. For example, they'd print a notice on the front of our magazines warning that the contents weren't suitable for minors. That's something they did – we had nothing to do with that.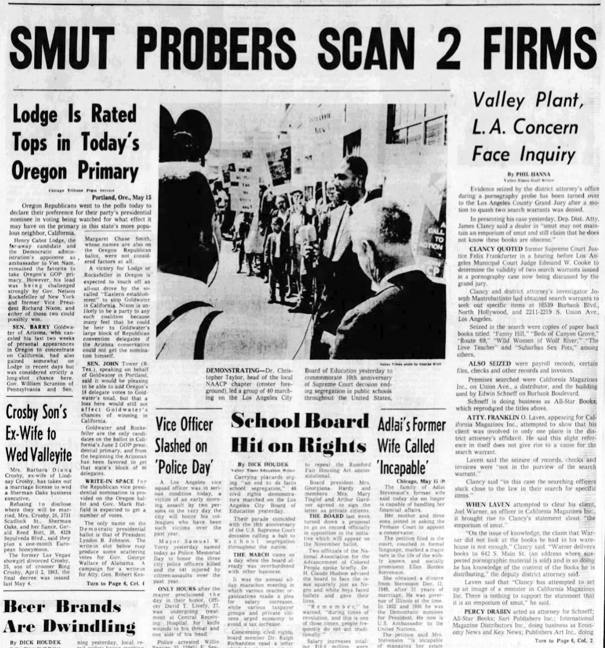 Joel Warner was a frequent target of the State's efforts to fight obscenity
If GSN bought the packages from you, how did you get the money up front to make them?
We had to put up the money. But it didn't cost us a lot to put the packages together. Bill already had all the photos and that was the main expense. I was the writer. Then we brought in an art director. And that was about it.
We sold GSN a paste-up so we didn't pay for any of the printing. A paste-up is just what the name implies: page after page of pictures pasted down with text, like all magazines used to be made. That's what we called them: paste-ups, or flats.
What sort of money would you get for each issue?
We were getting about $1,800 to $2,000 per package. Most of it was profit, and this was 1965 so that was good money. We paid the art director about $200 per package and Bill and I split the rest.
But when we were paid, we didn't get it in cash, and we didn't get paid by company check either. We got paid with something called a Trade Acceptance or TA. It basically meant that payment was deferred – something like a promissory note. If you held onto it for 3 or 6 months, you would be able to get the full amount. But there were companies that would cash the TAs for you immediately for a fee of say 10%. And we always cashed them right away – we never waited.
According to Charles Nuetzel, an author who worked with GSN head Joel Warner, Joel also had a stake in the company that would cash the TAs: "The way [Joel] worked, you'd go to him and get a contract and he'd pay you with an IOU that was cashable in 3 months. But he'd tell you about this company that was willing to cash them immediately for a l0% charge. Then we found out later that he was a partner with this company too. He had you coming or going.
 
"[Joel] got a lot of people started in the business. Milt Luros [a key adult magazine publisher who helmed Parliament News, the influential company defended by groundbreaking first amendment attorney Stanley Fleishman] started with him. Even Dave Zentner [an early publisher of adult books under the name Bee-Line Publications who later worked with Cheri managing editor Peter Wolff] did some books for Warner."
How did your first magazine, Wildest Films, turn out?
Laven, the attorney, told us that if it sold, GSN would take more from us. And it sold well. So I think after that we started making one a month. And then we started thinking about creating other titles.
We became the movie specialists. Los Angeles was the epicenter of this new industry, and Bill New had it all covered. He was pretty much the only one taking photos on the sexploitation film sets at that time. Bill Rotsler didn't come along until later.
Did you ever go with Bill New to any of the movie sets?
Yes. Bill probably told the producer or director that he wanted to bring his assistant or whatever along and I went with him to see how the movies were made. They were quickies and most of them weren't too artful. Often, they were made in five and six days – some of them were shot in only two days.
I only went with him a few times because it didn't take long for it to become pretty boring.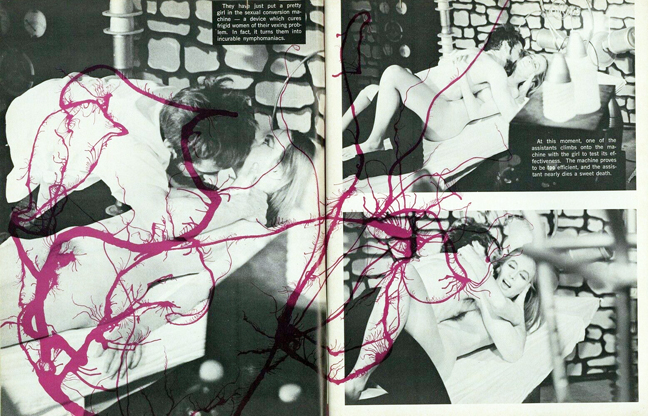 Marv Lincoln's Wildest Films magazine
Did you interview the starlets that you profiled in the magazine?
I might have interviewed them, but if I did it was probably just to get a date with them. Most of the writing just came from my head. I took my stylistic cues from Hollywood and European movie magazines.
So what happened after Wildest Films sold well?
Wildest Films was such a big hit, GSN asked us to start other magazines. I came up with Daring Films next, and made it more about European movies.
How did you put that together?
I found a couple of respectable magazine sources for sexy European films, good films – well-made. These magazines were made in Paris and Rome – and they had nudity. We're talking about the mid '60s when America was still pretty repressed but Europe wasn't.
Anyway, I'd just lift the images out of these magazines – literally cut them out and use them. I mean… these publishers were in Paris – what were they going to do to me?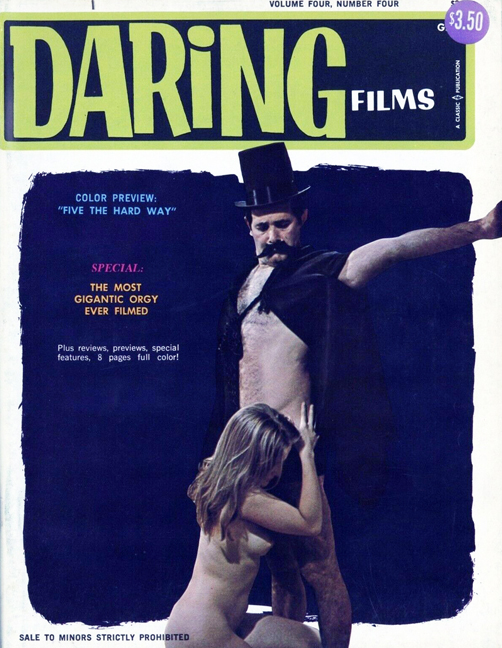 So Wildest Films focused on local film production in California and Daring Films was European-focused?
Not all European. I just made it a bit more sophisticated so it would be different from Wildest. We'd have different layouts, more like the European magazines. And little side stories about the starlets, and maybe I'd do an article on film censorship or other related topics. I just upped the level of my writing and added more content.
What was going on in your private life at the time?
I was in the middle of a divorce. My marriage – a terrible marriage – ended about 1965. I'd been married for five years and we had two kids. As I said, I took to drinking in a big way. I could still function pretty well – but the marriage ended.
After that I was free, so I had little affairs with some of the starlets which was fun. I don't remember any of their names – they were mostly one-nighters. Occasionally, I'd have a longer affair. For example, there was a girl named Pam who went by the name Sunny. She was a topless dancer. We were together for a bit.
Back to the magazines: did Daring Films start shortly after Wildest Films?
A couple of years later – maybe '66, '67. I think they were monthlies, or we alternated – one month was one title, one month was another.
Soon after that came Torrid Films – we started that one a few months after Daring Films.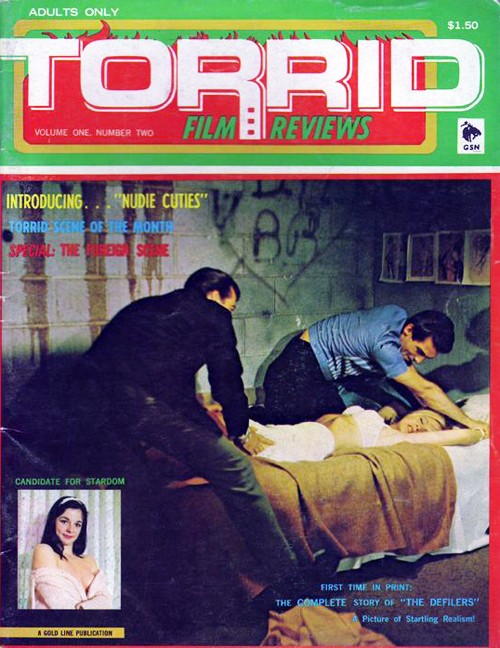 Was that because Golden State News kept asking for other titles?
Yes. The more success they had with what we were producing, the more magazines they wanted. And these magazines were hot. The demand for them was big.
We produced the packages as fast as we could. We didn't think to ourselves, "this magazine will be monthly; this will be quarterly" – we just worked as quickly as possible.
Did you have any idea how much Golden State was making off the magazines?
No. I know the print run started at about 10,000. And they charged about $1.50 for the first issue which was twice as much as Playboy cost at that time. The price rose to $3 or $3.50.
The magazines mostly sold in adult bookstores. But occasionally they sold on major newsstands – for example, they would carry Daring Films because it was more sophisticated.
According to the 1967 Report to the California Legislature on obscenity, magazine distribution was lucrative. A nudist publication with a cover price of $1.25 cost about 21 cents a unit to produce and a publisher could expect to make about $8,000 on a 20,000 print run. Distributors like GSN would typically sell between 5-10 titles a month, leading to a healthy profit.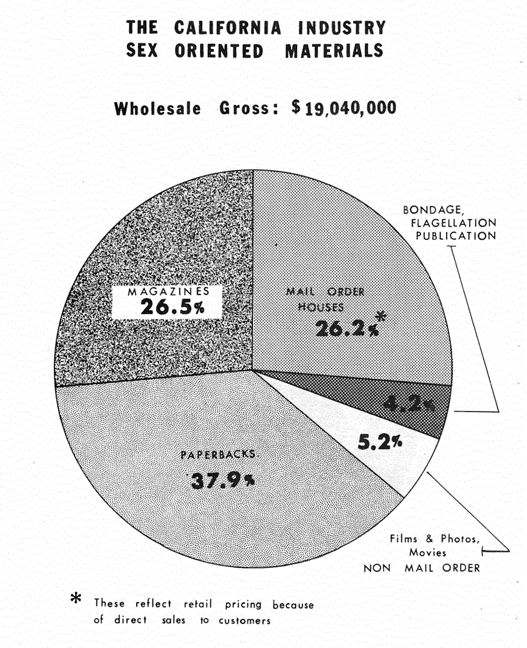 California sex-related market size, 1967 Report to the California Legislature
And at this point is the core team still just you, Bill, and the art director?
After a while Bill and I parted ways. We'd been together just under two years, but got a work divorce because frankly I couldn't stand him anymore. He was a very strange character in a realm of very strange characters. A real right-winger who was always preaching this right-wing dogma to me.
Also he had some strange habits. He'd take pictures of women in his studio where we both worked. He had a dressing room for the women – and it had a two-way mirror. He would go back there and watch the women get undressed. He would invite me back there sometimes and we had to be very, very quiet. The women didn't know. It was creepy.
So we separated and I took over the publishing of the magazines: I'd been the editor and I knew how to do it. Bill had been a photographer, that's all. I started my own business and I think I called it Spectrum Publications, but I'm not sure about that.
Every time you handed over a package, was there paperwork that you signed?
Yes. It was very official. I signed over the rights to the package but I still owned the rights to the photos.
How did the business work for you after the split from Bill?
I got my own office in central LA, on Larchmont Boulevard. I told the landlord – a lady who never came around – that I was in the advertising business. It was a nice little place. We put together the magazine layouts there.
I quickly started expanding the magazine business to more titles. Adult Film Review was one of them. Also Cinema Keyhole. And I might have had a title called something like Sizzling Films.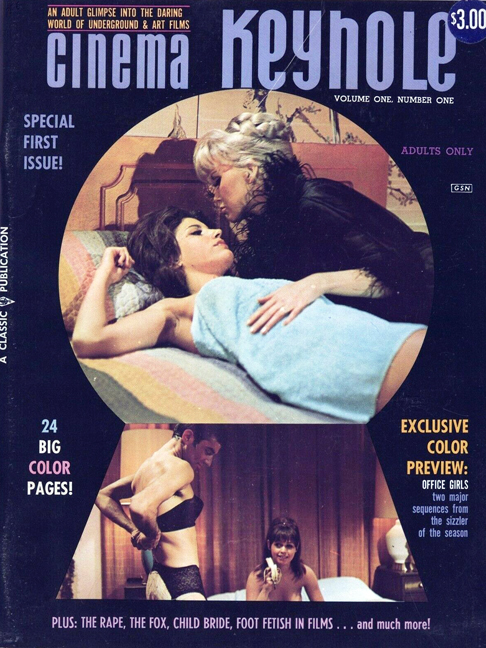 Cover of Cinema Keyhole's first issue, 1968
This was in the late 1960s, though I can't remember exactly when because it was a very strange and transformational era. This was the time of psychedelics and rock music and big outdoor concerts. I was experimenting with LSD and so my memory is a little rusty. But I think the LSD helped my creativity.
Who did you have working for you?
When I went into business for myself, I had four or five photographers working for me, and their assignment was to go to the movie sets.
The movie producers and directors were happy to have them because they wanted stills for their ad campaigns. So we would shoot on set, the producers would get some of the images, and then they were happy for us to use whatever we wanted in our magazines because it promoted their films. No money ever changed hands with the film producers or directors – I just gave them photo stills.
The movie guys would usually want 20 or 30 shots that covered the key scenes for their publicity. So my photographers would shoot from different angles, get close ups, maybe shoot a few on the side with the girls so I could do a little feature on the starlets.
I had set requirements: don't keep clicking away – shoot the key scenes. I often would go with them on set to make sure they got all the shots we needed. I would direct my photographers – and every so often land a date with one of the actresses.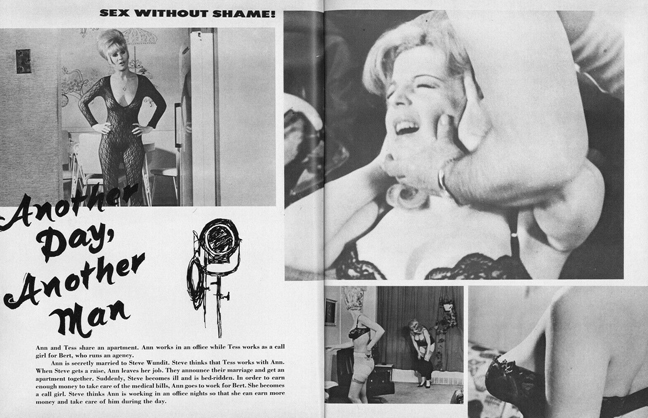 Marv Lincoln's Cinema Keyhole magazine
I assume the photographers were all male?
Oh yeah. There was a sort of a fraternity of guys who were in the girl shooting business. They were mostly young guys.
And did you pay the photographers a flat fee?
Yes – they got a set amount each day: I think it was $50. They got the money, and I owned the rights to what they shot.
Do you remember any of the names of producers or directors that you were dealing with?
Lee Frost was the big director. He started out with sexploitation films in the 1960s and continued into the 1970s with crazy exploitation fare. Early on, he often worked for Olympic International Films – a major production company. Olympic was the classiest outfit – they made the best films, the most colorful films. They had plots, they had real actors, like the western 'Hot Spur' – which Frost directed.
What was Lee Frost like?
Lee was kind of aloof. I think it was his ego. He had an attitude like "I'm a big-shot director and the rest of you are just small fry." I saw him out and about once in a while but he wasn't really involved with the girls – he was married and had a life outside of the business.
Bob Cresse was the owner of Olympic International and he was a close collaborator with Frost in the early days. Bob was a funny little gay man who spent a lot of time in the adult bookstores. He had parties at his home in the Hollywood Hills. He too had a two-way mirror on the side of his house looking into his bedroom so you could stand outside and watch people having sex inside. Bob liked to watch.
Everyone in the business knew about his house and his parties. He invited me over a few times and I had sex in his bedroom once with people watching just for the experience. I also watched from the outside a couple of times but I find watching people having sex pretty boring, especially if it's just conventional sex.
Did you work with any other directors at the time?
Another guy who made quality films was David Friedman. I did some work with him after I went to his office and pitched my services as a photographer and publicist. One of my photographers was Dave's favorite guy so he would arrange his shooting schedule around him.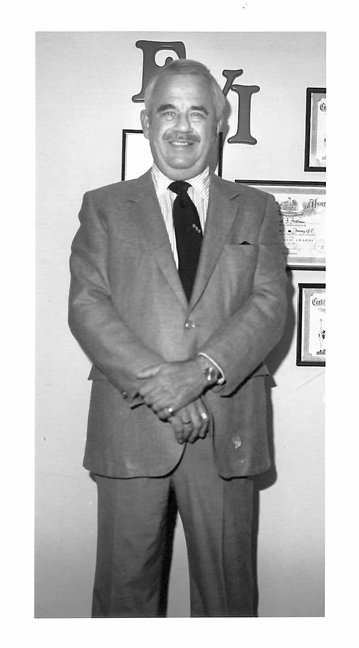 David Friedman
Dave was a really great guy. He was a fun, friendly and intelligent – and a really good business man. He was like the quintessential chamber of commerce member. And along with Bob Cresse, he produced some of the best sexploitation films on the west coast.
So business was good for you?
By early 1968, my magazine empire was at its peak. It swelled to about twelve titles. I can't even remember them all. Then, around 1969, things started to change. Things were getting hotter and hotter – more explicit. And I didn't really like that. I wasn't into hard core pornography as such. I liked the softcore, the suggestive stuff, but it started getting a lot more lurid.
Was that why you got out of the magazine business in the later 1960s?
In part. Also I had more competition by this stage: guys like Bill Rotsler and others came on the scene, copying what I did so I no longer had it all to myself.
Did you get to know Bill?
I first met Bill in the mid 1960s but found him quite conceited and a know-it-all. I'd see him around at parties with his writer friend Harlan Ellison. Bill was really into LSD – like I was at the time. So I knew Bill, but we never really liked each other. Maybe it's because we were business rivals. Also I was probably a little jealous of him. I wanted to be a successful sci-fi writer, and he was one.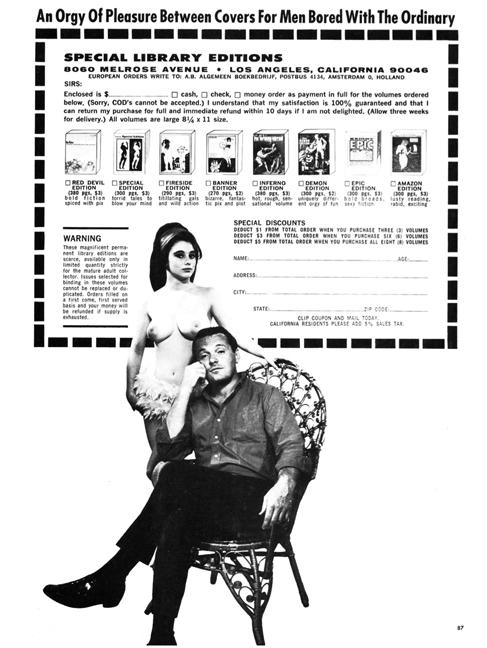 Bill Rotsler in an ad in Adam Film Quarterly, 1969
Anyway I tried to be more competitive. I sold photos to other publishers – I saved the best shots for my magazines and sold what was left. And I also started to sell packages to other distributors, not just Golden State News. At first, I was very faithful to GSN. But people approached me to do packages for them and I thought, "What the hell.." I can't remember any of the company names, but I'd sell original packages to these other distributors as well.
*
Film
Can you tell me about the movie you made in 1969?
Yes, it was a softcore movie made under my real name. I thought I could be a big shot producer and make my own film and get rich and famous. But the thing was such a loser that I try not to think about it.
It was a 35mm film I called SMUT. It was a tricky title, because distributors couldn't use it in their advertising. Smut was considered a dirty word by a lot of publications and they wouldn't print it. So, I had to make up words to fit the letters: 'Salvation of Mankind from Unnatural Temptation.' The distributor shortened the title to Salvation/Temptation.
The main character in the film was Beaverella – a takeoff on Barbarella with Jane Fonda which had come out the year before. She was a school teacher type – I think, it's been so long and I've blocked it out! – who wore granny glasses and was very, very strict.
The popular sexploitation actress Marsha Jordan played the role of Sandra Smudge – I gave the character that name because she had a dirty mind and was a dominatrix type. Her foot servant was called Captain Climax. Marsha was a large-breasted, small-waisted married woman and a pretty decent actress. She was like a housewife. We never slept together or anything but she was very friendly.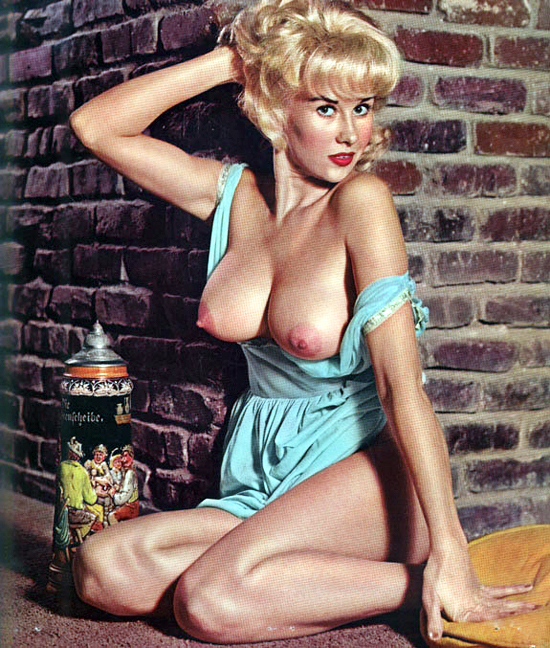 Sexploitation actress Marsha Jordan
My then-friend George – last name Ruben or Rubenstein – wrote the screenplay and was going to direct it. George had been around Hollywood for a while as a screenwriter and he wanted to be a big director. George helped me come up with the budget for the film and then I got investors, including my mother, my best friend, and an ex-girlfriend. I think the movie cost $40,000. That was a lot in those days.
Our plan was to make the film and then sell it to a big distributor. We were going to work out a deal with Roger Corman and AIP (American International Pictures).
When the time came to start shooting, George told me he's not going to be the director. He wasn't happy with the screenplay he wrote. Needless to say, I was very angry at George, very disappointed.
So what did you do?
I was going to have to be the director and I'd never directed a film. I'd watched a lot of films being directed, so I knew something, but that was about it. But I became the director because I had to.
We'd already hired the crew and actors and everybody. They were people I knew from the business but I don't remember their names.
Anyway, I directed it and put it together but it was too crappy to sell to a distributor. There were too many mistakes that an inexperienced director would make, like not having all the angles covered. So I had to re-shoot some scenes and I had to add several new scenes.
Who shot them?
The cameraman that I wanted for the additional scenes was working on another film, so I went with a guy named Paul Hipp, a cinematographer for hire who went on to work on a bunch of different films into the early 1980s. He was okay, but he thought he was a big-time cinematographer so he brought in all these people – the guy who wheeled the dolly around, the best boy who's kind of the handyman around the set. He had a whole crew. And I had to pay all these people.
One of the guys Paul brought on was a cameraman named Gary Graver. Gary worked on Orson Welles films – he was a good buddy of Orson. And he was a really great cinematographer. Everything was hand-held with him. Gary shot a lot of scenes, and he was a really nice guy. Also he was very hip – a true hipster.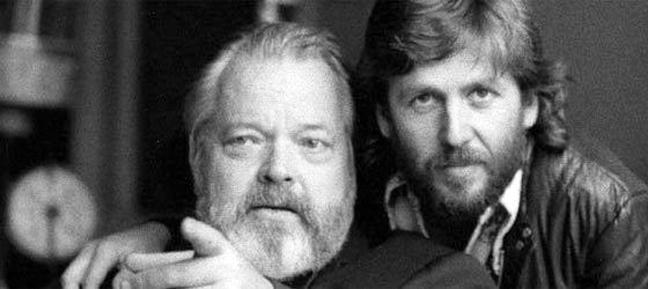 Orson Welles and Gary Graver
The movie originally took about a week to shoot, but the reshoots and additions added another week to the production. For post-production, I'd lined up an editor I knew from my social life. He was an experienced editor, but after a while I fired him because he was criticizing everything. He hated the whole film and pointed out so many errors. The film was so amateurish he really didn't want to do it.
So, I brought in an experienced Hollywood editor whose name I can't remember. He was really expensive but he was also really good – he put the whole thing together and the film was finally finished. But even after the re-shoots and the professional editor, it was pretty amateurish.
Were you finally able to sell the movie?
The film was so bad that Corman and AIP was a no go, so I approached Dave Friedman. Dave wanted the film but he wouldn't take it because his partner was offended by one of the scenes: it was a sequence where we were kind of mocking the Salvation Army. My wife and I and George and his wife, Naomi, were pretending we were with the Salvation Army marching band. We had the uniforms and played instruments. Well Dave's partner was a big Salvation Army booster, and because of that scene, he told Dave he would not distribute the movie.
Finally, I found a distributor willing to take it. It was a relatively new company whose name I can't remember but I liked the guys and they had experience in the nudie business. And they were the only ones willing to pay me an advance. They paid me $20,000 and I was able to pay back my investors – I paid back my mother, and I paid back George.
I thought the movie was in good hands. They had a whole press campaign set up and all the stills that I had given them that my friends had shot. But the movie died – it just died. And the company wound up going bankrupt. They had all the elements associated with the film and all of those disappeared. Everything went up in smoke and to this day I can't find any record of the movie. It's almost like the universe said "Okay buddy, you tried, you failed."
I sometimes wonder what would have happened if Dave Friedman had taken on distribution of my movie because he was so good at what he did. I think it probably would have made money and I probably would have gone on to make more movies.
What happened after SMUT?
I decided to move with my wife – my third wife I think – and her kid to the South of France to start a new life. I'd made a lot of money in the magazine business so even though I probably lost $20,000 on the film, I still had money to burn.
I left the business. I left the whole thing behind me.
Before you left, do you remember being featured in the documentary film 'American Sexual Revolution' in 1971?
A little bit. They interviewed me for this movie. I think it was a regular film studio that made it. I have no memory of how they pitched it to me – or why I said yes. I don't even remember doing it.
Too much time has passed and too much memory is lost. I'm 83 years old now. So you know, memory starts to fade. So much has happened over a lifetime.
Marv Lincoln in American Sexual Revolution (1971), courtesy of Something Weird Video
Ultimately you had gotten out of the adult film magazine business because you didn't want to be associated with more explicit content?
Yes. At first I could pretend like I was a real magazine publisher and hang out in those circles as a big shot. But it got sleazier and more explicit and the Mafia got involved. GSN wanted me to make my stuff more explicit, and include these gynecological close-ups. And I didn't want to do it so they decreased their order of magazines. I went from having all these different titles down to one or two, and finally just one a month. Then it was over.
The whole business started to slide downhill when the hardcore magazines started to take over. People like Stanley Fleishman, the famous attorney over at Parliament News in the San Fernando Valley, broke down the barriers.
Stanley Fleishman was a leading first amendment attorney who argued several obscenity cases before the Supreme Court. In 1959 he won a case that held that adult booksellers could not be held accountable for all content that they carried. He later represented the Pussycat Theatre when it was charged with obscenity for exhibiting 'Deep Throat' and Rubin Gottesman for selling films with a then underaged Traci Lords.
So you moved to France – how long were you there for?
I spent two or three years in the South of France and I had an incredible time. While I was there, I sold some short stories to a couple of adult magazines. I was also taking photos – and I was a good photographer. I was taking pictures around the South of France and Nice. I went to the Cannes Film Festival as a photographer and made up some stories and sent them to adult publications. I got maybe $100-200 per article with photos.
Eventually the French government came after me because I was in the country illegally. I had never bothered to register when I arrived. They took away my car, my stereo, everything I owned. So I had to come back to the States.
*
Newspapers
What did you do when you got back to America?
I came back to California from France in 1974. I was totally broke, no prospects, no place to live, no car, no wife anymore, no girlfriend, no nothing. And the adult business was all hardcore. But a friend of mine named Larry Ross approached me to work with him. Larry had this girlie magazine empire, and he also put out a couple of sex newspapers. One was called San Francisco Ball – it was basically a west coast imitator of Screw, and Larry asked me to work on it.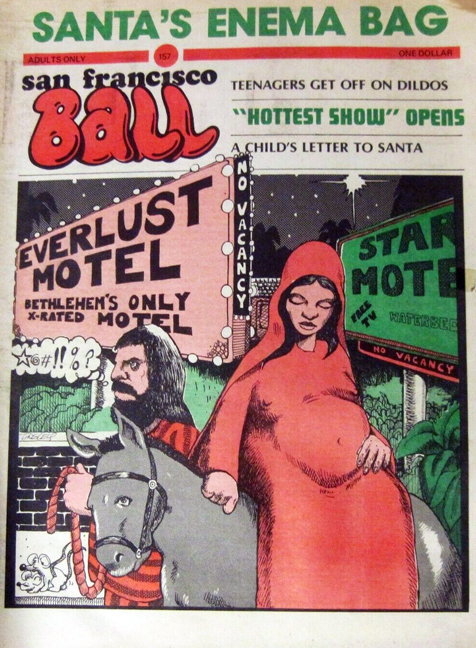 The San Francisco Ball was never as big as Screw or as profitable, but it was a money maker. And Al Goldstein was kind of a buddy of mine. I knew him through the business. We first met at a sex conference in Amsterdam and liked each other and hit it off. Al was a great larger-than-life character.
Anyway, Larry also had a newspaper called Fetish Times, a monthly paper. And because I had nothing else to do and needed money, Larry also asked me if I would also work on Fetish Times. I was kind of a kinky character anyway, so I said OK.
Larry basically turned Fetish Times over to me because of my experience. I was writer, photography director – sort of like an editor-in-chief. My nom de porn was Marvin X and I became pretty famous.
I did that work for three years, from about 1974-1977, basically running Fetish Times and a few fetish offshoots, like one for feet and one for enemas called Water & Power. We actually had two or three enema magazines that came out quarterly or bi-monthly. Surprisingly enemas were a big moneymaker, and power was a big part of the fetish.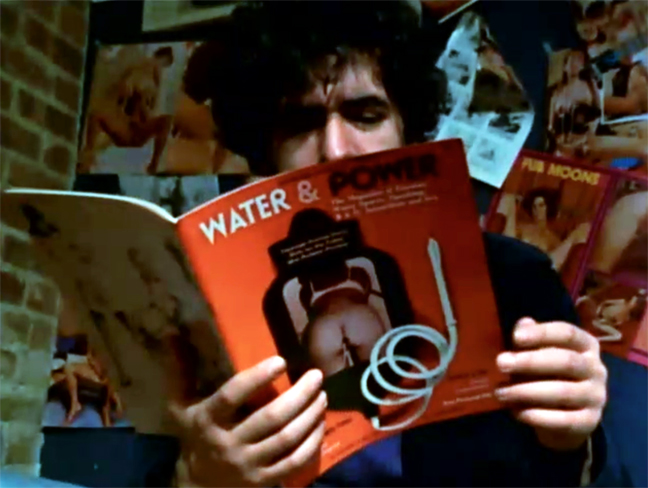 Jamie Gillis reads an issue of Water & Power in the film Water Power (1977)
I started as an employee for Larry. I just was paid a salary – I didn't own anything. But then with the fetish offshoots, we started another company in which I was a partner, so we shared in the profits.
The fetish content didn't bother you like the explicit adult content had?
It was fascinating to me. The whole fetish thing is barely about sex. It's a different phenomenon. It was really shining a light on a whole other world I knew nothing about. The fetish world really took me way, way out there.
Did you go to any of the fetish clubs?
No. Let's just say I did a little experimenting on my own and leave it there. We did sponsor a couple of fetish parties where I did some demonstrations.
Did you write from your imagination as you had with the sexploitation films?
I didn't need to do as much of that because fetishists love to talk about their fetishes. We got all this mail in from readers with all kinds of stories. We picked the best and printed them as reader submissions.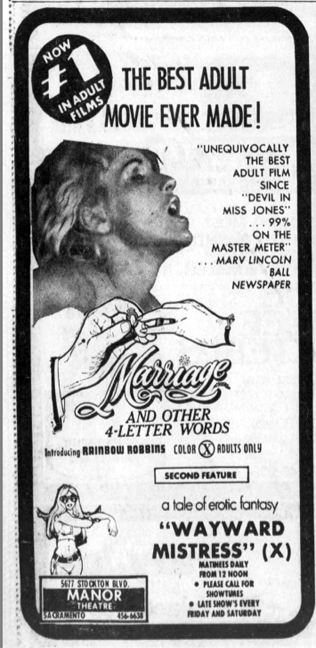 Marv tries to outdo Screw's Peter Meter by introducing the Master Meter
What brought your work for the fetish papers to an end?
I would say burnout. I think I just got tired of it. It just went about as far as it could go for me. It was successful, I made a lot of money with this, and so did my boss Larry Ross, but it got tiresome.
At the time, I was kind of caught up in my own downhill spiral. I was depressed, which was new for me. I was sick of the porno business, and getting more into drugs like cocaine and drinking too much and having weird friends and weird sex… group sex and more.
So I decided to make another shift in my life. I left the business. Larry paid me off, and six months later, I was in India.
Wife number three had turned me on to dynamic meditation, a very active and cathartic practice. Anyway, dynamic mediation really kind of saved my life. So I went to India to study with the guy who created it. Did you see that documentary Wild Wild Country? It was Osho, also known as Bhagwan.
Osho/Bhagwan started the Rajneesh movement in the 1970s. It was a non-sectarian religion focused on meditation, mindfulness, love and open sexuality. Founded in Poona, India, the movement later relocated to rural Oregon where tensions immediately arose with local residents who were much more conservative. The movement also faced internal dissension and prosecution by the U.S. government over allegations of bio-terrorism.
 
Ultimately the movement was forced out of Oregon and leader Osho returned to India where he died in 1990. The movement continues to this day with small centers of practice in a number of countries.
Wait – you studied with the guy that was profiled in the documentary 'Wild Wild Country' that was produced by the Duplass brothers?
Yes. It was a good documentary, but a real hatchet job because I was there and I know what's real.
I started by going to a meditation center in Los Angeles a couple of nights a week. The first time I went, I was loaded. But in the first two minutes of that meditation, this is a very special kind of breathing, I was stone sober. Those two minutes totally changed my life. I started doing meditation regularly and reading Osho's books. And then I went to Poona One, the ashram in India. Then I was on the ranch in Oregon for maybe a year and a half around 1983-1984.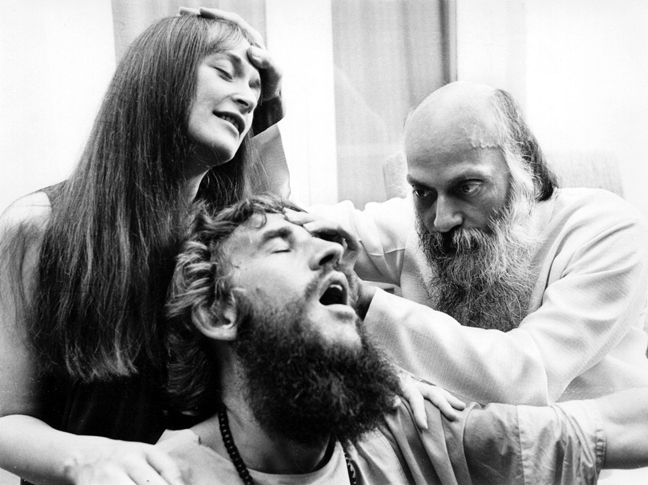 Osho (right), founder of the Rajneesh movement
I knew Sheela who was profiled in the documentary. She was pretty scandal-ridden even though she started the whole thing, the ranch in Oregon, with good intentions. She was power hungry and she got into some pretty weird drugs. She was like a secretary but she took on a whole lot of responsibility, because here is this strange cult in the middle of the Eastern Oregon High Desert, which is a very, very right-wing and bigoted location.
Anyway, I'm still practicing today. I've now been involved with this for over 40 years.
And have you been writing all these years since the adult magazine and newspaper work?
Yes. I've written and published three or four books. A couple are sci-fi novels – I'm a big sci-fi fan.
So you and Bill Rotsler had that in common too…
Yes. Bill was an excellent science fiction writer. He was also a really excellent photographer.
And what are you doing now?
I've become a ghost writer. I wrote a book called 93 Rolls-Royces because of the cars Osho became famous for. I ghost-wrote the book for a disciple who painted several of the Rolls-Royces in psychedelic colors. And I'm ghost writing a book for a motivational speaker, who formerly worked with Tony Robbins.
And I live happily with my wife Liberty Lincoln. She was in mainstream movies for years. And we've been married for over 30 years. It took me a few tries but I finally found my muse.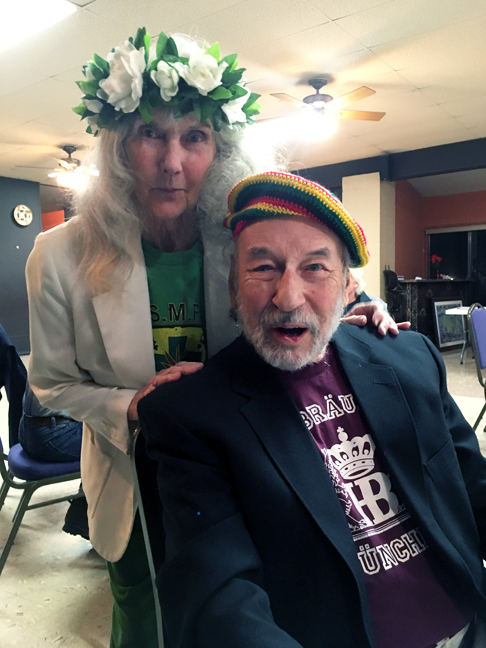 Marv Lincoln today with Liberty, his wife and muse
Is there anything you regret about your time in the adult business?
I had a great time. For one thing, I was a very successful businessman, which I had never been before. I made a lot of money, I did a lot of creative stuff, I met a lot of interesting people. I'd say it was a very, very valuable time. It wasn't just the money and the eroticism or the getting laid all the time – which I was. I wouldn't have gotten laid nearly as much if I wasn't in the business.
Rather, it was a period of great changes and shifts in the zeitgeist. We're talking about extreme censorship in 1965 and nudist magazines and the whole transition that I went through up through the 1970s. The porno world sort of opened things up, as far as sex and drugs were concerned.
Do you think the porn world was a stimulus or do you think it was a symptom of a change that was happening anyway?
I think it was a stimulus. It was really about legality and the Supreme Court, as far as publishing was concerned. But it was also LSD and smoking pot that opened up a lot of people to experiencing their bodies. It was just a period of great opening.
But then, as often happens with these kinds of successes, it turns sour because the big money gets in. The Mafia took over the porn business. Around the Fetish Times period I had a girlfriend who owned movie theaters in LA that were showing 'Deep Throat' and sometimes we'd go out to dinner with the Mafia man for the movie.
But the shady and lurid side wasn't that commonplace for me. All said, it was an amazing time.
*