Jake Teague was a cult figure in the world of 1970s adult film.
He was the balding character actor who looked like a doddery chemistry teacher, and brought a touch of comedy and absurdity to a large selection of XXX movies. While many of the New York male performers of the time looked like hippies, dropouts, and conscientious objectors from the conflict in Vietnam, Jake was an unlikely figure from an altogether different generation. He had the demeanor of a horny but amused World War Two veteran. He looked old in an era when fifty-something looked like seventy-something.
What was his story? And how did someone who was old enough to be your grandfather end up making sex films?
The Rialto Report always made a point of asking people we interviewed about him, and many were happy to share memories of him: he was zany, fun, and good to have around on set. Jamie Gillis remembered long conversations about religion and philosophy. Lysa Thatcher talked about his sexual prowess. But no one knew anything about his background, attributing his presence to the accepting, anything-goes ethos of the era. He never gave an interview and his identity remained a mystery.

Ashley West tracked Jake down, and writes about his unlikely and unusual friendship with the former adult film star.
————————————————————————————————–
Jake Teague never seemed to age.
Truth is, he always looked as old as the hills. And it was that quality that made him such an in-demand adult film actor in New York in the 1970s. In sixty or so productions, Jake perfectly embodied the porn trope of the dirty old man. Occasionally he would keep his clothes on. But more often, he would act everyone off the screen before stripping naked and getting busy with the much younger cast.
Any misgivings that golden age directors may have had casting a man three decades older than the surrounding starlets were mitigated by two factors: Jake could act, and he was funny. Time and again producers turned to him to enliven their productions, from Cecil Howard, Roberta Findlay, Chuck Vincent, Lasse Braun, Carter Stevens, and Joe Sarno, and Jake never let them down. He was in all kinds of movies, from bigger budget films like Debbie Does Dallas (1978) and Neon Nights (1981) down to shot-on-Saturday-released-the-following-Friday cheapos like Blow Some My Way (1974) and The Perfect Position (1975). He was ubiquitous: in short, if you ever watched an old porn film and saw an aging, bald performer with a mischievous, professorial demeanor, then you were watching Jake Teague.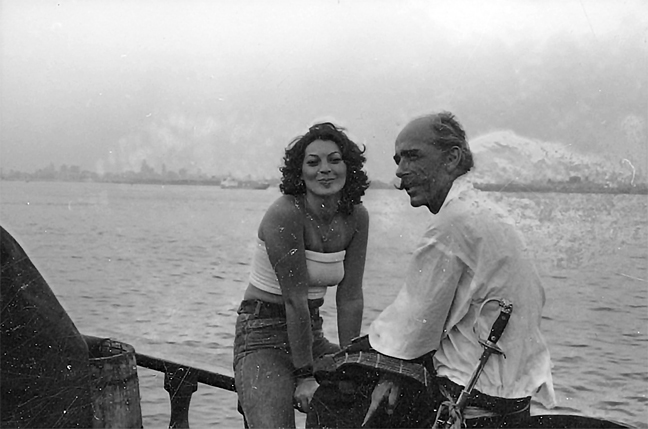 Jake Teague, on the set of Captain Lust (1977)
According to IMDb, he was supposedly born Arnold Jay Zink on June 12, 1924, in South Dakota. His prolific porn career was cut short only by his premature passing in 1983 in Citrus Heights, California, USA at the age of 58.
I wasn't so sure. Carter Stevens told me he'd bumped into Jake in a bodega in the Village in the late 1980s. Carter approached Jake and greeted him as an old brother-in-arms from a distant conflict, but, as Carter told it, Jake turned white with fear and bolted, almost getting run over by a taxi on Eighth Avenue as he rushed to escape. Fellow performer Gloria Leonard thought she spotted Jake in Central Park in the early 1990s. She waved from afar, but he turned away and disappeared into the trees. And Marlene Willoughby came across him in Union Square sometime after she'd left the business, but he said he was in a hurry, made excuses, and moved on.
Arnold Jay Zink seemed understandably nervous for a man who'd apparently died in 1983.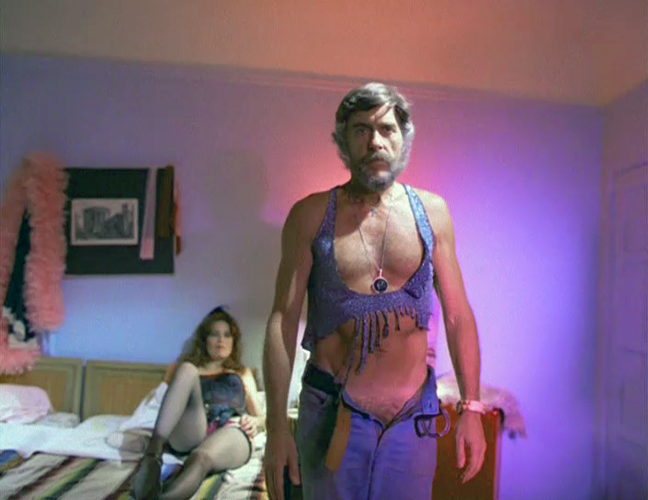 Jake Teague (avec hairpiece) with Jody Maxwell, in Neon Nights (1981)
*
Whatever the truth of Jake's reported death, by 2010, I doubted he was still alive. After all, by then many of his golden age acting cohorts had passed on – and Jake had been many years older than most of them.
I did some digging and found a phone number that was promising. My first few attempts to reach him were unsuccessful. I phoned him several times from my cell phone. The calls clicked into an automated, anonymous voicemail and I didn't leave a message. After several weeks of trying, I gave it one last go, this time from my office phone. I recognized Jake immediately from his voice when he picked up.
I explained that I was interested in his film career in the 1970s, especially as a performer who stood out by being much older than people who typically appeared in adult films. I wondered if I could ask him about his memories from the period, and the circumstances that had led him to making the films.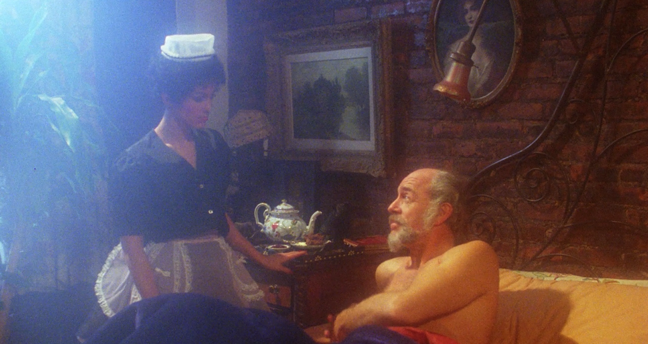 Jake Teague, with Tiffany Clark, Foxtrot (1982)
Jake's response was consistent with the latter-day experiences of Carter, Gloria, and Marlene. That is, a palpable mixture of panic and fear. At first, he said that I must have mixed him up with someone else. After a few minutes, he changed tack and said that his New York films ("I only made two or three") were a closed chapter: he'd been emotionally broken at the time and had regrettably succumbed – briefly – to the evils of the flesh. He told me the only reason he'd answered my call was because he'd seen the corporate name of my office appearing on his phone – and figured it was a business opportunity for his executive coaching company.
I apologized for the call, assuring him that I hadn't meant to cause any upset, and that I would willingly let the subject rest.
Awkward.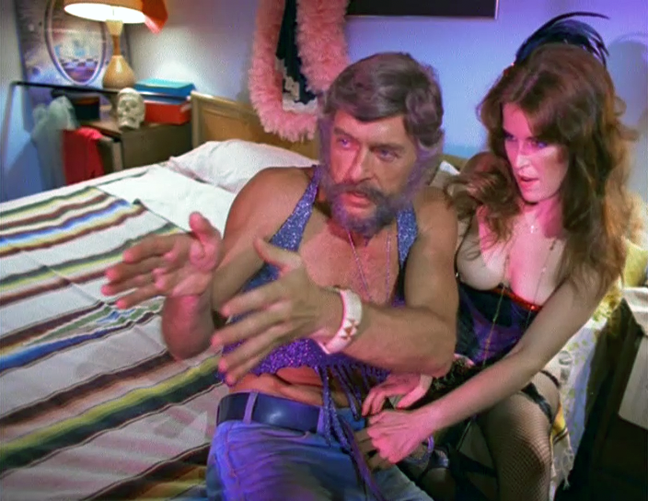 Jake and Jody casting their spell in 'Neon Nights' (1981)
*
Two weeks later, Jake called back.
He apologized for having been abrupt and dismissive the last time. He was curious as to why I was interested in such a small part of his life. And most of all, he wanted to know about my personal relationship with God. Jake told me that his mission in life was to help young men who had strayed from the Lord's path. He had assisted many men who were lost, troubled, and damaged. He said he knew how to turn lives around because of the extreme difficulties he'd experienced in his own. Could he talk to me about my life, and see if he could help me?
I told him I was intrigued but more interested in his journey: what experiences had he endured in his life that gave him the ability to help people?
I suggested we talk about our own experiences and see where that would lead us. Jake was willing and launched into his personal history.
I grew up confused: my father was an Austrian Jew and my mother an Irish Catholic. That will mess up any kid. My father was spiritual but not religious, so I was raised a Catholic.
When did your parents come to America?
The turn of the 1900s. My father was sent when he was 11 with his brother. That often happened at the time: the kids were sent over first to make it easier for the parents to cut through the immigration red tape. There was a guy who was paid to meet the two boys at Ellis Island, but he never turned up and instead took the money and went to Florida, so my father and his brother were abandoned and alone. They were lucky enough to be adopted by a family who they'd met on the boat coming over. This family took them to Niagara Falls and they settled there.
Years later, my father met my mother one day on a streetcar. They started dating and eventually got married. They had four sons: I was the youngest. I was born in 1927.
What did your father find to do for a living?
My father found work for a sign-painting company in the roaring 20s, but then came the market crash followed by the depression. We moved to a small town outside Buffalo in upstate New York, where he set up his own sign business and got a few commissions. He was a hard worker, a strong family man, and a leader and mentor to the men who worked for him. I grew up in that sign shop. It was in a nearby garage, and it was a great atmosphere for young men who hung around there joking and singing while make lettering for the signs.
How about you – what were you like growing up?
I had a happy childhood. My parents were affectionate – at least to us, if not to each other. I made money by delivering newspapers. At school, I was a jock, especially active in football and basketball. I worked out, and have always taken care of myself physically. As for classes, I was good in English but bad at almost everything else.
I liked girls and had a steady girlfriend for a few years. We were very close.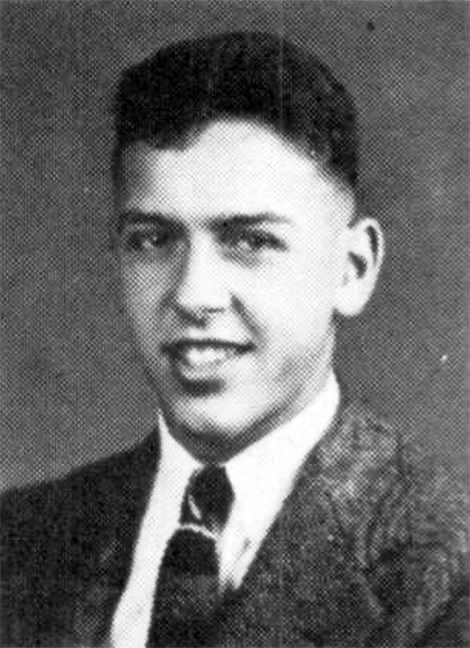 Did teenage sex ever conflict with your Catholicism?
All the time, yes. That was the source of a lot of guilt. We'd go on a date, I'd feel her up, and then I'd stay awake all night begging God for forgiveness. I was a deeply confused Catholic. That state of mind continued for many years. It still does.
Was that the same guilt behind your reaction when I called you?
Of course. Even though I only made a couple of these sex films, it's something I still regret deeply. It weighs heavily on me to this day. Every night I pray that it will go away. I beg for forgiveness.
But I'd rather talk about the major turning point in my life that eventually led to me becoming a better person.
Ok, what did you do when you left school?
World War Two was still going on so I started 16-week basic training in the Infantry. Luckily the war ended during the fifteenth week of that course, and then I was sent to Europe as part of units that replaced the boys coming back.
When you got out of the army, what career path did you choose?
I tried going to college but dropped out. I was deeply influenced by my father. He had run a successful sign and graphic design business, so I set up my own creative group in marketing communications – employing writers and designers and illustrators. And we had the same good atmosphere that my father's business had had. Our clients were corporations, companies, and colleges throughout the Northeast. It was one of the first marketing communications firms in New York state. It was a good business.
Life was great: I had a wife and family, and was doing well.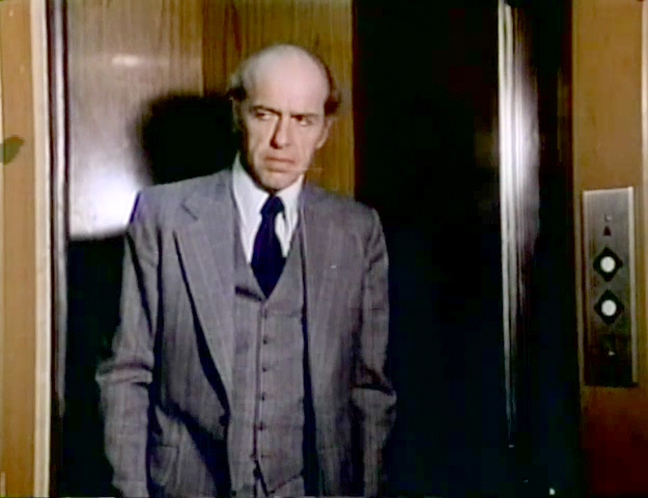 Jake Teague, in The Perfect Position (1975)
What role did your faith play in your life?
It was central. Always. Often a force for good, but also of immense conflict. And sometimes it brought me to my knees.
How do you mean?
The pressure to live up to God's expectations can sometimes be overwhelming.
How so?
Let me give you an example. And this incident changed my life forever.
I always tried to steer my business towards Catholic-oriented businesses. Why? To try and justify why I felt such a sinful, flawed man, I suppose.
An opportunity came up to launch the New Catholic Encyclopedia to the masses across the country. This was 1968. It was a huge event. It was a 16-volume edition, the first such book aimed at a mass audience since 1906. The publication date was set for Christmas 1968. The whole project was funded by a group of wealthy church families and was to be published by McGraw-Hill.
In truth, it was much too big an engagement for my company, but I was desperate to please God. So I took out a $200,000 loan to fund our work – that was a huge amount of money for the time – and we burned through it immediately.
Then, just after Thanksgiving 1968, McGraw-Hill told us that they were running behind schedule and couldn't meet the deadlines. As a result, the financing families got spooked – and pulled their funding. The whole project collapsed – and I was the one stuck in the middle. I couldn't repay the loan. My business was bankrupt.
I couldn't sue McGraw-Hill with all their expensive lawyers. I asked the church for help, but they flat turned me down.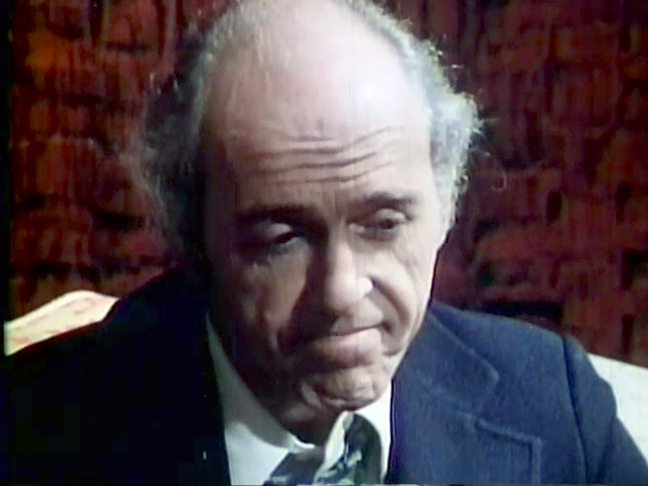 Jake Teague, in The Perfect Position (1975)
How did that change your life?
It changed everything. I lost my income. I was broke and deep in debt. My wife left me and took my children to live in the south near her family. I hit rock bottom. I was severely depressed.
Was your faith a comfort to you?
No. No.
I blamed God for rejecting me. I had tried to honor him by doing this project with the church. I felt he had let me down.
Christmas 1968 was very, very difficult. It was very dark. I raged against God with ferocity.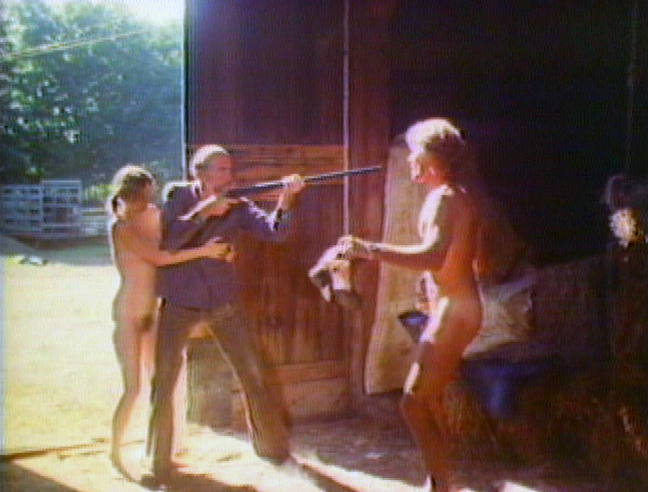 Jake Teague is angry: That Lucky Stiff (1980)
*
Jake fell silent for a long time. Time heals all wounds, but not these apparently. I felt as if I was intruding on private, deeply-buried, ancient grief.
What did you do next?
I went through the darkest period in my life.
I moved to New York City, and got a job as an ad executive – real Mad Men-type work – for a large promotion firm, but they folded three weeks later. And after that, no one wanted me. I scratched around for freelance work, making the rounds of advertising agencies and marketing/promotion firms, but I didn't make enough money to survive. I was desperate. I did anything to make ends meet. I started driving a taxicab at night.
It was tough. God had humbled me, and I was mad as hell with Him.
I got married on the rebound. It was a mistake, but I got her pregnant so we stayed together for three and half years. Then we split and shared custody of our girl. I moved in with another girlfriend, and we had an open relationship. In truth, I was drifting. I was lost. I was defeated.
Can you tell me how you started making sex films?
I was tricked. And blackmailed.
In what way?
I'd started acting to make some additional money. I signed up with a regular agency and they got me work as an extra in films and TV shows in New York. Sometimes I delivered a line or two, but mostly I was just in the background. I liked being on set and I needed the money, but it was difficult to break into acting and earn a full-time living.
The most I earned from acting was being James Coburn's stand-in in a Dashiell Hammett turkey called 'The Dain Curse' (1978). I did the blocking for him as the scene was set up around him – that lasted for three months. One day they asked me if I could do stunts for him too. Falling downstairs, being close to explosions, doing fight scenes. Of course I had no training or experience whatsoever but I said yes because I needed the money.
It was a big comedown for me: I'd had my own successful business just a few years before, and now I was getting a day rate to get kicked in the head. It was a pretty good metaphor for my life at that point.
But you said you were tricked and blackmailed into making sex films?
I went to what I thought was a legitimate film audition. It was being shot over two weekends.
I got hired and the shoot took place in an apartment down in the east village. I thought it was a regular independent film. They told me to put on an outfit and act out a scene. When I finished and was leaving, I met another actor coming in, and I noticed that he was told to put on the same clothes I'd just been wearing.
I asked him what he was doing. He said he was a stand-in for me, and was about to have sex on film – and they would pretend it was me.
I blew my top. I stormed off and said I wasn't coming back. A few days later, when I waiting to pick up my daughter from school, two goons appeared and told me to report back to the set the following weekend or else I would risk harm to my girl. I didn't realize it until later, but mafia involvement in the sex industry was high. So I went back and finished the movie.
And then… once I'd made one movie, I became trapped into a cycle of making these films and I couldn't escape. Fortunately, I only made three or four.  I made up a fake name – Jake Teague – and hoped no one would find out who I was.

It wasn't a pleasant experience at all – and ever since then, I've done everything I can to get over that experience.
Forgive me Lord.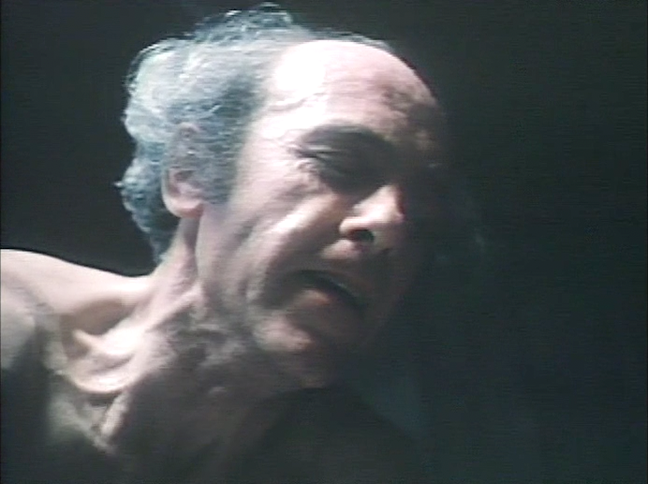 Jake Teague in Blonde Velvet (1976)
*
I was conflicted: parts of Jake's story, such as the blackmail and threats, can't be proved or disproved today. They sound unlikely in the context of the accounts of others from the same period, but who is to say – fifty years after the fact – that his story is wholly inaccurate?
Other parts however are verifiably untrue: Jake appeared in tens of films, far more than the small handful he claimed. And also, had he really been the fearful, blackmailed person he claimed to be? Many people he worked with, directors and actors, spoke highly of him. They praised his sense of fun, intelligence, and easy-going character – a far cry from the guilt-ridden, broken man he described.
I pushed back on his account, not to contradict him but rather to see if he could reconsider his past in a different light and start to appreciate the positive memories he'd left behind.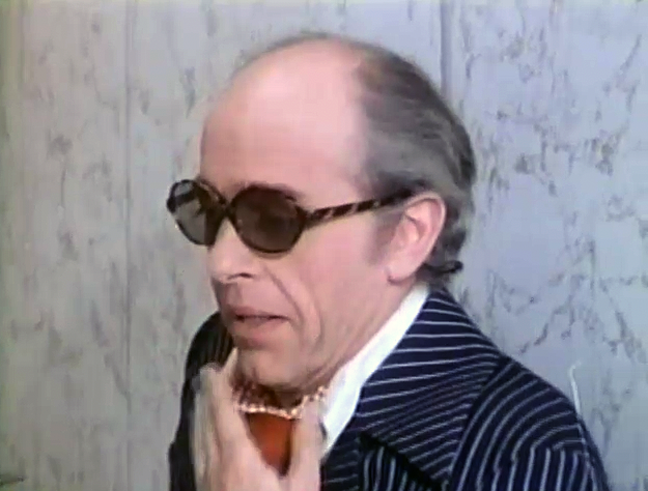 Jake, in The Perfect Position (1975)
Do you know that there are many people who remember you with great affection? People who you worked with on these films. People who I've spoken to who ask what happened to you, and wonder how you are today. Good people, people who liked you and cared about you.
I don't know these people…
Jake sighed loudly with anguished frustration. The sound of an unstoppable force coming into contact with an immovable object. In this case, the truth of reality clashing with Jake's religious narrative. A narrative that hadn't been challenged for over thirty years.
Then silence. The phone line was so quiet I thought he'd hung up. Finally, he spoke again.
These people… they weren't evil, I suppose. But they hadn't let God into their lives. They lived a sinful, immoral existence. I've been trying to make amends since then for what I did. Have they done the same?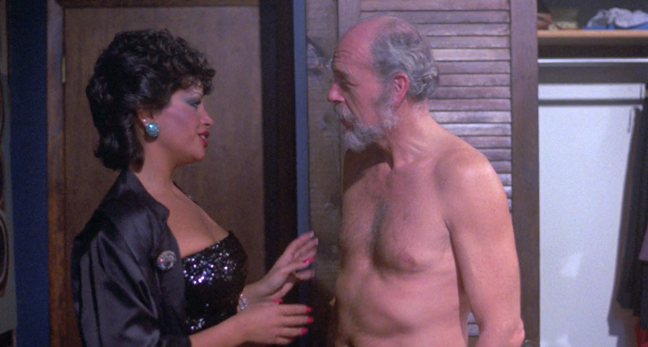 Jake Teague, with Vanessa del Rio, Foxtrot (1982)
I understand that you regret what you did back then. It's not my job or interest to convince you otherwise. That's your absolute right. But your narrative around this part of your life is based on incorrect information: You made a lot of films. 50 or 60. And you made a lot of people happy. Your friendship was appreciated by many people. Is there a way you can recognize the experience and the people – while still wishing you had made different choices? And not be so tough on yourself?
It is so difficult. It happened during a time when I rejected God. He tested me, and I failed Him. I was in a downward spiral. I couldn't escape.
I realize that it may have been difficult to stop making the films: it was an easy source of income. Other opportunities had dried up. So you did what you needed to in order to survive. That's natural. But is it possible that you are actually frustrated with the big, bad world that rejected you, rather than being angry against the one business that accepted and supported you?
No, no, no.
Sex as entertainment is wrong. It has a corrosive effect on men. It robs them of their dignity. Steals them from relationships.
I can't take part in anything you're doing. Anything that is related to these films. I have enjoyed our conversation. But we must end this now.
I told him I respected his viewpoint and was grateful that he had taken the time to talk with me. We agreed half-heartedly to stay in touch.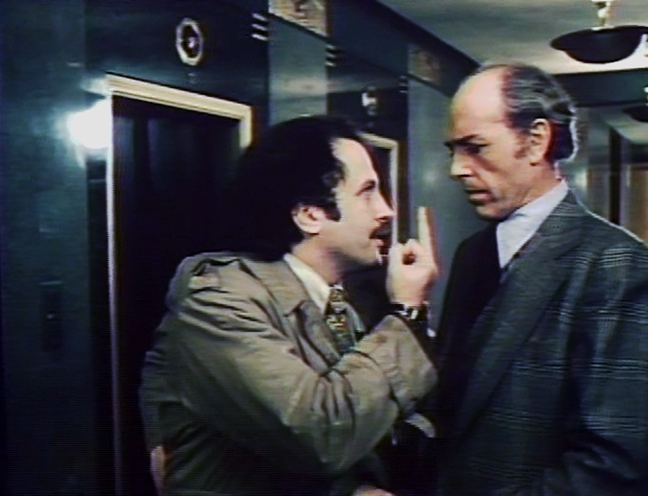 Robert Kerman and Jake Teague in Blonde Velvet (1976)
*
A few weeks later, Jake called back.
He said there was more to his life, such as his redemption. It was important that told me about it, he said.
He told me about how in the 1980s, one day, somehow, he'd found himself in an audition for a job as a corporate spokesperson. He got the role, and it saved his life. He realized he had a talent for public speaking. Suddenly he was in demand. People came to him asking for help with their presentations. Overnight he stopped making films.
He went to Hunter College at night where he completed a Bachelor of Science in Communications, 35 years after he'd first started an undergraduate course at the University of Buffalo. After getting a Masters, he went freelance and became a speech coach consultant, teaching executives to present in a more authentic, commanding fashion. Business was good, and he had money for the first time in years.
In 1993, he moved away from New York, down to Raleigh, North Carolina. He was past retirement age but he enjoyed working and was making up for lost time. Surprisingly, he got one more acting gig – the biggest budget film of his career: 'Sudden Death', a Jean-Claude Van Damme potboiler shot in Philadelphia in 1994.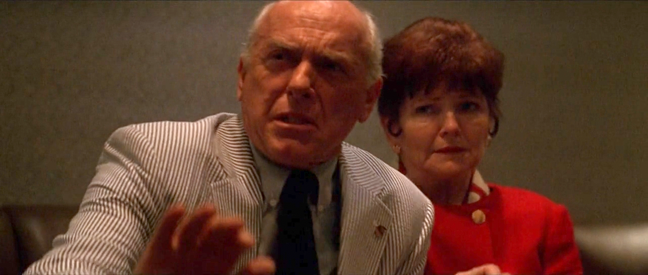 Jake Teague, in 'Sudden Death' (1995)
Above all, he re-discovered his faith. It hadn't been an easy journey, and he still carried a lot of guilt from various stages of his life, but he was happy for the first time in decades.
He became a Stephen Minister, a lay congregation member trained to provide one-to-one counseling for men undergoing life trials, such as grief, divorce, job loss, chronic or terminal illness, aging, and death. Jake said he'd finally discovered his true vocation and strength: listening, advising, and passing on the benefit of his mistakes and failures. For twenty years, he held weekly self-help meetings for groups of men. Over forty men turned up each time. He also found the time to write two books – one a collection of conversations between two retirees searching for the meaning of life, and one about effective presentations.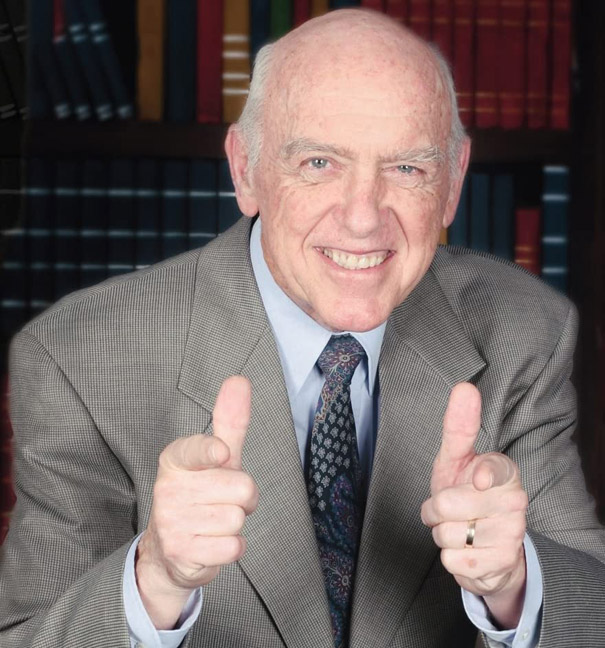 Jake Teague, motivational speaker
And he discovered a talent and a love for sculpture: in 2000, he started to do it full time. He opened his own studio ('The Village Sculptor') hoping to work on commissions, such as busts of notable people or loved ones. He enjoyed it, but the business was a struggle: "There wasn't a lot of demand," he commented sadly, "and most of the time, I was sculpting deceased pets."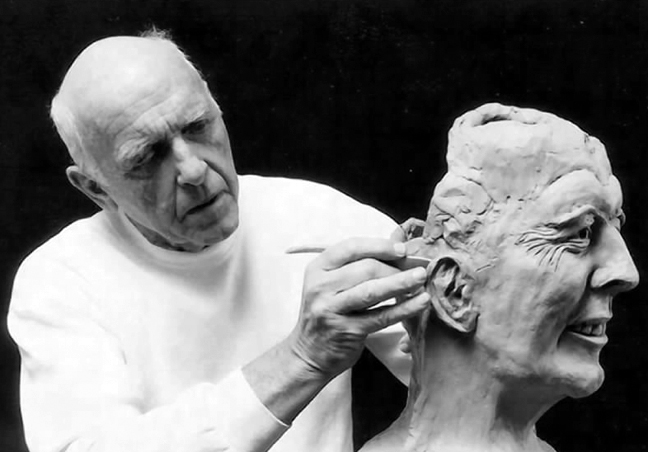 Jake Teague, sculptor
When our conversation came to a natural end, Jake said felt relieved – as if a burden had been lifted from his shoulders. He seemed different from the nervous, tense man running from his past that I'd first encountered. But he hadn't finished. There was something else he wanted to talk about.
Who did you you say you'd spoken to? You know, people from the skin-flicks. People who remembered me.
Many. Carter Stevens. Gloria Leonard, Jennifer Welles, Jody Maxwell, Jamie Gillis, Vanessa Del Rio, Bob Kerman. Others too.
There was a silent pause.
Ever run across Marlene Willoughby?
Sure. She remembered you too.
Huh.
What do you remember about Marlene?
I loved Marlene. She was a darling.
You do remember the experience then.
Sure.
Lysa Thatcher?
What about her?
The sweetest. I think about her still.
The mood music had changed. A sense of melancholy had appeared.
Jake changed the subject.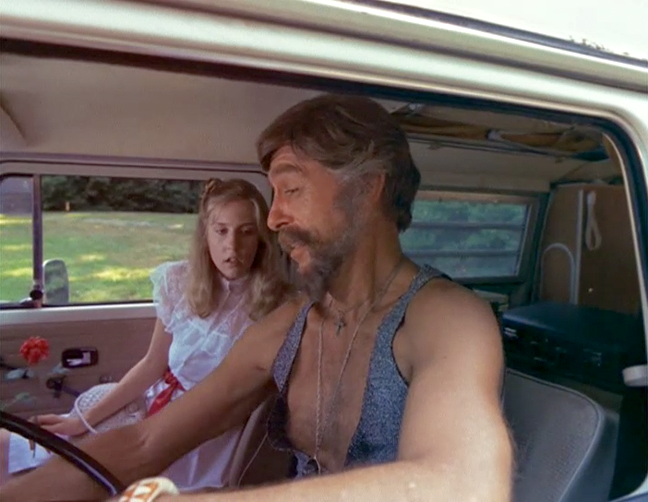 Lysa Thatcher, and Jake
*
Over the ensuing years, my relationship with Jake was sporadic, sometimes uneasy, often inconsistent, and usually affectionate. He'd call to expand on something we'd already discussed. On a rare occasion, he asked about the adult film era. It occurred to me that he thought of me as some kind of biographer. I asked him what he intended me to do with the life story he'd shared with me. "You can keep it to yourself while I'm still breathing," was his gruff reply.
More and more though, he started to call to warn me about the evils I was opening myself to through my interest in old-fashioned sex films. Jake was serious about that: for Jake, the devil was real and fighting him was a necessary daily battle. Sometimes his calls were too much: I'd send them to voicemail, and then, late at night, I'd listen to his long messages about the dangers of letting the devil into my heart. There were two Jakes – and increasingly, the holy one was winning the battle for his soul. Forget it, Jake. It's Chinatown.
At the end of one of our last calls, I remembered a question I'd never asked: Arnold Jay Zink.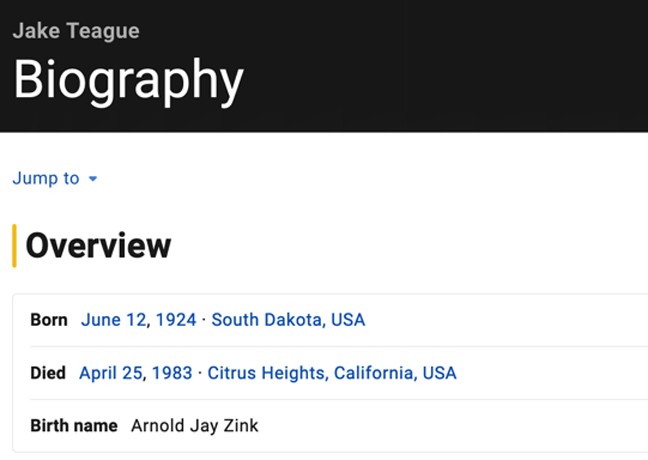 Who was Arnold Zink? Did he even exist? And how did his life and death become mixed up with yours?
Of course he existed. He died at the same time I was leaving the film business. So when the internet came along, it was convenient. I didn't want any attention for what I had done years before. He became me… in an online sense. And after that, I was able to relax and live more freely.
So, you're saying that were able to live because… when he died, he saved you by taking responsibility for your sins?
You could look at it that way.
Where have I heard that before?
Jake laughed. I'd heard him laugh many times in the films, but it was the first time I'd heard him laugh in real life.
*
Jake Teague died in July 2023, at the age of 96.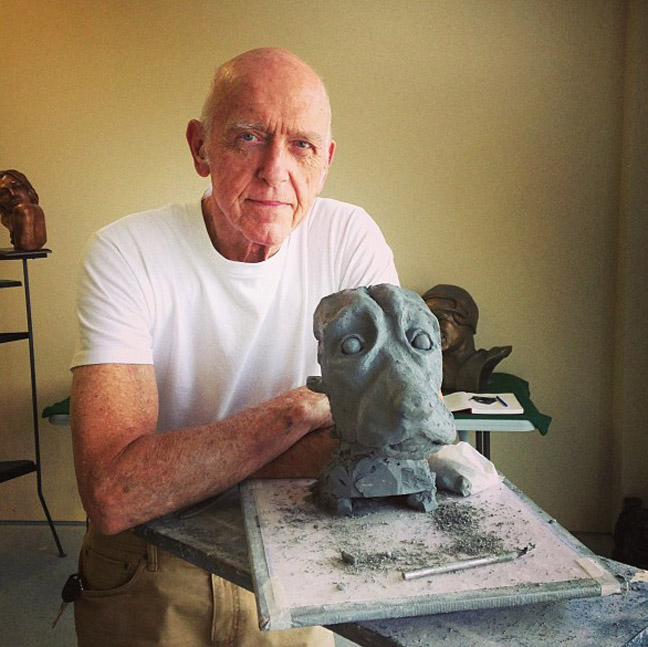 Jake Teague
*