Beau Buchanan had an interesting life.
He was a child actor who appeared on stage and on the big screen in Blackboard Jungle (1954), he worked on an Academy Award-winning documentary, was production manager on many early New York adult films, discovered Georgina Spelvin before she appeared in Devil in Miss Jones, flew planes, was the personal assistant to a notable spiritual guru, formed a porn-producing partnership with a famous psychic, made the most ambitious and expensive of 1970s sex films, became a pioneer in video distribution, was a key player in the investigation of the Jonestown murders, and sailed across the Atlantic single-handedly.
Let's admit it: People who made pornographic films in the 1970s were sometimes more interesting than those today…
This is The Rialto Report's interview with Beau Buchanan.
___________________________________________________________________________________
1.     Beau Buchanan – Beginnings:
You lived and worked in New York for all of your adult film career, but you're not from New York?
That's right. My life started in California when I was born November 22, 1937.
Were you interested in movies from an early age?
Actually, ever since I can remember, as a kid, I wanted to be an actor. I wrote and performed plays in the basement of our house when we were young. As I grew older, I auditioned for parts in plays. Not just in California either: I worked in a stock company in Mexico when I was 12, and later my sister and I had roles in the off-Broadway production of 'The Innocents.'
Then I was in a production of 'Oedipus Rex.'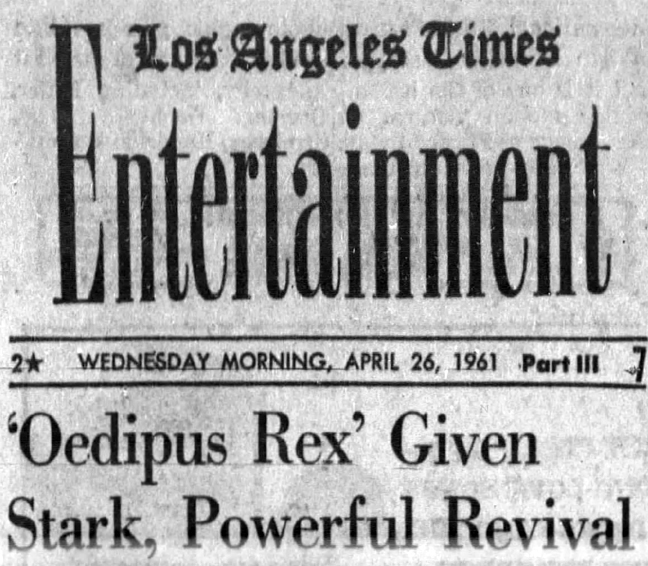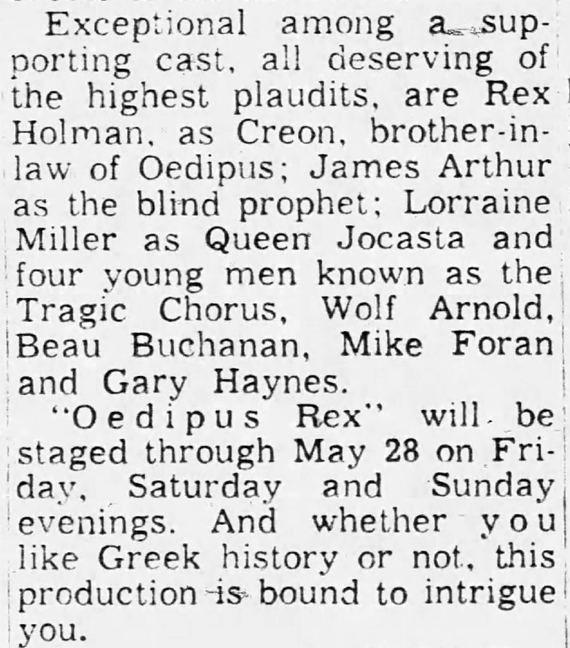 Early mention of Beau in a theater production of 'Oedipus Rex'
Did you get any acting roles in films?
Yes, several. My first movie role was in the MGM film Blackboard Jungle (1955), which turned out to be a big hit. It was about an interracial inner-city school, and Richard Brooks was the director. He visited schools in Los Angeles in 1954 to cast the roles of the kids, and I got a small featured part in it. Nowadays it's best known for the rock and roll soundtrack and also because it had a black actor, Sidney Poitier, in a lead role.
The casting agent said they wanted everybody to be over 18 when the film was shot. I was 16 and he asked me how old I was. I said, "I'll be 18 in November" which was not a lie: it just wasn't November that year. I spent a lot of time being tutored on set in between the acting.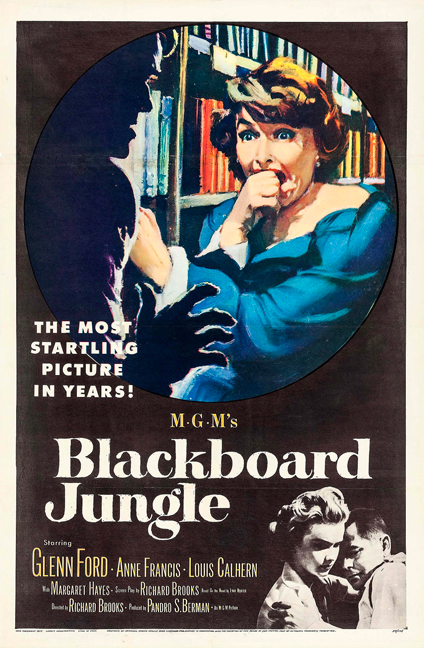 What was it like to be part of such a successful film?
It was really tremendous because the film broke all records and it was a big surprise. When it opened, I was on an anthropological expedition in Guatemala, and when I came out of the jungle my friends called and told me, "The film is just breaking all the records and people are dancing in the aisles."
It was great: I met Sidney Poitier, Glenn Ford and Vic Morrow.
Did you continue acting after that?
I did some acting here and there. I did some directing too. I taught theater at a school, and then I became interested in working in television. The problem was that none of these jobs paid much, and as much as I liked film, I always liked to make money too. I was entrepreneurial, and so I had a number of businesses – like a parking business, and I was an excavator and grading contractor too!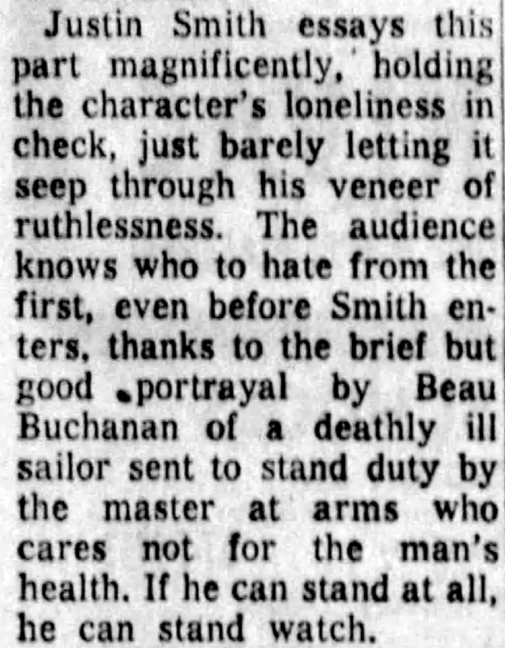 Review of Beau Buchanan on stage
How long did you stay in California?
In the late 1960s, I moved up to Seattle. I had a business failure, and I lost a lot of money. I was completely broke, so I decided to move to Australia to get away from everyone. But in the end I stayed, and moved to Seattle.
In Seattle, I worked at a local TV station. There were two films companies in town and I got a job offer from both of them the same day. But I stayed freelance because I wanted to be independent – that stayed with me my whole life. I always worked for myself.
The guys at the TV station would say, "Beau, why don't you come onto our staff? Then if things slow down, you'll still have a job." I said, "If things slow down, I don't want to be here!"
Being freelance meant you had more flexibility for whom you worked?
Yes. For example, I worked on a film that won an Academy Award. It was an environmental documentary called The Redwoods. The film was made as part of a campaign for a national park to protect the redwood forests.
What did you learn from your time at the TV station?
It was a great opportunity because I worked with really, really talented film people. I got to do everything – from sweeping floors to directing, editing, shooting, and lighting. I even became an animator when I had an argument with the animator. He said, "Screw you, do it yourself" so I did!
I also worked as a technician on many films sets, including a few that were starting to do more risqué adult films.
*
2.     Pornography in New York (1972)
How did you end up in New York?
I went to New York in 1969 looking for independent film work. By now, I was an experienced crew member, generally as a grip, best boy, or gaffer. I'd basically take any work that I could find, but since I was non-union and new to town, I found fewer opportunities. Many low budget films were sex films at that time… that's how I got into it.
What do you remember about the early X-rated scene in New York in the early 1970s?
It was more than just a film movement. It was a rebellion. We wanted change, we wanted to do something different, and this was an opportunity. It was fun. We made it all up as we went along, we established the rules.
When I encountered the consensus that we couldn't do something, I would look for a way to do it anyway – just to prove that our generation had no boundaries. Sometimes it was a technical question: for example, when I was working in Seattle for the TV station, they'd say, "You can't use a strobe light." That made me say, "Why not? Let's try it and see what happens."
In my case, I was excited because I could do everything. I could actually go out and make it happen.
Were you surprised by the sexual permissiveness in films?
Yes. It was a daring time, and I'm sure that people were attracted to it because of that.
I remember the actress Kim Pope on one of the first film sets in New York. She used to be a teacher, and so she used a different name. She was there with her boyfriend, and he had no concerns about the fact that she was about to perform in a sex scene with a guy she'd never met.
That was all new to me.
Kim Pope
What was your impression of New York at the time?
New York was always this tremendous pool of energy. There were a couple of times when I was essentially broke in New York in the early days – but there was always something you could do. It was such an exciting, dynamic place.
California had its own energy but it was much less than New York. Even when I was down and nearly out in the city, I would go scavenging on the streets and find some nice furniture that people just didn't have room for.
What do you remember about the people who worked on adult film sets?
There were really some good, talented people that worked on the films, but they just couldn't get a job in the mainstream movie world because there wasn't enough work. So this was an opportunity to do something. This was an opportunity to make some money.
It was the first time in history that people were making explicit sex films on a regular basis…
Did that lead to any unusual situations?
I remember shooting heterosexual sex films for a director who was gay. His producer happened to be a psychiatrist, and so this psychiatrist handed out drugs to anyone on set who wanted them. On one occasion, we'd almost finished the shoot, but the lead actor wasn't able to get it up because he'd taken so many pills. So the producer offered a bonus, $50, to the first guy who could step in, get it up, and finish the shot. It was kind of funny to see these crew members standing around whacking off in competition to see who could do the scene.
Do you remember any directors in particular?
My first movie was for Leonard Kirtman. He gave a start to many aspiring filmmakers. He didn't pay well, in fact he paid nothing, but you could learn a lot.
Lenny Kirtman was a phenomenon; he had this building, a three-story brownstone, on the Upper West Side in the 70s, and he would shoot 60 minute softcore films. He'd shoot three each weekend, and they'd be shot at the same time in different rooms. He'd go from room to room, change the bed, move the furniture around, and then shoot another scene.  The movies would have a very loose kind of storyline, and he'd hire first-time people to appear in or work on the films. They probably didn't realize that they were appearing in three different films! They had no idea. It didn't matter. The performers didn't really care what the storyline was, there wasn't enough storyline to require a script. I think his budgets for films were something like $1,500…
But Leonard was a massive producer of these very low budget films. Later on, he moved away from softcore features to shoot hardcore films. But in my first New York years, he was king of the early sex film business in New York.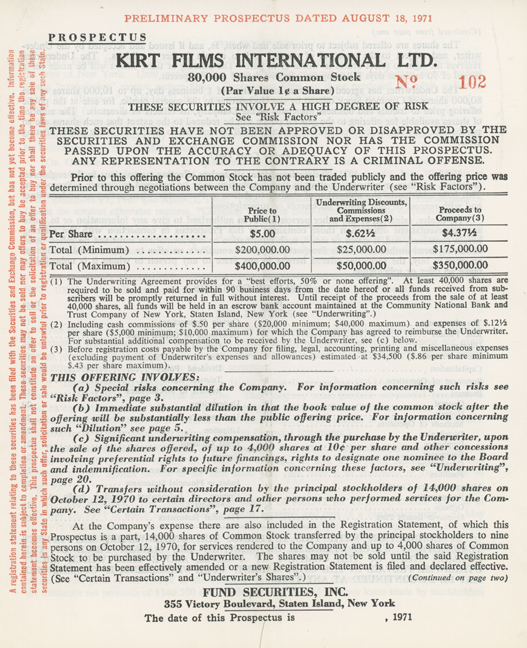 Leonard Kirtman's prospectus, raising money for his film company, Kirt Films, in 1971
What was Lenny like as a person?
Lenny was in it for the money. He was essentially a business man. He had a large ego too. I found him fascinating though, and one day I decided to make a documentary about him and call it 'The Snake in the Big Apple.'
I wanted to document Lenny himself – the man and his methods. I knew he was a unique and semi-important figure, and that would make a compelling documentary so I started shooting it.
I wanted to film him directing an S&M scene, and we got a gal who was a dominatrix and a guy who agreed to be the submissive.
Unfortunately, the actor was late getting to the set, and by the time he arrived he was a nervous wreck. We eventually got him calmed down enough to start shooting, but he was temperamental and at some point, he just blew up and started yelling at Lenny, "Why does no one understand the incredible sensitivity of what I'm doing?!
As a documentarian, I thought this was fabulous footage, the kind of sequence that you dream about. Leonard on the other hand didn't know what the hell to do with it. He thought it was a disaster, so it all ended up in the trash can.
Who else did you interview?
Casey Donovan was an interesting guy that I got to know. We spent some time together, and I felt it was important to document his impressions on the adult scene as he was a gay man.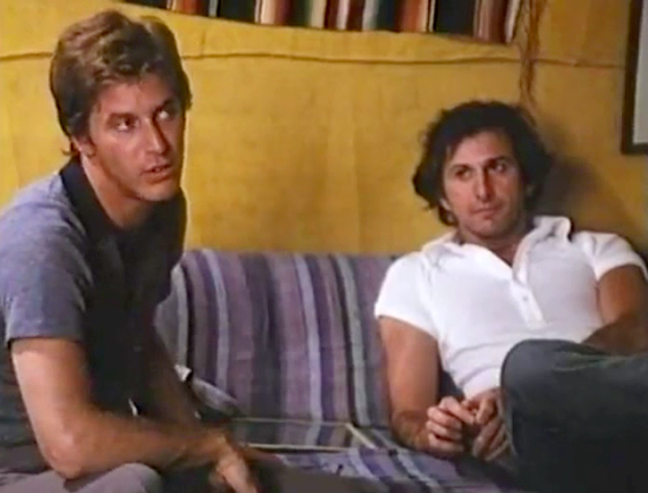 Casey Donovan (left), in 'Pornography in New York'
What happened to your documentary?
Lenny didn't understand that it was meant to be a portrait of him at work, so it as difficult to get him to reveal himself – or agree to be seen in this way.
In the end, I got kicked off the film. Lenny and I had a disagreement: I bought a flatbed editor and sold it to him for a higher amount. That annoyed him enormously, so he fired me.
As for the footage I'd shot, he took some of it and made a different documentary, which he called Pornography in New York (1972). It wasn't the same though.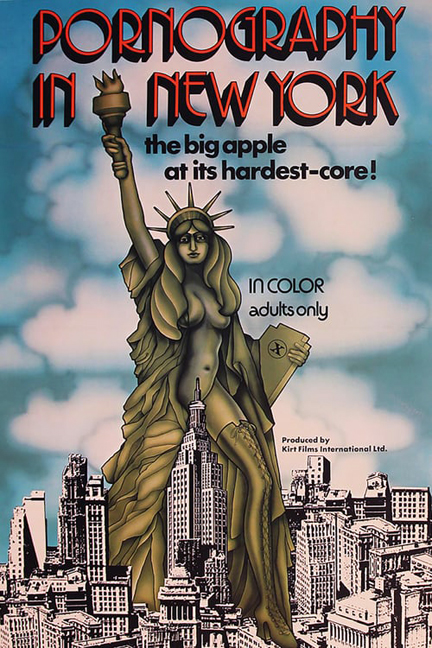 *
3.     The Swami
Apart from working on films, what else were you doing in New York?
I was doing various things – I'd learned how to fly, I started a few businesses, and when I first arrived in New York I met a person who completely changed my life forever: Swami Rudrananda, better known as Rudi.
Rudi had a store called 'Rudi Oriental Arts', based on picking up stuff from dealers, or even off the street, and then selling it. It became an enormously successful antique business, so he expanded and imported items from the East.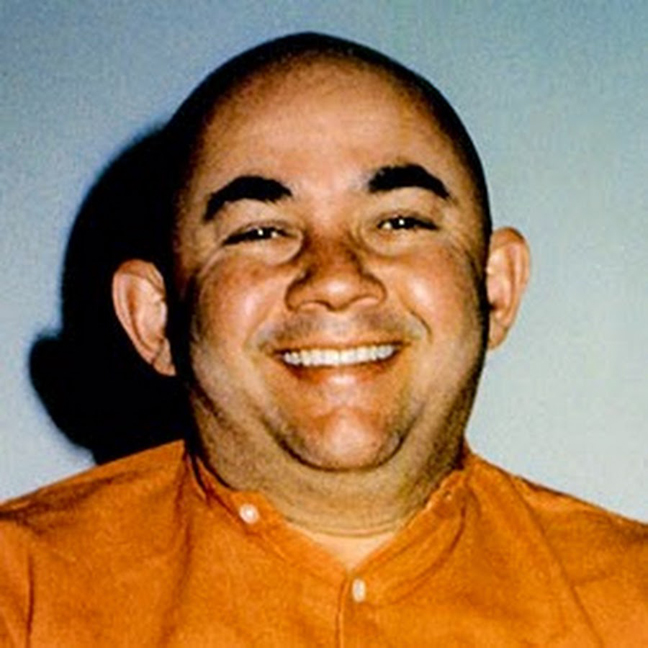 Swami Rudrananda (born Albert Rudolph), better known as Rudi
How did Rudi change your life?
Rudi was a businessman, but he was first and foremost a meditation teacher. And I was arrogant, driven, thick skinned, and stubborn.
My roommate Mimi introduced me to Rudi. I first met him at his store on 4th Avenue. Mimi had been studying with him for a time. I wasn't looking for a teacher, but Rudi took me in and changed my life. He was so full of wisdom and insight, and he helped me to grow in ways that I never would have without him. He was phenomenal, I don't what the hell I would do without him, really, His teachings have been my life. Rudy really gave me my life. He's such a dynamic person. I have never met anybody, or known anybody, anywhere near his level.
What appealed to you about him?
I felt that we are not in touch with our spiritual beings, we're not in touch with our true senses, we don't relate to people, and we don't relate well to ourselves. I felt, and I still feel right now, that we live in a time of tremendous hypocrisy.
What role did Rudi play in your life?
He was central in whatever I did. He didn't know how to drive, so I became his driver, and I accompanied him everywhere. I also had a business furnishing people's apartments with items from his storefront.
He established an ashram in a small New York town called Big Indian. Rudi named it Shree Gurudev Rudrananda Yoga Ashram. His students, like myself, restored the property, and he traveled there giving classes at weekends.
Rudi was everything.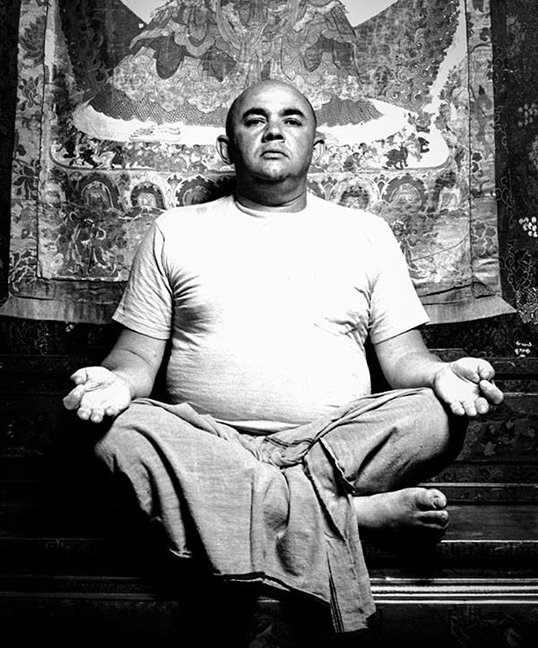 Rudi
How did Rudi fit into your life in X-rated films?
In February 1973, we were in New Jersey, and I was flying Rudi and some friends, my roommate Mimi and Stuart, back to Glen Falls in New York. Rudi was sat on the small plane dictating his next book to Mimi.
We were flying out of Teeterboro Airport, and I lost radio contact after take-off. As we flew into the Poughkeepsie area the fog started coming in. I was flying blind.
There are two alternatives in this situation: the normal procedure is to do a 180 degree turn and go back, and put the fog behind you. Or you take the plane down and find a place to land. Instead I decided to go above the clouds… but I couldn't get above them.
So I got down below the clouds, but instead of landing the plane, I decided to fly between the mountains along the river – under the fog. Then the fog completely engulfed us. Suddenly I saw mountains appear on either side of us. Rudi had stopped dictating by this stage.
Then we crashed.
I lost consciousness. I was upside down in the plane. I called out. Only Mimi replied. I got out of the plane. Then Stuart called out. Rudi was still strapped in the plane. We tried to revive him, but I could see he was gone. There was nothing we could do.
It was late in the evening, so we built a fire and descended the mountain the next day. Three of us walked away from the crash. But not Rudi.
Rescue teams went up later to retrieve his body.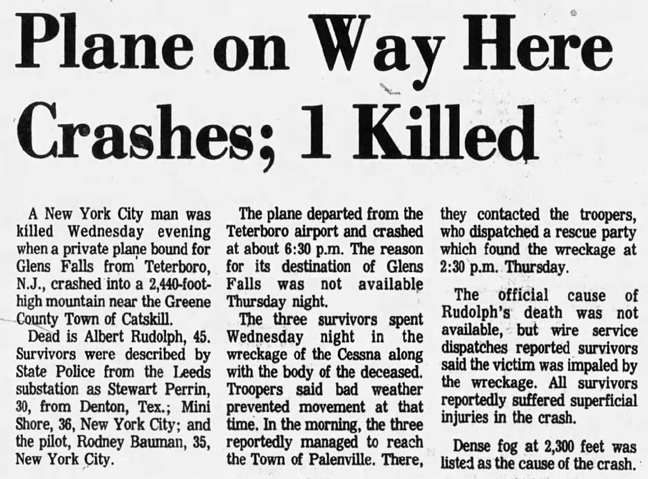 How did you deal with that?
I spent many days, nights, and years thinking about. I was responsible for the death of the person that I loved most. That I still love most.
But I kept Rudi with me. He still lives. I still learn from him every day.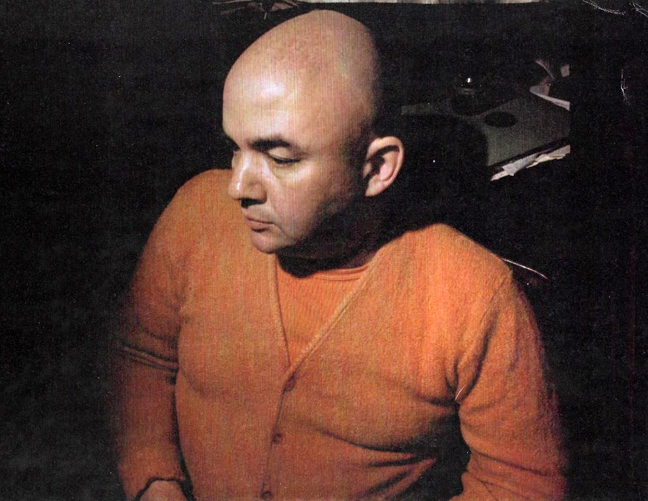 Rudi (1928 – 1973)
*
4.     High Priestess of Sexual Witchcraft (1973)
When did you decide to start making films of your own?
When I started working on other people's sex films, they were kind of cheap and earnest, and I always thought, "Damn, I can do better than that."
And it was a time when films were becoming more sexual, where you could show more. We were challenging the limits of what you could show, of what you could do onscreen. It evolved very quickly over a short period of time. When I first started working in New York, there wasn't one shot hardcore – it was considered taboo; it was just not done. Even full nudity was out of the question, and we certainly didn't show male nudity. So I thought, "Let's see what we can get away with. Can we go any further?"
For me, it was an exciting time. Rather than just making a buck, this period was a holdover from the 60s, where people were challenging the sexual mores of the country, breaking away from the rules. That was exciting. People were drawn to it for that.
No one was hiring directors, so I made myself a producer.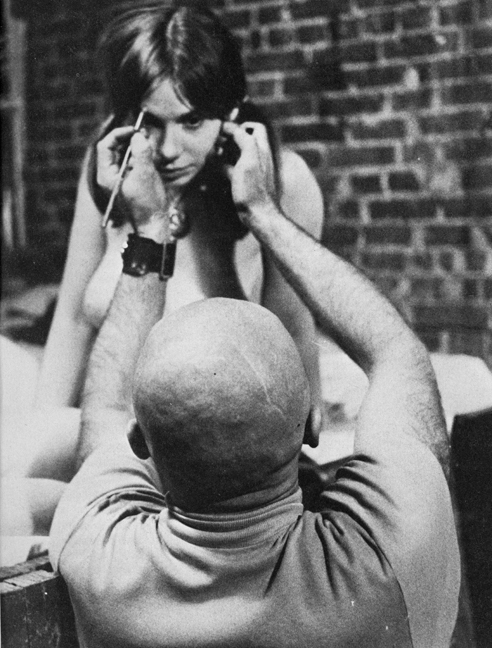 Beau Buchanan applies make-up to an actress
What was your first film?
I came up with the script for High Priestess of Sexual Witchcraft (1973) – which I directed.
The week before we shot it, I was a crew member on a cheap adult film – and it was a 'nothing film.' The director was shooting it without sound, and it was pretty forgettable… except for the fact that Georgina Spelvin was playing a minor role. This was before she appeared in Devil in Miss Jones, which made her a star. I thought her talent was being wasted so I approached her and said, "I'm going to make a film, and I think you're special. I'd like you to be in it."
I don't think she'd never starred in a real adult film before.
What was her reaction?
She was a little skeptical, but she said, "Yeah, sure, why not?"
I think she was a little flattered, and probably skeptical of the flattery, but I really meant it.
I spoke to Georgina, and she remembers not realizing that the role required her to actually have sex on camera… She said that it suddenly dawned on her halfway through the shooting. She figured that she couldn't back out of it at that stage, so she thought, "Oh, what the heck. I might as well do it."
Really? I don't remember that, but it's possible. She was excited because I told her that this was a proper acting role. I paired her up with Rick Livermore (aka Levi Richards) who was playing her son, and she hit it off with him. So much so, that she wanted to continue having sex with him even after I yelled, 'Cut'.
What happened was that I said, "Ok, that's good. It's a wrap" and Rick started to get up, and she said, "Wait, I'm not done yet!" and so they went on until she got off. Great lady.
Georgina was very talented, she was an outstanding performer and actress, and warrants the appreciation and fame that she had.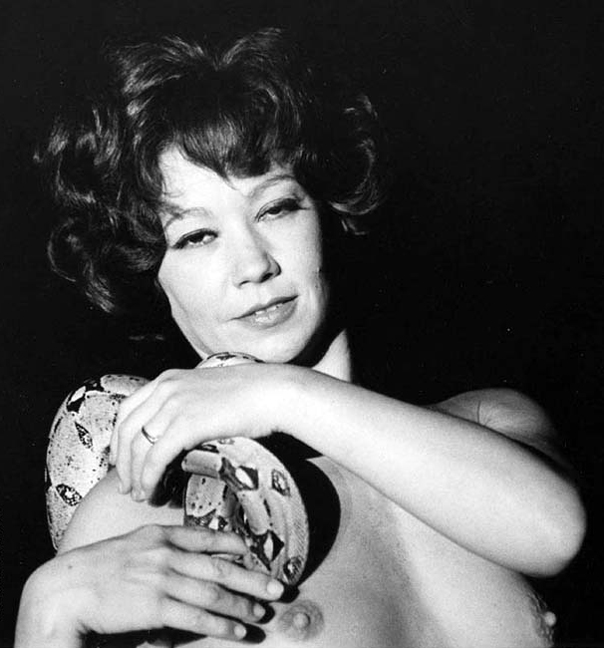 Georgina Spelvin, with Marc Stevens' snake
Who did you use as the crew for 'Sexual Witchcraft'?
The cinematographer was Juliana Wang, who was a well-known documentary filmmaker.
She was one of the first female camerawomen in the film business. She'd been nominated for an Emmy award in 1967, and she went on to win an Emmy for a documentary on lesbian mothers in 1978.
She was great, but despite her success she struggled because no one wanted to hire a woman, so she took all kinds of film work – including XXX films. She died in poverty in the early 90s.
How did you distribute 'Sexual Witchcraft'?
That was difficult due to the incest scenes which were part of the story. I was pushing the envelope. It was one of the first films that had supposedly shown incest, and people were shocked by it.
All the distributors got scared by that, and I just couldn't sell it or get a distributor to pick up the movie. So I approached the Lido Theater in New York, and said "I got a film."
They agreed to exhibit it, so I said, "I'm guess I'm a distributor now as well."
It's funny because I became a producer because I wanted to direct, then I became a distributor because I wanted to sell my movie. I formed my own production and distribution company, called Anonymous Releasing Triumvirate – or A.R.T. for short.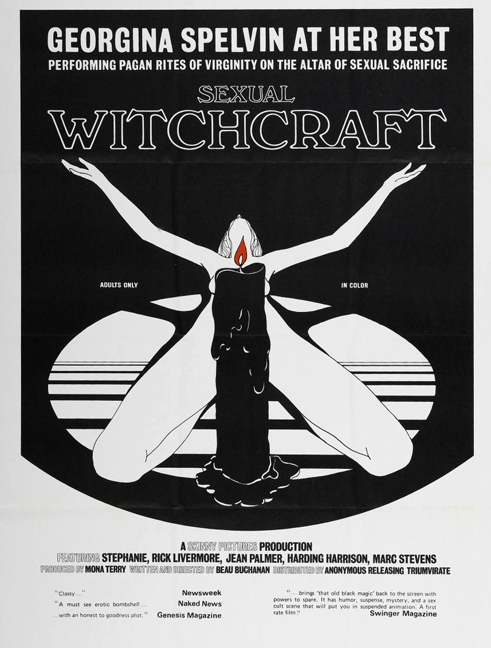 How difficult did you find it to put the whole film together?
I put a lot of effort into it. I had a good crew, I chose performers who could really act, and I was proud of the poster too. I got a good designer and I told him, "Here is the pose that I want." It was a black and white poster with a candle and a woman laid back. That was worth it to me, having that artistic sense.
How successful was the film?
It did ok. I got my money back pretty quickly, and then made a profit by distributing it nationally.
You used your name Beau Buchanan consistently on all your films.
That was Rudi's influence. He told me not to hide who I was.
I once said to a girl, "It's important to be open and truthful," and she said, "That's boring. Uncertainty is more exciting. The natural instinct of a human being is to lie, and it's necessary: you tell your enemy you're strong when you're not."
I didn't like the idea of having to defend myself by denying myself, so I used my given name throughout all the films I made.
*
5.     The Psychic
You mentioned being the producer for all of your films, but where did the money come from?
My executive producer and the source of the finance was a well-known psychic, a dear friend, Beulah Brown.
What was her background?
Beulah was a legendary medium who first became famous in the 1930s. She worked out of her place on West 72nd St, and she provided 'Message Services.' This meant she was in touch with the spirit world, and she'd give messages from loved ones to those who'd passed on, or speak to the dead and relay their messages back to the living.
By the 1960s, she'd attracted a large following, and she formed her own church, the Little Cedar Church, which still operated out of West 72nd St when I met her. You'd see a number of famous people there seeking her help.
There were often too many people for her to help individually, so she had a big wicker basket and people would write their questions on scraps of paper and drop them into the basket. She picked the slips of paper out at random and answered their questions.

Beulah Brown advert from Daily News, New York in 1934
How did you meet her?
I first met her at Rudi's ashram that we established in Big Indian.
What struck me about her was her absolute confidence. There was no way that she was a con.
I went to her gatherings and was impressed. Sometimes she'd deviate from her routine of answering people's questions: instead she'd address the group and ask which person had lost a relative for a very specific reason. Then she'd help them with their loss. It was amazing. She always repeated that there was no such thing as death. We all just inhabit our bodies temporarily, and eventually we shed them.
She predicted the future with great accuracy. She was continued working as a psychic until the late 1970s.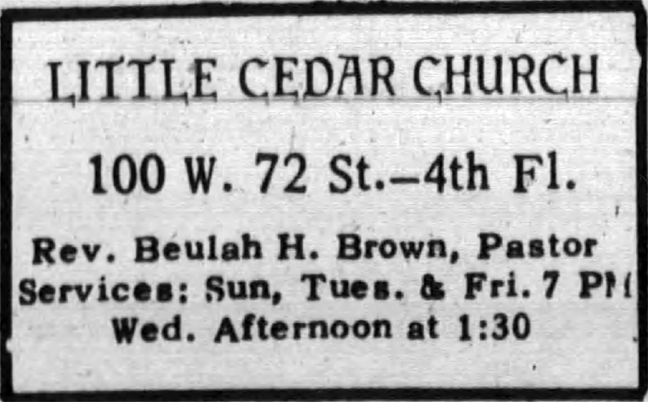 Beulah Brown ad, 1964
How did she get involved in making XXX films with you?
We became good friends, and when I told her what I was doing, she expressed an interest in producing movies with me. We became partners for all of the movies I made from that point onwards.
She was quite wealthy – so we produced porno films together.
*
6.     Happy Days (1974) and Soup de Jour (1975)
After 'Sexual Witchcraft', you continued to make adult films?
Yes, it was a great time to make films as an auteur. I loved that I could do everything from producing to writing to filmmaking to distributing. And I always had a knack for making money.
What did Beulah and you decide to do next?
We formed a production company, Skinny Pictures, and we made Happy Days (1974) and Soup de Jour (1975). I did everything; producing, directing, distributing, and was the main crew member…
What was the concept behind 'Happy Days' (1974)?
It was set in the 1950s like 'American Graffiti' which had just come out and was popular. I had this idea that I wanted to share the sexual fantasies of the actors. So when I called in the performers to interview them for the film, I told them what it was about and they said "What a great idea, let me tell you what my fantasy is…"
Then I said, "We'll recreate that." I let them pick out the performer who they wanted to worked with so that they felt part of the process.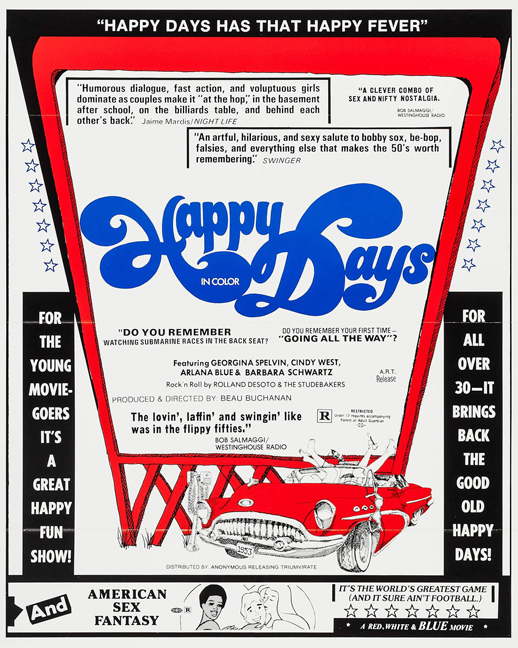 Can you remember an example of that?
Arlana Blue was a well-known dancer and softcore actress, and she told me she didn't want to perform explicit sex on film. I talked to her about doing the film, and I said, "We want to do real sex, we want to have the real thing going on, but I don't like the concept of hardcore films, that's not real, and I don't want it to be gross," and so she agreed. She hand-picked Sonny Landham to perform in her scene with her.
Arlana's fantasy was making it with a Frenchman and we really had a tough time to get Sonny to sound like a Frenchman…
We were shooting down in the Village, and we were setting up the lighting and Arlana was lying on the bed naked waiting to start. She turned to the script girl and asked her what date it was.
Arlana said she asked, "…cause I'm trying to find out when my period is and whether I should let him come inside me or not."
She was hysterical.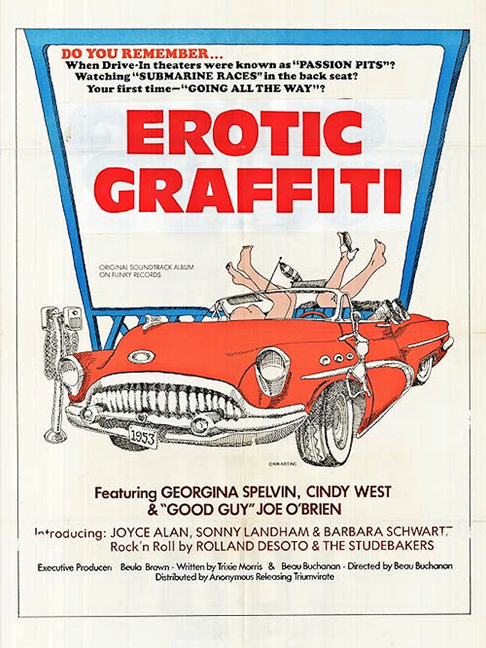 'Happy Days', released under an alternate title
How successful was 'Happy Days'?
It was a big film for us. I took the lessons I learned from 'Sexual Witchcraft', and we made lots of money.
I also made it into soft and hard versions which enabled us to play in all markets. That made us even more of a profit.
And you even had a soundtrack album for 'Happy Days' – and a single was released?
Yes, I was proud of that. Copies are still floating around on eBay.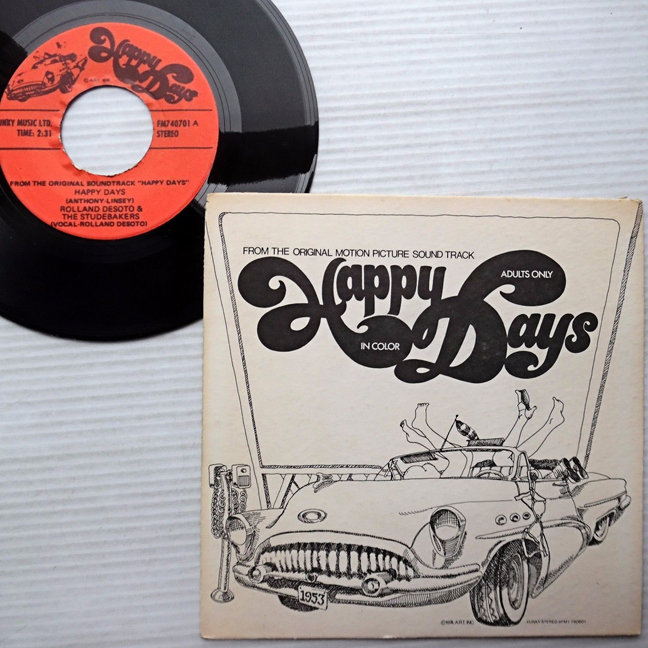 Did you continue working on other people's films while you were producing your own?
Yes, Juliana and I worked on documentaries. I was often her soundman. She was great at documentaries because she was short and stacked with a low center of gravity, and she'd just walk through crowds and bowl people over.
Eventually I got out of making documentaries because I got to feeling that as a documentarian, I really took advantage of people in situations. Shooting a documentary gives you the right to go up to anybody and put a camera in their face just because you have the excuse that you're documenting something for posterity.
It was strange because when I made adult films, I felt I was exploiting people less than when I was making mainstream movies.
Did Juliana shoot all your films?
Most of them, but sometimes I used two or three camera people. I worked with Charlie Slavens, who shot a lot of boring stuff, but he was a solid cameraman and dependable.
I also worked with Joe Mangine. He was a top cameraman, really good. He did whatever work he could, and he liked to experiment and do things that the major filmmakers wouldn't do. We did a lot of handheld stuff, and grabbed our lighting as we could.
What do you remember about your next film, Soup de Jour (aka American Sex Fantasy) (1975)?
It's a terrible film. I guess they can't all be good, and that wasn't good at all. It had nothing really.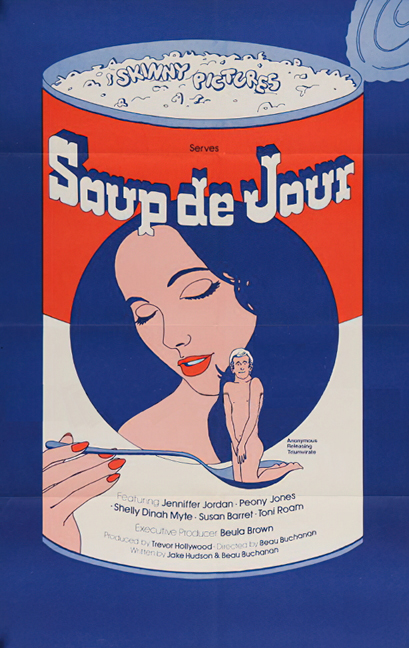 What went wrong?
The first mistake was that I called it 'Soup de Jour.' That was supposed to be a play on the Bunuel classic, 'Belle de Jour' (1967), but it ended up sounding more like a fast-food selection. I changed the name after it was released to 'American Sex Fantasies', but the damage was done.
We fell short with it. It didn't work out well. I hear that it's impossible to find on DVD or video nowadays.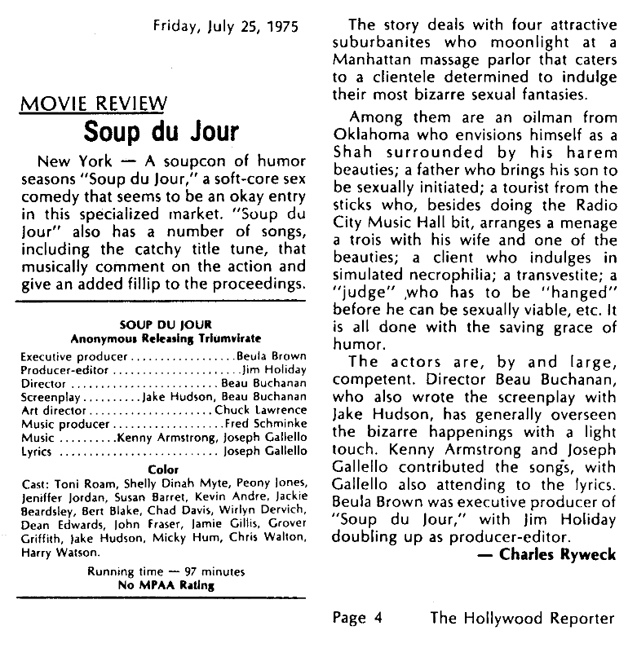 Soup de Jour review in The Hollywood Reporter, July 1975
What did those around you make of your adult film career?
My friends were all fine, but my ex-wife's family was not only not supportive – they were downright embarrassed. They just couldn't understand and were very difficult. It was tough for them, and they didn't know how to cope with it.
Sex is a difficult subject for many people: you can walk into a room and shout 'Murder!' and nobody will bat an eye. But if you deal with sex then it's a different ballgame…
*
7.     Captain Lust (1977)
Note: The full story of the making of Captain Lust is told in The Rialto Report podcast, 'Captain Lust: The Truth Behind the Myth', which features audio interviews with Beau Buchanan, production manager Carter Stevens, and writer Steven Ziplow. You can listen to it here.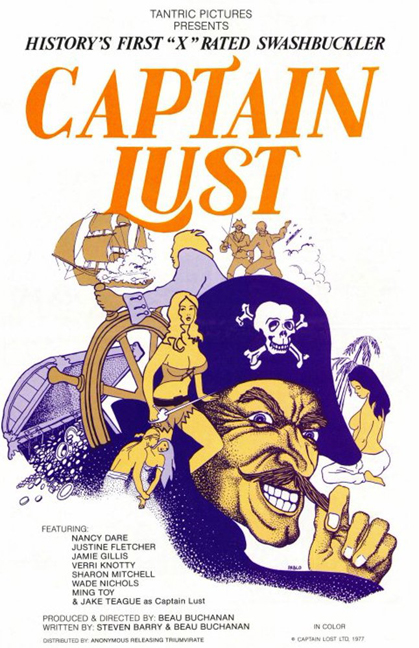 How did Captain Lust come about?
I was spending some time with Gloria Leonard, when we saw the tall ships come in for the Bicentennial in 1976, and I was in awe. I've always loved ships. I didn't intend to shoot a film but I said, "God, we gotta do something".
So that's when I got a writer, and we came up with some story ideas. At one point, we thought the pirates should all be gay, so the threat would be that our crew would be captured by a bunch of gay pirates!
Steve Ziplow came to work with me and he wrote the draft script, then the two of us worked on it scene by scene.
Was Beulah Brown onboard as producer?
Yes, but I also wanted Georgina Spelvin to produce 'Captain Lust'. Unfortunately, Georgina was annoyed at me as I used footage of her from 'High Priestess' in 'Happy Days' – but only paid her once. I thought that it was perfectly legitimate because I paid for that shoot so I could essentially do anything with the film. It never even occurred to me that it was unethical. Georgina disagreed, so she didn't want to produce at the time.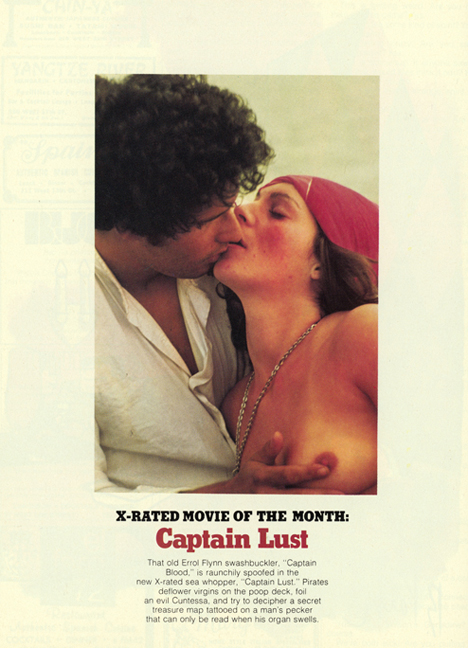 What was the budget for 'Captain Lust'?
It was more than anybody had spent at that time. It was well was over $100,000 – and $100,000 was serious money back then. Other directors were saying, "You're nuts, Beau!"
I said, "Maybe, but I think a high budget film will make a lot of money".
The film had a larger cast than usual: how did you cast everyone?
We ran ads and also used a lot of the regular X-rated film actors. I wanted to use SAG actors but when I approached the union, they said, "We won't give you a union contract for a film with explicit sex."
I said "Well if you won't give me a contract, then I'm off the hook, I can use SAG actors." So we went out and hired a few union actors.
We had all sorts of people on that film: we had debutantes who came down from Boston just for the fun of being in a sex film. There's two or three of them in the film, and they never did anything else before or since. I sometimes wonder if they tell their grandchildren.
The mix of people combined to provide a wild atmosphere. One performer, Suzaye London, decided she was going to lay everybody on the boat. Whenever I'd see her, she was looking at a guy wondering, "Did I get you yet?" She was horny as heck for everyone.
Captain Lust was played by an older man, Jake Teague, who still managed to perform exceptionally sexually. He was great.
You got into trouble with the authorities pretty quickly. What happened?
We had a battle scene between the two ships we had hired: We had the Santa Maria replica and we had our own Black Swan, and we set up a battle between them off the steel pier in Atlantic City. Somebody told the City fathers what we were doing, and although they already knew about it, they had to act indignant… so they called the police. The police arrived with sirens and red lights so we lost one of the ships, the Santa Maria, as the owner said we couldn't we couldn't use it anymore.
So to make the battle, we shot it with just the one ship, the Black Swan. One of the 'ships' used the port side of the Black Swan, and the other 'ship' used the starboard side.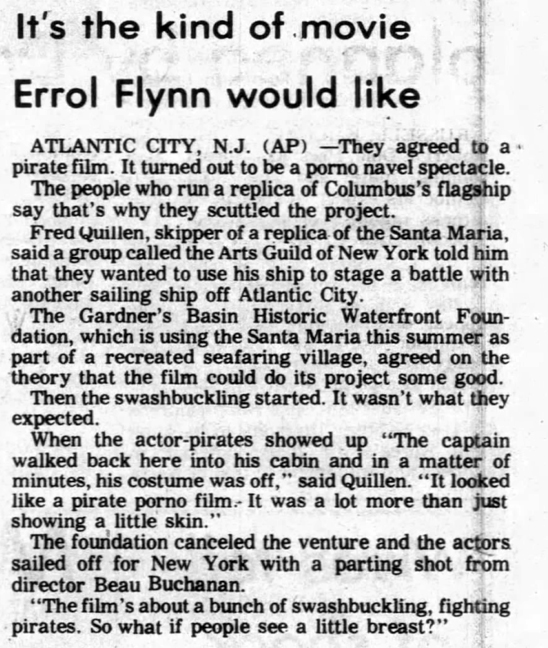 When you headed out to sea, you faced still more issues…
We sure did. (sighs) We had 80 people on a ship that would normally have had less than 14 people. We had to eat, sleep… everything, on that boat.
Every day brought a different challenge. One day, I discovered how important soda was. Nobody wanted to drink regular water so they all got very upset with me. One guy threatened to throw me overboard if I couldn't get him ice for his drink.
At night, I was afraid! I'd go off to catch some sleep in a hidden corner. I thought at that time, "One day, someday in the future, I'm gonna look back and this is gonna be funny, but it's not funny right now."
It was grueling, absolutely grueling.
I fell out with people like Carter Stevens. Carter's not listed in the credits because he would not let his name be used. I argued with him, and he said he just didn't agree with my point of view. Carter was a good friend and he was very helpful. He was more than the line producer, and he spent a lot of time pacifying cast and crew. He was a good guy.
It's remarkable that you managed to finish the film…
True, but what was great about the era was that it was so entrepreneurial and outré. We did everything ourselves. I likened it to the Keystone Cops when you'd make up the script as you go. Like when the cops chased us along the steel pier in Atlantic City and we had to invent something.
I became an actor/character in the film just to handle the unforeseen transitions smoothly.
I was probably a pain in the neck to everyone because I was all over everybody.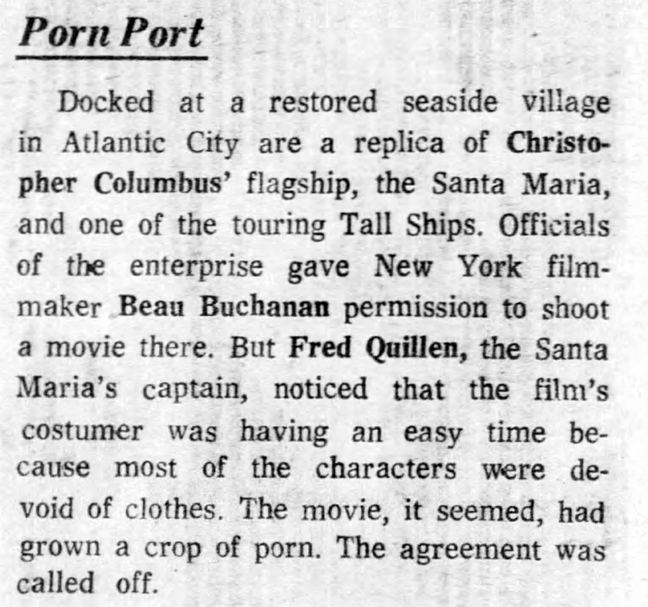 And you produced a soundtrack for 'Captain Lust' too?
Yes, it was great. All the songs are old sea shanties and it was fun to put together.
Humor is a big part of what I do; I remember once when we were screening 'Captain Lust', there was a doctor in the audience. When we came to the scene when they're reading a map and they say, "It's on the isle of Langerhans," this Doctor roared because he was the only one in the audience that got the joke.
Poon, the native girl in the film played by Ming Toy, was originally called Poon Tang. But then she asked someone, "What is Poon Tang?" and she was upset with the answer, so she insisted her name be shortened to Poon before she would continue.
You were wearing many hats on the production?
I have friends who are directors, and that's all they do. I know people who are writers and that's all they do, and they're very good. I guess I wasn't very good at anything. My span of attention wasn't long enough. But at least I did a lot of stuff…!
Did you face any legal battles over 'Captain Lust'?
There was a case in Ohio where the film went on trial for obscenity. The case hinged on community standards.
It was amusing: the Prosecution started by emphasizing the number of people who'd seen this film, and so the Defense said, "You've just proven our case. Given that the community wanted to see this film, the film has surely passed the community standard." So we won the case.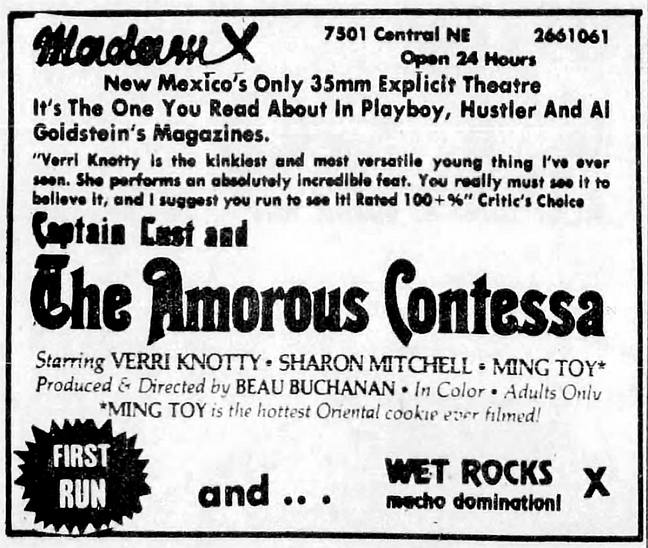 'Captain Lust' released under an alternate name
*
8.     Video Distribution
Did you stay in the film business after 'Captain Lust'?
Yes, but not as a producer or director. It was around 1977, and home video was just starting. The majors in the film industry were skeptical, saying, "Who's gonna wanna watch a movie on a little tiny screen?" I figured there was one kind of movie that people wanted to see in the privacy of their home, and that's an adult film. That's the only kind of film they didn't want the neighbors to know, because they didn't want to admit that they watched them.
How did you get into the video business?
I was at a Hustler party, and Larry Flynt was trying to promote his magazine. He offered me the chance to buy a page in Hustler for $1,200. I thought, "God, I don't know what I'm gonna do with a page… but at that price I'll buy it anyway, even if I just advertise advertise 'Captain Lust'!"
I had a friend on 45th Street in New York who had an electronic store and he was selling video players. That was the time when video was just beginning, and the question on people's mind was "VHS or Beta?" So we split the page in Hustler, and he advertised hardware under the title "VHS or Beta?" and he left the other side of the page for me.
I called up the Mitchell Brothers and asked them for the video rights to Behind the Green Door (1972) and Inside Marlyn Chambers (1975). They said "What are you gonna do with the rights?" and I said "I'm taking full page ads in Hustler – which normally cost $12,000." Obviously that wasn't true.
They thought, "If this nut is gonna spend $12,000, we might as well sell the rights to him." Of course, I didn't tell them that I was getting the page for a tenth of that.
Did you buy video rights for other X-rated films?
I got in touch with the guy in L.A for Deep Throat (1972) and Devil in Miss Jones (1973) and I cut a deal with them. It turned out that they weren't the ones who had the authority, so I had to recut the deal in New York.
But then I had the package, I had 'Deep Throat', 'Devil in Miss Jones', 'Behind the Green Door', 'Inside Marilyn Chambers', and 'Captain Lust', so I started a distribution company, the International Home Video Club Inc. We first started selling the videos for $99.99 – which was the price for a video cassette at that time.
Nobody else had ever done it before because they were afraid you could go to jail since you were shipping pornography over state lines. We were one of the first to commercialize video tape.
*
9.     The Jonestown massacre
Was your business centered around XXX video cassettes?
We handled anything that would make us money. We made the headlines in 1979 after the Jonestown massacre, when over 900 people died in a mass suicide/murder.
It happened in Guyana, when Jim Jones, the leader of a cult, and his followers died after drinking cyanide. At first, the events of what really happened that day were shrouded in mystery. No one knew how this could have happened: were the followers murdered or were they willing accomplices? There was rumor of an audio recording documenting the hour in which everyone died, but the U.S. and Guyana government's kept silent while they investigated the event.
I came into possession of the tape, and I made it available commercially.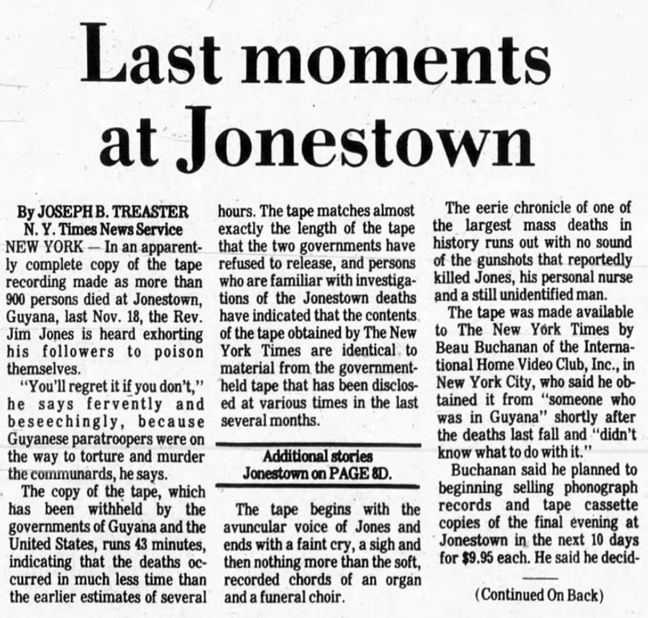 Beau Buchanan, in the media reports about Jonestown
How did you get hold of that recording?
I knew someone who was in Guyana at the time.
What did it reveal?
It was a game-changer. You could hear Jim Jones telling everyone that they had no other choice. They had to commit "revolutionary suicide." Some people protested but they were shouted down. And then slowly everything goes quiet as more and more people died.
What did you do with the tape?
I released it to the New York Times, and I allowed a segment to be played on NBC. Then we sold it commercially.
It was huge news. I was interviewed everywhere.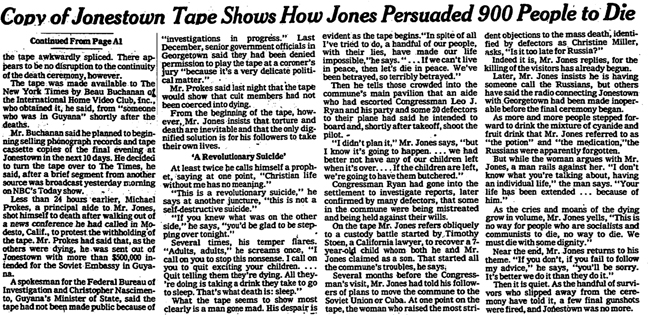 Beau Buchanan, in the New York Times
*
10.  Later Years
How well did the International Home Video Club Inc. do?
Very successful. The margin on cassettes was high, and we had few competitors in those days.
Was your family just as supportive of this venture?
My parents were supportive of everything that I did. My dad was retired from the Post Office, and he came to work with me. He said, "If I come to work, I don't want any special favors just because I'm your dad," so I started him at the bottom, in the shipping department!
When we started, the cost of shipping was a critical matter: you couldn't charge anything more than what it cost to actually ship. So if it cost $3.72 to ship, then that's what you had to charge for shipping. So we came up with the idea of 'shipping and handling' and that meant you could sell something for 1 cent, but you make money on the shipping and handling.
Were you ever tempted to make another film?
The only film I made was a video guide on how to make your own home X-rated video! People suddenly had camcorders and video players, and they wanted to know!
How did the business expand?
After three years, the video industry was still growing but the majors were starting to get into it. I saw that in Canada they hadn't moved as quickly into the video business. That's the thing with Canada… they do everything that we do in the States, they just do it three years later.
So I went out and signed up Disney and some other major film companies, and my company became a major distributor of classic videos in Canada.
How successful were you?
Pretty good. But my partner in Canada became greedy. In the end, he wanted the whole company and he offered me a million dollars to go away. At that time, that was a lot of money so I took it. I knew the company was worth more, but I didn't want to move to Canada.
What did you do after you left the video business?
I had fun. I got a boat and sailed across the Atlantic. I became a real-life Captain Lust of my own ship! It was a tough trip, but I'm glad I did it.
Then I became a yoga teacher.
*
11.  Aftermath
How do you remember the 1970s, as an adult filmmaker?
It was a great time; I enjoyed it. It was exciting, fun, dangerous, innovative. I always wanted to lead, I wanted to be at the head of the pack, I didn't want to be a follower. I'm glad I did it. The whole period was wonderful, it was exciting, it was scary, it was tense, it was tedious. It was a time that was unique. We couldn't do it again today.
But I'm not sad that it's over. I lived it to the hilt. Nobody thought some of it would work. I just didn't know any better.
What is the current status of 'Captain Lust'? It hasn't seen a proper release in many years.
Ray Pistol and Arrow Productions put out 'Captain Lust' on video, but they didn't own the copyright. I got in touch with them and they sent me compensation. The ownership belongs to my wife and I so if anything happens to either of us, it will revert to the other.
I was in talks with a DVD/Blu-ray company about a full re-issue – and they have the camera negative, and you and I already recorded a commentary for it, but they abruptly stopped returning my calls. I was disappointed that went nowhere. I know people would love to see it come out. We have all the rights.
I'd love to see it find a new audience. I've always had a fantasy that it would be re-released in theaters for midnight screenings.
What are you doing nowadays?
Not a lot. Relaxing!
Over the past years, I developed a company called Money Zoom, that enables people to transfer money from anywhere to anywhere. I'm back to bucking the system. My competitors are Visa, Western Union and so on. I'm still fighting the big guys.
I really miss the sailing. I miss being on my boat, sailing around the Caribbean, the Far East, wherever.
But I'm happy. It's been a life well-lived.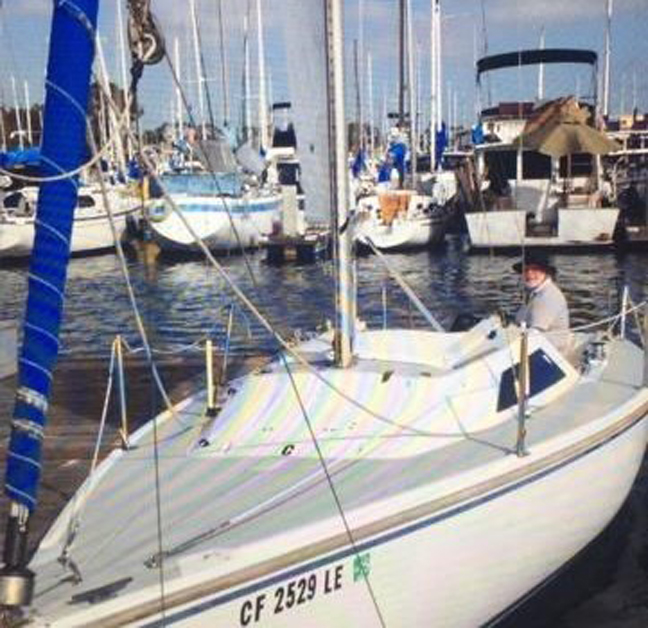 Beau Buchanan
How do you evaluate your life?
I've had various careers, and they're all part of the whole. Some I liked better than others, sometimes I liked myself better than other times. And there were times when I said, "Why did I do that? That was dumb."
But we should have the strength and the courage to accept what is, and take advantage of opportunities. In my case: shut my mouth, listen, really sense what's going on, hear the question, not to have to be correct, not to have to be the authority. On the other hand, if I weren't pigheaded and if I didn't try to break the rules, then I wouldn't have done anything either.
Most of all, you just have to have fun, I guess.
Are you still doing yoga?
Oh yeah! Rudi is still with me every day.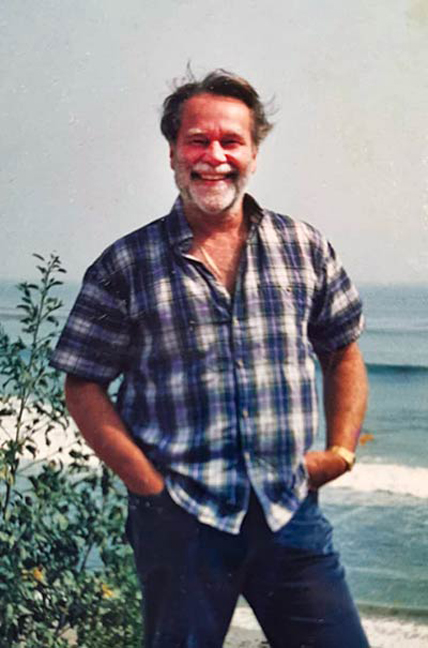 *
Postscript
Beau Buchanan collapsed at his San Diego home from a stroke of the brain stem on January 10, 2020.
As swiftly as first responders and medical staff acted, the stroke left him brain dead. With deep compassion and kindness — with wife, friends, and family at his side — Beau was removed from life support on January 12, 2020.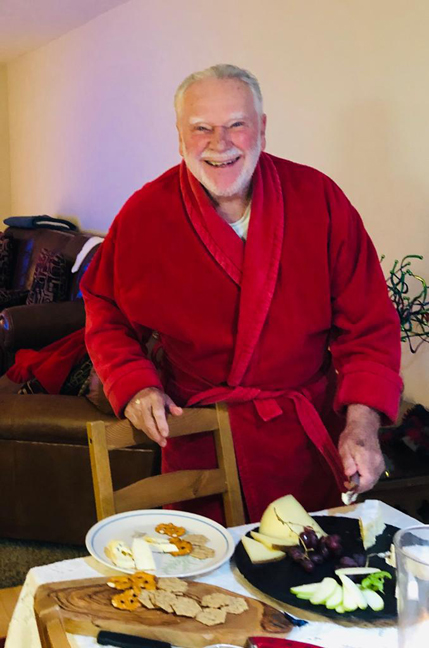 Beau Buchanan, in 2020
*