As a follow-up to our recently-published interview with Beau Buchanan, The Rialto Report hears from a colleague of Beau – Joe Gallello – who was a musician who went to work with Beau on his film Soup de Jour (1974). Soon Joe was a hands-on distributor for Beau's adult films, as well as being present on-set for a particularly memorable Jamie Gillis scene.
Joe also carried out the most detailed interview with Jamie Gillis in the 1970s – which was never published at the time – or since.  We're pleased to publish that interview here for the first time.
With thanks to Joe Gallello.
___________________________________________________________________________________
In 1971, I started an oldies group with some friends of mine called Rolland DeSoto & the Fabulous Studebakers.
In 1974, Beau Buchanan needed a place to record the soundtrack album, or at least a single, for his film Happy Days. Two of the guys in our group, the bass player and the keyboard player, had a studio in White Plains, so we recorded it there. We even provided the background singers.
When the film opened, we played 1950s songs at the premiere. It was July 24th, 1974 – and we played on a flatbed truck in front of the Lincoln Arts Theater. Beau was up on the truck with us dancing. And then we all went in and watched the movie.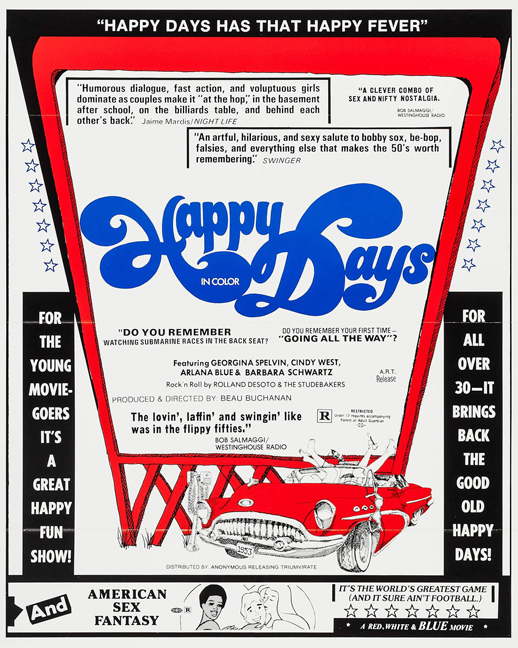 In August 1974, I said to Beau, "I want to be involved in movies and I'm looking for a job. Can you use me?"
He gave me a job with his company A.R.T. – Anonymous Releasing Triumvirate. I wound up being the guy they sent with the canisters of film for 'Happy Days' to places like upstate New York, or somewhere in Pittsburgh. I'd fly with the canisters and bring them to the movie theaters that would play them, and I'd place the ads in the papers to advertise the screenings.
One time when I was distributing 'Happy Days', I went up to a theater in Stamford, Connecticut. I walked in with the two big cans of film for 'Happy Days' to drop off at this theater. They were playing an X-rated movie called Sweet and Sour, so I went in to take a look. On screen was Jamie Gillis. I recognized his sex partner on the screen – it was a girl I went to high school with. She was a year behind me, and she was cute and hot. In the movie she used the name Mary Margaret. I knew she'd been trying to be an actress for many years. And I was thinking, "Oh my God, that's her!" Later she told a friend of ours, who was a film critic, "Oh yeah, I did one or two of those films, but I didn't do any sex scenes." Not strictly true…
Back in Beau's office, I met Beulah Brown who was one of the owners of A.R.T. – and the one who put up a lot of the money. She was a famous psychic medium. One day, John Lennon and Yoko Ono came to the office at 835 Broadway to have a reading with her. She was that well-known.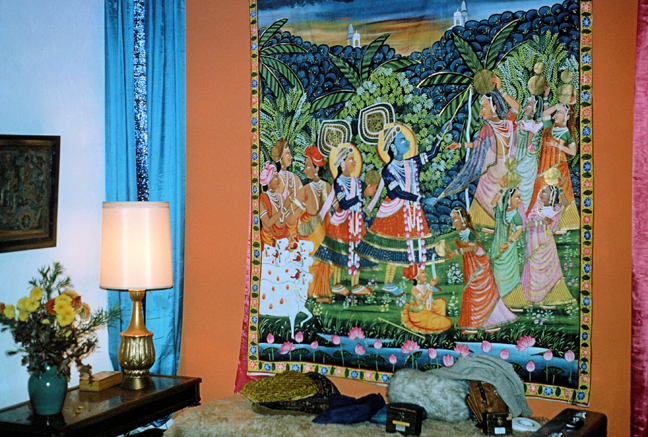 Beau and Beulah's A.R.T. office in 1974
I loved Beulah. Everyone loved her. She was a heavy set, older woman, who always seemed to have sunglasses on, and she would read to you. You'd be sitting in a group, and she'd say, "Joe, this is going to happen…"
I helped create Beau's next script – Soup de Jour. I'd started writing some scenarios for A.R.T., and he and Beulah loved them. We ended up not using them, but Beau said, "You know what? Let's re-make the Bunuel movie that had Catherine Deneuve, 'Belle de Jour'".
He said, "We'll do a movie where, instead of having one woman go to a massage parlor, we'll have four of them." So we hammered out the so-called script together. I wound up writing the final version. I used the name Jake Hudson for my screenwriting credit.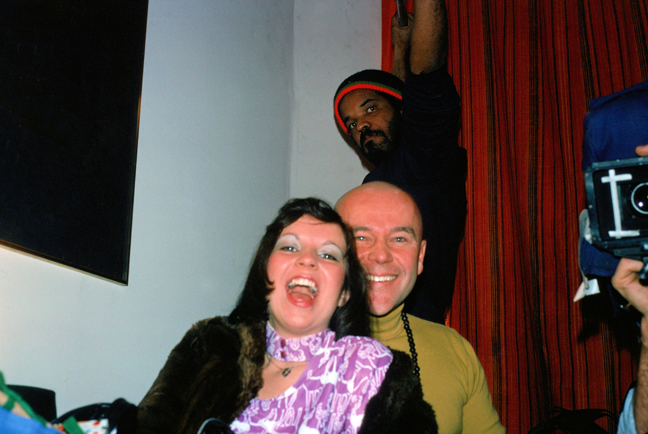 On the set of 'Soup de Jour' (1974) (aka 'American Sex Fantasies): Beau Buchanan with actress Jackie Beardsley
I also played a small part (the massage parlor manager) in 'Soup de Jour', and I composed some songs for the movie. I even sang one of them – a song called 'Ektachrome', based on the Paul Simon 'Kodachrome' song.  My wife sang another of the songs in the film.
We shot 'Soup de Jour' over two weekends in late November and early December. Jamie Gillis was the highest-paid person in the cast (I think he got $150!), even though he was only hired for one day.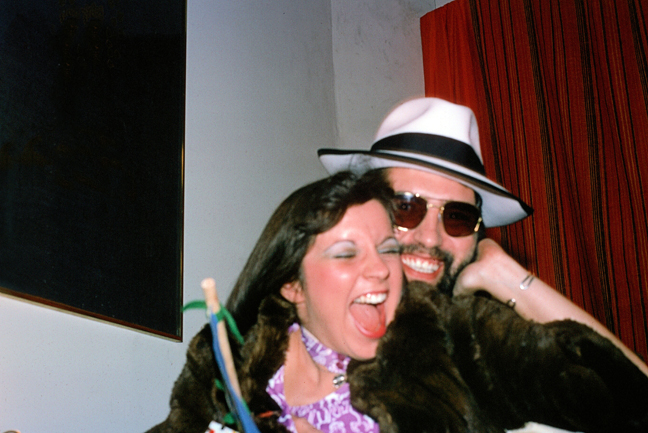 Soup de Jour star, Jackie Beardsley, with Joe Gallello in 1974
The film was nearly all shot at the A.R.T. offices at 835 Broadway, the corner of East 13th Street, on the third floor. That's where three of the four filming days took place, except for one scene shot at someone's house on Long Island. I was in the A.R.T. offices, in the room when Jamie did his sex scene, which was truly remarkable. Everything became dead silent as we watched. Because this guy was a professional fucker, you know? It was like, "Oh my God…"
In the scene, he was dressed up as a woman, lying on the bed, and paired with this Asian performer, Peonie Jones, who was being a bitch to everybody. Everybody was saying, "Oh God, what is wrong with this one?" Jamie was pretending that he was a cross-dresser who likes to be whipped. And so he's getting whipped on the bed, and he was saying, "No… harder, harder." In the end, he finally said to Peonie, "You fucking bitch, you're not doing it right," and he threw her on the bed, and started whipping her, and then started a sex scene that went on forever.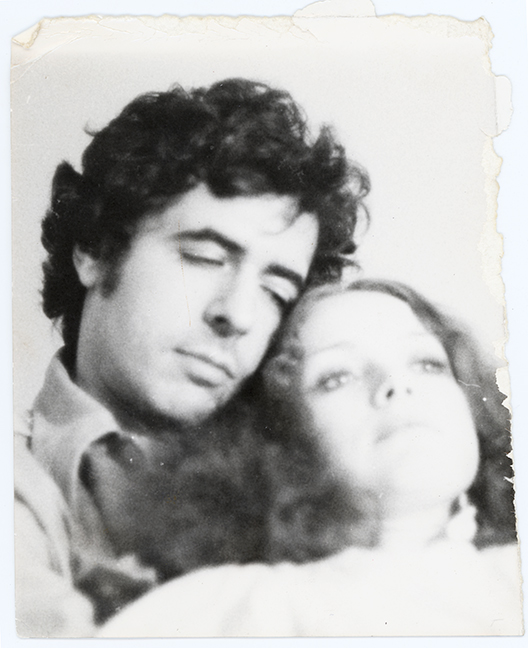 Jamie Gillis
A few months later, being a wannabe writer, I called Jamie and asked if I could interview him. I told him that if we sold the interview, I'd split the payment 50-50. Jamie agreed. About a week later, I packed up a reel-to-reel tape recorder in a suitcase, took the train from Mount Vernon where I lived to Manhattan, and walked crosstown with that heavy suitcase to Jamie's apartment just west of 8th Avenue, on 45th Street. We spent two or three hours together and had a great time doing the interview. I later transposed the reel-to-reel tape by hand, created what I thought was a good interview, and I spent a few months trying to sell it to Playboy, Penthouse, Hustler, Sir, Oui, and other such magazines.
(Click on image below to read full interview.)
No one was interested in it.  About six months later, I got a call from Jamie, asking if I had sold the interview. I told him, "No," and that was the last time I spoke to him.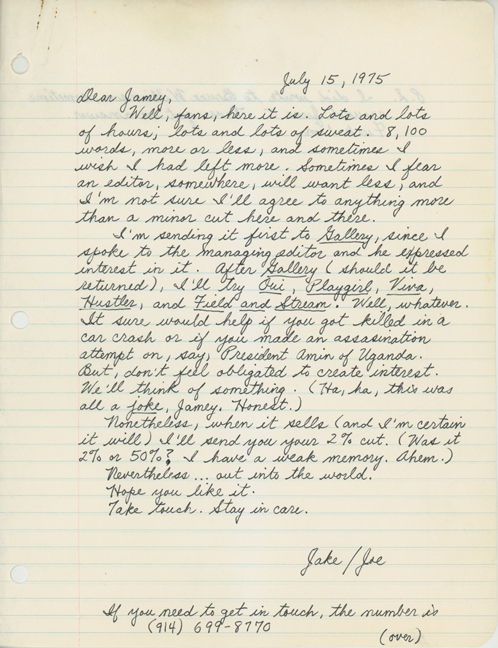 Joe's correspondence with Jamie in 1975
I got divorced about a year later, and have moved a few times since 1976, and sadly all my reel-to-reel tapes from that day are gone.
Beau later started an X-rated videotape distribution company and released 'Soup de Jour' under the name 'American Sex Fantasies' on VHS. By then, Beau's office was on East 54th St. He and his staff all moved around the office on roller-skates! It was almost like being in a Twilight Zone episode. Everybody in the office was on roller skates, including Beau. They would maneuver from room to room… I was the only person in the office not on skates.
Everybody loved Beau. You couldn't help but love him.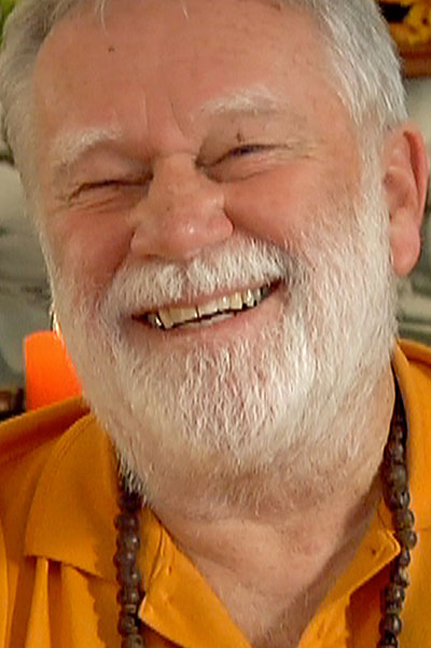 Beau Buchanan (1937 – 2020)
*