Podcast: Play in new window | Download
Subscribe: RSS
The adult film actor Jamie Gillis died ten years ago this week.
I started The Rialto Report because I wanted to show that there was much more to the world of adult films than just adult films. And Jamie was one of the best examples of that.
Jamie was one of the great performers in film history, but he was much more than that. He was a French literature graduate, a theater actor, mime artist, traveler, gambler, writer, lover of fine food, and much more. He was someone who enjoyed life and lived it to the full. I knew him well, yet every time I saw him, I discovered a new story about him.
This is one of those stories.
This episode's running time is 45 minutes.
The music playlist for this episode can be found on Spotify.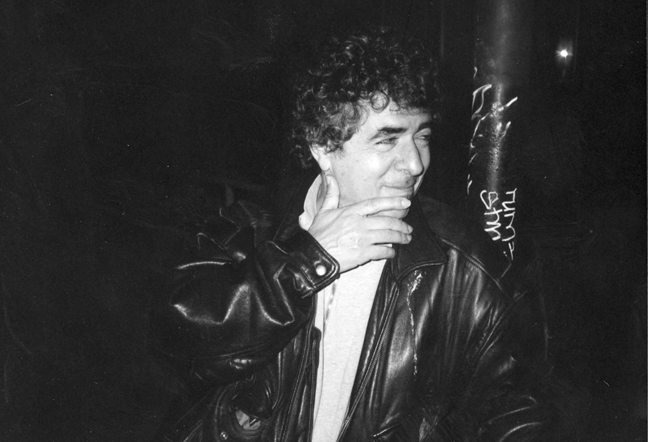 _______________________________________________________________________________________________
Jamie Gillis
On April 20th, 2008, I went over to Jamie's house to celebrate his 65th birthday.
He lived in a townhouse in midtown Manhattan, and his girlfriend, who owned a Mexican restaurant, cooked a meal for the two of us. Afterwards we went over to the Garden to see a boxing card. Jamie knew the promoter so we had ringside seats, and we sat down next to glittering stars such Eric Estrada, Eric Trump, and Dr Ruth.
Somehow watching two people covered in sweat, engaging in strenuous physical activity in front of us, seemed an appropriate night out to have with a porn star like Jamie Gillis. It seemed even more appropriate when I saw Dr. Ruth offering advice to Jamie. If only she knew who she was talking to, I thought.
As we left the hall, five or six kids barely into their 20s rolled towards us, a mass of uncontrolled arms, legs, beers and burgers.
I stepped to the side, but one of them stopped in his tracks, frozen to the spot. He'd seen Jamie.
Jamie looked back with a wry smile as the kid started pointing at him.
They clearly recognized him, and they probably wanted a selfie or an autograph with their porn hero, one of the greats of the adult film industry.
Then the kid shouted out: "You! I know you! You're the one who fucked Vanessa del Rio!"
Jamie looked slightly disappointed, and then bemused. "Maybe that's the best I could wish for," he said as we left the building. "Because I'm definitely the one who fucked Vanessa Del Rio".
When we grabbed a drink afterwards, I asked Jamie about the kid's reaction. And I asked him about how people treated him because of his adult film history.
Jamie said that it was a mixed response. The adult industry was a bubble: within it, he was well-known, respected, almost an elder statesman. And that lulled him into a false sense of security. It obscured the way that the rest of the world reacted to him. He called the rest of the world, 'the Perfect People', with more than a small amount of irony. The Perfect People were different. At best, they looked at him with indifference. More often they were cold and contemptuous.
I asked him when he first became aware of the way that the Perfect People looked down on him.
Jamie got a faraway look in his eyes. "When I was arrested for murder," he said.
And then he told me the story. He didn't talk about it much, but it changed his life and he still lived with it. It was the story of three people whose lives intersected one summer's night: there was an aspiring supermodel, there was a famous Canadian radio and television presenter, and then there was Jamie, a renowned porn star.
It all came together June 1982 in a New York townhouse at 246 East 23rd St. And none of them would be the same afterwards.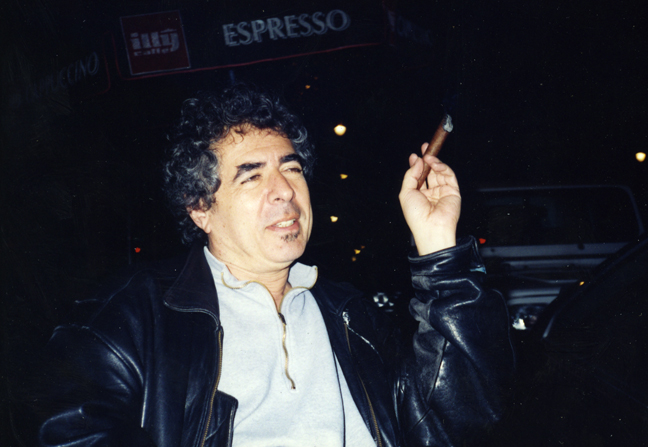 *
Marie-Josée Saint-Antoine
Let's face it, the 1980s was the decade when America became a spoiled brat.
It was the time of 'The Art of the Deal', 'Barbarians at the Gate', and Gordon Gekko's pumped-up mantra that 'Greed is Good'. And lo Reaganomics begat disposable income, which begat rampant consumerism, which begat materialism, which begat the Sony Walkman, Air Jordans, and Jennifer Beals in a baggy sweatshirt.
Yes, the Greed Decade was materialistic, claustrophobic, and obsessed with escaping the past: no wonder its first major craze was Pac Man, a computer game about a character who devours dots in a maze while trying to escape ghosts.
So it was inevitable that the fashion world was similarly brash and superficial, a mess of shoulder pads, big hair, spandex, and mullets that consigned subtlety and minimalism to the past.
Amidst the plastic fakery stood Marie-Josée Saint-Antoine – and someone like Marie-Josée Saint-Antoine really stood out.
Marie-Josée was the real deal, the new kid on the block, the next big thing, and the future It Girl – all rolled into one.
When the decade started, she was a 21-year-old unknown brunette from a middle-class family in Montreal, Canada. She was a happy-go-lucky, friendly kid, popular and gregarious, innocent and unaffected by the world around her. She was normal too: her middle-of-the-road life was a dime-a dozen existence with a run-of-the-mill future. She would've continued down any number of paths if it hadn't been for one striking quality: she was knock-out, drag-down gorgeous. Sure, she'd always been pretty, but as she grew into an adult, she was transformed into a tall, lithe beauty that made grown men sigh. Which was a big deal, because this was the decade when physical beauty like hers could be monetized.
It was the start of the era of the super model, the new million dollar faces of the beauty industry. Forget film stars: models like Shelley Hack, Iman, and Cheryl Tiegs were the new symbols of luxury and wealth. They negotiated previously unheard-of lucrative deals with giant cosmetics companies, and they became instantly recognizable. For the first time, they endorsed products with their names, not just their faces.
So naturally Marie-Josée was curious. She wondered if she could get in on the action. And why not? People told her she was most beautiful girl in Montreal. So she picked up a few local modeling gigs, and before long she was snapped up by the prestigious Ford Model agency. There was only one catch: if she wanted to be a success, they told her she had to move out of Canada and go to New York.
The move made sense professionally, as well as personally. New York, along with Paris, was the epicenter of the universe for any aspiring model. But more than that, Marie-Josée had outgrown Montreal, and she wanted to see the world, the glamour, for herself. She was sad to leave close friends behind, after all she'd known some of them her whole life. One confidante was Paule Charbonneau who was her closest childhood girlfriend. They'd gossip about friends, boys, clothes, and parties. But New York was only an hour's flight from her hometown, and she had every intention of nipping back to catch up with Paule between jobs.
In late 1980, she packed her bags, and arrived inManhattan. She moved into an anonymous fourth floor walk-up apartment in the Gramercy Park area, and started modeling work straight away.
Marie-Josée found instant success, appearing on the cover of tens of magazines in the first few months, and reportedly earning well over $100,000 a year. At first glance, Marie-Josée looked like a typical 1980s model with her frosted dark bouffant hair and exaggerated make-up – think Sheena Easton in Robert Palmer's 'Addicted To Love' video – but there was more to her than that. She had an X-Factor that could sell a product – whether it was cosmetics, clothes, or a sports car. The bigger magazine titles noticed, and the size of her gigs – and paychecks – increased. John Casablanca, the owner of Elite Models spotted her. Elite Models was a cooler, younger agency that was on the crest of a wave. Marie-Josée was offered a big money opportunity with them, and she took it. Now she was an Elite girl. This meant she was in demand socially too, attending parties where she rubbed shoulder pads with the celebrities of the day.
And so it came down to what happened in June 1982. On June 16th, she went to a party at Xenon, a fancy nightclub that was big in New York at the time. The event was thrown by Elite Models, and it was attended by New York royalty – which in 1982 meant John Kennedy Jr, Tony Curtis, Grace Jones, and Valerie Perrine, among others. Marie-Josée danced all evening, made new friends, and picked up a few telephone numbers from admirers. She was happy with how her new life was turning out: she had a career, attention, friends and money.
After the party, she returned to her apartment at 246 East 23rd St.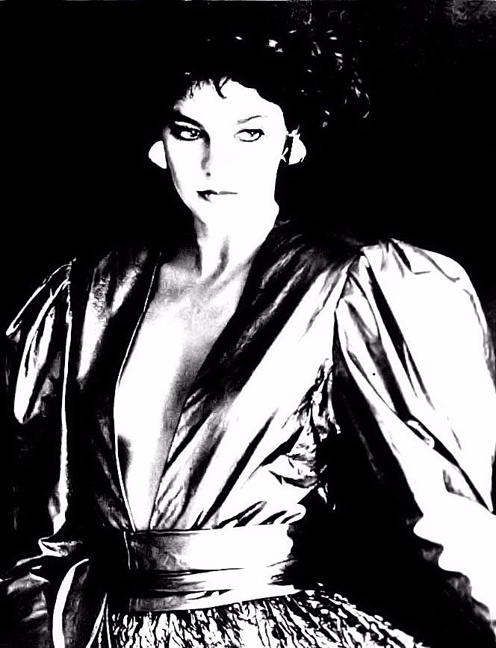 *
Alain Montpetit
If Marie-Josée was a symbol of a wide-eyed and innocent girl-made-good in Montreal, Alain Monpetit couldn't have been more different.
A charismatic, attractive rake of a man – ten years older than Marie-Josée when the 1980s started – Alain was already a famous television and radio personality in Quebec, Canada. Year after year he was placed on numerous 'The 10 Best Looking' lists.
Alain just seemed to be a lucky guy: for a start, he'd been born with a silver spoon in his mouth. His grandfather was Édouard Montpetit, founder of one of the faculties at the University of Montreal, and his father was a prominent judge on the Quebec Superior Court. The 1970s was an era where that kind of background could perhaps be considered uncool, but not for Alain. He was proud on his monied roots, boasting that he never had to do a real day's work in his life. He made no excuses for not being a working-class hero. No surprise he was frequently referred to as the "poor little rich boy".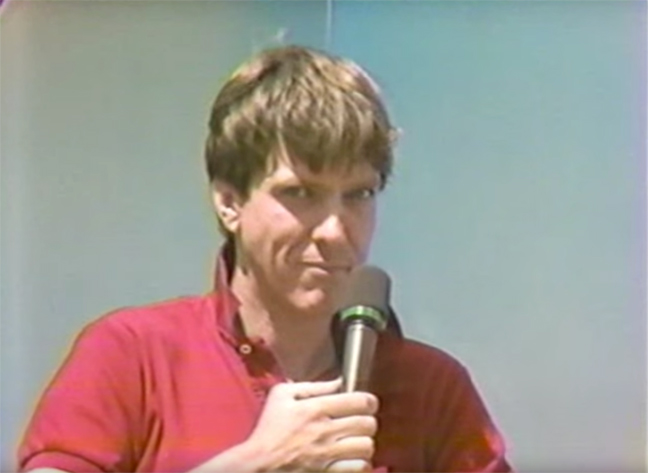 As a teen he studied at the National Theatre School of Canada before heading to California to attend UCLA. He got experience in radio working at KMET in Los Angeles, and then ran a pirate radio station near the Canada–United States border. But by the mid-1970s, he was bored. He was aimless, kicking around, acting in theater and the odd exploitation film, such as Luigi Scattini's The Night of the High Tide (1977). He was, by his own account, living off cigarettes, cocaine and whiskey.
But Alain was always engaging, sexy, and entertaining, and he could talk the hind legs off a donkey. When he returned to Montreal in his mid 20s, he became the host of a radio show on CKMF-FM at the start of the disco craze. It proved to be the perfect job for him: Alain was in the right place at the right time.
Montreal in the 1970s was a city of broken dreams, riven by demands for French-speaking separatism, a billion-dollar deficit created by the 1976 Olympics, and chronic local government financial mismanagement. Montrealers needed distractions, and so disco music became a salvation of sorts and discotheques their new cathedrals. The nightclub business boomed: as burlesque superstar Lili St Cyr noted, "Every night in Montreal is like New Year's Eve in New York!" And if there was one thing that Alain liked, it was a party.
When Alain first joined CKMF-FM, the station was in dire straits, with low listener numbers, and even lower numbers of advertisers. But thanks to his shows, he grew the audience from under 50,000 to over 500,000, and as a result became a star. Overnight he was a flamboyant jet-setting playboy. The television channels snapped him up, and he started hosting a disco dance show on Montréal's private French-language TV station, Télé-Métropole. There he became known for his one-off specials with disco icons such as the Village People and Amanda Lear. He even released his own disco single called 'Dracula Disco'. The Quebecois couldn't get enough of him, and he was dubbed the 'King of Disco' by the admiring Montreal media.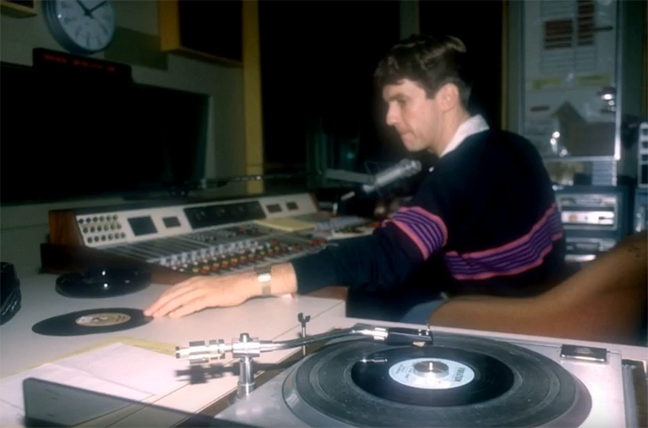 The irony was that Alain didn't even like disco music. He was a child of the 1960s, and found the idea of a 15-minute dance version of a song to be vaguely ridiculous. But he rode the wave – he was an expert at taking advantage of an opportunity – and that included receiving sizable payments in cash, or piles of drugs, from club owners for spending time at their establishments.
Most nights he'd be found at the Lime Light club, the center of the Montreal disco scene, which rivaled New York's Studio 54, attended by stars like Alice Cooper, Grace Jones, James Brown, David Bowie and Iggy Pop.
His most frequent wingman at the Lime Light was another iconic Canadian disco radio and TV personality, Douglas 'Coco' Leopold, who also worked for CKMF-FM. Coco was openly gay, and took the nickname because he peppered his speech with the word 'Coco' as a form of punctuation. Together Alain and Coco were ubiquitous on the disco scene: they were in the clubs, in demand, and in the money.
Ostensibly Alain was married – to a classical ballet dancer named Nanci Moretti, and had two children with her – but in truth he was a serial philanderer, having affairs with many other women, including a brief fling with Marie-Josée Saint-Antoine before she left for New York. One of his more serious affairs was with Paule Charbonneau, Marie-Josée's best friend back in Montreal. Alain and Paule's relationship was a turbulent one, characterized by frequent arguments, physical fights, and regular break-ups. Marie-Josée followed the soap opera of their love affair from a distance, and on one of her regular visits back to Quebec, she convinced Paule to break up with Alain for good.
As so it came to June 1982. Alain traveled to the US. He was visiting record companies, night clubs, investors and girlfriends. He also had some personal business to deal with.
On 17th June 1982, he was at 246 East 23rd Street in Manhattan.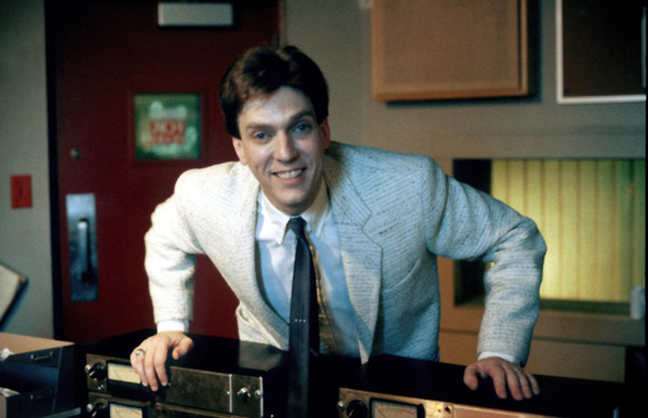 *
Jamie Gillis
By the 1980s, Jamie Gillis was on top of the world, though by his own admission, his world was a small one.
He was entering his second decade as a porn actor, and not just any porn actor. He was the pre-eminent fuck-thespian on the east coast, winner of various Best Actor awards – one of which he claimed he won by finishing ahead of a dog and telegraph pole. The sweaty skin flick industry had become almost unrecognizable since its early days. Gone were the anonymous films – and Jamie's equally anonymous roles – such as The Blowhard ('guy on rug in blue') or Sometime Sweet Susan ('Rapist # 1'). He'd recently starred in a string of XXX hits, including The Ecstasy Girls (1979), 800 Fantasy Lane (1979), Dracula Exotica (1981), and even had a part in the Sylvester Stallone vehicle, Nighthawks (1981).
But porn success came with a price. Such as the time when Jamie's sister complained to him that she had to abort an amorous interlude with her boyfriend in front of their new-acquired VCR when Jamie's smirking O-face appeared onscreen engage in explicit action in front of them. But what Jamie resented most was the social opprobrium that came with the job. Or as Jamie termed it, the far-away look of disgust in someone's eyes the moment they learned that his living was earned by getting a hard-on on demand. For a guy who'd once envisioned a career in theater, the notoriety, not to mention contempt, that accompanied his career choice was hard to swallow.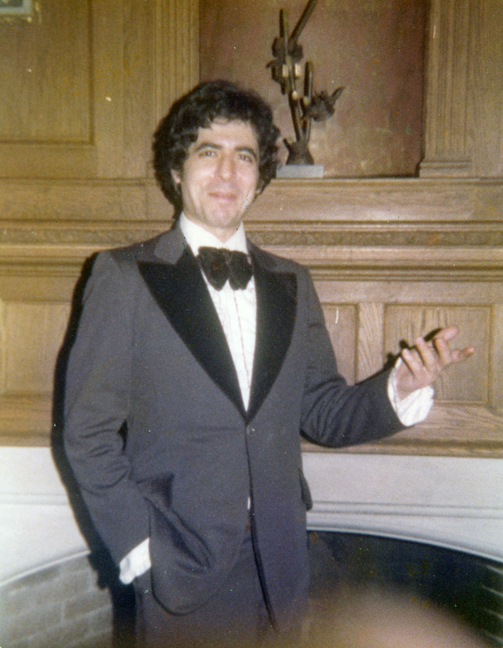 But Jamie was pragmatic: in general, his porn perks outweighed his porn problems. He was never short of female company for example, and somehow managed to stay on good terms with his ex-girlfriends – from fellow porn actress Serena, to New York magazine food critic Gael Greene, even his first love Kathleen from a different lifetime when he was a French literature student at Columbia University in the mid 1960s.
In fact he turned to Kathleen in 1982, when he found himself briefly homeless. Kathleen's mother had just passed away, and she was living alone in a Manhattan apartment. Jamie made her an offer she couldn't refuse: he'd pay her full rent in return for the pleasure of sleeping on the fold-out couch in her living room which he'd turn back into a couch every day. Kathleen worked during the day, meaning that Jamie had privacy to indulge in his twin passions: entertaining female company on the couch, usually his new girlfriend Vallerie, and betting his dwindling porn earnings gambling on horses.
Jamie's church was the racetrack, his Jesus was Len Ragozin, and his bible was The Sheets. Ragozin was a fellow New Yorker who Jamie knew – a Marxist, anti-war, Harvard grad with an IQ of 180, who published a daily newsletter, The Sheets, a handicapping tool prized by serious players. It cost a steep $30 a day, but Jamie swore by it, and went to sleep with it every night, studying the next day's races, and formulating a winning gambling strategy. It mattered not a bit: next day came, and Jamie consistently lost a bundle.
So each night, he'd return, penniless again, to the fold-out couch at Kath's apartment at 246 East 23rd Street.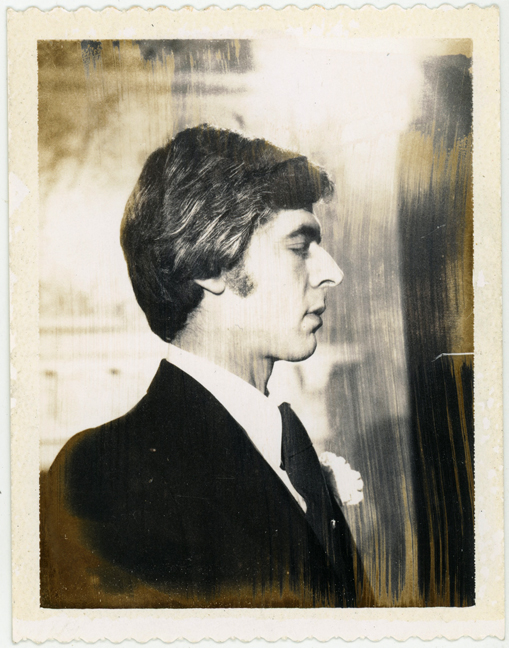 *
Three Lives, One Death
246 East 23rd Street. June 17th, 1982. The lives of Marie-Josée Saint-Antoine, Alain Montpetit, and Jamie Gillis coincide.
Jamie knew Marie-Josée because she lived in one of the other apartments in the building. They exchanged the occasional pleasantry when they ran into each other. Jamie liked her. He didn't much know her, but he liked her. He thought she was high-class and gorgeous obviously, so of course he liked her. Marie-Josée once told him she'd just broken up with her boyfriend. She said solemnly, "I am too young to be unhappy." Jamie and Kathleen smiled when they repeated the story.
Alain knew Marie-Josée from the Montreal scene. They'd hardly been in touch since their brief fling, but Alain followed her modeling success through his on-off lover, Marie-Josée's best friend Paule Charbonneau. When Alain found out that Marie-Josée had encouraged Paule to break off from Alain, he decided to stop by and visit her during his US trip to try and win over her support.
On the evening of June 17th, 1982, Jamie returned from the New Jersey racetrack, and walked into the apartment building. He noticed a message in French taped on Marie-Josée's mailbox. Then he noticed a pair of women's white high-heeled shoes in the hallway.
That evening, Jamie mentioned the shoes to his girlfriend and Kathleen. They decided to go upstairs and ask Marie-Josée if the shoes were hers.
They found her door slightly ajar. When Jamie pushed the door open, he saw Marie-Josée sitting up against a wall. She was wearing blue jeans and a gray-and-white blouse but had no shoes on. She was bruised around the face, and she'd been stabbed several times in the chest: she was clearly dead.
Jamie and Kathleen called the police, and Jamie retrieved the message taped to Marie-Josée's mailbox. The note was from someone saying they'd stopped by to see her but she didn't appear to be home. In was written in French, which Jamie translated for the cops. Kathleen remained calm, but Jamie became excited when he figured out a theory: the note said "personne" was home. This meant "nobody". "Nobody" or "No body". This was significant he argued. Perhaps the person who wrote the note was the killer – and this person was trying to suggest that there was "no body" when he was there. And perhaps this person was an ex-boyfriend?
The cops were amused by Jamie's idea – and took him in for questioning.
*
The Investigation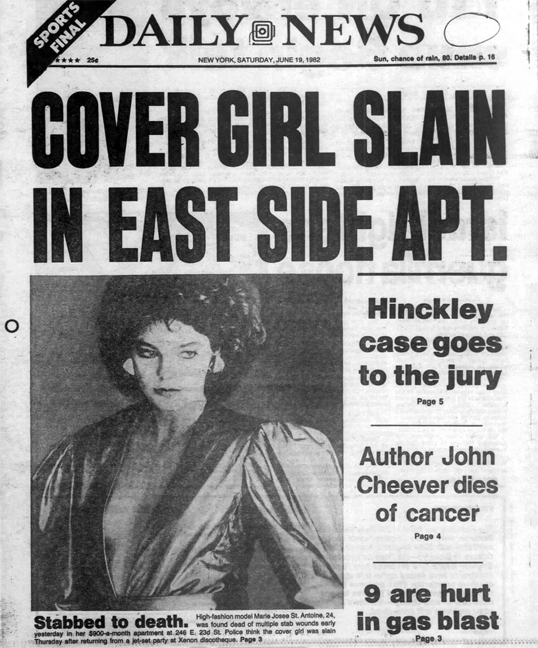 The murder made splashy front page headlines in the city's tabloid rags, the Daily News and the New York Post. Even the serious New York Times covered it in detail. The crime captured the public imagination: a beautiful model killed in her own home in the heart of the city. Just after she'd partied with the stars, no less.
'Model Is Found Fatally Stabbed On East 23rd St', New York Times, June 19th 1982:
Inspector Joseph G. DeMartino of the Manhattan Detective Area said that it did not appear that the woman, Marie Josee Saint-Antoine, had been killed during a robbery or burglary. "There were no signs of a forced entry and the apartment was not ransacked," he said. There were also, he added, no indications that she had been sexually molested.
The murder weapon was not found, detectives said.
Elite Models issued a statement singing her praises: "Everyone here loved her. She was just a bright wonderful person and all of us at Elite felt great warmth and affection for her."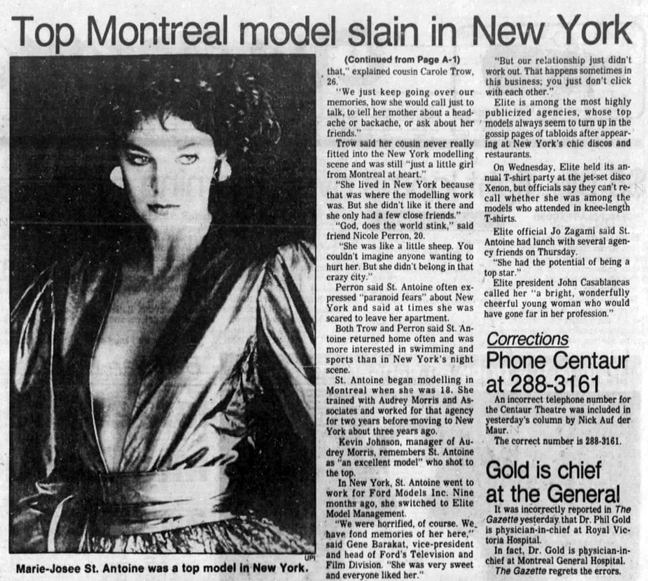 Under pressure to crack the high-profile case, the police interviewed over 40 people in the three days after the murder. They had little information. All they knew was that that Marie-Josée had been stabbed eight times in the chest and shoulder sometime between 4:30 p.m. and 5:45 p.m. As there was no evidence that the killer had forced their way into the apartment or that Marie-Josée had put up a struggle, the detectives focused their attention on Marie-Josée's friends and those who lived in her apartment building, which included Jamie and Kathleen, and the person in the other apartment, a struggling actress named Kim Delaney.
Kim Delaney was a key witness: she'd noticed Marie-Josée's shoes in the foyer of the apartment building, and she'd also been the last person to see Marie-Josée alive – walking along East 23rd St just before the murder – accompanied by a dark haired, good-looking male, in his mid to late 30s. Kim's memory of the guy was good, and she helped a police artist produce a drawing of the suspect.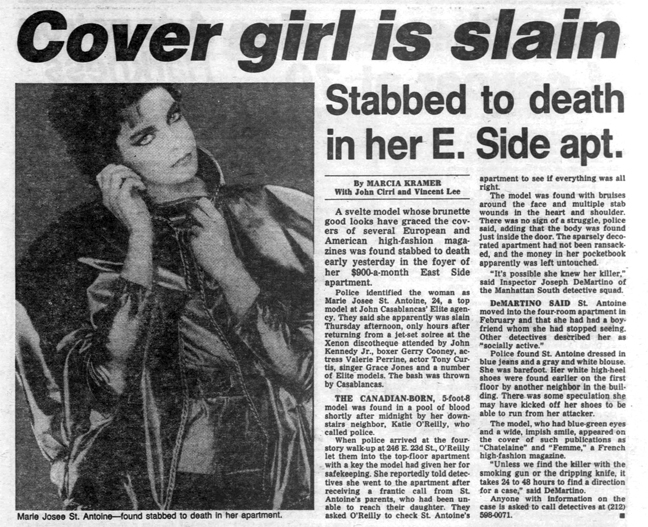 Within a week, the NYPD had narrowed their interest to two principal suspects: Alain Montpetit and Jamie Gillis.
Alain was taken in for questioning. He resembled the artist's impression of the killer, and a possible motive was that he was unhappy with Marie-Josée interfering with his love life. Friends revealed that he told them he wanted to convince Marie-Josée to butt out of his entanglement with Paule. The investigators figured that if Marie-Josée refused to play ball, perhaps he snapped, and then he snapped her.
Alain was interviewed by a New York Post reporter, and said that he was shocked at the slaying – and hinted he was worried an inquiry might ruin his rep: "I was completely overwhelmed. I simply didn't believe that they think that someone like me could be involved," he said.
But after a short investigation, Alain was rejected as a suspect by the cops: he had a water-tight alibi, provided by a girlfriend in New York, a DJ named Jackie Lee. She told the investigators she'd been with him for the three days around the murder. He'd never left her side. How could she be so sure? Easy… they were having sex in a Manhattan hotel the whole time.
So that left investigators with their remaining suspect: Jamie Gillis. He too looked like the police identikit picture of the murderer. As for the motive… well, the prime suspect was a porn star, a lowlife who preyed on women for money for a living. One cop even said as much to his face: Jamie was a misogynist, a pervert. It wasn't a stretch to think that he'd want to stab a beautiful woman to death, right?
Jamie was incredulous. He told them he had nothing to do with the murder, that there was nothing linking him to it. He was questioned endlessly for days. Unfortunately he didn't do himself any favors in the process. First he was given a lie detector test which he failed – twice. Then he was told that his fingerprints were found at the scene. To cap it all, the cops then told him they had a witness who saw him running from the building with a knife. Jamie erupted in anger.
But Jamie too had an alibi – or so he thought: every afternoon, after the day at the racing track was over, he stopped at the LIRR bar for a drink. That would be approximately at the same time the murder was committed, thus ruling him out of the neighborhood at the time of the crime. Investigators were dispatched to the bar, only to learn that on the day of the murder, Jamie had left the track early, skipped his usual trip to the bar, and disappeared for a few hours. In fact no one could vouch for his whereabouts during that time. Theoretically he would've had enough time to kill Marie-Josée.

Jamie was living in a nightmare, an existential crisis: he asked people who he knew whether they thought he was even capable of such an act. Some said that it was a possibility, which made him wonder if they really knew him. Other friends abandoned him, and refused to return his calls when they learned of his arrest.
Some were more supportive: his ex-girlfriend and current roommate, Kathleen, told him she was certain of his innocence, and after a lengthy police grilling one day, she embraced him and said: "they will take you over my dead body". His new squeeze, Vallerie, was interviewed by the cops, and said she thought Jamie was innocent and being framed, but then added that the main reason she was sure Jamie didn't do it was that he was claustrophobic and couldn't stand the idea of being locked up in prison. The police raised a collective eyebrow.
Jamie's plight was getting worse by the day. The police relentlessly pursued him, tapping his phone, and obtaining a subpoena for his phone records. They showed him gruesome photos of Marie-Josée's body hoping to get a remorseful reaction. They asked about his porn films, and whether he'd been involved in a snuff movie. They asked him about how he treated women on set. And they got a search warrant for his apartment, where they found handcuffs, gags, and blindfolds in his drawer. Of course they did: this was Jamie Gillis' bedroom.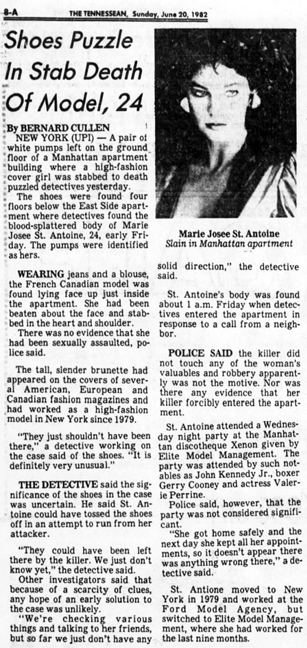 And Jamie didn't help his own cause: at one point, he told the police he'd never stab anyone to death because he was squeamish about blood. So the investigators asked him how he would've killed Marie-Josée, and so Jamie said that perhaps he'd use a baseball bat. What's more he added, it couldn't be him: he'd never kill a pretty girl without first sexually molesting her. One of the detectives looked at him coldly in disgust, and said: "You shouldn't have said that." Damn right.
Jamie's lack of self-awareness and restraint extended to his ignorance of the legal process. One day, the cops asked him if he was ready to make a statement. Jamie agreed enthusiastically. He figured he was being given the opportunity to put the record straight. So he was taken to a police room where the district attorney and a camera were waiting, and told: "Go ahead and make your confession" Jamie almost fell off his chair. He explained that he was there to proclaim his innocence, not make a confession that he was guilty. The D.A. stormed out, angry with the detectives who had dragged him there for nothing. Jamie looked at the humiliated detectives, and figured that just made them even more determined to nail him.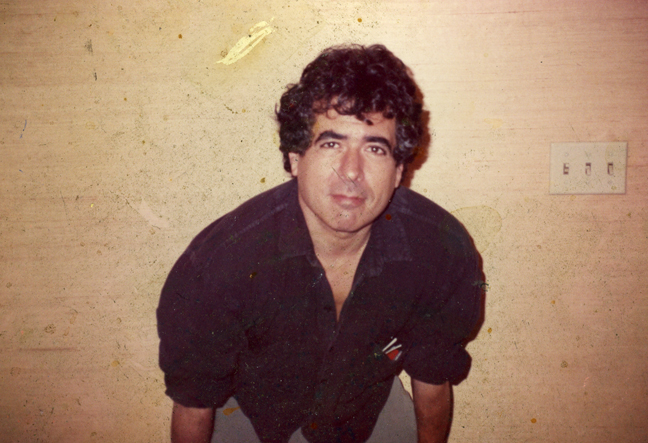 Jamie had a friend in the NYPD who told him that they were sure that Jamie was the killer, but they just lacked "the clincher", a final piece of definitive evidence that would make the case against him a slam dunk. Jamie was frantic: he called Gael Greene, an ex-girlfriend and one of the people who'd unquestioningly accepted his innocence. She put him in touch with a high-powered lawyer who'd once been a DA. The lawyer wasn't happy with the way Jamie had handled the interrogations – in particular, Jamie's comment that he'd prefer a baseball bat over a knife as his weapon of choice. The attorney told Jamie the cops were already out to get him, and the next time that someone was murdered with a bat, Jamie would be the first suspect.
Nevertheless, the lawyer took on Jamie's case in a muscular fashion, and slowly the police backed off. Jamie was free to pick up his life again. The case was officially unsolved, and gradually faded away.

*
Montpetit vs. Coco
Alain Montpetit found the murder case difficult to live down too.
He returned to Montreal to pick up where he'd left off: broadcasting on the radio and appearing on television. But there were some who refused to let him forget the murder – and some of these people were among his closest friends.
Douglas 'Coco' Leopold, for years his confidante and colleague on radio and in the disco clubs of Montreal, took to the airwaves where he made a startling public announcement. Coco said that he knew Alain was the murderer. He said that he had information that indicated Alain had gone to the US with the specific intention of intimidating Marie-Josée. In her apartment, he'd lost his temper with her, and stabbed her multiple times.
The whole of Montreal waited for Alain's response, which came swiftly. Alain announced that he was completely innocent, and had nothing to do with murder. He said he had several people who vouched that he was nowhere near the scene of the crime. As a result of the false claims, Alain indicated that he was suing Coco for defamation.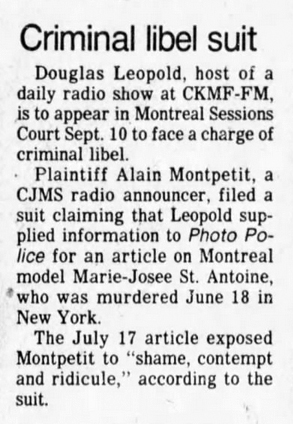 The public argument fascinated fans of both men, and the court case was eagerly anticipated. It was shaping up to be a public inquest on the death of Marie-Josée, but at the last moment it was stopped. Coco backed off suddenly, and admitted he was mistaken. The defamation argument was mysteriously settled out of court when Coco paid Alain $30,000 to compensate him for the damage to his reputation.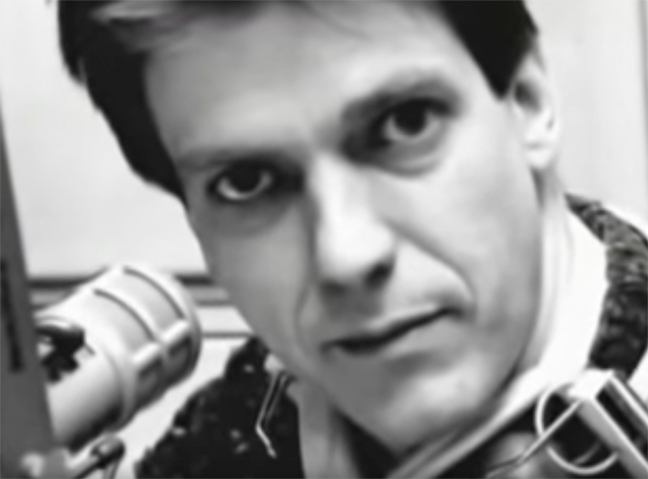 *
1987: Death of the Disco King
By June 1987, Alain was running on fumes. Friends observed that since Marie-Josée's murder, his life had gone downhill and off the rails. He frequently went on air while drunk or under the influence of drugs. The manager of the station advised him to take time off and get help. The station assured him that his job would be there for him when he sorted himself out.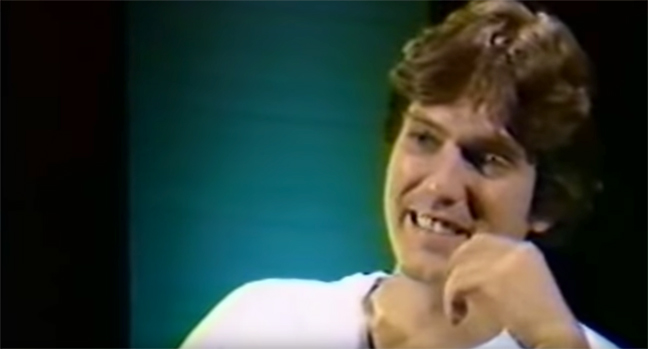 Alain booked himself into rehab, which he was due to start on June 12th, 1987. Four days before that, he travelled to the U.S. to Washington DC. He walked into a hotel in the city, six blocks from the White House. He had no reservation, and carried only a shoulder bag. The front desk staff remember him as polite, exhausted, and clearly not sober. He ordered a room service drink but went to sleep before consuming it. At noon, the following day, a hotel cleaning woman found him dead.
The autopsy showed that Alain died of cardiac arrest due to an overdose of alcohol and cocaine with traces of morphine. He was 36 years old.
It took two days for the news to trickle back to Montreal media – which announced that police did not suspect play. Alain's passing was marked by an outpouring of grief from his many fans in Canada. La Presse, a French-language daily newspaper announced "Montreal was a major center of disco in the 1970s, and Alain was the king here". Few of the obituaries made mention of Marie-Josée.

Alain's one-time friend and nemesis, Coco, died six years later. He'd turned his career into a commentator of new trends in fashion and lifestyles. He was outspoken about the AIDS crisis, and claimed publicly that he was in perfect health and did not have the disease. Coco was living a lie,. He died on April 6th, 1993 of AIDS.
In 2011, a film, Funkytown, was released. It was a fictionalized version of Alain and Coco's relationship, and the disco scene at the Lime Light club.
The movie made no mention of Marie-Josée.

*
2000: Case Re-Opened
Over the years, the murder of Marie-Josée regularly appeared on lists of unsolved crimes in the history of New York City. Each article revisited the gruesome details of the murder, and each increased pressure on New York City Police to re-open the case. The truth was that they had no new information, leads, or clues, so the crime files gathered dust.
By 2000, the Cold Case Squad decided to re-open the case, and re-interview all the surviving witnesses.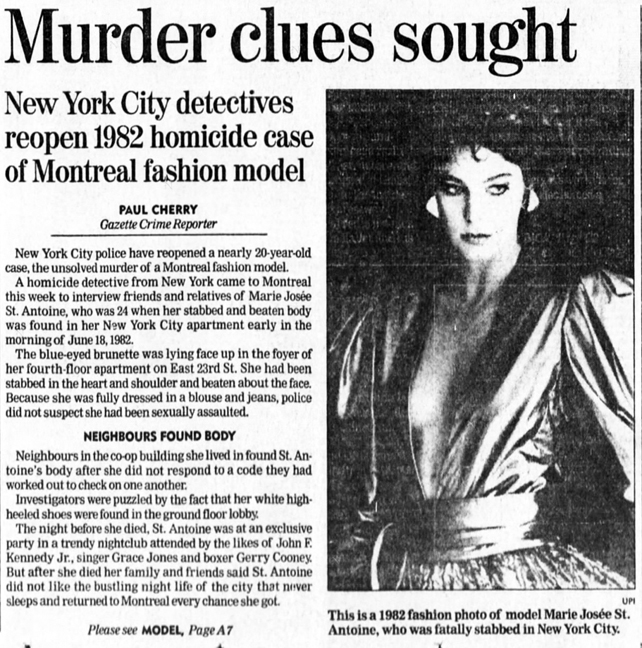 At this time, Jamie Gillis was living in San Francisco. He was in his late 50s, still in the adult film business, but his output had slowed down considerably.
One of his favorite haunts was a coffee shop, Caffe Greco in North Beach, which is where he was when he was approached by four cops. One of them asked if he was Jamie Gillis. Jamie assumed that he wanted an autograph. Not so. When Jamie identified himself, the cops forcibly picked him up, took him outside, tied his hands behind his back, and handcuffed him to a bench – where he was held for several hours. Drinkers in the coffee shop were shocked. They asked what was going on, and the arresting officers said that Jamie was wanted in New York for a murder that had taken place nearly 20 years ago.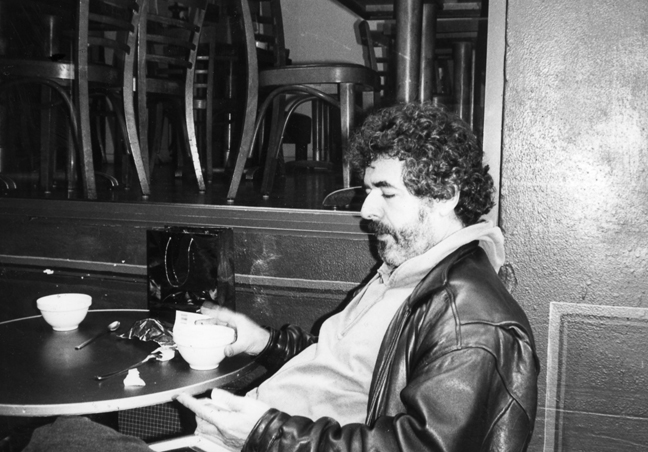 Jamie was taken to the precinct where the officers tried to reach the detectives in NYC. After several hours in a jail cell, Jamie was released without any explanation, and told that he may be called in for questioning at a later date.
Jamie was incandescent with anger. The murder case and his own arrest in 1982 still haunted him, and now almost two decades later, it was all being repeated. He got a lawyer and sued the police, claiming harrassment and reached a settlement with them.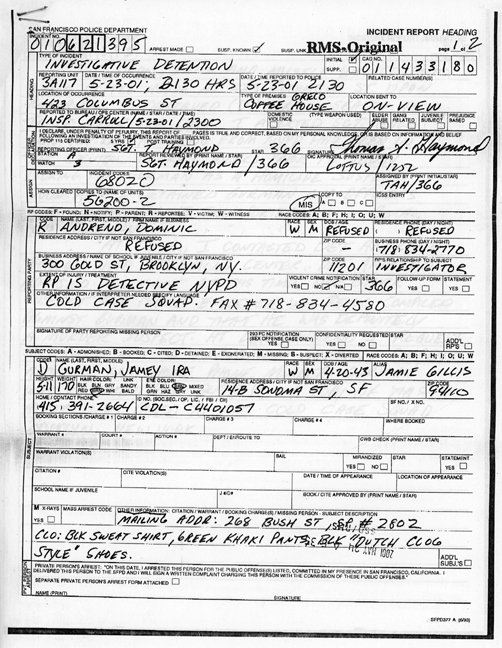 Incident report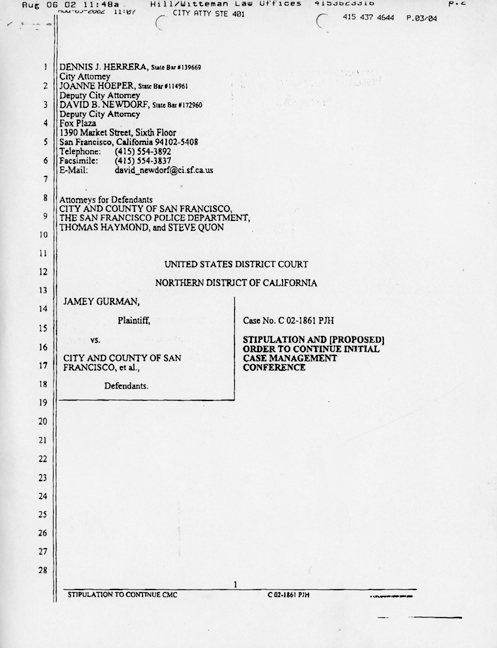 Jamie takes the police to court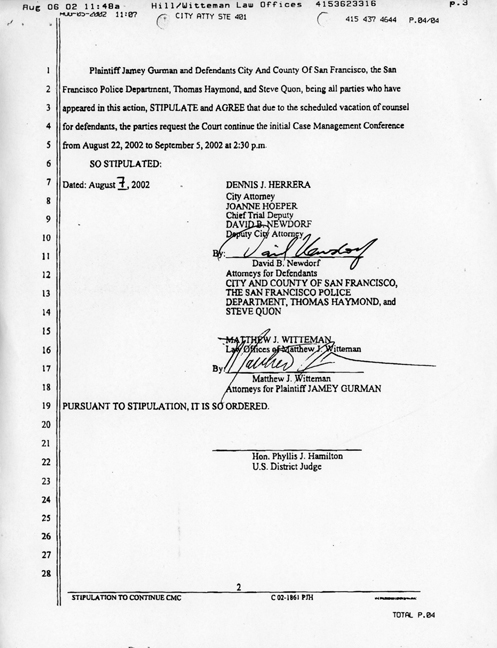 The police didn't interfere in Jamie's life after that – not because he'd sued them, but because, unbeknownst to him, the Cold Case Squad had made a breakthrough in the murder case.
One of the people re-interviewed was Alain Montpetit's old New York girlfriend, Jackie Lee. She stunned the cops with an admission: she confessed that Alain went off by himself for several hours on the afternoon of June 17th, 1982. She'd lied when she said she was with him at the time of the murder. She'd lied about being in the hotel room with him all the time, and she'd lied about the three days in bed having sex. She'd lied out of love for Alain. She'd lied out of fear when he threatened her. She'd lied because sometimes life is just easier that way.
When news of Jacky Lee's confession hit newspapers in Montreal, cops suddenly had people coming forward offering new information incriminating Alain. New York detectives flew up to Canada and found two women who told them that Alain had confessed his guilt to them. It was the corroborating evidence they'd been looking for.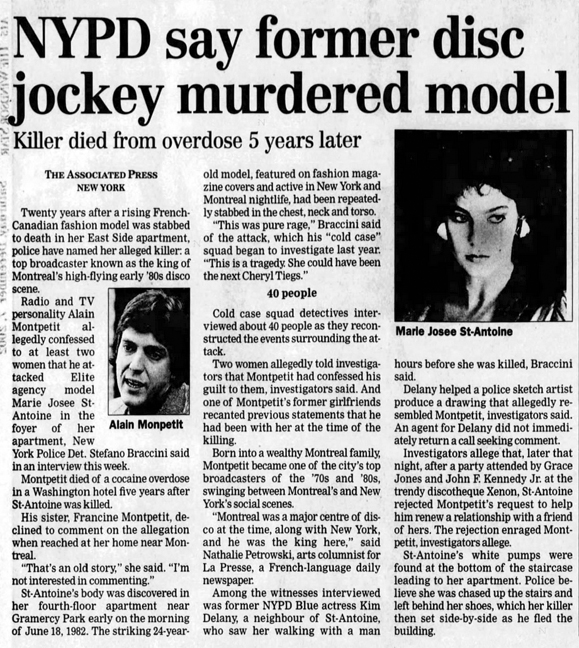 The newspapers loved the story. Even more so because Marie-Josée's former neighbor, Kim Delaney, the actress who'd provided the police with a likeness of the killer, was now a big TV star appearing in NYPD Blue. The press claimed that not only was she a cop on television, but she'd cracked the case by identifying Alain as the killer. It wasn't true of course, but it made great copy.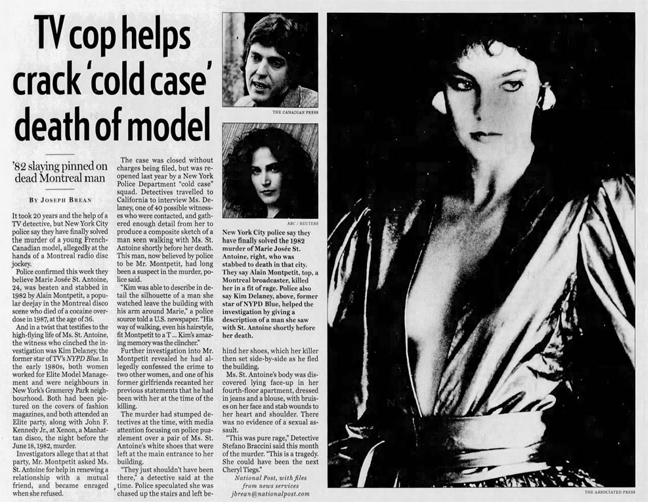 Associated Press, December 6, 2002
NEW YORK (AP) _ Twenty years after a rising French-Canadian fashion model was stabbed to death in her apartment, police have named her alleged killer: A top broadcaster known as the king of Montreal's high-flying early '80s disco scene.
Radio and television personality Alain Montpetit confessed to at least two women that he attacked Elite agency model Marie-Josée St. Antoine in the foyer of her apartment, New York Police Detective Stefano Braccini said in an interview this week.
Montpetit died of a cocaine overdose in a Washington hotel five years after St. Antoine was killed.
His sister, Francine Montpetit, declined to comment on the allegation when reached at her home near Montreal.
"That's an old story," she said. "I'm not interested in commenting."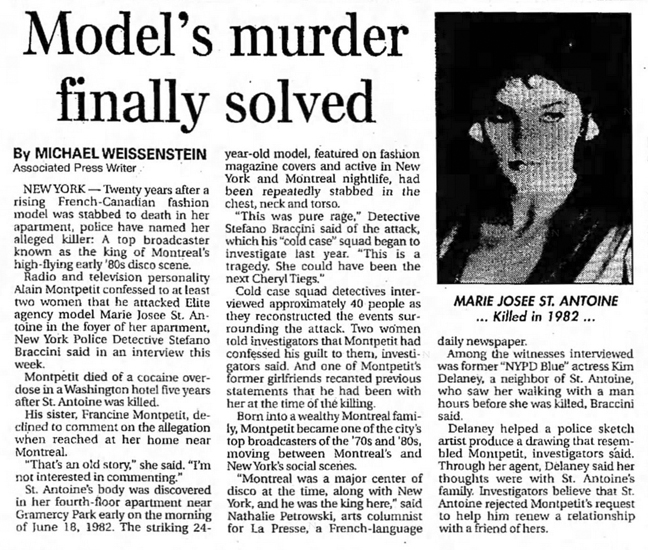 *
2009: Aftermath
In 2009, I headed over to midtown Manhattan to see Jamie again, this time going to eat at his girlfriend's restaurant.
As soon as I saw him, I knew something wasn't right. He shuffled over to me as if his legs were rigid. He looked like a black and white impression of the person I knew, severe and full of dark shadows. And when I hugged him, all I felt was bones.
We exchanged the usual chit-chat, and then he told me the news: he'd been diagnosed with cancer. He had only a few months left to live. He wanted to spend his last days quietly and refused to tell many of his condition. This wasn't surprising; he was always a private man. Whenever someone said that he should've had a successful career in mainstream films, he always disagreed. Why would he want to be recognized everywhere when all he wanted to do was pursue his particular lifestyle in private without interference? He had no interest in that. And so now here he was: sick, tired, with only a short part of his life remaining.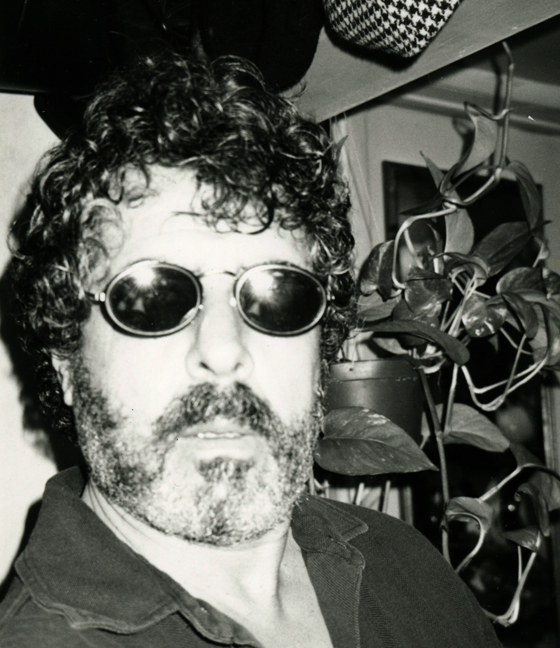 Over the next few months, we met often. He asked me to be the executor of his will, so we also spoke often by phone. He talked about the meaningful parts of his life, the women, the food, the travel, the sex, the friends. We conversed at length of weighty, important concerns and of inconsequential trivialities. At this stage, there was no distinction between the two. He spoke with happiness about his life. He had no regrets. No unfulfilled wishes. He said he only had reasons to be grateful.
But one night he returned to the time when he'd been a suspect in a murder case. He said it wasn't something that he told many people: in fact, it was something he tried to avoid because he found it painful. It still affected him: not the disruption, or the actual arrests, or the questioning. And perhaps not even that he'd been accused of a violent crime. It was more that the experience had briefly shown him exactly how he was viewed by others: and that was something that he rarely saw. Never before had he felt that his choice to become a porn actor had made him such a social outcast. People he thought were friends disappeared overnight, they abandoned him thinking that he was mad, bad, and dangerous to know. Within the porn bubble, he was still a star. Outside of it, it turned out he was an easy and credible suspect for murder. That's what making adult films did for me, he said, and for the rest of his life, he carried that knowledge like a heavy burden.
Jamie wasn't perfect. He wasn't one of the Perfect People. He knew that. He never claimed to be. He was one of the first porn stars, and sometime the first person to do something learns difficult lessons that make it a little easier for anyone who comes after.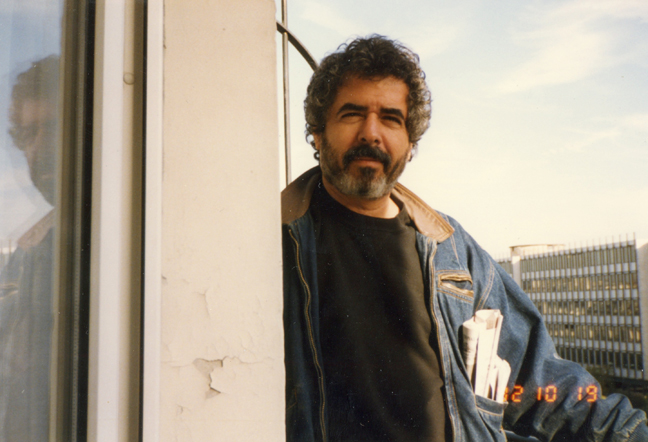 *