The posters proclaimed that Gail Palmer was "The First Female Director of Triple X Films."
Her first movie, Hot Summer in the City (1976), was described as "The Most Sensational X-Rated Movie About Integrated Sex Ever Produced."
And when she made the comedies The Erotic Adventures of Candy (1978) starring John Holmes and Carol Connors, and Candy Goes to Hollywood (1979) starring Carol Connors and the late punk singer Wendy O. Williams, her own name appeared above the film title – and above the names of the stars.
She was a regular visitor to the Playboy mansion (and posed nude in Playboy magazine), and had a rock band called Foreplay that supported A-list bands like AC/DC.
And all the salacious details were captured in her rollicking autobiography, 'Candy Goes to Hollywood: The Gail Palmer Story', which appeared in 1994.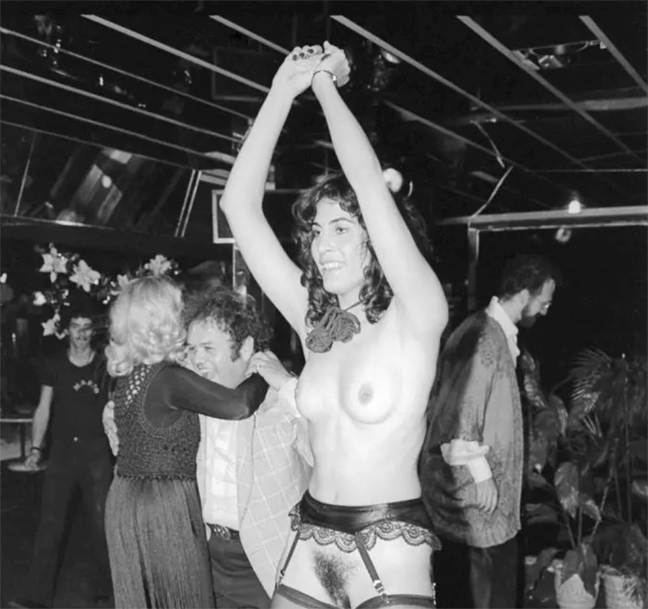 Gail Palmer at Plato's Retreat, 1978
So far, so good – right?
Well, perhaps not.

For years, doubts circulated about Gail's story: Was she really behind the camera directing the adult films credited to her? Was her band Foreplay really that successful (in fact, did they even exist)? Why did she disappear from the scene soon after her divorce from her husband and mentor, Harry Mohney? And why was a copy of her autobiography so difficult to find?
The Rialto Report tracked down Gail Palmer, Harry Mohney, and biographer Peter Sagal to find out more details. Fortunately, one of these three was helpful.
Next week: for the first time, Gail's version of how 'Hot Summer in the City' was made – taken from her autobiography.

We're very grateful to Peter Sagal for having shared his unpublished Gail Palmer manuscript with us in its entirety, and for his memories of the time he spent with Gail and researching her life.

—————————————————————————————-
Looking for Gail Palmer
We started with Gail's ex-husband, Harry Mohney. For no other reason than he was easy to find.
Today Mohney is a big fish in a big pond. He started his career in the adult entertainment business in Durand, Michigan, in 1966 with a profitable and eclectic sex business portfolio of porn theaters, adult bookstores, peep machines, film distribution, and 'novelty products' (read, sex toys). He met his future wife, Gail Palmer, in the mid 1970s when she was a student at Michigan State, and soon found her a job managing his flagship porn theater, Cinema X, in Lansing, Michigan.
Years later, after he split from Gail, Mohney founded Déjà Vu, a chain of over one hundred strip clubs and adult emporiums across the United States and abroad. For a period of time, he was the single largest pornographer and distributor of adult material in the world – but unlike other industry giants, such as Hugh Hefner, Bob Guccione or Larry Flynt, Mohney was known for his secretive profile. He seldom spoke to the press, rarely appeared at public events, and was rumored to aggressively pursue those who published articles about him or his business.
The Rialto Report met up with Mohney at his Erotic Heritage Museum in Las Vegas which he'd opened in 2008. We had a friendly conversation about his clubs, film distribution, and long career in adult entertainment, but at the first mention of his former wife, it was clear that any conversation about her was going to be strictly off-limits.
So we turned our attention to speaking to Gail herself, now living in anonymity, taking care of her mother back in Michigan.
After several phone calls, Gail warmed up to the idea of an interview – provided it was off-the-record. She said she had been burned by several ghostwriters who had tried to help her write her autobiography. On each occasion, she had invested much time and emotion, but her dissatisfaction with the final product had led her to pull out of the publishing deal.
The first attempt, she said, was in the early 1990s. After spending many hours with the writer – and after he had produced a rough draft – Gail fell out with him and refused to continue their working relationship. Strike one.
The publishing house with whom she was contracted passed the materials to a "well-educated but impoverished playwright" who took on the project with enthusiasm. For a time, Gail was optimistic of a successful outcome, but when she read the final manuscript in 1994, she got cold feet and reneged on the deal. Strike two.
The third and (so far) final attempt was in the 2000s when she tried to revive interest in the deal. Another, entirely different, manuscript was produced, But times had changed, and this time the publishing deal fell through due to a lack of commercial interest. Gail offered to send The Rialto Report this version of her story, but she could never find the document.
Nevertheless, Gail was generous with her time with us and shared many memories of her life in the XXX world, and beyond – which included a notorious court case alleging she had been sexually harassed by the writer, Hunter S. Thompson. Eventually Gail agreed to a podcast interview with The Rialto Report – though this hasn't yet materialized.
So we turned our attention to Ghostwriter Number Two: Peter Sagal. Peter confirmed that he had been the struggling playwright who was contacted by a friend offering him the Gail Palmer gig back in the 1990s. Peter was kind enough to send us the entire manuscript that he wrote using the nom-de-porn, E.D. Daniels. It's a well-written and engaging account of the various stages of Gail's life, including vivid description of her upbringing in a disciplined and religious household, an unvarnished account of the highs and lows of her relationship with Harry Mohney, her memories of the XXX film business and the colorful characters that she came across, and her struggles to make a career in and out of the adult industry in the 1980s and 1990s. Peter also shared his memories of working with Gail – which we are pleased to present here.
Though Gail Palmer's story didn't lead to fame or fortune for Peter, he is better known today as writer and host of the popular and successful NPR game show Wait Wait… Don't Tell Me! and the PBS special Constitution USA with Peter Sagal. He has written several well-regarded books, including The Book of Vice: Very Naughty Things (and How to Do Them), described by Publishers Weekly as "a hilarious, harmlessly prurient look at the banality of regular people's strange and wicked pleasures".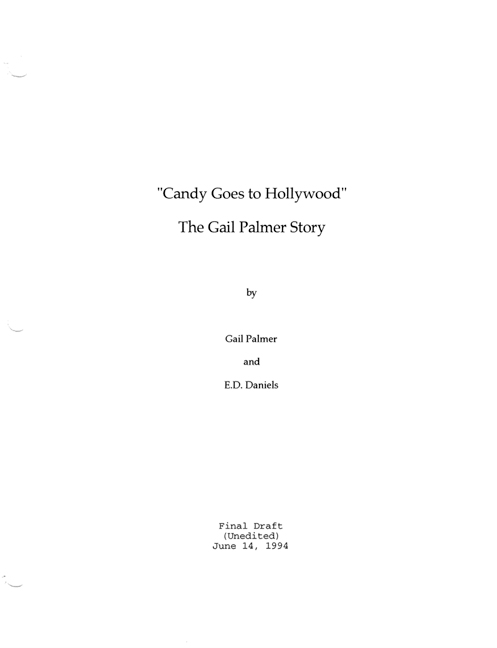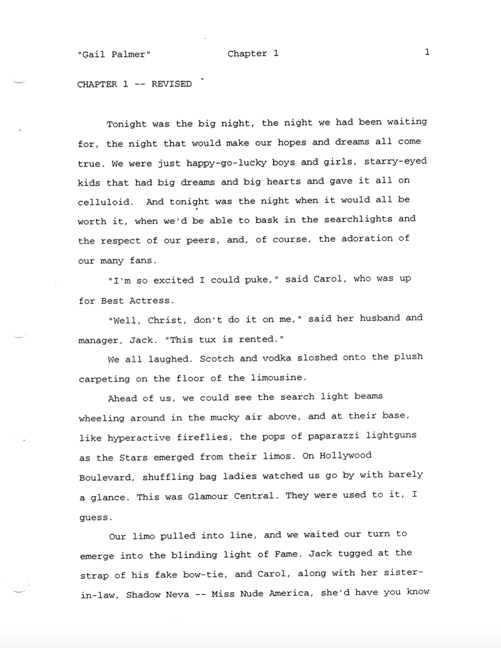 *
Peter Sagal remembers Gail Palmer
"We've signed a contract with Gail Palmer," said my friend Tim, an editor at a New York publishing house. "She's the foremost female director of adult films. She's had a disagreement with her ghostwriter, and we're looking for someone new. Are you interested?"
Well, yes.
I was twenty-eight, a struggling playwright living in the attic of a duplex of a house in a rotten section of Minneapolis – yes, Minneapolis has rotten sections. I needed the work. And while I never saw myself as a ghostwriter, if I was going do it, why not for a fabulously glamorous erotic transgressive?
Because, naturally, that's what I thought. That's what everybody thought. Here was the pitch: Gail Palmer grew up in Michigan, and made her first porn film, Hot Summer in the City , as a student at Michigan State University in Kalamazoo, using equipment borrowed from the college's film department. Happy but not quite satisfied with the scandal she caused, she headed out to the West Coast, where she took the nascent Boogie Nights-era porn industry by storm, creating such porn classics as The Erotic Adventures of Candy and Candy Goes to Hollywood, and, well, other movies with naked people having sex! She was no diamond-pinkie-ringed, hairy-chested, mob-connected pornographer – she was beautiful, feminine, sexy, entrepreneurial.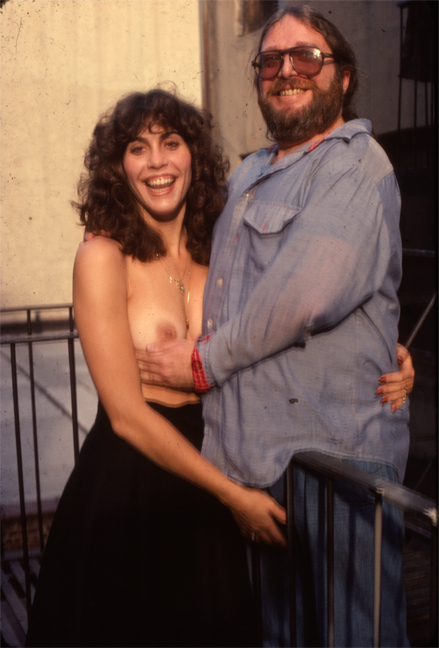 Gail Palmer, with Cheri magazine editor, Peter Wolff
"Gail Palmer is a breath of fresh air," wrote Adam Film World, a pre–Adult Video News sex film trade newspaper, in 1978:
As the producer, writer, and director of 'Hot Summer in the City' and 'The Erotic Adventures of Candy', two of the highest grossing erotic films, she demonstrates a remarkable feel for people and what makes them get off. Not only has she brought some of the highest production values the erotic film industry has ever had, but she has also been one of the prime movers in the movement to have erotic films understood — even if not totally accepted — by the mass of American adults. That she wields a big stick — despite being a woman in a man's industry — and has an entrepreneur's knack for good business at the age of 23, makes her a phenomenon. She is a tall, statuesque country girl whose raw beauty and sensuousness is matched by her warm personality.
You can feel the desperation in that breathless copy. "Please," muttered the people whose job it was to polish up pornography press releases into something that resembled journalism if you squinted at it. "Please, Gail, be someone we can talk about that doesn't make us want to obsessively wash our hands."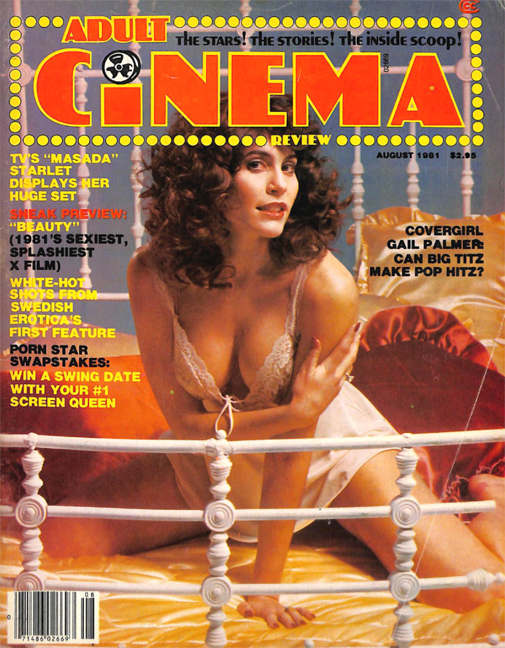 Even though I was reading these articles fifteen years after the fact, I imagined Gail as slender, sexy, and provocative in leather pants, with polyamorous perversities and a volume of Henry Miller sticking out of the faux-leopard bag she carried her bondage equipment around in. Research sessions would mean late long nights in some demimonde haunt, surrounded by her many lovers of all sexes, as I took down her thoughts, like, "I thought Simone Signoret had it down, but where's the pussy, man? Where's the pussy?"
As I began my correspondence with Gail, and arranged our first meeting, I became the envy of just about everybody in my starving-artist set. For example: I went to a master class with a grizzled, lionized playwright of the Old School, a writer whose work was done only in the hippest of garages, who was famous for the scorn he heaped on Broadway and Hollywood and anything that stank of commercialization or selling out. I told him about what would soon be my money gig. He grinned, showing more interest and enthusiasm for this project than for any of the heartfelt works of dramatic art we'd been discussing for the past two hours.
"Wow, ghostwriting a porn memoir? Cool!"
Because, you see, unlike the shibboleths of Broadway and Hollywood, porn made money without compromising with bourgeois convention. Capitalism was cool only if you sold people what they really wanted, not what you fooled them into wanting. Porn was an act of rebellion you could get rich off of without losing your veneer of proletarian solidarity…. By bringing this woman's memoirs to the public, I'd be part of that rebellion, without myself risking violating applicable obscenity laws. I'd be Carlos Castaneda with a Riot Girrl for my Don Juan, and instead of psychedelic transformation, I'd be writing about getting it on.
Sweet.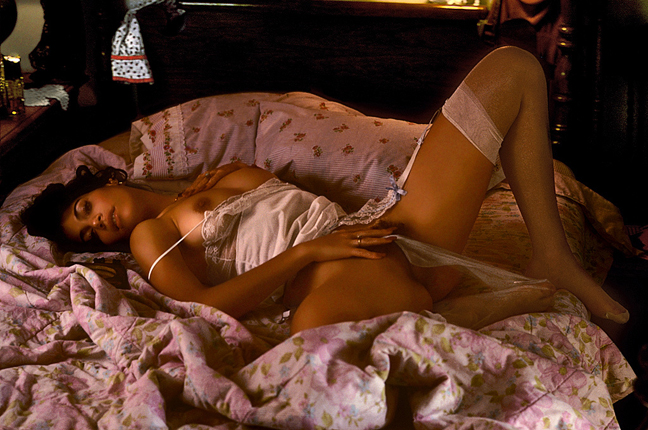 Gail – in Playboy magazine, 1978
*
If Gail Palmer owned leather pants, she chose not to wear them on her flight from Florida, choosing instead — maybe for comfort reasons, as she had to fly coach — a velourish sweatsuit in pinkish tones. She emerged into the gate area moving tentatively, as if afraid generating any speed would cause a crack in her stiff hair. And if she had ever posed naked herself, it was either many years and pounds before, or for someone with particular, and not widely shared, tastes.
No matter: the years pass, and they grind away on all of us. I escorted her to my home, where I opened my notebook and we began to talk. Almost instantly, it became distressingly clear that, like Bogie going to Casablanca for the waters, I had been misinformed. It was true, certainly, that Gail was not a diamond-pinkie-ring-wearing, hairy-chested, mob-connected pornographer.
She had been his girlfriend.
And, of course, as it all turned out, his front. Because the D.P.R.W.H.C.M.C.P. in question, Harry Mohney, wasn't an idiot. He knew that people would react to an attractive young woman making porn movies, back in the late seventies, exactly the way my friends and I did in the mid-nineties: as if it gave us permission.
Despite my misgivings, I went ahead with the project. I visited her at her condo in Florida, and I walked up and down the beach with her, listening to alternating stories of her own moxie and her own powerlessness, sometimes simultaneously. She had really directed the movies. Harry had forced her to do it. She had kept trying to get out from under his thumb. He had threatened to throw her out if she didn't do what he wanted. Our evenings were spent eating the surf-and-turf early-bird specials at the local restaurants. Then we'd retire to her condominium — paid for her by her current, Michigan-based doctor husband, who was never around — and she'd drink gallons of powdered Crystal Light and we'd talk some more and go to bed. Separately, I should add. With my door locked.
I returned home to Minneapolis, transcribed the tapes, and started digging through boxes of her archives, dozens of videotapes, magazines, letters, trial transcripts. I decided to begin by screening "her" first "film," 'Hot Summer in the City', the movie that garnered her all sorts of shocked but titillated news coverage in mid-seventies Michigan, and started her career. According to the AP story written about it, which made the national wires, she had borrowed film, cameras, and lighting equipment from her college, not telling them what she was really doing, and then gotten some of her hot 'n' sexy friends together to make a movie that kids like her really wanted to see.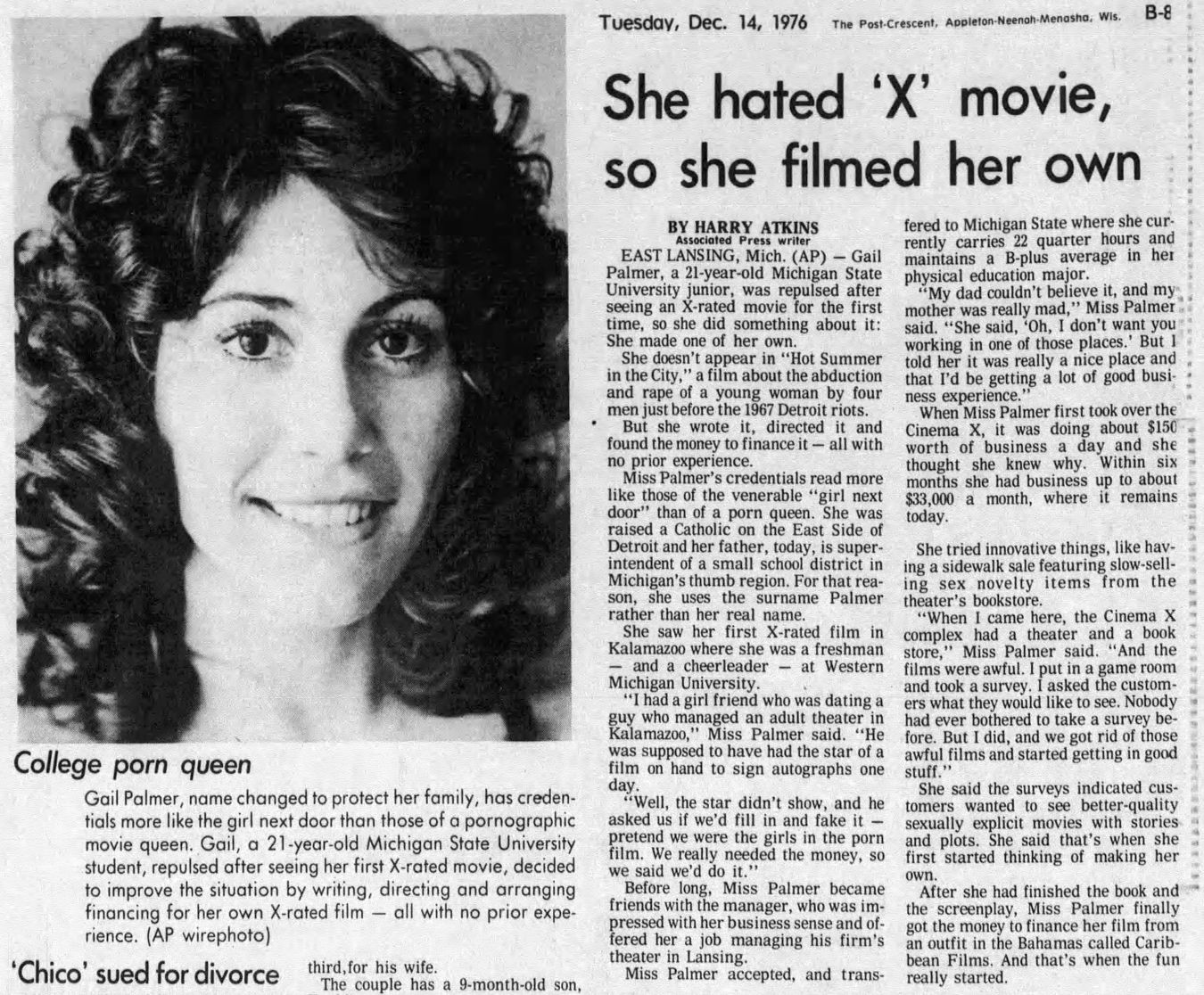 If that was true, as I discovered with widened, and then averted, eyes, then midwestern college kids in the 1970s were into vicious, grimy rape scenarios, as erotic, feminine, and transgressive as a prostate exam. The dank little film would have vanished, unremarked upon, into the bowels of the adult theaters of Michigan (owned by Harry, of course) if it hadn't been for the fact that the name and face above the title were those of the nineteen-year-old dark-haired beauty Gail Palmer. It made money. It probably got a little blip of that post-Deep Throat Porn Chic appeal, bringing more people into the theaters. And when they ran out, repulsed by its misogynistic racist grainy horribleness, well, they were often too much in a hurry to ask for their money back. So what's not to like?
Reading over the clippings again, after seeing the film, I was struck by the constant and continuing divide between what porn really is, and how it gets talked about. Apparently, none of the authors of the contemporary news accounts of spunky Ms. Palmer's guerrilla filmmaking ever actually saw the movie, or they would have asked questions like how a Michigan State student would know a bunch of really scary-looking thuggish guys and women who looked, and acted, like prostitutes; and why said spunky Ms. Palmer would want to create a racist rape scenario that was calculated to appeal to the worst instincts of the sticky-raincoat crowd; etc. It's hard to discuss porn honestly when one of the rules of writing about it is that you can't admit to having looked at it.
Floating on the publicity earned by 'Hot Summer', Gail moved out to California with Harry and started her career. She became the credited director and public face for movies like 'The Erotic Adventures of Candy' and its sequel, 'Candy Goes to Hollywood', each introduced, on-screen, by a younger, slimmer, definitely attractive Gail, her voice pushed low to sound sexy. She gave numerous interviews at the time about her career as a porn director, talking avidly about casting, about talent, about writing and directing. And, in fact, these movies are actually not bad. 'The Erotic Adventures of Candy' is actually a much more faithful adaptation of Terry Southern and Mason Hoffenberg's subversively dirty novel Candy than the psychedelic, star-studded 1968 Hollywood version. That might have made up for the fact that Gail and her backers never paid the authors a dime for it.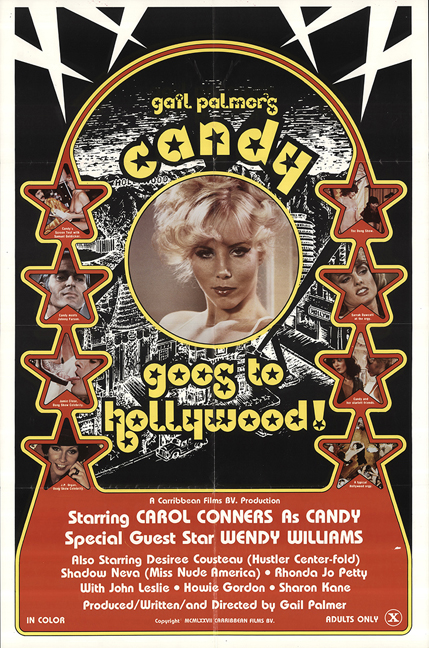 All during that period, nobody ever asked whether this young, attractive pornographer actually was who she said she was, even as she was saying it on The Mike Douglas Show, in a debate about pornography with entertainer John Davidson and William F. Buckley. Davidson admitted that he and his wife enjoyed the occasional erotic film because, let's face it, "We're animals and sex is part of our nature." Buckley responded by noting that the Nazi death camps were also "part of our nature," and that as civilized human beings we had an obligation to rise above our natures. Gail just looked around and seemed happy to be there.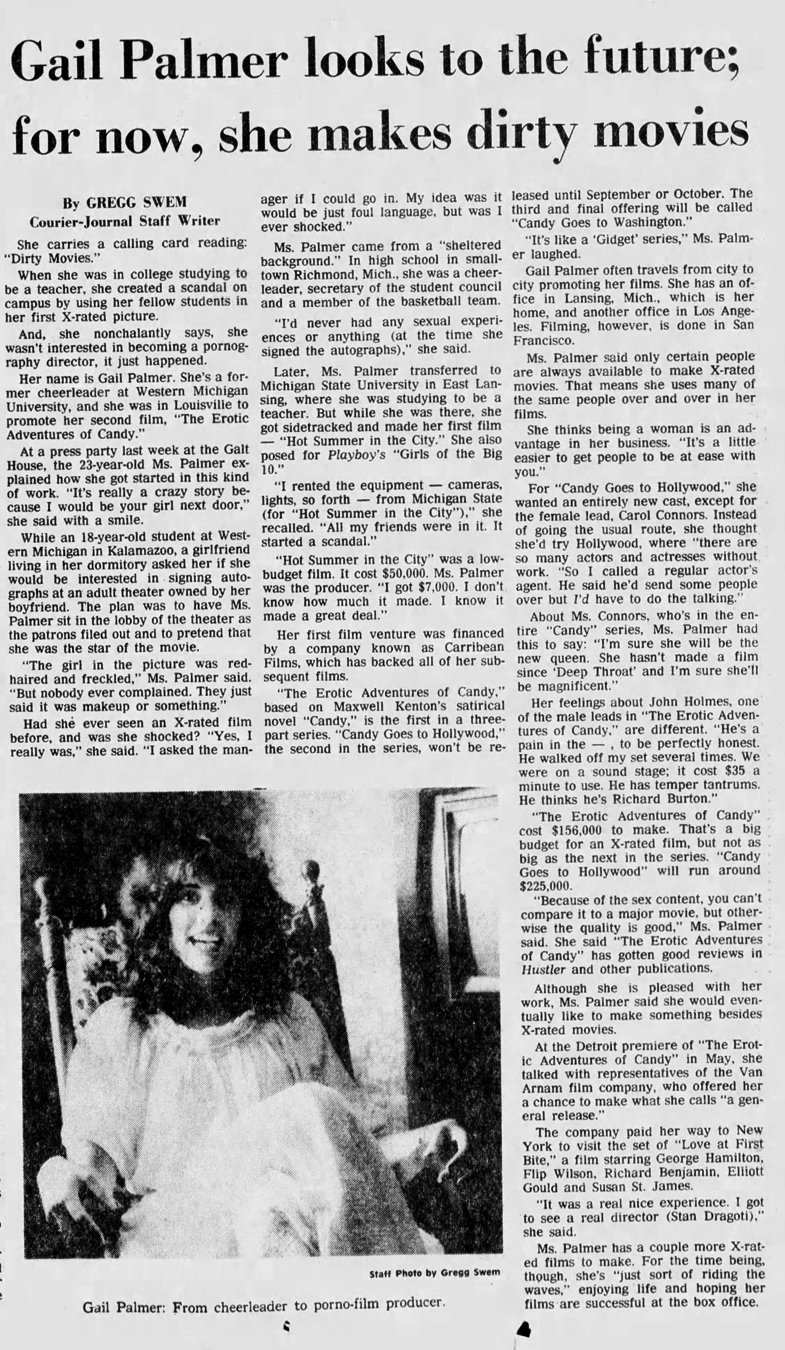 In 1984, she ended her personal relationship with Harry, and anybody who cared to speculate on how much a role he played in her success would have noted her precipitous decline. None of her "collaborators" on the films she had "directed" would take her calls… because, she told me, Harry had blackballed her. Strangely, though, those men — Bob Chinn, Bud Lee — went on to make movies much like the ones Gail had purportedly directed, this time under their own names. Gail's only post-Harry video project was something called Shape Up for Sensational Sex (1985), in which a leotard-clad Gail leads the viewer in various Fonda-esque aerobic exercises, followed by lifeless sex scenes which supposedly make use of the toning provided by the exercises just demonstrated. She ended up being sued by some of the models in the exercise scenes, who said that they were misled into appearing in a sex video, and the only distributor who would agree to take on the film insisted on erasing her own voice and dubbing in somebody who sounded better. Eventually, she told me, she had to sell the film to someone who chopped her out entirely and just used the sex scenes as peep-show loops.
Perhaps her lowest point — maybe anybody's lowest point, really, maybe the lowest point of our species — was when she appeared on a pilot TV game show, made in the early eighties. The premise of the show was that various people would come onto the set and explain a problem, and then receive help or advice from a group of B-list celebrities. The host, or hosts, was/were Jay Johnson and Bob, a ventriloquist and his dummy made famous back on the seventies TV series Soap.
There she was, my Sexual Adventurer, on grainy videotape with eighties hair saying to a man and his wooden dummy, "I made all these pornographic videos and now I can't get a real job."
"Sounds tough, Bob."
"Sure does, Jay!" "Panel, anything we can do for her?"
So much for transgression.
*
I remember the moment when I confirmed, after a long period of steadily increasing incredulity, that Gail Palmer's whole career, the whole premise for the book, was a lie. In the mid-1980s, Harry Mohney went on trial for tax evasion. One of the significant witnesses against him was his longtime companion, Gail Palmer, who haltingly told of the various shell games and deceptions Harry had played to hide his personal involvement in his various businesses. Here's a prosecutor, trying to establish how deeply Gail was involved in Harry's various scams and shell games.
Q: So, in fact, you didn't actually direct any of these movies?
Ms. Palmer: Uh, no.
Uh, no.
It had long become obvious why Harry and his associates would want to put "A Film by Gail Palmer," with her still-attractive figure, on the cover. But what was Gail's motivation for participating in the scam? Whatever Harry paid her for fronting the films was no more, we presume, than what he would have given her for simply being his girlfriend. (One friend of Harry's from those days assured me that Harry gave Gail anything she wanted.) Gail's sexuality, as it turns out, was more or less mainstream… in all our conversations about her films she never seemed particularly excited by the sexual acts she was depicting; in fact, her favorite bits of her own movies were the lame nonsexual jokes. So why in the world would she want to pretend to be the director of porno films?
Porn was and is filled with people who got into it to make money, which is understandable; or to explore their own outré sexuality, which is cool and titillating. My subject, my muse, the woman whose story I had agreed to tell, had gotten into porn for this reason: to become famous.
Which is stupid.
As the ghostwriter, I was faced with a dilemma. Everyone, including Gail's agent, the publishers, and me, had signed on to the project believing, on the basis of very little evidence, other than our own wishful thinking, that Gail was somebody other than who she was. The only solution, it seemed to me, was to maintain the delusion. So I invented a new Gail, a fictional character who had Gail's name, lived her life, made her mistakes, but did so with a good deal more intelligence, self-awareness, and irony than the real thing. My Gail was funny, literate, acerbic, rueful, sexy, and — in the spirit of the eighteenth-century novels I had studied at Harvard — able to look back at her youthful naïveté with the wisdom of age. The publishers loved it. My editor loved it Her agent loved it. We presumed that a decent fraction of the book-buying public, too, would love it.
Gail didn't get it.
She didn't like how forward she was in the book, how complicit. She didn't like some of the things that she — rather, I — had to say about sex and porn, not realizing that I was forced to say them for her only after she'd had the poor taste not to think of them herself. Sadly, she waited until the manuscript was finished and ready to be sent to the compositor to announce this.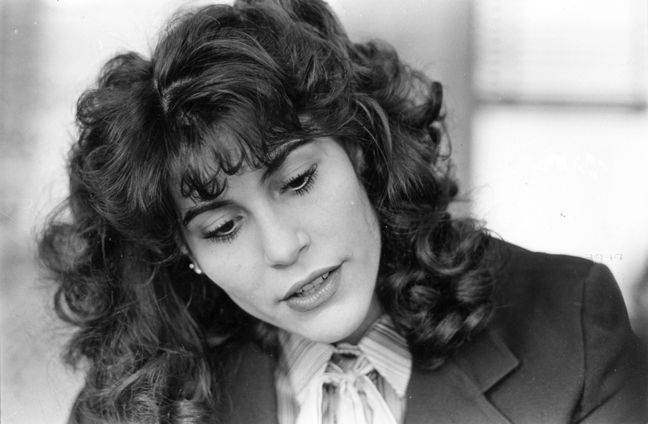 Everyone pleaded with her to allow the book to be published. She wouldn't do it. She broke her contract with the publishers, and me, and vanished. I never received half the money I was promised. As far as I know, she never published any version of her memoirs. The only record of her career is a real trail of pornographic films with her name on them, and a fictional version of how those films came to be made residing in a box in my closet.
But at the same time, I had been the recipient of a forced education in the pornography business. I had read serious scholarly appreciations of the topic, both from the perspective of academic criticism — for example, Linda Williams, who posited that a porn film is like a classic Broadway musical, with sex instead of singing — and the psychological surveys of the late, much-lamented Robert Stoller. I had read about women who were far closer to what I had imagined Gail to be: women like Nina Hartley and Candida Royalle, who were genuinely empowered, intelligent, creative, sex-positive, and slightly dangerous. And I had read about the thousands of women who were none of those things, who daily delivered themselves up unto the meat market of porn, in which young women agree to be photographed having sex for money, for reasons that sometimes had to do with trauma, sometimes with self-expression, but mostly to do with paying the rent.
I felt a little like an explorer who had been allowed to poke his head through a cave opening and see, for just a moment, a bizarre other world, which existed next to ours, and had a parasitical relationship with it. There was communication between our world and it, but it happened at night, in the dark, and we weren't supposed to speak of it.
But, then, in the ensuing decade since my misadventure with Gail, came the Porn Explosion. It's as if the Interdimensional Portal between our two worlds exploded, and the twin worlds began intermingling. For example: Ten years ago I had regular business in a building near Times Square in New York City, with what is euphemistically called an "adult bookstore" on its ground level. After walking past it a dozen or more times, I finally decided to stick my head in, to see what there was to see. What there was, on a video box cover just five feet inside the door, was an image so disgusting, so profoundly disturbing to my heretofore firm ideas about sexual behavior and the limits of the human body, that I emitted a short, sharp squeal and scurried from the store, to look for a wire brush I could stick in my ear to scrape the image from my mind.
Six months ago, I opened my e-mail box to discover that someone had sent me, out of the kindness of his heart, a spam e-mail with an image depicting the same act. Of course, by that time, I, like everybody else, had become used to it.
Traci Lords, the famously underage star who Gail claimed to have met, has become a mainstream actress. Jenna Jameson, who was just starting her career when I met Gail, is a legitimate cross-cultural superstar. And everybody seems to know who Ron Jeremy is.
This once alien, distant species now Walks Among Us.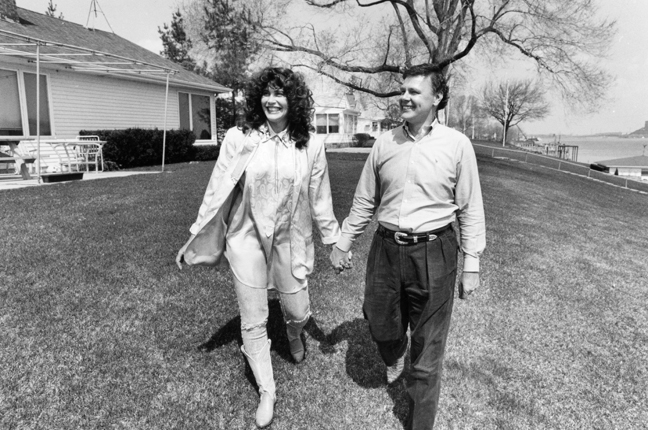 Gail Palmer at home in St Clair MI, with husband Charles Slater, 1990
*
Next week: for the first time, how her first film, 'Hot Summer in the City', was made – taken from her unpublished autobiography written by Peter Sagal – with Gail Palmer.

*