Jamie Gillis, golden age porn star.
Jamie Gillis, gonzo video pioneer.
But Jamie Gillis, lecturer?
By the mid-1990s, Jamie had been in the XXX industry for almost 25 years. Sure, he'd accumulated a fame of sorts, but had made no fortune. Money had always been an alien concept to Jamie, a man motivated by appetites far more esoteric.
Worse, he'd been replaced in the industry by younger performers, was becoming jaded with his life, had put on weight, and for the first time was being offered less work.
All he had left was his past. Or, to be more charitable, his experience, his wisdom.
So for a short time, Jamie tried to monetize his history and contacts. He formed a distribution company, but became bored of the paperwork and admin. He tried being an agent for adult film actors, but was frustrated by the flakiness of the performers. And he attempted to set up a series of weekend courses of lectures and seminars, to teach aspiring porno filmmakers about the business. Only two such weekenders took place.
These all-day X-rated seminars have rarely been mentioned since they were held in 1994.
They were billed as a master class for "learning the ins and outs of making professional adult films and videos… you will learn, in just one day, all you need to know to succeed in this exciting and lucrative field!"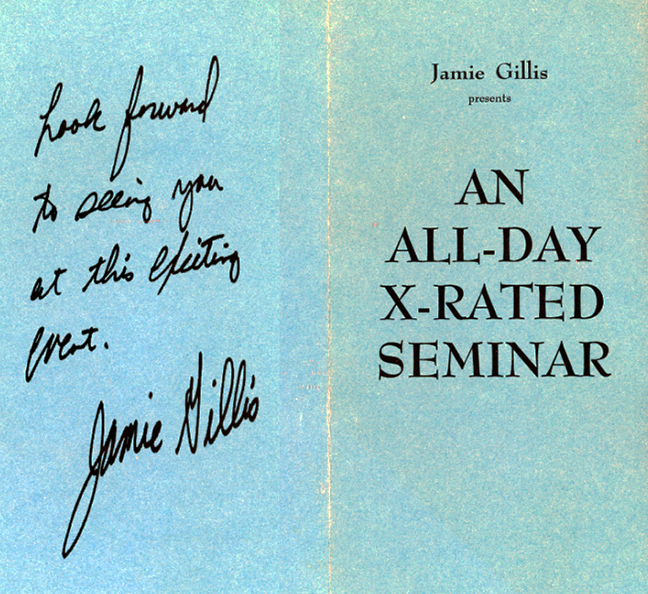 Aside from Jamie's keynote presentation, guest speakers included Duck Dumont, Annette Haven, John Leslie, Ed Powers and Kym Wilde. Others made special appearances like John Stagliano, Mistress Vicky Gold and Valeria.
The Rialto Report recently tracked down previously unseen video of Jamie's lecture – all three hours of it – shot by fellow adult film star and presenter at the seminar, Richard Pacheco.
The video shows Jamie in his element, weary, cynical, and unpolished, but enjoying the attention and the chance to share his sexual war stories. He was fresh off the success of On The Prowl and Dirty Debutantes, so he made frequent references to both series.
Fortunately, not only did Richard Pacheco film the event, but he also wrote two articles about it for San Francisco's Spectator Magazine. We're indebted to Richard for allowing us to reprint his memories, as well as publish previously unseen excerpts from the footage.
Richard Pacheco's book Hindsight: True Love & Mischief in the Golden Age of Porn is widely available.
______________________________________________________________________________
Jamie Gillis: The Master's Class – by Richard Pacheco
Excerpted from Richard Pacheco's Spectator Magazine articles.
 "Porn actor, director, producer and cameraman Jamie Gillis offers a class on How to Make Your  Own Erotic Videos (or Break Into the Business) For Fun or Profit. Included are tips to make film sex look natural, video techniques and equipment, legal questions and more, on March 2nd from 6:30 to 9:30 p.m. in a downtown San Francisco location. $39. Register with the Learning Annex."
Did you see this ad in the local papers? I did. I couldn't believe it. It was like Picasso offering a sketching class at a junior college, Barry Bonds coaching Pony League, or Aretha Franklin giving piano lessons. The master was coming down from the mountain.
Very few people could rouse me from my domestic stupor these days to make a nocturnal trek across the Bay Bridge in the name of sex videos, but understand, dear readers, that Jamie Gillis is one of them. He has long been one of my heroes. In the shadow world of adult entertainment, Jamie Gillis is the light of day.
By far, he is the most sexually adventurous person I have ever come across. Women, men, chickens, pastry, roasted pigs, if it's a sex act, Jamie Gillis probably has done it…at least twice.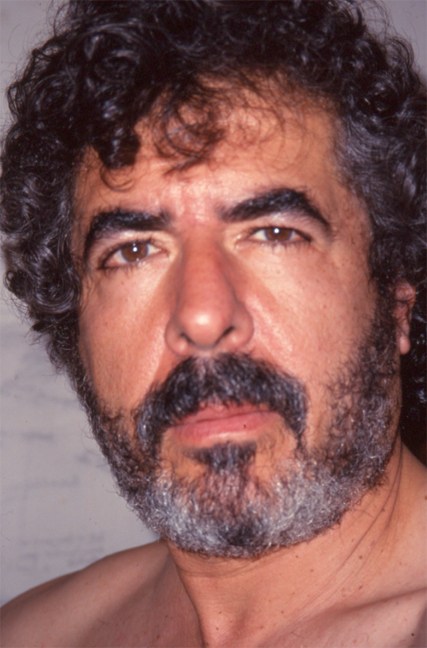 For you young ones out there who can't remember, Jamie began in the late '60's by first making loops in New York. With a background of training as a Shakespearean actor in the off-off Broadway, Jamie, and that booming, unique, signature voice of his, became porn's leading actor into the '70's.
A tall man with dark smoldering good looks, Jamie had it all. He seemed to embody everything that was likable about New York. There was charm, sophistication, intelligence, and wit. Jamie was a guy that men wanted to be friends with and that women wanted to fuck.
His class was not at all what I expected. Then again, I didn't exactly expect anything. I was just happy to get out of the house. I'm a father now, three times over. That's what I do. It doesn't pay in cash. This writing, it turns out, is just a hobby. Me as the porn star Richard Pacheco is really getting to be ancient history. Going to see Jamie was like an archeological dig in my ancient history. I was time-traveling to my more innocent days of sin.
I videoed the event. It was three hours long. Jamie seemed to be as unsure as I was about what he was doing there. Y'know, he broke the indoor record for "y'knows" in his presentation, but this was new for him, too. Teaching requires more than amusing yourself. He wanted to be there for his students. He was earnestly trying to share. Jamie would take them in any direction they wanted to go. I myself was hoping for a spontaneous orgy.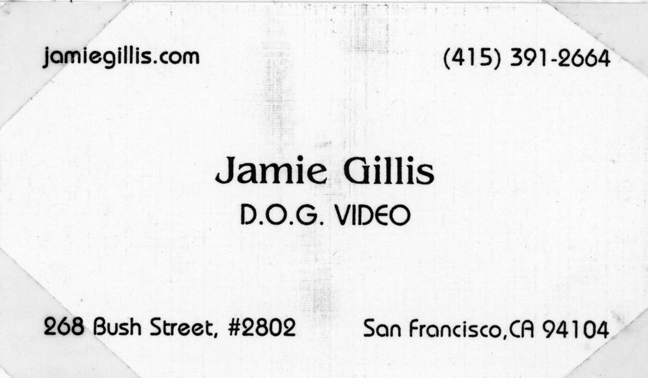 It was the wrong decade, Dr. Pacheco. His audience was mostly interested in the business end of the business. There were twenty-eight men and three women. The prettiest one asked me not to tape her when I panned the room with the camera. There seemed to be a couple of curiosity seekers and a whole bunch of amateur video guys who wanted counsel as to whether to go with big distributors or develop their own mail order catalog. What kind of camera do I need to use? Where are the safe locations? Where is the talent? How much money should we pay them? What about A.I.D.S.? Can I get busted? Is it actually legal? What's a model release look like? Where can I get one? How does Ed Powers get those women to let him fuck them in the ass?
What's new in fuck films? The fetish market is booming. It's safer distribution because there is no sexual penetration in them. Some don't even show pubic hair. Go on, make a fetish movie…spanking, foot worship, panty adulation, anus adulation, anything you can think of. "Go, make it, follow your dream," Jamie tells them.
And "Follow your bliss," Joseph Campbell said on PBS, same message. Jamie and I were slaves to our dicks. All men are to some degree, but I think it's safe to say that we took it to an extreme…and Jamie, I believe, more so than most.
Funny thing, though, Jamie didn't seem to be a slave to too much else. The money, the power, the fame, the celebrity, Jamie waltzed through all that like some kind of whimsical sprite. It was torn jeans and sandals at the race track. "Whoops, I'm broke. Hey, I'll go make another movie." He was the lion in Summer.
But now, it is Fall and Winter is approaching. Jamie's got a pot belly and he's working in production. He still performs from time to time, but now he shoots videos, too, with a favorite camera. He produces tapes. He sells them in the mail. He sells them to the big and little distributors. Jamie had all the answers to his students' business questions. Not that he cared a whole hell of a lot about the answers, but he did have them. While money and business don't seem to drive him, he has still had to learn enough of those answers…for himself…in order to both survive and maintain his independence. Sort of.
See, we all grow up. As much as we can stand it, that is. You get the impression that Jamie just needs enough and enough is exactly what he has.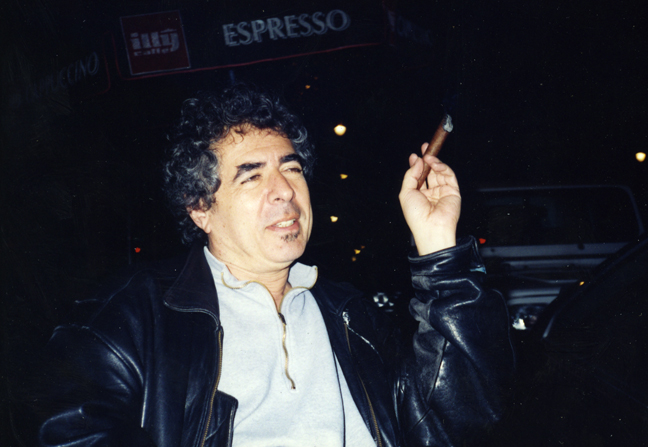 For ultimately, what I heard in this workshop…more than anything else…is that Jamie eschews the scripted sex scene of today's San Fernando Valley Videos. People taking money to fuck is boring him. Hell, it's boring them while they're making it so why should we bother to watch. Jaime's in love with going On The Prowl, which is also the name of a video series he's shot.
Jamie showed clips from his movies throughout the lecture. They were welcome in the sense that they reminded us why we were all there, dressed in our nice clothes, and sitting in a conference room at a Holiday Inn. Just seeing all the pussies and the dicks in the raise-your-hand-when-you-want-to-talk atmosphere was like a dolphin coming up from way down deep…for air…amidst all the blather of percentages, marketing, and legalities. Yup, there's Jamie spanking a woman. It's become a specialty of his of late. Jaime would put on a tape, step back folding his arms and watch it just like the rest of us.
In teaching a class like this, Jamie is just like the rest of us. That's why his audience went home happy whether they ever make that special porn video of theirs or not. Sure they learned what they wanted to know about the current state of all the little business details, but what they really did was get to hang out with Jamie Gillis for a night. It's one of the more charming and fascinating occurrences one can get to have on this planet. It's backstage with a great one who is so busy living that he doesn't have time to worry much about greatness. Flattery is nice. You can chew it…just don't swallow.
I hear that Jaime's going to do some more of these "classes" for the Learning Annex. They'll probably be advertised right here in this paper. If you get the chance and are at all enamored with either the profession or the fine art of being Jaime, don't miss this opportunity. I expect his presentation will become more refined for this exercise…and considering the wealth of experience he has to draw upon, it's like watching a leprechaun playing with his own pot of gold.
It started out as a class. It ended up as an event that actually surprised itself. In another era, it would have been called "a happening." And it was a happening, too, the real deal. An experience that could only happen because it was "The Mad Satyr," Jamie Gillis himself, who had sounded the call to congregation.
My lord, did these people ever get their money's worth! After nine hours, nobody wanted to leave. The hotel had to kick us out. Speakers at the end were jammed for time. Nobody expected what happened to happen. Not even Jamie.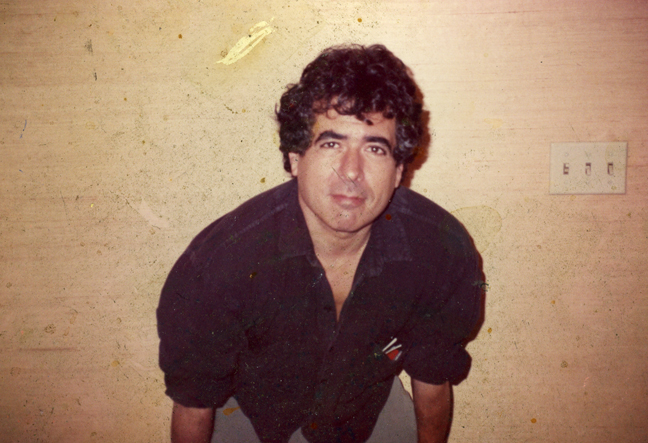 "Do you think it was alright?" Jamie asked me later during the post-game show at a North Beach bar.
I counseled the big guy to drop the business part of the show, add a few more stars with stories, a couple of songs and strippers, put in some big screen video clips from adult movies, and let's take the whole thing to Broadway. I think he has the makings of an extraordinary Golden Age of Porn Review. We could hang out with each other and feed for a long time at that trough. We could tour the country. We could go abroad…
Sigh deeply. This world, my friends, is often an upside-down place. Secret scumbags are frequently hidden behind masks of public virtue while those free spirits we would be so quick to condemn and dismiss from polite society are just as often the real people of heart and substance that we should admire.
"Trust in God," the Sufi's say, "but tie your camel first."
*
Jamie Gillis: An All-Day X-Rated Seminar – Video Excerpts
How to Get Started in the Business
*
The Birth of 'On The Prowl'
*
How to Find Your Niche
*
X-Rated Business Economics
*
Women and Money
*
A Fringe Benefit from Richard Pacheco