On the Prowl and Dirty Debutantes are two series of adult videos that have several notable aspects in common.
Both of them first appeared in 1989, both are considered watershed entries in the gonzo and pro-amateur genres, and both had a significant influence on modern day pornography.
And both were started by golden age adult film actor, Jamie Gillis, with Ed Powers.
'On The Prowl' consisted of Jamie approaching random men with the invitation of free sex with a professional pornographic performer, whereas 'Dirty Debutantes' filmed interviews and sex scenes with performers who were new to the industry.
Over the years, writing about either of these two series has become a rite of passage for many porn film scholars. Even Vice Media jumped on the bandwagon. But all the published pieces have one consistent feature: they are almost completely devoid of original research or new information.
Most writers comment about how gonzo films fetishized 'reality', how they changed pornographic representations, or how 'On the Prowl' was the basis for a key scene in the film Boogie Nights (1997).
But one aspect usually neglected is a conflict that occurred behind the scenes in creating these films – between Jamie and fellow pornographer, Ed Powers.

So what is the real story of how these two influential series were made?
Ten years ago, Jamie Gillis contacted us because he was writing his autobiography and he wanted to figure out how to cover the creation of these series and the conflict around them. He felt it would be easier to articulate his thoughts verbally, before attempting to put them down into writing. Making these films was one of the happiest times of his professional life, but also one of the most difficult.
This is the conversation we had with Jamie, together with artifacts and legal documents that we've assembled – all published here for the first time.
Jamie's autobiography, Naked in Public is currently being prepared for publication. More details will follow shortly on The Rialto Report.
_______________________________________________________________________________________________
"The idea is, we're just going to go around town tonight and pick strangers off the street – men, maybe a woman, maybe we'll go to a dyke bar – and see if they want to fool around with Renee, and see what we get" – Jamie Gillis

1.     Ed Powers and Jamie Gillis – The Early Years
Tell me about Ed Powers.
Ed Powers was Mark Arnold Krinsky, a fellow Jew from New York. He was new to the business in the late 1980s, and was a likeable, though fairly anonymous-looking guy possessed with a manic energy like a kid on sugar. He also had a sex drive that exceeded my own… which is really saying something.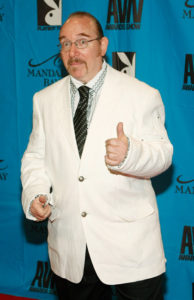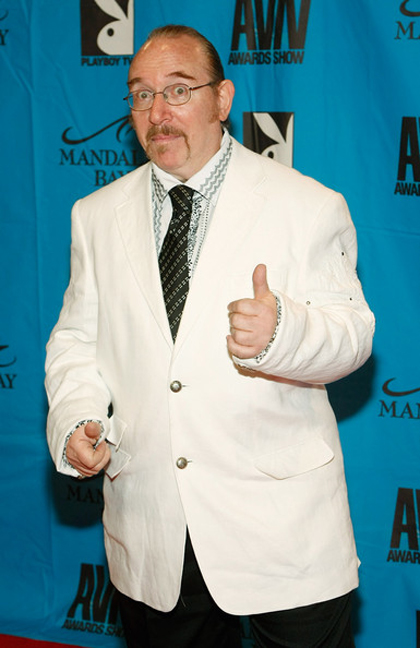 He was strictly small-time when I first met him. What he did have was contacts, and had quickly become well-connected in the business. For some reason Reuben Sturman took a shine to him, and gave him a small porno film distribution company, as well as paying to get Ed's teeth fixed. It didn't make a difference – Ed was still ugly.
I was living in San Francisco at the time, but I traveled down to Los Angeles to make films, and I met Ed on a set in the Valley one day. He was eager to impress me, but I didn't pay much attention to him. That is, until he told me that he'd taken home two hookers who tied him up and robbed him. That intrigued me mildly, but then he told me that he'd been so turned on by the ordeal that he tracked the hookers down and asked them to do it again. Now I was interested, you know? He sounded like he was on my wave-length. All of a sudden, he handed me the phone, and I was talking to one of them, who was telling me that she'd just bought a new gun with the money Ed paid her. She said it was even more frightening that the one she'd used to terrify Ed. I enjoyed that detail.
After that, you knew you were going to be friends?
Ha! We became close very quickly. I'd stay at Ed's place when I was down in L.A., and we'd spend time cruising whores together. He even bored a hole in his bedroom wall so that I could look in on his escapades. The hole was tiny though, and one day I found myself peering at his latest conquest with lust only to realize with disgust that I'd actually been staring at Ed in his underwear.
*
2.     'On the Prowl' (1989) – The Beginning
Where did you get the idea for 'On The Prowl'?
I was dividing my time between L.A. and San Francisco, wherever work called me. One afternoon I was working on a film being directed by Allan Shustak, who was better known as Duck Dumont.
I was suddenly overwhelmed by the tedium of doing another stupid, scripted porn film in which the actors were clearly thinking, "Who do I have to fuck, and how quickly can we get it over with so I can go home."
I said to Allan, "This is ridiculous. Here's a better idea: Why don't we just throw a girl in a car, take her outside, and find someone who really wants to have sex with her – and film that". I'm not even sure if I was serious but Allan casually replied, "Ok, let's do it, but let's use a limo to give it a little class."
I wasn't happy about the limo idea. I dreamed of raunchy, sleazy sex, without any Hollywood gloss, but I figured it wasn't a big deal.
So that was it? You and Allan just did it?
There was nothing else to do! We had no real idea what we were doing or what it would be called – we just rented a limo and took off into the San Francisco night.
Wait – you had a couple of women in the limo with you… How did you choose them?
I knew Renee Morgan would be game and ready for anything. She was a hot girl with a lot of personality. In fact, the name 'On the Prowl' came from an offhand comment by Renee that night. She made reference to the fact that we were going out on the prowl, and I felt immediately that that should be our title.
Just for the hell of it, I asked a woman I had recently met if she wanted to come along for the ride and she did, but when the experience started to get a little too much for her, she left.
The format was simple: Allan filmed it all, I was in front of the camera manipulating proceedings, and Renee was available to whomever we found.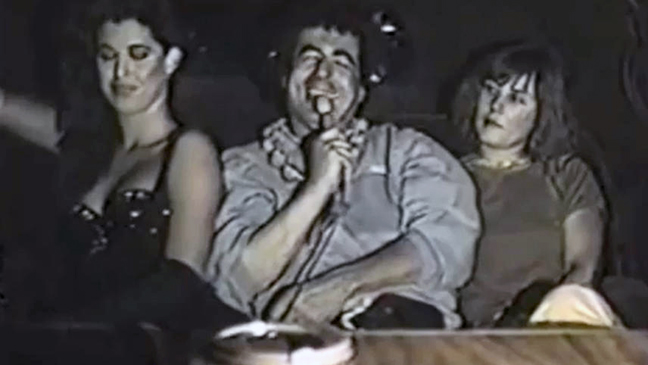 Jamie in 'On the Prowl', with Renee Morgan (left)
How easy was it to find men to have sex with Renee?
It was much easier than I thought. We cruised around the North Beach area of San Francisco, and found no shortage of guys that wanted to fuck, or get a blowjob, from Renee. Personally, I didn't even care if actual sex took place. I was getting off on the idea that Renee was being offered as an available piece of meat – even if that meant that a guy just wanted to grope her. I had always dreamed of being in an environment where women were available to anyone, for any reason, at any time.
At one point, we had to drive away from a bar where we had picked up a few guys because a small army of those who had been rejected was banging on the window trying to get in. Unfortunately, Allan was too terrified to have the presence of mind to film that moment.
The first men who got into the car were a couple of sailors. One of them fucked Renee while the other just watched.
After the video was released I got a call from the 'watcher's' lawyer saying that his client was in the brig and was going to be dishonorably discharged because of his involvement. It seemed that the navy liked the 'fucker' better so they left him alone. I told the lawyer that that didn't seem fair to me, and that he should tell the navy that if they persisted in their unjust course I would report the situation to the media and they'd be put in very embarrassing position. The lawyer did just that, and he called me soon after to let me know that the Navy had dropped the charges. It felt great to know that I could be of help to the poor guy. It was perhaps the only time in my life that I had a taste of what it was like to have real power.
What was the experience of making the film like for you?
I had a ball. I was just sitting in back of the limo as Allan filmed everything. It was so refreshing to be going out to record real sex with real guys who weren't being paid but who just wanted to get some pussy. I felt liberated and relieved. No more dumb scripts. We were out in the real world. We didn't know what was going to happen.
It was reality, and reality is sexy.
When did you realize that you had a product that you could release?
I wasn't even thinking of  having something that we could sell, but when we realized we had about 65 minutes, I was excited to get it out into the market straight away.
Was anyone concerned about the fact that you had used non-professional porn actors?
Are you kidding?! My lawyer hated the idea… he was horrified. I called a guy I knew – a smart First Amendment lawyer named John Weston. I explained the concept, and asked if there was anything that I needed to know, and he panicked!
He just kept repeating, "Are you crazy?!"
What was his main issue?
That we may pick up the son of someone politically connected, like a senator's son who would create a huge outcry. He feared we'd bring the wrath of the law down on the porn industry. He shouted: "Burn it, bury it!"
I was thrilled to get such a big reaction, so when I released that first "On the Prowl" I placed a red band around the box that read: "The concept behind this tape is so bold that my lawyer insisted I not release it. His exact words: "Burn it..! Bury it..!"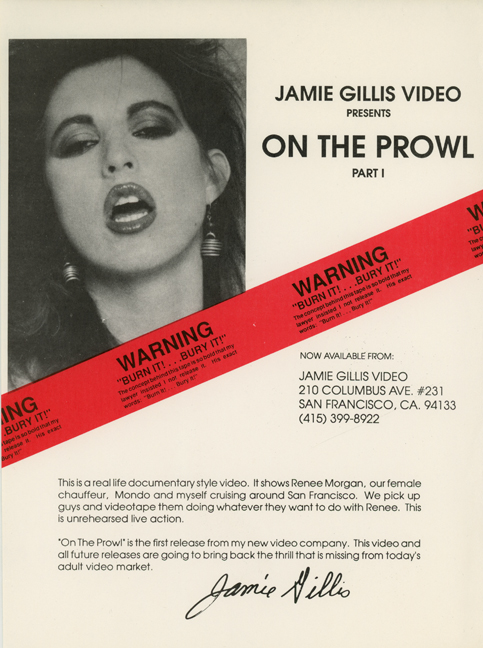 *
3.     'On the Prowl' – The Series
How did you distribute the first 'On the Prowl'?
I set up a new company, Jamie Gillis Video, to sell it. It was good to get the money sent straight to me without giving a large piece away to an intermediary, but nonetheless I was ashamed of being a businessman.
In the bank, I was allowed to use the special merchant's line which was always shorter, but I was embarrassed to use it. I didn't like to be called a 'merchant'. It made me uncomfortable. I always imagined myself to be a different breed of cat, something a bit more outrageous, so I gave it up after a while.
When I made the second 'Prowl' ('On the Prowl Again'), I just hired myself out to Sin City Video, the company owned by David Sturman, son of the legendary porn king Reuben Sturman.
How much did each tape sell for?
$20, which was unheard of. Most tapes at the time were selling for $10. So I was selling it for twice as much as anyone else was asking.
Let's talk about how the 'On the Prowl' series developed after the first tape.
I made seven 'Prowls' in all, but the first 'On the Prowl' was the only one I shot with Allan Shustak as cameraman. After that, I shot everything myself, even grabbing photographs and video of San Francisco as we drove around looking for action. I was a one-man band pornographer.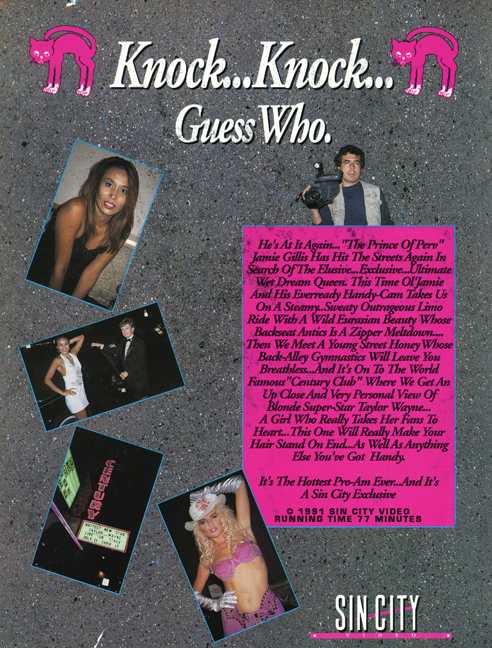 Was that more difficult?
Yes, but it was liberating. I was now free to just go out to shoot and have fun.
Being an actor in porn films for so many years was something I enjoyed and it was a wonderful life. But when I started shooting the 'On the Prowl' series, I became involved with my work in a way I never had before. The idea of getting out into the world and bringing sex into the streets was just irresistible to me.
What happened when you encountered problems out filming?
That was all just part of the danger and fun…
During the filming of 'On the Prowl Again' on a backstreet in San Francisco, we were spotted by two policeman because our star decided to stand up through the sun roof and show her tits to the world. One of the cops was giving us a hard time but then his buddy recognized me and dragged the other away saying, "Leave them alone." His partner was bewildered and kept protesting as they walked off. "What do you mean leave 'em alone?"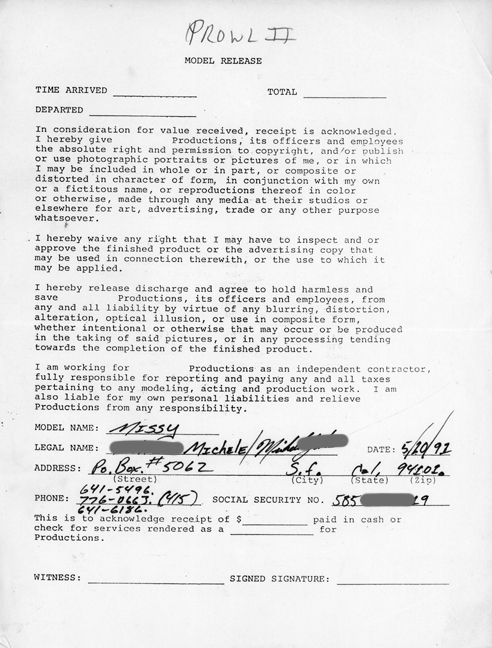 My favorite scene in that video was the one I shot at the Century Theater in San Francisco in the dressing room of stripper/porn star Taylor Wane. I told her to invite any fan from the audience to her room after her performance. She chose a guy and got very hot and nasty with him. I had no idea he knew who I was, but as he was leaving the dressing room, I was amused to hear him say:  "You're a legend, keep on going, I enjoy your movies". Taylor gave him an autographed picture and then started putting on lipstick for her next show which was moments away. She seemed pleased with herself and looked into the camera as if to say: "Am I the biggest slut in town, or what?"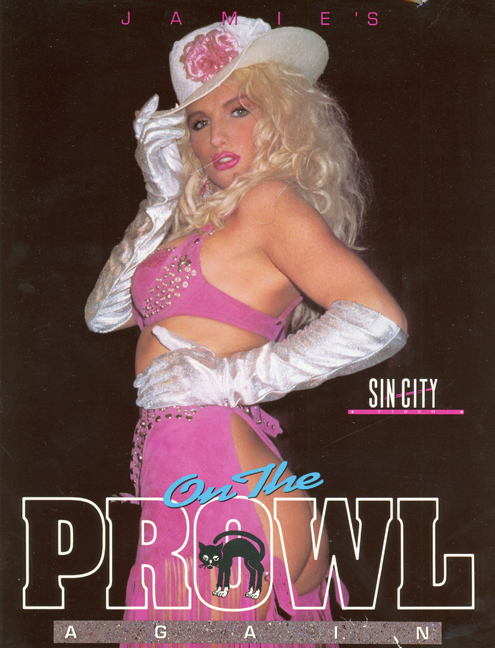 Taylor Wane, in 'On the Prowl Again'
And you shot one volume of 'On the Prowl' in Paris?
Yes. I didn't know how easy it would be to bring the hardcore footage back with us, but we brought it back in our luggage and no one asked any questions.
Did you realize you were doing something new?
I didn't realize that gonzo would go on to be the giant beast that it eventually became, but I did think that what I had done was revolutionary. I didn't have everything to do with it, but I had something to do with it.
Who did you make the rest of the 'On the Prowl' series for?
I didn't want to be a businessman, so I considered hiring someone who could do all of the office work. In the end, I figured it was easier to just make them and sell the rights outright to the highest bidder. So the second one was for General Video, and the rest were for Vivid. The first one is the only one I ever owned outright.
I still sold them though my company if people wanted them – I made up a home-made ordering sheet – but I passed the main burden to the bigger companies.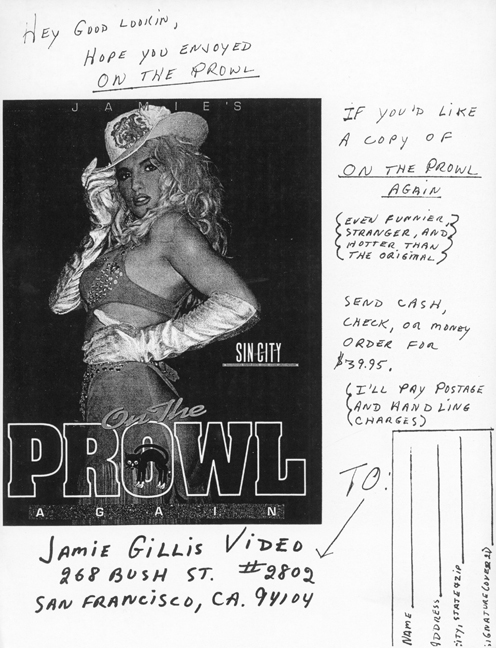 *
4.     'On the Prowl' – The Reaction
What was Ed Powers' reaction to the first 'On the Prowl' tape?
Ed was one of my closest friends at the time, and naturally he was keen to see 'On the Prowl'. He was so excited by it that he went out and shot a concept called 'Bus Stop Tales.'
How similar was 'Bus Stop Tales' to 'On the Prowl'?
To be fair to Ed, he said at the start of his video that he was going to do something that would make me proud, and at the end of the tape he thanked me for inspiring him and for creating a 'new genre'.
But Ed was fundamentally wrong, as there was an important difference between our concepts: 'Bus Stop Tales' consisted of Ed pretending to be a smooth operator with a knack for picking up girls. In reality, it was set up with all parties playing a pre-arranged role, and there was no spontaneity. The females had all been hired in advanced and told what to say. It was fake.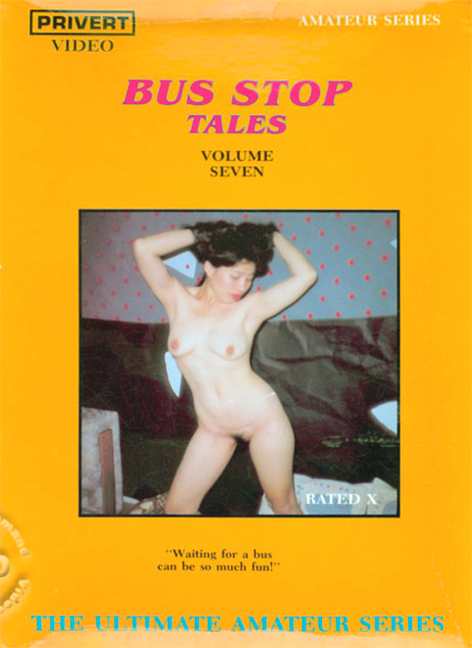 How did the industry react to both concepts?
People didn't seem to appreciate the difference between the two. I felt they had very little in common. Sure 'On the Prowl' was rough around the edges, but it was spontaneous, it was actually happening. It was real.
I found that we were both up for the same Pro-Am AVN award, and I was pretty sure I would get it. It was the first one time I was up for an award as a producer/director, and it was perhaps the first award I actually wanted.
The night of the awards ceremony, I sat in the audience with my heart pounding fully expecting to get up on the stage. It wasn't to be. I was amazed when Ed won. How could people not understand that what I was doing was fresh, new, and exciting, and that Ed's tape was just the same old scripted shtick? I figured Ed must have won it because his company advertised a lot in the AVN magazine.
Your definition of a gonzo film differs from others. Your vision is more ambitious, or more pure – in that you meant for it to be a film of a spontaneous event. Instead gonzo has come to mean a first-person style of filmmaking but one that is nevertheless scripted…
Exactly. I'm generally described by people who know their porn history as the guy who originated 'gonzo' porn. Gonzo basically refers to the fact that a guy picks up a camera and goes out to interact with the world. The genre now accounts for a multi-billion dollar segment of the adult market and it's threatening to take over the entire industry the way talkies over took silents – almost no one wants to see a scripted film anymore.
The 'gonzo' directors who are popular set up their encounters – they're fake. Dear friends like John Leslie and Joey Silvera do some wonderful stuff, and John Stagliano whose company Evil Angel distributes their work is a gifted talent who is widely recognized as perhaps the most decent producer in the business. But it's essentially fake, and I was determined to fake nothing. What excited me was the possibility of seeing something real and unplanned happen. This was not about two prostitutes fucking for money on film. The guys I encountered were never paid – they were just there for the sex. If a girl thought a guy we picked up was unattractive and didn't want to kiss him or suck his cock that was fine with me. There were no rules. Anything could happen.
*
5.     'Dirty Debutantes', and The Nasty Brothers
How did you come up with the idea for 'Dirty Debutantes'?
I was sitting at my desk one day when I got a call from Mia Powers, a young stripper with a sweet breathy voice who addressed me as 'Mr. Gillis.' She wanted to know if I could help her get into porn. She wanted to gain some notoriety to increase her marketability as a featured dancer instead of being one of the house girls who made far less money. I thought it would be a great idea to find girls who had never done porn before, do interviews with them and then record their first on-camera sex.
And so you pitched the idea to Ed Powers?
Not at first. I took the idea to Allan Shustak. He liked it and agreed to partner with me, so we met Mia, paid her $400, and I did a scene with her to see how the idea would look. It turned out great, and Allan and I geared up to produce it. We hadn't come up with the series name at that stage.
The next time I went down to L.A., I stopped at Ed's house and told him what we were doing. Ed got tremendously excited about the idea and implored me to find a way to do the series with him rather than Allan.
"Allan is a ruthless businessman", he warned. "He will steal everything from you. Do it with me, I am your friend. You can trust me". He was more persistent than I had ever seen anyone be. Finally, I said ok. I promised I'd call Allan and ask if he would mind very much if I did the project with Ed instead.
What was Allan's reaction?
I'd been friends with Allan for twenty years, so it was ok. He was a kind and friendly guy, and he just said, "Hey, if that's what you want, it's ok with me." He just wanted to be reimbursed for the $400 he had paid to Mia Powers, since that scene would now be included in the series I would do with Ed.
Allan knew I had no business sense or experience, so he cautioned me to be sure I had a written contract with Ed. It was good advice, but I was sure it would not be necessary. Ed was a friend and so a handshake would do, right?
What were the terms of the agreement with Ed?
It was to be a third for me, a third for him, and a third to go back into the company to create more product. How simple was that? Who needs a contract?
How did you divide up the responsibilities?
I did most things at first. We kicked around names and I came up with 'Dirty Debutantes'. We were to be The Nasty Brothers. I even had a very specific idea of what the box would look like. Ed soaked it all up. After all I was Jamie Gillis, and Ed in those days was in awe of me. He added nothing and questioned nothing.
The first 'Dirty Debutantes' was released with Mia Powers on the box cover, and my scene with her was on the tape. Ed had had no involvement whatsoever with that prototype scene.
We agreed to sell the tapes through Ed's distribution company, Sky Blue Video.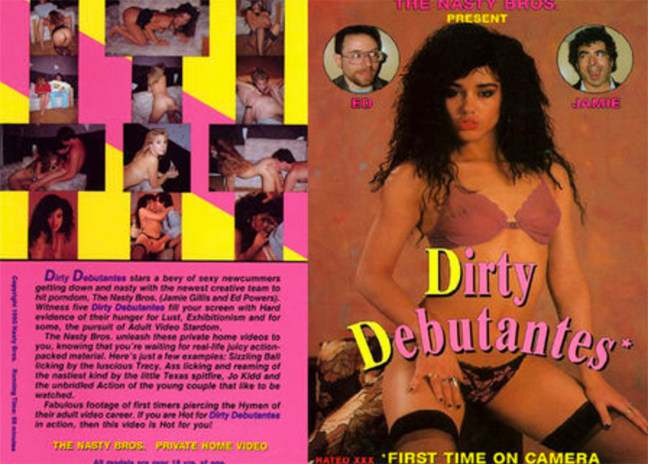 How well did it do financially?
Great. We were tremendously excited when the first money came in, and Ed did something that threw me totally off guard. He gave me the complete first check. It was for $1,400. I was amazed at his generosity of spirit and I knew I was working with a kindred soul, one for whom money was not as important as loving life and enjoying the work we were doing.
Dirty Debutantes gave you a fresh start then?
It really did. Overnight we went from being just another two guys looking to get laid to being sought after by eager young beautiful girls looking for their big break into porn. We contacted the agents in town who peddled such flesh and let them know we wanted first crack at anything that walked into their office. All we had to do was wait around at Ed's house for a new girl to show up and then just take turns holding the camera while one of us fucked her.
They were heady days.
*
6.     'Dirty Debutantes' – The Tide Turns
When did you stop seeing eye-to-eye with Ed on 'Dirty Debutantes'?
It started to be less fun after a while because Ed seemed more interested in business than pleasure. One morning he woke me up because a girl was coming over and we had to shoot her by the time another girl was scheduled to arrive a little bit later.
I had envisioned a more relaxed pace, and a series in which we would go out in public and find girls on our own who had never dreamed of being in porn. Instead Ed was quickly adopting a more factory line style with girls who were porn wannabes. Just like with 'Bus Stop Tales' it lacked spontaneity and danger.
I needed more downtime than Ed's aggressive schedule was allowing, and so I decided to rent a little place up north in peaceful, porn-free San Francisco, and just come down to work on the series as I was needed.
Where did you move to?
I paid $400 for a tiny room on Sonoma St in San Francisco. It was the size of a closet but it had its own entrance off the street and was situated perfectly just between North Beach and Telegraph Hill. I would see heroes of mine in the neighborhood, guys like Allan Ginsberg , Gregory Corso, William Burroughs, and Laurence Ferlinghetti.
I loved the place. It was a perfect little hideaway from the world.
What was Ed's reaction to you living outside of Los Angeles?
He did two things: First he tried to go it alone by starting another series by himself. It was a similar concept called 'Newcummers', but it only lasted one volume. 'Dirty Debutantes' had a ring to it and Ed found he couldn't replicate the same magic by himself.
Then he decided to add a new 'Nasty Brother' to our partnership – Randy West. I had misgivings, and I should have told him then that he could not do that without my consent but I am not really a fighter. I just wanted everybody to be happy and figured I'd still be entitled to a fair share of the profits.
Not satisfied to be able to fuck just the brand new girls, Ed put out 'Dirty, Dirty Debutantes' to include girls who had already been in porn for awhile but that he still wanted to fuck. It was a total bastardization of my original concept.
What about the interviews that you did with the girls? Ed had a unique way of talking to the girls. Did you share the same vision for this part of tapes?
Not really. It sickened me to watch him put girls through things they clearly were not interested in doing and then asking them questions such as: "Do you like older men?"
Don't misunderstand me: I wouldn't have minded if he was being sadistic, but the fact that he seemed to believe his own crap made his work revolting to me.
*
7.     'Dirty Debutantes' – Money Matters
How much money were you making from 'Dirty Debutantes'?
The first tapes we made were selling great. I mean this series was a hit in a business where there is rarely anything new under the sun. The problem was that I didn't see this translated into money.
You mean Ed stopped paying you?
Yes, the money just stopped coming.
I went to see him and told him I needed about $2,000 a month to live on, and that I wasn't seeing the profits I knew we were earning from 'Dirty Debutantes'. Ed said that two grand a month would be no problem, and sure enough, next month he gave it to me.
Did the monthly payments continue?
On and off for a few months. There were a few unpleasant times when it was late, and I had to ask for it repeatedly.
Finally one month the check was so late, I went to see him. When I got there he berated me with: "You're just a piece of shit porn star." I'd shown Ed how to get access to an endless supply of gorgeous women and had made him rich so I felt this remark was just a bit out of line. Perhaps he felt deep down that way about himself and was projecting his own self-contempt.
We had made the first half dozen volumes of 'Dirty Debutantes' together and we parted company. I decided it was time to sue my erstwhile good buddy.
*
8.     'Dirty Debutantes' – The Trials
How did you go about suing Ed?
First I hired an attorney to send Ed a letter demanding payment. This was in 1991.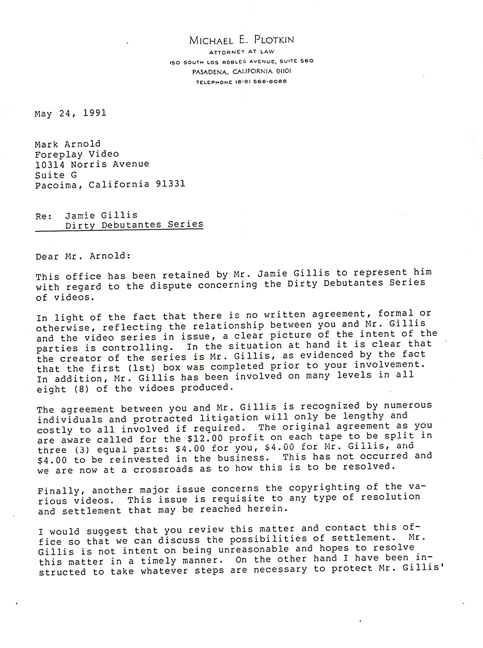 What was Ed's reaction to the letter?
Ed paid me a little, but then started missing payments again.
In the end, I decided to proceed with full-blown legal action. It took me some time to put the case together, so it didn't start in earnest until around 1995.
Suing someone can get costly…
A friend recommended a lawyer who would take the case on a contingency basis.  This guy was all fired up about it because the series was making so much money: According to Ed's own subpoenaed records, 'Dirty Debutantes' and its offshoots had made millions.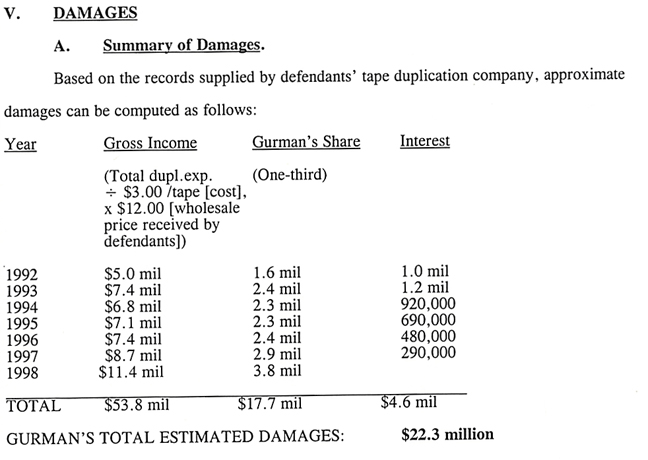 Extract from court filing, showing Jamie's estimated share of gross income ("Gurman's Total Estimated Damages")
My attorney ordered a large volume of 'Dirty Debutantes' volumes from an adult film mail order company to confirm the wholesale and retail price, and then deducted the duplication costs to get to the profit.
We were suing him for over $20,000,000, and we expected to easily get several million out of our suit.
Evidence of profits made by 'Dirty Debutantes' – presented to court (click on the image to access the entire document):
How much was the court case about money, and how much was about correcting an injustice?
People always say that it's not about the money, but in my case it was true. I literally could think of nothing I needed or even wanted. The only thing I could think of was that it would be a nice idea to take my girlfriend on an around-the-world cruise.
What was the basis for your case?
There were four parts to our argument:
1. That I brought the idea to Ed for 'Dirty Debutantes';
2. That we had entered into an oral partnership;
3. That we had started producing the series together;
4. That Ed refused to pay me as we agreed.
Background to the case – presented to court: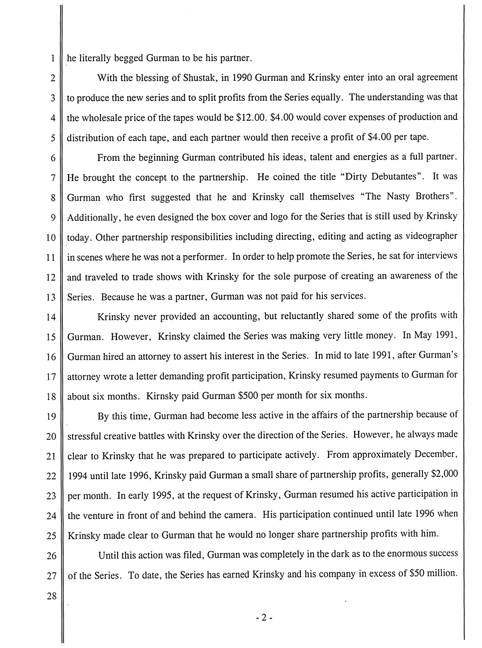 Court documents files by Jamie's attorney (click on the image to access the entire document):
How did the court case unfold?
The case was heard on November 18, 1998. Ed's lawyer, Sherwin Edelberg, was one of L.A.'s best and my guy, an attorney called Reginald Brown, seemed no match for him – but we rolled along knowing the rightness of our cause.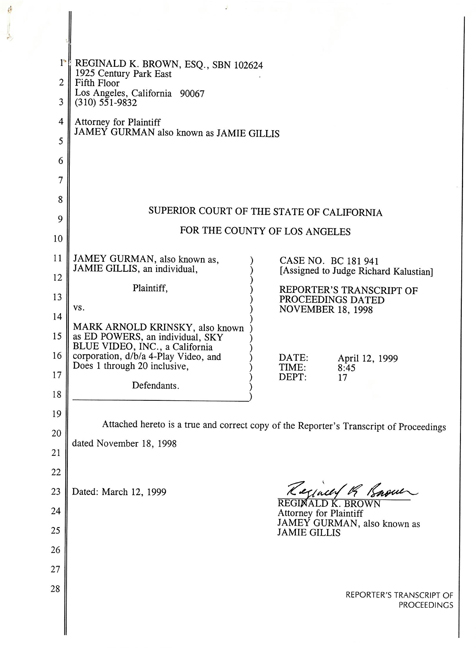 My girlfriend sat in the courtroom and whenever I needed strength and moral support while I was on the stand I would just look at her. At one point, a guard stood in front of her and blocked my view. It was like a dark cloud had settled in the courtroom. I wanted to shout: "Move your fat ass away from her. I need to look at her while I am testifying." He didn't move for a long time.
I was very confident that we'd win, so when Ed took the stand, I waved to him as if to say, "Ok motherfucker, your day has come. Wiggle out of this one".
Did you have many witnesses from the adult film business appearing?
Yes, it was like a who's who of the business! We had Allan Shustak, John Leslie, Bill Margold, Randy West, Mia Powers, Jim South, Paul Fishbein…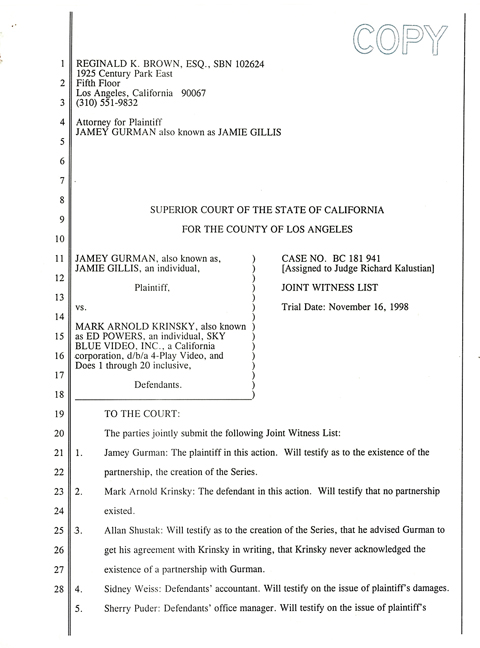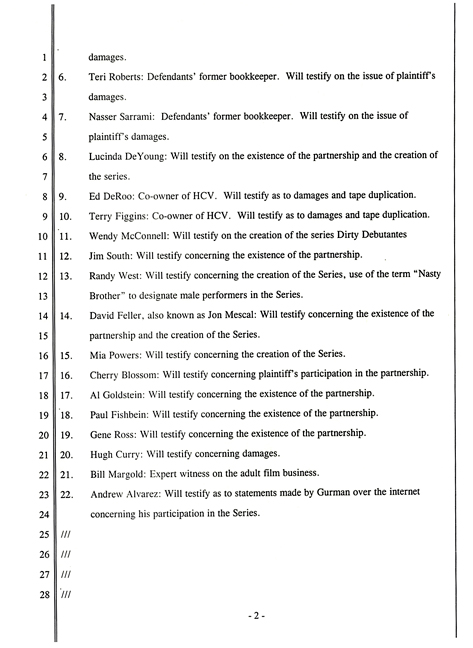 What was Ed's testimony like?
To my astonishment, Ed not only flat out lied by saying we had never been partners, but he even said that the only reason we even appeared to the outside world to be friends was to "present the illusion of camaraderie" to better sell the Dirty Debutante series.
Ed and I had been very close, and when I heard that phrase… something in me broke. He was not even willing to concede we had once been friends. Good friends too.
What were the arguments used against you in the court case?
They said I was a fantasist, there was no contract written down, that I had no idea about business, no understanding of what a partnership is, and that I waited too long beyond the statue of limitations.
Extracts from Ed Powers' attorney's closing statement:
"For a man (Jamie Gillis) who has been in the business since 1970, pardon me, 1972, he has no tax returns of a partnership, and no idea of a partnership."
"They may have been friends. (But) I think Mr Krinsky is not one who deals in illusions (except for) making movies."
"Except for self-serving statements from a man who has been in the business too long, you do not have one scintilla of corroboration, nothing that would give any credibility whatsoever to Mr Gillis that he was indeed a partner."
Full closing statement by Ed Powers' attorney (click on the image to access the entire document):
How difficult was it listening to this?
There were two moments that were particularly difficult:
The first was when they said the idea for 'On the Prowl' came from 'Bus Stop Tales'…
The second was when Ed was made out to be the savior of the industry.
Extracts from Ed Powers' attorney's closing statement:
"All Mr Gillis did was hire a prostitute, take her in a limousine, and pick up some men. That was his idea of a first time situation. But, your honor, it is an illusion. The… first time was women came from the defendant (Ed Powers) in 'Bus Stop Tales.'"
"Mr Krinsky sought to do something different with the adult entertainment industry to, a) not take advantage of the women; b) over pay them; c) do that to which he is entitled, make a profit."
How did your attorney respond?
He did his best, but he was out of his depth.
He pointed out Ed's lies, that it was well-documented how Ed had been inspired by my films, and that we clearly had this agreement to split the profits: a third for me, a third for Ed, and a third re-invested into the business.
Ed said that he sent me money because I was only an 'independent contractor' – and not because I was a partner. But we had a key piece of evidence which was a royalty check that he sent to me. Ed had written "Royalties" on the check… and we pointed out that this meant I was a partner not a contractor. You don't pay royalties to contractors…
That's difficult to rebut…
Ed claimed that it wasn't his writing on the check. And that argument seemed to work.
Extract from Jamie's attorney's closing statement:
"All we have seen from Mr Krinsky is lie after lie after lie."
Full closing statement by Jamie Gillis's attorney, and the verdict from the Judge (click on the image to access the entire document):
What was the outcome of the case?
It was over quickly. The judge simply said, "One of you is lying, and I can't tell who it is." The problem was that I had nothing on paper, and as it was my job to prove the case and we didn't do it, the judge sent me home with nothing.
I was quietly devastated, though my girlfriend made me laugh at the situation by joking, "Oh, so it turns out you need proof! I guess our lawyer didn't realize that."
Extract from the judgement:
"I find it difficult, if not impossible, to believe that there was a legitimate honest in-place partnership agreement where both parties' minds had met to decide what they should do, how they should act, what responsibilities each had in this partnership, what contribution they each were to make, whether they were in money or in support or acting or something else."
Did you appeal?
Yes – but we had to find the grounds to appeal first.
We came up with a number of reasons, including two new pieces of evidence. Firstly I found an answering machine message from Ed which we played in court and we transcribed. And secondly we had a handwriting expert who testified that the handwriting on the royalty check was Ed's.
Full petition for appeal (click on the image to access the entire document):
What did the answering message reveal?
Ed was angry and abusing me. He basically admitted to us having a partnership, and that he wanted to renegotiate it.
Full transcript of voice message left on Jamie's answering machine by Ed Powers  (click on the image to access the entire document):
What happened to the appeal?
We lost that as well. And that was that. It was all gone.
*
9.     Postscript
Has history judged the way 'On the Prowl' has been remembered more favorably?
I don't think so. It's gotten worse.
AVN magazine published a list of the 50 most influential adult film a few years ago. 'On the Prowl' wasn't even mentioned. Can you believe that? I've never claimed that it was a great film, but influential? It spawned a whole genre…
And guess what? 'Bus Stop Tales' made the list.
I called AVN to set the record straight. They agreed they'd made a mistake, but the damage has already been done, you know?
What did you think when 'On the Prowl' was recreated by Paul Thomas Anderson in his film 'Boogie Nights' (1997)?
I'd been looking forward to seeing 'Boogie Nights' because I'd seen his first film, 'Hard Eight', which I liked. It was clear he was a serious rising star. I thought if anyone could honestly and seriously capture the porn business it would be him.
Sadly he not only trashed 'On the Prowl', but he also portrayed everyone in the business as the jerks that most of the public expects them to be. He called his version, 'On the Lookout', with Burt Reynolds playing me in that scene. The irony however is that it is a comedown for the Reynolds character not to be making a 'real movie' which was the opposite of what I felt. Reynolds was so bitter and disillusioned, that the scene ends violently with a guy who they pick up being savagely beaten.
I also listened to the commentary track that Paul Thomas Anderson recorded. He describes 'On the Prowl' as depressing. I never felt that. I was in love with the entire venture. Sure, there's often a touch of melancholy in the pursuit of anonymous sex, and I grant him his right to exercise poetic license, but he gave the whole business an ugliness which made me feel more creepy and dirty than I had ever felt in my life. I was horrified and sickened to see myself and my pet project so abused on the big screen. The idea that people would think that Anderson's representation of me and 'On the Prowl' was the true one was unbearable.
Despite the difficult way that the experience ended, it sounds like you've retained affection for both 'On the Prowl, and 'Dirty Debutantes'.
Yes, especially 'On the Prowl'. I still consider that my little treasure. I enjoyed it, and it was a hot experience to record for history.
Over the years, the first 'On the Prowl' has been difficult to find.
It's available on DVD, but people can only get it from me. I like it that way. No big companies, no faceless salespeople. If someone wants it, they have to called up and speak to me, and then I'll burn 'em one.
I don't get many calls, but it means someone has to really want to see it. I like that.
It never did that well commercially. Perhaps people can't take too much reality.
*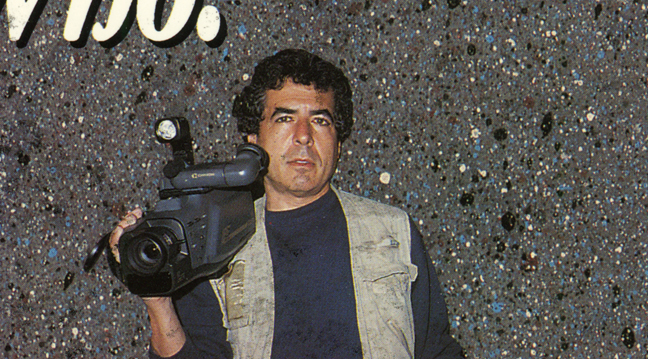 Jamie, with the camera used for filming 'On the Prowl'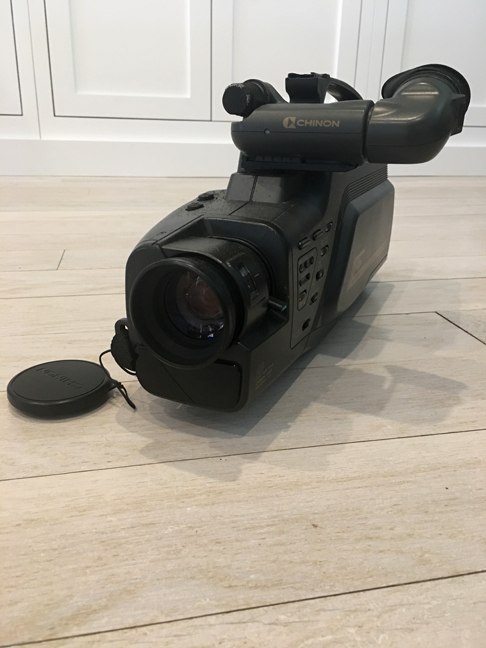 Found! Jamie's original camera, used for filming 'On the Prowl'
*