Podcast: Play in new window | Download
Subscribe: RSS
Let's admit something: as much as the so-called golden age of adult film was a glamorous era, where sex movies competed with Hollywood blockbusters in theaters across the country, it wasn't the most racially diverse workplace for a male performer.
There was Johnnie Keyes, the African American star of Behind the Green Door in the early 1970s. There was Billy Dee, an accomplished mixed-race actor, who became a well-known face in the late 1970s.
And then… that's about it. Which is striking for a new industry that employed hundreds of people and made millions of dollars.
In the 1980s, this trend continued. Which made someone like Field Marshal Bradley stand out.
The Field Marshal, who went by the name F.M., was a towering presence. He looked like a black superman. A striking figure of strength. He displayed a muscular, cut body that always seemed shiny. He was the number one star of color, when that should have meant a lot more.
Over the years, I'd heard stories about F.M. Bradley. He was the eternal bad boy, living out a wild life. He'd occasionally turned up at conventions saying he was about to make a comeback in the business. He didn't seem to have a permanent address, and no one had his contact details. Many doubted he was still alive.
And then I heard he'd been spotted – in a convalescent home in Vegas. Struggling with ill-health. He wasn't even well enough do an interview. But we kept talking over several years, and eventually recorded an interview. 
Now this particular convalescent home wasn't well-equipped for interviews with stars of the X-rated film industry, and so our conversation took place with the TV in the background, and people coming and going. We'd get interrupted constantly – such as when it was time to for F.M. to give his dinner order.
I wanted to know what it had been like to be one of the few male performers of color in the 1980s. Where had he come from, and what was he doing now? And why was this one-time Superman now in a home?
This is April Hall – and this is The Rialto Report. It's not every day I get to interview a Field Marshal.
The episode running time is 88 minutes.
_________________________________________________________________________________
F.M Bradley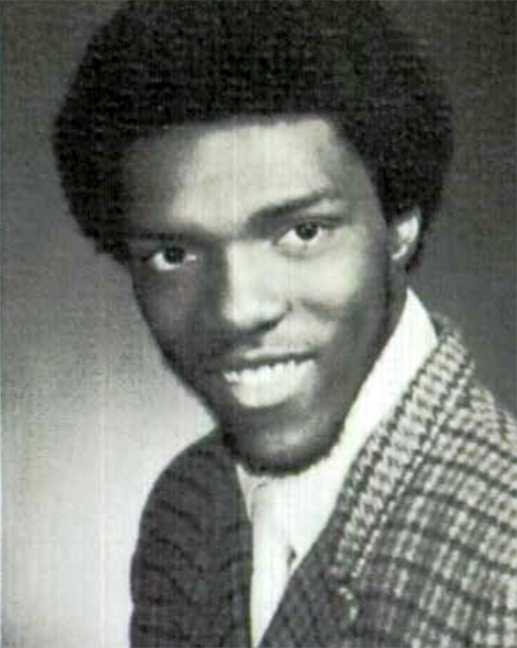 High school graduation