Charles William Rotsler (1926–1997) was an award-winning artist and science fiction author.
Bill was also involved in the burgeoning adult film industry from the late 1950s, first as a stills photographer on the set of adult films, and later when he wrote, directed, or acted in over 20 adult films during his career with Boxoffice International Pictures,
In 1966, he created Adam Film Quarterly, later called Adam Film World, one of the earliest magazines to provide commentary on pornographic films. He wrote hundreds of articles using a plethora of pseudonyms including 'Shannon Carse', 'Cord Heller', 'Clay McCord', and 'Merrill Dakota' – sometimes even interviewing himself. He also wrote the seminal book, Contemporary Erotic Cinema in 1973.
But this series of articles is not about Bill Rotsler. It's about a group of friends of his. Four friends. Four women, to be more specific, who at various times lived with him, and featured in his films, photographs, and magazines. Their lives intersected in his house, as they played their parts in helping establish the adult film industry in Los Angeles.
He called this group, 'The Gruesome Foursome.'
The Rialto Report tracked down each of the four to hear about their lives. This is the first part. The story of Kathie Hilton. (And Gerard Broulard too.)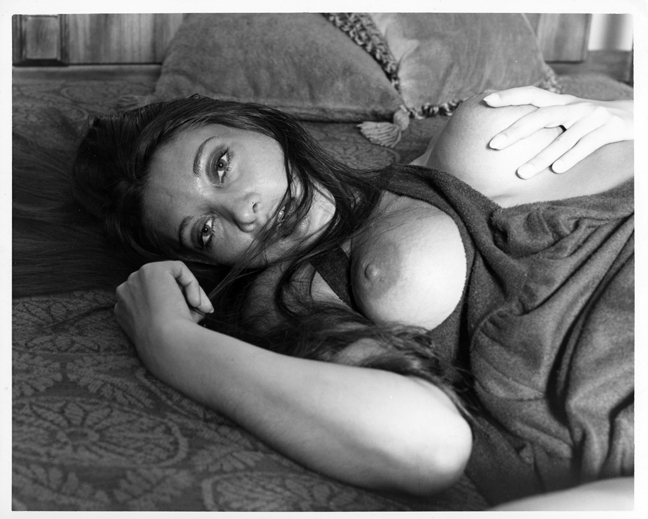 ———————————————————————————————————
One performer I'd always wanted to speak to was Kathie Hilton.
Kathie was one of the most prolific actors in the early west coast adult industry. Her career started in the late 1960s, and over the next five years she appeared in over 80 features as well as many loops, shorts, and men's magazines too.
But whenever I came across anyone who'd known her, they told me that she'd died in 1974 – shot by a boyfriend. Some mentioned a suicide pact. It had been big headlines in the newspapers at the time.
A contemporary of Kathie's was the foreign-sounding X-rated film actor Gerard Broulard – when I tracked him down ten years ago, I was surprised to find out that Kathie was still alive and that they were, in fact, living together.
Gerard was suspicious at first. As strange as it seems, he thought I was a law enforcement officer, perhaps preparing a case against them about their involvement in adult films four decades previously.
I persuaded him otherwise, and eventually interviewed both Kathie and Gerard separately over a number of years.
This is their story.
*
1. Beginnings
Kathie Hilton:
Kathie Hilton isn't my birthname. I was born Lorna Margaret Fern in 1947.
Gerard Broulard:
When I think about it, it seems incredible that Kathie and I ever met. We were both from families that traveled around the world. But somehow, we did meet. And I'm so grateful that we did.
Kathie:
My father was English. He went to work on the railroads in India after the Second World War, and he met an Indian girl. They got married in India, and my sister and I were born there.
Gerard:
I was born in 1944. My family was from Normandy, France, but my parents wanted to travel. We moved to England twice when I was small, first from the ages of 4 to 5, then from 8 to 9. Over the next few years, we lived in seven countries, including Tahiti and the Bahamas.
It was good for me: I developed an outgoing personality and I learned to speak French, English, German, and Italian fluently.
Kathie:
When my parents left India, they moved to the U.K. before settling in Edmonton, Canada. That's where I spent my childhood.
Gerard:
My mother left my father when they were living in the Bahamas because he was so tough. In short, my mom was a sweetheart, but my father could be a monster.
He took the break-up badly. I remember him saying, "Your mother is a whore. If you see her in the street, spit in her face." He was badly hurt.
So my father moved to Hollywood, CA, and took me and my brother with him.
Kathie:
My parents were strict, very restrictive. Especially sexually.
Because of that I grew up pretty uptight. Shy and ashamed even. Always self-conscious. I wasn't allowed to date or go out with boys.
I had a sister and brother, but I didn't always get along with them.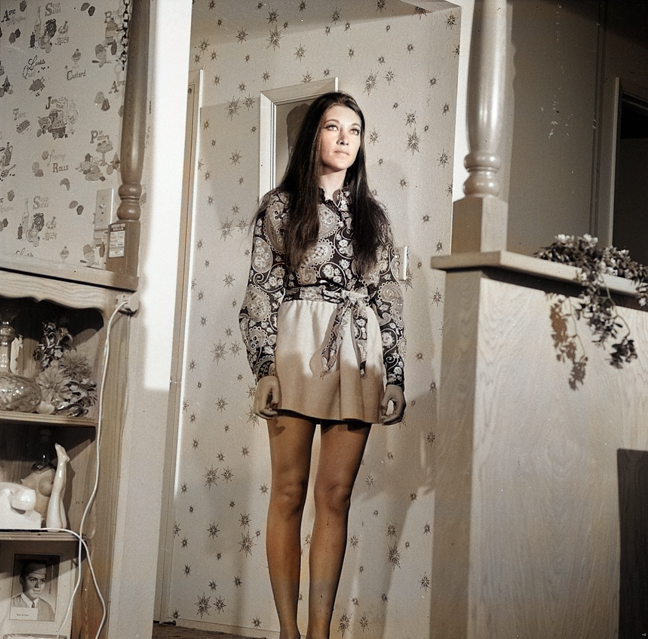 Kathie Hilton
Gerard:
I went to church when I was a kid. I was an altar boy. My father insisted that I go to mass every Sunday, even though he didn't come along. I asked him why, and he said he was too tired after working all week long.
Kathie:
My sister said I was ugly. She said I had yellow skin and narrow eyes, and looked like a Chinese girl. It affected my self-confidence.
Gerard:
I always thought my life would be interesting, so I kept a diary from when I was 4. I never threw any out. I still have them all.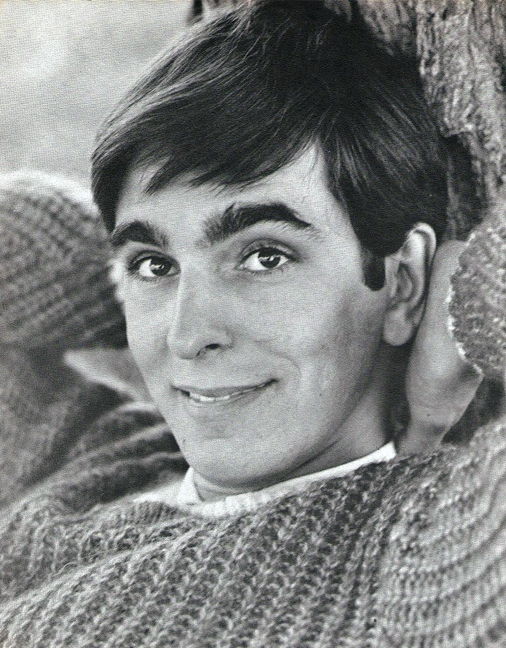 Gerard Broulard
Kathie:
My parents were distant. I guess no different from many families back then. I retreated into books and read about different worlds. I decided I wanted to travel as soon as I could afford it.
Gerard:
My father, Joseph Broulard, was a famous chef. He was credited as being the man who brought French fine cuisine to Los Angeles. He ran the most famous and glamorous restaurants in the city for many years, places like the Macambo, Dino's, and Au Petit Jean. Ask anyone who was around L.A. in the 1950s through to the 1980s, they may remember him. He owned La Grange in Westwood, and part-owned L'Ermitage.
As for my mother, after she left my father, she said she would never marry a French chef again. Then she did. A man named Paul Quaiud, the total opposite of my Dad – fair, gentle, funny, smart. They lived in a small country in central America for a while.
Eventually my mother and Paul moved to Los Angeles, and all was forgiven.
Kathie:
I did pretty well in school but I had no idea what I wanted to do with my life. None of us girls did. There were no expectations for women to have careers at that time, so we all ended up drifting, lacking in direction.
Gerard:
My father wanted me to be a top chef like him. He was old-fashioned, and wanted to hand down the career that he'd developed. I was too wild for that, and the chef's apprenticeship felt like too much hard work!
So I clashed with my father. He was difficult: he was still telling him what to do when I was in my 50s.
My brother, Manuel, was more sensible. He became a chef, and worked at many prestigious places – the Inn of the Seventh Ray in Topanga Canyon was one of his.
But when I was young, that life wasn't for me.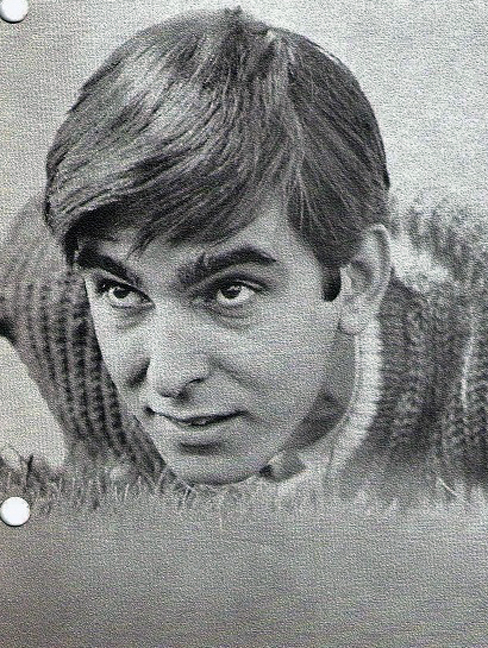 Kathie:
I was a teen when my brother Tony became unwell. My parents were superstitious, and someone told them that if they changed our family name, we could start everything again – and Tony would be cured as a result. So we became the 'Hilton' family, and I became 'Kathie Hilton.'
But Tony never got better.
Gerard:
Gerard Broulard was my birthname, but I changed it when I got US citizenship. I chose 'Lee Page Blackmore'.
How did I choose those names? My father used to call me, 'Le General', and General Lee was one of the generals I admired. And I loved music, so I chose 'Page' after Jimmy Page, and 'Blackmore' because of Richie Blackmore from Deep Purple.
I still used my French name when I wanted to remain anonymous.
Kathie:
I graduated high school, but there was no thought of me going to college. I did a few part-time jobs in Edmonton to start saving money.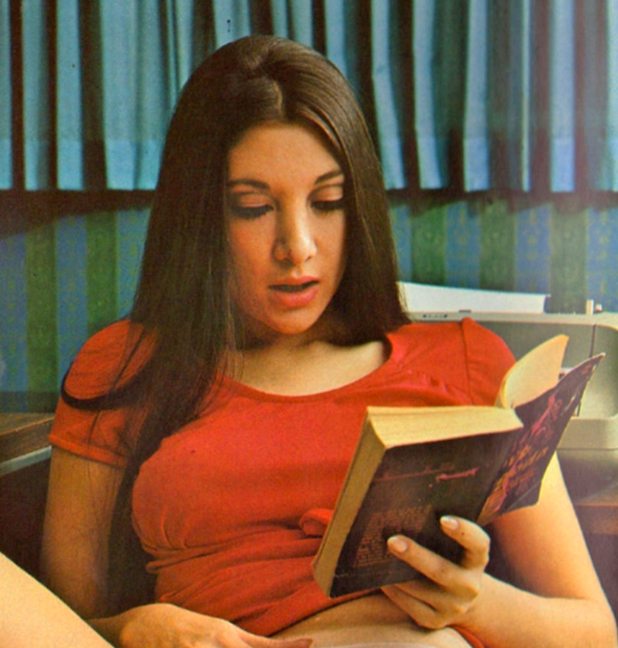 Gerard:
I did jobs here and there in Los Angeles. Just enough to earn money to take care of myself. It was the mid-1960s, I loved music, and I was in the right place. It was a great time to be alive, and I took advantage of all the opportunities I had.
Kathie:
Eventually I built up enough confidence, and a little money, to move out of my parents' place.
My girlfriend and I decided to cross over into the U.S. and try living in Seattle. We crashed with some people we met there.
I got work as a keypunch operator, and slowly I started coming out of my shell.
*
2. Entertainment
Gerard:
I was good-looking and outgoing; I wasn't shy. I decided I wanted a career in the entertainment business. I had head shots made up and started looking for acting work.
In 1968, I was picked to appear in the TV show, The Dating Game, and I won it. That gave me the performing bug.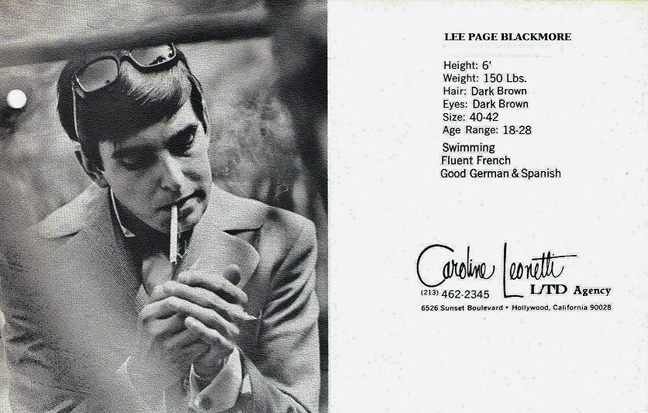 Kathie:
I gave birth to a son and a daughter in Seattle. I gave them up for adoption. I didn't have any stability at that time, so I didn't feel like I had any other option. It was sad but it was the best thing I could do for them.
Gerard:
I told a crew member on 'The Dating Game' that I wanted to act. He suggested I consider performing in adult films. This crew guy supplemented his work on the TV show with work on X-rated movie sets. He said it was a great way of getting experience, and making some money.
He gave me the number of a film director who was looking for male talent. It sounded interesting so I contacted this guy, and he put me in his next film.
Kathie:
After a couple of years, my girlfriend and I got bored with our jobs in Seattle, so we moved to Los Angeles. At first, we found it difficult to survive there. Los Angeles was more expensive, and there seemed to be less office work.
We lived in a communal house that was cheap, but there was no privacy and there were a lot of people coming and going all the time.
Gerard:
The director told me that these films were very tame. There was plenty of nudity, but no real sex was going on. It sounded fine to me.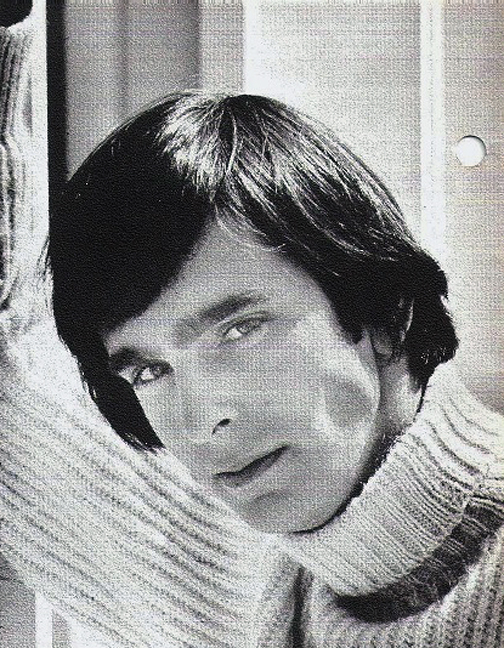 Kathie:
A friend suggested that I try and find money as a model. I was shocked. I'd become a little more confident in my body, but I never thought anyone would find me attractive, let alone pay me to model.
I saw an ad in the Los Angeles Times for an agency called Pretty Girl International. It was on Sunset Blvd, and operated by a man called Dick James. A real sweet guy. He was a paternal figure who looked after the girls on his books.
He took a photo and my details, and said that he'd contact me when jobs came in.
I was so nervous about it that I didn't return Dick's calls. Instead, I went back to Seattle and did my old job for a while to earn some more money!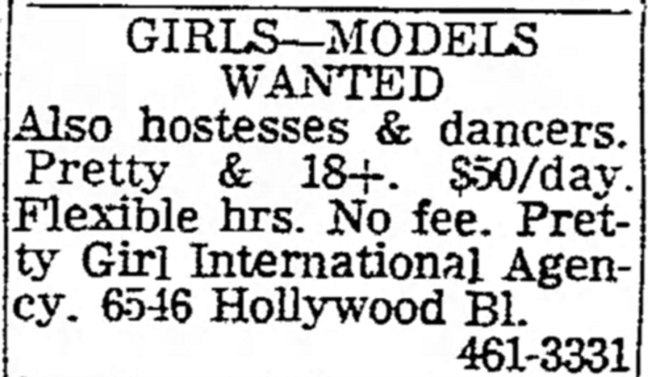 Gerard:
The first film I did was easy. It was directed by a guy with a Mexican or Italian name. He did a lot of movies.
I was given a script on the day of the shoot. Or rather, I was given a couple of pages of dialogue. The director told me I had to get it right first time, because film stock was expensive and he didn't want to do retakes.
Kathie:
I wanted to live in Los Angeles so I left Seattle and came back, and contacted Pretty Girl again. Dick offered me jobs as a topless waitress. That was quite common at the time, believe it or not! I turned those job offers down. I knew that wasn't for me.
Then I was offered a few photo shoots. Mainly topless, some nude. These were for men's magazines. I never knew what the titles were. I never even saw the photos.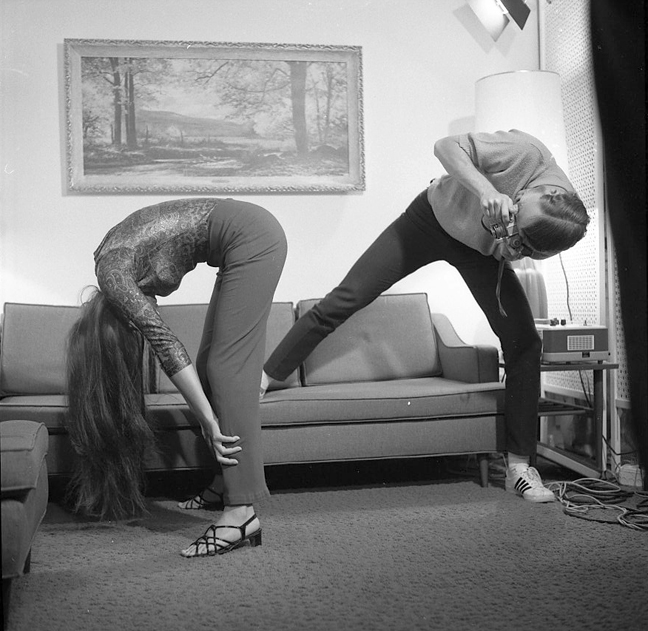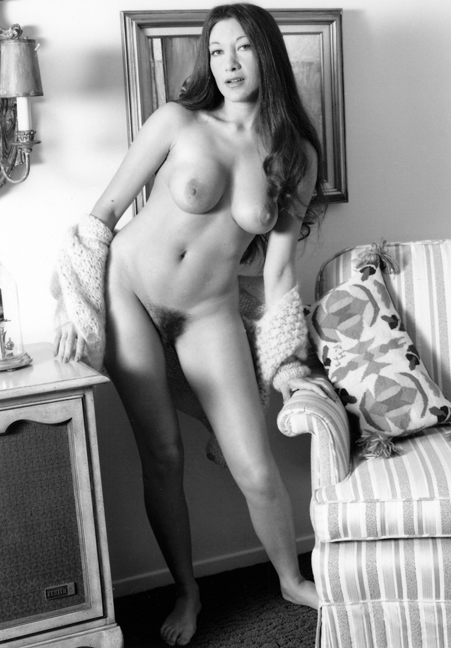 Gerard:
My first film experience was fine. It wasn't Hollywood, but it was fine. A pretty girl; good money. That was good enough for me.
Kathie:
After a couple of months of magazine shoots, I had more money than I ever had before. And the work was fine. It was all anonymous, just me and a photographer, and easy to do. I convinced myself that my poses were sexy and attractive, but one day I was in a store, and I saw a picture of myself of the cover of a magazine. I was so disappointed. I just looked thoughtful and pensive!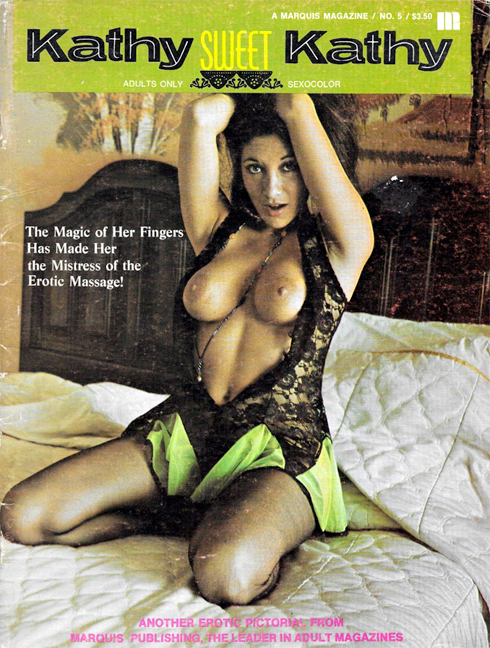 Kathie:
One day, Dick called and said: "How do feel about making a film? An adult film?"
I couldn't imagine that anyone I knew would ever see these X-rated movies, so I said yes.
Gerard:
I first met Kathie on a nudie film set. It was in 1968 or '69. It was my second film; it was her first.
I'd heard my scene was with a girl who was half-Indian. My first question was, "Dot or feather?"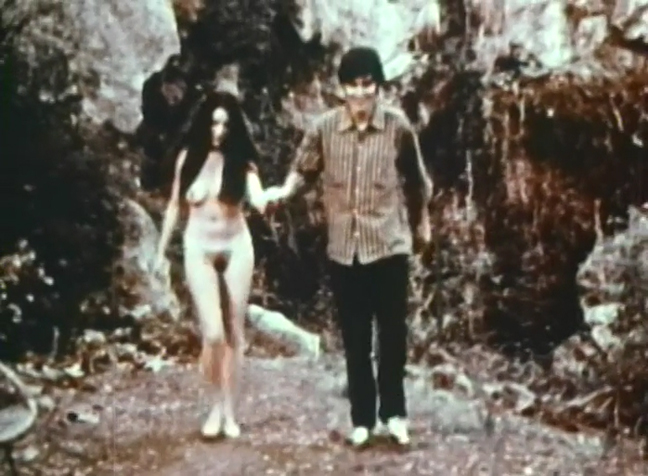 Kathie and Gerard, Fisherman's Luck (1970)
Kathie:
I had no idea what to expect that first time on a movie set. Everything was completely new, and it was all intimidating. It was very different from a photo shoot.
Gerard:
It was a waterfront scene. I walked in and saw Kathie there. She was daydreaming, staring at the water. She looked up and we started talking. We got along fairly well. She was shy, and looked down at her feet a lot.
Kathie:
I didn't know his intentions, I didn't know if he was just sizing me up. Like I said, I lacked confidence…
Gerard:
She seemed a little afraid, so I offered to give her a ride home. She told me she lived with a bunch of people who she liked, but they made a lot of noise, did drugs, and she wanted some privacy. Not that she was a saint. We all smoked marijuana, but this was a little too much for her.
I offered for her to come and stay with me – I had a two-room apartment near the beach.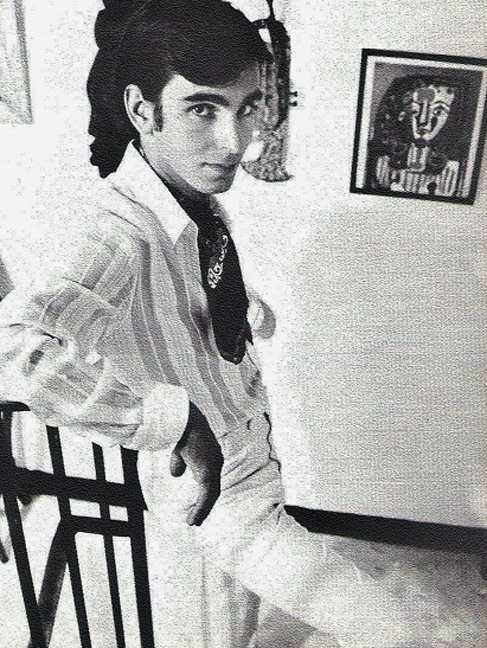 Kathie:
He wasn't pushy, and he seemed intelligent and gentle. He was good-looking too. I agreed to move into his home on condition that there were no strings attached!
Gerard:
She told me that her real name was Lorna. I liked that more than 'Kathie.' We both loved the book Lorna Doone as kids.
Just try saying it: Lorna. It's a sensual name that you can't rush, right? It rolls over your tongue and lips. I asked if I could call her Lorna, and from then on, I did.
Kathie:
My independence was important to me, and Gerard respected that. We communicated naturally, and went to the movie theater or restaurants together, and became close. We had a sweet relationship as friends, lovers. We hung out a lot.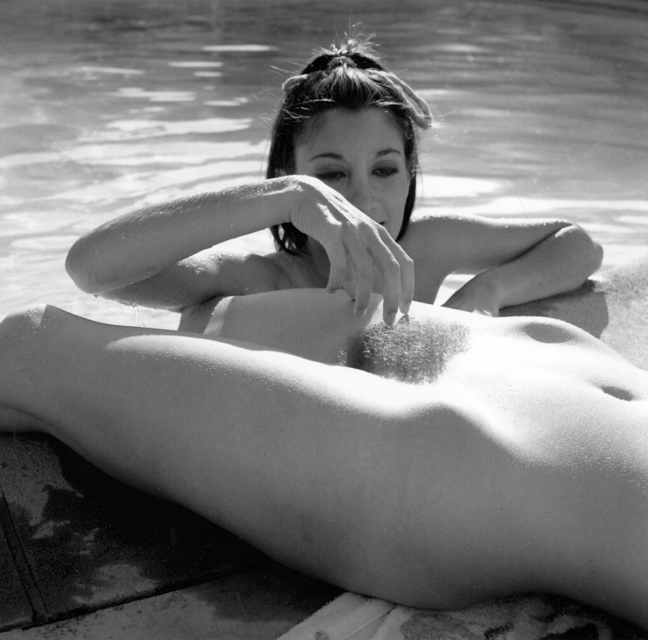 Gerard:
Kathie was an amazing person. She was kind-hearted, generous, and hard-working. Everybody who knew her fell in love with her. It was impossible not to. She was the most beautiful person I'd ever met.  She was a magnificent woman.
We didn't become lovers straight away. Then we had sex a few times, but I didn't push it. I didn't want anything to risk our friendship. That was something special.
Kathie:
When I started making films, I did fewer magazine shoots. I did several 'beaver' films too. They were short films where you writhed and parted your legs. I didn't like them: they were boring to do.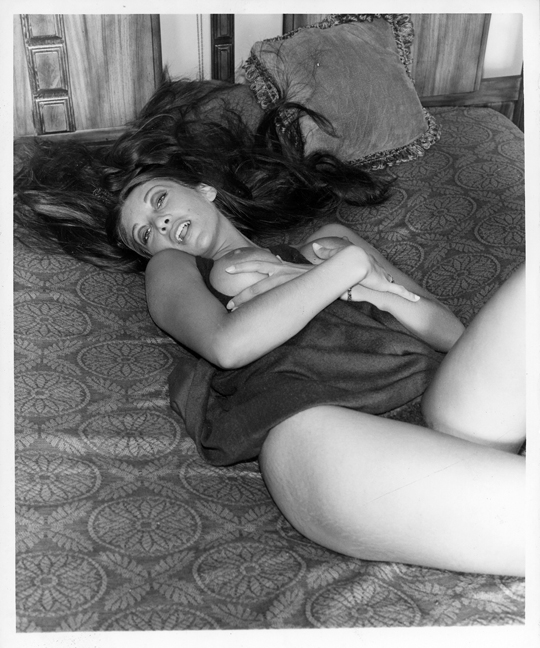 Gerard:
Kathie was more in demand than me. That was the nature of the business: girls are the important commodity, so she worked more than me.
Kathie:
There were soft and hardcore films. We tried to keep working in the softcore world. Sometimes a girl would do softcore… then she would slowly move into making hardcore films. I did it the other way round: one of the first that I did was a hardcore loop. I gave a guy head, I think. I tried not to do any more after that.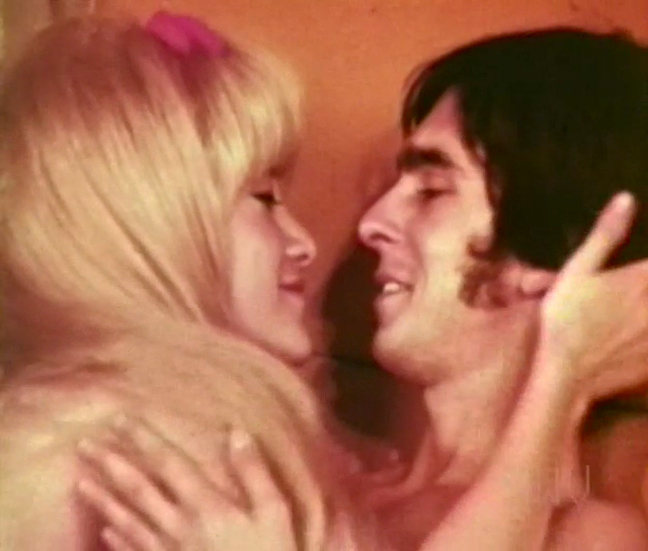 Kathie (with blonde wig) and Gerard, in Little Women get Ahead (1970)
Gerard:
As a rule, I didn't do hardcore. Maybe once or twice only.
I recorded everything I did in my diary. The names of everyone that I worked with. The names of the films. The locations. What I did that day. Even what I ate.
I encouraged Kathie to do the same, so we both scribbled all our life's details in our diaries at the end of each day. And sometimes there were a lot of people on set!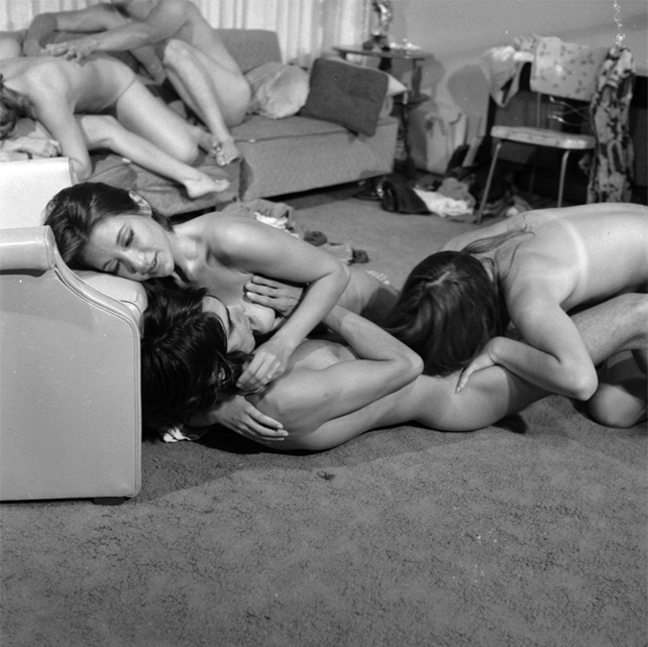 Kathie, Gerard, and others
Kathie:
The borderline between soft and hard was minimal. Sometimes on a softcore shoot, you had sex with each other, but the director just filmed it so that you didn't see what was actually going on. It was more to do with the camera angles rather than the nature of the sexual activity. Plus my long hair came in handy… because it could fall in front of my face and censor a scene intentionally.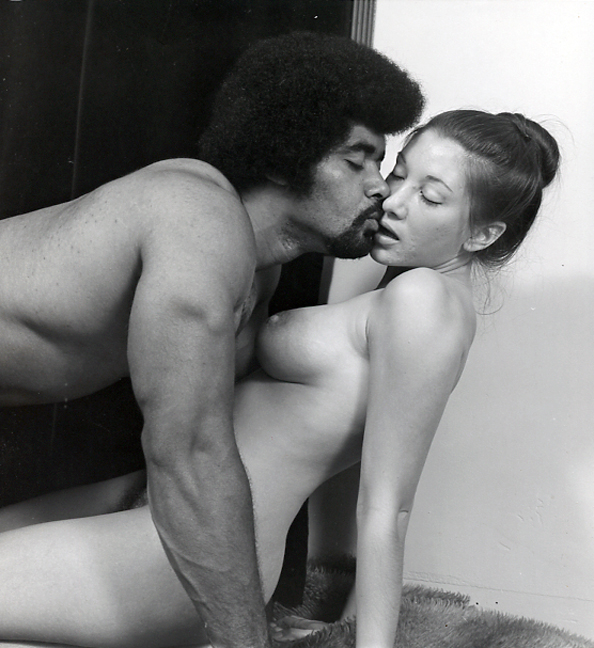 Gerard:
The softcore films were legal. The hardcore ones weren't. At least, that what we were told. So that was another reason we didn't want to get too involved in the explicit sex ones. We didn't want to get arrested!
On occasion, the softcore film sets were busted anyway because the cops just wanted to shut it all down. Sometimes it got serious: I remember I was shot at once! We were down in San Pedro shooting on wharf, and the FBI came at us, shooting and shouting. Scary. I could've been killed. We claimed we were making a student film – which was the standard line if you were busted – and no charges were brought. But that wasn't funny.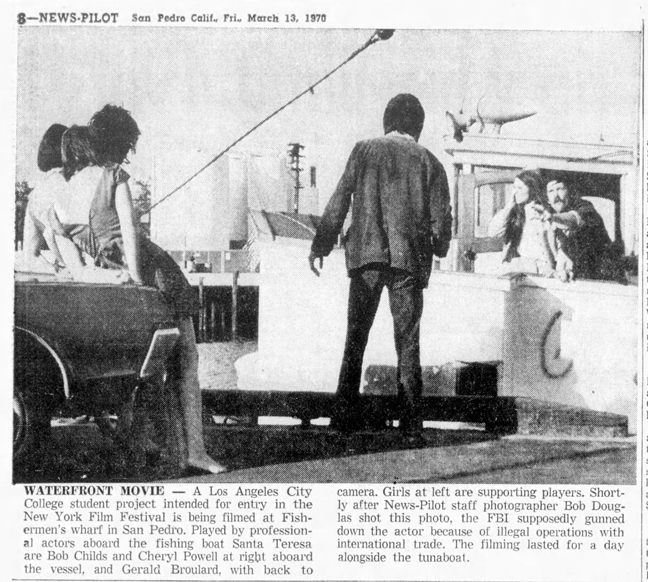 Kathie:
The group of people making the films was small, and they were like a family.
One of the filmmakers was Bill Rotsler. He was a writer, an artist, an intellectual… a businessman. He was a little older that the rest of us, and was like a father figure to us all. His house was a center of activity, socially and creatively. It was always a place to hang out and meet.
Bill took care of everyone – he offered advice if we needed it, and he made sure that he cast us in his films or his magazines. He paid us well, but most importantly he was a good man.
He had four girls that he liked most – and I was one of them: he called us 'The Gruesome Foursome.'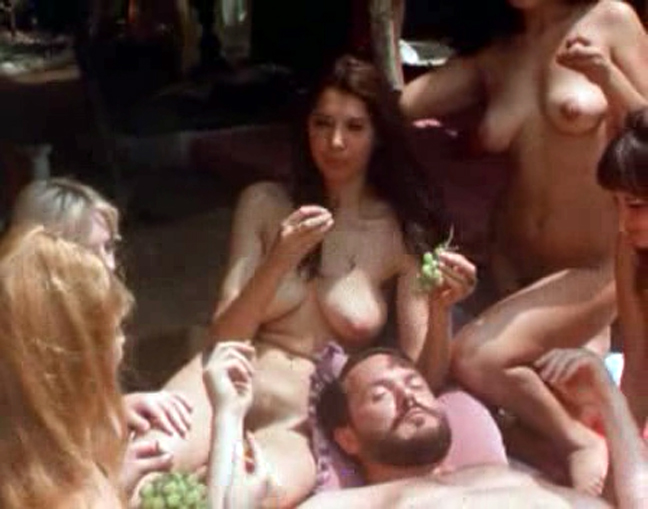 Bill Rotsler, in Street Of A Thousand Pleasures (1972)
Gerard:
Everyone knew everyone in that scene. It was a small group.
My favorite from the people we worked with was Uschi Digart.
Uschi was very sexy. What a woman! She had a separate job in the art world that was mysterious, but she did nude photo shoots and sex movies for fun.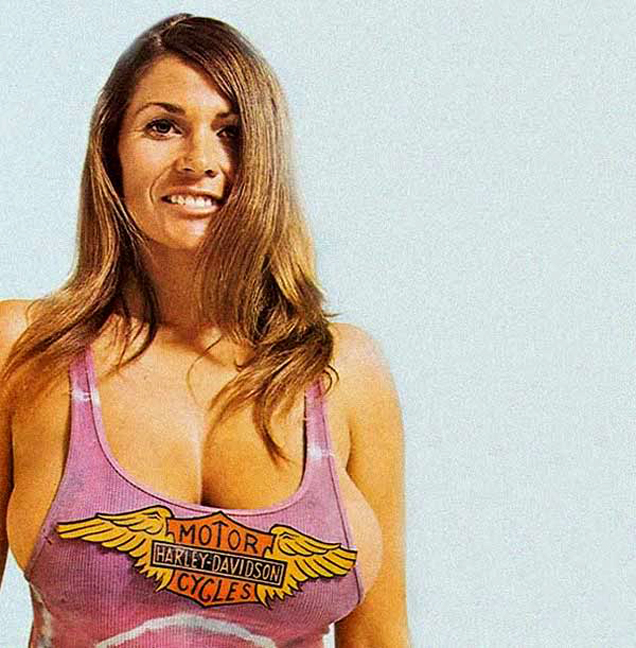 Uschi Digart
Kathie:
I made many good friends making films.
Uschi of course. Judy Angel was sweet. Terri Johnson and Sandy Dempsey were always around, and fun to be with.
Malta was a beautiful blonde sweet girl from New York, who I felt had escaped from her family for similar reasons to me.
Jane Tsentas was a close friend for a time. Around 1970/71, it felt that we turned up every week to make the same film.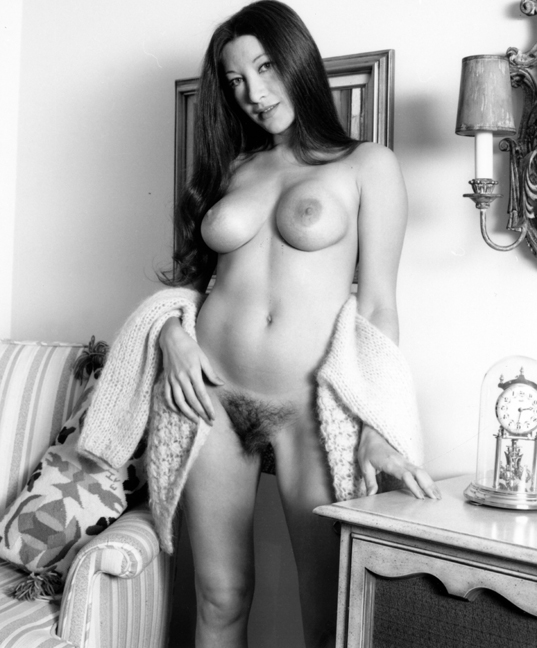 Gerard:
The scene revolved around the women. And Bill Rostler, of course.
I knew some of the guys. John Dullaghan was a good actor. He was from New York, and had been on stage for years, but somehow ended up in Los Angeles. He was a few years older than us, so he had all the 'older man' roles. I keep seeing him on TV shows and in films now, so he was one of the few who made a serious career out of it.
And we all knew John Holmes. He wasn't really part of our group, but he was a character. A simple guy, but pleasant.
Kathie:
It seemed that girls like Rene Bond came onto the scene a little later. I got to know Rene well. I can give you plenty of information about her.
The first generation of actors tended to be laid back, interested in the whole experience and in broadening their horizons, and just having a good time. Rene was sweet but she had her eye on the prize. She knew she could become a star and make money. She had a different level of self-awareness, as well as a better understating of the commercial opportunities that this business could create. That didn't really occur to the rest of us.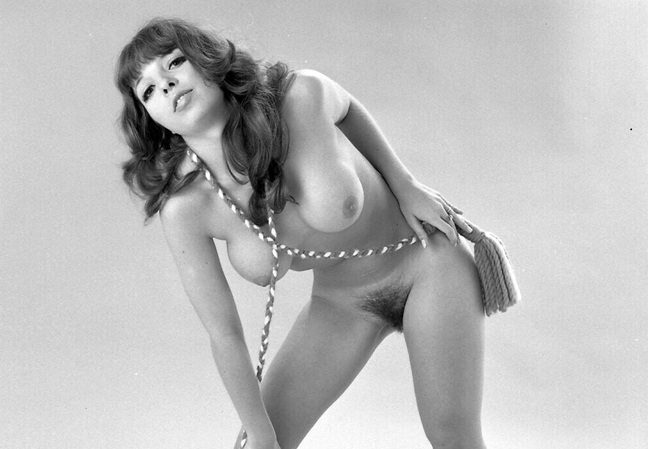 Rene Bond
Gerard:
Occasionally I did some regular acting work. I did a play in Europe called 'Minus One' in Munich, Bonn, Strasbourg, Paris, and London. I got paid extra $10 per hour because I did translation work for the production.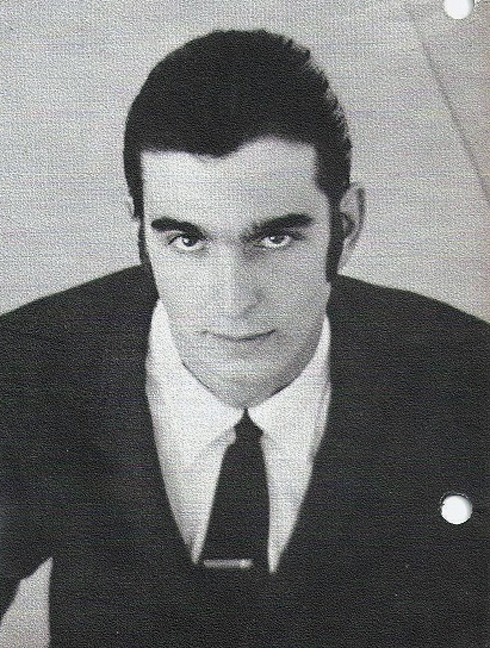 Kathie:
I got on well with Rene Bond's boyfriend Ric Lutz. We made a few films together and always had a ball. We made a documentary about sex films (RR: Porno Mondo.) It wasn't a real documentary, but we pretended to be rude to the interviewer. That was fun…
Gerard:
Getting mainstream acting parts was rare. And it never happened with Kathie. Once you made sex films no one would touch you.
Kathie:
Actually, I did get a few roles in bigger films. I was in The Female Bunch with Lon Chaney Jr. The problem was that whenever I was hired for a straight movie, it was only to do a nude scene in these productions.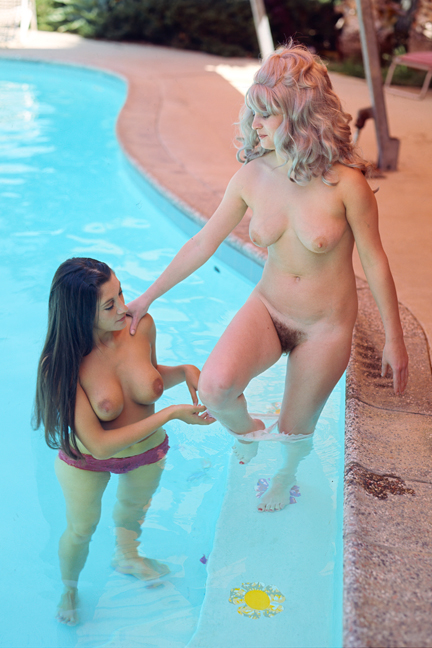 Kathie and Heidi Frolick
Gerard:
We lived on Ridpath Drive in Laurel Canyon. A place with a huge swimming pool. We had big parties there, and everyone from different walks of life came over. No one ever wore clothes – except my mother. My mother would come with her husband, Paul – and she was the only one who remained clothed.
Kathie:
The films, the photo shoots, the lifestyle… it was a liberating experience, especially after my strict upbringing. But that was the era too. The sexual revolution gave us permission to experiment… and we did.
'Clothed Spectators Few at Nude Pageant,' Dayton Daily News, August 14th, 1972:
Petite Kathie Hilton triumphed in the four contest categories – personality, poise, facial beauty and, in the words of the pageant organizer, "How well stacked they were" – to capture this year's crown.
The 5-foot-4 ½ inch Los Angeles brunette was awarded a $1,000 first prize and given something for more inhibited events: a tailor-made bikini to fit her 36-26-35 figure.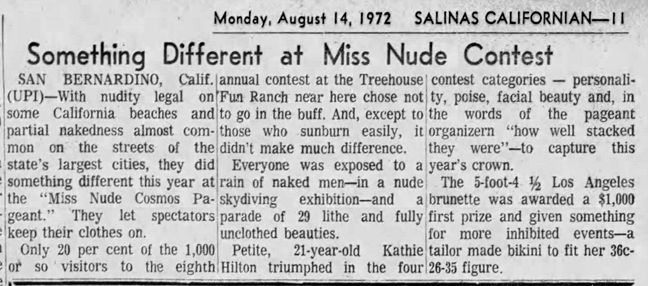 Kathie:
(Laughs) I forgot about that! I was a member of a nudist group at the Treehouse Fun Ranch.
I was 'Miss Cosmos 1972'! That beauty pageant was just a spur-of-the-moment event, but I made a few personal appearances after it. I had started to dance in clubs, and I was in demand because of the newspaper coverage of the contest.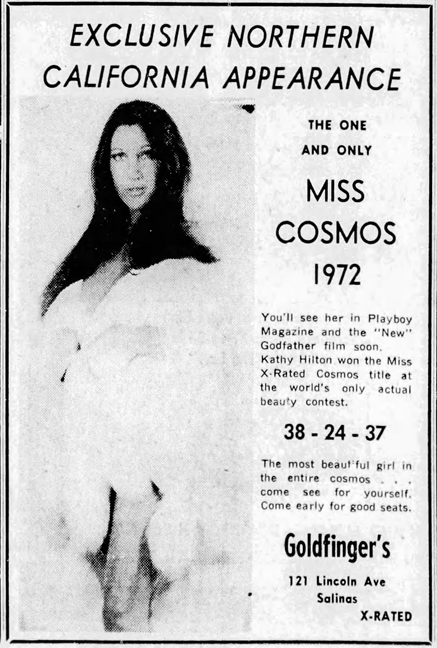 Gerard:
It was a golden period. I suppose we thought it would always be like that… freedom, good health, and living a carefree life.
Kathie:
I kept making movies, but the business had changed in the short few years since I started. Now you actually had to have sex. Some friends, like Rene Bond and Marie Arnold, had fewer problems with that. Others, like Uschi and me, preferred to not do it. We wanted to have normal, healthy relationships with men, and we were worried about how that would affect us.
So I did other things like bondage photo shoots. The bondage photographs looked terrifying but in actual fact they were the easiest to shoot. I had so much fun doing them, and often couldn't stop laughing.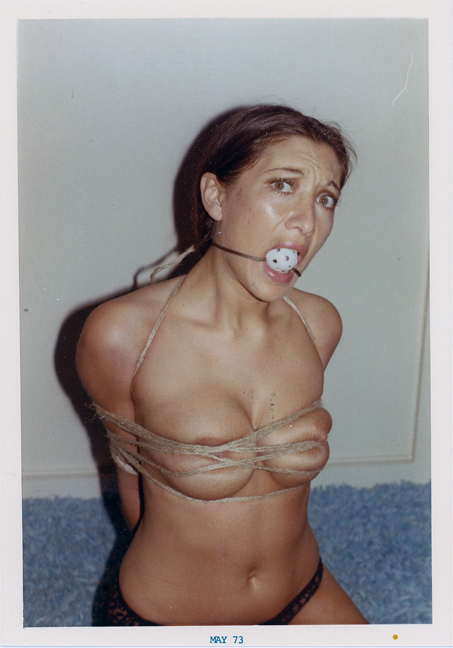 Gerard:
I was in Mona: The Virgin Nymph (1970) which I read was one of the first hardcore films to be distributed and released in theaters. That was a shock to me. Learning that these films were suddenly being shown all around the country in neighborhood cinemas? You know? Up until then, everything had been anonymous and secret. Now it was all blown open.
Kathie:
I become more aware of being recognized. The films were being advertised in newspapers, and our faces were on the posters. I didn't want this to come back and bite me later in life.
Sometimes I wore a blonde wig to try and disguise myself.
It had gone from being a counter-cultural experience to being a business, and it felt different.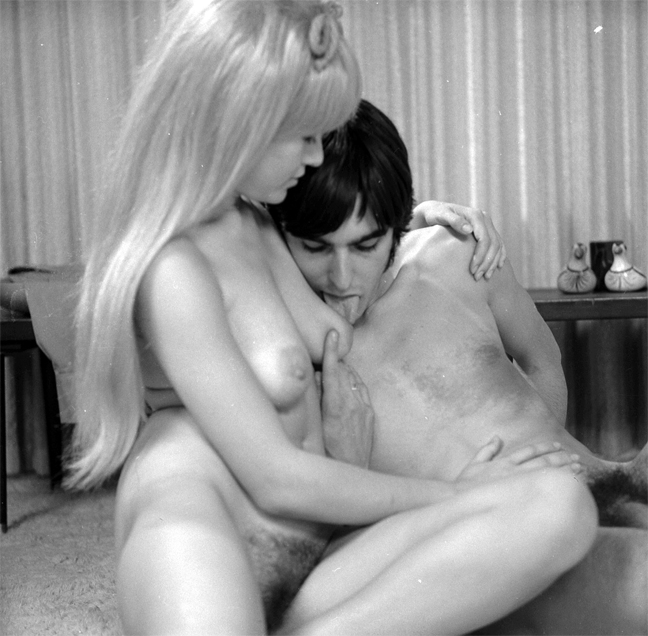 Blonde Kathie and Gerard
*
3. The Shooting
Kathie:
I enjoyed living with Gerard, but eventually I wanted something more private. A place of my own.
Gerard:
I had a lot of friends who were always stopping by: French people, hippies, actors, cooks. Kathie didn't frown upon them, but she wanted her independence and some quiet. She found a place and moved out. We stayed best friends. I would talk with her all the time.
Kathie:
I didn't want to lose Gerard as a friend, but I wanted to see other people.
Gerard:
I didn't have many serious relationships after Kathie moved out. Just one-night stands. We were open about it with each other. The real infidelity lies in hiding the infidelity – so we had an open relationship.
Kathie would date guys, and when she found someone she really liked, she'd invite me to meet them.
Kathie:
I met this guy named Grover Moran. He was a manager for a San Francisco bank. He was 20 years older than me, and pretty intense, but he was kind and thoughtful. I invited him to stay with me for a few days. He took me out to restaurants and shops. He even bought me a Volkswagen.
Gerard:
Kathie called me to tell me that she wanted to meet her new boyfriend. I'd moved into a little two-bedroom house in Santa Monica, so they came over to my place Then a few days later, she invited me to lunch with them again.
I normally liked her guys, but there was something wrong with Grover. I couldn't put my finger on it but I tried to not let it affect my friendship with her.
Kathie:
The relationship with Grover became serious quite quickly. More quickly than I expected. Or wanted. But I put that down to his age.
Gerard:
In 1974, early one morning I got a call from a hospital. A nurse asked if I knew a Kathie Hilton. They told me she'd been shot in the head and was fighting for her life in hospital.
Kathie:
I was asleep in bed in my apartment. Grover was next to me. It was the middle of the night, and I was awoken by a bang. It was like something had hit me across the forehead. Really hard.
I went to the bathroom, and when I looked in the mirror, I saw my face was covered in blood all the way from my hairline down to my chin.
I felt weak, faint, and confused, so I went back to the bedroom, and tried to wake Grover. I couldn't rouse him so I called 911.
Gerard:
Apparently, this guy had put to the gun to her temple and pulled the trigger. Then he shot himself.
That 911 call saved her life. The medics arrived and found Kathie collapsed.
Kathie:
We were taken to hospital, and they performed surgery on us both.
The bullet was still in my head. Surgeons removed most of it, but some of it was lodged in my brain. The doctors were afraid of paralyzing me, so they removed what they could and left some parts of it in my head.
Gerard:
I rushed into the hospital to see her. It was terrible. She didn't look good at all. She was covered in head bandages. She'd come out of surgery and I never thought she would survive. But she was smiling.
Kathie:
I needed several major surgeries on my face and head which left scars – especially on my forehead.
Gerard:
Grover didn't survive. The newspaper articles said he was being treated for wounds but he died of his injuries.
It turned out that this freak had a wife and three kids, but he was broke. He was not a bank manager, but a bank teller. He'd lied all the way through their relationship.
He wanted them to be together forever. So he shot them both.
Kathie:
I read later that the police told the media that it had been a suicide pact between and Grover and myself. After that, most of the people I'd known thought I was dead.
Gerard:
It was a horrible time. There were rumors that Kathie had shot herself, or that she'd died. Everyone was saying something different.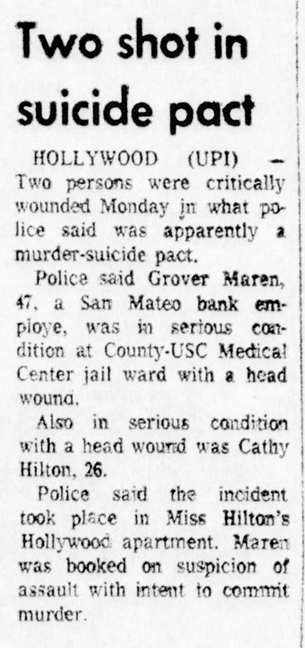 Kathie:
The bullet fragments that were left in my head caused me to have violent seizures that continue to this day. I have no warning of when these attacks will occur, and they are debilitating. I take a cocktail of drugs like Lamotrigine to help me deal, but as my brain has changed shape over the years, the seizures have got worse and are difficult to control.
Gerard:
Kathie's seizures are scary. Her head shakes uncontrollably for 2 to 5 minutes before things return to normal. It was manageable with drugs initially. But she got worse.
Needless to say, Kathie never complains. That isn't her nature.
Kathie:
Eventually I was released from hospital, but I couldn't live by myself because of the seizures. So I went to live with Gerard.
Gerard:
I became Kathie's carer. She came to live with me in my duplex in Santa Monica. We lived there for six months before moving to our own place.
Kathie:
We got back together as a couple. We had an open relationship. I didn't want Gerard to feel that he had to be exclusive to me – especially after I was injured and disfigured.
Gerard:
We took it slowly because Kathie was still finding her way back to some kind of normality. Besides I was always a little scared of sex after that in case it would cause a seizure!
Kathie:
It was difficult to adjust to the fact that my life wouldn't be the same again. But I was lucky to have Gerard.
Gerard:
She slowly got a little better, and started doing small activities like vacuuming and cleaning
I had a regular job as a cook, so she didn't need to work. I told her not to worry, to concentrate on herself.
We tried to sue Grover Moran's family but that didn't go far.
*
4. Life After
Kathie:
I wanted to go back to work to make money. I didn't feel useful. I couldn't model or make films, so that world drifted away from me, and I lost contact with all my old friends.
I went to school to learn secretarial and administrative skills – typing, filing, shorthand.
Gerard:
Kathie worked for many companies: she was the administrative assistant for the head of the stock market in the city. Wherever she worked, they loved her. She was good at her job, and she was sweet, pretty and polite.
The problem was that she was let go all the time because of her seizures. The employers understood the problem, but they just couldn't deal with the lack of reliability.
Kathie:
I tried many jobs, including being a massage therapist in Santa Monica, but sadly none lasted long because of my health.
Gerard:
I was lucky to have regular work. I had left the film business a couple of years before Kathie, and I had gone to work at Le Quai restaurant in Los Angeles. Then I met a French couple, Andre and his wife, who owned Chez Andre restaurant. I bought the restaurant and changed the name to Wild Oscar's.
Kathie:
We formed our own business. We supplied restaurants and parties with food. We had a store as well. The businesses were called Lobo Products, because I called Gerard my wolf, and Grizzly Products because he loved bears, and his mom called him 'Grizzly.'
Gerard:
It was good to finally work together after all the years as a couple. Her health was still variable, but at least she wasn't working for people who would fire her. Kathie made incredible gift baskets which sold well because everyone loved them.
Occasionally I had to travel and was away from the city. When this happened, our friends would organize checks on her several times each day to make sure she was ok.
Kathie:
One day, when we were living in Laurel Canyon, we returned from shopping to find a letter on our front porch. It was from the two children that I had put up for adoption over twenty years earlier. The note said that they were visiting L.A., and that they'd return later that day.
A few hours later, they came and met us. We went to a restaurant together. One was 19 and other one was 21.
Gerard:
The kids visited a few times. They got to know my mom who was living with us.
On one occasion, Kathie was taking her daughter to the airport, and she didn't return home. I called the hospital, and learned she'd had a seizure while she was on the freeway, and had had a bad crash.
She recovered. But she was forbidden from driving after that.
Kathie:
Eventually I had the urge to move back to Canada. My family were still there, and I had friends there.
So we packed up and left L.A. Before we left, we finally got married.
Gerard:
The main reason for getting hitched was that we wanted to ensure that we'd be able to share health benefits – and that was becoming more important with Kathie's health. Kathie was not a U.S. citizen.
We didn't have a big wedding. Her health was more important to me.
We didn't really care if we got married or not. We were best friends and that was all that mattered. We had often told people we were married anyway.
Kathie:
After the wedding, we went to live in Port Angeles in Washington State while we prepared the immigration documents. Port Angeles overlooks Vancouver and Victoria in Canada, it's just across the water, so it was convenient for us.
Gerard:
We visited Edmonton, Victoria, and other cities as we prepared to move there. But it was difficult for me to move to Canada from an immigration perspective.
Kathie:
We even bought a house in Canada, but it was expensive, and in the end, we gave up on the idea of moving back, so we decided to live in Port Angeles.
Gerard:
We moved to Port Angeles in 2008. I didn't enjoy it. It was a far cry from Los Angeles.
Kathie went to get a job, and when she was there, she fell to the ground with a seizure. I told the official that it wasn't a problem. But they didn't want to risk hiring her.
Kathie:
Not long after we moved, I was diagnosed with cancer.
Gerard:
After years of ill-health, it was terrible news. We got caregivers for her and made sure she had everything she needed.
Soon after, she went into to a rehab center. I visited every day. She was there for five years.
*
Kathie died in June 2015 at Crestwood Rehabilitation Center. She was 66.
She donated her body to scientific research through The Willed Body Program University of Washington in Seattle.
*
Gerard:
I was madly in love with Kathie. I still am. I miss her every day. I was her best friend, and it's hard to deal with the loss of your best friend. We knew each other so well.
She was an amazing person, always willing to help everyone, always willing to work, always funny. We had hundreds of secrets, thousands of little ways. She was an angel. She stood up to me, but allowed me to be myself too.
I called her Lorna until the end. Except when I called her Schnooky.
Now I'm all alone in a big house. I don't fit in here. I miss L.A. It would mean the world for me to move back there.
I'm a little lost sometimes.
*
In 2018, Gerard collapsed at home and was taken to hospital. After a few months, he was moved to a nursing home in Port Angeles.
Thanks to close friends, he was able to relocate to Los Angeles for the last six months of his life, where he lived in a nursing home.
Gerard died in July 2019.
Apart from a few personal effects which were saved by friends, the diaries he spoke about keeping throughout his life, together with Kathie's diaries, were all lost after his passing.
*
Gerard:
I won't tell you everything, because I always like to hold something back for myself. But everything that I tell you is completely true. You have my word.
It's been a wonderful life.
*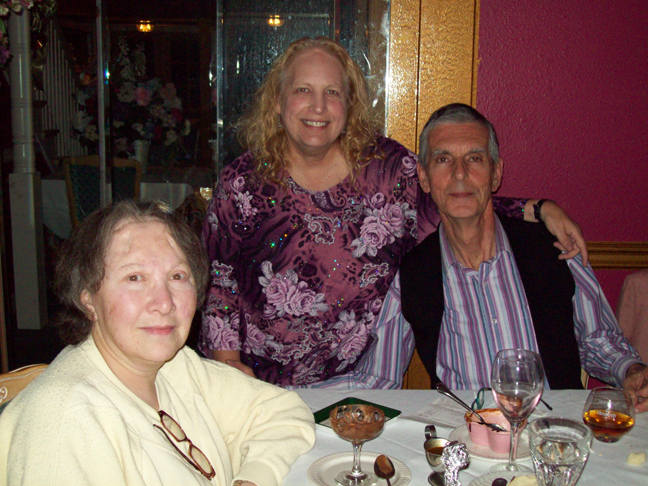 Kathie (left) and Gerard (right)
*