Last week, The Rialto Report attended Al Goldstein's memorial at the Museum of Sex in New York.
It was attended by friends, ex Screw magazine colleagues, writers, artists, assorted attorneys, his ex-wife, and estranged son. A number of them spoke about their memories of Al.
If you're looking for an account of the evening, have a read of Lili Anolik's definitive piece,  'The Scumbag's Scumbag'.
Rather than cover the same ground, we want to let the eulogies speak for themselves.
This was not a normal memorial. These were not normal eulogies. This was not a normal man.
And if you want to hear from Al Goldstein himself, have a listen to our recent podcast which features a full interview with him, as well as others who knew him well.

Here are extracts from the memorial.
(Photographs from the memorial are courtesy of John Huntington at Control Geek).
_______________________________________________________________________________________________
Penn Jillette (Illusionist, comedian, author, Al Goldstein friend):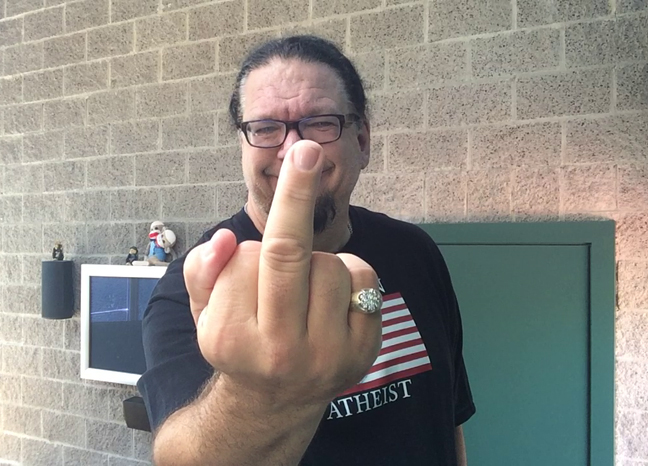 "Al Goldstein was a scumbag… a scumbag. He was an asshole. And he was so fucking honest.
And he was so much an asshole. And so much a scumbag.
Thelonius Monk once said a genius is the one who is most like himself. And Al… was so much like himself.
And for all his faults, Al had a heart the size of his ass… at the fat ass moment of his fat ass life.
Al wasn't the kindest certainly, or the funniest, or the smartest, or the bravest person that I met personally. And I don't have the funniest stories about him. And Al is not the person in my life that I've loved the most. Not even close. Or even my biggest hero.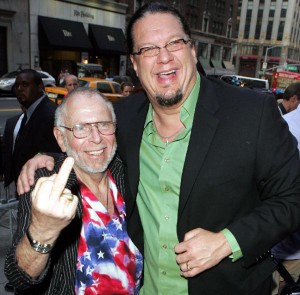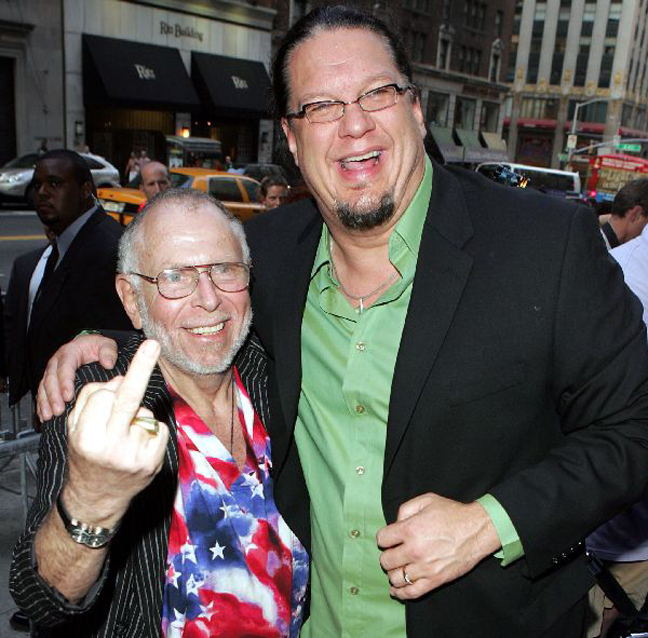 But he was a hero because Al believed in honesty on a day to day level in a way that I have never encountered before, and I doubt I will ever encounter again. And that's a huge amount of what made him an asshole.
Another big part of what made him an asshole was… he was a fucking asshole.
But even more than honesty, Al believed in freedom… at a level that was so much deeper and so much richer than even the Founding Fathers of the United States of America. And every fucking American owes him a debt.
Al Goldstein believed in free speech to a fault. And I mean to a real fault. I mean it was bad how much he believed in honesty and how much he believed in freedom. And it was also beautiful. Beautiful to a level I will certainly never experience again.
Al, I miss you. And I will respect you and I will be inspired by you. But most of all I thank you for believing in freedom which made you one of the best of us. Even though you were an asshole. And a scumbag.
I just want to say, that for being dead… Al Goldstein, Fuck You".
Josh Al Friedman (writer, author of 'Tales of Times Square', 'I, Goldstein: My Screwed Life' Al Goldstein's biography):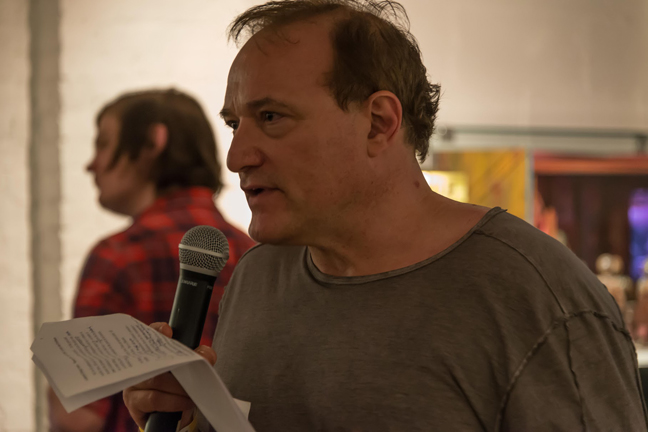 "Al Goldstein and Screw magazine had an important place in my life.
I met my wife while I was there. I met my best pal, Richard Jaccoma, at Screw. I quit smoking at Screw – along with all the other editors, we all stopped at the same time. I was able to write my first book, 'Tales of Times Square' through the Screw press pass – and the gates of 42nd St opened before me with all its secrets. And then just a few years ago, I co-wrote Al's autobiography.
So the Lord works in mysterious ways.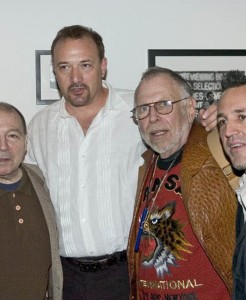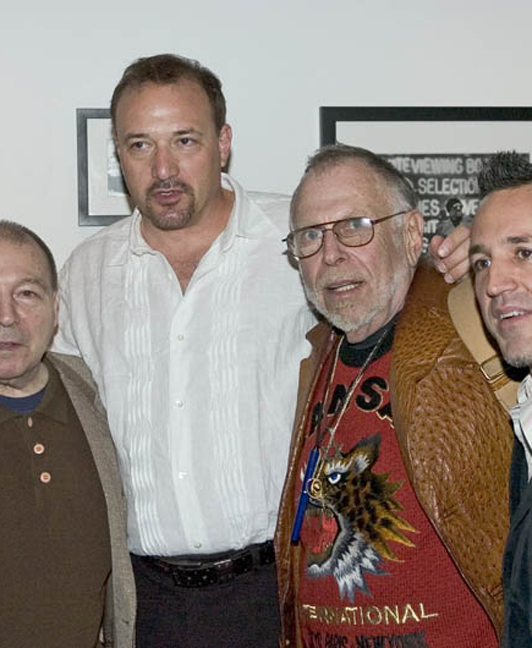 I truly see him as the heir to Lenny Bruce; there's no question about it. It was Al Goldstein who put his ass on the line and risked his life time and time again. And of course through the brilliant law firm of Herald Fahringer and Erica Dubno, he never had to die in prison.
So… here's one last "Fuck You" to the dry cleaner who ruined Al's shirt. And a "Fuck You" to the airline who lost his luggage. And "Fuck You" to the 48th St camera store salesman who turned his head and yawned when Al asked him a question.
And especially "Fuck You" to the CEO of Pan Am in 1970, Najeeb Halaby, who fired Al's then-wife Mary Phillips who was a stewardess at Pan Am. Al Goldstein wrote two dozen columns about Halaby until Pan Am went out of business twenty years later. Even though Halaby had left Pan Am in 1972…
Unlike millions of others who led their life in a silent scream, Al made things right for all of us".
Herald Price Fahringer (veteran First Amendment lawyer, Al Goldstein's longtime attorney):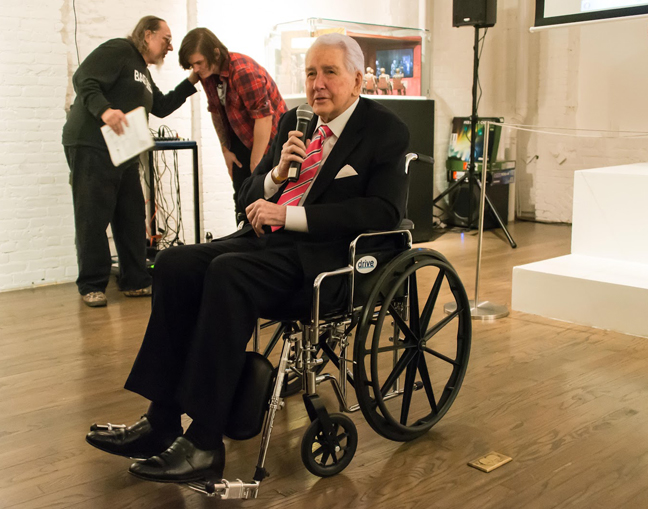 "There are few rare occasions in the life of a lawyer when he gets to represent someone who is truly remarkable.
For me that experience started more than thirty years ago when I was first engaged to represent Al Goldstein and his publication Screw. I had no idea what I was getting in for, but it was an exceptional experience to say the least.
Al Goldstein typifies the importance of the First Amendment. The First Amendment is there to criticize our government and officials, so that a democracy can truly work. One Justice of the United States Supreme Court said "I don't know how many dissenters we need to keep a democracy vibrant but I do know this; we've never had enough". Al Goldstein was a big, big dissenter, and he had a big voice. That voice carried throughout the United States and carried a very important message. He took on subjects that other people were afraid to speak on because Al was absolutely fearless. This was his greatest quality and one that I admired the most.
The other thing that I think has to be said tonight is that that was Al's public persona. But there was a private persona too that should be part of this memorial. And that was a kind, gentle, courteous and above all, a generous person. These are the qualities that I will always remember about Al and that should be part of this tribute to him".
 Gilbert Gottfried (comedian, Al Goldstein friend):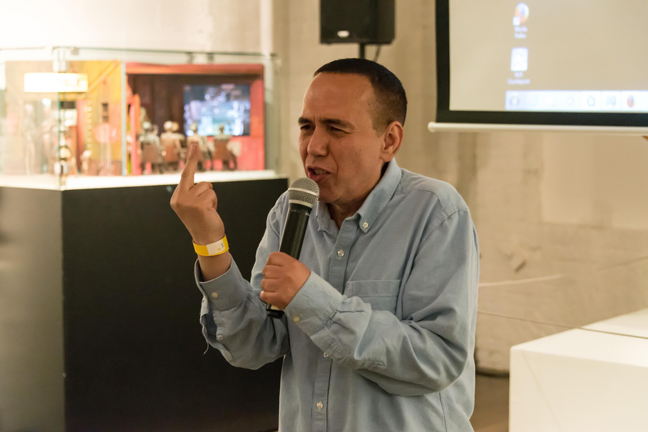 "So Al, I'm here to give you a final 'Fuck You'.
Fuck you, Al, you fat, ugly, tiny dick, little fucking kike. You disgusting fucking Jew kike. You piece of shit. Fuck you, Al.
I hope you're in hell sucking the cocks of the entire Third Reich. I hope that for eternity, Hitler is fucking you in the asshole.
You fucking fat, ugly, tiny dick, little fucking kike.
Your dick is so tiny it's smaller than the average clit.
Fuck you, Al Goldstein".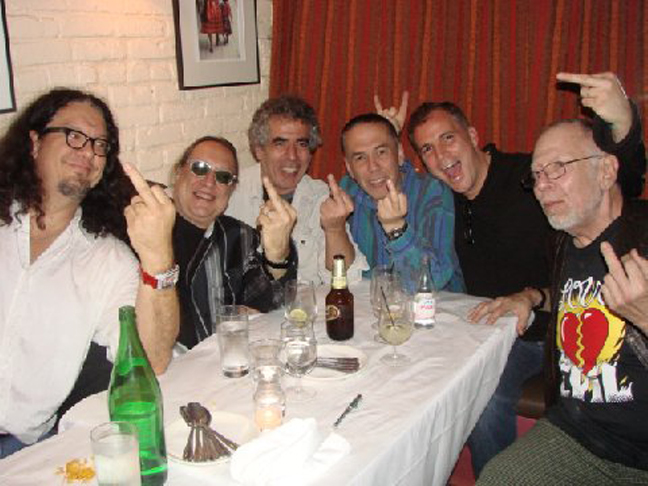 From left to right: Penn Jillette, Ratso Sloman, Jamie Gillis, Gibert Gottfried, Charles DiStefano, Al Goldstein