In 1982 the prolific Knight Publishing company released the four of a series of specialty titles under the name 'Adam Film World Guide.' Explaining why Knight decided to publish the guides, and the challenge it faced in doing so, the editors stated:
There are such a tremendous number of sex films and tapes on the market that it was a mind-boggling act to try and sort them out in some intelligent and orderly fashion… Obviously we can't cover everything for everyone, but we can try to give an overview of the entire industry… The following pages are intended as a guide for all indulgent hedonists beginning their collections or rounding out their existing selections of X-rated films.
–The Editors
So who were those editors? There were five names listed on the masthead of the first issue. But in truth one man was almost solely responsible for these new guides – and that man was Kent Smith.
In this Rialto Report, we share the story of Kent Smith (aka James Avalon) and the birth of the Adam Film World Guides. Kent started in the Mormon church, and eventually became a successful director of XXX films, editing films for Greg Dark along the way.
We are also re-publishing digitized issues of all four of the publication's issues from 1982.
You can find The Rialto Report's ever growing library of digitized resources by clicking Library in the menu.
Click on the covers below to access the full magazines. Due to the fact that the magazines are scanned in high definition, allow a little time for each page to load. If you are viewing on a phone, view in landscape orientation.
___________________________________________________________________________________
Kent Smith's Story
Where did you grow up?
I was born near the North Shore of Hawaii, and raised in the LDS church (aka The Church of Jesus Christ of Latter-day Saints, often informally known as the LDS Church or Mormon Church.) There was a Brigham Young University extension in Hawaii and my dad worked there as a professor.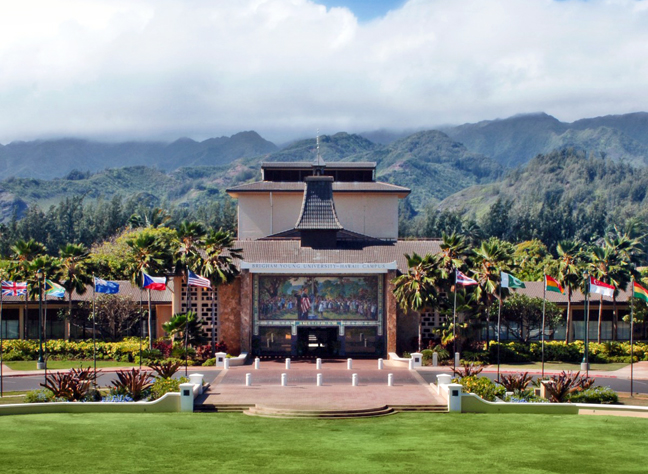 Brigham Young University, Hawaii
Was being brought up Mormon meaningful to you?
Put it this way – when I was a young man in the early 1970s, I went on a Mormon mission to France. So yes, it was a big part of who I was.
While there, I met a guy who was a real film buff. We wound up watching a lot of movies together, and I fell in love with the art of cinema. I'd been into photography a little bit, not anything huge. But when it came to film, I grew more and more intrigued. I started paying close attention to all kinds of details, from the story side to the technical elements.
I decided I wanted to become a Mormon filmmaker and make a grand, epic movie in the style of Lawrence of Arabia, based on stories from the Book of Mormon. So, when I came back to the States, I went to Brigham Young University and enrolled in their filmmaking and production program. I also took classes in writing, and directed some stage plays for the theater department.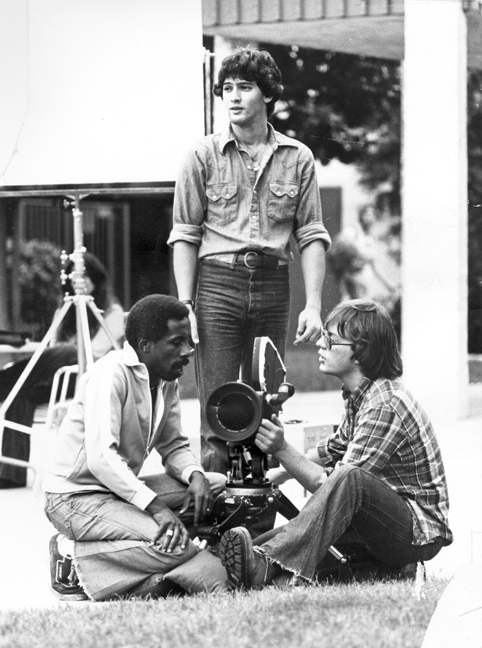 Kent (bottom right) earning his film chops
What did you do after you graduated?
When I graduated in about 1974 or '75, I worked briefly for the school's production company which made Mormon publicity and propaganda films. But they couldn't afford to keep me on so I became an instructor in the photography lab. I also did some work with the Southern Oregon Light Opera Company, serving as a production manager.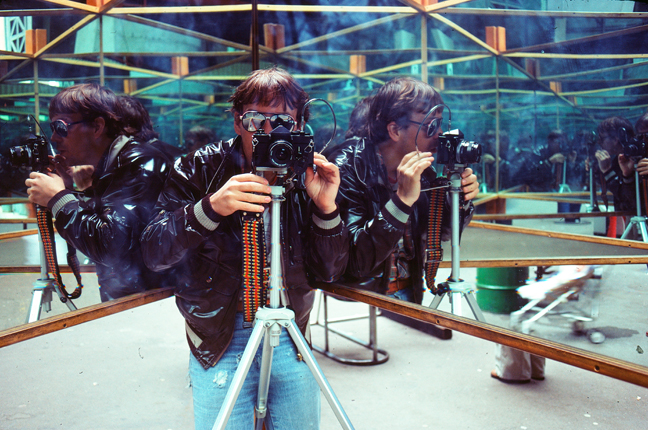 Kent behind the camera
And your love of cinema?
Well, I started taking out a Bolex camera from the University and finagled a bit of money from people for film, which was really expensive. I wasn't great at lighting and other technical aspects of production but I was a really good editor. I told visual stories with movies in the same way that I wrote.
Was your plan to still make Mormon epics?
Around this time, I started to question my Mormon faith. The church just seemed so corporate – it was all about money. And if anybody criticized LDS, the church would make sure that opinion got buried.
I started dating a hippie girl who wasn't part of the church. She was heading to San Francisco so I decided to follow her there. After a short while, the relationship had run its course so I continued down to Los Angeles.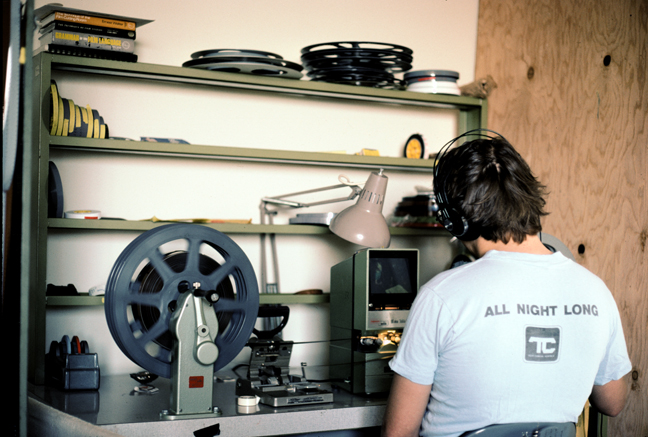 Kent at the editing bay
How did you get by in L.A.?
To make money, I was doing headshots for actors. My dad had a friend who knew a producer at Universal so I started writing spec scripts and asking this guy to submit them on my behalf. I really wanted to become a writer on Welcome Back, Kotter because I had a friend with a small reoccurring role on that show. I never sold anything but my actor friend told me that one story line they wound up doing was suspiciously close to a script I submitted… That was a wake-up call to how Hollywood works.
How did you come into contact with the world of men's magazines?
I became friendly with an actor who came to me for headshots. He had a side job as an assistant editor at a publishing company to help pay the rent while he went on auditions. The company was called '8060' because it was located at 8060 Melrose in Los Angeles. One of their companies was Knight Publishing – which had titles like Adam Magazine.
Early on they'd also put out sci-fi magazines and books, publishing a number of noted authors like Robert Heinlein and Steven King, who once published a story in Adam magazine when he was struggling for money. They also published Bill Rotsler's sci-fi writings before he also moved into writing for men's magazines.
I also made friends with someone who worked at a film equipment rental place. He told me that a guy named Paul Vatelli, who shot for a production company called Caballero came in to rent a lot, was looking for someone to take stills on the film sets. My friend thought of me because in addition to the headshots, I'd started shooting for a fly-by-night mainstream magazine called Golden West.
So you started shooting stills for Caballero?
Yes, I connected with Paul and he explained what he was looking for. He told me he'd supply the camera and the film and pay me $250 cash at the end of the day. That was good money so I said yes.
Did that concern you due to your religious beliefs?
No. Even though the LDS church was anti-porn, I'd moved beyond that. I'd had some girlfriends that opened my eyes sexually and when I'd returned from France, I went to see Deep Throat because the guy I'd met overseas kept talking about it.
I started taking pictures on Caballero sets around 1980. The first time I shot, it was a film with Loni Sanders – and she was so beautiful. I was initially floored by the fact that I was photographing her having sex with a guy, but after a few scenes the nerves wore off.
I would have kept shooting stills but after a few films, Paul didn't ask me back. I guess Caballero didn't like what I was doing.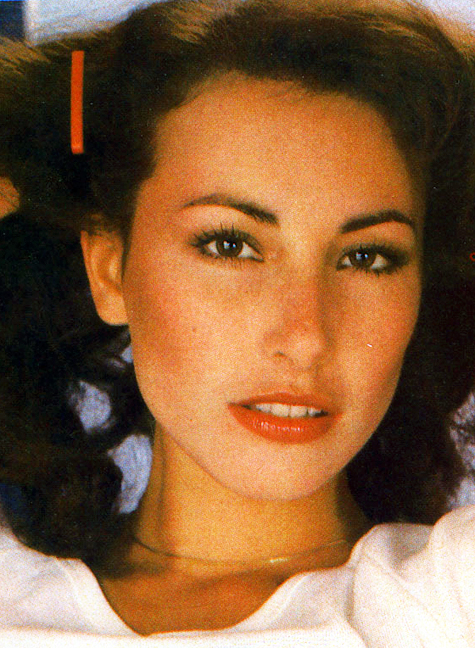 Loni Sanders
Is that when you started working in men's magazines?
Yes. My actor friend who was working as an assistant editor at 8060 decided to move to New York to pursue his acting career. He asked me if I wanted to take over his publishing job. That's how I got into men's magazines.
When I started at 8060, I was the guy who fielded calls from writers and photographers that weren't getting paid on time. I had no power and no way of telling them if they'd ever get paid – so I just listened to them complain! I also did lots of organizing of paperwork for the company's various magazine titles and book imprints. We had huge filing cabinets in the back of the office where I'd store photo sets, story copies, stuff like that.
The head of 8060, Bentley Morris, then hired this guy to produce two specialty magazines, one for big boobs, the other one fetish. Bentley and his finance partner Ralph Weinstock asked me to be the guy's assistant. It turned out the guy didn't know what he was doing so they fired him and asked me to take over. I was also the assistant to Ed Sullivan, who was editing Adam Film World.
Ed was a character. He'd worked for the Hearst organization years earlier and had some crazy stories.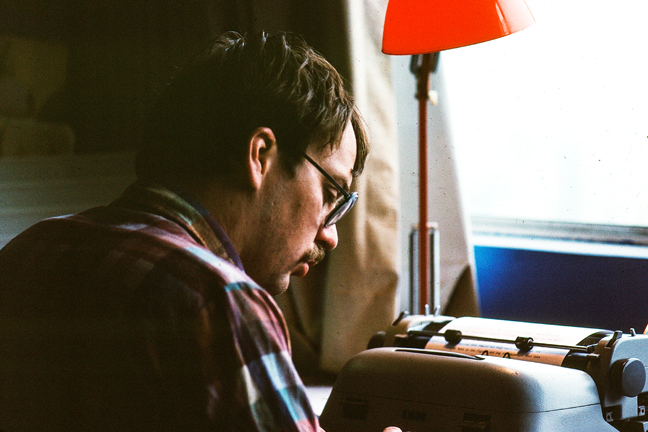 Kent Smith works his writing magic
So you had steady work at 8060?
Well, Morris and Weinstock wound up killing the two magazines I was editing because they weren't making enough money. Even Adam Film World wasn't pulling in much, so they decided to lay me off. They were nice about it though. They said it was between me and Ed and they didn't have the heart to let Ed go because he was an older guy with fewer prospects than a young guy like me.
But they had some freelance work for me so I kept on with 8060. At that time Jim Holliday, who's original name was Jack Nash, talked them into doing a guide for adult films. He'd already published his book of reviews that had done well, and he convinced them that a magazine version could be a money maker. That's what led to the birth of the specialty X-Rated Film Guides.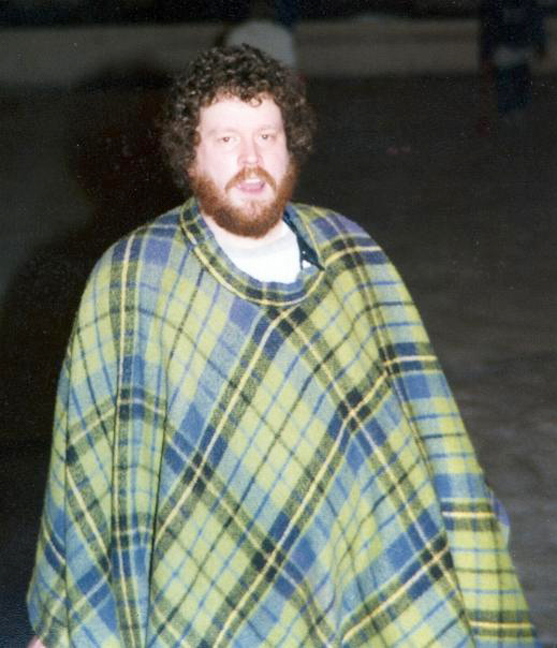 Jim Holliday
And how did you come to be involved with the Guides?
Jim had some decent ideas but he wasn't good with deadlines so the guys at 8060 came to me for help. They knew I was always on-time and that was key to being profitable in the magazine business.
It was easy for me to put the guides together because at that point I was freelancing for a lot of the production companies, helping them with publicity materials and such, so I had access to all kinds of things. The companies were happy to give them to me for the guides because it was good publicity for their films.

So you became the one responsible for the X-Rated Film Guides?
Yes, I wound up putting the first guide together, soup to nuts. I holed up in my West Hollywood apartment and worked straight until it was done. It took me a few weeks and I pretty much wrote every word in that magazine. One day, I remember writing one hundred porn film reviews! The good news was I could use them in the guide, and then also sell them to other magazines like Chic and Velvet with just minor edits.
So did you do everything when it came to the Guides?
When I finished writing each one, the art department at 8060 laid out the physical magazines. There was an art director and a paste-up guy that did the work. The art director was a lovely lady and very talented.
Jim Holliday is listed as a consultant on a few of the guides but mostly because he came up with the original idea. He didn't earn any money from the magazines. The publishers cut Jim out. But I was still friends with him and I'd ask him questions about stuff, so I gave him a consulting credit.
The specialty guides went on for a couple of years and I made some decent money. I was helping to sell advertising for them and the publishers gave me 20% of that revenue.
The Guides were so popular that another publisher in Chicago asked me to put together a book of the top adult films – a riff on the Top 100 X-Rated Films of All Time Jim had published a few years earlier. But my guide wasn't limited to x-rated films – I included softcore and sexploitation stuff as well. And I think I covered around 500 titles. It became an annual publication for a while and was called 'The Directory of Adult Movies.' The publisher told me the first edition was the first title he ever completely sold out of, no returns requested.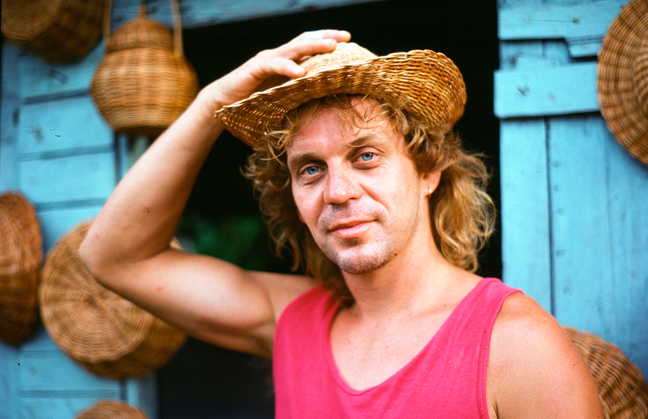 Kent on break
Were the Guides the only things you were working on at that point?
No. While I was putting together the guides, I also was editing magazines for other publishers. For one company, I was producing five other titles.
What did you do for the other titles?
Outside of buying the occasional article from guys like Bill Rotsler, I basically produced the magazines top to bottom by myself. I got all the photos, wrote articles to accompany them, wrote film reviews – but I put other names on the mastheads so the magazines wouldn't look like one-man operations!
One publisher I was doing a lot of work for fell way behind in paying me. It came to the point where they owed me almost 30 grand. So, I began picking up all kinds of work on the side – I was shooting stills, conducting interviews, creating promotional materials and writing scripts for a variety of film production companies. I got so busy I finally hired an assistant, a guy named Tim Connelly.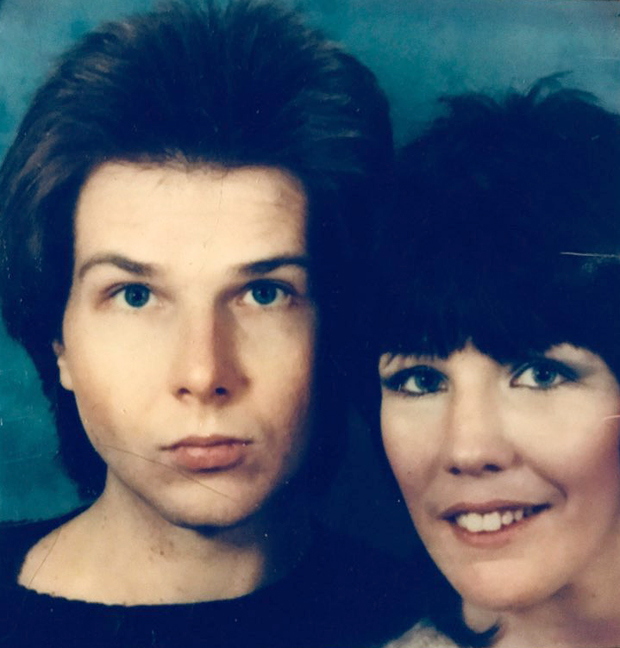 Tim Connolley with Helen Madigan
How did your magazine career come to an end?
Around 1986 or '87, I started segueing out of magazines and got into making adult films full-time.
I directed my first porn movie with the guys from the film equipment rental place I'd befriended in my early L.A. days. Then I did more and more script writing and editing for film producers, and I finally left the magazine business altogether.
Tim Connelly took over what I was doing at 8060. I found out later that they were only paying him 10% of the ad revenue instead of the 20% they gave me.
How did you come to work with the Dark Brothers?
I began editing for them by the end of the 1980s. I had been shooting stills and writing scripts for them. When they lost their editor, Greg Dark hired me on. When Greg shot those erotic thriller films for Axis under the name Alexander Hippolyte, I edited most of them.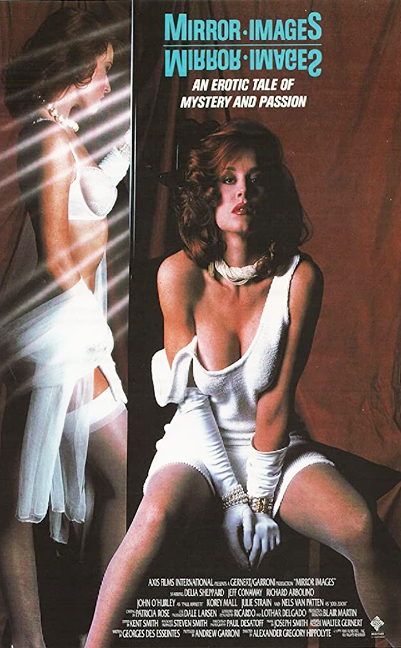 Greg Dark (as Alexander Hippolyte) directed, Kent Smith (as James Avalon) edited
When did you start directing your own films full time?
By the end of the 1990s. I saw a lot of things going gonzo, but I was interested in continuing to make movies with higher-end production values. I made Les Vampyres in 2001, a film I'm extremely proud of, and I continued making movies under the name James Avalon to this day.
And you've won a lot of awards for your film work…
Yes – I've won a bunch of AVN awards. I'm also a founding member of the X-Rated Critics Organization.
But I'll never forget my time in men's magazines. Those early Adult Film World Guides were a crash course in end-to-end magazine production.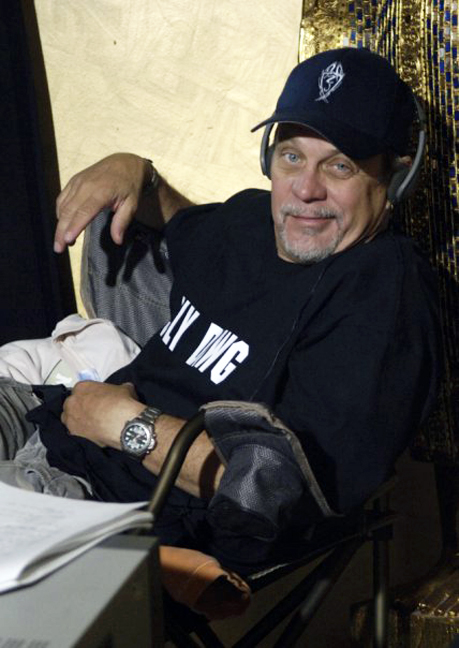 Kent Smith aka James Avalon
*
Adult Film World Guides: 1982
January 1982 – Vol 1, No 3
(click on cover to view full magazine)

-X-rated movie directory
-100 top films illustrated
-Performer directory
-Erotic theme directory
-Special feature directory
-Where to buy
-All about videotapes and tape players
____________________________________________________________
May 1982 – Vol 1, No 4
(click on cover to view full magazine)

____________________________________________________________
August 1982 – Vol 1, No 5
(click on cover to view full magazine)

____________________________________________________________
November 1982 – Vol 1, No 6
(click on cover to view full magazine)

-X-rated film directory
-100 top films illustrated
-Performer directory
-X-rated theaters
-Where to buy
-Tips on buying and collecting X-rated tapes
*