U.S. President Donald Trump recently presented the Medal of Freedom, the nation's highest civilian honor, to Edwin Meese III, former top aide to U.S. President Ronald Reagan.
In the eyes of many, awarding Meese the honor was a highly controversial decision. While he'd served the government – first acting as assistant and chief of staff when Reagan was governor of California, then becoming a top Cabinet official and finally attorney general when Reagan was president – his service came under scrutiny for ethics violations.
Ultimately, Meese was strongly reprimanded by the Justice Department for abuses including maintaining personal financial interests in areas impacted by government decisions, helping friends win lucrative government contracts and failing to file timely tax returns.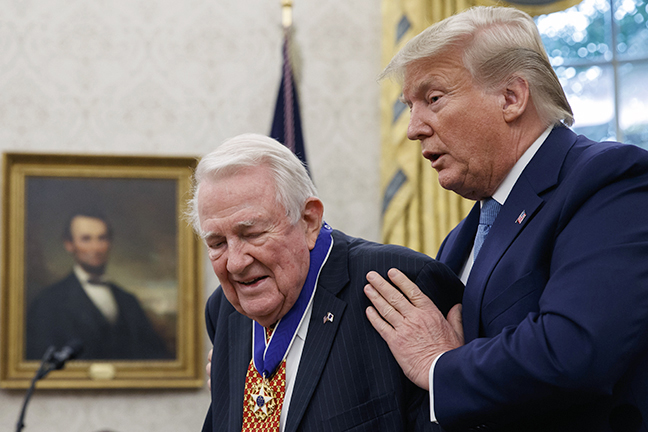 Edwin Meese and Donald Trump
By the time the damning Justice Department report was released, Meese had left government service, so no formal action was taken against him. But while Meese vigorously denied the Justice Department's findings, the dark cloud of impropriety continued to follow Meese. Until Donald Trump.

So why would President Trump – someone who made a campaign promise to 'Drain the Swamp' of misconduct – choose to honor Edwin Meese? And why are we at the Rialto Report even talking about this?
In July 1986, Edwin Meese published the Final Report of the Attorney General's Commission on Pornography, commonly known as the Meese Report – one of the most controversial documents on the subject ever produced. It was immediately accused of being biased, and contravening free speech, yet it's legacy lives on today in our nation's Culture War.
April Hall looks back at the events leading up the report and the impact of the findings. In addition, Veronica Vera writes about testifying to a Senate Judiciary Sub-Committee on pornography, we look at media coverage at the time, and we re-publish the report itself.
Special thanks to Veronica Vera for sharing her written recollections for this article.
_______________________________________________________________________________________________
Ronald Reagan and the Culture War
In the U.S. presidential election of 1964, the Republican party – represented by conservative Barry Goldwater – was disastrously defeated by incumbent Democratic President Lyndon Johnson. On the heels of their worst loss since 1820, the Republican party knew it had to take dramatic action to regain a foothold in national politics.
Rather than move to a centrist position to attract support, the party chose to take a sharp right turn to harness the passion and money of conservative hardliners. As part of the move to the right, the party threw its support behind a charismatic candidate for California governor, the former actor Roland Reagan. While the divorced actor with some moderate positions wasn't an obvious choice, Reagan's popularity combined with his stands on tax policy, social welfare spending and racial issues were enough to draw the two together. With Republican party backing, Reagan won his campaign and took state power in 1966.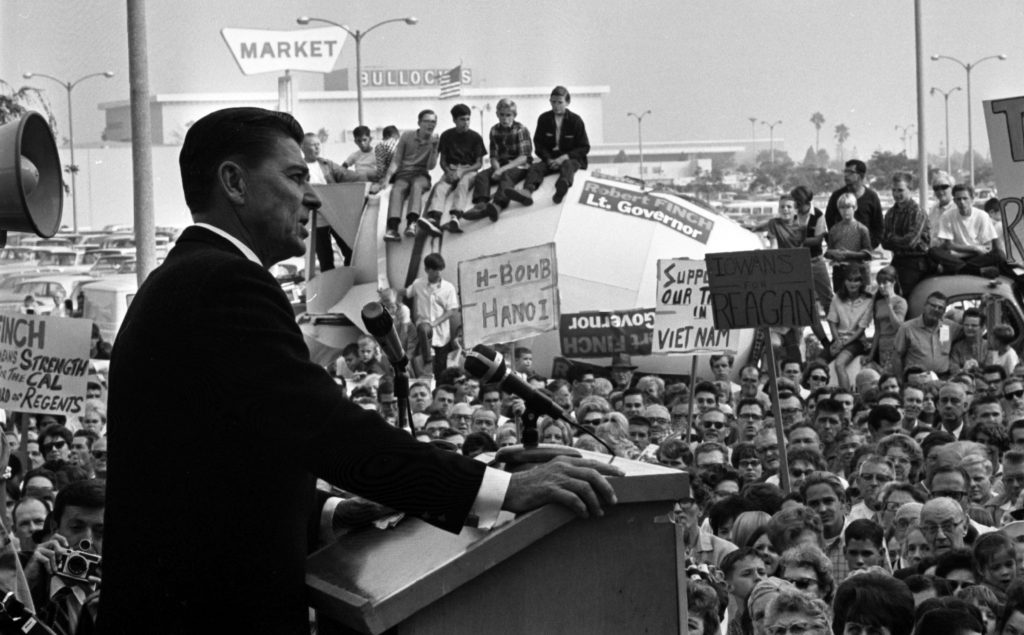 Reagan on the gubernatorial campaign trail
Reagan remained California governor for two terms before training his sight on the national stage. His first attempt to capture the nation's top job of president was in 1976. He ran against fellow Republican and presidential incumbent Gerald Ford in the primaries. While Reagan garnered strong support, he ultimately lost to Ford, while Ford eventually lost to Democratic candidate Jimmy Carter.
Undeterred, Reagan and his conservative supporters looked ahead to the 1980 election. For this second campaign, Reagan ran on traditional Republican positions such as smaller government, lower taxes and stronger defense. But he also pushed on issues he knew would ignite the Religious Right such as the restoration of school prayer, the continued illegality of marijuana and the promotion of 'traditional morality' in sexual laws and conduct. Benefiting from the support of the conservative base and national dissatisfaction with Carter, Reagan won the presidential election.
Despite a tumultuous first term dealing with a national air traffic controllers' strike, a civil war in Lebanon, the invasion of Granada and an assassination attempt, Reagan's approval ratings going into the election of 1984 were stable. The Religious Right was relatively pleased with Reagan's first term achievements in school prayer, tax breaks and social welfare cuts and were vehemently against Democratic opponent Walter Mondale. So the group threw its support behind Reagan's campaign, vigorously fund raising and directing voter registration activities. The popular Rev. Jerry Falwell, president of the Religious Right group Moral Majority, became an outspoken supporter of Reagan. The result was a landslide re-election victory, with Reagan winning 49 of the 50 states.
Edwin Meese and the Attorney General's Commission on Pornography
Reagan started his second term as President riding high on support from the Religious Right. In turn, in 1984 Reagan began to take action against pornography. It started that year with the signing of legislation making child pornography a stand-alone criminal offense. But Reagan soon set his sights beyond child pornography to what he termed 'adult obscenity'.
"In the last several years, distributors of obscenity and child pornography have expanded into new areas, employing new technologies, and reaching new audiences. Neither our Constitution, our courts, our people, nor our respect for common decency and human suffering will allow this trafficking in obscene material — which exploits women, children, and men alike — to continue."
The following year on May 20, 1985 Reagan announced he was establishing a commission to study the effects of pornography. Reagan tapped his long-standing colleague and recently appointed Attorney General Edwin Meese to lead the commission. The Attorney General's Commission on Pornography, colloquially referred to from that point forward as the Meese Commission, got to work. Meese appointed 11 additional members to the Commission, stacking the deck by selecting well known anti-pornography crusaders.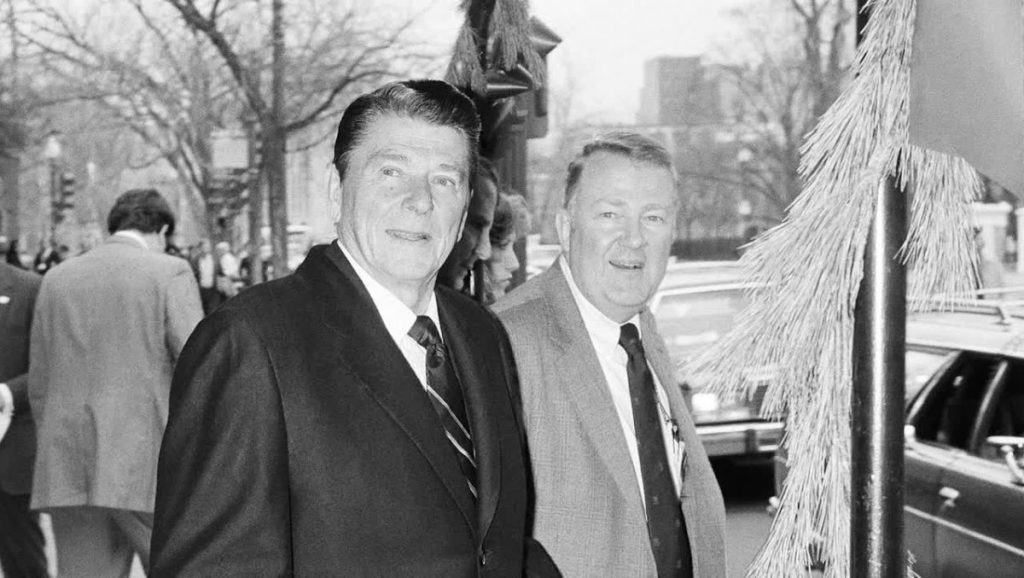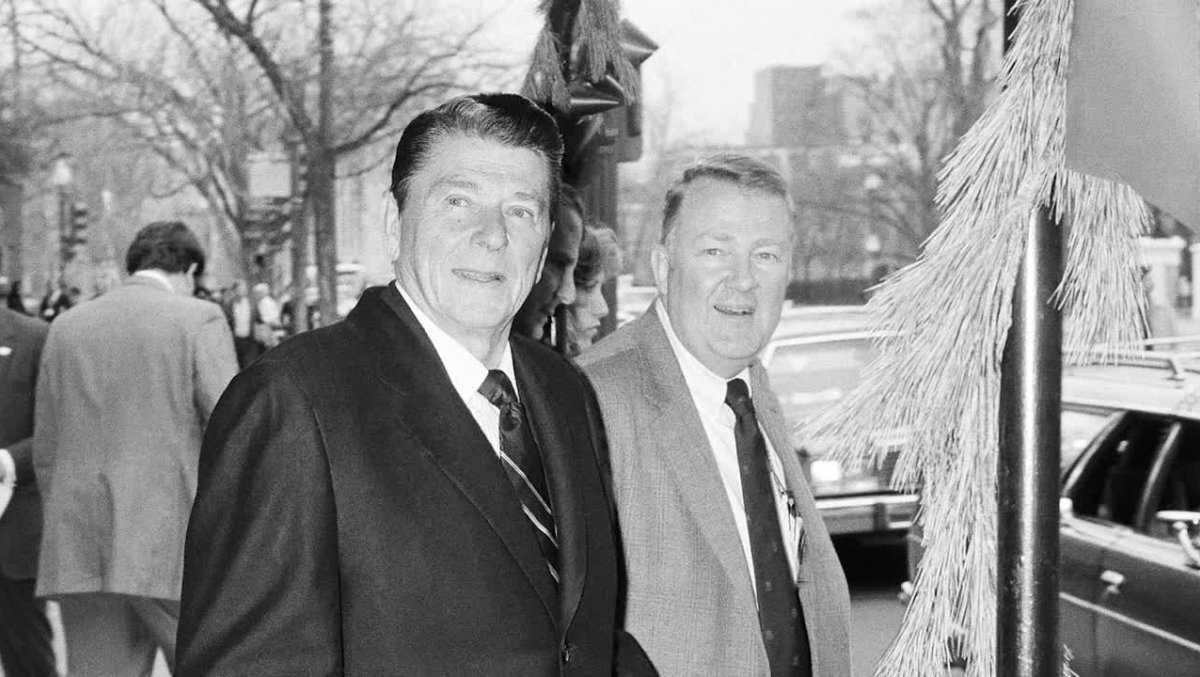 Ronald Reagan and Edwin Meese
Henry E. Hudson, a long-time lawyer and staunch Republican, was named Commission chairman by Meese. As Virginia's Commonwealth Attorney from 1974 to 1979, Hudson led a campaign to rid Arlington County of adult bookstores, massage parlors, and other venues linked to the sale of pornography.
Diane D. Cusack had been a member of Scottsdale, Arizona's City Council and President of the Maricopa County Board of Health. An active churchgoer, Cusack believed that pornography had the power to undermine the social fabric and favored vigorous prosecution.
Park Elliott Dietz was a forensic psychiatrist who served as an expert witness in many high-profile government criminal cases. Dietz believed that pornography was "both causal and symptomatic of immorality and corruption. A world in which pornography were neither desired nor produced would be a better world than it otherwise would."
James Dobson, an evangelical Christian author, psychologist, and the 1977 founder of 'Focus on the Family', believed that "any sexual activity outside of such a union [between one man and one woman] cannot be approved by God."
Father Bruce Ritter was a Catholic priest who founded Covenant House, an organization to help homeless youths Ritter claimed had been lured to New York to participate in child pornography and prostitution. In 1988, Ritter received the Award for Greatest Public Service Benefiting the Disadvantaged. It is interesting to note that, starting in 1989, Ritter was accused of sexually abusing numerous underage boys in his care.
Frederick Schauer was a renowned constitutional law professor who had earlier written The Law of Obscenity as a guide for legislators. He had previously defended producers of Deep Throat and was seen by many as a token moderate on the Commission.
Deanne Tilton-Durfee began her career as a social worker and was President of the California Consortium of Child Abuse Councils. She was outspoken about the harmful effects of pornography on children.
Judith V. Becker was a clinical psychologist who worked with victims of sexual abuse and sex offenders.
Ellen Levine was editor-in-chief of Women's Day magazine. Trained in journalism, she claimed she was able to represent the concerns of American women.
Edward J. Garcia was a federal judge appointed by Reagan recognized in the areas of family and criminal law.
Harold (Tex) Lezar helped create the Meese Commission. He had worked for conservative William Buckley and written speeches for Richard Nixon.
Alan E. Sears was a prosecutor in the U.S. Attorney's Office for western Kentucky who consistently voted to strengthen laws that supported prosecution of pornographers.
The stated objective of the Commission was to "determine the nature, extent, and impact on society of pornography in the United States, and to make specific recommendations to the Attorney General concerning more effective ways in which the spread of pornography could be contained, consistent with constitutional guarantees."
With a budget of only $500,000, the Commission was unable to fund its own research and instead relied on the work of others. As part of its year-long study, Commission members interviewed over 200 'experts' and 'witnesses' on the impact of pornography. Guests called by the Commission were much more often than not those who believe in the harmful effects of pornography.
But the Commission did, on rare occasions, review input from those who supported free speech and the right to access pornography among consenting adults. One of those people was adult film actor and director Bill Margold.
Ms. Vera Goes to Washington
The Meese Commission wasn't the first time that the government investigated the impact of pornography on American society. Just a year before the Commission's formation, Republican Senator Arlen Specter – chairman of a Senate Judiciary subcommittee – held hearings on possible legislation aimed at protecting women from being forced into pornography. Among those invited to testify were adult film actresses Seka and Gloria Leonard. When Gloria was unable to attend, she asked her friend and colleague Veronica Vera to take her place. An accomplished writer as well as an adult industry performer, Ms. Vera wrote about her experience for men's magazine Adam.
This is Veronica's recollection of providing testimony: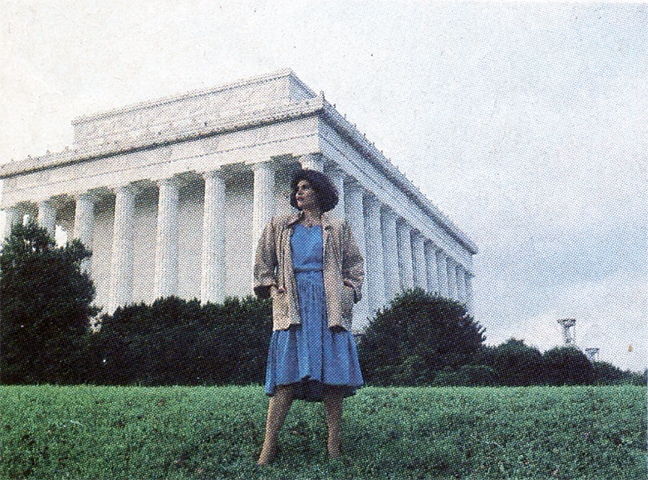 Veronica Vera prepares to testify in front of the Senate
"Washington DC extends. It is more than a city located on the banks of a river. Washington is a living, breathing reality that reaches out to touch people all over this country. Sometimes it gives us a reassuring pat on the head or a friendly clap on the arm. Often it is an irritating pain in the ass. Occasionally, it has a need for more intimate contact.
Washington taps me on the shoulder, crooks its little finger and summons me with a provocative come-hither look. Actually, it called my sexy friend Gloria Leonard first. She tells me: "Washington is inviting me to talk about pornography. I want to go so much but I can't handle Washington right now. I've got to go into the hospital. Would you like to keep the appointment?"
I sympathize with Gloria. I know the gorgeous actress, High Society publisher, and First Amendment activist would love to click her high spiked heels in the marble corridors of our nation's capital. There is no doubt that the Senate Judiciary Committee could benefit greatly from the wit, wisdom, and passion that would flow from her tongue.
But Gloria's loss is my gain. I know that to agree to go in her stead is a tremendous responsibility to her, to myself, and to every one of the fabulous women I have met in the business. Gloria's offer means the opportunity to have my views on the sex industry and my experiences in it heard by the government and reported by the media all over the country. It is a gift I will always cherish and the chance for an unforgettable orgasm.
A Senate Judiciary Committee chaired by Senator Arlen Specter (R-Pa.) wants to determine whether new laws are needed in the area of pornography. Radical feminists led by Andrea Dworkin make the charge that pornography causes women to be used and abused against our will. Former porn star Linda Lovelace fuels the fire by testifying that she stared in the film Deep Throat only because her manipulative husband held a gun to her head. Washington seeks to discover any opposing view. There is also the concern that pornography may promote the exploitation of children.
From the start I know that Annie Sprinkle will go with me. She is my friend, always there for me. She understands immediately how important it will be for me to have some moral support. Annie does not want to testify – crowds freak her out. But she will document the entire trip with her camera.
On the telephone I joke with her about my plan of action. I'm going to wow them with rhetoric, knock them out with intelligence and before they know what hit them, break into a sexy strip tease. Wearing only garters, stockings, and stiletto pumps, I'll sit on the edge of a desk, look that committee right in the eye and ask, "Well, gentlemen, did that ever make you feel violent?" Annie and I giggle over my fantasy scenario. Then I sit down to write my opening statement for real.
By coincidence, Adam editor Jared Rutter is in New York that same week. I ask him if he would like to make a little side trip to Washington and he agrees. It seems most appropriate that one who has been so supportive of my work be there to share in this very important day. Besides, Ms. Sprinkle and I will definitely benefit from the presence of a strong male escort. Should things not go as smoothly as planned, I can always accusingly point a long red polished fingernail at Jared and tearfully tell the world, "He made me do it."
Also testifying in Washington is beautiful superstar Seka. We met briefly only once a few years ago at New York's very short-lived but memorable SEXPO. I am very curious to hear what she has to say. I also wonder what she will wear. A conservative business suit seems the likely choice, but it seems almost too expected. Besides, I don't own one. I decide on a bright blue dress which I'm sure will look great on color TV. The closing decision made, I settle down to write my opening statement.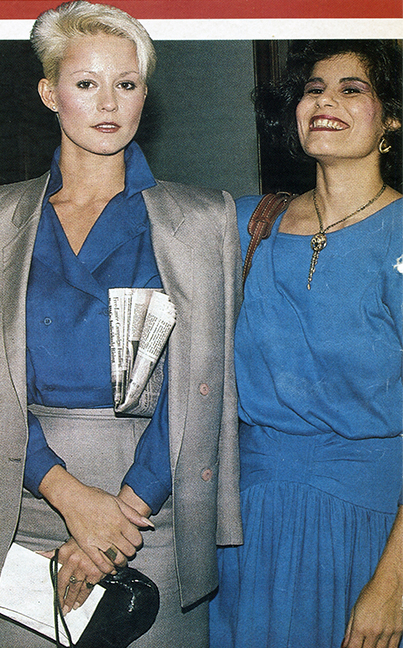 Seka and Veronica Vera arriving to give testimony
Screw publisher Al Goldstein is experiencing some major upheavals in his personal life. He is invited to give testimony but is not sure he will attend. We speak on the telephone and he tests my seriousness by attempting to scare the shit out of me. "These are not friendly people, Veronica. This is not fun and games." Does he really think that my brains are between my legs?
Goldstein generously offers me the services of his attorney Ken Norwick who makes some invaluable suggestions when I show him the outline of my opening statement.
"Forget these philosophical ideas", Norwick tells me. "There are other people who can give them philosophy." Then going on, "This is good, this is good… Yes, stick to these points where you speak from your experience. That is what you have to tell them that no one else can."
When Al's plans are definite, he offers us a ride to Washington in his limousine, but Annie, Jared, and I decide to fly and get a full night's sleep at a hotel in the capital.
The Executive House is located just off the main drag where mini-skirted hookers stand on corners. Annie and I immediately notice a Popeye's Chicken shop. It's almost like being in Times Square except that we are just near the Australian Consulate and a host of prestigious buildings and mansions where various special interest groups have their headquarters. The National Rifle Association has some impressive digs. Maybe the Adult Film Association should take some space on the block.
I feel very prepared. Prior to my arrival, Washington requested a brief bio and some examples of my work. I sent them a story I wrote about the experience of popping my cinematic cherry in Consenting Adults and ADAM columns about Club 90's performance of "Deep Inside Porn Stars" and Candida Royalle's Femme project. The Judiciary Committee is investigating whether or not women are forced to work in this business. I sent them evidence to the contrary. I also enclosed a steamy little photo spread entitled 'Veronica Vera in Tight Bondage," just because it seemed appropriate.
The Senate hearing room is spacious, wood-paneled and refined. I could not have fantasized it better. It is a classy space suitable to the classy talents of Ms. Vera. When we arrive Seka is already seated in the row reserved for witnesses. She has opted for a gray business suit and a blue silk blouse. She looks beautiful. Also present are John Money, Ph. D., a professor of Medical Psychology at Johns Hopkins University and a Los Angeles lawyer named John Weston. Weston does a lot of First Amendment work and one of his clients is the Adult Film Association. They too are witnesses.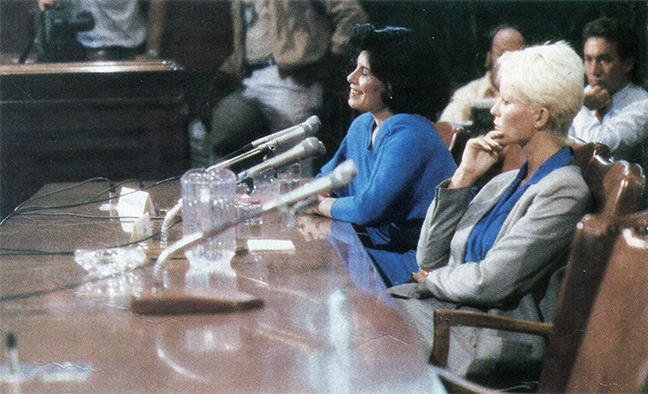 Seka and Veronica Vera give testimony
Chairman Senator Arlen Specter sits at the center of a long dais that spans the front of the room. Behind him sit approximately 30 Senate aides who represent other Committee members. The TV and print media are well represented and Ms. Sprinkle, purple bow in her hair, takes her position right up there with UPI and The Washington Post. When Al Goldstein arrives we begin.
Besides the opening statements we prepared, each of us is expected to answer the questions posed by Senator Specter, formerly the District Attorney of Philadelphia. Goldstein is first batter up. SCREW is a newspaper that is usually coarse but always honest and often brilliant. To a large extent it mirrors its publisher.
Goldstein's opening statement is an eloquent defense of the First Amendment but he presents it very matter-of-factly with no pause for dramatic effect. However, when the question and answer period begins and the former Philadelphia D.A. and porn's most eloquent spokesperson go one on one, Al Goldstein shines. When my own question and answer period comes I learn how difficult it is to respond to these hard-hitting questions one right after the other. But Goldstein never tires. Never once is he off-target. Every comeback matches the Senator and goes him one better.
The Senator does not appear prejudiced one way or the other. He probes and probes and he is at his toughest with Goldstein. Several times issues of SCREW are introduced as are some cartoons from Hustler. When Senator Specter asks about a cartoon character named "Chester the Molester" Goldstein responds, "Well, that Larry Flynt's sense of humor and how sane can the man be? He did run for President!"
A photograph is introduced and Senator Specter asks Goldstein how old the female model was when the photo was taken. He responds that the young woman was 19. "Do you think that this is acceptable," continues Specter, "to play on the fantasy that she is much younger?" Goldstein has very strongly stated that he is a father and is completely against child pornography.
"Senator, have you seen Brooke Shields lately," he fires back. "This woman did not become famous by looking 35 or 50." Everyone laughs.
"Protect the children," concludes Goldstein, "but let the adults have fun."
"Next we have a panel consisting of Ms. Seka and Ms. Veronica Vera," announces the chairman. I take a deep breath and count to ten. Seka goes first. She emphasizes that she is a responsible actress in a business for adults.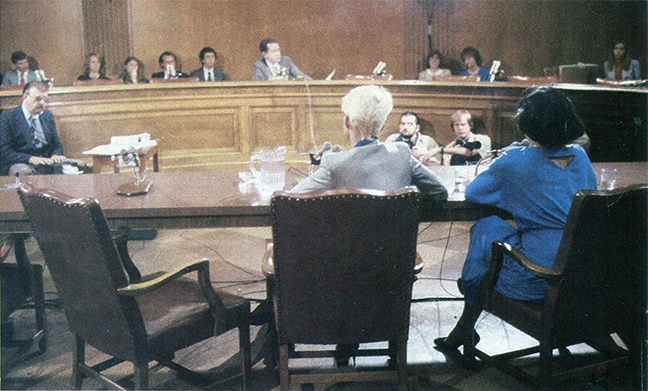 Seka and Veronica Vera face the politicians
"What kind of films do you make?" questions Specter. I wonder how Seka will handle this one.
"Adult films. I am an actress. When I am offered a part, I read the script and if I think the role is suitable for me – if I think it will be good for my career – I do the part." Score one for the beautiful blond from Chicago.
Seka gives little personal information about her career except for one remark which (I found out later) angers Goldstein, but which is very candid and exactly to the point. She tells the story of her reaction to a request from a nine year old boy for her photograph. Senator Specter is very interested in this story. He has heard much testimony about how adult material is very easily available to children. Seka explains that she wrote a very gentle letter to the boy's mother so that she could handle the situation with her son. Her account is evidence that people in adult entertainment are concerned with their responsibilities.
It has been relatively easy for me to prepare my opening statement. I know exactly the point that I want to put across: that the women in this business are not here because we are forced to by someone else. We are not dealing in explicit sexual materials because we are a bunch of dumb twats who can't think of anything else to do. This is a medium that offers a viable means of self-expression. There is room for growth for both the individuals and the industry. It's a big pie, artistically and financially, and women don't need any new laws which on the pretext of protecting us will only inhibit us from taking our fair share of it.
As I speak, so many emotions run through me. I am angry. I am frightened. I am proud. I am excited. I am determined. At one point, when I am at a loss for an answer, Seka comes to my aid. We have been sitting at the table together but at that moment we really become a team.
There is a moment in the hearing that comes as a complete surprise. It is the most erotic moment of the day. With the bondage clips I have submitted in his hand, Senator Specter asks if I think such photos will lead men to get the idea that it is okay to go out, tie up women and rape them. In response I offer to real aloud the paragraph that accompanies the photos in which I explain my reason for wanting to explore the bondage fantasy.
The Senator accepts my offer and that is when Veronica Vera's erotica goes down in history. The piece is very straightforward at the beginning. There is no explicit language, no hard core until the very end. I am so excited by the opportunity to read the piece that I have forgotten its specific contents. All of a sudden a sentence looms in front of me and I am not sure that I should read it. Senator Specter has the piece in his hand and reads right along with me:
"I am the love toy, the object of your desire, exposed and vulnerable. Picture yourself tying the ropes, keeping me as your prisoner, ready to be taken whenever you want me. Always open to your – shall I go on?"
The answer from Senator Specter is, "You certainly may."
"Always open to your cock and your mouth…"
My mind reels. I've said "cock" in the Senate. I wonder how many of my listeners in this place of such serious business feel a twinge between their thighs. No lightning bolts strike me dead. The hearing continues. Washington has reached out and touched me but I know that I have definitely touched Washington too.
Annie, Jared and I share a delicious lunch at an outdoor café. We have a lot to celebrate."
Veronica Vera, Jared Rutter, and Annie Sprinkle
Ms. Vera's testimony was included among the Meese Commission's review, an endeavor Time magazine labeled a "surrealist mystery tour of sexual perversity." Commission members watched dozens of pornographic videos, perused hundreds of magazines, listened to recorded dial-a-porn conversations and took field trips to sex shops. This was in addition to the 300 hours of testimony of everyone from FBI agents to former prostitutes to victims of sexual abuse.
But the Commission didn't just review evidence as part of its study – it also informed almost two dozen large retailers across the country that they had been accused of the sale or distribution of pornography and that if they didn't take action to correct the practice, it would be seen as an admission of guilt. The tactic pressured the parent company of 7-Eleven to stop selling adult magazines including Playboy and Penthouse in its thousands of stores. Other retailers quickly followed in their footsteps.
Playboy founder and editor-in-chief Hugh Hefner immediately went on the offensive. He began a full-force PR campaign and filed a lawsuit against the Meese Commission's retail outreach. A federal judge ultimately agreed that this outreach contravened the First Amendment.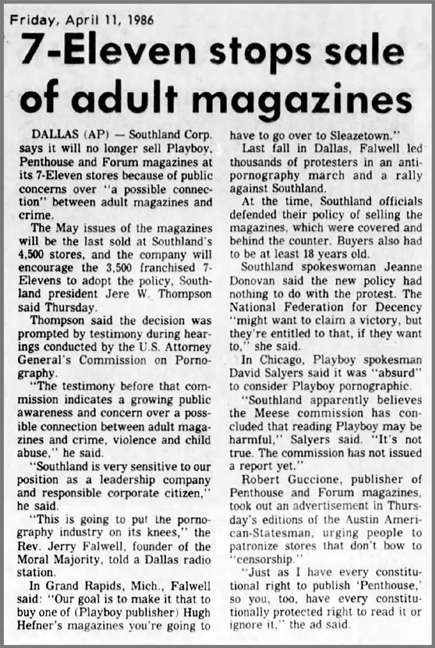 The Meese Report
In July 1986, Edwin Meese called a press conference to announce the release of the Commission's findings report. Unsurprisingly considering its origins and members, the report claimed that pornography was in fact harmful. It named approximately 4,500 specific titles that it deemed pornographic and recommended a legal attack on the adult industry.
Notably, two of the Commission's members – Judith V. Becker and Ellen Levine – issued a dissenting opinion to the report. They felt that the study had been rushed and the evidence and testimony skewed to the most violent and degrading examples of pornography.
The almost 2,000 page Report was divided into six main sections:
Part I consisted of Commission member bi0graphies and statements.
Part II included an introduction to the Commission's purpose, a history of pornography, the role of the First Amendment, the Market and the Industry, the Question of Harm, Laws and Their Enforcement, Child Pornography and the Role of Private Action.
Part III went deeper on law enforcement, child pornography, victimization, civil rights, nuisance and anti-display laws.
Part IV continued with the themes of victimization and the First Amendment, then focused on the Performers, Behavioral Science, Organized Crime, a History of Regulation, Community Action, Production and Distribution of Pornography, Imagery and Witness Testimony.
Part V outlined a bibliography, additional reading material and a staff listing.
Part VI was a collection of photographs.
(click on cover to view full report)

The Meese Commission asserted plainly that pornography inflicted damage on society, drawing a connection between pornography and violence. The Report suggested action in the form of 87 legislative, administrative, and research recommendations – such as making it an unfair labor practice to hire individuals to participate in commercial sexual performances, seizing the profits and property of convicted dealers under the RICO statute, and outlawing doors on booths in porno parlors.
Government action taken in the aftermath of the Report was swift. Just a few months after the report was issued, Meese enacted two of the Commission's key recommendations: He announced the formation of the National Obscenity Enforcement Unit to help U.S. attorneys probe and prosecute obscenity cases around the country. He then directed all U.S. attorneys to initiate investigations into the manufacture and distribution of obscene material. Congress also took action on the Report, drafting the Child Protection and Obscenity Enforcement Act that Reagan signed in December 1988.
Beyond these actions, the Commission's findings continue to shape the cultural, political and legal conversation around pornography that persists today.
Meese Commission media coverage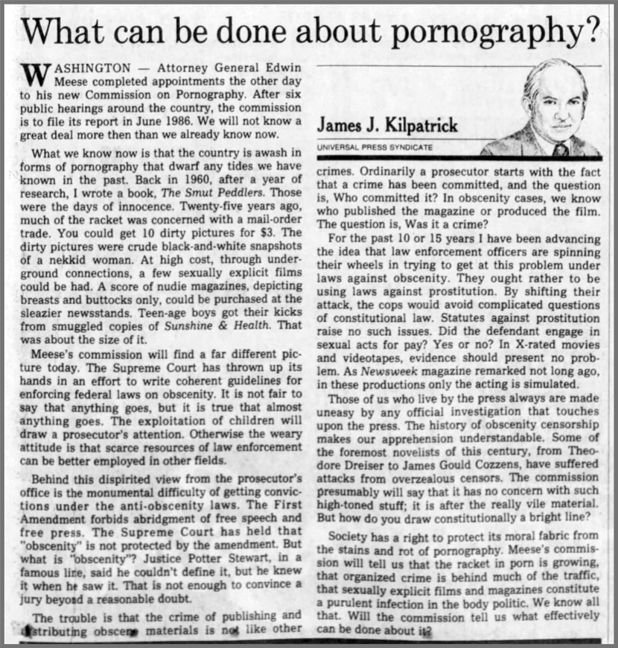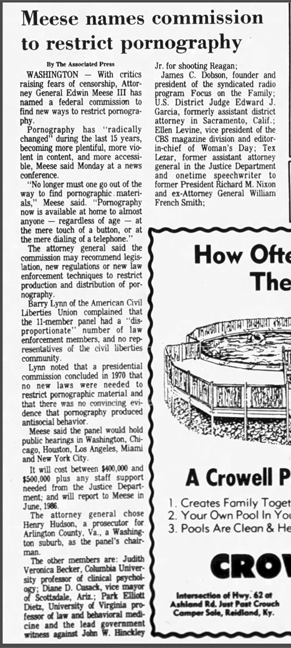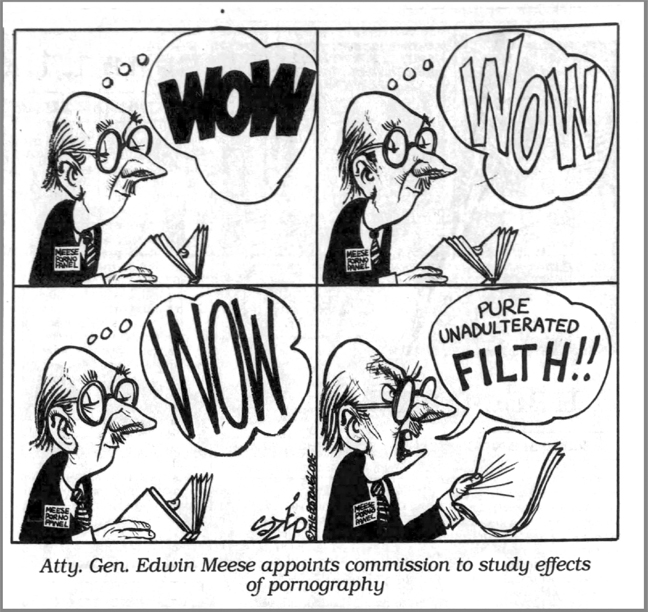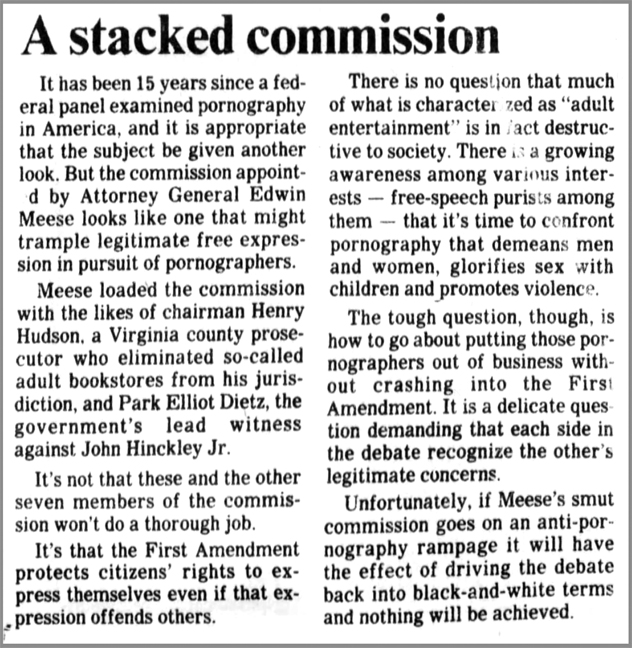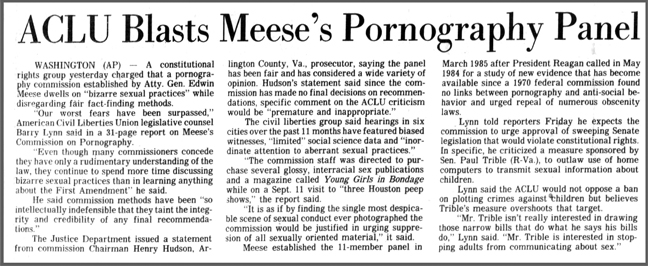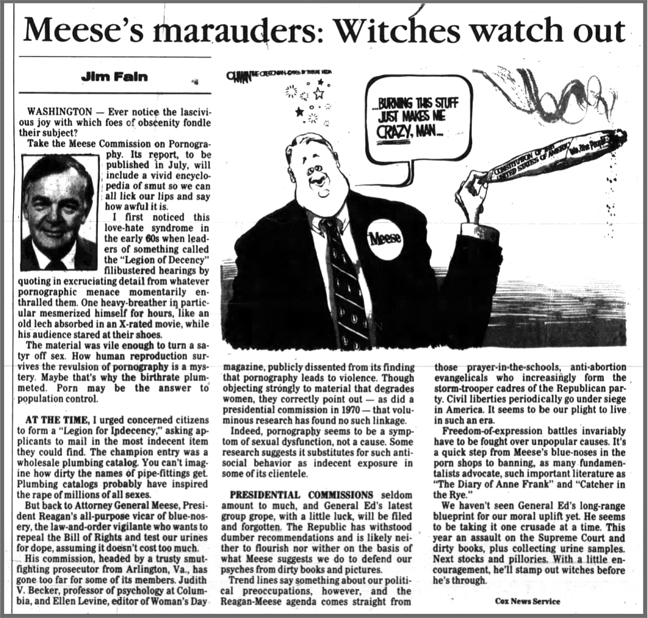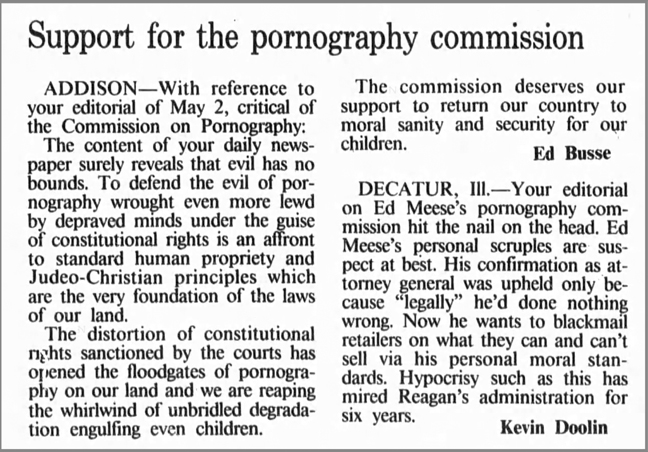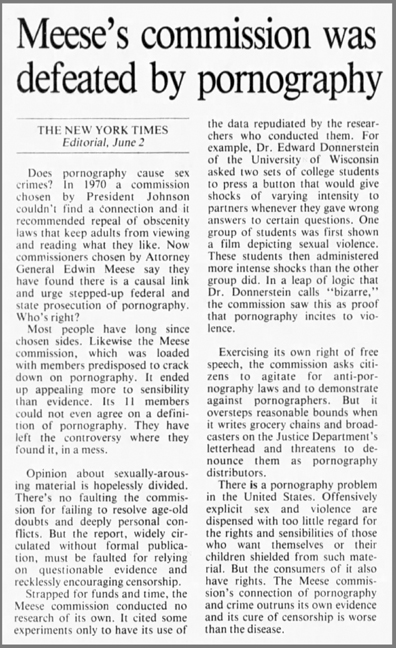 *