The east-coast magazine 'Porn Stars' first appeared in mid 1980. It only lasted for four issues before undergoing a name change and becoming 'Skin Flicks'. 'Skin Flicks' was even more short-lived and lasted only two months before it was renamed 'Starlet.' 'Starlet' lasted for four issues, before reverting to the magazine's original name, 'Porn Stars', once again.
Who was responsible for the various magazines, and what was the reason behind the different incarnations?
The Rialto Report speaks to two of the magazine's editors – Richard Milner and Manny Neuhaus – to get the behind-the-scenes story.
And we've also digitized all the issues from 1980 / 81, the magazine's first two years in business. These issues include articles, interviews, and photo spreads with notables such as Nancy Suiter, Bambi Woods, Aldo Ray (!), Serena, Lisa Deleeuw, Seka, Desiree Cousteau, and many more.
You can find The Rialto Report's growing collection of digitized resources by choosing Library in our site menu. Check back for more digitized adult film magazines soon.
Click on the covers below to access the full magazines. Due to the fact that the magazines are scanned in high definition, allow time for each page to load. If you are viewing on a phone, view in landscape orientation.
Magazines are fully searchable; use the icon displayed in each magazine to search by keyword.
Publications are being shared here purely for the purpose of research. They should not be used or reproduced for any commercial gain.
_______________________________________________________________________________________________
The Birth of Porn Stars magazine: 1980
'Porn Stars' first issue hit the news stands in May 1980. It was the brain child of Richard Milner – a veteran adult film magazine scene.
Richard Milner:
I'd been working on Stag magazine as managing editor for quite a time, and was getting a little tired of it and wanted a fresh challenge, so I approached my boss and pitched the idea of 'Porn Stars'.
'Porn Stars' was published as an offshoot of Stag magazine, which in turn was part of the Swank stable. Swank had started life in 1941 as a men's lifestyle and pin-up publication in the style of Esquire. It was relaunched in the mid 1950s by Martin Goodman, the founder of Marvel Comics, and ran spicy adventure and suspense fiction by the likes of Ian Fleming, Graham Greene, Norman Mailer and Arthur C. Clarke. Humorist Bruce Jay Friedman – father of Josh Alan Friedman, bard of 1970s Times Square – was an editor in the late 1950s.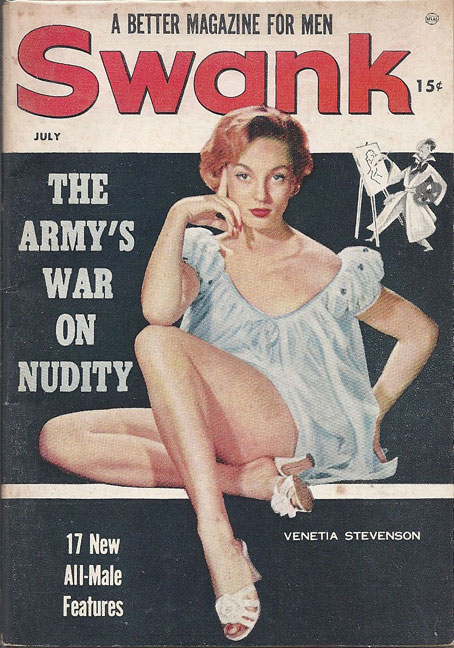 Then in 1980, ownership of Swank was passed on to Martin Goodman's son, Charles 'Chip' Goodman.
Richard Milner:
Chip Goodman? Oh God. He was the idiot son of Martin Goodman – who was a genius. Martin was instrumental in creating comic books in America, and he was a business expert too. He handed over the empire to his son Chip, who basically dissipated it all eventually. Chip wasn't a smart businessman, or even very creative.
I was used to reporting into Chip on Stag magazine, but for Porn Stars Chip he hired this guy named Myles Eric Ludwig to oversee creation of the magazine. The truth was that Chip got bored of his publishing job, and he preferred staying up at his Connecticut home instead of coming into the city. Myles and I didn't get along and we clashed over every decision, but I usually got my way in the end.
Most of the writing was done by Richard and a small team of freelancers.
Richard Milner:
I told Chip I wanted an assistant, but the truth was I wanted a slave who could take over my responsibilities. One day this young kid, Dan Gutman, showed up and said "I want to be a writer but I can't get hired at any magazine." He was just out of school. He said, "I'll sweep the floors, I'll do anything to work at a publishers." I persuaded my boss to hire him. Dan went onto be a very successful children's book author. To this day he claims I taught him how to write.
I got Dan involved, and taught him the ropes. He was amazed at the amount of work required to put together each issue. He said, "Who did all this work before I arrived?"
I said, "I did!"
Dan went on to be a very successful writer, primarily of children's fiction.
The first issue of 'Porn Stars' was an impressive debut – featuring "exclusive photos and interviews" of Nancy Suiter, Desiree Cousteau, Seka, Serena, Bambi Woods, Marlena (sic) Willoughby, Gloria Leonard, Vanessa Del Rio, Annie Sprinkle, Samantha Fox, Jennifer Welles" and others. It also had a "Bonus Pull-Out Movie Guide" reviewing "20 of the Hottest Porn Flicks Now Playing."
Richard Milner:
I'd been reviewing adult films for Stag magazine, and got to know everyone in the business and enjoyed their company, so it was relatively easy for me to set up interviews or picture shoots.
For example, I'd heard Bambi Woods was in town, stripping at the Melody Burlesk. I used to interview girls there often, because it meant that we didn't have to fly them in to do a feature. I grabbed Bambi and said I wanted to do a photo shot with her. I asked her if she had her outfit from Debbie Does Dallas. She said she didn't. I knew I had to have her dressed as her character from the film. So we went out and bought her a costume.
She came out of the store wearing this skimpy outfit, and I noticed guys everywhere drawn to her, going nuts. They recognized her from the film. I asked her to walk 20 feet ahead of me so I could enjoy watching the guys freak out over her on the streets of Manhattan.
Eventually we had to get into a taxi, and I started to interview her there. I had this little portable tape recorder. She wasn't particularly bright. She was a country girl thrust into the spotlight, suddenly getting big gigs, and being invited to big parties. I asked her who the best fuck she ever had was. She said that she'd slept with a lot of celebrities after Debbie Does Dallas came out, but the best of all was John Belushi. She said "He's not just a funny guy. Boy… can he do dope and fuck!"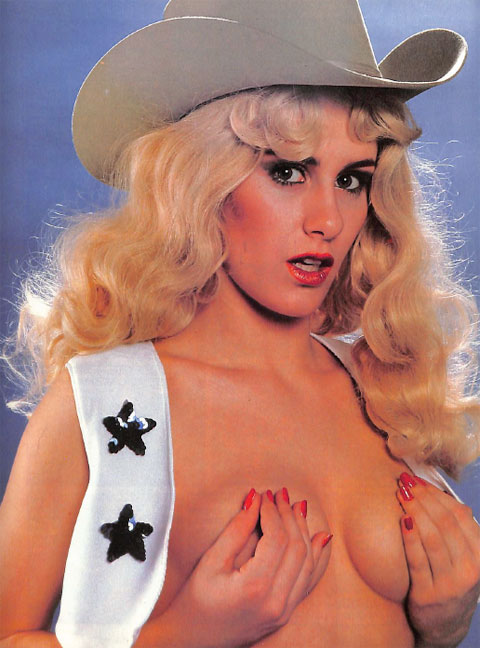 However successful the first issue of Porn Stars was, it was six months before the second edition saw the light of day in November 1980. (As an aside, the eccentric numbering on the issues should not be trusted. Volume and issue numbers were often attributed at random.)
The new issue was just as full of content as the first, including interviews with Kelly Nichols, Gail Palmer, Harry Reems and John Holmes, a Marc Stevens gossip column, and pictorials featuring Lisa Deleeuw, the Sloan Twins, and Dan Gutman reported from the set of 'Dracula Exotica'.
There was also an article on the ten best and worst porn pictures. The best? Talk Dirty To Me, Insatiable, and Coed Fever. The absolute worst of the worst? Shaun Costello's More than Sisters.
Richard Milner:
One aspect of the magazine I enjoyed was doing the photo shoots. At first, Chip used to have us buy photo sets from agents and photographers. I said that if we were to have a live magazine we needed to have our own pictures. I explained he could use them for various publications, and then he could sell them to other countries. So he eventually agreed.
I did all the photo shoots myself. I arranged the backgrounds, the props, the costumes, the make-up girls. We didn't always have a lot of money, so sometimes I just painted the backdrops myself. There was no fixed budget for each issue, but Chip usually gave me the money we needed. I had to grovel, but eventually I got what I wanted.
I worked with all the big stars at the time. Lisa Deleeuw, Vanessa Del Rio. I would have worked more with Vanessa if she hadn't been such a horrible prima donna. She'd spend hours doing her nails, snorting cocaine, and being a diva before a shoot. Eventually I had to get tough with her and drag her in front of the cameras.
Perhaps the most most ubiquitous model in the pages of the magazine was Kandi Barbour.
Richard Milner:
Kandi Barbour was a total airhead, but she photographed like a dream. I wanted to make her the subject of my adult film, Centerfold Fever. I wanted to make a film along the lines of Inside Jennifer Welles which had been a huge success. In fact the original title was 'Inside Kandi Barbour', but she proved to be so flaky that I knew it was going to be difficult. The moment I advanced her any money, she'd go off and buy drugs and disappear. In the end, I had to hire Tiffany Clark to follow her around and make sure we knew where she was. Tiffany was responsible for picking Kandi up in the morning and bringing her to the set.
Halfway through the shoot, Kandi disappeared so I had to change the title and the plot. In the first half of the movie, you see her being interviewed for a job, and then she disappears from the movie in the second half. It proved to be a lucky break because we got Samantha Fox and Tiffany Clark instead, and they were great. After that Kandi rapidly fell out of favor because no one could trust her. Nobody wanted to take a chance on her.
Sadly she died a homeless bag lady. Very sad.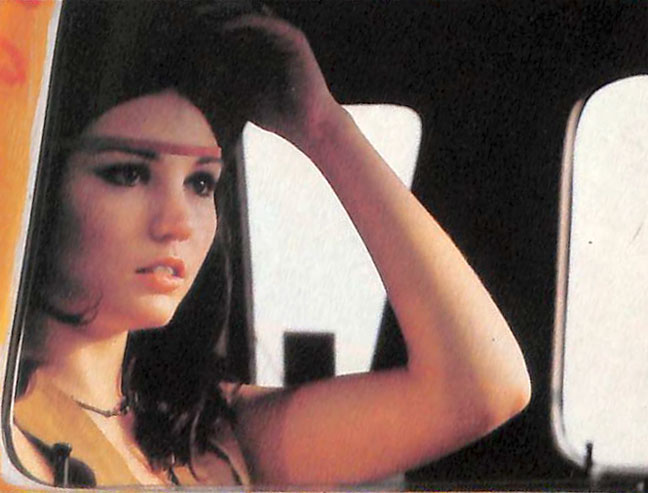 One regular feature of the magazine were pictorials of night club parties involving porn stars – usually involving much nudity.
Richard Milner:
I started the concept of the porn star parties for the magazine. We created an event every month and I invited the various characters from the New York porn scene. We hired out one of the different clubs that was hot at the time, like The Tunnel, one time even Studio 54. We opened it up to the public, and people would come and meet the porn stars. And then I would hire people to throw off their clothes at my instructions. I brought photographers in and they took photos of the revelry. Everyone had a great time – free food and people brought their own drugs – and people got laid.
'Porn Stars' also took its cameras out of the studio for a number of different events.
Richard Milner:
I started a series called 'Porn Commandos' which consisted of photographs of people taken in public places. They'd come along with a big overcoat, and upon my signal would discard it so we could take some nude shots.
I took pictures of Lisa Cintrice in that way, She'd just enlisted to the army but wanted to get out, so we took a selection of nude pictures of her at the Army recruiting center in Times Square which, we hoped, would disqualify her. You can see me in the background of the pictures with a cowboy hat. I then took pictures of Annie Sprinkle sitting on top of a sprinkle system in midtown. I took pictures of Lisa Be posing at the Statue of Liberty. We got arrested for that.
My colleague John Tido traveled to the West Coast one year to attend the adult film awards – which we turned into a lengthy photo feature. I told Chip that we'd have to take some porn stars with us, so he paid for us to take the Sloane twins, Denise and Diane Sloan, and Marc Stevens with us. On the night of the awards, we were at the big dinner, and someone came over and invited the Sloane twins to Hugh Hefner's after-party at the Playboy Mansion. I stepped in and said that the girls were in town strictly for promotional purposes, so they could only go to Hef's place if Marc Stevens, John and myself could go as well. They agreed, and so we all went.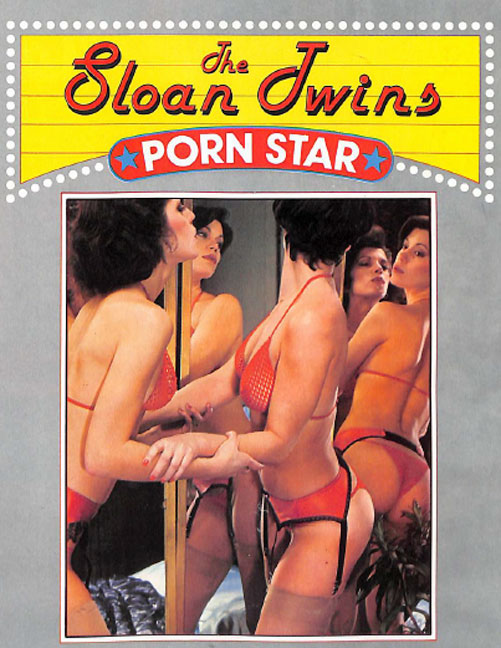 Marc Stevens was a familiar figure in adult film magazines of the period, and 'Porn Stars' was no exception.
Richard Milner:
Marc was a good friend, and I did a lot with him. He was the ultimate gossip in real life, so we created a column for him to share his stories about what was going on in the porno business.
In fact, part of 'Centerfold Fever' was a parody of his existence as 'Mr 10 1/2' in which he features with his girlfriend, the transsexual Jill Monro. He considered this film his comeback after a few years out of the industry. One of the scenes called for his penis to be measured by a journalist, played by Kandi Barbour, to verify that it was truly 10 1/2 inches long. When the scene got started, Marc asked to speak to me in private – and revealed that he wasn't actually 10′ 1/2 inches. He wanted me to create a new, fake measuring stick that would show him to be the full length – and he asked me to make it myself so that no one would find out.
The next problem was unexpected: Marc started out the scene erect, but the more that Kandi gave him a blow job, the more his erection slowly failed. Marc took me aside again, and this time confessed he was gay, and wasn't able to get excited any more with a woman. I was a first-time director, and couldn't believe what I was having to deal with. When I looked at the scene with my editor in the cutting room, I realized we had a problem as Marc's performance issues were there for all to see. Luckily I had a brain wave: we reversed the sequence, and lo and behold Marc went from being soft to hard over the course of the scene. Disaster averted.
After four issues, Porn Stars abruptly came to an end. Without warning, it changed its name to Skin Flicks and acquired a new editor, Manny Neuhaus.
Richard Milner:
'Porn Stars' was quite successful, and got me a raise. I don't remember why I left the magazine at that point. I really don't. It may have been because of the conflicts with Myles Eric Ludwig. Whatever it was, I was getting bored and looking for a change.
From Manny Neuhaus in Skin Flicks, April 1981:
"You porn-stars-struck readers have done it. Your unabashedly horny response has turned a quarterly into a bi-monthly and now, with this April issue, Skin Flicks, formerly known as Porn Stars, becomes a monthly, devoted to the whims, quims, and fancies of erotic performers and the sexually explicit films in which they flourish."
Manny Neuhaus:
In my experience, these things are based on numbers. Richard Milner was enthusiastic and creative, but I'm guessing that Porn Stars just wasn't selling well enough and they couldn't justify keeping it going in the same way any more. It wasn't dependent on Richard, so they decided to get someone else in. That's just conjecture on my part, but that's my impression.
I was freelancing at Screw magazine at the time – and had been since 1976. It was Myles Eric Ludwig who approached me, and offered me the job. I'd been reviewing adult films and I think that's why came to me. I was about to buy a second home so I needed the second income, which is why I took the gig.
Despite the name change, the management of the organization remained the same.
Manny Neuhaus:
The thing was – I didn't need to make nice with management. I was just there to get the magazine out on deadline. I didn't care about the politics. If someone had disagreed with me, I would've just walked away.
Chip Goodman, the publisher, was aloof, not unlikable, but he knew he was pretty incompetent and so he surrounded himself with more capable people. He was out of his depth. His office was next to mine, and every time we heard the toilet flush, we'd say "There goes another executive decision…"
Myles was smart, or at least he thought so. After he hired me, he left me to my own devices, and was hands-off – which suited me. I thought I intimidated him because his hands always seemed to be shaking when I spoke to him. I found out later that the shaking was a result of having had polio as a kid.
Their vision, if you can call it that, was simple: They acknowledged there was a market there for a magazine that covered adult films, and so this was their tentative effort to reach that audience. They didn't want to invest a whole lot though. We had a modest budget that allowed us to do our own photo shoots of the big performers. We did at least one original photo set each issue – often taken by Peter Hurd.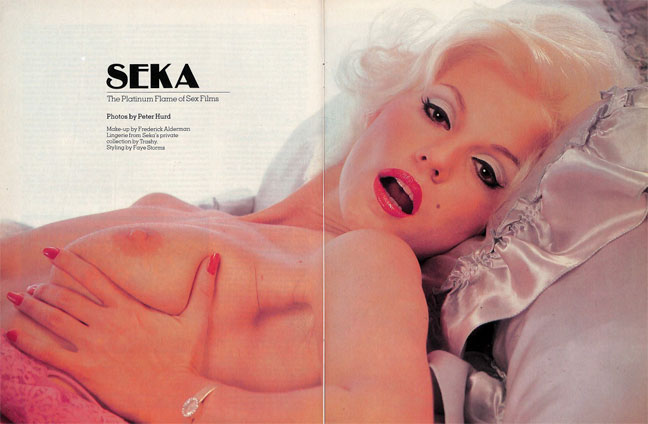 Though Screw (Manny's other employer at the time) and Skin Flicks both occupied the top shelf on news stands, in many respects the two publications couldn't have been more different.
Manny Neuhaus:
I found the Skin Flicks environment very sterile compared to Screw magazine. Screw was all about humor, satire, parody, politics, commentary. We wanted to get people's attention and shock them into thinking about the world in a different way. It was a renegade publication with a political agenda. There were very few magazines with that kind of outlook. Playboy had editorial integrity and intelligence, and Screw was the same. But these were the exceptions.
The rest of the crop were providing masturbatory material, without much redeeming value. So working on Skin Flicks was like working in a completely different genre from Screw. The reason for Skin Flicks' existence was to show the most sexual pictures and find a reason for doing that.
I didn't relate to anyone who just liked pornography.
Despite his reservations about the magazine, Manny found it easy work.
Manny Neuhaus:
I did it on a freelance basis, and was never a full-time employee. I was just a contractor. They wanted me to put the magazine out every other month. I took an office, made my own hours, hired my own assistant, and started to put it together. I worked about 20 hours a week, and certainly didn't kill myself over it. At Screw there were weeks when I'd work for 60 or 70 hours, so this was much easier. That's the reality of going from a weekly to a bi-monthly publication. I had plenty of time.
When Manny needed writers for his new venture, he turned to a familiar talent pool.
Manny Neuhaus:
I hired many people from Screw magazine to come and freelance on Skin Flicks. Such as Dan Shocket, who wrote a six-part history of adult films for the magazine. Dan was my writing partner, and one of my closest friends. He died shortly afterwards of testicular cancer at the age of 33. He had a great sense of humor, and fought it but it was a losing battle. He even wrote an editorial for Screw magazine when he was sick, challenging God to kill him.

Dan and I were friends with Colette Connors who was an artist for Screw. She came on board and interviewed some of the porn stars, and wrote a problem page too. Jay Blickstein was another Screw guy, who became the adult film reviewer for Skin Flicks.
I made all my staff use their own names, because that was the rule at Screw as well. That was the ethos at Screw: no one should ever hide behind a pseudonym. You needed to be honest and committed. I only broke that rule once, and that was when we published a discussion forum with the staff about anal sex. The women came to me afterwards and asked me not to use their real names. My first reaction was, "Hell, no" but then I realized they had a point. They didn't deserve to have everyone know about their anal sex history…
Marc Stevens was one of the few people I kept on from Richard's days. Marc was living in the Village and was a smart guy, though completely obsessed with himself. He sold me a barber chair once, which I never managed to get back to my apartment.
After two issues of Skin Flicks, the magazine changed its name again in July 1981, and became Starlet.
From Manny Neuhaus in Skin Flicks, July 1981:
"If you missed Skin Flicks last month, you'll love Starlet this month. Confused? Allow me to explain. The magazine perched in you sweaty palms is titled Starlet. If its super-heated pictorials, horny reporting, behind-the-scenes exclusives, sex film news, reviews and info remind you of a magazine called called Skin Flicks, there's a reason: It's the same magazine. The name has been changed, believe it or not, to protect the innocent."
Manny Neuhaus:
I have no idea why 'Skin Flicks' became 'Starlet' – maybe it was failing again and they wanted to start something fresh. The first edition of a new magazine usually sells well, so if you change the title you can boost sales. But in reality, it doesn't work like that, because you also need to build a strong and loyal audience – which won't happen if you keep changing the title!
The name change didn't make any difference to the way I worked or the people I hired. One of the only changes was that I brought Yossarian in as the Art Director. His name was Alan Shenker and he came from Screw as well. He was one of the great underground cartoonists in New York of the 1960s and 70s, working for various magazines and newspapers.
I was a different kind of editor to Richard. I wasn't interested in mingling with the XXX industry figures. That wasn't for me, and most people were fairly forgettable. The people who stood out most from that time were Annie Sprinkle, Veronica Vera, and Candida Royalle. They were bright, creative and driven people, who were different from most of the rest of the crowd.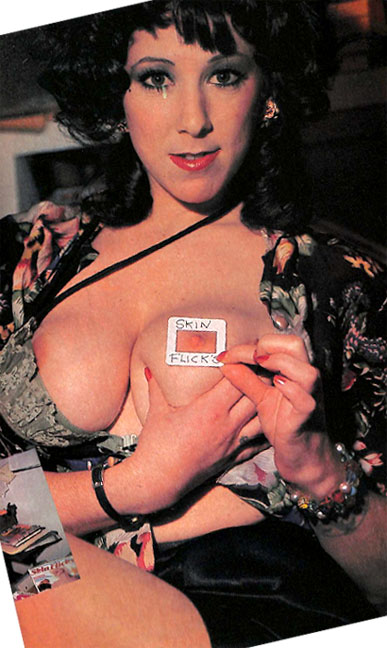 After four issues of Starlet, Manny left and the magazine underwent a final name change, returning to Porn Stars again. The intro to the first magazine without Manny contained some choice thoughts about him.
From Porn Stars, March/April 1982:
"Porn Stars, Skin Flicks, Starlet, Porn Stars. We've come full-circle. More evidence, cosmologists will note, that the universe, though expanding, is finite. What goes around comes around. Our names have been changed to confuse the innocent. All but the most innocent will have been fooled. Everyone else will realize that while the titles merrily change, the subject remains the same.
With our new title, our revised guts, and our re-spirited intent, comes yet another change. The editor, who our readers have intently loathed since he first commandeered Skin Flicks, and later Starlet, is out on his keister. We'll gladly say farewell to his pompous pontificating about the "aaart" of the porn film. We won't miss for a moment reading Neuhaus on the subtleties that make a sex film hot nor on how the fuck film director becomes the auteur of the groin-grinder. Auteur indeed. Good riddance to such claptrap.
So. we're back to Porn Stars at last and back to a format that you, the porn film fan and porn film magazine viewer, have indicated you prefer. Vive la smut!"
Manny Neuhaus:
Ha, ha! Who wrote that? That's funny. I can't remember exactly why I left. I'd served my time, and it was probably just time to move on.
The story of the next generation of 'Porn Stars' magazines will be covered in a future Rialto Report.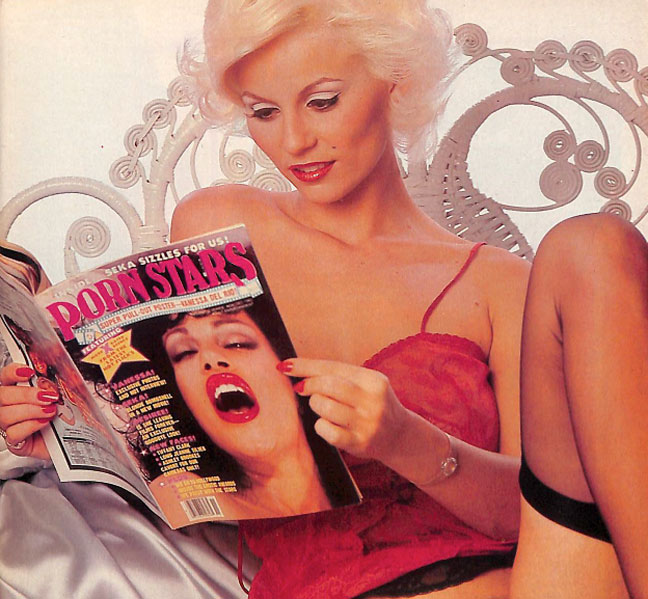 ____________________________________________________________
Porn Stars
May 1980 (Vol 1, No. 1)
(click on cover to view magazine)

Contents:
– Marlene Willoughby interview
– The New Girls of Porn
– Nancy Suiter pictorial
– Bambi Woods interview
– Stag's Complete Guide to Porn Movies
– Aldo Ray interview
– Porn Star's Favorite Fantasies
– Serena pictorial
– Seka pictorial
– Desiree Cousteau pictorial
– Erotic fan Awards
– How to Make Your Own Movie
____________________________________________________________
November 1980 (Vol 1, No. 3) (Despite the numbering, this was actually the second issue in the series and not the third)
(click on cover to view magazine)

Contents:
– Serena interview
– Porn Star party pictorial
– Harry Reems and John Holmes interviews
– Marc Stevens gossip column
– Kandi Barbour pictorial
– Gail Palmer interview
– The 10 Best and Worst Porn Pictures
– Complete Guide to Porn Movies
– Sloan Twins pictorial
– Ugly George pictorial
– On the Set of 'Dracula Exotica'
– Lisa Deleeuw pictorial
– Kelly Nichols interview
____________________________________________________________
November/December 1980 (Vol 1, No. 4) (Despite the numbering, this was actually the third issue in the series and not the fourth)
(click on cover to view magazine)

Contents:
– On the Set of 'Inside Seka'
– Porn Movie Quiz
– Desiree Cousteau's Farewell
– Vanessa Del Rio pictorial and giant poster
– Chuck Vincent profile
– Ashley Brookes pictorial
– Ron Jeremy profile
– Tiffany Clark and Long Jeanne Silver pictorial
– Hollywood's Erotic Film Awards
– New Faces of Porn
____________________________________________________________
February 1981 (Vol 2, No. 1)
(click on cover to view magazine)

Contents:
– Porn Stars Private Lives
– Marilyn Chambers interview
– Laurien Dominique pictorial
– Samantha Fox pictorial
– Gerard Damiano profile
– Jamie Gillis profile
– On the Set of 'A Girl's Best Friend'
– Marc Stevens gossip
– Hillary Summers pictorial
____________________________________________________________
Skin Flicks
April 1981 (Vol 2, No. 2)
(click on cover to view magazine)

Contents:
– The History of Sexplicit Cinema  – Part 1
– Behind the scenes with Anthony Spinelli
– Seka pictorial and interview
– Bobby Astyr interview
– Lysa Thatcher interview
– Great Moments in Porn
– Marc Stevens gossip column
– Maggie Fowling pictorial
____________________________________________________________
May 1981 (Vol 2, No. 3)
(click on cover to view magazine)

Contents:
– Seka pictorial
– Veri Knotti pictorial
– The History of Sexplicit Cinema  – Part 2
– Carter Stevens interview
– Kelly Nichols interview and pictorial
– Urban Cowgirls feature
– Veronica Hart profile
– Lee Carroll pictorial
– Great Moments in Porn
____________________________________________________________
Starlet
July/August 1981 (Vol 1, No. 1)
(click on cover to view magazine)

Contents:
– Annie Sprinkle interview and pictorial
– Christie Ford pictorial
– Where Are They Now?
– John Leslie profile
– Georgina Spelvin pictorial
– Lysa Thatcher pictorial
– The History of Sexplicit Cinema  – Part 3
– Coming Attractions previews
____________________________________________________________
September/October 1981 (Vol 2, No. 4)
(click on cover to view magazine)

Contents:
– Merle Michael pictorial and interview
– New Stars in the Industry
– The History of Sexplicit Cinema  – Part 4
– Kandi Barbour pictorial
– Henri Pachard article
– Porn Stars on the Burlesque Circuit
– Loni Sanders pictorial
– Great Moments in Porn Film History
____________________________________________________________
November/December 1981 (Vol 1, No. 3)
(click on cover to view magazine)

Contents:
– Porn Star Party pictorial
– Annette Haven article
– Lisa Be article
– 1981 Erotic Film Awards
– Juliet Anderson pictorial and interview
– The History of Sexplicit Cinema  – Part 5
– Veronica Hart pictorial
– Annie Sprinkle pictorial
– Nicole Noir pictorial
– R. Bolla profile
– Review of loops
____________________________________________________________
January/February 1982 (Vol 3, No. 1)
(click on cover to view magazine)

Contents:
– Eric Edwards and Arcadia Lake
– Candy Samples pictorial
– Kandi Barbour pictorial
– Centerfold Fever report
– Roxanne Potts (aka Cody Nicole) pictorial
– Tiffany Clark pictorial
– Tina Russell R.I.P.
– Adult Film Reviews
*