Film director and cinematographer C. Davis Smith (who also used the name Charles Lamont among other pseudonyms) passed away on September 20, 2017 at the age of 87.
His life in movies was a virtual history of the adult film industry: He started in the early 1960s in the days of black and white films where the glimpse of a breast was considered risque', and was still working twenty years later when hardcore films were commonplace.
During his career he worked with characters as diverse as Doris Wishman, Gigi Darlene, Leonard Kirtman, C.J. Laing, Jimmy Myers (who co-wrote the big Bill Haley hit Rock Around The Clock), Dawn and Darlene Bennett, Stan Borden and many more.
The Rialto Report spoke with Chuck several times over the years, and always found him an engaging and generous storyteller.
In this installment of The Rialto Report, Chuck remembers the first part of his career. The next part will cover the 1970s and beyond.
_______________________________________________________________________________________________
1.     Beginnings
So who is the real 'C. Davis Smith'?!
Well… it's actually Charles Davis Smith, but only my mother called me Charles. Everyone just called me Chuck.
I was born in 1930 in Philadelphia, but we didn't stay there long. When I was 8, we moved out to the suburbs, a place called Ambler – which was 15 miles north of the city center.
How does someone develop an interest in film growing up in the suburbs of Philly?
My stepfather was a projectionist, and he'd take me to work with him most Saturdays in the late 1930s and early '40s. I saw all these great films from the time. Now bear in mind, this was a long time ago… I'm old enough to remember 'Gone with the Wind' coming out…! I really am that old.
Did you decide at an early age that you wanted to make films?
Actually, no – I wanted to be a magician! That was my dream. But I had no idea how to make a career from magic so I went into the Air Force.
This would be the late 1940s or early 1950s – so did you get pulled into the Korean War?
No. The Air Force recruited men according to a simple principle: what did your father do? If your old man was good at something, then they figured you must be good at it too. So guess what? They gave me a job as a projectionist of training films.
I guess the idea wasn't a crazy one, because 30 years later, my son became a filmmaker like me…
But there's a big difference between being a projectionist and actually directing films…
Ha, ha, that's true. But I don't think the Air Force thought there was much of a difference though because eventually they asked me to edit their training films. So for four years, I was based at the Eglin Air Force Base in Florida where I edited hundreds of short training films for the pilots and the rest of the Air Force staff. So you could say my career in sex films started working for the government…
Can you remember any of the films you edited?
Of course: The first film I edited was called 'B-36 Bomb Loading'.
Was there any artistry to the job?
Not at first – you just had to splice, splice, splice. It was a straightforward job: I took the raw footage, and when I finished, I gave them back a completed training film. It was pretty easy, and I didn't care what I was doing. To be honest, I was more interested in chasing women.
When did it all change for you?
This guy named Gordon Muller started working at Eglin. He knew all about film theory. He saw what I was doing, and gave me some books by the Russian director Sergei Eisenstein. I read them and didn't understand a word. All I knew was that Eisenstein was a dead Russian who wrote about 'montage theory'. So… I went back to chasing girls.
But a year later, I went back and picked up the books again – and this time, I got a little bit more out of them. The ideas I read about changed the way I felt about film… I fell in love with it. It was a turning point.
But did Eisenstein affect the way you actually edited films?
It's funny you ask, because Gordon and I actually used some of Eisenstein's theories on an Air Force training film that we made! It turned out looking like a strange Soviet art-house film, which I'm sure went down badly with the senior guys in the Air Force.
How serious was the film division in the Air Force?
It was a great training ground. I was friends with Gordon Willis, who went on to be a great cinematographer doing Francis Ford Coppola's Godfather series, Woody Allen's Annie Hall (1977) and Manhattan (1979), and many others.
Also Radley Metzger was in the Air Force at the time, and I worked with him too.
What happened when you left the Air Force?
By the time I got out, I knew I wanted to stay involved in film.
I bought a 16mm Bolex camera, and made a short film for Fort Walton Beach, a town in Florida. Then I moved to New York to join the NYU film program. But before the program started, I was hired by Soundmaster Studios, so I never made it to NYU…
Soundmaster was a company that made television commercials… for Singer sewing machines, beer companies, department stores.
What were you doing for them?
I did everything! Editing, shooting, directing… you name it. But after seeing so much bad cinematography, I decided I could do better. I left Soundmaster Studios, and took a job as a traveling cameraman and director of industrial films.
So you left New York and hit the road?
You got it… for almost four years. I traveled all over the country, and shot one 30-minute film every single week for four years!
That sounds grueling…
It was. I made the scripts up as I went along, shot them, and then sent the footage back to head office. I never saw a single foot of film that I shot from that time.
Eventually the traveling got too much, and I moved back to Philadelphia where I found work making commercials.
*
2.     'The Block'… and the start of a career in feature films
Films:                      
How did you get into feature films?
It was a chance meeting.
A small-time theatrical agent in Philadelphia named Tony Orlando knew that I had this extensive experience in making short films. One day, Tony came over and asked me if I was interested in making a feature film.
I jumped at the chance. Tony had written a script with a guy in Los Angeles named Ron Collier. It was called The Block (1965), and it had a sort of film noir/blackmail plot, and not much sex in it at all.
They'd already found two guys who'd finance it.
Who were the money guys?
Two legendary Philadelphia figures: Jimmy Myers, who co-wrote the big Bill Haley hit Rock Around The Clock under the name 'Jimmy DeKnight.' And Red Benson, who was a popular television and radio personality. He was the original host of TV's 'Name That Tune.'
Jimmy was a particularly big deal, and he was able to line up some big-ish names to act in the film. They had no acting talent, but they were big names nonetheless.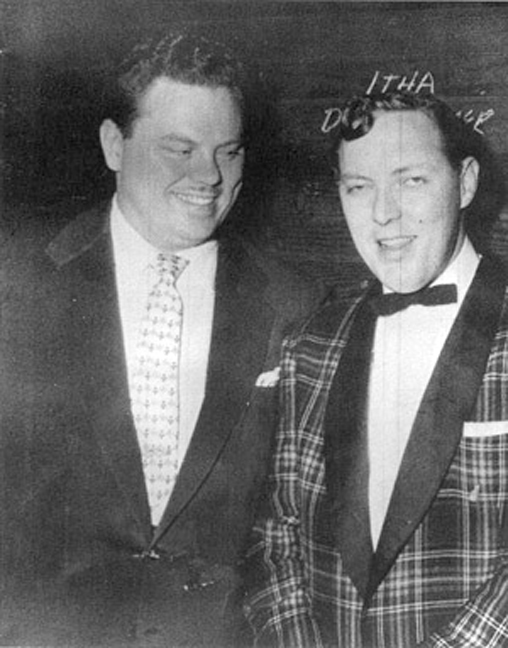 Jimmy Myers (aka Jimmy DeKnight), with Bill Haley
Such as who?
One of the stars was Lillian Reis, who'd been a well-known showgirl under the name 'Tiger Lili.' She was in the news a lot at the time because she'd got married to a mobster called Ralph Staino, and the two of them were arrested as the main suspects in a violent robbery of a coal baron in 1959. Two witnesses were killed in the aftermath.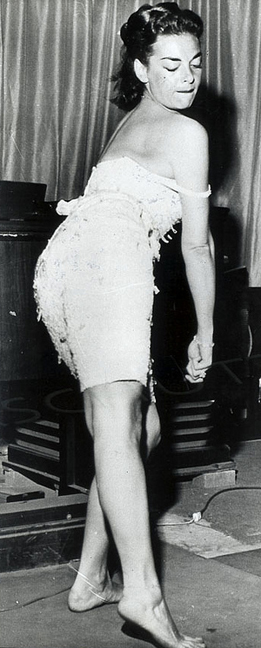 Lillian Reis
Lillian insisted she had nothing to do with it, but straight after the robbery she bought a nightclub called The Celebrity Room with cash – about the same amount that had been stolen! She claimed that the money was just her savings but nobody believed her… Oh boy, was Lilian a character… a crazy, beautiful woman. Everyone was captivated by the story.

Their trial went on for years – and it was in full flow when we made 'The Block.'
What was the outcome of the trial?
If I remember right, her first trial ended in a hung jury, but they were convicted a few years later. In 1970, after a long appeal, the charges were dropped and she was finally free. All this time her nightclub, the Celebrity Room, was a big success. In fact, we shot some scenes there for 'The Block'.
In fact, the film is a historical document of the time because we also shot in the old Reading Terminal – which is now the Philadelphia Convention Center – and at Willow Grove Amusement Park, which closed down years ago.
Another of the film's stars was Joan Weber, who'd had the biggest selling U.S. single of the year in 1955 with Let Me Go, Lover. She was only 18 when her song became a national sensation, and she was expected to become a huge star like Doris Day. But then she got pregnant… and the record company dropped her, and her career crashed overnight. 'The Block' was meant to be part of her comeback.
Jimmy Myers even got her to record the theme song for our movie…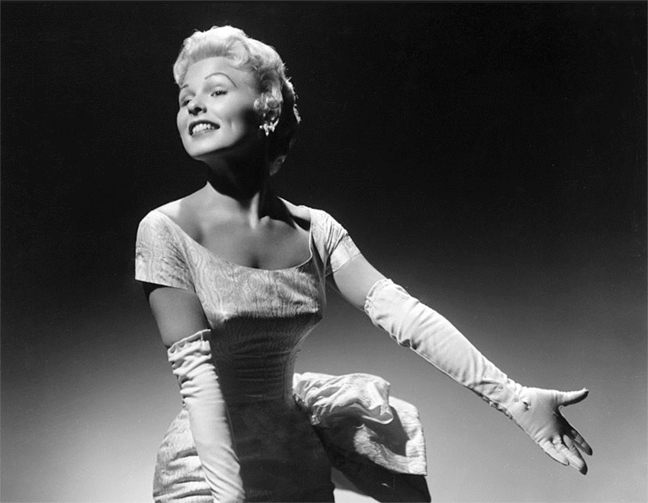 Joan Weber
What was your role on the film?
Tony Orlando wanted to direct it, but he didn't know what he was doing so he asked me to look over his shoulder and give him advice. I ended up doing a lot of it – I became the associate producer, I hired most of the crew, I shot most of it after the original cinematographer was fired, and I edited it on my own 35mm moviola in my house.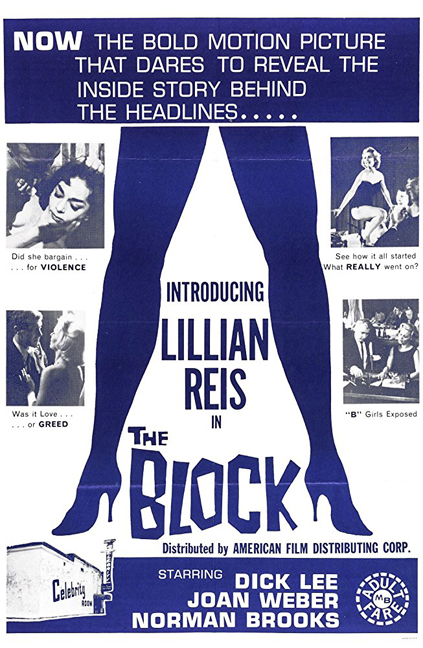 How successful was 'The Block' in the theaters?
Well, it seemed to have disappeared completely shortly after it was released, so I don't know if that's any indication.
But basically it died a death. It was probably too old-fashioned. This was the mid-1960s, and the audience wanted more skin. Tony and I knew it. We all knew it. It was a mistake not to show more sex.
So what did you do about it?
We decided to make sex films… and the first was Lust and the Flesh!
*
3.     CHAT Productions & the move into sexploitation films
Films:                      
It's a Sick, Sick, Sick World (1965)
Hot Nights on the Campus (1966)
Who was involved in your next films?
We formed a company called CHAT Productions. It consisted of Tony and I, and two of Tony's friends, Harry and Tommy, who provided the money. We called our company, CHAT Productions, using the first letter of each of our names. Chuck, Harry, Anthony, and Tommy.
Where did the money come from?
I was hoping you wouldn't ask that… Tommy worked in a bank, and one day he took us down to the vault where all the bank notes were stored… and handed us bundles of cash.
How much cash!?
Tommy said, "How much do we need?" Everyone looked at me. I said, "I think we can make Lust and Flesh for $5,000." So that's what he gave us.
The title was certainly more sexually suggestive…
Oh yes. This was my start in sex films. It was all downhill after that!
Tony wrote the script, and it was typical of sexploitation films of the time: It was about a girl who is raped but conceals it from her husband, becomes a lesbian, and then burns to death… Good times!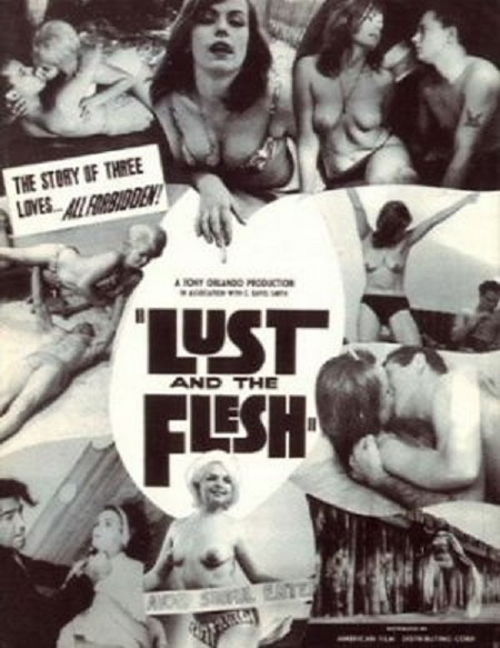 Who did you hire to appear in the film?
The women were mainly strippers from the New York scene – girls like Darlene Bennett and Gigi Darlene who became regulars in films from that time. They weren't trained actresses, but they sure looked good, and were willing to shed a bra here and there. It didn't matter that they couldn't act because we shot the things without sound, and then dubbed the dialogue in post-production using better actors. They were nice girls though, and I wish I knew what happened to them.
Was there any kind of agency for talent in the 1960s?
There were a few. I remember this guy named Teddy Roth, who'd been around since the 1940s. He started out repping for dancers, and in the 1960s he was the go-to guy for actresses in our movies. New guys were always trying to muscle in too.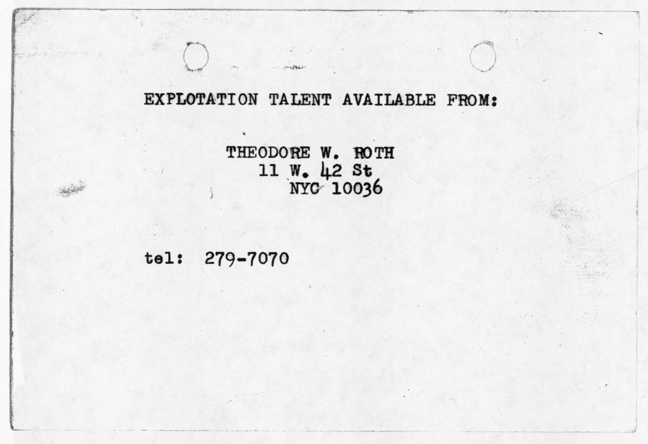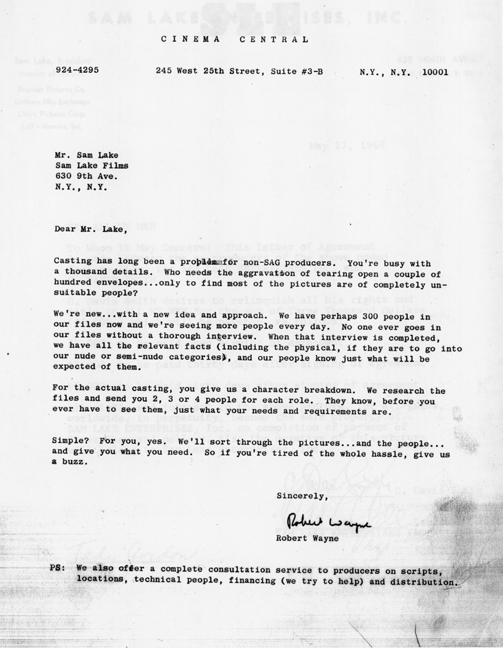 Who was the crew on 'Lust and the Flesh'?
Tony directed, and I was cameraman and editor again. But it was a really small group of us making these films.
We had a guy named Tony Spalla help out as assistant cameraman. Tony went on to work on a lot of these productions, including the Doris Wishman ones. He was a good guy, a buddy of mine.
Then we had this gal named Iris Kramer who did just about everything else. Iris was another Philly character… she was one of these wild and beautiful woman. She knew all the Philly celebrities like Connie Francis, Dick Clark and Bobby Darin.
Iris worked with us on a number of these nudie films – always behind the scenes. But what people didn't know was that she was famous as 'Iris Hunter' for doing voices on an afternoon children's program in Philadelphia station called Popeye Theater!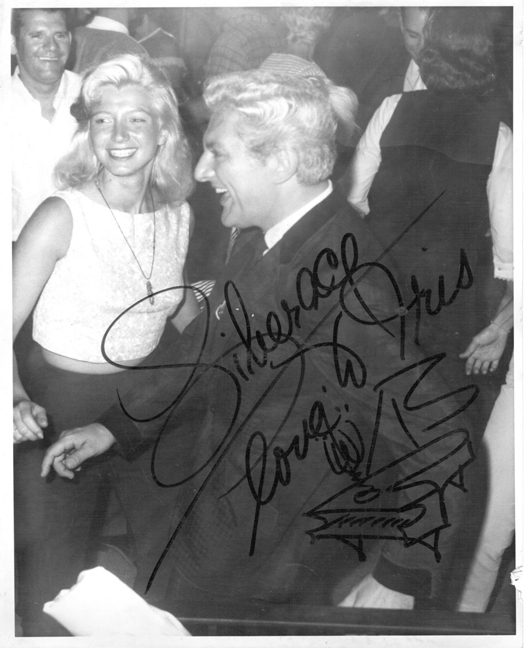 Iris Kramer, with Liberace
Where was 'Lust and the Flesh' shot?
It was mainly shot on the Jersey shore, but I edited it in New York. I'd moved into an apartment there by that time.
How did the film get distributed?
That was our biggest headache. It took us a long time to sign a deal. This was the beginning of the industry for this type of film, so there wasn't an established path for us to follow.
After many months, we went with American Film Distribution, which was Stan Borden's company.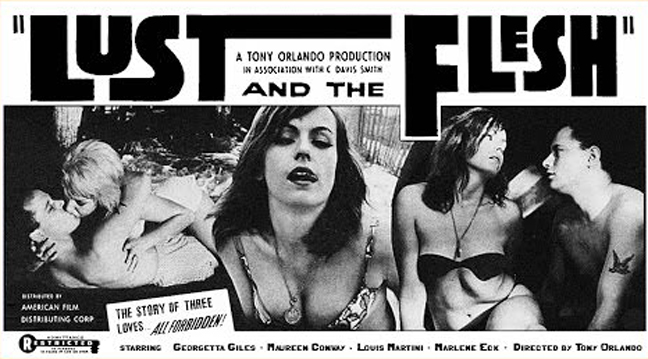 What was Stan like?
I got on well with him. He was this big, larger-than-life figure who knew the business inside out. He'd come from the music industry which was even more crooked than the sexploitation industry then.
He knew how to make money. He called me up one day, and explained he had some footage that he wanted me to edit into a movie for him. I looked at it and it didn't make a lot of sense, so I suggested we make it into a documentary and link it together with a voice-over narrator.
We called the film It's a Sick, Sick, Sick World (1965). I added all these fake foreign-sounding credits to make it seem more legit, but it was just me. Stan liked it. It had cost almost nothing to make, and he put together an outrageous sleazy ad campaign. It made him a lot of money.
Were you aware of the other Stan Borden-distributed films of the time, like the Olga films?
Oh sure… I knew all about the Olga films! We went to see them in the theaters because we had to work out what the competition was doing, and what the audiences wanted. We learned a lot from the Olga films because we wanted to make something that would sell as well as they did.
In fact, I got to know the director Joseph Mawra and his cameraman, Werner Rose, too. They made each Olga film in less than two days – which was amazing to me. I asked Werner how he could do that, and he told me he used a handheld 35mm Arriflex and a wide-angle lens. That was a game changer for me. I was using a camera that was more stationary and limited lighting set-ups, so when I made the switch, it enabled me to work much more quickly. And if you work quicker, you keep costs lower… so more profit.
[For more information about Joseph Mawra and the Olga films, you can read the Rialto Report article about them here.]
You said that 'The Block' wasn't successful. I assume 'Lust and the Flesh' did better because it was more sexual?
You got it… it did very well for us. The CHAT Productions group made enough money to pay the bank back and make another film – which was Hot Nights on the Campus (1966), which starred the great Gigi Darlene.
[For more information about Gigi Darlene, you can read the Rialto Report article about her here.]
By now, you knew what you were doing…
Yes, which meant that we were able to make it in just two days over a weekend. Tony Orlando directed 'Hot Nights on the Campus' and we improvised the scenes as we went along. It was the story about a naïve small town girl who comes to New York, and becomes caught up with the wrong crowd… orgies, affairs, you name it. More good times!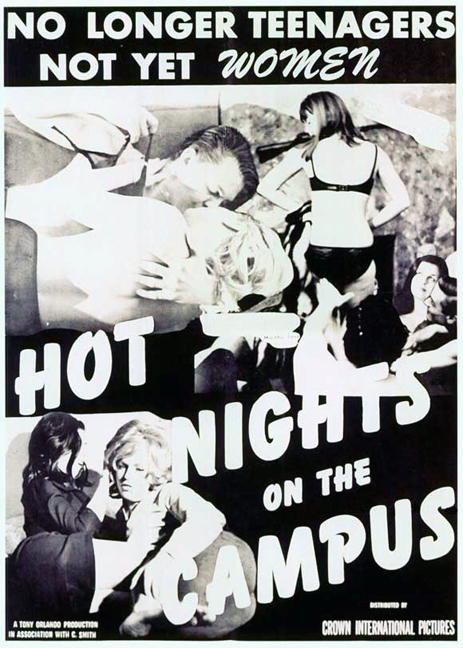 To make things even cheaper, a number of the production team acted in Hot Nights On The Campus: Jerry Denby, who was an aspiring filmmaker who went on to make many softcore (and hardcore) films, took the role of a doctor, and Sande Johnsen, who was another film guy starting out, acted one of the lecherous men, I think. Even I acted as a photographer (of course…) and Tony Orlando can be seen in the background of one of the scenes.
C. Davis Smith as  a photographer, with Gigi Darlene
It was a fun weekend – we were making a film and hanging out with the girls. Darlene Bennett, in particular, was a riot. She told us stories about celebrities she slept with, like Robert Goulet, who was a Broadway star of the time.
What was the budget for 'Hot Nights on the Campus'?
About $5,000. We shot all the interiors in the same apartment, and got everyone to bring their own outfits. Which they were asked to take off quickly.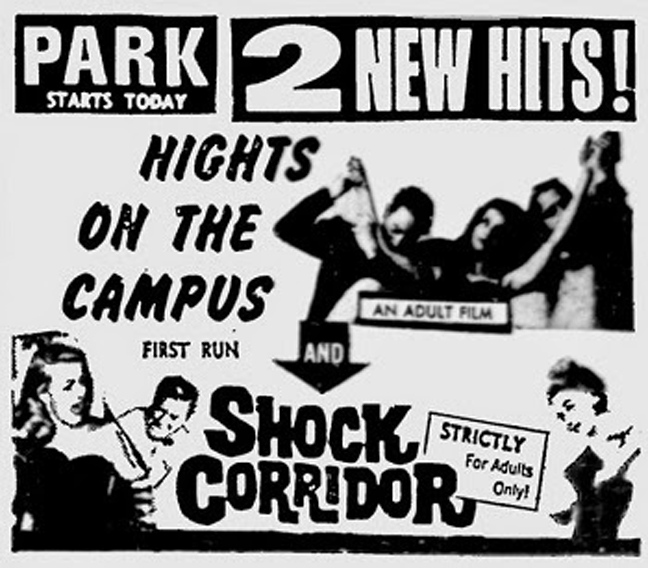 Was 'Hot Nights on the Campus' just as successful as 'Lust and the Flesh'?
Oh yes. It did great. We were in the groove, and we made good money. Unfortunately, CHAT Productions came to an end when my partner Tony Orlando died while having heart surgery just after we finished making Hot Nights.
What did you do after that?
I did what I always did. I picked up film work here and there. I had some space in the Film Center building at 630 9th Avenue in Manhattan, so I worked out of there.
What sort or work were you doing?
I worked for PBS on a number of documentaries, I shot some commercials for a beer company, and I made some medical industrial films for Johnson and Johnson.
What is a medical industrial film?
Well, this one was not one for the squeamish. I shot a surgical procedure where this woman's clogged arteries were transplanted with cow arteries…
Ouch.
Yeah, and the operation wasn't successful either. I heard she died a couple of weeks later. It was a tough one to watch.
So how did you get back into the sex film business?
It was while I was at the Film Center building. This guy started hanging around my office, and one day he asked me if I matched negatives. That was how I met Barry Mahon.
I figured it would be easy work, so I said, "Sure".
He handed the negatives over to me, saying that the footage was, "crazy, wild and crazy." It was nudie-type footage, and it featured all the usual suspects: Gigi Darlene, the Bennett sisters – Darlene and Dawn, another actress named Rita Bennett, and others.
But I soon realized that half the footage was missing, so I gave it back to Barry saying I couldn't do anything with it. To my surprise, he said it didn't matter, and that I should just assemble it as best as I could. He gave me one instruction: I just needed to make sure that there were "plenty of nude girls" in it.
So I edited it together using the plot device of a photographer who's giving advice on how to photograph women. And we called it, Crazy, Wild and Crazy (1964)!
That was typical Barry Mahon…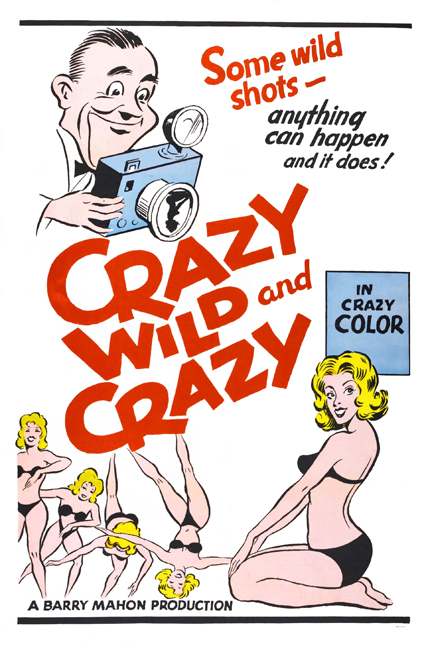 It seemed like a real tight-knit group of sexploitation filmmakers that were working together in New York at the time…
Yeah, we crossed each other's paths all the time.
Jerry Denby and Sande Johnsen, who'd both worked on Lust And The Flesh with me, formed a company with Al Ruban.  They were making a film called The Sexploiters (1965) and asked me to help Jerry shoot it. The plot was about a New York modeling agency where everyone has wild sexual desires.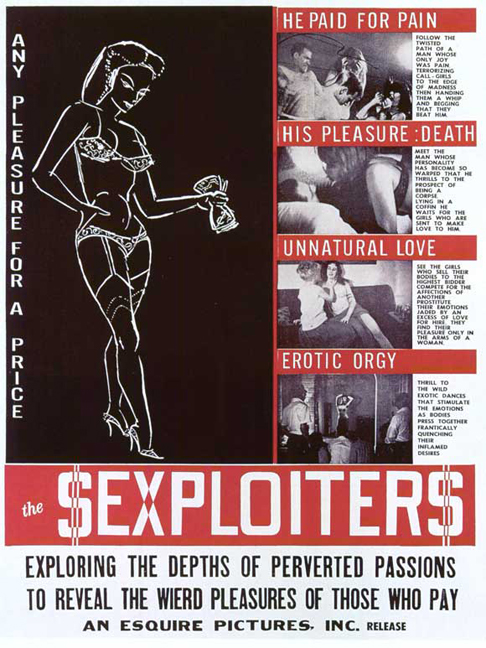 Al Ruban also had a maninstream career in independent cinema…
Yes, Al was an interesting guy. He didn't have a film background, but he was a tough dealmaker who would always find a way to get things done.
He worked on a bunch of sex films with us, and then produced John Cassavetes' films like 'Minnie and Moskowitz' (1971) and 'The Killing of a Chinese Bookie' (1975), and Peter Bogdanovich's 'Texasville' (1990).
Excerpt from an interview with Al Ruban:
"My first experience on a film set was when I was hired as a production assistant on Cassavetes' Shadows (1959).
It all happened by chance. Believe or not, I was a minor league baseball player. I got up to Double-A which is the second highest level in Minor League Baseball. I was in the farm team of the St. Louis Browns.
One day I was playing in Central Park in New York, and a friend of mine said, "I know these actors who play in a baseball league. The trouble is they play against these Puerto Rican kids, and they always lose. How about you join their team?"
It turned out that the actor's team consisted of John Cassavetes and a bunch of his friends, like Seymour Cassel, Mo McEndree, and other people who were starting to work on John's first film 'Shadows'. One day, John asked me if I wanted to join the production crew. I told him I knew nothing about film. He said that they were all learning as they went along. I liked the idea, so I agreed.
I didn't do much on that production – I carried the equipment, scouted locations – but they gave me the credit of Assistant Cameraman. I loved the experience so I decided to stay in the film business.
Mo McEndree and I got a job with Barry Mahon's company, which was churning out sex films. It was tame by today's standards – a breast here and there – but it was still quite risque' by the standards of the day. I worked there for two years and I got a good film education: I edited films, shot a few, handled all the equipment, and got to see how a film was made… films like 1,000 Shapes of a Female  (1963) and International Smorgas-Broad (1965)…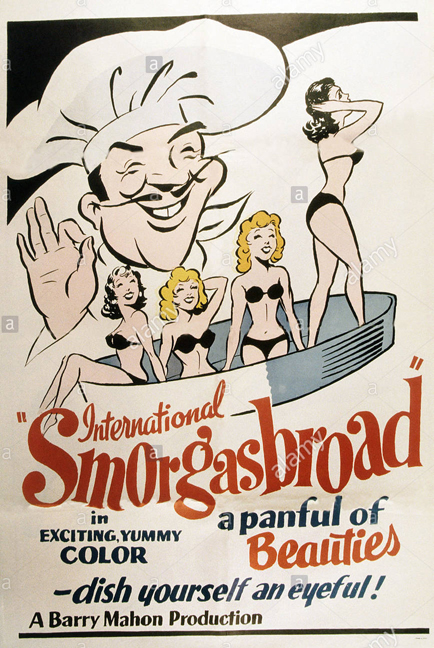 While I was there, I met a couple of aspiring film guys named Jerry Denby and Sande Johnsen. Eventually I said to them, "What's the point of struggling and doing this for somebody else when we could struggle and do it for ourselves?" So we formed our own production company – JDR (after Johnsen, Denby and Ruban). We made a few sex films like 'The Beautiful, the Bloody, and the Bare' (1964) and 'The Sexploiters' (1965).
One day, I was finishing up 'The Sexploiters', when John (Cassavetes) stopped by wanting to see what I was working on. I showed it to him, and he couldn't stop laughing all the way through it. He asked me how to make a film on such a low budget. He was putting together 'Faces' (1968), and wanted some help because he didn't want it to cost much. I told him how to do it because this was second nature to me by now – because of the sex films. And that's how it got started."
Al Ruban became a key collaborator with John Cassavetes, working on seven of Cassavetes' eleven features, ending with 'Love Streams' in 1984. He produced, shot, and even acted in these films, including a memorable small role as the gangster who performs a robbery in the opening scene of 'The Killing of a Chinese Bookie'.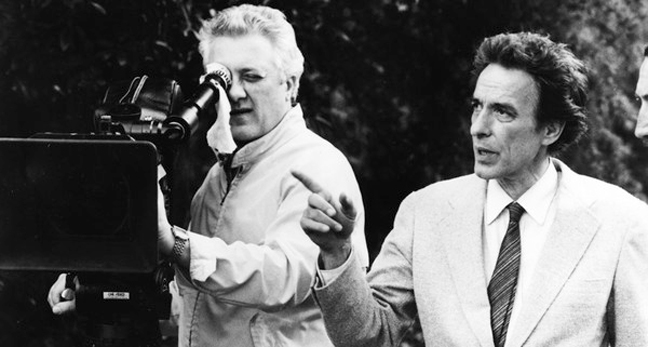 Al Ruban, with John Cassavetes
*
4.     CIP – C. Davis Smith, Sande Johnsen, Jerry Denby, and Tony Scaretti
Films:

Didn't you form your own production company with Jerry Denby and Sande Johnsen?
Yes, we created Crown International Pictures. It was the three of us, plus a guy named Tony Scaretti. We soon heard that there was a west coast company called Crown International, so we changed our company's name to CIP.
What was your first production?
Jerry and I had the idea to use leftover footage from 'The Block' and 'Lust and the Flesh'. Basically, I was repeating the formula that Barry Mahon had used on 'Crazy Wild and Crazy'.
So we shot a couple of new scenes to add to the older footage, and called the film Banned (1966). We claimed that the leftover footage had been too hot to use in the previous films – hence it was 'Banned'. The gimmick seemed to work and the movie made money. It was amazing to think what we got away with then.
We even stole a scene from the James Bond film, 'Dr. No', where a girl is tied up and tortured with a tarantula. We were shameless!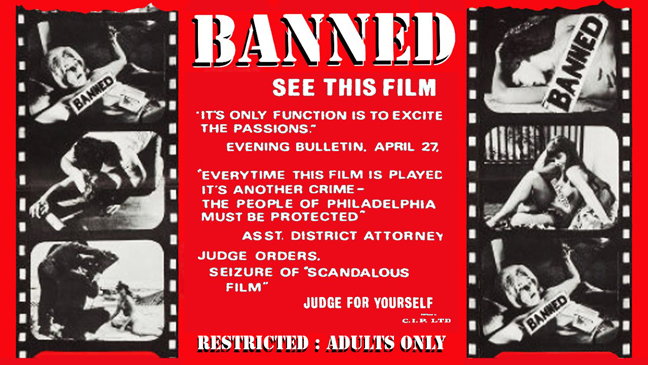 After 'Banned', what did CIP make next?
Firstly we added sex inserts to two foreign movies.
Jerry Denby had bought this film from Argentina that we re-named Violated Love (1965). It was too tame for a New York audience, so we added about 20 minutes of footage to spice it up – all nude scenes, including one whipping scene.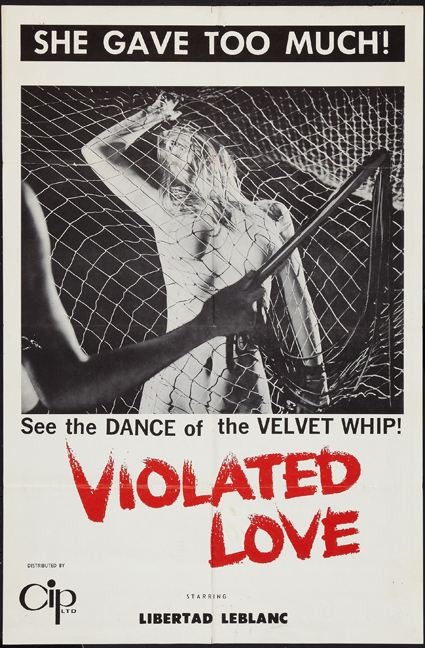 The second imported film we called The Twisted Sex (1966). Jerry knew what he wanted, so he directed the new sequences. I shot them and edited them into the existing film.
These insert-films didn't make us rich but they kept us going, and allowed us to make our own productions.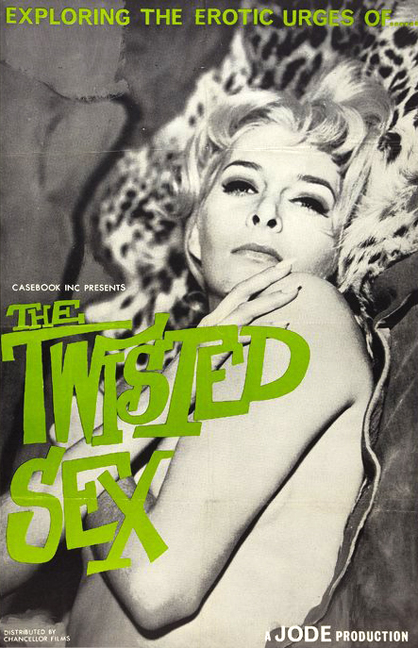 What was the first CIP film that was your own production?
Strangely enough, it was a non-sex film, called Teenage Gang Debs (1966). It was about a Manhattan girl who gets involved in Brooklyn biker gangs and manipulates them into gang warfare. She was supposedly based on the Lady Macbeth character, so we gave Will Shakespeare a writing credit!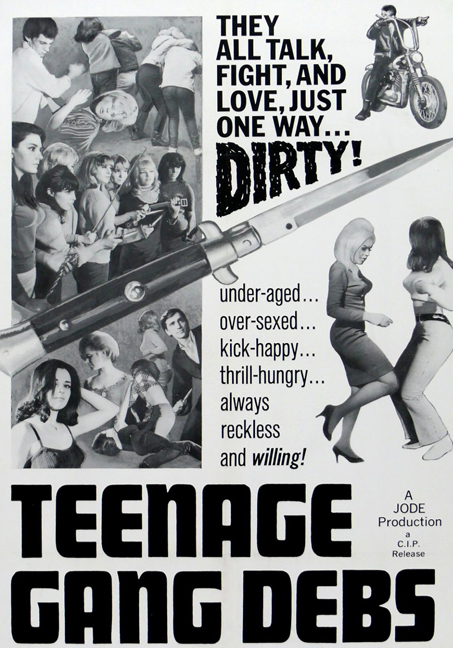 Sande Johnsen directed it, and as usual I shot and edited it. Somehow Sande knew these bikers in Brooklyn and Queens, and he persuaded them to appear in the film. They were trouble from the start, and pretty quickly they started to get impatient with the filmmaking. But we got what we wanted and split before they caused us any problems.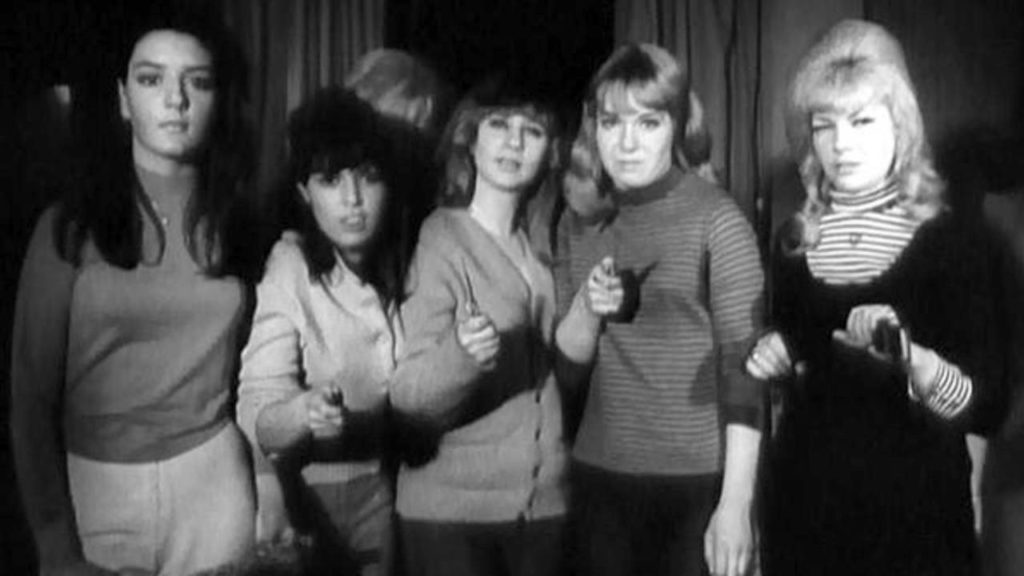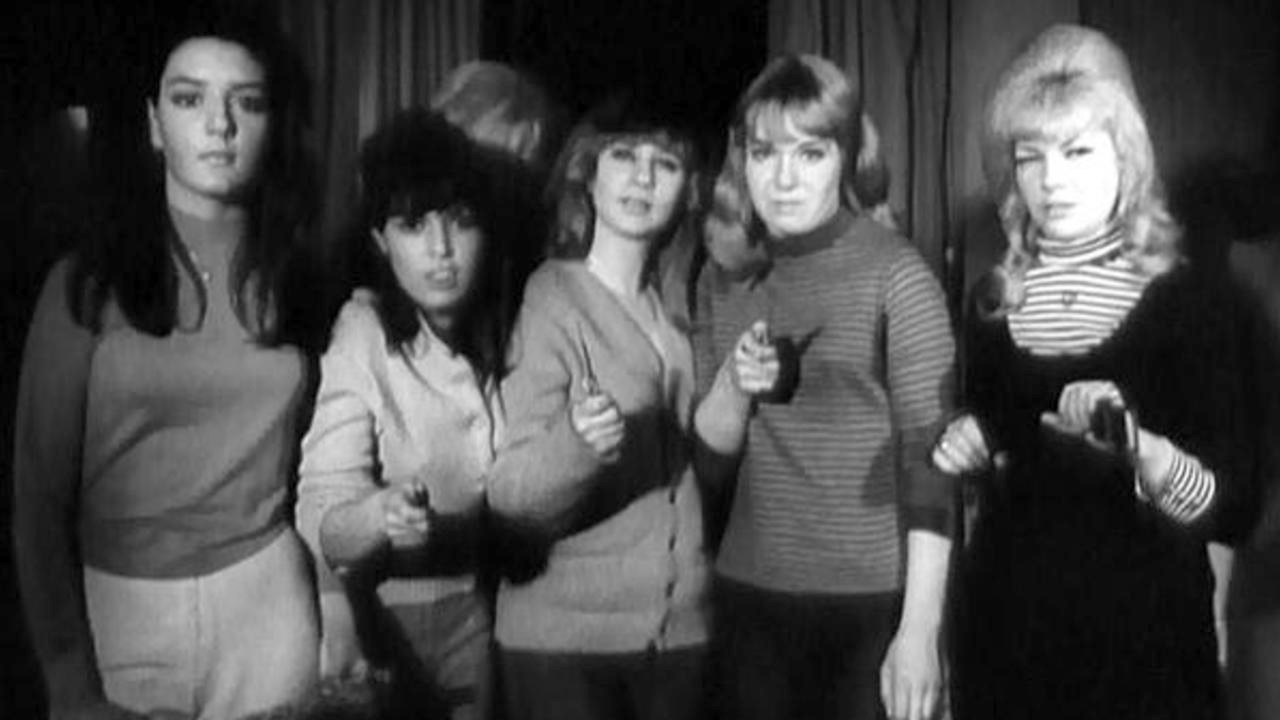 It's a good movie, but it didn't as well as we hoped. We figured it was because we didn't include enough sex. That was the second time that I'd made that mistake in my life – and I was damn sure it would be the last! It was sex all the way after that…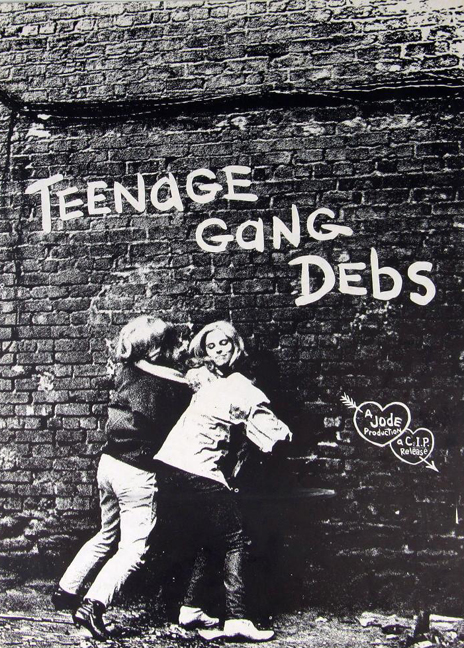 What was CIP's first sex film?
I think that was probably Honey (1966), a Jerry Denby picture that I shot and then edited with Sande.
Jerry had become partners with Chelly Wilson – the legendary Times Square theater owner, exhibitor and film producer. She was just starting to be a force in New York at this point, and so Jerry was perfect for her. Together they made a few films that CIP distributed.
Jerry's company was Jode Productions.
What do you remember about Honey?
It starred one of my all-time favorite actresses, Peggy Steffans. She was this tiny, expressive, beautiful thing, and one of the few talented actresses too. She improvised the scenes much better than the others.
I had a real thing for her. I gazed at her longingly through the lens of the camera, but never had the courage to ask her out. I always wanted to tell her how I felt, but it never happened. Then she married Joe Sarno, so I missed out… Ironically, 'Honey' is about how different people become obsessed with a girl, and they become possessive over her until it all ends in tragedy. Life imitates art…
I stole a scene from 'A Star Is Born' for Peggy's suicide scene. She walks into the water at the end, until she… just disappears. I was proud of that.
Where did you shoot the carnival scenes?
Coney Island. I used a handheld Eyemo camera, which the same type of camera they used in combat back in the Second World War, because it was so portable. I was pretty happy with the result.
You shot and edited films for CIP, but you also directed you own movies too… such The Girl from S.I.N. (1966).
Yes, the problem was that when I made my own films, it was too much work. I did everything! On 'The Girl from S.I.N.', I directed, shot, edited, and even acted in it… I probably served the meals as well.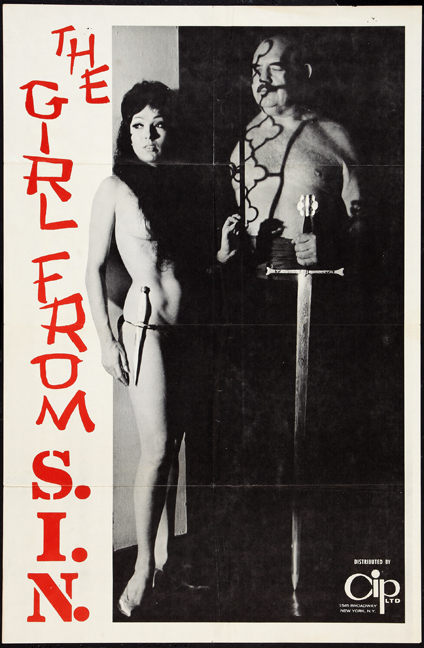 C. Davis Smith, acting in his own film, 'The Girl from S.I.N.'
What was the thinking behind the plot of 'The Girl from S.I.N.'?
People loved spy films at that time. … James Bond movies, 'I Spy', 'Get Smart'. I figured a sex version would be a good money-maker. And it did ok.
I stole all the ideas. The title came from TV series, 'The Man From U.N.C.L.E.', and I stole the name of our heroine from the Bond movie, 'Goldfinger'. Except our heroine wasn't called 'Pussy Galore' but 'Poontang Plenty'! Special Agent 0069, of course.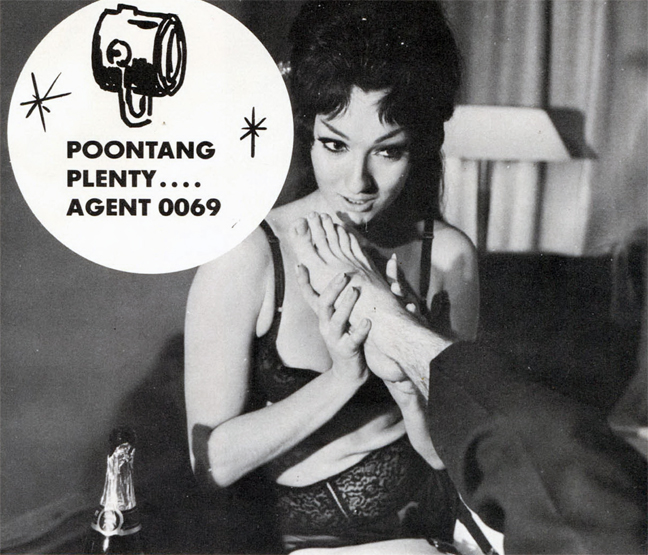 CIP didn't provided the finance for the films, so who put up the money for this one?
Each movie was financed in a different way. The budget for S.I.N. was $5,000 and I got that from these two stunt men – Sam Stewart and Bob Oran. In fact we shot most of it at Bob's apartment, which he used as a basic film studio.
Sam and Bob were part of the same repertory company that existed making sex films in the 1960s. Sam had an acting part in S.I.N. too. He married one of the regular actresses, Sheila Britt, and they've been married ever since.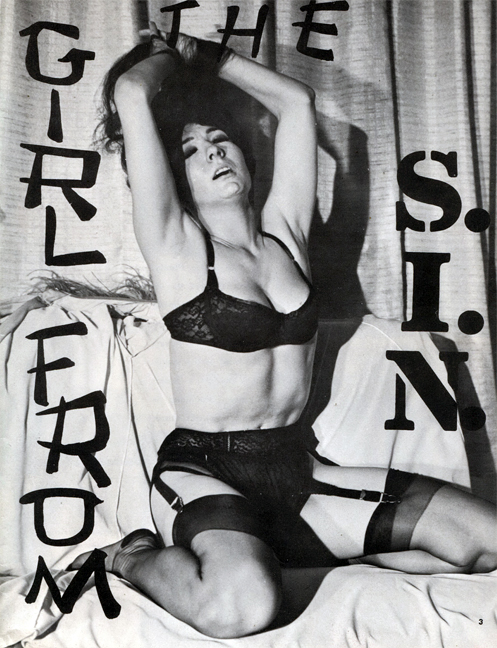 You said you did everything yourself – but what involvement did your CIP partners – Sande Johnsen, Jerry Denby, and Tony Scaretti – have?
Sande was off doing something else when I made S.I.N. and Tony was usually more of a silent partner, but Jerry was all over the production. He had an opinion on everything. It was Jerry who decided that we needed an additional scene to open the film. He suggested a toe-sucking scene… at the end of which the toe-suckee gets killed.
And just to show you how much Jerry got involved… he cast himself as the guy who gets his toe sucked.
CIP didn't last long. How did it come to an end?
The usual way… we all ended up fighting. I never liked Jerry Denby that much and he clearly wanted to do his own thing, so he went off by himself. I wasn't sad to end our partnership. He made a few films after that but not that many. I continued to shoot for him on occasion, but our relationship was over.
Jerry went on to made hardcore sex films like Whatever Happened to Miss September? (1973) with Tina Russell, and The Big Con (1975) which, weirdly enough, starred his daughter-in-law, Jennifer Jordan. I always thought that was strange, you know? Filming your son's wife having sex.
Sande Johnsen and I had a disagreement over money. He retired from the film business after that, and became a realtor in Chicago. I liked Sande, and was disappointed we couldn't keep working together. He was killed in the late 1970s in a car accident. This lunatic was reversing up an exit lane on the freeway, when Sande was coming off. Very sad.
*
5.     Doris Wishman & The Birth of a Partnership
Films:                      
The Sex Perils of Paulette (1965)
At the same time that CIP was putting out films, you started working with Doris Wishman. How did that come about?
I met her through a mutual acquaintance at the Film Center building in Manhattan. That's where you met everyone – and that's where you'd find work. It was like a clearing house for film projects. They should put a plaque up: 'This is where sexploitation films were born…'
Apparently, Doris needed a cameraman, and also some help casting a movie. She'd made a series of nudist / nudie films, many of them in Florida, but was fairly new to the type of film that I'd been involved in – that's to say black-and-white sex and violence melodramas. She recognized these films were making more money, so she just adapted her approach and started making these films instead.
I agreed to shoot Bad Girls Go To Hell (1965) for her, and I introduced her to Gigi Darlene, Sam Stewart, and Darlene and Dawn Bennett, who were all in the film.
What do you remember about that first shoot with Doris?
It was an unusual experience. You have to understand men dominated the film industry. That was even more true in the sex film industry… you just didn't come across many women. So to have this opinionated, cranky, little lady calling the shots was unusual, to say the least.
You wouldn't know it by the way she interacted with me, but I think she liked me – which is why she kept asking me back to work with her.
Why did she like you?
Probably because I did whatever strange thing she asked. And perhaps because she didn't pay me much.
She had a different way of working and I was fine with that. She also shot more scenes than she needed – but she kept hold of them, and used them in later films.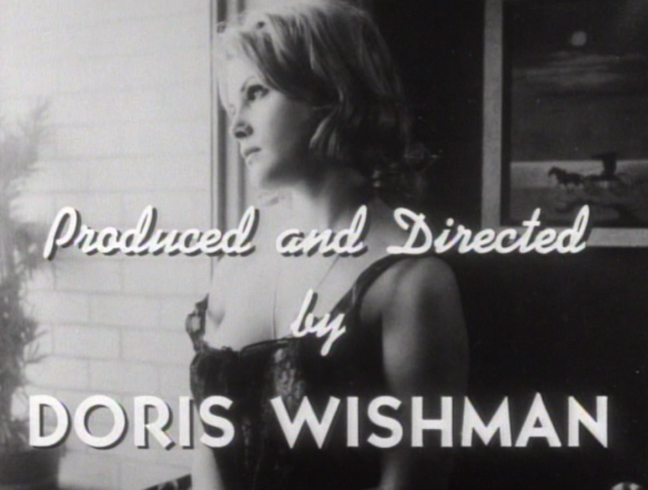 How prescriptive was she in terms of what she wanted from you?
In terms of *what* she wanted me to shoot, she was pretty damn adamant. In other words, she would ask for particular shots – either of the dramatic action, or of inanimate objects like a plant or a bowl of fruit.
But when it came to *how* I shot them – like the unusual angles I used… that was all me. I had lots of leeway to experiment and try new things. Doris never once asked to look through the camera viewfinder. She gave me complete freedom.
Tell me about your shooting technique.
My number one priority was to shoot quickly, and not how to make something look amazing. Doris wouldn't have any patience for complex set-ups, so I had to come with something simple and fast.
I was still using a wide-angle lens. The problem was that if you used a very wide-angle lens it would distort the picture, so I used the widest lens I could without risking distortion.
As for the lighting, I only used a couple of lights, sometimes we'd use three, and we'd just bounce them off the white walls to create this chiaroscuro effect that looked good in a black and white film.
Your camerawork complements Doris' vision.
Thanks. I liked shooting documentaries – so that was often where I was coming from. And I liked this TV series called 'Naked City' which was a police drama but one that had a 'semi-documentary' feel to it.
And what do you remember about Doris' style?
Doris had clear a idea of what she wanted but never a written script. She would direct the actors and me depending on what she wanted to portray, and she would take notes of everything we shot on this large legal yellow pad of paper.
In the editing room, she would assemble the film before recording overdubbed dialogue, which depended on what the story was.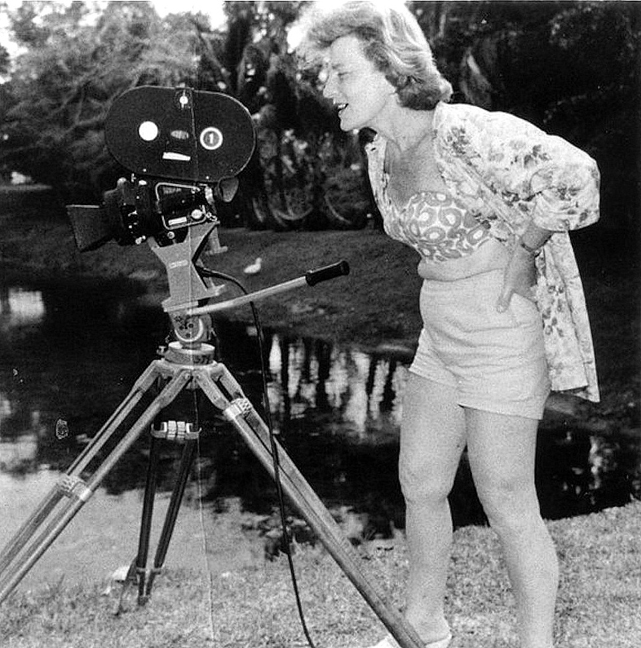 Did you ever try and convince her to record the dialogue on set?
Oh yes, but without success. People have said that she filmed MOS (without sound) because the budgets were so low. But I think that it was because she wanted to be more flexible about how the story is told. She could literally put words in the actor's mouths in post-production to suit her story. Besides which, she always complained that the actors were terrible at delivering lines, so she didn't want their voices anyway.
What did you know about Doris on a personal level?
Everyone knew Doris, but no one knew much about her. She had an address book with everyone's number in it, and I mean everyone: distributors, theater owners, crew, actors… she could make a call and make a deal in minutes. And her social circle wasn't just sex film people either – she knew the big players in the mainstream industry, like Joe Levine who started Embassy Pictures which made hundreds of big films, like 'The Graduate' and 'A Bridge Too Far'.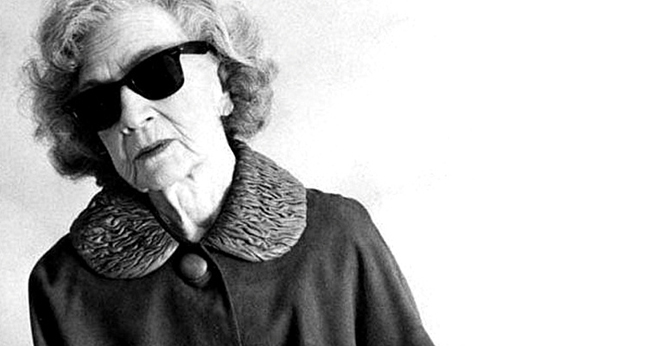 You made many films with Doris in the 1960s.
Yes, if I was free then I would shoot for her. My old friend Tony Spalla, back from the days of 'Lust and Flesh', was often my assistant.
If I was doing corporate work, that would get precedence over Doris – because it paid better. When that happened she'd use someone else, like Tony, who shot 'My Brother's Wife', or Nouri Haviv, who shot 'Another Day, Another Man' and a few others.
Sometimes she got the credits right, sometimes she didn't. To be honest, it often seemed Doris just credited the last cameraman she'd worked with…. irrespective of who'd actually done most of the work. But my line was always the same: I don't care who gets the screen credit, as long as I get the money.
Let's talk about some of the early films you made with Doris.
The first was 'Bad Girls Go To Hell', which was about a girl who accidentally kills someone, and escapes to New York where people take advantage of her. Gigi Darlene is in it and she's great.
Then we made The Sex Perils of Paulette (1965). Guess what this one is about? Yep, a girl arrives in New York City from the mid-West with dreams of making it but ends up becoming a waitress, and then a prostitute. It had some of the usual cast, like Darlene Bennett and Sam Stewart. It also featured Tony Lo Bianco who went on to be the star of 'The Honeymoon Killers' (1970).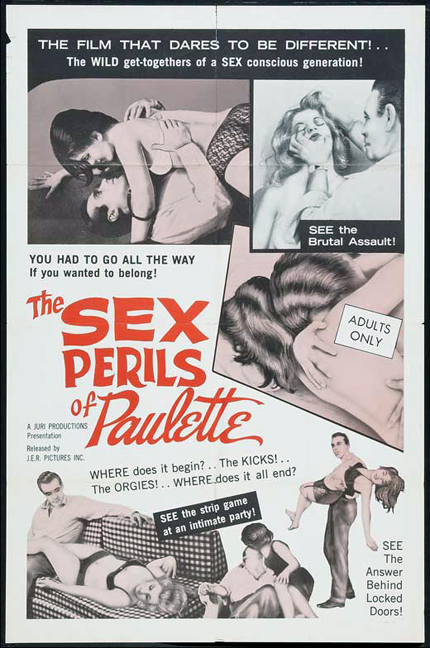 Indecent Desires (1967) was a strange one – even by Doris' standards. It's about a man who finds a doll who looks like this secretary. When he caresses the doll… she feels it. He starts stalking her but when he discovers that she has a steady boyfriend, he takes out his jealousy on the doll. It's more complex and ambitious than most of the other films we were making at the time.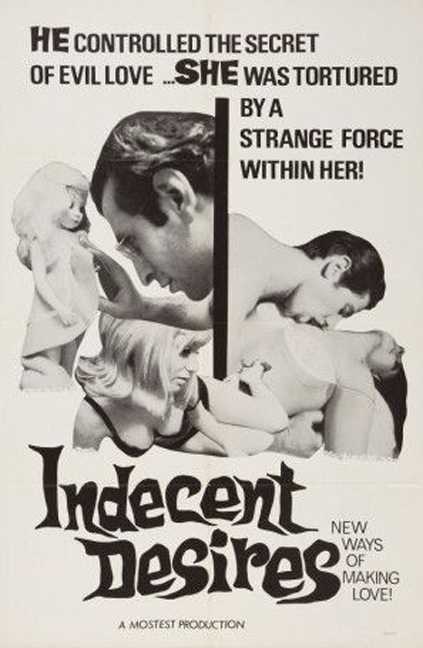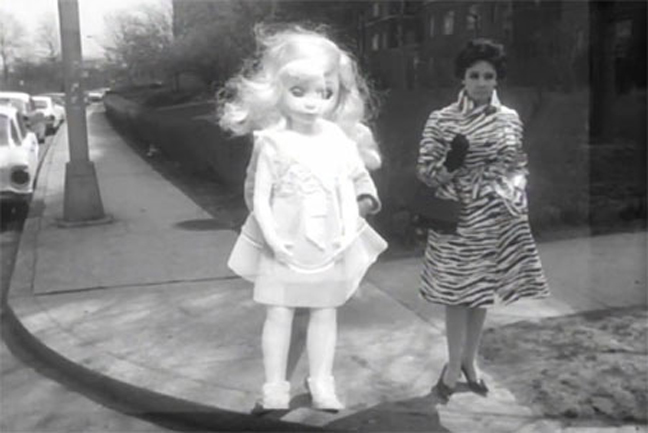 A Taste of Flesh (1967) had my dream woman, Peggy Steffans, in it. It also featured Michael Alaimo. Michael was this prolific actor who worked for Doris and Joe Sarno, and still acts today. He was in for The China Syndrome (1979) with Michael Douglas and Jane Fonda. He is one of a couple of professional killers who break into the home of two women in order to murder a visiting foreign dignitary.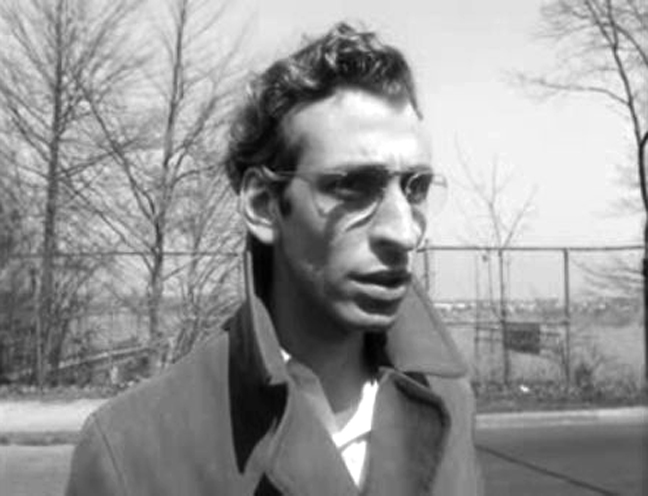 Michael Alaimo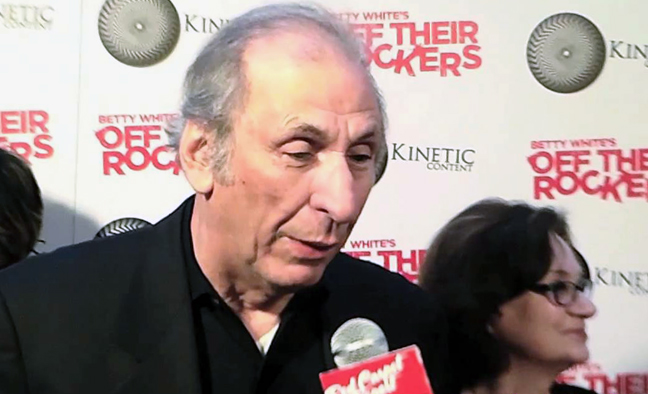 Michael Alaimo
Too Much Too Often! (1968) was another film we shot at Doris's home in Queens. This time it was about the downfall of a male prostitute. It had all of Doris' favorites – Buck Starr, Jackie Richards, Sam Stewart, Darlene Bennett and Rita Bennett.
*
6.     Other Film Projects
Films:                      
Super Plastic Elastic Goggles (1970)
There was clearly a lot of variety in the work you were doing… making your own sex films, shooting for Doris, industrials, commercials, documentaries…
It was never dull. I got mixed up in all sorts of strange film projects.
One weird one was for Sam Lake. He was a big player in the New York exploitation game. His production company, Sam Lake Enterprises, later became Mature Pictures in the hardcore era.
He had this idea to make a 'film lottery' for supermarkets. The way it was supposed to work was that Sam had acquired old footage of hundreds of races. He wanted to sell the footage to supermarkets, so that the customers could buy tickets to bet on the outcome of the races… Then they'd play out the race, and see who won.
What was your role in this?!
Sam wanted me to record commentary tracks with the comedian Soupy Sales!
I take it that it wasn't successful…?
It was a disaster, which was unusual because Sam had a Midas touch back then.
And then there was his library of silent comedies. He got me to edit these films, like Laurel and Hardy shorts, into compilations.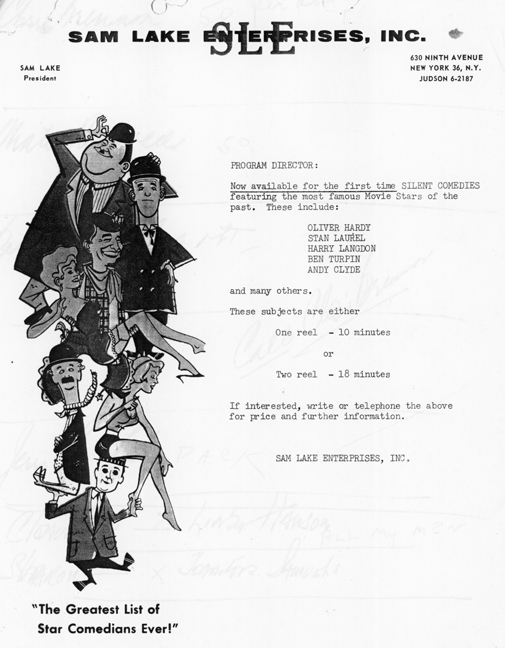 Another idea of Sam's was video jukeboxes – and on this one, he may have been ahead of his time. He hired me to shoot these go-go dancers, some in bikinis, some topless, which would then be shown on a jukebox screen when people played the records in a nightclub.
Sam Lake and you seemed to get on well…
Yes, we didn't have a personal relationship but he hired me for things all the time. For example, he liked the press books that I'd done for my movies, so he hired me to do the materials for some other of his films like Girls That Do (1967), The Bizarre Ones (1968), and Anything Once (1969). I cut a few trailers for Sam as well, like for The Bizarre Ones.
Another strange thing I worked on was shooting burlesque acts. This wasn't for Sam, but for Jimmy Myers, the 'Rock Around The Clock' writer, who had produced 'The Block' a few years earlier.
Jimmy arranged for 25 strippers to come to an apartment on 30th St and 3rd Avenue in Manhattan, and I filmed them doing their acts. It was a weird day's work. I felt bad for these strippers. They were not headliners, let's put it that way, and some of them didn't look very healthy.
Jimmy paid me in cash, took the footage, and I never saw it again…
I'm surprised you never did anything for kids television…
That's where you're wrong – I made Looking Through Super Plastic Goggles at Color!
What on earth was that?
It was a show for NBC about a futuristic rock band. It starred James Earl Jones and Jessica Harper. It was a wild, psychedelic thing, put together by one of Johnny Carson's writers. It was shot by Joe Mangine – who started out with Barry Mahon, and went on to do porn films and work for Troma too.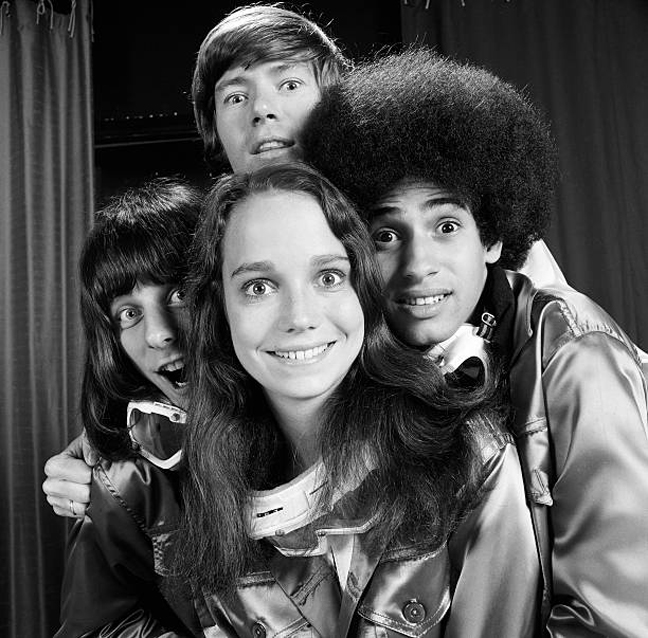 Jessica Harper in Super Plastic Elastic Goggles (1970)
*
7.     Back to Directing
Films:                      
File X for Sex: The Story of the Perverted (1967)
You mentioned that you found directing 'The Girl From S.I.N.' (1966) full of stresses because you did many of the production roles yourself. But despite this, you went on to direct other films too…
Yes, I directed four more in the 1960s: All My Men (1966), File X for Sex: The Story of the Perverted (1967), To Turn a Trick (1967), and Graffiti (1969).
Sam Lake funded the first three of those.
Did you end up doing all the production roles again?
Yes. And not only that, but I did all the promotional side too – the press books, the one-sheet, the ads… everything. Sam was even cheaper than Doris. What's more, the press materials were in black and white to keep costs down. Even Doris' were in color!
I made All My Men (1966), which starred Jackie Richards as a prostitute who tries to dissuade her younger sister from following her example by telling her all about the shocking experiences she's had with terrible men. I wrote the script, and the film ended with the corny line, "All my men… are your men now…" Ha!
It was a good plot device to show sex and violence, but still have a supposedly moral point of view.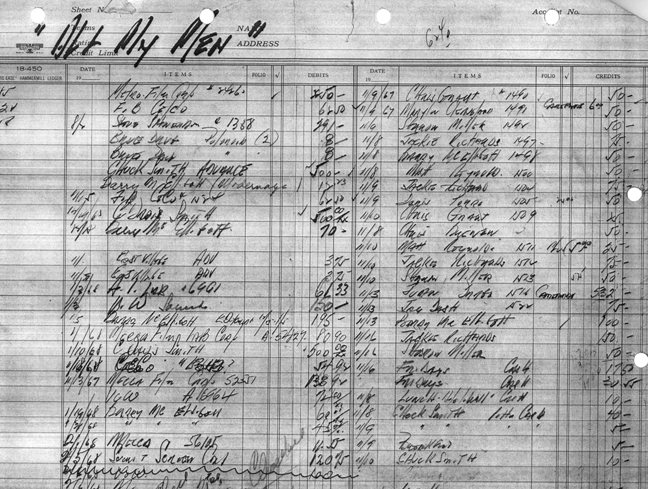 Payment sheet for 'All My Men'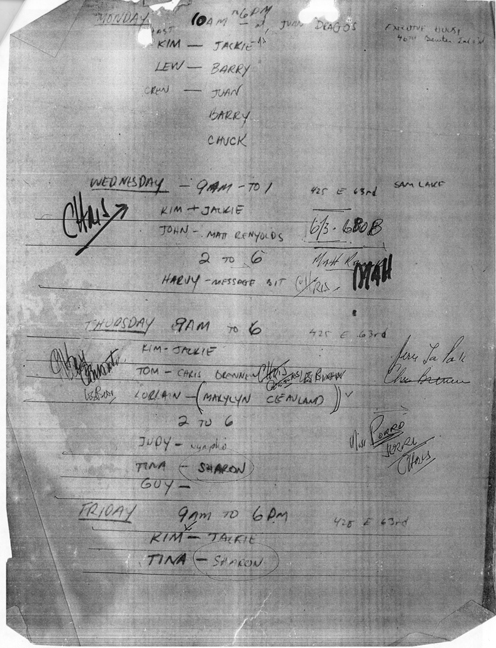 Shooting schedule for 'All My Men'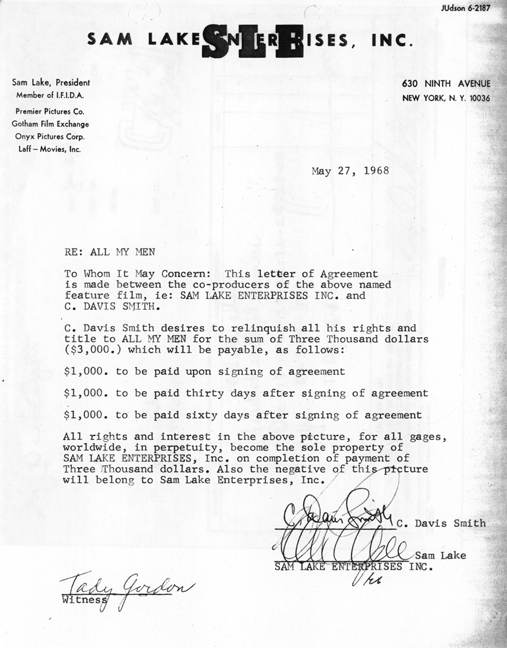 Letter of agreement from Sam Lake for 'All My Men'
What do remember about Jackie Richards?
I remember that she tried to seduce me! She was gorgeous – but sadly I was married (and I mean sadly), so nothing happened. She wasn't a great actress, and in fact, my wife dubbed her lines in post-production.
I was friends with Jackie, and she acted in my film 'Graffiti' (1969) a few years later as well.
What about File X for Sex: The Story of the Perverted (1967)?
That was a compilation film. The construct was that we filmed scenes using a hidden camera, and captured all sorts of depravities like necrophilia, fetishists, and prostitution. The original title was 'Sex Psycho'.
The key was to find a device where you could show bizarre scenes of contrived nastiness towards defenseless women. It was in poor taste, but we knew we'd always make some easy money from this kind of film so it wasn't a difficult decision.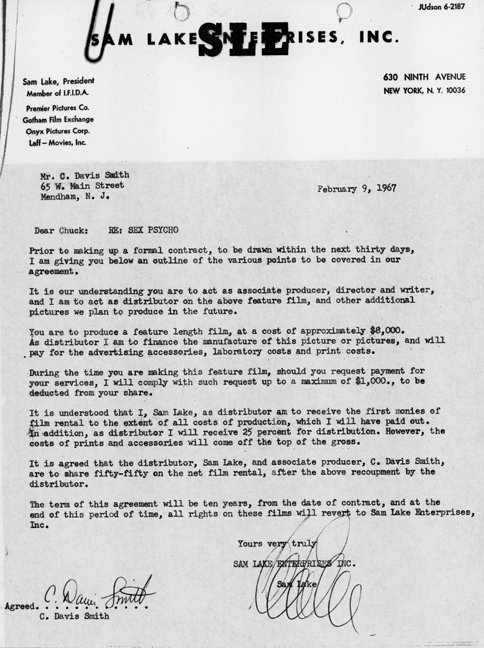 Letter of intent for 'Sex Psycho' (which became 'File X For Sex') from Sam Lake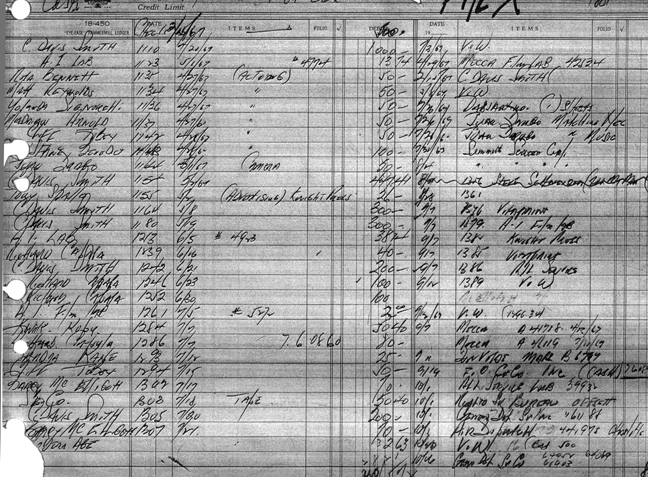 Payments sheet for 'File X for Sex'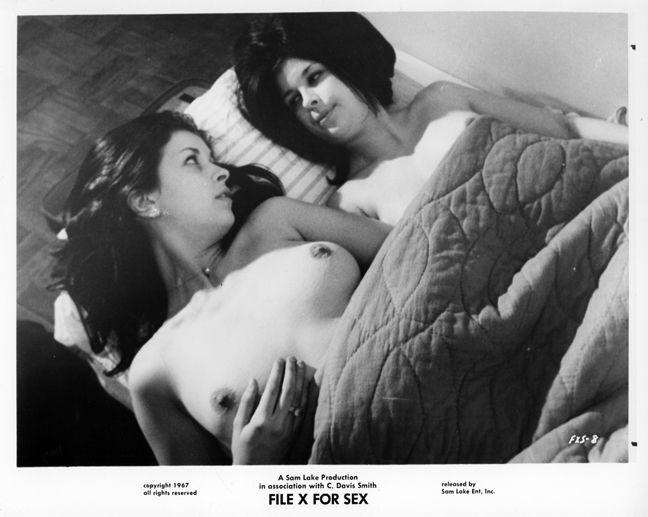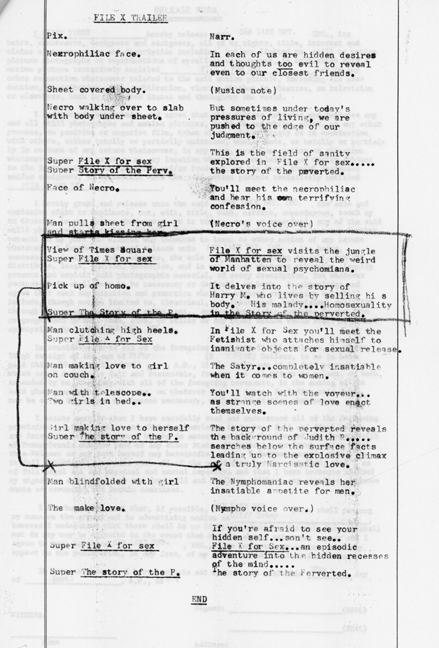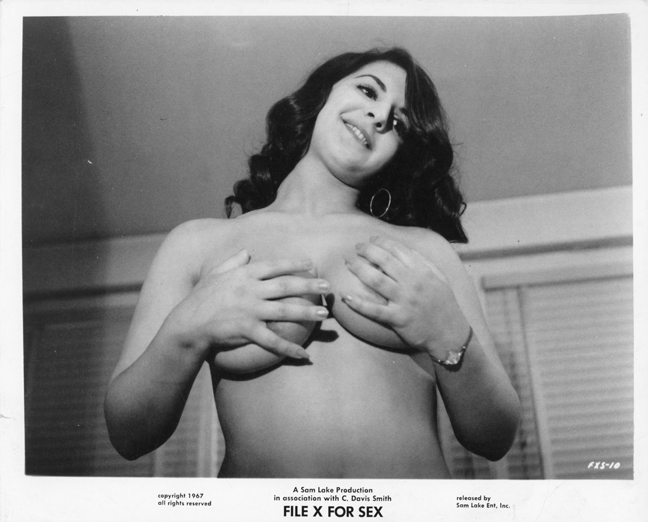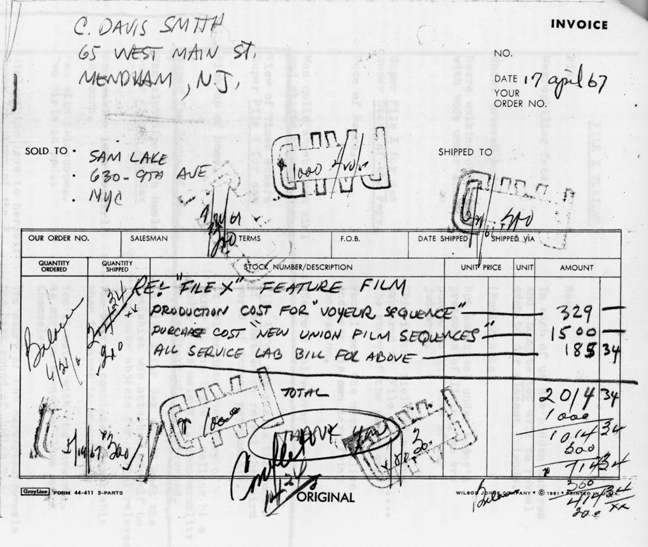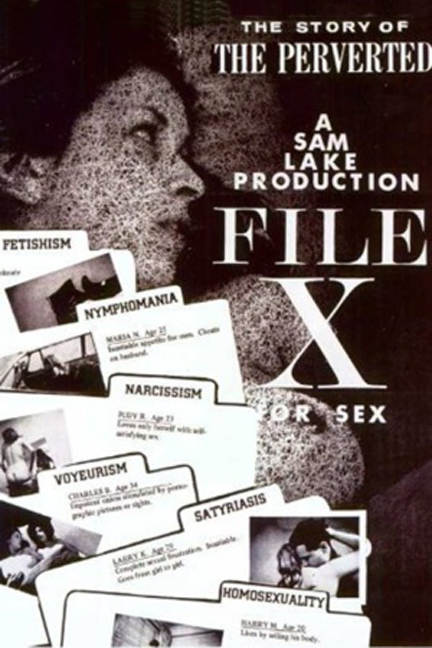 The format for each film was an industrialized process by now…

Yes, the template remained the same throughout the 1960s. Take To Turn a Trick (1967) for example. The film cost about $5,000 to make. That covered all the production costs, and I would deliver three prints and a trailer. Of course we would tell everyone that the film cost more to make, so we'd get more money for it.
The original title was 'Part of the Game', and I made it with a producer named Charles Capilla.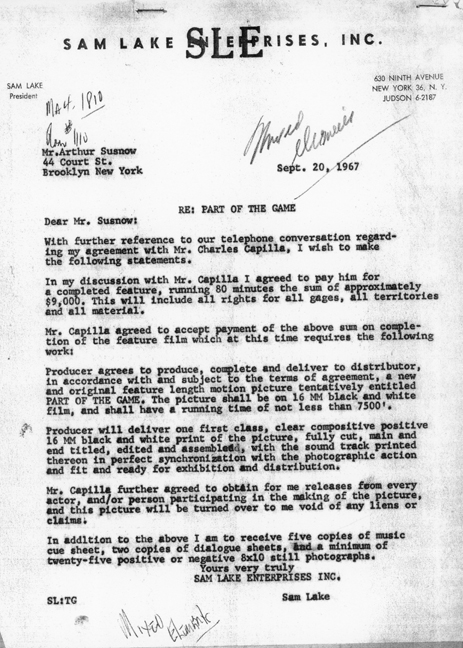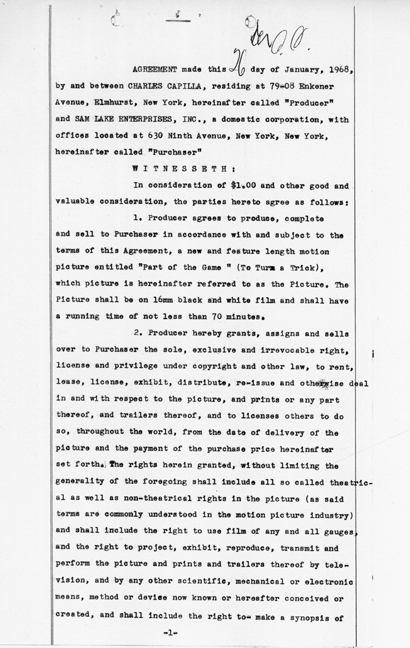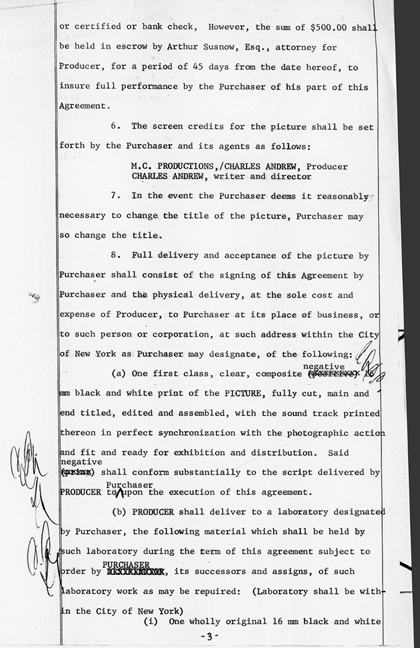 Charles had found this Norwegian model named Inger Simonsen. She's been the girlfriend of Brian Jones from the Rolling Stones, and she wanted to make enough money to go back to London. She said it was the biggest amount of money she'd ever been paid. She was stunning, but had never done any acting before.
Inger Simonsen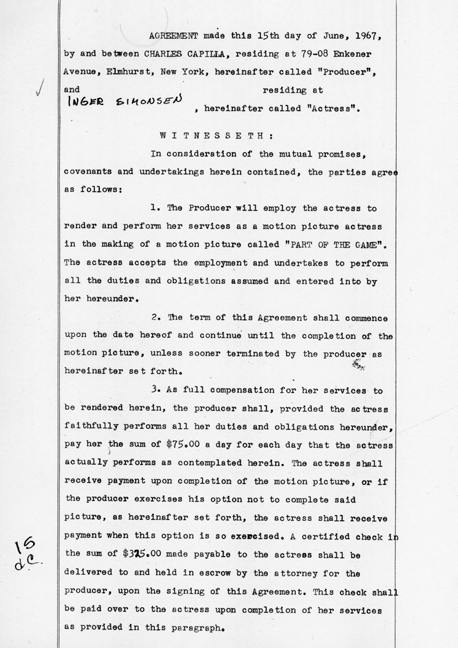 What music would you use?
Often we'd steal tracks, but on this film I think we licensed some tracks legitimately.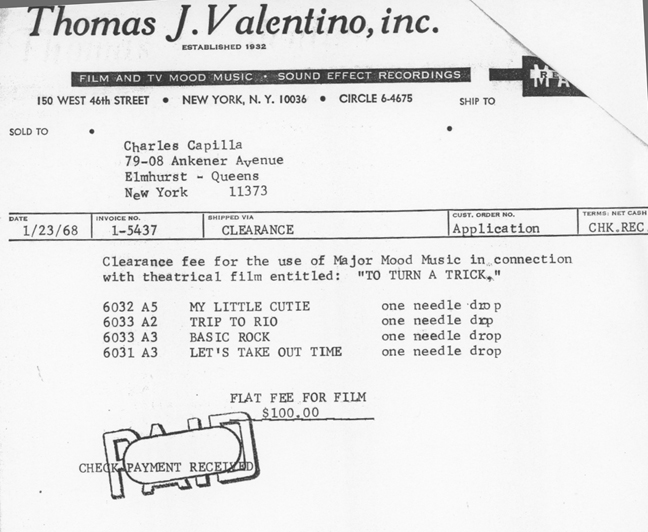 How did the film turn out?
The film was a quick one and Sam agreed to buy it for $9,000. In the end, we persuaded him to up the price to $10,000. When we delivered it to Sam, he complained that the sound was terrible – and he was right! The movie had been done in such a hurry. Sam wasn't happy, and so that was one of the last times I worked with him…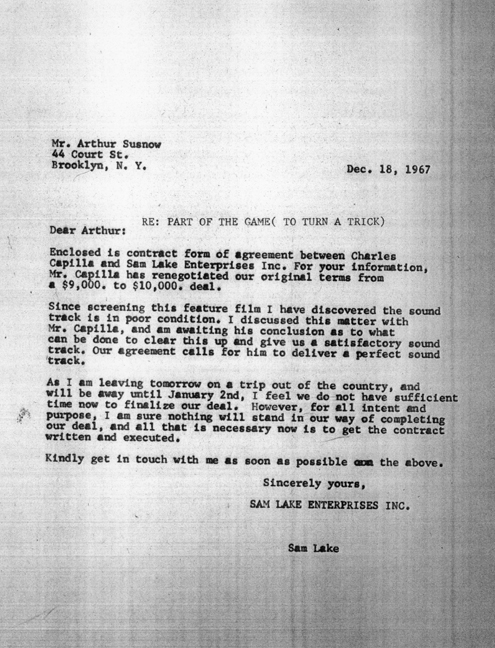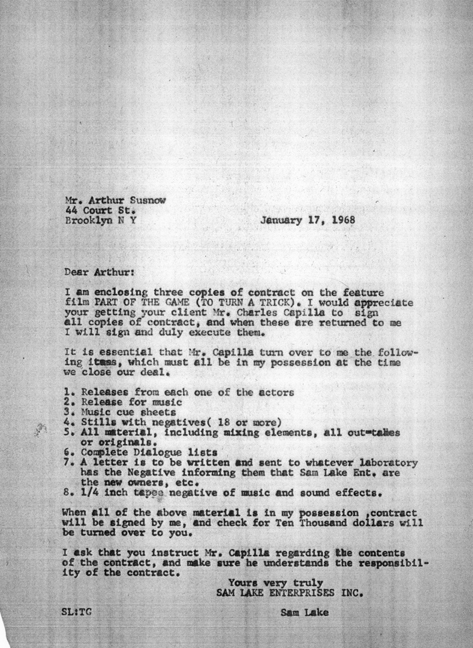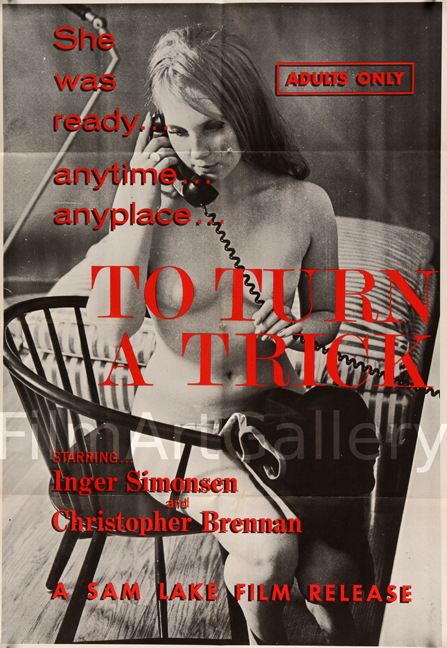 What happened to Graffiti (1969) – as I haven't seen it available anywhere?
I've been told it was lost when Mecca Labs closed down. They had all the elements and I'm guessing they were trashed.
It's a shame as it was more of a film noir. I made it with the same Ron Collier who had written 'The Block', which had also been this noir-ish movie. It was about a private detective who investigates a murder, and the only clue he has is a phone number that belongs to a mystery lady. Jackie Richards came back to star. She was still hot for me!
And to show you how much we made, it returned around $50,000 from the Texas / Arkansas distribution region alone.
Pretty good…
It was great money! Ron and I then worked on a science fiction film called Acid Girls (1969), which I edited. That's another lost masterpiece. It was about extra-terrestrial women who had sex with men, which caused their insides to be consumed by the acid from the girls.
Where did the financing come from?
In the case of 'Acid Girls', that was Alan Shackleton. Alan paid for it, but he didn't like the final product, so I don't even know if he released it. I've never seen it available anywhere.
Alan was another of these characters who dominated the film scene – like Stan Borden and Sam Lake. And it was Alan who introduced me to Roberta Findlay. She was splitting from Michael, and was having an affair with him.
Getting to know Roberta started a whole new chapter of my life… color hardcore sex films were on their way!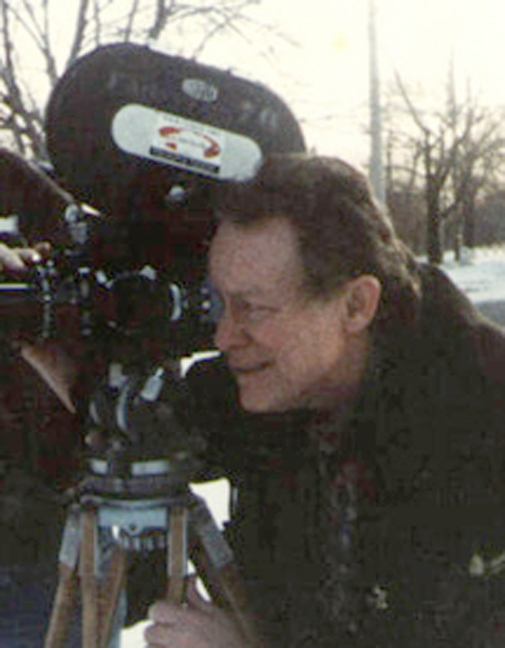 C. Davis Smith
*
Coming soon: C. Davis Smith – Part 2: The Porn Years, with memories of Terri Hall, Leonard Kirtman, C.J. Laing, Chesty Morgan and Double Agent 73, The Farmer's Daughters, Neon Nights, Zebedy Colt, and many more…

*