During the credits of Michael Findlay's 1968 film 'The Curse Of Her Flesh', a simple question appears on screen: "Whatever Happened to Gigi Darlene?"
And thus one of the more enduring mysteries of 1960s New York sexploitation films was born.
Gigi Darlene had been one of the most charismatic and beautiful stars of the black and white softcore era, making memorable appearances in films by Doris Wishman, Joe Sarno, Barry Mahon and others.

But then she disappeared overnight, and seemingly never returned to the silver screen.
So what did happen to Gigi Darlene, who was she and why did she vanish abruptly, and where has she been ever since?
The Rialto Report went in search of the lost sexploitation star, and solved a mystery that has lasted for almost half a century.
Did you know Gigi Darlene? Please get in touch as we'd love to hear your memories.
_______________________________________________________________________________________________
A man surveys a wall in a dirty restroom. It's covered in scrawls. In between the crude comments on the wall are the opening credits to a film.
This is the beginning of 'The Curse Of Her Flesh', another ode to the sordid twilight world of New York sex and violence, directed by Michael Findlay and shot by his wife Roberta.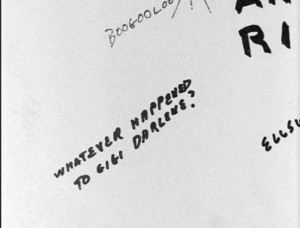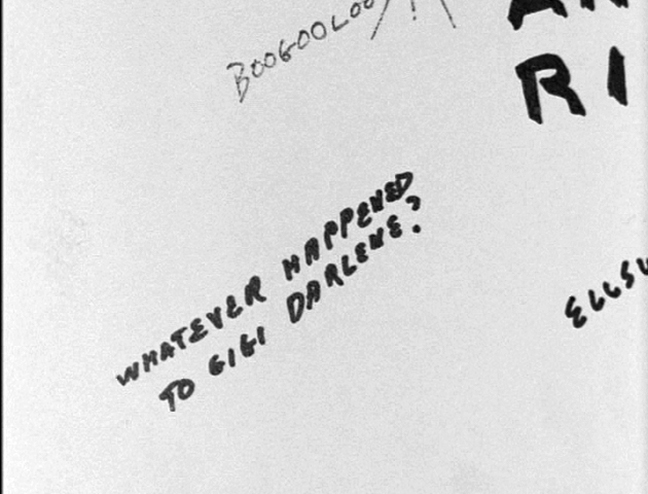 The camera surveys the writing, before pausing on a question scribbled in black: "Whatever Happened to Gigi Darlene?"
In the shallow talent pool of the shoestring sex film productions of the mid 1960s, few people stood above the crowd.
Occasionally an actress was noted for her looks. Less frequently she was notable for her acting ability. Gigi Darlene had both. She was a star.
She was blonde, beautiful, and expressive. A pouting, petulant kitten. She combined an unexpected innocence with a knowing and sultry confidence. The monochrome screen lit up with her feline presence. Her talents were in demand and she made regular appearances in New York sexploitation films.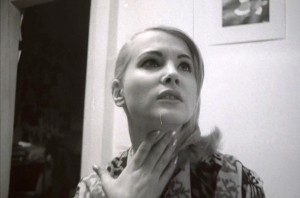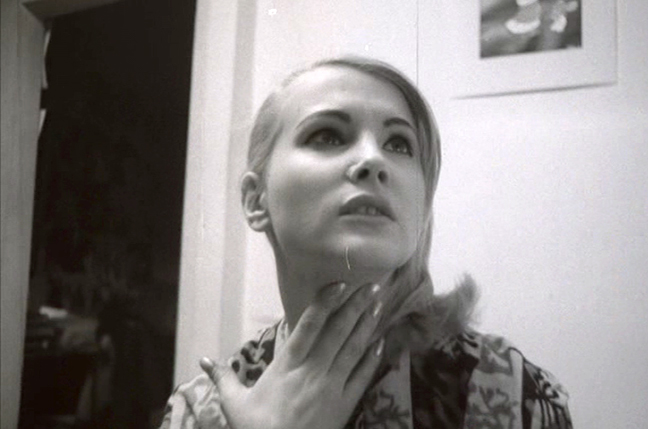 But by the time 'The Curse Of Her Flesh' hit grindhouse screens in 1968, Gigi Darlene hadn't been seen for over two years. She didn't even appear in 'The Curse Of Her Flesh'. Nor did she feature in any of the Findlay's other films; they were only repeating the question that many New York sexploitation filmmakers had been asking.
No one seemed to know what happened to her. It was rumored she was from Germany, but this wasn't an era when anyone was interested in the actors. Interviews were rarely granted and seldom requested.
Hard core films were only a few short years away, but acceptance of sex on screen was changing quickly as the grindhouses in Times Square started to demand more explicit fare. The market for black and white softcore films was dwindling.
Sexploitation actors were quickly becoming part of this past, soon to be obsolete and forgotten: So whatever did happen to Gigi Darlene?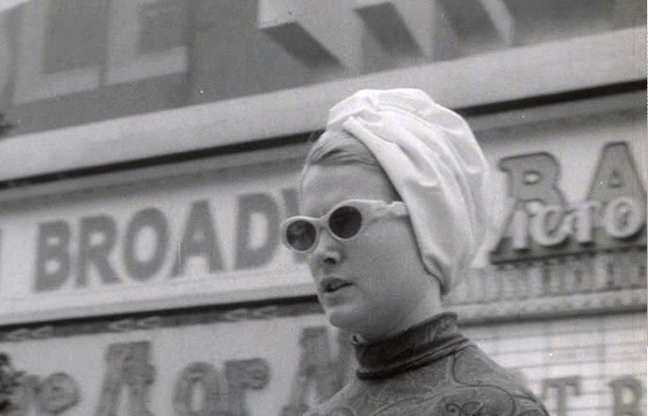 ———
Beginnings
Gigi Darlene was born in Berlin, Germany on March 4th 1943 of mixed French and German parentage.
Her real name? That depended on who was asking. It would change over her adult life according to whom she was with, and what she was doing.
In the beginning she was Heli (pronounced 'Hee-lee') Weinreich. This is the name that would appear on all official documents and certificates throughout her life.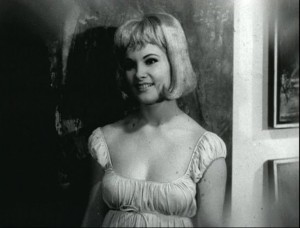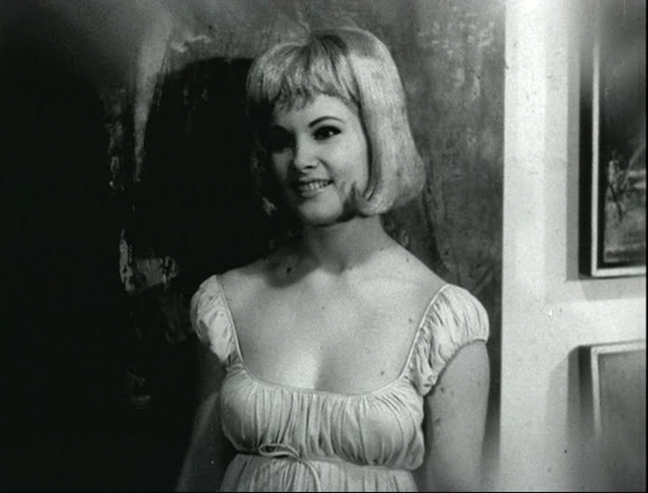 She grew up fast, far too fast to be satisfied with the austerity of post war Germany. Add to the mix a repressive relationship with a strict mother and an uncaring stepfather, and Heli soon wanted out. She longed for the freedoms and riches of other lands, and she had her eye on America. A school friend remembers her love for American films, music, and servicemen serving at the seventeen US military bases in Berlin.
At sixteen, she threatened to run away unless a passport out of Germany could be found. Her mother relented and in 1959, she immigrated to Flushing, Queens where she lived with a couple of family friends, who she referred to as uncle and auntie. The plan was that she would work as a model in the growing and glamorous Madison Avenue advertising business in New York at the time.
The idea had a grain of sense; the teenage Heli had entered – and won – regional beauty pageants in Germany (though not the 'Miss Germany' title that she would sometimes claim). She was comfortable with her voluptuous European good looks, and had few qualms about using them to make a name for herself.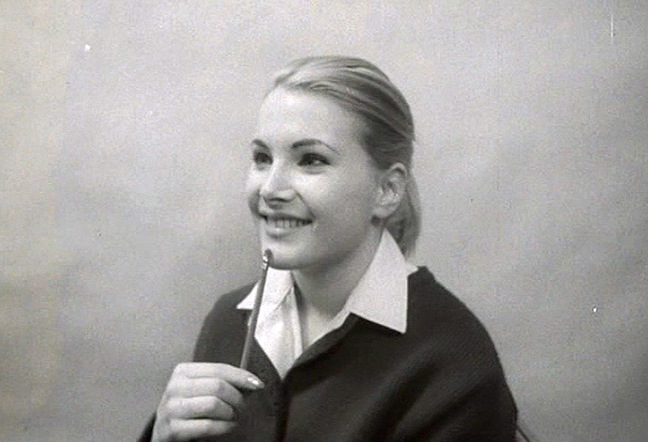 ———
Life in New York
At first she got a fair amount of commercial print and magazine layout work and was hired for industrial shows. In 1963 she got a short contract as a Wilson Girl working for the tennis clothing company.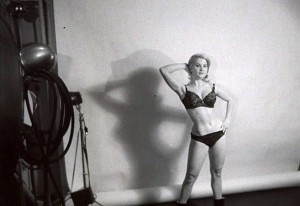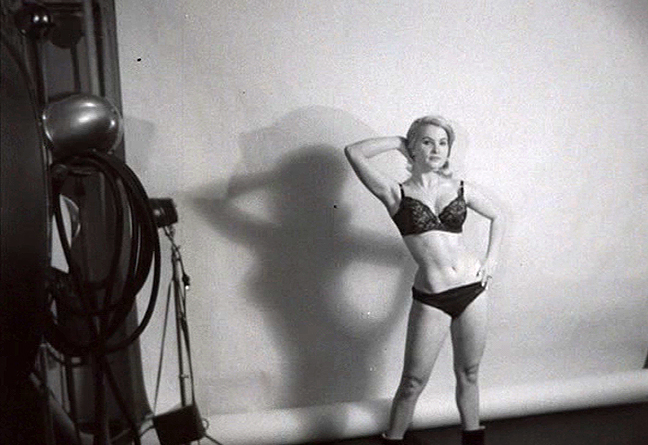 Ultimately though modeling work was too sporadic for Heli. Her lack of height counted against her (she was barely over 5'), and she was more impatient than ever for the good life. By now she'd tired of Queens and had moved to Manhattan where she lived on West 43rd St. She had rent to pay, and a new lifestyle to pursue.
A pretty girl who wanted to make quick money had options in New York. And Heli took advantage of several of them.
For a start she started getting work posing in various stages of undress for photo spreads in men's magazines. She also worked in camera clubs, a secretive network of photography gatherings that took place in empty offices across the city. Ostensibly formed to promote artistic photography, in reality they allowed amateur photographers to shoot nude women without running up against the laws that barred such pictures from being produced.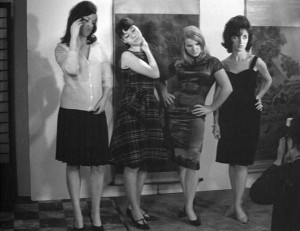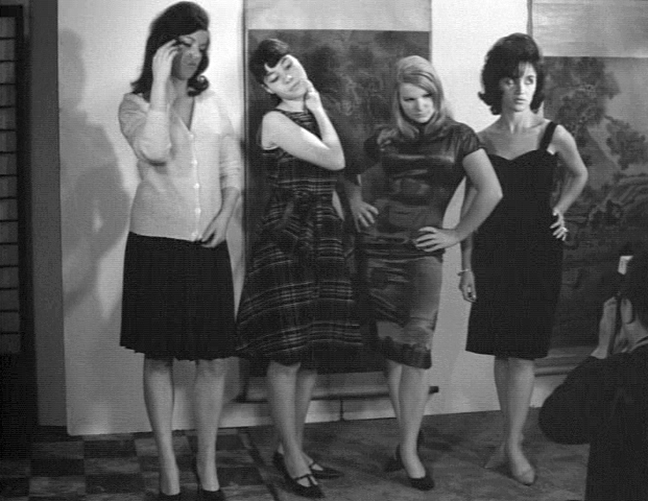 For Heli, it was easy; she had no concerns about the nudity, telling June J., a fellow camera club model, that she found the American attitude to sex "prudish" and "unhealthy".
Nevertheless posing nude was still a taboo for many and Heli was sensitive about news of her work finding it's way back to her family, so she used a variety of different names. According to early nude modeling releases, she adopted the name 'Lenore Rheine'. Leonore was her middle name, which she often shortened to Lenore or Lea when she used it professionally. As for her surname, she chose 'Rheine', the name of the West German town from where she her birth father originated. She told few people that her real name was Heli.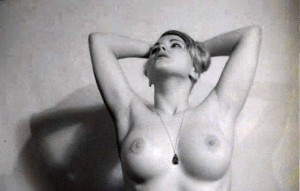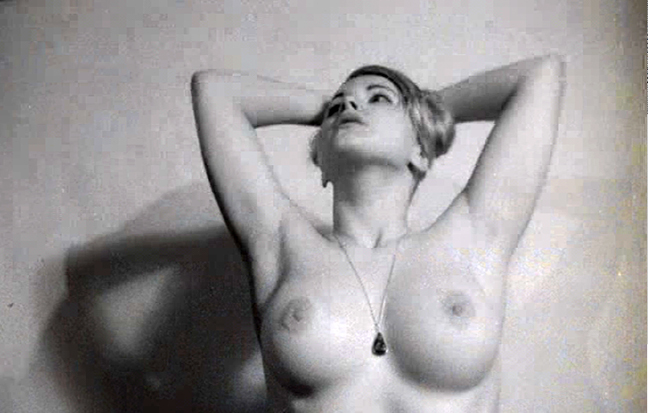 Then there was dancing. Exotic dancing clubs were all over New York City, New Jersey and Long Island. Heli took a variety of names – 'Galaxie' and 'Miss Germany' were used regularly – and she worked frequently. Fellow dancer and future actress Rita Bennett remembers Heli from the stripper circuit: "The dancing money was pretty good, and the work was easy. But the real rewards came from the men who frequented the clubs. In between acts, you needed to get them to spend money on champagne, so you had to be flirty with them. They'd invite you out for meals or to shows, and buy you gifts like jewelry and furs. Sometimes they'd offer to pay your rent. (Heli) was one of the most popular girls I saw; she always had a string of men after her".
It was in stripper clubs that Heli met future sexploitation actress, Darlene Bennett. According to fellow dancer, Marilyn Hoff, the two of them hit it off straight away. "It was a world where you didn't form strong relationships with the other women; you were too busy looking after yourself and making sure no one was edging into your space. But the two of them seemed to strike up a friendship. I'd often see them in a huddle swapping details about which clubs to avoid, or the men they were seeing". Heli and Darlene were a striking couple, Heli's cool blonde allure contrasting with Darlene's dark intense glower.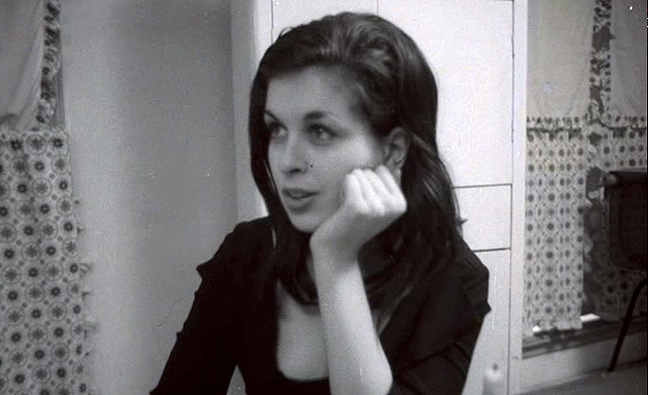 Darlene Bennett, 1965
According to June J., Heli liked to spend time with older men with money most of all: "She seemed to be happy when she was with a sugar daddy who was doting on her, rather than any of the younger men".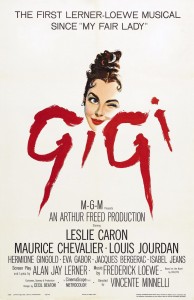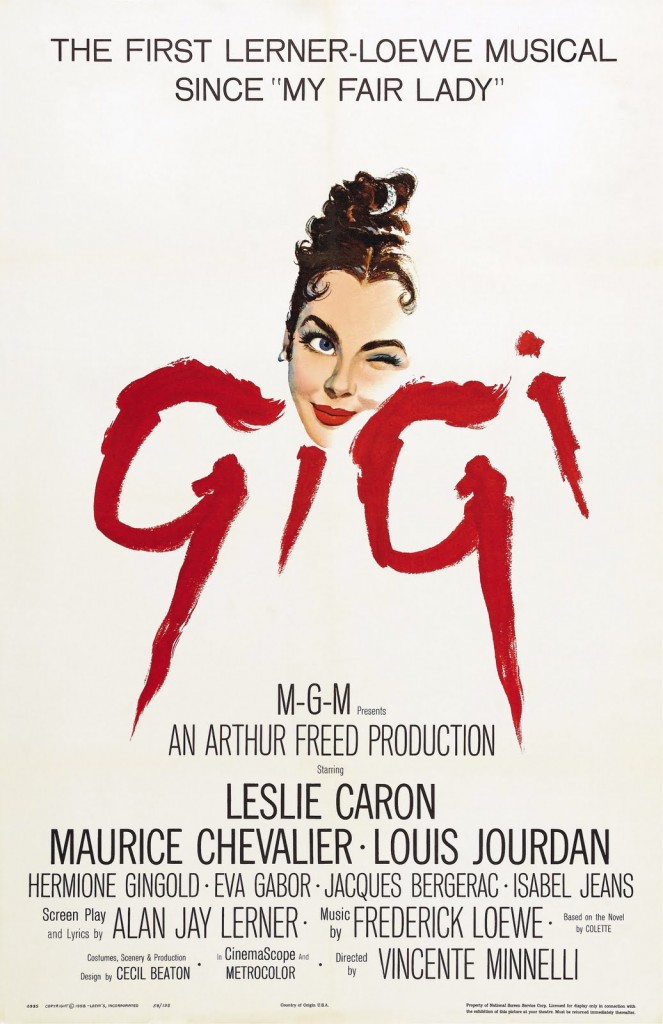 Life was good. Heli liked New York, the money was easy, and she enjoyed the party lifestyle. According to friends she went often to the cinema, and had recently seen, and loved, 'Gigi' (1959), the Oscar-winning story of a young courtesan-in-training played by Leslie Caron. It resonated with her. She was fashion-conscious and would wear similar outfits to the lead character, often made or customized by herself.
Other dancers at the time remember Heli's sense of adventure and mischief, but also that she was determined to take care of herself.
Her newly found freedom was challenged only once. Returning to her apartment one evening, she found her mother waiting. She'd traveled to New York from Germany after Heli's 'aunt' and 'uncle' had tipped her off about Heli's new life.
Heli's mother asked her how she earned her money. Over the course of an evening, Heli admitted she modeled. And danced. And had lovers. And was a 'courtesan' – just like in the film 'Gigi'. Her mother exploded. Heli was fooling herself; there was no such thing as a courtesan. Heli was a whore.
They argued and fought. Unable to see eye to eye, Heli's mother returned to Germany, leaving Heli free to resume her carefree life.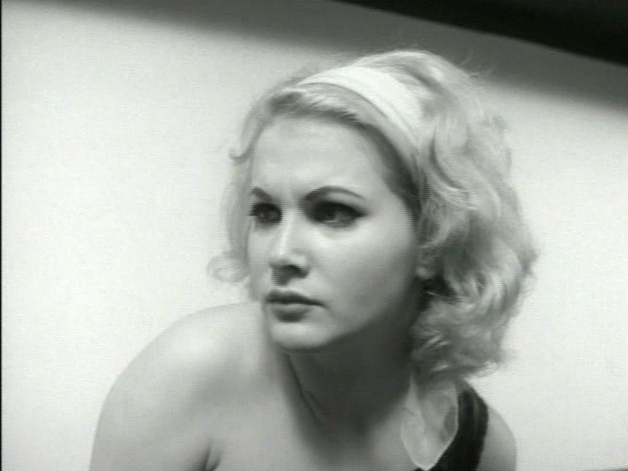 Gigi Darlene, 'Bad Girls Go To Hell' (1965)
———
Sexploitation Films and the birth of Gigi Darlene

It was around this time that Heli found another way to make money. Along with friends like Darlene Bennett and Rita Bennett, she met low budget sexploitation filmmaker Barry Mahon.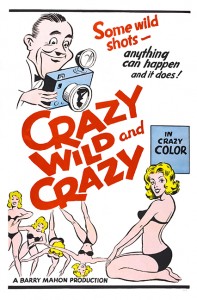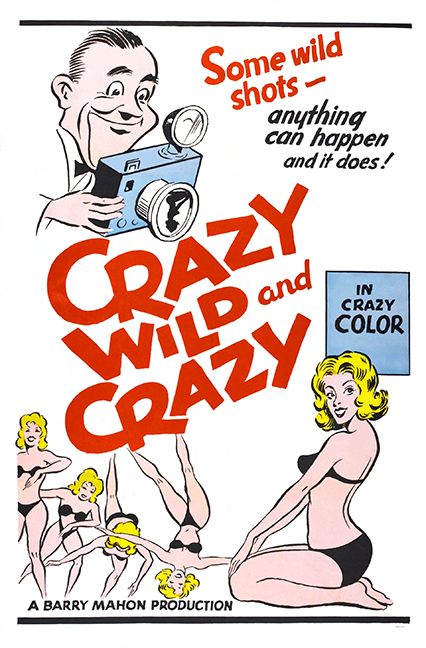 Rita Bennett remembers: "Barry was this crazy ex-army character. He always casting around for some cheap film he was making. He had a wife who seemed to be on hand to help him. I remember every film he made seemed to be based around a photographer taking pictures of nude girls, and so he used to ask if we knew any girls willing to take their clothes off". Mahon wasn't the only sex filmmaker in town, but he was prolific and well connected.
At first Heli appeared in shorts or inserts that were used spiced up foreign imports. Sometimes her appearances were uncredited, other times she used her modeling name Lenore (or Leonore) Rhein (or Rheine). For the film '10,000 BC' (1963), she called herself 'Hedi Lenor' after Hedi Lamarr, who'd starred in the scandalous 'Ecstasy' (1933), notorious for showing the star's face in the throes of orgasm filmed in close-up, and for the brief nude scenes in which she is seen swimming and running through the woods.
When film work became more regular, Heli settled on a more permanent name: 'Gigi Darlene'. The first part paid tribute to the film 'Gigi', and the second part was a nod to her friend and fellow actress, Darlene Bennett. The newly named Gigi Darlene would appear with Darlene Bennett in a majority of the films she made.
Many of them were instantly forgettable, but some had a certain merit. In 'White Slaves of Chinatown' (1964), Heli played a submissive second fiddle to Audrey Campbell's iconic sadistic dominatrix in the second of the Olga series.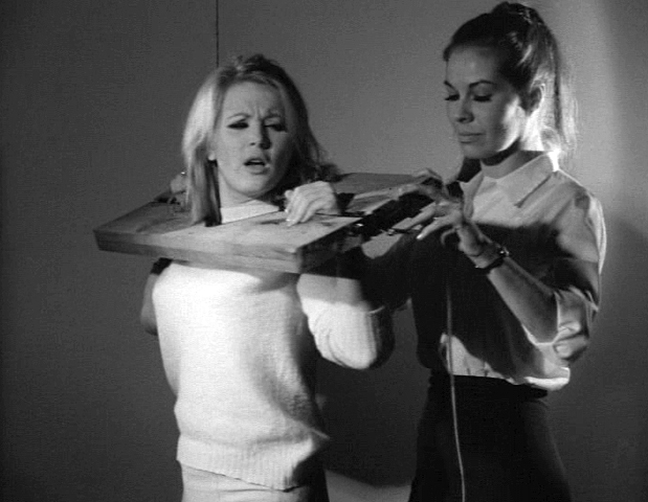 Gigi Darlene (credited as Leonore Rhein) and Audrey Campbell, 'White Slaves of Chinatown' (1964)
She excelled as a naïve student who arrives in New York from Indiana in 'Hot Nights on Campus' (1965) and finds herself pregnant without knowing the identity of the father.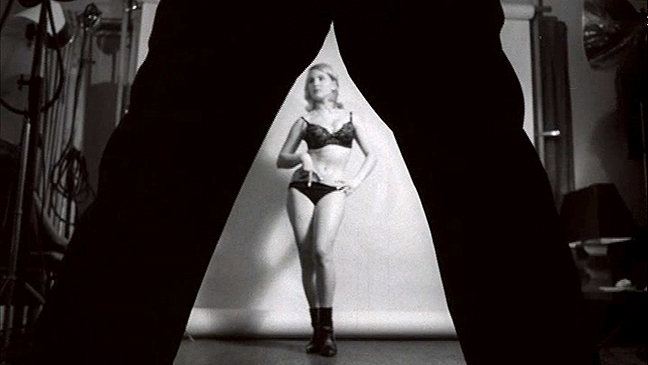 Gigi Darlene (and the legs of C. Davis Smith), 'Hot Nights on Campus' (1965)
In 'Love Statue' (1965) she has a small but pivotal role as a statue who comes to life during the lead character's LSD trip.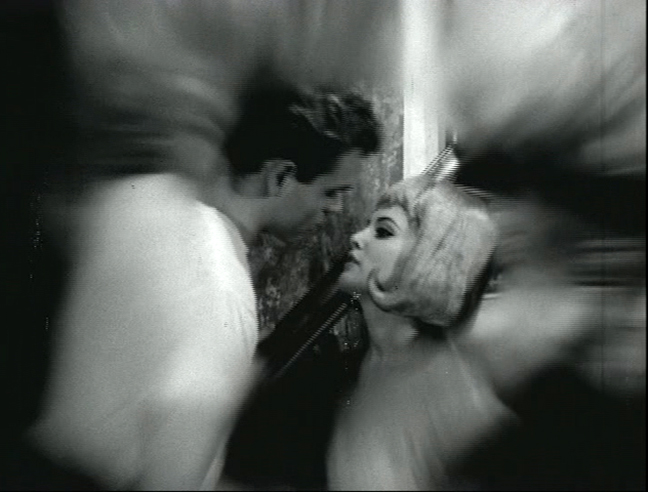 In Doris Wishman's 'Bad Girls Go To Hell' (1965), Heli excels as a girl on the lam after she kills a man who has raped her.
In between these appearances were numerous Barry Mahon shorts and quickies. Titles included 'She Should Have Stayed in Bed' (1963) where Heli plays a nude model, 'Nude Scrapbook' (1965) where she plays a nude model, and 'Crazy Wild and Crazy' (1965) where she plays… ok, you're probably ahead of me here.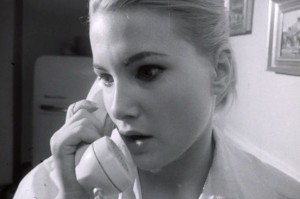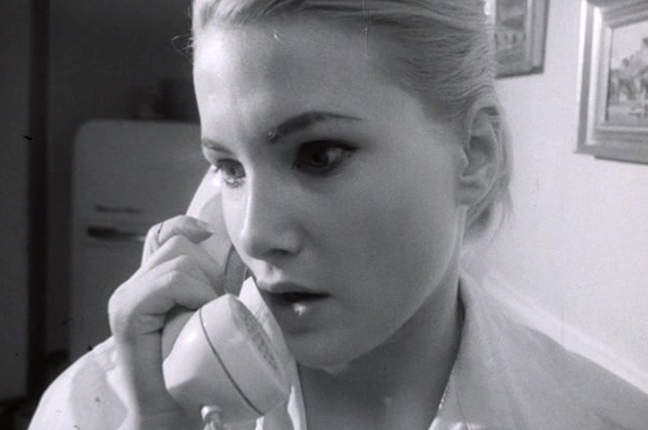 Even when her role was minimal, such as in 'Artist Studio Secrets' (1964), Heli steals the show – in this case with an arresting sexual dance. Whatever role she played, she invariably stood out.
People who worked with her remember her no-nonsense professionalism, director David Durston recalling that she was serious on set. Fellow 'Love Statue' actor Peter Ratray said that "she couldn't have been more beautiful"; Ratray already knew Heli from her nude appearances in men's magazines from the early 1960s, and found her to be "a real star".
John Amero, a fellow director and close friend of Michael Findlay, also remembered their mutual passion for the star.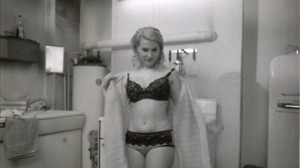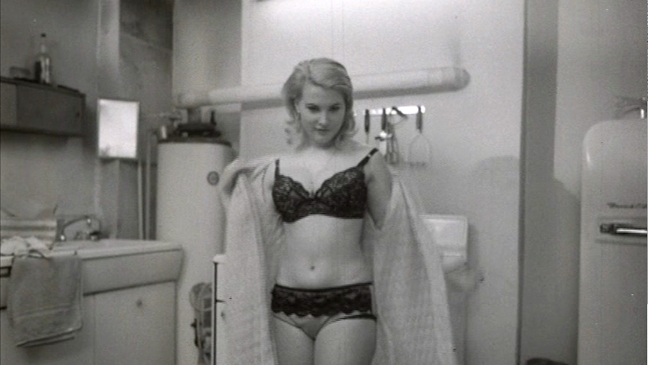 "Mike and I saw first saw Gigi Darlene in 'Bad Girls Go To Hell' (1965), one of our favorite of those awful Doris Wishman films. She was a natural blonde (I think), very pretty, and wore very little makeup. We took her for coffee in the Paramount Hotel in the mid-1960s where (film distributor) Stan Borden had his office. Mike and I both agreed that she had the perfect Rubenesque figure, and great breasts. Then she just disappeared overnight. We wished we'd been able to work with her".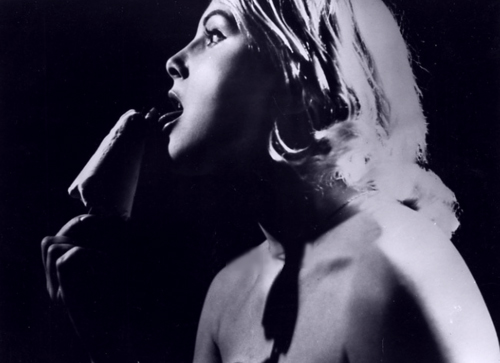 So why did Heli 'disappear'?
The truth was that she'd met her future husband. She was making an appearance as a featured dancer at a club in New Jersey and the headline act that night was a hypnotist, Edwin Greal.
Greal's stage name was Charles Lamont.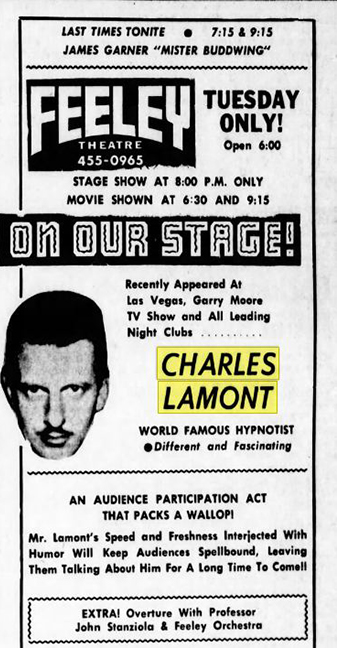 ———
Charles Lamont – the X-Rated Hypnotist
Edwin Greal was born in New York on 27th July 1924. After being inducted to the army towards the end of the Second World War, he spent time at the Fort Dix base in New Jersey as a medical technician. Whilst serving in the army, Greal had read a book about hypnotism that sparked an interest him. After receiving an honorable discharge from the army in 1946, he was determined to have a show business career based on his new interest.
By the 1960s, Greal was now 'Charles Lamont' and was earning a comfortable living as a stage hypnotist performing in theaters and clubs all over the North East, as well as occasional appearances in Las Vegas and on TV shows like the Garry Moore show.
Stage illusionist and mentalist Richard Osterlind remembers his act: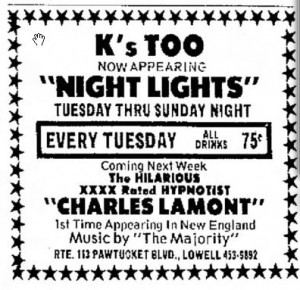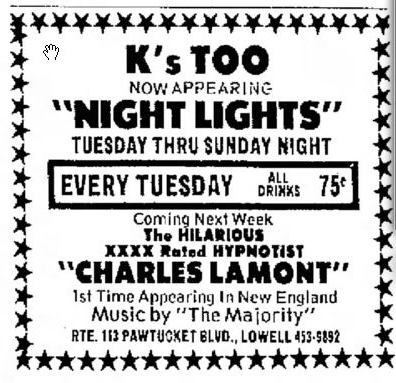 "I remember seeing him about three times at different shows in the 1960s on the Catskills 'borsch circuit'. He was excellent, and quite friendly. One time we were at some show where the audience was all men who were loud and drunk. I asked Charles if he was worried about doing his show for them. He just smiled and said, "They'll be pushovers!" And they were! He put them under one after another with no problem and it was a hilarious show. He would simply hold his hands at their temples, tell them to look into his eyes, sway back and forth a bit and they were under! Just like that".
"As a matter of fact, it was where I first learned to hypnotize. After seeing Charles do it, I went back to our house and hypnotized my roommate based on doing what Charles had done. That later led to me performing on the college circuit".
When Lamont met Heli in a nightclub in early 1966, he was 42, she was 22. He was also married. A quick divorce freed him from his former life, and the couple wed on August 29th 1966, just weeks after Lamont's divorce was finalized.
Getting married meant big changes for Heli. For a start she moved out of New York and into Lamont's house on Main St. in Fort Lee, NJ. It was comfortable lifestyle as Charles was earning good money for his shows.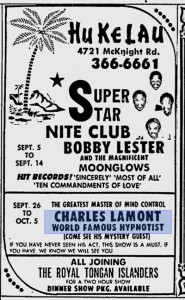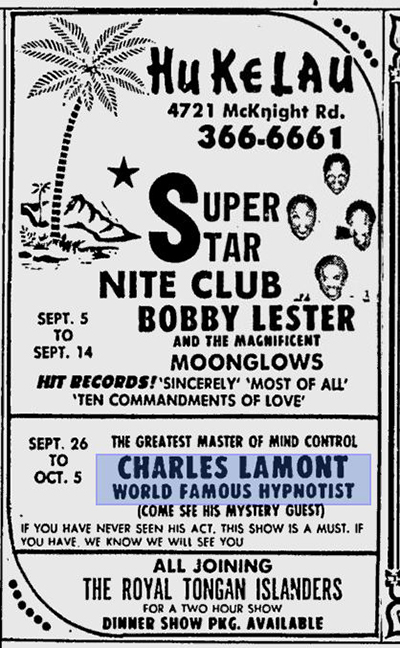 Richard Osterlind recalls: "He worked in a lot of clubs. It might not seem like the big time, but it paid pretty good money. I know my friend Frank was making about between $500 to $1000 a show at the time, and he was working 6 nights a week. My guess is that Charles did just as well".
Heli and Charles also decided to join forces and form a stage act. They would both appear in the same show and go on the road together.
One other important decision was made: According to a friend of Charles, now they were married, Heli would make no further film appearances. In fact no further reference to her film past would be made in the future.
The short life of Gigi Darlene was over.
———
The Charles Lamont and Hélli Show
The new act took a variety of forms depending on the audience. Sometimes Heli would appear as Charles' assistant. Other times she would open the show by dancing. But most common and popular was Lamont's X-Rated Hypnotism routine that featured Heli as the special guest attraction.
Richard Osterlind remembers: "As for his "X-rated show" a lot of hypnotists have used that idea to attract an audience. It really just means telling the audience members things like they are professional strippers and things of that nature. Actually it's all pretty juvenile and not anything that you could really call X-rated.
"I remember that in at least one of Charles' shows, a stripper did his opening act. It might have been his wife. I remember she came back in from the stage all upset because one of her pasties had come off! Charles told her not to worry about it".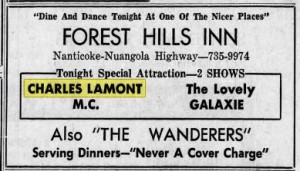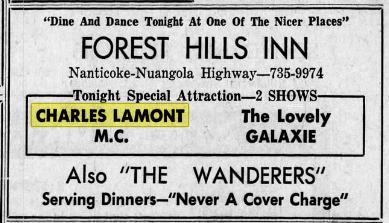 Helli had a variety of billings; she was 'Miss Germany', on account of her Germanic looks and still-pronounced accent, and she also used her stripper name 'Galaxie'. Before long however they settled on the exotically spelt 'Hélli'.
Bookings flowed in, and publicity came their way too. A 1969 newspaper article entitled 'Of Flowers and Stripping' in the Delaware County Daily Times marveled at how Charles "hypnotizes some of the male audience members with his scientific methods, and then (Heli) takes off her clothes and hypnotizes the rest".
True to form, the article made no reference to Heli's film career, claiming that she'd been in Germany winning her first beauty contest as recently as 1965. When asked about stripping, Heli commented, "(it) does not bother me so much. We in Germany are taught respect for the body from an early age (…) Here in America you have everything, how do you say – umm, mixed up. On one hand you say 'Oh no, sex is no good' then you go to watch girlie shows…"
Heli is referred to in the article as "Lea Lamont", and described as "a happily married New Jersey housewife" enjoying her suburban existence of gardening, needlework, and cooking goulash in between stripping.
The truth behind the Lamont's relationship was somewhat different, and friends remember a tempestuous marriage, with both being jealous of each other's friendships with the opposite sex – usually with good reason. Both of them had affairs, but the relationship survived.
Whilst their personal relationship may have struggled, their professional union was flourishing. Demand for their act increased and they started traveling further afield and commanding higher fees. Charles wrote articles about hypnotism in magazines and recorded self-help tapes.
From 1973 they started appearing in Las Vegas more regularly, and in 1975 they moved there permanently. The show still featured Charles hypnotizing members of the audience to simulate semi-raunchy acts; however by now the popular climax featured Charles putting Heli into a trance whereupon he would place her upon two separate chairs as if she was suspended in mid air, at which point he would walk on top of her body.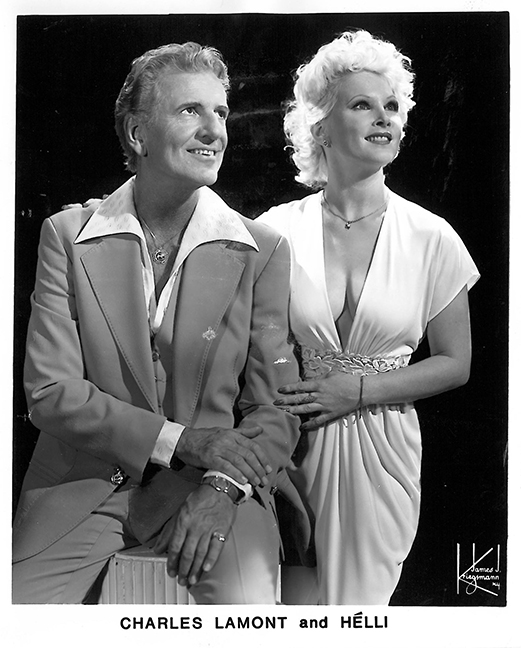 One of the loves of Heli's life was seeing Elvis Presley perform, and traveling around the country, Heli would do her best to ensure that their bookings coincided with Elvis tour dates. Their move to Vegas meant she could see him in concert even more. She'd regularly dress up in her royal blue gown with rhinestones, and after a while Elvis started to recognize her. He'd invite her on stage where he'd give her a kiss and serenade her. In turn Heli gave him poems that she'd written for him, and copies of Charles' latest hypnotism tapes. Such was her devotion to the King, Heli was featured in books, news shows and articles about devoted Elvis fans.
After five years in Las Vegas, Charles was started to slow down and they decided to move to South Florida and showcase their act there. They got a local agent, Neal Hollander, who knew the area well and who promised them a lucrative and regular book of work.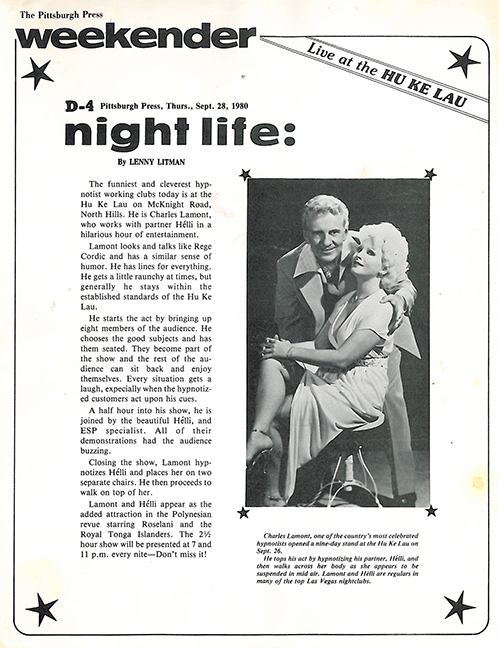 On December 18th 1980, shortly after moving to Florida, Charles died. He was 56.
———
Life After Charles
Heli was 37 when Charles died. She had no qualifications and continuing with the stage act wasn't an option without her husband.
In 1981 she obtained a Real Estate license in Fort Lauderdale, and would sell time-share apartments on and off for the next twenty years. The following year she spent a few months living in Spain selling vacation property.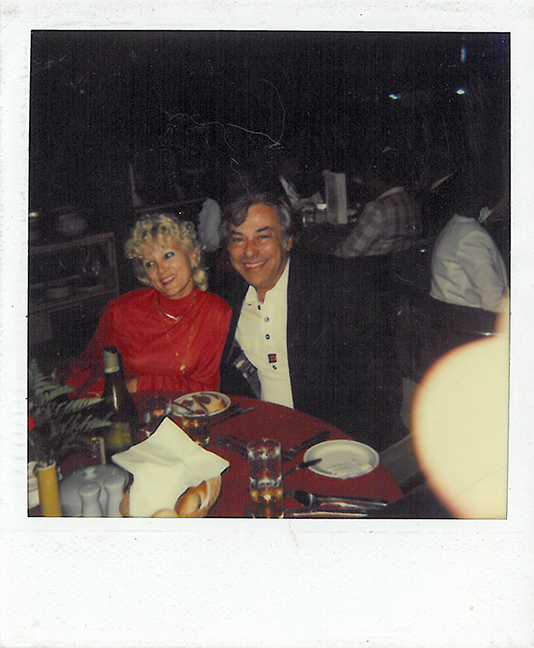 Heli with boyfriend, 1983
She was also a member of the Screen Actors Guild and would get parts as an extra in films that were shot in South Florida. For a time she considered entering the film production business, and she formed a company 'Minus-Plus Production' in 1984 but nothing came of it.
Heli rarely lived alone after Charles' passing. She lived with a couple of friends Mary and Elizabeth for extended periods of time, both of whom lived in the Fort Lauderdale area, staying with Mary in particular for years at a time.
Ever popular with men, she dated regularly and would move out of her friend's homes when she moved in with a new boyfriend – usually an older, wealthier man. For a time she lived with a boyfriend in California, another time she lived with a partner in Texas. A few of them died, and Heli inherited their estates. She rarely worked.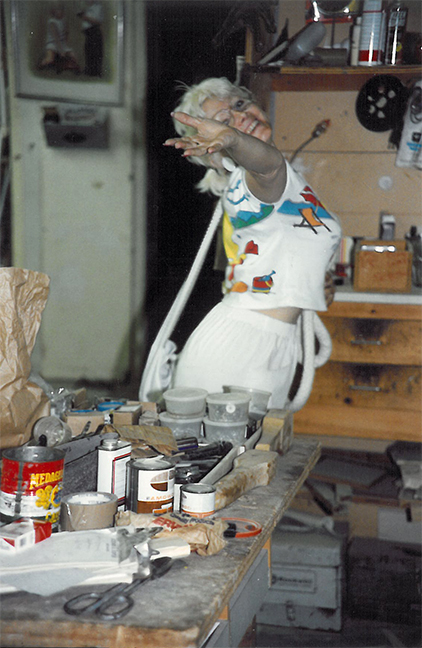 Heli, 1990
Invariably she would re-appear in Florida when her relationships ended. Neither Mary nor Elizabeth seemed to mind the regular, though unexpected, calls from Heli asking if she could move back in with them.
Elizabeth remembers: "That was just Heli, and it never really bothered me. She was always wild and crazy, and a lot of fun. She was very beautiful and attracted the attention of many men. She just wasn't great at taking care of herself. I got a call from her once, on the rare occasion when she actually had her own apartment. She'd fallen asleep in her bath surrounded by candles, and had accidentally burnt the room down. She needed help to re-decorate it before her landlord found out. That was typical Heli…"
The three friends spent much time together, frequently shopping for antiques (the number of storage facilities Heli had across the country became a running joke) or going to parties. When Heli worked on a film as an extra, she would sometimes find work for her friends too – such as on the set of the Richard Dreyfuss film, 'Let It Ride' (1989).
A boyfriend from this time describes her as being a great companion; forward, forthright, strong-willed but kind and always entertaining.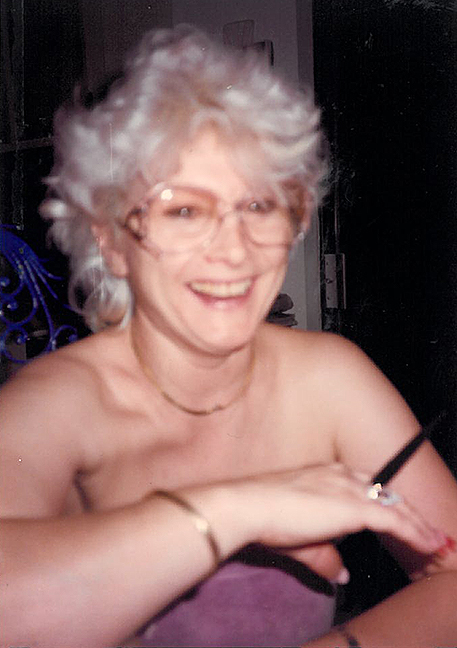 Heli, early 1990s
Heli was always active and healthy and looked younger than her years, but confided one day to Elizabeth that she'd been ignoring the fact that she'd been passing blood in her stool. Elizabeth urged her to see a doctor but Heli was resistant. Heli's health deteriorated overnight and her weight fell dramatically. In 2001, she was diagnosed with terminal stomach cancer. Heli was desperate for a cure, and traveled all over the country trying every kind of alternative cure. It was to no avail, and she soon moved into a hospice on Las Olas in Fort Lauderdale where her two friends visited her daily.
Heli Leonore Lamont died on New Year's Day 2002. She was 58.
According to her wishes, she was cremated and her ashes were scattered off the pier at Deerfield Beach, FL into the Atlantic Ocean by Mary and Elizabeth.
According to Elizabeth: "When her ashes fell into the water, something strange happened. The water seemed to bubble and turn golden. It reminded us of her blonde hair".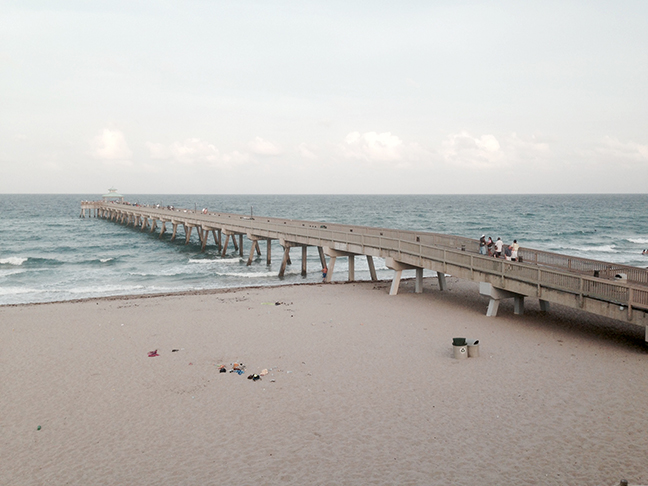 Deerfield Beach pier, May 10th, 2014
With thanks to Heiko Brose, June J., Rita Bennett, Marilyn Hoff, David Durston, Peter Ratray, John Amero, Richard Osterlind, Elizabeth, John, Mary, and the others who preferred to remain nameless but who provided invaluable information for this piece.
Did you know Gigi Darlene? Please get in touch as we'd love to hear your memories.