Podcast: Play in new window | Download
Subscribe: RSS
This week we return to one of The Rialto Report's earliest and most downloaded interviews.
Long Jeanne Silver – adult film actress and stripper from the 1970s and 1980s – joins us to talk about her life and memories.
With thanks to Josh Alan Friedman for the great picture above. Visit his website here.
This episode running time is 68 minutes.
_______________________________________________________________________________________________
Long Jeanne Silver packed more life and adventure unto her first 25 years than most manage in a lifetime.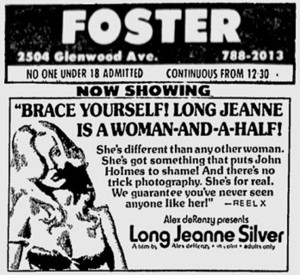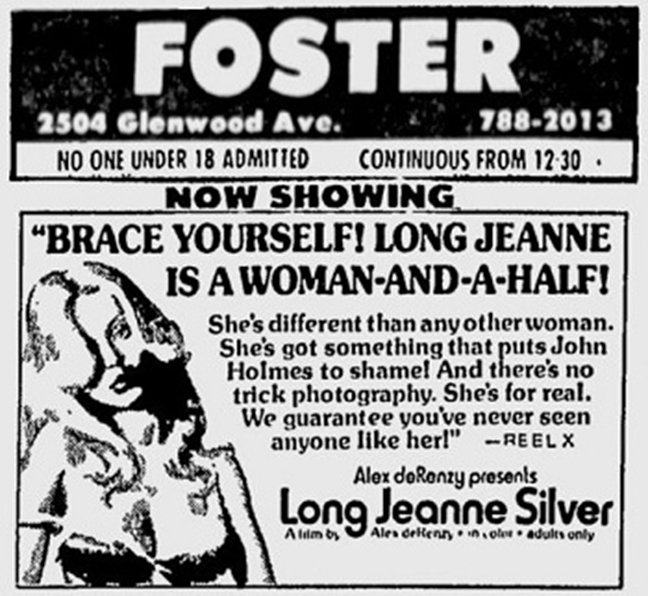 For a time in the 1980s, she was a regular in New York adult films and a featured dancer at the Melody Burlesk Theater in the city – but her life started on the other side of the country in Arizona where she was born and spent large parts of her childhood. There she grew up with the stigma of having part of her foot and leg amputated at an early age.
By the time she hit New York, just weeks after her 16th birthday in 1976, her rebellious ways meant that she was on the run from the law, and the fun was only just beginning.
Shortly after her arrival, she was featured on the pages of men's magazines like Cheri and High Society, and on the big screen appearing in the notorious film Waterpower.
News reached the Mitchell Brothers, the renowned filmmakers and theater owners in San Francisco, who flew her out to join them, and there she appeared in her own show and starred in the Alex De Renzy film 'Long Jeanne Silver'
Long Jeanne Silver went on to appear in many adult films in New York, including 'The Violation of Claudia', 'Prisoner of Pleasure', 'Debbie Does Dallas 2', and the notorious Waterpower.
On this program, The Rialto Report's April Hall and Ashley West speak to  as Long Jeanne Silver who grants her first interview in 30 years.
Alex De Renzy's 'Long Jeanne Silver':