Laura Cannon was an actress. A real one. She was also one of the earliest of the regular New Yorkers who made up the nascent adult film industry in 1970.
She made around 30 films and loops, and worked for notable directors like Joe Sarno, Gerard Damiano, Andy Milligan, and Leonard Kirtman.
But watching her on-screen is a strange experience.
Laura was no circus trick show pony like Linda Lovelace, or uninhibited hippy like Marilyn Chambers.
She seemed distant, detached, melancholy even. It was as if she didn't belong on the screen. And yet she made films consistently over several years.
So who was this unlikely, unusual and unexpected porn actress?
Ten years ago, The Rialto Report set out to find more about her. We contacted anyone we could find who might know her. We made calls, sent emails, and left messages. We wanted to seek answers to the questions we had. The whys, the hows, but mostly the who.
And we spoke to Laura Cannon herself.
_______________________________________________________________________________________________
Who was Laura Cannon? Her familiar image flickers on the screen in intimate and indiscrete poses. She bares everything yet still seems an enigma. How do you get behind an image?
This much we know: Laura Cannon was born Janet Lynn Channin on 6 April 1947, in Evanston, Illinois. She had two older brothers and her family moved to La Jolla in California when she was a young girl. She graduated from La Jolla High School in 1965.
Her 1964 High School yearbook photo shows a serious, not unattractive teenage girl, but with features that differ from the later person on the screen. Maybe it's because she is still a girl, but her nose appears larger and less defined.
We spoke to two of her classmates. Both remembered Janet clearly. She was sweet, shy and self-conscious. She was friendly but not afraid to speak her mind when challenged. And she came alive on a theater stage. Performing allowed her to lose herself in a part and forget about inhibitions. The make-believe transformed her. She lived for the pretend. She preferred the fiction.
She had a boyfriend or two in high school, but nothing serious. Some people said they found it difficult to get close to her.
When her school friends had shared their memories, they turned to questions.
"What happened to her? Didn't she move to New York to be an actress?"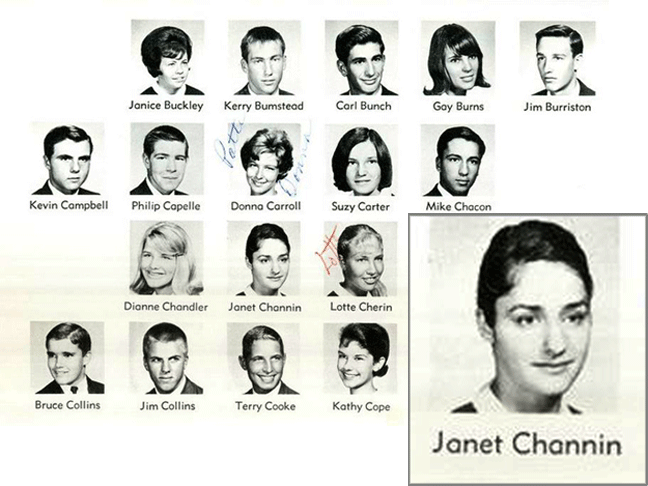 Jonathan (Janet's boyfriend):
I met her in New York when she was 21 or 22. She had a place at the NYU Tisch Graduate Acting School. Tisch had only just started around the mid-1960s but it was already a prestigious program. There were only about 20 students in each year. Christopher Guest ('Spinal Tap') was in her year. Billy Crystal and Michael McKean were also there at that time. I remember going to see her in the school plays they put on. She knew all those guys pretty well.
Jane O'Reilly (friend):
I worked on costumes and make-up for student productions at Tisch. That's how I met her. We became friends and drinking buddies.
Jonathan:
She was living with her brother who was studying art at NYU. She could be difficult to get to know, and she seemed to have a fear of intimacy. She didn't like crowds. She didn't open up much, and I always got the feeling that she was hiding some kind of pain.
Jane O'Reilly:
Janet was charming on stage. She was a good actress. Not the best actress, but there was a strange conviction to her performances that was disarming and endearing. It was quite compelling to watch her.
Jonathan:
I first saw her when she answered an ad for modelling. The ad had been placed by Shelley Karpel. Shelley was an old-school cheesecake photographer. He had contacts with some cheap New York nudie magazines like Rascal and Frolic, and he'd sell them spreads. I was studying photography, so I used to follow him around and help him shoot girls.
Mostly we'd shoot a lot of struggling students, trying to raise cash to pay their rent. I guess Janet fell into that category. She wanted to act. And acting wasn't making her rich.
She and I started to date off and on after that.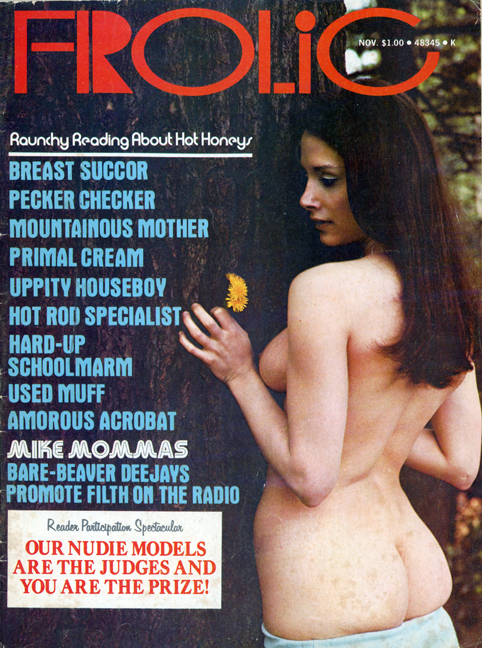 Janet, on the cover of Frolic (November 1972)
Jane O'Reilly:
Janet went to auditions and got a few tiny parts in movies that were shot in New York. This was the late 60s and there were quite a few independent films being shot locally. It was hard to break in though. She was still a student and mostly she just got work as an extra.
I remember one night she told me that she'd done a nude photo shoot for this old guy. She looked embarrassed. I couldn't tell if she was uncomfortable because she regretted what she'd done… or whether she feared my reaction. Either way, I know that she went back and did more pictures with the same photographer. We didn't talk about it after that. Neither of us brought it up.
Jonathan:
Janet was a beautiful girl, a real head-turner, but she wasn't a natural model. She just didn't believe that she was attractive, so she found it difficult to relax and look comfortable.
I also persuaded her to let me take pictures of her in my apartment. She was more comfortable with me, so they were better.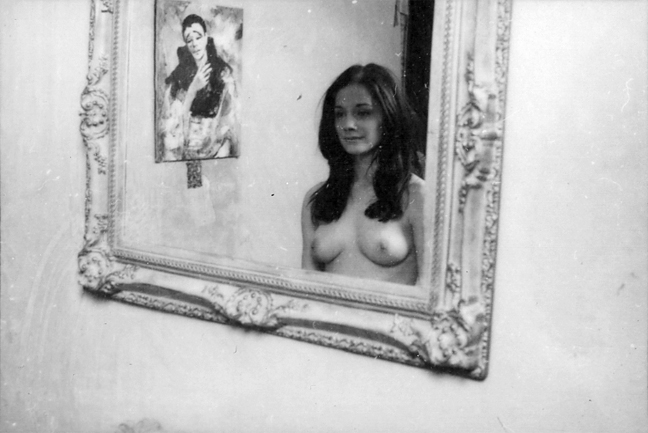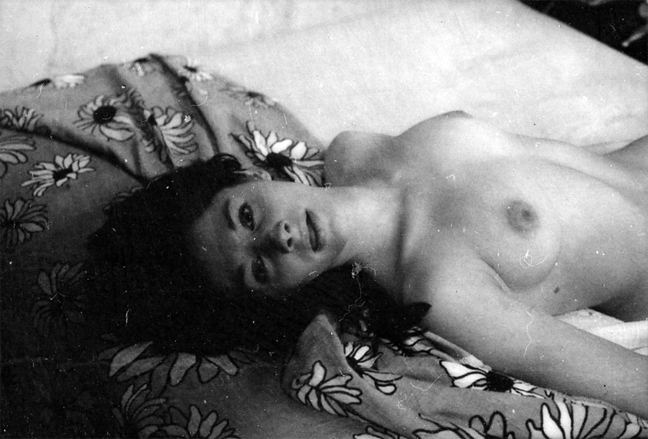 Jane O'Reilly:
She had this thing about her nose. I mean, she was gorgeous but she thought her nose would prevent her from getting proper acting parts. She was desperate to get enough money together to pay for a nose job.
The modeling work finally provided the money for her nose job. She had the operation and was proud of the result. The only problem was that she became paranoid that someone would hit her nose by accident and mess it up…
Jonathan:
Shelley and I did a few photo shoots with her. We took some shots in Prospect Park in Brooklyn and in a few apartments, but I don't know if we ever sold them.
Janet looks at the camera. She knows it's a game and she knows the rules, but that doesn't mean that she knows how to play. The nude photos show someone who wishes they were acting a different part. Instead she has the most difficult job of just being herself.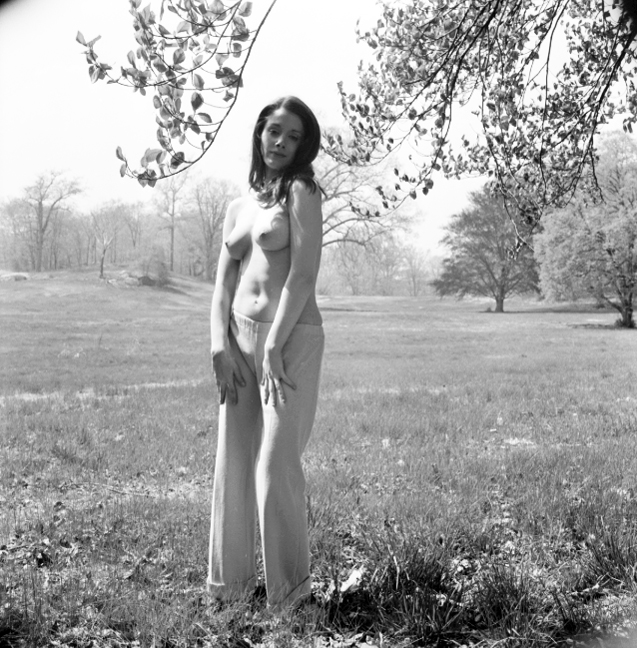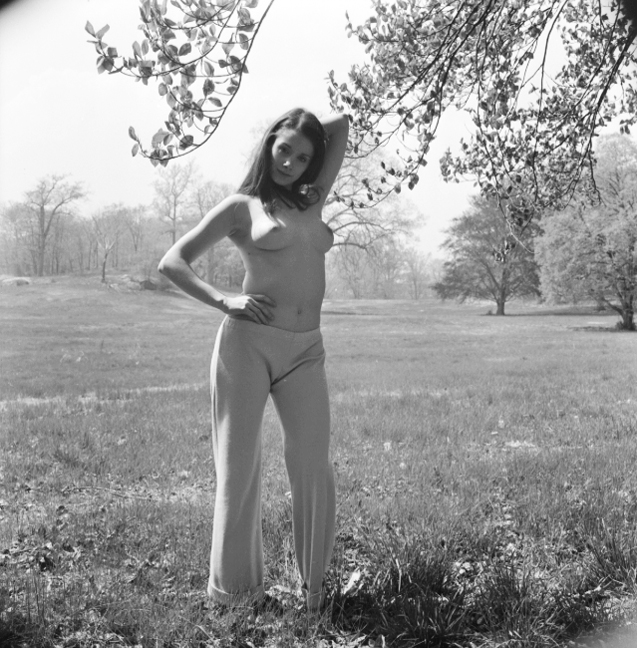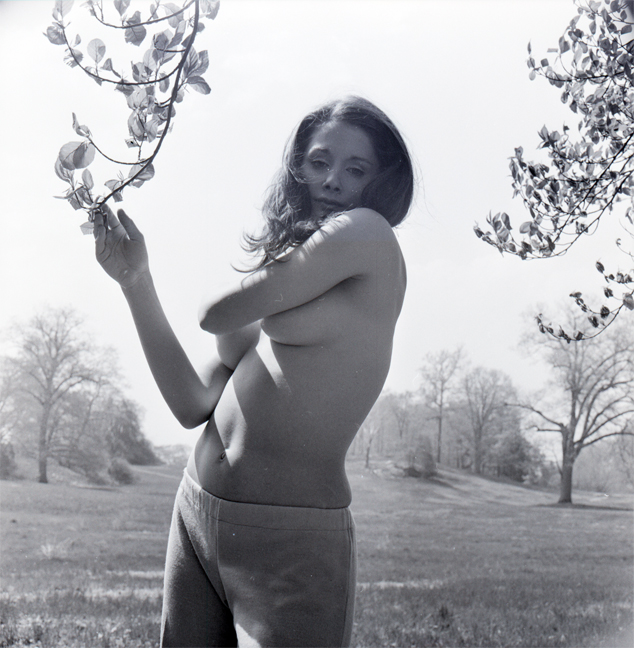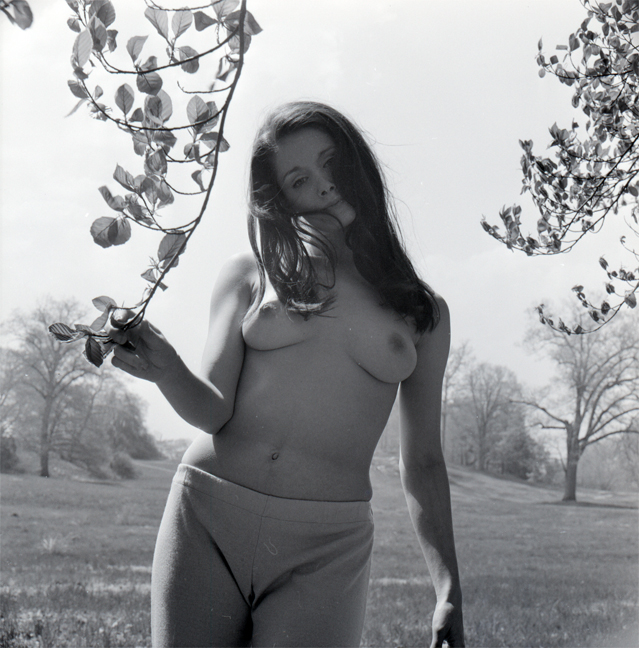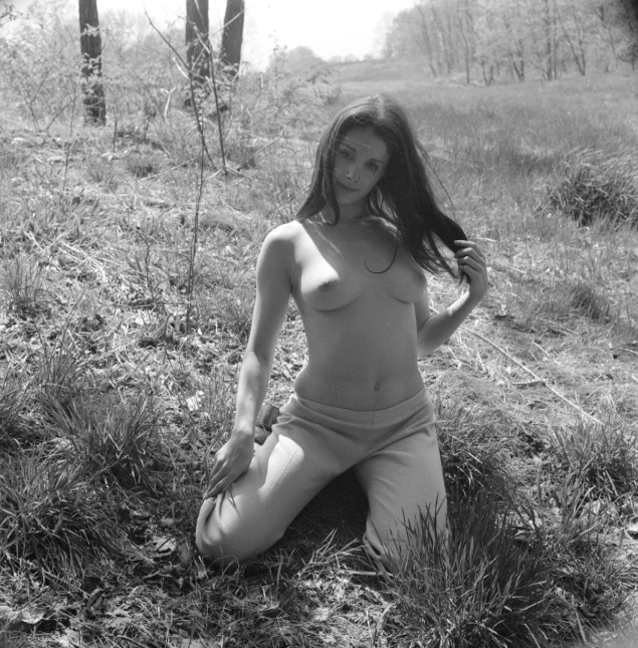 Jonathan:
Shelley's pictures were mostly black and white. I'd develop them at his place and then we'd shop them out to magazine editors. All these places had offices within a few blocks of each other.
Shelley lived in the Camelot building at 301 West 45th Street. That was a crazy place. It was in a scuzzy, sleazy area, hookers were lined up along the wall outside, and scary-looking pimps were never far away. I tried to get in and out of that building as quickly as I could, and not hang around.
Shelley's place was a trip as well. It always had a mixture of arty people and sex-industry folk hanging out.
One of the people I met there was this glamor-puss ex-sex film actress turned agent named Linda Boyce.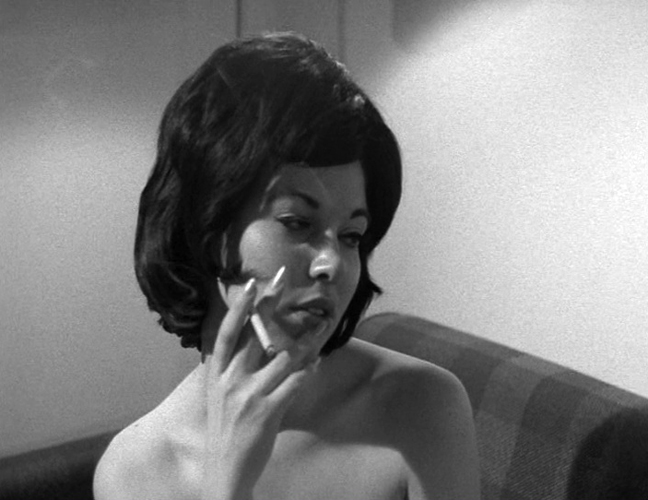 Linda Boyce, in 'Monique My Love' (1969)
Linda Boyce (actress, agent):
I appeared in a number of films when I was too young to know any better… I remember people like Michael and Roberta Findlay, the Amero brothers, Joe Sarno. They were all making these cheap sex movies. The money was good, and it was easy work, but I soon started looking for a way to get out.
I set up an agency for actors. I did it with a friend and we called it 'Boyce Stone'. I already knew everyone in the business so it was easy to do. I found actors for the films, magazine shoots, modelling assignments, you name it.
The guy I started it with didn't do anything so soon I ran it all myself out of my apartment at the Camelot.
Jonathan:
Sometimes Shelley and I shot girls in his apartment. Or at Linda's place. Linda had this big black Afghan Hound that Janet adored so we shot a spread or two there with her once when we had nowhere else to go.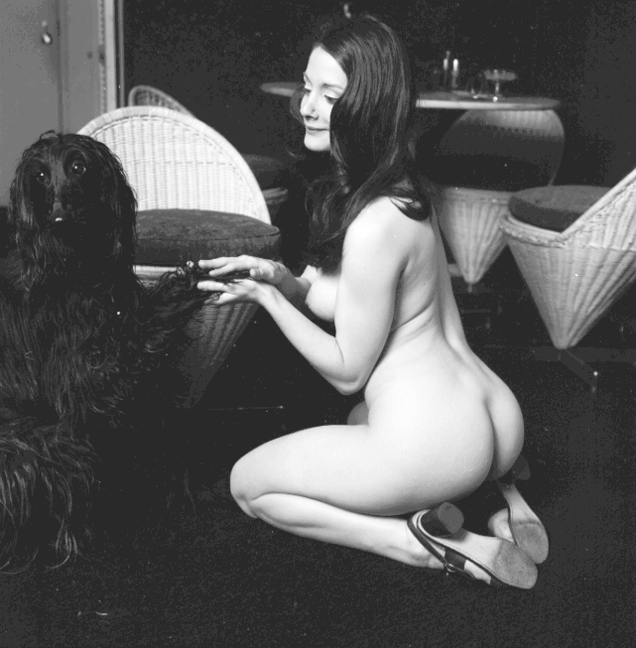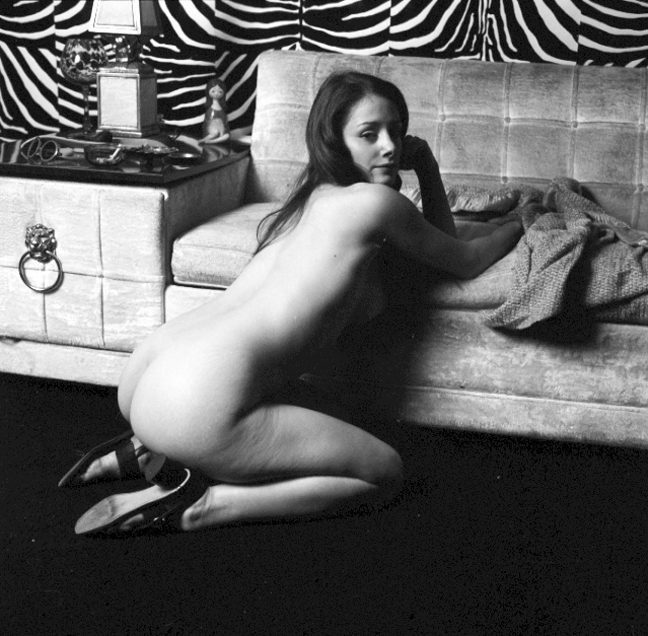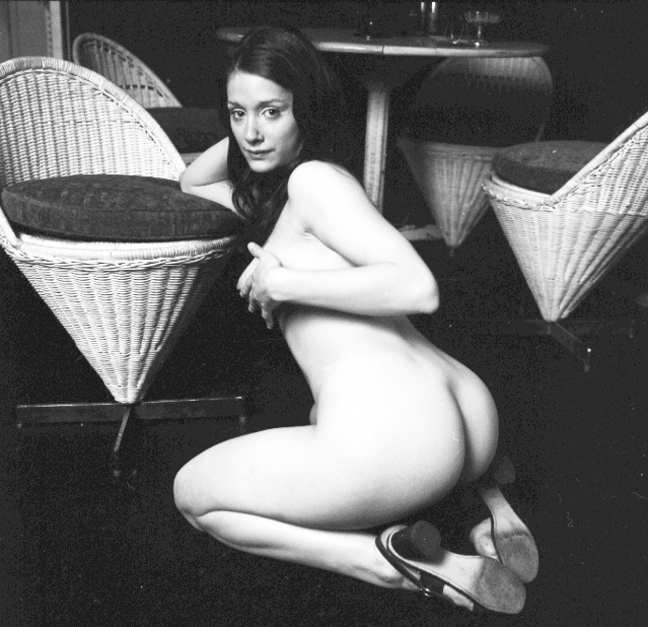 Linda Boyce:
When I was acting, and when I was an agent, the sex was strictly soft. That means it wasn't for real. That was enough for us. We weren't interested in going further. In fact we were afraid of the consequences of going further, and none of us wanted to get involved in anything more. We had no idea that it would eventually change into hardcore. No idea at all.
I had a few regular clients. People like Shelley Karpel and Sam Menning for photo shoots. And a filmmaker called Leonard Kirtman that I provided regular talent to.
Jonathan:
Kirtman was a burly, ex-taxi driver who had somehow convinced some backers that he could make soft-core sex films way cheaper than anyone else. His formula was simple: he would shoot two or three films at the same time, usually over a weekend. He would use the same skeleton crew and actors for every shoot. And he would give each film a suggestive and salacious title – usually involving a bad pun. Like 'Around the World in 80 Ways'.
I don't think he even knew how to make a film. So he used people who wanted to break into film. I remember this artist named Armand Weston that made some of his films, and a cameraman named Joao.
Linda Boyce:
Some of the filmmakers that I knew wanted to be real directors. They tried hard to make their films look good. Leonard Kirtman wasn't interested in making anything artistic. He just wanted to make as much money as possible for himself. That was fine by me.
Jonathan:
Linda suggested to Janet that she should go and see Kirtman. Kirtman was straight with Janet. He told her that she wouldn't get paid much, perhaps $50 a day, but that she'd learn about how to make a movie and could practice her acting in front of a film camera.
Janet was excited to make films and Kirtman seemed to like using her. It seemed like every weekend in 1970 she worked for him.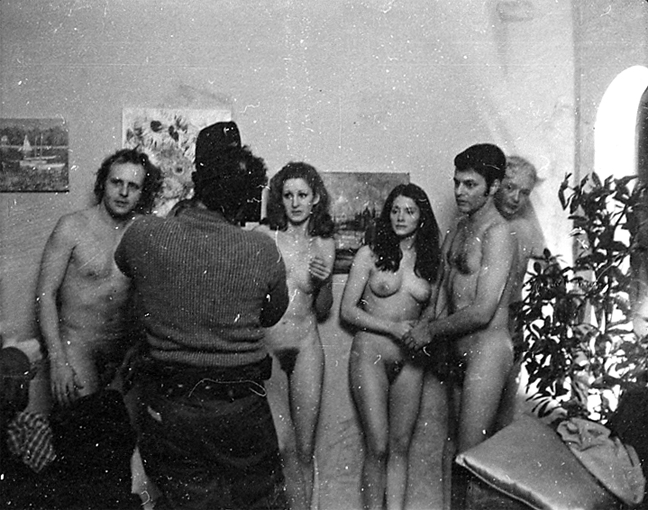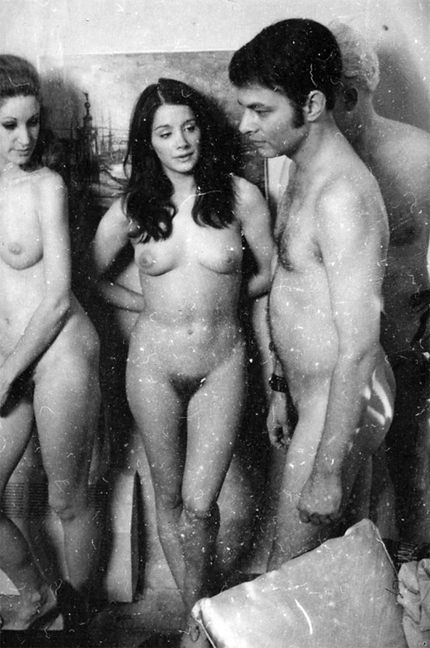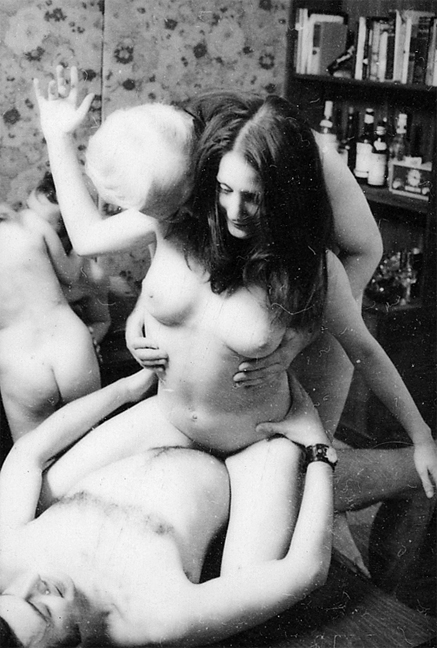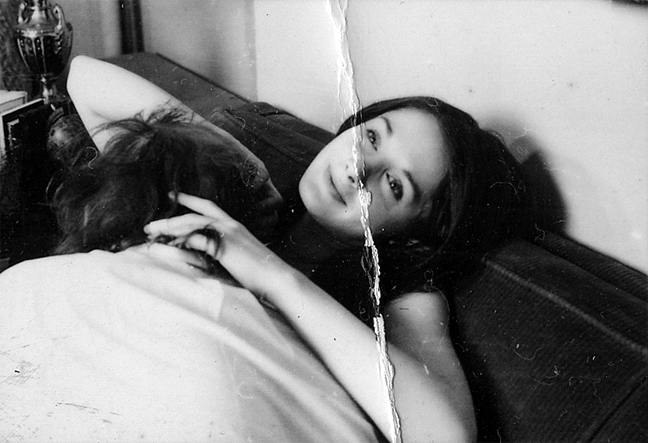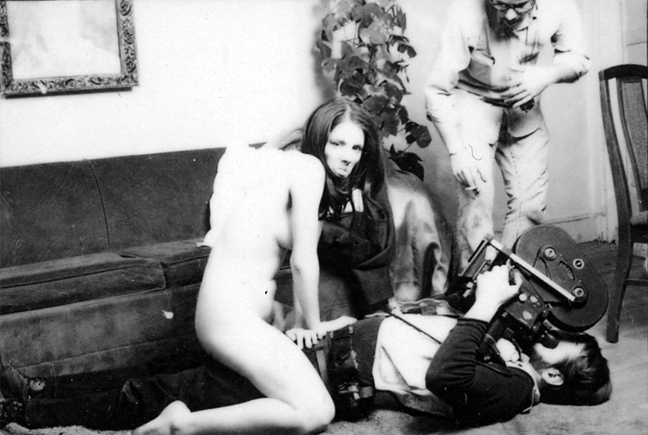 Kim Pope (actress):
I met Janet on the set of a few of the early films I made. We bonded. We had both done a lot of theater acting, summer stock, and so on. We understood what each other's lives were like. And we weren't quite sure why we were making these strange sex films!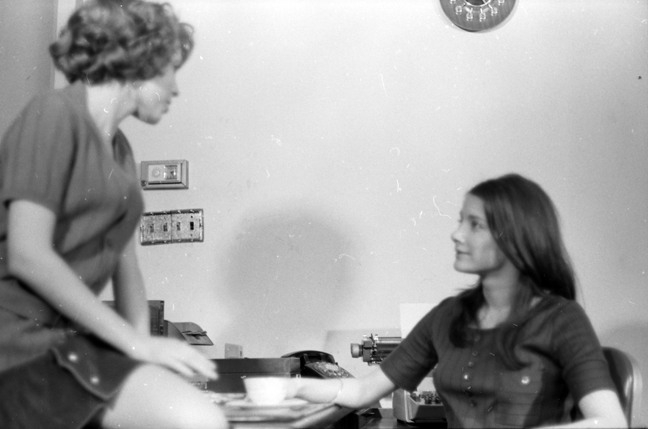 Kim Pope (left) and Janet
Jonathan:
No one was friendly with Kirtman. He wasn't that kind of guy, but he recognized that I could be of some value to him so he let me hang around on set. I took hundreds of stills that he used for publicity.
Janet appeared in a succession of films for Kirtman and his acolytes over the next year – including The Bed Spread (1969), Catch 69 (1970), Lip Service (1970), School of Hard Knocks (1970), Secretaries Spread (1970), Wall Street Walker (1970), Love Thy Neighbor (1970), Exchange Student (1970), Use the Back Door (1971), Vice Versa! (1971), and Pay the Baby Sitter (1971).
The films called for minimal acting and a lot of undressing. Janet became more comfortable. The films became more explicit.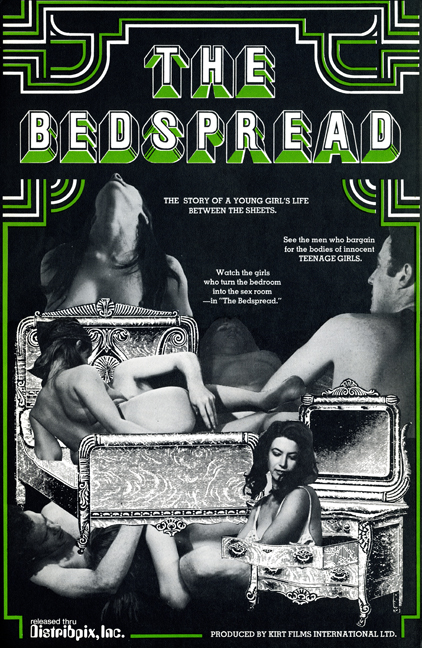 Janet on the one-sheet for The Bed Spread (1969)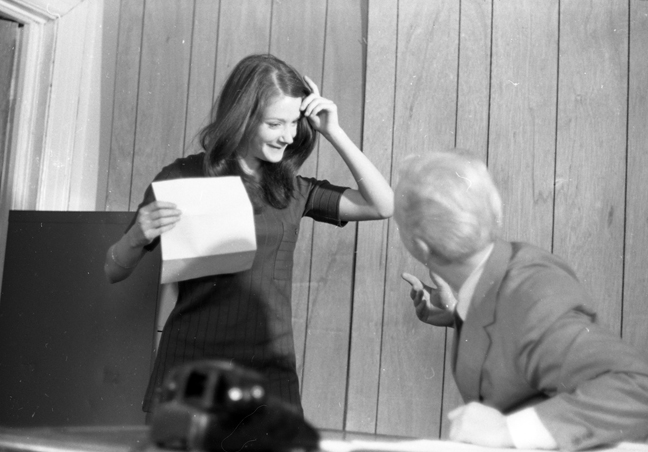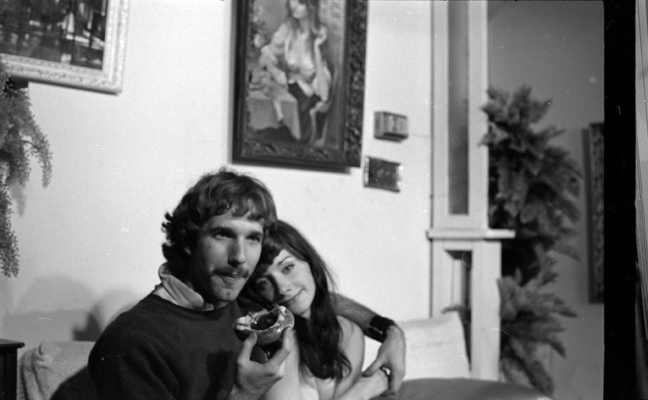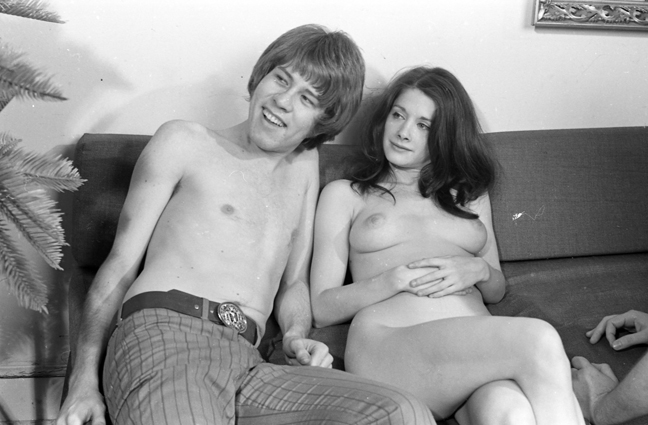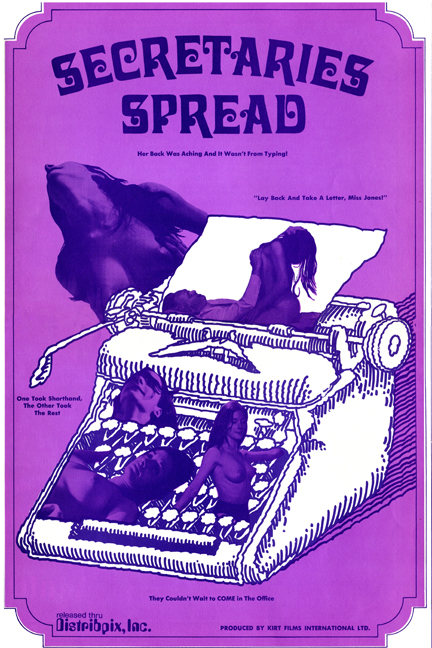 Janet on the one-sheet for Secretaries Spread (1970)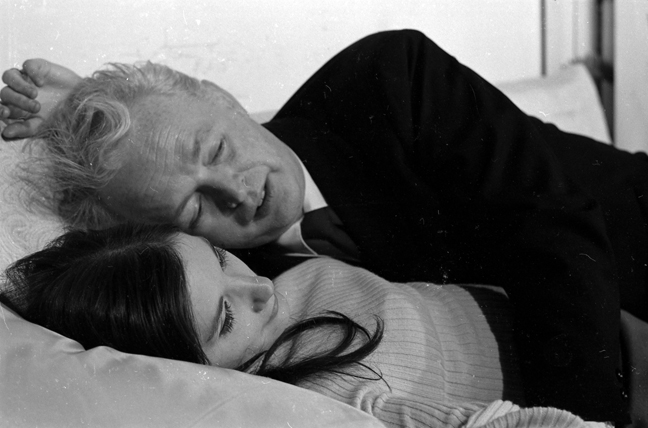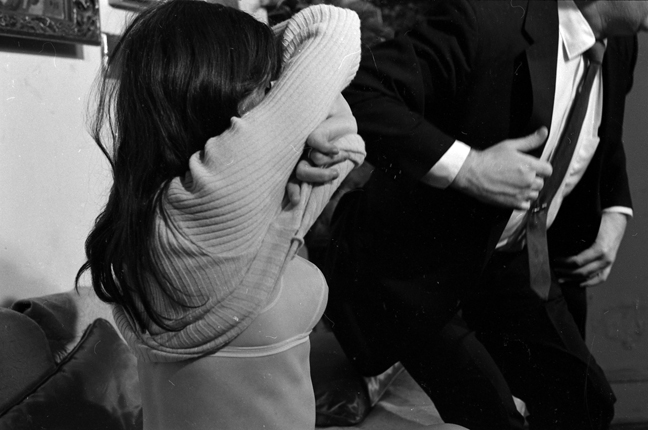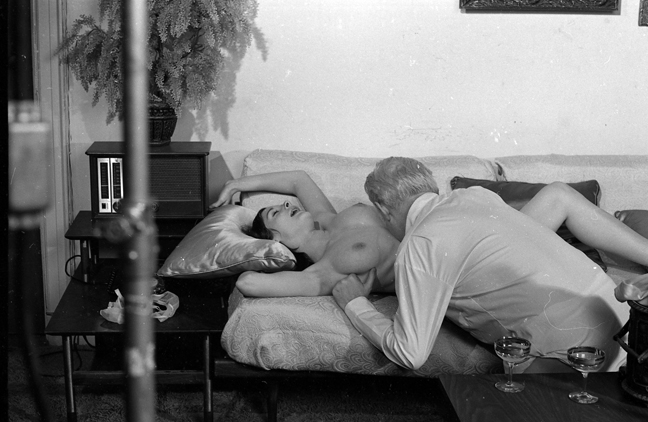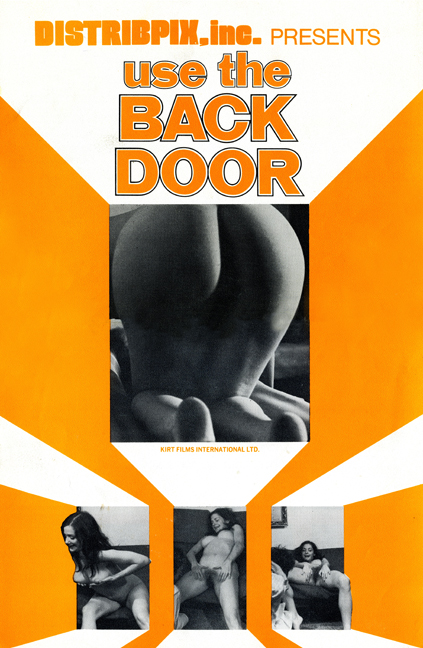 Janet on the one-sheet for Use The Back Door (1971)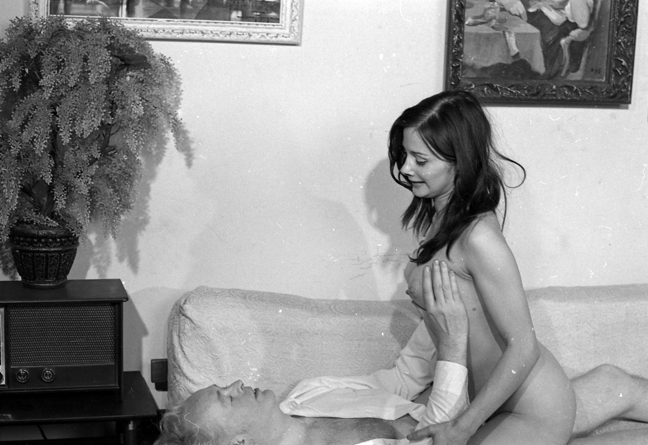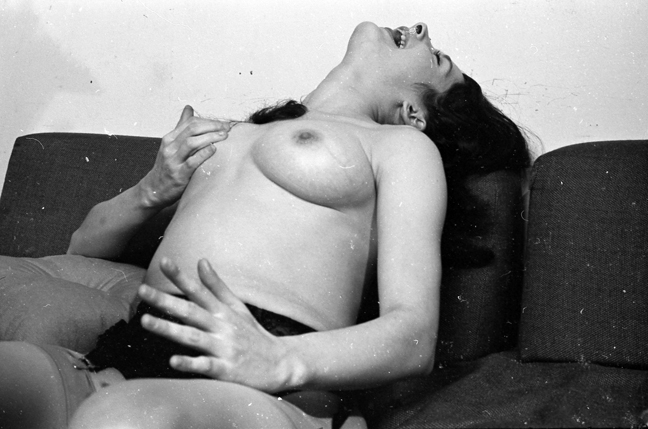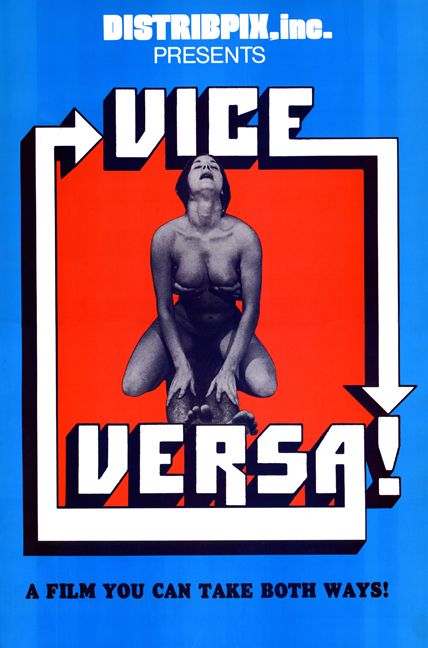 Janet on the one-sheet for Vice Versa! (1971)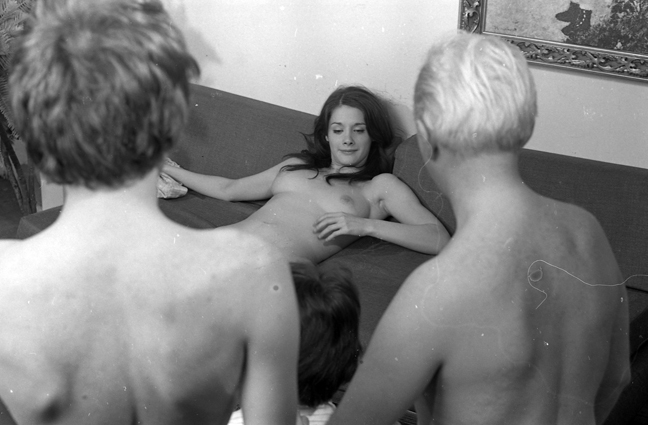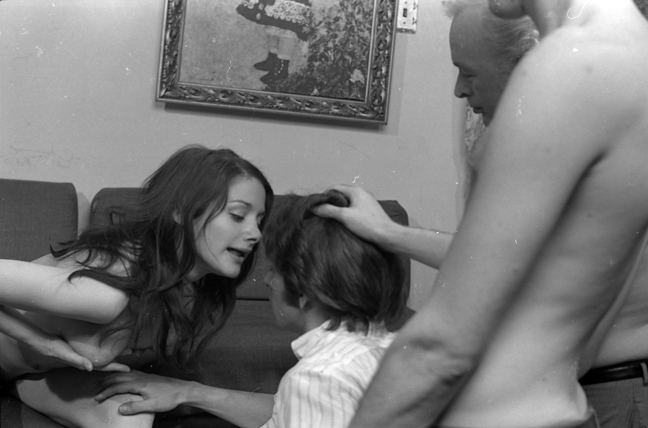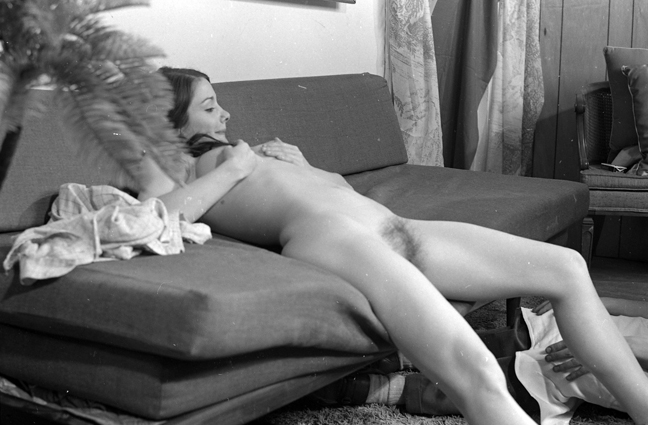 Jonathan:
She wasn't as uncomfortable doing nude scenes I guess because she'd done the photo shoots. But the sexual scenes weren't as easy for her. Kirtman used the same actors again and again which made it more bearable. I tried talking to her about it but she just avoided the subject.
The problem was that the films were becoming more and more sexual.
Tallie Cochrane (actress, agent):
I was living in New York and married to Patrick Wright. Patrick was an actor who'd starred in some Russ Meyer films. We bribed a doorman to get us an apartment on 45th and 8th, which was the Camelot Building. Our apartment was next door to this great lady, Linda Boyce.
Patrick wanted to get back into the movies and Linda had this kind of soft core agency, so she showed us the ropes, telling us all kinda great stories, and set us up with people to see for interviews, that sort of thing.
Then one day Linda informed me she was getting married to this well-off man in the garment business, and she was just gonna throw her agency away.  I said "Linda, give it to me, let me do something with it."
She said, "Here!", and gave me her rolodex and a pile of papers.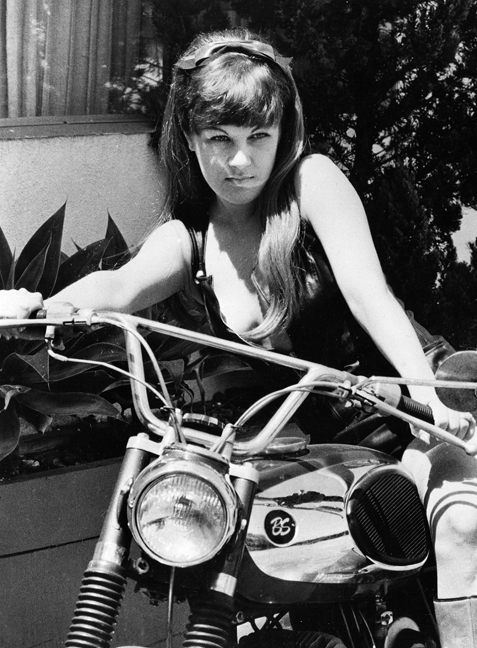 Tallie Cochrane
Linda Boyce (actress, agent):
I didn't like the way the business was going. It was becoming more sexual and hardcore, so it was a good chance to get out. Plus I was getting married. I never looked back.
Tallie Cochrane:
I got on the phone and I called everybody. I told them I existed and they all bought it and, next thing I knew, I was in business. I didn't know what the hell I was doing… but I was in business.
Within about a week or two at the most, the industry went hardcore. I could shit or get off the pot, so I decided to go with the flow. In a manner of speaking.
Jonathan:
It was like… one day the sex scenes were simulated and then they were for real. It was difficult for Janet I guess, and it was definitely difficult for our relationship.
A different crowd of people started to make films. I didn't like it any more and stopped my involvement. Janet continued. I still don't know why.
So we broke up.
Tallie Cochrane:
Janet was one of girls that came over from Linda to my agency. She was a sweet, pretty girl who everyone liked. Oh sure, she would always complain that she wanted to do films with less sex, but I told her, "Honey – if you take the sex out of these films, you haven't got much left…"
I set her up with Harry Reems on a film that was shot in Connecticut.
Harry Reems (actor) (from 'Here Comes Harry Reems' (1975), by Harry Reems):
'Dark Dreams' was a big leap forward. We stayed in the house in Connecticut for six days.
Not least of the reasons why 'Dark Dreams' was such a gas was a girl named Laura Kannon (sic). She was magnificent, impossible, and ridiculous. And I fell in love with her that week in Connecticut.
How to describe Laura?
Laura was actually a princess – a Jewish American Princess, commonly abbreviated as JAP. She had a glorious Greek-goddess body and a nose job she thought was the most perfect piece of surgery in the world. She only fell in love with men who told her she had an exquisite nose, possibly the most exquisite nose in the world.
Tina Russell (from 'Porno Star (1973), by Tina Russell):
(Note: Janet /Laura Cannon is referred to as 'Lisa Daniels' in Tina Russell's autobiography)
Lisa is definitely, in my opinion, in many ways the most beautiful girl who ever graced the porn screen. She has an incredibly muscular, yet feminine body with medium-sized breasts which stand up and straight out. With an angelic face and eyes that radiate purity, she has the look that would drive any 'dirty old man' – or for that matter, any 'dirty young man' – up the wall.
If a backer, director, or producer starts getting obnoxious, Lisa is definitely a good person to have on the set. She will not tolerate any ego games from anyone. She is also totally honest and will tell anyone exactly what she thinks of him. After a backer's ego has been deflated by Lisa. He is definitely not going to bother anyone else on the set.
Lisa quickly became one of our closest friends. To this day, we still love her. Jason, over the years, became the brother with whom she could confide, including those feelings which she could not talk to her real brother-roommate about.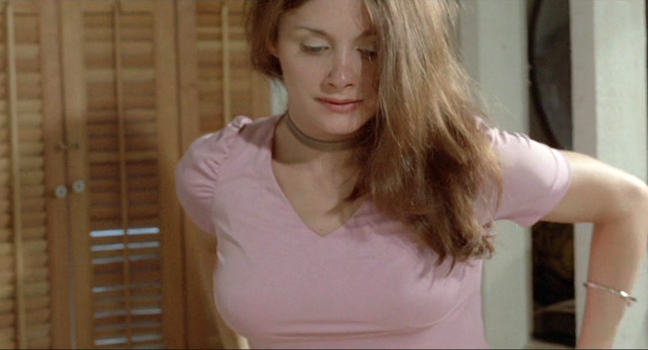 Fred Lincoln (actor):
Janet?! Shit, I had almost forgotten about her until you mentioned her! What a beautiful girl. We had so much fun with her. She could be a ball-breaker, but she'd melt and laugh if you didn't take her seriously.
Harry Reems (from 'Here Comes Harry Reems' (1975), by Harry Reems):
Laura wanted to be bossy. But you'd tell her to shut up and she would. She wanted her own dressing room and bedroom. "Aw, knock it off, Laura." Laura would knock it off.
In one scene in 'Dark Dreams', Kitty Kat and Laura were to cover me with whipped cream and eat it off me.
"Harry, Laura will give you head until you get hard," said the director.
"What do you mean, give him head?" Laura screamed. "Aren't you going to roll the cameras? I'm not doing anything off-camera."
Fred Lincoln:
See… Janet's thing was acting. She just wanted to act. Well, that and marry a wealthy doctor and live in a big house on Long Island. So for a time she convinced herself that the porno films would give her a grounding as a film actress. And I guess it did.
But then she started making 8mm loops with us… and let me tell you, there wasn't a lot of acting going on there.
Harry Reems (from 'Here Comes Harry Reems', by Harry Reems (1973)):
All the way (to the shoot), Laura was being her absurd, lovable self, alternating loving and hating us, and spewing out her hatred of the business.
"You guys are disgusting with your cocks," Laura ranted. "All you think about it sex. I'm not going to suck any cocks today, I'm telling you, I don't care what the loops call for."
Tina Russell (from 'Porno Star (1973), by Tina Russell):
Lisa may seem as though she would be quite capable of taking care of herself, but in many ways she is not. She is absolutely the most insecure person I have ever met. She is so sensitive and so filled with pain that to be loved or to be shown any sign of affection is far too painful for her to endure. Any display of affection reminds her subconsciously of the affection that she did not receive as a child – at that point tears begin to well up in her eyes and her face takes on an agonized look.
Excessive insecurity often causes paranoia and Lisa is a classic example. She is uncomfortable in crowds and her acute sense of awareness is always on the alert for any gestures or remark that she might regard as suspicious or aimed at her.
Jason Russell:
I loved Janet but she didn't make it easy. It was like she wanted to test your patience to see if you'd put up with her. Well, I was willing to invest the time, and she was a sweet, sweet person. I still miss her.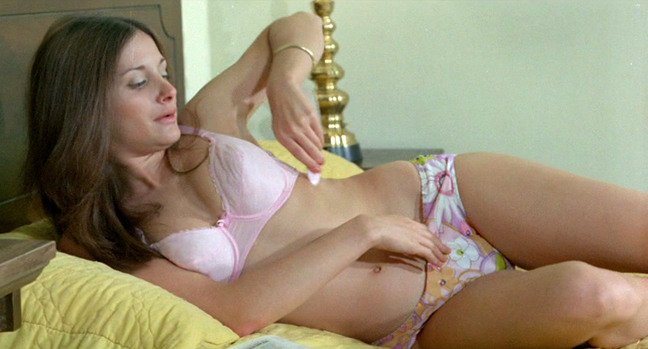 Tina Russell (from 'Porno Star (1973), by Tina Russell):
That lovely creature thinks she is ugly. Her biggest hang-up is the fact that he nose is slightly crooked. After a plastic surgery job, it is so slightly crooked that no one except for Lisa notices it. Nevertheless, she is extremely self-conscious of it.
(Once on set) out of the corner of my eye, I saw the gaffer's tape peel from the ceiling and the microphone it was holding fall. It happened so quickly that I could not react. With a thud, it hit Lisa's nose. Lisa began crying and screaming, "My nose! My nose! It's broken, I heard it crack!" Covering her nose tightly with her hands, she refused to let anyone see it and ran to the bathroom.
Fortunately her nose was not broken, but as the day progressed it began to turn blue and became quite swollen.
The silent 8mm loop flickers into life. A title card appears: 'Anne's Holiday'.
Janet walks into shot. She briefly breaks the fourth wall and glances at the camera. She appears to hear instructions from a voice off camera, and reacts accordingly. She is going through the joyless motions.
She retreats into herself. She thinks about the end, and blocks out the means. She survived the photographs. She can get through this film shoot.
Jonathan (Janet's boyfriend):
I saw her occasionally after we split. She was still making sex films and she was still a grad student at Tisch. She graduated from there in 1971.
The last time we met she'd got a walk-on part in the film 'The Hospital' (1971), which was Arthur Hiller's first film after 'Love Story' (1970). I think Christopher Guest and a few other of her acting class were in it as well. I went to see it in the theater but most of their appearances were cut. She was frustrated that people she knew were starting to find success whereas she felt she hadn't made the same progress.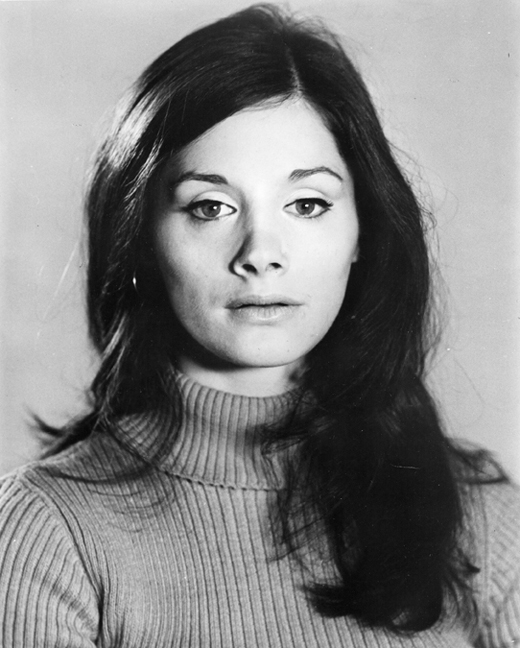 Janet's headshot for her mainstream acting resume'
Harry Reems (interviewed in 2008):
I dated Janet a few times. She fascinated me. Beautiful girl. It couldn't last because she just wouldn't let anyone close enough to care for her. Looking back though, and with the benefit of hindsight, I think Janet did enjoy sex but there was some reason… some guilt, which prevented her from being able to admit that she liked it. Maybe it was her family, or the way she was raised. Maybe it was just society that told women that if they enjoyed sex they were bad. Who knows? I just know she beat herself up every time, and it was a shame because she should have been less tough on herself.
In October 1971 Janet featured in a Playboy pictorial entitled 'The Porno Girls'.
The accompanying text read: "Laura Cannon, a product of an upper-middle-class Evanston, Illinois, who unabashedly lists her occupation as 'sex star,' appears in New York-made stag films and sexploitation movies. She has also played in summer stock and as Cordelia in an off-Broadway production of King Lear. At 23, Miss Cannon steadfastly refuses to speculate about her motivations: "I find self-analysis a complete waste of time."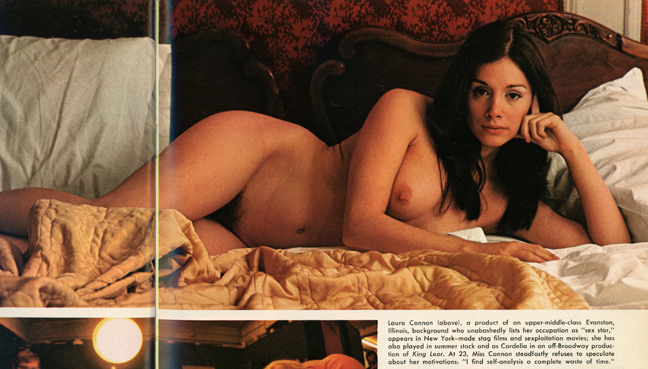 'Laura Cannon' in Playboy (1971)
Having worked solidly for Leonard Kirtman, Janet also worked for other notable directors of the early adult film industry. These included Roberta Findlay ('Altar of Lust' (1971)), Joe Sarno ('The Young, Erotic Fanny Hill' (1971)), and Gerard Damiano ('The Magical Ring' (1971)).
Gerard Damiano (director):
Janet was beautiful, a really beautiful girl. I wanted to use Janet in more films but I couldn't find her always when I needed her. It was a shame. She could act too.
Jamie Gillis (actor):
People told me Janet didn't enjoy sex and that it could be difficult to work with her. I didn't find her to be that way.
I pushed her buttons to see her reaction. She protested loud and long, but I could she I had got under her skin. The more I pushed her, the more she was intrigued… but also the more uncomfortable she was with her own fascination.
I liked her a lot. I wish I had been able to know her better.
Harry Reems (from 'Here Comes Harry Reems' (1975), by Harry Reems):
Jamie's kinkiness so scared Laura Kannon one day that summer that she locked herself into the bedroom and stayed until he had gone. He had been chasing her all over the place trying to kiss her shoes.
Two of Janet's most notable adult film appearances were at the end of her brief career, 'Forced Entry' (1973) and Andy Milligan's 'Fleshpot on 42nd Street' (1973).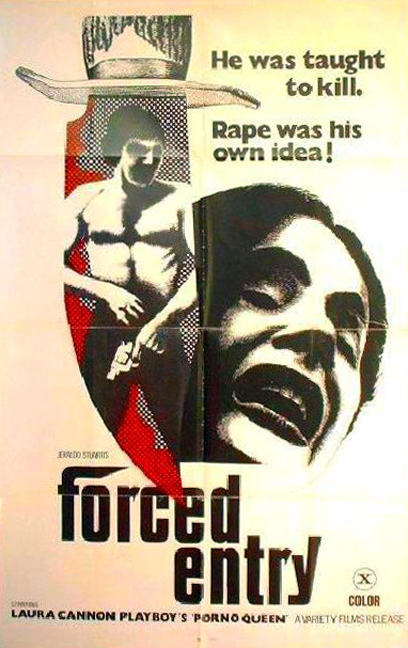 Janet on the one-sheet for 'Forced Entry' (1973)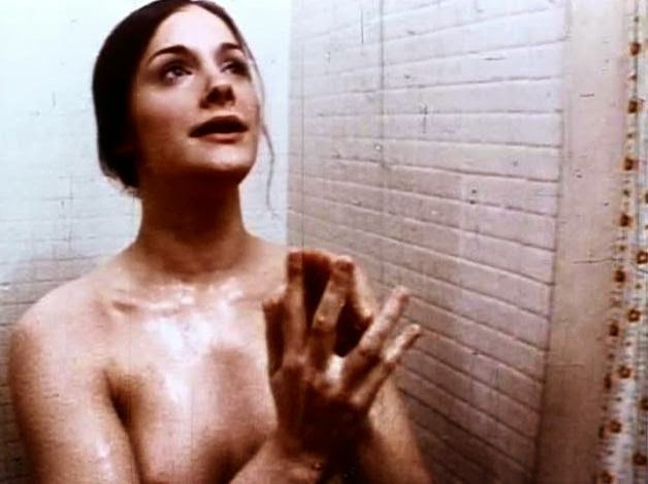 Janet in 'Forced Entry' (1973)
In 'Fleshpot on 42nd Street', Janet (credited as 'Diana Lewis – the Underground Superstar') plays Dusty, a woman living in New York who finds herself broke. She agrees to move in with drag queen and prostitute Cherry Lane (Neil Flanagan) but soon she too is turning tricks for cash. Before long Dusty meets Bob (Harry Reems) and the two quickly fall in love but Cherry puts pressure on Dusty to do one final trick.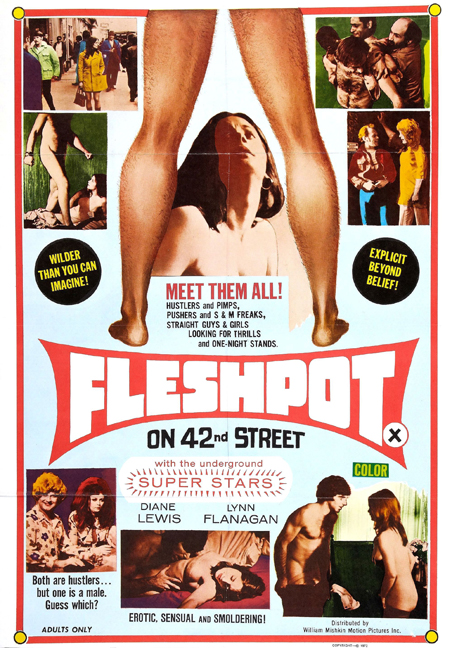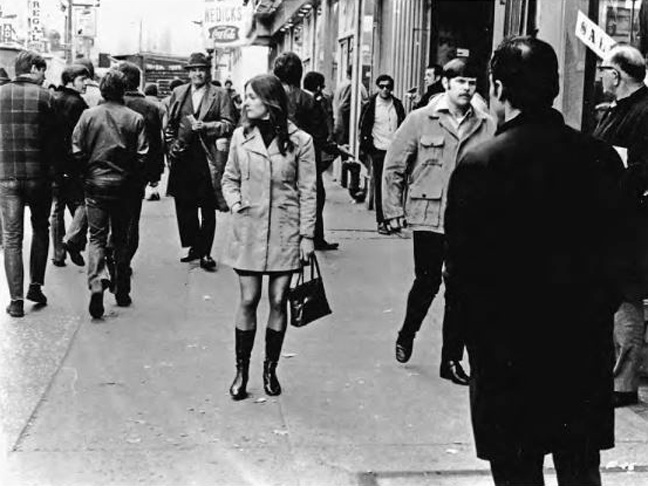 Janet in 'Fleshpot on 42nd Street' (1973)
Fred Lincoln:
Have you seen 'Fleshpot on 42nd Street'?! It's one of the most incredible films that our business made. It's not really a porn film even though I was in it, and Harry was in it, and Janet was in it. It's more like a Cassavettes film. I went to see it when it came out, and I thought it was art.
And the strangest thing was that it seemed so autobiographical for Janet.
Janet's character in 'Fleshpot on 42nd St' is at the end of her tether. She had come to New York dreaming of success and a better life, but instead finds herself needing to hustle in New York's sleazy underbelly in order to survive.
She is sexually confused and frustrated, and starts to provide sexual favors in return for a living. The daily grind gradually takes its toll but she refuses to give up on her hope that her life will turn around.
She sees people around her finding happiness, and clings to her belief that she too can achieve her dreams. Instead she becomes more cynical and bitter and starts to resent and mistrust the people around her while she struggles to retain her humanity and innocence. Eventually the urban jungle ennui and daily hustle becomes the only way of life that she knows.
Janet plays the part to perfection.
Fred Lincoln:
I became close to her for a few months, but 'Fleshpot' was one of her last films and I never saw her again after that.
After Janet stopped making films, her acting career seemed to stall as well. She continued to live in New York for a number of years, and both Harry Reems and Jamie Gillis remember seeing her in restaurants or walking the streets near her apartment on East 11th Street. Neither approached her to re-connect. Later in their lives both expressed regret at not having done so.
At some point Janet moved back to where she grew up in La Jolla, CA.
It was here that the Rialto Report finally managed to speak with her in 2009.
When we contacted her, Janet expressed surprise that anyone would ever had heard of her, let alone remember her. She was guarded and at first said that she had only made "one or two films," though she was intrigued to hear what had happened to her former acting friends.
She said that she had recently been having health issues, and would consider speaking in more detail once she felt stronger. She thanked us for our interest.
Shortly afterwards we learned that Janet passed away in La Jolla on June 17th, 2010. She was 63.
Having spoken to so many people to get a sense of who Laura Cannon really was, now she seemed to be even more of a mystery than she was at the beginning of our journey.

And somehow, that feels just right.

*
Save
Save