Ron Hudd, a prolific New York adult film actor in the early 1980s, passed away recently.
The Rialto Report lost a friend. He spoke with reserved amusement about the people with whom he worked, like Radley Metzger, Roberta Findlay and Larry Revene, but preferred to remain in the shadows.
To mark his passing, The Rialto Report spoke with Lisa Be about her unique relationship with Ron.
———————————————————————————
It started on the set of a pornographic film, A Scent of Heather (1980).
It was my first experience as a performer in an adult movie. The film was directed by Bill Milling, who often used the name Bill Eagle or Dexter Eagle, but this time had adopted the nom de porn, Philip Drexler Jr. Bill was calm and civilized, and in hindsight, I was lucky this was my first experience of a porn shoot. Any concern or uncertainty I had in advance about taking part in such a venture evaporated when I got to the set. It was the warmest, least threatening, and happiest experience I ever had on a film set. Later I would realize that this level of comfort would not always be the case.
I took a car service to the location, an old stone mansion in Connecticut, where I met the cast and crew. I played Aunt Phylis and my first scene involved me initiating Heather, played by Veronica Hart, into the ways of love. Or more bluntly, I fingered her. It was a ridiculous scene and I was embarrassed to do it, but I later learned from a friend who went to see a screening of the film that the script was a plagiarized version of an Italian art house film Til Marriage Do Us Part (1974) – and that same, embarrassing scene was in the original!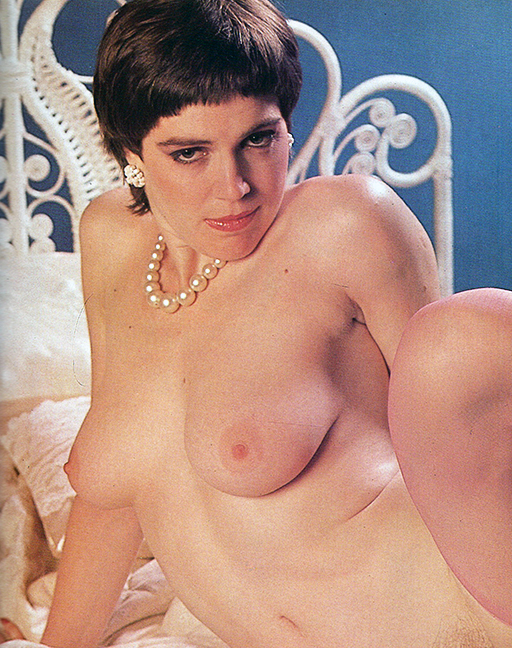 Lisa Be
The day I shot my second scene for the film remains one of the most beautiful of my life. It was with Ron Hudd, who I had just met for the first time. He was striking, intense and serious, as well as introverted and taciturn. He had a deep voice that commanded attention, and a tattoo of Pegasus on his arm. I found him instantly attractive, but wondered if we would have any chemistry. After all, we looked like the mid-western kids that we were, Ron from Indiana, me from Michigan, so would it be like two cousins having sex?
My doubts disappeared the moment we came together for the camera. I had just emerged from make-up in my period costume. Ron looked at me and his eyes grew wide in schoolboy incredulity. I stared back at him in awe, returning the same gaze. The instant sexual attraction was mutual, real, and intense.
Our scene started on a grand staircase, and ended on a four-poster bed. Ron was to deliver the line: "You are the most beautiful girl in the world," which he changed to "You are the most beautiful woman in the world." He said it with immense vulnerability and shyness, looking at me with the same intimate and penetrating stare.
The director shouted, "Cut!" and asked Ron to revert to the original dialogue line.
Ron looked embarrassed, taken aback. He snapped out of the moment, clearly fearing that he had been too sincere and romantic in delivering his line. The concern he had for being too authentic and not macho enough was etched over his face.
I soon learned, that was Ron. He disliked his own best qualities, such as the gentleness that he tried to keep hidden behind a gruff exterior.
The cameras rolled again, and Ron repeated the line, this time barking it out incongruously, and losing any dramatic meaning. It was a strange way to start a sex scene.
No matter. The sex that followed was as beautiful and intense as any sex I have ever had.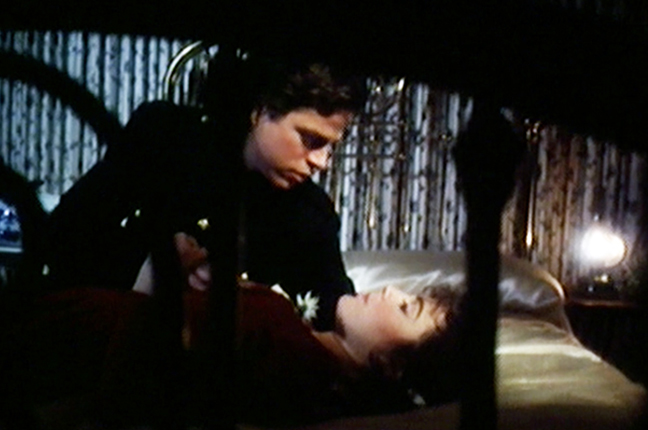 Ron and Lisa, in 'A Scent of Heather' (1980)
*
The next time I saw Ron was on a farm in Pennsylvania. It doubled as a swinger's club at weekends, and we shot a sex magazine spread there.
Afterwards, we traveled back to New York on the train, and had a chance to talk for the first time. It was a strange, formal, and detached conversation, as if we didn't want fellow passengers to realize that we'd just had sex. Ron told me he was an artist and lived in a studio on West Broadway. I told him I was a painter too, and that I did some writing. We swapped numbers.
A couple of months later I was offered a photo shoot with Puritan magazine. I called Ron and asked him if he was interested in doing it with me, and he eagerly accepted.
We traveled to the shoot in a van with the photographer, Ed Seeman and a make-up artist. During the journey, Ron took out a postcard-sized picture of one of his artworks. I was very impressed. It was an industrial landscape scene in the style of Thomas Hart Benton and the Regionalist art movement which depicted everyday people in everyday scenes of life. Ed took a look and dismissed it. "Predictable, unsurprising, nothing stands out" he said, waving it away.
I sensed Ron's immediate and crushing disappointment. He was visibly upset and uncomfortable, making excuses for the smallness of the picture. Ron retorted that art that shocks was gimmicky. I was surprised: surely an artist like Ron had to have a thicker skin than this to cope with the inevitable reactions to his work? And then I saw the same embarrassment I'd noticed on the film set. He was ashamed that he had revealed his sensitivity, just like he had been when corrected by Bill Milling.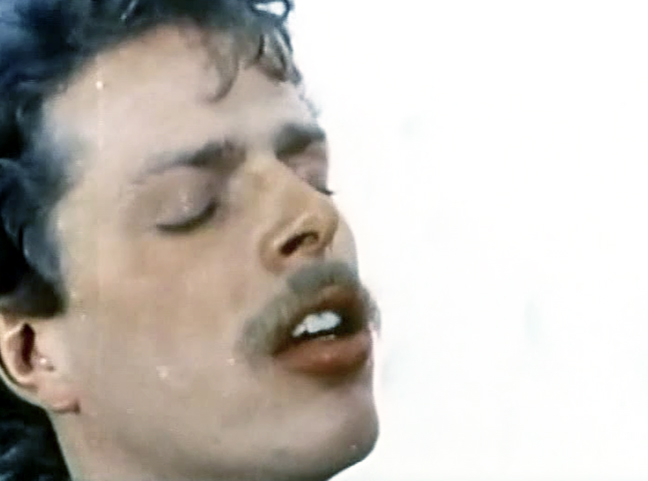 I rubbed his leg affectionately hoping to distract him, but he felt wounded. The preparation for the day's shoot was difficult after that. Ron was frustrated with how long the make-up girl was taking to get me ready, and it was hours before we were able to start.
But once the photo shoot started, it was explosive. Ron's pent-up frustration at having had to wait was unleashed and our connection was instant. The sex was just as incredible and passionate as it had been before. Even seasoned crew members, like Richard Jaccoma, admitted to being aroused.
On our way back to New York, I showed Ron some pictures of my artwork. He said he was impressed, and he mellowed. He showed a genuine interest in my work, and was engaged in our conversation.
He opened up, and for the first time talked about his personal feelings and aspirations. He said his art career meant everything to him. Certainly more than relationships. That was the reason he made adult films. The movies provided enough money to support his art endeavors, and meant he could have sex with a variety of women without the need for any commitment. He knew women expected more from him, but that was just not going to be possible. He told me that he'd called up fellow adult film performer, Samantha Fox, and asked to go out with her. After they had sex, he moved on, not returning her phone calls or contacting her again. He knew her feelings had been hurt, but he never called her back.
Despite this, I was strongly drawn to Ron. He was intelligent, brooding, and intense, and our sexual connection was without parallel.
I was struck by the contrast with another close friend and lover of mine, Ron Jeremy. Ron Jeremy was sweet, caring, kind, and funny. He was considerate and would never let anyone down. I would sometimes share his bed when I wanted companionship without any fears that he would take advantage of me. It's strange the way life turns out.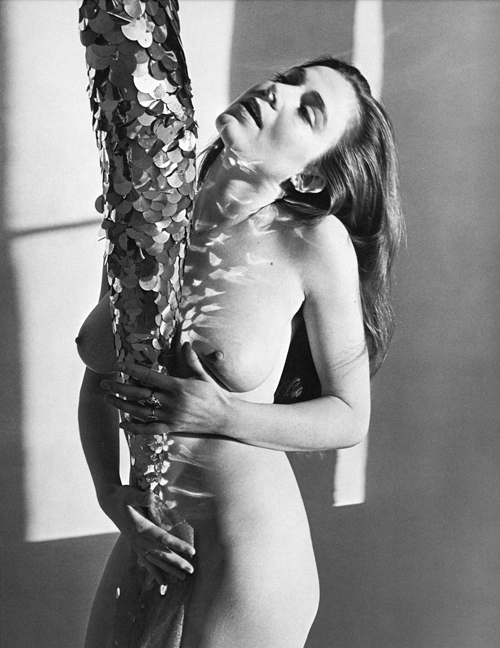 Lisa Be, in the studio above Show World
*
In between film work, I worked at Show World – until Ron Martin, the manager, fired me.
I called around and spoke to other live sex show theaters. They told me to come down with a partner, and they'd consider me for a job. I called Ron Hudd, and he invited me over to his loft. He lived there with a few other artists. He showed me hundreds of his canvasses. Apart from the quality of his work, I was struck that none of them featured people. My own work was almost exclusively centered around human subjects.
I told Ron I was concerned about making money. He was thoughtful and considerate, and we discussed it for a while. In the end, he declined, saying, "I just want to be an artist: I don't want to be known for sex."
I asked him how he thought he could stay anonymous by doing something so public, so visible, as sex films?
He answered with a simple conviction: "If anyone ever asks me about it, I will tell them they are mistaken. They are getting me mixed up with someone else."
In July 1981, we made our next film together, Cosmopolitan Girls for Dave Darby. It wasn't an enjoyable or easy shoot, and much of that was due to Darby himself. My scene with Ron was in a dentist's office – a real one hired for the production. Darby was playing around with the laughing gas, sucking it up himself and getting high – which made me nervous. Ron was made uncomfortable by the situation too and found it difficult to maintain an erection. It was a far cry from the professionalism of Scent of Heather.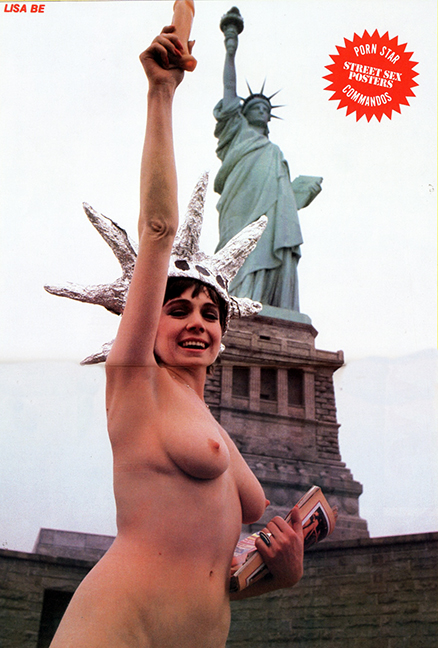 In September 1981, Ron and I made another film, Young and Innocent (aka Wild Innocents). It was shot at a kid's summer camp, unbeknownst to the owners of the property.
We spent time together chatting and talking about art, and I sketched him by the pool. I was struck by the way he was drawn into himself all the time, self-centered, diffident and meditative. When he opened up, he described a failed relationship that clearly weighed heavily. She was a senior executive at Grey Advertising, and Ron had told her how he felt about her. She left him shortly after that, and Ron was convinced that she'd lost respect for him because he'd revealed his vulnerability to her. It was the same old story: Ron was terrified of opening up and revealing himself to anyone in an intimate way.
In 'Young and Innocent' we were cast as camp counselors, and our scene is one of the most beautiful scenes I have ever seen. Ron may have been a chauvinist but he was attuned to pleasing me sexually. The scene remains etched in my memory and heart.
After that, Ron started calling me frequently asking to go out with me. I was surprised. He'd already confessed to me that he wasn't interested in relationships. That he would discard women after he had sex with them. That he was only interested in his art. And I accepted that. So why was he so keen to see me outside of work?
I resisted the temptation to get together with him, but it wasn't always easy.
Once I ran into Ron and Sean Elliot at Bernard's. I invited them both back to my place on Sullivan St for the night. We had sex, but it was a strange, unsuccessful affair. Ron and Sean were nervous and we seemed out of sync with each other.
Next day, I asked Ron why he thought it hadn't worked. In his booming, deep voice, he said: "Sometimes there's just too much of a danger that the two guys are going to go for each other."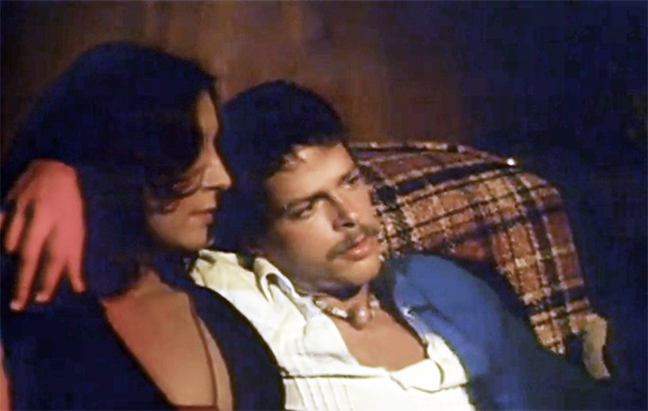 *
In December 1981, Ron called again. He said he wanted to see me. He wanted to take me to a stag party where we'd have chance to dance, have fun, and be together.
I was excited. I had fantasized about this. I imagined a real date. We'd get to know each other more. Perhaps a conversation about our pasts, presents, and futures. I could learn more about his family and friends. Hear about his art work. This was what I'd been waiting for.
I accepted his invitation. I took a taxi to a nightclub on West 36th St, and entered the building with high hopes.
I was disappointed.
There was no conversation, no acknowledgement that I was there. A short while after I arrived, he started making moves on me. His intentions were clear: he was repeating the same behavior that he'd used on Samantha Fox. I'd thought that I was more interesting than that. I was hurt and sad.
I told Ron that I was leaving, and he was surprised. He said: "I never knew that you're so turned off by me."
I wanted to tell him everything: that he was my favorite partner, that I longed to get to know him better, that I wanted something more with him, but I didn't.
I left. I was proud of myself for not giving in and surrendering to him, but I was upset that we hadn't talked. We communicated so perfectly sexually, but found it difficult to do with words.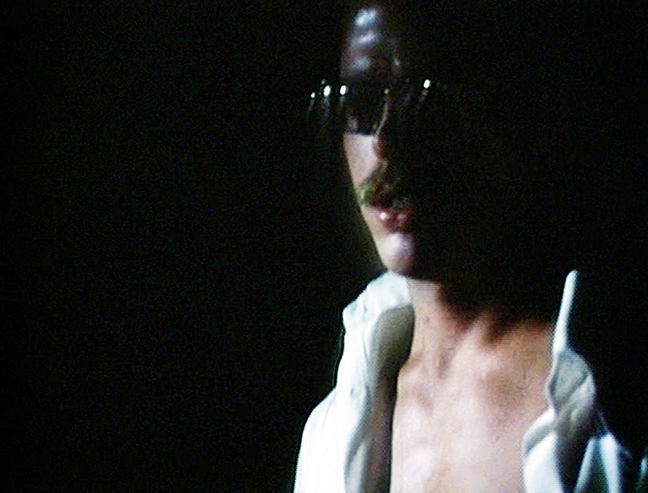 *
It was only fitting that as my first adult film role had been with Ron, my last was with him too.
Teach Me was a cheap, shot-on-video effort. It had been only a short few years, but the adult film industry had changed, and so had Ron. Now, Ron had to engage in rougher sex in order to stay aroused, and we were embarrassed to be there. It was clear that we both felt rejected and hurt by each other. We were young, and hid our unresolved feelings from each other, when we should have tried to talk and express ourselves instead.
*
A few years ago, I went back and watched 'Scent of Heather' again on DVD. I had just read a New York Times article denouncing porn, and I wanted to test my own memories and values. I hadn't seen any of my films since they came out in the 1980s, and I wondered if re-watching my first film would cause me to re-appraise that part of my life through a modern-day lens. Was I guilty of misremembering it? Or romanticizing the era and the sex industry, and my own involvement in it?
I watched my scene with Ron, and I was surprised to be overcome with tears of emotion.
Firstly, because I was confronted by myself in the flower of youth. A young, attractive girl with a voluptuous body that I hardly recognized from the mid-sixty year old I am today. I never appreciated how pretty I was at the time, but then again, who does?
Then there was the sexual energy and power I once possessed, and now mourned never to return. I cried too for the critical negative judgement against sex performers that existed then, and still exists today. We were, and are, at odds with the world. I thought of Catharine MacKinnon and her diatribe, 'Only Words' (1993), in which she argued that pornography is an act of intimidation, subordination, terrorism, and discrimination, and should be legally treated as such. What would she make of this scene, in all its gentle intimacy and beauty?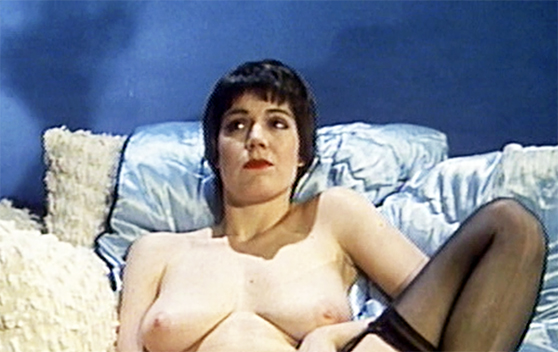 And then there was Ron. I was struck by Ron, all over again.
Over the decades since I had last seen him, I often thought about him. About how I wished we'd had the chance to say what we should have said when he invited me to go dancing with him. So many years had passed, but the feelings remained bottled up in my sub-conscious. I decided to write an account of our relationship.
When I finished the piece, I looked Ron up online. He was easy to find. He was now a successful painter whose work appeared in exhibitions across the country, and sold through major auction houses. (It was however sad to see that he had abandoned his earlier wistful style in favor of modern, colorful abstract images.)
I got hold of a phone number for him, and a couple of years ago, I called him.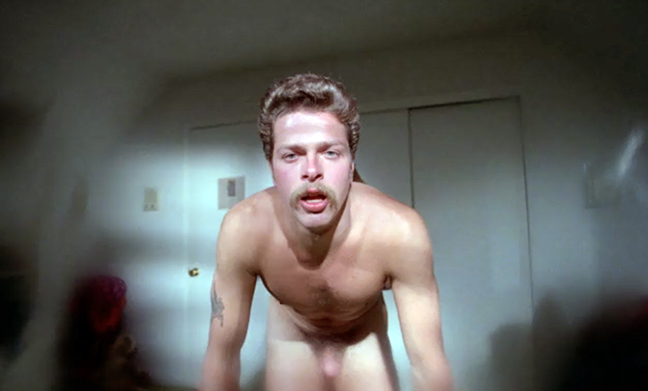 *
When Ron answered the phone, I re-introduced myself. He sounded panicked and alarmed.
I told him I was writing a piece about our relationship against the backdrop of the adult film industry in the early 1980s. I offered to send it to him. He expressed an interest in reading it, and so I said I'd email it to him.
It was a short call, that was understandable given his surprise at hearing from me after such a long time.
A few weeks later, I followed up with another call to see if he had had chance to read the article. What happened next shouldn't have surprised me given what he had once told me, but it did.
He denied knowledge that we had known each other. Refused the idea that he'd ever been active in the adult film business: "I painted some nudes back in the day, but that's all. You must be mistaken. You must be getting me mixed up with someone else."
He still had difficulties expressing himself, and closed the conversation by saying, "I am not interested in continuing this conversation."
I was saddened by Ron's reaction. I tried to console myself with the thought that at least I had tried to reach out and seek closure.
A while later I was contacted by someone in touch with Ron. This person told me that Ron was going through a difficult time in his personal relationships, but that I could expect to hear from Ron as soon as he felt he had worked them out. I wondered if Ron's reticence to engage with me was perhaps a result of being in a relationship where his adult film past was an issue.
I waited to hear from Ron, but heard nothing.
I decided to take one final step. I resolved to send him a birthday card, to remind him that if he ever wanted to re-connect, I'd be happy to speak with him.
I looked online to find his birth date. Instead, I came across his obituary. Ron had passed away only weeks before.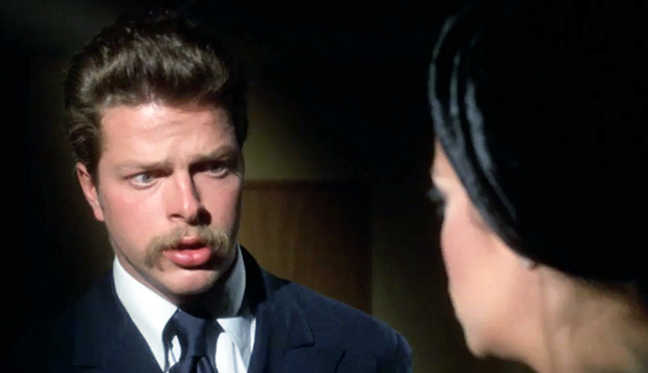 *
I was devastated.
I was a sex worker. A prostitute, a lap dancer, and a porn star. Men like Ron Hudd played an important, critical, part of my life. They kept me alive because of the connection I had with them. Other people were bodies, but not Ron. He didn't act a role when we were together. He was real. He was compatible with me. I loved him in a strange way.
I hadn't been in touch with Ron for many years, but I realized that I had harbored hopes that one day, we'd be able to communicate. I fantasized one day we'd meet again. Go to a museum, a coffee shop, a walk in the park. We'd talk. I'd explain that night. The sadness, the disappointment. I'd explain that I never rejected him. On the contrary, I just wanted more. Finding that Ron had died meant that this would never happen.
I am at the age where I lose friends. I know that. But Ron was part of my formation. He was life blood to me. I never pictured myself in this world without the possibility to speak with him again. I haven't been able to accept that yet.
When I learned of Ron's passing, I let myself mourn a person I loved, but perhaps hardly knew.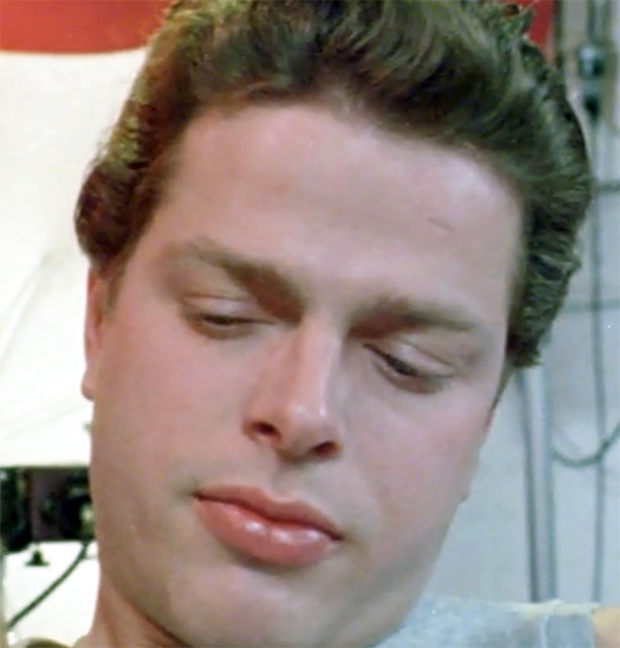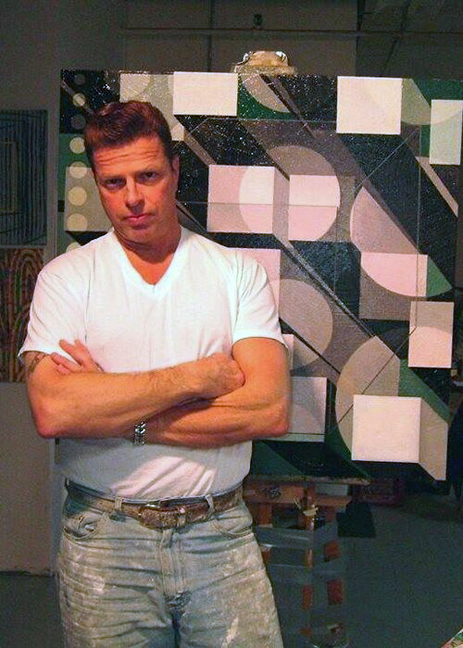 Ron Hudd, artist, in later years
*