Podcast: Play in new window | Download
Subscribe: RSS
From 1985 until 1997, Misty Blue Simmes was the biggest female name in professional wrestling. She held belts from the National Wrestling Alliance (NWA) and the Ladies Professional Wrestling Association (LPWA), was courted by Vince McMahon of the WWE, and graced the pages of all the major wrestling magazines.
But wrestling wasn't Misty Blue's first time in front of the camera. Before there was Misty, there was Diane – a married swinger who had a double life, with her husband Jon, as a stripper. Actually, they had more than one double life: they put on foxy boxing shows, mud wrestled, featured in men's magazines, and performed in adult films as Bunny and Buddy Hatton – working with Gerry Damiano, Joe Sarno and many others.

Theirs is the story of a small-town couple exploring the worlds of sex and entertainment for both fun and profit. And it's a love story of a couple together for almost half a century, raising a family and always having each other's backs.
This is Misty Blue Simmes' story. And Bunny and Buddy Hatton's story.
And a little ditty about Jack and Diane.
With special thanks to Jon and Diane for sharing their story.
This podcast is 45 minutes long.
The music playlist for this episode can be found on Spotify.
___________________________________________________
Outlaws and Outcasts
A little ditty 'bout Jack & Diane
Two American kids growing up in the heartland
Picture this. It's August 1978 in upstate New York. You're driving down a county road during the lazy, hazy, dog days of summer. You see some tattered signs for the local fair, worn out from years of repeated use. Follow the setting sun and the chorus of cicadas until you come up on a city of tents. It sits in a large field that lays unused the rest of the year.
Keep going. Track the smell of funnel cakes and hot dogs past the Ford Pintos and Chevy Impalas parked on the matted grass. You're gonna see an unlikely mix of locals: Parents losing sight of excited kids. Town council members with painted-on smiles and sweating in polyester suits hand out re-election leaflets. Gangs of teenagers sneak cigarettes and make fun of rides they happily waited in line for just a year ago.
Continue behind the stands towards the hum of generators until you reach two used RVs parked so close they're almost kissing. There's a length of weathered rope between the vehicles, holding up hand-washed clothes. You got neon bikini bottoms, mesh bodysuits, pony-fringed tops with deep necklines.
Four pretty young women sit in rusty lawn chairs. One leafs through a magazine while tuning a cheap portable radio. Another pops gum, her legs propped up, painting her toenails maximum orange glitter. Two more pass a tallboy can of beer between them, swigging like truck drivers.
The door to one of the RVs opens. A guy and a girl come out. They're cocky; their confidence makes it clear they're in charge.
Jon is wiry, bearded and all business. He turns back to lock the door.
Diane's a cutie. She's wearing cut-off shorts and her hair is feathered like Farrah Fawcett. She looks over at the girls and issues her instructions: "Grab the hose and the ring – it's time to get dirty. Mud wrestling waits for no one."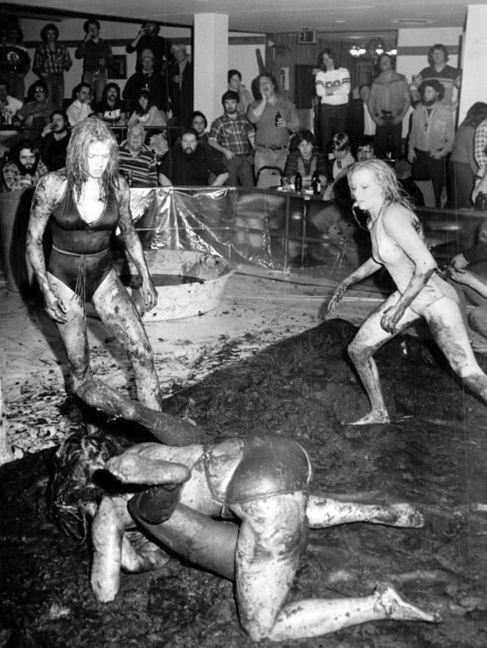 *
Jon meets Diane
Suckin' on chilli dog outside the Tastee Freez
Diane sitting on Jack's lap
Got his hands between her knees
Jon first set eyes on Diane just before he graduated high school in 1970. She was different from the girls he was used to seeing around. He'd spent his whole life in the same small upstate New York area he was born in, but Diane was new to town. She was in her junior year. She'd spent most of her life kicking around Maine and Vermont, the result of a father who had trouble holding onto a regular job. One year, she attended five different schools. That's a lot for a young girl. And the relentless upheaval made her quiet and shy around strangers.
Now Jon loves his hometown, but even he admits it's working-class and redneck. This is love it or leave it America. Jon's dad worked at the local General Electric plant like almost everyone else in town did. Either that or the paper mill. Jon's mom's claim to fame was working at a company that made Lawn Darts, a game so dangerous the FDA were forced to stamp a warning on it that read, "May cause fatal injury."
When Jon first met Diane he pulled out all the smooth lines he'd used on other girls, but Diane wasn't buying them. Jon liked the challenge so he stuck at it. Eventually she gave in. I don't know… Maybe she started to like him, maybe she was just worn down by him. Either way, the two started dating.
After high school, Jon imagined becoming an oceanographer. He liked the way it sounded – no matter that he'd only seen the sea once in his life. Then he found he'd have to go to college and take a whole bunch of science classes. So he decided to take a year off. It's been a long year ever since then.
Jon also had a thing for motorbikes. Since he was a kid, he'd watched biker movies like Cycle Savages and Easy Rider. When he got out of school, he pledged his loyalty to the local MC chapter and got his patch. At weekends he'd ride to rallies on the east coast, often getting into scraps with rival gangs. But Jon was more of a lover than a fighter, and after one rumble with an armed group, he decided the violence wasn't worth it. He handed in his patch but the outlaw biker look? That was there to say.
He lived in an apartment his parents owned – which was handy because most months he couldn't pay the rent and his old man let it slide. To make ends meet, Jon took on odd jobs. But then Jon and Diane started getting serious. They decided to get married and got pregnant a year later. With a kid on the way, Diane put her foot down. Jon needed steady work. Trouble was he had little experience and even fewer qualifications. But he knew a guy at a local painting company who helped land him a job.
As the mid 1970s approached, Jon didn't want a lot which was good because he didn't have a lot. But he had Diane and a newborn son, and that put a smile on his face. Looking in from the outside, it seemed as conventional and American as apple pie. From the inside though, it was a different story.
*
Swinging
Jack he says
"Hey, Diane, let's run off behind a shady tree
Dribble off those Bobby Brooks
Let me do what I please"
Even today, Jon describes himself as a sex maniac, and Diane his enthusiastic partner. Back in their heyday, their coitus was rarely interruptus. Even after their son was born, they'd have sex at least twice a day; three times on Sunday. But Jon had a roaming eye and one year, when Diane asked him what he wanted for his birthday, he looked her in the eyes and said a threesome would do nicely.
Jon wasn't alone in wanting to experiment in the bedroom. Hell, in those days, everyone was discovering their inner kink. Even in small-town America, people were basking in the coital glow of the post-sexual revolution. So Diane invited over a girlfriend, they splurged on a bottle of asti spumante, lit some scented candles and took a trip down to pound town. Diane liked it. Jon loved it. A life of swinging adventures began.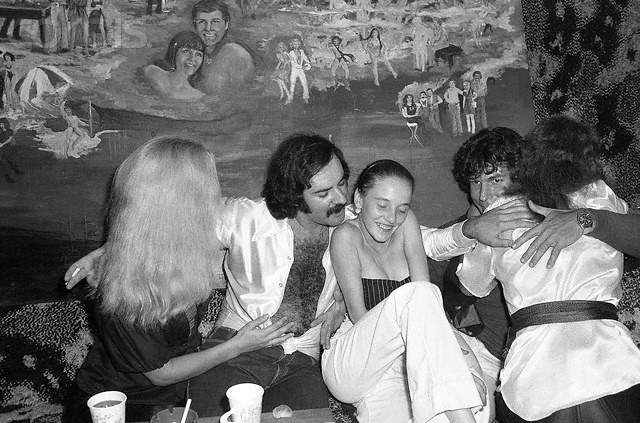 Jon and Diane were many things but they weren't naïve. They knew they had to be careful in their small town. It was a conservative community, and it was risky to shit where you ate. Occasionally a friend would cotton on to Jon and Diane's libertine lifestyle, and when this happened the couple were ostracized as if they had the clap. It was all about discretion so Jon and Diane got creative. They had a spare bedroom that they rented out to their latest sex partner – I guess you could call it room and broad. This arrangement became a regular pattern, even as they had a second child in the late 1970s.
For one-night stands, Jon and Diane relied on magazines like Kindred Spirits, Swinger's Life and National Registry. Their selection criteria were simple and functional: good-looking couples with a bi-sexual, big-breasted woman. Whenever they saw an ad that fit the bill, Jon and Diane mailed a short letter with their phone number and a few nude photos. If they got a call back, the hook-up was nailed down.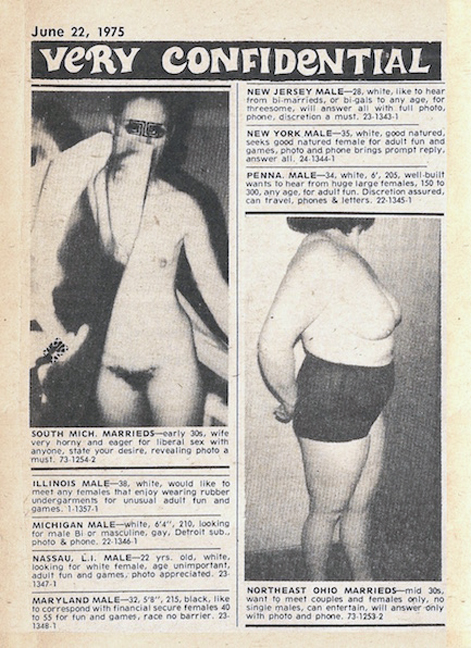 They played their swinging lifestyle out across the state. The scene was a tight-knit community and the routine tried and tested: Jon and Diane would meet fellow swingers and swap information: where the hottest parties took place, who had the best food, which couples should be avoided.
Most parties took place in couples' homes or at motels where swingers would rent out rooms and play musical beds. Albany, not far from where Jon and Diane lived, was a center for action, but Jon and Diane were happy to drive further afield in pursuit of a good time.
Who were typical swingers? There were all kinds: a kindergarten teacher with a passion for opera, an overweight baker who coached the local little league team, Armenian twins visiting from California. One time at a party in Vermont, Diane even bumped into an older couple she used to babysit for as a teenager.
As the 1970s progressed, the swinging became more organized. Dedicated clubs like Plato's Retreat opened. They offered a wider selection of partners and made it easier to get straight down to business. Swinging was emerging from the shadows and becoming an almost acceptable way of life.
*
Roller Derby
There's a young man in a T-shirt
Listenin' to a rock 'n' roll station
He's got a greasy hair, greasy smile
He says: "Lord, this must be my destination"
While his sex life was swinging, Jon's day job painting homes and offices didn't have the same pizzazz. There had to be more interesting ways to make money than standing in the cold all day, brush in hand, right? Then one night in 1973, an idea came to him when he was watching TV with his dad.
In 1970s America, roller derby was hugely popular. It was competitive contact roller-skating and it got nasty. And it was popular. Teams like the L.A. Thunderbirds and the Midwest Pioneers performed to thousands in large stadium match-ups that were broadcast over the airwaves. Jon and his father loved watching the sport late at night over a beer or three.
As the latest match went to commercials, Jon's ears perked up when an ad came on for tryouts. A Canadian team out of the Montreal Forum was looking for new recruits. Jon had been skating since he was a kid, spending hours a week at the rink where his parents dropped him so they could have some peace and quiet. He'd gotten so good he was faster than any guy in town, no matter their age.
Jon was drawn to the excitement, so he headed north. He impressed the coach and was sent to the team's camp where he trained every weekend for a year. The good news was that by the end, Jon was a crack player. He was fit and lean, and he had game. The bad news was he was in the wrong place. The Canadian league was a joke, so Jon headed south and signed with the Philadelphia Warriors, a team coached by roller derby icon Buddy Atkinson.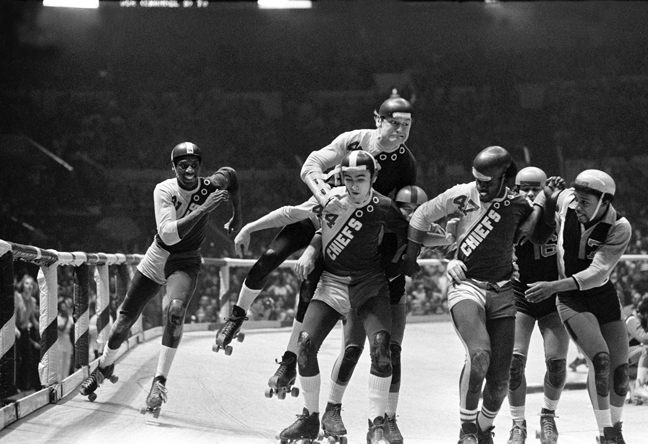 Atkinson was looking to diversify his mostly Black team to grow his audience. Diane traveled with Jon, and Atkinson pitched her to join the women's team, but she wasn't into it, especially as she was a new mom. Jon sat down with Atkinson to discuss compensation – he knew the starting pay wasn't great but that it could increase with time. What he didn't know was that players were responsible for paying all their own expenses. Travel, equipment, medical bills – it all had to come out of the players' pockets. Those bills could drown you.
So Jon reluctantly turned in his jersey, hung up his skates, and headed back to his hometown.
*
Stripping
Let it rock, let it roll
Let the bible belt come and save my soul
After roller derby, Jon and Diane settled back into home life – which meant more raising kids, more house painting, and more swinging. Then a friend opened a topless bar a few towns over. It was a real spit and sawdust kind of place, you know – where your shoes stick to the floor when you walk over to the bar. But it was a magnet for local good-time girls, and became a handy way for Jon and Diane to scope out potential playmates.
Their friend came up with a bright idea: why should the guys have all the fun? Monday night should be male stripper night. Trouble is where do you find guys willing to shake their meat clackers in front of a crowd of braying women. So he asked if Jon wanted to give nude dancing a try. Why not Jon thought? It involved money and sex, so he jumped at the opportunity.
As usual, Jon and Diane were a team – wherever one went, the other followed. It was a new experience for them both and new experiences mean new discoveries. Jon's first was that when he started dancing, blood would rush to his legs, depriving his hobnocker of much-needed sustenance. So Diane would fluff Jon before he went out on stage to give him a healthy start.
Jon was a hit. He developed a few signature moves, like stirring womens' cocktails with his tallywhacker. While he danced Diane would survey the floor, looking for attractive women excited by Jon's stage show who they could invite back home.
On a good night, Jon would get 200 bucks and numerous backstage blow jobs from appreciative audience members. What's more, it was good fun. So Diane decided to try her hand at stripping too. If Jon was a hit, Diane was a sensation. They drew regular crowds and the attention of a local agent who offered them more gigs at college town bars up and down the northeast.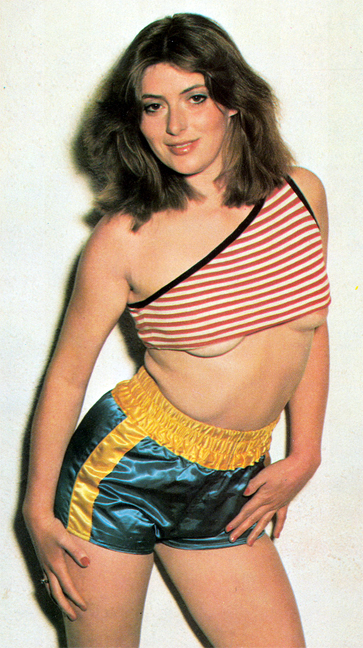 Diane ready to try her hand dancing
The money poured in and they used it to start their own painting company. Now Jon could put down his paintbrush and hire guys to do the work for him while Diane managed the books. Their new business started booming straight away.
Jon and Diane knew they were burning the candle at both ends but they were OK with that. They were taking care of their family and living for the now. The fast life suited them and the sex was good. The way they were living, Jon never expected to make it to 50.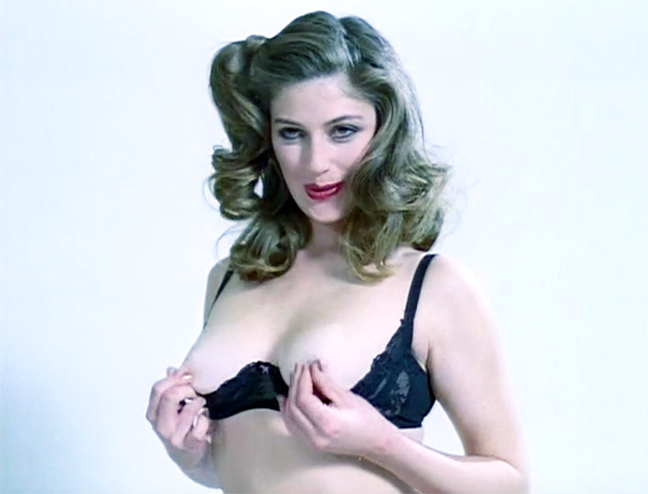 Diane
*
Foxy Boxing
And there's winners, and there's losers
But they ain't no big deal
Jon was always hustling, keeping a look out for the next big thing. One day he was at the local mall with Diane and saw an exhibition of women's boxing taking place near the food court. Or rather, a show of Foxy Boxing – a uniquely 1970s form of sexy pugilism. So what if fighters were prized more for their looks and costumes than their athletic prowess? It drew big crowds.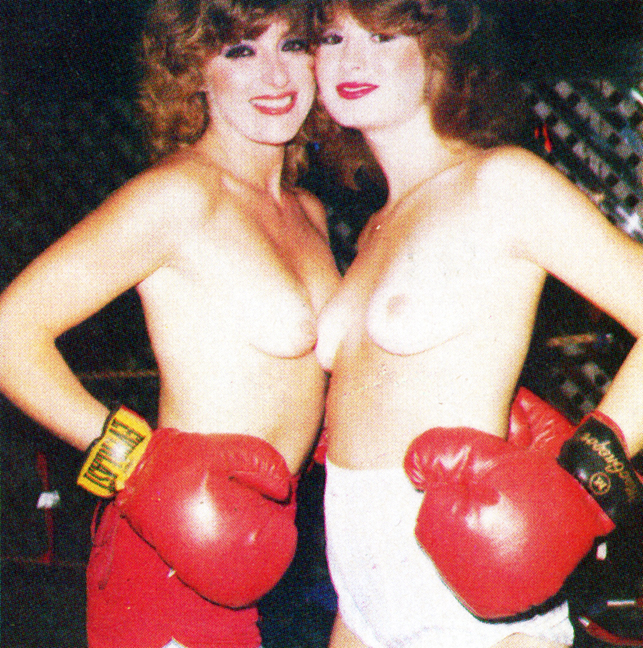 Diane (left) prepares to fight
And it drew in Jon, who saw Foxy Boxing as a way of making some good money. In typical style, Jon came up with a twist. What if he put the boxers on roller-skates to make things more entertaining? Diane gathered some of her more attractive female friends, Jon bought a bunch of 10-ounce boxing gloves, and they started training.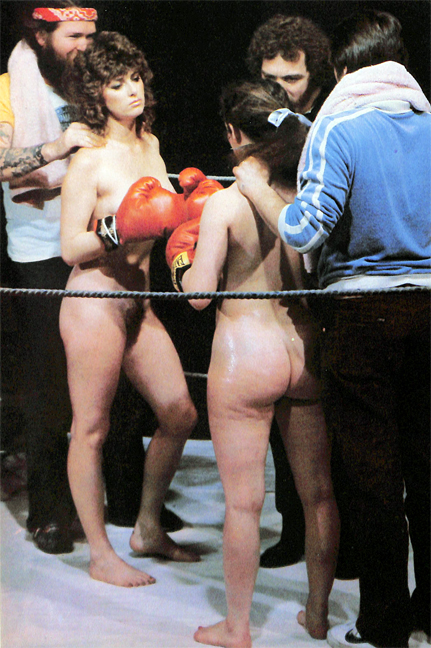 Diane (left) steps in the ring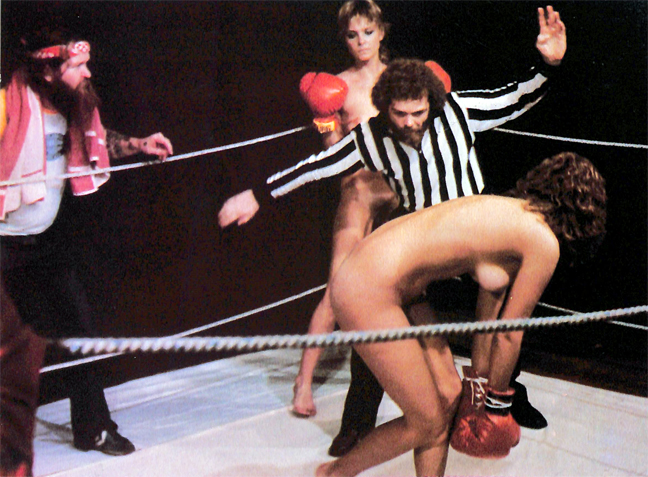 Jon referees the action
First problem: none of the girls had any boxing skills. Second problem: boxing ain't easy on skates. In fact, more often than not the girls landed flat on their asses. So Diane paid to take lessons at the Saratoga Boxing Club and brought back the skills she learned. The skate idea proved a bust but Foxy Boxing was a success. Not only that but it had fringe benefits as most of the girls were happy to get foxy with Jon and Diane out of the ring as well as inside it.
After months of training, they were ready to take their Foxy Boxing show to the public. Jon found a sizeable club near Lake George, NY: it was the middle of summer and the town was crawling with tourists. Jon offered the owner a simple deal – he'd stage his show at the club, the owner would keep the money from bar sales, and Jon and Diane would pocket the door charge.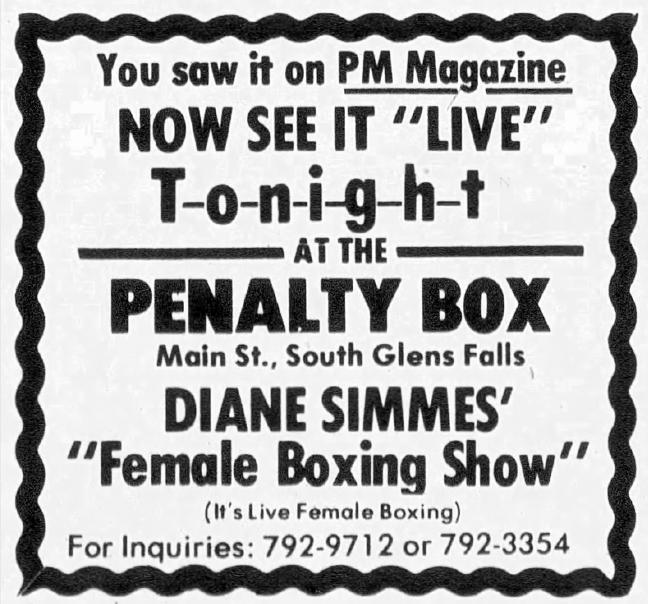 The show was a smash hit. Invitations flooded in from other clubs, and the couple's agent saw big dollars. The money far exceeded what they were earning dancing, so Jon and Diane put stripping behind them and became Foxy Boxing promoters alongside their painting business day job.
*
Mud Wrestling
Ain't that America, we're something to see baby
Ain't that America, home of the free
One night after their Foxy Boxing show, Jon and Diane were drinking at the bar, waiting to get paid. As they downed their beer, they watched the next act set up. Two guys pulled out an inflated ring with dirt on the bottom and filled it with water. Then a few sexy, bikini-clad young ladies emerged with a guy in a referee tee. With the hard rock blasting, the girls climbed into the slop, unclenched their claws and got down the business. It was no-holds-bar mud wrestling and it got dirty fast. The crowd was eating it up, overruling the ref with hooting and hollering.
The climax of the show was a request for an audience volunteer to wrestle the top girl. The winner, to be decided by audience applause, would go home with a cash prize of $200. Without hesitation, Diane shot her hand up and dove into the mud. After a spirited battle, the ref solicited the crowd to see who won. When he turned to Diane, she lifted up her shirt and flashed her tits. No surprise, she walked away with the money. And from that night forward, Jon and Diane added mud wrestling to their foxy boxing spectacle.
It didn't take a rocket scientist to work out the appeal of the shows: the sexier the performance, the more money they made. Problem was, in the bigger clubs where real cash was to be had, nudity was strictly forbidden. You couldn't even go topless in most of them.
A wheeler-dealer like Jon had one goal – to push the envelope. He made sure the girls accidently lost their tops or bottoms during matches. To even out the score, one of the girls would pull down the male ref's pants for equal opportunity exposure.
The racy wrestling/boxing format was a winning formula, and demand for the show was high. Amusements of America – the biggest carnival operator in the country – took notice. Jon and Diane came to an agreement with the company that started a 5-year working relationship.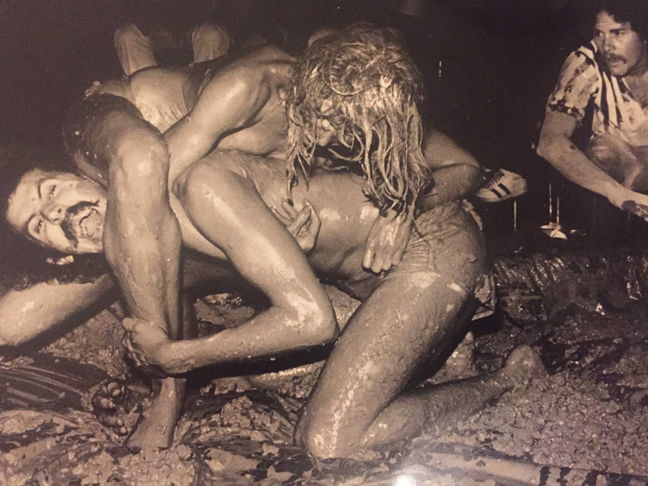 The show fast became Amusements' biggest moneymaker. The arrangement gave Jon and Diane 40% of the gate receipts – not bad when over 2,000 people a week paid to see the show. Jon and Diane were raking in the profits – helped by the fact that they chose not to pay insurance or taxes. They were generous too, more than fairly paying the girls who worked for them. One of Jon's favorite performers was a 4'10", 100lbs woman with a 42D chest. She was straight out of the army and got her sister into the act too. Both women wound up living with Jon and Diane for years. Of course they did.
Jon and Diane bought two second-hand RVs and used them to transport and house their mud-wrestling-foxy-boxers. The one upgrade they made to the vehicles were new refrigerators – big enough to accommodate the cases of beer the girls downed on the road. They'd drive to a fair, park behind the tents, and set up home for the duration.
Even though they drank like truckdrivers, the women were fighting fit. They put on 12 shows a day and each one ran 45 minutes. Diane choreographed the bouts and had eight girls rotating in shifts of six. They factored in time to hand-wash their muddy costumes throughout the day, hoping they'd dry fast. Cause wrestling in cold, wet costumes killed the party mood.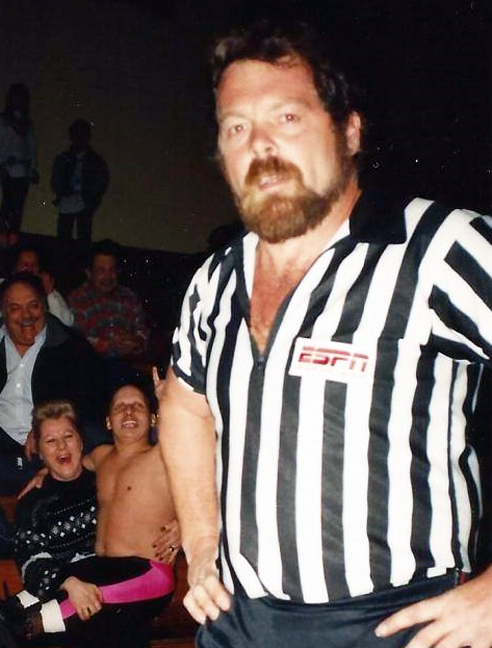 Jon as the referee
The show drew regular fans. One was the singer Tiny Tim who'd had a smash hit with Tiptoe Through The Tulips in 1968. He turned up at the Orange County Fair, and pitched Jon and Diane on the idea of bringing their show to Germany, all expanses paid. Jon, who lived by his wits and trusted his instincts, got a weird vibe from the guy. He didn't feel good about handing the girls over to the singer so he turned the offer down.
Despite the success of the shows, Jon and Diane maintained their painting business. Diane's two brothers ran the company while the couple were out of town. They were trustworthy with money but crap at people management. Time and again, Jon came home to clients who chewed his ass out for jobs running over on time. To motivate the painters, Jon would occasionally offer them work as mud wrestling refs. The incentive worked a treat. The guys loved spending a week on the road with the girls, and would return to painting with renewed vigor – at least for a little while.
*
The Big Apple
Jack, he sits back, collects his thoughts for a moment
Scratches his head, and does his best James Dean
"Well then, there, Diane, we ought to run off to the city"
Diane says
"Baby, you ain't missing nothing"
When they weren't on the road, Jon and Diane continued to post ads to swinging magazines. One day, they were contacted by Peter Wolff, a men's magazine publisher in New York City. Peter wanted to profile swinging culture for his magazine, Gallery and had seen their ad. He asked if they'd come to the city to be interviewed and photographed, all expenses paid. Never ones to pass up a paid gig, Jon and Diane headed down to the big smoke.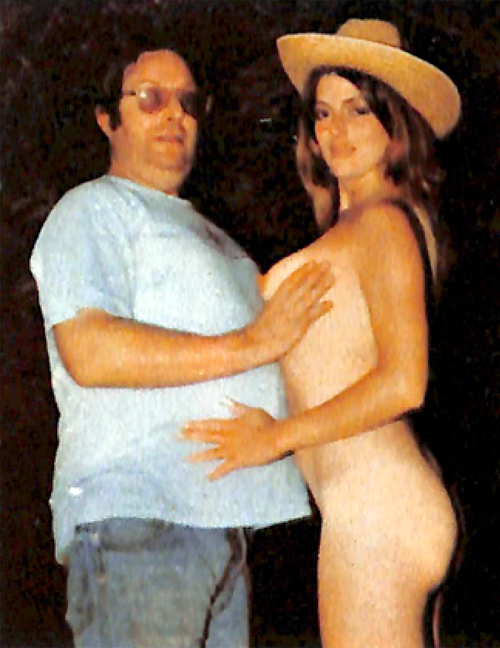 Diane with Peter Wolff
1970s New York was a far cry from Jon and Diane's sleepy small town, and Peter Wolff was different from anyone they'd ever met. The first night, Peter took them to a fancy restaurant, where his secretary whipped out her breasts before the food arrived. Jon felt like a kid in a candy store. And his relationship with Peter was pure symbiosis: the publisher got a kick out of introducing the upstate hillbilly couple to the seamier side of life; Jon and Diane were happy to partake of all the forbidden fruits on offer.
Jon and Diane started coming down to visit Peter on a regular basis. He brought the couple to the city's swinging parties, bathhouses, and sex clubs along with a photographer who took shots for the next issue of whatever magazine Peter was editing at the time.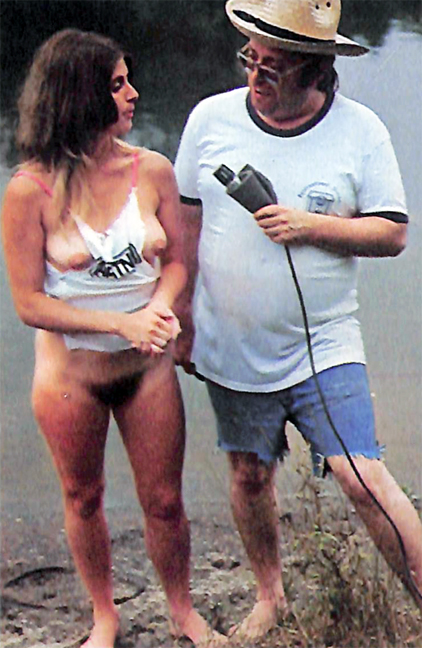 Diane with Peter Wolff
Jon and Diane became small-time celebrities on the city's sex circuit, and somehow the news never made it back to their upstate home. Well, almost never. On one occasion, Jon and Diane spotted a men's magazine for sale at their local general store, an issue in which they featured prominently. In a moment of panic, the couple quickly drove around all the town's stores and bought up every copy. It cost them several hundred dollars, but remaining incognito and not in flagrante was worth it.
*
Adult Films
'Cause the simple man baby pays the thrills,
The bills and the pills that kill
When swingers club Plato's Retreat opened in 1977, Peter Wolff brought Jon and Diane and introduced them to owner Larry Levenson. Jon described their foxy boxing and mud wrestling, and Larry was more than interested. He invited Jon and Diane to stage their show at Plato's and suggested his friend, adult film actor and director Fred Lincoln, as referee to draw in the porn movie crowd.
Jon and Diane ended up staging their performance at Plato's every Tuesday for several years, into the 1980s. Larry didn't pay as much as other clubs but everyone, including the girls in the show, loved coming down to the city to party.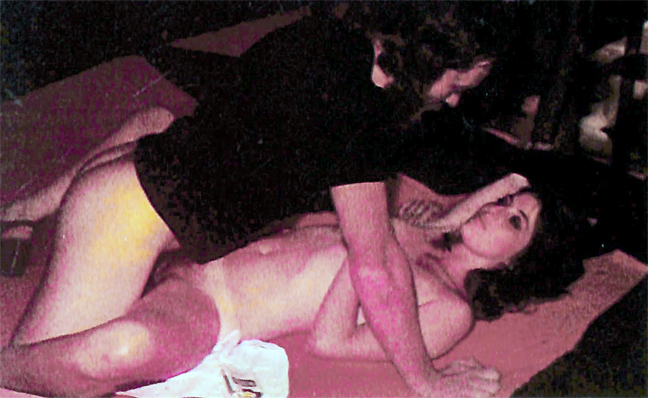 Jon and Diane ready to swing
In addition to Plato's, Peter took Jon and Diane to S&M club the Hellfire several times. The couple would stay until dawn, partly for their safety in the dangerous meat-packing neighborhood; partly for fun. Diane and Jon weren't normally into the S&M scene but they got a kick out of bringing what Jon calls their "hillbilly, redneck friends" to Hellfire. One friend stared for hours in disbelief at the glory holes, fascinated by the anonymous oral sex taking place.
Another time, Jon and Diane brought a local upstate congressman's daughter they were having sex with to Hellfire. She got so drunk she grabbed a whip from the bar and started beating everyone in sight. She decided to pick on a bear of a man wearing nothing but a butcher's apron. She shouted for him to get down on his knees, but he didn't budge. Jon could see a problem in the making so he ran over, explaining that his friend was new to the scene and didn't understand S&M etiquette yet. Luckily the guy gave them a pass – and no one recognized her as the politician's daughter who dutifully stood next to her father in campaign photos.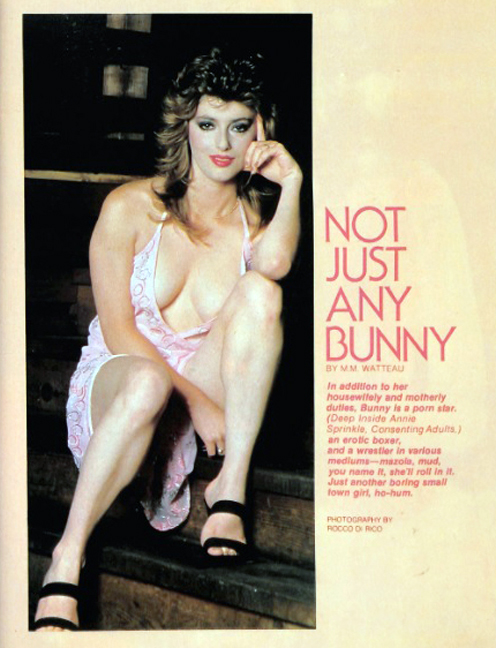 During one visit to the city, Peter approached Jon with an idea. Aware of Jon's roller-skating prowess, Peter asked if he would be in an 8mm sex loop where he'd skate the city streets and end up having sex with a girl. Well, Jon was more than happy to help out a friend.
As a follow up, Peter asked if Jon and Diane would be interested in appearing in an adult film. The movie was titled Deep Inside Annie Sprinkle (1981) and the star was eager to meet the couple. Jon was immediately struck by Annie's obvious warmth and her bodacious ta-tas. Jon and Diane said yes to shooting an explicit threesome and the scene wound up one of the highlights of the film.
Now that they were appearing in adult movies, Jon and Diane needed new names. It was Peter who came up with 'Buddy and Bunny Hatton.' Not a lot of thought went into it: Jon was Peter's friend and happened to be wearing a hat that day, and Bunny was just a riff on Buddy.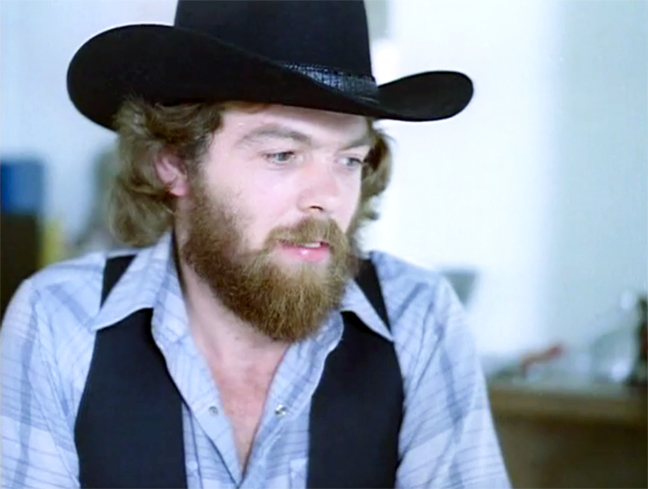 Jon as Buddy Hatton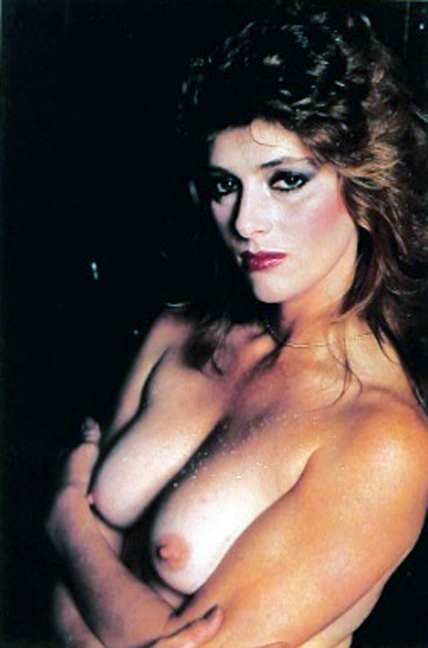 Diane as Bunny Hatton
Buddy and Bunny went on to make several other porn films in the early to mid 1980s. They worked with directors like Gerard Damiano, Joe Sarno, and Vince Benedetti, and had sex with women like Annie Sprinkle and Angel Cash. The money wasn't bad either: Jon and Diane each got $500 a scene and could do two scenes a day. They would have happily done more films if they weren't so darn busy with wrestling shows, the painting business, and family.
Buddy and Bunny went on to make several other porn films in the early to mid 1980s. They worked with Gerard Damiano, Joe Sarno, and Vince Benedetti, and had sex with women like Annie Sprinkle and Angel Cash. The money wasn't bad either: Jon and Diane each got $500 a scene and they could do two scenes a day. Jon says that he and Diane would have happily done more films if they weren't so darn busy with wrestling shows, the painting business, and family.
And things were about to get a whole lot busier.
Bunny and Buddy Hatton in 'Consenting Adults' (1982)
*
Pro Wrestling
He looks at her and says:
"Hey darling, I can remember when you could stop a clock"
One night at Plato's Retreat, Jon got to talking with a midget wrestler. They guy may have been short in stature but he impressed Jon with his grappling. Always looking to make improve their performance, Jon asked the wrestler where he got his moves. The answer was Killer Kowalski and his legendary wrestling school just outside Boston.
Walter 'Killer' Kowalski had been a professional wrestler in the 1960s and 70s – famous, among other things, for being the first guy to pin André the Giantt. When Killer retired from the WWF in 1977, he opened a school and began promoting amateur and professional wrestlers.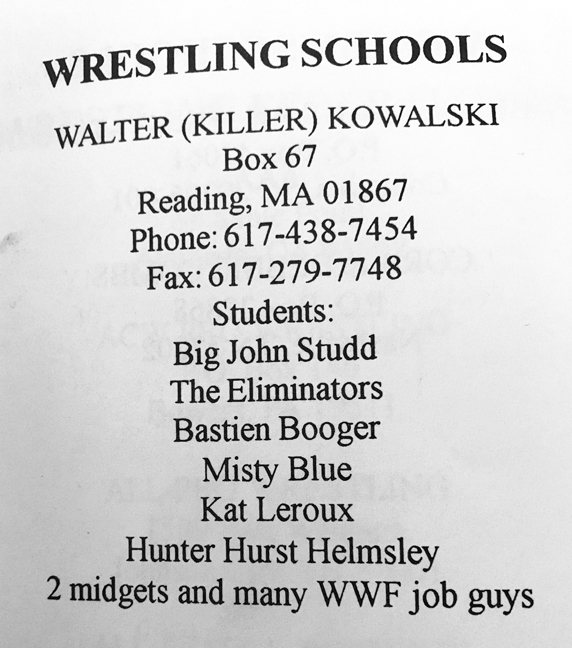 Jon called Killer and said he was looking for a couple of weeks of training for a group of women to up their entertainment value. At $1,500 a week the training wasn't cheap, but Jon decided the investment would pay off.
The next weekend, Jon, Diane and seven of the wrestling women headed to Kowalski's school. Jon was impressed with Killer – he was in his 60s but sharp as a tack and strong as an ox. One of Killer's party tricks was to crush an apple with his bare hands. He could throw guys half his age around the ring like rag dolls. Killer meant business.
After closely observing the women, Kowalski told Jon he was wasting his time with mud wrestling. He explained that there were big, potentially lucrative openings for female wrestlers, and Diane had what it took. Killer was confident that with his guidance, Diane would have no difficulty defeating wrestling's reigning queen Wendi Richter.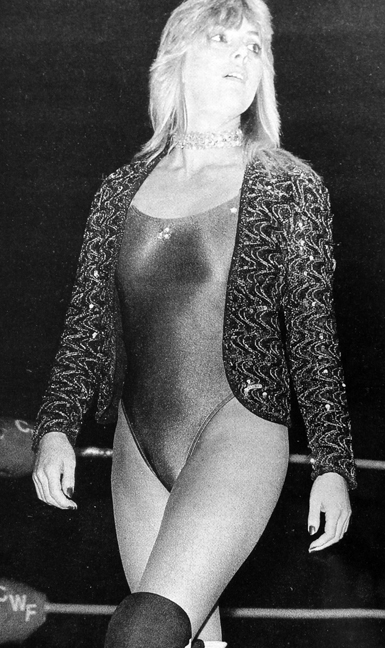 Killer sealed the deal describing the money available in professional wrestling. He said he'd be willing to train Diane and a few of the girls at no charge in return for acting as their promoter and getting a percentage of their earnings. Jon and Diane took the girls aside to discuss the opportunity. A couple left, more into partying than hard training. But five stayed with Diane, and their work began in earnest.
The training Killer put the women through was real. It was psychologically challenging, physically exhausting, and Diane took it very seriously. She and the girls would train with the guys and sometimes master moves the men couldn't execute. It got to the point where the men would sometimes stop training to watch the women – a top compliment in the competitive gym environment.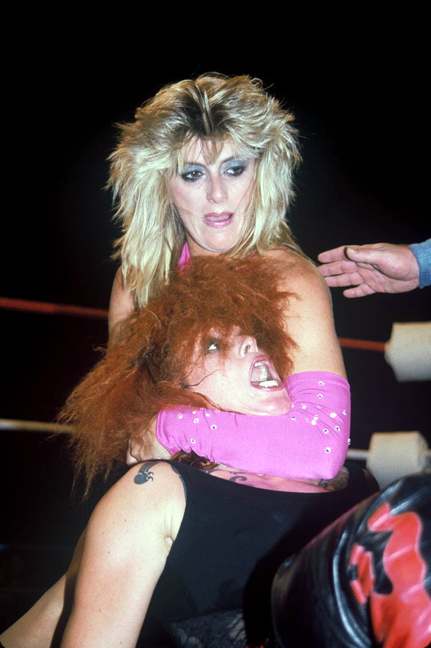 Diane in particular exceled and was at the school with Jon every weekend. While she trained, Jon took copious notes and sketched illustrations of the moves Killer taught. Jon also took to watching Japanese wrestling on TV. It was more elaborate and entertaining than the U.S. version of the sport and showcased moves he would pass on to Killer. Jon was Diane's corner man, cheerleader, and assistant coach. He'd encourage her at the beginning of each session, and happily rub her down at the end.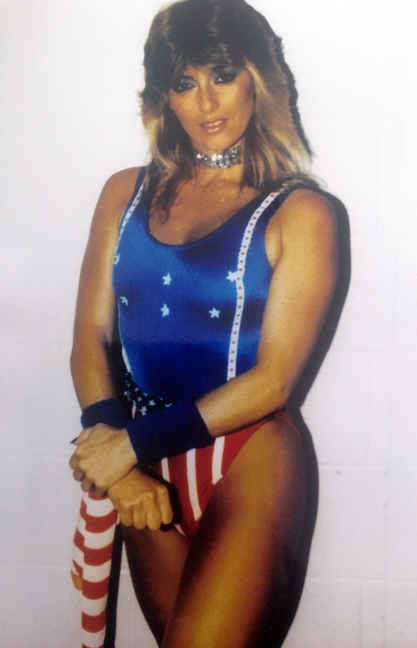 To complement the training they did with Killer on the weekends, Jon and Diane set up a small wrestling camp near their home in upstate New York. When she wasn't taking care of the kids and the family painting business, Diane and the other girls practiced their moves and kept up their fitness levels.
A year and a half after first meeting Killer, Diane took on her first professional match as part of the league Kowalski had developed. She and Jon knew it was only fair they tell Walter about the adult films they continued to make as Buddy and Bunny Hatton. Walter nodded solemnly as they shared the news, and said from that day forward, they needed to retire the Hattons – and focus solely on wrestling. Jon and Diane agreed, giving him their word.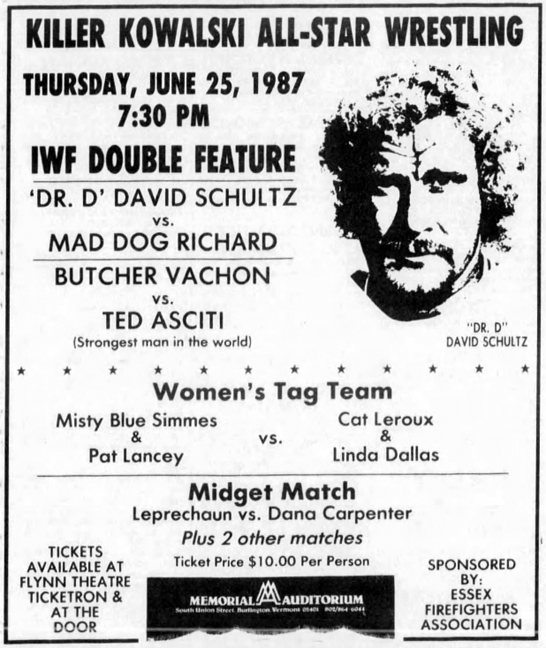 Once again, Diane needed a new performing name. Jon wanted her to wrestle under the name Diane Kowalski to benefit from his notoriety, but Killer wasn't having it. So Diane chose "Misty", in tribute to her daughter who bore the same name. They made it Misty Blue after the famous song performed by blues singer Dorothy Moore.
As Misty Blue, Diane started winning matches straight away. The more she won, the more popular she became, the more she got booked – all through Kowalski's wrestling league. At first the arrangement made everyone happy, but as Diane's star ascended, she outgrew Kowalski's organization, and Killer found it harder to keep control of her. And he didn't like the extensive travel Diane started to do as promoters from across the country courted her. So Jon and Diane struck out on their own. They took the five girls they had trained with and arranged matches across the country, growing their income and the Misty Blue brand.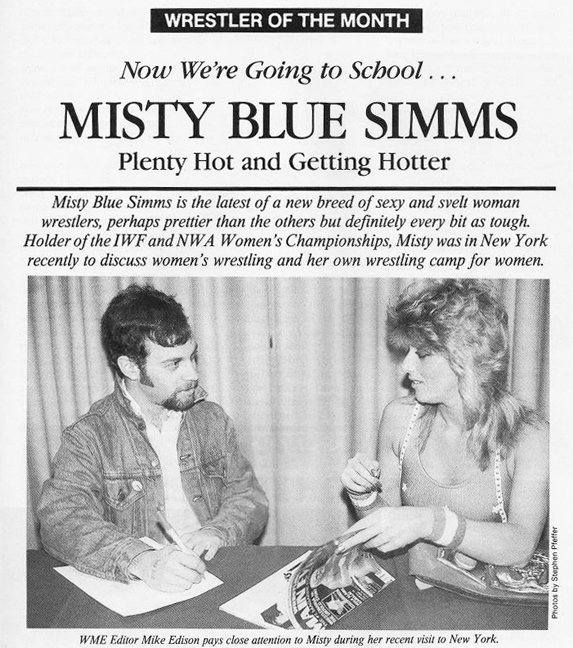 The Texas league took a particular shine to Diane and flew her and the girls in for a few weeks. The women were treated like princesses – high-end hotels, fancy food, and lots of attention. The league even gave Diane a belt, the first of her wrestling career.
The wrestling press sat up and took notice too. Bill Apter and George Napolitano – both part of popular wrestling magazines – began featuring Misty Blue regularly, splashing her across the covers of their publications. It was Bill Apter who introduced Diane to Dusty Rhodes, a former wrestler and then booker for the National Wrestling Alliance (NWA). Dusty was good for Diane's career. She got Diane involved with the NWA and on the first night Diane worked for the league, she earned a national belt.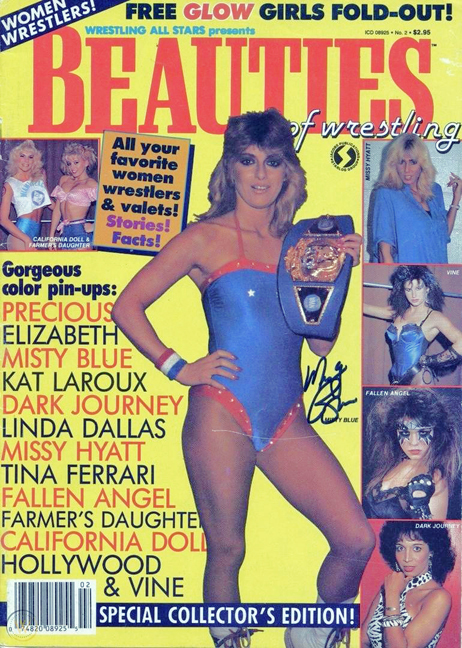 Misty Blue became a big deal on the national wrestling scene, even traveling to Europe on occasion to take part in international matches. She and Jon ran her wrestling career like a well-oiled machine. They had a crew of girls they could tap into at any time, making it easy for promoters to plan months of entertainment. The girls were well skilled and versatile, able to do tag teams, battle royals, and specialty matches. They constantly rehearsed and prepared so the shows were as exciting as possible.
Jon and Diane even got their two kids involved. By the time Misty Blue was a big name, both were old enough to come on the road with them and take part in the action. Jon had 8×10 glossy pictures printed which the children would sell, then be allowed to pocket the money. The kids loved the excitement and the fact that they could make up to $150 a night. But traveling with their children did have its risks. One time while Diane was wrestling and Jon refereeing, some of the guys took their son out drinking and to a whorehouse. He came back eager to tell Jon about what a great time he had. Jon was proud, but warned his son not to share the news with his mother.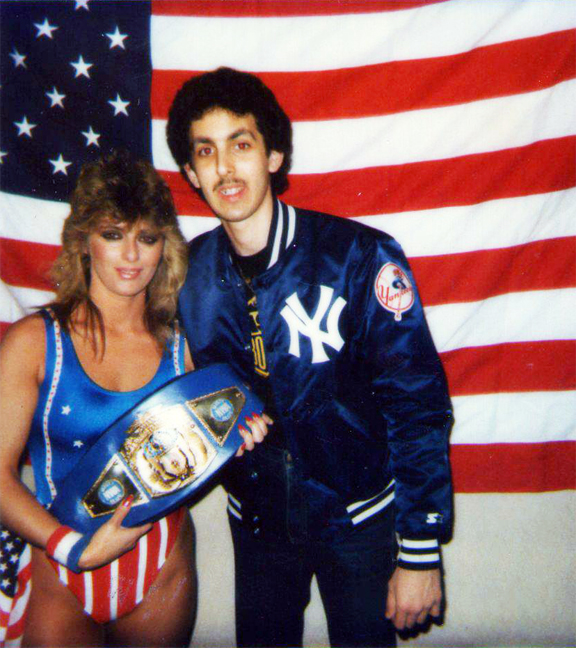 Outside of the traveling NWA matches, Diane and the girls got a regular gig performing in Laughlin, Nevada. City officials wanted to turn the town into the next Las Vegas and struck a deal with The Ladies Professional Wrestling Association. In turn, the LPWA hired Diane and Jon for their services. The association paid handsomely for the matches, including $500 a day to Jon for refereeing.
As the 1990s began, Diane was the number one female wrestler in the country – but the sport was taking its toll. She suffered from assorted injuries like dislocated elbows and a tweaked back. One match a girl sat on Diane's leg and ripped her Achilles tendon. Always conscious of giving the audience what they paid to see, Diane finished out the bout. But no matter how often she went to doctors and chiropractors, Diane was now in constant pain.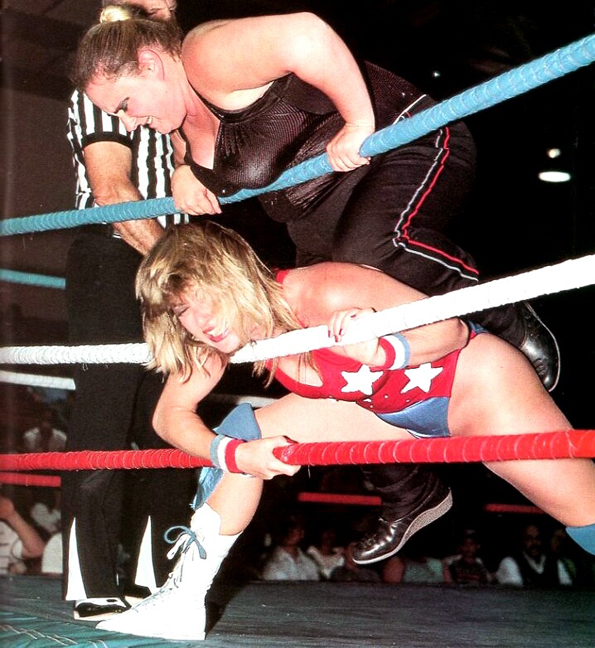 Misty Blue Simmes takes a beating
Still a huge draw, Diane got a phone call from WWE head honcho Vince McMahon. He wanted to represent Diane and her girls, and pitched hard for her to come over to his league. But Jon and Diane heard that Vince expected sex from all the girls he repped so declined the offer. Diane knew she needed to spin her response back to him, or face retribution. She told Vince she'd gained some weight and wouldn't look good on TV, something she knew he considered vitally important to the success of his franchise.
The NWA folded in the early 1990s so Diane and Jon went back to doing smaller shows and state fairs. It wasn't much money but they enjoyed the circuit – it took them back to their carny roots. But while it could be fun on the road, there was also a lot of drama among the women. And by now, Jon and Diane had missed eight Thanksgivings in a row back home. And then there was the constant physical pain.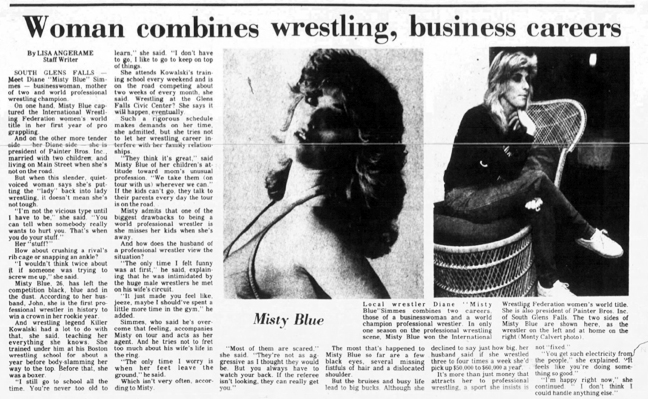 Misty Blue Simmes ready to return to civilian life
It was time for Diane to retire. She'd performed for 12 years – twice as long as most female wrestlers. Throughout her entire career, she never lost a match and was later inducted into the National Wrestling Alliance Hall of Fame. She had successfully moved from the sex-over-skill world of foxy boxing into the adept athleticism of wrestling.
Misty Blue fought her last match in 1997, and Diane, almost 40 at the time, came home.
*
The Straight Life
Holdin' on to sixteen as long as you can
Change is coming 'round real soon
Make us women and men
Back in upstate New York, Jon and Diane were still running their painting business. Jon was putting in 12 hours a day, killing himself to make sure the jobs got done. Work kept coming in but money was slow to arrive, if it arrived at all. It wasn't unusual for a company to pick a painting business like Jon's, refuse to pay after work was complete, and just move on to the next sucker.
When Diane stopped wrestling, she briefly worked cleaning job sites after Jon and his team finished painting. Then she started cleaning at a local hospital, happy to have the stability. One day she saw an opening for a maintenance painter at the hospital and told Jon. He did the math and found he would make more money working for someone else, so he took the gig.
No longer on the road and working crazy hours, Jon and Diane finally had more time to themselves. But rather than ease into middle age, they answered the siren song of entertainment once again. Jon started writing song parodies for a radio station in Albany, recording and submitting them to be played on the air. His songs became so popular the station released a couple of CDs of the ditties to benefit children in need.
From radio, Jon and Diane moved to karaoke bars. They performed the similar parodies but with dirtier lyrics. Jon couldn't carry a tune but Diane learned to sing, and crowds loved the duo.
Witnessing the popularity of Jon and Diane's performances, one bar owner asked if they wanted to make their act more official. He had a big cellar with a stage and suggested they expand their karaoke routine into something more. Jon and Diane dove in, developing a comic variety show with skits and gags as well as songs. They brought in an additional eight performers, once again producing a highly entertaining spectacle.
The bar, which had an official capacity of 330, burst at the seams with over 600 people when Jon and Diane staged their show. To make sure the crowd was loose, Jon splashed out on pitchers of beer for them and introduced a drink Diane makes called apple pie moonshine – 190 proof firewater mixed with cider, cinnamon and lots of sugar. It did the trick every time.
Since Jon and Diane started the revue, they've been doing eight shows a year. They never take any money, instead donating all proceeds to children's charities and people in need. They keep their equipment and portable stage in a trailer, reminiscent of their old carnival days.
Today, they're still in the same small town where Jon was born and met Diane. They never buy a drink for themselves thanks to the good will their charity work inspires. And nobody seems the wiser about the couple's racy past.
That said, their kids did eventually find out. Their daughter was at a high school party and a friend told her about her parents' sexy backstory. She shared the news with her brother and they confronted Jon and Diane very upset. But they eventually got over it, and nowadays the knowledge is useful ammunition to poke fun at their old folks.
After 47 years of marriage, Jon and Diane are still very much in love. The swinging has dried up, and while Jon and Diane don't really miss it, they have no regrets. In fact they credit their swinging and porn adventures for making their relationship as strong as it is today.
And Jon and Diane are still living by the carny code: stick together, mind your own business, and take care of your own – 'cause it will always be us against the world.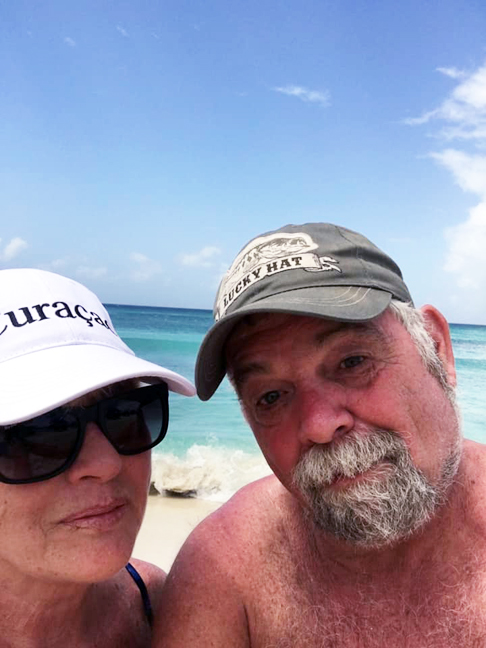 Jon and Diane today
He's saying "Life goes on, long after the thrill of living is gone"
A little ditty 'bout Jack and Diane
Two American kids doin' the best they can
*