Podcast: Play in new window | Download
Subscribe: RSS
Carter Stevens is back in the game! He recently announced his intention to make a comedy called 'The Squad'. You can find out more details about his project – and learn how you can help raise the funds – here. Please give generously!
In the meantime, we're re-posting our interview with Carter Stevens – one of The Rialto Report's earliest podcasts.
This episode running time is 68 minutes.
_______________________________________________________________________________________________
"Carter Stevens, one of the most prevalent and beloved directors of the porno-chic era of American adult film making is BACK!
In the days when porno had budgets, stories and characters, Stevens was known for filling his 1970s productions with (and in some cases was even responsible for discovering) some of the most recognizable faces in XXX history! Performers like: Deep Throat's Harry Reems, Cannibal Holocaust's Robert Kerman, perv-king Jamie Gillis, juicy earth-goddess Annie Sprinkle, the exotic Miss Vanessa Del Rio, the stunning Serena and SO many more!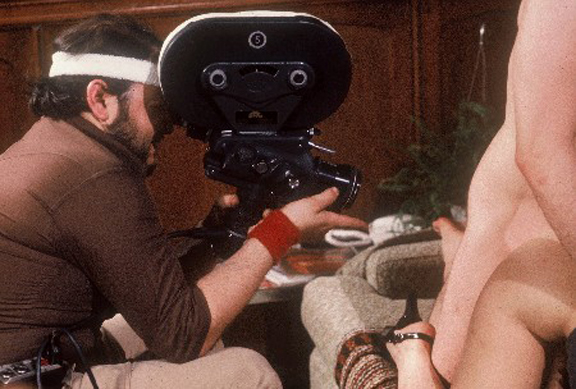 Add to that real scripts, plots, production values way above the norm, and budgets that would put Hollywood to shame, and the result was a Carter Stevens Production.
Stevens has also received the lifetime achievement award from the Free Speech Coalition, and many other industry accolades. Then, he doffed his cap to the world of smut, and hung up his assless chaps. But you can't keep a good man from the Pocono Mountains down, and Stevens is back with something brand new for 2014 – not a hardcore porn movie – but an off-the-wall sex comedy called THE SQUAD!
Set in the offbeat, raunchy and colorful world of the late 1970s porn scene that Carter himself knows so well and helped to cultivate and create, THE SQUAD is a cross between Boogie Nights and Police Academy! The plot finds a small group of undercover Police Officers assigned to infiltrate the porn industry by making a porno film of their own!. Their plan works better than ever expected and THE SQUAD produces the most successful porn film in the history of the genre! Then the mayhem REALLY STARTS!"