Ken Scudder, a perennial stalwart of the San Francisco adult film scene from 1974 – 1984, passed away recently.
His time in the adult industry was unique. He appeared in more films than almost anyone else of his day, and in many big-name movies too, such as Sodom and Gomorrah: The Last Seven Days (1975), Thundercrack! (1975), Dixie (1976), The Autobiography of a Flea (1976), Mary! Mary! (1977), Babyface (1976), Pretty Peaches (1978), Easy (1978), and Getting Off (1979) to name just a few.
But unlike many of his contemporaries, Ken was never a star, hardly even a 'name', and often didn't appear in the credits of his movies – and that was all entirely deliberate. He was present for many of the big moments of the San Francisco adult film history, but preferred to keep the lowest profile he could. He never granted a single interview.
There was much more to Ken's life than just the adult film industry. He worked tirelessly in dangerous conditions for civil rights in the 1960s, battled chronic ADHD all his life which meant that pursuing a conventional career was near impossible, and when he eventually became an attorney, he used his skills and training towards activism to help those less fortunate than himself.
In the last few years, The Rialto Report spoke to Ken on numerous occasions, and discussed a podcast interview. Sadly this never happened, but we wanted to pay tribute to Ken by offering his story in his own words taken from the conversations we had with him. Ken was one of the gentlest and sweet people we've encountered.

_______________________________________________________________________________________________
1. Growing Up in the Shadow of Pearl Harbor
I was born Kenneth Edward Scudder July 20, 1941 in Honolulu, Hawaii.
My father was a managing a Sears Roebuck store. Before that he'd been in the army – he was a West Point graduate. Our quiet family life changed when the Japanese attacked the United States naval base at Pearl Harbor on the morning of December 7, 1941. I was less than six months old. It was a surprise military strike and it led to the United States' formal entry into World War II. Everything was turned upside down overnight: my father left his job at Sears – probably the day after the attack – and went straight back into the army. I think they made him an officer, and because of his job experience in retailing, they put him in the Quartermaster Corps which takes care of uniforms and equipment. It was his job to keep track of everything out of the big army depot in Honolulu.
A few months later my mother, sister and I were evacuated to Glendale, CA, and my father was sent out to the South Pacific. We traveled around a fair amount after that. I don't remember exactly where we went after California, but we may have gone back to my mother's hometown of Fort Wayne, Indiana, and then back to Glendale. I have no memory of seeing my father until I was almost five years old. My first recollection of him is in a train station when he returned to see us briefly while on leave. He was eventually stationed at Fort Lee in Virginia, and he left the army as a colonel after the war in 1946. When he returned we lived as a family in Glendale for a few years. Then in 1949, our family moved to Fort Wayne because my mother wanted to take care of my grandmother.
My father struggled after the army. He was a super right-wing Republican who believed in business and the power of the markets. But whatever he did, he just seemed to get screwed by management over and over again. First, he went to work at my aunt's husband's department store in Fort Wayne, but left that job pretty quickly. Then we went to Tulsa, Oklahoma where he worked in another department store, but he was fired. It was tough for him.
I did well in school and I was a model schoolboy. I remember winning second prize in a regional spelling bee. I was a good piano player too. Socially I was a loner though: in fact, I was considered a sissy and got beat up all the time, so I withdrew into myself a fair amount.
I also found it near-impossible to focus or concentrate on anything. A few years ago, my wife discovered my first grade report card and it said, "Kenny looks out the window all the time and doesn't pay attention." It was only later in life that I was formally diagnosed as having severe Attention Deficit Hyperactivity Disorder (ADHD). When I learned this, it put a lot of things in my life into perspective. Basically, I could never hope to hold a job because my attention span was so poor. I just couldn't focus. Somebody once described it like being like a flea on meth.
By the time I was in high school, we'd moved again – this time to Milwaukee, Wisconsin, where I graduated from Whitefish Bay High School. It was a good public school, and I got even better grades than I had in Tulsa. I did well enough on my test scores that I was accepted to Princeton University – which was a very prestigious place to go. I was supposed to get a scholarship too, but that didn't materialize.
*
2. Education and Political Activism
At Princeton, I majored in political science. My political awakening, if you want to call it that, put me at odds with my father's ideology. That generational clash was typical of the time. It was the early 1960s, and I was strongly affected by what I saw as the big issues that were shaping our generation: civil rights, Vietnam, and third world revolutionary movements. I felt that previous generations of leaders and politicians had neglected the very people who needed their support the most, and I was motivated to do my bit to help.
I struggled at Princeton for a couple of reasons: firstly, for a kid from a public high school, the elitist atmosphere was intimidating. I was suddenly surrounded by a whole different class system of kids from exclusive prep schools who had jobs waiting for them on Wall Street and in top legal firms. I was a complete outsider, and it was scary.
And secondly, my ADHD meant I couldn't write term papers. I barely got my first one in so after that I tried to avoid classes that required them. When I couldn't avoid a class with term papers, the next semester would start and I'd still be working on the paper from the previous semester. As a result, my grades suffered right up to my senior thesis. I went into total avoidance, even crossing to the other side of the street if I saw my professor. Nothing got done. But I don't want to create the impression that I was idle: I was taking other courses like music, art and architecture. And I did managed to graduate with honors – albeit a year late.
Despite the difficulties I had, Princeton trained me well intellectually – something that has stayed with me ever since. And Princeton was only fifty miles outside of New York City, which was the place to be in the early 1960s. I used to take the bus into the city and head to Greenwich Village, where some of the beat poets still hung around, and jazz and folk musicians played. I remember seeing John Coltrane and Charles Mingus play. I didn't have much money but you didn't need much to get into the clubs and coffee shops and be part of the scene.
After graduating, me and a couple of friends made our way to San Francisco. Soon after we got there, I started working for the Student Nonviolent Coordinating Committee (SNCC). SNCC was one of the most important American Civil Rights Movement organizations of the 1960s. It focused on work in the South, and was funded by supporters – which allowed full-time organizers to have a small salary. I went to work for the Congress of Racial Equality (CORE) – an offshoot of SNCC – and then got involved in the so-called 'Mississippi Freedom Summer'. It was a volunteer campaign to register as many African-American voters as possible in Mississippi in the summer of 1964. The project also set up Freedom Schools, Freedom Houses, and community centers in small towns throughout Mississippi to aid the local black population.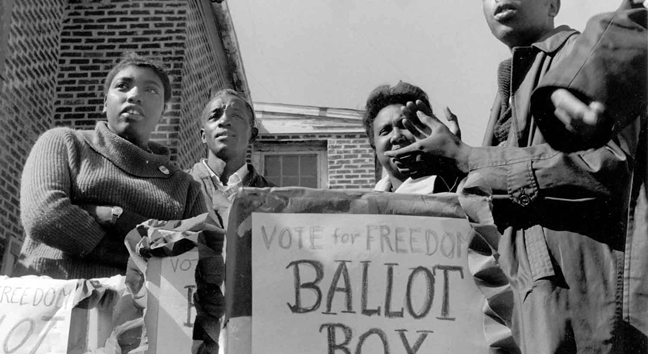 Mississippi was strange and dangerous. It was like being in a war zone – even though I missed the worst of it. I arrived in August 1964, and the day before I got there, a black guy who worked in our center had been killed. He died in a car crash. He bled to death because he didn't get medical attention. This was commonplace: people were getting run over by drivers who would knock them off the roads, then shoot them. I slept in the cot of the guy who had died the day before I arrived.
I worked in Mississippi on and off for two years, and it had its moments. I got arrested a few times. It seems strange to say, but the racism and adversity really brought people together. We used to hug each other before we went out the door every day. We were really loved by the people in the county. It was 80% black, and we got all kinds of support from them.
Eventually I got a job in a Mississippi black college where I continued to register voters and teach basic literacy. My girlfriend Patricia, whom I'd met down in Mississippi, taught at the college too.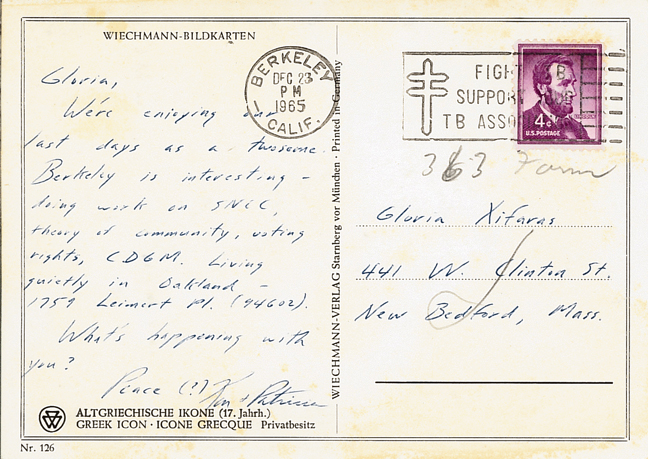 Postcard from 1965 – sent by Ken referring to his civil rights work
We conceived a child, my son, the next spring, and got married at one of the more liberal Episcopal churches in the county. That church had had a cross burned on its lawn, and the minister had been threatened and forced to move away. All just part of what people had to deal with there.
Patricia taught painting, art history and literature but after a while she moved towards film. She became a filmmaker activist and made several movies about the civil rights movement, including 'The Day We Seized the Streets in Oakland' in 1968. I became fascinated with film because of her.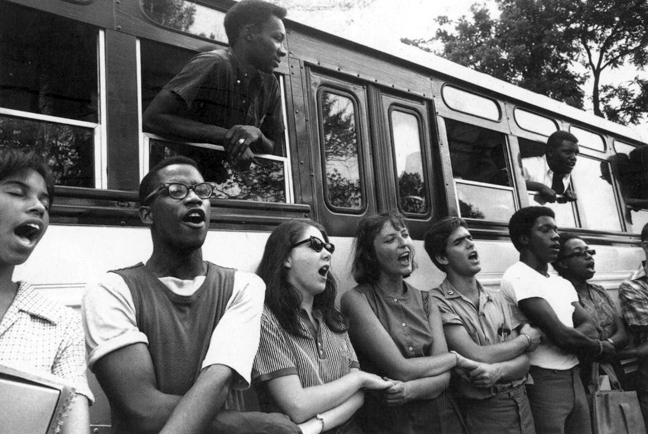 *
3. Back in San Francisco
Patricia and I moved back to San Francisco so I could get my Master's degree from Berkeley. We continued to return to Mississippi to support the civil rights efforts there – I think we were there three more summers and stayed into the fall each time.
My ADHD was always a problem however, and the social upheaval taking place meant there were always competing priorities for my limited attention span. As a result, I didn't get my master's thesis into Berkeley, so I didn't graduate. I switched to San Francisco State University, but didn't get my paper in there either. I finally got a job through a government program called the Teacher Corps which had been established to improve elementary and secondary education in low-income areas and disadvantaged school districts. It gave me a little money on the side, but mentally I was unable to do much more.
In the midst of this, Patricia and I got divorced. My son was born in 1966, and we broke up in 1967. It was one of those things… I think of the Graham Green novel, 'The End of the Affair.' Our relationship was like a war-time romance which perhaps needed the heightened emotion of the conflict to sustain it. When we returned from Mississippi, we didn't really know who we were, or what we would do. I left one night, slept with another woman and that was the end of that. My wife threw me out, so I was kind of on my own.
I started driving a cab in San Francisco and did that for a couple years while working as a part-time teacher in the Teacher Corps. I ended up in another Master's program – where I still didn't write the master's thesis. It was a recurring story.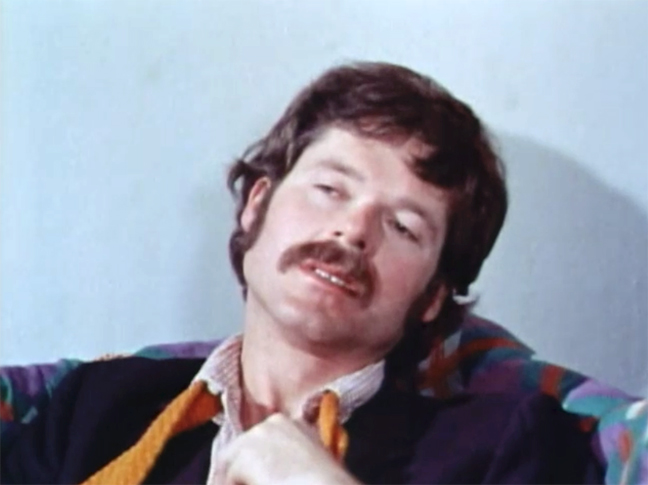 This was a period when I was a little lost. When you get divorced, you're kind of helpless for a time. I was dating around, but I couldn't get anything going with anybody that I really wanted to be with. But I did go to one or two of the swinger parties that were popular then, and I thought that was fun. I also became familiar with something called the Sexual Freedom League. The guy who founded it, Jefferson Poland, was a voyeur, which I guess was understandable in the circumstances. I went to a few of their gatherings which were interesting.
For a time, I traveled to Oregon where I worked as a fisherman. Then I returned to California and went to live up in Mendocino. I was dealing drugs on the side – mainly pot and some acid – to supplement my income. Mainly I was selling to my friends in the Teacher Corps. I was a good dealer. I had a great connection with an ethical guy, and he had really good stuff. I'd put a free pack of bamboo papers in every with every 'lid' – an amount just shy of an ounce – that I sold. Any savings I managed to gather were going into buying kilos to sell more lids. I was doing all right, but one day I let the wrong person into my apartment and he later broke in and ripped me off. He took all my stuff. I lost everything, so I was back to the beginning again.
I tried living in a couple of communes, but I didn't fit in. I did once met a very beautiful woman at one of the communes though. I saw her dancing when we were all on acid, and we started an intense affair. She was married, but I moved into a bedroom in the house she shared with her husband, which was like a semi-commune. Then they bought some land, and I moved with them, but by that time our relationship was basically all over. I took it really hard. I'd been up in Mendocino for about four years, not really doing anything, and now I had no money or anything to show for it.
I also got sick, so I went back to San Francisco.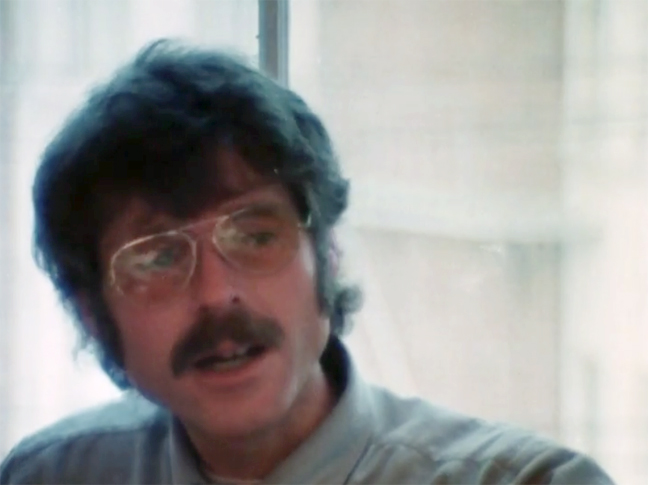 *
4. Adult Films
After a few months back in the city, I got a job driving a cab again. I met a guy called Gregor who worked at the Sutter Cinema. He knew the Mitchell Brothers, and he told me about a film they were making called Sodom and Gomorrah. It was supposed to be an epic film, shot out near Altamont, outside of San Francisco. I was still inspired by Patricia's interest in movies and photography so I was intrigued by this film. I was supposed to be paying her child support, and all I was doing was driving a cab, so being in a porn film appealed to me because I could make some extra money.
'Sodom and Gomorrah' was shot in late summer, 1974. No one knew who I was, so I didn't have any lines. I was in some sort of mass group shot, I think. I saw the film when it came out, but I never saw myself in it. They may have cut my part.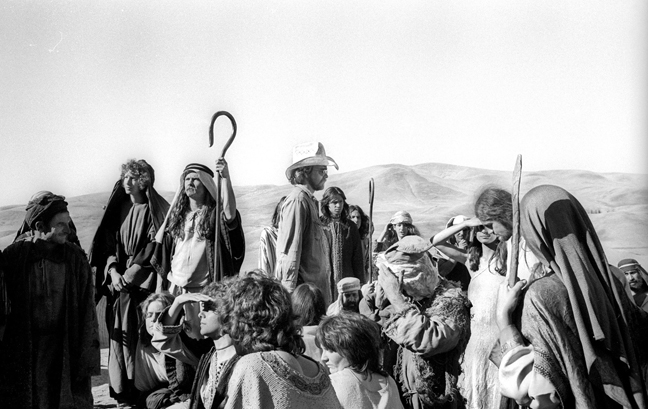 On set with the Mitchell Brothers, Sodom and Gomorrah: The Last Seven Days (1975)
Then I got another acting job through Patricia, who was a friend of the film director Philip Kaufman. Phil had only made two or three movies at that stage, but was shooting something with an improv group called The Committee. The shoot was taking place at a stately home in Oakland, California called the Dunsmuir Mansion. It was a huge estate and made a great set. The movie wasn't an explicit sex film but it had sexual content in it. It was an unusual combination of Greek comedy and Shakespeare. I played a satyr, and my role entailed jumping around – without any clothes on. I hung around and saw the dailies, and remember that it all seemed very professionally done. Phil was a good filmmaker – he went to make several very successful movies.
The film opened in the winter of 1974/75, and I went to the premiere with Patricia and her new husband. But then something strange happened… after the premiere, it just disappeared. Maybe it didn't get distribution, but it seemed to vanish. I've been trying to find that movie for years. I can't remember the title, and it doesn't show up in any filmography. I even asked Phil about it when I ran into him, but he blew me off and was vague about it. The only theory I have is that he put it out under a different name.
After that I accepted offers to make several more porn films. They were all small, low budget movies, but the money was useful and they were an easy option. To be honest, I was ambivalent about them from the beginning, but one attraction for me was just being part of the filmmaking process. In the early days, I was wary of the other actors, not knowing what to make of them, and so I distanced myself. But my feelings towards the directors were different. Many of them had just got out of the USC and UCLA film departments, and were shooting porno to make a few dollars and hone their technical skills. So in the early days, I hung around the production staff and the filmmakers and got to know them. I worked with some great directors. I never wanted the lead acting roles because I didn't want to stand out. I just wanted to be part of a film set, and pick up a pay check. I kind of walked through those early parts, mumbling rather than acting.
Appearing in films gave me confidence in front of a camera, so I got the idea that perhaps I could be a clothing model. A regular job was still difficult for me because of my ADHD, but I thought that modelling might be something I could do. I went to Ann Brenner, who had a good modeling agency in San Francisco, and interviewed with her. It was all going pretty well – until she asked me about my recent work history. I was naïve, I guess, and I told her about the adult films. In short, she showed me the door straight away. She was very nice about it… but she was adamant that she didn't want to work with me after that.
It was an eye-opening moment. I don't think I'd ever thought of the possible consequences of making porn films until then. It hadn't even occurred to me to insist on using a different name in the credits.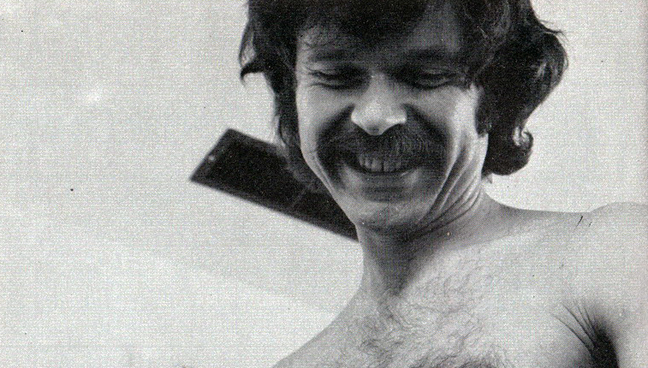 *
5. Gail, and Thundercrack!
Despite my initial hesitation around people who acted in porn films, I started dating a girl named Gail who I met when we made a loop in Mill Valley for Jerry Abrams. She was a film editor at Parker Labs in San Francisco. She took my breath away when I first her. She was utterly beautiful with an innocent look. That first day, I noticed she had bruises on her body, which I later learned were from an abusive boyfriend who'd beaten her up. It was hard to see her that way – I felt so sorry for her.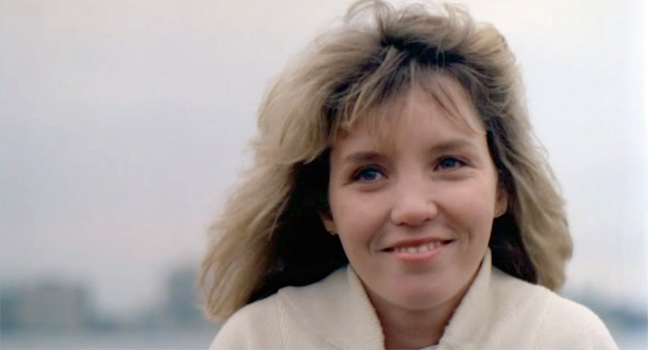 Gail, who later became Abigail Clayton
I met the boyfriend once when we were hanging out with the filmmaker Barry Spinello. Barry had a tank of nitrous oxide that we shared that night. The boyfriend fit the profile of someone who took advantage of others. It seemed to be a cycle of behavior: he'd make Gail sad, and then they'd make up and everything would be back to normal for a while. But he was a serial batterer.
I started dating Gail on and off, not steady, but we really liked each other. We had some happy times, though she continued seeing her boyfriend sporadically. We didn't live together but she was definitely my girlfriend for a time.
Gail, aka Abigail Clayton
My interest in film led me to places like the Canyon Cinema, an avant-garde film group that showed indie films, and the San Francisco Art Institute. It was at the Art Institute that I got to know Curt McDowell and George Kuchar who were putting together Thundercrack! (1975). Curt and George were fixtures there. They had a bulletin board and I saw there was a casting call for their film, so I went along and got one of the main roles. I also got Gail a job as a clapboard person. Gail took photographs on set too, and they were really good. She had talent.
'Thundercrack!' is really George Kuchar's film. Curt was a student of George, and George was like a mentor to him on the film. Curt shot it, and George was standing there the whole time offering advice. George and Curt were artists, and they had a real vision for what they wanted. I enjoyed making the film, even though it was hard to do the sex scenes because Gail was on the set all the time, right in front of me… and I just wanted to be with her.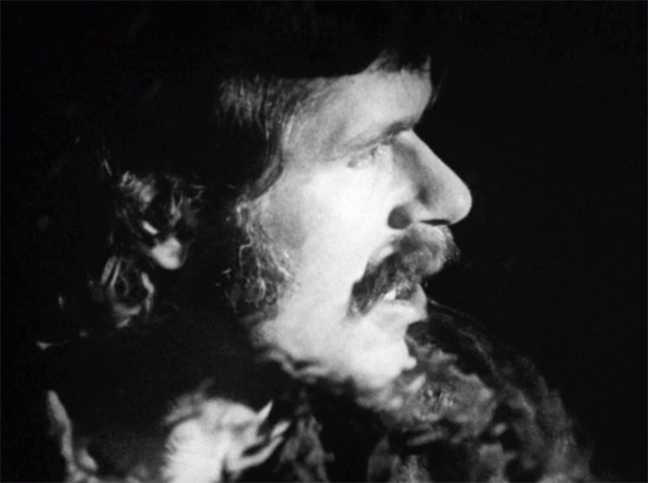 Curt always cast these wonderful and weird street people that he met – he was on the street a lot – and 'Thundercrack!' was no exception. It's been a long time since the shoot, but I remember the actress Maggie Pyle was pretty stoned during the filming. I always wondered what happened to her after.
'Thundercrack!' became a cult classic, and was the only X -rated film at the time that broke out of the porn underworld that I know of.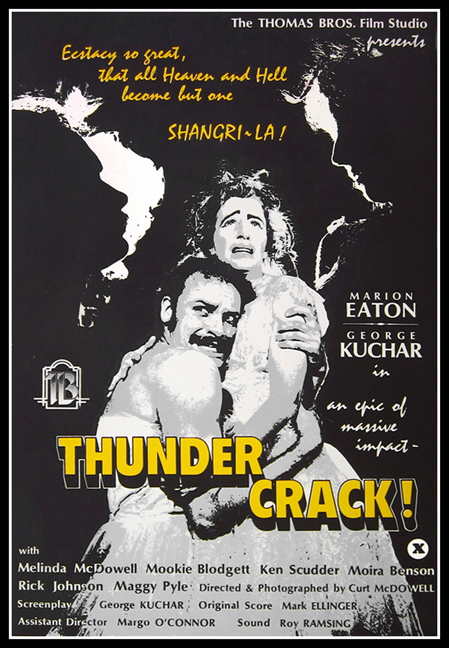 My relationship with Gail was like the characters in the recent movie 'La La Land', where the girl becomes the star and the guy is left behind. I really, really liked Gail, and I helped her get some work, and then her career took off on its own. She became a big deal in that world for a time, and went by the name 'Abigail Clayton,' but I wasn't really part of that community. I didn't have a lot in common with the people that wanted to make Gail into a big star. I didn't want to be a porno star. I just wanted to live my way and make money on the side. With my background, I just didn't fit in. Besides, at 35, I was a different generation than most of the other actors.
Gail and I started seeing each other less as she became more famous, and then I kind of lost track of her. I remember when she made a personal appearance at the Market Street Cinema to promote a film. I got a wonderful, more-than-full-size photo of her that was in the lobby of the theater, and she wrote me a lovely inscription on it. I could see that things had changed, and she seemed to be more into the scene than I was. I was sad that we weren't as close as we'd once been. I think that was the last time I saw her.
I still have that picture. I keep it in the garage.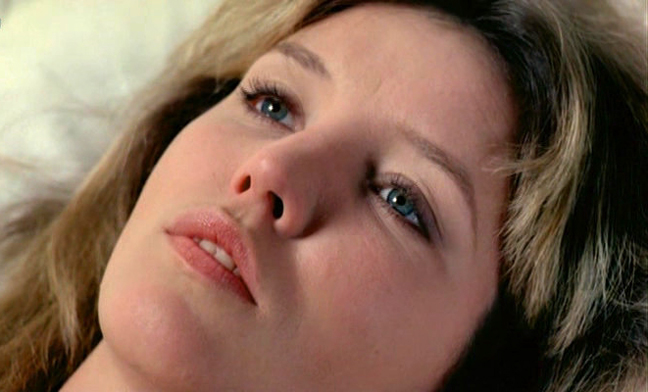 Abigail Clayton
*
6. Continuing in Adult Films
I continued making adult films, and worked with some of the more successful directors of the day, such as Sam Weston (Anthony Spinelli), Alex de Renzy, Howie Ziehm, and Gary Graver. I got to know Gary, and found him to be a really sweet guy, and talented director. He went on to be the executor of Orson Welles' estate.
Despite my initial reluctance to mix with the actors on the porn film sets, I got to see many of them regularly because we were such a small group. We'd make several movies or loops each month, and so saw each other often. And I realized that many were good people, and much smarter than I'd expected. My suspicious feelings towards them changed.
Take Desiree West, for example. She was a sensational woman. One of the few black girls in the industry. She was really beautiful and very sexy, a voluptuous, gorgeous and warm-hearted woman. Desiree was unforgettable. Just such a knockout. You couldn't help being attracted to her. She was devoted to this little boyfriend she had, named Dashiele. They were a sweet couple.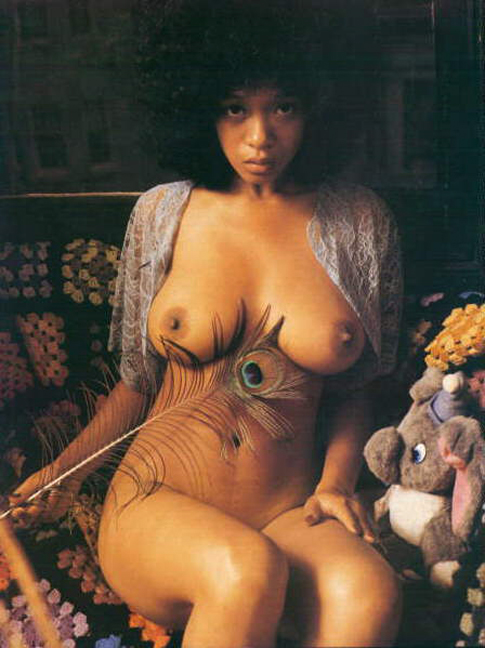 Desiree West
I remember Bonnie Holiday too. She lived a couple apartments over from me on Knob Hill when I was there. She lived with Annette Haven for a time. Her old man was named Danny, if I remember correctly. He died early on. She was a very sweet and compassionate woman, and had a big heart. The problem was that I wasn't attracted to her physically. I couldn't do what some of the guys were able to do and just do it with anyone, so inevitably in this world that became a problem for me. As time went on, I'd often try and get paired with women I found attractive – like Desiree – but that wasn't always possible, depending on the script and the director's wishes. The main thing for me was that I had to be with somebody who really liked me. It I felt liked, then I could usually do the scene.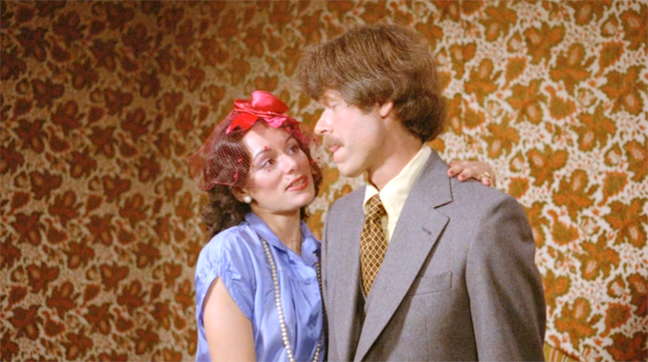 Ken Scudder, with Bonnie Holiday in Champagne For Breakfast (1980)
I knew Emily Smith (aka Clair Dia) a little. She was really funny and smart, and one of the few people I was really fond of. There were plenty of women actors that were druggy and just not 'there.' I don't blame them to be honest, as it was a sexist business. I was always concerned when a script called for a rape scene. I could never relate to that at all, and whatever my feelings were, I figured it would be even tougher for the women. So I'd take it extra easy and try to get through those scenes with a sense of humor.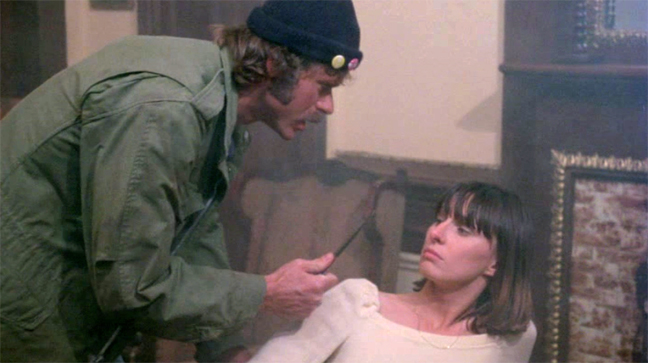 Ken Scudder, with Sharon Thorpe in Baby Rosemary (1976)
I had quite a lot of scenes with Kristine Heller. She was really cute. I liked her, but she was dating Paul Thomas and was serious about him. Mimi Morgan was a very a nice woman too. She was a stripper in San Francisco, saving to pay for school. There weren't many people who were a similar age to me, but one of the few was Joan Devlon. She wasn't around for long, maybe just a year. Her real name was <redacted> and I'd love to know what happened to her. We shared a friendship.
Some of the other women were nice, but just lost souls. Linda Wong for example was a good person, but she was high all the time, and difficult to get to know properly. I remember one scene I did with her that Howard Ziehm shot. We had good chemistry, and Howard said it was the best scene that he'd ever shot, but Linda seemed oblivious to it.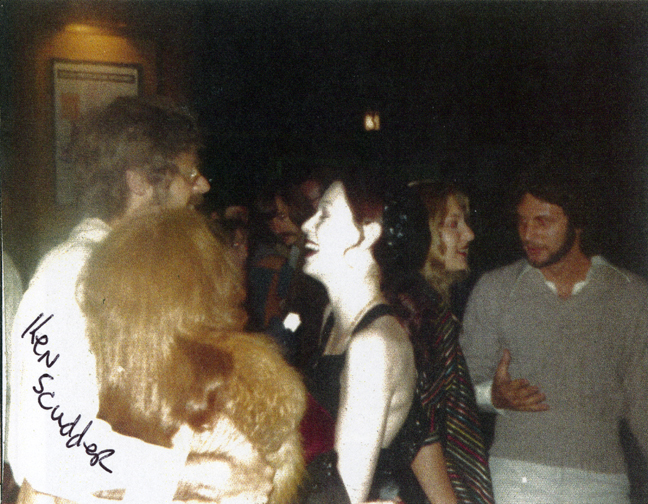 Ken Scudder, with Annette Haven at a party
I still thought about Gail, who I liked more than anybody else I'd met. After Gail, I dated another woman who was making films. She wasn't a big name in the business. We met having sex for a film called Daddy (1978). Later that day she offered me tea. We had a nice polite conversation as if we hand't been in a sex scene together. It was very sweet. We dated and I saw a lot of her for a while. We used to go see foreign films. After a while she went back to Texas.
Deep down, I wanted to have girlfriend that was not in the business, but the problem was that I lost several when I shared what I was doing for a living. After a first or second date, I'd tell them, and normally they'd freak out – and that would be the end of that.
I hardly ever saw any film that I was in. In fact I sometimes asked the directors if they could keep my name off the credits – and when they insisted on adding me that used so many different names. Most of the time I didn't even know the title of the film. One exception was a short documentary called A Film About Sharon (1975). Barry Spinello, a friend of mine who wasn't in the porn business, wanted to make a movie about Sharon Thorpe, who was a big star at the time. She was an intellectual, independent person who believed strongly in women's rights – yet she was also a porno actress, so she was obviously an interesting proposition to him. The film only featured Sharon, myself and Emily (Smith), but it was intelligently made. Sadly, I don't think many people have seen it since it came out, which is a shame. The following year Barry made another short documentary, and it was nominated for an Academy Award.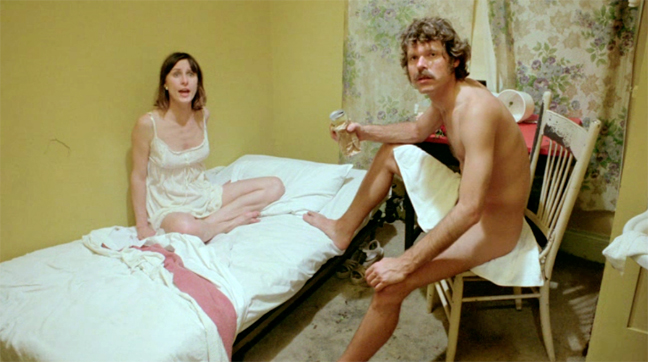 Ken, with Sharon Thorpe in Baby Rosemary (1976)
Another film I remember well was Mary! Mary! (1978), not because I had a big part – I only had a small role as a policeman – but because I knew the guy who made it. He was talented, and he invited me to hang around the shoot and the crew because I liked seeing how the film came together. Maybe you can help put me in touch with him again, as I'd love to speak to him? The movie was an example of how professional the films were getting. 'Mary! Mary!' looked like a real movie, and nothing like the loops I'd made when I first got involved.
I also got to be friendly Rene Bond – who was one of the early stars down in L.A. We always hit it off straight away when we met because she was down to earth and had no illusions about what she was doing. She didn't act like a star with anyone, she wasn't a primadonna for example, and she made everyone feel comfortable as if making the films was the most natural thing on earth. Same thing for Connie Peterson – who I probably worked with more than anyone else… at least it seemed that way. You should speak to her – she was a smart woman. I'll tell you all about her.
But I still felt most at home hanging out with the directors – and some of them were real characters. Sam Weston, for example, was a Jewish guy who acted like he was starring in a Mafia picture. I have this memory of him always out by the pool in a robe, doing business, talking movies.
Sometimes the directors were people who dipped into the industry to see what they could do. One of the best films I did was made by an immunologist from the University of Chicago, who decided on a whim to make a film. He was an intellectual guy, and we used to have long conversations about medicine together.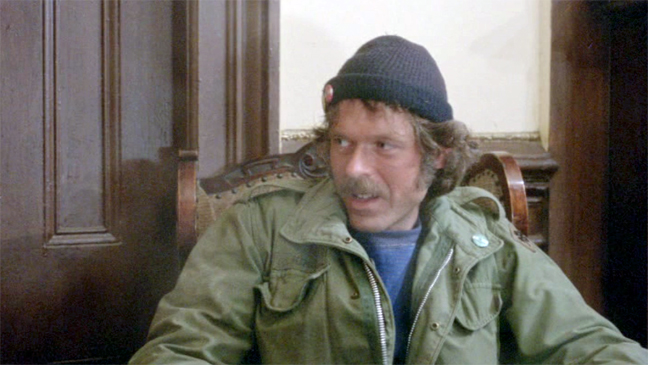 *
7. Life After Film
I remember seeing a beautiful woman in North Beach, where I lived at the time. I wish I'd written about seeing her in the diary that I kept then. In fact, I saw her for three or four years before I met her, because I caught the same bus that she took. One day, there was only one free seat left on the bus – and it was next to her. She was reading one of the Watergate books, 'All the President's Men' or possibly John Dean's 'Blind Ambition.' I thought to myself: all you have to do is ask her what she's reading, because she's sort of a captive audience. I kept saying to myself, "Don't blow it, don't blow it…" and luckily it worked out.
After about three weeks of knowing her, I told her that I'd been in some porno films – and she didn't freak out. I thought it was so neat that I finally found somebody that didn't judge me for the movies. Plus, I really had a lot in common with her. We shared the same political views and interests, and of course she was super beautiful.
Meeting her was what finally changed me. I had been going to law school but had struggled with bad grades and submitting papers – all the same problems caused by my ADHD. But I had an internship at a non-profit organization called Public Advocates, and she was working close by, so we saw a lot of each other. It worked. We're still together 37 years later.
After that meeting, the films gradually petered out. I think the last one I did was a loop in 1984. It was probably for Jerry Abrams, as he did more loops than anyone else.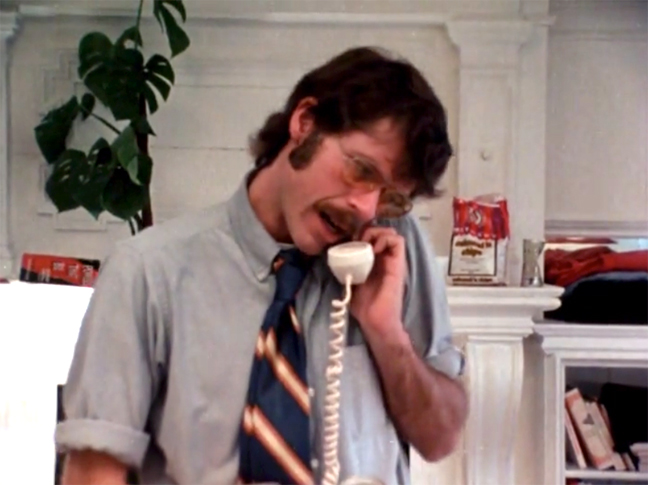 Having ADHD is something I've learned to live with. My mind is all over the place all of the time. It can make you a more interesting person because you notice things that other people don't notice, and you can say funny things, but it's really hard. In the last three months, I've lost two pairs of prescription glasses, two wallets, and a bag of nice sweaters. I must have left them on a bus or something. And when you're scared to death of losing something, you're going to lose it. It's the same thing as not being able to not fit the key in the lock when you're in a hurry. None of those things will work if you go into panic mode, so it's something I have to work with every single day. That's the main reason I'm not a retired professor or something today.
I finally got through law school despite the ADHD. I got a J.D. from Golden Gate University and worked for the University of California's Continuing Education of the Bar for 26 years. And I was a volunteer attorney for the San Francisco Bar Association's Homeless Advocacy Project, and on asylum cases for the Lawyers' Committee for Civil Rights.
I also volunteer with different groups like the Telegraph Hill Dwellers' Pioneer Park and tree planting projects, UC Cal Star for disabled students, and Food Runners, delivering food to shelters and low-income housing for 25 years. I still run a lot – I've done several marathons, and I spend too much time writing letters to the San Francisco Examiner to complain about cruelty somewhere in the world that needs to be highlighted.
It's been a fun ride. I'm really happy now. I'm doing really well.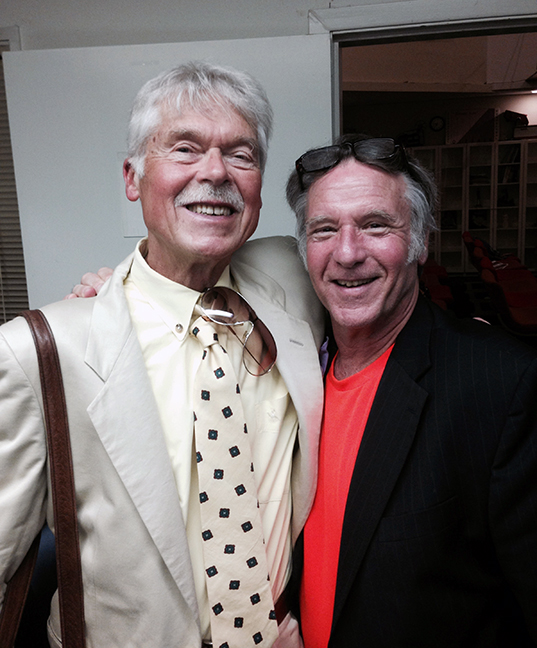 Ken Scudder, Richard Pacheco in 2015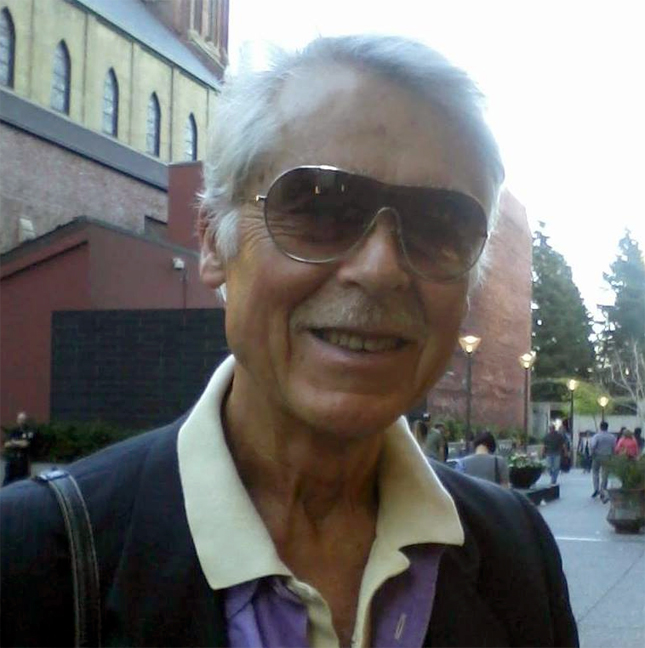 *
Ken Scudder died unexpectedly of a traumatic brain injury on December 20th, 2018.
Ken's obituary quoted Greek writer Nikos Kazantzakis, saying that his sense of what made life worth living was captured by the writer: "How simple and frugal a thing is happiness: a glass of wine, a roast chestnut, a wretched little brazier, the sound of the sea. Nothing else."
Donations in Ken's memory can be made to UN Relief and Works Agency for Palestine Refugees in the Near East ; Food Runners ; or Muttville Senior Dog Rescue .
*