In the beginning there was San Francisco.
From the start, the smut capital of America did things differently. In the late 1960s, a small group of maverick filmmakers living there pushed back the barriers and pioneered the hardcore pornographic film industry.
A select few went even further and opened their own theaters to show their films, vertically integrating their business model thereby reducing their dependence on the old-school distribution model.
These included Alex de Renzy and his Screening Room, and Artie and Jim Mitchell and their O'Farrell Theatre. They had a clear vision of what they could achieve if they made films their way – and stood up to the authorities in the process. And they were businessmen, and were aware of the potential financial benefits if they were successful.
But whilst the careers of de Renzy and the Mitchell brothers have been well documented, there was a third group of independent pornographers / exhibitors in San Francisco – and their vision was every bit as vital and important.
Lowell Pickett and Arlene Elster formed an unlikely alliance, but together they created a model based on a more pure and idealistic aesthetic; they wanted to spread sexual freedom as well as earn a living.
Their objective was to deliver a new wave of artistic and creative pornography, and so they formed a production company – Leo Productions, and opened a theater – the Sutter Cinema, to deliver this dream.
In this Rialto Report, Lowell Pickett and Arlene Elster are interviewed for the first time for the same feature, and remember the heady days of their partnership. Their story illustrates what hard-core cinema could have been if the films had been more allied to the aspirations of the sexual revolution.
This is the first of a two-part feature.
(The above picture of Lowell Pickett is courtesy of James Fee).
________________________________________________________________________________________
1. Upbringing
Lowell Pickett:
I was born in Cincinnati in 1934. My father was a bookie for horse races, and my mother ran the family farm.
When I turned 18, I volunteered for the draft because I wanted to get the G.I. Bill.  The Korean War was over at that time, and everything was winding down. I was stationed north of Chicago at a place called Fort Sheridan. I was a chaplain's assistant. I got involved in theater in the Army, some improvisational pieces, and a production of 'Stalag 17'. I also picked up still photography.
When I was 21 I got into the University of Chicago, and I went there for three years. I really wanted to be a writer and got accepted as an English major. I soon found out that studying English had nothing to do with writing, so I ended up driving a cab for a couple of years. It was a good idea: I was employed, and driving a cab had much more to do with writing than studying English.
This was the 1950s and dating was tough. We didn't actually get around to fucking, but we did a lot of oral sex, that kind of thing. I was involved with a girl who was a painter. She wouldn't go all the way, but she would experiment. I ended up getting married to her but it only lasted for a short time.
She got me interested in painting. I started painting with oils. It wasn't fine art; it was more abstract and figurative expressionism. That's how I ended up at the Art Institute in San Francisco.
Arlene Elster:
I was born in 1941 in Port Arthur, TX. As a teenager I was best friends with Janis Joplin. We were in high school together. It was such a different time then. We were so naïve compared with all that came after. This was really the 1950s.
Janis and I saw ourselves as outcasts. We weren't friends with the mainstream gals that won homecoming queen and things like that. Anyway, I went on and became pretty straight; I went to the University of Texas and graduated with a medical technician license. Then after a bad relationship, I moved to San Francisco.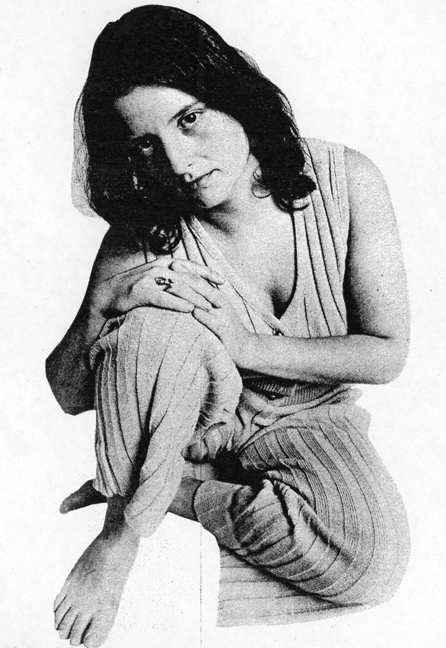 Arlene Elster (c.1970)
*
2. San Francisco
Lowell Pickett:
I studied at the Art Institute in San Francisco for a couple of years and became somewhat of a painter and a photographer. I also ended up becoming head of Buildings and Grounds there. I didn't do much of the grounds keeping work myself. I ran the work crew; I had a staff of about 20 kids, mostly students that worked part-time. They did the actual cleaning and maintenance.
I left the Art Institute in 1963 when the faculty found out I'd taken pictures of a couple fucking in the school library. So we parted ways.
I think my first interest in depictions of sex may have come from my grandmother. She had a copy of 'Lady Chatterley's Lover'. She also had nudist magazines around; I do remember those very vividly. All the pubic areas were brushed out. She used to receive the magazines in the mail concealed in plain brown wrappers. I think that might have piqued my early interest.
I ended up doing a lot of nude photography. I was sort of surprised at the number of girls who were willing to pose for the pictures. But then I read a book called 'The Dud Avocado' in which a character says, "There isn't a girl in the world who won't take off her clothes if she thinks it's for the sake of art." That stuck in my mind. After that I just asked girls I met socially if they wanted to pose saying that they were nude art portraits, and most agreed straight away.
The very first photos, like the ones I took at the Art Institute library, I kept for myself. But later I started selling them to some of the bookstores in San Francisco.
Arlene Elster:
When I got to San Francisco I got a regular straight job doing laboratory work in a research facility. I also did some volunteer work at the Haight Ashbury Free Clinic.
The Haight Ashbury Free Medical Clinic opened in June 1967 as a response to the medical needs of thousands of young people who descended upon San Francisco during the Summer of Love. The Clinic still operates in San Francisco today and continues to serve those without adequate health insurance.
Lowell Pickett: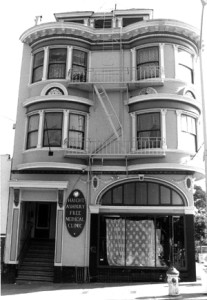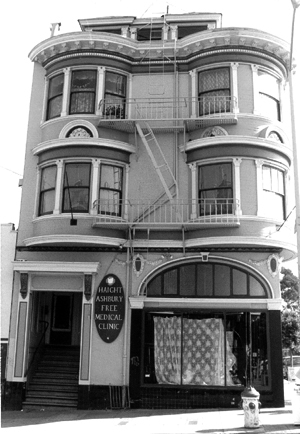 In 1967, a girl I knew fell sick so I took her to a place called Haight-Ashbury Free Medical Clinic that had just opened.
It was utter chaos there so I volunteered to help out. I spent about a year working there as a fundraiser and organizing the administrative side. The clinic was run by a guy named Dr. David Smith.
Arlene was a volunteer there – and that's where we first met. She had a medical degree. Not as a doctor, but as a laboratory worker. We went out for a beer. She said, "If I gave you a penny, would you take off your clothes?" I said, "An offer like that I can't refuse." I ended up spending the night at her place, and she got evicted a couple days later because of the amount of noise that we made. The neighbors must have been listening at the wall.
Arlene had been married before she came to California, and she was already engaged to someone else when I met her. Her boyfriend showed up one weekend while she was staying with me. That led to big problems between them. She kept talking about getting married to him. That was around the time the movie The Graduate was out – where Dustin Hoffman rescues the girl from her wedding so we joked about that.
She soon broke off the engagement and we moved in together not long after that. We had an open relationship.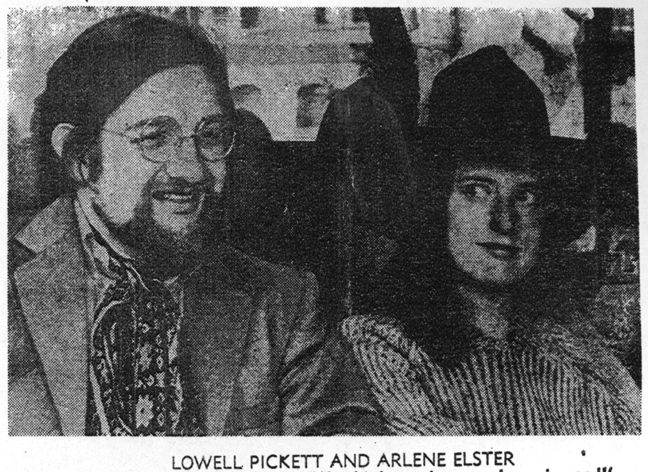 Arlene Elster:
Lowell took me to Art Institute parties and it was interesting. I got to meet some compelling people there. He introduced me to cultural ideas that I hadn't been aware of. He was really a catalyst in my life.
For a time we both continued working at the Haight Ashbury Medical Clinic. It was the height of the sexual revolution, and the clinic was such an important and interesting place to work.
It was a long way from my upbringing in Texas. I'd lost touch with almost everyone from back home. Except for Janis. Janis was now at the height of her fame – and she sometimes needed medical assistance so she came to the clinic because she knew me.
Lowell Pickett: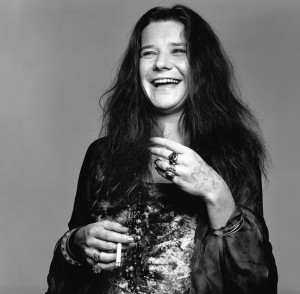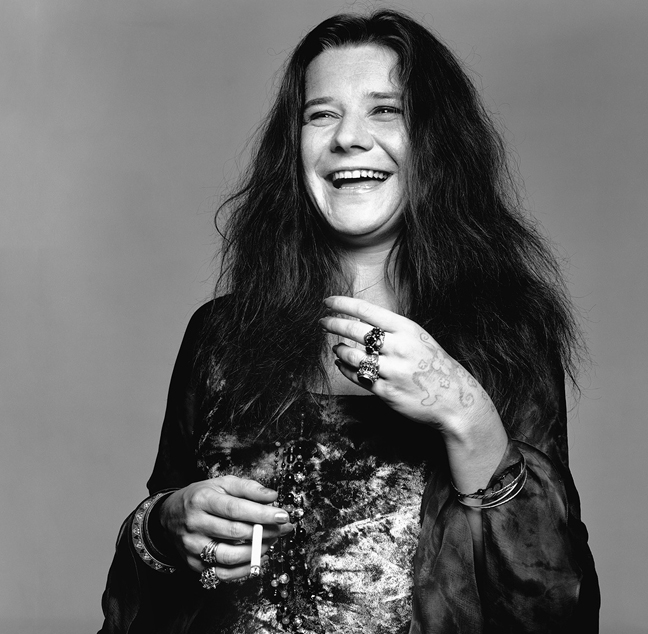 I got to know Janis Joplin because she came into the clinic a couple times. One time Janis came in for a pregnancy test. And then she wanted to get an abortion.
At the time, it wasn't legal in California but I had a connection to a doctor who told me about a facility in Mexico, so I was able to help her out.
After a while I stopped working at the medical center. I'd started to get more involved in the sexual revolution and I wanted to participate more actively.
*
3. The Sexual Freedom League
Lowell Pickett:
When I first met Arlene, she was very shy. She got more assertive as she became more experienced in the world. We started going to the parties arranged by the Sexual Freedom League.
Jefferson Poland founded the Sexual Freedom League (SFL) ("a political group for sexual issues") in New York City with Leo Koch in 1963. He then moved to the San Francisco Bay Area and focused his organizing efforts at the University of California, Berkeley. Poland founded various chapters, including ones in the East Bay, San Francisco, Berkeley and San Diego.
The SFL encouraged political activism using similar tactics to civil rights groups – leafleting, picketing, and civil disobedience. It also organized revolutionary nude parties, which were thinly disguised sex orgies.
Poland was skilled at obtaining publicity for his new movement. He legally changed his name to 'Jefferson Fuck Poland' to raise public awareness. He made national news in August 1965 with the 'Nude Wade-In' he led at Aquatic Park, a public beach in San Francisco. This event was reported in the San Francisco Chronicle and Time.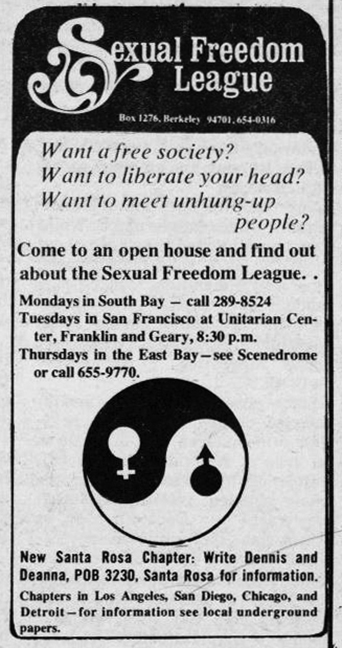 Lowell Pickett:
Jefferson Poland was a character. I thought he'd die young. I remember him pretty well.
Arlene Elster: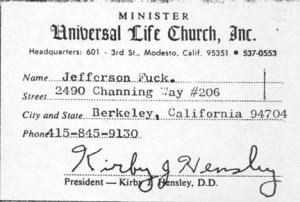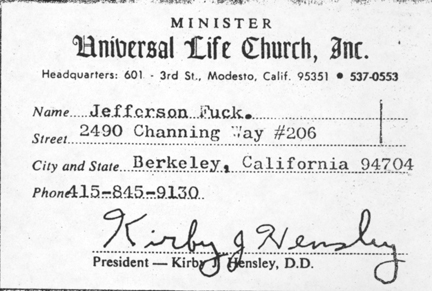 Jefferson Poland… he was the guy behind it all! I liked Jefferson. I haven't seen him in forever, he moved to southern California I think.
Through Lowell I met Margo Rila and Frank Esposito, who were also prominent in the Sexual Freedom League. I was suddenly associating with those guys, and it was a big change for a girl from Port Arthur.
The Sexual Freedom League was liberating. It had a big effect on me. Lowell and I got involved in the party scene that the Sexual Freedom League organized.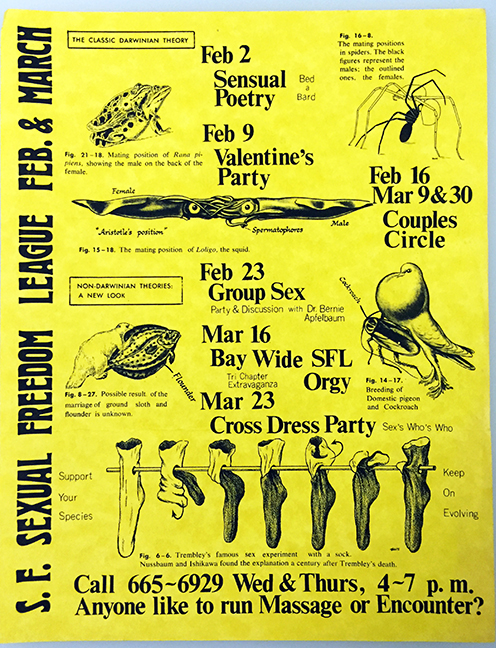 Sexual Freedom League flyer (c.1970) for upcoming parties
Lowell Pickett:
These parties were very influential in terms of changing the way that we, and others, thought about sex. The problem was that the SFL parties were strict. For example they didn't permit alcohol. That was one of the reasons we started organizing our own parties, which were much better.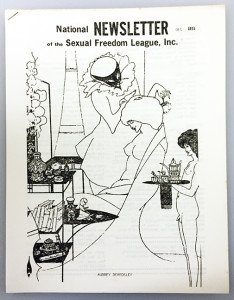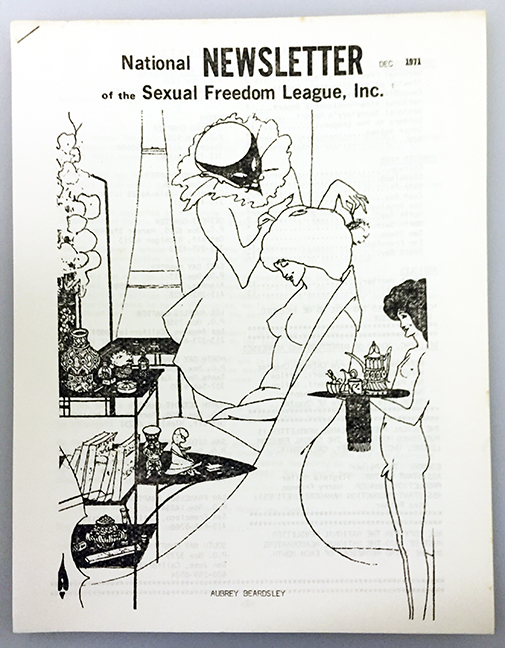 I had a Victorian house in San Francisco, not gigantic or anything, but we ended up having free-form parties and orgies there that people found interesting.  We did things differently. I had all these costumes and pieces of fabrics. When people came in, they were sent away to change into costumes. At SFL parties, everybody waited around to see who was going to be the first one to take off their clothes, so my idea was to get them out of their own clothes straight away. They would change into anything from a piece of ribbon to a bed sheet. No one had ever done anything like that before. Everyone was completely blown away by it.
We would generally hop in bed as soon as people got changed. At the more successful parties, I ended up having sex with six women. I thought that was doing pretty good in those days.
Another aspect that people loved about our orgies was the food we provided. The only mistake we made was an orgy we had once which had the theme 'Moloch and his Harem'. I decided not to have any utensils around so everyone had to use their fingers… Nobody liked that, so I was left with about five gallons of yogurt.
We didn't charge people to come to the parties but we might have taken small contributions, that kind of thing.
By November 1969, Jefferson Poland felt that the leadership of the Sexual Freedom League was becoming too "bourgeois", so he founded the Psychedelic Venus Church (PVC), as an offshoot of the SFL. The Psychedelic Venus Church became the epicenter of some of the most radical and performative sexual experimentation of the era. Lowell and Arlene were both members.

The sacrament of the Psychedelic Venus Church was marijuana and at each meeting, after lighting up, a woman was chosen to be Venus. At the beginning of services, she was placed on an altar, candles were lit on each side of her, and her vulva was smeared with honey. Each of the males (and some women if so inclined) at the meeting licked the woman's vulva in order to honor the goddess Venus. Then the orgy began in earnest. At one 'ceremony', sex radicals gathered in a warehouse in which a woman wearing nothing but a winged helmet was hoisted by crane into the air and then landed safely to have sex with multiple onlookers.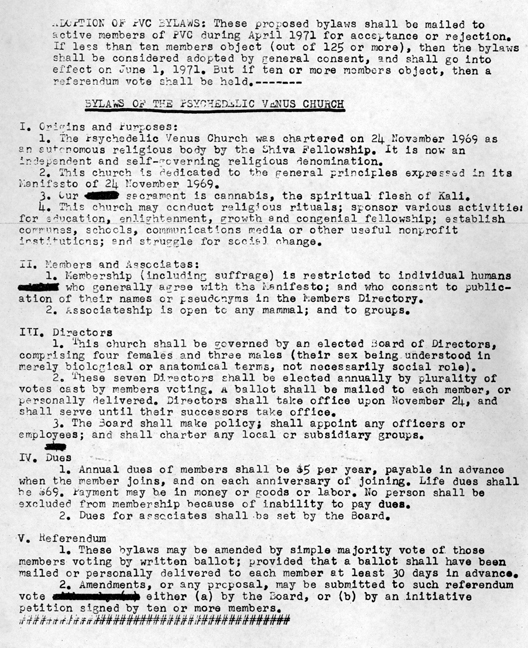 The by-laws of the Psychedelic Venus Church (1971)
Arlene Elster:
The Psychedelic Venus Church was crazy, nutty fun. It was also innocent by today's standards. All of the sexuality was totally innocent compared to what came later.
There were kind of the two factions of people. One faction created rules on how you do it… sort of "this is what you do and this is what you don't do." The other faction was uncontrolled in any way. I always subscribed to the first group, the consensual group. No drunkenness, no heavy business… no intoxication. At least no heavy intoxication.
Marijuana was our sacrament at the Psychedelic Venus Church. But it wasn't let's get drunk and stoned to the point of unconsciousness. It wasn't like that. I was actually a reverend in the PVC… whatever that meant! We had get-togethers at my house, and I organized them.
Despite what it seems, I thought we were pretty straight people that were just part of the sexual revolution kind of a thing. Why not? This was healthy sex. What could be wrong with it and what's unhealthy about it? In fact, it's pretty healthy!
*
4. Loops
Lowell Pickett:
I'd been taking pictures of nude girls all this time, and then I started making sex loops. This would be in about 1967. The way that I got started was talking to the people at the Roxie on 16th Street, and they said they bought loops for $50 dollars. Unprocessed loops. I'd seen a few of them there so I said, "I can do as well as that."
Arlene Elster:
Lowell asked to borrow $100 from me to make a loop film so I agreed, and he paid me back. A 16mm loop, 10 minutes, of a girl taking her clothes off. Sort of like a striptease but on film.
I was in my 20s and I thought, naively, this is what they're just going to do forever. They're never going to show hardcore sex. But eventually they showed the girls spreading their legs and showing their genitals… and then even more. I was shocked!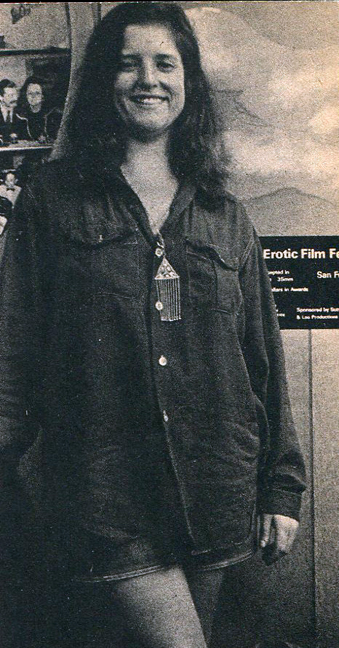 Arlene Elster (1971)
Arlene Elster:
Lowell sold the film in the can, by which I mean it was undeveloped. Forget editing, it was not even developed. Completely undeveloped. The loop plots were shot in sequence so they just had to take out the camera stops, the black frames, from when we stopped the camera.
So I started making these loop films with Lowell. We distributed them all ourselves… Lowell and I just went to these theaters where these people bought this stuff.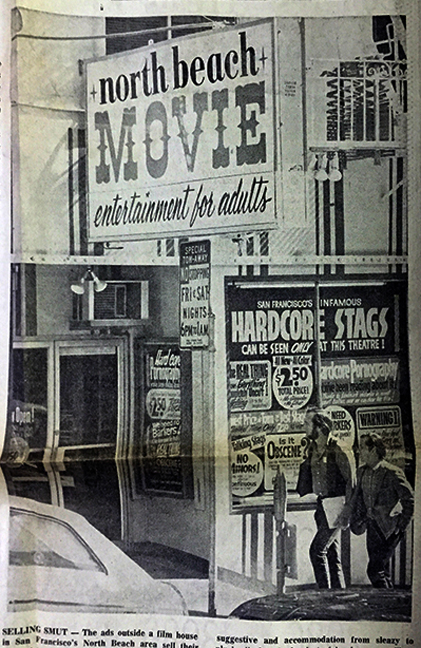 Lowell Pickett:
In the beginning, Arlene and I sold the loops to places like the Roxie and the Peerless. They insisted on buying the film unprocessed. That way, they knew there were no other copies.
Arlene and I made the loops together, and she ended up filming some of them. For example she ended up directing all the gay stuff we did. I met a couple of guys that were operating a male prostitution ring and they provided some male models, and Arlene developed story-lines for those.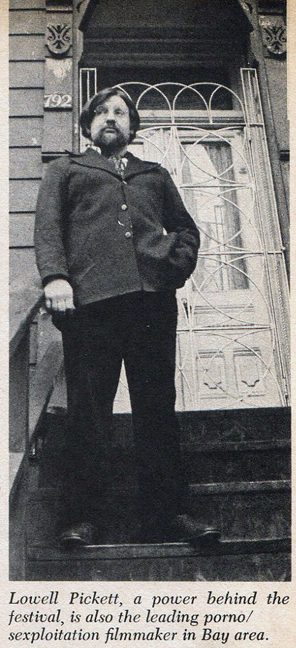 Arlene Elster:
We also hired young filmmakers to make loops for us. We always said, "Think of the loops like a haiku. We need to show this or that, and then a depiction of a sex act. Other than that, you've got free range to do what you can do with the film." That's why it was really a fabulous, fabulous challenge for filmmakers.
And we got some pretty interesting films. I'm really sorry that I didn't keep any copies. They were really fab. Creative. Fun. Amateur, totally amateur, but fun.
Lowell Pickett:
When we needed girls for the loops, there was a paper called the Berkeley Barb, an underground newspaper that we sometimes advertised in. But often Arlene would walk down the Haight in San Francisco and literally just ask girls on the street if they wanted to appear in a movie. Most girls agreed straight away. You have to imagine that the streets in those days were very busy. Most of the girls were only making a couple of dollars an hour working in a mall or some place. This was a much better deal. Most of them seemed to have no compunction about doing it.
At that point, we weren't asking them to have sex in front of the camera – just spreading their legs and simulating something. In those days, everybody had pubic hair. Lots of it. I did get a number of the girls to shave, just because I thought it would be easier for the viewer to be able to see more of what they wanted to see.
Sometime Arlene and I used to appear in our films too. I did a couple of POV (point-of-view) films. I would operate the camera holding it up to my face and shooting down.

Leo Productions advertising next to the Sexual Freedom League in the Berkeley Barb (1970)

Arlene Elster:
We'd had all the experience organizing the SFL and the PVC parties, the costumes, the themes, and so on. So it really wasn't a big leap to make the loops.
There weren't many others making these films at the time. Lowell knew this guy that did light shows for all the rock concerts. He was named Jerry Abrams. Jerry was making sex loops at the time. He was one of the first in San Francisco to start making them. I got to know Jerry although I never cared for him. I didn't care for the way he filmed, and I didn't care for any of his attitude. He would never have been a friend of mine.
Lowell Pickett:
It was great era. It was long before AIDS. Everything was just very free and casual. We were out just about every night, either at a party or bar.
*
5. The Birth of Leo Productions
Lowell Pickett:
After a while we decided to form our own production company, Leo Productions. I always thought that there should be great films that could be viewed by couples. Films that dealt with feelings and relationships, as well as sex.
I wanted to start making full-length films. I also wanted to be as financially independent as possible so I made sure I had my own equipment from the start. Two Arriflex cameras. We had our own editing equipment too. We shot on 16mm.
I didn't like the way that the older generation of 35mm filmmakers mixed sex with violence. These guys were making some really nasty films, like ones set in a Nazi camp. I saw us as being a new generation. We were attracting young, sexually adventurous people to see our films, and we invited them to make films with us. It was all part of the sexual revolution. We hoped that our films would lead to a new art form.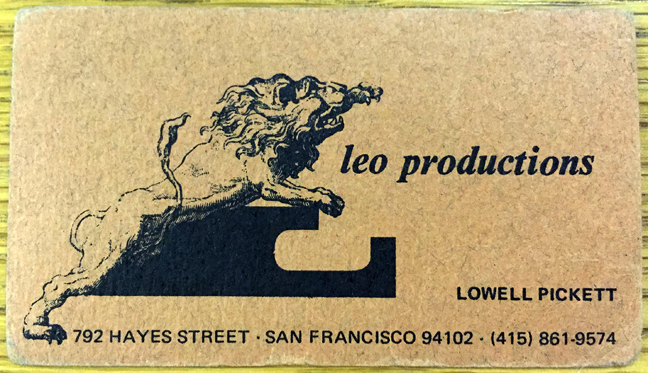 Arlene Elster:
When Lowell and I formed Leo Productions, we used film students from San Francisco State University and other colleges. We wanted to appeal to an audience of adults, heterosexual adults. We felt we had a healthy attitude towards sex because we were in the Sexual Freedom League and all of this stuff. Right? Morally and ethically I'm thinking this is where it's at. Copenhagen was happening and Amsterdam too at that time. And we were there at the heart of this new sexual movement. We were art house. We saw ourselves as erotic art for adults. That was our thing. We were different. And people could see that the films we made were different.
From The Sunday Oregonian, November 15th, 1970:
The models are young and attractive, even beautiful. The photography, while generally only functional, is technically good, as is the lighting. In films by two girl film makers, the imagery is downright beautiful. The films are still of uneven quality, but it is obvious that people with genuine talent are making erotic films, not for the basement but for the general public. One, a re-telling of the medieval Mattie Groves story, was filmed by a girl in dark colors, mostly red. The film, quite simply, was beautiful.
Arlene Elster (from The Sunday Oregonian, November 15th, 1970):
Three years ago we sold our films by the foot. Now we're doing something very different.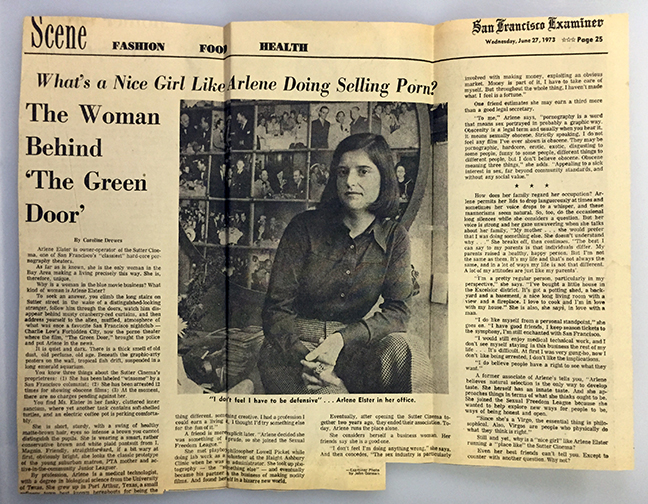 Lowell Pickett:
Most of the films that Leo Productions made didn't have any other financial backers. I came up with the money myself. Basically I'd make money from one movie and some of that money would go into the next movie.
I learned pretty quickly how to make sex films without risking too much money. For example we'd do the sex scenes first so we knew we had them in the can. Then we could do the story lines. This was important in case anybody had to be replaced.
You see – people would often disappear after you started making a film. I remember the police questioned us about the Weather Underground (the radical left-wing organization). Apparently the Weather Underground had been recommending that activists get work with us if they got into financial difficulties! It was easy cash for them and there was no need for documentation.
We tried to work with many different actors to keep the films fresh – but we found that some actors were more reliable than others. George McDonald was a good example. We could always trust him.
George McDonald (from his unpublished autobiography 'A Pound of Flesh' (1975)):
I'd heard good things about Leo Productions. They were part of the new long-haired, turned-on, sensualist film makers, as opposed to the dirty old man, carny types that had been flourishing in the Tenderloin.
I called them from a number in the back of the Barb. A secretary told me that I would have to come down for an interview, and gave me an address on Hayes Street. The address on Hayes turned out to be a Victorian house across the street from a concrete slab black housing project. The doorway was covered with a wrought iron steel gate. Next to the door was a lion head doorknocker and a sign saying PLEASE USE DOORKNOCKER. I stuck my arm through the gate. But, what they don't tell you is that there's a one hundred and twenty five pound black German shepherd that goes crazy at the sound of the knocker, and he's hiding behind the partially opened front door.
I gave a few raps on the knocker and the next instant… whoom… this monster wolf was pouncing on my arm. You don't have much time to pull out, especially with my slow reflexes. I finally pulled my arm free as two guys came rushing out and pulled the dog off.
Arlene Elster:
The personal relationship that Lowell and I had was short lived. I lived with him for maybe a year. When we started out I found him to be an interesting, cultural person but then he became less so. He introduced me to art film, these things, but after a while I realized that wasn't really him. He preferred the sexual side of things.
Lowell Pickett:
I was motivated by the money – but also the sexual freedom and the excitement. I thought the films could be improved so I was interested in doing that too. Our loops had a little more story than the others. I thought that if the girls were really getting off, the excitement would come across on the film. I always thought there was a great future in films for couples to be able to watch sex films together in their bedroom. It turns out this idea was too far ahead of its time.
*
6. Arlene Elster and The Sutter Cinema
Arlene Elster:
I knew this guy called Bruce Davis through distributing our loops. He had H & B Adult Bookstore in San Francisco. He developed some problems; he did pills, and he was wanted for tax evasion, so he disappeared off to Hawaii. Before he left he had taken a lease on a theater. The location had formerly been a nightclub called The Forbidden City.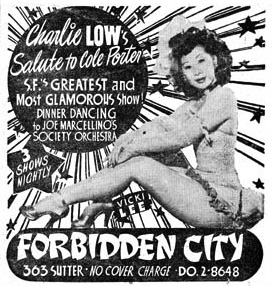 The Forbidden City was a Chinese nightclub and cabaret in business from the late 1930s to the late 1950s, on the second floor of 363 Sutter Street (the former space is now renumbered 369 Sutter Street) between Chinatown and Union Square.
It featured Asian American singers, dancers, chorus lines, magicians, strippers, and musicians. It was popular with military personnel who were transiting through San Francisco during World War II.
Arlene Elster:
The Forbidden City was an upstairs location. There was a stage for can-can dancers and big round tables. It was a pretty upscale place. Lots of well known people had frequented the club over the years. I have pictures of Ronald Reagan there for example. At some point there was a fire and it was closed.
Bruce Davis took it over and re-opened it as a burlesque theater, with striptease dancers on stage. This was in the early to mid 1960s I guess. There were a few theaters of that kind at the time… like the Roxy, the Victoria and then later there was de Renzy's theater. After a while Bruce started showing film, loops, of strippers. Single girls taking off their clothes looking sexy at the camera. Lowell and I sold them our loops to show.
Lowell Pickett:
As we were deciding to make these new type of films, Arlene and I wanted a new type of theater to show them. A couple's theater.
Arlene Elster:
Lowell and I thought it would be good to take over the lease of Bruce's theater and to turn it into a cinema where we could show Leo Productions films. So we did. We called it the Sutter Cinema.
The Sutter Cinema opened in May 1970 with a self-avowed mission to show quality pornographic movies. Or as Arlene put it, "films that consisted of more than a penis going into a vagina". It charged $5 per person, but only $7 for man-woman couple. Servicemen in uniform and those over 65 were admitted for $3.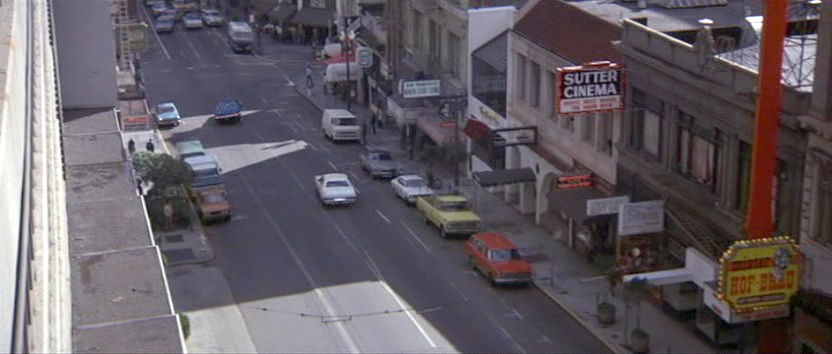 A still from Freebie and the Bean (1974) showing the Sutter Cinema
From 'Sex Films in San Francisco Reach Plateau of Legitimacy', Los Angeles Times, October 30, 1970:
(The Sutter Cinema) is located in an almost fashionable part of the city, as opposed to the stale sweat and down-and-out-on-the-Bowery sleaziness of similar houses in other cities. A pleasant woman called Arlene Elster, a veteran director of erotica, sells tickets, makes small talk and in general replaces the air of embarrassment that usually hangs over these places with a feeling of downright hominess.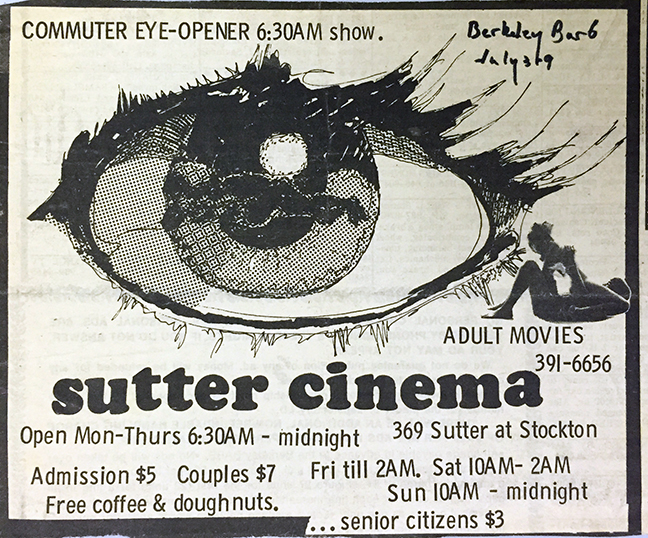 From 'The Porn Capital of America', New York Times, January 3, 1971:
(Sutter Cinema) is clean and thickly carpeted, with handsome erotic drawings mounted on its gold-painted walls and a large tank of tropical fish in the lobby; free coffee and doughnuts are dispensed during viewing hours from 8am to midnight.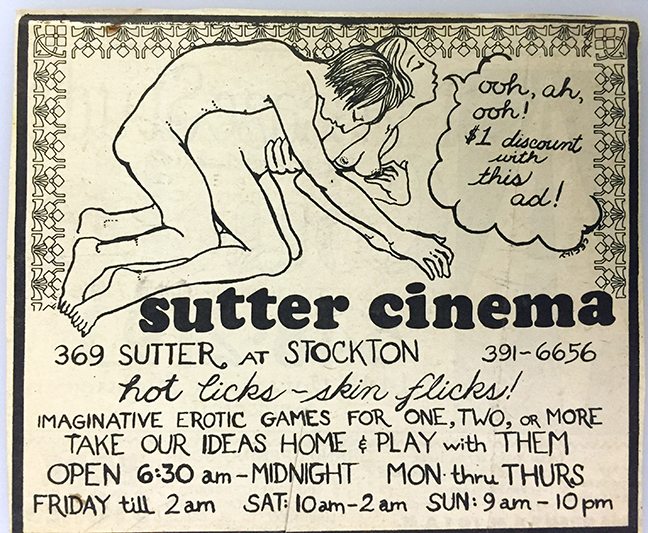 Arlene Elster (in The Sunday Oregonian, November 15th, 1970):
We are trying to create as dignified an image as we can. We feel that there is nothing wrong with watching sex films. We don't feel there should be any shame attached to it. But we also realize that we are in a minority with this opinion. This is one of the reasons our ads are understated. We want to be totally honest but we don't want to push anything at anyone. We have no pictures outside the theater, for example. You have to know what we're showing before you even come up the stairs. And at the top, before you go in, there is a sign warning you that our films show explicit sexual relations. There's no way to put it without making it sound like a come-on but we are being honest. I'm not trying to offend anyone, I don't want anyone to be upset or disturbed. We're offering a specific type of film for people who want it, and we hope others will stay away.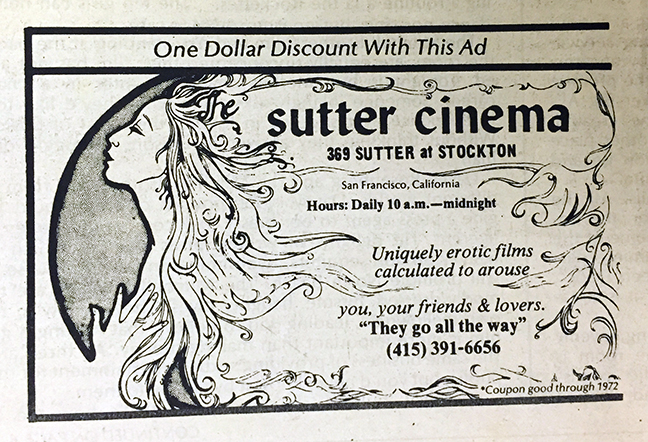 Arlene Elster:
We appealed to a different audience than the other theaters. We really tried hard to focus on sensual, respectful sex films for discerning people, for couples, for the curious and adventurous. We offered a reduced rate for couples. We also had grand openings for new films.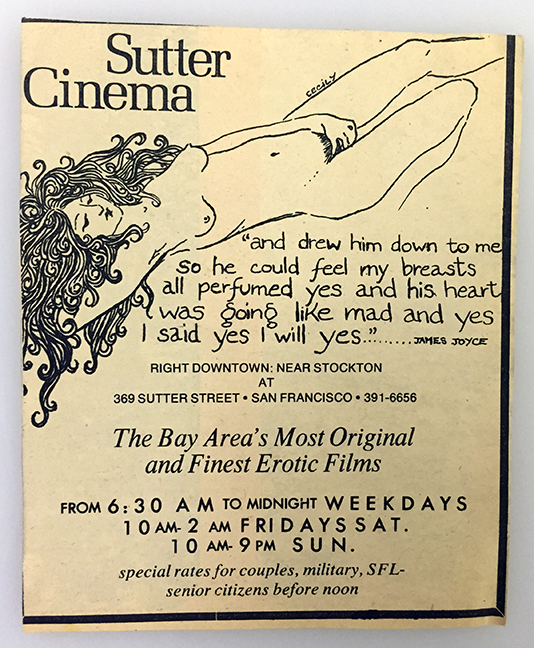 As Arlene started to become more involved with the running of the cinema, tensions increased in her relationship with Lowell, which eventually came to a head.
Arlene Elster:
At some point I got disgusted about not having any control over the films that were being made. I did not like that at all. That annoyed me. Some of the films that were coming out from Leo Productions were disgusting to me. So I formed a coup.
We had incorporated Leo Productions so I got the other people on the board together and I said, "Lowell: You take all the film and I'll take all the theater, and we'll see you later." See ya later alligator.
So Lowell continued to make films – which the Sutter Cinema showed.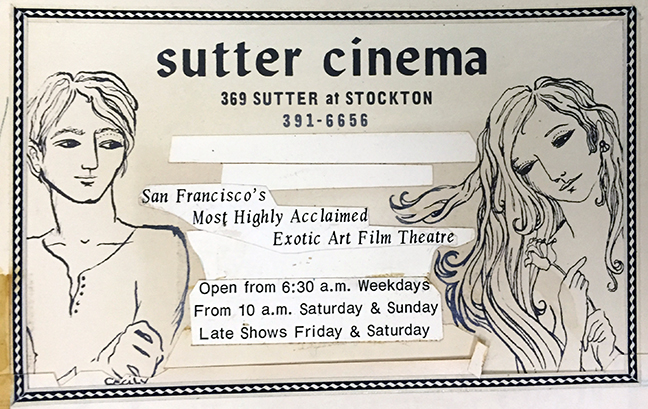 From the start the Sutter Cinema was different from other adult film theaters. This was because Arlene was different from other adult film operators in San Francisco – such as the Mitchell Brothers and Alex de Renzy. She wanted to run a commercially viable operation but she was also strongly sex-positive – long before the term had been coined.
Arlene Elster:
I was a business woman and I wanted to earn a living my way. But I also saw the opportunity to share the ideas of the Sexual Freedom League. I remember saying that the times in which we lived not only allowed but required films like ours.
I only showed films that fit the criteria I was looking for. For example it was important to show that women possessed sexual desires just like men. Female orgasms need to be shown just as much as male orgasms.
I was at the cinema every day. I was very hands-on. That was important to me. I hired, I fired. I had a bookkeeper that did the payroll. I had an assistant. I dealt with the lawyer – which become a full time job in itself when the busts started.
I was also in charge of getting ads into the newspapers. We had graphic artists create the posters and ads, but I was always involved. I would sometimes sketch out the artwork and then give it to the graphic artist and say, "Will you do this?" I've still got a scrapbook of the ads that were in the newspaper because those were so fabulous.
Our advertising campaigns reflected our different approach. The Chronicle newspaper took our ads. One of them said "Bring your loved one, we'd like to turn you on." We even featured Elizabeth Barrett Browning poetry in the ad text.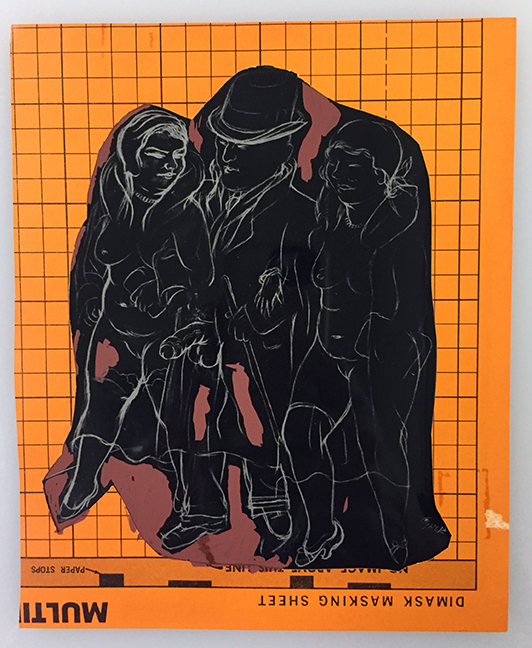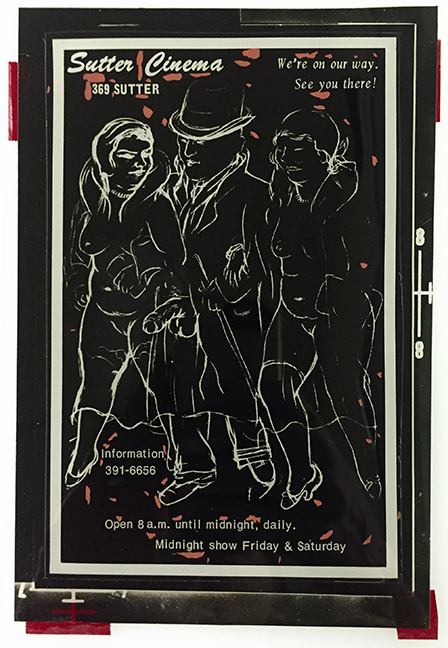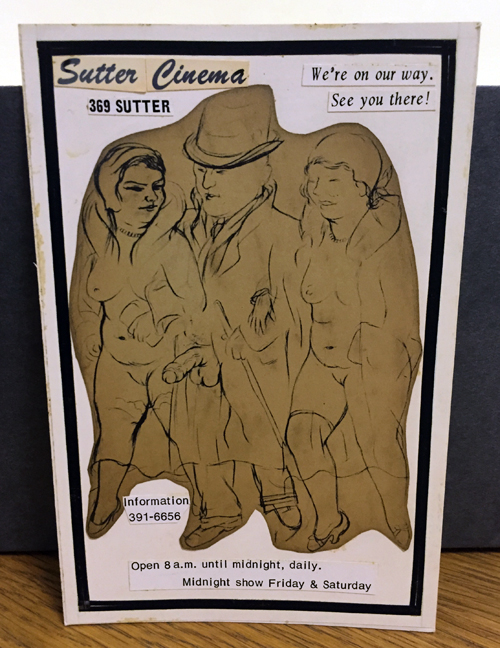 Genesis of a newspaper ad
Lowell Pickett:
At the time there was a strong crossover with the underground filmmakers and the counter-cultural comic artists in San Francisco – people like Robert Crumb, Roger Brand and Roger May. They were interested in our work, and we liked what they were doing so it was natural that we would be drawn to work together.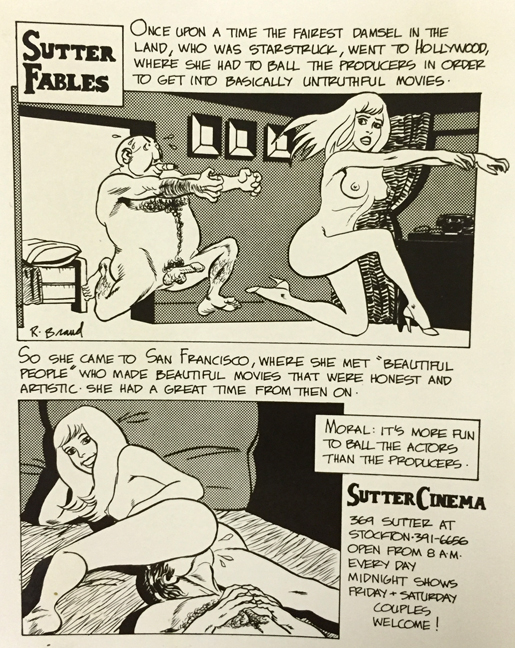 Arlene Elster:
We got these comic artists to draw ads for us that we could use in newspapers, magazines, flyers – all to entice people to come to the cinema by demonstrating that we were different from other porno houses. I was proud of that artwork. It captured the times and what we were trying to achieve.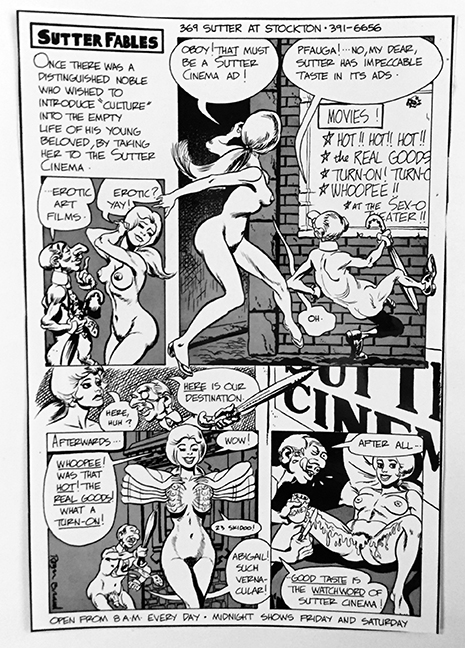 Lowell Pickett:
The cinema definitely was different from the other porno houses in town. Arlene had a different clientele altogether. In fact there were a number of girls that were in the films that brought their mothers or family members to see them when we were showing them at the Sutter Cinema.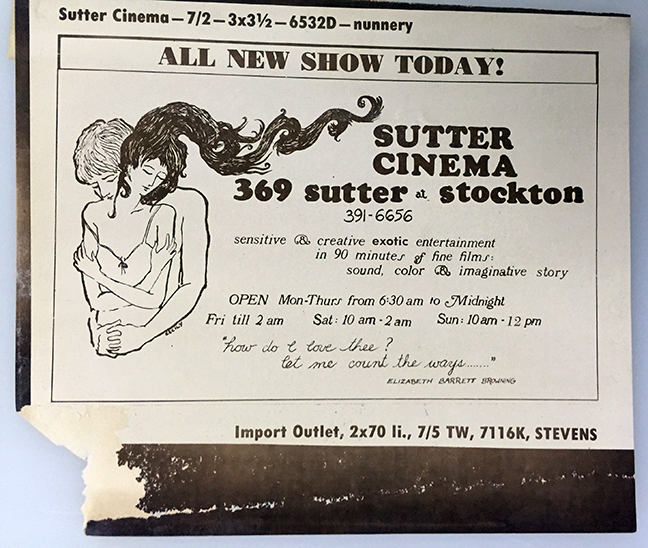 The Sutter Cinema proved to be a success – and particularly popular with Japanese visitors. In 1964 the Japanese government had lifted travel restrictions and from the early 1970s, Japanese tourists and investors arrived in San Francisco in large numbers. They preferred to frequent more discreet, up-market theaters and therefore found the Sutter – with its promise of "the best in pornographic entertainment" and "the most comfortable seats" – particularly attractive.
Arlene Elster:
Artie and Jim Mitchell opened their O'Farrell Theater around the same time as my theater… was it before or after? I can't remember who opened their theater first. I knew the Mitchell Brothers. I went to see them in their theater and went up to their office at times. But I never hung out with them. I didn't do the drugs they were doing. We weren't friendly in that kind of a way. We were just doing our own things more or less parallel but not together.
The problem was that Artie and Jim Mitchell started showing better quality films and they also started showing hardcore as well. They showed the sex more graphically.
So what did we have to do the next week? We had to follow. We had to. It wasn't something I wanted to do but there it was. I didn't care for that. At the Sutter there was never any weird sex in the films. There was never any sadism, never anybody hurt, there was never any non-consensual sex. I wanted the films to be better than that.
Another group that I wasn't happy with was that the lesbian community, the women's community. They didn't like me running the theater. They didn't like that at all. This was not liberating to them. I definitely wasn't part of the sisterhood.
Arlene also handled distribution of the Leo Production films in the early days – through Zephyr Distributing Company – a company she ran from the office at the Sutter Cinema.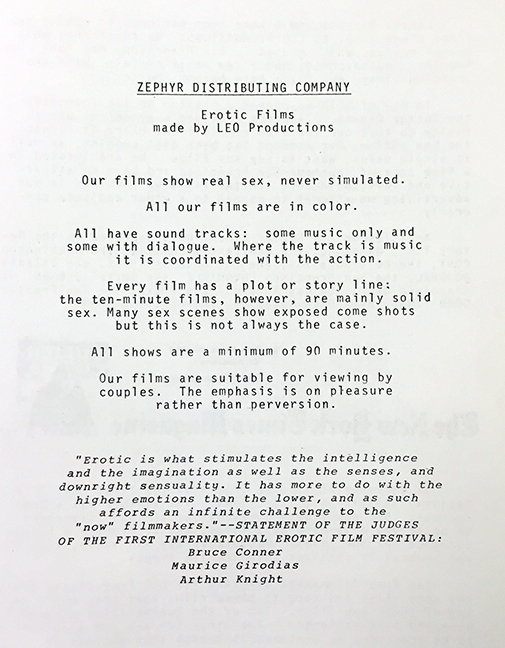 Zephyr distributed Leo films by packaging them into individual 'shows' that contained over 90 minutes of entertainment. Each show contained a combination of feature-length and short films, and Arlene had a brochure that outlined the details for each one.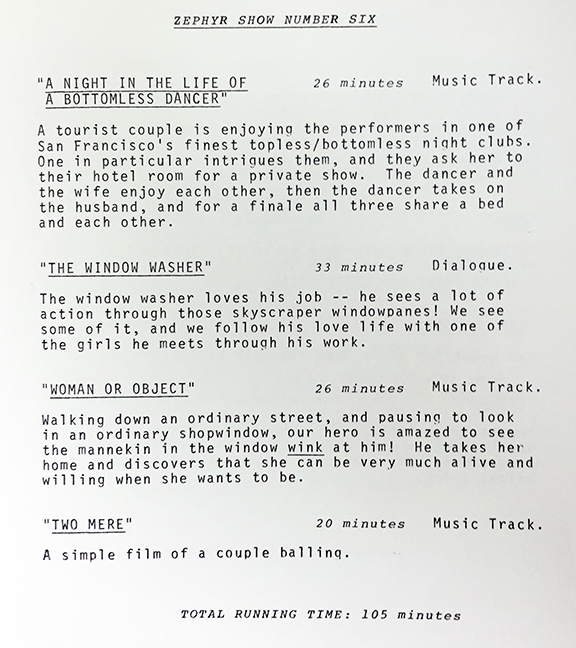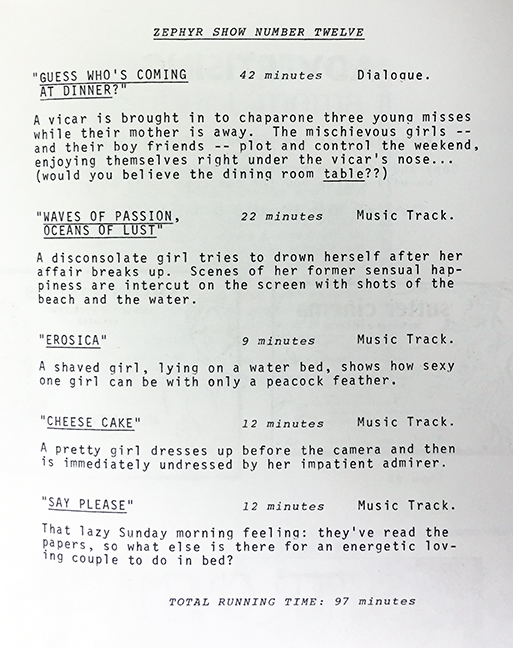 The Sutter Cinema largely stuck to its vision of showing more couple's oriented films, and also exhibited gay porn films. Several significant adult films were premiered at the Sutter, as were other Leo productions.
One of the early Leo successes was the film 'Straight Banana'.

*
7. 'Straight Banana' (1970)
Lowell Pickett:
Straight Banana was an early film. It was a 40 minute film if I remember. I produced it but didn't direct it.
Straight Banana was written and directed by Ferd Eggan (using the name Ferd Ambidexter), a bisexual junkie, who'd been a civil rights worker in the South in the early 1960s. He was active in the Gay Liberation Front in Chicago before moving to San Francisco.
Lowell Pickett:
It was one of the first sex features with a real narrative, but I can't remember much about the story. I know we used the plot for another film afterwards. We also used an underground comic artist to do a lot of the illustrations for the ads.

Despite Straight Banana having been termed a 'missing film' in current years, the Rialto Report has recently viewed a 70 minute version. Shot in Sausalito in 1969 and released in 1970, it is subtitled 'The Story of Bonnie and Hyde', and is the story of a nymphomaniac who meets an exhibitionist. It's a creative and humorous madcap romp, and features entertaining artwork by Roger Brand. It also features a sexual encounter between the film's star Grinda Pupic and a coke bottle.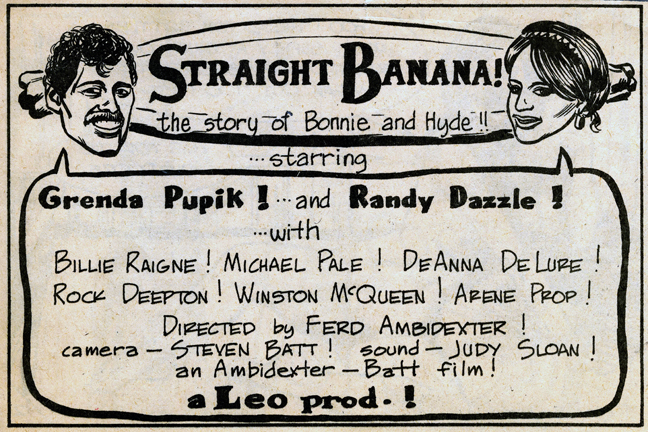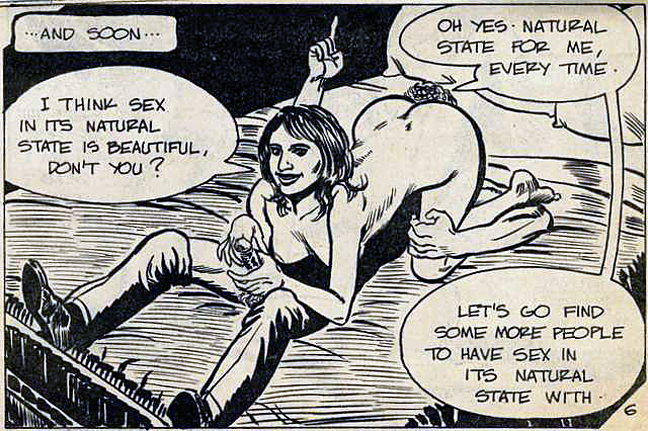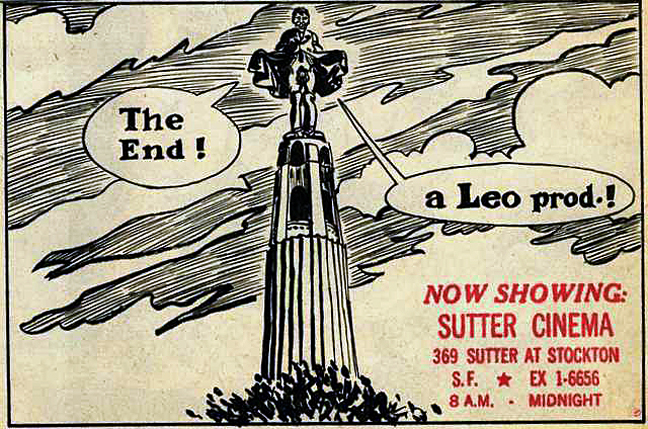 A selection of slides from the comic book version of 'Straight Banana' (1970)
Lowell Pickett:
Ferd directed the film but he used Leo crew-members and Leo equipment to actually film it, as he wasn't an experienced filmmaker.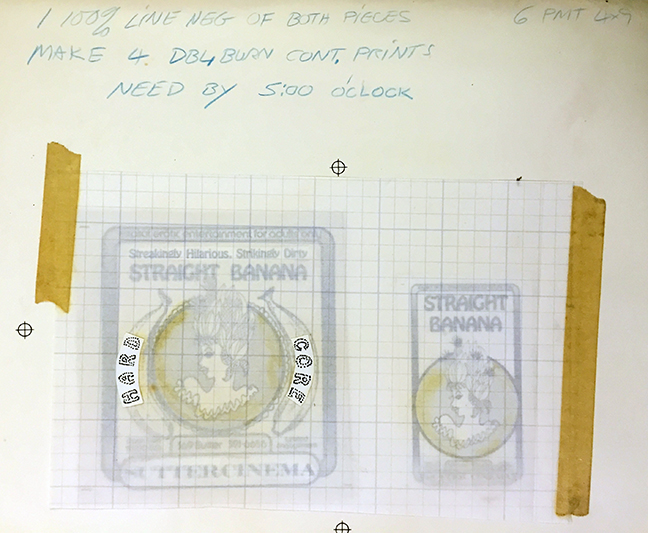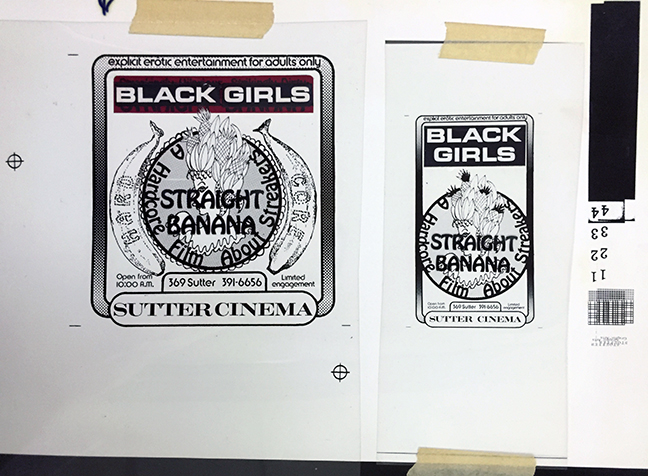 Development of the 'Straight Banana' ad campaign
The writer Gary Indiana moved into the commune where Ferd lived when he was directing Straight Banana. According to Indiana, Ferd was the scene's charismatic bisexual ringmaster who "shot smack more as a fashion statement than to quell an actual addiction."
Gary Indiana (from 'I Can Give You Anything But Love' (2015)):
One of the stars of Straight Banana was a tall bisexual Nebraskan refugee often billed as Mr. Johnny Raw, or plain Johnny Raw, whose penis was a minor celebrity in the Bay Area. He referred to the creeps who bought tickets to his films as "the fans", and believed that he was actually a movie star. He was boastful, stupid, pathetically narcissistic, and sad, but such a deluded asshole it was impossible to feel sorry for him.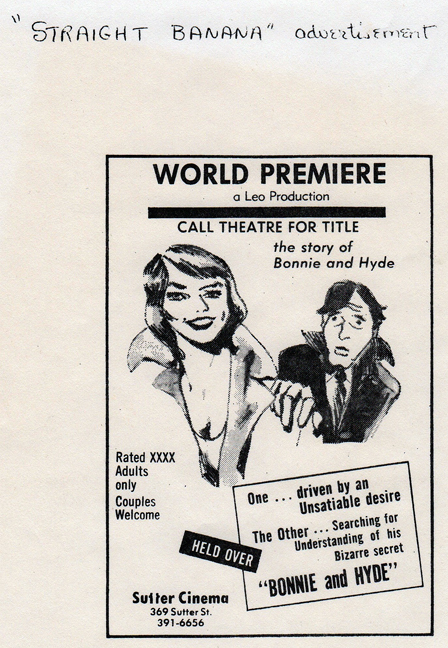 Lowell Pickett:
Then there was a girl called Mary Smith in the film. I don't know what name she used in the credits. She came over to interview at my house and it turned out she was a pre-med student at Berkeley. She ended up doing several films for us. She had quite a story. She got hooked on heroin, got busted and did some jail time. When she came out she went to law school at UCLA, graduated near the top of her class, and became a pretty successful lawyer but ended up committing suicide.
The female star of Straight Banana was a girl who worked a lot for Leo Productions. She used the name 'Grinda Pupic' (aka 'Grenda Pupik'). She was certainly one the brighter, more interesting women that was around at that time.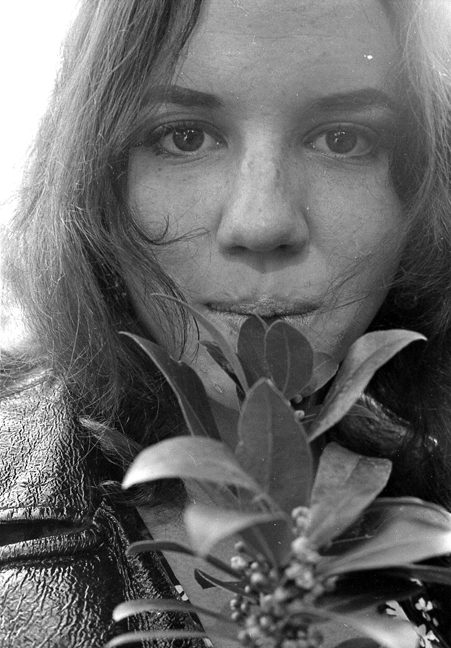 'Grinda Pupic'
*
8. Who was 'Grinda Pupic'?
'Grinda Pupic' real name was Bonnie and she came from St Louis, where she excelled in high school – winning a National Merit scholarship. Despite her academic prowess, she dropped out and became a fixture in the Gaslight Square area of town, famed for being a meeting area for the bohemian and hippie generations.
She clashed frequently with her mother, and when she got pregnant at 19 in 1967 she moved out to San Francisco. She didn't tell her parents of her pregnancy, and gave up her son for adoption. It remained a secret until an article in the San Francisco Examiner came out in August 1967. Bonnie was on the cover of the paper (with a slightly modified last name) and profiled as the 'Hippie Woman'. Friends of her parents were vacationing in San Francisco when it came out and sent the newspaper to the family rabbi who then told Bonnie's parents.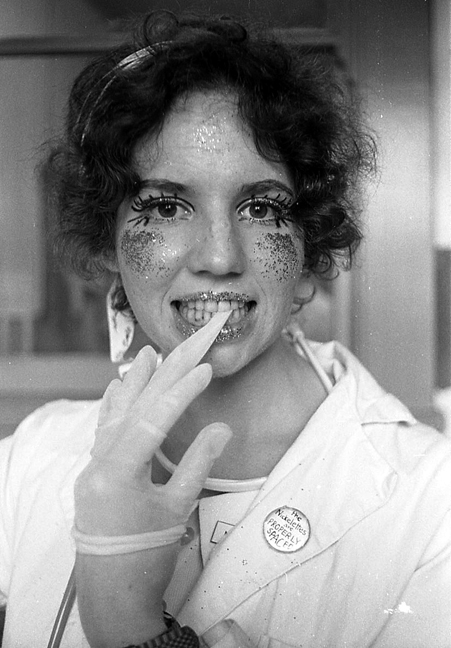 She settled in the Haight-Ashbury area where she enrolled in nursing school. To pay for tuition and make ends meet she started work at the Hip Job Co-op – a charity set up to find work for the influx of teenage hippie runaways that were turning up in San Francisco at the time.
The Mitchell Brothers would often visit the Co-Op, knowing that they'd find large numbers of lost, young people willing to appear in their films in return for a small cash payment. Bonnie was one such person. She was young, attractive and needed the money. The fact that the work was relatively anonymous, and that she was rebelling against her mother made it even more attractive as a quick way to make a few bucks. She found beaver loop work with them, as well as nude modeling jobs that ended up in men's magazines. And after getting to know the Mitchells, she started referring talent to them too.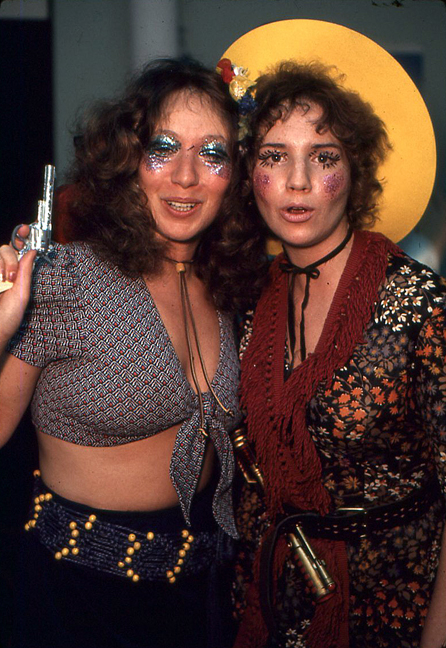 Gary Indiana (from 'I Can Give You Anything But Love' (2015)):
(Bonnie was) a relentlessly sultry, ebulliently secular Jew. (Her) sang-froid enabled her to resume her side of the argument about local zoning laws between takes, while the bone-hard penis of a costar remained planted in her lady parts. Among friends and co-workers she exuded a generally misleading maternal solicitude. Bonnie was awfully nice and surprisingly tough.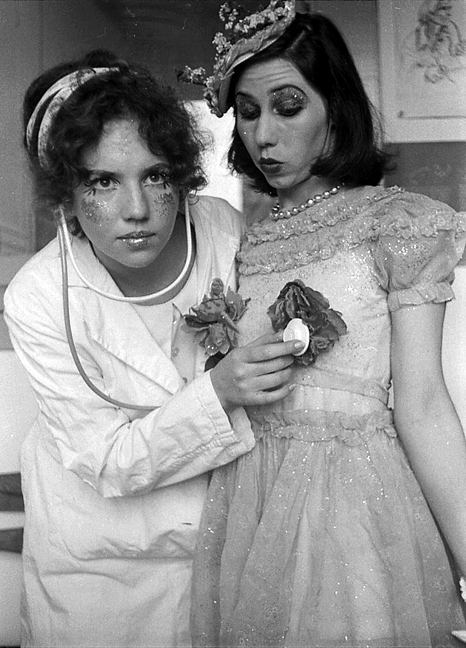 In her spare time she was a popular and carefree spirit. She hung out with an eclectic crowd including the photo-journalist, Clay Geerdes, comedians, and underground graphic comic artists such as Robert Crumb and Roger Brand. She had great confidence and liked performing – both for art purposes and as a personal challenge. She appeared in a number of San Francisco song and dance groups such as Les Nickelettes and the Pointless Sisters.
When loops turned to feature length pornographic films, Bonnie made several – including a number for Leo Productions. She hid behind a number of assumed names, including 'Grinda Pupic' – Pupic being the Yiddish name for belly button. Straight Banana featured one of her starring roles.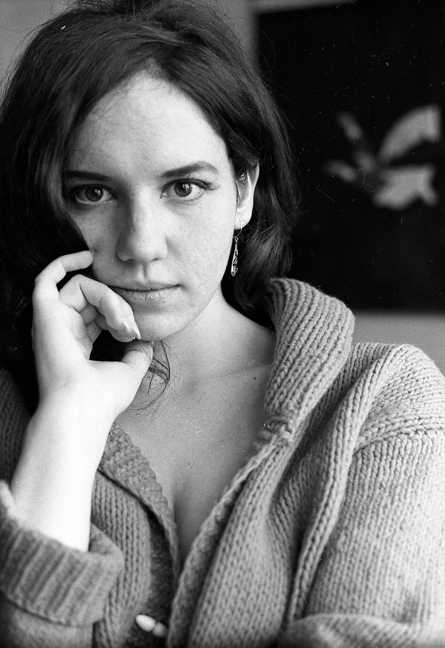 Lowell Pickett:
Bonnie was good in Straight Banana and was probably one of the main reasons for its success, and people liked the film a great deal. Jay Fineberg of the Pussycat chain of theaters was one of the people that thought it was great and offered to buy it.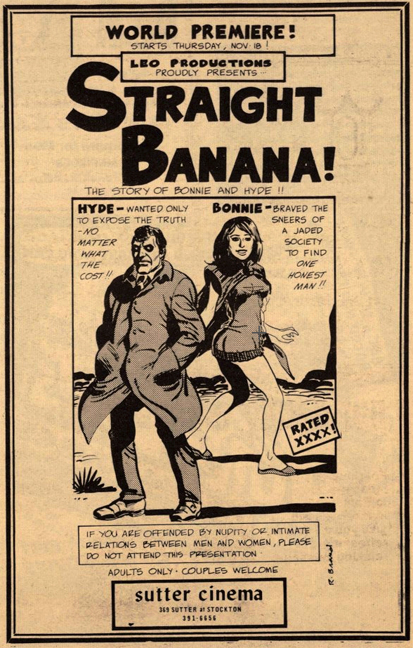 *
9. Lowell Pickett and Leo Productions – The Filmmaking Collective
Lowell Pickett: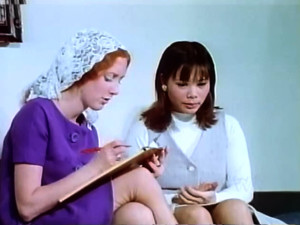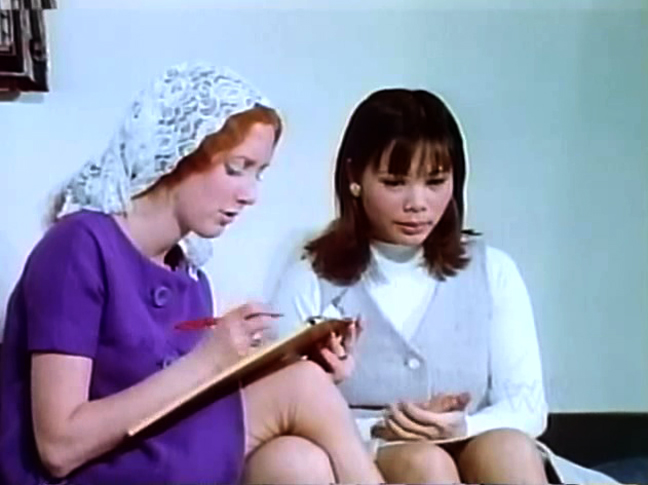 At this stage I was the sole owner of Leo Productions. I knew everything that was going on, all the films that were going on. One of the first feature length films I made was Oona (1970), which featured Ming Toy Epstein and Lilla Allen.
Oona was a good film. We got a good cast together from people who answered an ad we placed in the Berkeley Barb. We held auditions so that we could find actors who could improvise and deliver lines convincingly.
We shot some of the externals in front of the famous Half Note jazz club and the Harding Theater on Divisadero Street. It turned out well, and we made good money from it.
Apart from making his own films, Lowell used aspiring young filmmakers to make films under the Leo Productions name. The fact that Leo had their own equipment also made Lowell popular with other aspiring filmmakers. He would sometimes rent out his equipment to them in exchange for money, a producer credit, or even sexual favors.
Arlene Elster (in The Sunday Oregonian, November 15th, 1970):
(Leo Productions) are constantly looking for new film makers. A lot of young film makers try and get their start in erotic films, then they go on to other things. (Leo Productions) take all the risk with the new film maker. (Leo Productions) supply all the film equipment, even the models, for a 10 minute test film. If the film maker can do it, then he goes to work for us. A film maker with any talent or experience who has a good idea really has nothing to lose. We take in a lot of money, but we pay out a lot.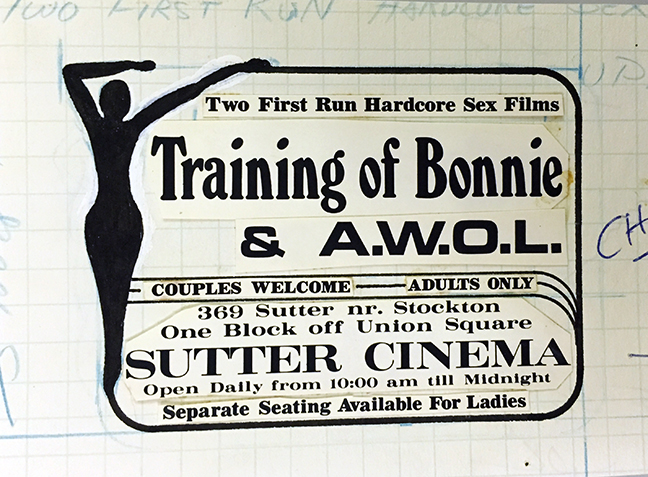 Lowell Pickett:
Steve Howe worked for us; he was a film student in San Francisco. He directed a few Leo Productions. Others that made films for us included Charles Webb and Walter Csisery.
I got to know the other San Francisco-based filmmakers, but out of all of them I was most close to the Mitchell Brothers. I met Earl Shagley through the Mitchells, and he ended up directing for Leo Productions as well.
Leo Productions was never that big. I had a secretary and I had two guys helping out. That was it. Harold Adler had office space in my house on Hayes Street for a while. He was one of the first agents in San Francisco. He got me a number of people to appear in the films. He was running ads and things. We were good friends.
I also wanted women to make films for us. We had a substantial number of women did that. One of these was Carel Rowe.
Carel Rowe hailed from Arizona and had moved to San Francisco in the summer of 1961. There she met Frank Werber, manager of the highly successful Kingston Trio. After a whirlwind romance that summer, Carel married Werber, and she went on to write 'Cast Your Fate To The Wind' an American jazz standard and 1960s anthem with Vince Guaraldi. It won a Grammy Award for Best Original Jazz Composition in 1963.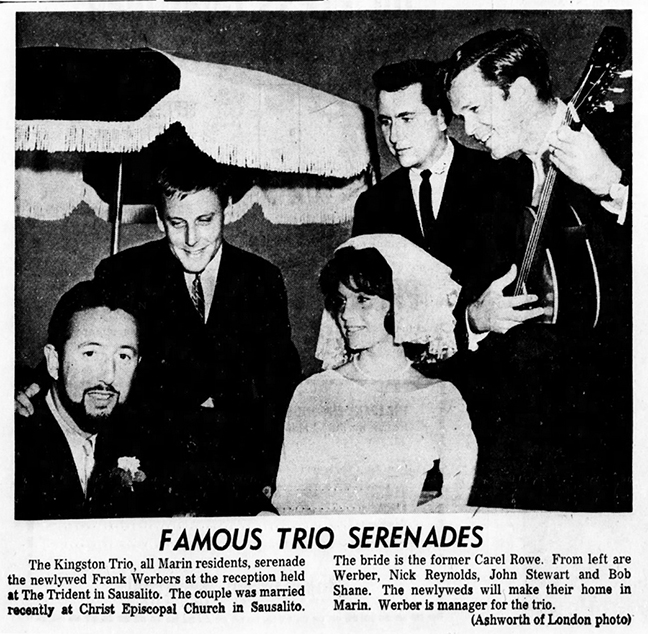 Lowell Pickett:
We met Carel in the late 1960s when she came to a modeling call or something like that. She was involved with the American Film Institute or something in Los Angeles. She came to teach at San Francisco State and a number of other places. She had an interesting background, including writing a hugely successful song at the time. She directed a few films for us.
*
Coming soon in Part 2 of this feature… The First International Erotic Film Festival, Mary Rexroth, 'Cozy Cool', the birth of realty television with 'The Continuing Story of Carel and Ferd' (1970-1975), the mob move in, obscenity busts, many more films, and all the rest.
*

*