What About Jane: An Erotic Soap Opera is a rarity. It is a well-made, ambitious early adult film that pre-dated much better known successes such as Deep Throat and Behind The Green Door, and claimed to deal with suburban relationships in a feminist-pleasing manner.
In the words of a reviewer at the time, the film "has the dual distinction of being the first pornographic soap opera, and the first erotic movie which attempts to alter the 'women-as-object' image of porno films."
Or in the words of the film's director at the time, it is "the first erotic film which… gives women (whether angered, encouraged, excited, motivated or bored by this film) a permanent platform from which to begin making erotic, cinematic statements about themselves."
Wow.
But the story behind the film is even more interesting:
– It turns out to have been made by an ex-deputy sheriff and Army Intelligence agent.
– It featured the first couple of San Francisco adult films, Emily Smith and Lee Parsons.
– It was subject to a military investigation.
– It became a mini media sensation.
– And it was busted when it was shown in theaters. Twice.

So what's the real story behind What About Jane?
The Rialto Report tracked down the film's director, Tom Hanley, and actor Lee Parsons to tell the story.

With special thanks to Tom Hanley, without whom this Rialto Report would not be possible, and to Lee Parsons.
'What About Jane' is available on DVD or download from the fine folks at Something Weird Video.

________________________________________________________________________________________
What About Jane: A Timeline
Pre 1971:
Tom Hanley (Director of 'What About Jane: An Erotic Soap Opera') – interviewed in 2015:
I was raised in Mill Valley, CA. I graduated from Tam High (Tamalpais High School) in '59 and bummed around Europe for a year.
I was a Berkeley graduate. I always thought I was going to flunk out. Then in '65, they invited me to join Phi Beta Kappa. I did pretty well at Berkeley and graduated in Social Anthropology. It was the toughest and the best public university in the world at the time.
I was fresh off my two years of active duty. I managed to stay out of Vietnam. After that, it was easy for me to get a job as a Deputy Sheriff in Marin County, as I had the right kind of background.
I was also a captain in the Army Reserve – assigned to military intelligence.


Lee Parsons (male lead in 'What About Jane: An Erotic Soap Opera') – interviewed in 2015:
I come from Alameda, CA.
Right out of high school, I went into the navy for four years and four months, and didn't get out until 1967 when I was 21. It was unbelievable, because when you're a young kid, you go through life just wishing you'd get some pussy once. You know what I mean? When you're in high school and stuff like that, you're frozen solid around women. You're absolutely fearful of them.
Then when I came back, and took a look around and saw California blondes, it's was like night and fucking day. Compared to every other woman in the world, I don't care where you are, nothing can compete with Huntington Beach, San Diego… goddamn blondes from California. Nothing. They're the hottest things on earth other than the fucking sun.
June 1971:
In early 1971, in his capacity as Marin County Deputy Sheriff assigned to security, Tom Hanley was part of the security team responsible for detaining political activist Angela Davis, who had been arrested in connection to a shoot-out in a courtroom in Marin County. In the aftermath of this high-profile operation, Hanley abruptly resigned his post.
Tom Hanley:
I left the sheriff's department after a dispute over the privacy of my notebook.
After the Angela Davis pre-trial hearing, they had to pump up the security. I was fine with that, but I was always collecting names and stuff in my notebook… other than just work. It was my business. I had a dispute over it with my superiors.
They gave me every chance to get out of it, because they knew I was good at my job. But I stuck to my principles and I refused to give my notebooks. So I quit.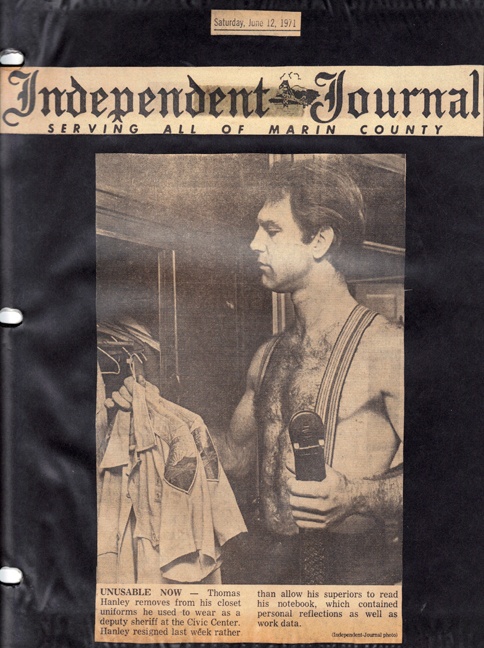 From the Independent Journal (June 12th 1971):
Hanley said he was not sure what type of work he would look for now.
"I still don't know what I want to do when I grow up," he joked. He said he was considering state rehabilitation counseling or some type of in-depth media work.
*
July 1971:
After leaving his position as Marin County Deputy Sheriff, Hanley chose an unusual career path. He decided to make a film. A pornographic film no less. This was before the era of Deep Throat, Behind The Green Door, and 'porno chic'. Despite having no experience in film-making, he formed a production company, Cinmarin, with two friends, and set about the task idealistically and energetically.
Tom Hanley:
The San Francisco Bay Area, Berkeley and then Haight Ashbury – they were the center of the universe at that time.
You could find every idea, every social movement, and every radical in every theory represented one way or another. For us west coast boys… to our west was just ocean. There was really nowhere else to explore. We kind of did it chemically. Some of us survived and some of us didn't, you know?
Lee Parsons:
Oh, fuck. The summer of love changed everything. After that it was unbelievable. I was in the music business by then, so I had this van chock full of albums. When you're in the music business, you're in a record store and all that, you're like right next to Christ in people's eyes, you know?
At the end of each evening, working at that record store, I could look around, and there'd be girls lined up. I could go, "Okay, I'll take you two, but no more." It was like that, I'm serious! It was amazing. Nobody's had a better life than I have.

Things changed later, and nobody had it worse than me, but at that point, nobody had it better than me.
Tom Hanley:
The 1970s was when people thought there might be some positive social functions to erotographic cinema, and they wanted to take it away from the grindhouse stuff where old men were masturbating with their hats on their laps, you know what I mean? The Mitchell Brothers and 'Behind the Green Door' and 'What About Jane' all happened around the same time.
I was a chauvinistic, young educated punk. I honestly thought that I could make a film that would be some kind of statement about men, that you need to be sensitive to women's requirements in sex too.
I enlisted the help of a couple of friends. Dick Hoyt was our photographer, helping us frame shots and get things right from the photography point of view. I wrote the thing. Peter Tar-sian was the cinematographer. I did the major stuff. We all took credit for the direction of the thing.
I got some the cameras from Lowell Picket who was kind of one of the local sleazeballs. I gave him some kind of system producer credit for that. I paid him a couple of thousand.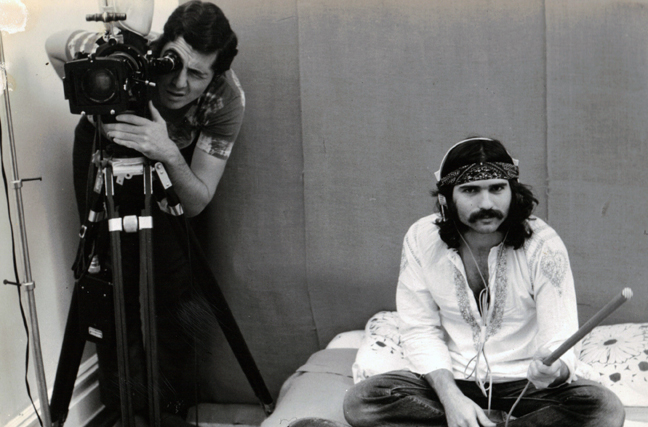 Peter Tar-sian and Mark Hofherr (sound)
Tom Hanley:
How did I find the actors? I think I just advertised in the Berkeley Barb, and then I rehearsed them until they were ready.
Dig this, man, those actors worked for $40 a day cash. I'm not shitting you. Two $20 bills each one of them!
Martha Strawberry was one of the two actresses. She wasn't real smart, but a pleasant woman. She was interesting. My best understanding was that she was kind of a high class hooker for the insurance convention industry. She had large breasts… I'm a small tit guy in terms of my own preference, so I liked the redhead girl, but Martha appealed to the other side, so to speak.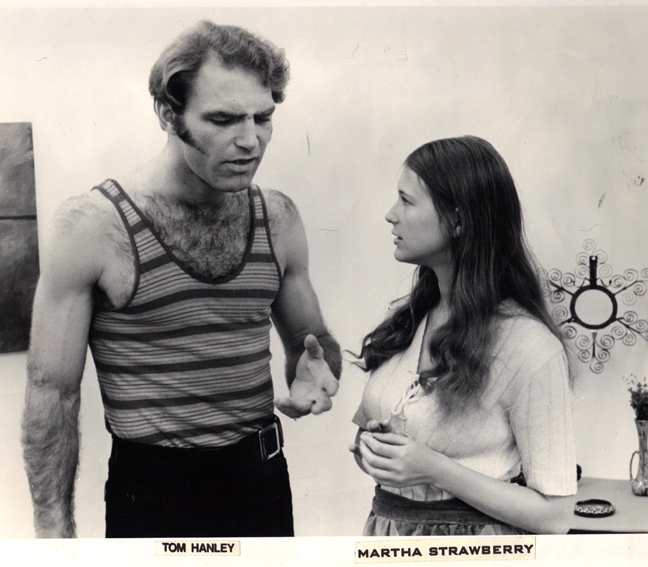 Director Tom Hanley with actress Martha Strawberry
Tom Hanley:
I hired pretty standard guys. Emily (Smith) and Lee were actually a real life couple.
I did have a problem with Lee because he was just all butched up and not in touch with his feminine side. You got to be in touch with all sides of yourself – whichever way you live your life.
Lee Parsons:
I was at work one day, and this kid, Carl Hunter, who worked for me came in. He was late. I said, "Why are you late, Carl? I'm about to fire you." He says, "Wait 'til you hear this story." He says, "Some guy got out a camera, had two white girls with him, and says, 'You let these two white girls suck your dick, and I will pay you $150 to take a movie of it.'" I said, "Well, where's my two black girls and my $100?"
Then I met this girl, Emily Smith, hitchhiking in Golden Gate Park. I picked her up, brought her home. When I met her, I told her, I said, "Look, the Lee you see is the Lee you get. I'm a very social guy, I screw a lot of babes. I'm still going to be a very social guy that screws a lot of babes. If you can handle that, wonderful. Move in and dig it. If you can't, I wouldn't advise it." She said, "Oh, I'm good with that. I'm the same way."
I told her about Carl and his film. She said, "Oh God, I've made a lot of those. Me and my girlfriend hitchhiked from back east and got all the way out here by making loops." I said, "What's a loop?" She says, "Oh, it's one of those little things when you put money in a machine. You see a little bit of a film. That's a loop." She says, "You should do it. You'd be good at it."
So I tried it. The first time, I couldn't get it up. I tried to have a couple of drinks to see what would happen. It was a total failure. It was weird. Second time I was smarter, I smoked a joint, no booze. It all worked out, and it went fine. I made a couple hundred bucks.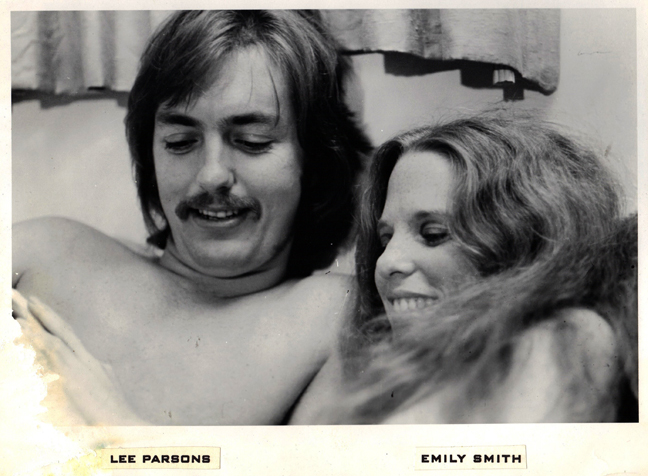 The first couple of San Francisco adult film, Lee Parsons and Emily Smith
Lee Parsons:
Then, after a while, fuck, I was making two, three hundred bucks before 4:00pm in the afternoon!
Oh my god, it was unbelievable. We would just go out, and we'd get hired. The money rolled in. I'd get up in the morning, I'd go out, get a nice workout, run in a park. Come home, have a great breakfast. Go make a porn movie, make as much as most people in a week – getting laid! Come back home, get a steak for dinner at Original Joe's, you know? Life was good.
And we lived at the sexiest address in San Francisco: 1669 Bush!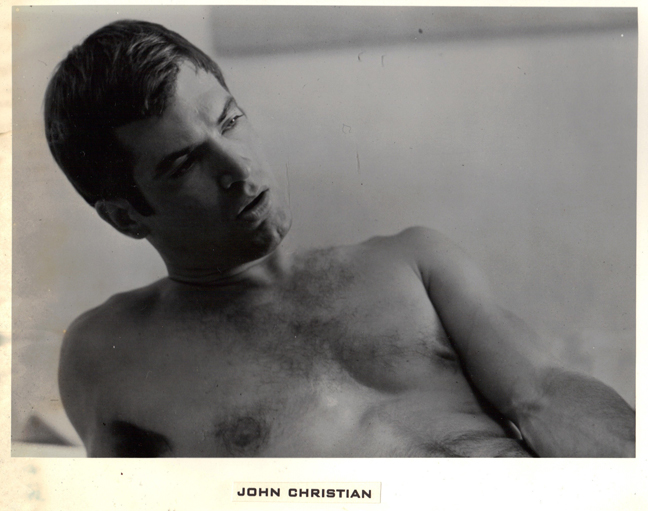 Tom Hanley:
In the original script, I had an acting part in the film as well. There was a nude beach boy scene that I played. It was me, running along the beach. I didn't like the way it looked, so that wound up on the cutting room floor.
But I never would have played a sexual part myself. Getting in front of a camera and say, "Okay, get a hard on now," would be beyond me. Even then.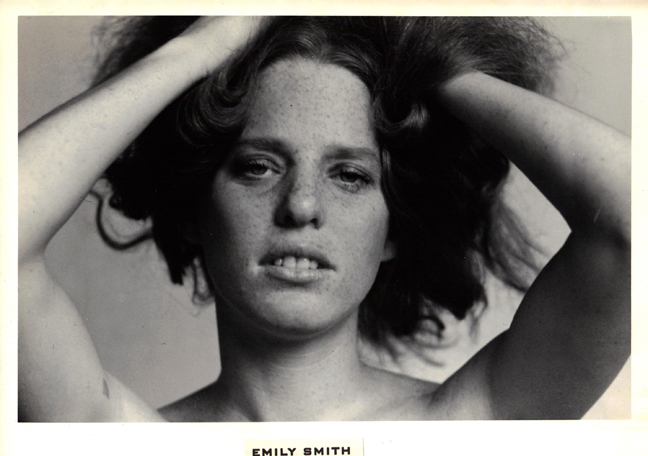 Lee Parsons:
I remember making the movie very well. Emily was such a good actress that she could actually evoke tears in a movie, and get real tears to come out and do a scene that well. After she would do a scene, there'd be rounds of applause because she acted so well.

Did she have any acting training? Nope. She's just a girl, all girls are good at it. All girls can act. They can make their chin quiver, and their eyes well up, and then wink to another girl on the other side of the room like, "I've almost got him." You know? Women are just incredible like that.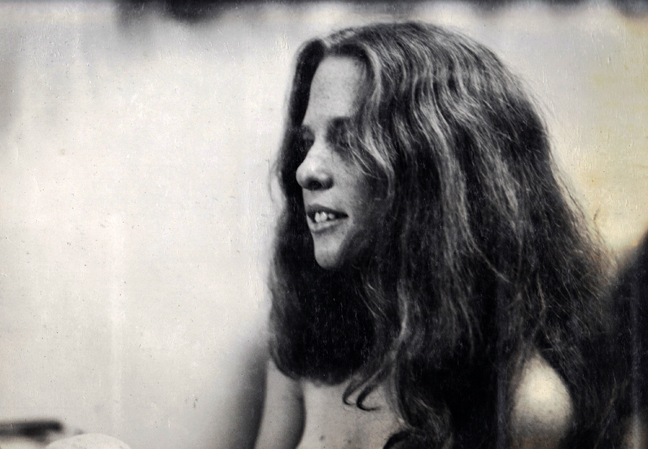 Emily Smith, on the set of 'What About Jane'
Tom Hanley:
The whole thing was an 11 day shoot, of which seven days were in my house in San Rafael.
We had three different shooting locations. One was in the East Bay, another was the S&M scene in Berkeley, and then back to Marin.
I put that whole thing together for, believe it or not, $20,000.
*
August – October 1971:
Tom Hanley:
I was happy to get the red head, Emily Smith, in our film. She was in Playboy at the time we were making the film – so it was good publicity for us.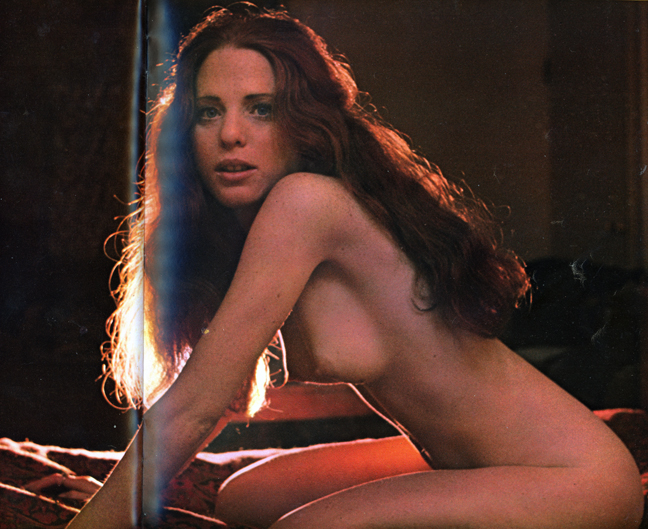 Emily Smith in Playboy (October 1971)
From Playboy (October 1971):
At 23, Emily Smith is a member in good standing of San Francisco's casually liberated legion of erotic models. She and her steady boyfriend of the past two years work together in blue movies, and are pooling their savings to buy a farm in Northern California.
Tom Hanley:
It took us two months to edit it as we were new to the whole process.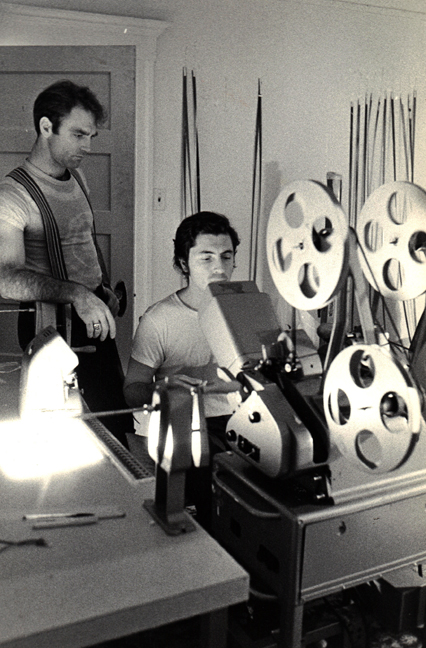 Tom Hanley and Peter Tars-sian editing 'What About Jane'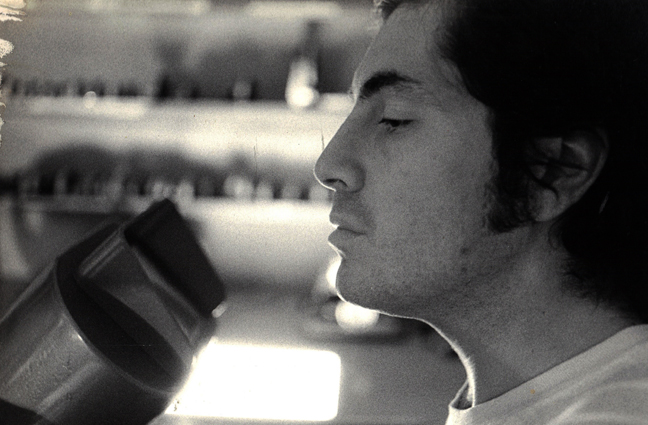 Peter Tar-sian editing 'What About Jane'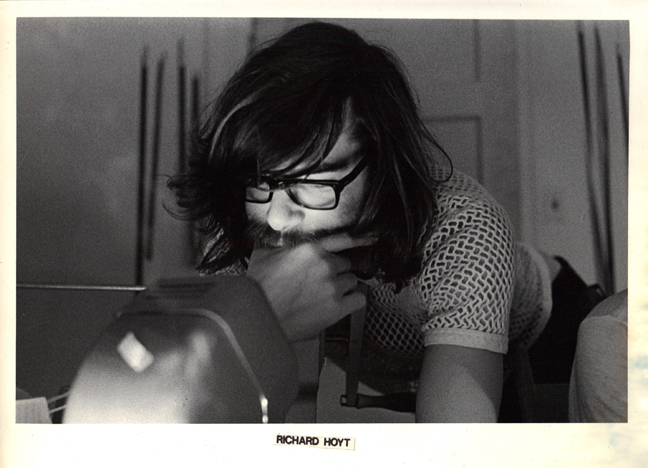 Richard Hoyt working in post-production
*
November 1971:
Adult films are notorious for hiding the names of the participants behind an array of colorful pseudonyms. Not so 'What About Jane'. But not only did Tom Hanley have no intention of hiding his real name, he didn't hide his background in law enforcement either. What's more he decided to use his former career to gain as much media attention for the film as he could. He mounted an aggressive media campaign, and news of his film was soon splashed across the newspapers.
What could possibly go wrong?
Tom Hanley:
Rather than change my name and hide my identity, I wanted to make a virtue of my background and use it in the publicity for the film.
I used the sheriff thing and the military intelligence thing to jack the publicity of showing that a middle class, educated guy might have something positive to say about erotographic cinema through this porno film. That was the concept.
Predictably all the publicity around 'What About Jane' set alarm bells ringing in the corridors of power – especially at the U.S. Army Intelligence office at the Presidio in San Francisco. With good reason: Hanley was still a captain in the Army Reserve. Within days of completing the film, he was called in and questioned by the military.
Independent Journal (November 1971):
('What About Jane') began as an experimental venture by a young Phi Beta Kappa graduate who considers himself "an erotic movie buff." But it soon became part of an extensive security investigation.
At the center of the investigation was 29 year old Tom Hanley, the film's writer, director and producer. Hanley resides in San Rafael with his daughter.

Hanley's interview with Jerry I. Wright, a special intelligence agent, included the following questions:
– Have you ever made or are currently making films whose themes are anti-establishment, subversive, or in any way inimical to the United States government?
– Is there any truth to speculation that you may be planning to expose policies or practices of the Marin county sherriff's office or other governmental offices?
At the conclusion of their investigation, the military concluded that neither Hanley nor his movie were of a subversive nature. A relieved Hanley was quoted at the time as saying, "I'm simply interested in making good pornography. As a reformed male chauvinist, I wanted to make a film about an important aspect of women's liberation; the sexploitation of women – treating them as an object. And I've done it."
True to form, Hanley capitalized on the investigation by declaring that 'What About Jane' was now the first ever erotic film with full security clearance.
*
December 1971:
The marketing approach worked. As the film moved towards its premiere, the newspapers latched onto the story, eager to cover the upcoming film.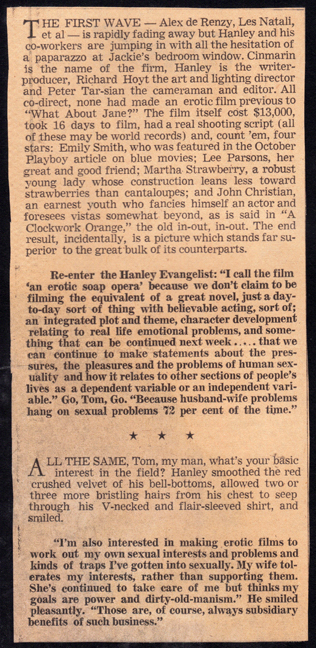 *
January 1972:
'What About Jane: An Erotic Soap Opera' was first shown in an exclusive press screening on 4th January 1972 – at 10:00am!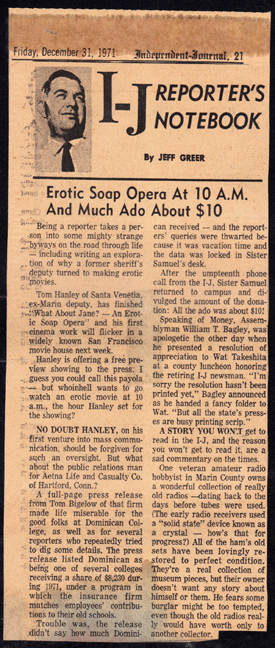 From 'What About Jane' press release:
"If graphic, explicit visual renderings of sexuality disturb or embarrass you….. come anyway!
If, however you feel this exposure will turn you into a sexual psychopath or a witness for the prosecution, give this invitation to your best friend and continue as you are in peace."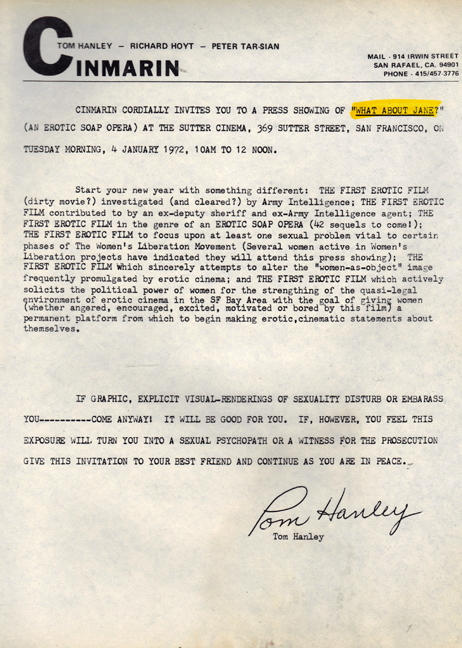 'What About Jane: An Erotic Soap Opera' premiered to the general public the following day on 5th January 1972 at Arlene Elster's Sutter Cinema.
Tom Hanley:
Arlene Elster was the only female who owned an erotographic house in San Francisco. It seemed appropriate to me to hold the premiere at Arlene's theater… since I was so dumb to think I was producing something that was positive for women. You know? Pornography for women…
I wasn't really a businessman. I was an applied anthropologist, that was was my overall mission. I wanted to change attitudes, not make a billion bucks. If I had made a billion bucks, it would've been nice, but that wasn't the thing that turned me on.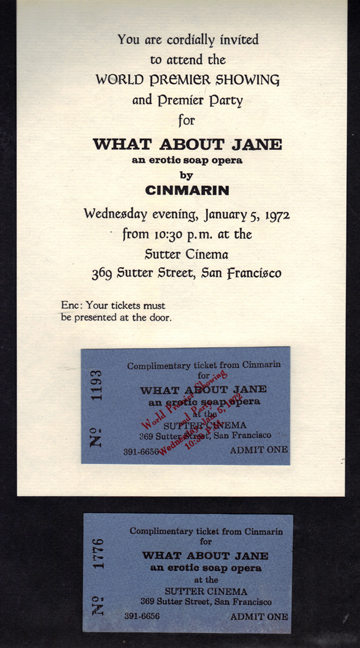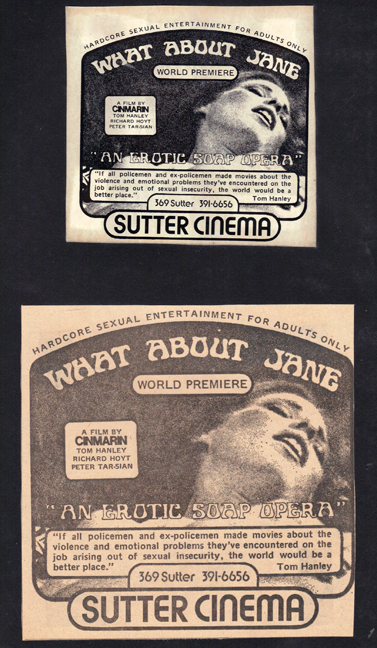 Independent Journal (November 1971):
The film's creator said the film "strikes a blow for women's liberation" because it attempts to solve the problems of an attractive, disciplined girl whose marriage to the handsome, athletic, hard-working youth of her dreams turns sour because of his romantic clumsiness and insecurity. Through the friendship of another couple, Jane and her husband learn to be equals in sexual freedom, Hanley said.
"I'm putting my clean-cut, red-blooded middle class image on the line to be able to screen 'What About Jane,'" Hanley said. "Erotic films need to be legitimized. We can't have blue-noses controlling our free access to such art forms. The people who enjoy erotic films have to stand up for their constitutional rights to do so."
He said his wife disagreed with his ideas of sexual freedom "but we're very up front about it."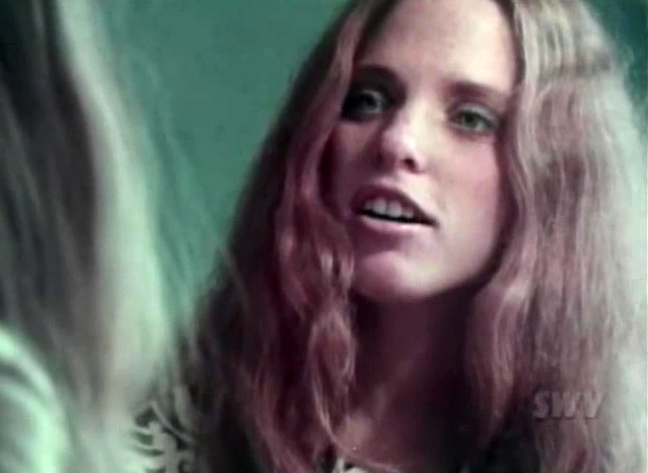 Emily Smith as Jane
John Christian as Johnny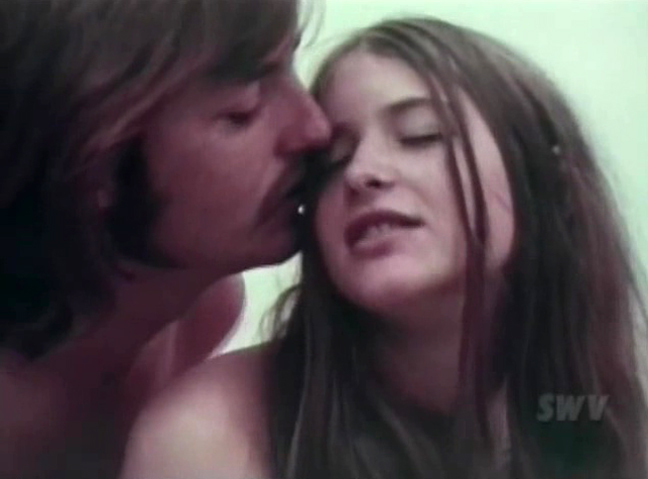 Lee Parsons and Martha Strawberry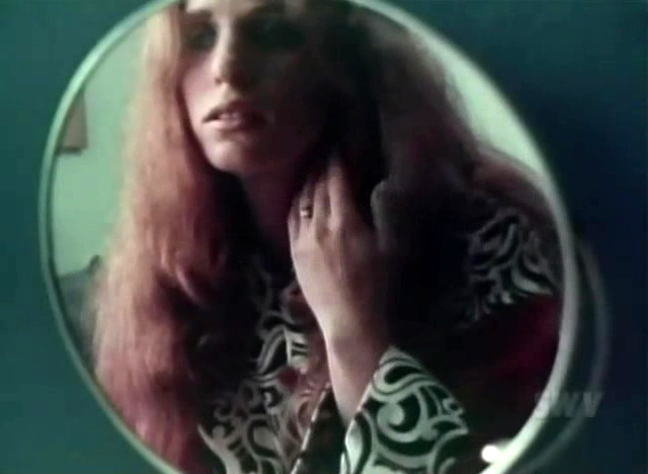 Emily Smith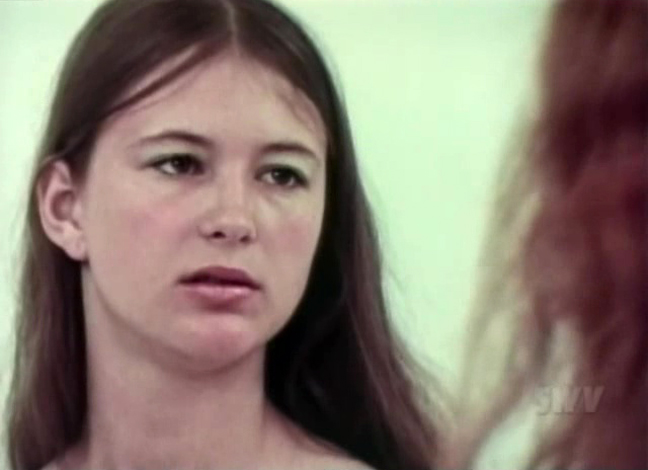 Martha Strawberry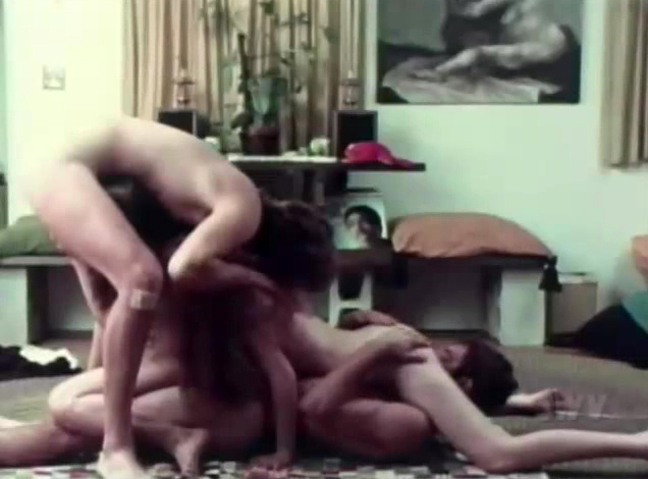 The cast of 'What About Jane: An Erotic Soap Opera'
Tom Hanley:
There was an excellent poster for it. I had a wonderful line sketch, just beautifully done, of Emily down on her knees, you know, from the S&M scene.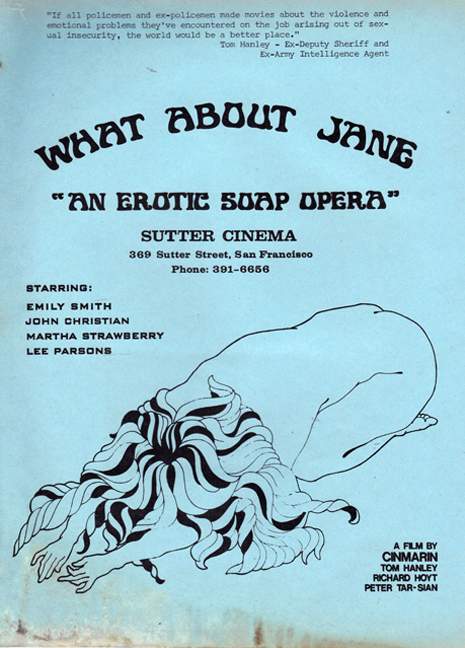 Tom Hanley:
The publicity for the film was pretty successful, and it was reviewed all over the place. It got good reviews too.
*
February 1972:
Tom Hanley:
I just kept pushing the film, and I had a cheeky style. I invited the entire California State Legislature, I invited them all to come along.
I wrote them a paper outlining the three positive functions that could be derived from our type of film if it is reasonably well done. I said if they brought it along they could get in free.
– Firstly, a sex film can be educational in the sense that people are always looking for new techniques, methods, styles… that kind of thing.
– Secondly, it can also provide vicarious release for all the super kinky, illegal shit you want to do that you can't do. You identify with the do-er or do-ee. You have some kind of mental, spiritual, psychological, sexual release… whatever it is. Then you don't have the energy building up that you're out to do something that's illegal or bad.
– The third thing is that some porn is goddamn entertaining. Most of it quite boring though, I'll tell you that.
On 18th February 1972, 'What About Jane' started an engagement at the Colonial Theater in Sacramento.
That's when the trouble began.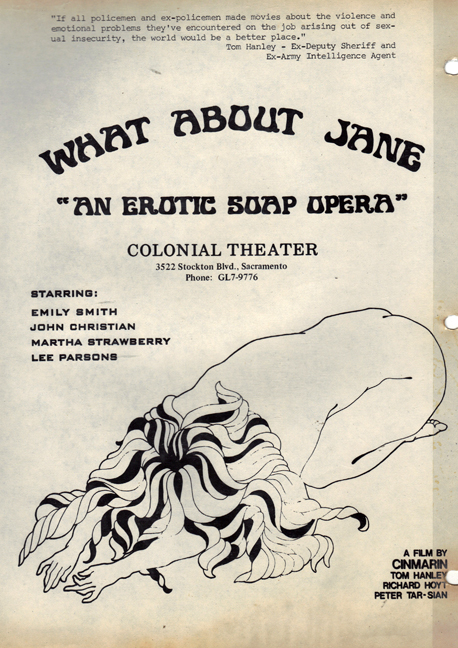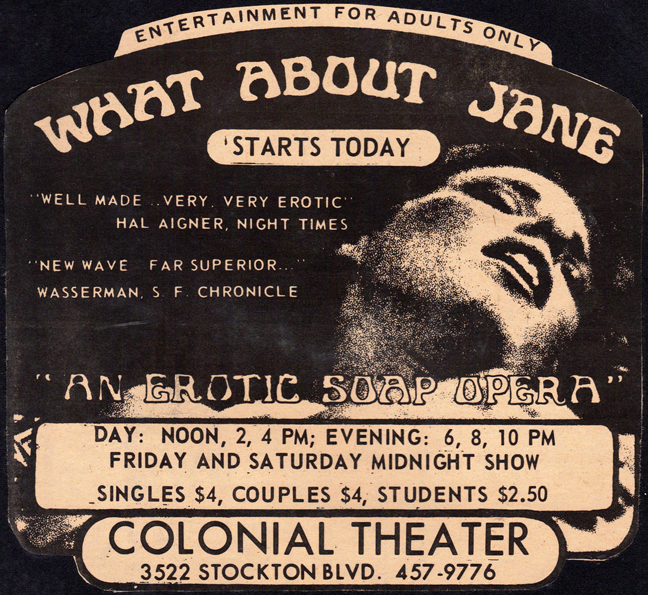 Tom Hanley:
The way it went was that some of those people gave the paper I'd written to the attorney general, who was a two-star air force reserve guy, who gave it to John Price, the district attorney of Sacramento, who gave it to a young vice lieutenant.
Then one busy Saturday night in Sacramento, with all the normal stuff going on, ten young policemen came down and bust this clean cut porno boy!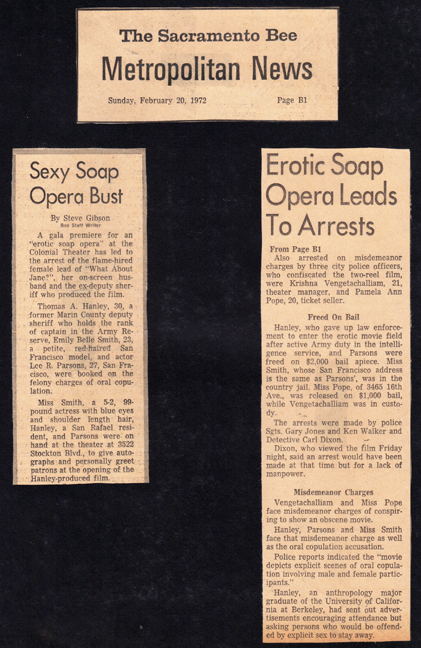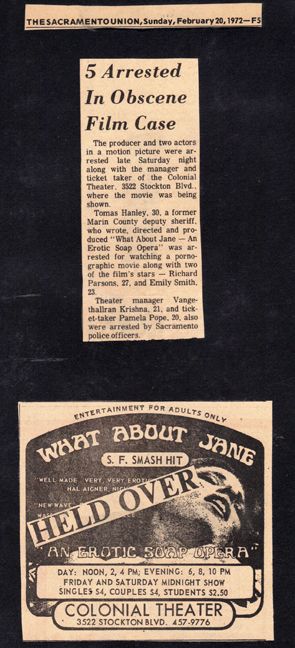 Tom Hanley:
What happened was that I was there at the Colonial greeting people at the theater. I had taken my two stars up there, Emily Smith and Lee Parsons. It was 19th February '72. My wife had made me a pair of crush red velvet pants. I was doing the whole auteur porno boy thing.
The owner of the Colonial Theater was an Indian nightclub and porno house owner that was hooked up with the usual rackets associated with the nightclub side businesses – and had the usual political influence sub rosa to go with it. His name was Mr. Vengatashialiam. I thought he was a nice guy, always sweet and personal to me.
Anyway that night they busted us!
I did my bail. Then I bailed the other guys out. It was a misdemeanor obscenity. Then on the basis that there was some oral sex in the film, they made that a conspiracy!
Lee Parsons:
Emily and I made a personal appearance one night to promote the film. I forget the name of the spot. The police came in and raided, seized the film, and seized us. Luckily Tom knew exactly what he was doing, and he had us out of it faster than we got in.

It was a relief to get out because I was also dealing pot at the time. I always had it. Did it forever, did it real nice. That and the sex films, it just paid every fucking bill. I always had a grand in my pocket. Everything was just fantastic.
I highly recommend making porn films and dealing pot when you're a young person. You can't live a better life.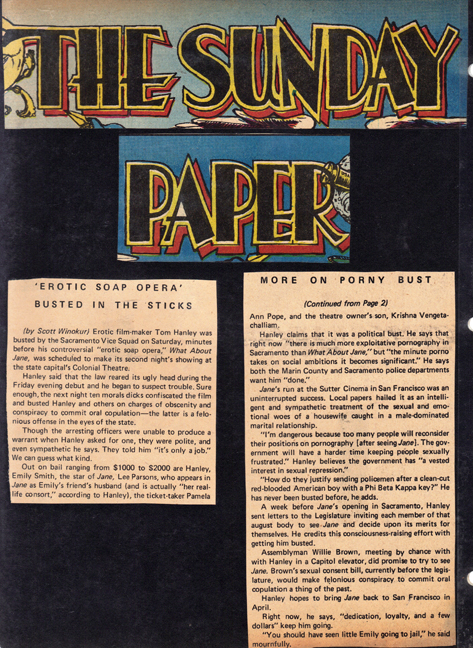 Tom Hanley:
Vengatashaliam's goto guy in politics was a Sacramento City Councilman, who he called and arranged a meeting between the three of us at one of his nightclubs after the first bust. I was too naïve po0litically at the time to take advantage of the meeting and make the "big offer". It was McGee who
I had this guy called Milton McGee who filed a bluff suit. He was a black attorney from Chicago. He was a 'fixer'. In those days, those guys, what they did is they represented the underclass. They got their money from making deals for the guys who owned all the money and property and everything. You know how it works.
In the end they never filed charges. The D.A. backed down a few weeks later.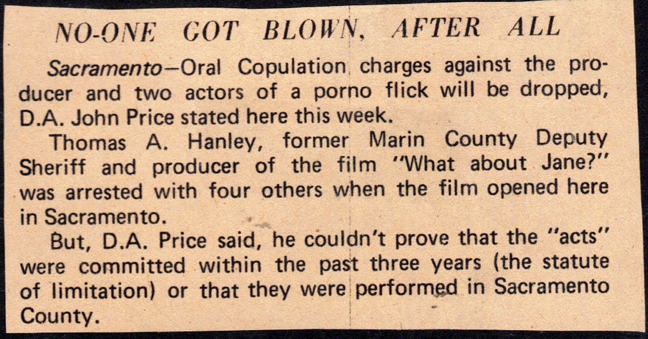 *
March 1972:
A few weeks later 'What About Jane' was busted again – and the film was seized, leaving Hanley with no copies of the film to exhibit.
Tom Hanley:
We eventually got the print back but it was a constant fight.

Tom Hanley:
I didn't have the marketing or the gangster stuff you needed to be successful like the Mitchell brothers. I personally sent prints to New York, Lost Angeles, Chicago, New Orleans, Sacramento and a few other cities. Several of the theaters in these cities wanted it a couple or a few times. The rental price, however, was only about $500 a week, and I never had the organization to get a percent of gross.

Then I basically got tired of it. I wanted to go back and finish my master's degree at State. I sold the film cheap, about $20,000 to $30,000, and paid off my investors – so they made a little dough.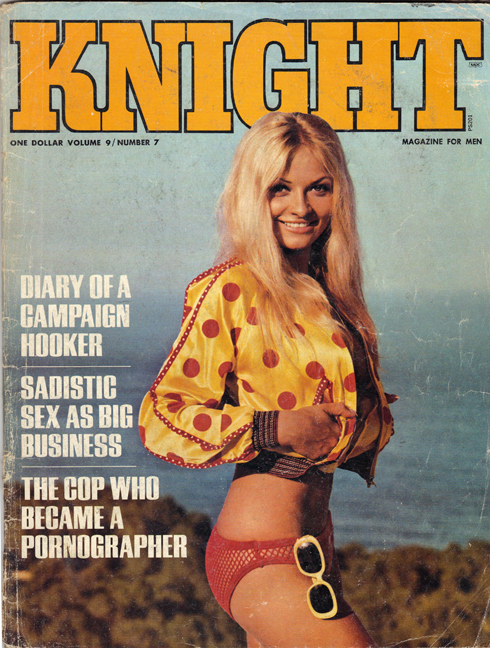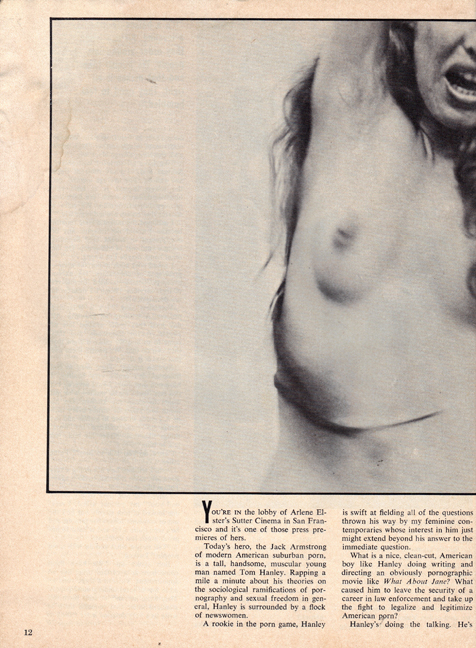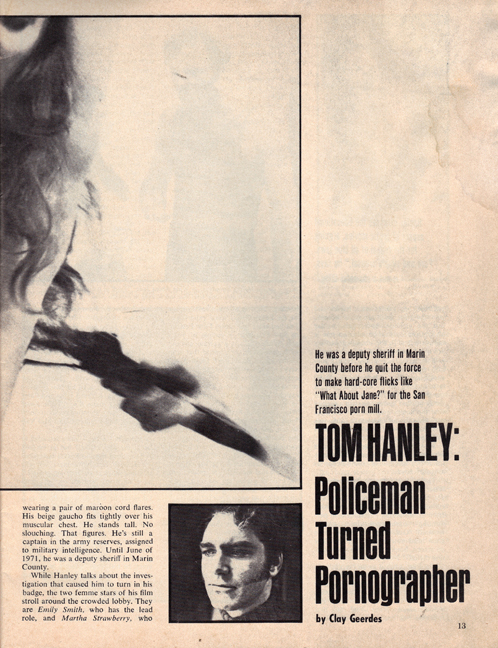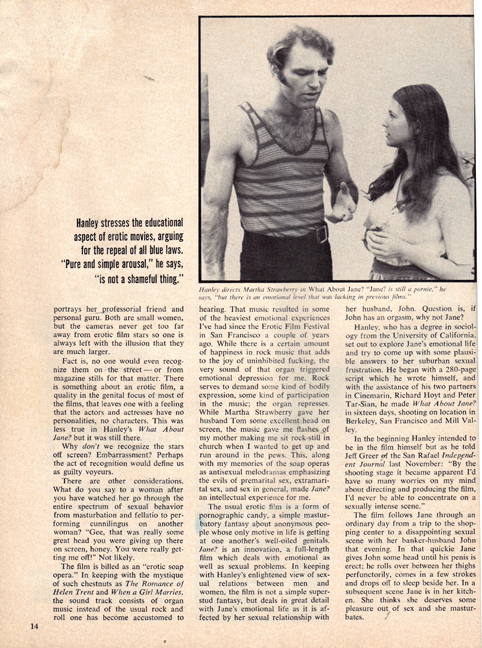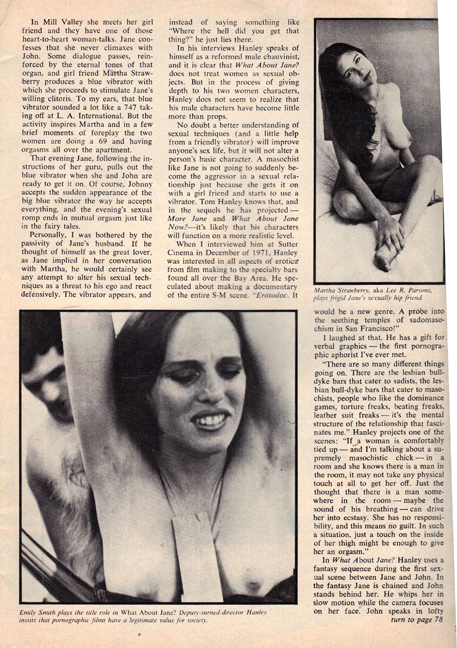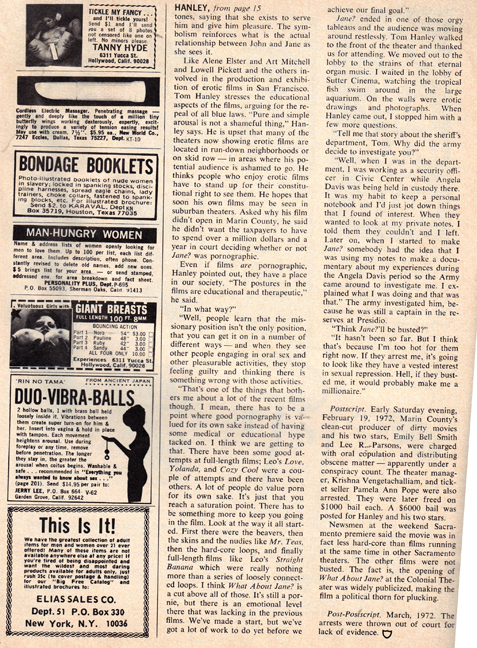 Lee Parsons:
After making the film, me and Emily went to Hawaii and did a live sex show there. '49 Ways to Save a Marriage'. That's what it was called. We enacted these 49 positions for a live audience. Great! I was making money, seeing Hawaii. That's a pretty good life.
Why did I stop? I got a call from my mother. She said, "I heard from some people here in Alameda that you are making porn movies. Is that true?" I said, "Well, I'm not going to lie to you mom. Yes, it is."
She said, "Well, you're not going to make any more, are you?" I said, "Not if you don't want me to." She said, "I don't want you to," and so I never made another one.
I mean, one doesn't fuck with their mother, you know? Once your mother says something, it doesn't matter how old you are. You've just got to say okay. What mom says, goes.
Tom Hanley:
After selling the film, I went back and finished the master's degree. Then a guy who was a head of this criminal part of Cal/OSHA, both the legal section and the criminal unit, he looked at my background. Military intelligence guy, infantry officer, Marin County Deputy Sheriff, presents well, reasonably good diction. And he thinks I'll hire this guy. Never asked me any other questions. I just took a civil service exam called Special Investigators, and went to work in that field.
I never mentioned the film I'd made.
*
2015:
Lee Parsons:
I eventually split up with Emily, but we stayed in touch. In fact I talked to her two days ago. We're still very close.
Tom Hanley:
Looking at pornography today, it's so niche oriented. It's so addictive to so many people. I don't even watch it anymore.
If I look back on it and anyone asks me, "Did you ever regret doing this?" – I was always fucking proud I did it. I've always been proud I did it even though it was a weak film. But what can you do with $20,000? To this day, I'm proud of it.
If anybody asks me about it, I tell them, but I don't go around and tell people I did it.
I was off and on in touch with Lee and Emily for a number of years afterward, but I've lost touch with all of them now.
To my associates, I'm an odd 73 year old guy. The way I dress, I'm offbeat. I've got a lot of strange habits. But I'm also a triple dipper retiree, living in a place that's half as cheap as California. So I'm well off.
I've just had a very interesting life. I had 27 year army reserve career overall, and a 28 year law enforcement career, man. Pretty good!

And I made 'What About Jane'!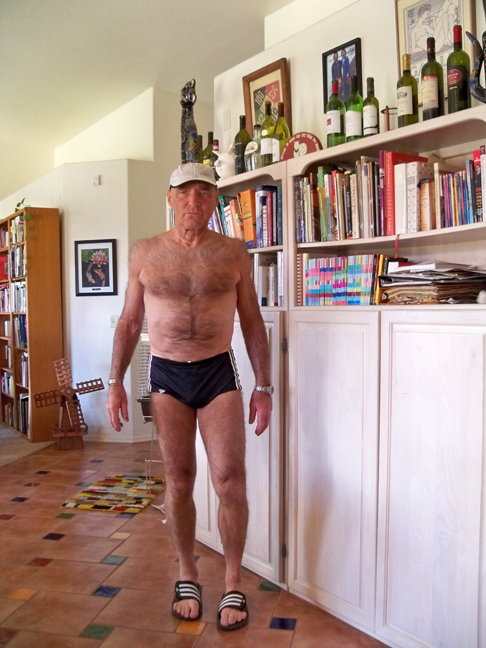 Tom Hanley in 2015; hardly changed in 44 years
*