The Rialto Report was happy to be present at the  when old friends R. Bolla (Robert Kerman) and Michael Gaunt were reunited last night.
The occasion was Michael's appearance in an outdoor production of a Shakespeare play. Needless to say, Michael completely stole the show.
Robert Kerman and Michael Gaunt photographs: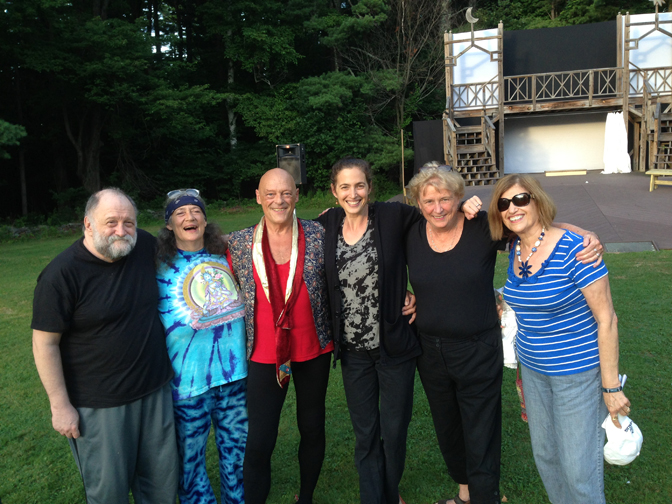 From Robert Kerman's Wikipedia page:
Robert Kerman (born December 16, 1947), also known as R. Bolla, is an American actor. He grew up in a middle-class Italian neighborhood of Bensonhurst, Brooklyn. As R. Bolla, he appeared in well over 100 pornographic films, most famously Debbie Does Dallas (1978). One of the very few adult performers to have an appreciable Hollywood resume on his merits as an actor, following a fading out of the so-called Golden Age of Porn, he embarked on a wholly mainstream career; it started well, but his past came back to haunt him. Kerman has said that in retrospect he had 'missed the boat' by taking porn work.
Adult film career
Robert Kerman's on-screen sex appearances began with director Roberta Findlay's Anyone But My Husband. He became one of the most prolific male stars of the Golden Age of Porn. Unlike many of his adult-industry peers, Kerman bitterly regrets his participation in the adult film industry, especially being in the film Debbie Does Dallas, which he feels ruined any prospect of him attaining mainstream acting success. In an interview for the 2005 Channel 4 documentary Debbie Does Dallas Uncovered, he stated: "In retrospect I'm really sorry that I did it, because I probably ruined the best years of my life as an actor." He was inducted into the AVN Hall of Fame in 1998.
Dual career
Although starting his paid career in adult films, Robert Kerman was a trained actor who had been encouraged by teachers and fellow students' assessment of his potential. He tried to give a full performance at audition and was able to win minor parts in Hollywood productions such as The Concorde … Airport '79. In the 1980s, he starred in several Italian horror films, including Ruggero Deodato's exploitation classic Cannibal Holocaust, and Umberto Lenzi's cannibal films Mangiati Vivi and Cannibal Ferox. He received critical acclaim for his role in the 1982 drama feature Mission Hill. Still, he remained active in pornography throughout the first half of the decade, with notable roles including Lawyer Quim in Liquid A$$ets (1982), and Fritz von Holenwohl in the Henri Pachard directed Public Affairs (1984).
Cannibal Holocaust
In the DVD commentary for Cannibal Holocaust (in interview with Sage Stallone and Bob Murawski), Kerman described film director Ruggero Deodato as "remorseless" and "uncaring". Incensed by the realisation during filming that an animal's death was not being faked, Kerman physically tackled the director and stormed off the set. He was not present when other animals, including a coatimundi, were killed. Kerman was also guest of the 25th Anniversary in Alamo Drafthouse Cinema in Yonkers, New York, who was on 28 February 2015 screened in 35mm.
Mainstream actor
Buoyed by winning film parts, Robert Kerman had always felt that he had the ability for a serious mainstream career, however by 1977, when he appeared in The Goodbye Girl, he was already recognizable to the extent that a star in the cast asked him if he was a performer in pornographic films. In 1985 he decided to try going completely mainstream and managed to obtain a Hollywood agent (essential for a lesser known actor). Things went well at first, as Kerman put it he was 'cooking'; he got supporting roles in television series such as Hill Street Blues and Simon & Simon and was invited to audition for a wide variety of parts. In 1987 he appeared in the major film No Way Out (1987).
According to Kerman, he had thought his former porn involvement was no longer an issue as he had been honest with his agent from the outset. However, just as his career seemed to be taking off, she announced she would no longer represent him. Unable to get work and feeling betrayed, he slid into years of depression and substance abuse.
Present
In the 2000s Robert Kerman could be seen as a sea captain in Sam Raimi's Spider-Man, and as Dr. Monroe in the drama short Vic, directed by Sage Stallone. He often makes personal appearances at horror conventions around the world, to speak about his experiences on Cannibal Holocaust. Kerman gave a detailed interview to The Rialto Report in 2013.
Since his appearance on The Rialto Report, it has been announced that Kerman will be returning to the world of genre movies as part of The Book, an Italian anthology movie from Harbinger International. The movie will feature segments directed by Ruggero Deodato and Umberto Lenzi, two directors with whom Kerman worked with on his cannibal films.