Victoria Paris, adult film star of the video era, passed away on August 10th, 2021, aged 60.
She appeared in almost 200 films between 1987 and 1997, won numerous awards, and was a member of the various Halls of Fames. But let's forget about that: that's not we she was about, and that's not what The Rialto Report is about.
To know and remember Victoria, we turned to one of her best friends, Christy Canyon, to hear about their friendship, and remember a surfing holiday they enjoyed together.
_____________________________________________________________________________________
The first time that I met Victoria Paris was at the now-defunct VSDA (Video Software Dealers Association) convention in 1989 in Las Vegas. That was before I went to Vivid in 1990, so I was with Video Exclusives at the time. I had just gotten back into the X-rated business, and I wasn't really sure who the 'new girls' were.
VSDA hired Alexis Vogel as the makeup artist, and she was doing my hair and makeup when this gorgeous blonde with big breasts comes in. She flopped herself down, and I saw that she was crying. She said that her then-husband – I don't even remember the guy's name – had slipped her a Mickey, and had some guys gang-bang her.
I remember looking at Alexis Vogel and thinking, "What the fuck happened to this business since I quit four years ago?" Nobody ever did that when I started.
Alexis said, "That's Victoria Paris. She's the new hot girl." I looked over at Vicky and thought, "That's the new hot girl?" Her hair extensions were all tangled. She was a train wreck that first time. I remember thinking, "You're so cute, but why are you with such a scummy guy? Why didn't you wake up this morning and go right down to the nearest lawyer and divorce him if he did that to you?"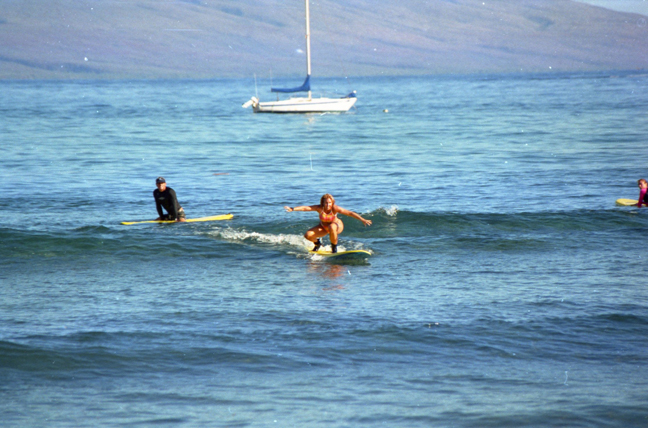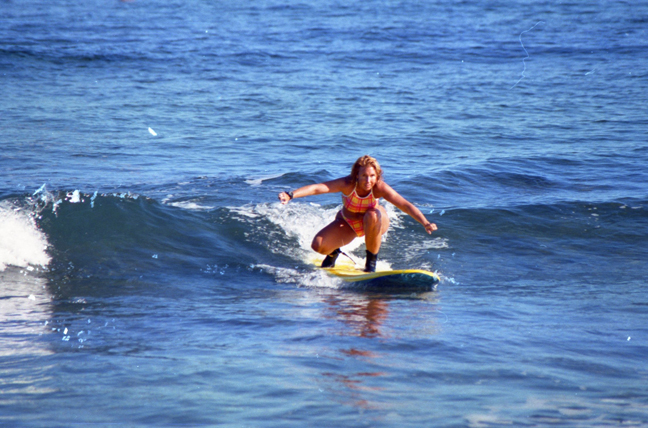 Victoria Paris catches a wave
I didn't really see her for a few years after that. She was with VCA and I'd jumped ship to Vivid. Occasionally we'd bump into each other, and I always thought she was nice, but I just remembered her as the girl that had gotten drugged by her husband.
Then in 1995 she called Ginger and me. She was with the newest love of her life – another real winner; she'd dumped the previous guy by now – and he was starting a website. This was the beginning of the internet, and websites were like the golden goose. And I thought… these websites, you can make $1,000,000 a month a month from them, right?! What did I know?
Victoria said, "My boyfriend is starting it. It's called 'Alleykatz' and girls like Ashlyn Gere and Janine all want to be part of it." Her boyfriend shared all these charts and graphs with me which showed you could make $300,000 in the first month, rising to $500,000 in the second month, and so on.
By that stage, Victoria had a stellar reputation of being trustworthy and honest in the business, so I agreed to come onboard. We started by doing a photo shoot together and we bonded. I just adored her. From that day on, I realized she was a gentle and kind soul. She didn't have a mean bone in her body.
Cut to the website business, I got my first check from her boyfriend, and it was for a whopping $200. I thought: "I'm missing a couple zeroes on this check! Those charts he showed me didn't describe a $200 check…"
Vicky wasn't behind the deal, she was just one of the players like me. So I said, "Vicky, I don't think this check is right." She said "No. I think it's going to take a while," and then my alarm bells started going off. Not about her, because I knew she was just caught up in this poor business, but because she sometimes found people that didn't have her best interests at heart. And so I said, "Okay, I'll give it one more month."
Then I get my second check and it was still somewhere around $200. It may have gone up $10. I said, "Victoria, I'm out of here. I love you. I know it's not you, but your boyfriend is ripping us off. There's no way five superstars are making $200 each. I will always be your friend because I adore you, but this guy is a scammer."
She said, "I don't blame you. I don't want it to affect us. I don't know what to do, but I think you're right. He's a rip-off artist."
Vicky had a bad track record with guys in the 1980s and 1990s. She had a boyfriend at one point that sued her. He said, "On a drunken night, she said she'd take care of me forever. We've broken up, but I'm going to hold her to her promise."
The judge said "Sir, are you out of your mind?! Not only am I dismissing the case, but if you harass this nice, young lady one more time, I'm going to throw you in jail. Get a job, you slob."
Eventually Vicky realized that you don't need a hang-on guy. You can wait for a good guy. She not only jumped ship from Alleykatz, but she dumped her boyfriend as well. Then Vicky and I became really close friends. I look at the time of the Alleykatz scam as a small price to pay for a twenty plus year amazing friendship that came out of it.
We were both on the road a lot. When we weren't on the road, we would spend so much time together. I went with her to her 30 year high-school reunion in Montana. Everybody died when we walked in: "It's not only Victoria Paris, but she's got Christy-fucking-Canyon with her!" We played it up. We dressed beautifully. Even though we were Victoria Paris and Christy Canyon, we weren't, like, slutting it up. She just said, "This is my best friend, Christy Canyon." Everybody was so nice and respectful to us, because that's how we conducted ourselves. It was such a beautiful evening.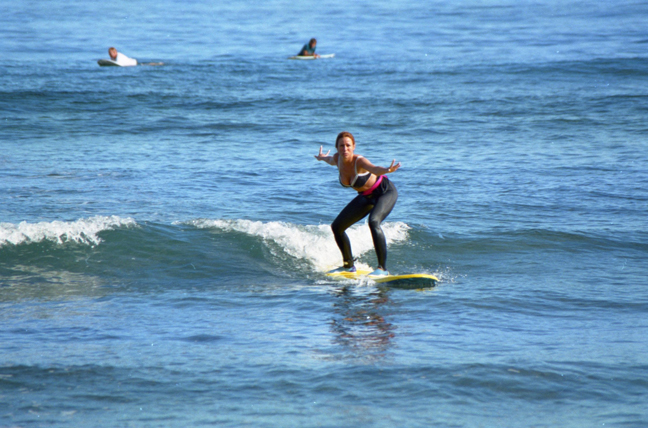 Christy Canyon hangs loose
Then starting in the summer of 2000, we went on vacations together all the time – often in the summer which was always the slowest period for dancing, which we were doing a lot at the time. Everywhere we went, we had so much fun together. We were these two little brats wherever we traveled, but she ruled the roost.
We were both serious about work though: work always came first, then play. I never blew off work for anything unless I was sick. But when work was quiet, we had so many miles on U.S. Airways, we'd just say, "Let's go to Hawaii for a week." Or she had a fan who was some big wig at the Ritz-Carlton, so he'd get us a beautiful suite for the family and friend's price – and we'd get right back on a plane for a week. We were free spirits that did everything together and went anywhere we wanted. It didn't matter if we had boyfriends, we were always together. She was just so much fun to hang out with. We just had such a bond. It was a friendship like no other.
We went surfing in Hawaii. We just goofed off. We weren't good surfers. It was always a fun time though, and once there was a really cute surfing instructor. I said, "Come on, Victoria. We got to take lessons. I want this cute guy to teach me." It all started like that. We'd just feed off each other. If I liked someone, I'd say, "Come on, help me. I want to get this guy!" So we got private lessons and we went out in the ocean. I gave the instructor my room number, and one night, we were in our hotel and we hear a pounding on the door. The surfing instructor was outside saying, "Open up, Christy. I want to go out with you!" And were hiding under the covers, giggling like crazy.
She's said, "Do you ever take anything seriously?" I said, "No. Not really." She was so fun that way. We joked together like we were little kids all the time.
She was goofy and really funny. She never took anything that seriously. People used to say to her, "Vicky, you could have any guy you want. They're lining up at the door." She would make me laugh because she'd go to the front door of her condo, and open the door and say, " Christy, they haven't started lining up yet. I don't know why people tell me I could date anyone!"
She really didn't date very much. She was picky about who she wanted to date after having been with some real clowns. She also thought that our past in X-rated films would be a hindrance for us and it would hurt her. I used to say, "Oh my God, Vicky, are you kidding? It always helps me!" At the time I was dating a judge. I said, "He loves who I am. If a guy is concerned with our past, then he's just not worth dating. The guys I date get a kick out of it."
Victoria and I weren't party girls. That was one thing that we really enjoyed about each other. We didn't drink, we didn't smoke pot, no drugs. There's nothing wrong with that stuff, but we were in a place and a time in our lives where we weren't into partying. We'd go to movies. We'd go on vacation. We'd do a lot of signings together at book stores, and we'd just have fun.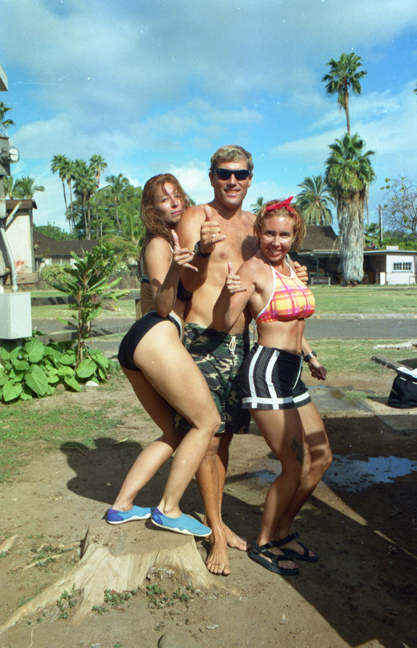 Cowabunga!
She told me that she did have two years before I knew her, where she'd been drunk on the road, and she said it was horrible. She woke up one morning in New York, throw up all over the bed, and thought, "Ok. Time to get the Yellow Pages and find an AA meeting." And from that day on she never had another drop of alcohol and her whole life changed around.
When we became friends, she'd been sober for three years, since the early 1990s, and I never saw her drink. She was still in AA and she made no bones about it. She was totally alcohol-free and so I never drank around her. As a person, she had very strong self-esteem. She was assured of who she was in business.
Vicky and I shared a therapist too. One day, I said, "Oh my God, Vicky you've got to go and see Lois. She changed my life when I was 19. She helped me get out of a toxic relationship."
Victoria started to go and it made her stronger. Sometimes girls, not just porn girls – girls, women, guys, men… need a little guidance in life. You need a little therapy… kind of like a chiropractor, to adjust you, and get you back on the right track.
For a long time, she was my number one best friend. We'd go out with other girls too, but we were closest. We hung out with Ashlyn Gere, for example, but it was always Vicky and me. We were as thick as thieves, two peas in a pod. Even Ginger at the time was doing her own thing.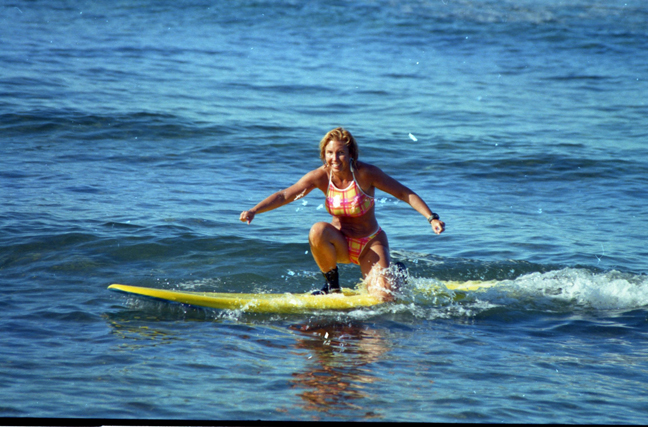 We did a lot of dancing on the road together, and sometimes we were like little brats. If we didn't like the club owner, we'd pee on the dressing room floor. We'd pick a spot and every time we had to pee, we'd pee in that one corner. Total brats. Not many girls would get that. You've got to be quirky to be my friend and yet responsible – not a druggie or an alcoholic. We didn't go that way, because life was and is too much fun straight.
When we eventually stopped dancing and being on the road together, we stayed connected, but it wasn't like it was before. We went our different directions. But we always kept in touch. When I adopted my kids, I tended to gravitate more towards other parents. My daughter was deathly sick for the first year, so a lot of my time was just spent healing her.
Around 1999, Vicky ended up meeting the man of her dreams at a gas station. I think she hit on him. I must have finally rubbed off on her because she went up to him and totally hit on him! When I heard that, I thought, "That's my girl." She ended up marrying him and he turned out to be the best thing that ever happened to her in her lifetime. Besides me, that is!
Her husband is just a good, hard-working man. He adored her and couldn't care less about her porn past. They never had kids. They rescued older pit bulls. That was her thing.
When she left the business, Victoria got a 'real job' at a doctor's office, working nine to five. She loved her job, and she was in a very good place.
Even though she moved on from porn, she never had a cross word to say about the industry. She adored it, but sometimes you can't escape it. There was a time when somebody found out about her past at her new place of work, and they were rude about it.
Another time, maybe 15 years ago, she was jogging with her girlfriends from work. And she heard someone shout, "Victoria!" And she thought, "Oh shit. Someone's recognized me." The person kept shouting, "Victoria Paris!"
Her friends noticed and said, "I think that guy is shouting at you, but he's calling you a different name." So Victoria just said, "I don't know."
Eventually she heard, "Victoria, it's PT," and she looked over and it was PT, Paul Thomas, who was waving at her. She just turned her head and kept on running. Her friends asked, "What name was he calling you?"
Vicky just said "Oh, I don't know. He's probably just one of the homeless, crazy people. I don't know who that was."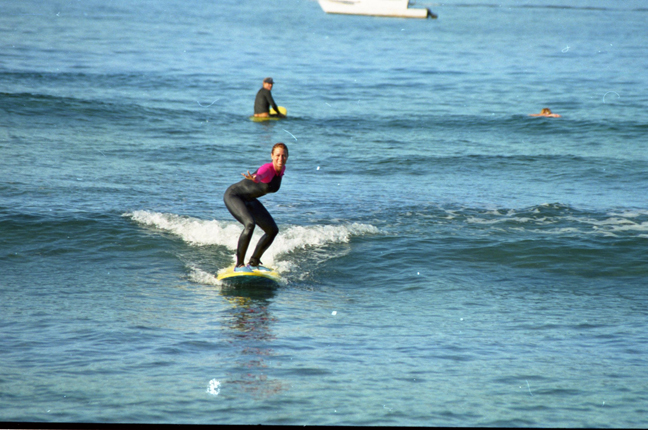 She just was too nice. In all sincerity, one of the nicest people I had met in my entire life. Almost too nice for the business, but luckily, she surrounded herself with good people. She never said one negative thing about the business, but she preferred to leave it behind. She would never do my radio show. I was on the air for almost 18 years and she would never be my guest. She just said, "I have a life outside of adult now. I've got nothing I need to promote. I don't really want my voice out there as 'Victoria Paris' – I don't need or want that. I love hearing the stories from you, and I love you and Ginger, but I have no desire to do it again. I've done it and I've moved on."
She'd give me stuff to sell on eBay. She'd say, "I'll sign it, but I don't have any use for it anymore."
The last time she did a function was with me. We went to Bill Margold's wake. I called her and said, "Wanna go to Bill's wake? We'll have so much fun seeing people together." And we did. It was all so much fun with her.
Then she called me a little over four years ago. I remember it was a Sunday. She said, "I have some news to tell you. Not so great."
I said, "Oh, no. Are you getting divorced?" That was the first thing that I thought of, because we hadn't talked in a month.
She said, "No. No. We're fine, but I have cancer. I'm going to fight it." That was the same day, I found out Alexis Vogel had cancer. I remember that day very well. Two in one day, Jeeze. But Victoria never complained. She never had a negative word. She never said, "Why me?" She was the most positive person. And she fought it, but it came back… and she fought it, and it came back again… and she fought it again – but by round four, her little body couldn't take it. She fought like the Dickens to get rid of it, but in the end, she just couldn't. Her body couldn't handle it anymore.
Here's the weird thing: she lived the cleanest life you will ever see. She ran triathlons. She ate organic foods. She studied as a nutritionist. She was into health and working out. She only put healthy stuff in her system. It just doesn't make sense… but life doesn't make sense and sometimes you don't have all the answers. And that's the frustrating thing, because I'm not used to not knowing things. I want answers. I want to know why. What can I do to change it. It's a hard pill to swallow.
In the most recent few months, I would call her. It'd go right to voicemail. I would text her, "Hey, what's going on?" I FaceTimed her once night when were out to dinner, and she didn't answer. I sent a picture or two.
And then she replied and said, "I'd love to talk, but I have a bad cough. Give me a week." Life goes on, and one day I was at the hairdresser. I look on Facebook and people were saying, "We lost an angel," and I realized they were talking about Vicky. I called her husband and I said, "What's going on? Why did I just see this?"
He said, "She passed away yesterday. She made me promise not to call you because she knew you would have dropped everything, and come out to be with her. She just wanted to pass with some dignity, and wasn't pretty at the end, and she didn't want you to worry."
I just started crying at the hair dresser's – she was handing me tissues while putting the shit on my graying roots.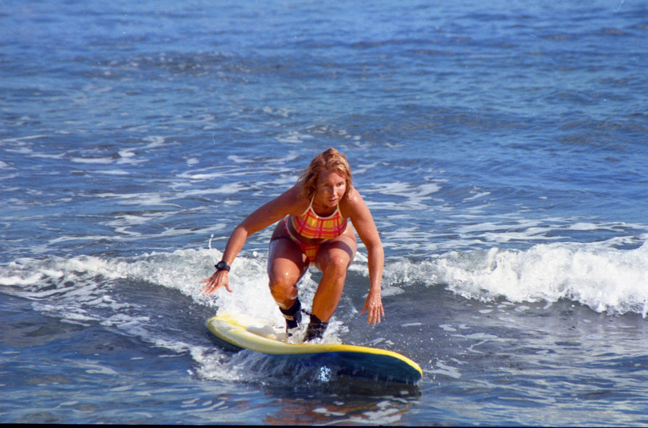 I thought, "God, that's so Vicky. That was her problem. She never wanted to worry anybody, and never wanted anyone to feel sorry for her. She never wanted to upset the apple cart. In her situation, I'd be like, "Everyone come and see me. This is the end." You know?
And her husband was right, because I literally would have jumped on a plane, and I would've gone. I would've dropped my world to see her one more time, but she didn't want that. And I can't be mad. That was her wish.
I called Ginger and cried. "Vicky. She's gone. She died." Ginger said, "I'll be there tomorrow. Don't worry. I'm coming to see you."
I've been so fortunate in life to have such amazing, wonderful people – including these amazing girlfriends. Not just in life, but also in – specifically in – the adult business. Ginger came out and I cried for a day and got it out. There was this heavy hardness, this heavy feeling that will always be in there.
It was a horrible shock and such a loss and yet, I don't know. I don't know. I just have to think that's she's out there still.
When I heard the news of Vicky's passing, I texted Steve Hirsch at Vivid. He wrote back, "I'm so sorry. I'm heartbroken for you because I know how much you love her."
And then two hours later, I got a call from AVN. I said, "There's nothing I'm going to say right now. Her husband doesn't want me to say anything. I can confirm that she died from cancer, but there really aren't any other details. It was cancer. That's it. End of story. It was so sad, but there was nothing else for me to say."
I still talk to her husband every other day. He's picking up the pieces and just trying to figure out where to go. He loved her so much and dedicated four years of his life to her when she got sick.
The other day somebody sent me a picture, and my first thought was, "I've got to send this to Vicky," and then I remembered, "Oh my God. She's not around." So I sent it to her husband instead. I told him, "She's not around to see this funny picture so you're going to have to look at it…" Luckily, he understands.
A few days later, I was looking at some sexual pictures for my website. By accident, I sent them to Victoria's husband. He texted me back. He said, "I don't know if I really need to see these. You know I love you, but…"
I apologized, and said I was so sorry. But he replied, "That's okay. It actually made me smile to see you like that, because I don't know that side of you." We laughed together. That was what it was like with Vicky.
My friendship with Vicky was just a beautiful and pure. We had such an amazing time together. It was absolutely magical. She was just a force to be reckoned with. I miss her and I'm sure I always will.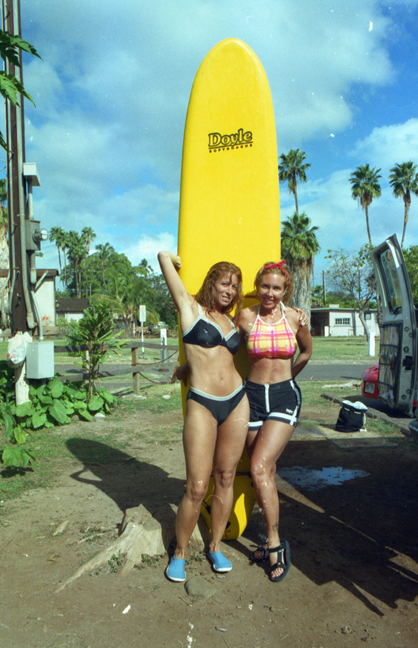 Christy and Vicky: friends forever
*