Podcast: Play in new window | Download
Subscribe: RSS
Jim South didn't act in many adult films, and certainly didn't take part in any sex scenes.
He didn't direct, produce, or finance many movies either.
But if you watch any film made in Los Angeles since the mid 1970s, the chances are that Jim South was intimately involved in who you're actually watching on-screen.
For years his company, World Modeling, supplied talent to the adult film industry. Actresses would converge there from all over the country for a chance to be cast in X-rated films. The agency represented adult stars such as Shauna Grant, Marc Wallice, Ginger Lynn, Savannah, Katie Gold, and Christy Canyon. His office was a hive of activity, always at the center of things. His huge casting calls were legendary, as were the picture books that he meticulously kept with Polaroids of every actress taken on the day they turned up in his office for the first time.
His agency was successful and profitable, but not without controversy. He had to weather all kinds of storms – the police had him under surveillance, he was arrested for pimping and pandering on several occasions, several high profile actresses that he got started in the industry committed suicide, he was charged over the underage Traci Lords scandal, and rivalries with other agencies sometimes spilled into physical violence. Somehow Jim survived. Maybe being an Irish, right wing Republican from Texas had something to do with it.
Over the years the adult film industry changed, people changed, and social networking replaced the old order, but Jim South is still in business. The golden days may have gone but he remains the same. He's still out there, looking for the next girl, the next breakout star.
He's one of the last of the original dinosaurs, and this is his story.
This episode running time is 78 minutes.
______________________________________________________________________________________
Jim South, the most famous agent for adult film stars, died this weekend. With him, dies a part of the golden age of adult film.
In the autumn of 1957, a lieutenant from the Dallas Police Department, called Red Souter, rented an apartment as part of an undercover surveillance operation. The target of his investigation was America's first porn star, Candy Barr.
You see, six years earlier, back in 1951, Candy had appeared in one of the most famous and widely circulated of the early underground pornographic films, a 15 minute stag film called Smart Alec.
The cops sat up and took notice: the first problem was that Smart Alec was an explicit hardcore film – which was illegal anywhere in the 1950s, let alone a Bible-thumping redneck conservative stronghold like Texas. And to make matters worse, Candy had been only 16 when she made it. Over the years, Candy would insist that she'd needed money, and had been drugged and forced into appearing in the movie.
Shortly after Smart Alec appeared, and while still underage, Candy was hired as a stripper at the Theater Lounge in Dallas, where the owner gave her the stage name 'Candy Barr' because she loved Snickers bars. Candy may have been underage, but she wasn't shy. She bleached her hair platinum blond, and quickly became a headliner. Her image appeared on large placards dressed in her trademark costume of a cowboy hat, pasties, scant panties, a pair of pearl-handled six-shooters in a holster strapped low on her hips, and fancy cowboy boots.
By 1957, the police were keen to nail her. In October of that year, lieutenant Red Souter led a team from the Dallas police who raided her apartment, where they found less than an ounce of marijuana which she was hiding in her bra. Candy was arrested for drug possession for her drug bust. Today that would be nothing more than a small-time misdemeanor, but in court Red Souter testified that the amount was sufficient to roll 125 joints from the evil weed. Candy was convicted, and received a 15-year prison sentence. The case was front page news and only made her more famous.
Years later, Red Souter was asked about the case: It wasn't just about drugs, he said. Candy had been an underage sex actress. That was immoral. Behavior like that needed to be stamped out. That was why he was a cop. He felt his job was to preserve the American dream. He took that seriously. Very seriously.
Twenty years later in 1976, Red Souter's son James set up a company, called the World Modeling Talent Agency in Sherman Oaks, a suburb of Los Angeles. By this point, James changed his name to Jim South, and his agency represented many performers and models who worked in X-rated adult movies and magazines.
One of the people he represented was Traci Lords, an underage porn performer. When the scandal broke in 1986, Jim was arrested and charged for hiring the 16 year old Traci to appear in a sexually explicit film, 'Those Young Girls.' Just like Candy Barr, Traci would insist that she'd needed money, and had been drugged and forced into appearing in the movie. And just like Candy, Traci appeared on billboards selling sex all over the country.
Jim was indicted on charges of violating a statute prohibiting the filming of minors engaged in sexually explicit conduct. The statute carried penalties of up to 10 years in prison and a $100,000 fine. He argued that he had no way of knowing Traci was a minor, but government prosecutors argued that the statute as written did not require any evidence that Jim actually knew whether Traci was a minor or not.
When I last saw Jim earlier this year, I asked him about how he fought his arrest for something that he knew nothing about. It was immoral, he said. Behavior like that needed to be stamped out. That was why he was an adult film agent. He felt his job was to preserve the American dream. He took that seriously. Very seriously.
A part of the adult film industry is quiet today, and will never be quite the same again.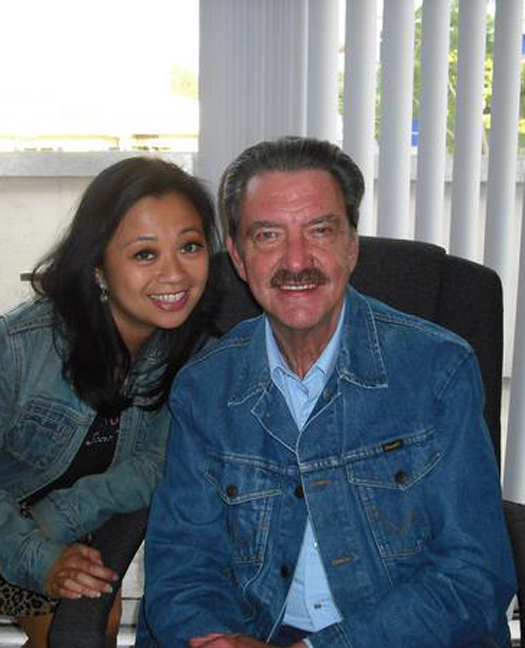 Jim South (with actress Lucky Starr)