When the report of the Attorney General's Commission on Pornography (often referred to as the Meese Report) was published in July 1986, it went to great lengths to describe examples of pornography that it found particularly reprehensible. In fact, forty pages of the final report were dedicated to detailed (and arguably titillating) plot descriptions of several New York films made for the Avon Theaters company: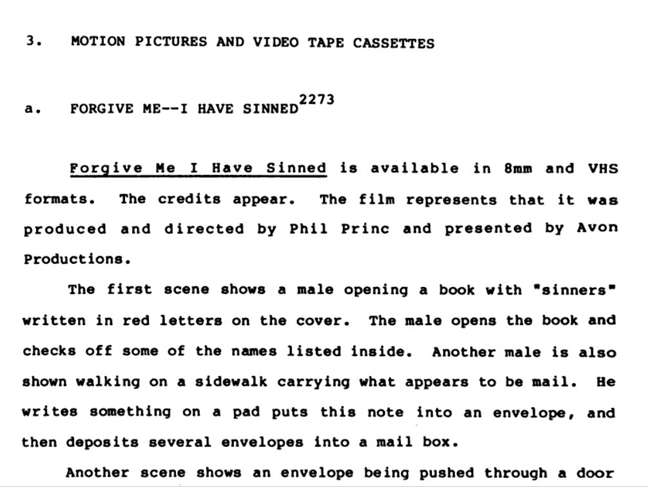 Both movies were directed by the same man, Phil Prince, a first-time filmmaker, who had no training or knowledge of the film industry, and yet who created a small, significant, and shocking body of work that continues to resonate today.
After making a handful of movies for Avon, Phil disappeared from the film scene – amid rumors of jail sentences, shootings, and drug dealing – and never returned.
For 40 years, much of Phil's story has been shrouded in mystery. So what is the truth behind the suggestions of his time as a live sex show performer, his extensive racketeering, a murdered wife, a life of crime spent on the edge of New York's violent Westies gang, and making some of adult film's most outrageous titles?
In fact, who the hell was Phil Prince?
Earlier this year, The Rialto Report's April Hall met with the elusive maverick, the man most responsible for Avon's notorious reputation – its enfant terrible, Phil Prince.
With thanks to Phil Prince, George Payne, Brian O'Hara, and byNWR.com
You can read 'Fragments of Avon: Journeys into the Dark Heart of XXX' – including Part 1: The Boss and Part 2: The Procurer.
_______________________________________________________________________________________________
Prologue: The Search for Phil Prince
For all the controversy surrounding Avon's most notorious director, Phil Prince, and his films, little verifiable information has been available about him since his association with Avon in the early 1980s.
Phil only ever gave two magazine interviews: the first as a lowly sex worker in a 1977 issue of Cheri magazine, before he'd ever made a film, and then in a 1983 issue of Porn Stars magazine. He was also interviewed on camera once in Brian O'Hara's short documentary, The Prince of Porn. Shortly after that, Phil stopped making movies completely. He was jailed for a 1984 shooting in Greenwich Village, and since then nothing has been heard from him.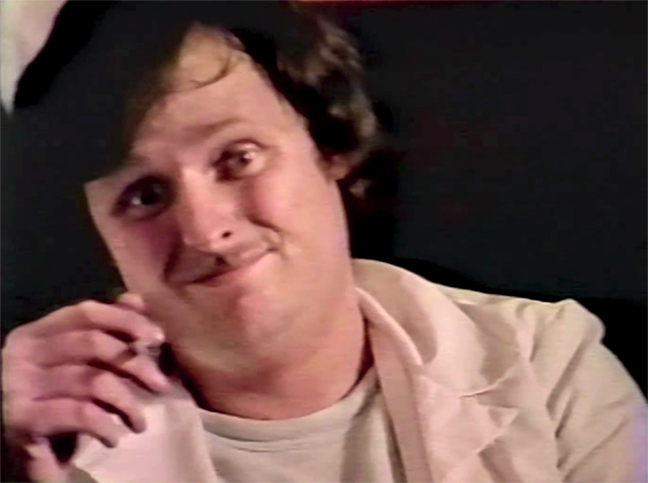 Phil Prince
The only other source of information about Phil is Bill Landis' 1990s essay 'The Avon Dynasty', in which Landis stated that Phil had served two jail sentences. According to Landis, Phil was first released from jail in 1990, but then re-offended: "Phil couldn't stay away from 42nd Street. He shot and killed an associate from the old Bryant Theater, and is currently serving 25 years to life."
Landis' account is wide of the mark: Phil didn't get out of jail in 1990 (he was released in 1988), he didn't go on to shoot or kill an associate (he remained conviction-free after his release), and he never went back to prison. In fact, for the last thirty years Phil's lived quietly in upstate New York, just an hour north of his old stamping ground of Times Square.
I first contacted Phil Prince ten years ago, and since then, we've spoken sporadically by phone. Our conversations were irregular but detailed deep dives into different parts of his life. And there have been a lot of parts to Phil's life.
Phil's a great storyteller with a caustic sense of humor, so every call was as entertaining as it was enlightening. Behind the streetwise goombah attitude was a sharply intelligent and self-aware man, with a refreshingly self-deprecating perspective on his life: he said that nothing he'd done had great importance or value, he confessed that he'd messed up on countless occasions, and he admitted that he had more regrets than birthdays. But fuck: it'd been one hell of a great ride, and he'd loved just about every minute of it.
In the summer of 2018, after years of collecting notes from our calls, I suggested that we meet in person. I could drive up and spend the day with him. Perhaps show him a few films, pictures, and articles.
Phil liked the idea, and so we made a date for late August.
*
Phil Prince's Story
Phil appears at the front door of his apartment building, a grim subsidized housing structure where he lives in a small studio apartment.
At 65, he's noticeably slimmer than in the footage and photographs from the early 1980s. Gone is the cherubic guru holding court in 'The Prince of Porn'. He now cuts a more angular, sallow, and nervous-looking figure. Of more concern is his frailty, the lingering result of an industrial accident he suffered in the 1990s. Today he moves slowly and with difficulty, with a stooped gait that betrays ever-present physical pain.
We walk carefully to the nearest diner, but once seated, Phil's unsteady bearing is transformed. When we talk, his eyes light up with the fire of a wild life vividly remembered. He gesticulates like a street card shark, and his quick speech is peppered with a colorful bygone wise-guy argot that's punctuated by his frequent laughter. And sometimes he just shakes his head quietly – in happy disbelief that he's still around to relive the memories.
I ask Phil if I can record our conversation on my phone, and he agrees. I place it on the table between us, but with all noise in the diner, I fear that I'm just recording screaming babies and lunch orders being shouted into the kitchen.
Phil repeats biographical details giving context to his life: He was born Philip Joseph Prince, on May 28th 1953, on 103rd St in the Bronx – right by the Grand Concourse and Fordham Road. His father, of French and English stock, hailed from New Hampshire, and Prince was his family's name.
But Phil inherited his feisty character from his Irish mother, with whom he was particularly close. She was born and raised in County Cork, and was "real Irish – in every way". Phil was one of four siblings, with two stepbrothers and a sister. When I ask about life with them, he waves the question away, saying only that he was "the youngest – and the worst, by far," before erupting into laughter.
His childhood neighborhood was completely Irish, and school was full of Irish kids too – "real Hibernian society shit" he remembers, referring to the Irish Catholic fraternal organization whose members had to be both Catholic and born in Ireland or of Irish descent. It was a rough start to life, full of scraps and scrapes: "If you didn't stand up for yourself, you were gonna get your ass kicked. So I did my fair share of ass-kicking, and I learned how to take care of myself real early."
But Phil wasn't just good with his fists. He excelled academically, and passed an entrance exam for Rice High School, a private Catholic school for gifted students. Today he's modest about the achievement: "Sure it was a private school, but it was probably the lowest of the low. And my parents had to bust a nut to pay for me to go there."
Phil's life changed forever when he was 12, when his mother died of cancer. She'd been the center of his world, and her death hit him hard: "When my mother passed away from the big C, everything went off the rails. I was close to her. Now that I look back, it's a miracle I didn't become a fucking serial killer."
His mother's death effectively meant Phil lost two parents, because his dad stopped coming home after that: "My father just left. He just wasn't there no more after that. He worked in the day, and went out bowling at night, so he was flat gone. I was alone, and basically just did whatever the fuck I wanted to do. Which meant… I did anything and everything. Card games. Gambling. Stealing. It was all in my neighborhood. These were the white enclaves that we called home, and I tore it up."
Phil's good grades in high school tailed off dramatically, but no one took an interest in finding out what was wrong: "The teachers were too busy so I don't blame them. I liked most of them – in fact, the only one I hated was the Dean, a guy named Mr. Minindao. He was a mean sonofabitch."
Phil eventually stopped attending school altogether: "It was a question of survival. I was hustling for the money I needed to live, because my Dad didn't give me shit.
"So I left home. And nobody noticed."
*
When Phil moved out in his mid-teens, there was only one destination on his mind. He took the D train down to Hell's Kitchen, the west side neighborhood in Manhattan populated with working-class Irish families. The area was also the base for the Westies, the infamous Irish mob deeply involved in racketeering, drug trafficking, and contract killing.
Phil found a natural home in Hell's Kitchen and with the Westies. He identified strongly with his Irish heritage, and from an early age rubbed shoulders with several Irish gangsters, heavies like Mickey Spillane and James 'Jimmy C' Coonan. He met them when he was an altar boy at the same church they attended, and did small-time hustles with them all over the 'hood.
"We all knew each other growing up, but I was closest to Jimmy C. He was about five years older, but he was good to me. If I ever had a problem with anyone, I knew I could count on him. He was my backup. And it stayed that way for ever."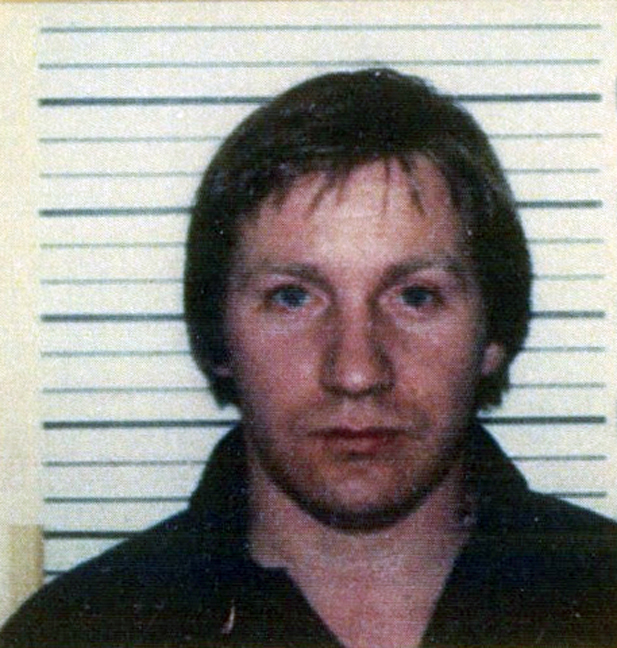 James 'Jimmy C.' Coonan
In the 1960s, Spillane was the Westies kingpin, with a strict agenda: he ensured that Italian mobsters, who dominated organized crime in the rest of the city, stayed the hell out of Hell's Kitchen. Spillane was adamant: no Italian mobsters were permitted to take part in any of the Hell's Kitchen rackets – and this was a source of great anger for the Italians.
Though only a teenager, Phil remembers the tension well: "Not allowing the guineas into Hell's Kitchen deprived them of some of the biggest money in the city. We had the west side waterfront, the sex trade, and big construction projects like the Javits Center and Madison Square Garden."
Phil giggles: "Man, the wops were fucking mad about Spillane."
Jimmy C. had other ideas however, and he went against Spillane to form an alliance with the Gambino family, who had big interests in the city's nightclub and sex business.
Phil remembers the conflict coming to a head a few years later: "Jimmy was in a hurry in life. He was ambitious. He became friends on the quiet with Roy DeMeo from the Gambinos. These guys all had one thing in common: they wanted Spillane gone. And in 1977, it happened. Spillane was whacked, and Jimmy took over. It was a simple as that."
Phil was close to Jimmy C. – so how much did he know about the hit? It was rumored that DeMeo carried out the murder personally as a favor to Jimmy C. Was Phil aware, or even involved in any way, I wondered?
"I'll only talk about that off the record," Phil says grimly, nodding at my phone. So I stop recording for a few minutes.
*
In the early 1970s, Jimmy C.'s friendship with the Italians opened up a world of opportunities for Phil: "Jimmy got me work in Times Square working with this guy, Leo Bolleta. He was a made guy in the Gambino family, who ran a series of burlesque theaters. My job was to hang around them to make sure everything went smooth."
"There was the Broadway Burlesque – that was Frankie Giordano's place. Then you had the Roxy Burlesque owned by this orca-fat guy named Rich, and a place called The Paradise which was all the way over by Tenth Avenue. They were all strip clubs.
"But the best place was the Psychedelic Burlesk in midtown. Did you ever hear of it? It was in the middle of the block at 670 8th Avenue, right across from where Show World started years later. It eventually became the Show Palace Theater.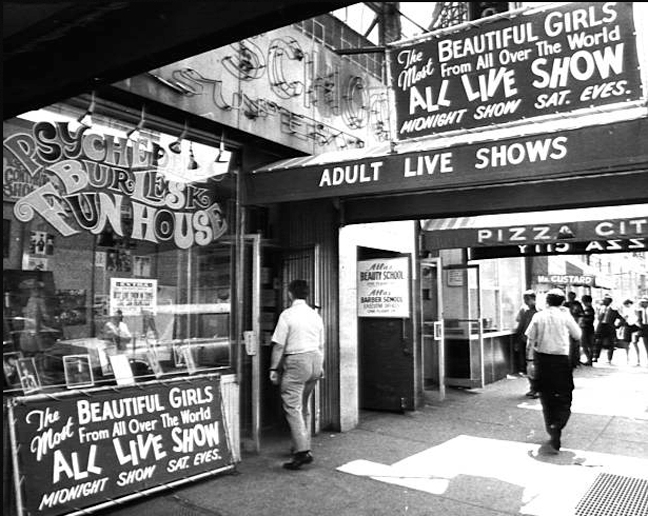 The Psychedelic Burlesk
"In fact the Psychedelic Burlesk was the location of the original sex show in Manhattan. I mean, the very first – like 1968… I remember seeing a fuck show there when I was 14. It was run by two fags, Jimmy and Ray. And they used to do it with this chick, Charlotte Chantel. She'd have sex with either Jimmy or Ray. They were both as queer as a fucking three-dollar bill, but there they were… just banging that broad every night. Real pioneers!"
Phil bursts into laughter.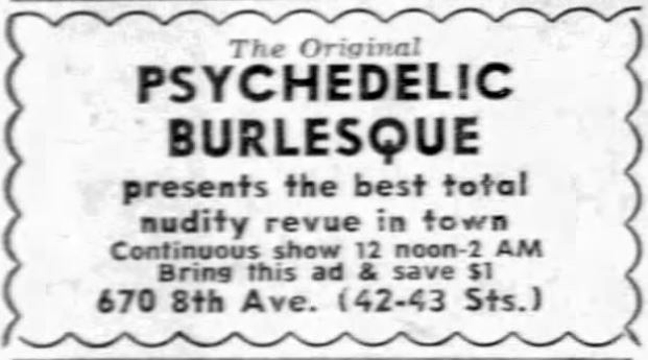 "Once that started, the Psychedelic Burlesk had the most popular show in town for a while. They got this tall guy with a long face and even longer beard, and put him in a stovepipe hat. They sold the show as 'Abraham Lincoln's Sex Life'. You shoulda seen it. There were lines around the fucking block!"
Phil's job in this capitalist maelstrom of the flesh was to provide muscle when it was needed: "It was a great life. I hung out in places where it was all going on. I worked with the theaters, inside and outside. Making sure no one was bothering the cashiers. Stopping guys from getting on stage. Taking care of troublemakers.
"Fighting is an art: you don't want to bang somebody up inside the joint. That's just bad for business. So you have to learn different skills to take someone down quickly. I'd get hold of them by the belt, pick 'em off their feet, and if they fought back… I just rammed them hard into a wall. They didn't cause any problems after that."
Phil giggles at the memory.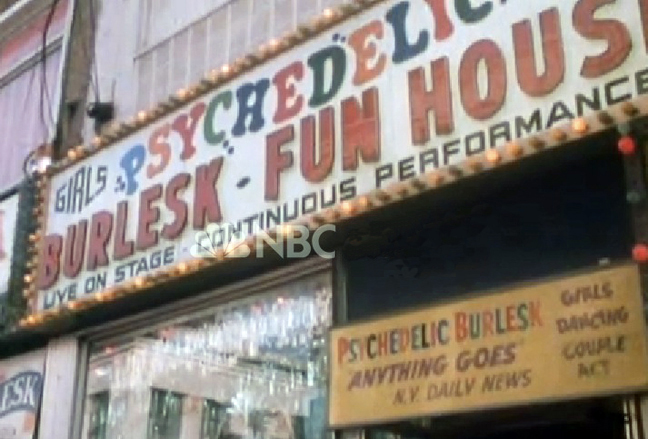 Psychedelic Burlesk
"I knew how to take care of myself. I was 6' 1", 200 pounds. I did push-ups, sit-ups, dips – all using my own body weight. I knew I was going to get into fights, so I just prepared for them as best as I could.
"But trouble was always around the corner. I remember coming out of the Blarney Stone back in 1970, and seeing a guy shoot someone I knew named Carl – right in the head. But Carl was protected property. No one should have touched him. Too late, you know what I mean?
"Next day, the guineas grabbed the killer and threw him off the fucking roof of a Times Square hotel, right across from where Arthur Treacher's was. Threw him right into Times Square. It was on the front page of the paper. That shit was crazy. I'd never seen that happen to anybody. You have this idea of people hitting the ground like you see in the movies. But it's not like that at all. They scrunch, their teeth come flying out of their mouth, and eyeballs pop out. That was disturbing."
By the time Phil turned 20 in 1973, he was an established presence in the neighborhood. He was still young, but he was well-known and had earned respect. His reputation was all the more important now the first hardcore porn films were starting to appear in the Times Square theaters – and the trouble in the area had escalated to new levels.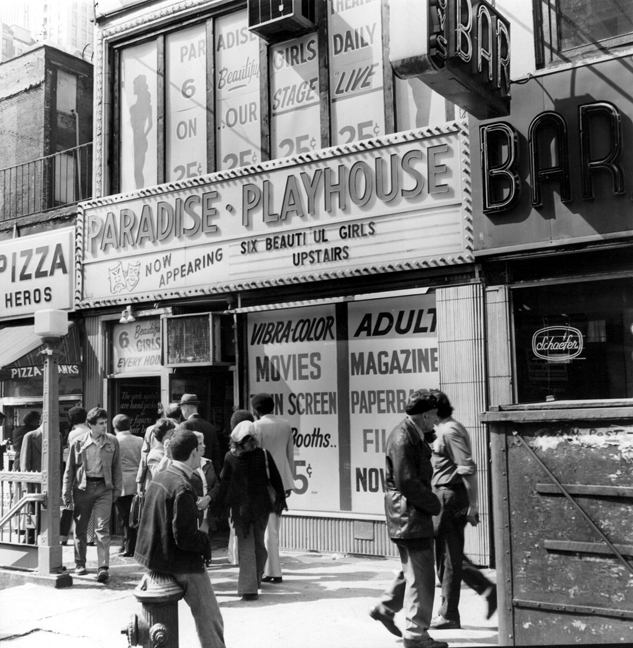 Phil readily admits he tried to find a hustle in every situation in order to make money for himself: "When I started in the burlesque theaters, there was no pornography so to speak. Then Linda Lovelace in Deep Throat (1972) and The Devil in Miss Jones (1973) came out, and a different kind of people started managing the theaters. People were getting involved in the business who weren't so smart.
"I was what you call 'enterprising', so I robbed some of the prints out of the theaters. It turned out the prints were owned by DiBi – Robert DiBernardo, the porn boss from the Gambino family. I didn't know I was robbing his shit! To make matters worse, I tried to sell the prints back to him and his crew. When I arranged a meeting to sell 'em back to DiBi, he said, 'They're already ours, you fucking moron! You stole it all from us!'
"I said, 'How should I fucking know? I just stole the fucking prints! I don't know what I'm doing!'
"It could have turned nasty, but these guineas got a kick out of it, and found me funny. What were they going to do? Kill a 20 year-old kid? And anyway, I didn't lie to them. I told them I stole the prints!
"Oh well, I thought: You live and learn. I was young."
*
For a high school dropout who was barely out of his teens and without a family, Phil was enjoying a pretty good existence. He was living at the Chelsea Hotel, courtesy of the owner for whom Phil regularly did under-the-table favors. He had income from taking care of the theaters. And he had any number of scams that earned him extra cash on the side, hustles that included theft, moving stolen goods, and shaking down anyone that Jimmy C. asked him to.
Phil wasn't short of female company either, thanks to the strippers at the theaters: "One of my closest friends was a stripper named Susie. We were the same age, and hung around together all the time. We got on great.
"But then I met Teresa at the Psychedelic Burlesk. Her full name was Teresa Menendez and she was from Puerto Rico. I called her Teresita. She was a big-time stripper – I'm talking a featured act. She had great costumes, with big awesome pink feathers. And she was classy, which meant that she still wore pasties over the private areas, even though all the rest of the strippers were nude at that time. I persuaded her to get rid of them: with the live sex shows taking place, what was the point in being modest, you know what I mean?
"Teresa was five years older, and she seduced me. I admit, I was a willing victim. It was love at first sight. Or lust. Or something. She was mysterious and exotic, and I'd never met anyone like her before.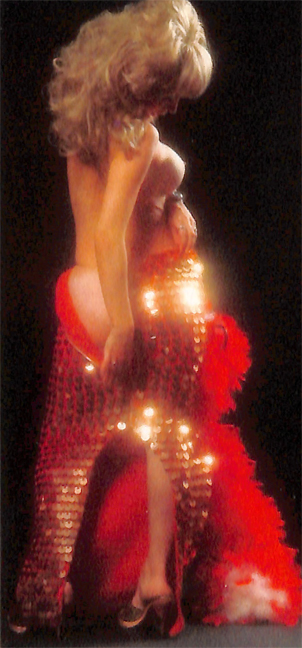 Teresa
Phil and Teresa had a whirlwind affair. They moved in together within weeks, taking a fifth-floor apartment at 310 West 47th St. Being a good Catholic boy, Phil's thoughts turned immediately to marriage: "We'd fallen in love, so naturally I wanted to get married. It was the right thing to do. I married her in a church right down the block on 48th St. My Irish family didn't come because she was Puerto Rican. There was no way they were coming anywhere near that. They were racist. I'm not. I love all women."
Phil pauses. I figure he's misty-eyed at the memory, before he speaks again: "Fuck, I even love gay guys, 'cause that means more women for me."
Phil was so smitten with Teresa that, for a time, he forgot about his work and hustles: "Teresita was born in Cabo Rojo in Puerto Rico, and she took me back there for a while to meet her family. I even learned how to speak the language a little bit. She'd been married before, and had three boys and a girl. Her husband had been abusive to her, so she ran away from him. She had a sister in New York, so that's why she came over here. Her ex took the boys and she got the girl. He really screwed her over, and her head was fucked up when I met her. And he kept coming after her too. Real machismo bullshit, you know what I mean? I never met him. He's lucky he didn't come anywhere near her house in Puerto Rico while I was over there, or there'd have been trouble."
When they returned to New York, Teresa left her daughter behind with her mother. Back in Gotham, Teresa found the burlesque scene to be dying, replaced by more lucrative live sex shows. Phil suggested to her that they become a 'love team' – the term for a couple active on the sex show circuit. She agreed.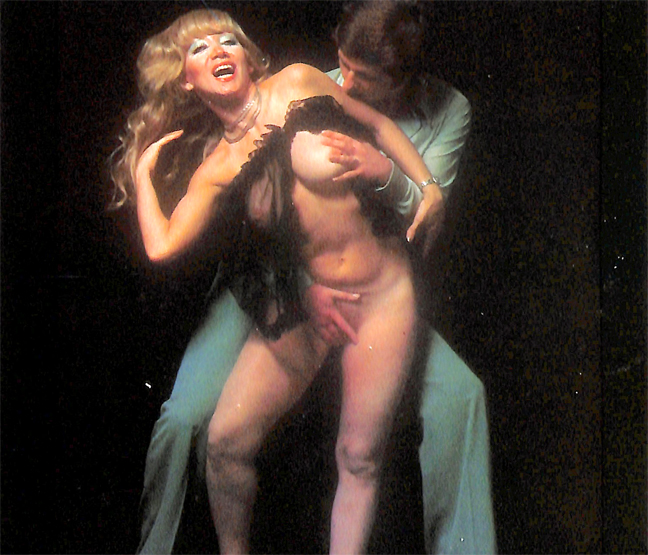 Phil and Teresa Prince
I asked Phil if he had any fears about having sex in front of an audience. He snorted at my question with derision: "Hell, no. Most guys can't make their cannon perform in front of other people, but I knew I could do it. I didn't give a fuck. I was doing it for free with Teresita anyway. So now they'll pay me for it? What was I gonna say?! No?!"
Contemporary newspaper articles report that Phil and Teresita did well, becoming the one of the hottest acts on the live scene, out-performing and out-earning the competition. Today Phil laughs at the idea that he was successful: "If you consider that to be 'doing well' then, yeah, I guess we did good. We definitely made money for doing very little.
"We did our live show at two places: the Avon 7 and the Avon Love. On Friday and Saturday nights, those places were packed. I mean, 200, 300 people. And let me tell you, it was a circus in there. People would be screaming things at us, and urging me to fail in particular. I didn't care. I was totally oblivious. And if they really were annoying me, I'd turn towards them and bust a load into the fucking audience! You know that's not a lie."
Phil cackles with glee at the memory.
"Each live show was 20 minutes long, and we did six or seven shows in a night. I had a thing going about how many shows I could do – and come in each one. I would go at it all evening, and then after work I'd go home and bang my wife – again!"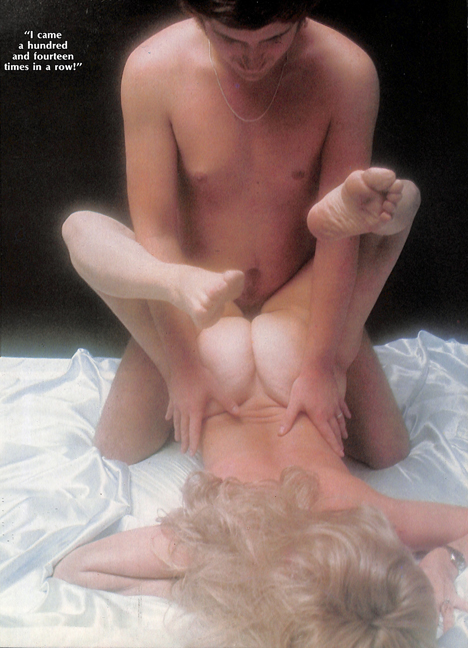 Phil and Teresa Prince
I ask Phil what his secret was?
"I was 20 years old so I was in my prime. Plus my wife was hot. Latinas are hot, c'mon – you gotta admit it.
"It was a fun time. We got on well with the other live performers who were around. There was Willy and Linda. And Dinkie and Binky. She was in Playboy magazine. Her real name was Brenda. And I got to know the people who ran the Avon theaters where we performed.
"Murray was the overall boss who owned everything, Stella was his manager, and then there were guys like Pat Rogers who each managed a different theater. I got on great with them all, and hung out at the Avon offices when I wasn't working. What can I say, I'm an easy-going guy…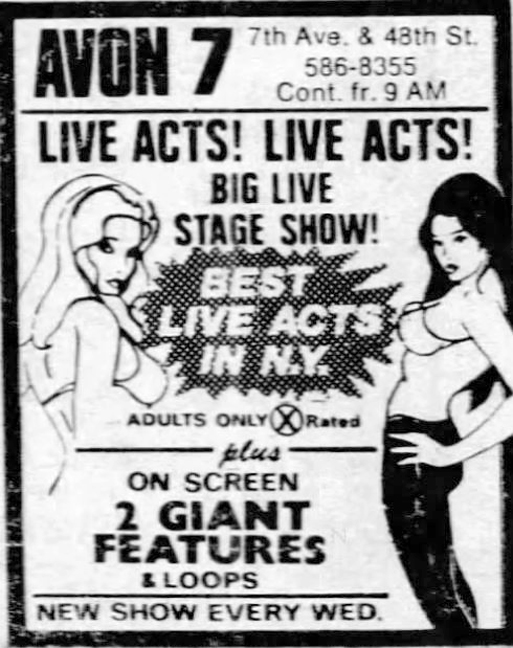 "After doing sex shows constantly for a year or two, we eased off and did them a little less. We were getting burned out. Everyone who does that kinda work gets burned out.
I asked Phil how he made money once he cut back on the sex work.
"Murray and Stella gave me some odd jobs around the Avon theaters.
"And I started making money dealing blow as well. We were selling a lot of coke at the time. And that made us a lot of money."
I wondered how Phil had got into selling drugs?
"I knew guys in the Columbian gang who had the New York market sewn up, so one day I approached them. Me and Marie Cortez, who was a friend of Teresita, we became partners. We bought from the Columbians, and sold it out of my place on West 47th St.
I ask if this had any impact oh his relationship with Teresa? It can't have been easy living together, doing sex shows, and dealing drugs – all out of their apartment, I suggest?
Phil smiles ruefully: "She was a typical Latin, with a lot of passion and a fiery temperament – and we had a very sexual thing going on. We experimented and had threesomes. We clashed sometimes over business, and things could get volatile, but that was just the way it was. We had a good relationship.
"But that all ended the night I came home and discovered her and Marie killed."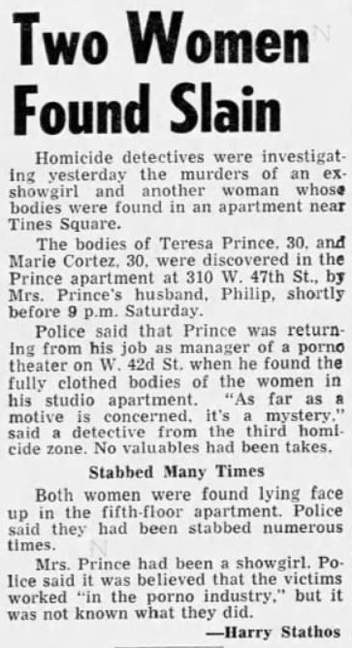 *
From 'Two Women Found Slain' New York Daily News, September 26, 1977:
The bodies of Teresa Prince, 30, and Marie Cortez, 30, were discovered in the Prince's apartment at 310 W 47th St by Mrs. Prince's husband, Philip, shortly before 9pm Saturday.
Police said that Prince was returning from his job as manager of a porno theater on W 42nd St when he found the fully clothed bodies of the women in his studio apartment. "As far as I'm concerned, it's a mystery," said a detective from the third homicide zone. No valuables had been taken.
Both women were found lying face up in the fifth-floor apartment. Police said that they had been stabbed numerous times.
Mrs. Prince had been a showgirl. Police said it was believed that the victims worked " in the porno industry," but it was not known what they did.
Phil looks into the distance, and takes a long while before he speaks again.
"Teresita and I didn't have any children together. But when she was killed, they told me she was pregnant with my child. We hadn't known it. She wasn't more than 8 weeks along."
What had happened that night?
"They'd both been stabbed. Many times. Both Teresita and Marie. Marie was staying with us because she'd just left her husband. They let the killer into our apartment – he didn't force himself in. Nothing was stolen, and they both were fully clothed when they were found."
And you were the one to discover their bodies?
"Uh-huh. I discovered them later that same night. Which meant I became a suspect.
"I had to get a lawyer. A couple of days later the cops realized Teresa and I were involved in the porno business, so they tried to tie the murders to that. It was fucked up. I was already grieving – and then I had to deal with this shit."
From 'Link Times Square Killings to Porn Struggle,' New York Daily News, September 28, 1977:
The fatal stabbing of a well-known porno queen and a woman friend were linked yesterday by a friend of the victims to a struggle between rival mob factions seeking control of the lucrative pornography industry.
In recent months, the victim's friend said, owners of pornographic movie theaters and bookstores in Times Square have been 'pressured' by the mob with threats of violence against their places of business.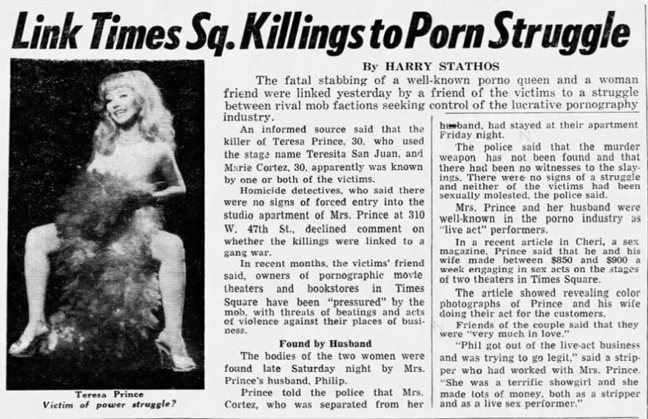 Despite Phil's still righteous ire, he speaks with a wry, sardonic resignation when he remembers the aftermath.
"It was all bullshit. And you know what really gets me about it? What really fucking gets to me? The cops knew who did it. They all fucking knew. But they couldn't touch the guy because he was protected. He was off-limits to them. So instead they wanted to nail me just so they could close the case. They didn't care that they would get an innocent person."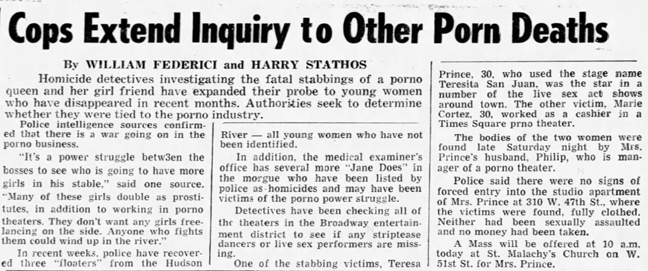 It sounds like you also know who murdered them, I say.
Phil pauses, and breathes out slowly.
"Yeah, I knew who did it. He was part of the cocaine cowboys in New York that Marie and I had been dealing with. Marie was a hard character, and this guy Rodriguez, who was in the Colombian mob, evidently didn't appreciate dealing with a strong woman. It was some sort of machismo shit. He decided to fuck with her, so he sent a guy to my apartment when I was out, and this guy whacked both the girls.
"Theresa was innocent. She just happened to be there."
A pause.
"I don't know how anybody could do that to two women," he says.
I ask Phil if he knew the guy who was sent to carry out the murder?
A long pause.
"Yeah. But I'm not talking in front of that," he says, nodding at my phone again. I switch it off while Phil talks about the person who killed Teresa.
I switch it back on, and ask what happened to the killer.
"He got shot on 9th Ave. Straight through the head. Killed instantly."
Did you ever confront him about the murders, I ask?
Another long silence, finally punctuated by a dry smile. Phil flashes a look at me, and holds my stare. His flinty eyes leave me in little doubt as to his answer.
How about just we say your answer is 'No comment', I suggest?
"Let's do that," he says quietly.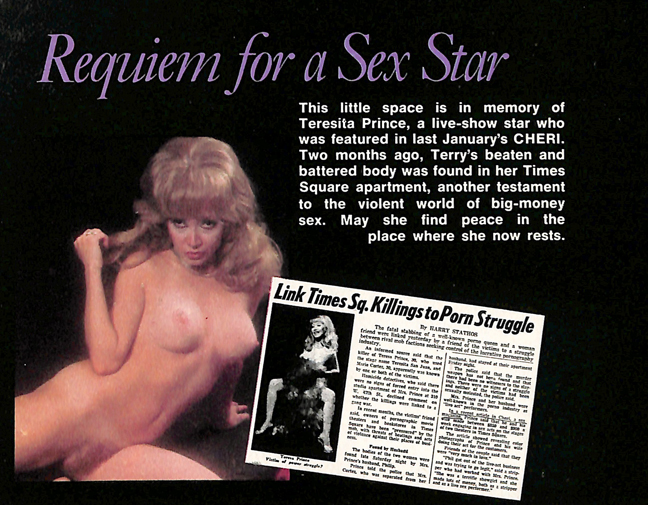 *
Despite the tragedy that he lived through, there is little trace of sentimentality or bitterness in Phil. He speaks about the highs and lows of his life with a measured matter-of-factness. It's not as if his memory is hazy either; he rattles off names and pinpoints dates as if he's been preparing for our conversation for years. I tell him I'm impressed with his recall, but he dismisses the compliment: "I just look forward. Everything else is history. What would I want to look back for?"
I ask him how his life changed after Teresa's murder.
"I developed a coke problem that lasted for years. I used it to hide the hurt. I also moved upstairs just to get out of that apartment. I couldn't stay there anymore. And obviously I stopped doing the live shows.
"I think Murray and Stella took pity on me, because they offered me more work in the Avon theaters to keep me occupied. I started working projections, and then I became a night manager, and then eventually I got my own theater to look after. I'd take home $400 a week, which wasn't bad. Then Stella realized that I was better than the Indian guy they had taking care of libraries and prints. He didn't clean or care for them, so they gave me that work too. They trusted me to do a good job – which I did. I worked hard for Murray and Stella."
I put it to Phil that by this time, he seemed to have become a more senior and trusted member of the Avon management crew – not bad for a guy who'd been a performer in sex shows just a couple of years earlier.
Phil isn't so sure: "Here's the thing: I'm not a Jew. Murray, Stella, they were Jews. I was from a different box. I'm an Irish gangster and I ran with my crowd. There's only so far that I was gonna go in their organization. They liked me, they trusted me, they gave me work, but I wasn't one of them.
Phil softens his tone: "But they were good to me. Stella was devoted to Murray. Completely. She would do whatever he wanted. And Murray… was Murray. No one really knew him, but we did know that he was the boss.
Phil pauses. "Jeeze, Murray must be long dead now."
He tips an imaginary hat. "Salud, old guy," he says, before laughing softly.
I mention that for years it's been said that Chelly Wilson, operator of the Eros and Adonis theaters as well as others, was involved in the ownership or management of Avon. The statement is like showing a red rag to a bull.
"Chelly Fucking Wilson?! Where did that rumor come from?"
I mention the 'Avon Dynasty' article.
"No. That's crap. 100% lies. Chelly was the Greek lady who ran gay theaters and some others, but she had nothing to do with Avon. Sure, we had to deal with her, but she was a little cunt. She was cheap, man. No one liked her."
I tell Phil that the same article stated she had a manager named Phil Todero who supposedly worked with him later on the films?
"I've never fucking heard of him," Phil glares. "You're killing me here with this bullshit."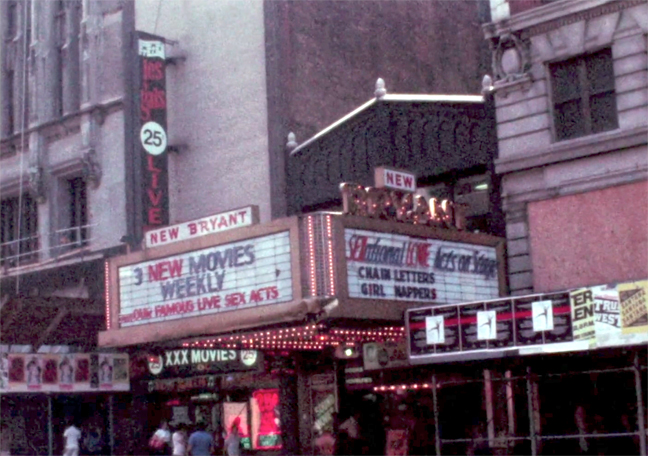 I change the subject and ask Phil who he was working with when he was managing the Avon theaters.
Phil's demeanor softens instantly.
"My main guy was Pat Rogers, who was Irish like me. I knew him from the street in the early days, and then he turned up working for Murray. He was a close friend of mine. He was ten years or so older than me. He looked even older 'cause he was one of those guys who was prematurely grey, and for that reason he was known as Whitey. Plus, he was the ugliest person I ever met. He was so fucking ugly. I felt bad for him, man. He couldn't get laid in a whorehouse. Amazingly he was married, and had a kid. He was a strange dude… he liked crossword puzzles for fuck's sake! But we got on just great. We had the best times ever.
"See, even though I was doing lots of stuff for Avon, Pat and I still had lots of time off, and we'd rip everyone off. I was still young, so Pat showed me the ropes. Like how to really hustle. Pat could steal anything. Me and him robbed the whole fucking west side. We were a two-person crime wave."
What kind of robbery?
"Everything, man! You know… like going into Sears and just taking a TV, and walking out with it. People had no fucking idea! By the time somebody figured out that you're robbing their place… you were gone."
Did you carry a gun with you?
"Not at that time."
So if somebody had confronted you, what would've happened?
"I was woulda given them the TV! TVs were heavy. You're talking about a 60 pound TV. If you hand that to someone, you'd be a block away before they started chasing you!"
And what would you do with the stolen goods?
"We'd go down to 38th St. where there was a guy – a fence down in the garment district – and he'd give us a third of whatever it was worth. So if I have a $450 TV, he'd give me a buck and a half for it. It was easy: I'd walk out of the store with a TV, take a taxi to him, and pick up some easy cash. Now, that's just pure fun, man…"
Did you steal mainly electronics and luxury goods?
"Nah, we did it all. We used to go 'cattle rustling.' That meant raw meat. We'd go in and rob meat from the supermarket. We had a big false-bottomed box, which was about this big, and with a handle on it so it looks like you're wheeling a suitcase. You know what I'm saying? It was really well constructed. Pat made it and he was good at his job."
And what'd you do with the meat?
"We'd sell it to the same wop. All the guineas would have good meals that night, thanks to us. As we drove away, we'd hear them shout, "Hey, we're having sausage tonight!
"We stole socks. Sweaters. Nylons. There'd be big display of maybe 20, 30 pairs of nylons at Sears, just standing by the door saying, "Take me, take me!" The store manager jackasses would just leave them out there… so we helped ourselves.
"Pat was an artist. I'm telling ya. You didn't know he was stealing from you. He'd leave you naked on the corner, saying, "What just happened to my clothes?" He was that good.
"We made a freakin' fortune, and we had fun. Fun, man…"
Were you ever stopped?
"Oh sure. Many times. I was arrested too. But they'd let us off easily. I was just a kid."
*
In 1979, Phil married again, this time to Susie, the stripper he'd been close with when he left home and first came to Manhattan. In the aftermath of Teresa's murder, it was a comfort to have someone.
"Susie heard what happened to Teresa and came over to see me. We'd been friends forever, from the days when we were both kids, living on the street.
"She asked if she could stay over, and one thing led to another – and we got married on April 14th, 1979.
"She told me up front, 'I can't get pregnant,' which was fine cause I didn't plan to plant anything, you know what I'm saying? I think she really thought that, but never believe a woman who tells you she can't… So when she got pregnant, both of us were surprised.
"It was a horrifying thought for me at first. A lot of new responsibility, I guess. But she was all delighted to be having a baby. I figured – happy wife, happy life, right? I'm not stupid. So I went along with it… but then we wound up having three!"
It was probably unrealistic to think that married life would radically change Phil's lifestyle.
"Life went on the same. When I wasn't working at the Avon theaters, I was hanging out with my Irish friends like Jimmy C. We drank at a bar on Fifty-Second and Tenth Ave. I wasn't in the inner circle of the Westies gang, but when they needed me for something, I was part of them. And they called on me quite a lot… you know? They'd been my friends from childhood so naturally we were tight. I'd do anything for them."
I asked Phil if he continued to deal drugs even after Teresa's murder.
"Yeah, but not as much. Everything was getting so violent. Those cocaine cowboys really fucking escalated shit back in the 70s. It got crazy. Plus we'd had the Spillane war with Jimmy in '77. Man, that was crazy too. So things like guns had become part of my life."
Did you use a gun much, or was it mainly for threatening people?
"You don't keep a gun. You use different guns, but you don't keep 'em, you know? You use it, and then you get rid of it. I tried not to use guns: violence is not good for business, so anybody who uses violence indiscriminately is a fool. It doesn't pay. Not unless it's absolutely necessary. And for me, that's when somebody's going to try to kill me. So I used a gun in those situations."
I was interested in the way that Phil's underworld activity straddled both the Irish and the Italian mobs.
"I'd known many of the Italians from my days when I started out as muscle in their strip clubs. But I didn't get too close to them… you never knew what you were going to find.
"Once I went to see my friend, Tony Ansano. He was an Italian who was friends with Jimmy C. and he worked with the Westies. Tony asks, 'Phil, you want a beer?' I said, 'Yeah.'
"He says, 'Go ahead, there's some in the freezer.'
"So, I open the freezer, and there's a pair of hands sat there.
"I said, 'What the fuck is wrong with you?! Do you need a hand?!'
"He said, 'I have to have proof of the kill, man.'
"What they'd do is they'd take these hands, commit crimes, and then put finger prints from the hands down at the crime scene so it looked like the crime had been committed by the dead person."
Phil laughs long and hard. "That way the stiff is still running around!"
Did the Irish and the Italians do much work together, I asked?
"There was occasional crossover. We all got together when there were matters that affected us all. Like we met to talk about Rudy Giuliani for example. He was a motherfucker. This was before he was Mayor of New York: back then he was Attorney for the Southern District of New York, and causing everyone big problems. He was getting us thrown out of the city, and it was costing us money. So there was a meeting to decide whether to whack him. It was a vote among thieves."
There is a silence as I waited for Phil to answer the obvious next question.
The only next question.
But he just smiles.
C'mon Phil, what'd you vote, I ask?
Phil laughs. "You know I voted to whack him. I wanted to kill Giuliani. But the plan got nixed by the Italians. Some of them said, 'We'll get blamed, and then they'll come after us. It's not worth it.'
"I said, 'Who cares? Let's just whack him.'"
*
In the mid 1970s, Avon Theaters moved into film production. Given that Phil was working as a manager of the Avon theater chain, I asked him how much he knew about this.
"I knew all about it. Murray wanted to make his own films for a couple of reasons. First he didn't like dealing with other people to get movies to exhibit. Distribution was a dishonest business, and people were always trying to rip you off.
Second, he didn't think that the regular adult films were dirty or perverted enough! I'm serious…! He knew what the audience liked, so he wanted to boil each film down and just deliver the core elements."
I ask about Dominatrix Without Mercy (1976), supposedly the first of the Avon films, but Phil rejects the idea, spitting out his words.: "Murray bought that film from the Italians downtown. It wasn't a real Avon film. It was horseshit too. Fucking terrible, fucking ugly film.
"The first real films Murray made were shot by Joe Davian. Films like Appointment with Agony (1976), Night of Submission (1976), Revenge and Punishment (1977), and House of De Sade (1977). They were proper Avon films – made to Murray's specifications. I remember them well because I took care of the prints."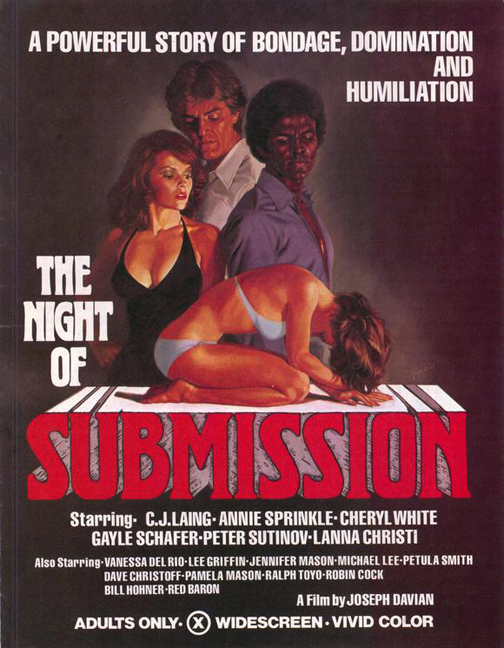 Joe Davian is another mysterious character from the Avon days, I say. Who was he?
Phil is now in full flow. "Davian was a dick on the coast. A thief. He robbed prints from Murray. Murray would pay for the negative then send Davian a copy of the print. You understand what I'm saying, a copy of the negative. But then Davian started making prints himself, and selling them all over the country.
"Murray had given Davian regular work for a couple of years, and when he found out about Joe's side-business, he was mad as hell. Murray called Joe in for a sit-down, and I was on-hand to be the muscle. We shook him down for the money he'd made, and threatened that if he ever did it again, he'd be dead. Joe hardly made another film after that.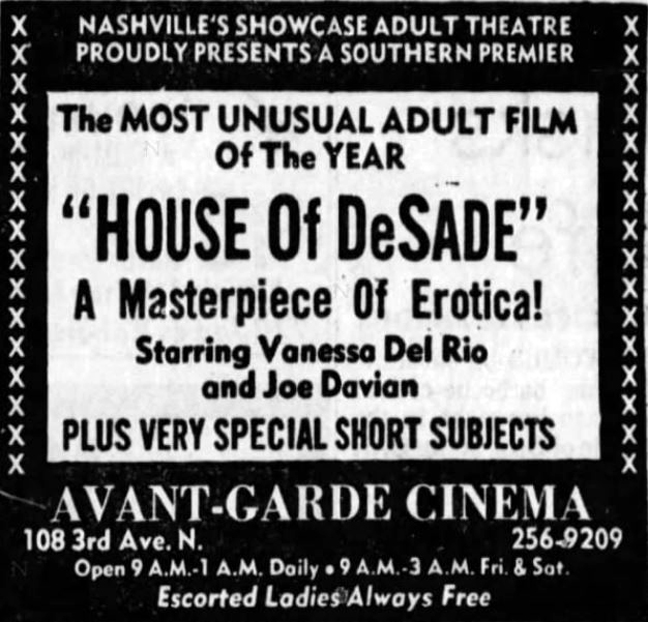 "Murray hated to be ripped off, so he stayed away from film production after that for a few years."
I asked Phil how he eventually came to replace Joe Davian as the in-house director for Avon.
Phil laughs: "I was just continuing to work for Murray managing the theaters with Pat. Murray eventually started making films again, and one day he called me in to complain about a movie that Carter (Stevens) made for him. It was called Bizarre Styles (1981) and starred Vanessa del Rio and Annie Sprinkle.
"It was the fucking strangest movie I'd ever seen. Just a collection of perverted sex scenes. We agreed that it wasn't much, but man, we were wrong. It blew the doors off the theaters. Made a shitload of money. Murray still complained though. He complained about everything. He said, 'I don't mind, but I had to lay out 20 grand for that piece of shit.'
"Without thinking I said, 'I can make one cheaper than that!' I was shocked when Murray agreed!"
I wondered if Phil had ever even been on a film set before?
"I had a small job for Kemal Horulu on the set of Blue Ecstasy in New York (1980), but the truth was I didn't have a clue how films were made. Obviously I never went to film school or anything like that. I didn't know what the fuck I was doing. But hey, if you don't take a chance you never know. I mean what's the worst that could happen – it was Murray's money. I had nothing to lose! That's terrible I know, but that was the truth."
Did Murray give you any kind of instructions, or indication regarding what he was looking for, I ask?
Phil sniggers at the memory: "Oh, yeah. I knew I had to get kinky for my boss. Real kinky. Murray would say, 'Start 'em off with the whipping and the beating, and then move into some degenerate shit.'
"I said, 'You've come to the right guy. I can do degenerate shit. I'm the biggest degenerate you know!'"
So how do you go from there to making your first film, The Taming of Rebecca (1982), I ask? Where do you even start?
Phil is keen to share the credit: "My secret weapon was this guy, Sal Sodano. I knew Sal and I liked him. He'd been making sex movies since the early 1960s. He was a shooter and he never used his own name, but he was the real deal. He'd worked on everything.
"Sal and I got along great, and basically he taught me the business. He taught me how to direct. He kept telling me, 'You gotta make the film move!' He showed me how to do this by getting different angles, and through editing. And he taught me how to tell a story visually. That's what I had to do, because most of the time I had no scripts.
"I did have a script for 'The Taming of Rebecca' though. I scribbled it out the night before we shot it."
I wondered where Phil got the equipment, given that he'd never even held a film camera before?
"I went to 12th Ave. and I rented it. I rented a Nagra, a 16mm camera, a shotgun light, and a boom. And that's about it. I rented everything.
"I brought Sal with me, and when we walked into the store, the guys immediately said, "What do we need this time, Sal?" They knew him well.
How did you find actors for 'The Taming of Rebecca'?
"I knew Sharon Mitchell from the early days when I was a projectionist with Avon. I liked her, and thought she was so hot. She had such beautiful skin. She called some people and got them together. And then there was this pimp from Maine named Billy. He brought in a few girls from his strip club there – girls like Cheri Champagne, Ambrosia Fox, and Velvet Summers. I liked them and they featured in all my movies. And of course, we all knew George Payne. He was always around. I gave him the part of the film's sadist. I called the character 'Dean Minindao' after the Dean at Rice High School, Mr. Minindao, who'd been such a prick to me.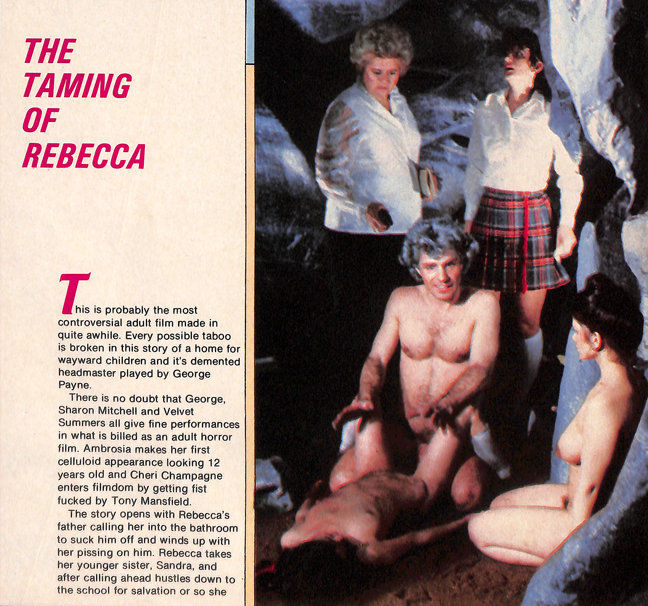 How did you find people to crew?
"What crew? I did lighting, mic work, anything. Sal shot it and did the editing. Stella came out and gave us a hand, but that was it. We made up fake names for the crew on the credits!
"I told the actors what the story was, and said, 'Hey guys, we're gonna ad lib it. Just have fun.' And we did."
I wondered if the ad-libbing meant that they wasted a lot of film stock before they got a satisfactory take?
"Nah… we did as few takes as possible. The ratio was never more than 3 to 1 on the dailies, which is pretty efficient when you're dealing with first-timers!
"We shot 'Rebecca' in two days: the first day, we spent the morning doing exteriors at a golf course clubhouse in Forest Hills. The rest was shot at Adventure Studios.
"I called Gerry Damiano. He introduced me to Vinnie Benedetti who owned the place. Everybody knows everybody in the porn business, you know? Vinnie rented the space out to me for $500, and I was allowed to use all the props he had – which I used in Mr. Minindao's torture chamber.
Did you make good on your promise to Murray to deliver a film for less than $20,000?
"Barely. With the first print and the first run of 2,000 tapes, it all came to about $18,000. Murray gave me ten, but I needed more so he kept feeding me money for it. It was ready three weeks after we got it in the can. I even did the silkscreens for the boxes. It was a lot of work.
"But it did great. $28,000 in the first week. Murray made his money back, and paid the rent. Then it played for six or seven weeks more weeks, earning 10 grand a week, 40 grand a month. It was good business.
"Murray liked that, and so I just kept making more. We agreed that I'd make a new movie every couple of months."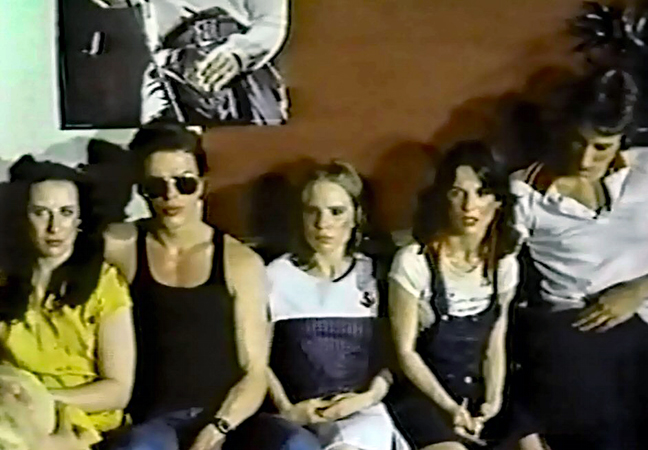 The Usual Suspects: The Taming of Rebecca (1981), with Cheri Champagne, Ron Hudd, Velvet Summers, Velvet Summers, and Jamie St. James
*
Becoming Avon's resident director didn't change Phil's main job description. On the contrary, he was busier than ever, juggling responsibilities on all fronts.
"I envied some of the other adult film directors like Gerry Damiano or Carter Stevens, because they could just focus on making films. I had a lot of other duties besides doing movies. I was the general manager of Avon Theater Corp. and we had eight theaters, we had live sex shows, we had a whole bunch of strippers, you know? It was a little more complicated for me. The films were just something that I did on the weekends."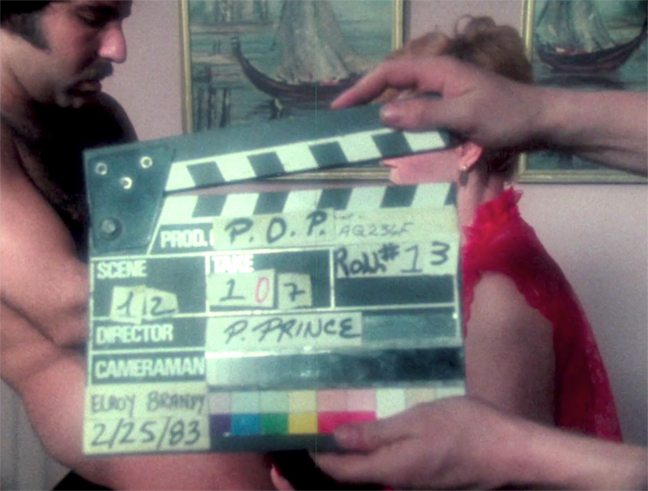 But presumably, you got paid more now that you were doing the films, I ask?
"A little more. Murray paid me a fixed amount for each film. And then I owned 10% of the Avon film company. It wasn't a paper contract – it was my word and his word. That's the way things should be done. I trusted Murray would pay me my share out of the profits of the films."
You've got to be pretty trusting to make this kind of arrangement work, I say. Did you feel like you could trust Murray to accurately report the earnings? How did you make sure you didn't get screwed?
"You can never trust anyone 100%. You have to keep your eyes and ears open, and act accordingly. I knew a lot of people in the business, so when someone told me, 'Hey, do you know your film is doing great in Philly…?' I'd go and find Murray, and tell him that I needed to see more green. That was just the way it was."
Where did the inspiration for the outrageous plots and sex scenes come from, I wondered?
"Everywhere! Half the time I made that shit up while I was on the set…! I usually smoked a joint to get an idea for a film. Then I told everyone to show up, and we'd just figure it out. The girls I hired to perform came up with weird stuff too.
"And then there was Murray… he was always calling me and asking what the next film would contain. I'd tell him – you know, two rapes, a golden shower, a fisting or two – and he'd whine and say, 'Can't you make it a little dirtier this time?'"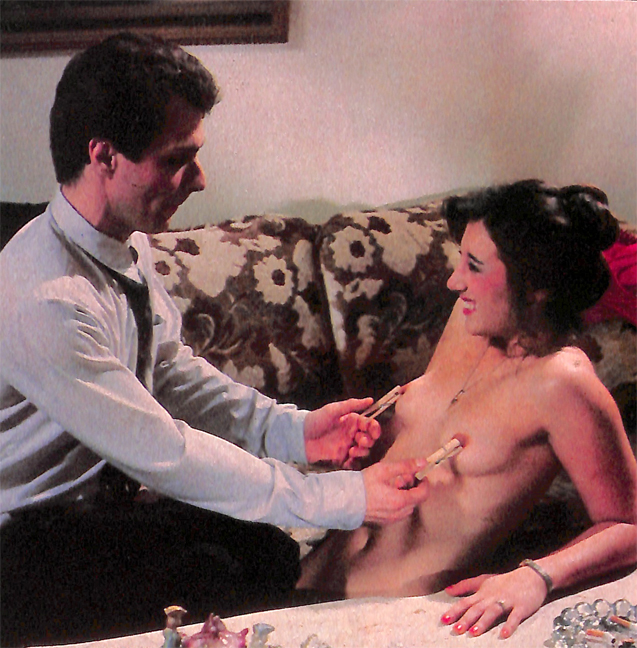 George Payne and Cheri Champagne
Phil cackles with laughter at the memory.
"That's how it was! We were outta control! This was the nutjobs taking over the asylum…! Murray gave us the money, and encouraged us to be crazier every time, so there was no limit to what we did. There were literally no boundaries. After a while, I didn't even care if the films made money. I just wanted to make the most fucked-up shit anyone had ever put on screen. We sat around and thought up the most perverted, twisted ideas. We didn't get around to filming most of them – which was probably a good thing…"
"In 'The Taming of Rebecca', we stuck a safety pin through Velvet Summers' nipple. Then she has sex while bleeding like mad. That was Velvet's idea… She'd just had her nipple pierced anyway, so we put it in the movie. The audiences went crazy at that scene!"
We run through Phil's filmography together, and it's clear that his memories of the movies haven't dimmed. He rattles off anecdotes, budget amounts, locations, production problems, and more, as if he just shot them a few months ago. He disputes that he directed a few of the films credited to him, including The Stimulators (1983), Pain Mania (1983), and Savage Sadists (1983), but adds a gay porn movie to the list, Johnny Boy Blue (1983).
After 'The Taming of Rebecca' Phil's next two movies were Angel in Distress (1982) and The Temptress (1982) on which Phil used the pseudonyms 'Joseph Scarpelli' and 'Samuel Summers' respectively. I ask Phil why he chose to go incognito for a while.
"At that time, there was some heat on me for some Westies activity I was involved in. I wanted to lay low for a while – which is real difficult when you have a movie coming out! How d'you like the Scarpelli name?! It's good, right? I was proud of that one."
The need for anonymity soon blew over, and Phil started using his more regular nom-de-porn, 'Phil Prinz'. He even granted an interview for the magazine 'Porn Stars', which crowned him 'The Prince of Porn', and featured photographs of him and his films. Phil lapped up the attention.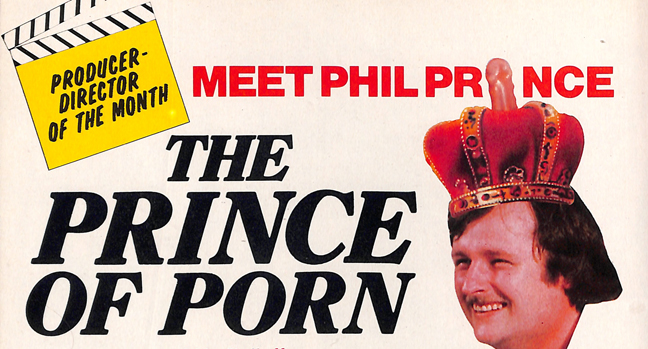 "In one picture, they had me wearing a big crown – with a dick on the crown. I blew the article up and hung it outside the theater. It worked… it pulled people in. People started recognizing my name and looking for my films… I was suddenly a star."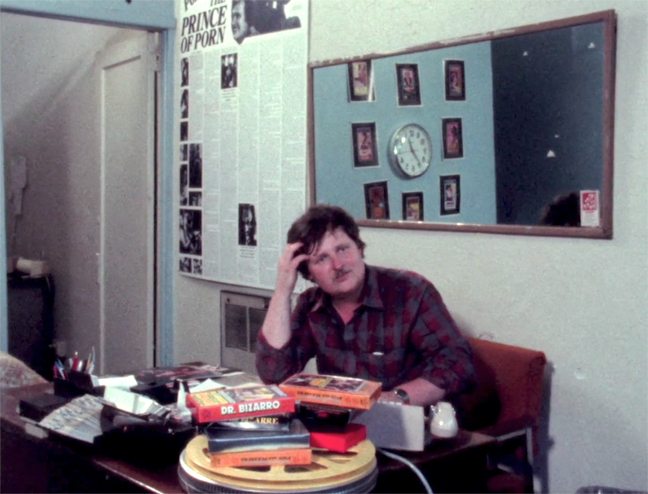 Phil Prince, with the blown-up version of the 'Porn Stars' article behind him
Phil seems happiest when talking about the people who featured in his films.
"Joey Karson was great – a real pretty girl. You could bust an inch just looking at her. She was dancing at the Avon 7 one time, and I went backstage in my suit and tie. She's standing there butt naked, and goes, 'Hi, Phil, how are you?' And she puts her arms around me.
"I remember thinking… these girls must think that I have no dick. What are they doing to me!?" Joey was beautiful.
"My boy George Payne was like my alter ego in the films. He was always great. And I loved Brian O'Hara who was my editor. Then there was David Christopher and his lover Mistress Candice. And Tigr too, who was Sharon's girlfriend, and Marlene Willoughby.
"Sal Sodano shot my first two films, but he was living in San Francisco and flew back to New York specifically for me. So when I felt comfortable that I knew what I was doing, I found this local guy, Phil Gries, who became my regular shooter. His wife had a script for something called The Story of Prunella, so I said, 'Shit, that sounds like something I'd be interested in: I'll buy it from you for $200.' We made a pretty good movie from it.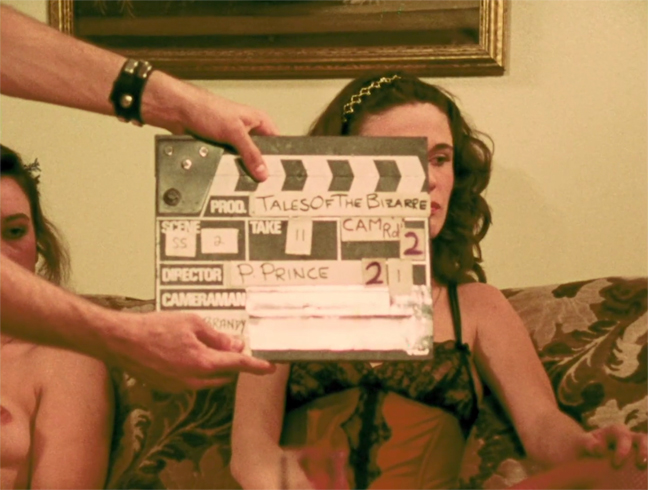 Sometimes the off-screen drama came close to matching the plots of the movies – such as when Phil finished shooting Oriental Techniques in Pain and Pleasure (1983).
"For some reason, that film was financed by a cop. He was the producer. We didn't know that until we complete the movie. The guy paid Murray the money that we budgeted for the film, then walked away with the negative and all the prints – which was bad because we had an agreement that Avon would exhibit the movie.
"Murray asked me to arrange a sit-down to find out what was happening. When I turned up, the cop starts threatening me with his gun. Murray told me to come back and not do anything, but I was thinking, 'Why can't they just tell me to whack this fucking shit?'
"I just wanted to deal with the guy myself. I would've sent his head to his partner as a message. You know? I would've killed him because he threatened me with a gun. This shit became personal. He fucked up. If he'd just treated me with respect, we would've been cool. But the gun and shit… you trying to intimidate me?!
"I said, 'Murray, just tell me to do it.' I'd have walked up and shot him in the face. But Murray told me to step down."
Phil also remembers girls brought into New York by Billy Campbell. He liked working with them, even though he had the occasional run-in with Billy.
"Billy asked to meet with me one day, and I smelled trouble. I'd just worked with Velvet and she was drunk, so I didn't pay the bitch.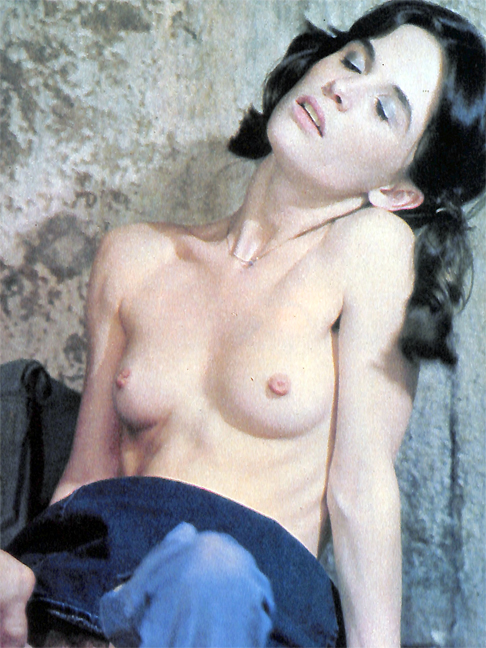 Velvet Summers
Now he wants to see me urgently. All right, I say: I know what this is about. I told him to meet me at this bar. I had three of my people in the bar waiting to see if there was gonna be any trouble. If he'd made a move on me, he was going to die that day. He was dealing with a pro, you know what I mean?
"He started to question me about it. I told him what happened, and he was pretty cool with the explanation. He was actually a nice guy. When we left the bar, he saw my people coming out of the woodwork, and he said, 'Oh shit.'
"I don't play. You couldn't afford to. One mistake and you're toast."
I ask Phil if he remembers the last film he made?
"I'm trying to think. Actually, I made two at once, shooting all through the night. Dr. Bizarro (1983), and Kneel Before Me (1983). I made them for eight grand a piece."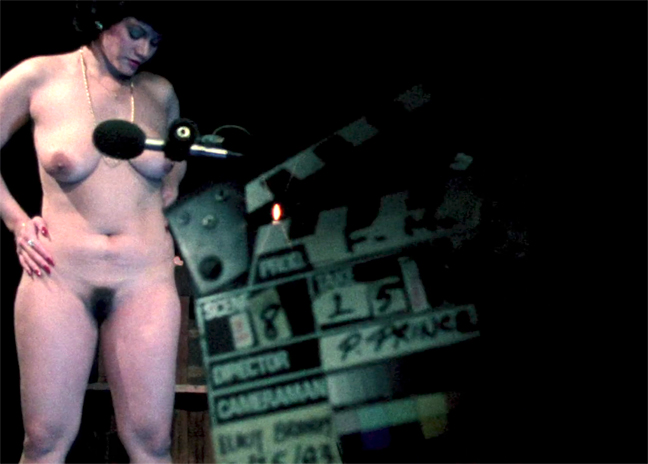 I questioned why Phil would stop making films, when they had been so successful?
Phil sighs. "At the end of the day, it's always about money. Murray was good people, y'know, but he was getting old and he was just stuck in what he's stuck in. He wouldn't let me make real money. He couldn't change with the times.
"I thought Avon should take the theaters and shitcan them, because we were getting run out of town by Rudy Giuliani. The theaters were being busted by the cops all the time. I told Murray: 'You've got to get rid of the fucking theaters. Switch the shit to videos and take fucking off.'
"But he was an old man. His whole life was theaters, and he couldn't see a future without them. He didn't want to do it. So… we parted ways after that."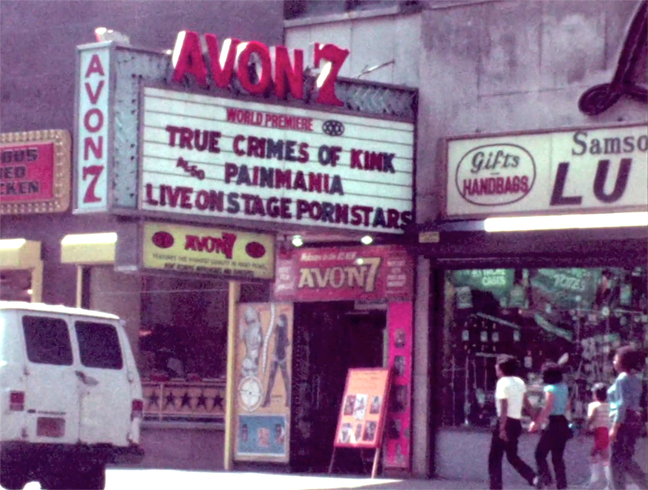 *
A grisly postscript to Phil's filmmaking career occurred in 1988, when Phil and Murray received unwanted attention during the investigation into the 'Route 40 serial killer', Steven Pennell.
Pennell was arrested in November 1988 on suspicion of the murder and torture of three women picked up along U.S. Route 40 near Bear, Delaware. In a surprising alibi defense, Pennell testified that on one of the nights in question, he was playing cards and watching a VHS of 'The Taming of Rebecca.'
The police located Pennell's VHS copy of the film and used it in court against him, claiming he was inspired by the video to commit his crimes.
From 'Pennell jury sees clip of porn video', News Journal, Wilmington, Delaware:
(During the court case) a 45-second clip from a porn video was shown found at Pennell's home during the search. According to the detective who seized the video, it was cued to a scene depicting nipple-piercing when it was discovered.
The film, its soundtrack full of screamed obscenities, showed the nipple of a naked young woman being pierced with a safety pin by a man taking orders from another man.
The scene, from a movie called 'The Taming of Rebecca,' was shown at the end of the day. During the short screening, several jurors gasped and gazed open-mouthed. Several turned their heads.
Pennell is accused of torturing, murdering and mutilating three women between November 1987 and September 1988. All three women suffered some degree of breast or nipple mutilation.

I ask Phil if he'd heard of the case when it had been going on, and whether it had resulted in any blowback for him?
"Hysteria. That's all it was. People are always looking for someone else to blame. It was bullshit anyway: do you know that the video store clerk who sold this guy 'Rebecca' testified that he sold him the tape months after the murders?"
Phil is right: I check the court reports and find that the owner of the adult bookstore checked his stock records and confirmed that he'd sold 'The Taming of Rebecca' in September 1988, three months after the murder.

But it can't be pleasant when you're blamed from something like this, I say?
"Story of my life," Phil smiles. "I'm no angel. And if you swim with sharks, you're gonna get bitten…
"And anyway, I didn't pay attention to that story at the time. I had bigger things on my mind. Like being in jail for attempted murder and armed robbery."
*
Ah, yes. The shooting in a West Village ice cream parlor that changed Phil's life forever. Multiple versions of what happened that day have circulated over the years, and none of them sourced from Phil himself. So what is his account?
"It had nothing to do with ice cream, let me get that straight," Phil smiles. "It had everything to do with cocaine…
"I was playing a dangerous game. I was dealing coke as well as being a heavy user, but the business had gotten rotten. The Columbians on 9th Ave. were outta control. Not paying their dues, killing people for no reason… just general bad shit. I still had a beef with them because of Teresa, so sometimes I took things into my own hands, and robbed the dealers when it was necessary.
Weren't you worried about your safety, I ask?
"I had guns."
So what happened that night at the Haagen Daz store?
"It was June 6, 1984. Approximately 9.24pm. I'm serious – I remember the exact time.
"I went there with Pat to see a Columbian, Angel Rodriguez, who was working there. He owed me money. I confronted him and said, 'Give me my fucking money.'
"He told me to go fuck myself. That ain't a good thing to say to me, so I took out my gun to show him I was serious.
"The store owner was a guy named Bruce Waite, and Angel had been doing some work for him. Me and Pat took the money from the cash register, but Bruce decided he was going to chase us when we were leaving. Can you believe that?
"He tried to grab Pat, so I shot him in the shoulder. I could have shot him in the head but I didn't. I just wanted him to take his hands off of Pat.
"We made it all the way to 14th St. I stopped a cab in the middle of the road, and there was a gay guy inside it. He goes, 'Excuthe me, but this cab is taken!'
"I said, 'Yeah?!' Boom, I smacked him right out of the cab! This is a true story, I wish I could tell you that any of this is a lie, but this is the truth. You can't make this shit up.
"I pointed the gun at the driver, and said, 'Drive!' – and the motherfucker jumped right out of the car and ran away! So the vehicle starts rolling down the street.
"I said to Pat, 'Get behind the fucking wheel!' So he did, and we set off.
"I told Pat where to go and when to turn. Then we came up to a cop car that was ahead of us and driving in the same direction.
"I told Pat to stay behind the cop car and to drive slow so as not to raise any suspicion. Then the cop car signals to turn left… and guess what Pat does? He fucking turns left with the fucking cop car!
"I say, 'Why the fuck did you do that, you fucking idiot…?!'
"Pat says, 'You told me to stay behind it!'
"'I said: stay behind the cop car – but that doesn't mean follow it all the way to the goddam station!'
"I came so close to shooting my friend that day…
Phil laughs at the memory.
"And that's when the cops realized who we were. It turned out that some of the people who'd witnessed the shooting at the ice cream place had jumped into cabs and were following us.
"So the cops pulled us over and arrested us both."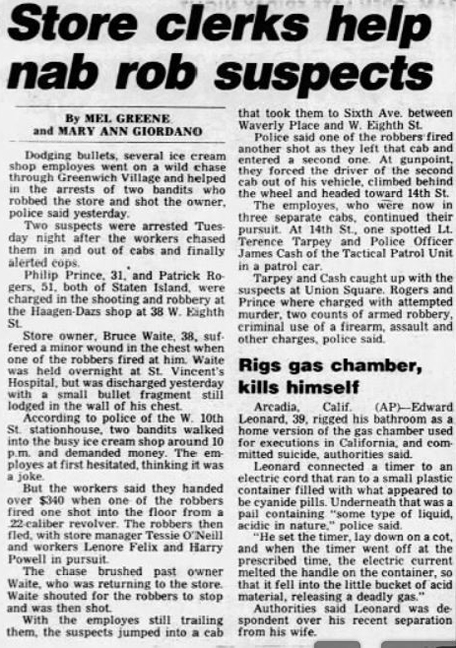 *
Where did they take you when you were arrested?
"Riker's Island. I spent about eight months there waiting for trial."
And did you get a public defender?
"No way! I had money so I hired Mel Sachs. You know who he is right? He was the character Sean Penn played in the film 'Carlito's Way.' Later he was the attorney for Mike Tyson and Lil Kim. He was a really good lawyer. He cost a lot of money, but I wasn't broke, so I paid for the best."
Did Mel do a good job for you?
"Well, Mel wanted to take that shit to trial.
"I said, 'Are you kidding? I got 20 fucking eye-witnesses against me. What the fuck are you smoking?' I knew I wouldn't stand a chance.
"Mel told me not to worry. He said he could discredit a lot of the witnesses, and that we should take a risk. I didn't like the sound of that. I was up for attempted murder, felony robbery, and attempted first degree murder – we're talking life in prison. Nah, go fuck yourself, Mel. I'm not ready to throw the dice – you know what I'm saying?
So what did you do?
"I hired my friend Jim Bernard, who was a plea bargain lawyer. I knew him because he handled all the cases for the theaters whenever we were busted. He also repped some of the dealers when they got nabbed. I knew he was excellent."
How long were you sentenced for?
"15 years. At the Downstate Correctional Facility in upstate New York, near Beacon. I did a nickel on it: four and a half years good term, and four and a half years parole.
"I was shipped there within three days of being sentenced, and I started my prison stay in 1985."
What was prison like?
"I didn't have a cellmate because I was in a maximum-security facility. So I read a lot – maybe that's why I sound intelligent nowadays…"
Phil laughs gently, then he frowns.
"There was some violence in there. Fist fights and stuff. Nothing terrible, but you have to stand up for yourself, or else…" His voice trails off.
When he speaks again, it's in a quieter tone.
"You just have to look after yourself. Nobody else matters. Nobody. I remember this black guy came around talking about another inmate saying, 'This white kid's a snitch. We're gonna fuck this kid up. Fuckin' white boy.'
"I said, 'Fuck this white boy, shit. He ain't no real white boy. He's a snitch, but he ain't no real white boy. Get the fuck out of here, and do what you've gotta do.'
"You know what I'm saying? You'll get yourself killed unless you just act for yourself. You've got to understand the joint to understand that. That clown would get everybody murdered if I stood up for him, you know…?"
How did you spend your time inside?
"I studied criminal justice. It was the only subject offered. So I became a criminologist to help other prisoners. I did two years of the course inside, and then I finished the degree down the street at Marist College when I got out. I figured the prison system was paying for it, so I might as well finish it"
And you graduated?
"Yup… I graduated from Marist College… Magner Coom Laudy", Phil laughs.
I wondered about Phil's wife, Susie, and the three kids they had. Phil's prison sentence must have been hard on all of them?
"Yeah, it was. Fortunately Susie's parents had money, so she had a place to live. She'd bring the kids to see me once a month. I felt bad for the kids mostly."
Given that his jail time coincided with the home video boom, I asked if he was able to collect the money his Avon films were earning?
"The Avon films were huge sellers. 'The Taming of Rebecca' sold over 300,000 videos.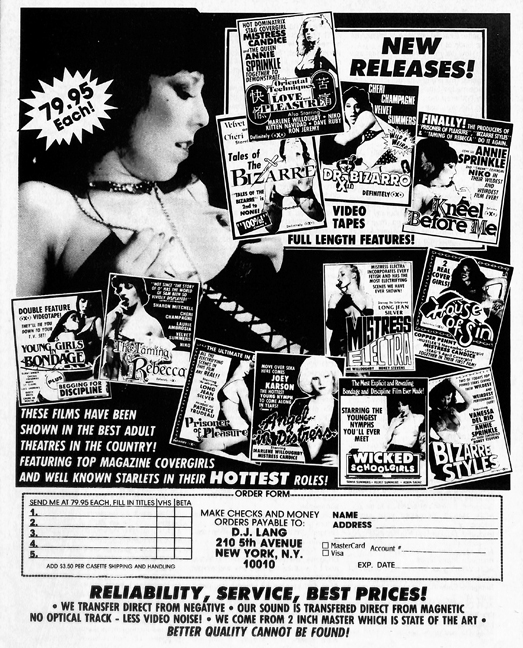 "Before I was sentenced, I told Murray that he was either going to buy me out or I was going to put a bullet in his fucking head. You know it had to be that way. I wanted my money, and I didn't trust him to be honest with my wife when I was inside. So I made that clear to him.
"He agreed to buy me out with a lump sum payment. He offered me something like 50 grand. Which would be about a quarter of a million in today's money. I didn't want to take the deal, but I didn't have a choice. I wasn't going to be around to collect for the next few years.
"But Murray and Stella were still fucking slow to give us the money. Susie went into the Avon office, and they kept sending her away empty-handed. Stella – and she was my friend – twice tried to get Susie to sign 'paid in full' on a contract. Luckily Susie didn't do it.
"Stella had no idea that my wife was crazier than I was. Susie said to me, 'I'll fucking stab her if she doesn't pay me next time.'
"We eventually got the money. But who knows who ended up with the rights to my films? It certainly wasn't me."
I ask if anyone else came to visit him when he was in jail? Perhaps some of the Avon crowd – after all, he was only an hour out of the city?
"Nah, no one came. Actually, that's not true. My old editor buddy, Brian O'Hara, came up in November of '88. But I turned down the chance to see him.
Why, I ask?
"Well, I had about 12 outstanding warrants – federal warrants – across the country from the previous ten years. It was stuff that I did for the Westies, stuff that Pat and I did together… stuff that I didn't want coming back to haunt me. Brian wanted to visit me right before my parole hearing was coming up… And believe me, the last thing you want is somebody from Avon showing up right before your parole hearing!
"He told them he was from Avon and a friend of Murray's. The prison authorities told me he wanted an interview. I said, 'No, no, no, I don't know any Murray. And I don't know any Brian either.'
"He should've just come up as a friend, and then I might have seen him. To this day, he probably can't understand why I didn't see him. Dumbass! I was coming up for parole!
"I got out of there on December 12th 1988."
*
What did you do when you got out?
"I wound up driving a truck. I had a class A license, plus I had connections in the Teamsters, so I was set. I was making 80 grand a year in that job. I had a regular paycheck, plus benefits. I went straight for the first time… I had to, for the sake of my kids."
Really straight, I ask?
Phil hoots with laughter: "Well, never completely straight. A man's gotta survive, hasn't he?
"I still had my hands in shit, you know? I was running a phony drivers' license racket, and there was some other shit I was doing too. I had to get to get money somehow. Man does not live by bread alone…"
How about drugs? Did they continue to be an issue for you when you were released?
"No, I haven't touched coke since I got busted for the shooting. I was smoking weed, but nothing more than that."
Did he ever go back and drop by the Avon offices – you know, for old times' sake?
"I stopped by once. I went in and said hello. I said, 'I'm out of jail.'
"But everything had changed. Murray was thinking about retiring. He'd made a fucking fortune.
"He was mad at me, because his daughter, Honey Bee, died of a drug overdose. And he blamed me. But she died when I was inside. I mean I'm good but I ain't that good. I never did drugs with her – and I never banged her either… 'Don't shit where you eat' is my motto. I was a goy, so… forget about it!
"Anyway he thought I'd started her on drugs, so things were difficult between Murray and me after that.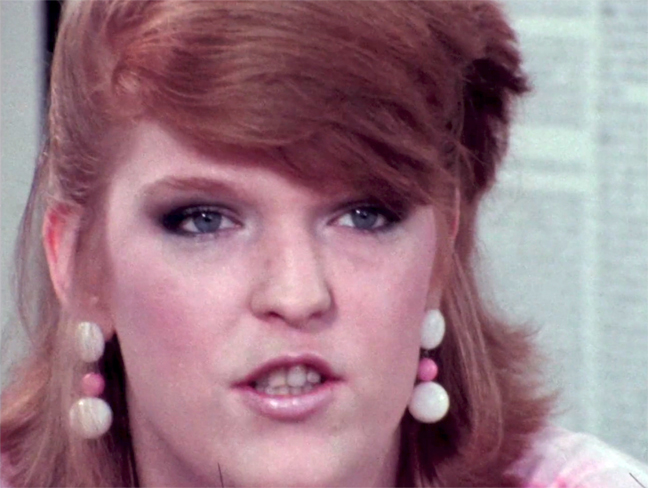 Honey Bee
"But I was damn right about getting rid of the theaters. When I came back from the joint, I could see they were all failing.
"I said, 'Oh, you guys are doing real fucking well now. Five years without me and there goes your business, huh?!'
"Plus the films that I made were under attack from the government – so sadly it had all changed."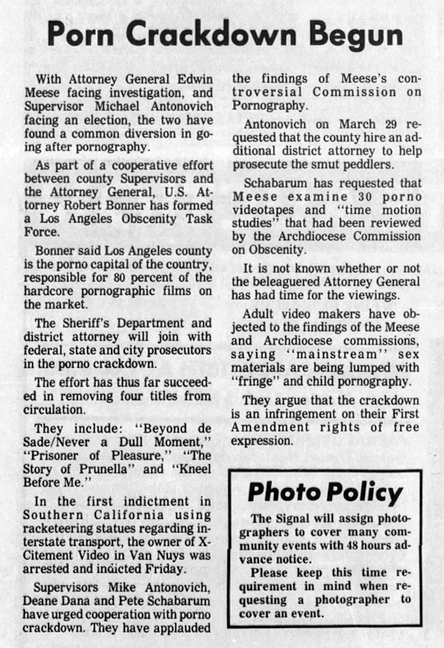 Did you stay in touch with anyone from the Avon crowd after that?
"Nah. Life moved on."
What about your old partner in crime, Pat Rogers?
"Pat was different. We were like brothers. We always hung together.
"He did two years for the shooting. They sent him to Greene Correctional Facility, an hour north of where I was. They always separate you and keep you apart."
What'd he do when he got out?
"He continued doing the same kind of crimes. He loved it. He couldn't do anything else. It was in his blood. He was a good thief.
"He'd steal anything, you know, credit cards, wallets, money. That was his life."
Did you see him much when you came out of jail?
Phil sighs softly.
"Yeah. But he died of cancer.
"He's buried up in Danbury in a veterans plot.
"Pat used to tell me, 'Man, you know I was in the military, right? I got caught by the enemy once in combat, and managed to escape.'
"I said, 'Pat, fuck you. The only military you were ever in was in your mind.' I was busting his balls about that all the time.
"But sure enough, he was a veteran. He lied about everything but not that. He really was a veteran. Pat was my boy.
"When he died, they buried him with honors. I was there at the funeral. They blew taps. Damn man, it was sad."
I ask him if he ever visits Pat's grave?
"No. But I haven't visited my mother or my father either, man. Why would I go relive that shit…? I just look to the future."
The conversation pauses before I ask Phil about the rumor that he subsequently served a second, longer, jail sentence.
"There was only the one time I went to prison. Please. Once is enough. I wasn't going to do that again.
"Who said that, anyway?"
I pause.
Phil adds two and two together. "The same ones who said that Chelly owned Avon? They oughta be careful about spreading these lies… I still know a few people on the street I could call."
Phil grits his teeth. I change the subject, and ask him whether he picked up with his wife Susie when he got out of jail.
"When I got out, she was with somebody else. So I went and finished college, and started making money, and then suddenly… I was fucking interesting again. So she came back!
"Look, when I got out of prison, I was really in shape – I was 180 pounds – and the guys she was going out with were pudgy little scraps, you know what I'm saying? So I just strut my stuff and start going out with another girl. I made sure she knew that the girl was prettier than her, too. I just wanted to drive the knife in a bit.
"But the truth was I still loved her. She was the mother of my children. I didn't want to fucking burn her or shoot her, you know? Susan and I were like oil and vinegar. You put us in a bottle, and we'll separate. But when you mix us, we were really good. We were friends. And we stayed together for the kids."
How long did you drive the truck for?
"Until the late 1990s when I had my accident."
I ask Phil to share the details.
"I was driving this big pressurized tank across country. Each night I had to make sure I re-set the pressure correctly – but the guy who'd set it up hadn't done it properly. When I went to adjust it, the whole thing blew up.
"It ripped into me, and set my body on fire. I was in hospital for months with first degree burns. After that I couldn't drive, so I had to give up the job. It busted me up pretty bad to this day."
You were in your late 40s at that point, so what did you do for money after that?
"I ran into a friend and we ran a pizzeria for a while. I was throwing pizza in Montgomery – that's close to the river, about twenty-five miles from where I live now. I supported my family, making pizza, for ten years until 2008. I was good… I could do anything with pizza.
"My friend sold the pizza place in 2010, so that was the end of that.
"After that I kinda retired. Susan died in 2011. She'd been in bad health for years, and had had a combined heart and liver transplant."
How do you spend your days now?
"I get enough social security. I can live. I'm cool. I've been in this apartment for five years now. It's fine. If I was in the city, I'd be paying 1,200 bucks a month for it. But out here… everything's cheaper.
"I'm comfortable with myself. You have to be if you've done any time. When you're away for years by yourself, it takes a while to re-adjust to talking to someone.
"I watch the ball games. I like to read anything. Stephen King, fiction, crazy shit, you name it. I just read 'The Fountainhead' and 'Atlas Shrugged.' I read teenage novels too because I've got teenage grandkids, so I want to recommend books for them."
Do you have many friends around here, I ask?
"I wouldn't call them friends. More like acquaintances than friends.
"And I see my kids once in a while."
*
In the diner, we've finished eating ages ago, and I'm waiting for the check.
I ask Phil if he misses the old days?
"I miss being on the film sets. That was fun. I miss the movies and the people.
"The girls were fun too. The last person I slept with back in the day was Cheri Champagne. I liked Cheri. She was good people.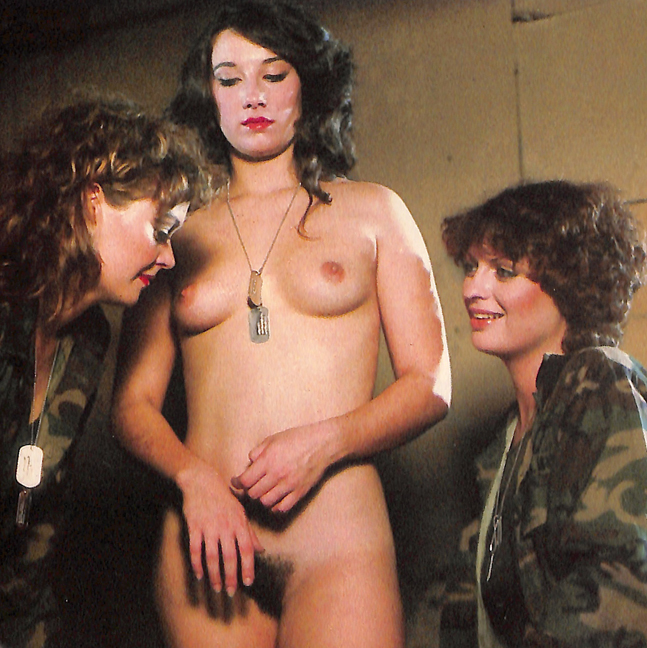 Cheri Champagne (with Tish Ambrose and Kelly Nichols)
"Apart from that, no. That part of my life is done. I haven't committed a crime in 35 years. 35 years… The last one was the ice cream store. Can you believe that!? Well… by 35 years, I mean the last crime that I was caught for. Everything else is low key."
Phil laughs knowingly.
"The last time I was back in New York City was when I took my kids down to Madame Tussauds. Oh my God, it was fucking nuts. What they did they do to Times Square? It was a beautiful place – but now… forget about it. They ruined it. I couldn't stand it. The pushing, the shoving, the bumping. At least up here, if somebody bumps into you, they say excuse me."
I ask Phil if he has any copies of his movies on DVD or video?
"No, I don't."
Are you interested in having copies?
He smiles. "No. They're not my thing."
I mention the 'Prince of Porn' documentary.
"I'll bet I'm pretty hilarious in it…"
I have a copy for him if he wants it.
"Nah. I don't like to look at myself. I hardly have any photographs of myself either.
"My daughter showed me one from when I was 25. I was coming out of the gym. I told her, 'Damn, I'm good looking.' She said, 'Dad get over yourself.'"
Phil laughs. A young girl walks past us, covered in tattoos.
"What's with these tats nowadays? When I was coming up, nobody got tats because they made it easier for cops to ID you. That was a fast way to get busted. It was stupid. Now everybody's got tats. I hate that shit."
I tell Phil that his films are still collected and watched by many people. Phil smiles, and replies that he was just spending someone else's money. I joke that Donald Trump seems to have made a career out of that. The smile is wiped off Phil's face.
"Don't compare me to him. Let me tell you something: Compared to that guy, I'm a saint. I'm telling you. I've done nothing compared to that fucking clown. Take Trump University: If I did what he did, they would've had me on a fucking RICO violation. He defrauded all those people, man. He had a scheme to cheat people, he conspired in an illegal, fraudulent way. You know?
"And Giuliani!? 'The truth isn't the truth?!' We should've whacked him when we had the chance.
"I've been a liar. Plain and simple. That's what I've done. It is what it is. But these guys are on a different scale."
Phil thinks for a long time.
"You know, I've had the chance to think about my life now. It all happened because I was pissed off at my dad. He didn't mistreat me. He just ignored me.
"For years I was mad at him. But then I learned to understand him. When my mother died, he was in mourning. He was dealing with some heavy shit. He didn't know what to do.
"The same thing happened to me when Teresa was killed. I was lost. I didn't know what to do either.
"I never understood my dad at the time. But now I do."
Phil straightens up and winks.
"Life's tough, you know?"
We start walking back to his apartment. I ask if he has any regrets?
"I've had a good life. I regret going to prison, because I lost all those years. But apart from that, I had a fucking good ride.
I ask Phil if he'd be interested in recording an interview more formally, one that we could share with people as a podcast? He agrees immediately, and suggests getting the train to Manhattan and having an Avon reunion – with George Payne, Billy Campbell, and any others who are around. He suggests recording part of it in the streets that belonged to him as a younger man. He says he'd like to revisit his old stamping ground, and record his memories there.
I push my luck, and suggest we do it the following weekend. Phil shakes his head. He has an engagement that weekend, but is quick to reassure me.
"Don't worry. We'll do this thing, and we'll do it right. I wanna set the record straight once and for all.
"And anyway… look at me: I ain't going nowhere. I ain't going nowhere at all."
We hug, and take a few pictures outside his apartment building.
"Tell my boy George, I say hello. You have my number, right? I've had that number for forever. Tell him to call me."
One final question, I say: Do you feel ok about everything we've talked about today?
"I feel good," he says with a smile.
"I tell people sometimes… 'Do you know that I used to be a mobster when I was young? And I made crazy porn films?'
"Whenever I say that, people always look at me strange. Then I go, 'Bullshit, I'm just playing with you, man!'
"They always smile, and say, 'We know you were kidding. No way you were a porn-producing gangster…"
Phil turns and disappears into his building, laughing his biggest laugh of the day.
*
Epilogue
In the days after I met Phil, I spoke with him on the phone. He was excited to come back to New York City, and we made plans to meet up.
And then everything went quiet.
My calls went unanswered, and he didn't respond to my emails. I wrote him a letter, but received nothing back either.
After a couple of months of trying to contact him, I called the management company of his apartment building to see if they had any information about him.
I received a brief statement in return:
"We are sorry to notify you that Philip Joseph Prince, 65, of Beacon, NY, passed away on Tuesday, September 11, 2018 in his home."
Phil had died just two weeks after my visit.
I was deeply sad for Phil, who, despite his full life, had been looking forward to many more years. I was sad for his family to be deprived of such a great character. I was sad for the man who'd seemed youthful again talking about his past, while insisting that he only looked forward. I was sad for someone who finally wanted to tell his story in his own words. And I was sad for New York, which had lost a small but meaningful part of its rich history.
An obituary appeared online, referencing his intelligence, humor and family. It is a heartfelt, genuine and accurate piece, though perhaps understandably, it overlooks almost every detail he spoke to me about.
A few days later, I went back to my phone which I'd used to record our conversation in the diner. I hadn't checked it since I'd last seen Phil. To my relief, the recording was just about intelligible. I listen to our conversation again. It was good to hear his voice again, his stories, his frequent laughter.
The recording cuts out with Phil saying, "I ain't going nowhere. I ain't going nowhere at all."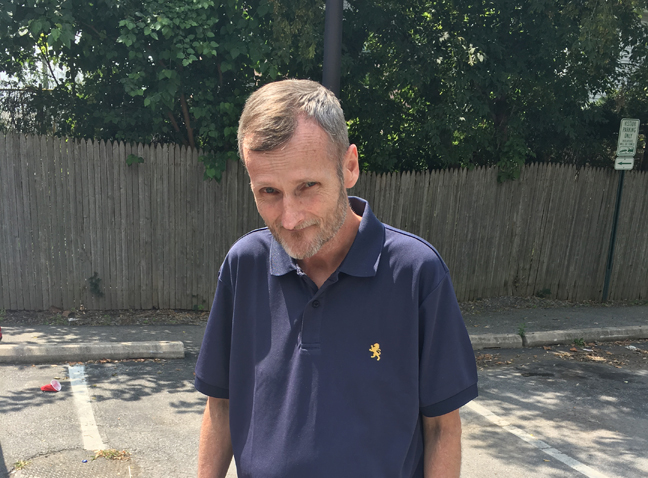 Phil Prince, August 2018
*
One day, The Rialto Report will return to the Avon for more stories.
*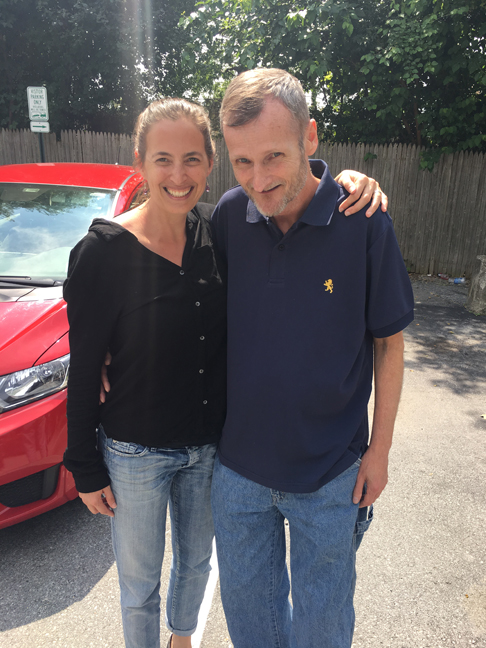 Phil Prince, with The Rialto Report's April Hall
*