In the late 1970s and early 1980s, Avon films stood out as being different from all other adult films that were being made. They were sleazy, violent, and filled with scenes of non-consensual sex.
One of the most striking features of the movies were the women.
Big name stars, like Annie Sprinkle, Vanessa del Rio and Sharon Mitchell came and went from the repertory company of actors, but there was another group of women who appeared almost exclusively in the Avon films.
Three actresses in particular stood out: Ambrosia Fox and Velvet Summers, two tiny, angelic and very young-looking stars, and Cheri Champagne, a fearsome dominant who boasted in interviews about inflicting suffering on inferior beings.
They spoke with Boston or New England accents, looked pale and wary, and lacked the street-swagger of the New York girls, but their unexpected and unrehearsed presence provided a quasi-documentary spontaneity that increased the films' startling power and impact.
Who were they? Where did they come from? And how did they end up in New York making some of the strangest adult films of the era?
The Rialto Report continues our look back at the history of Avon films, by looking for the person who introduced these actresses to the XXX film industry.

With thanks to Billy Campbell, George Payne, Brian O'Hara, and byNWR.com
Read Part 1 of Fragments of Avon: Journeys into the Dark Heart of XXX here.
_______________________________________________________________________________________________
Prologue: The Search for the Biker
Conversations with George Payne can sometimes take a surreal turn.
I ask him about the female actresses in Avon films. There was a small group of them who seemed to appear exclusively in Avon movies, and didn't do much else. Did he know anything about them? Like where any of them came from?
Maine, George says definitively. They mostly came from Maine.
Maine?
Sure, George says. They were brought into New York in the back of limo by a biker named Billy. And when they finished shooting the films, Billy took them back to Maine where he kept them in cages.
Even by the standards of our conversations, this was a Grade A head-scratcher.
Cages?
I'd already heard a little about Billy the Biker from others associated with Avon. Not much though – Billy was an enigma even by XXX movie standards, and my guess was that he probably preferred it that way. New York adult film veterans remember first encountering Billy in the late 1970s. They recall that he was in and out of adult filmmaking circles for five years or so. Then he disappeared overnight. Some said he'd become a big-time drug runner who was still on the run; others claimed he'd been caught and was now languishing behind bars for the rest of his life.
George remembered more details than most, which was wasn't saying much: Billy owned a bunch of porno stores, produced a string of low budget hardcore films, and had connections to the mob. Unfortunately, George couldn't remember Billy's second name.
But then, George suddenly remembered one other detail: Billy's home base was in Kittery, Maine.
Maine seemed like a strange place to headquarter a porn business. I'd never even heard of Kittery, Maine. In fact, has anyone heard of Kittery, Maine?
George said that the Kittery location for Billy's flagship adult bookstore was actually a masterstroke: it was on the main road into Maine from New Hampshire, and so it benefited from a large amount of drive-by trade.
I tried looking up bikers named Billy in Kittery who kept women in cages, but despite the peculiarly narrow field, I didn't get far. I made no progress – until one day, when I was watching an episode of Al Goldstein's cable TV show, Midnight Blue, from the late 1970s. I noticed an ad for a semi-legal cocaine-equivalent called 'Synth Coke' which was available by mail order.
The address of the seller? A P.O. Box in Kittery, Maine.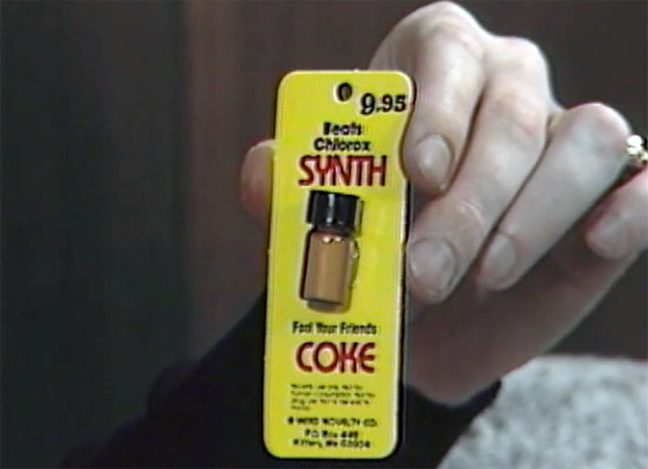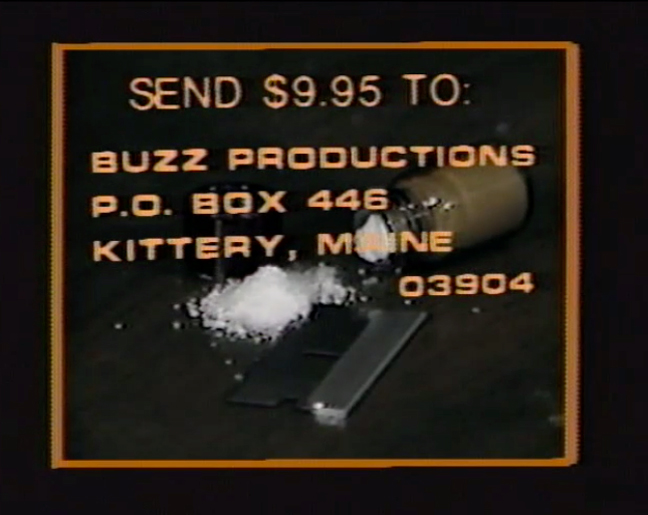 Kittery, Maine again? Surely that was too much to be a coincidence?
A reverse search on the old address revealed that it had once been owned by a Gordon William Campbell. AKA 'Billy.' Bingo.
In recent years he'd moved to Maryland, so I found a current number for him, and within five minutes, we were speaking.
Talking with Billy is an experience in itself. It turns out that he's had more lives than a reincarnated cat, and his time in the porn industry is only a small part of his story. As a child, he was the victim of abuse and bullying, which led to an adult life of violence, alcoholism, illegal drugs and pornography – against a backdrop of drug-running, mobsters, and a lengthy spell in the notorious Leavenworth Prison.
And the rumor that he was a biker? The one thing that everyone said about him turns out isn't true. Sure he hung around with biker gangs, like the Pagans and the Iron Horseman, but he never flew colors.
But the women in cages? Well, that's actually kinda, sorta true.
Billy is the real deal. He's a man of few words, but the words he uses… he chooses carefully. He speaks in a gruff and gravelly manner, that disinvites further questions. A lifetime of second-guessing has made him suspicious of anyone who probes too deeply. But once he gets used to my interest in his life, he's generous with his time and his memories.
This is the story of his involvement in the adult film business – and how he discovered Ambrosia Fox, Velvet Summers, and Cheri Champagne – in his own words.
*
Billy's story
"It was the early 1970s, and a friend of mine named Richard was working for his cousin Kenny Guarino at a porn shop in Kingston, Rhode Island.
Kenny was considered the porn king of Rhode Island, and had a dozen or so retail adult bookstores around Rhode Island and Connecticut. The businesses were so successful that the mafia, in the form of the Gambino family, came in and 'partnered' with Kenny. The mob guys were always looking for opportunities to make money in businesses that were doing well, and so Kenny was in deep with these guys.
Richard's store in particular was doing well – and that didn't go unnoticed. The mob took Kenny aside for a discussion, and they pulled Richard out of the Kingston bookshop and got him to open up a mail-order distribution center, on the east side of Providence.
Richard called me and said, "Hey Billy, they're taking me out of the store. Do you want it?"
I didn't have to think too long. I'd been doing a variety of schemes, and was looking for a change, so I jumped at the chance. Kenny hired me, and I went to work at his porn shop.
Richard showed me the ins and outs of the store, and all the different ways I could make money for myself – off the books. I had all kinds of hustles going on out of that store, such as knowing how to trade porno books without them coming off the inventory.
Richard started his mail order business, Joy Products, which sold a full range of sex products, from 8mm loops to vibrators and toys. He also sold a lot of hardcore magazines – and this was when hardcore magazines cost at least $10 in old money.
Chris Watson, who acted as porn actor Marc Stevens' manager, was Richard's main promotion guy. Chris had a column in Al Goldstein's Screw magazine called 'Watson's Weirdness'. Basically Richard paid Chris to promote his stuff in the magazine. Chris would give a favorable review to an item in Screw, and include Richard's mailing address so that readers could buy it directly from Joy Products' P.O. Box in Providence.
Richard did well with Joy Products and he was there for a long time. He eventually wound up with an obscenity charge because he sold the Linda Lovelace loop, 'Dog Fucker'. He did a federal trial, and was found guilty of interstate transportation of pornography.
That's what we were dealing with back then – you couldn't be too careful.
*
Sex wasn't just a business for me: my wife and I got involved in the swinger scene in our spare time. With Kenny's help, we started a swinger's club in Rhode Island, near the airport. We took over three rooms in a hotel – one room where you could be social and two where you could go and fuck. It was successful, and we were even featured on the cover of Select magazine at one point, which was a big magazine for swingers.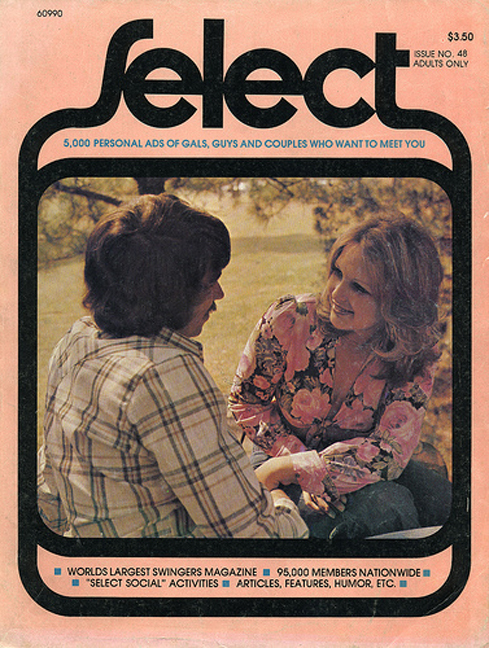 After working in the Kingston bookstore for a while, I got a call from Kenny. He and Richard had lost their 'roadman', the term for a traveling salesman. Richard told Kenny I was a pretty good salesman, so they offered me the job doing road sales. They wanted me to take over the whole East Coast for them. I agreed immediately.
My responsibilities were to visit adult shops to sell porn magazines and movies, and novelties. Every week I was on the road, dealing with the owners of the book stores from New England to New Jersey, and down to Florida too. Sometimes I'd sell the goods for cash, other times I'd be taking orders.
It was a lot of travel, so they gave me a company car, and the trunk was always full. I'd have 100 magazines or loops at any given moment, and I'd be driving product over state lines. It was risky work – especially in Florida which was a real hotspot. If the authorities caught you there, they'd give you ten years just for the hardcore magazines. To make matters even more interesting, the mob were knocking people off if they suspected you were working against them.
Kenny was getting his product via shipments from Star Distributors in New York. Star was controlled by Robert 'DiBi' DiBernardo, who was a well-known guy in the business and a member of John Gotti's Gambino crime family which controlled a lot of pornography in the US. Kenny sent a van to New York every week to pick the stuff up from Star, and brought it all back to his warehouse – everything from Screw magazine, San Francisco Ball, softcore swinger magazines, and sexually-oriented books. And they also did hardcore stuff too. DiBi had another company that we bought from, run by Ernie Marsala and Eliot Schwartz, called Novelties by Nasswalk. That company sold goods like vibrators, Spanish fly and ginseng, anal intruders, cuffs and whips – anything that sold side-by-side with the pornography.
I didn't just sell sex-related products either. Basically, I'd sell anything that I could get my hands on that people thought would enhance their sexual experience. I was one of the first people to bring 'Locker Room' from San Francisco to the east coast, and I was making a ton of money selling it. 'Locker Room' was a product made to mimic the effects of amyl nitrate, which was used before nitroglycerin. Homosexuals discovered it was a way to extend orgasm, and they'd started calling it 'poppers'. It was dispensed in an ampule similar to smelling salts. You'd pop the ampule and snort it just before orgasm to enhance the experience. Amyl nitrate required a prescription, so some sharp chemist figured out how to change the molecular structure and created butyl nitrate, which achieved the same effect… but without the prescription.
I was on the road selling to stores for Kenny for several years. I was good at it. Not only that, but I was adept at putting muscle on people if they weren't paying their bills.
All the travel helped me understand the differences in conducting a sex business in different states. For example, I learned there were no obscenity laws in Maine. When I discovered that, the wheels of my corrupt mind began to turn. I was already up there all the time, and I saw that the guys who were selling porn there were complete idiots. I knew I could make a move on the state, and have it all to myself.
After evaluating different opportunities, I cut a deal with a partner to start our own porn store in Kittery, Maine. We named it the 'Moonlite Reader'. It was located at 54 Wallingford Square, near the front gates of the Portsmouth Naval Shipyard, a submarine repair facility where thousands of servicemen and civilians worked. The Naval workers received their paychecks every Friday, and headed straight for my store. We made a killing – and everyone sat up and took notice.

It was just a small store in an old building – and we only had six peep shows, but the business was a big success. I rented an apartment upstairs. Before long, the guy that owned the building died. After that, I figured nobody owned the place, so I just stopped paying rent and took over the whole fucking building. I put in offices, a warehouse, and stocked the place up. Any porn magazine or porn movie that was ever published was there on our shelves, and we also sold every kind of sexual paraphernalia you could imagine.
I also built another apartment in the building that we used for hookers. The prostitution hustle was easy: we had a little bulletin board in the store, and put up advertisements saying that single white females were looking for generous male friends. We listed a phone number, and the guys poured in. The girls used the apartment space to meet the johns, and everyone was happy.
Things were going well, but just like anything else in life, you're bound to run into problems sooner or later: in this case, I found out that my partner had been stealing money. I cut him loose straight away and brought in new guys, and we opened two additional stores. This time around, I made sure to pay more attention to the finances. I had no choice. My new partners were deeply involved with the mob, and I knew that they wouldn't stand for any issues related to money going missing. That would be suicide.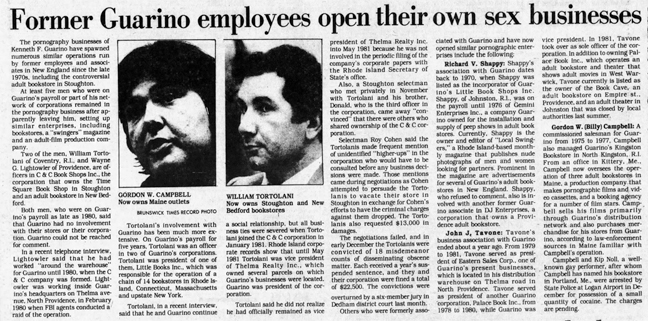 The success of Gordon W. Campbell (aka Billy) did not go unnoticed
*
Eventually I moved the Moonlite Reader into a new spot on the busy Route 236. This time the location was bigger: now I had 18 peep shows, along with the retail store, and a big backroom. In the beginning, I used the backroom for an office, but then we introduced an attraction that we called a 'sneak-a-peek' cage. This was the era when go-go joints had girls in cages, dancing over the bars. So we put a girl in a cage in the back room, and got her to dance. At first, her job was just to make change for the peep shows. She'd start by wearing a negligee and when somebody tipped her, she'd take off her panties and spread her legs. The girls did so well in there that I started hiring more, and they soon became a big attraction. So I hired five girls working shifts.
At that point, I decided… well, why don't I put a stage in the backroom, and we'll do some strip shows? So I went ahead and did that, and things got pretty wild… We had girls fucking with dildos and beer bottles, and, needless to say, the business became more popular than ever. The natural next step was to add a couple of men who would interact with the girls. One of the first was this guy who we called Big Randy Rod. Big Randy went on to feature in some New York porn movies, as well as become a real-life mayor in New Hampshire… but that's another story. He had a dick like a baseball bat. We got him doing live sex on stage with some of the girls. And I got a couple of other guys who came in and performed too. In fact I did the shows a few times myself – just to show everyone that I wasn't asking them to do something that I wouldn't do.
The sex shows drew big audiences. I was charging $7 for a ticket, and in the beginning I had 50 seats in there. We filled it six or seven times a day, so I put the price up to $9. The crowds got rowdy, so I hired the Iron Horseman motorcycle club to became bouncers for the place.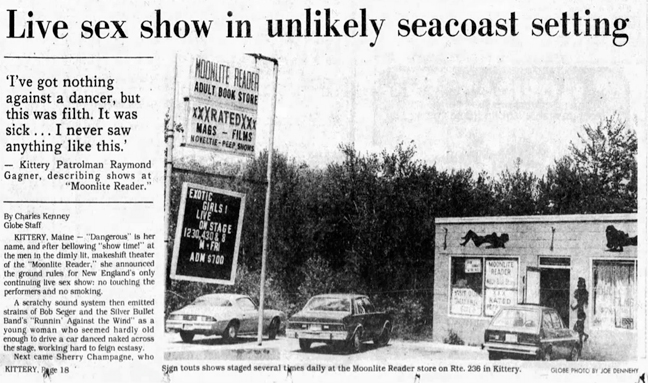 As for the girls, they came to us by word of mouth. We didn't advertise or anything. Once you get a name for putting on successful shows like that, you become like a magnet. I also had girls working there as prostitutes too, so every sex freak in the state, or from New Hampshire and Maine, came to my place.
The business was doing so well that we generated enough cash to open additional stores in Biddeford, Brunswick and two more in Portland, Maine.
*
Even though obscenity laws in Maine had been pretty nonexistent, public sentiment began to shift in a different direction. Legislation was introduced by the city council in Portland, Maine to regulate peep shows and magazines. It scared the shit out of us all. It would define obscene materials more loosely, and outlaw its display on any machines the public pays to view.
I immediately saw the effect: Portland City Council had been planning to grant a license to a pornographic operator when a protest broke out at a public hearing to discuss the subject. The locals made their feelings clear: they were not happy with the increasing number of sex shops. After that, the Council's sentiment changed dramatically, and they rescinded an earlier decision to continue relaxed pornography ordinances. The news was all over the local press.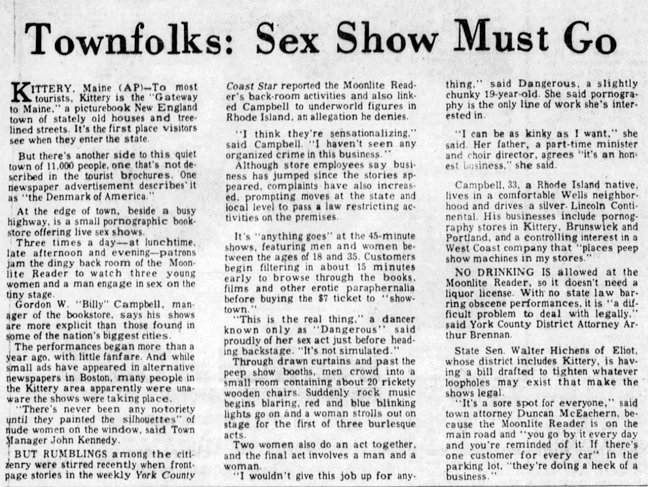 In 1978, I was arrested for interstate transportation of pornography. The newspaper covered it as follows:
"The government is expected to rest its case today in the pornography conspiracy trial being held in Boston's U.S. District Court against Gordon W. (Bill) Campbell of Wells, the owner of three Maine adult bookstores and one of the twelve defendants on trial.
The defense admitted that Imperial Distributors and Gemini Enterprises, the Providence Rhode Island firms said to be the center of the network, did engage in substantial interstate transportation of magazines, books, and films to retail outlets in New England, New York and Eastern Canada from 1975 to 1978, the period covered by the indictment.
Gemini Enterprises and Imperial Distributors were interrelated firms headed by Kenneth Guarino (…) from the Providence area. Gemini is believed to have been primarily engaged in the business of owning and servicing the peep show machines in adult bookstores connected to the Imperial Distribution network, including Campbell's stores in Kittery (the Moonlite Reader), Portland and Brunswick.
At the request of Campbell's attorney, Nelson Baker, the jury was read a stipulation which stated that during the time referred to in the indictment, Maine had no laws at all dealing with allegedly obscene materials."
After the six-week trial, the jury returned with a not guilty verdict. Sure I was happy… but I was mainly relieved. It had been close: the United States government had tried to criminalize sex all over the country, and was ready to throw me in prison without blinking.
I was under no illusions. I knew that the sex business was very lucrative, but also very risky. I saw money everywhere and I went after every single dollar. But, to do it right, I needed plenty of cash and I needed good lawyers to work with me. I also needed smart management that could stop me from making decisions that would put me at even more risk.

In 1980, the heat was turned up again in Kittery. It started when front page stories appeared calling the town "the Denmark of America" – not bad for a place whose population was less than 10,000. My store was the center of the news coverage, and they described our back room shows in detail.
From 'Jittery in Kittery', Fort Myers News-Press, May 22, 1980:
"It's 'anything goes' at the 45-minute shows, featuring men and women between the ages of 18 and 35. Customers begin filtering in about 15 minutes early to browse through the books, films, and other erotic paraphernalia before buying the $7 ticket to 'Show Town'.
"This is the 'real thing," a dancer known only as 'Dangerous' said proudly of her sex act just before heading backstage. "It's not simulated."
Through drawn curtains and past peep show booths, men crowd into a small room containing about 20 rickety wooden chairs. Suddenly rock music begins blaring, red and blue blinking lights go on and a woman strolls out on stage for the first of three burlesque acts.
Two women also do an act together, and the final act involves a man and a woman.
"I wouldn't give this job up for anything," said Dangerous, a slightly chunky 19-year-old with should-length, light brown hair. She said pornography is the only line of work she's interested in.
"I can be as kinky as I want," she said. "I don't have to hold back." She and her father, a part-time minister and choir director, agree, "it's an honest business," she said.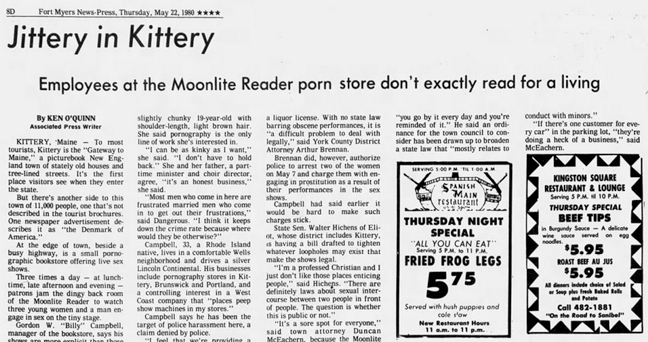 The articles were a double-edge sword: the attention increased the number of people who came into the store to spend their money, but it also drew the attention of moral puritans – which drew higher levels of complaints.
From 'Jittery in Kittery', Fort Myers News-Press, May 22, 1980:
Rumblings among the citizenry were stirred recently when the York County Coast Star also linked Gordon W. 'Billy' Campbell, manager of the bookstore, to underworld figures in Rhode Island, an allegation he denies.
"I think they're sensationalizing," said Campbell. "I haven't seen any organized crime in this business."
"I feel that we're providing a service," Campbell said. "In communities where obscenity and pornography is available, there's a lower rate of sex crime." He said that the films, magazines and novelties available at his store probably "save a lot more marriages than any church will ever do."
One fact we all agreed on was that the Moonlite Reader was doing well.
From 'Jittery in Kittery', Fort Myers News-Press, May 22, 1980:
"It's a sore spot for everyone," said town attorney Duncan McEachern. "If there's one customer for every car in the parking lot, they're doing a heck of a business."
We were constantly under attack. The next thing was that Kittery passed an ordinance prohibiting live sex shows, and several of the people working in our place were arrested and charged with either prostitution or promoting prostitution, alleging the show constituted sex for payment.

I guess they had a point: I had to agree that what we were doing there was probably more explicit than in most other places in the country.
From 'Unlikely Setting for Sex Show', Boston Globe, June 3, 1980:
"I got nothing against a dancer," says Kittery Patrolman Raymond Gagner, who, acting for the police, has twice paid the $7 admission price to see the show, "but this was filth. It was sick… I was really surprised. I've been to Louisville, New York City, Boston, but I never saw anything like this."
Patrolman Ronald Vermette shakes his head as though he can't believe it.
"I was in the Navy for four years and I saw stuff that would turn your hair white," Vermette said. "But nothing like that."
*
In the late 1970s, I bought a three-quarter inch video machine from Kenny, and started shooting movies on video. Other distributors had started to transfer loops and 16mm films onto videotape for retail, but I was one of the first in the country who actually shot films for sale directly on video.
I put the films together myself – I wrote, directed, and filmed them – and then distributed them through the network of adult retail stores that I did business with. They never had theatrical releases like other porn films at the time so they went under the radar – but by cutting out the whole distribution and marketing side, I made good money from them for a number of years. These were films like 'School Daze', 'Suburban Sex Wives', and 'Sex Stalker'. My film company was called Buzz Productions, and I often used the name Prick Cavett.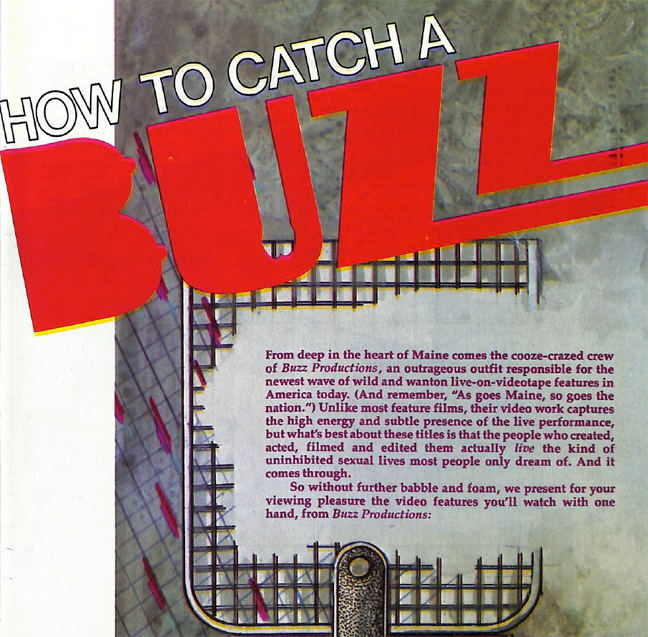 I was never short of girls to feature in the films, because I had so many already working for me – dancing, stripping, hooking, or doing live sex shows.
I met Ambrosia Fox through my cousin Johnny. Johnny turned up to see me in Maine one day with this girl who later became known as Ambrosia Fox. She came from Federal Hill, an Italian mafia-type area in Providence. She liked bad guys, tough guys, gangsters, all that stuff, and coming from Federal Hill, she knew a bunch of them. Johnny brought her up to my store to give her to me.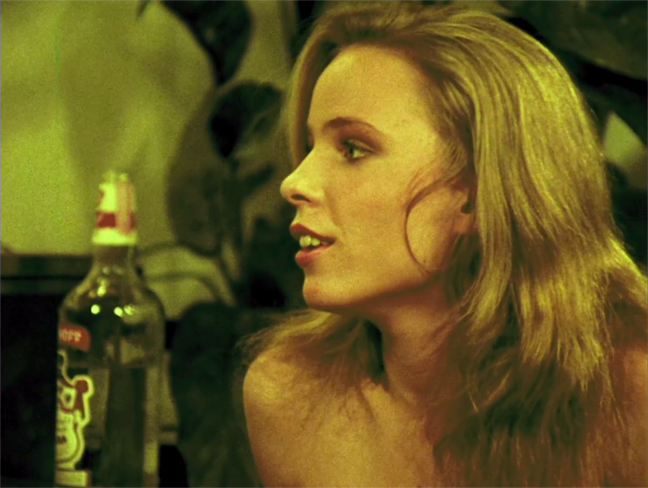 Ambrosia Fox
She was pretty – tiny and sweet-looking – so I took her, and found her work. She'd already been turning tricks in Rhode Island, so we put her in the sneak-a-peek booth in the Kittery store, and then we moved her on to the live sex shows. I got on well with her, and so did my wife. We were still swinging, so we had sex with her a few times.
Velvet Summers was another tiny girl who worked for me. Her real name was Lynn, and she was originally from Methuen, Massachusetts, but was living in Dover, New Hampshire when I first met her. A biker named Tommy Hanley, who was in the New Hampshire chapter of the Iron Horsemen, brought her in. He'd been coming to see our shows for a while. She just turned up one day looking for work in the booths and the peep shows. We put her into the sneak-a-peek cage, before she did some of the live sex shows too.
Velvet was just cute as a button. Such a pretty little thing. She was five feet tall, maybe a little shorter, and she could pass for 12 years old. After Velvet, her sister, Pam, came into the business too, and called herself Destiny Duvall, and then the two girls introduced me to their mother, Marilyn, who was also looking for work. I hired Marilyn as my secretary for a few years in the Kittery store. She didn't seem to have any issue with her daughters running around doing the films or the shows. She was fine with everything. She was a smart lady, and a good bookkeeper. The family certainly weren't stupid. The only issue I had with Velvet was that she was high all the time – but at that that point so was I.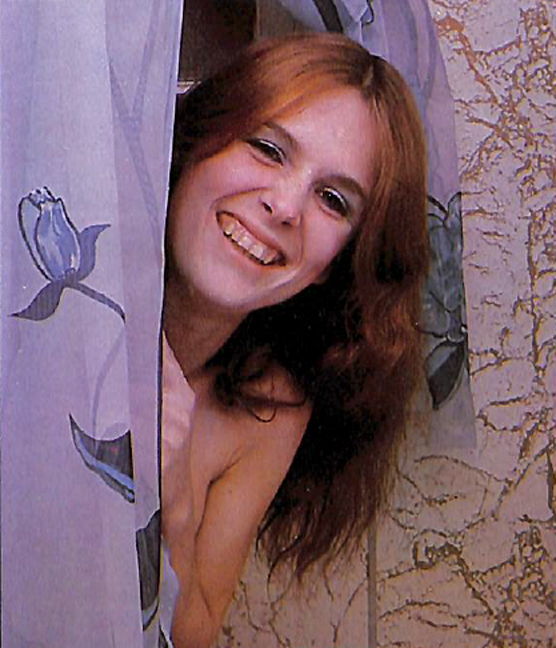 Velvet Summers
I became close to Velvet. She and I had a relationship while I was still with my wife. And then my wife and Velvet had a relationship. It all started getting silly, but that was the way it was. Velvet moved in with us, and we all lived together for a while.
From 'Little Velvet Summers' by Joyce James, Video X, February 1983:
Video X: "Are you from Maine?"
Velvet Summers: "Originally Massachusetts. I've lived in Maine for the past four of five years with my boyfriend."
Video X: "Does he live there now?"
Velvet Summers: "No, he still lives in Maine, with his wife. I lived with his wife – for three years."
Video X: "Really?"
Velvet Summers: "And his daughter's coming down to visit."
Video X: "How old's his daughter?"
Velvet Summers: "Eleven. She loves me."
Video X: "Is that a ménage a quatre?"
Velvet Summers: "I don't know – what does that mean?"
Video X: "It means: 'What were you people up to back in them Maine woods?!'
Cheri Champagne first came into Moonlite Reader as an 18-year-old, and did a solo act in the back room. She was more confident, and devious, than the others.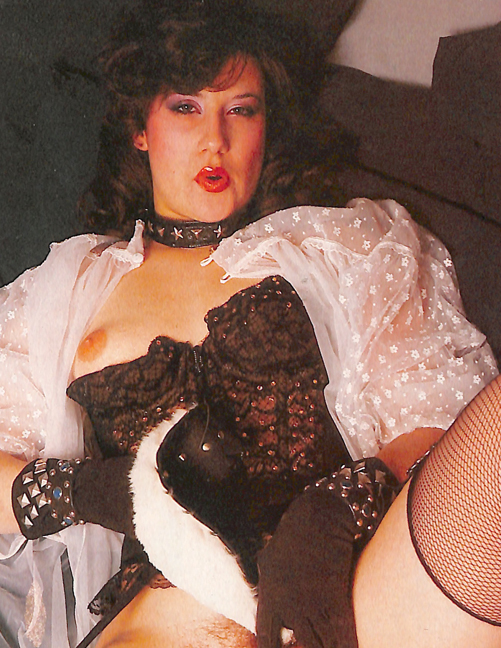 Cheri Champagne
From 'Unlikely Setting for Sex Show', Boston Globe, June 3, 1980:
"(In Moonlite Reader) a scratchy sound system then emitted strains of Bob Segar and the Silver Bullet Band's 'Runnin' Against The Wind'. Next came Sherry (sic) Champagne, who turned 19 last week and performed her brand of solo erotica to an exaggerated disco beat.
Sherry thanked the dozen or so men for coming and asked them to return soon with a friend. Sherry's answer to an interview request was, "Call my lawyer."
Cheri was a troublemaker. She had an equally troublesome boyfriend named Rick Lathrop. I hired him and sent him up to my store in Brunswick, and he started dealing pot while at work. I'd just been through a whole bunch of trouble to get licenses for the peep show machines there. The city council had fought me on every point because they didn't want me to get them. In the end, I won the court case – but it hadn't been easy, so Rick's side business was not welcome news to me. The chief of police called me up and told me what Rick was doing. He just said, "Look, you gotta do something about this."
I asked for 24 hours, and promised I'd get Rick out of town. I went up to Brunswick myself and put Rick on a plane to Seattle. He eventually found his way back to Maine, but when he turned up again I refused to talk to him and he stopped coming around.
Then Cheri got involved with another guy, named Ron London. He was working for me in my stores until I found out that Cheri and him had started stealing money from the business. I got him down to New York where I confronted him in an apartment in Queens. He got beat up that night, and ended up diving through the nearest window to get away.
After that I stayed away from Cheri as much as I could. Sexually, Ambrosia and Velvet were my thing, and they were both important to me. Everybody has their own tastes. Cheri Champagne wasn't mine.
*
In 1980, one of my Gambino family contacts hooked me up in New York with a guy named Bob Barco. Barco was the editor of a magazine called Video X. I met with Bob in Las Vegas at the Stardust, which was a mafia joint at the time. We came to an agreement whereby Video X would feature some of my movies in the magazine, and give them some publicity. Basically he'd 'review' them and run some photo spreads. I'd supply the pictures, the movies, and the girls for interviews. Bob was true to his word, and my films got good coverage. Ambrosia and Velvet had centerfolds in the magazine. Then Bob asked me to write reviews – of my own films! It was an incestuous business. You write your own reviews for the product you sell.
Bob Barco introduced me to Phil Prince. Phil worked for the Avon group of theaters in New York City, which included places like the Avon 7 and the New Bryant. Phil had recently been given the job of making some movies for Avon, but he told me he was having problems finding girls who were kinky enough to appear in them. I offered to bring some of my girls into New York for him to use. He was eager to accept.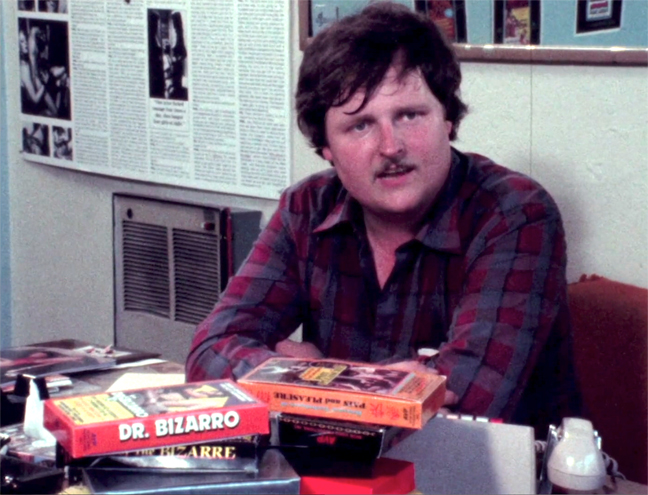 Phil Prince, in Brian O'Hara's 'Prince of Porn'
The drive from Kittery to New York is almost 300 miles and takes five hours, so I needed a driver. I'd met this guy named Mack Fierst. He was a member of the Tri-State Gang whose main business was bank robberies and stick-ups. Mack was about 5'2" tall, 160 pounds and he was built like an army tank. He was near bald with a white crown of hair. When I met him, Mack had just finished serving a fourteen-year sentence in Virginia. Most of the time that he was inside, he was locked away in solitary confinement because of disciplinary issues with other inmates.
At first, I hired Mack to work in my porn stores sweeping floors, but Mack did whatever I asked him to do, and soon he was driving the girls and I back and forth between Maine and New York to be in Phil's porno movies. I had an old Cadillac limousine that I'd bought from Richard. It was actually the limousine that I used for my wedding. We'd fill the limousine up with girls, and Mack drove us into Manhattan. Phil put the girls in nearly all of his films, so it was good work.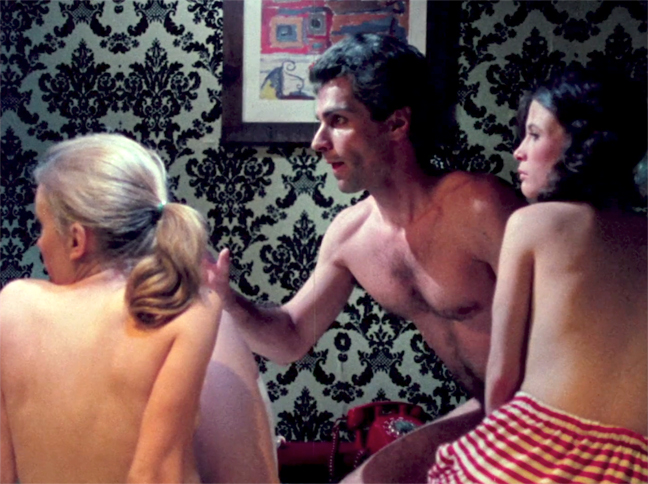 George Payne on set, with Ambrosia Fox (left) and Velvet Summers (right)
I was in and out of New York all the time with the girls. I was there so often that I maintained a suite at the Hotel Consulate on West 49th St., before renting Ken Yontz's place in Queens. Ken had been dating the porn queen Seka, but they'd split up and he now was all over the place, so I took over his apartment in Queens. It wasn't far from Adventure Studios where all the Avon films were shot, and it was upstairs from a movie palace called the Boulevard Theatre. The only other tenant in the building was a Cuban who distributed cocaine out of the premises. I didn't really give a fuck what he was doing as long as he left me alone.
Me and Phil got really tight. We worked together a lot on the films. We'd talk on the phone and plan everything in advance. I came into New York for most of the Avon shoots, such as The Story of Prunella (1981), which featured Ambrosia, Velvet, and Cheri. Phil liked my girls because they'd do anything. We'd come up with strange kinky ideas, and he'd add them straight into the movies.
I helped out on the production side too. For example, I wrote Dr. Bizarro (1983) myself. Phil said he needed a script, so I got high one night in the apartment in Queens, and spent an hour writing it. We shot it over the next two days – all at Adventure Studios. If Phil needed somebody, he'd call me. And then when the shooting was over, we'd go out and get drugs together. Was he a big user? Yeah, we all were. We hung tough for a while.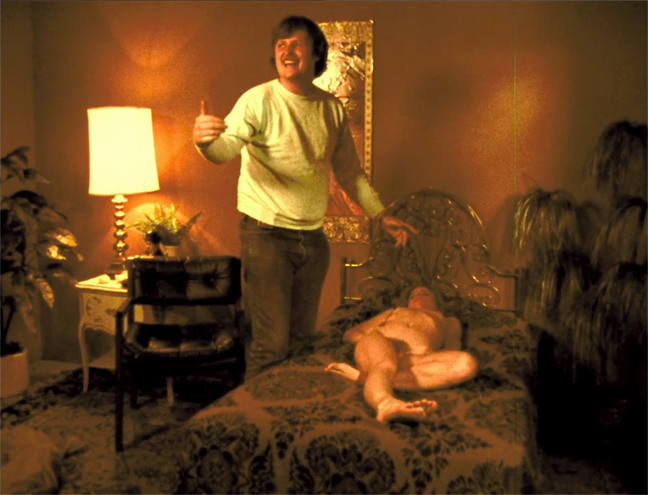 Phil Prince directs a scene with Ambrosia Fox
From 'A Prinzly Group and its Grisly Rep Company', Video X, July 1983:
They come from the four corners of the country to participate in his four-day festivals… Niko from Minnesota; Joey Karson from Pittsburgh; Ambrosia and Cheri Champagne from Maine. When they get on the set, they already know the treatment will be good, the food will be excellent, and the sex will be terrific!
The secret to the wacky, weirdo, wonderful films of Professor Phil Prinz (sic) is that he lets his actors and actresses do exactly what they want in the sex scenes. And he chooses – as his principals – boys and girls who have a proclivity for the passionate, as well as the perverse.
To be honest, Adventure Studios wasn't much of studio. It was a big warehouse, and they just installed sets around it. Everything was taped together in a precarious way that just invited trouble. I remember taking Velvet Summer's sister, Destiny Duvall, down to New York to appear in a couple of Phil's films, The Temptress (1982) and Angel in Distress (1982). She was working at Adventure one day, having sex on a desk, when a light fell down and smashed in front of her, and the desk went up in flames. That was typical. The whole place was just one step away from a serious accident. But the place does have history: at one time or another, everybody that was famous in the New York porno business worked there.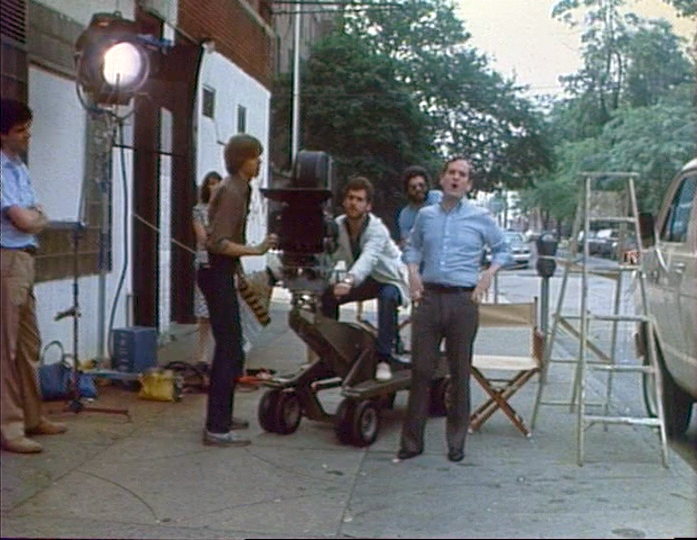 The sidewalk outside of Adventure Studios, as seen in Chuck Vincent's Roommates (1982)
The girls I brought down from Maine became very popular, and so their work didn't stop with the movies. I started bringing them into the city to do live shows, and after the movies they would hustle around the theater, asking if anyone wanted a private encounter. It was a treat for the guys in the audience: the girls would appear in the movie on the big screen, and then they appeared in the flesh on offer to the audience as well. There were rooms in the back of the theaters where they could do whatever they would do.
Velvet Summers was always popular. She changed from when she first walked into my office. She'd become more glamorous and attractive, and was more in demand.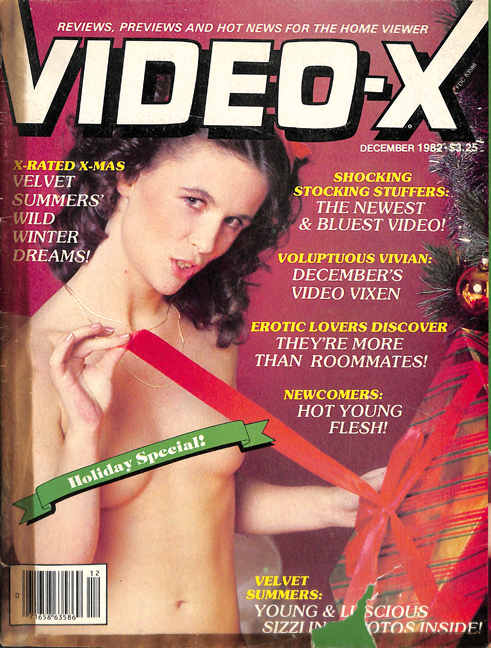 Directors often used in her in movies playing a kid, and she acquired the name 'Little Velvet Summers'. She was in Tales of the Bizarre (1982) in a scene with Randy Ram Rod. I took her to Vegas when we were working the Consumer Electronics show. Everyone was jostling to get in front of the media, and it was difficult to get anyone's attention. I stood up, pointed to Velvet, and shouted, "She's here! The Queen of Kiddie Porn!" They all came running over to our booth. They asked her how old she was, and she just said, "I never tell" – which sent them into a state.
From Video X, 'Velvet Summers – A Profile of an Actress for all Seasons', December 1982:
She's tiny and she's cute, and she's one of the fastest rising stars in the X-rated film business. We first meet by appointment in a Chinese restaurant near Times Square. The bartender was outraged to find out she was actually 21. "Damn," he said, "I can usually spot the underage kids and this one looks 12!"
She sure does. Dressed in a shiny black shirt and bib overalls, she looked like a farm girl in town for a 4-H convention. Your first reaction is one of disbelief. How could this fragile looking thing possibly have even had sex, let alone appear in films and cassettes?
Feeling like a nervous John, I ask the inevitable question. "What's a nice girl like you…?"
She looks up at me, her 4'11" frame taut. Then, she relaxes and smiles.
"It's the easiest way to make money," she whispers.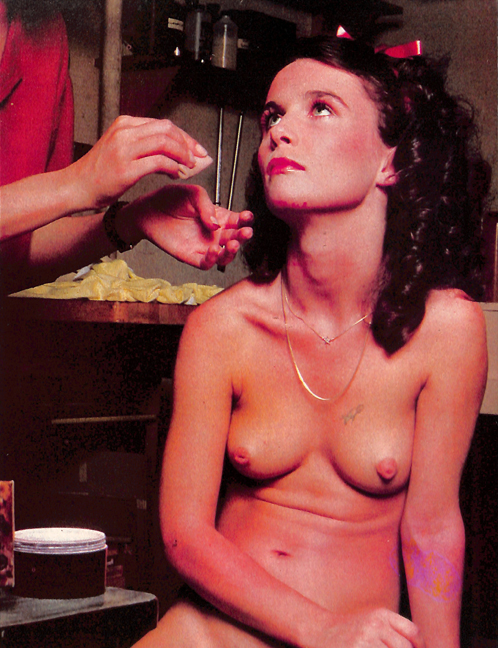 Velvet Summers
I'd get the girls any work I could – such as a monthly column that Video X magazine ran featuring gossip and stories from the adult film world. It was supposedly written by Velvet, but actually I wrote most of it myself.
From 'Whiffs and Sniffs' by Velvet Summers, Video X, January 1983:
'Whiffs and Sniffs' is a new Video-X feature. It will be compiled and written monthly by Velvet Summers, the rising porn star featured in our last issue.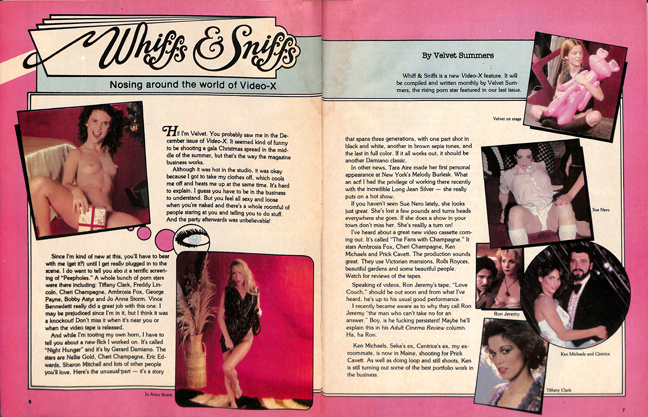 In terms of her profile, Velvet was the most successful of the girls I managed. She featured in magazines every month – whether it was picture spreads or interviews – she made personal appearances, and she got film work. She didn't work just for Phil and the Avon movies, but worked for guys like Gerry Damiano, Carter Stevens, and this Arab named Kemal Horulu – whose apartment on 54th St we used to stay at.
The Phil Prince movies caused the biggest stir though. There was one scene in particular which was controversial – in which she's tortured in front of George Payne, and has her nipple pierced by a safety pin, which led to blood everywhere. The truth was that my wife and I had already pierced Velvet's nipple during sex some time before – but no one watching the film knew that.
From 'Little Velvet Summers' by Joyce James, Video X, February 1983:
Video X: "I was quite distressed by the pictures of you with blood running down the length of your body."
Velvet Summers: "It was all fake – it was all fake (giggles). There was one guy who did not know that, and when I walked into the editing room, he said, "Did they really cut off your nipple?" They just put a needle through a hole that's already there. They stuck a needle through it and put fake blood on it. They made it look like it was bleeding more and more."
Soon there were over a dozen porno theaters around the country where the girls would go to dance and do live shows. I got them hooked into the network, and booked them all over the place. They were popular and made money.
For a time, Velvet was running around with Kip Noll.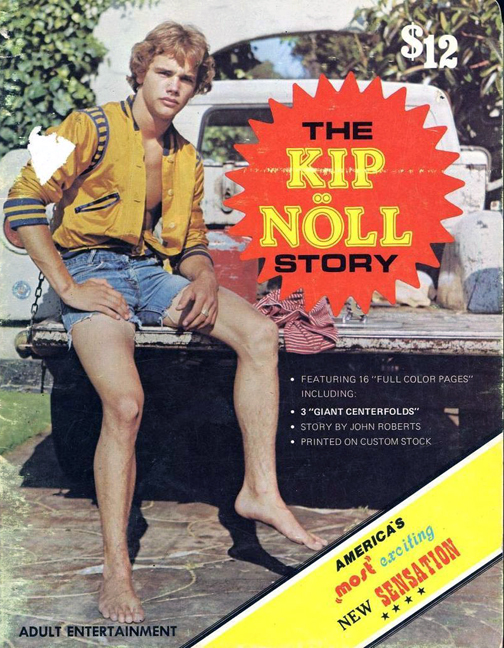 Kip was a big actor in gay porn, but despite that he always had girlfriends. He used his dick with the guys to make a living, but that was it. Velvet and Kip became an item. They met at this burlesque strip joint in Pittsburgh owned by Bill Oates. Upstairs Bill had this gay thing going on, and so Kip was dancing there. Velvet was performing downstairs. The two of them started a little affair. After that she became unreliable and and didn't show up for gigs – which caused me a problem. Once she didn't turn up in Detroit at a place called The Harbor Arts Theater, so I sent Destiny Duvall in her place. Velvet Summers was the billed star, but we changed it to 'Velvet's Little Sister', which was the truth. People seemed ok with that, and we had no complaints.
Velvet Summers
Cheri Champagne was still doing her thing, but I tried to stay away from her whenever possible as she was less reliable and even wilder than before. She got a lot of bookings around the country.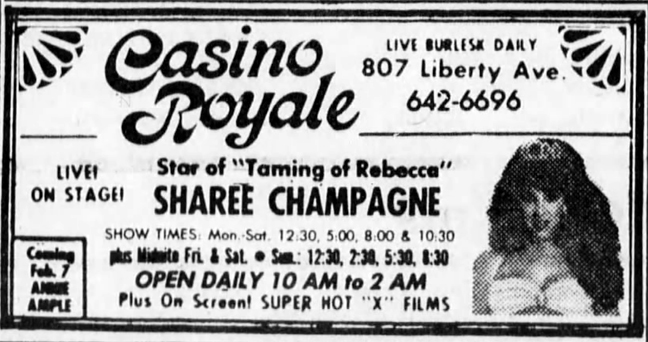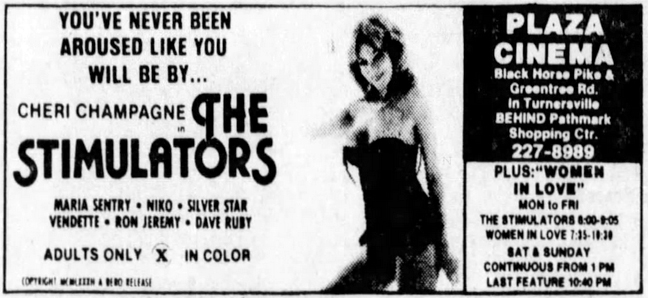 Cheri was a sick puppy. One story sums her up: she did an interview for a magazine, Video X I think it was, in which she claimed she was once playing with a vibrator while watching the news, and when they announced that there had been a plane crash with multiple fatalities… that's when she came. Cheri was a messed-up girl.
Who knows where she is today? Probably locked up.
From 'Cheri Champagne' by Jeff Gibson, Erotic Film Guide, September 1984:
Erotic Film Guide: "If you've seen this raven-haired raunch lover in such films as 'The Taming of Rebecca' and 'Tales of the Bizarre', you already know that she's a weird, demanding woman, who pushes both men and women to their knees. "I like my satisfaction at the expense of somebody else's," she confesses."
Cheri Champagne: "In my private life I get into much more bizarre sex (than in the films.)
"My agent in Pittsburgh books me as 'The Mistress of Divine Torture,' which is my own belief of S&M, my own style. That's what I'm into.
Erotic Film Guide: "And what makes your sadism stand out from the rest, your own 'brand' so to speak?"
Cheri Champagne: "Divine Torture – I want to inflict a lot of pain on you, but at the same time, you're gonna like it, because I'm gonna work real slow and keep your head together with it. If you can take what I dish out, that makes you a better man, because you're getting me off by doing it. And I have more respect for you than any of the other slime out on the street. Now if I find somebody that can take anything I dish out, that guy's spoiled rotten. Anything he wants, he gets. That's Divine Torture. I'm gonna torture you, but you're gonna love it. Got it?
"I live up in New Hampshire, by myself. One bedroom is mine, the other one is my dungeon. I have a cross, spanking post, suspension hang-up, the cattle prod that plugs into the wall – shoots a hundred and fifteen volts of electricity.
"I'm into pain, blood, real torture. But you know I can make you feel better."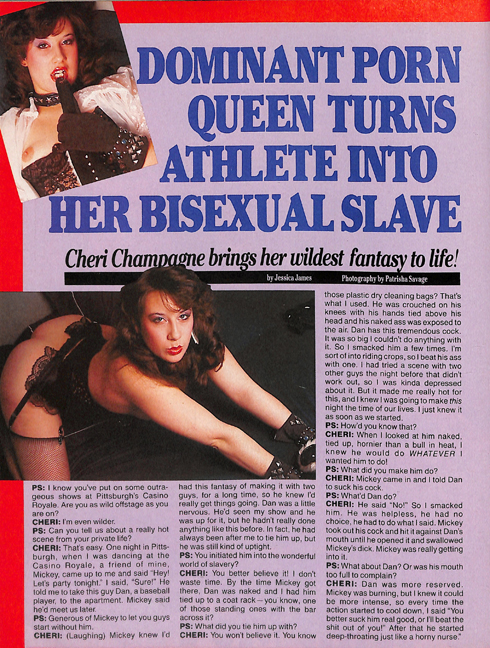 Ambrosia Fox probably had the lowest profile of the girls, but even she was in all of Phil's biggest films, like The Story of Prunella (1982), The Taming of Rebecca (1982), Forgive Me, I Have Sinned (1983), Oriental Techniques in Pain and Pleasure (1983), and Dr. Bizarro (1983).
There were other girls that I remember in the Avon films – and some of them didn't come from me. Annie Sprinkle was neat. Then there was Mistress Candice who was in a number of movies. She had a guy named Alan Adrian who was her slave. Mistress Candice used to tie ropes around his balls so tight that I expected his nuts to fall off. He loved it. His dick would get so fucking hard. All the girls used to torture him. Ambrosia did a stage show at the Avon 7 with Adrian once. I helped set it up, and we used background music from Jesus Christ Superstar while he got whipped. After the show, she chained him up to the radiator and left him there. That wasn't even part of the show… she just left him chained up. He seemed to be as happy as can be, waiting for her to come back hours later.
*
When I came down to New York, I got to know all the main players in the films, like George Payne, Ron Jeremy, and Vanessa Del Rio, but also the people behind the scenes in the Avon business.
Murray was the overall boss, but no one saw much of him. He was an asshole, and wasn't a nice guy. He almost got me killed once. Phil brokered a deal with Murray to put an adult store in the front of Murray's theater, the New Bryant. Murray knew that my background was in adult stores so he offered it to me. I had my guys come down from Maine with shelving and fixtures, and I got all of the merchandise that we needed to do it. Just before we were going to open, I got a call from a friend who was in the mob, who said, "You can't do that."
I said, "What do you mean, I can't? Why not?"
He said, "Because Murray made a deal with us about the store next door. It's being run by one of our guys. We don't want competition. Murray knows all about it. If you open up a store there, you'll have big trouble."
Apparently, Murray knew that all along, but he just let me go ahead and walk into a whole lot of crap. If the shit had really hit the fan, he would've just blamed it on me.
Murray had a daughter who everyone called Honey Bee. Stella was the one that ran things in the office, and Honey Bee was kind of a secretary, and she was always there. She was a great girl. I really liked Honey Bee. I took her back to Maine once and we fucked. Big fat girl that she was, it didn't matter. I really liked her. One time we walked from the New Bryant to the Avon 7 in New York, and it was freezing. I didn't have a coat but Honey Bee massaged me all the way through the walk to keep me warm. That was Honey Bee. She was a sweet girl. And a real tragedy that she died of an overdose, it really is. Honey Bee was a nice girl.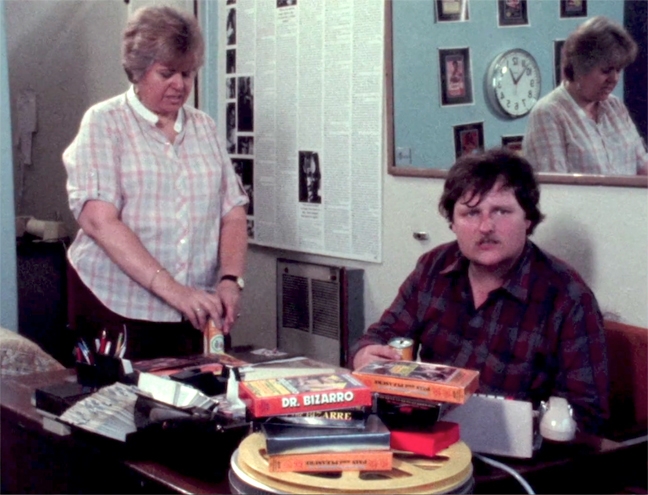 Stella Stevens and Phil Prince
*
Carter Stevens was another guy I remember. He made a few films for Avon too. He had a TV show on New York cable at the time, similar to Al Goldstein's Midnight Blue show, where he interviewed porno people. He interviewed all my girls, Velvet Summers, Cheri Champagne and Ambrosia Fox, at one time or another. He had a strange loft apartment on 25th Street or somewhere near there. There was a subway station right at the bottom of his steps, and there were always Puerto Ricans down there singing in Spanish. Me and Phil used to run down and buy our cocaine from Carter.
George Payne was a friend, but he lived out on the edge. He always seemed to be staying in bathhouses. As far as I knew, he never really had a home. He'd come up to Maine sometimes and stay for two or three weeks, and live in a trailer with one of the bikers who I worked with – a guy named Hag. I always thought George liked to hang out there because it was more like a home than anything else he had – and certainly more than living in a bathhouse. I still don't know how he made money to survive. Maybe he was selling sex to the guys in the bathhouses.
Ron Jeremy was friends with all of us. Ron wrote some of the articles about my films and the girls for Video X. When he started to work on the West Coast, I sent girls to California for him to feature in films there.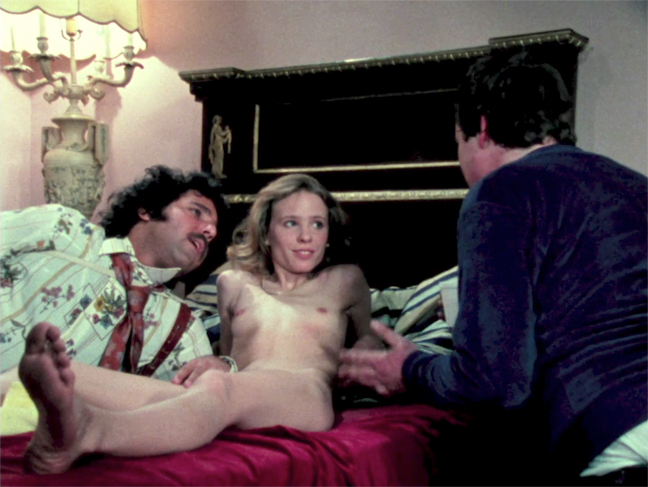 Ron Jeremy and Ambrosia Fox, taking direction from Phil Prince (right)

He'd sometimes come with us when we drove back to Maine. One time, it was about three in the morning, and we stopped at a rest area off the Connecticut turnpike. Everybody went and got a coffee or something to eat. When we got back into the car, Ron said to me, "Ronnie made himself some money there."
I said, "Huh?"
He said, "Yeah, I just made some money. While I was in the bathroom this faggot recognized me, so he gave me $300 to look at my dick."
Ron would fuck a snake if you held it down.
Unlike George and the girls, Ron didn't do the stage shows. He just did movies, but he did do a gay porno for me and Ken Yontz once, which starred Kip Noll, and was called 'Kip's Casting Couch'. We had a few young gay dudes who were in awe of Kip so we put them in the movie with him. In one scene, Ron is waiting to audition to be in a movie with Kip. I shot it in the cellar of the Kittery store where I had my office, and where Velvet Summers' mother worked as my secretary. Ron was sitting in the front office peeking through the door and sucking his own dick. As he did it, he was talking to himself, saying things like, "Suck my dick! No, take me out to dinner first!" Then he grabs his own head and pushes it down on his dick.
When the scene was over, I said, "Ron, why didn't you cum in your face? That would have made it even better."
He said, "No way! I promised my mother I would never cum in my own mouth."
Ah, the Jewish kid from Long Island.
*
By late 1982, I was in over my head with the mafia guys that I was working with. I still had the porn stores and was shooting porn movies, but I'd also developed a big cocaine habit, as well as abusing alcohol, and needed more and more money to cover my habit. Plus I was stealing money out of the peepshow machines, and it wouldn't be long before the mob got wise and started asking questions. The situation was getting dangerous, and I was feeling the heat.
As for the live shows, I'd been able to keep going as the legal ban went through the state's courts for several years. However in 1983, the Maine Supreme Court upheld the ordinance as constitutional, so it was the end of the road for that business.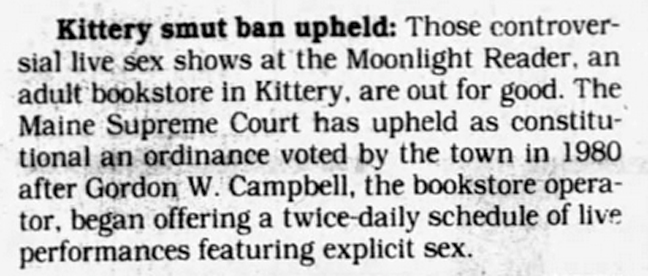 I was spread too thin. It was time for me to get out of Maine.
To make matters worse, I'd recently got divorced and I still wasn't over it. I took up with Ambrosia Fox, due in no small part to her cocaine habit, which rivaled my own. Ambrosia was a bit of a lost soul, but we got on well together, and we ended up staying together for eight years.
During my time with Ambrosia, we got into all kinds of problems with the law. Hustling was always in my blood. Even while I was running a lucrative porn business, I was always thinking up new ideas to make even more money.
Now I was leaving the adult business behind.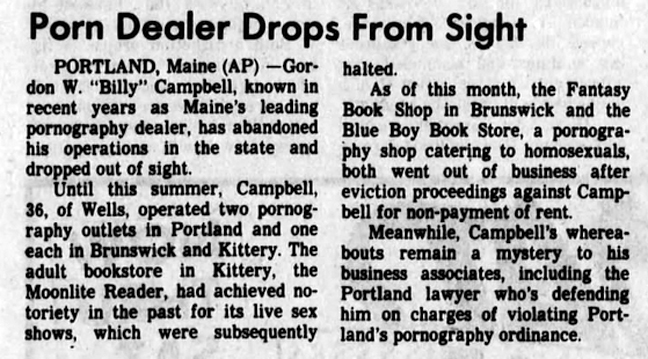 Kip Noll and I were going to launch a new stimulant for the gay market, that we were going to call 'Kip Noll's Head.' We were flying back to Boston together, and Kip put a flat box with the marketing photos under his seat on the plane. Unfortunately, it slid back several rows and a stewardess picked it up. Kip freaked out, and ripped it out of her hand. The stewardess complained to the pilot that he'd threatened her, and by the time we landed there were cops were waiting for us. They searched us and found drugs, so we were arrested and taken to the cells of the local police station. We contacted a bar owner in Boston who was completely in love with Kip, and he bailed us out and arranged for an attorney – but our idea for the new product didn't survive.
After that incident, I saw an ad in High Times magazine for a product called Yocaine, which was an extract from the bark of the African yohimbe tree. These guys were the first ones to bring it into the States. I purchased a small package out of curiosity. It came as a white powder, so of course I snorted it immediately. I immediately felt a familiar 'up' sensation, and, as a side-effect, my dick got hard. I liked this stuff.
There was a Philadelphia phone number on the Yocaine package, so I called it and spoke to the guy behind the product, who was called David. He was brilliant, and a criminal – my kind of guy. David taught me the chemistry of cocaine, such as how to check purity and how to freebase it. We started working together distributing Yocaine products nationally.
I began getting customers from as far away as Dallas and Seattle, so I set up a distribution company that sold head gear, pipes, and different kinds of drug paraphernalia, along with cocaine-adjacent drugs like rock crystal.
The business performed so well that I put my cousin on the road as a salesman selling it out of a van along with drug paraphernalia. It was strange how similar the drug business was to the porn industry. My cousin drove the same route that I'd used when I was distributing porn. We even combined the businesses, by putting hardcore magazines, movies and video tapes in head shops that wanted to sell it.
*
I had the skill of being able to make money at whatever I turned my hand to. It's all about hard work. The FBI later said I was the hardest-working drug dealer on the East Coast. They said, if you want to keep up with Billy, you need a computer and a road map of five states. It's true: the only place success come before work is in the dictionary.
I just did the things I feel in love with, like whores and drugs. If you work hard at it and it becomes your whole lifestyle, you're bound to make money.
Sadly it all caught up with me eventually.

From 'Deal rejected, drug seller gets 12 years', Evening Sun, Baltimore, January 5th 1988:
The drug distribution ring led by Gordon W. 'Billy' Campbell and Mack W. Fierst brought cocaine into the county.
Campbell was sentenced to 13 years in prison without parole and four years of supervised probation for cocaine conspiracy. Fierst was sentenced to seven years without parole and four years of supervised probation for cocaine conspiracy.
*
Afterword
Billy Campbell was released from prison, he build up a successful dog-training business, and recently published his autobiography, fittingly entitled Moonlight: A True Story of Crime, Violence, and Redemption. It's a testament to his dramatic and eventful life that the years distributing pornography make up only a relatively small part of the story. It's a dramatic read.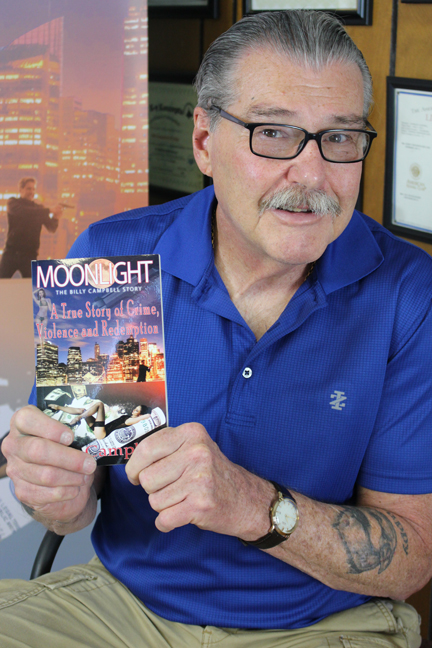 As for the Avon girls who started out with Billy, their lives have gone in different directions. The Rialto Report has contacted them and hopes to re-visit their memories with them individually in the future.
Ambrosia Fox split up with Billy in the early 1990s, and is now raising a child.
Cheri Champagne is still living in the north east of the U.S. and is happy and well.
Velvet Summers passed away in 2006. She was 45. Her sister, Destiny Duvall, and mother Marilyn still live in the same area.
Of the other Avon girls, Joey Karson died of heart failure in San Francisco in 1998, at the age of 38. Mistress Candice moved down to Florida, whereas Nico's whereabouts are unknown. Annie Sprinkle is going strong, promoting eco-sexuality.
*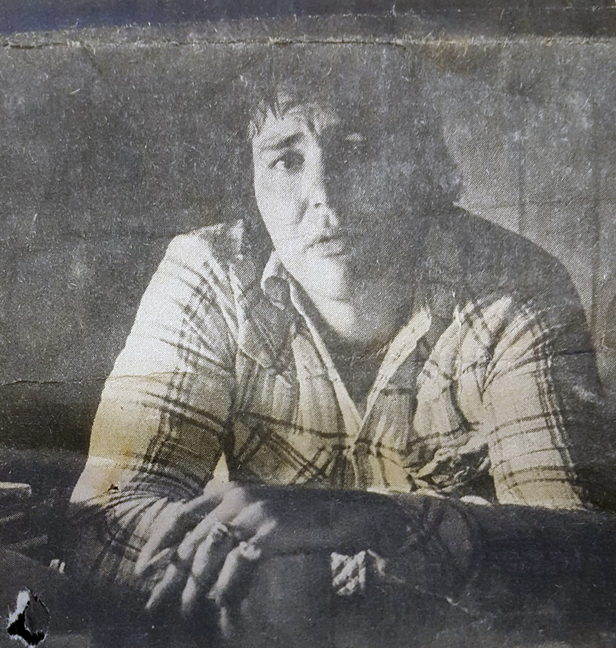 Billy Campbell
*
On the next Rialto Report, the third part of 'Fragments of Avon – Journeys into the Dark Heart of XXX'.
*