We are re-publishing our interview with Zachary Strong on occasion of his passing this month. You can also read the memories of his partner in life, Molly Seagrim, here.
*
The Rialto Report has always been fascinated by the mysterious adult film director and actor known as Zachary Strong. Or Zachary Youngblood. Or Curt Crotchkiss, Fritz Geiner, Harold Steinfarfel, or Miles Zakheim.
He first appeared in late 1960s San Francisco loops and then crops up in front and behind the camera for the next 25 years.
He had a hand in films such as 'Deep Tango' (1973), 'Confessions of a Teenage Peanut Butter Freak' (1975), 'Randy, the Electric Lady' (1980),  'Little Showoffs' (1984) – even 'Sin City Cycle Sluts' (1995) – and more.  In fact his involvement in many films may never be known as he used so many different names.

His story is a microcosm of the history of the San Francisco porn industry across three decades. He worked with people who became household names in the industry like Desiree Cousteau, Sharon Kane, and Annette Haven, as well as with people who became mainstream Hollywood directors.

The Rialto Report tracked him down to hear his side of the story for the first time.
As a bonus, this interview includes the memories of 'Molly Seagrim', Zachary's wife and partner in many of the films he made. This is the first time we've heard memories from a married couple who worked together, side by side, in the adult film industry from the very beginning. Their memories are sometimes similar, sometimes different, but always revealing and interesting.
Sincere thanks to Zachary Strong and Molly Seagrim for sharing their uniquely personal story with The Rialto Report.

____________________________________________________________________________________
1.

Zachary

Strong – beginnings
Zachary Strong:
Believe it or not I wasn't called Zachary Strong when I was born. I was raised in southern Oregon in Jackson County. On my mother's side they go back to the 1870s there. My dad was half Native American Indian from a tribe in Nebraska. My parents had five kids but I was the only one who was born in California. They happened to be in Crescent City, CA playing poker out in the woods when my mother's water broke. They rushed to the hospital and I was born there.
From the ages of 8 to 12, I was molested by the family doctor whenever I went to him. I did not understand what he was doing or why but I knew it was somehow affecting me. He would always have me undress and lay on my side facing away. He'd stare at me for some time before inserting a finger up my butt, which he'd spend some time exploring. It did not occur to me that something was horribly wrong with this until I took my physical to go into the Army. The exam doctor put a glove on his hand before sticking a finger in me then only spent a second or two before taking it out. I know this early experience had an effect on me and contributed to my getting into porn. My time in the skin trade at the beginning made me reach the conclusion that most of the people involved in it had been sexually abused as children.
My older brother had to get married at 17, and he and my father warned me that no man could stop once he was having sex with a woman without leaving his seed inside her. I was very horny, but very much afraid of being trapped before I had a chance to live my life. I would not go all the way. All of this somehow contributed to a mental breakdown in my senior year of high school. The after-effects of this continued into college where at the age of 18 I learned about birth control pills and I started having sex. I had difficulties however coping with some of the drama that was happening at the time with my peers such as LSD-induced suicides.
I was losing my mind and decided I had to drop out of college. The only reason to hesitate was that it was the practice of the Draft board to call up any male college student who dropped out. I finally decided to enlist if they guaranteed me a three year tour in Europe for a four year enlistment. I was told that would mean I wouldn't be sent to Vietnam because a tour of duty there had to be more than one year.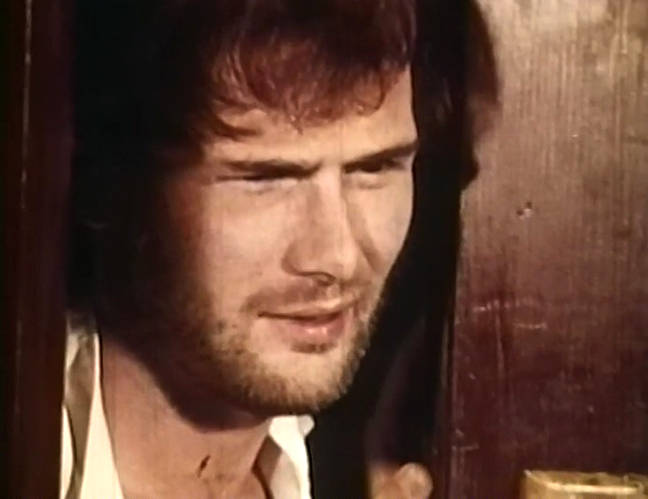 Zachary Strong
While I was in Europe, my opposition to the war grew stronger. To make matters worse I was sexually assaulted numerous times. I was hospitalized twice after such attacks. Promotions were automatic in the Army: You go in as an E1, then after a certain time you go to E2, then to E3. You don't get a stripe until you're an E3. When I got a stripe, I refused to sew it on, and I refused to take any money because I considered myself a prisoner of war. Their response was to put me on orders to got to Nam. I decided they'd broken the terms of my enlistment. At that stage I'd been in Europe only four months of the three years promised, so I took off.
I drifted around Europe, North Africa, Turkey, and Greece before I ended up in Sweden where they took in people that had deserted. Carlo Ponti, Sophia Loren's husband, had sent up a film crew to make a movie about the American deserters in Sweden. The director was a woman who took a shine to me, and exposed me to film making. I learned a great deal from her.
When I returned from Sweden, I turned myself into the Army and served time in the Presidio Stockade in San Francisco.
The Stockade was like a concentration camp. A mentally disturbed seventeen year old boy, who'd been mumbling he wanted to die, was shot dead by a guard. The guard had told him if he really wanted to die all he had to do was to walk away from the detail he was on and he'd be killed. And the army would give the guard a promotion and send him to wherever to be re-stationed plus a free carton of cigarettes. Twenty seven prisoners sat down in protest, and the army brought in brutal marines who tortured prisoners to keep them in line and sought the death penalty for the protesters.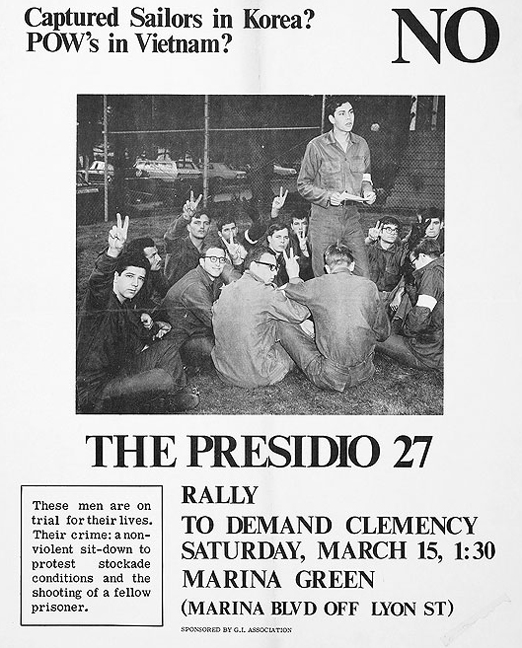 They routinely assaulted me, beat me up, and gave me a concussion. They wouldn't let me go to a hospital because they'd been sending too many people there and they feared negative publicity from the doctors treating us. Later I learned that many of the inmates committed suicide after they got out. I was 'looney tunes' when I got out. I tried to help prisoners in any way I could through the War Resisters League, but had to stop because I couldn't withstand the stress.
Eventually I decided to get into porn films, somehow feeling it might help me deal with the sexual shame and humiliation. It was difficult for me but I saw it as the best course because the people in the business didn't see sex as shameful. It was play.
I performed in soft-core loops for a number of different people before I worked for Alex de Renzy and the Mitchell brothers. The Mitchell brothers weren't doing hardcore at that stage. They were shooting short softcore films with hard emulsion EF film stock. They didn't make copies, they just projected the EF directly onto the screen, and for sound used a radio in the background. When I met Jim and Artie Mitchell, I told them about my connection to the film industry and that I'd worked in Sweden with Carlo Ponti. I talked them into shooting on ECO film stock, a softer emulsion, so they could keep their costs down and make better copies of their films. I also got them to back me on three short sound features, 20 to 30 minutes each. The first Mitchell Brothers films with sound were the films that I made for them.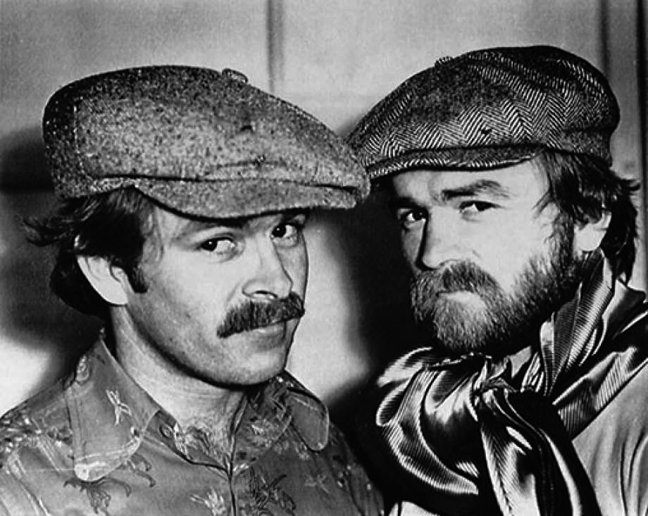 Artie and Jim Mitchell
I met my first wife, Jo-Anne, at a party at my place on Halloween 1969. She was a striking, dark-haired girl. A very honest and likable woman surrounded by a pack of intrigued men. It reminded me at the time of an early sequence in 'Gone With The Wind' where Scarlett is surrounded by a group of intrigued men listening to her prattling nonsense. I remember thinking at the time why in the hell would anyone want to listen to Scarlett. The difference with Jo was that she was genuinely interesting and worth listening to. I, however, didn't want to join the pack and so I ended up spending the night with a French girl from Montreal.
Jo came from a wealthy Jewish family. Absolutely no one in her family had ever married a non-Jew. It just wasn't done. Jo-Anne was the first when she married me. Her two sisters married non-Jews as well.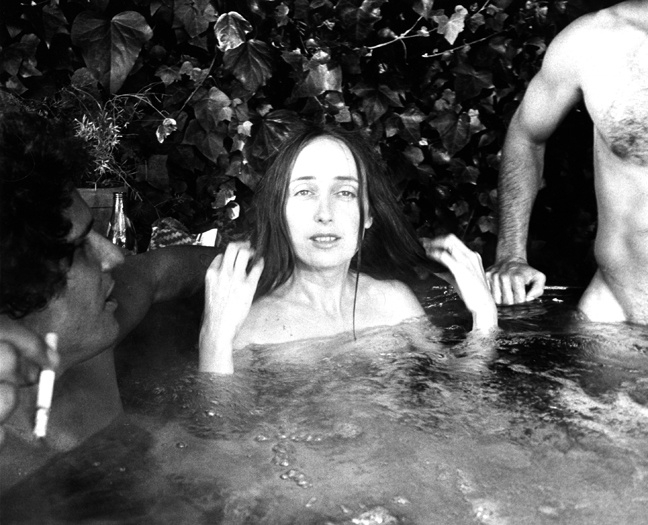 Jo-Anne, aka Molly Seagrim
Molly Seagrim (aka Jo-Anne):
My family certainly wasn't wealthy. My father made very little money. I remember we always had to pinch pennies. My father's family were recent immigrants. There was always the nagging suspicion that he might have married my mother for the dowry so he could open up a grocery store.
My parents moved to Miami, Florida in 1957 when I was thirteen. I went to high school and university there. I got a Master's degree in literature, but my youngest sister and I both wanted to get out of Florida. We couldn't stand it. It was just a horrible place to live.
So in 1969 we left Miami in her Volkswagen bug and just took off not knowing where we'd end up. But we probably suspected we'd end up in San Francisco. Everybody wanted to go there. And three months later we were there.
My sister and I got an apartment on Church St, and I wound up working for the federal government. I'd taken all these civil service tests before I left Florida so I got a job as a Social Security Benefit Examiner. It was really boring as hell.
I met Zack at a party at his place in Potrero Hill. I was twenty-five and he was twenty-two. He was very boyish and sincere and obviously interested in me, but I remember I was just having a wonderful time. Suddenly all these men were paying attention to me and I liked it. He was just there in the background flirting with me. I didn't pay much attention to him that night.
A short time after that I wound up moving into Zack's flat because there were two rooms for rent that were cheaper than where I was living.  When I moved in there I became aware of this crazy scene. I found out that Zachary was involved in pornography. I came home from my job one night, tired from my boring job, and Zachary was in his room with an aspiring filmmaker named Jack Wilson. Zack had met Jack because he was a speaker at war resistance rallies.
Jack had a few names, but mostly we called him 'Wok'. Everyone seemed to be trying on different names back then. Zack had a new name for himself every week before finally settling on Zachary.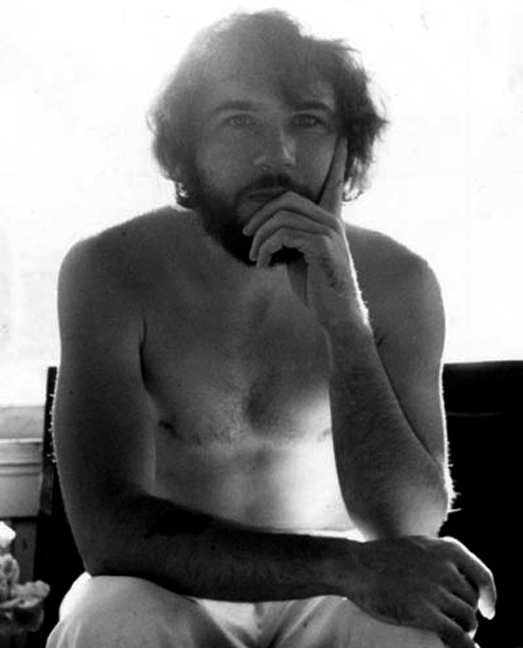 Jack Wilson, aka Wok
Zachary Strong:
Actually I met Jack in February 1968 when I was in DC trying to get my orders to Viet Nam changed. We became best friends for life. He wasn't a cameraman at that time but was interested in becoming one.
I picked Zachary as my name because it was a rare name. I was aware of Zachary Taylor the president, and there was Zachary Scott who was a cowboy in B grade movies in the '30s. But other than that, who the hell is named Zachary? So I took that.
Molly Seagrim:
I remember that day Zack was talking about his early experiences in pornographic films. He said he'd been in both straight and gay loops which surprised me at the time. I thought, "Wow, you would do that!?"
He said he could make good money but that it would be a lot better if he had a woman to be his partner in the films. He looked at me… To this day, I don't know what possessed me to say, "Hey, I'd like to try that." I don't know. I just don't know. Everybody in the room looked at me shocked and puzzled. I'd only just met these people so they were all surprised.
Zack said, "Well okay, let's see what I can arrange."
Zachary Strong:
I hadn't made any hardcore films straight or gay then. At that time you couldn't find work in straight films as a man unless you came in with a woman. But once you'd successfully made a sex film, you were in. I was surprised and delighted Jo wanted to do one.
Molly Seagrim:
Maybe I was breaking away from a pretty straight and regulated academic life and I was ready to drop out and try new things. Also it could have had to do with me wanting to get rid of my sexual inhibitions. I had this idea that I could do anything a man could do. I was going to be a female version of the literary 'Tom Jones' figure.
Zachary Strong:
San Francisco had a wild scene going on then. I remember meeting this guy named Lowell Pickett. He threw orgies, and he was making XXX films back in the '60s. I remember going to one of his sex parties. Bear in mind this was the heart of the youth culture in the '60s, but Lowell didn't look youthful at all. He was older and overweight. I've never forgotten this one party he threw. I still have the images of it in my head. Lowell Pickett looked like the grand old sultan sitting there with all the sex going on around him.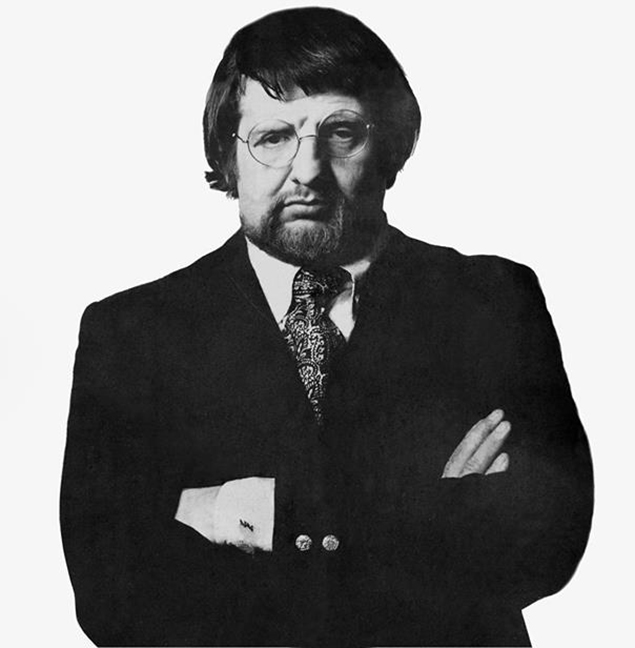 Lowell Pickett
Molly Seagrim:
A few days later, Zack arranged for us to go downtown for an interview. Maybe it was to the Sutter Cinema. We met a guy there named Paul who was the cameraman. We had a short conversation with him and then we went home. I thought, "Gee, doesn't he want to look at our bodies?" He didn't even ask us to take our clothes off. He just talked to us for a few minutes and said, "You'll be fine – I'll see you on Saturday."
On the way home Zack and I decided that we should probably try it out before we did the film… We still handn't had sex together. We hadn't done anything! It was hilarious.
Zack said, "Okay, let's see how it goes."
I said, "Okay, I'm game for that, young man." I still thought of him as a kid.
We had a wonderful night. There was something dynamic and electrifying between us that went beyond sex, just holding each other. I remember that he got it up three times. He was a strong young man. I think neither of us will ever forget it. It was so strange and haunting.
As planned, Paul the filmmaker came over to our flat later that week with a camera and a 2k light – which he didn't need because it was daylight when he got there – and it turned out to be the most erotic and the loveliest shoot that I experienced in all those years. As we were shooting a softcore loop we didn't have to worry about the most graphic angles for the camera and all that stuff… it was beautiful. After that, everything was downhill! But it was good then because we were newly in love.
Zachary Strong:
Neither of us will ever forget the beginning.  Nor the end.  He came there to shoot a soft core which then shifted to hard. I remember debating with myself as to whether to do it, but I decided to go for it. After we were done, Paul asked if we could do a three way with him, because he was turned on.
Molly Seagrim:
We moved to Church Street where Wok lived. Wok was interested in cinematography – he and Zack got on well together because Zack was interested in making films. There were seven people in that flat altogether including us. There were a lot of drugs around. Holy smokes…! There was lots of acid and pot and PCP there.
Once we all tripped off to the Presidio Theater to watch this loop that we'd appeared in. After midnight when all the regular movies were done, they had a special show. A whole bunch of us went down there and it was pretty hot. There seemed to be this golden light over everything.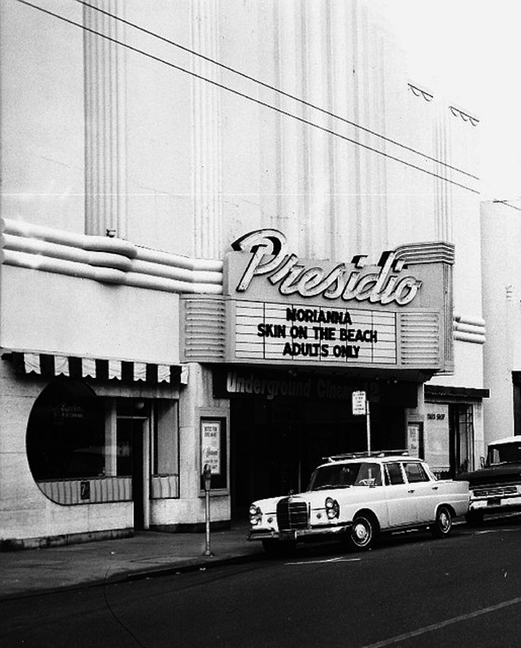 This girl that we lived with named Jessica, started licking her chops and said, "Why can't I do that too!?" So we wrote a script and presented it to Paul. It was really corny. It was about a hippie couple whose next-door neighbor wants to borrow a cup of sugar, and she comes in with her dildo. The idea was that I would get it on with Jessica's dildo, which proved to be impossible. I was just not turned on. It was hilarious but Jessica was so upset that she couldn't get it in me. Paul finally said, "Well, don't sweat it. It's only softcore. Who cares…?"
Zachary Strong:
Jo-Anne and I appeared in many loops for Jerry Abrams in 1969. He was a well-known figure in San Francisco as he was one of the pioneers of concert 'light shows' in the late '60s, and an aspiring filmmaker who made a handful of political-sexual shorts. His light shows used strobe lights, slide projectors, and his own films to complement rock shows by bands like the Grateful Dead. He described the effect as a "total environment, which stimulates not only aural but visual responses."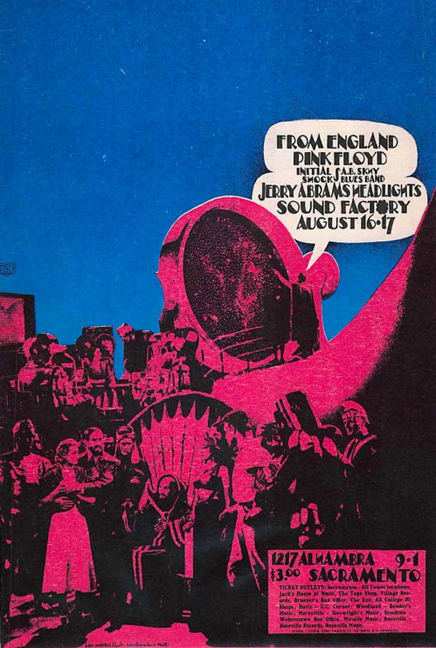 Pink Floyd, and the Jerry Abrams Headlights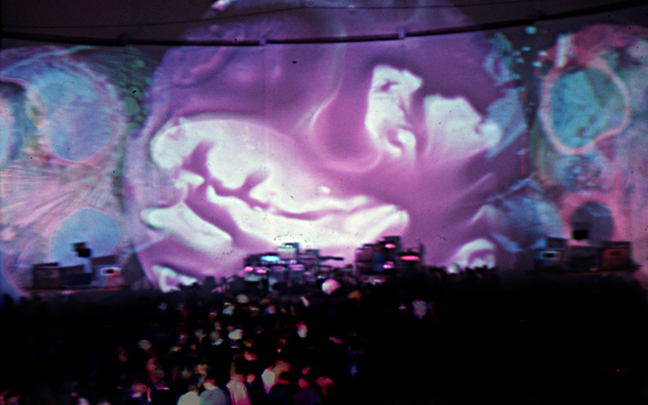 Jerry Abrams Headlights Show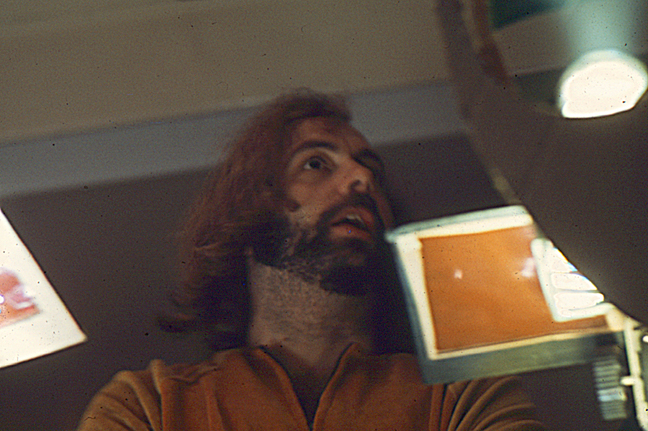 Jerry Abrams
Molly Seagrim:
Jerry had a growing sideline making increasingly explicit sex loops. Zachary answered an ad in the Bay Guardian that Jerry had placed. Jerry came over to interview me while Zack was out, and I was a little alarmed. I remember wishing Zack would come home because this guy was pretty brusque and rude. He asked me to take off my clothes and he photographed me. That was standard in the industry. Then he asked me to do something with my hairbrush, and I said, "What!?!"
When Zack eventually came home, these two guys started talking to each other. Suddenly it was like a bromance. They were so different from each other. Physically, Jerry was this big bear of a man, and Zachary was this slender poetic looking guy with wire frame glasses. You could knock him over with a feather. But they had a lot to talk about for some reason.
I just sat back relieved I didn't have to do anything with a hairbrush…
Zachary Strong:
I became one of Jerry's go-to guys. Jerry was interesting and strange, a larger-than-life character. We became close friends and worked together a lot over the years. The business was just turning into hardcore so we started to appear in his explicit loops. I also remember doing a softcore scene in a gay loop called 'Rocky Rides Again'. His loops were mostly shot without sound. When I started to make my own, I'd make them with sound and there was more of a story to them.
Molly Seagrim:
It turned out Jerry didn't want to use me that often in loops. After a year or two when I got to know him better, I asked him why. He said, "Your chin is too short."
"Really?!" I said. I looked in the mirror and I said, "My God, he's right! I've got a short chin! Damn it." But secretly I was happy about that because I didn't really want to be a movie star.
*
2.

Zachary

Strong – f

irst films
Zachary Strong:
My first feature film was with Jerry Abrams, a 1970 softcore film called 'Overdose of Degradation'.
The problem with Jerry was that he was a prima donna. He'd never stick to what he'd agreed to, and took advantage of people. He'd rip everyone off if he could. I liked the guy, but over time everyone abandoned him because he was so inconsiderate and manipulative, the type who would invite you over for dinner then tell you to bring the food.
Another problem with him was he'd always try to fuck the talent when he interviewed them. I didn't take advantage of people like that. I didn't like it, and I didn't want it associated with me.
But he was funny. There was something likable, even childlike about him.
Molly Seagrim:
What a complex man Jerry was. I don't know how he got wounded but he was. He could be terrible. He could be arrogant, but he could also be so much fun as well, and almost sentimental at times. I know that his mother had abandoned his family when he was a child so I don't know if that had anything to do with the way he was.
Zachary Strong: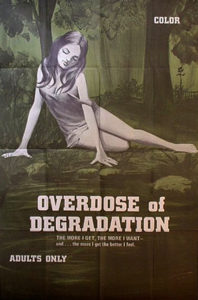 We made 'Overdose of Degradation' in January and February of 1970. It was credited to Jerry's production company, The Albumin Brothers. It was right on the edge of being a hardcore film, because at that time the theaters were just starting to switch over and show more explicit movies.
The plot is about a girl named Jennifer who wanders around a park and tells the audience about her sexual escapades. She talks about being molested when she was a little girl, then a guy rapes her while she's in the park. At one point she climbs into a bathtub filled with milk. We shot it without sound and overdubbed the narration.
It was a bizarre film. At one point the heroine is talking about being raped and she says, "Well you know, if he'd just asked me, I would've done it anyway. He didn't have to rape me". I thought, what? I didn't like that line. The guy who played the rapist came from our commune. He was a sensitive guy. We went to his wedding and I remember looking at his wife at the wedding and thinking, "Hmm, I don't get the vibe that she's going to stick around." I was right, and a few years later he committed suicide.
We all used false names to distance our involvement. Jerry used the name Gerald Grayson. I had many nom de porns. Many, many. On this film I was Zachary Youngblood.
After we shot 'Overdose of Degradation', Jo-Anne and I got married. That was April 5th, 1970.
Molly Seagrim:
We had a hippie wedding. It was our 'not-a-wedding'. We did it to please our parents. It was never sanctified by church or state. We had ten universal life ministers there. And we had a good party. Of course everybody was ripped to the proverbial tits.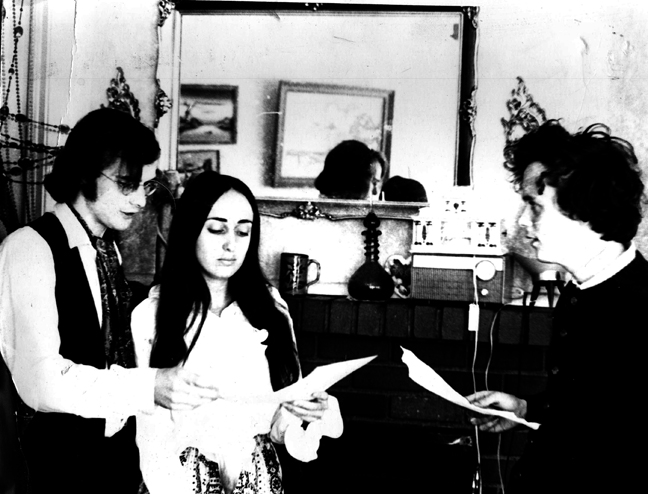 Zachary and Molly's wedding
Zachary Strong:
I had no real intention of staying in the porn business, so after we got married, Jo-Anne and I hitched-hiked all over Europe until the end of 1970.
Molly Seagrim:
I'd always wanted to go to Europe. Zack had told me these stories from when he was AWOL. It was easy to save up enough money because our expenses were minimal. We traveled over on an ocean liner that left from New York. It cost $150.
Traveling puts quite a strain on a relationship. I knew we weren't supposed to travel on $5 a day! That was the beginning of my disenchantment with our relationship. I realized that Zachary had a lot of problems. He was very young and troubled. I learned about some of the trauma he'd experienced in the military but not all of it. In fact it wasn't until recently that he told me more about his experience where he'd been sexually brutalized while he was in the Army. He was a pretty boy and basically he'd been raped. He'd never told me that in all those years we lived together. He kept that locked up inside.
Eventually we agreed to have an open relationship and that's probably how we lasted so long.
Zachary Strong:
Before we went to Europe, we went to Florida to meet Jo-Anne's parents. I was three years younger than Jo-Anne – and I looked like it. I'd lost a lot of weight driving across the country because we were taking speed just to keep awake. When I arrived at the door of her parent's house, the image I projected was not in their league. Her father looked horrified when he saw me with my long hair standing next to his first-born, this highly educated woman.
Molly Seagrim:
Zack was skinny and had a beard, and my father took one look at this guy and just said "Oy vey!" He was very rude to Zack.
Zachary Strong:
I looked away from him and I looked at her mama, and I said, "Don't worry, I will always watch over her". And she believed me. I meant it, and always will. That is, if she lets me.
Molly Seagrim:
My mother always loved Zachary. She was a real sweetie to him and he loved her.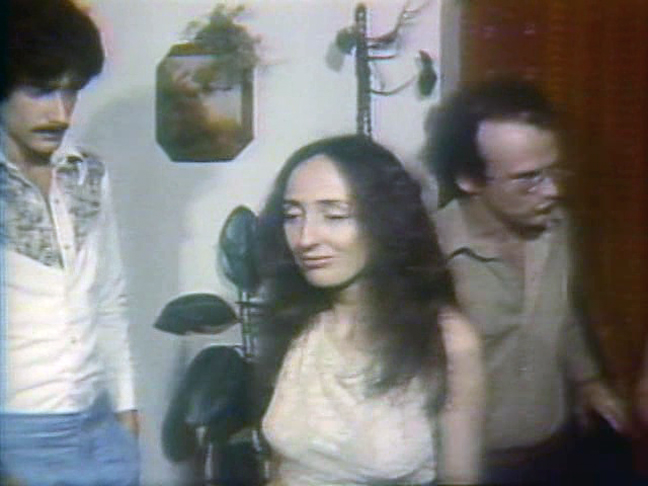 Molly Seagrim (center) and Zachary Strong (right)
*
3. Zachary Strong: returning to films
Zachary Strong:
I never intended returning to the porn business. It had just been a way of getting over the hell that I'd experienced in the Army, an alternative to the drugs that I saw many other people succumb to.  When we got back from Europe we went to Oregon, intending to settle there. We weren't going to do any more porn, but the job market was bad and we found it difficult to make any money. So in April 1972, I thought, well fuck, let's go back and make porn. So we returned to the Bay area.
Molly Seagrim:
We knew we could always fall back on that. I honestly don't think I thought much about what else we'd be doing besides that. I just knew I didn't want to be working for 'the Man' anymore. The job I had in Oregon was OK, but it was nine to five with rules and regulations. I wanted freedom. This was still the time to be wild.
Zachary Strong:
Back in San Francisco, Molly and I got work acting in loops and a few features. A lot of the work was making loops for Jerry Abrams again. He had a studio with all this filmmaking equipment.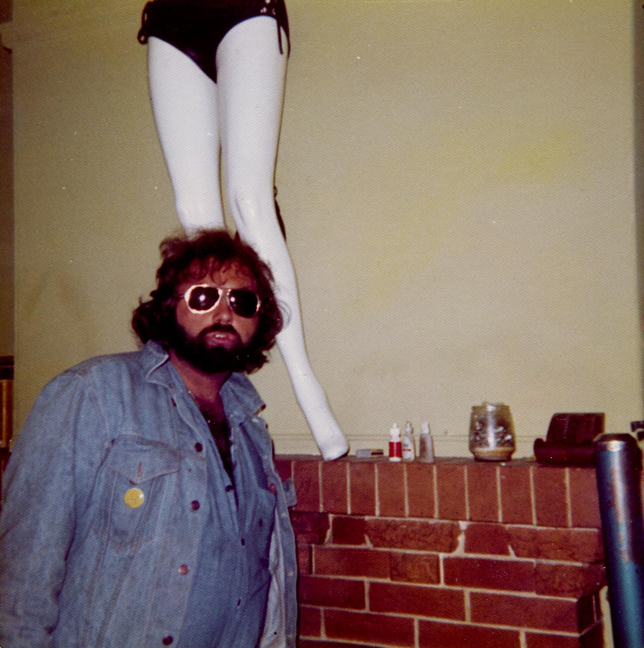 Jerry Abrams
Molly Seagrim:
I've always done a little bit of everything. I was registered at a temp agency because I could type, and that was enough to get a job. So I'd do a little bit of office work, and I'd also be involved in the films with Zack, as well as doing some loops for other people such as the Mitchell Brothers.
This was before Jim and Artie Mitchell brothers had made a feature film, before 'Behind The Green Door' (1972) for example. They were just experimenting and trying different things. Zack suggested to them that they should make a full-length film. He said, "We're writers. We could cook up a script for you." And we did. It was just the stupidest, wackiest script you could imagine. It was about Pagans at the Legion of Honor. We scripted a ritual Pagan sacrifice and somehow there was hardcore sex in there too.
Zack and Wok and I all trooped down to the Legion of Honor Museum with the Mitchell brothers and their cameras. I was wearing a sheet and possibly a pointed hat with stars on it, and we had rubber knives. I just can't remember what it was all about, it was so silly. I had to take my top off at one point and my breasts were exposed. Tourists were scurrying away with their little children.
We thought maybe we'd go back to the Mitchell's studio and complete the film there, but they just vetoed the idea because it was too bizarre. We never finished it.
Zachary Strong:
This is when porn films were illegal. I remember I was in Jerry's studio editing a movie when the FBI burst in. The Feds were after Jerry for transportation of pornographic films across state lines. He used to fly around distributing the prints himself and he'd got busted in Savannah, Georgia of all places.
So he decided to leave the country, and he took off with his girlfriend to the Bahamas. Before he left, he entrusted his studio to us. We agreed that I'd take care of the studio and I'd pay him a certain amount of money for the use of it. So I took over his connections and I started my own company, Canard Films. I had a thing about ducks so I called it 'Canard' which is French for duck. Later when my budgets were higher, I started another company that I called Ente Enterprises because 'ente' is German for duck.
So it was the FBI who really provided my entry into porno films. I really didn't get into making my own films until then. Now I had the equipment and I had the studio. I had everything I needed, so that's when I became a film producer.
Molly Seagrim:
When Jerry went away and we had access to all his equipment and his studio, that's when we learned to cut film. We spent a lot of time in that studio. It was on 14th, near the Mission. That was the beginning of our filmmaking career.
I started using the name 'Molly Seagrim'. I'd been a literature student and Molly was a character in 'Tom Jones', a comedy by the English playwright and novelist Henry Fielding.
Zachary Strong:
When Jerry returned from his exile, his connections didn't want to reconnect with him. Many of them had been cheated by him and didn't want to deal with him anymore. He wasn't happy about that. He was very angry. I continued to work with him though, and I got him to shoot my films.
One of the first films I made without Jerry was 'More Ways Than One!' (1973) which was basically made by combining two loops together with a little tie-in. It was shot in the latter part of April 1973.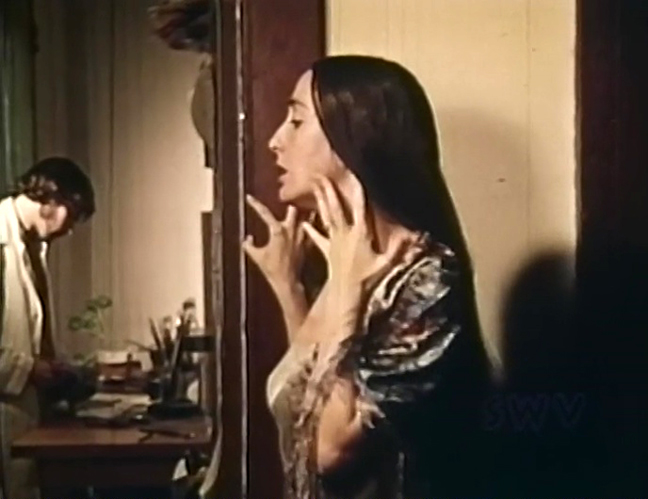 Zachary and Molly in 'More Ways Than One!' (1973)
Molly Seagrim:
Zack and Wok and I wound up producing low budget, X-rated loops and feature films together.  This is where Wok honed his cinematography and film production skills. His van, the 'Iron Fireman' (so called for the logo painted on the side — I think it had been a plumber's van originally), served to haul equipment, crew members and the 'talent' to locations all over the Bay Area. We entertained the notion at first that it was possible to make high quality erotic cinema.  I remember Wok rapping about sex and money and death while we were working. I think he must have been torn between an ideal of freedom and the tacky commercial product that was often the result.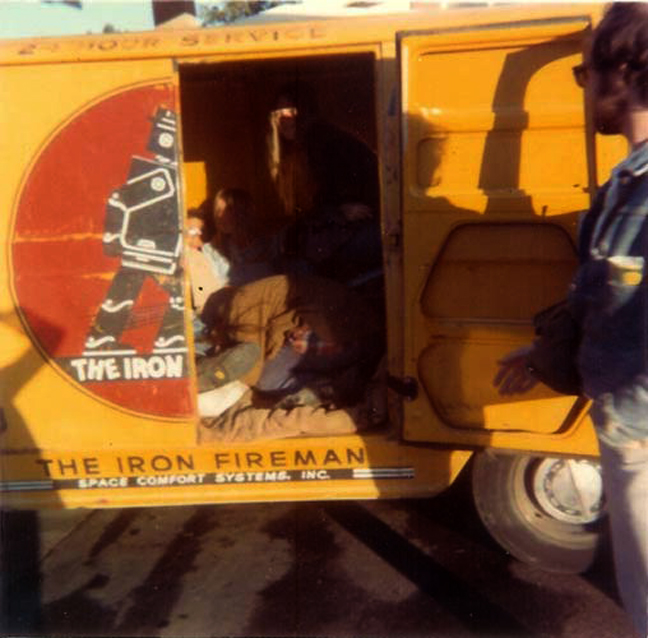 The 'Iron Fireman' van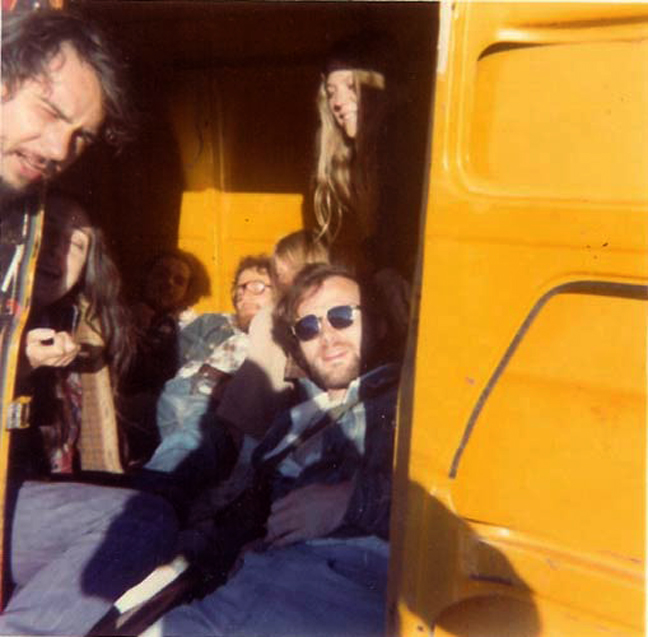 The 'Iron Fireman' van (with Wok (left), Jerry Abrams (center), Zachary (right))
Zachary Strong:
Jo-Anne worked with me on and off as a crew member and as an actor for 10 years from about 1970 to about 1980.
Molly Seagrim:
I remember filming a loop on a beach on Point Reyes Seashore. It was a far-fetched idea to begin with, hauling all that equipment several hundred yards down to a remote beach, along with the understandably reluctant participants. But it seemed oh so romantic, on paper. Once there, Wok decided to put a red filter on the lens, to pump up the romantic aspect, I think. He never took it off and the entire loop was tinted pink.
Zachary Strong:
We experimented with different techniques all the time. We were learning while we made the films.
Molly Seagrim:
We called our first full-length feature "Watergate Buggers" (1973). It was anti-establishment, political-satirical porn that could only have happened in the early '70s.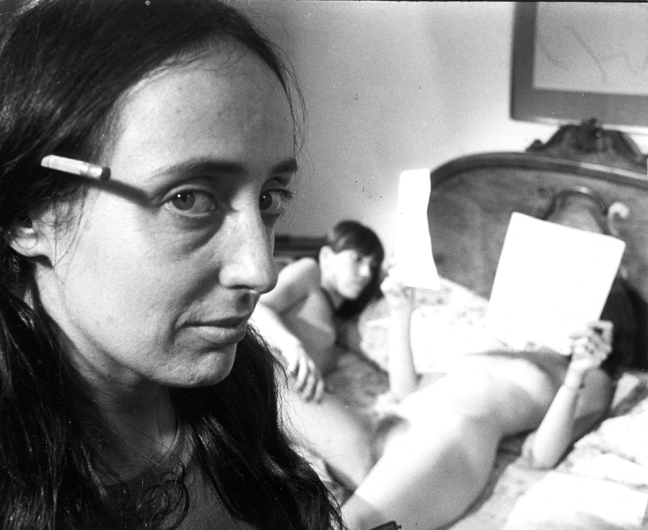 Molly Seagrim on set
Zachary Strong:
We shot 'Watergate Buggers' in one day. This was during the Watergate scandal, and so the name was a double entendre. It was also titled 'Public Affairs'.
Molly Seagrim:
The movie was based around this hilarious loop that we made with this girl named Katy who was one of 'Les Nickelettes', a vaudeville troop in San Francisco. Some guy was fucking her on top of the TV set while the Watergate hearings were going on. The problem was that Katy freaked out afterwards and declared she didn't want to be involved with pornography any more. She'd had a change of heart and had become a feminist, so we had to shoot a scene that explained why she was disappearing from the movie… She was sweet and at least she stuck around for that.
Zachary Strong:
Then I did a one-day wonder called 'On the Beach' aka 'More Than A Voyeur' (1973). We literally shot everything in that one single day again.
'More Than A Voyeur' was credited to 'Christine de Nueve'. However other films credited to Christine de Nueve did not involve me. The film featured Linda Loveall – a frequent presence in my early work.
Linda had a shaved pussy. I remember that was very unusual at the time. People loved it and she'd get fan letters because of it. Jerry Abrams introduced me to her. I liked her so I used her whenever I could. She had this really surprising scene in 'More Ways Than One': I was having sex with her and after I ejaculated, she suddenly took her hand and she pushed it way up inside herself. I had no idea she was going to do that!  I didn't ask her to do it. It was one of the first times that had ever been shown on film.
She got pregnant, and I always wondered if I was the father of her child. I only saw her once more and then she disappeared. Linda Loveall left the industry after that but emerged a few years later as a prominent Democratic politician in the San Francisco area.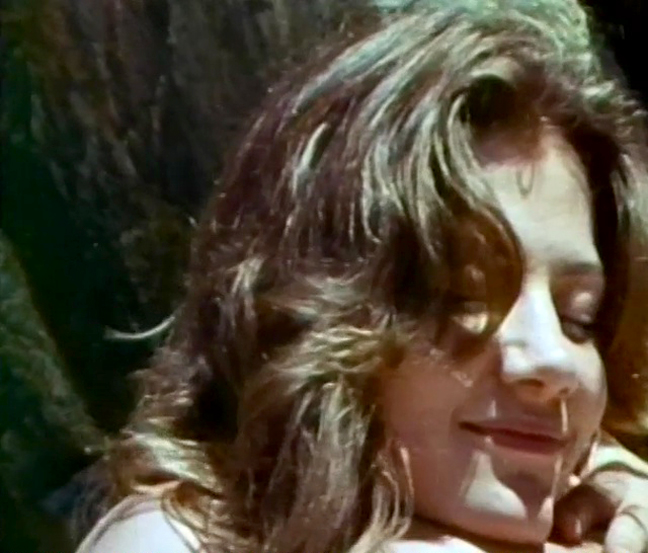 Linda Loveall in 'More Than A Voyeur' (1973)
Molly Seagrim:
Looking back, it was a busy time for us. We'd do two films back-to-back over a single weekend, and then spend the rest of the month editing them and writing the scripts for the next production.
Zachary Strong:
Habib Carouba was the backer of a number of my films in this period. He was called the 'King of the Tenderloin', and he put up the money for me. Habib was a theater owner who needed to get product to show in his places. One of his places was the notorious Market Street Cinema. He'd been buying loops from Abrams since the '60s. I became friends with him and started making features for him after I took over Jerry's studio.
Molly Seagrim:
I didn't have a lot to do with the business and the money side. That was Zack's area. However I felt like I'd known Habib forever. I don't know why I felt that way. I think it was just something he projected. He was a genial, kind man and was always glad to see you whoever you were.
*
4. 'Deep Tango' (1974)

Zachary Strong:
I made 'Deep Tango' – which was a takeoff of 'Deep Throat' (1972) and 'Last Tango in Paris' (1972). I tried to merge the two scripts together into one. It was the first chance I had to make a real feature because this time we had five days to shoot it.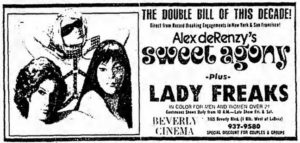 Annette Haven was in 'Deep Tango' and it was her first feature film. I met her when Jo and I worked for Alex De Renzy on a film called 'Lady Freaks' (1973). 'Lady Freaks' was a mini-feature shot in a single day. Alex hired Annette and her girlfriend, Bonnie, to be in it as well. Annette and I clicked immediately and got along well. I asked her if she'd be in 'Deep Tango'. She agreed.
Molly Seagrim:
Annette and Bonnie were living in a ménage a trois with a husband or boyfriend. Annette was sweet tempered and very beautiful, if a little cool. She was so young then, maybe twenty years old, and a lot younger than we were. This was really the beginning of her career. I liked her. Everybody liked Annette.
Zachary Strong:
I didn't realize that working with Annette would piss Alex off so much though! He went ballistic and came after me shouting, "Stop stealing my stars!" In his mind he had discovered Annette, which meant that no one else could touch her.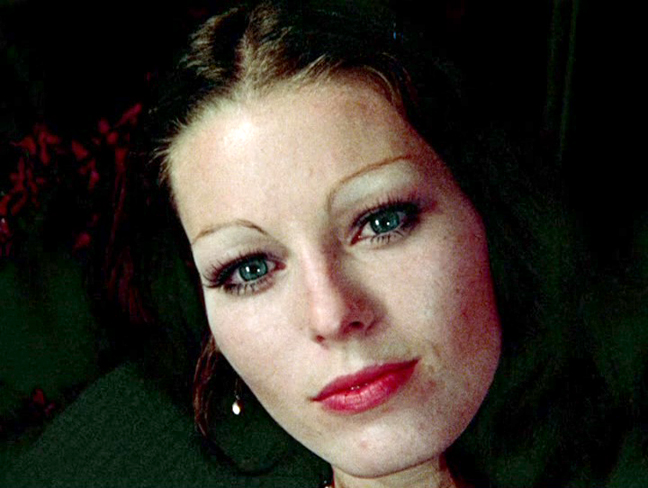 Annette Haven in 'Deep Tango' (1974)
Molly Seagrim:
Years later I worked for Annette. By then she was a big star and was making her own films. I worked on 'Cave Women' (1979) – which she directed. I called it 'Planet of the Fucking Apes'. She'd written it, and even sewn the costumes herself. She hired me to do script supervision. Nobody got paid but we were given a percentage of the film. Annette was such an honest and loyal woman that she sent me checks over the years until I was full compensated.
Zachary Strong:
The girl who was the lead in 'Deep Tango' was Mona Watson who'd been the star of film 'Mona' (1970) – which had been a big hit. She was an interesting woman, but was very conflicted about doing the film. She kept backing out of 'Deep Tango'. In the end Habib stepped in and spoke to her. He was good like that as he had such a calming presence. After Habib intervened, Mona went ahead with it.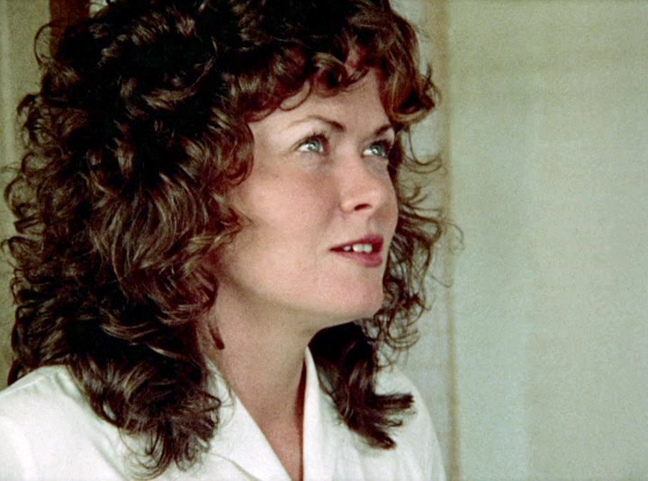 Mona Watson in 'Deep Tango'
'Deep Tango' was about a man who moves into a new apartment in San Francisco. For the male lead I chose this guy who was ideal for the role based on his appearance and abilities. But he changed his mind on the day that we were supposed to shoot. The reason he gave was that he'd just read an article in the morning paper about Liz Taylor and Richard Burton getting back together again. He said, "I think this a sign that my wife and I will get back together too. If Liz and Richard can do it, so can we. But… if she knows I did a porno, she won't be interested in me."
So I called another guy named Keith Henderson who happened to be available. I had the usual team to work on the film, Wok in front and behind the camera as 'Joaquin Delicado'.  Jerry Abrams had an acting role, too, and was the cameraman.
Jerry Abrams in 'Deep Tango' (1973)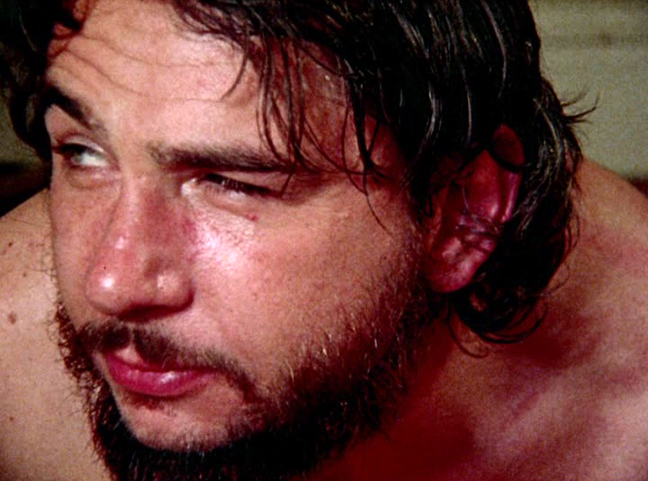 Wok in 'Deep Tango' (1973)
When I was making these films, I wasn't under any illusions. I didn't think they were good. I was trying my best with what I had, but couldn't imagine anyone would be interested decades later. I thought I'd put little nice touches in this film – and a number of references to 'Last Tango in Paris'. For example in 'Last Tango in Paris' they had shot after shot of the Paris Metro so we snuck down with our cameras into the Bay Area Rapid Transit (BART) while they were testing the facility, and we shot sequences there.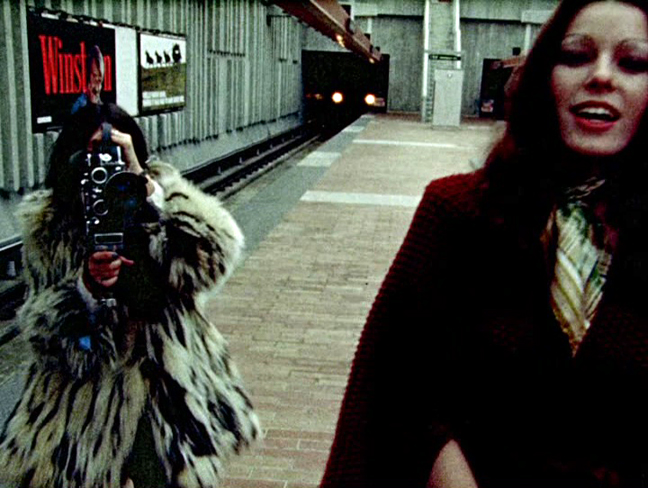 Molly Seagrim shoots Annette Haven in 'Deep Tango'
When I started making movies, I emphasized butt-fucking. I got that from Jerry who was really hot for that. It was unusual to see anal sex in films at that time. In fact, the Mitchells did all they could to avoid showing butt holes, whereas I thought… well, if it's a nice looking one, why not show it!? It was an artistic difference where they eventually changed their mind.
There's one crazy scene in the film where during sex Mona shoves a stick of French bread up her partner's ass and the tip of it comes out of his mouth! And then we had the "da-da da da!" which was the sign of Imperial Margarine advertisements.  It was another take off on a scene from 'Last Tango in Paris'.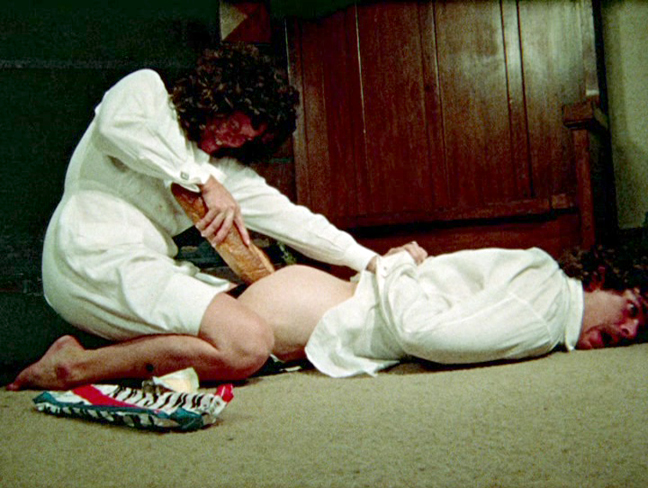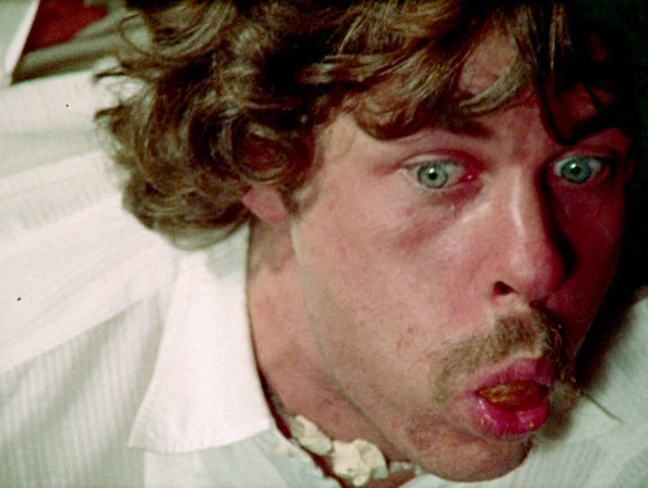 'Deep Tango' was successful but I didn't get much money for it. I had a distribution deal where I would have a share of the profits after the distributor recouped his costs. That was the idea anyway. I think I got $450. So for a 5-day shoot I didn't even make $100 bucks a day. Much later I sold the video rights to VCA for a few thousand dollars.
Molly Seagrim:
'Deep Tango' seemed to disappear forever, but it recently showed up on DVD! I bought a copy and watched it with a friend. I'm in three scenes. See if you can find me.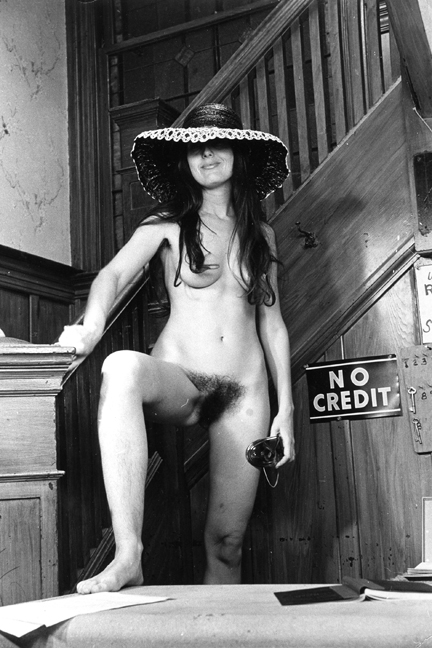 Production still of Molly Seagrim from the set of 'Deep Tango'
Zachary Strong:
It was a good time in my life. I had a good group of people around and we were making films regularly that were shown in theaters. It would have been nice to make more money from them though.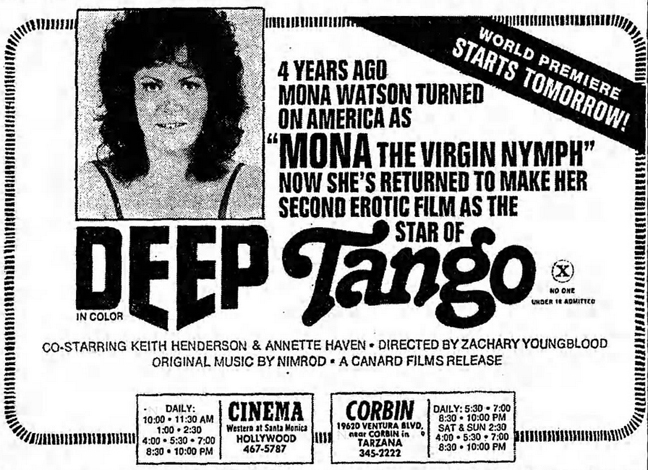 *
5.

Zachary

Strong – gay films
Zachary Strong:
I also made gay films for Habib because he had some gay theaters. Films like 'Raoul's Masterpiece' (1975), 'Boot and Saddles' (1975), and 'Honorable Jones Comes Out' (1976). I used the name Fritz Gemein or Fritz Gemeiner for them. I mainly only worked with Habib. He'd put up the money, and then he'd handle everything. He was good for that.
I actually preferred making gay films. It was such a pain making straight films because it was hard to make any money from them. I found the gay distributors to be more honest. If they said something, they actually meant it. They would stick to their word and in general were easier to get along with than the straight people in the business. Plus they paid more. If I had the choice I would make a gay film, even if I were offered a high budget straight gig.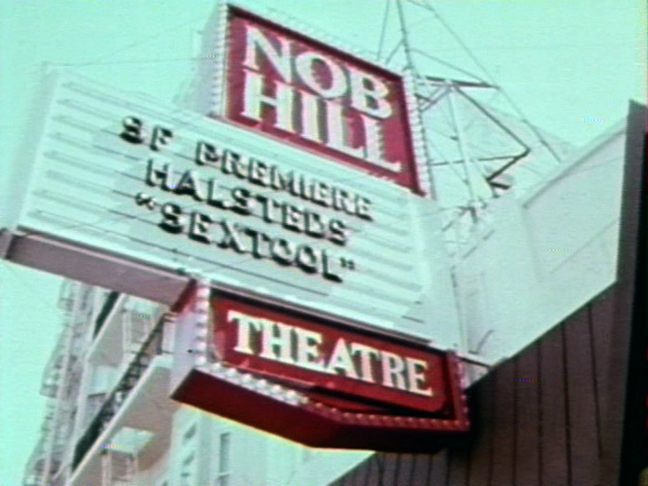 Still from 'Honorable Jones Comes Out' (1976)
Sometimes I made the same film in a straight and gay version. Take 'Raoul's Masterpiece' (1975) for example. I did the gay one first as a dry run. The straight version had a higher budget and was just called 'Masterpiece' (1978). It had the same location and same script. I even used the same actor, an old guy named Thomas Tringler, in both films. I made more money on the gay version. I got stiffed on the straight film.
In San Francisco at the time, the local newspapers, like the Chronicle and the Examiner, started being more discriminating about porn films. Basically they would only carry ads for gay films if they sounded 'respectable'. So I switched to using a French-sounding name to make my films appear more sophisticated. I became 'Petant Troudecul' for example – which was a joke because 'petant' means farting, and 'trou de cul' means asshole in French. Anybody who spoke French would know they were seeing a film made by a farting asshole… I used that name on films that were a little rougher sexually.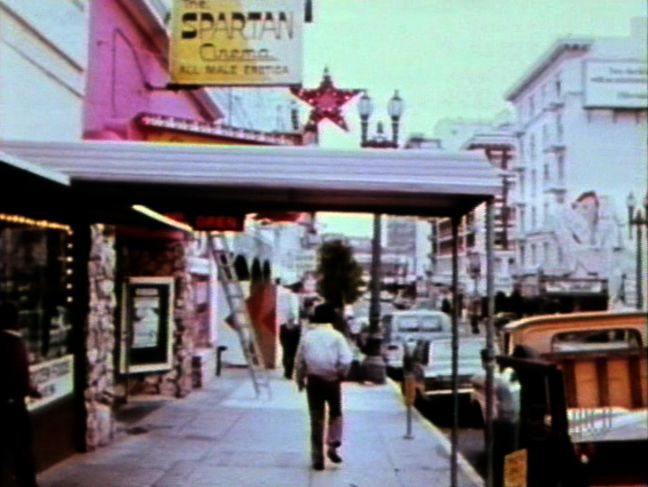 Still from 'Honorable Jones Comes Out' (1976)
I also acted in some of the gay films I made, doing sex scenes if necessary if somebody didn't show up or if they couldn't perform. I just didn't have the time to go out and get someone else, so in a situation like that I'd step in.
I was proud of a film called 'Celebration' (1978). Habib wanted me to shoot a gay film that included footage of the Gay Pride March in San Francisco that year. So we went out and shot a bunch of footage of the march as part of the story. As a result my film is the only existing film record of that event.
*
6. 'Confessions of a Teenage Peanut Butter Freak' (1975)
Zachary Strong:
In 1974 I made a film called 'Visions of Clair' with a friend who put up the money.  Its claim to fame is that it featured mostly girl-on-girl action and was made at a time when men didn't really want to see that. I had to put up additional money to add a hetero sequence to get it out. Many regard it as a classic. Annette Haven was the star.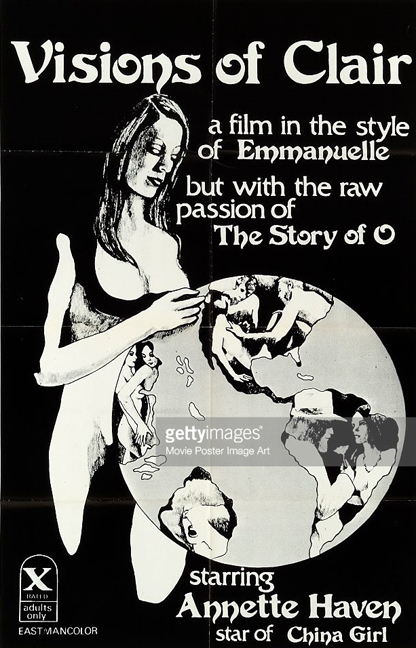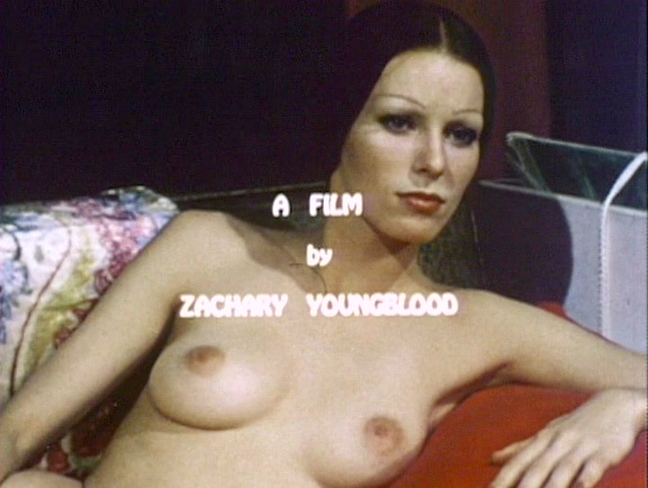 When it was finished we had big difficulties selling it. We only managed to sell it a couple of years later when Sidney Niekirk at Cal Vista bought it. I don't think I got paid anything for my involvement.
In 1975 Habib Carouba hired me to make a film called 'The Analyst' (1975). That film is often considered one of the first anally themed feature films. It had Candida Royalle in her first role. I directed it, Jo-Anne was the assistant director, and Jerry was a cameraman. Basically it was my project and my script – but somehow it got credited to Jerry which is incorrect. It was my film. 'The Analyst' did well for Habib, so in 1975 I made 'Confessions of a Teenage Peanut Butter Freak' with Jerry.
Jerry got the idea about making a film about peanut butter because I liked peanut butter. When I was in college, I was paid to wear a Planter's Peanut suit to promote their product at the University of Oregon. I kept all the paraphernalia from that job.
Molly Seagrim:
It was mainly Jerry's project, and he was so obsessed with it. He thought it was going to be a great work of art, but it just wasn't. It was ridiculous to everybody else – but he took the concept so seriously.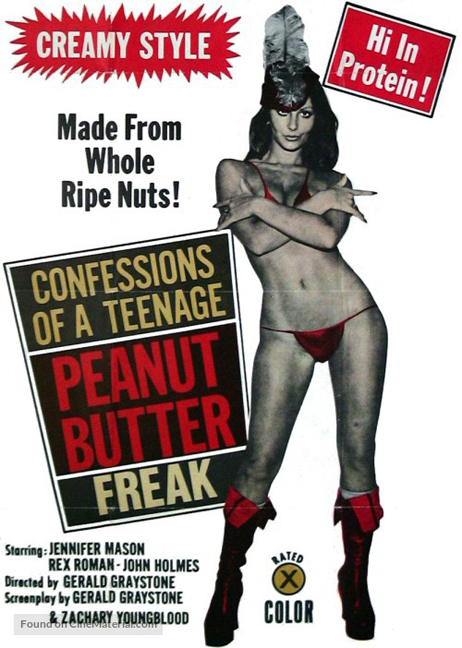 Zachary Strong:
The film is about a teenager who is insecure about having sex with women and has a fetish for peanut butter. I played the teenager, Billy, who has a series of humiliating sexual experiences. John Holmes played a friend of Billy who ends up causing him even more humiliation. John was very easy-going and good to work with, and would always be willing to help on the set in any capacity. He was very cooperative. I had no problem with him at all. He was a pleasant guy.
Constance Money was also in the film. It was her first film. She was a sweetheart. She was living with Jerry at the time. They had a volatile relationship to say the least, but everyone had a difficult time with Jerry.
Molly Seagrim:
I couldn't imagine how Constance wound up with Jerry. They were such a strange match. I think he picked her up hitchhiking. She was such a lovely young thing. I liked her a lot. And she was a great seamstress in addition to many other talents she had. She actually made me a halter that I kept because I liked her so much.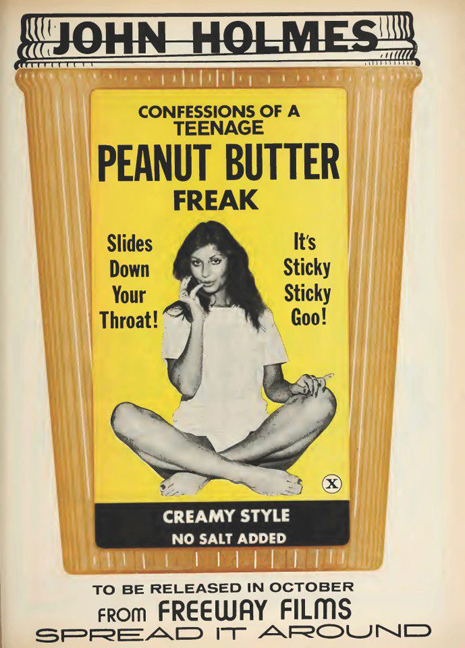 Zachary Strong:
I put a lot of work into the film. I wrote it and I was in most of the scenes, but Jerry was more in charge of the whole thing than usual. When we finished shooting it, Jo-Anne and I left Jerry to do the editing. We went back to Europe, bought a van, and roamed for several months. While we were away, Jerry and Constance would write us letters claiming they were suffering in complete poverty. Constance said she had to work to support Jerry while he was editing 'Confessions'. The trouble was that Jerry always would waste so much time and money when he was editing.
When the film was finished, as usual, Jerry ripped me off. I didn't get a penny out of it. If he could rip you off, he would. He'd make promises he'd never stick to.
Molly Seagrim:
We always knew that Jerry was a taker. He would always come and freeload and eat all your food. He was always complaining he didn't have any money. He crashed with us for several months before he outstayed his welcome. That was the trouble – he always outstayed his welcome.
Zachary Strong:
After 'Confessions of a Teenage Peanut Butter Freak', I broke off from Jerry completely because I just didn't want to work with him anymore. That was the end of our working relationship.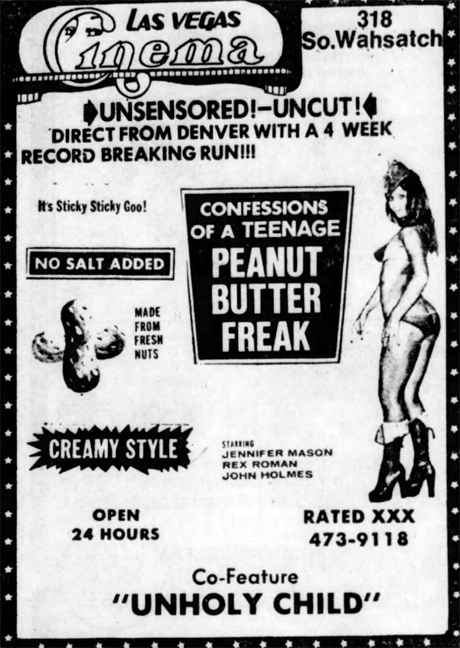 Molly Seagrim:
Occasionally I worked on films that had nothing to do with Zack – like Alex de Renzy's 'Babyface' (1977).
Alex had hired me years before 'Babyface' for another feature film. I have no idea what the name of it was except that George MacDonald was in it. I was only in one scene. I was hired at the last minute and I had to memorize a lot of dialogue very quickly. But that was the easy part. The hard part was I had to give head to two guys at the same time. Back and forth, back and forth. That was not very exciting for me. Alex was impressed with the way I had memorized the dialogue and never forgot that, so five years or so later he gave me the role of the mother of Baby Face.
This talented actress named Marion Eaton had signed up to be in that role but she had doubts. She probably thought, "Oh crap, there goes my career. What am I thinking? I can't be in that movie by Alex de Renzy!" and so she dropped out at the last minute. Alex called me and said, "There's a lot of dialogue to memorize in just a couple of days, but I know can you do it. We have everything set up already. Would you take her place?" He offered me a lot of money, so I said, "Okay, I'll be there." The role called for me to have sex with this guy who was entirely wrapped in cellophane…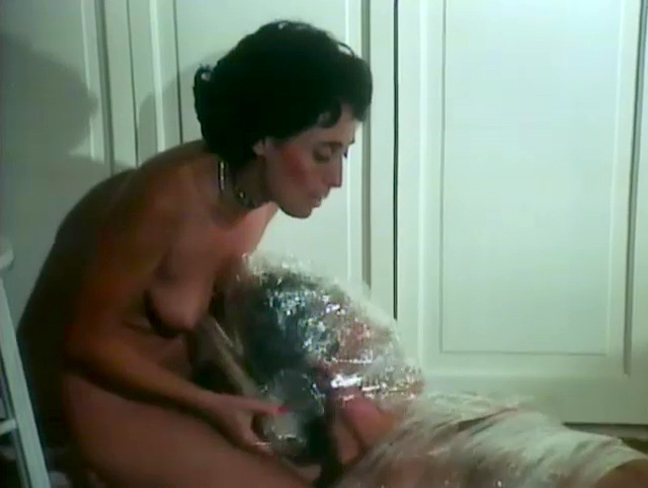 Mollie Seagrim in 'Babyface' (1977)
The irony is that they still used Marion's name on the credits and not mine. I don't know how they got away with that legally. No one seemed to notice that it wasn't actually her in the film!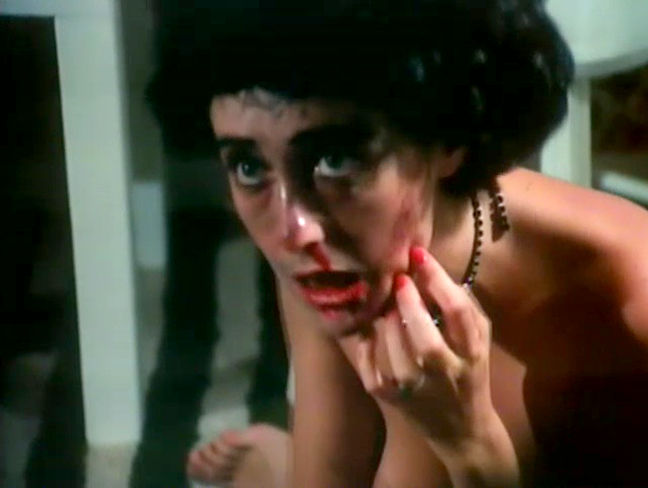 Mollie Seagrim in 'Babyface' (1977)
*
7. Late 1970s
Molly Seagrim:
By this time, I was getting a little tired of the whole film scene, and my relationship with Zack had just about run its course. I'd been discontent for a while. At first I thought that this was just the way marriage is. This must happen to everybody. People just get along, they go along, and they're good friends. So what am I fussing about?
Then because we had an open relationship, I had an affair with a man who made me realize otherwise.
Zachary Strong:
Jo-Anne and I separated and divorced amicably in 1977. It wasn't like we needed to go through a divorce. I always said to her that if she ever got tired of me she was free to go. I didn't want to live with a woman if she was tired of me. It turned out that Jo-Anne just wanted to be independent. She wanted to control her life so we separated.
Molly Seagrim:
It was like, "I divorce you, I divorce you, I divorce you. Take your camel and all of your possessions." It was an amicable breakup. We remained close and still worked together on most of the films. I continued to do a lot of film editing for Zack.
Zachary Strong:
After we returned from Europe, the easiest thing for me to do to make money was to make films again. Starting in January 1978, I got a contract to turn out one feature film each month. Sometimes it was two movies a month. These were films like 'Celebration' (1978), 'Marisa' (1978), 'Sweet Sister' (1978), 'Loving Friends' (1979), and 'Family Fun' (1978). All of these films were done in one day. There just wasn't enough money to do them properly so it was a question of flying by the seat of your pants.
I used so many fake names over the years that I've lost track of all the films I made. I can't even remember all of the names I used.
I would get the inspiration for the scripts from anything that I saw. For example 'Playthings' (1979) was a science fiction take-off of 'Mork and Mindy'. Jo-Anne and I made that. We used many of the same people in lots of the films. Like Sharon Kane, Don Fernando, Eileen Welles and Sharon Thorpe. Sharon Thorpe was very nice, one of the most memorable ladies I've ever met, in porn or otherwise.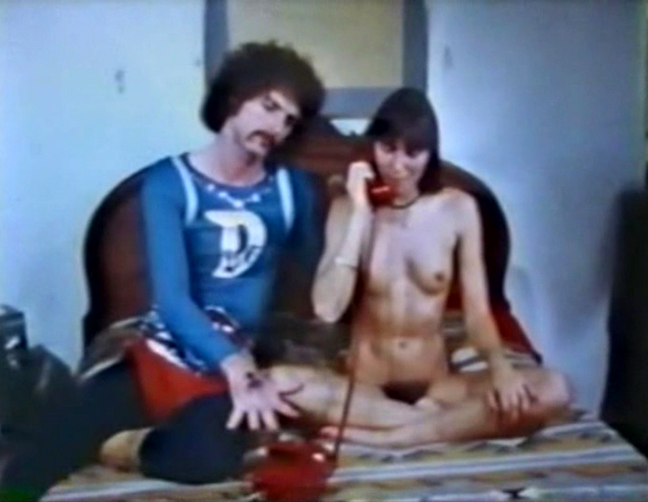 'Playthings' (1979)
'Made to Order' (1979) featured Phaedra Grant. She was a real trip. She eventually became a junkie and then a street person. Habib would watch over her and give her money. He protected her so the street people knew not to mess with her.
Habib was a gentleman in that way. He even took care of his enemies when they fell on hard times. He wouldn't turn his back on them. He would help them out. On one occasion he had some trouble with a man named Abdul. Abdul managed some of Habib's theaters and had stolen some money from them. Habib found out and Abdul was convinced Habib was going to have him killed so he took out a contract to have Habib killed first. But the contract killer that Abdul hired just took the money and went to Habib and told him the whole story. Habib and the hit man agreed to split the money, and Habib left Abdul alone.
Some years later Abdul had cancer. Habib went to see him when he was on his deathbed. Abdul was lying there, and his wife and kids were there. In front of everyone, Abdul told Habib that he was the best and closest friend of his life.
Habib was the most likable and interesting person that I met in the industry. His son is the king of the tenderloin now, but back then Habib ruled the roost.
Another film I made was 'Hot Teenage Assets' (1979). Actually it was originally just called 'Hot Assets', but I had to put 'Teenage' in the title to make it more commercial. It was done in two days. We got it into the Pussycat chain of theaters, and it was the film that I made the most money on.  The plot was about a reserved woman named Cathy – and whether she could be convinced to loosen up and have anal sex.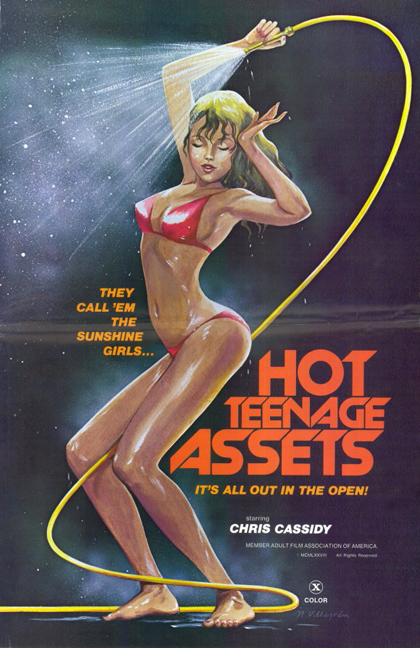 Cathy was played by Chris Cassidy – who was a royal pain in the ass… so to speak. Chris had a double penetration scene and she was behaving like a bimbo; she just wouldn't shut up. She was exaggerating her noises and going, "Oh, ah, oh, ah, oh, no!" all the time.  I told her to keep your mouth shut, because her phony noises were turning the actors off. In the end I had to step in and finish the scene myself. In the early days, I was called 'Captain Cumstrong' because I was always ready when I had to substitute for someone. I'd just take my dick out and wham, wham, wham, I shook it a little bit, and I was hard. So I jumped right in with Chris and we got the shots we needed.
Chris Cassidy in 'Hot Teenage Assets' (1979)
There were things that the Pussycat organization wouldn't handle – and one of those was a gay scene in a straight film. In 'Hot Teenage Assets' we had an orgy scene. It was a circle where people are all eating each other. But in the circle one of the guys was sucking on another. If the booker had spotted that, it would've been an automatic dismissal right there. I was sweating bullets… but he accepted it. I don't think he saw it, or maybe he decided not to see it, but it was left in which was a huge relief.
There was a second director on 'Hot Teenage Assets' and that was Daemian Lee… he was quite a character. He did another porn film called 'Baby Love and Beau' (1979). Daemian brought in his crew that included Ben Van Meter who was a cinematographer, Walter Gross who did sound, and a kid called Phil Schuman. These guys had done Hollywood stuff so it was good crew. I became life-long friends with Walter Gross.
Working with Daemian though was another matter. It was such a pain because he thought he was in control and so he was always interfering. We had a limited budget and he wanted too many takes and expected me to pay for them all. I allowed him some leeway on directing a few sex scenes just to keep him quiet.  After this film, I used his crew but not him.
He went on to direct regular Hollywood movies using the name 'Damian Lee', making films like 'Abraxas, Guardian of the Universe' (1990), 'Ski School' (1991) and 'No Exit' (1995). I checked out one of his movies recently that starred Christian Slater and Cuba Gooding Jr. The production values were great and the quality of editing top-notch, but the story and directing was terrible.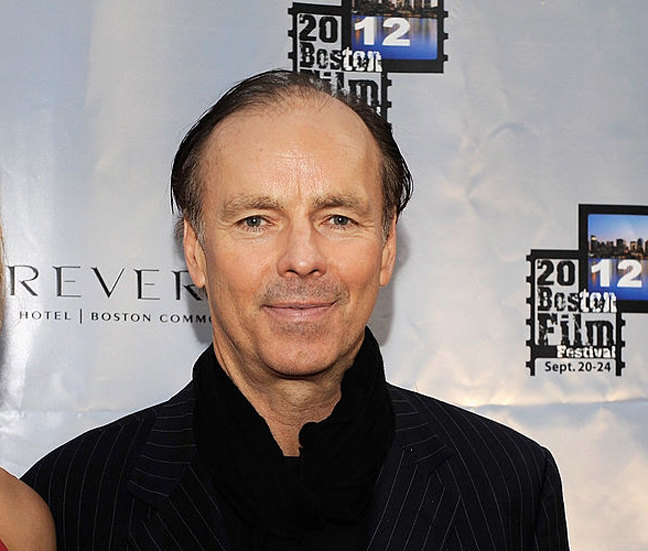 Damian Lee
After working with Daemian, I gave the kid, Phil Schuman, a shot at directing because he had a certain charisma about him and had won a few awards for an independent short he'd made. I found him to be better and more imaginative than Daemian Lee.
Molly Seagrim:
The last time Zack and I ever made love was on the set of 'Hot Teenage Assets'. We had to substitute for people that didn't show up, which often happened.
Zachary Strong:
I remember being with Jo-Anne on set, and thinking, "I hope this isn't the last time," and it was.  So the first and last time we had sex was related to porn.
Molly Seagrim:
I was thinking, "Oh this is so odd, I think this is the last time." It was just so peculiar, and very poignant. We looked at each other as we were fucking. I was thinking, "This is it." We were already miles apart.
*
8. 'Randy, The Electric Lady' (1980)
Zachary Strong:
In 1980 I made 'Randy, The Electric Lady' with Phil Schuman. Most of the money came from Phil's father who arranged all the financing. Phil's family was wealthy and they had contacts in Hollywood. I also put in $15,000.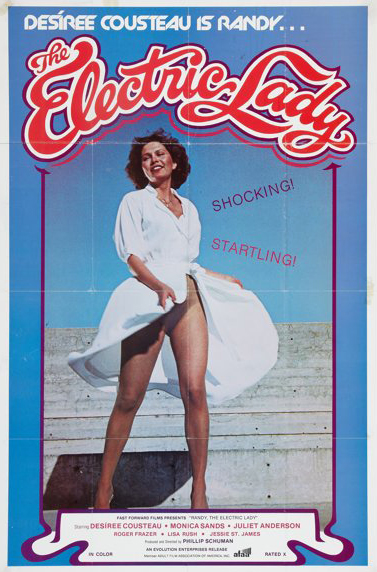 Molly Seagrim:
Phil was talented but very moody. I think maybe he was anxious because his father was putting up the money. His father was a shrink and was a strange guy as well. It was hard to get through to Phil. He was a full of himself, like he thought he was a young genius.
Zachary Strong:
It started when they got Terry Southern on board. Terry Southern had written the novel 'Candy' which had been a huge success in the 1960s and he was also the writer of 'Easy Rider' (1969). Terry liked porn so they got him to let them use his name to get backing. They said that Terry was writing the script for an adult film and that's how they got the money.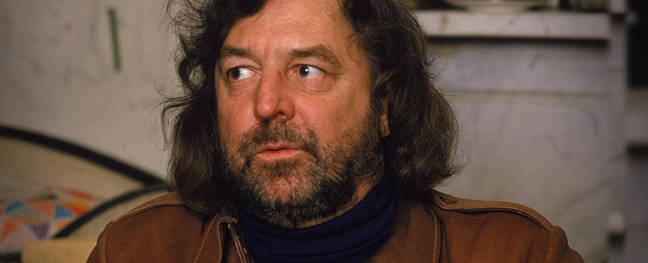 Terry Southern
Then they got Susan Tyrrell who'd been nominated for an Academy Award for 'Fat City' (1971). She signed on to be in it. She wasn't put off by the explicit sex that was required. So there was Terry Southern, Susan Tyrell, and Phil and I. We were all slated to make a pornographic movie. At that stage we got Playboy involved as well. We wanted big names, people who were known. The idea was to make it the first porn film that broke into the mainstream.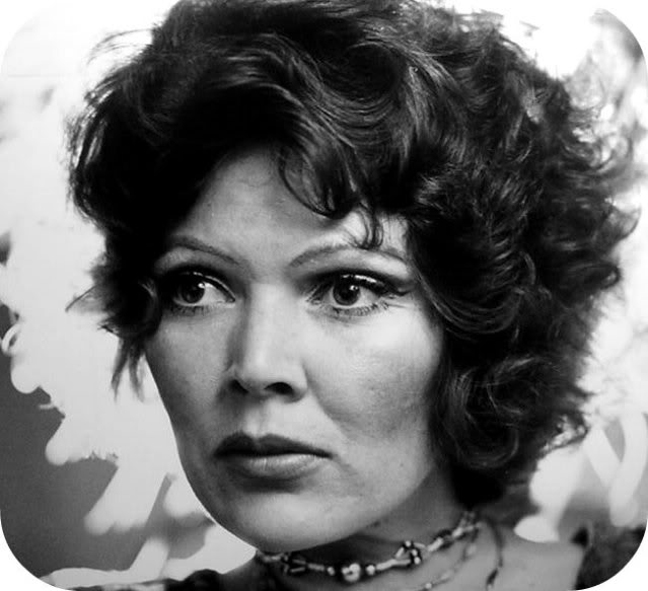 Susan Tyrell
Unfortunately Terry Southern bowed out because he got a big offer to do a musical of his book 'Candy'. He was worried that he'd lose the funding if he was involved in a porn movie. Then we lost Susan when she heard Terry had dropped out. Even though they pulled out, we still had our financing in place. We had $120,000. That was the highest budget I ever worked with.
As the producer I was a major force behind putting 'Randy' together. I was involved in the editing, the basic storyline and the script. It was a 30-day shoot and we had a big crew working on it. I had to make sure it was done on time and within budget.
'Randy' was the only film I worked on that required set construction. Before that I used whatever I had available. We rented a large room at Fort Mason where we built the sets. We had only two days to build them before the shoot.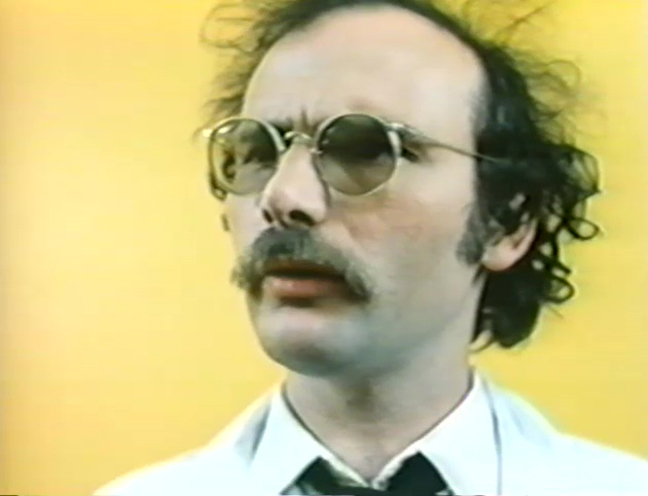 Zachary Strong in 'Randy, The Electric Lady' (1980)
Molly Seagrim:
I was a production manager. I'd like to think I did it well but it was a really hard and challenging job. Murphy's Law was in full effect: Everything that could go wrong did go wrong on that set. It was such a relief when it was over. Having said that, it was certainly better than going downtown to work in the typing pool.
Zachary Strong:
I had more problems with Alex de Renzy when I made 'Randy'. This time he was furious because I'd hired Desiree Cousteau as the star. He came at me full of rage, like he was going to kill me. It was fascinating because I'd never seen anything quite like it. Once again he said that I'd betrayed him, that I was stealing his people from him. This time, he said, I'd gone too far. It was white-hot anger. It was awesome to witness. We used Desiree anyway.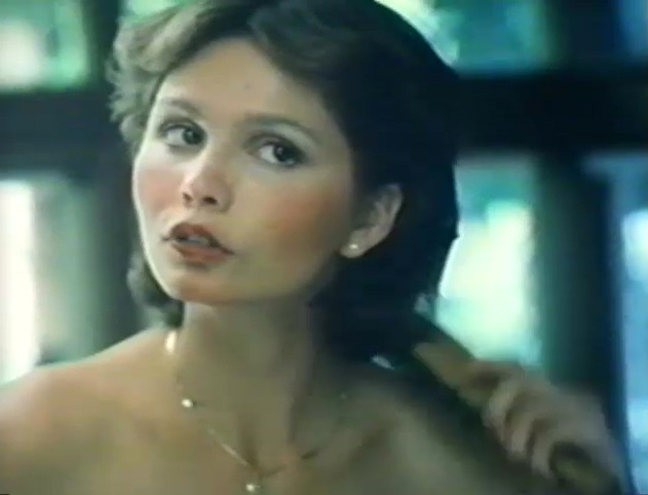 Desiree Cousteau in 'Randy, The Electric Lady' (1980)
Desiree Cousteau was peculiar, to say the least. I thought she might be a multiple personality type. She was definitely in touch with some other universe. Over time I saw different personalities. She would just shift into being another person. It was remarkable and made me nervous. The first time I met her was when I interviewed her for the role in Randy, and she was totally normal. She came across as being very self-aware. But on the set she was anything but normal. She drove everybody crazy. During the shoot I was the only one who could really talk to her, and that caused me huge problems. At one point I got so frustrated with all the issues she was causing, I went to sit in a big room by myself. Sitting there going, "Oh shit, shit, shit, fuck fuck, fuck," and Desiree suddenly appeared from nowhere. She came up to me and said, "You look very tense. Would you like me to give you a blow job?" She had no idea that she was the reason why I, and everyone else, was so stressed. I passed on her offer.
The other big problem on set was Phillip's drug habit. Most of the crew was coked up as well, so things fell apart quickly. They'd sneak off set to get high. I was trying to control the use of drugs set because it was making things much more difficult. Phillip, in particular, was always screwing around so it was hard to keep the film on track. I tried to manage the budget but it was out of control – which made me the bad guy. It was a very stressful situation.
Molly Seagrim:
There was a lot of coke on that production. The other thing I remember is that either Phil was paranoid and couldn't make up his mind about anything… or things were never quite right so everything had to be done over and over again. It was so frustrating. We put in long, long hard hours on that film.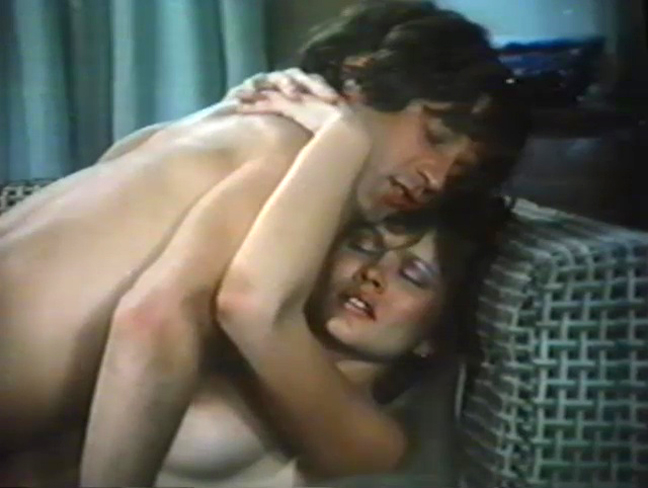 Richard Pacheco and Desiree Cousteau in 'Randy, The Electric Lady' (1980)
Zachary Strong:
We eventually finished the shoot and to celebrate we organized a wrap party. Habib had fancy restaurants in San Francisco, and one particularly posh one was called Pasha. He let us throw our party there for free. There was still so much resentment towards Desiree that I heard Phil wanted to pull a 'Carrie' on Desiree. He wanted her to get up there and receive all this praise, and then have pig blood dropped on her or something like that. He got some people to help him because by then a lot of people wanted to humiliate her. I made it very clear that was not going to happen. I sent Jo-Anne after them as she knows how to say "no" in a way that people understand, so we managed to avoid that disaster.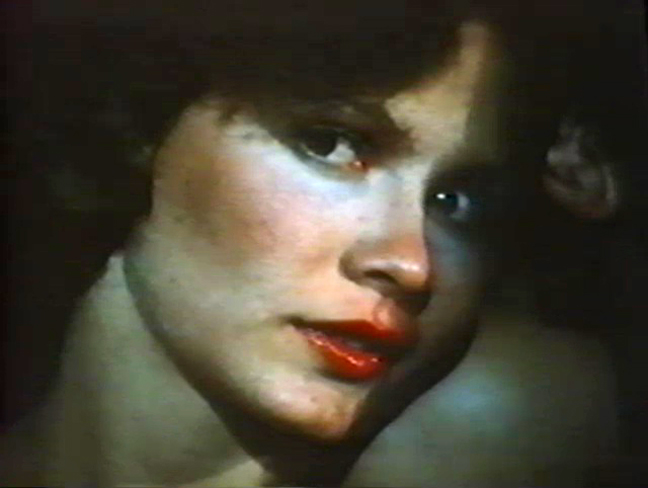 Desiree Cousteau in 'Randy, The Electric Lady' (1980)
Things broke down even more after the film was shot and edited. Phil and his father were breaking the law for limited partnerships. I was trying to control them because I was concerned I'd be arrested, and in the end I had to sue them in order to protect myself. I hired an attorney to represent me but I didn't have a lot of money to pay him so he said he'd put up the money for my next film and he'd waive his fee. It'd be in lieu of paying him.
The end result was they bought me out. That's why they put a 'Harvey Steinfarfel' credit for me and removed my name from the production. I didn't want to deal with them anymore, so I sold my share cheaply and got out of it.
I didn't see Phil Schuman after that – but he got a big break where he was nominated for an Emmy for a documentary about the making of 'Raiders of the Lost Ark' (1981). He went on to make mainstream films, then had a big deal to shoot a film in South America with Burt Lancaster. That project fell apart because he wanted to cast Karen Allen from 'Raiders of the Ark', that he was having an affair with, in the lead role. Burt didn't like her and was against the idea and bowed out. That started a downward spiral for Phil because he already had a drug problem. He died of a drug overdose when he was around 34.
*
9. 1980s
Zachary Strong:
In order to pay off my attorney, I made 'Little Showoffs' (1984). I made it with Curt McDowell who's claim to fame was a film called 'Thundercrack!' (1975).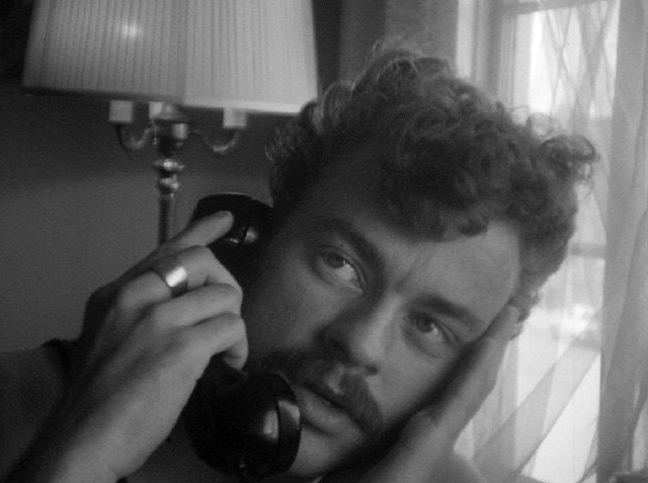 Curt McDowell
Molly Seagrim:
I'd been away and when I came back Zachary had somehow forged a partnership with this crazy, brilliant man called Curt McDowell. He was an underground filmmaker.
'Little Showoffs' was an interesting film, even though it had a stupid title. The working title was 'Definitely X'. Curt was gay but he was convinced that he could make a heterosexual porn film. He was a very sexual being.
The concept for the film was that Curt would interview people about their sexuality. These interviews were shot in black and white and they were the most interesting parts of the movie. Then we took the story of some of these people and we made their fantasies come alive by making them into little vignettes. It was like: "Here's your dream come true."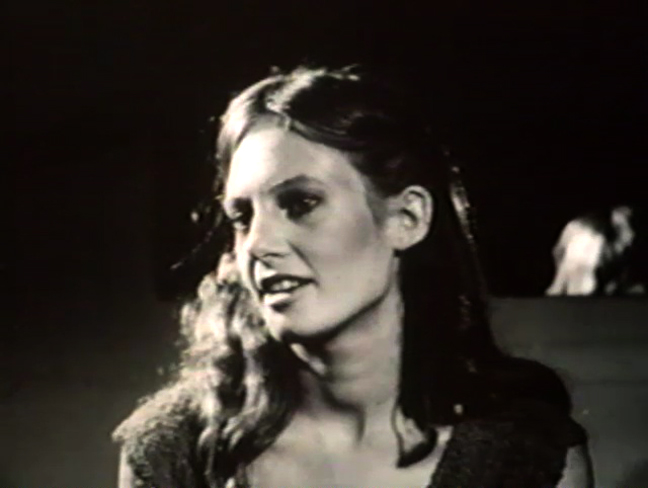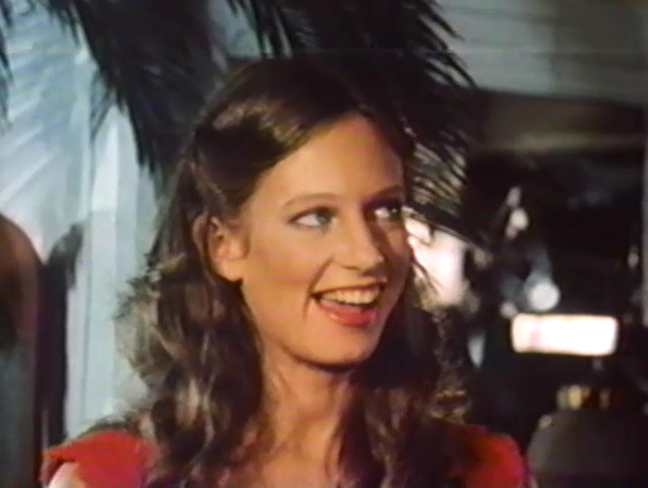 Unfortunately things went downhill fast. Curt couldn't understand that this was a commercial film so there was a huge artistic conflict between him and Zack. Initially they'd really struck up quite a friendship and were enjoying each other, but in the end Curt didn't even want Zack on the set which was crazy because Zack was the producer. Eventually I realized that Curt had shot thousands of feet of just cock sucking. Curt liked that of course, and didn't see that this meant we had a problem.
We had other issues as well. For instance we had lined up a Shakespearean actor for a convent scene but he backed out at the last minute. Curt went into the corner grocery store, which was an Arab mom and pop grocery, and there was a cute young guy behind the counter. Curt looked at him and he said, "How would you like to be in a fuck film?" This was like a dream come true for the kid. He was a cute guy and very nice but nobody really explained to him what was going to happen on set. I blamed myself afterwards, but at the time I thought surely this isn't my job. I thought surely Curt is going to say something…
After five minutes, the kid – who we called David Habib – had finished and expected to go home. We had to explain to him that we really needed a little more footage. Somehow we were going to have to work around this. Curt had a fit. He went into another room and broke down. He sobbed, "I can't do this." I don't remember now how we fixed it up, but we did.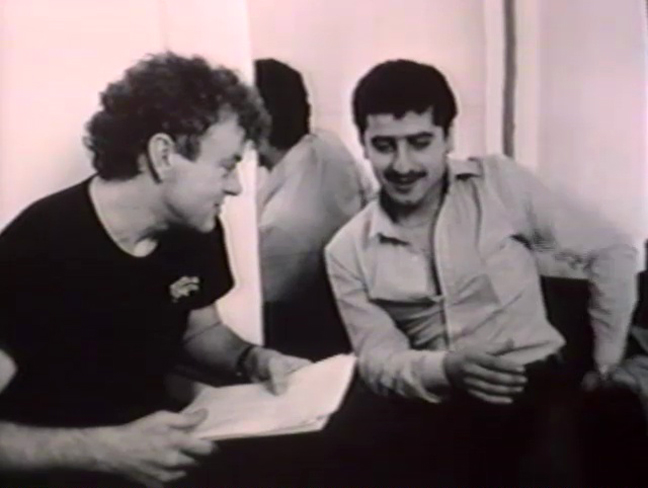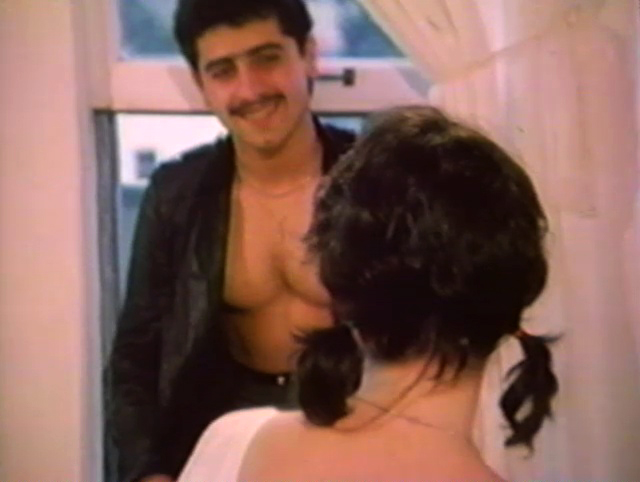 Zachary Strong:
After that I made a number of films using the name 'Miles Zakheim', including 'Color Me Amber' (1985) with Amber Lynn and Shanna McCullough, 'Sweet Cream' (1987) with Lili Marlene, 'Glamour Girls' (1987) and 'Cheri's on Fire' (1987).
In the 1980s Ray Steckler asked me to visit him in Vegas. He was head of the film department at the University of Vegas. He lured me there in 1988 to do low-budget horror films. I went and spent some time there but after a few months it became obvious to me that what he really wanted to do was to meet women and fuck them. He didn't care about the product. He wasn't as obnoxious as Jerry Abrams, but I knew it wasn't what I wanted, so I left.
I made other films but my last movies were a couple of lesbian films, one of which was called 'Sin City Cycle Sluts' (1995). I made some all-girl films using the names 'La Femme', 'Vive La Femme' and 'Cherchez La Femme'. 'Cycle Sluts' was featured on an episode of 'Seinfeld' when Kramer rents a porn videotape.
I flew the performers into San Francisco from Los Angeles for these films. Times had changed so much. These women were big, blonde and full of plastic surgery. Not like the natural women I had started out with back in the 1960s.
That's progress I guess.
*
10. Retirement
Zachary Strong:
I left San Francisco in 1999. I went back to Oregon to watch over my mom when she was failing. While I was there I realized I could retire and not have to work another day in my life. San Francisco had become incredibly expensive. I owned my house in Richmond so I could afford to live there, but I sold it when I went to watch over my mom.
Molly Seagrim:
Wok went on to make documentaries. He died in 2011.
I kept in touch with Jerry Abrams. He'd show up at my annual potato latkes or holiday parties. The last time I saw Jerry was at one of our final parties in San Francisco around 1997. He was driving a taxi cab and living in some cheap fleabag hotel, his glory days long gone. I heard he died in 2010.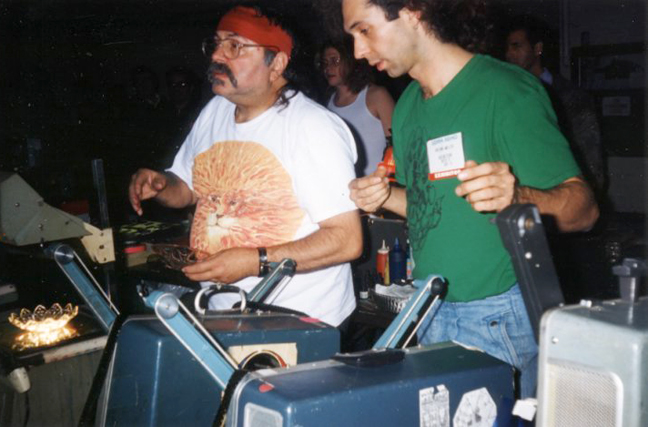 Jerry Abrams (left) in 1994
Zachary Strong:
I had enough money in the bank so I retired and concentrated on working on a novel that I hope to publish next year. It is, in part, about the porn business. Jo-Anne is a published writer and has her own publishing firm. We're still good friends. She's editing my book. So our story is still continuing.
Molly Seagrim:
I remained close to Zack over the years. He used to call me on our various anniversaries, even after he had remarried. It was very sweet. I'm a better friend with him now than I was then.
Zachary Strong:
I'm proud of my friendship with Jo-Anne. I never expected to be in the adult film business for more than a few weeks back in 1969, so it's been an unexpected journey, and an unexpected life in some ways.
*
Save
Save
Save
Save
Save
Save