In the latest in our series revisiting locations of golden age adult films, Ashley West describes a recent road trip to visit the home of Russ Meyer in Los Angeles – where the Sultan of Sleaze filmed his last feature, Beneath the Valley of the Ultra-Vixens (1979).
It proved to be a trip with an unexpected ending.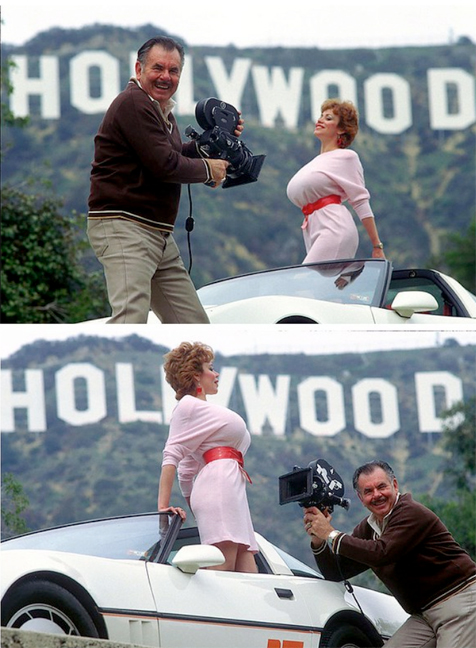 Russ Meyer and Kitten Natividad in Hollywood
———————————————————————————————–
Somehow it seems fitting that Russ Meyer's final home was situated right under the Hollywood sign, in a barely noticed area in the shadows of the iconic emblem of glamorous moviedom.
By the time he bought the handsome A-frame house at 3121 Arrowhead Drive in the mid 1970s, Russell Albion Meyer had made thirty or so feature films. Or magnificent mammary melodramas, as he might term them. They had several distinguishing features: for one, Russ was an independent auteur, directing, producing, writing, and shooting almost every one of his movies.
And Russ was the editor too. Ah, the editing. Russ had started out as a still photographer, and it shows. So terrified of anyone blinking on his watch, his films are cross cut in a dizzying manner, presaging the modern action films of a John Woo or Michael Bay. His montage is an epileptic strobe effect, a Picasso painting simultaneously depicting different points of view on the same plane.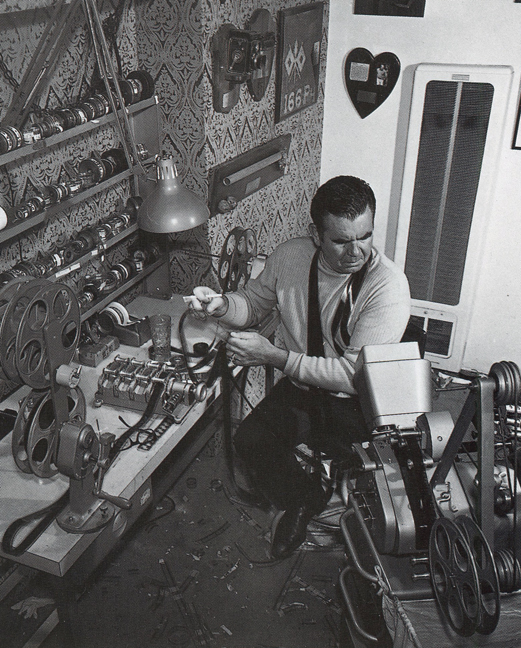 Russ Meyer, editor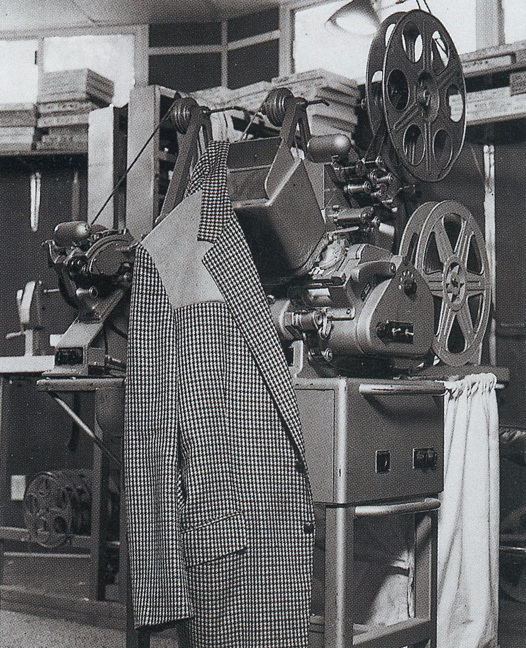 Russ Meyer's editing moviola
And then there were his obsessions: has any filmmaker so maniacally portrayed the workings of his tormented inner sexual maelstrom? Male leads, tantalized, tempted, dominated, thrown around, tortured, used, abused, cast aside or simply smothered by strong, powerful Amazonian women. And breasts. Lots of them. Cantilevered, outrageously abundant, and defying gravity. For a time it was an irresistible combination, and Russ' films were big hits around the country.
And yet, despite his movies' box office success, compounded by cheap-as-chips budgets, Russ' career was like his house: situated beneath the Hollywood mainstream, in a barely noticed sub-genre under the shadow of glamorous moviedom.
Russ' output was metronomic too. At least a film a year, from the black-and-white, nudie-cutie, creeper-peeper, titillate-and-tease talkies of the late 1950s, through to the ballistic-sadistic, primary-colored, explicit distillation of his erotomania in the mid 1970s. But there are only so many ways top-heavy beauties can exact revenge (in Up! (1976) a thinly-disguised Adolf Hitler is murdered in his bath by piranhas). By 1977, Russ' creative fantasies were running out of steam. He readied himself for his swansong, Beneath the Valley of the Ultra-Vixens, and bought a house in which he could film most of the scenes over an eight-week period in 1977.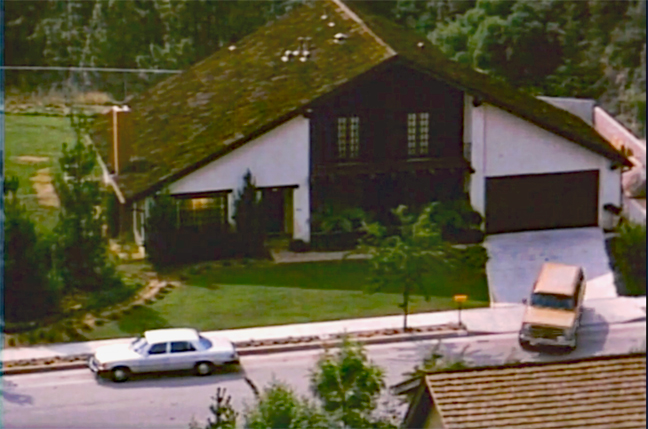 3121 Arrowhead Drive, as it appears in 'Beneath the Valley of the Ultra-Vixens' (1979)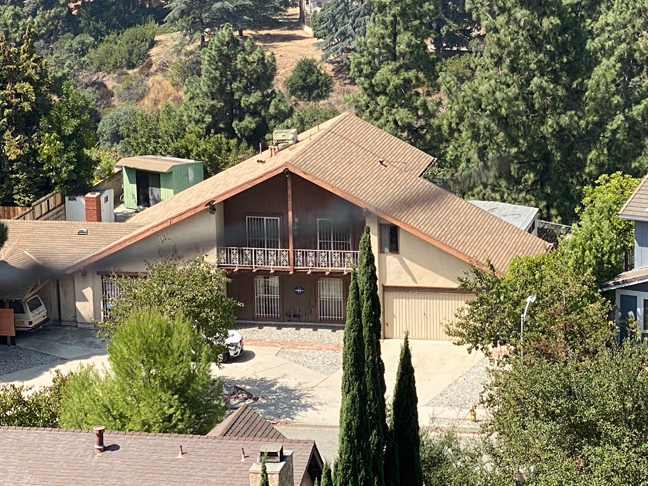 3121 Arrowhead Drive, in 2021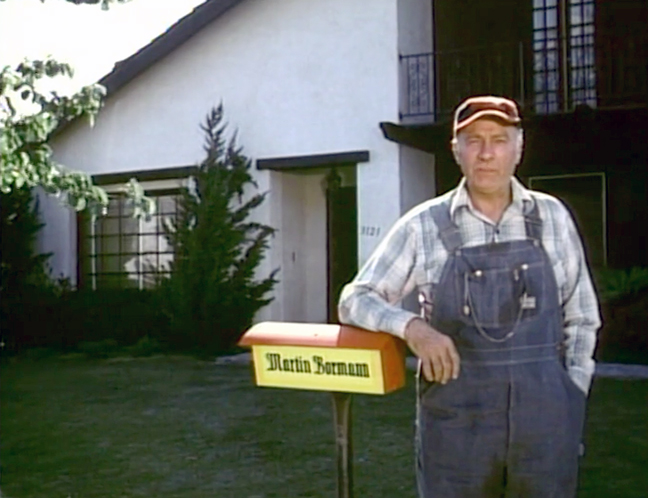 Stuart Lancaster in front of 3121 Arrowhead Drive, in 'Beneath the Valley of the Ultra-Vixens' (1979)
The house's unusual design was perfect for Russ' lusty gaze. He could place his enquiring camera in more unusual and lascivious places than ever before. All the better to see you with, my dear, said King Leer. In truth, that's all the house was: a film studio hangar combined with a personal shrine, crammed with film making equipment, such as his revered editing machine and boxes of artifacts. (Vixen! (1968) actor Garth Pillsbury described it like a 'commandant's office in Stalag 17.') The walls were covered with memorabilia from his own films, carefully preserved by Russ for decades, such as the cap worn by the handyman in his early film Eve and the Handyman. Grade A stay-over visitors were shown the guest house around the back by the pool; lesser acquaintances made do with a fold-out cot among the storage.
In the decades after 'Ultra-Vixens', Russ planned and schemed a comeback. He announced a sprawling bio-documentary, The Breast of Russ Meyer but apart from a music video and a couple of short films featuring his girlfriend du jour, nothing materialized. He spent most of his time by his pool, or exercising on a rudimentary weights bench at the side of his house. His van, emblazoned with the name of his film company, once essential for location shoots, stood idle waiting for the sultan of sexploitation to make one last move.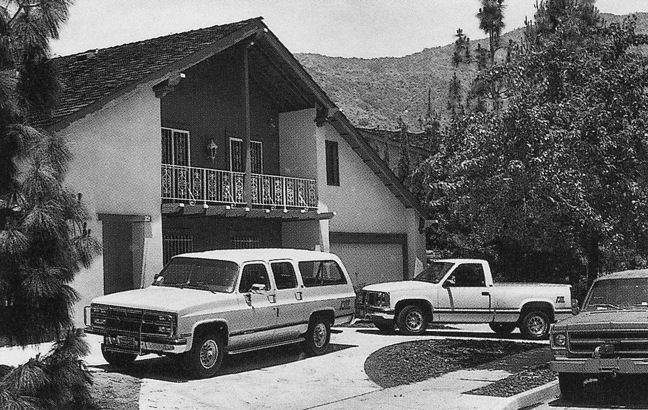 3121 Arrowhead Drive when Russ first purchased it – with trusted his RM Films vans parked outside
Russ continued to live in the same house until he passed in 2004. By then his life had changed, his brain addled with dementia, his films neglected, and his business affairs sewn up by a housekeeper-turned-assistant-turned administrator-turned-conservator-over-his-physical-being, named Janice Cowart.
Years ago, I contacted Janice. I'd heard the stories of manipulation and neglect from some who'd been close to Russ, and Janice was frequently painted as the villain. When we spoke, she was polite and friendly. We bonded over my name, Ashley, after the character from 'Gone with the Wind'. Turned out that was Janice's favorite film. She talked about her role administering Russ' estate, and how any profits benefited a cancer charity. We agreed to talk again but follow-ups never happened. Russ' films and legacy continued to languish.
Almost 20 years after his passing, I heard that the Arrowhead Drive house was still owned by Russ' estate, though it had sat empty and neglected since his death. I wanted to see the home that had been used prominently in 'Beneath the Valley of the Ultra-Vixens'. So on a trip to Los Angeles, I drove across town to visit it.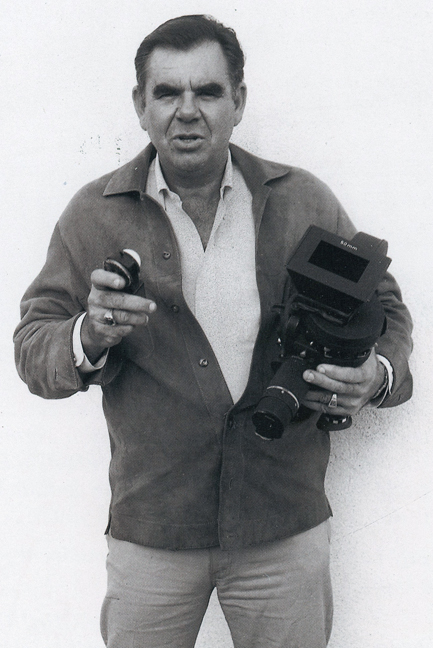 Russ Meyer
*
On the way to Russ' house, I passed a familiar building, a medical and dental center I recognized as having featured in 'Ultra-Vixens.' Over 40 years had passed since Russ shot scenes there, but the place was unchanged, and still a medical and dental center.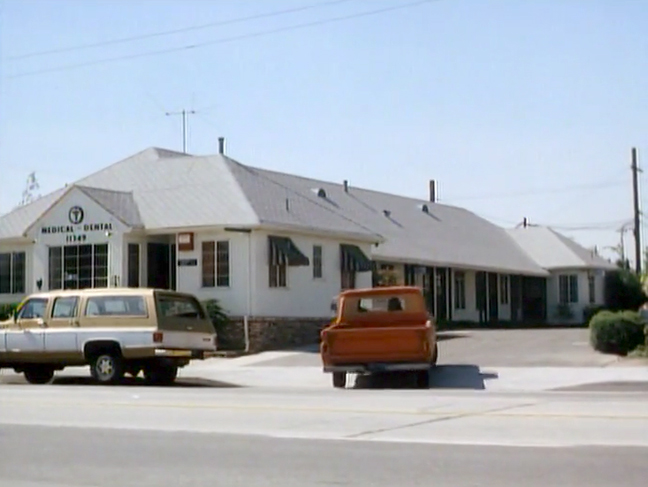 Medical/Dental office, as it appears in 'Beneath the Valley of the Ultra-Vixens' (1979)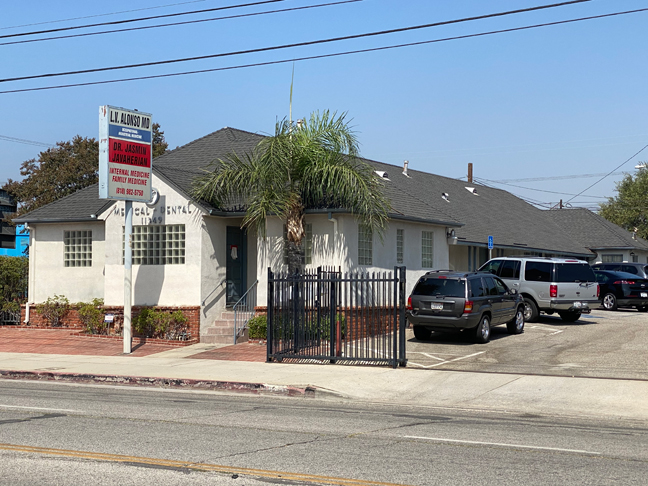 Medical/Dental office, in 2021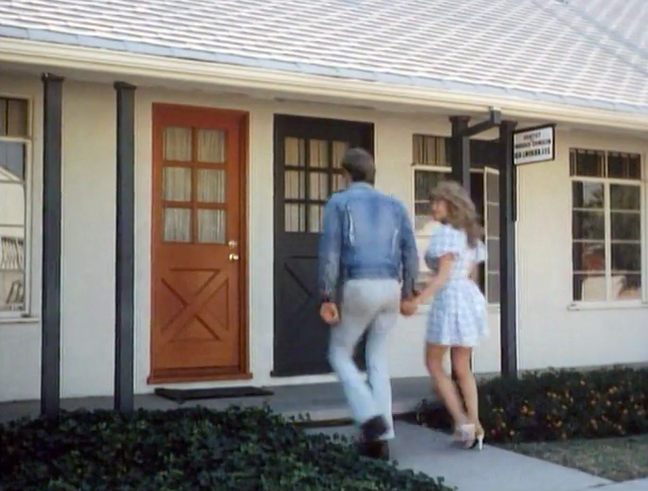 Medical/Dental office, as it appears in 'Beneath the Valley of the Ultra-Vixens' (1979)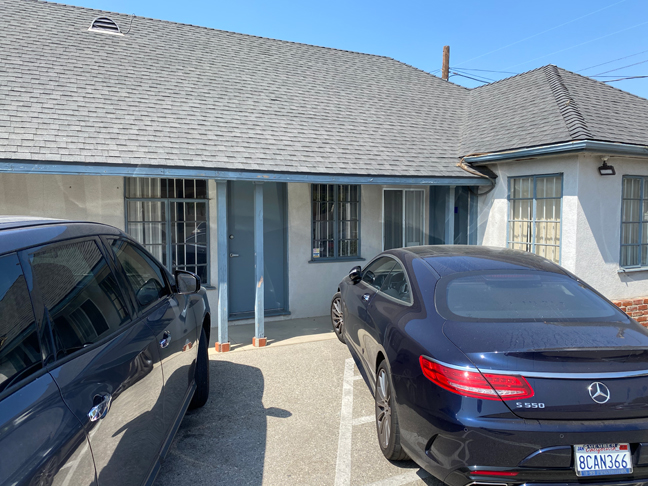 Medical/Dental office, in 2021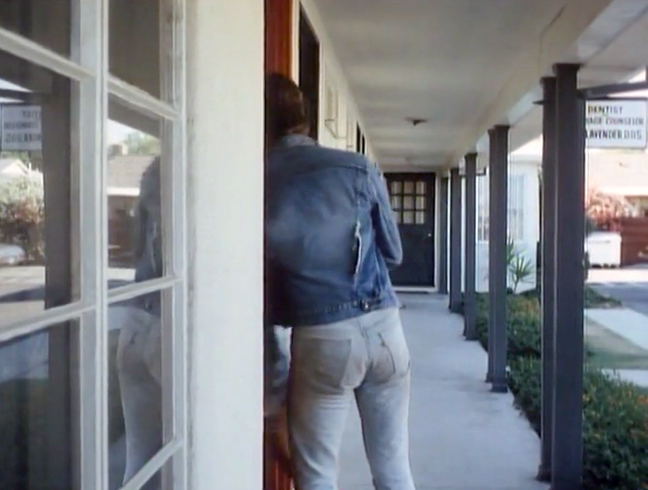 Medical/Dental office, as it appears in 'Beneath the Valley of the Ultra-Vixens' (1979)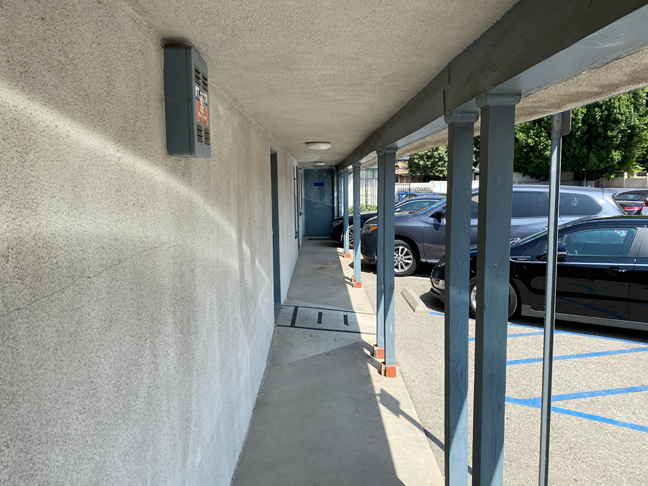 Medical/Dental office, in 2021
Russ' house is in the aptly named Hollywoodland area, a hilly, treelined suburban neighborhood, bordered by lush parks and sports fields. I had seen pictures of the property dating back to when Russ first bought it, usually with his ubiquitous RM Films van parked out in front.
Visiting it today was like entering a time warp. To my surprise, Russ' van was still parked in front of the house, almost 20 years after his passing, this time in an open garage next to the residence. Dustier and older, but still there waiting for Russ to re-appear, jump in the driver's seat, stomp on the gas, and head for a spartan shoot in the desert hills.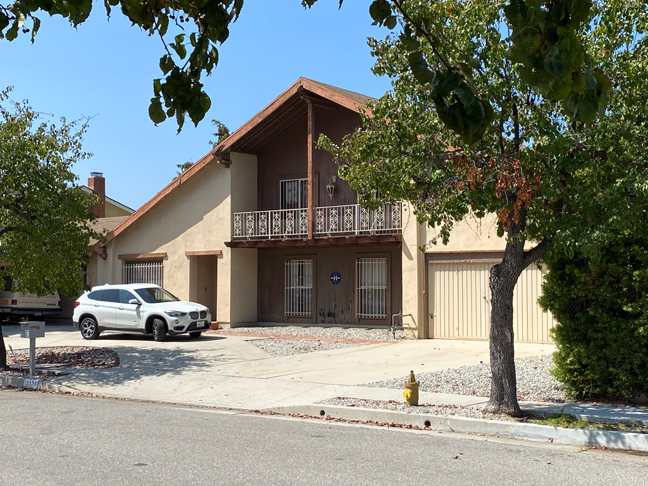 3121 Arrowhead Drive, in 2021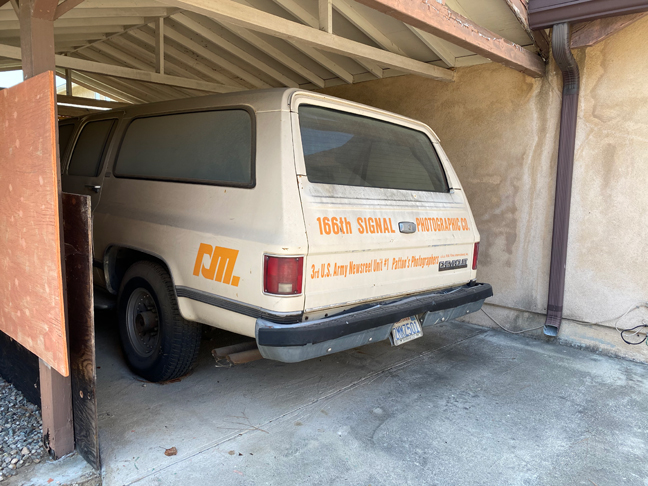 RM Films van at 3121 Arrowhead Drive, in 2021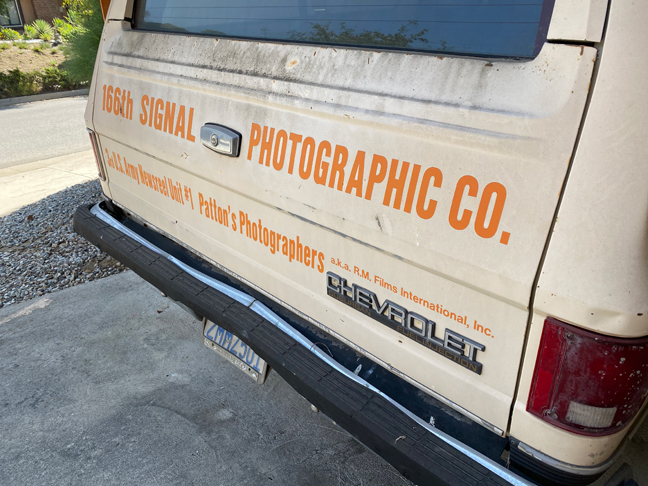 RM Films van at 3121 Arrowhead Drive, in 2021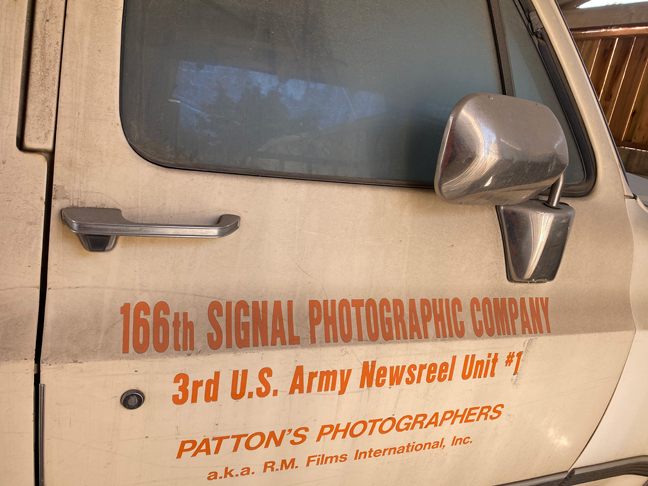 RM Films van at 3121 Arrowhead Drive, in 2021
Attached to the front of the house was a sign indicating that the building was a hotel. I peered through the windows but the inside looked dark and empty. At the side of the building sat Russ' weights bench, just a few yards from a still pristinely-maintained pool.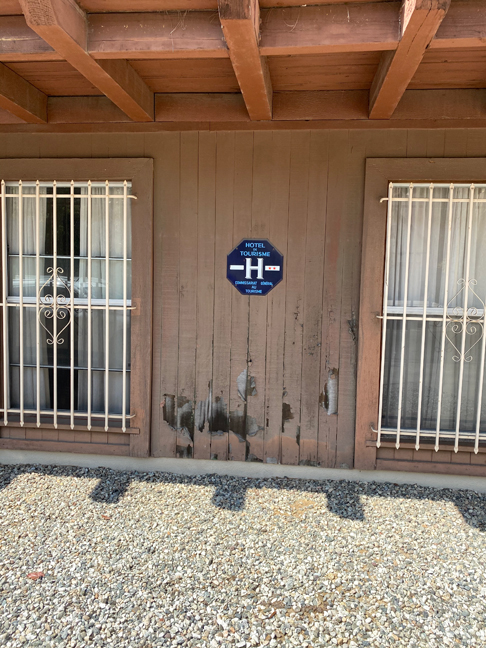 Hotel sign at 3121 Arrowhead Drive, in 2021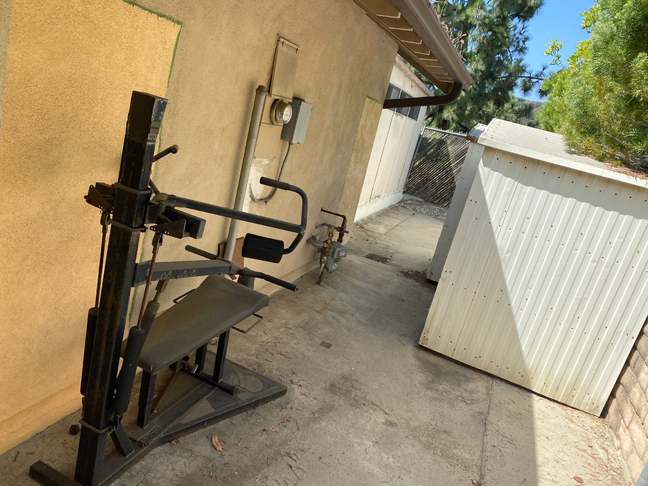 Russ' workout bench at 3121 Arrowhead Drive, in 2021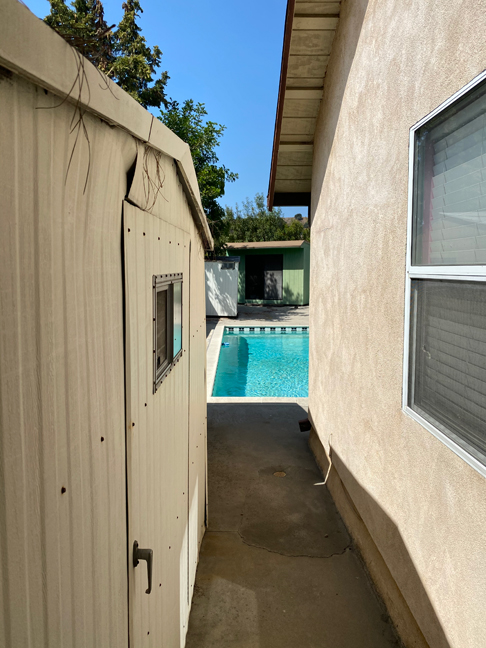 Russ' pool at 3121 Arrowhead Drive, in 2021
And then a car swept into the driveway. The door opened, and a woman I recognized as Janice got out: "What are you doing here?" she asked.
I re-introduced myself, and described my interest in visiting Russ's house. As in our previous meeting, Janice was friendly though cagey. I started by asking about the hotel sign on the outside. Was the house being used in a commercial way now?
Janice giggled. "No. That's a joke. Russ attached it years ago. He put it there to throw people off the scent. It's never been a hotel."
I asked if the house still had Russ' memorabilia displayed in it.
"No, that was all removed long ago."
Would it be possible to go inside and look around, I asked?
"No, it's in a state of disrepair. It would be dangerous.
How about taking a look at the back yard and swimming pool?
"No. It's not fit for visitors."
I changed tack. Was there any news about Russ' films, and whether they would be made available more widely, perhaps on BluRay, perhaps in film festivals?
"It's an expensive and time-consuming process. And the resources aren't there right now."
It was clear that Janice was ready for me to leave. I thanked her for her time, before she offered one more clue.
"The house will be sold soon. It'll probably be bulldozered and replaced with a new construction – no one is interested in this type of home anymore." she said.
"And all of Russ' possessions are going to be auctioned at Bonhams in a few weeks."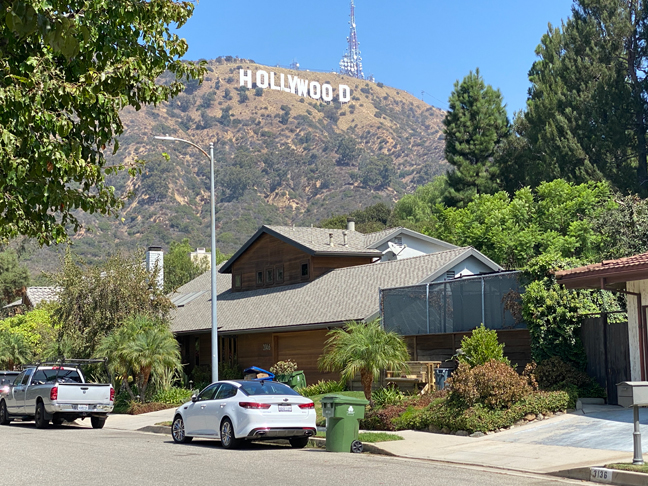 View from the front door of Russ Meyer's home
*
The Bonhams auction took place on June 8th 2021.
Sure enough, the inventory was comprehensive, a Russ Meyer fan's wet dream. There were cameras, one-sheets, props, costumes, awards, photos, and scrapbooks. A black leather glove worn by Tura Satana in Faster, Pussycat! Kill! Kill! (1966), the old man's wheelchair from the same opus, Russ' 8mm army camera, an unproduced script for a movie called 'The Jaws of Lorna'.
Of course, I zeroed in on the moviola editing bay. My heart burned for the moviola. That is where the films I grew up with took shape, where the kinetic and frenetic cutting was assembled. This was the very equipment where nearly every one of his films had come to life. I'd heard stories of how Russ would wheel it outside to the swimming pool to work on his latest movie, or disappear for weeks at a time while cutting together his footage.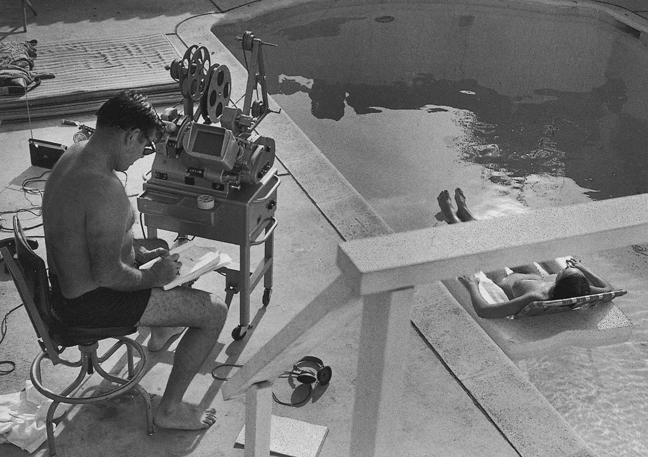 Russ, with his editing machine by the pool
He'd built an extension onto the back of the Arrowhead Drive house so he could escape from prying eyes and work on his films. The equipment was even being sold with Russ' wooden office chair on rollers. The auction was over in minutes and a few weeks later, together with a selection of editing splicers, analog light meters, memorabilia, photographs, and intriguingly, several reels of undeveloped film, it was delivered to my Brooklyn home.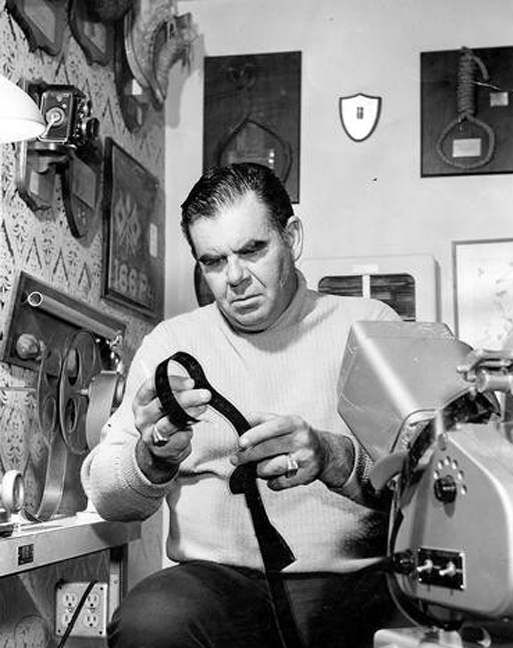 Russ, with his editing machine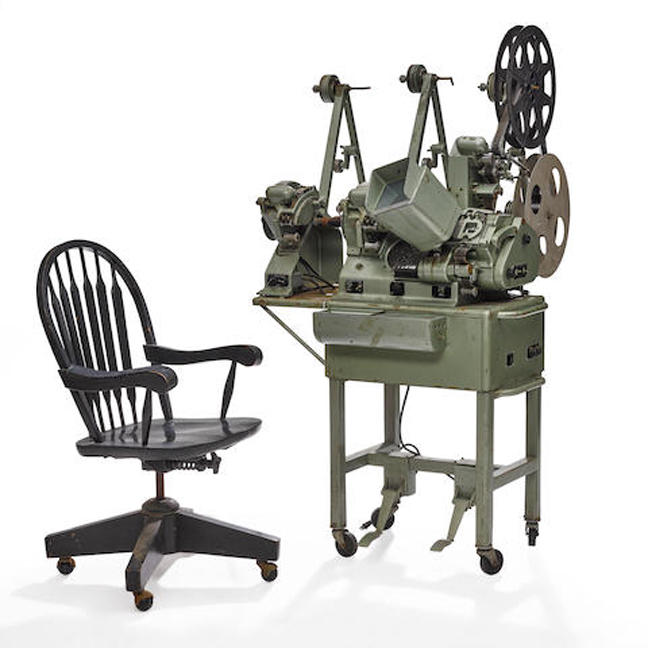 Bonhams listing for Russ' editing machine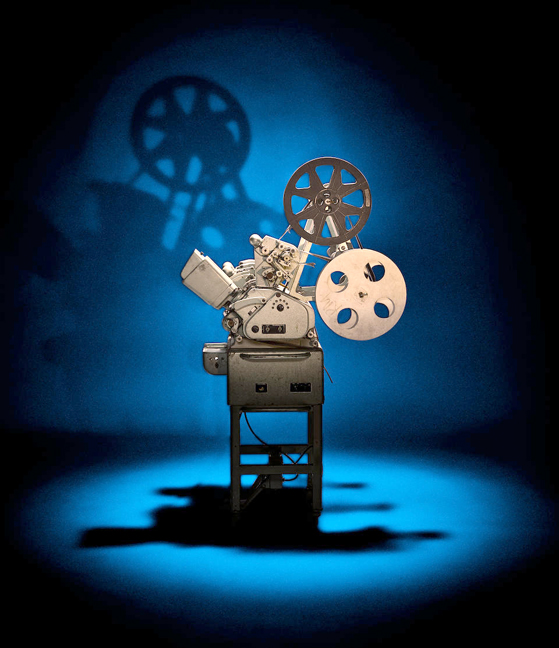 Bonhams listing for Russ' editing machine
Knowing nothing about how a moviola that used to belong to a west coast sexploitation legend works, I needed an east coast sexploitation legend over to give me a crash course.
John Amero was happy to oblige.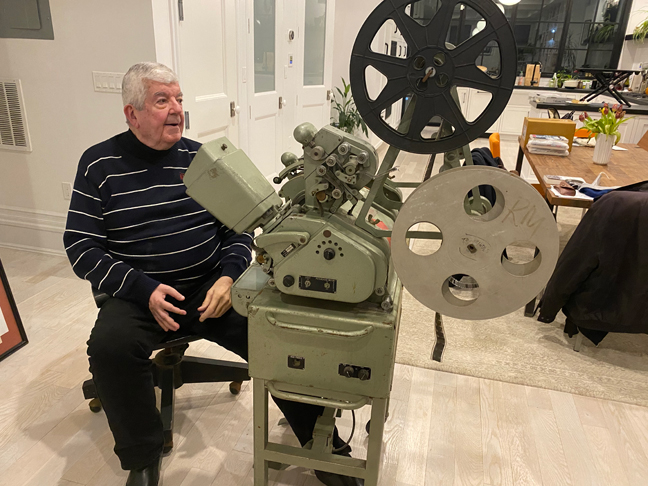 East coast meets West coast: John Amero with Russ Meyer's editing suite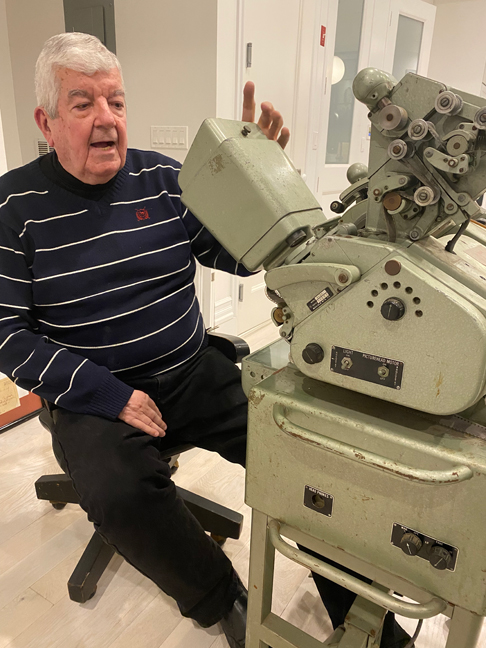 East coast meets West coast: John Amero with Russ Meyer's editing suite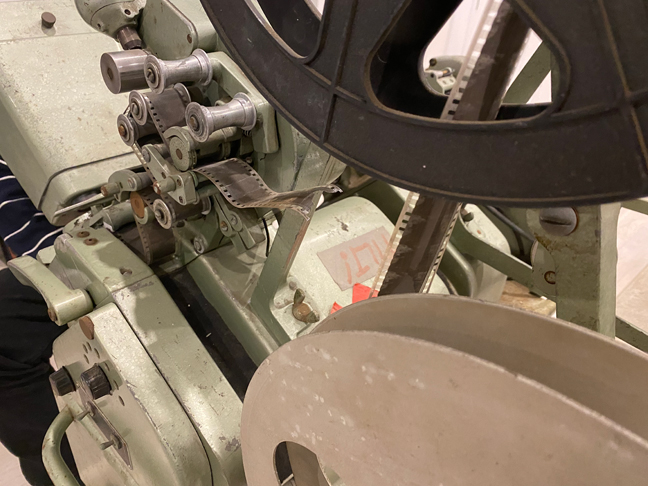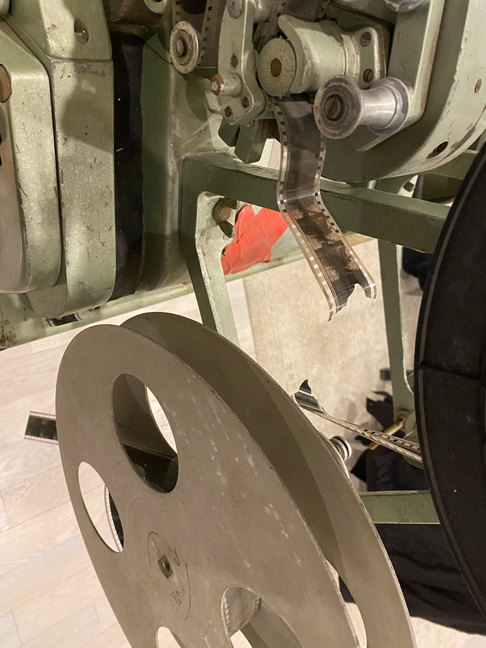 *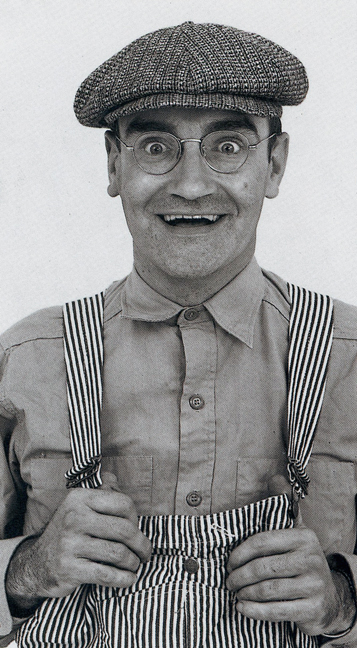 Anthony-James Ryan, from 'Eve and the Handyman'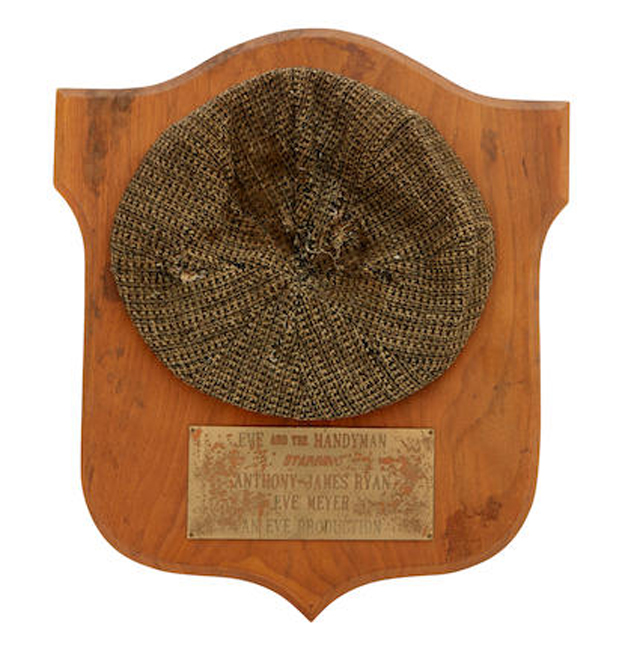 New Rialto Report acquisition: Anthony-James Ryan's cap from 'Eve and the Handyman'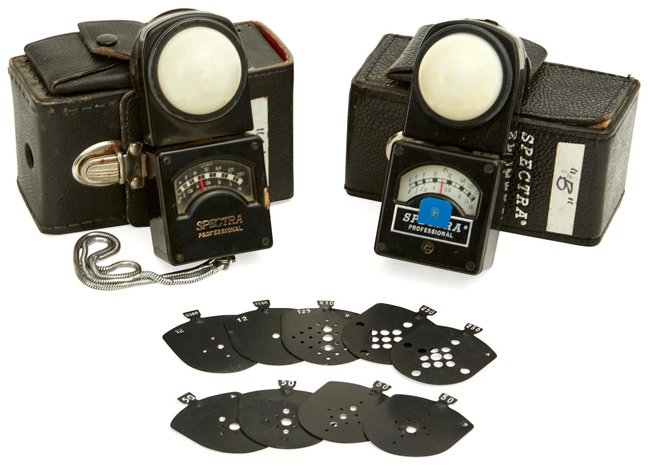 New Rialto Report acquisition: Russ Meyer light meters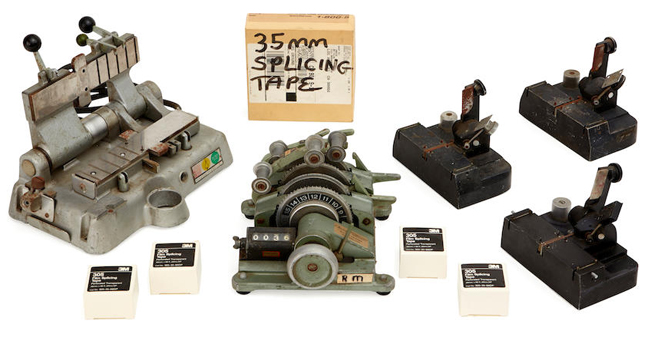 New Rialto Report acquisition: Russ Meyer film splicing machines
*