Beerbohn Tree was an unusual and striking figure in 1970s adult film. While he only made a handful of movies such as 'The Naughty Victorians' and 'Anyone But My Husband', his angular features, elegant English thespian accent, and fine acting ability ensured that his short career was memorable.
But after 1978 – with only six film appearances to his name – he disappeared from the adult scene, and seemed to drop off the map altogether.
So who was this unlikely star of XXX films, and what happened to him?
_______________________________________________________________________________________________
We'd looked for Beerbohn Tree for years. In truth, it had become a bit of joke. For a start there was his unusual name. Google search revealed that Sir Herbert Beerbohm Tree was an English theater actor of the 1880s, known for his stage productions of Charles Dickens and Shakespeare classics. This was helpful only in that it revealed that perhaps our actor had a thespian background in Britian.
Someone told us his real name was Keith, and that he had worked at the Australian Embassy in New York but our calls there, 30 years after the fact, yielded nothing. Another rumor was that he went on to volunteer at a New York Church, but again, our digging turned up nothing. The only other fact that we could determine was that he had been a whistler. Yes – a whistler. As in, someone who whistles. Hardly a breakthrough.
Then in 2009 we read a New York Times article about a thrift store in Hell's Kitchen in Manhattan. The article referenced a store manager named Keith Benedict, who was involved in a theater ministry program at St. Clement's Episcopal Church. The article described him in the following way:
"Mr. Benedict, a Welshman, was a boy soprano, ballet dancer, actor and virtuoso whistler. He has performed in countless stage and film roles here and in England. Also a painter, he designs stage sets and paints clothing as wearable art. He said he had made hand-painted dresses for the likes of Bette Davis and Diana, Princess of Wales."
We immediately took a field trip to the store and cautiously looked through the front window. Lo and behold, there stood Beerbohn Tree patiently helping customers look through racks of designer cast-offs.
Once the store cleared, we quietly approached Mr. Benedict and asked him if he had appeared in underground films in the 1970s. A big, incredulous smile crossed his face. In a booming English accent, he confirmed that he was Beerbohn Tree. What's more, he said he'd be more than happy to speak about his past.
This meeting led to several interviews and a friendship that lasted years.
During one of our first conversations with Keith, we played him the following excerpt from the 1976 film 'Night of the Spanish Fly'.
Suddenly the memories came flooding back to him.
Oh my god! Oh my goodness! That's me….! Isn't that Jennifer Jordan? Good heavens, how young we look…!
Honestly I don't remember this. It's me, but I just don't remember it. Isn't that weird? I thought I only worked with Jennifer on the 'Naughty Victorians'. But this is funny and amazing. And I've hardly changed!
It's coming back to me now. I remember acting in the film 'Anyone but my Husband'. I believe they strung up an actress known as C.J. Laing and I whipped her, right? You know I did a night club act at the time… and the jacket I wore in that scene with C.J. was from my act.
Continuing to watch the film…
Oh – do I take clothes off as well? Oh my goodness, I guess so. Well – there's some pretty good shots for the cameraman…
Look at Beerbohn Tree!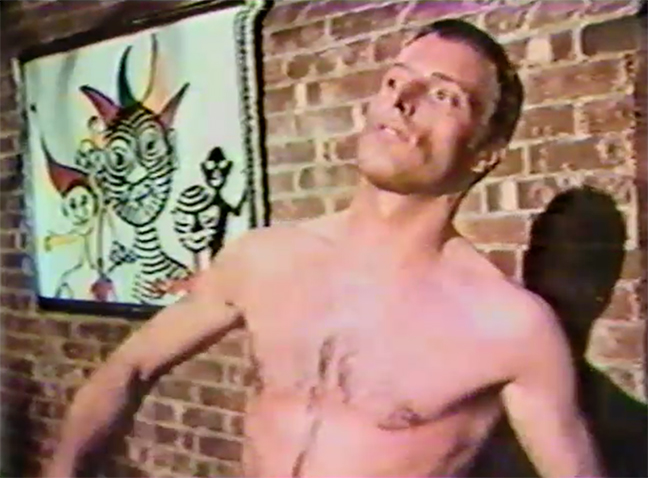 How do you feel when you see your younger self?
Well I suppose I'm used to it. I've been performing since I was a boy. I started out studying ballet and singing soprano when I was 8 years old. Then before long I moved into acting, touring the north of England in Pantomime productions. Since then I've always had a focus on classical theater.
In the late 1960s, I found myself in Italy. It was the time of Fellini and Antonioni and I wound up dubbing Italian movies into English. And I had a hit record while I was there, singing Johnny Mathis songs in Italian.
I also recorded a few soundtracks for spaghetti Western films – with my whistling.
I returned to the United Kingdom and was in my first movie when I was 21. It was a British film that showed at the British Pavilion at Expo 67 in Montreal, Canada. So that was the first time I saw myself on screen. I wish I could remember the name of it.
And after that you made your way to the States?
Yes, in 1970 I arrived in Los Angeles. It was there that I had my first experience with the adult film industry. A mainstream friend of mine knew somebody who was casting for a softcore film, and asked me if I was interested. I was looking for work and saw nothing objectionable about it being a sexually themed production. The film was called 'Is There Sex After Marriage' and I co-starred with an actress named Lori Brown. Lori and I went on to have an affair after the film.
Candy Samples was in that film too… and boy, was she a big woman! What a character she was. She was voracious too!
The scene I was in with Lori was sort of a dream sequence. We were all in white and I choreographed our movements. It was quite beautiful but while we were filming, the police arrived. The director told us all to run as the cops pulled up. We were half clothed but took off running and hid for about 45 minutes, naked in the bushes. There I was with no green card hiding from the police…
The people I met in California were lovely but I wasn't a huge fan of Hollywood so I returned briefly to the U.K. before making my way to New York in 1973.
What were your impressions of New York when you arrived?
I remember that the first day I arrived, a friend who was an Alvin Ailey dancer invited me to walk her Doberman Pinscher with her down 42nd street. I think on some level she may have wanted to shock me by taking me to one of the seediest areas of the city.
Well… we squeezed through the streets of Times Square with her enormous dog. Everything was crowded and narrow compared to Paris and London, and it definitely had an edge. But rather than being hesitant or scared, I was exhilarated. I loved the mix of people – the different faces, the different accents, the shops. Everybody was there and I appreciated that tremendously.
Was 'The Naughty Victorians' the first adult film you made in New York?
Yes. I had an artist friend that knew a girl working for the director Bob Sickinger. Bob must have said to her that he was looking for an actor for an English role in an underground Victorian story. So I met Bob and read through the script, and thought 'Hmm, I can make this story come to life'.
Bob tried to convince me to take deferred payments like the other actors and crew but I refused. In my mind deferred payment meant no payment at all. So I said "No, you have to pay me upfront." Every day I made them pay me in cash – otherwise I wouldn't perform.
I was also working for the immigration department of the Australian Consulate at the time, shipping Americans off to Australia. I worked there during the day, and then we filmed at night until four o'clock in the morning. I let the office staff know that I was working a second job acting, so they sort of knew what I was doing.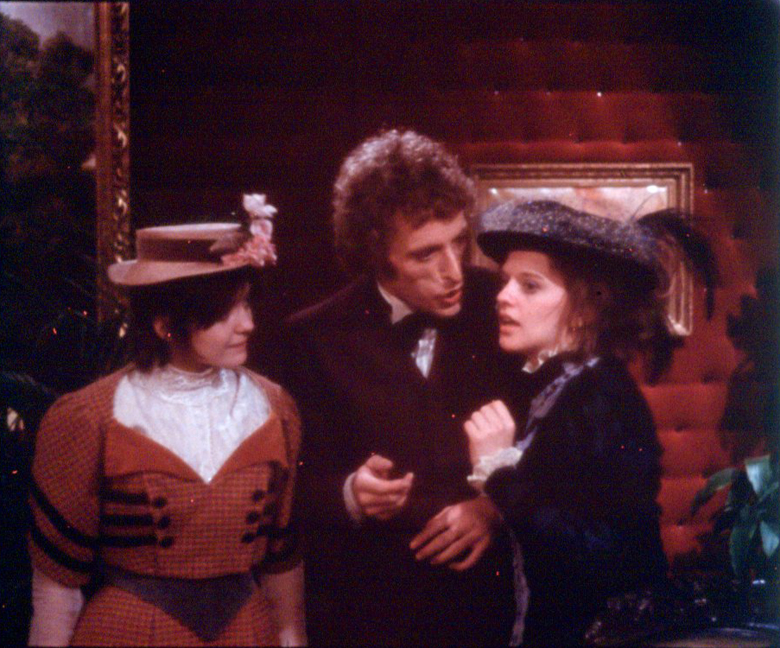 What was your reaction when you realized that it was going to be a sex film?
Like a lot of things you do in life, I thought 'I'll deal with it.' I said 'I won't do the hardcore stuff' which I didn't. I basically concentrated on the script, and tried to make it as real as possible, which I think worked. I treated it as a legitimate acting piece.
I knew that I could do the role, and I knew that the director knew I could make it work. So without wanting to sound pig-headed I was confident that I could dictate what sex acts I would actually do. So when you see me graveling down there amongst pubic hair with Alice or whomever, trust me, I'm not doing what it looks like. It's just… I'm an actor.
There's a lot in the movie that looks like I'm doing things but I'm not. Bob wanted me to get an erection three quarters of the way through filming… and well, I had a few problems. So Bob came up with this horse pill — it supposedly gives stallions an erection for when they needed it to have sex. But all it did was get me very stoned. It was like I was on acid. I remember floating above the room looking down at everyone on set, and thinking how strange it all looked. Needless to say it didn't work, and they had to stop filming and get me a stand-in, who was the actor Marc Stevens. I never met Marc but he was my 'explicit sex' stand-in.
But it wasn't like I wasn't having sex off-screen. There was a woman who played a maid named Molly in the film. Well she had a beautiful African American girlfriend and one night I went home with them to their apartment and had sex with the two of them. After the movie was done I got another call from this girlfriend and she came around to my apartment and we had sex again. And yet I wouldn't, or couldn't, do it on screen…
Were you worried about the impact being in a sex film would have on your mainstream career?
Yes, I did think about the impact it would have, but I was confident that if I was a good enough actor, that would outweigh the fact that I was in a sex film.
At the time of 'The Naughty Victorians' I was with the talent agency ICM. I told my agent that I was in the film and even suggested that she go see it. Crazy idea! I don't know what I was thinking, because she never had anything to do with me afterwards. But I don't think I did anything in that movie to be ashamed of.
Yet you took an assumed name for the film…
Yes. I knew I didn't want to work under the name Keith Benedict which is my professional name. As I was choosing the name for a Victorian-themed film, I figured I'd pick a name in keeping with the subject matter. I immediately thought of Sir Herbert Beerbohm Tree, the Shakespearean actor and theater manager from the late 1800s. I chose to spell the name slightly differently – Beerbohn Tree –  because Beerbohm to me, it sounded like bare bum. I thought it was good.
Did 'The Naughty Victorians' receive a proper premiere?
Yes it did. The distributors advertised it in the New York Times. They took out a half page ad which must have cost quite a bit. The film opened at the 59th Street Twin, a mainstream movie theater. The producers had klieg lights and rented an enormous white Rolls Royce to bring me and Susan Sloan to the theater. I remember arriving at the theater to find a rather large crowd outside. So I told the driver to go around the block and come back again, just to whip the people up a little more.
Because the film played at a legitimate theater, a lot of people went to see it who normally wouldn't have gone to a porno movie. So after that opening, every so often people would stop me on the street and say, "I saw you in that movie". I was never ashamed because I thought I did a pretty good job.
By the time the film was released I'd actually moved on from the Australian Consulate and had started working for a church as a sexton. There was a lay preacher at the church who I think had quite a crush on me. So I told him about the movie and he went to see it at the Paramount on Broadway, an even bigger house than the 59th Street Twin. Again, probably not the best idea on my part to let him know because he returned pretty horrified. He was as white as a sheet for weeks after…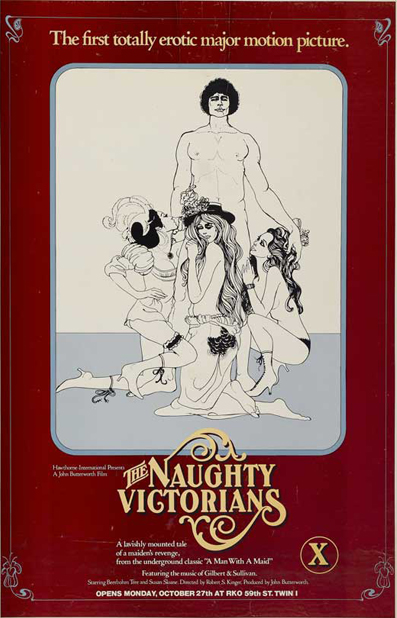 What were people's reactions in general to the fact that you made an adult film?
Well, not long after the film, I was doing an off-Broadway musical about the Poet Percy Bysshe Shelley. It was a serious musical and I played Shelley. It was a beautiful piece, it ran for almost a year, and was well reviewed by The New York Times.
One day when the cast all got together to bond, I brought a copy of 'The Naughty Victorians' on tape and put it on. I can tell you that out of a cast of eight, only two people thought it was fun. All the others, very Catholic, were appalled. One of them, I still know her, it took her years to get over the fact that I was in a porno movie.
People are very weird when it comes to sex, even to this day.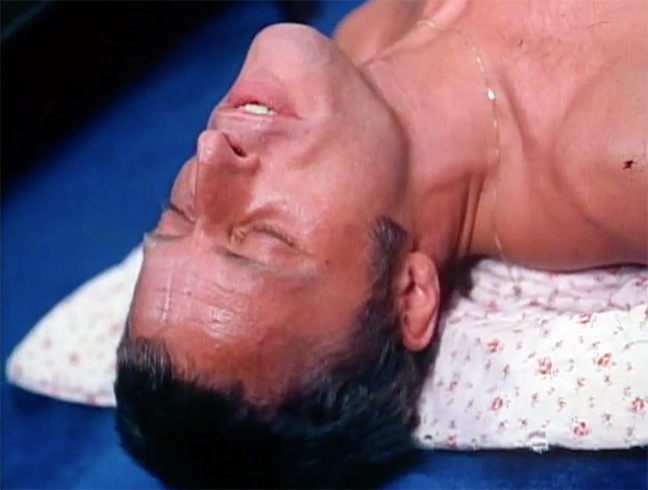 Can you talk a bit about becoming a go-to person for S&M scenes?
There was a small gay magazine called 'Michael's Thing'. When 'The Naughty Victorians' came out, publisher Michael Giammetta contacted me and wanted to put me on the cover. They did a whole profile of me, under a heading along the lines of "Beerbohn Tree is not only hot on the screen, he's hot on the scene", and it suggested that I was heavily into an S&M lifestyle.

Of course I wasn't into the S&M scene, but once the idea was in print, people believed it.
I would've been fine never to take on another adult role after 'The Naughty Victorians' but directors and producers came after me. And I thought "Okay, for $250 or whatever it was, I'll get Beerbohn Tree to do it."
What role if any did your personal sexuality play in your on-screen performances?
My personal sexuality never really had anything to do with it. While I hate to use the terms gay or bisexual, I've always "jumped on both sides of the fence." I've had relationships with women. I've had relationships with men. I've never been hung up about my sexuality.
What was your lifestyle like in general in 1970s New York – did you go out and party a lot?
I think I realized how normal and respectable my lifestyle was when a friend and I got an apartment in Times Square. As we were being shown the flat by the building superintendent, we noticed something unusual in the bathroom. Behind the commode was a set of handcuffs locked around the water pipe. I asked the super what the cuffs were doing there, and he said that the last tenant had been into some strange, kinky stuff. He proceeded to mention that the tenant's name was Jamie Gillis, an actor in porn movies.
My lifestyle was nothing like that then, and in fact was pretty much the same as it is now. I identify strongly as a musician – a singer, and I am probably one of the finest whistlers you'll ever hear. I have a whole recording set-up in my apartment and spend hours making music. I also paint quite a bit and I enjoy the theater tremendously as you might imagine.
I spend most of my time with my animals, with my few close friends, and creating. I'm either painting, making music, or working on a theater role. Like right now I'm working on a play because I'm involved in the Instant Shakespeare Company. We read all of Shakespeare's works in the public libraries throughout the year. All of Shakespeare's plays every year.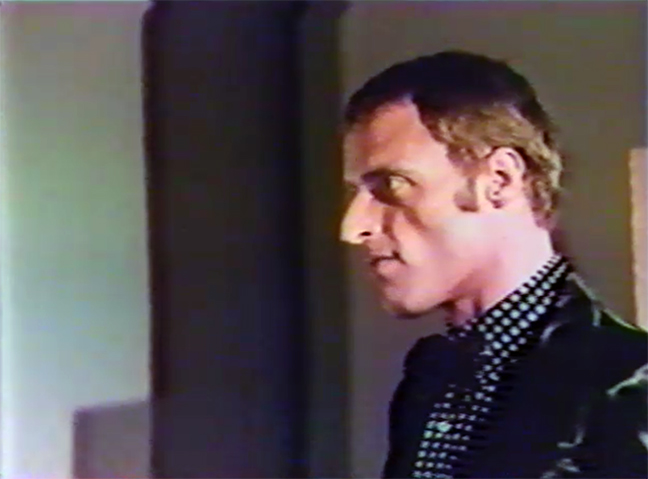 What about movies – do those interest you?
The last movie I saw in a theater was "Being There" with Peter Sellers in 1979. In truth I don't get off on movies because it's prefabricated art. I've been on both sides, behind the camera and in the front, and perhaps that's taken the mystery away for me.
And the whole porno thing, that was totally separate. I could have gone to all the parties and the clubs, but I just wasn't into it. I mean I have four pairs of black leather pants, so people think 'Oh yeah you're into S&M…" but I'm not. I've been wearing black leather pants since I was in my teens.
Speaking of clothing whenever you're on screen, you stand out for your sartorial elegance. Did you always turn up on set with your own wardrobe?
Yes, I did. The black satin jacket I wore with C.J. was mine, the shirt was mine, the bowtie was mine. I basically costumed myself for 'The Naughty Victorians' too.
I was a model as well as an actor when I was in Europe in the 60's, so clothes have always been a part of my work. Because I speak the way I speak, and look the way I look – I'd often get hired for the whole package. And bringing my own clothes was a cost-savings for the directors of the adult films, so they were pleased.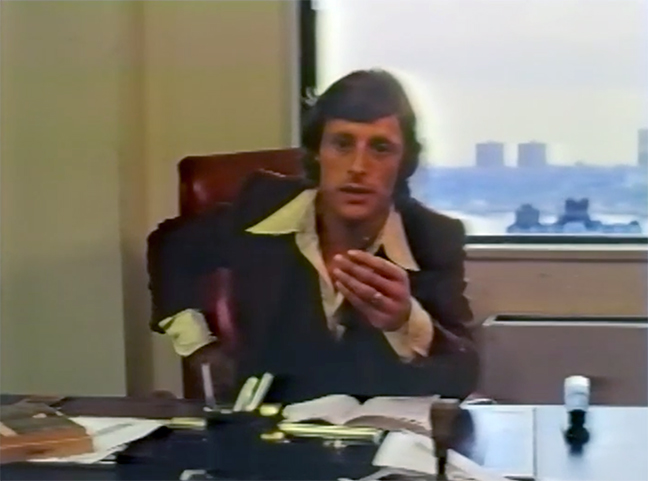 Why didn't you make any other adult films after the 1970s?
Really it was because my love was the theater and fine arts. I wanted to focus my time and attention on those areas and I did and have. I've continued to work in the theater and make my music and artwork. That's what I truly love. Sadly Beerbohn Tree was retired.
In 2011, we arranged a 'Naughty Victorians' reunion at a Manhattan restaurant. Director Bob Sickinger (aka Robert S. Kinger), producer John Butterworth, lead actress Jennifer Jordan and Beerbohn Tree himself were present, and shared stories of the film's production 35 years before.
The Rialto Report interviewed these people for a 'Naughty Victorians' podcast in 2013.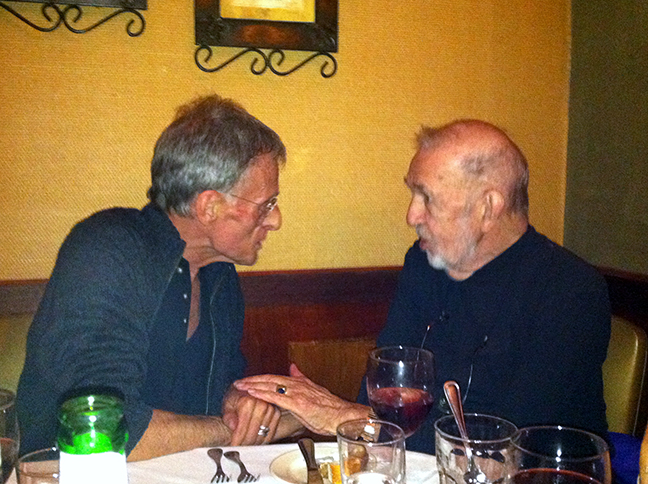 Beerbohn Tree and 'Naughty Victorians' director Bob Sickinger
Keith moved back to the United Kingdom in 2012.
Early in 2017, Keith contacted us to say he was suffering from a terminal cancer. He was as irrepressible and good-humored as ever. We chatted at length until he lost his voice.
Sadly he passed away from cancer this summer.
He was one of the most friendly, warm, generous, and loving individuals we could hope to meet. We're honored to have known him.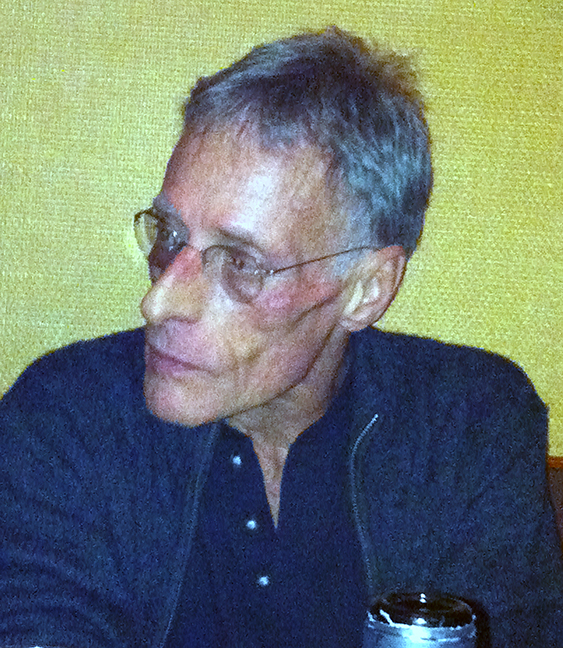 *
*Save
Save
Save