The actor Peter Scolari passed away this week. He was 66.
He was a versatile comic performer who was best known for his television roles in Bosom Buddies with Tom Hanks, Newhart in the 1980s, and for winning an Emmy Award in 2016 as Lena Dunham's father in the HBO comedy series Girls.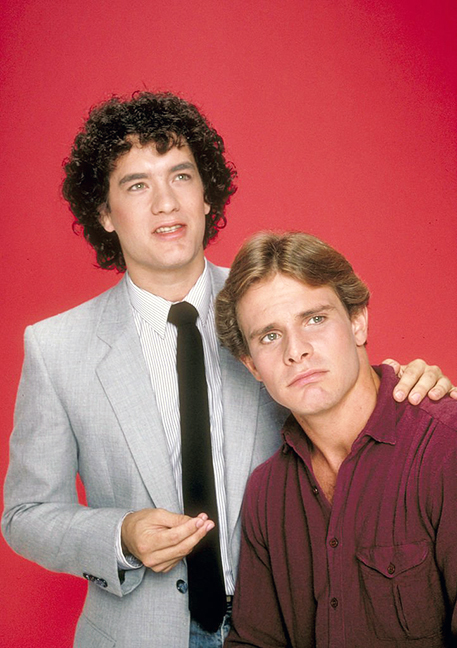 Tom Hanks and Peter Scolari
Peter's first film role was in the adult film Take Off (1978).
A few years ago, I contacted Peter to ask about his memories of his small part in the history of the golden age of adult film.

He was gracious and generous with his time, as well as being surprised and amused that, after a long and successful acting career, someone was contacting him about this particular film. ("That movie…?! I can honestly say that's the first time that anyone's ever asked me for an interview about that movie! Anyway, sure… why not?!") These are Peter's memories.
In addition, Peter shared his scene in Take Off with actor Peter Andrews. This week, Peter Andrews reached out to us to share his memories of working with Peter Scolari.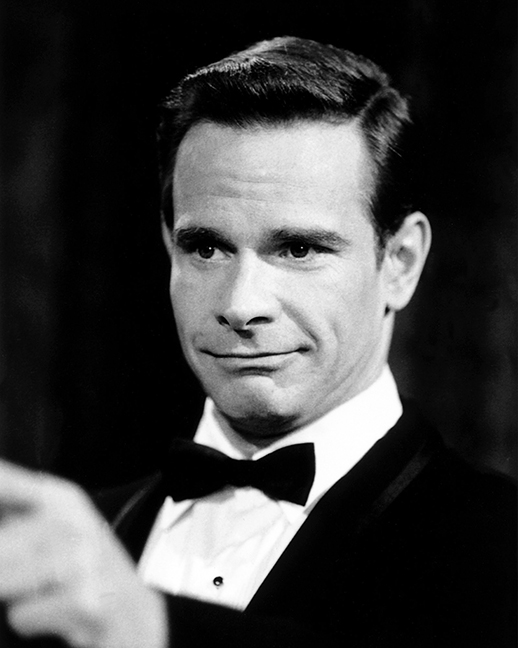 Peter Scolari
__________________________________________________________________________
Peter Scolari remembers 'Take Off'
I think that was the first film I ever made. Certainly the first time I'd ever been on a film set.
I'm a New Yorker, born in New Rochelle, N.Y. and I attended City College of New York, so I was an aspiring actor in the city in the mid 1970s.
On the one hand, it was a fun time. I was part of a theater company that included Jeff Goldblum, Danny DeVito, Rhea Pearlman, and others. I learned to act, and picked up some pointless skills like walking on a tightrope and juggling at the same time.
And yet, it wasn't an easy life – if you didn't work, you didn't survive – and work wasn't always forthcoming. Plus I struggled with alcohol and drugs for years. So it was a tough time too.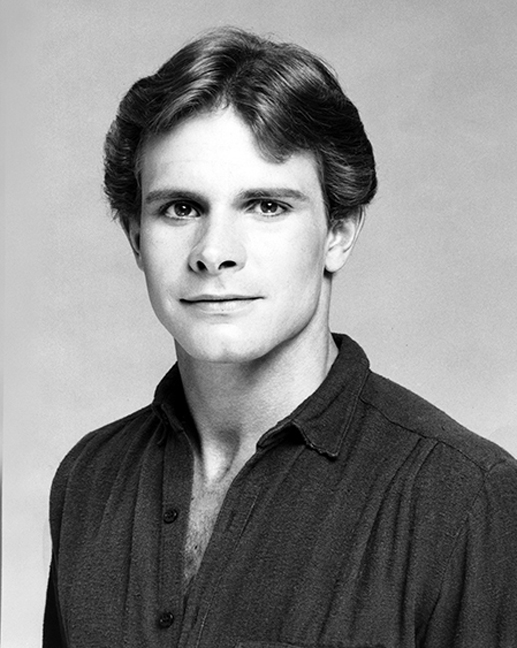 And then came 'Take Off.' I got the job through a crazy woman named Dorothy Palmer. She had a casting agency office in midtown that was full of wannabe actors at all times of the day and night. It was like a fish market in there, and she was at the center of all of the action, shouting at people like a cross between a stock exchange trader and a manic harpy.
Dorothy was always able to find you some work – but it was usually at the back of a crowd scene in a commercial, or dressed up in a bear suit for a public safety short. Basically something where your acting ability would have no chance of shining through.
And then there were the sex films: Dorothy was notorious for telling you that these were just regular films. You only found out about the nudity… or worse still, the sex!… when you turned up for the shoot. Big problem for someone like me who had no intention of exposing himself… literally or metaphorically!
It didn't concern me that 'Take Off' was X-rated, I just didn't want to do the deed on camera. Several other actors I knew appeared in adult movies. They mostly kept their clothes on. Some had sex. I'm always surprised that more people didn't realize.
But it was a paycheck, and a chance to act in front of the camera – so I took the gig. I didn't use my real name – in fact, I didn't use any name! I can't remember what name appeared in the credits…
The segment was shot in one afternoon in a parking lot at Rockaway Beach. I remember the director (Armand Weston) quite well. Serious guy. Definite about what he wanted. More attention to detail, and to his craft, than I expected.
There was a group of five male actors – and one female performer. Us guys were 50s greasers, and there was a hair and makeup person, and a costume person. Once again, the production levels exceeded my expectations.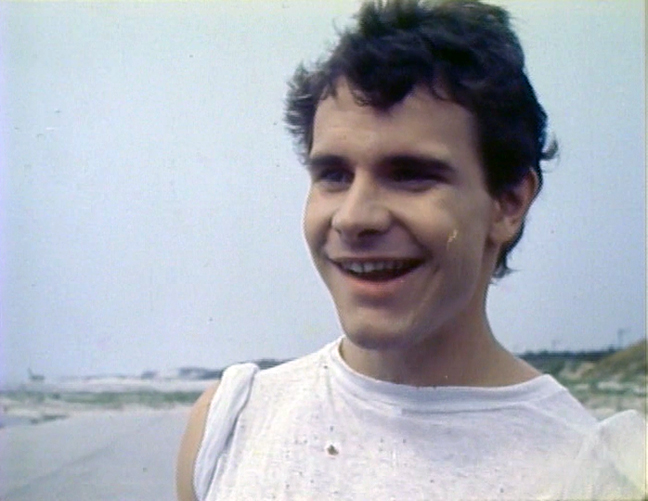 Peter Scolari in 'Take Off'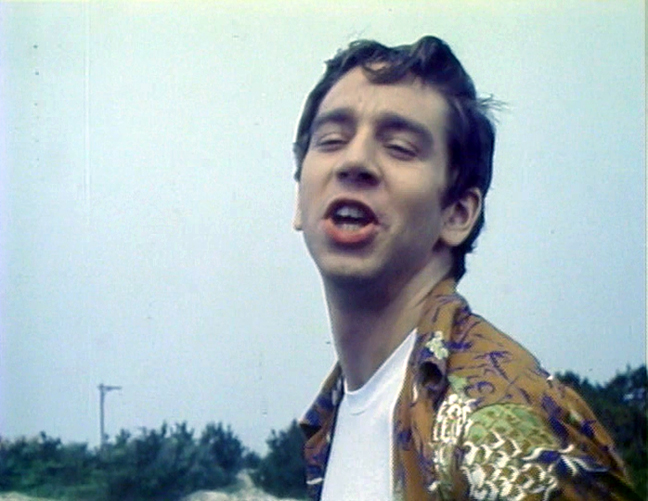 Peter Andrews in 'Take Off'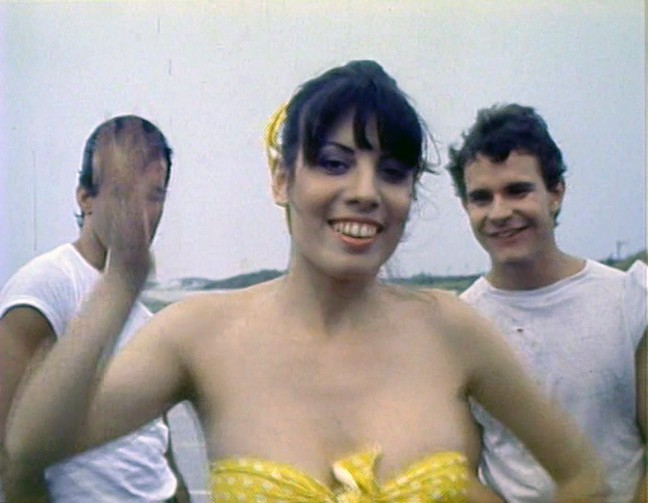 Suzaye London, with Peter Scolari (right) in 'Take Off'
The scenes consisted of me and another actor looking at a porno magazine in the back of a car, and then a scene in which we were harassing a girl, and the guys started to have sex with her. The script said that all the guys started to have sex – but I made it clear that I wasn't going to take part in that.
In the end they shot two versions: one in which sex took place, and one where it didn't happen. Needless to say, I kept my clothes on…
Sometimes someone will spot this film on my IMBb page, and I'll get asked about it. I answer that I know very little about it and that I never even saw the film. But that's not strictly true: I saw it advertised in the New York Post one day, so I went down to Times Square and watched it. It wasn't too bad. For a porno film, I was almost impressed. Don't tell anyone though!
As a result, I've never criticized anyone for how they started their career, nor for making sex films. For a time, there were some earnest people, like me, just doing their thing. And it was fun. No regrets.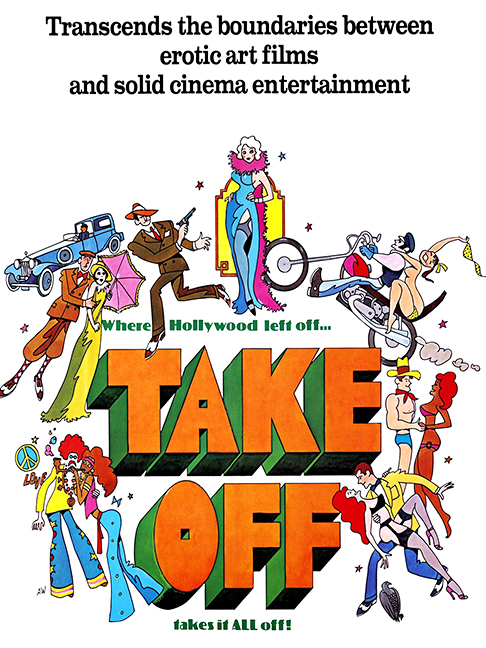 *
Peter Andrews remembers Peter Scolari
Peter Scolari was an extra (no nudity or sex, if I remember correctly) in the 1977 Wade Nichols vehicle 'Take Off'. I also had a small part in it.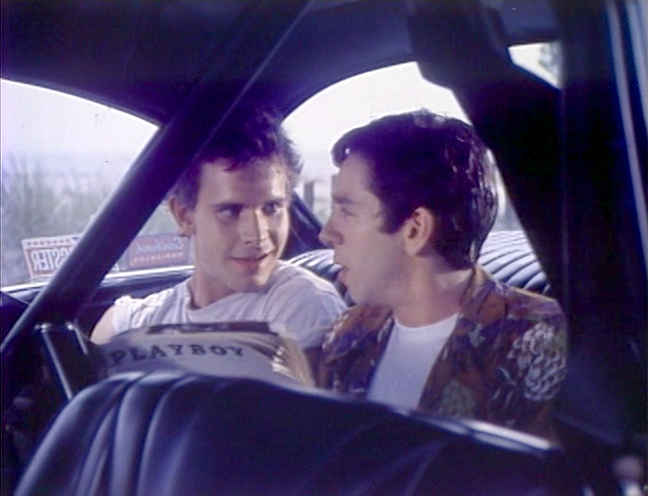 Peter Scolari and Peter Andrews in 'Take Off'
The work consisted of a day of exterior location shooting (near Jones Beach or the Rockaways, I think), and I was on the set all day with Peter. As is so often the case for minor players, it was many hours of "hurry up and wait". To pass the time, Peter taught me how to juggle, which if you know about his later career, he was exceptionally good at.
I have the distinct visual memory of his riding around the parking lot on an old bicycle (one of the props) with no hands while juggling several lacrosse balls. The cast and crew were greatly amused.
We connected again shortly thereafter – and he gave me a 'starter set' for practicing juggling, consisting of lacrosse balls, wooden dowels, plastic bowling pins, and so on.
I never did get very good at it, but did get the basics down and in a pinch can still keep 3 balls in the air for a bit – thanks to Peter.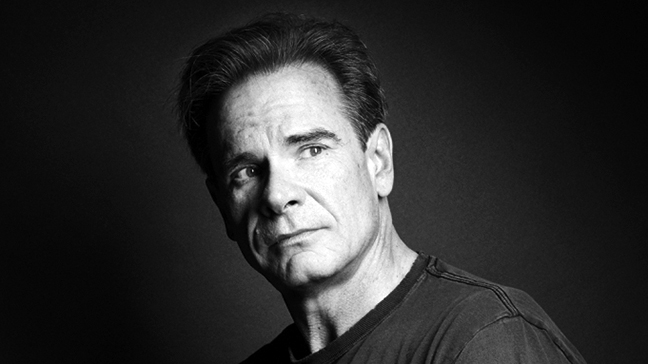 *