'American Exxxstasy – My 30-Year Search for a Happy Ending'
by John Amero, with Ashley West and April Hall of The Rialto Report
Recently we announced the publication of the biography of John Amero – our first book, 'American Exxxstasy', produced with FAB Press. After a brief production delay due to the pandemic, books will begin shipping the third week of September.
'American Exxxstasy' chronicles the life of pioneering filmmaker John Amero, whose career crossed several decades and film genres including sexploitation, straight and gay hardcore, and mainstream. The book provides never-before disclosed details of John's films including Body of a Female (1965), Every Inch a Lady (1975), Navy Blue (1979), and Blonde Ambition (1981). It shares intimate insights into John's connection with his brother and creative partner Lem. And it explores John's relationships with notable names such as Andy Warhol, Montgomery Clift, Anthony Perkins, and Olympia Dukakis.
In this week's Rialto Report, we preview two excerpts from the book highlighting two other key relationships in John's life:
Michael Findlay was John's best friend and a significant influence in John's life. From the moment he met Michael in the shipping department of ABC television studios in 1962, John knew he'd met someone special. Both men had an obsessive love of film and became fast friends, spending endless hours deconstructing their favorite movies. Even though they had different creative visions when they discussed making their own productions – John leaning towards classic Hollywood while Michael favored a rawer, more independent style – they wound up collaborating on their first film, Body of a Female (1965), and many others that followed.
Bill Perry also had a big impact on John's life. Bill was an adult film entrepreneur: John first worked with him to build out the Circus Cinema, a practice run for Bill's ambition of opening a gay movie theater in the heart of New York City. Bill introduced John to mafioso Mickey Zaffarano whom John wound up working for. And when Bill eventually realized his gay cinema and bathhouse dreams, he invited John into the world of hardcore gay features, leading to the birth of 'Francis Ellie', one of the most successful New York directors of adult film.
These two excerpts below are just part of American Exxxtasy, an engaging personal story told with candor, emotion and humor, and a portrait of a film industry and a city that were rapidly changing. And it's the only first-person account that provides intimate insight into a singularly unique journey from porn to primetime.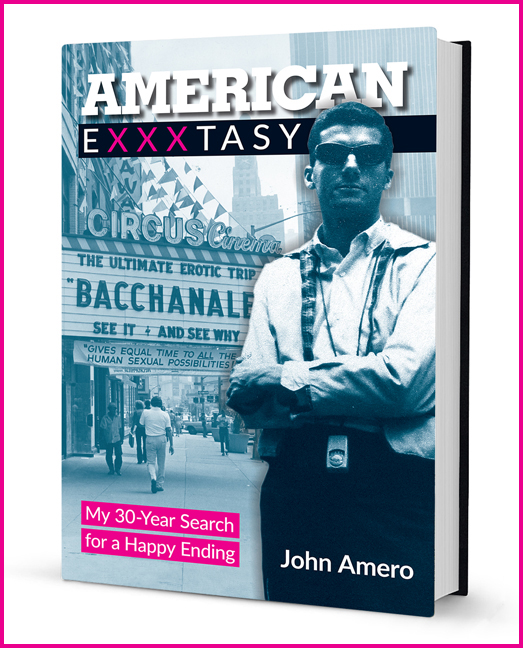 ______________________________________________________________________________________
John Amero and Michael Findlay (chapter 2 excerpt, 1958-1964)
Whenever Mike and I discussed making our own films, our ambitions differed in one crucial way. While I wanted to make a big budget Hollywood motion picture, Mike was keen on directing an independent feature. What's more, he was convinced that the best way to get started in the business was to make a exploitation film. I was horrified at this idea. I had barely heard of exploitation pictures but knew he was referring to the kind of sleazy movies that played in the Times Square theaters I meticulously avoided.
Mike often went to see exploitation films – in part because he loved seeing films, but also because he found the subject matter titillating. He became familiar with the plots, themes and featured actors and started investigating how the films were made and sold. These films were typically independently produced, low-budget films that had little artistic merit. They were merely vehicles for sexual situations and gratuitous nudity that found an appreciative male audience desperate for risqué content. And they were seemingly very profitable. The films were shown at Times Square "grindhouses", named either because the cinemas would "grind" these films out round the clock, or because they had once been burlesque theaters where "bump n' grind" striptease was featured.
Mike began regularly asking me what I thought about making a exploitation film with him but I always said "No way" immediately. Over time however, his arguments began to sound more convincing. He'd say "It's a great way to break into the business because these films are very inexpensive to make. I've seen a lot of them, they're not very good, and I know we could do better."
Eventually Mike turned his attention to just getting me to see a exploitation film with him. For someone who was embarrassed to stand under the marquees, I was naturally reluctant to venture into such sleazy theaters. But his insistence finally paid off.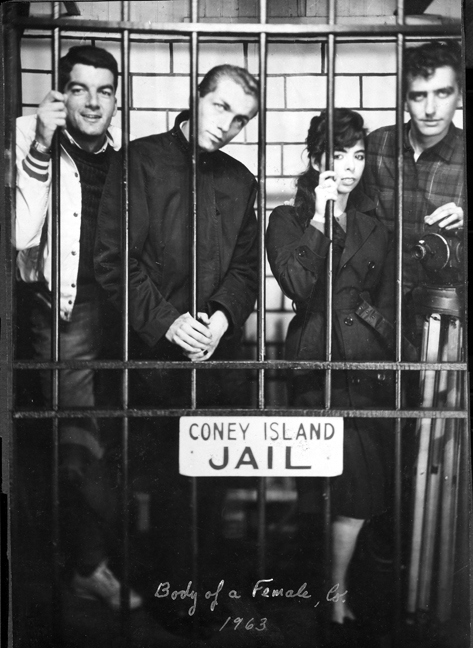 From left to right: John Amero, Lem Amero, Roberta Findlay, Michael Findlay
We decided to see Joe Sarno's Sin in the Suburbs (1964) playing at the Rialto Theater. The film was luridly advertised outside the cinema with the tag line "The Sensation Clubs! Partners in Pleasure! Wild Bottle Parties!". I found this promotion distasteful but was impressed to learn that the film had been playing at the Rialto for ten weeks. I figured that such a long run meant that it must be making serious money.
Mike and I went to see it alone leaving Roberta to her piano practice. The cinema was full of eager, expectant men. We sat at the back, as I didn't want to mix with what I assumed to be the degenerates watching the film.
The movie told the story of a bored housewife drawn into a suburban mate-swapping ring and succumbing to the temptations of illicit sex. But if I expected it to be a scandalous, gaudy piece of trash, I was proven wrong. Shot in black and white with an ever-present jazz soundtrack, the film was a gloomy, heavy sexual melodrama with surprisingly little outright sex or even nudity. And rather than an exciting expose of the joys of swinging, sex was shown as a release that results in unhappiness.
The film starred an actress called Audrey Campbell. The name meant nothing to me, but Mike was in complete awe of her. Audrey Campbell was like Lana Turner to him. Mike told me she'd recently starred in another exploitation film called Olga's House of Shame (1964) as a madam who presides over a network of prostitutes and criminals. With the tag line "Bodies Racked by Unspeakable Tortures! Captive Girls Used for Experiments in Lust!" this notorious film had capitalized on the increasingly popular trend of sexual violence – a trend that was becoming a staple of many exploitation features.When Joe Sarno's film finished and we stumbled out into the daylight, Mike immediately turned to me in expectation and asked "OK, what did you think?!"
I hadn't been impressed with the film itself. But rather than being shocked by the subject matter I was intrigued by the fact that someone could make a successful movie without the resources of a Hollywood studio.
I had to admit, Mike was probably right; maybe we could make something better than this. My previous reference points had been the big budget films I loved. But movies like 'Sin in the Suburbs' opened up new possibilities. We went for a drink and reviewed the film scene by scene, gradually convincing ourselves that maybe we could, and should, make a exploitation film.
In the end Mike said "Why don't we just sit down and try to write a script first?"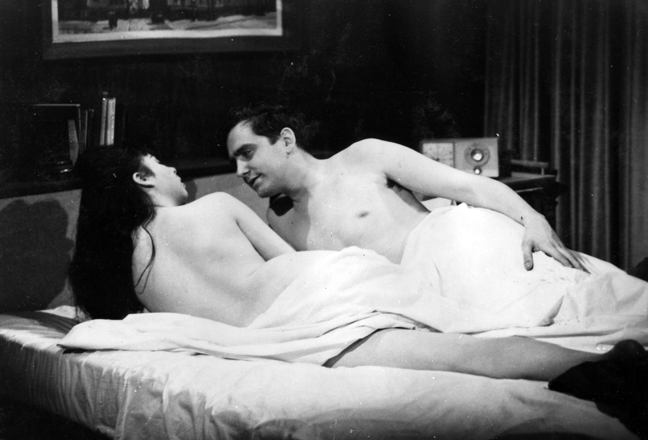 Michael and Roberta Findlay from a scene in 'Body of a Female'
I agreed, but insisted that we keep both our jobs at ABC and write on the weekends. We had absolutely no money for equipment, locations, or a cast so it was important that we maintained our regular salaries if we were going to make this work.
Our first task was to come up with an appropriately sleazy title. It didn't take us long. We decided on 'The Sins of a White Slaver', and our careers as budding exploitation directors had begun.
*
John Amero and Bill Perry (chapter 10 excerpt, 1976-1988)
Bill Perry's Broadway Baths continued to do extremely well, as did his gay movie house the Big Top Theater. But Bill struggled to secure a steady supply of films that could keep up with the demand for new product. He wanted to show full-length features leased from San Francisco filmmakers, but complained that their high prices made it so he could barely eke out a profit from the films. Instead he typically showed a series of loops grouped into an hour-long sequence.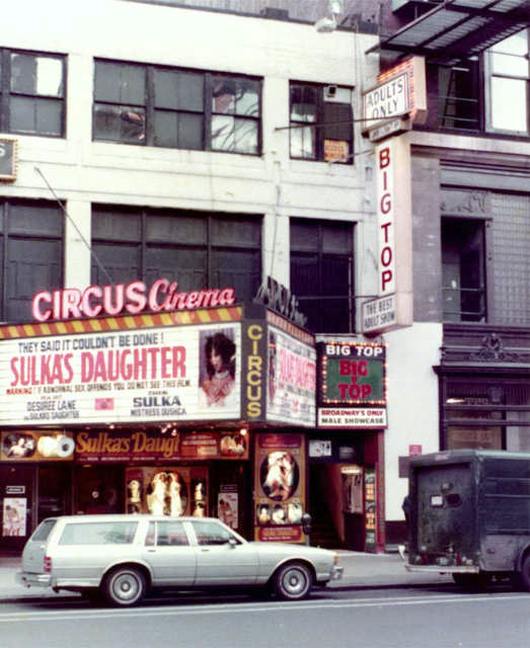 The Big Top, upstairs from the Circus Cinema
One night when we were out having a drink, Bill asked me if Lem and I would be interested in making a gay feature for him. He proposed a $10,000 flat fee for a 16 mm film, explaining that he estimated we could make a feature for six or seven grand, then keep the remaining money as our profit. To be honest, I was taken aback and even a little shocked by the idea. Despite being gay and an adult filmmaker, I'd never considered making a gay feature. For a start, I didn't think there was much money in them and that was usually our first consideration. I told Bill I'd talk to Lem and get back to him.
When I pitched the idea to my brother, he had a similar reaction, except more pronounced. In short, he just wasn't interested. He was busy, and happy, editing our straight movies and working on other people's films in between. He said he'd be willing to help me out if I really needed him but he didn't want to get too involved.
I was mildly intrigued by Bill's proposal, but knew I wouldn't be able to make it by myself. So I gingerly approached the only other person I thought could assist me; my old partner-in-crime Mike Findlay. As I'd worked with Lem on "Every Inch A Lady" and "Blonde Ambition", Mike and I had remained close and still got together socially on a regular basis. He'd suffered badly in the aftermath of his split from Roberta and had cut back on his film work. Legally, he was still married to Roberta but since she'd started dating Allan Shackleton, I'd encouraged Mike to divorce her since there was no likelihood of them reuniting. To deal with the pain, he was regularly taking Valium – which we jokingly referred to as "brain candy" or "attitude adjuster" tablets -and washing it down with copious quantities of beer. But despite Mike's struggles he remained good company and I valued our friendship.
Talking to him about Bill's offer was going to be a difficult conversation. For a start, despite our close friendship, we'd still never discussed my being gay. Furthermore, Mike continued to lead a strangely sheltered existence, full of sexual hang-ups despite his adult film career. He certainly hadn't been exposed to any aspects of gay life.
My strategy was to take him out for drinks and see if I could convince him to make this film with me. After numerous beers, I laid out my proposal, with an added emphasis on the monetary component to pique his interest.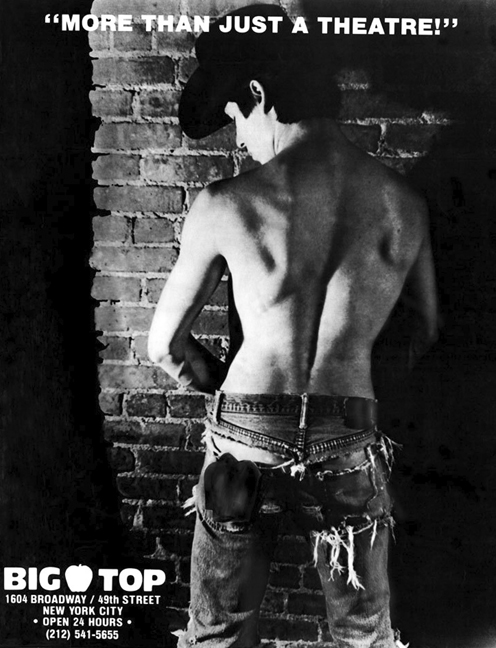 Big Top advertisement
Mike didn't jump at the idea, but he didn't say no immediately either, and this was as good as I could have expected. The big stumbling block for him was clearly going to be shooting the sex scenes. I wasn't surprised as I knew he was conflicted about shooting straight hardcore sex. He'd always seems to get an initial vicarious thrill but would then be overcome by guilt. The idea of filming gay sex clearly bothered him even more.
I followed up carefully: "Bill Perry is offering me $10,000 for a 16mm, 60 to 70 minute, color, gay feature, complete with soundtrack and trailer. He thinks we can make it for $7,000 and pocket $3,000 as profit. But I figure we can do it for $3,000 and make a $7,000 profit, wrapping the whole thing in two to three weeks."
I could almost see Mike doing the math, adding and subtracting. For good measure I repeated, "We'd make a few thousand dollars apiece in a couple of weeks. It'll be a challenge but who knows, it might be fun." Mike finally agreed.
With Mike on board, I had to figure out the plot of the film we were going to make. Bill was easy-going and wasn't particular about what he wanted – his only request was to "make it more interesting, enjoyable and erotic than the stuff I've been getting." I was confident that wouldn't be a problem as I'd seen several films at the Big Top and was thoroughly underwhelmed.
In an attempt to alleviate some of the discomfort I anticipated Mike would feel, I decided we should make a comedy. I wrote a story about a man from Naples, Italy named David who visits his American uncle Mike who runs a travel agency with his partner Angelo. The film follows David and his pet chicken Giuseppe as they fumble around New York getting involved in an array of sexual exploits. I called it "Michael, Angelo and David", drew up the script and shot list, then turned my mind to casting.
As usual we placed an ad in Backstage and waited. The response turned out to be pretty good but we attracted some strange characters. One of the first actors I interviewed arrived wearing a camel hair coat and ascot, sporting a phony Rex Harrison British accent. He had a bona fide portfolio of tasteful head shots and modeling stills, and was extremely polite and formal. "I've heard so much about you," he gushed upon meeting me. He asked to see the script, and said his manager would want to review it, as well as a copy of the contract. I wanted to say, "My friend, this is a fuck film and we don't deal with managers or agents," but I bit my tongue and gave him our standard release. I thought that was the last I'd hear from him but the next day his agent called to inform me Rex would like $1,500 a day for his services. Needless to say, Rex didn't get the part.
For the role of David, we returned to David Savage, an actor we'd used in "Every Inch A Lady". He was boyishly attractive, easygoing and I knew he was dependable. I liked him and had no problem giving him one of the lead parts. For the role of Mike, I cast an unknown actor named Brian Haines whom I'd met recently. We got to chatting in a bar one night, and I told him I was a filmmaker. To my surprise he told me, "I'm dying to be in a gay film" so I invited him back to our offices for an interview.
I found the process of interviewing Brian, or any newcomer for that matter, rather uncomfortable. I was aware of all the stories of the casting couch, and at first was anxious not to come across as predatory. Half the time I tried to convince the actor not to take the role as I didn't want him to feel pressured in any way or have second thoughts when we started filming. In Brian's case, he didn't have a portfolio so I asked him to disrobe which felt pretty sleazy. Luckily Brian didn't pick up on my uneasiness and happily stripped. In fact he was so gung-ho and confident that I took the risk and offered him the part.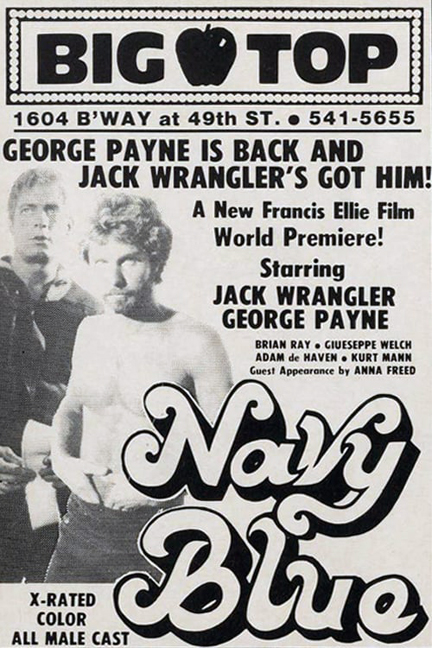 A Big Top ad for John's film Navy Blue, made under the Francis Ellie name he used for gay films
Apart from David Savage, the only other known actor we cast was Marc "10 ½" Stevens, who we'd also met on the set of "Every Inch A Lady". Fortunately, I didn't need to audition Marc. By now, he was ubiquitous and never slow to recommend himself to anyone. Marc was a veteran by sex film standards, and the size of his ego matched the size of his penis. He had an opinion on everything, from camera angles to costumes to script improvements. I wasn't in the mood to have a high maintenance person on set for such a low budget film but in the end we decided he was worth it.
For our crew, I commandeered my old pals LaRue Watts and Fabian Stuart. Both being gay, they didn't have a problem with what we'd be shooting, but were appalled when I told them their budget would be close to nothing. "You must beg, borrow and steal everything and anything you can," I instructed them. "The budget is very, very tiny, and there will be no profit whatsoever if you go over it." Despite the constraints they were happy to sign on, and I was glad to have their "Sparkling Sets and Costumes" once again add some panache to the project.
Mike and I decided to co-direct the film under a single pseudonym because neither of us wanted to use our real names. I was keen to create an identity separate from the Amero Brothers brand, and Mike… well, he just didn't want anyone to know he was making a gay film.
All the other gay director's pseudonyms of the day were super macho like Rock Hard and Beef Johnson. We decided to buck the trend and use Mike's middle name, Francis, and my middle name, Ellsworth, to give birth to the director "Francis Ellie". It was a bizarre sounding name but we liked it, and we never expected to use it more than once so didn't give it much thought.
As co-directors, Mike and I were strange bedfellows: I found the whole enterprise amusing and vaguely ridiculous, whereas Mike treated the project with deadly seriousness. We worked well together however, and I was very happy to have him on board. Most of all I liked making films with him again like in the early days.
*