'Tis the season for golden age adult film!
To celebrate, the Rialto Report is running a competition with great prizes, including 5 volumes of loops from Synapse Films, BearManor Media books signed by Serena, Seka, Richard Pacheco and Jill Nelson, and a selection of Rialto Report goodies.

To enter, all you need to do is correctly answer the question below by Saturday December 20th.
We will pick two winners at random to receive our Rialto Report package of prizes sent to your doorstep.

_______________________________________________________________________________________________
The Contest
The contest closed at midnight of Saturday December 20th, 2014.
The winners are announced here.
Thank you to all who entered. Happy holidays!
---
The Prize Package
Both winners will receive all of the following items.

Synapse Films 42nd Street Forever: The Peep Show Collection Vol. 1-Vol. 5
Their place in history is undeniable. Hardcore 8mm stag films introduced explicit human sexuality to the public. Predating every other moving picture home format, these inauspicious productions provided not only a window to a whole other world, but also immediate relief for those not fortunate enough to make their fantasies into reality. Thousands of these underground movies were made between the 1960s and 1980s, and Synapse Films has collected some of the best examples into this fantastic series. Volumes 1-5 feature classic stars such as Annie Sprinkle, Sue Nero, Lisa DeLeeuw, John Holmes, Desiree Cousteau, Candida Royalle, Bobby Astyr, Jamie Gillis, Sharon Kane and many others.
Visit Synapse Films here.
---
Inside Seka: The Platinum Princess of Porn
Seka—The Platinum Princess, the Marilyn Monroe of Porn, the queen of XXX cinema's Golden Age, and John Holmes' favorite leading lady. Seka is a legendary performer in the annals of adult cinema, and many would say the greatest. Seka's name was so big in XXX that her name above the title was not enough—her name had to be in the title!
Seka's real life story, though, is as enigmatic as her screen persona. She was never a victim—on-screen or off. This is no tale of remorse, abuse, or self-destructive behavior. Seka was post-feminist before the term was born. Inside Seka is the story of a survivor, a trailblazer, and an icon—still one of the most popular and famous porn stars ever; the last of the natural beauties.
Listen to Seka's Rialto Report Interview here.
Buy Seka's book here.
---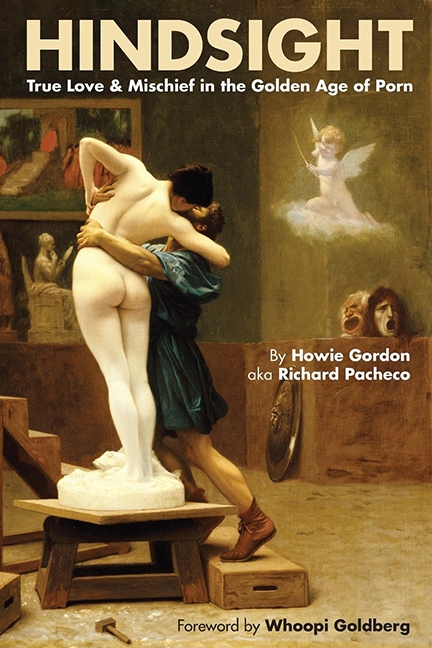 Signed by Richard Pacheco himself!
Hindsight: True Love & Mischief In The Golden Age Of Porn
HINDSIGHT is one man's remarkably revealing story about sex and relationships, on the silver screen and in his private life. Howie Gordon (screen name Richard Pacheco) was an award-winning actor during The Golden Age of Porn, whose memoir does not duck the question, "What about love?"
With charm, passion, wit, and what may best be described as a crude elegance, Gordon's story takes us back to the fabled Baby Boomer era, when erotic films took a dramatic step closer to mainstream entertainment in America.
His memoir recounts scenes with Marilyn Chambers, Georgina Spelvin, Seka, Annette Haven, Kay Parker and many others. This was the heyday of John Holmes, John Leslie, Jamie Gillis and Anthony Spinelli, and they are all characters in what may prove to be the finest inside story to ever come out of the fascinating world of Adult Films during its Golden Age.
Ultimately, HINDSIGHT is a surprising love story: here in a triumph over incredible odds, is an unlikely victory for true love, common sense, and the American way. Full of pictures and high spirits – this memoir is a great read, whether you know the world of porn, or are just a curious reader.
Listen to Richard Pacheco's Rialto Report Interview here.
Buy Richard's book here.
---
Bright Lights, Lonely Nights: The Memories of Serena, Porn Star Pioneer of the 1970s
"A true pioneer, artist, and star of her generation, Serena is the very definition of individuality and freedom tantamount to an exclusive community of golden era, erotic film performers. Melding natural beauty and raw sexuality with an intuitive, ethereal sensitivity, Serena created an abiding presence on screen. Almost 40 years after her film debut, exquisitely characterized by quiet wisdom and honesty, Serena continues to mystify and titillate fans. In her "memory book" Serena has crafted an odyssey of events, ruminations and images reflecting an inspired age of liberation. This is a superb read."
—Jill C. Nelson, author of Golden Goddesses: 25 Legendary Women of Classic Erotic Cinema, 1968-1985
Listen to Serena's Rialto Report Interview here.
Buy Serena's book here.
---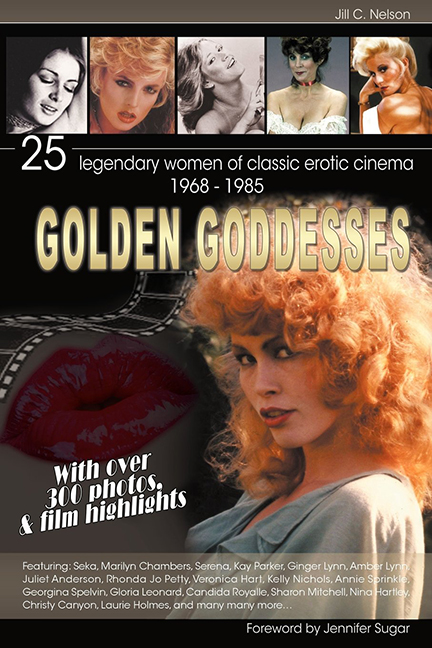 Signed by Jill Nelson herself!
Golden Goddesses: 25 Legendary Women of Classic Erotic Cinema, 1968-1985
Golden Goddesses vibrantly casts light upon twenty-five significant women involved in the erotic film industry during its Golden Era, between the years 1968-1985 when participation in adult productions was illegal. Profiling performers, directors, scriptwriters and costumers, Golden Goddesses is a palate of insights, intimacy, vulnerability and strength as it immerses readers into the lives of these celebrated and audacious females.
Delicately crafted, with film highlights and more than 300 photos, Golden Goddesses captures the quintessence of a rebellious spirit from days gone by. Featuring the author's own interviews with Marilyn Chambers, Seka, Kay Parker, Rhonda Jo Petty, Serena, Georgina Spelvin, Juliet Anderson, Candida Royalle, Sharon Mitchell, Gloria Leonard, Annie Sprinkle, Ann Perry, Jody Maxwell, Barbara Mills, Veronica Hart, Kelly Nichols, Ginger Lynn, Kitten Natividad, Amber Lynn, Laurie Holmes, Christy Canyon, Julia St. Vincent, Roberta Findlay, Nina Hartley, and Raven Touchstone.
Buy Golden Goddesses here.
---

Rialto Report Merchandise!
A Rialto Report mug, t-shirt and tote bag.
Special thanks to Synapse Films and BearManor Media for their generosity and support.