We love Roberta Pedon.
It's hard not to love the 1970s model and sometime actress, who was Latvian / Jewish / American (delete as applicable), was born in 1948 / 1950 / 1952 (delete as applicable), and who died in 1982 / was incarcerated/ disappeared / is living happily in California (delete as applicable).
She looked like a mischievous campfire scamp from the set of 'Easy Rider,' and had a figure that made Jayne Mansfield look like a tomboy.

Her larger-than-life hippy presence dominated men's magazines for several years in the mid-1970s – especially the publications specializing in large chested women. Today, those same magazines exchange hands for large sums on eBay, proof that her star, if anything, shines brighter than ever.
But while the basic facts of Roberta's modeling career are well-established, no one seems to agree where she came from – or where she went after.
In September 2018, The Rialto Report noticed that a Roberta Pedon was in the news in Italy and so, in recent months, we set out to confirm that this person was the one and same Roberta Pedon.
With thanks to the fine people at Vintage Erotica Forums.
_______________________________________________________________________________________________
A cursory internet search for Roberta Pedon suggests some basic biographical information. It starts with allegations that she was born May 2nd 1954, the daughter of Jewish Latvian refugees who'd settled in Ohio. The same sources suggest a Latvian-sounding name, Rosma Laila Grantoviskis, which she supposedly ditched when she left home in favor of her modeling name, Roberta Pedon. If rumors are to be believed, Roberta graduated from high school in 1972 and then relocated, first to San Francisco and then, in March 1973, to Venice, California where she started a modeling career within weeks of arrival.
Her modeling career is one of the few details that's verifiable. Bob Ellison and John Kirk, both well-known glamour photographers in Los Angeles, were both  credited with discovering her and launching her career in men's magazines of the time.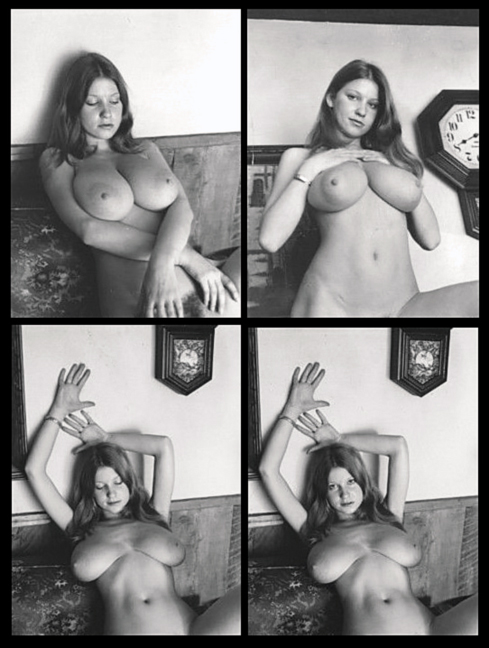 Roberta's life over the next few years is known with greater certainty, as her voluptuous form (she allegedly boasted a 48-24-34 figure), friendly looks and free-spirited hippie persona became popular in magazines such as 'Mayfair', 'Nymphet', 'Whoppers' 'Gem', 'Fling', 'Gent', and 'The Swinger.'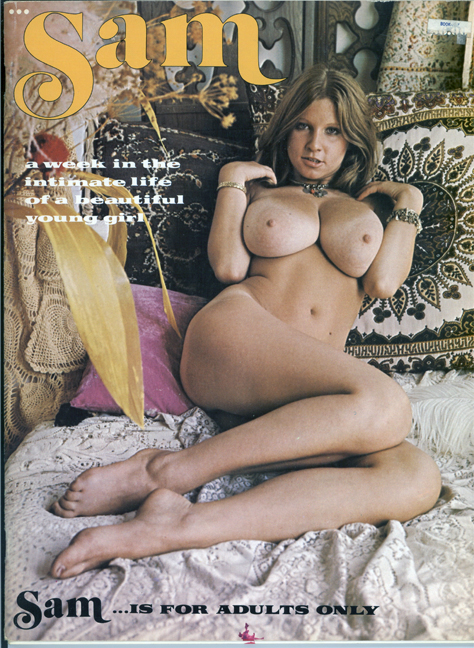 She often worked for American Art Enterprises out of North Hollywood, a well-known company that supplied models and pictorials to top-shelf magazines of the day. She also worked as a stripper at the Classic Cat Club on the Sunset Strip – the starting point for many of Russ Meyer's actresses like Kitten Natividad and Tura Satana – and had a co-starring role in the comedy romp Delinquent School Girls (1975).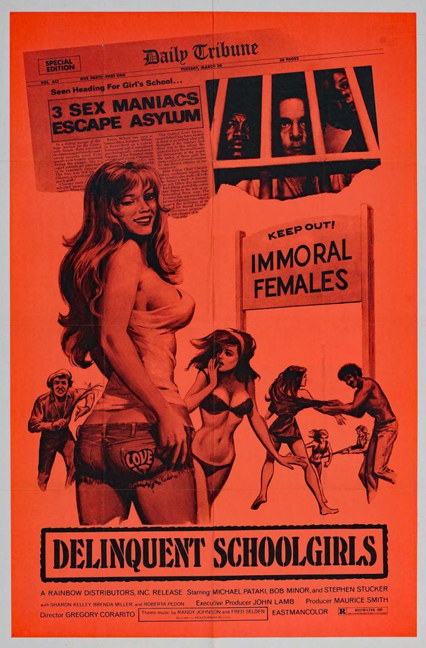 Though Roberta's career in the spotlight was prolific, it was also short – lasting less than three years – and after that, the rumor mill moves into overdrive again.
There are reports that she was fired from American Art Enterprises, that she was homeless, became a drug addict, was involved in a bank robbery, and / or died from liver disease in July 1982 at the age of 28 in Alameda County, California.
Over recent years, The Rialto Report has spoken to many people who worked, lived and were friends with Roberta in the 1970s. They remember her as an easy-going, happy, hippie girl – an intelligent person open to adventure. Some of them have heard the rumors of her demise, but none had any first–hand evidence supporting their veracity.
The truth is that she did not pass away in the 1980s. And she was not American.
Roberta Pedon – her real name – was born in 1952 in Venice. Not Venice, California, but Venice in her home country of Italy.
*
In September 2018, a diary that Roberta Pedon wrote in 1970/71 was short-listed for the 34th edition of the Premio Pieve Saverio Tutino, a prestigious annual award in Italy established to recognize excellence in personal journals.
Roberta's diary is exclusively about a road trip she took with four Italian friends across Europe, into Asia and back again. The journey took place immediately before she moved to the U.S. and started her modeling career.
Roberta's journal didn't win the overall prize, but as part of the publicity surrounding the award, she has granted several interviews in which she describes her life during the period that her diary covers. It provides a fascinating insight into her early life, and also answers where she came from and how she ended up in California.
The Rialto Report has reached out to Roberta, and the following account is taken from various first-person interviews about her diaries.
*
I was born in Venice in 1952, but by the time I left school, I was living in Milan in 1970. I decided to go live in London with a few friends with the goal of improving my English, which was only high school level. It wasn't entirely successful though – I didn't learn much English because I mainly hung around with a circle of Italians in London.
But the experience of living in London at that time was amazing: it was the era of the Rolling Stones, the Beatles, roll 'n' roll, and the air smelled of freedom. It was a time of new philosophies, of universal ideals, of travel to the East and a desire to belong to a new world order.
I didn't need much money to survive in London, so I got jobs washing dishes in a restaurant, working in stores, and waitressing. I met an Italian from Rome named Enrico, who was several years older than me, and I fell madly in love with him. Within weeks of our meeting, we started living together in a tiny, pretty apartment in Redcliff Gardens in the Earls Court neighborhood.
Despite my still-shaky English, I got a job as a shop assistant at Kensington Market. I worked hard and was good at what I did, so much so that my boss made me the manager of the small shop, much to the envy of my colleagues.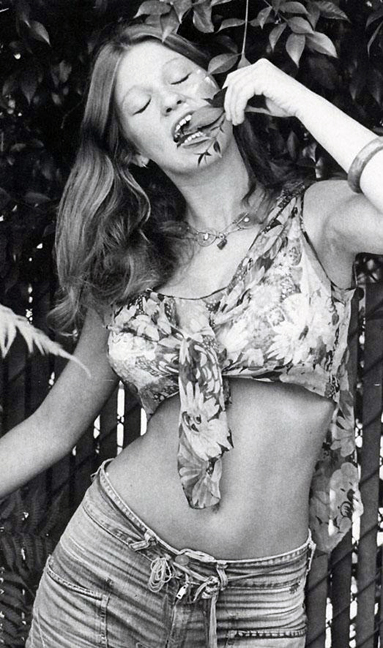 Every Saturday night, Enrico and I went to concerts at the Lyceum, a Victorian theater that showcased some of the best bands of the day, like Jethro Tull and Emerson Lake and Palmer. We'd sit or lie on the floor listening to the rhythms of the London rock scene every weekend. The concerts started at midnight and finished at 6am, at which point we'd go for breakfast to talk and hang out.
One week over breakfast, a friend of ours from Venice named Giuseppe said he wanted to drive to India. He had a car, an Opel Rekord, and was looking for fellow travelers to share the experience – and the cost. My boyfriend, Enrico, said he was interested in going, and I loved the idea. I'd heard about India from people who'd been there. The idea of a spiritual journey to the East was a generational myth of the Sixties and Seventies that had been forged by the Beatles, and I was excited to experience it for myself. We were friends with another couple from Rome, Maurizio and Loretta, who liked also the idea, though they were a little intimidated by it.
Enrico, always decisive and practical, told them: "We're leaving Thursday, so if you want to come along, be at our place at Redcliff Gardens! And don't bring much luggage!"
Fortunately Maurizio and Loretta showed up on time, with their two bags – and a box of food which they were bringing to a friend, Nikla, who was living in Goa. We pooled our money together for the journey to cover the costs of the car and the trip. I was only 19 and everyone else in the group was at least ten year older than me. I couldn't have been more excited and happy – I couldn't wait to leave.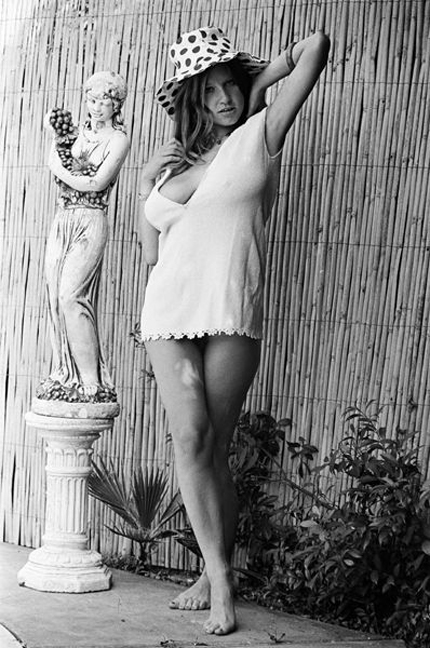 We set off on January 25, 1971, on a typically cold and gloomy day in London. The five of us were squashed like sardines in Giuseppe's Opel Rekord. The car was old and battered but we didn't care. For us it represented the realization of our dreams. Our itinerary was to drive from London to Germany, Austria, Yugoslavia, Bulgaria, Turkey, Iran, Afghanistan, Iran, Pakistan, before finally arriving in India. And so began an endless series of experiences and discoveries – punctuated by frequent breakdowns and repairs to the legendary car.
The first part of the journey was incredibly difficult. We'd failed to plan for that fact that it was freezing traveling across Europe, and we were hungry all the time. To make matters worse, finding places to sleep that weren't infested by bedbugs, fleas, or insects was nearly impossible. Sometimes all five of us slept in the cramped car. We were young, so we did it. We ate cheaply, but were still hungry. The food package that we'd brought for Nikla didn't survive as we soon broke it open to eat it ourselves.
Yugoslavia and Bulgaria were the most difficult parts of the journey. The countries were depressed at the time, and there were few opportunities for their people. Yugoslavia was poor, and Bulgaria was still devastated after the war. We met with students who wanted to buy our passports so they could escape to the West. It was sad. We drove quickly through these countries.
By spring, things were picking up. The weather became warmer, the food became spicier, and the scenery more exotic. We traveled over the Khyber Pass, then to Peshawar. The people we met everywhere were wonderful – and they were fascinated with us. They'd had little contact with the outside world, and so we were unusual to them – speaking in a mixture of English and Italian – with our long hair, and dressed in extravagant hippy clothes, flowery shirts, long boots, and flared pants.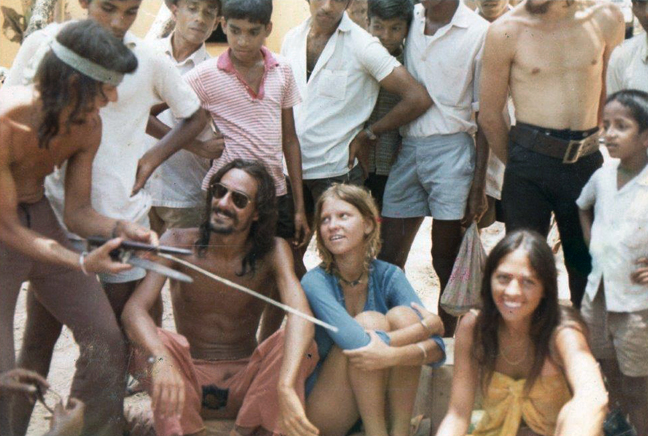 Roberta and Enrico, Goa 1971
In some ways, the journey in those days was more difficult because we didn't have cell phones or the internet to help us, but on the other hand, the countries we traveled through were so different from today, largely free of conflict and very serene. In fact, Herat in Afghanistan was the most peaceful and enjoyable place that we visited. We arrived there in the middle of the night, and it was like traveling 2,000 years back in time. The people were beautiful and had an exotic appearance – with their turbans and make-up. People rode around on horses with little bells so you'd hear them coming. There was such a pervasive feeling of calm.
Pakistan, and perhaps Turkey, were the most difficult, especially for women, but I was fascinated with them all. I'd read a few books about what to expect, but it was very different when we actually got there. It felt like we were in a film.
When we finally got to Bombay, we had a disagreement with Giuseppe. We thought that as we'd pooled our money for the car, that meant we owned it jointly, but he had a different opinion. He viewed the car as belonging to him, so it was his decision as to what to do with it. In the end, the four of us split up with him and we set off for Goa together on a boat.
Goa was our ultimate goal – a state in western India that was the epicenter of hippiedom, known for its paradisaical beaches and endless parties. It was full of people of all nationalities, English, Germans, French, Americans, and was the wild playground of the era.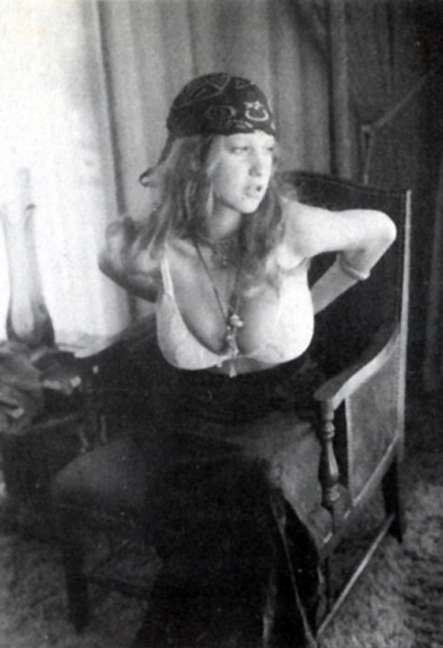 We hired a little house on the beach and enjoyed everything that was on offer. We seemed to spend all our time in the water or partying. The full moon parties in Goa were legendary. They began at sunset and ended at dawn, and everyone used a lot of hallucinogenic substances to expand their consciousness. Their effect was immediate: your inhibitions disappeared, you got completely naked, and you were free to express the full range of emotions: joy, fear, anger, anguish, pain. We danced, sang, and made friends for life. We lived, slept and did everything together. Everyone had their own story about their lives, how they got there, and it was beautiful to talk to everyone. It was a magical, historical period. Admittedly there was a dark side to the drugs too. Some became casualties of that time, hallucinating, and never returning.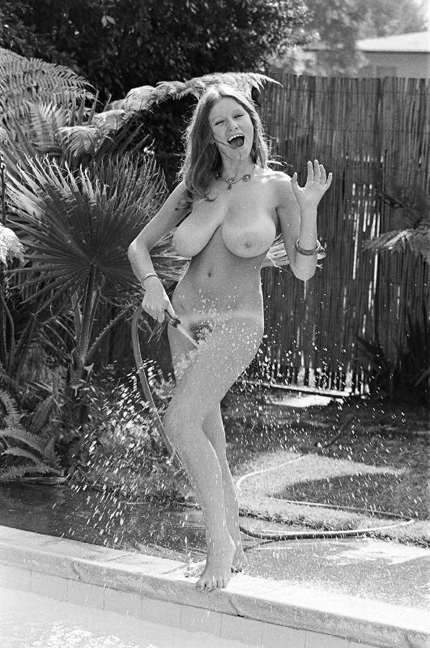 Sadly our experience came to an end when we were robbed of our documents and money. We went to the Italian embassy in Bombay but, as I was considered underage for the purposes of traveling, the authorities wouldn't give me a new passport. Instead I was issued legal papers which forced us to return to Italy within 90 days. We didn't have the car anymore, so we had to use public transport all the way back. To raise the money to buy the travel tickets, we sold everything we had – clothes, cameras, our camping tent, everything… Enrico had bought some alcoholic drinks in Goa where they were freely available – and he sold them in Bombay where they were illegal, which got us some extra money. Reluctantly we set off for home, traveling back on train, buses, and boats. The final leg was a boat trip from Istanbul to Trieste in northern Italy.
The whole trip had taken eight months.
When we got back to Italy, I felt crushed. It was as if the dream had vanished. I didn't feel like confronting the everyday reality after the incredible adventure that we'd had. It was as if the trip had been nothing but a dream, and now I was no longer part of it. I just wrote, "I feel trapped" in my diary.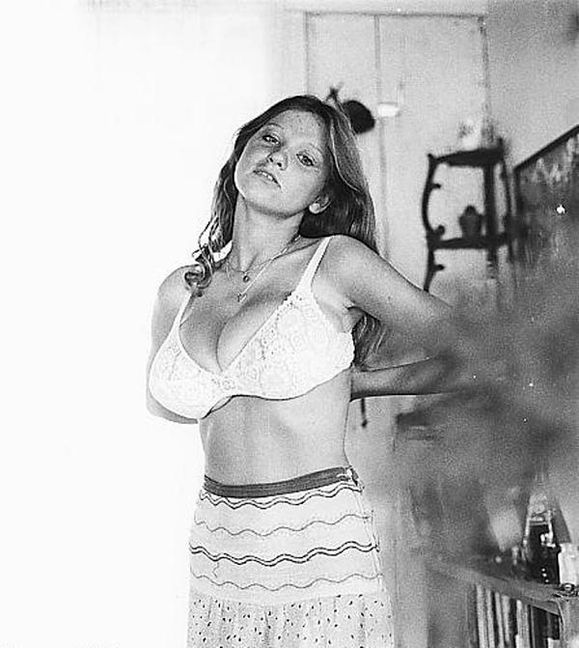 During my travels, I'd kept notes. I'd written them just for myself as a record of what I'd been doing. When I got back, I left them all with my mother and forgot about them for years. When my mother passed away, I found them again, and realized what a good story they revealed. Then when my husband died, I assembled the notes into a diary. I found that writing helped me with the pain of grief.
It's been a long time since the trip: Enrico, my boyfriend at the time, has sadly passed away. Maurizio and Loretta, the couple that we traveled with have stayed together, and I'm still in touch with them, but we never saw Giuseppe, the owner of the car, again.
Unwilling to confront the mundane life back in Italy, I accepted the offer of some friends we'd met and went to live in America for a while.
*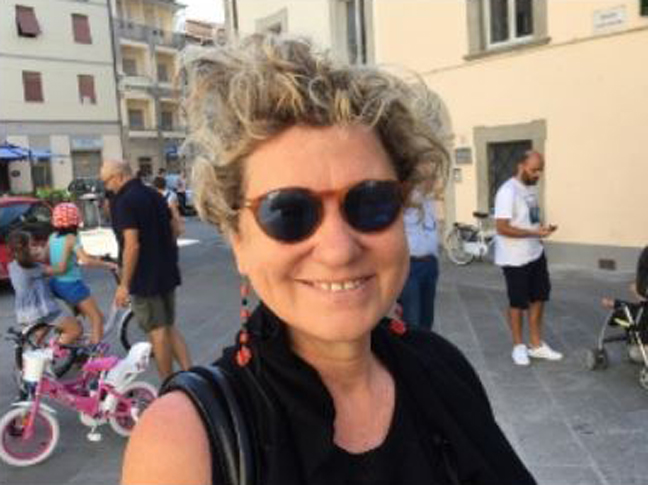 Roberta Pedon, 2018
*