When it comes to an appreciation of vintage adult film posters, few are as insightful and engaging as Robin Bougie.
And we can think of nobody who writes more entertainingly about adult films than Dries Vermeulen.
So it was a no-brainer to ask Dries to review Robin's new book, Graphic Thrills Volume Two: American XXX Movie Posters 1970 to 1985.
To buy Graphic Thrills 2, visit FAB Press or contact Robin via his website.
________________________________________________________________________________________
If it ain't broke…
That was the very first thought that came to mind as I began browsing through Robin Bougie's eagerly awaited follow-up to his bestselling adult cinema poster compendium Graphic Thrills which came out only last year.  My adulatory assessment thereof has led to my being quoted in the lion's share of publicity materials preceding publication of this second volume.  On top of that, the Bougieman has seen fit to reference my IMDb writings on no less than four separate occasions.  Aw shucks!  Were this but an underhanded attempt on part of the author to butter me up (which prompts a really disturbing mental image all of a sudden…)  in expectation of another puff piece review, he really need not have bothered.  Whilst my critique could be concisely encapsulated as "more of the same" then rest assured that in this particular case this is a very good thing indeed.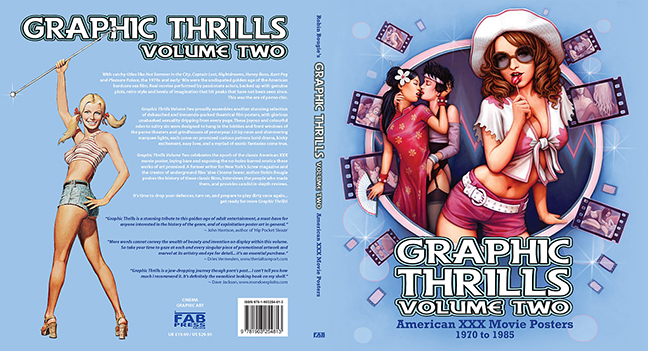 Even before you crack the book's spine to sample the goodies within, your eyes will feast on Ben Newman's brilliantly rendered cover design.  Appetite duly whetted, you should find your senses flooded with a superb selection of another 125 resplendently reproduced posters marketing movies made between 1970 and 1985, inarguably the genre's greatest era.  All of these images graced the walls and marquees of the now long gone porno picture palaces and played an indelible part in captivating the curious and drawing in the doubters.
In twin prefaces charting both the history of adults only movie houses across America – with a brief sidestep into the author's native neighboring Canada for good measure – and the evolution of its publicity to pull in the punters, Bougie paints a vivid portrait on crimson canvas of a once common pastime among consenting adults that has become all but alien to younger generations.  That point was driven home during a recent conversation conducted with colleagues at the office.  As the topic turned towards the valiant efforts by local independent Cinema Nova collective (staunchly supported by yours truly) to save Belgium's last remaining – if sadly since 2013 no longer operational – adult theater, the Brussels ABC.  The very notion of ogling explicit sex on a cinema screen as a communal experience struck them without exception as an extremely odd pastime.  Allowing for a bit of holier than thou hypocrisy perhaps, I still found their unanimous response significant as to how times have drastically changed over a relatively brief period regarding the consumption of carnality.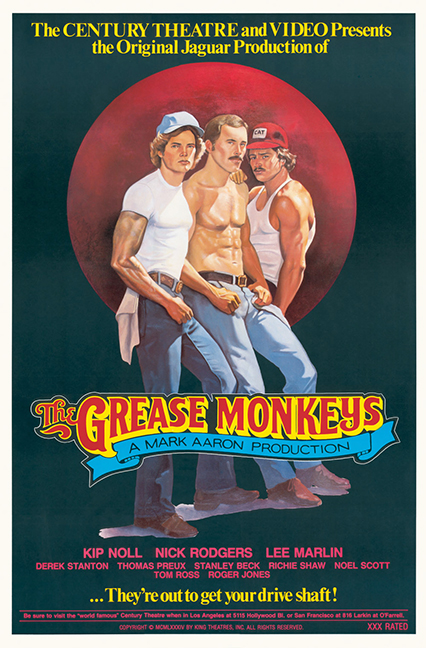 Of course, these days the Internet has turned absolutely everyone into a casual voyeur but back when I began frequenting sordid sleazepits just over three decades ago, I was practically branded an irredeemable degenerate for doing so without shame or regret !  In fact, my very admission to all and sundry still manages to raise eyebrows in "polite society".  Take it from me that I have literally spent the better part of my life in delightfully disreputable dens like the ABC and now long gone others of its ilk.
But let us move on to the fruits of Robin's labor of love and the once again overwhelming wealth of pickings he has assembled.  Running the gamut from garish to gorgeous, with every conceivable permutation of either, GT2 inevitably lures both Bougie and his captive audience away from the predictable and instantly recognizable titles that spilled forth from the pages of its predecessor.  Although there are still a handful of universally acclaimed classics which had somehow slipped through the cracks first time around (the Mitchell Brothers' Autobiography of a Flea, Bob Chinn's ultimate hospital hardcore Candy Stripers, Damiano's Skin Flicks, Anthony Spinelli's The Dancers), most of the movies covered here might rightfully confound the neophyte wile reawakening fond reminiscence of many a guilty pleasure in the seasoned smut connoisseur.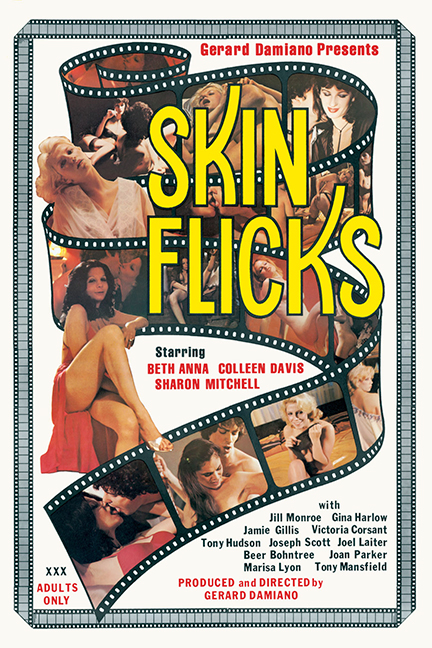 Successfully sustaining the format that worked so well, Bougie has supplemented the awesome artwork with a mindboggling array of facts and trivia culled from both personal conversation and his vast collection of vintage adult magazines.  These are presented in bite-sized side bars nonetheless overflowing with tantalizing tidbits.  The Bougieman really knows his shit and even taught me a thing or two along the way !  Having covered most of the industry's major players (on either side of the camera) in volume 1, the danger loomed large that he might repeat himself.  Aside from the odd establishing comment to provide a certain film's context, this rarely proves to be the case however.  Digging deeper below the surface, Robin belies his shock jock Cinema Sewer persona by paying loving tribute to such unsung performers like Leslie Bovee and Sharon Thorpe and accurately assessing the body of work of overlooked talents like Carter Stevens (Pleasure Palace) and the late John Christopher (Hypersexuals).  The beautiful Bovee in particular is gloriously represented by classy one-sheets for Kemal Horulu's double whammy of Feelings and Blue Ecstasy, the latter a personal all time high still sorely MIA in terms of DVD resurrection.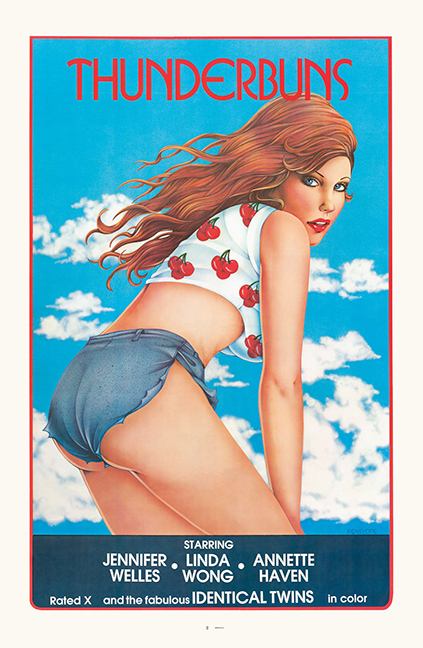 Coming from a graphic design background himself, it stands to reason that Bougie lavishes long overdue attention on several craftsmen (and women like Elaine Gignilliat and Nancy Villagran) responsible for the commercialization of carnality, most of whom toiled in the trenches of anonymity until now.  By far the most profusely present would be Chet Collom who turned to adult advertising once the well for hand-painted covers for dime store novels and rock albums had dried up.  Readers will soon come to realize this was a familiar trajectory for many of these allegedly "lower rung" artists.  An absolute highlight proves to be the stunning illustration Collom came up with for John Hayes' jawdropping Baby Rosemary, all the more startling for its sunny teenybopper disposition bearing little resemblance to the actual film's dark and depressing demeanor !
Ms. Gignilliat's past life as a purveyor of passionate pictures to grace the dust covers of  heavy-breathing romance novels plays an unmistakable part in her delicate drawings for Michael Zen's mesmerizing Reflections (a breathtaking view of bare-assed Annette Haven gazing into a mirror) and, almost on the far end of the sexual spectrum, Jim Clark's bouncy Teenage Pajama Party.  The elusive "Penelope", who may or may not actually be female, contributes one of the book's most sumptuous designs : an almost dainty portrait of the indeed omnipresent Bovee, mixing the styles of Beardsley and Vargas (also clearly an inspiration for the art on Chuck Vincent's Mrs. Barrington and Kirdy Stevens' A Taste of Sugar), unfortunately waste don the undeserving cause that was 1980's dreary Sugar Britches.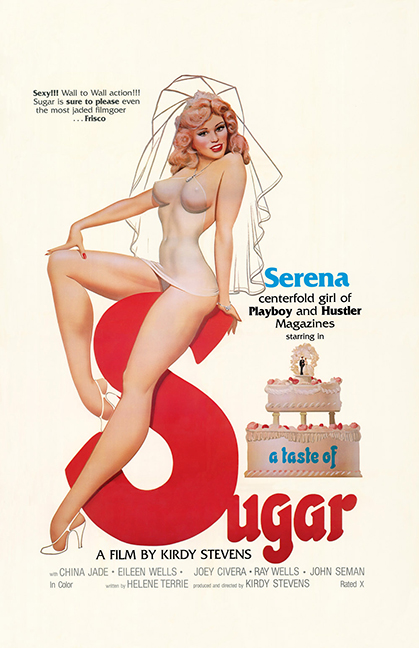 And while we're on the subject of pearls before swine, what to make of Rudy Escalera?  This poor painter absolute needed all the colors of the rainbow to promote the sorry "epics" of Carlos Tobalina.  Now don't get me wrong, I actually harbor a soft spot for the often chemically induced inanity of the average "Troy Benny" joint, at least if he manages to steer clear of orgy mode which is when they turn lethally lethargic.  Still, these are guilty pleasures at best and hardly choice picks when one wants to sway naysayers to the genre's redeeming merits.  Making allowances for both Sexual Heights and Three Ripening Cherries, coincidentally (?) cursed with the weakest art, more characteristic dross like the incomparably inept Jungle Blue and the comparatively accomplished Casanova Part II (predictably predicated on star John Holmes' most prominent part) needed every last ounce of help they could get.  Rounding out the "signed" section, as opposed to the herds of unknowns featured elsewhere, are pin-up princess Olivia De Berardinis (for Henri Pachard's A Girl's Best Friend, another personal fave) and Tom Tierney, whose Playgirl promo from Part 1 I initially mistook for an "Olivia", so who gets to retaliate with an appropriately sophisticated image for Larry Revene's exquisitely erotic Blue Magic.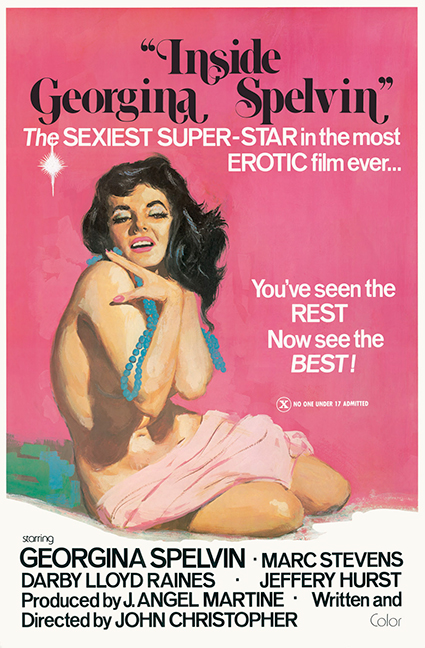 Among the other premium eye-catchers, a few stand out for dramatically diverse reasons.  The hilariously offensive one-sheet for the 1976 interracial roughie Hot Summer in the City – by mob-connected mogul Harry Mohney rather than his mistress Gail Palmer as has long been assumed – has made the rounds as a non-PC in your face favorite of fans for decades.  Far less familiar is the stunning design composed by fleeting fornication film starlet Lorraine Alraune of herself as a wanton reincarnation of the Gorgon Medusa for Carter Stevens' haunting In Sarah's Eyes, an image mirrored by the arresting one-sheet for Damiano's masterpiece Night Hunger.  Popping champagne corks and pink bubbles abound for David Worth's breezy bit o'fluff Pink Champagne (natch) but equally in the way superior poster for Duncan Starr's cult shouldabe Coming Attractions.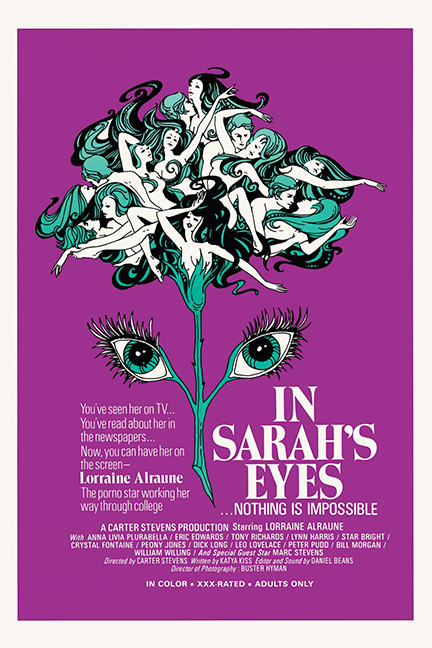 A decidedly non-adult angle was taken by the Mitchell Brothers, forever the iconoclasts, to push their Biblical box office bust Sodom and Gomorrah in grand Cecil B. DeMille fashion.  In sharp contrast there's the elegant simplicity of a line drawing sketching the female form for Gary Graver's Tangerine.  A final sock to the jaw is provided by the book's very last image : a beautiful black and white chessboard composition for John Seeman's 1985 Ten Little Maidens, concluding our journey through the annals of adult advertising on a pleasing high note.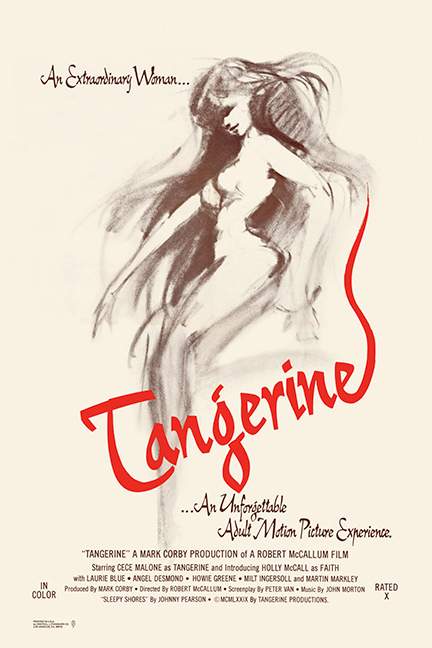 Turning page after page, and this book benefits from being first read chronologically for overall impact, fans should gasp with wonder and delight at the inclusion of favorites and the unveiling of little-known rarities alike.  Backed up by a full bibliography of quips and quotes, Bougie masterfully navigates old-timers and newbies alike through the perilous streams of carnal cinema consciousness.  In what will hopefully turn into an ever expanding series of fuck film folios, he continues to establish himself equally adept at dishing the dirt as paying homage to those occasionally weird but almost always wonderful people whose sadly all too rapidly dwindling number we at the Rialto Report go to great lengths to commemorate.