When we started The Rialto Report we decided that it should be free of commercial interests – no advertising, no selling (except for our t-shirts which are selling like hot cakes for only $10 – get yours now!)
But then along comes a book like Robin Bougie's Graphic Thrills that we're compelled to investigate as it features much of what The Rialto Report loves and holds dear; great movie poster artwork from adult films of the 1970s and 1980s.

Clearly we're biased, so we asked our favorite Belgian film writer, Dries Vermeulen, to take a look and give us his impressions: This is his review.

North American buyers can purchase copies of the book here.
European buyers can purchase copies of the book here.
_______________________________________________________________________________________________
Dries Vermeulen's review of 'Graphic Thrills':
First frequenting local adult theaters in the Spring of 1982, at the too tender age of 14 and a half (for shame!), I would endlessly gaze at the ornate one sheets decorating the spacious lobbies to these once proud picture palaces of pleasure, trembling with anticipation for the decadent delights their images and taglines brazenly promised.  Funny but true story, although I lived in the Belgian city of Bruges which possessed two operational smut cinemas at the time (a decrepit old sleazepit somewhat incongruously called the Ritz, soon to become one of my favorite haunts until its untimely closure in '85, and the slightly more upscale Forum), I would travel to the nearby coastal town of Ostend for my "maiden voyage" deep into dirty movie territory.  My reasoning was that, were I somehow found out as being under age and denied entrance (or worse…), my family might at least be spared the indignity of having its junior member publicly exposed as a teen pervert and I could continue to live my life without hanging my head in shame.  Once a drama queen…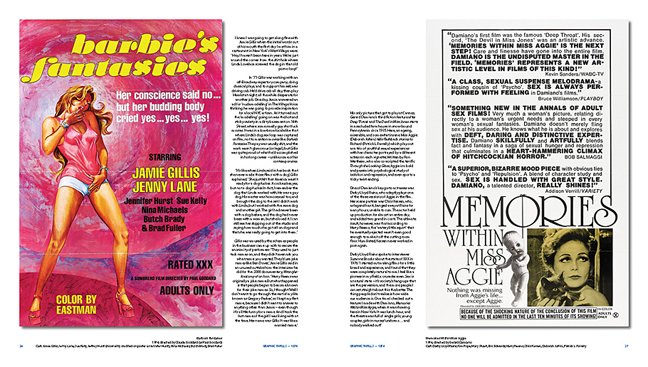 Anyway, back in the day it seemed like at least half of Belgium's skinflick screening rooms were called the Paris theater, the City of Love synonymous with all that was "risqué" and "ooh la la" to the average male mind, and so was this place in Ostend.  Quietly handing over a crisp hundred Francs bill to the (as I was to learn, invariably female and middle-aged) cashier, I was given a ticket in return.  Not a single word was uttered on either part.  Hell, I could barely breathe in excitement now that the object of my carnal quest was so close within reach.  Clutching my ticket, indifferently ripped in half by the jaded usherette, I proceeded to enter the vast auditorium where all my wildest fantasies would surely be fulfilled.  At the entrance were huge posters for that day's show, a double bill consisting of Ron "Henri Pachard" Sullivan's The Budding of Brie (showing a stunning pair of silk-stockinged legs with a beautiful woman – Laurien Dominique, as I was to learn later – in the background) and Wesley Emerson's Starship Eros (C3P0's hunkier  and clunkier brother surrounded by a trio of scantily clad space vixens), running the gamut from gorgeous to goofy both in artistic representation as in its on-screen "reality" I was about to bear witness to.  Ah, you never forget your first time…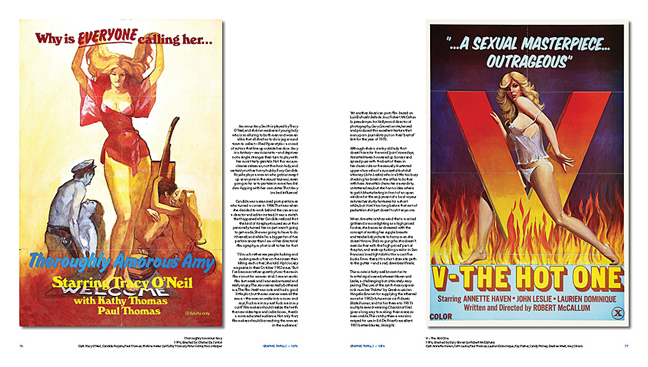 As time progressed, these old time hardcore havens dwindled in number until late last year (the ill-fated 2013) Belgium's final 35mm porno picture house – the Brussels ABC – unceremoniously went out of business, having served as a nostalgic reminder for those dedicated adult aficionados in the know of an epoch now irrevocably and irretrievably lost.  Until then, the proprietor would continue to screen the classics and not-so-classics from an increasingly distant dirty movie past, showing downright devotion by every week changing the posters and stills in the glass exhibit case facing an incidentally much friendlier ticket taker than I had encountered at the beginning of this three-decade-spanning odyssey.
For over a decade, Cinema Sewer's Robin Bougie has tried to publish a coffee table compendium of this "disreputable" movie genre's most memorable artwork, only to have doors slammed by publishers claiming there would be little if any interest as even avid collectors of movie memorabilia tend to turn up their noses at the X-rated stuff.  Fortunately for him, and us, FAB Press head honcho Harvey Fenton already knew all too well that there exists an enthusiastic and ever expanding buyer's market for material relating to what has become known as the "Golden Age" of erotic entertainment, be it vintage girlie magazines, film stills or (as the growing success of this particular website proves) the oral histories related by "those who lived and loved it".  Taken together, all these elements may one day provide the "definitive" account of the adult industry's rise and fall so preservation and restoration thereof ranks as a priority of the highest order.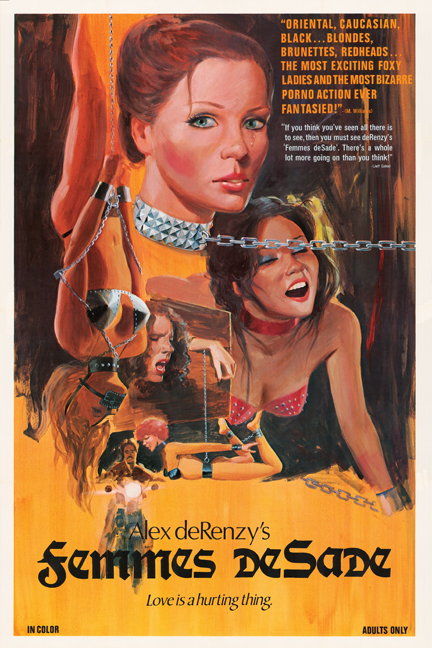 Latterday Screw reporter when founding father Al Goldstein had already embarked on his devastating decline, Bougie exhibits a vast knowledge of and great love for his sensational subject that might come as a surprise to those who have only casually and perhaps dismissively perused the pages of his deliberately in your face Cinema Sewer.  Much more than a collection of pretty pictures with the author's customary crude comments pasted alongside, Graphic Thrills provides an honest to goodness visual tour of American hardcore history during its halcyon days lasting from 1970 to 1985 with a far more laidback Bougieman than the boisterous blasphemer we thought we knew (and still loved anyway !) offering keen critical insights as well as tons of trivia relating to directors and performers gleaned from his own massive magazine collection.
Although 'Graphic Thrills' may appear lite on text at first sight, I was quite astonished at just how much invaluable info is packed within these 144 pages.  While both Carter Stevens and Shaun Costello are extensively quoted from their upcoming autobiographies, it's perhaps those casual "throwaway" tidbits that prove most enlightening.  For instance, you won't want to miss Mitch Spinelli's account of the rites of passage his dad so lovingly provided during shoots in lieu of the more traditional Bar Mitzvah !  Personally, I now also have much greater understanding and even a degree of appreciation of Samantha Fox's continued reluctance to revisit her porno past, admittedly glorious though it may have been, and so will most anyone, especially when they actually read (rather than just gawk, tempting though that may be) the book in sequence.  For, as Bougie readily concedes right from the start, there are only about 25 major stars in classic adult, returning from one film to the next, and once he runs out of things to say about them he shifts focus to often scene-stealing supporting performers in subsequent entries.  Besides, the 12-page introduction that kicks off the volume constitutes just about the finest, flab-free timeline I have ever come across, chronicling the evolution of explicit imagery in American print and moving pictures for the complete novice as well as the self-appointed expert.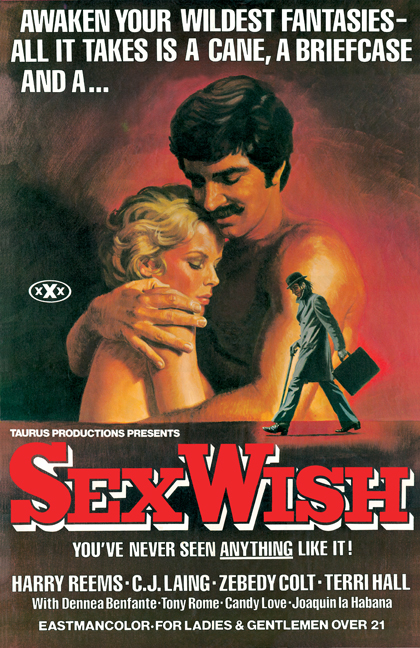 To those fans familiar with Bougie's uncanny gift of contorting creative obscenities into some kind of throbbing beat poetry, his (comparative) modesty here could come as either a letdown or a relief.  Truth of the matter is that the author harbors a sincere fondness and often admiration for most of the movies included here, a few notably justified exceptions notwithstanding.  So he has put his considerable literary prowess in service of celebrating and, if need be, defending these films from the naysayers rather than gloating over a deserved obscurity he knows to be dreadful and just begging for his particular brand of cheerful disintegration.  It may come as quite a shock to those who have wrongfully dismissed him thus far as a mere smut scribe with his mind in the gutter that Robin has no problems hangin' with the highbrows ("Ultimately, the complex truth is that this commodity [porn] isn't 'clean' or 'dirty' in and of itself.  Any baggage we carry is our own, and inside that baggage resides our perception.") but he's also quick to take it all down a notch for a reality check ("As a journalist, I have to take the history of this stuff seriously, but – my god – if you can't laugh at a porn movie you've lost your fucking sense of humour !").  Of course, the Bougie Meister in tasteful mode doesn't mean he can't throw the occasional zinger right out of left field, such as the Urban Dictionary's description of a "hot lunch" heading his review of the John Hayes flick of the same title.  Better not be munchin' while you read this !
But naturally, words become secondary to this publication's "raison d'être" : nearly full page high gloss reproductions of 125 adult film posters, neatly arranged chronologically as well as alphabetically within each year covered from 1970's Mona: The Virgin Nymph to 1985's Shauna: Every Man's Fantasy.  This being the first volume in a proposed series, should sales go well (you know what to do…), Bougie could not escape including a number of überclassics whose artwork will already be overly familiar to the ardent aficionado.  So, once again, we have the Big Three from 1972 (Deep Throat, Devil in Miss Jones and Behind the Green Door) plus Debbie Does Dallas, of course.  Still, that leaves another 120 selections that are often genuine eye-openers for any number of wildly divergent reasons.  While some purposefully took the tasteful route, emulating mainstream entries with nary a hint of naughtiness and added review quotes for socially redeeming value (Damiano's Memories Within Miss Aggie, Edwin Brown's A Thousand and One Erotic Nights), others clearly threw caution to the wind with some mighty entertaining results.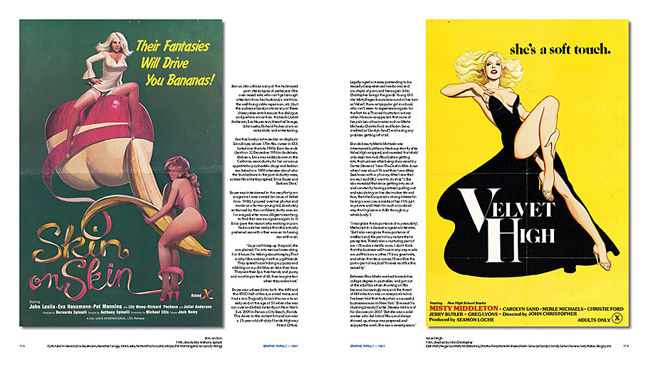 One way to catch the potential punter's eye is to employ garishly colorful artwork straight out of cheap pulp fiction which is why the distinctly mediocre Carlos Tobalina aka "Troy Benny" is thrice represented with One of a Kind, Fantastic Orgy and Carnal Olympics.  Although he never did cause much of a stir in the actual skinflick department, apart from Marilyn and the Senator perhaps and my personal favorite of his Sexual Heights, his boldly bright one sheets were always real attention-grabbers, courtesy of Hispanic commercial artist Rudy Escalera, one of the precious few whose identity the author managed to track down.  Turns out that for most who dabbled in this line of business, it was a down 'n dirty way of generating some extra cash when their "real world" employment didn't stretch far enough to pay the bills.  A rare but major exception being renowned pin-up artiste Olivia de Berardinis who only did a few XXX posters, one of which (for Roberta Findlay's The Playgirl, based on the 18th Century Fragonard painting The Swing) is included here.  Another camp highlight would be the astonishing and sadly anonymous art supplied for Ann Perry's 'there's one born every minute' oddity Librianna, Bitch of the Black Sea.  Seems the guys at FAB Press liked this so much, it wound up as the cover for David Flint's Sheer Filth compendium.  Ostensibly shot in Communist Russia as a revolutionary act of rebellion, the movie combined some stock shots of Moscow landmarks with sex scenes shot on US soil with unrecognizable unknowns!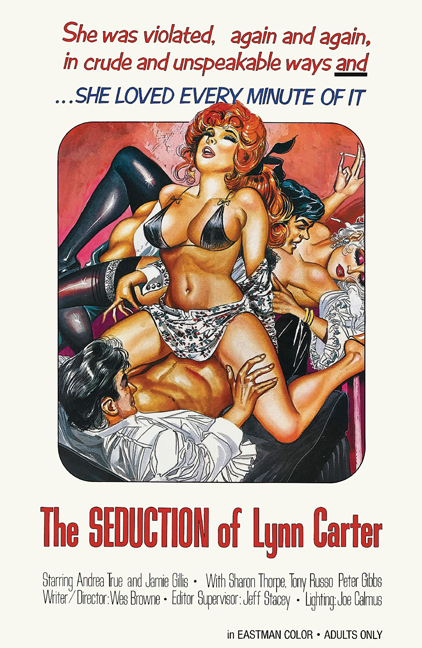 There have been quite a few standouts over the years, for reasons as varied as some of the flicks they advertise.  Edwin Brown's China Girl copies the style of noted illustrator Aubrey Beardsley with a beautifully rendered black and white drawing of an Oriental temptress while both Alex de Renzy's Pleasure Masters and Howard Ziehm's Hot Cookies take the plunge into fullblown Art Nouveau territory.  A noirish cartoon image of a contorted female figure clutching a giant gun adorns the one sheet for the forgotten Sam Bloch roughie Saturday Night Special.  Fabio's flowing manes are all that's missing from the romance novel recreations bestowed upon, ironically, Victor Milt's extremely unpleasant if rather excellent Sex Wish, La Findlay's equally hard to take A Woman's Torment and Zebedy Colt's downright notorious Unwilling Lovers!  Unless they were raincoat regulars, these must have caught at least some of their audience members unawares…
Eliciting a heartfelt WTF response in present day parlance are a number of ads where the artist was clearly unaware of the film he was supposed to promote, probably given just an inappropriate or all purpose title.  Hence the supine sweethearts lapping milk from saucers for Navred Reef's French Kittens, retitled from the more apt Hollywood Goes Hard, or the space age vixens from Lenny Kirtman's summer camp set C.T. (Coed Teasers)!  Hardly less mindblowing is the HUGE phallic candle covering a woman's crotch on Beau Buchanan's Sexual Witchcraft or them weird clowd cuties (there's really no other way to describe them…) for Joel Scott's Charlie's Angels pastiche A Coming of Angels.  Whatever these guys were on, where can I get some ?  Seeming simplicity can sometimes be the best way to go, as in the case of the deceptively minimalist photo collage done by photographer "Akira F." who used two pictures of star Samantha Fox against a suffocating scarlet backdrop for Ms. Findlay's unsettling Mystique, another all time personal favorite.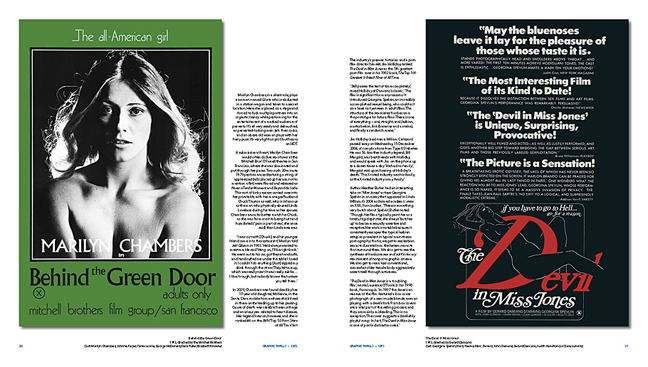 These are but a few of the outstanding examples found within these pages and I could go on at great length about many more but then I'd just be rambling on, blurring the issue.  Mere words cannot  properly convey the wealth of beauty and invention on display within this deceptively slim volume.  So take your time to look, nay, gaze at each and every singular piece of promotional artwork and marvel at its artistry and eye for detail.  These were not done by amateurs, that's for sure.  That Bougie boy has done well, selecting a number of entries that are either representative, in good or poor taste (eye of the beholder…) or so plain off the wall that you just have to see it to believe, occasionally combining all of the above.  Even though the retail price might seem a tad steep at $34.95 for the paperback edition, it's an essential purchase absolutely worth every penny spent considering the care and craftsmanship our man Robin and the fine folks at FAB Press have lavished upon this project.